Glamping in Denmark is both luxurious and fun. In the past few years glamping experiences in Denmark have popped up all over the country so if you're looking for a unique place to stay in Denmark – glamping is a brilliant idea.
I'm Danish and live in Copenhagen, but I've had a few nice trips to the countryside where I've enjoyed our beautiful nature and I've got to say – glamping in Denmark might be a bit expensive, but it's well worth the money.
In this guide, I'll share some of the best places to go glamping in Denmark.
We'll start on Zealand (Sjælland), where Copenhagen is located, and move our way over to Funen (Fyn) and Jutland (Jylland).
Glamping on Zealand can be perfect, but if you are staying in Copenhagen and would like to be away for several days, consider also going glamping on Funen or Jutland.
1. Glamping Møn (close to Copenhagen, Zealand)
We're starting with a true outdoor classic that every Dane loves.
Møn is a favourite destination for Danish and international tourists, who flock to the island's biggest attraction: Møns Klint.
It has also become extremely popular to walk Denmark's answer to the Camino, which has been given the good-sounding name: Camønoen (The Camøno) 😂
In other words, Møn is one of the best places in Denmark to travel to if you want to get away from everyday life and experience the beautiful Danish nature.
Therefore, there are of course also several good glamping places on Møn.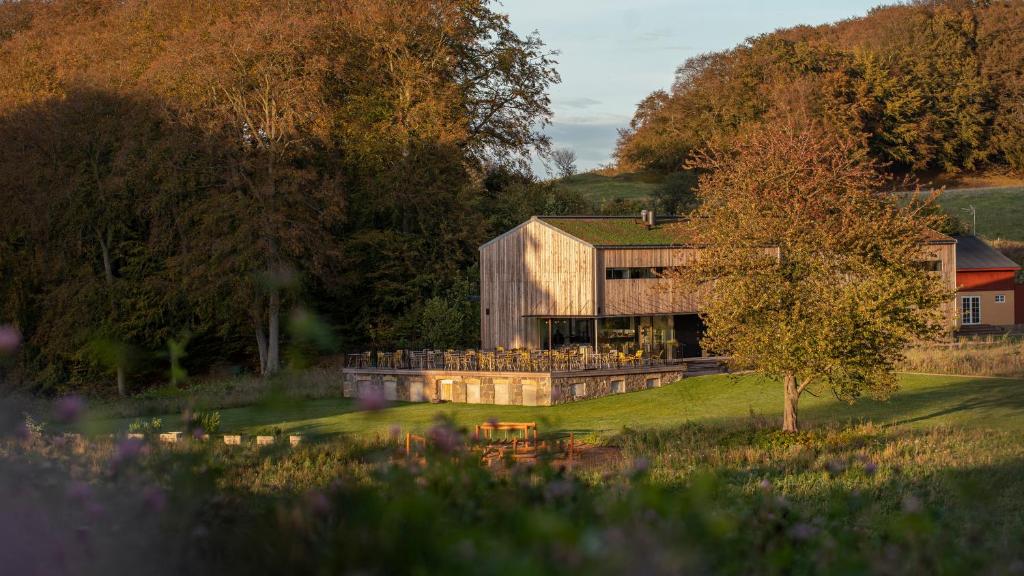 Villa Huno is a collection of luxurious holiday apartments on Møn but also has glamping, where from DKK 1500 (for two people), you get your luxury tent and breakfast included.
Camønogården is one of the glamping places on Møn that is best located.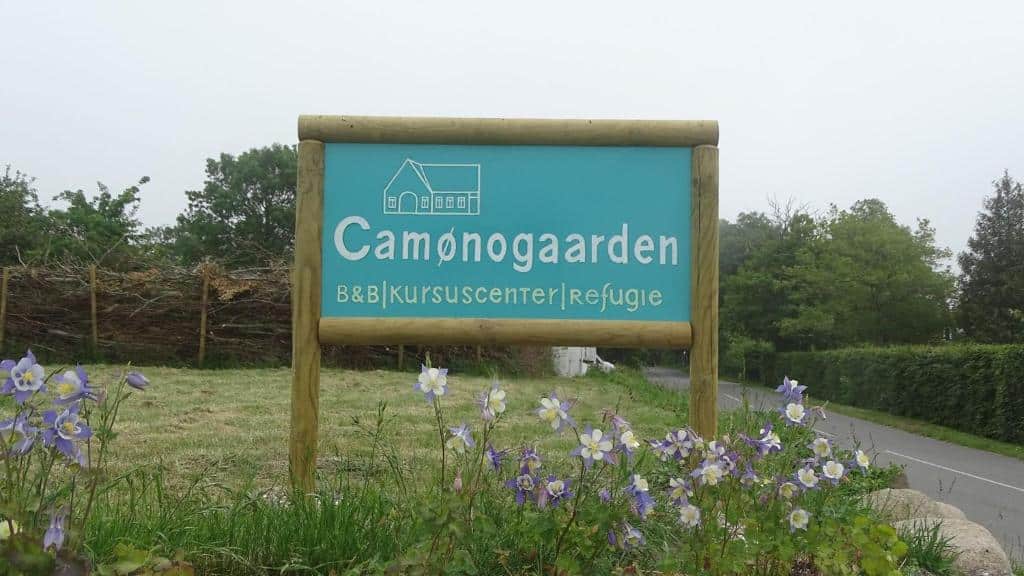 As the name suggests (in Danish, 'Gård' means farm – so this is The Camøno Farm), this is an entire farm with many different accommodation options – you can book into a classic deluxe glamping tent, a room with a view or a mobile home.
See the various options at Camønogården here – and remember to book well in advance, as they sell out quickly in the spring and summer months.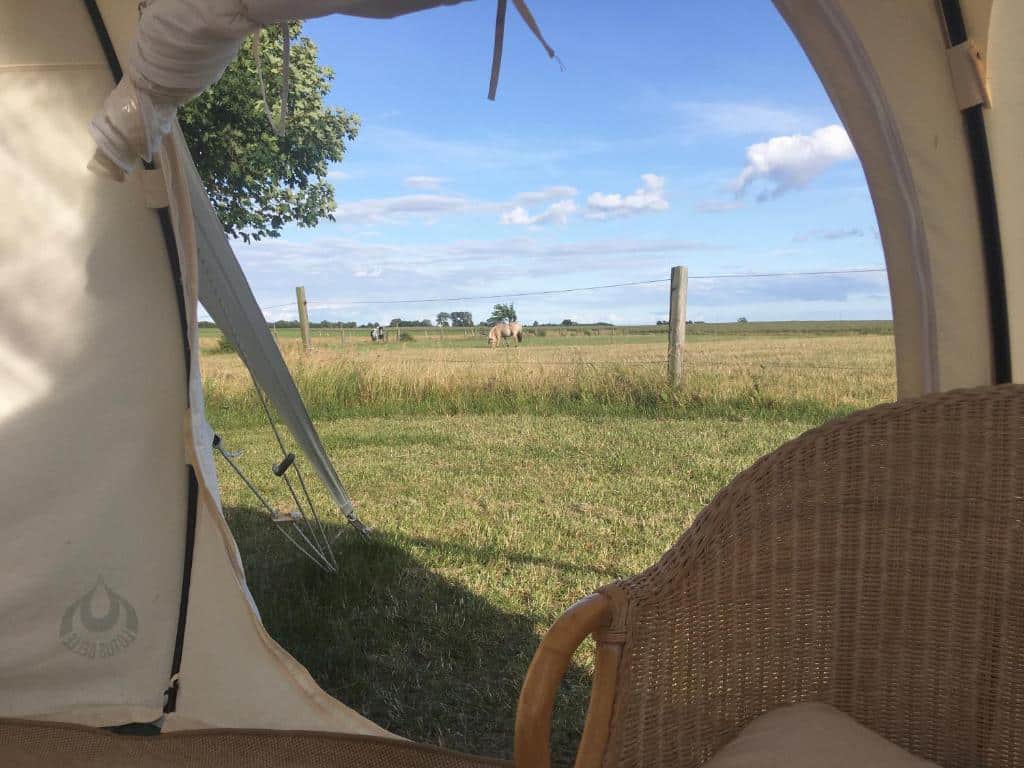 In addition, places such as Hvidegaard Møn and Egn Bed & Breakfast also have cosy glamping options in Danish nature.
Møn Naturcampingplads is a classic nature campsite, but now also has glamping for those who require a little more luxury and don't pitch the tent ourselves.
It is a less glamorous glamping experience, but on the other hand, the surroundings are fantastic.
2. Marsk Glamping (Southern Jutland)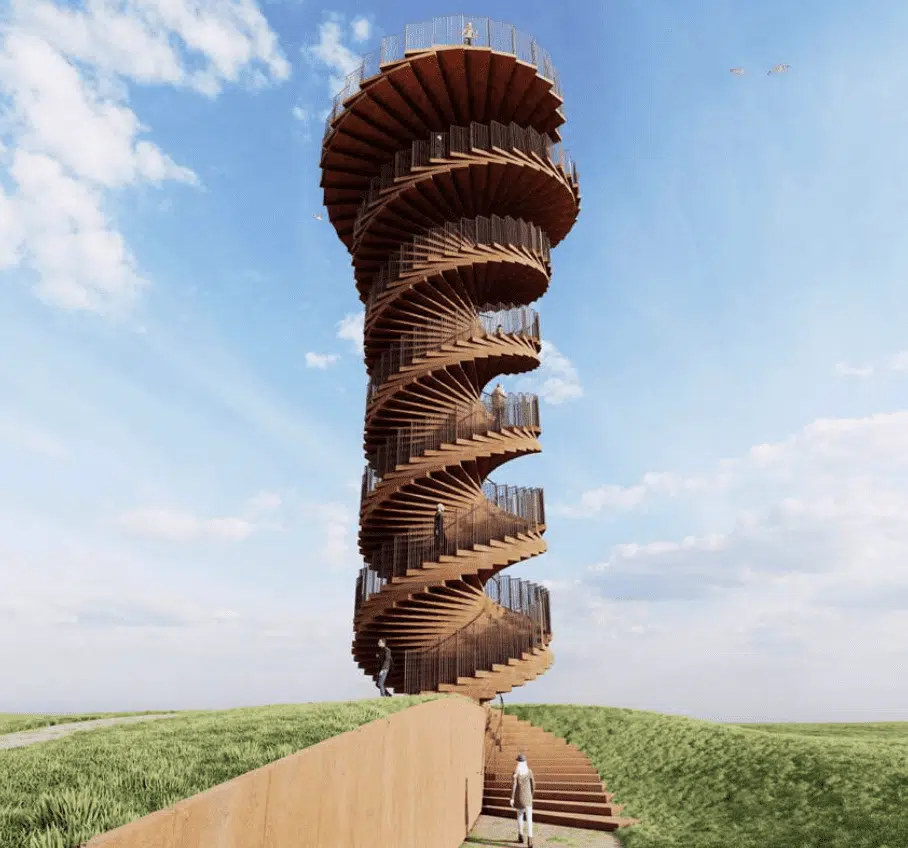 One of the most exciting accommodations for glamping in Jutland is Marsk Glamping, located close to the Wadden Sea National Park.
Marsk Camp is situated in Skærbæk in fantastic surroundings.
The whole experience of spending the night here is about the homely feeling, where you feel comfortable and can experience nature up close.
Here you get the unique opportunity to sleep in luxurious tents of 24 m2, with both beds, a living room, fridge, sofa bed, kitchen facilities and access to a private toilet and shower close to the tent.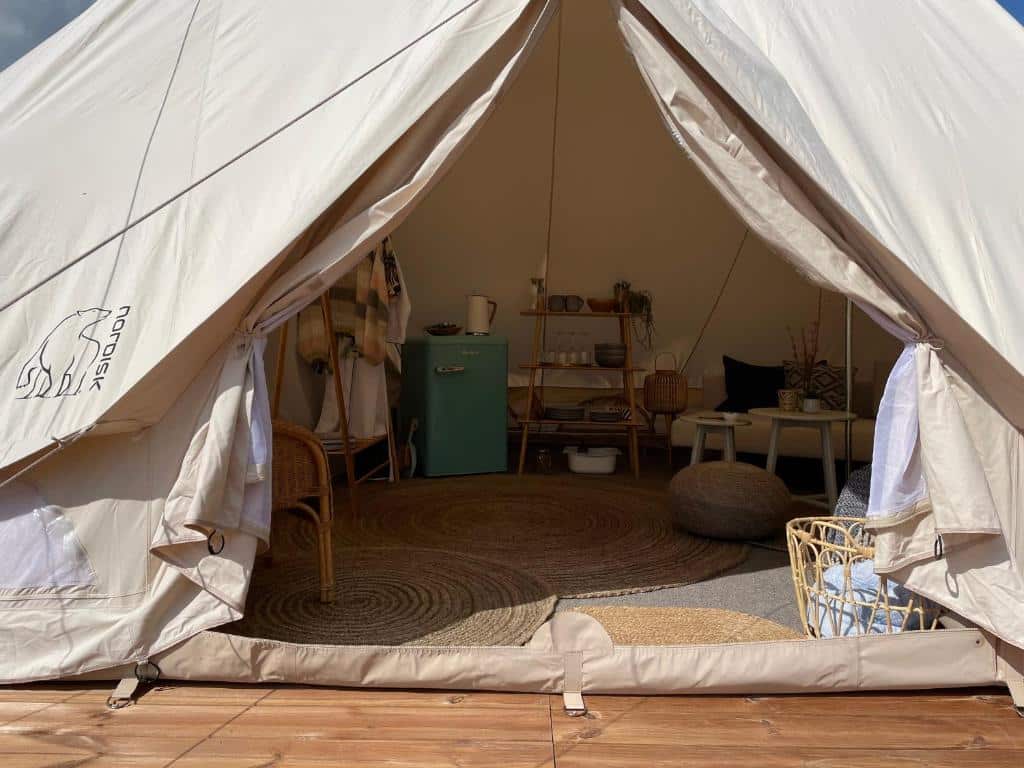 Belonging to the glamping tents, there is also a private terrace where you can barbecue and furniture in which you can relax.
Marsk Camp is close to Marsk Tower, where you can experience the marsh from the heights.
The area is known, among other things, for the natural phenomenon 'Black Sun', which can be experienced in autumn and summer.
You can book directly at Booking.com with free cancellation.
3. Treehouse Escape – close to Egeskov Castle (Kværndrup, Funen)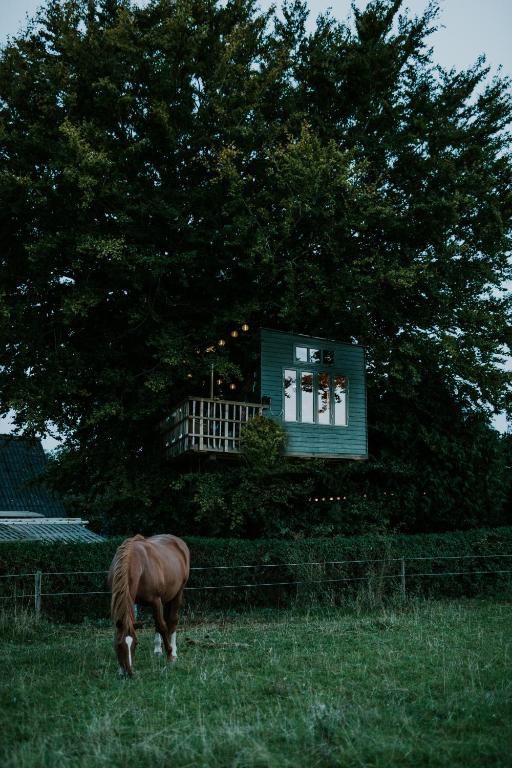 Again, we're grabbing a more unconventional glamping experience, but I feel it has its right here on the list, as you get a unique nature experience and, without a doubt, spend the night in a place you're not quite used to.
Unless that is, you are an owl or have a treetop cabin at home in the garden 😀
Here on Midtfyn, just outside Kværndrup, a stone's throw from Egeskov Castle, there is a treetop cabin you can book into and get an all-inclusive experience.
When you read the reviews on Booking.com, it seems like the perfect glamping stay for both children and adults.
The cabin is built in a more than 200-year-old beech tree, and the place seems like the perfect place for you looking for a unique overnight stay on Funen.
You can book in and have breakfast included via Booking.com.
A fun fact: I grew up in Kværndrup, the nearest town!
There is a train station here, and a path has recently been built that goes from the station out to Egeskov Castle – it is, however, 3-4 km from the station to the cabin here, so even though the distance may be manageable on a map, remember just a good pair of shoes if you take it on foot.
There isn't much to do in Kværndrup apart from going to the local shop, to Kværndrup Kro (the only bar in town) and seeing my childhood home, but these are probably not experiences that attract a lot of people 😀
However, Egeskov Castle is fantastic and a thing to do on Funen that everyone should stop by.
4. Thorseng Nature Resort (Tåsinge, Funen)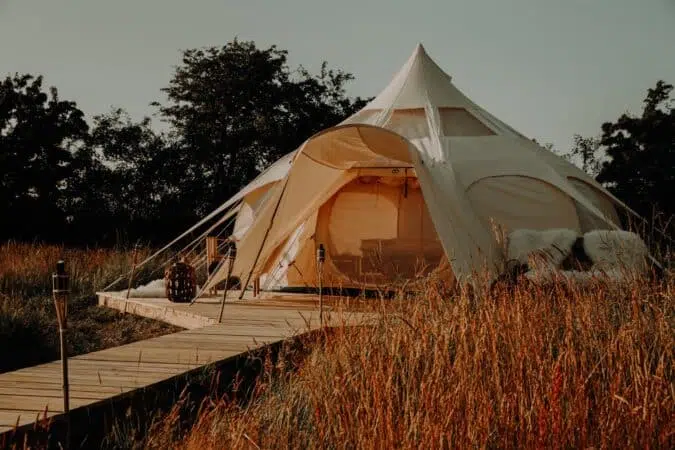 The next place on the best Danish glamping places might even be the best in the country. We're jumping over to the islands south of Funen, one of the most beautiful places to spend summer in Denmark.
The glamping place is called Thorseng Nature Resort, and it's a beauty!
Thorseng differs significantly from the other glamping sites in the guide here.
At Thorseng Nature Resort in Tåsinge, south of Svendborg, you will find a luxurious glamping stay where you can access the sauna, pool and sea from the private beach.
You can access outstanding wellness facilities such as a sauna, steam bath and hot tub pool during your entire stay.
You spend the night in the middle of nature in a comfortable bed with beautiful surroundings.
Your entire stay will be all-inclusive with 100% organic anti-inflammatory cuisine, which includes good breakfast, lunch, coffee & cake and dinner.
All the food will therefore be 100% plant-based, organic, gluten-free and sugar-free. A diet that will nourish and strengthen your whole body.
The dinner is also available as a takeaway, so you can take it to the beach and enjoy a beautiful sunset with your loved one.
5. Jammerbugt Glamping (Northern Jutland)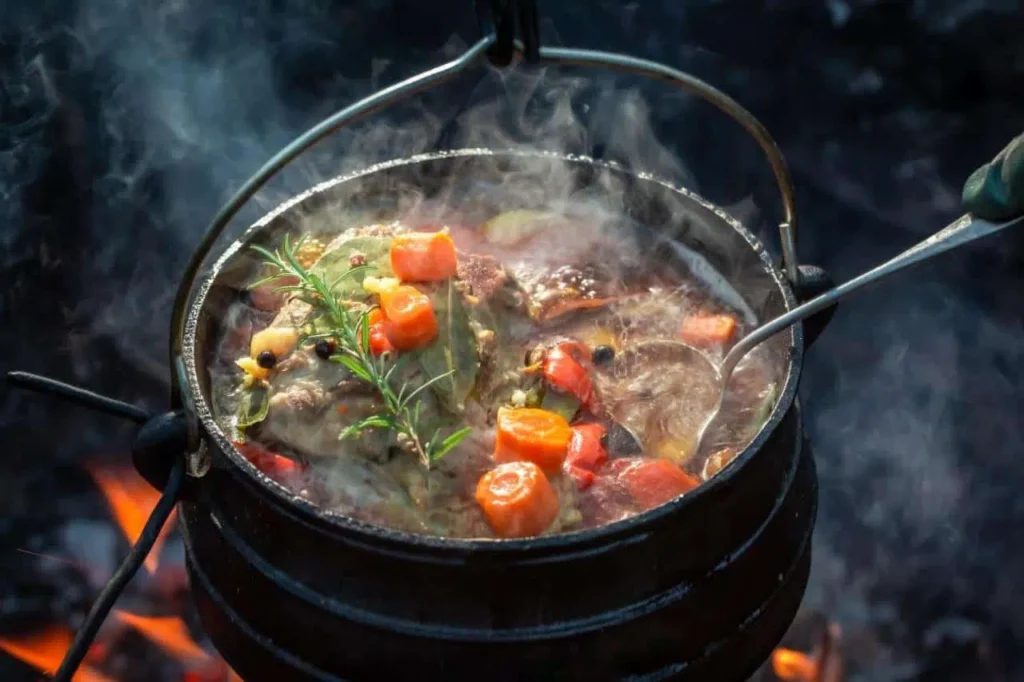 Jammerbugt Glamping is, as the name suggests, located in scenic Jammerbugt in Northern Jutland.
Here you get the opportunity to become one with nature on a glamping stay in beautiful surroundings.
The price for a night at Jammerbugt Glamping is DKK 1.166 for two people, which includes breakfast, which gets excellent reviews.
See more about Jammerbugt Glamping here.
6. Krusmølle Glamping (Southern Jutland, close to Germany)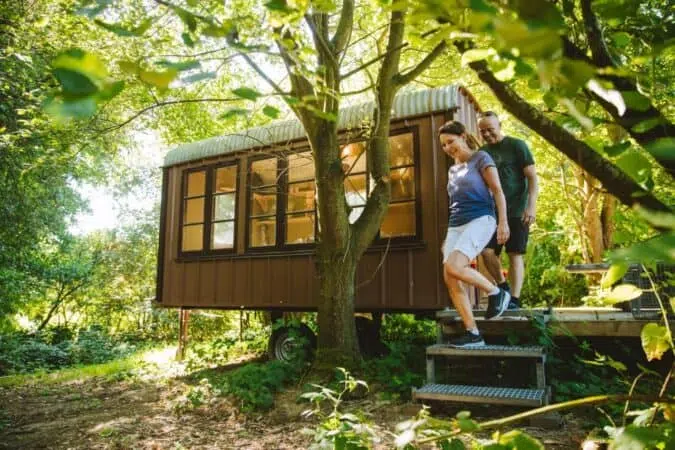 Krusmølle Glamping offers another type of accommodation facility, namely glamping caravans. Instead of a caravan, you get the unique opportunity to sleep in a modern and glamorous glamping caravan.
The glamping caravans are furnished differently, making the experience even more fantastic. The carriages have good beds and kitchen facilities.
Krusmølle Glamping is located close to Aabenraa, with lots of forest, lakes, streams and hills around it. An exciting experience where you experience nature in a new way.
See more photos and book your stay at Krusmølle Glamping here.
If you're arriving on a road trip from Germany, this is an excellent place to book, as it's close to the border between Denmark and Germany.
7. Molsgaarden (close to Aarhus, Jutland)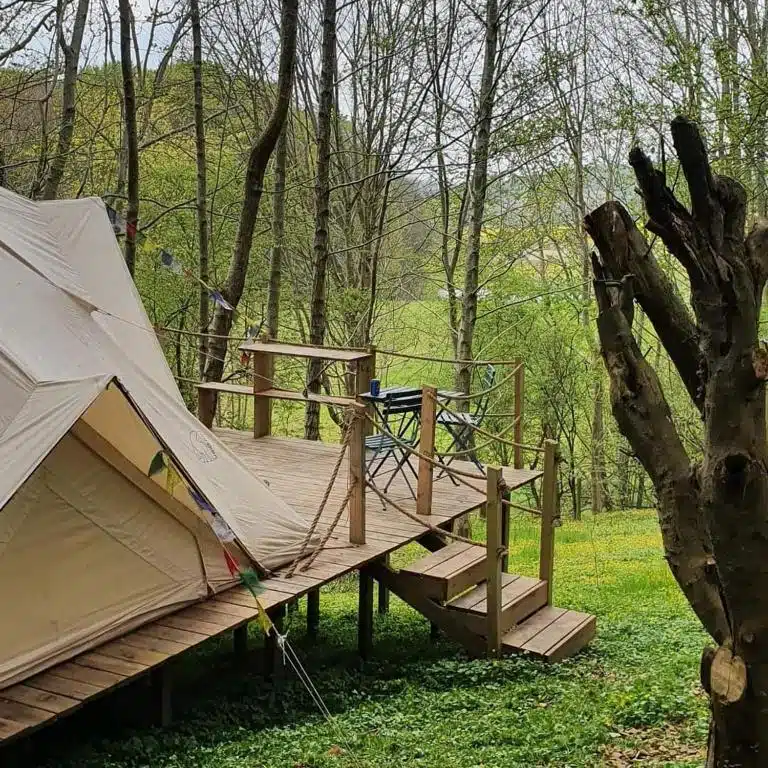 The whole idea of glamping is to spend the night in nature, slow down and be in nature as soon as you open the luxury tent in the morning.
So why not go glamping in the Mols Bjerge, one of Denmark's most beautiful natural areas?
Molsgaarden is located in Knebel on the edge of the Mols Bjerge, a few kilometres from Trehøje, one of the most beautiful places in the Mols Bjerge.
So it doesn't get much better if you are looking for a glamping stay in Jutland close to nature.
At the same time, we are still just over 40 km outside Aarhus, so if you are travelling around Jutland and would like to experience a big city the day before or after your glamping experience, it is easy to combine.
Aarhus is Denmark's second city after Copenhagen and a great place to explore for a few days. Read more about the city in my where to stay in Aarhus guide.
See more about Molsgaarden and book glamping here.
Please note that you must choose 'Tent', as you can also spend the night indoors at Molsgaarden.
8. Camp Adventure (Zealand)
Since its opening in 2019, the forest tower in Camp Adventure has become one of the things to do in Zealand that often appears in Instagram stories.
Many Danes have taken the road trip from Copenhagen to experience it, but few people know that you can also spend the night at the well-known destination.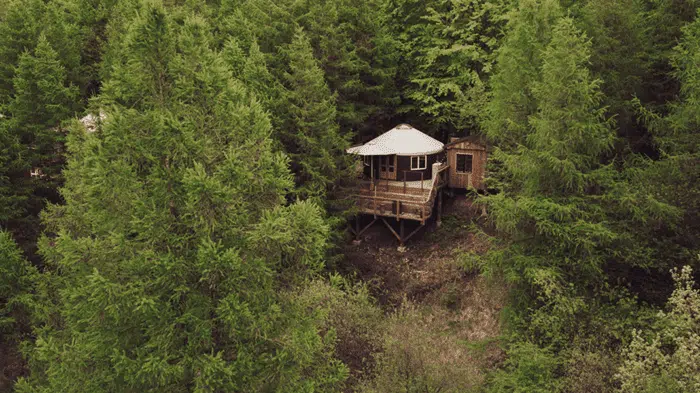 As the name suggests, Camp Adventure is an adventure park with plenty of treetop climbing courses and, among other things, a cable car of 450 meters.
So if you are family or a couple of friends looking for excitement combined with an overnight stay, glamping at Camp Adventure is an excellent idea.
Camp Adventure has only six glamping tents, so book in advance. Prices start from DKK 2500.
Read more about glamping in Camp Adventure.
9. Gilleleje Glamping – romantic getaway (close to Copenhagen)
Again we set course for North Zealand and Gilleleje, a favourite excursion spot for Copenhageners and North Zealanders who enjoy the relaxed atmosphere and the fantastic beach.
At Gilleleje Camping and Holiday Center, they have also joined in the fun, so they now offer 'Glamping for adults, focusing on a romantic glamping experience in nature.
The prices for glamping in Gilleleje are hidden on their website, but give them a call or an email if necessary. It's a place that generally gets excellent reviews, so I think there are good people behind it.
Read more about Gilleleje Glamping here.
The website is Danish, but you could try reaching out via Instagram.
10. Tiki Camp – first glamping spot in Denmark (Langeland, Funen)
Okay, so it's time to put absolute luxury on the shelf and get down to a slightly different price level.
Tiki Camp in Langeland also prides itself on being Denmark's first glamping site. Tiki Camp was founded in 2018 by Nicki and Tirza, who moved from Amsterdam.
It is fantastic that they have come from Holland, have found the perfect spot for glamping on Langeland and have now founded a place where we Danes can go and enjoy our own country.
Tiki Camp is located on Langeland south of Svendborg – you drive over Tåsinge (where Thorseng is located) to get here.
Read more and book online here.
11. Cold Hand Winery – go glamping at a Danish vineyard (Randers, Jutland)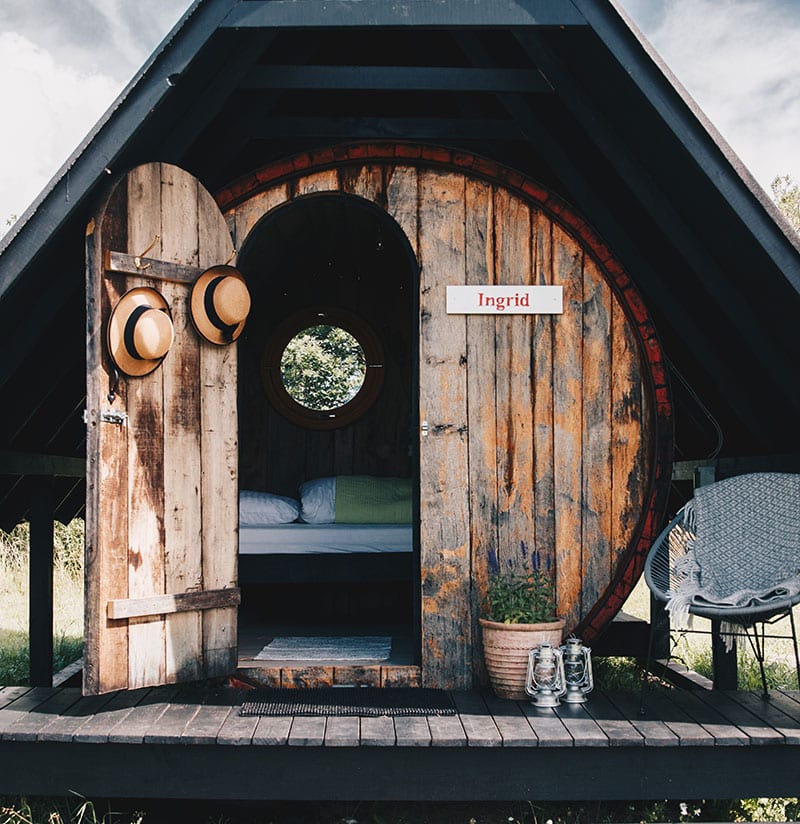 You don't have to go to France or Italy to get an authentic vineyard atmosphere – you can get it at this unique accommodation in Denmark.
Cold Hand Winery offers glamping in tents in a private safari camp.
The tents have a double bed, safari chairs and a fridge, among other things. Cold Hand Winery also strongly focuses on gastronomy, so if you stay at Cold Hand Winery, you'll get pure enjoyment while being one with nature.
The glamping facilities take place in the middle of an apple orchard, where you can, among other things, have a cowboy bath or laze in a hammock outdoors.
Outdoors, you can make a fire at the private fire pit or take a bath under the outdoor shower. The accommodation is approximately 20 kilometres from Randers.
In and around Randers, there are plenty of experiences to be had, whether you are into hiking, city life or want to experience well-known attractions such as the Randers Tropical Zoo.
See more about glamping at the vineyard here (the website is only available in Danish).
12. Glamping Klitmøller – go glamping in "Cold Hawaii" (Northern Jutland)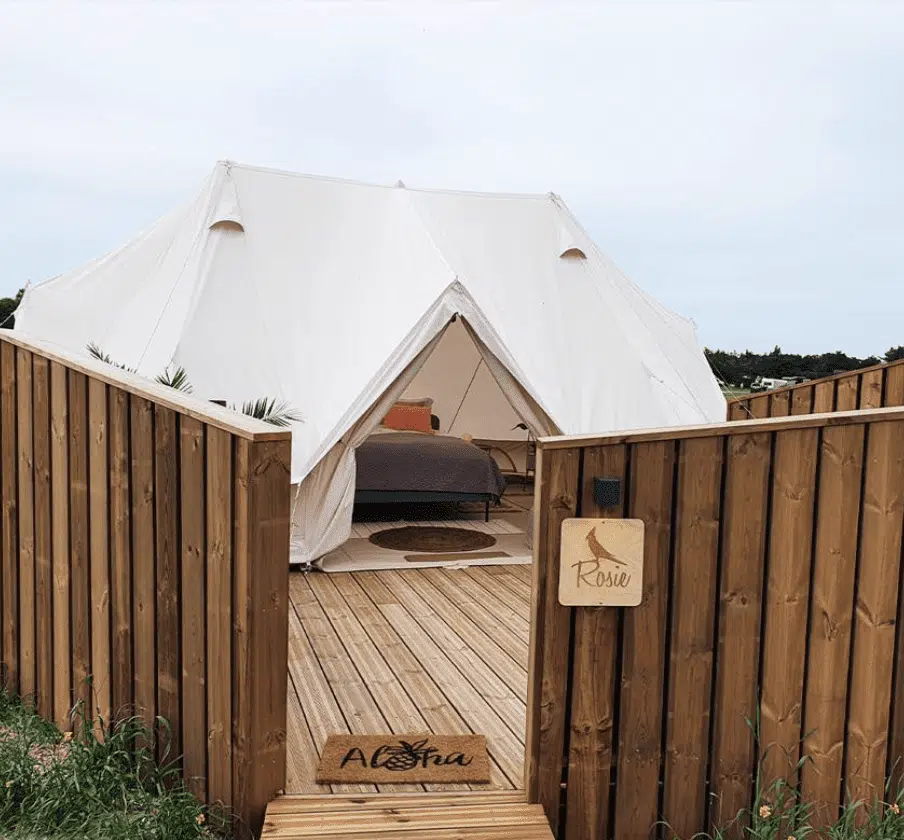 Nystrup Camping is located in Klitmøller, where you can spend the night in a luxurious glamping tent, get a good bed to sleep in, a sofa, and a fridge and enjoy the beautiful surroundings.
Outside the spacious tents, there is a private terrace with a fire pit and lounge furniture. Perfect for relaxing and enjoying the green surroundings.
Klitmøller, located in Thy National Park, is known for a little bit of everything. Among other things, there are many exciting experiences in the national park and on the west coast.
Klitmøller goes by the name 'Cold Hawaii'; of course, it is not without reason. Klitmøller is one of the best places in Denmark where you can surf. In the best Cold Hawaii style, you will also be greeted by 'Æloha' in many places 😀
A stay includes accommodations for two people in a glamping tent, tea or coffee, croissant for breakfast, firewood for bonfire waste and electricity consumption, linen, bath and towels.
See more about Nystrup Camping here.
I hope you enjoyed this rundown of some of the best places to go glamping in Denmark.
As you've probably got by now, I'm Danish and live in Copenhagen, so if you've any questions about your trip to Denmark, please comment below, and I'll be happy to help.
FAQ:
What is glamping?
Glamping stands for Glamour Camping. So if you love staying outdoors and being with nature but enjoy a bit of luxury – glamping in Denmark is perfect for you.
Where is the best place to go glamping in Denmark?
In this guide, I highlight some of the best glamping spots in Denmark. You won't go wrong if you book glamping at Marsk Camp, Thorseng Nature Resort or Camp Adventure, but all places mentioned in this guide are worth booking.