I have just returned from a week's holiday on Crete and will below give my tips for the best things to do and where to find great experiences on the famous holiday island.
I have now been to Crete 4 times and stayed in several places. In this guide on the best things to do in Crete, I will, however, start with things to do near Chania, as I know that that's where most tourists stay in Crete.
However, there are plenty of things to do in Crete located in other areas, and I also mention a few in the guide here.
1. Chania – a big city with many good experiences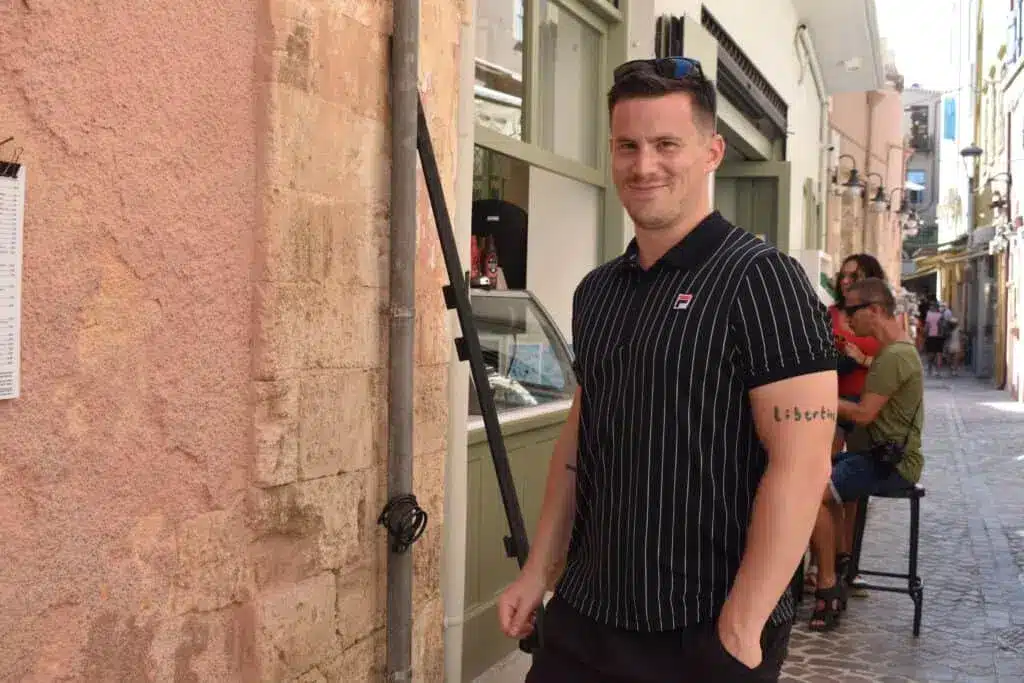 Let's start with Chania, which is also the name of the airport many tourists will land in when booking a charter trip to Crete.
I have always been happy to visit Chania while travelling to Crete. You can very quickly get into the tourist bubble, where all restaurants are similar, and you only see other tourists, so it's a nice break to get into Chania, which is more of a "real city".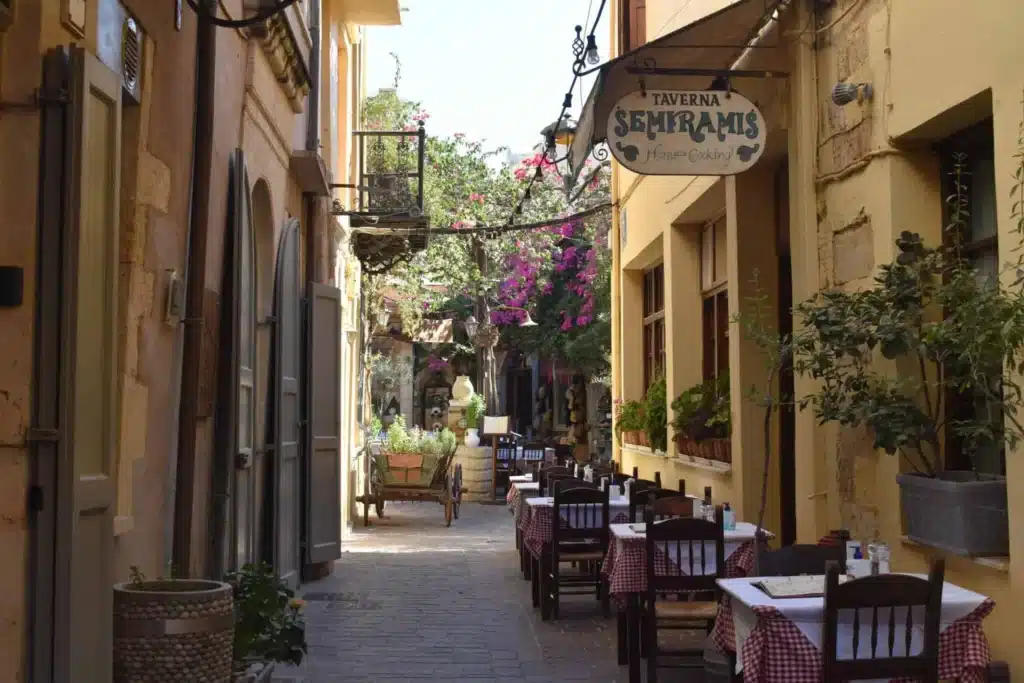 There are, of course, also lots of tourists. Still, it is Crete's second-largest city with over 50,000 inhabitants, so plenty of places are not exclusively aimed at tourists.
Have you found a place to stay yet? Check out my guide on where to stay in Crete.
The port of Chania
Before we got our rental car, we took the bus from Platanias into Chania and spent an afternoon walking around the cosy streets.
The port of Chania is a natural point of interest when you walk around there, and it is also an incredibly beautiful, old Venetian port.
Down here, on the other hand, the tourist traps are in full swing, so it might not be at a restaurant right down to the water you should expect to be served your best meal in Crete 😀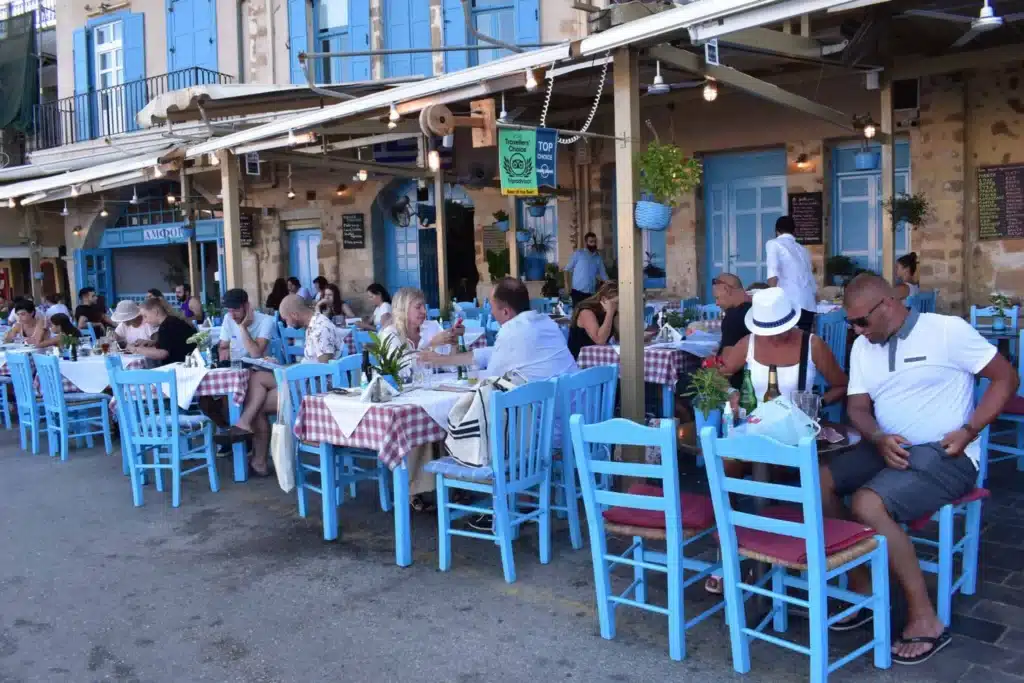 However, the surprising thing about the harbour area in Chania is that you can go up a few streets 'up' from the harbour to get a different experience.
There you will find small, cosy streets with nothing but locals and maybe a cute cat, completely deserted from tourists.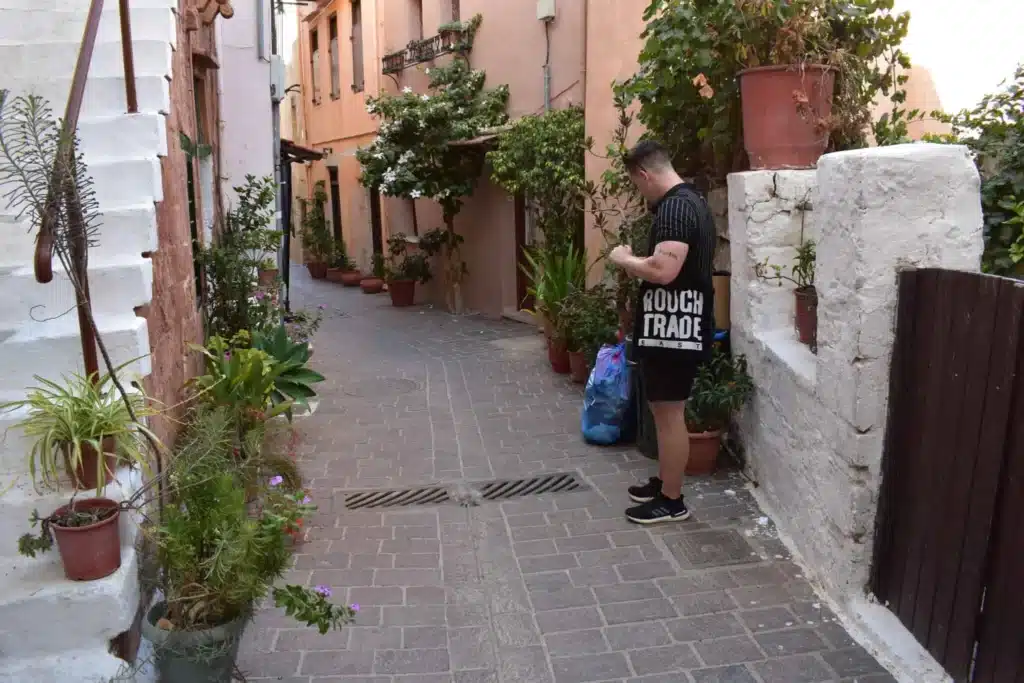 So even though tourism has been ramped up down by the harbour, you can also have lots of good experiences by strolling around the small side streets, stumbling across a small café and just enjoy life.
However, I shouldn't say that I'm too cool for tourism: I fell in with both feet when I saw that you could get a draft beer in a boot 😀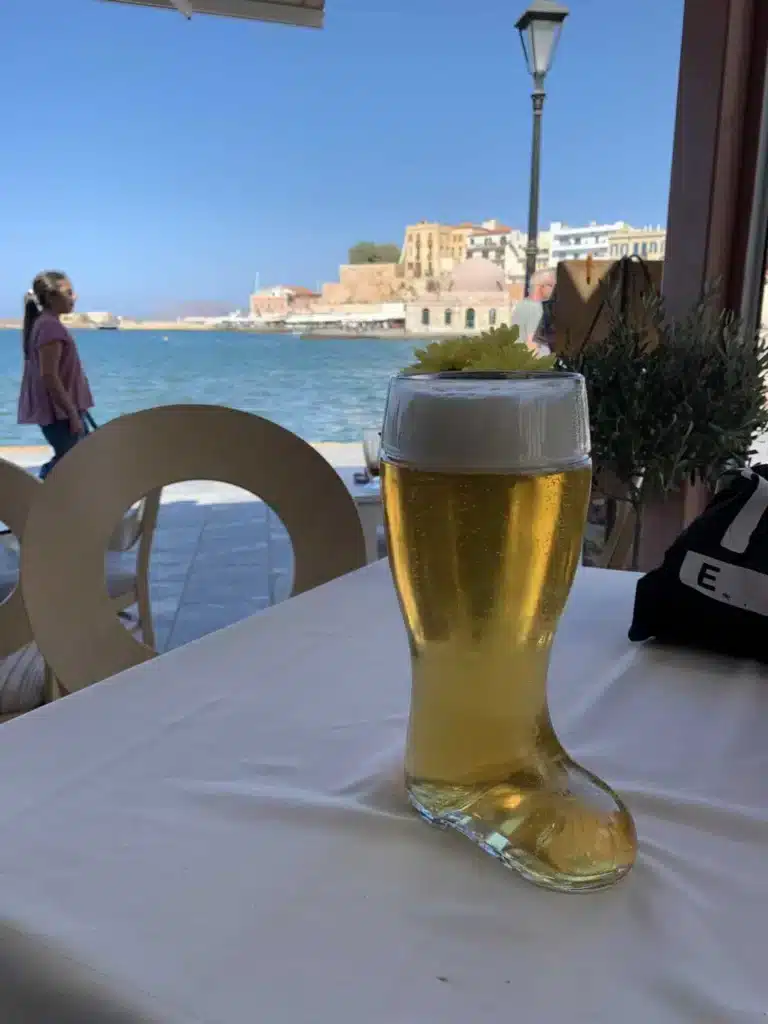 I made the age-old mistake of not getting a menu card with prices but just ordering – not knowing the price.
However, the beer was "only" 8 euros for a litre, so it could have been worse.
On the other hand, I was not allowed to pay by card, but the restaurant had its own ATM, where I (if I had not had cash) would, of course, have been able to withdraw with a stupid fee…
So a bit of a scam – always remember to check prices before you book in these tourist areas.
Recommendation of two good restaurants in Chania
As previously mentioned, there are quite a few tourist traps in Chania (and this is generally a theme on such a well-visited island as Crete), so it makes good sense to do some research before choosing where to eat.
Ellotia – cosy traditional Greek restaurant
From home, I found a restaurant called Ellotia , located a few minutes walk from the port of Chania.
The restaurant is on a small side street, so you won't pass it accidentally. On the other hand, it was popular: we arrived around 7pm when there were only a few other guests.
After just 10-15 minutes, a queue was out on the street to get a table.
It is an extremely cosy restaurant where you sit half outside and can enjoy your Greek meal in a ruin-like setting, which actually resembles many of the many ruin-bars in Budapest.
See the restaurant in Chania on a map here:
Ginger Concept – modern cafe in Chania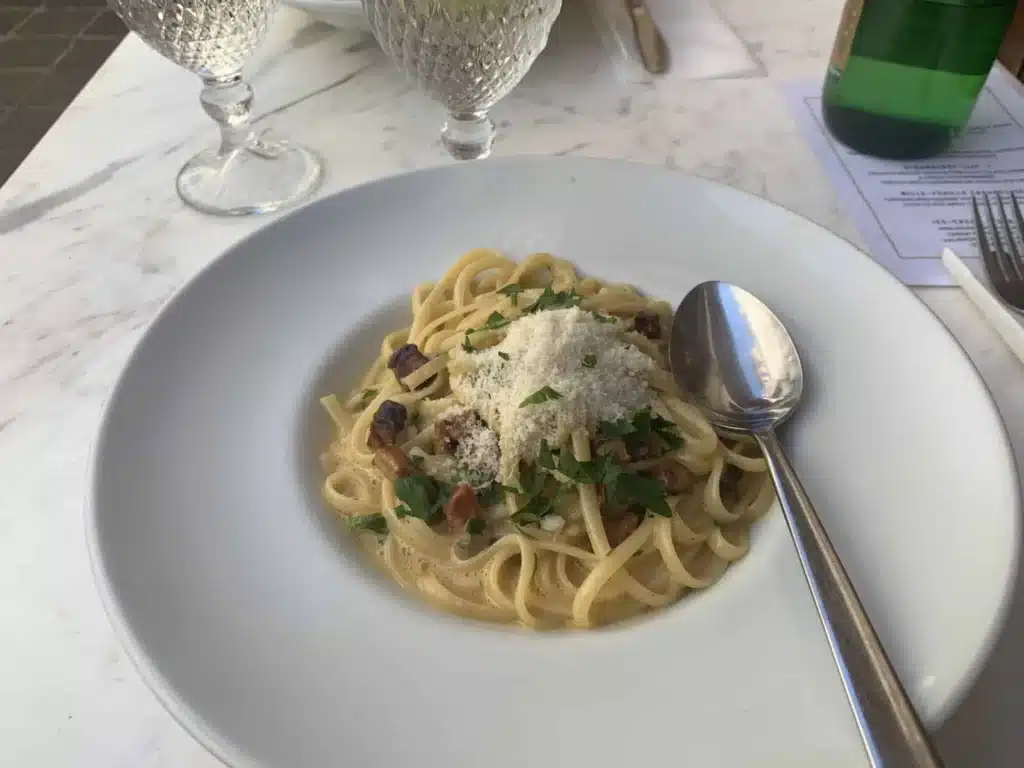 One of the days when we had the rental car, we drove into Chania and had a late lunch.
I recommend parking here, where there is free parking and just a short walk into the centre of Chania. We parked here in the afternoon, and there was quite a lot of space.
We were a bit tired of Greek food here and were looking for a place with a bit more classic cafe food, with more vegetables than just a cucumber in the tzatziki 😀
Ironically, our waiter recommended the spaghetti carbonara, and I fell in with both feet. It was also delicious and made in the proper Italian way (it could just as well have been served in Rome).
So I didn't get my vegetables here, but I can still recommend the little cafe, which is located on the cosy side streets of central Chania.
A few streets behind Ginger Concept, you will also find Old Chania Market, which is an old market hall with various small shops.
They are all aimed at us tourists, but it's still very nice to swing by and check out the market.
See the location of the market on the map here.
2. Elafonissi – Crete's most famous beach
Elafonissi beach is located on Crete's southwestern 'tip', so staying here as a tourist is not typical.
Nevertheless, Elafonissi beach has been a hotspot for tourist day trips for many years – it is a true 'bounty' beach, where the sand is even pink in several places.
Thus, I cannot write a guide on things to do in Crete without mentioning Elafonissi. And my personal opinion is that I do recommend going on a day trip if you, e.g. live in the Chania area.
Not because I love Elafonissi above many other places on the island, but rather because the trip down there goes over Crete's mountain range, and you experience a lot of small, beautiful mountain villages on the trip.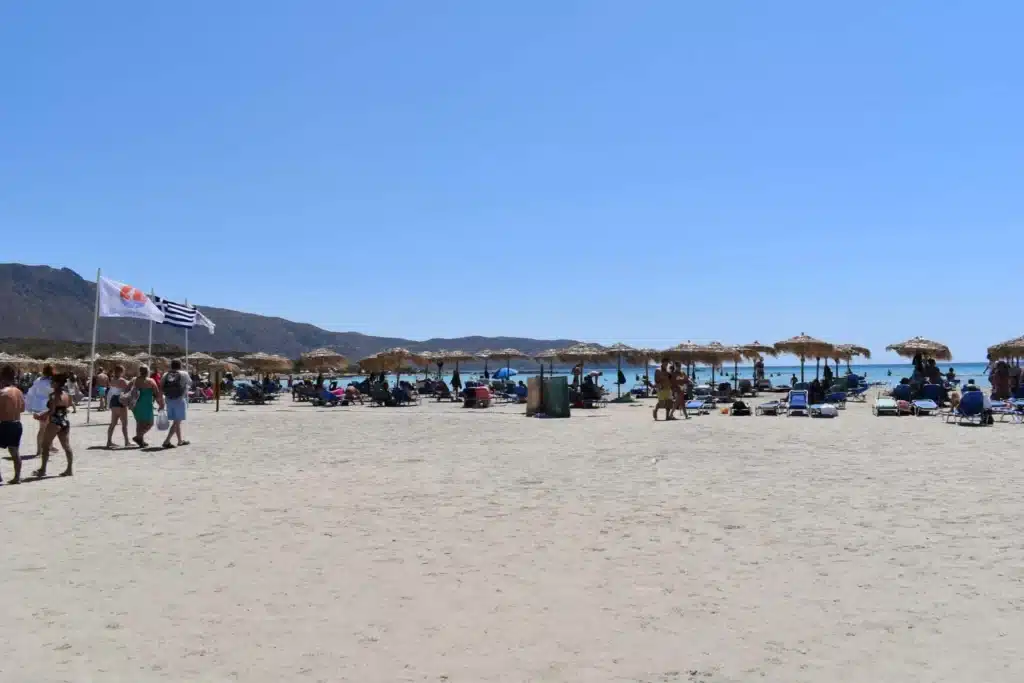 Elafonissi beach is beautiful and worth a visit. Still, it is also one of the best-known attractions in Crete, so be aware that you don't have the beach to yourself :D.
If you have not rented a car, you can take a day trip from Chania to Elafonissi.
There are many providers, but I always recommend booking with GetYourGuide, where you can read reviews, and there is also free cancellation up to 24 hours before departure.
See more about the day trip to Elafonissi beach here.
3. Samaria Gorge – the best thing to do in Crete?
The Samaria gorge is 18 km long, one of Europe's longest gorges and, in my eyes, something everyone who travels to Crete and is in reasonable physical shape should strongly consider.
I went on the trip with my family when I was 11-12 years old, and even though I was a little reluctant on the idea and didn't really cared to visit the gorge, I had to admit afterwards that it was a tremendous experience.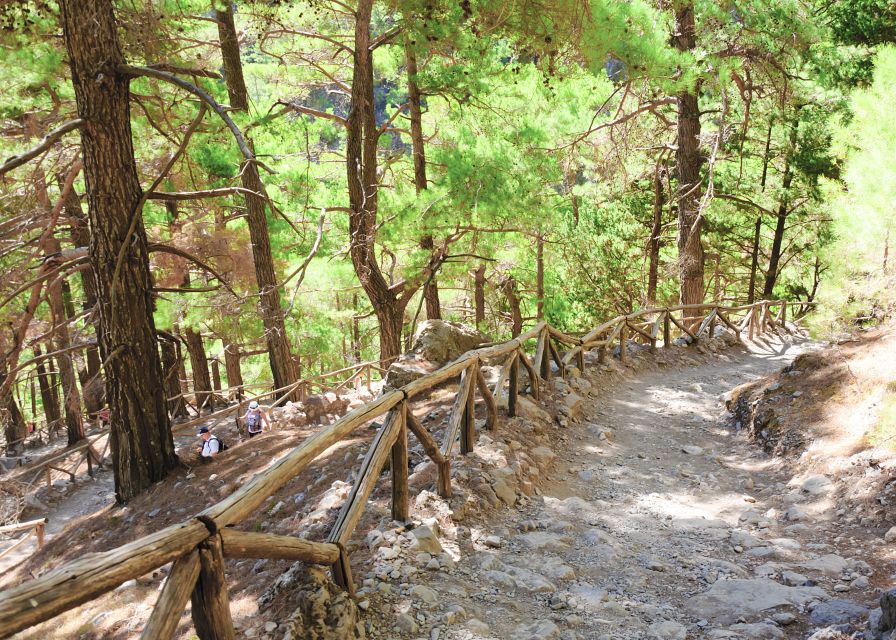 So when I went to Crete again with my girlfriend, I talked a lot about the Samaria gorge, and it was really a must-do thing on our list.
Unfortunately, there was a risk of forest fires this August 2021, and although Crete had been relatively free of fires, there was, unfortunately, a ban on entering national parks in Crete…
So unfortunately, I don't have any recent pictures from the Samaria gorge, but I would strongly recommend everyone to take the trip.
Day Trip to Samaria Gorge from Chania Area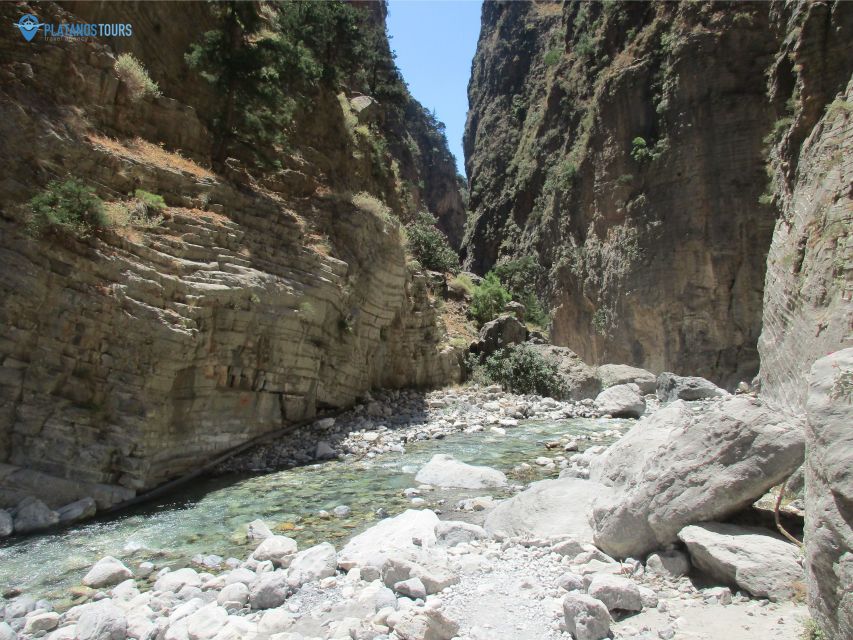 You have to book a day trip down there, where you travel by bus in the morning. Then you are dropped off at the starting point, go down into the gorge and are rewarded with so many beautiful views that it cannot be counted on one hand.
At the end of the gorge, you come to a small seaside resort with several restaurants, shops and a small beach. From here, you have to take a short boat trip to where you will be picked up by your bus and taken home to the hotel.
So it's a day trip, and it can be hard to walk that far in the heat, but it's also an extraordinary experience in Crete.
Read more about the trip to Samaria and book online here.
You can also see more pictures from the gorge and get an impression of what awaits there.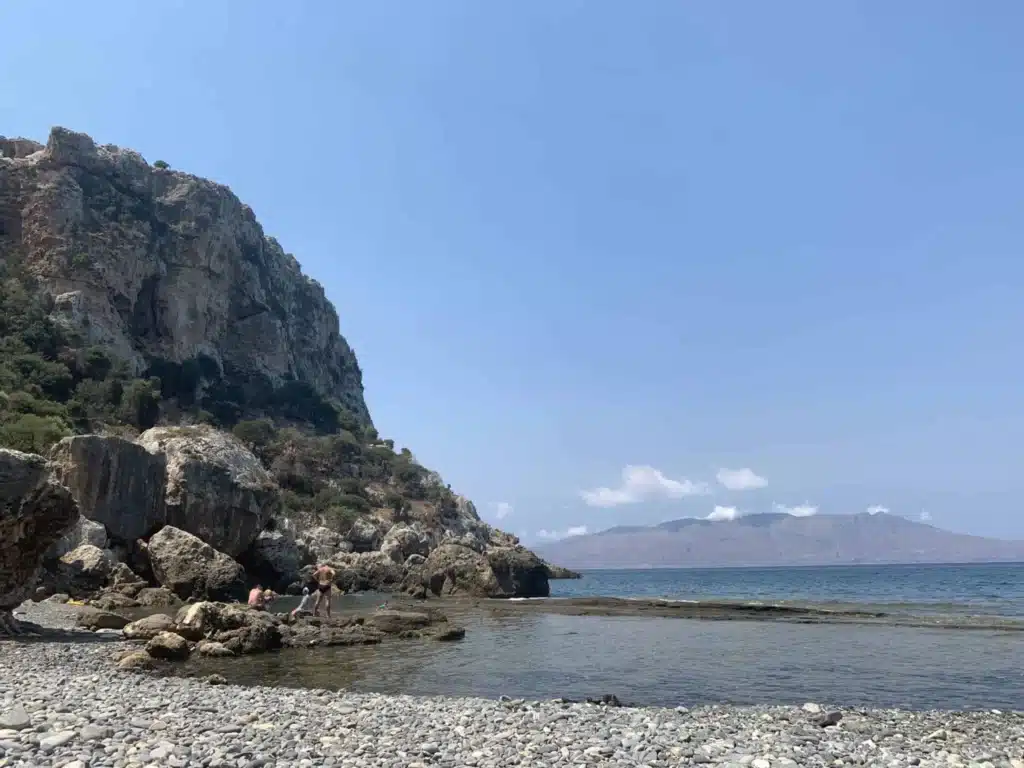 And then it's also time for a slightly more unknown sight on Crete. I don't remember how I found this place, but I think I was just looking for interesting places in my Google Maps app on my mobile.
We stayed in Platanias and planned to drive to Falasarna beach (which I will probably get to here on the list), but there had been a traffic accident, so we went off the 'motorway' and instead drove to Ravdoucha as I had 'pinned' in Google Maps.
We were really happy about that!
It turned out to be exactly what we needed after experiencing quite a few beaches with perhaps a little too many people.
This is a small stone beach at the end of a mountain road, where there is a small car park and a simple hotel where you can also eat in the restaurant.
A really beautiful place where you can swim and soak up the sun for a few hours with a beautiful view of the mountains of Crete.
You need your own car and it's actual mountain driving to get there, so if you've just got your license and aren't that comfortable driving, I might not recommend that you start your career as a mountain driver right here 😀
But otherwise, the Ravdoucha 'beach' is worth a visit – and only a few people know the place (at least here in 2021).
5. Balos Beach and Gramvousa Island
From home, Balos beach was really high on my ' must-see attractions in Crete ' list, but as always, when you're on holiday, there are things you just don't get to.
So I can't say for myself what Balos beach is like, but I really think it looks fantastic.
We didn't get there because I read quite a bit that the road there is pretty bad, and some even think it's dangerous.
So we should have taken a boat trip there, but we just couldn't figure that out at that time.. When I got home I couldn't forget about this beach, and decided to research the best route for next time we visit.
And it turns out that it's actually very easy, if you book in advance through the link below. This is for sure the most important thing to do on our next trip to Crete! Let me know what you think in the comments below, if you visit before I do.
Here are a number of options for trips to Balos beach.
6. Falasarna beach
A bit further south, we find Falasarna beach, which, together with Elafonissi, is often mentioned as one of Crete's best beaches.
This beach is easier to get to than Balos, so it is easy to drive over here if you live in Chania – the trip takes just over 1 hour.
In contrast to Elafonissi, there is a bit more city life immediately 'behind' the beach, and there are many restaurants to choose from.
So if you can't quite manage the drive down to Elafonissi, Falasarna is a good alternative.
Or you can start the day by driving to Elafonissi and from there drive north to Falasarna – then at least you have experienced two of Crete's best beaches in one-day 😀
7. Lake Kournas – rent a pedal boat and see turtles
Lake Kournas is located east of Chania towards Rethymnon, where I have also previously lived and know that many tourists take holidays.
I never made it here myself, but when I see pictures and videos from the lake, it is without a doubt a place I would like to swing by and rent a pedal-boat.
Besides being a beautiful natural area, it is possible to see freshwater turtles in the lake, which surprised me a bit when I was researching things to do in Crete before our trip.
It must be an experience for my next trip to Crete, but feel free to write a comment below if you have been there and can recommend Kournas lake.
8. Knossos – Europe's oldest city?
Knossos is the largest archaeological site from the Bronze Age on Crete and has been called Europe's oldest city.
I was there as a child and remember it as an exhilarating experience wandering around the ruins of ancient Greece.
All the details about Knossos can be read on Wikipedia, so I'll spare you those here.
A trip to Knossos is recommended, but be aware that if you travel to Crete in the absolute high season in the summer, it is a warm pleasure to explore the archaeological area.
You can book a day trip to Knossos here.
9. Heraklion – the main city of Crete
A little north of Knossos, you will find the main city of Crete, Heraklion. Again, very few people travel to Crete in July and want to wander around a big city like Heraklion for a whole day.
But if you, e.g. are in Crete for 2 weeks and would like a bit of city life, then Heraklion is worth a visit. The city is the fourth largest in Greece, with around 200,000 inhabitants, and there is thus plenty to experience in the city.
I've only been there as a child and don't remember anything other than that we went to museums, and it was hot, so I'm sorry I can't give more pointers, but I think the city looks exciting in the video above.
Crete is generally a place I would like to explore outside of the summer months, where you can see more than lying by the beach.
So I hope that at some point, I can update this travel guide and give more good tips for Heraklion.
10. The view from Platania's rooftop restaurants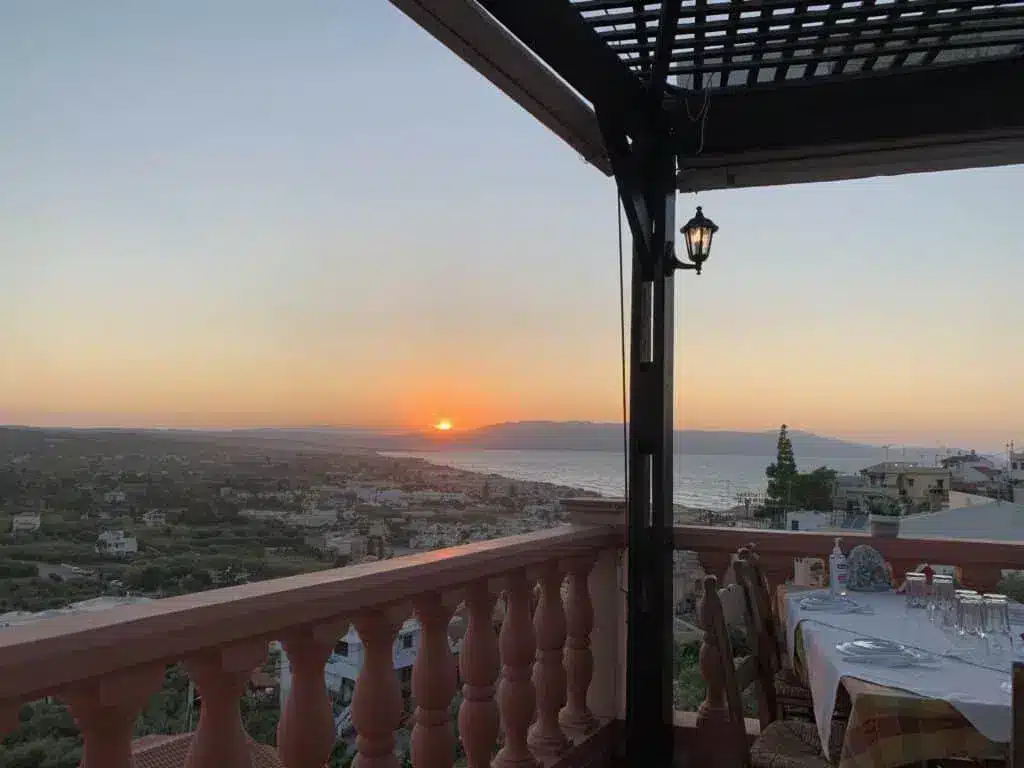 Many readers of this guide probably live in the Platanias or Agia Marina areas (the two areas are next to each other), so I'll include this tip for you.
From the "square" in Platanias (see location on the map here) you can go up a hill, and quite quickly you get to the heights and can enjoy a beautiful view, where you can see really far out over the sea and the mountain ranges on the northern coast of Crete.
We ate one evening at Amarantos, which had received excellent reviews.
Unfortunately, I can only praise the view here, as our waiter was decidedly inattentive. Unfortunately, the food was nothing to write home about either. The restaurant did have a super cosy atmosphere, so we may just have been unlucky.
However, plenty of restaurants are here on the hilltop, so I'd like to make a beeline to try one of them and enjoy the view from the top.
The restaurant next door may have been a better bet?
You can find it here:
11. My map with all things to do in Crete
Here is number 11; you get not just one but many more sights and experiences in Crete 😀
I have many more things to do in Crete 'pinned' on my Google Maps, but we also had to laze by the pool, so I can only recommend some of them.
However, I have made a map of Crete, where I have put places that look interesting.
There are i.a. popular places like Preveli beach, Skinaria beach, Lefka Ori mountains, the ancient olive tree Ano Vouves and many more exciting experiences in Crete.
Feel free to write a comment if you know of other good places in Crete, and I'll be happy to add them.
My map of things to do has a natural focus on Chania and northwest Crete, as that is where I have been most often, but I would like to return to Crete and explore the eastern part.
I hope you have a fantastic trip to Crete ☀️ 🇬🇷
FAQ:
What are the best beaches to visit in Crete?
Crete has many beautiful beaches to explore, and some of the best are:
Elafonisi: Known for its crystal clear turquoise water and pink sand.
Balos: A picturesque lagoon with turquoise water and white sand surrounded by cliffs.
Vai: A tropical beach with palm trees and golden sand along the eastern coast.
Falassarna: A vast, elongated beach with crystal clear water and spectacular sunsets.
Preveli: Located on the river Kourtaliotiko, surrounded by palm trees and a place of great historical importance.
Matala: Famous for its cave-like formations in the rocks and crystal clear water.
Stalis: Long, wide sandy beach with many facilities such as bars, restaurants and water sports activities.
Agia Marina: Beautiful sandy beach near Chania with calm bathing water. Agia Marina is also one of the best areas to live in Crete.
What to do in Crete with children?
Crete is an excellent destination for families with children. Here are some fun activities you can do with your kids on the island:
– Visit Aquaworld Aquarium in Hersonissos: This aquarium has a wide variety of marine life and also offers interactive experiences.
– Go on a boat trip: Many local companies offer boat trips along the coast where you can snorkel, explore caves and visit remote beaches.
– Visit the Palace of Knossos: An exciting way to learn about the ancient Cretan civilization. The kids will love exploring the ancient ruins and learning about the history behind them.
– Hop aboard a tourist train: Several miniature tourist trains run around the cities of Chania and Rethymnon and give the children a fun ride around the city.
– Go to the water park Acqua Plus in Hersonissos: This water park has a wide selection of slides and pools for all ages.
– Visit Crete Zoo in Hersonissos: An animal reserve with a large selection of animals from all over the world. The children will love meeting the animals face to face.
How do you experience the 'real' Crete with local culture and food?
Crete is an island with a rich culture and traditional food, and there are many ways to experience this. Visit, e.g. the local markets, where you can buy fresh produce such as fruit, vegetables and olive oil. At the same time, you get to meet the residents and learn about their way of life.
You can also go on a wine tasting at one of the many wine producers on the island or visit one of Crete's museums, where you can learn about the island's history and culture. If you want to taste the traditional food of Crete, try eating in a traditional tavern where you can get authentic dishes like "dakos" or "stifado".
Is the Samaria Gorge worth the trip?
Yes, in my opinion, it is one of the best things to do in Crete.
The Samaria Gorge is one of the most popular hikes in Crete and attracts thousands of tourists every year. The tour is worth considering if you want to explore the island's natural beauty and landscape.
The gorge is 16 km long and offers spectacular views and a unique experience of nature and history. Along the way, you will pass beautiful rock formations, lush forests, mountain lakes and the remains of an ancient settlement.
On the trip, you will also have the opportunity to see the rare Cretan goat – "kri-kri".
However, it should be noted that the tour requires a certain degree of physical ability, as there are some steep climbs and descents along the way. In addition, the route can be very hot in summer, so taking plenty of water with you is recommended. As a child, I was on the trip, so it's not THAT hard, either.