Crete is a grand holiday island, but it's also a surprisingly large island (it's Greece's largest) and choosing a place to stay can seem overwhelming.
In this guide, I tell you all about the best areas to stay in Crete as a tourist and come up with specific travel tips that you can use on your trip to Crete.
At the bottom, you will also get a warning about a holiday town you should only stay in if you are looking for something particular…
Where to stay in Crete? Let's get into the guide.
1. Chania – an exciting city close to the airport ✈️
There are two main airports in Crete, one of which is located near the large town of Chania in the western part of Crete.
Chania is an exciting Greek city with both tourists and a local atmosphere.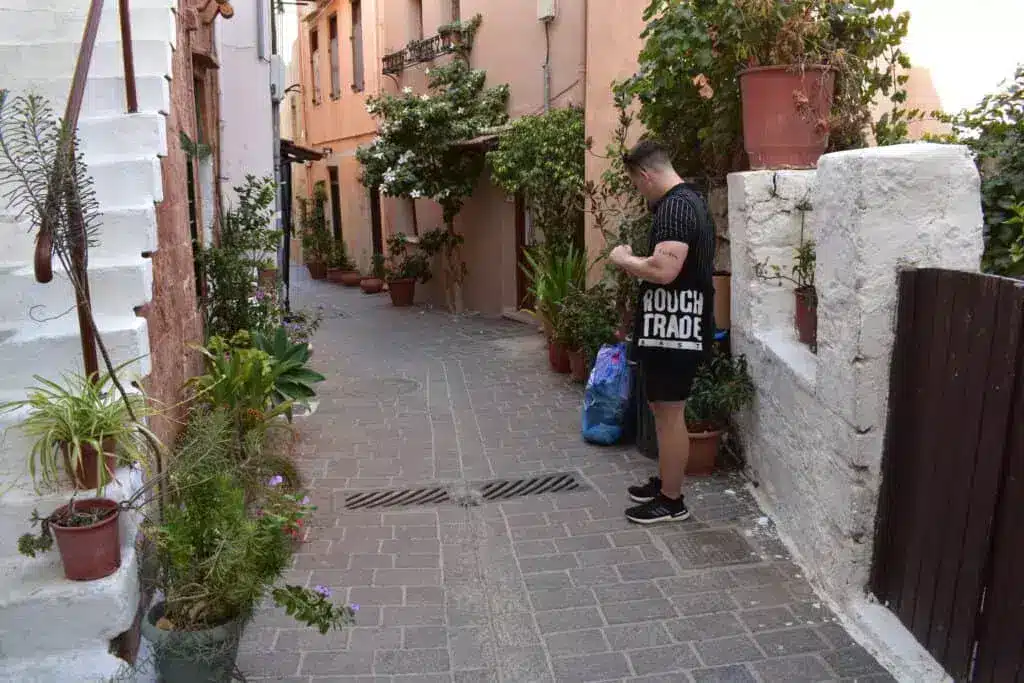 I have already written quite a bit about Chania in my guide to the best things to do in Crete, so I easily and elegantly skip over mentioning a lot more about the city here.
I don't really recommend staying inside Chania, as here you miss out on the fantastic beaches that Crete is so well known for.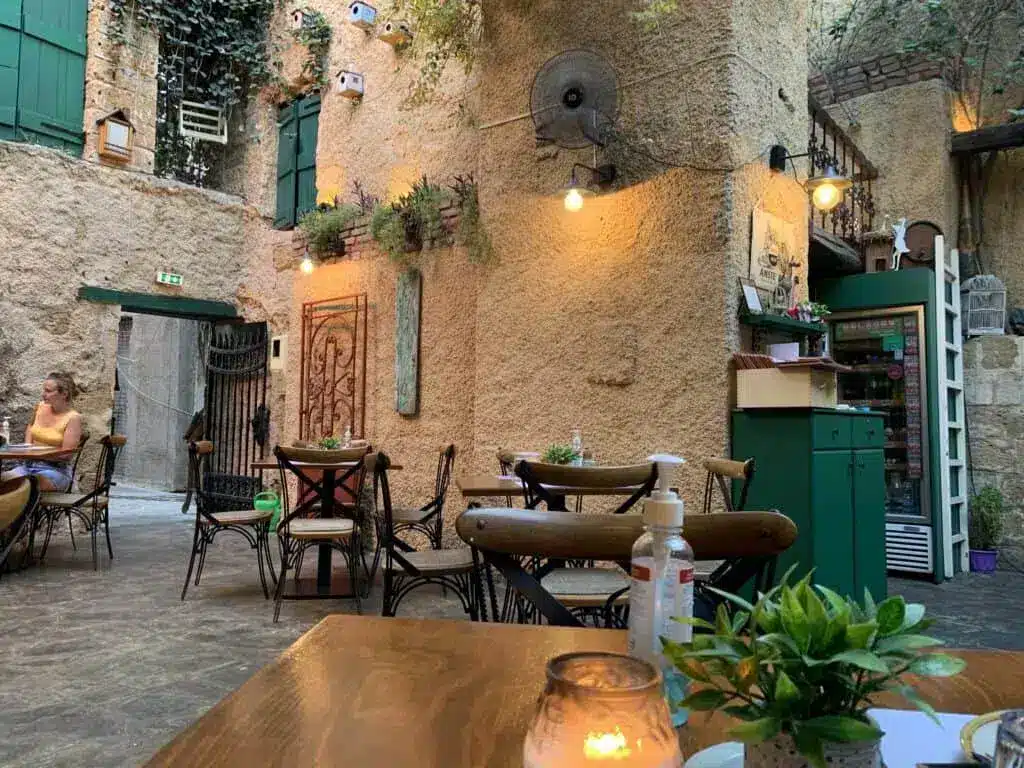 Unless you travel to Crete in winter, it would be a shame to stay inside the actual city of Chania. I wanted to mention Chania in this guide as it's a brilliant city.
If you travel to Crete in the colder months, you can see the best hotels in Chania and book online here.
2. Agia Marina – best place to stay for families 👨‍👩‍👧‍👦
Agia Marina is the perfect area when you travel to Crete with children. I was here a few times in my very young days when I was with the family on a classic charter trip, which was perfect.
On my most recent trip to Crete, I could wander around Agia Marina as an adult. Now, my adult brain can also approve of the area as a good place in Crete.
It is perfect for families with children because there are many good hotels, beaches and entertainment.
This is a classic summer holiday area with many restaurants, souvenir shops and excursion opportunities.
For the slightly older clientele, there are quite a few walking-in-town options and, among other things, a beach club that looks quite nice.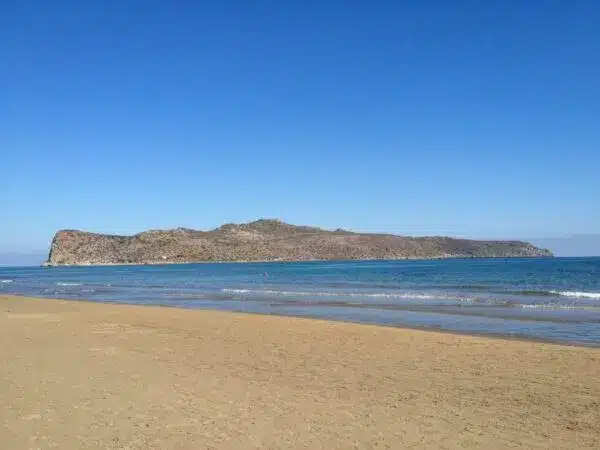 Staying in Agia Marina on a trip to Crete is a good choice.
Here you are close to the airport, can go on all the excursions you want or just enjoy the relaxation at your hotel with a few detours into Chania town.
See the best deals on hotels in Agia Marina here.
3. Platanias – stay right by the beach 🏖
I stayed in Platanias on my trip to Crete in the summer of 2021, and it was absolutely perfect.
Platanias has gradually merged entirely with Agia Marina, where the latter is a little closer to Chania town.
In Platanias, many families with children also seemed to have a great time during my trip.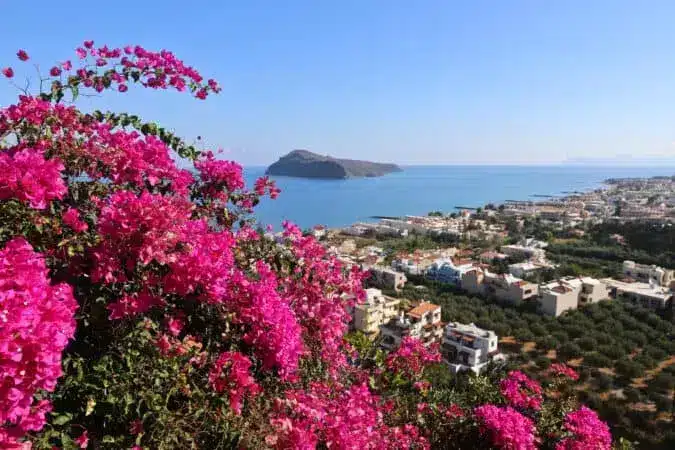 The beach in Platanias is very similar to the one in Agia Marina. Also, it has a view of the beautiful rocky island out in the sea.
On the main street, restaurants, bars and souvenir shops lie side by side, with countless opportunities to do something.
There is a very steep hill right by the 'central square' in Platanias, where you get up quickly and thus get a phenomenal view of the whole area.
Plenty of restaurants allow you to sit with a sea view and enjoy your dinner while the sun goes down.
I highly recommend staying in Platanias on your trip to Crete – it's like Agia Marina, easy and convenient and many good hotels when I check the selection from home.
See the best hotels and book online here.
4. Rethymno – beautiful city with plenty to do
Then we have to go a little further away from Chania and east to Rethymno, located about halfway between Chania and Heraklion (the central city on Crete and where we will get to in a bit).
Rethymno, like Chania, is a port city that is the 'capital' of its own province on Crete, so this is one of the island's larger cities.
I stayed in Rethymno (there, by the way, can be spelt several ways ) on a trip to Crete maybe 10 years ago and was very happy about it; just like in the areas mentioned above, it is a classic summer holiday area with all that entails of restaurants, bars and amusements.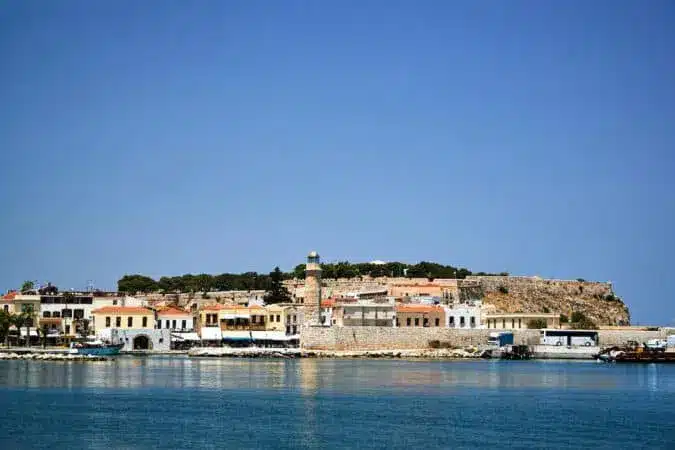 However, Rethymno is slightly more laid back than Platanias and Agia Marina, where you are never far from the nearest Scandinavian tourist :D.
Rethymno town is extremely cosy ala Chania and has this classic Greek atmosphere with narrow streets and cosy restaurants.
In the area around the city, there are several good sandy beaches, and it is a tourist area, so there are plenty of good hotels.
See the best hotels in Rethymno here.
5. Heraklion – stay in the largest city in Crete
Heraklion is the 'capital' and the largest city in Crete.
In other words, it is a European metropolis with all that it entails, and it is thus not immediately an area where you, as a tourist, would choose to stay on a summer holiday to Crete.
Like the rest of Crete, Heraklion has a tumultuous history with many takeovers by the Arabs, the Venetians and the Turks.
You can still feel the history in Heraklion, so it's a place I recommend stopping by when you travel to Crete.
But not immediately if you travel to Crete in the summer – because it gets boiling there, and it can be a bit of pressure to walk around the big city when it's 35 degrees.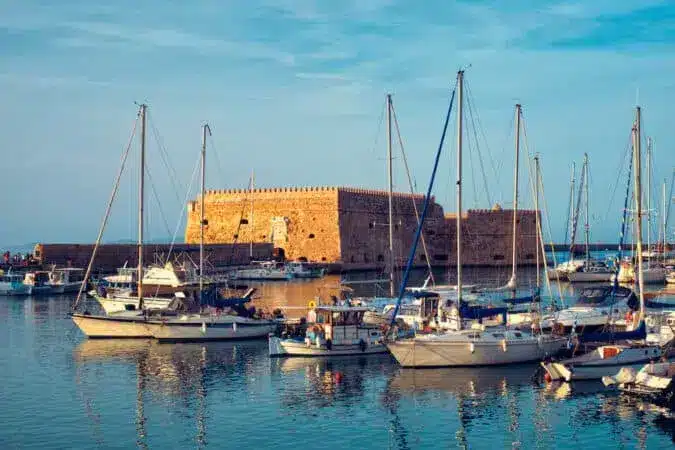 The city deserves a place on the list of where to stay in Crete, as it makes good sense to stay here if you travel to Crete outside the high season.
At the same time, you will be pretty close to Knossos, which for many, is the main reason for travelling to Crete outside the high season 😉
See the best hotels in Heraklion here.
I must admit I fall short here – I have never been further east in Crete than Knossos.
When I researched where to stay in Crete this summer and which areas would be interesting to drive to in our rental car, I found an incredible number of places in eastern Crete.
That's why I mention it here – to draw attention to the fact that Crete is a massive island and that the eastern part of the island is also packed with beautiful sandy beaches and unique nature.
I have wondered about areas like Agios Nikolaos, Elounda and Sitia, but unfortunately, I have never been there.
However, it could be an excellent offer for those who want to go to Crete but don't need to 'meet the neighbour' down at the restaurant in town.
Warning: Malia is a party destination! 🍻
And then just a warning for those who want to go to Crete and relax. You shouldn't to travel to Malia – it's Crete's answer to Sunny Beach or Agia Napa in Cyprus, where the music throbs and the drinks flow 😀
Here, the famous main street is packed with bars and discotheques, filled with young Brits who like to party all night long.
So if you want to go on a party trip to Crete, then Malia is, on the other hand, the right area to stay in 😉
I hope you can use this guide to where to stay in Crete and that you are ready to book your trip to one of the island's best areas.
If you have any questions for Crete, please comment below, and I'll do my best to help.
FAQ:
Where to stay in Crete for families?
There are plenty of great places to stay in Crete for families. Here are a few of the top choices in my opinion (I've been to Crete a few times as a kid so I should know):
Agia Marina: Agia Marina is located on the north coast of Crete and features beautiful beaches, traditional Greek restaurants, and close proximity to some of Crete's best attractions.
Chania: Located on the north coast of Crete a few kilometre East of Agia Marina, Chania features gorgeous beaches, charming old town districts and an abundance of Greek culture and history. Please note that the city itself doesn't have any beaches though, so in high-season I'd recommend Agia Marina or Platanias.
Platanias: Platanias is a popular tourist destination with a picturesque harbour and sandy beaches. The area has plenty to offer in terms of restaurants, bars, shops and activities for kids.
Rethymno: The city of Rethymno boasts beautiful Venetian harbour, historic sites, friendly locals and plenty of activities for kids.
What side of Crete is best to stay?
It depends on what type of experience you're looking for. The east side of Crete offers more rugged and less crowded beaches, while the west is known for its cosmopolitan cities and picturesque villages. If you're looking to relax and enjoy some peace and quiet, then the east is your best bet. However, if you're looking for a lively atmosphere with plenty of activities for all ages, the west might be more up your alley. In this guide on where to stay in Crete I've written about a couple of different areas that should suit most travellers.
Is Chania or Heraklion better?
Both Chania and Heraklion are great places to visit when in Crete, but it depends on what you're looking for. Chania is located on the northwest coast of Crete and has a more traditional Greek feel. Heraklion is known for its vibrant nightlife and well-preserved archaeological sites. If you want to experience the authentic Cretan culture, Chania is an excellent choice. However, if you want an upbeat atmosphere, Heraklion may be a better fit.
Where should I not stay in Crete?
While Crete is a beautiful and charming destination with plenty of incredible places to stay, there are certain areas that you should avoid. Unless you're looking for a party atmosphere, staying away from Malia and perhaps Hersonissos is advisable, as they are quite busy and noisy. If you've seen the British cult film The Inbetweeners, you know what I mean…