In this post, I'm going to share some of the best things to do in Berlin.
I'll mention the top things to do and come up with my favourites from when I lived in the German capital and from my many subsequent travels.
Consider the Berlin Welcome Card for attractions and public transport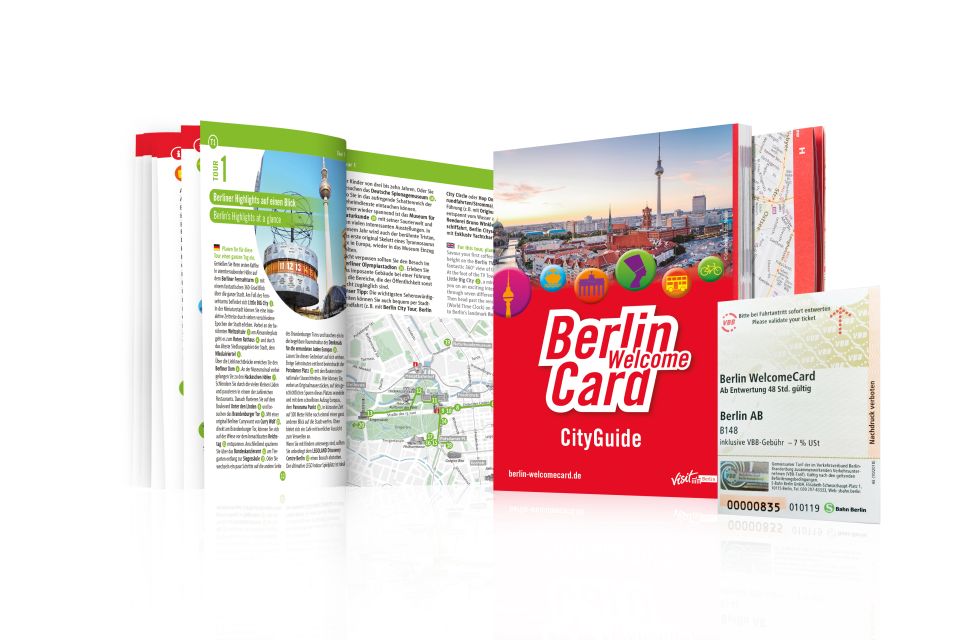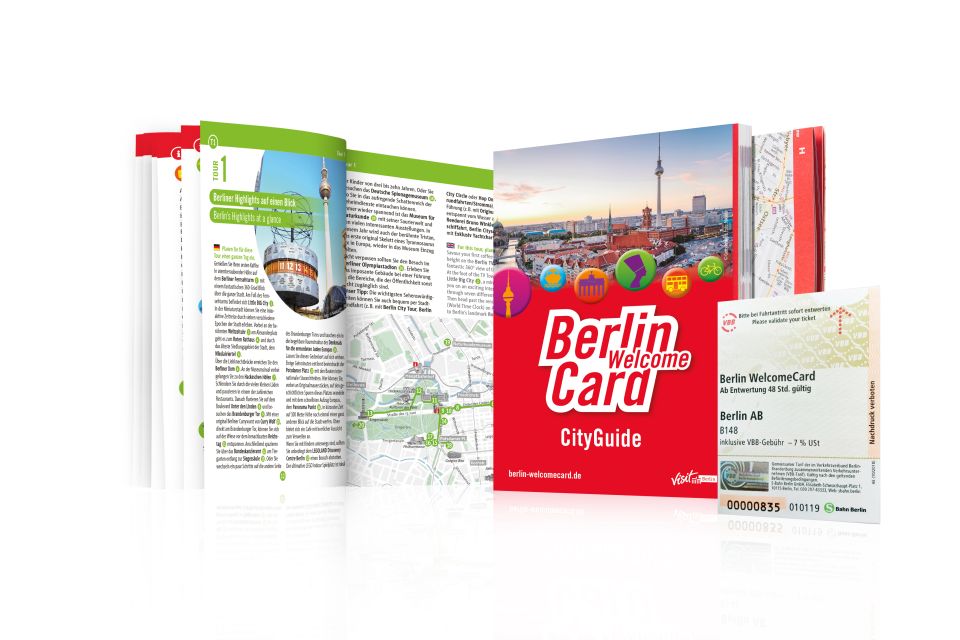 First, I would recommend everyone going on a city break in Berlin buy the so-called Berlin Welcome Card.
It is a card for tourists which gives access to the city's public transport for either 48 hours, 72 hours or 5 days. Very useful when going around and seeing sights.
In addition to providing access to public transport in Berlin and transportation from Berlin airport to the city centre, you also get a discount on over 200 different sights in Berlin, so it makes a lot of sense to invest in the Berlin WelcomeCard.
Read more about Berlin Welcome Card.
Well, let's take a look at the best things to do in Berlin.
1. The TV tower at Alexanderplatz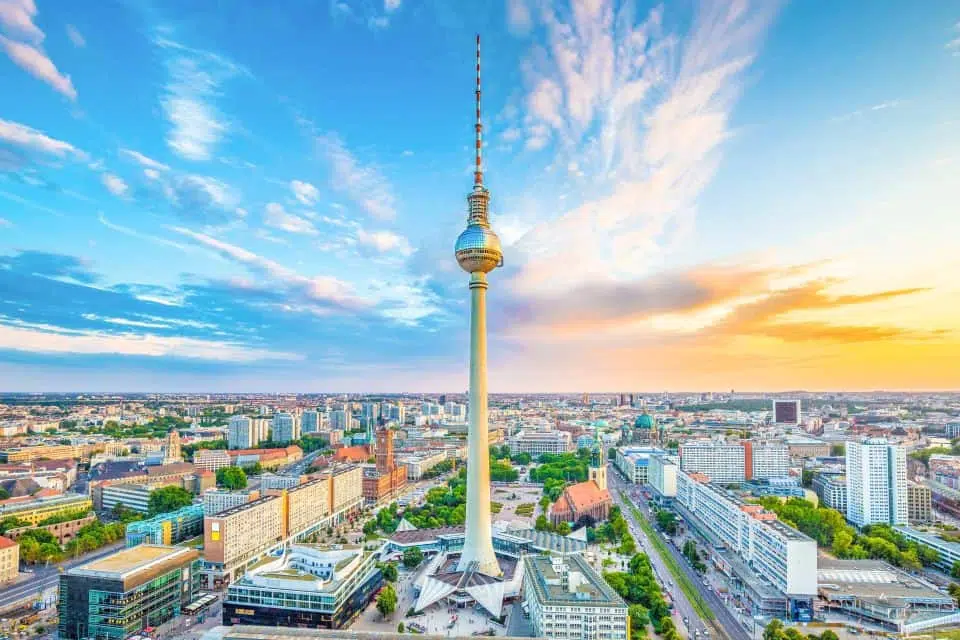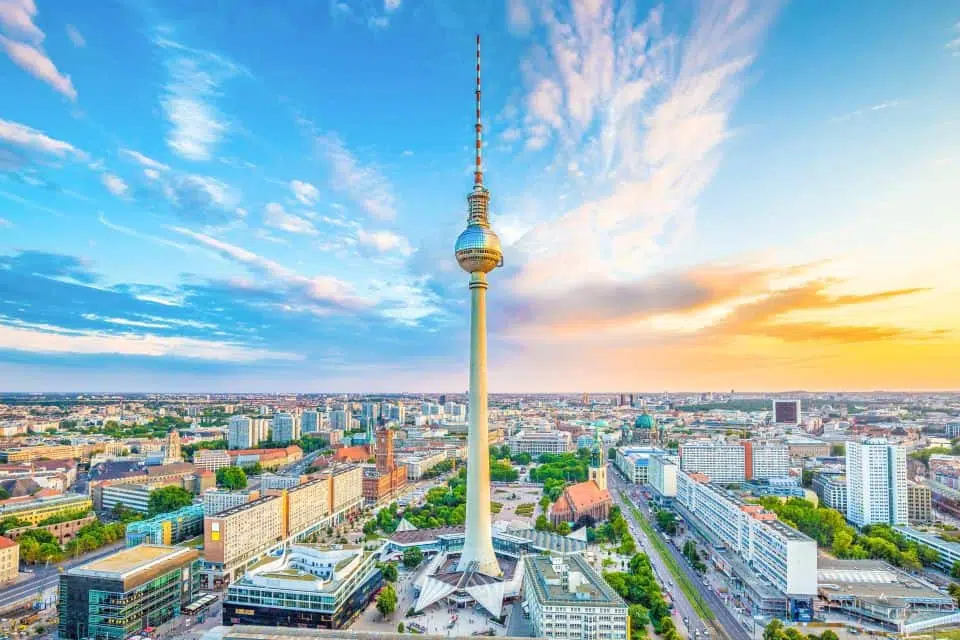 The legendary TV tower right by Alexanderplatz is an unavoidable attraction on the trip to Berlin.
The TV tower can be seen from most of Berlin and is a good benchmark for where you are in the enormous German capital.
The view from up there is awe-inspiring, and you get a sense of how big a city Berlin is.
A trip up the TV tower is thus also an excellent experience for children and adults.
How stupid I felt when I stood in the queue for an hour and a half and saw people skipping the line because they had already booked a ticket.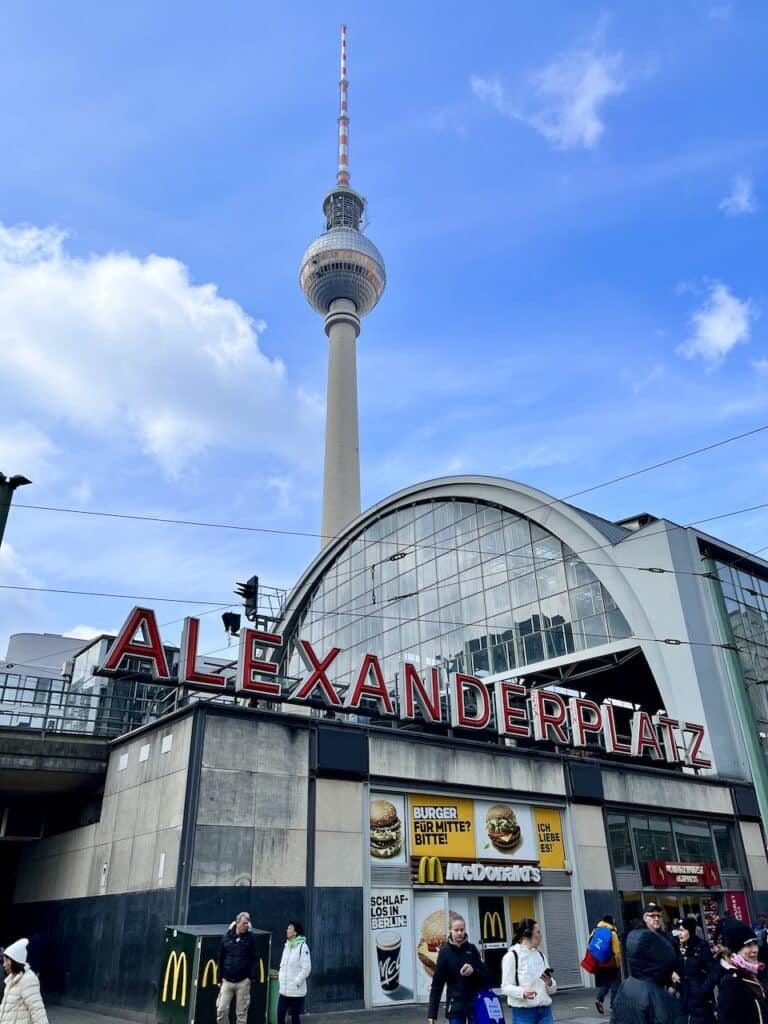 I won't make that mistake again, and I can strongly recommend everyone who wants to visit the iconic tower buy a ticket from home.
Get your fast-track ticket here.
2. Boat trip in Berlin – see the sights from the river Spree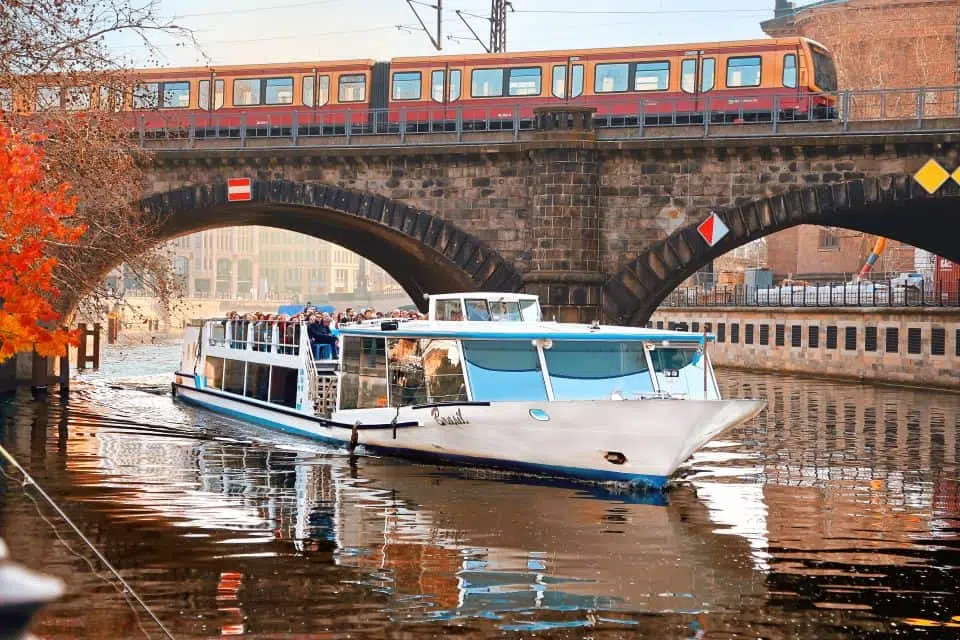 When going to Berlin on a city break, you'll see the river Spree, which cuts its folds right through the middle of Berlin. The fact that the Spree is centrally located in the city means you pass a string of attractions on a boat trip in Berlin.
There are many different boat trips in Berlin, and many companies organise popular trips.
As always, however, it is possible to book the ticket from home and be guaranteed a place on a boat.
Look at this 1-hour boat trip around the Reichstag and Museum Island.
The boat docks in Berlin Mitte, my top recommended area for places to stay in Berlin.
3. Sightseeing bus tour (Berlin is a huge city!)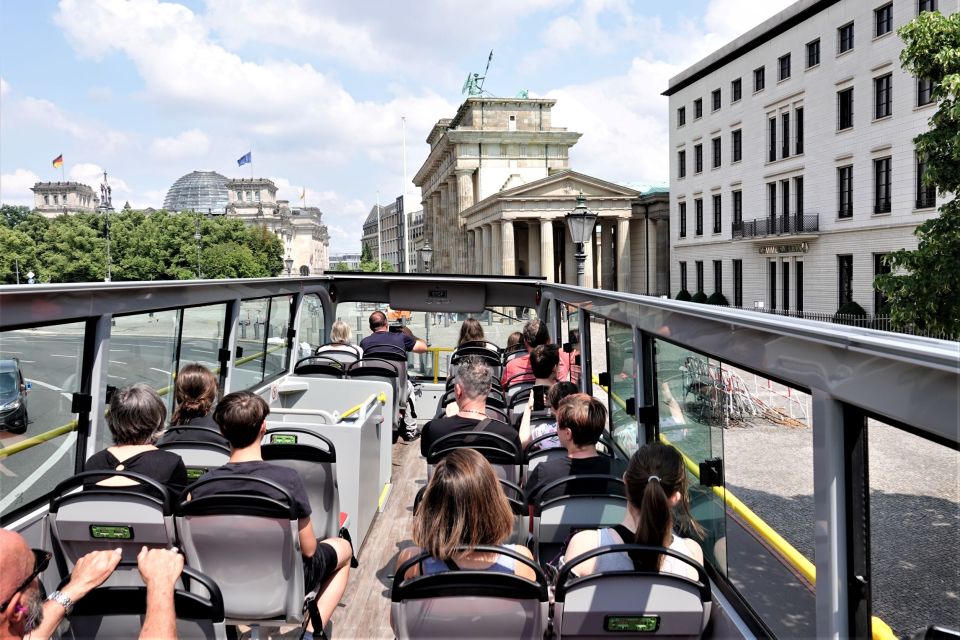 When I lived in Berlin, I took a bus ride with my family when they visited me.
I admit I should have done that as one of the first things as I got to the city.
Most people have tried to be on these classic sightseeing bus tours in various European cities, which can sometimes be a bit unnecessary, but in Berlin, in particular, it makes a lot of sense to go on a bus tour around and see the sights.
Berlin is huge and divided into many different districts, each with its own life and hubs.
With a bus tour (where you can hop on and off as you please for 24 hours), it is possible to experience several different parts of the city and sights quickly.
See more about sightseeing bus tours in Berlin here.
4. The Stasi prison in Hohenschönhausen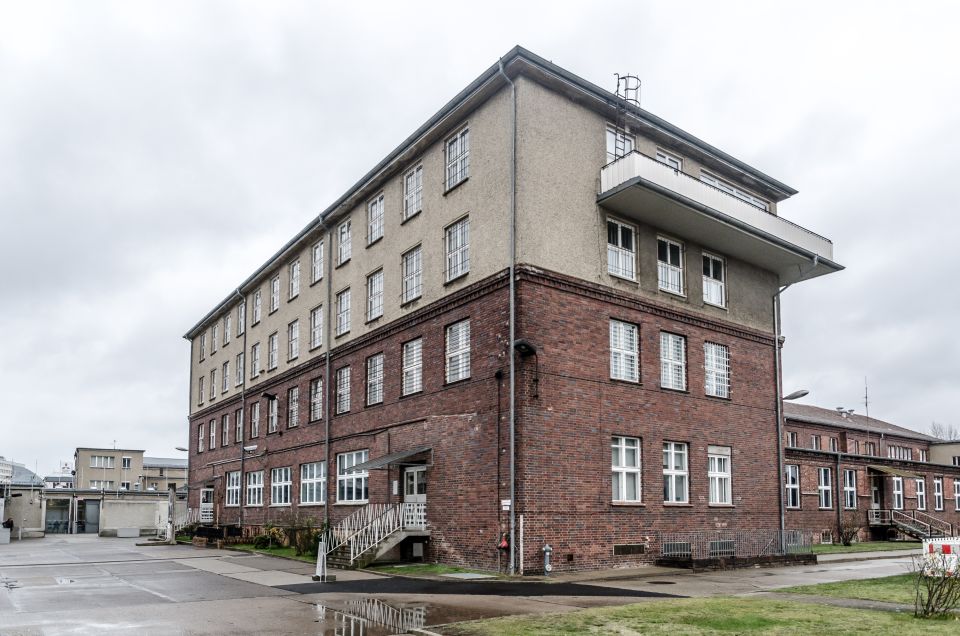 I when on a school trip to Berlin as a teenager in high school, where we started our trip by visiting the old Stasi prison in Hohenschönhausen. I don't think I was the only one who got nauseous from being there.
In other words, it is not the most uplifting thing to do in Berlin, but it is perhaps the one on the list that has made the biggest impression on me.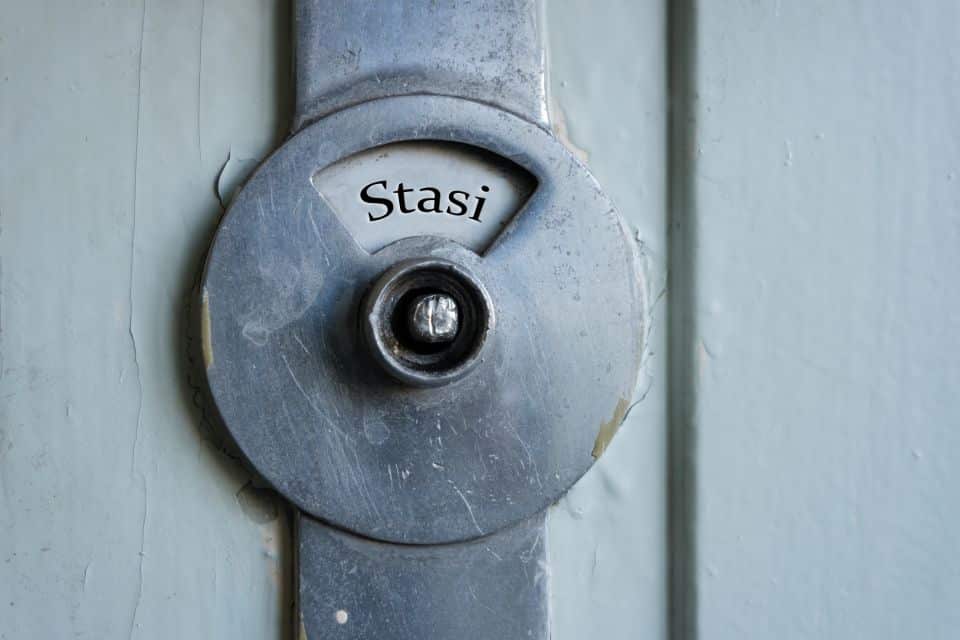 You can only go on guided tours of the prison, and the wild thing is that the guides are often former prisoners under the GDR regime. In other words, they know what they're talking about when they show around the dungeons.
A scary but exhilarating historical thing to do in Berlin.
There are guided tours in English every day at 10:40, 12:40 and 14:40.
As the prison is located a good distance out in eastern Berlin, a special tour has been made where you are picked up by a private driver at your hotel and driven to and from the prison.
See more about this tour here.
5. Berlin Story Bunker – WWII museum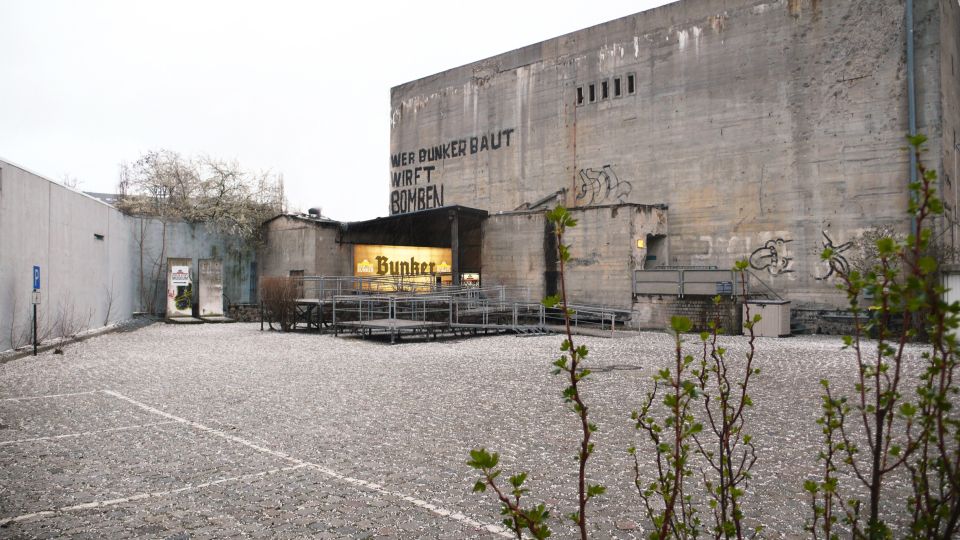 Another fascinating place for those interested in history, particularly WWII, is the Berlin Story Bunker.
Here you can see the exhibition "Hitler, How Could It Happen" and learn about Hitler, Nazism and the history of Berlin.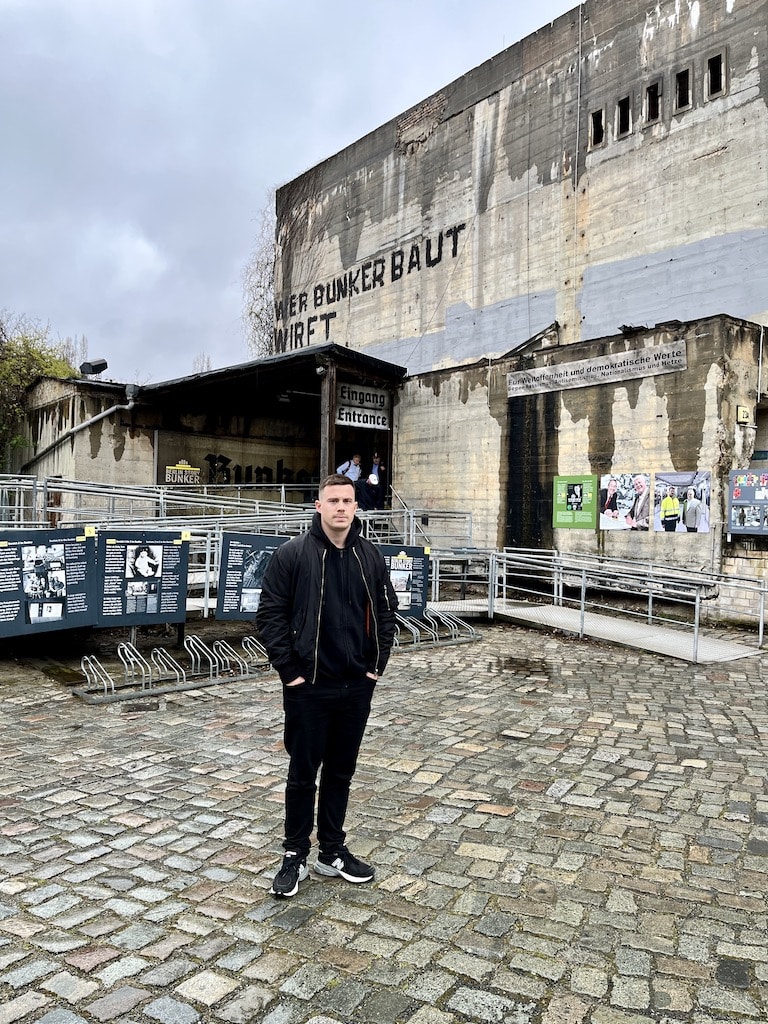 In addition, there is a large model of Hitler's "führerbunker", where he ended his days at the end of World War II.
See more about the Berlin Bunker Story.
The best way to see the sights in Berlin: walk from Alexanderplatz to the Brandenburg Gate
When I had my own travel agency, I made tailor-made trips for Berlin (as well as London, Scotland and New York City).
Here I also came up with recommendations of things to do and made walks that passed some of the city's best attractions.
And perhaps, in particular, experiences in Berlin about the Second World War.
When I was a tour guide for a bus full of Danish tourists a few months ago, I finally got the opportunity to test my one walk myself and it worked really well!
So I would recommend it if you want to see some of Berlin's best sights on a walk that takes about 1-2 hours, depending on the pace and coffee stops.
I've made a video where I'm walking this exact route in Berlin:
6. Alexanderplatz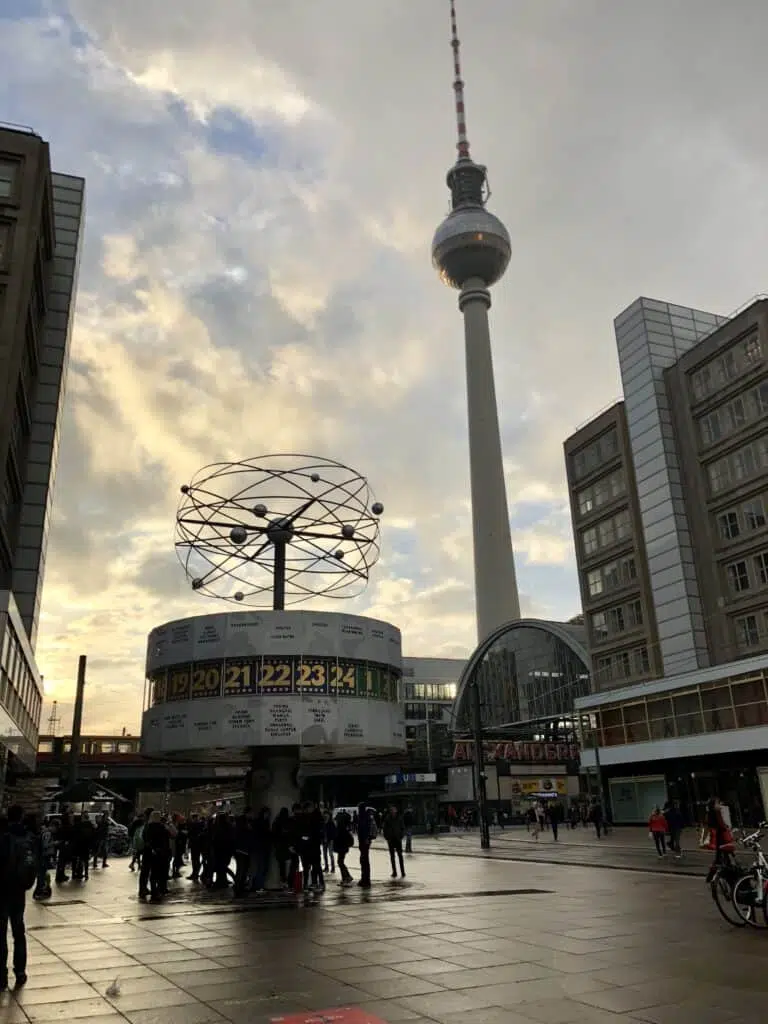 The tour starts at Alexanderplatz, which is well-known to many tourists. It's not really because anything extraordinary is happening right here, but it's a bit of a 'hub' for public transport and, thus, a fine landmark.
However, one thing you should see at Alexanderplatz is the World Time Clock.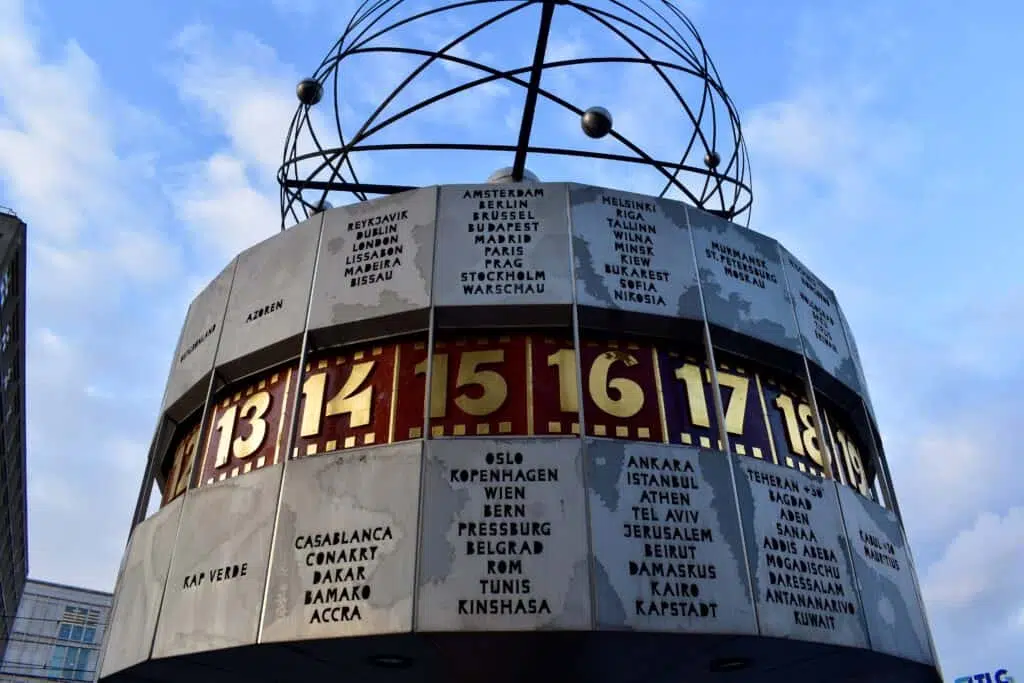 (The TV Tower is also located here – so you could start the walk by going up the tower)
7. Rotes Rathaus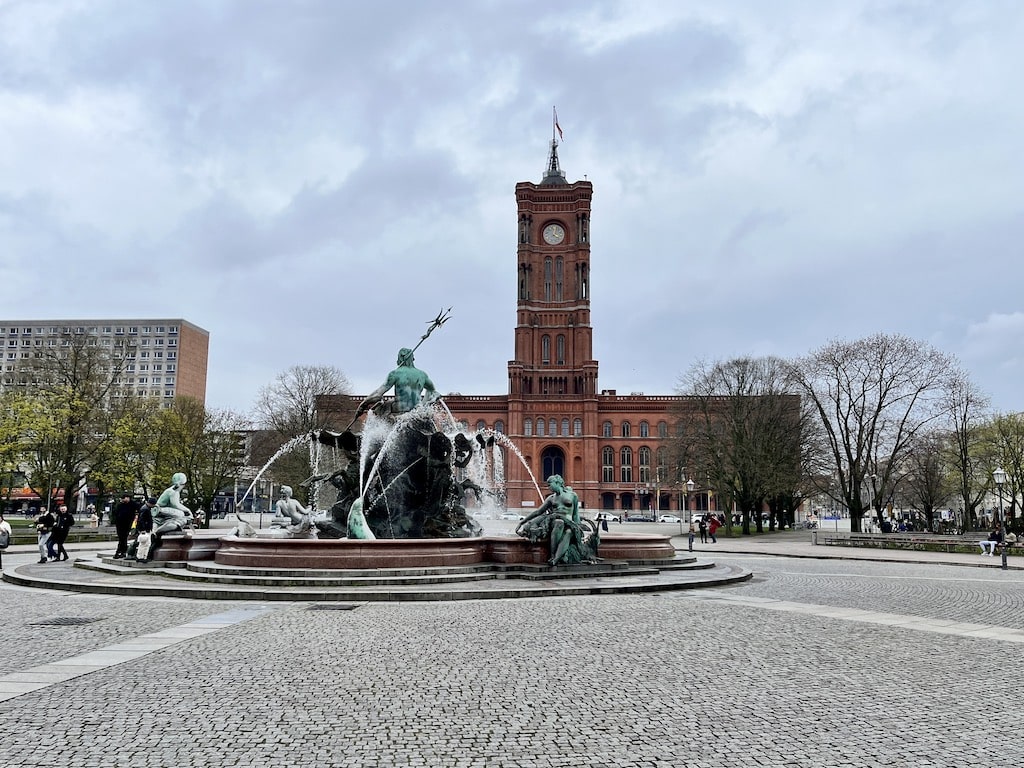 Then the tour continues past the Rotes Rathaus, Berlin's town hall and one of the more iconic buildings in the German capital.
Rotes Rathaus is close to Alexanderplatz and is Berlin's stunning town hall.
8. Berliner Dom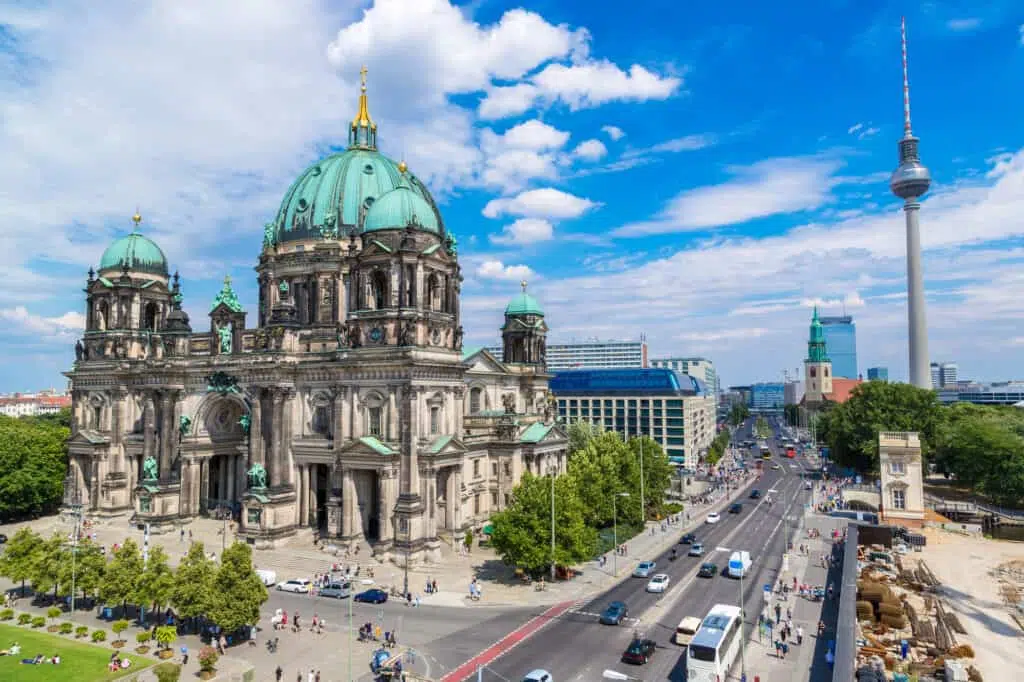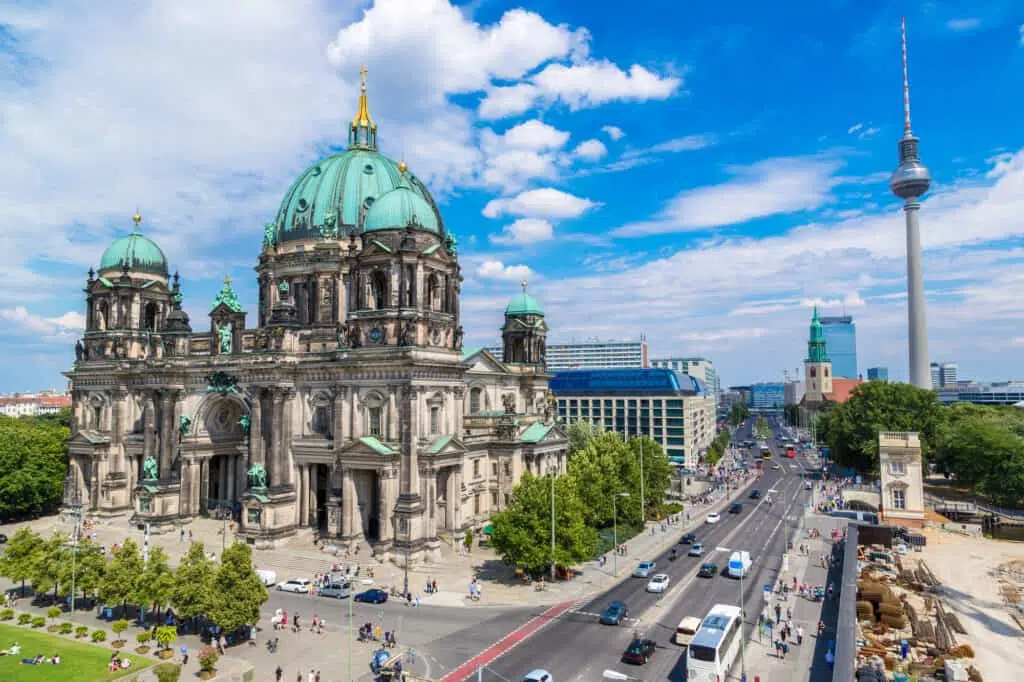 The river Spree is crossed and immediately thunders Berliner Dom as you start the tour on Unter den Linden.
From the road, you can even look towards Museumsinsel, the museum island, where the world-famous Pergamon Museum is located (more on this later in this guide).
9. Unter den Linden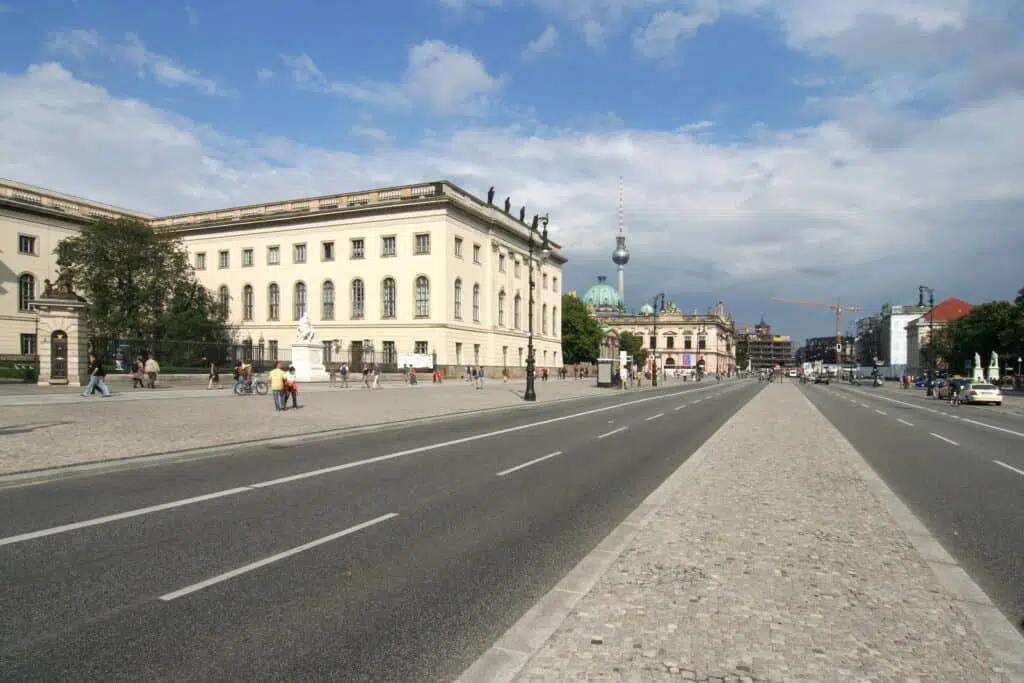 Unter den Linden goes up to the Brandenburger Tor, which is (almost) the last point of the walk, but we turn left at Bebelplatz.
10. Bebelplatz
Bebelplatz is the square where the Nazis burned over 20,000 books by mainly Jewish authors in 1933.
11. Gendarmenmarkt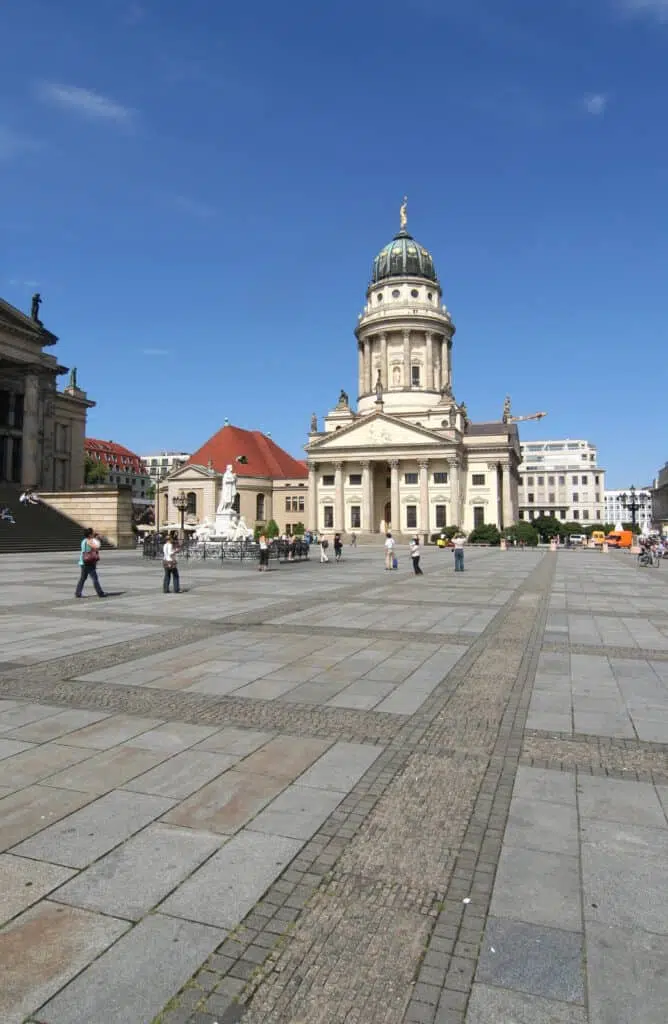 The walk continues to Gendarmenmarkt, where we find both the French and German churches. A beautiful square inspired by the Piazza del Popolo in Rome.
This would be an excellent place for a coffee stop.
12. Checkpoint Charlie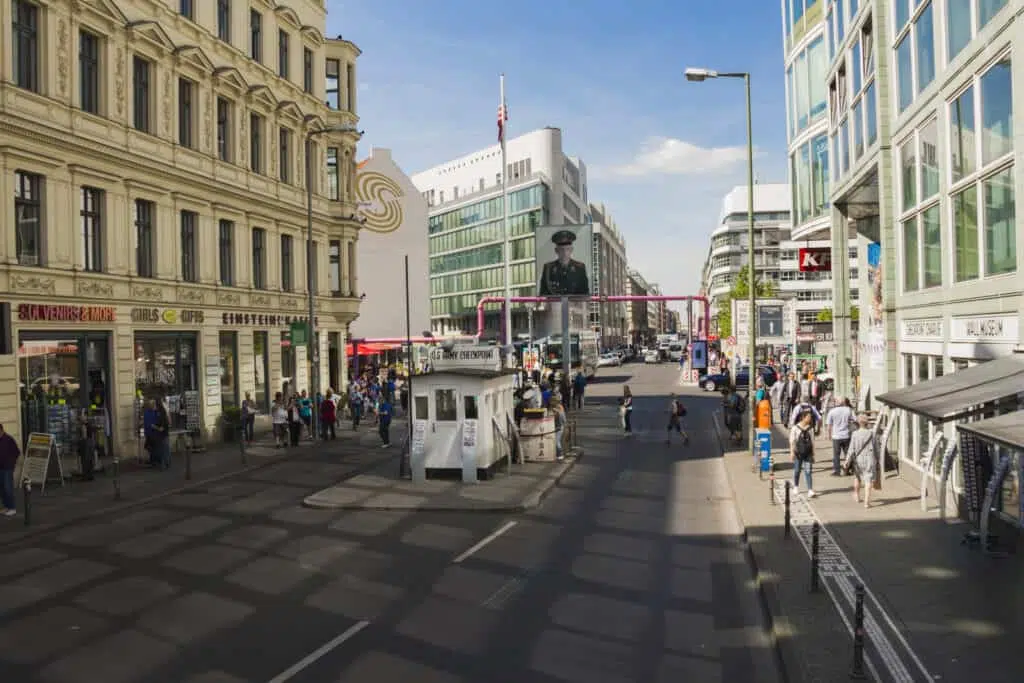 From here, it is a short walk down to another iconic attraction in Berlin, Checkpoint Charlie, which hardly requires much introduction.
Around Checkpoint Charlie is always a bit busy in the street with street vendors selling a lot of junk from the GDR era.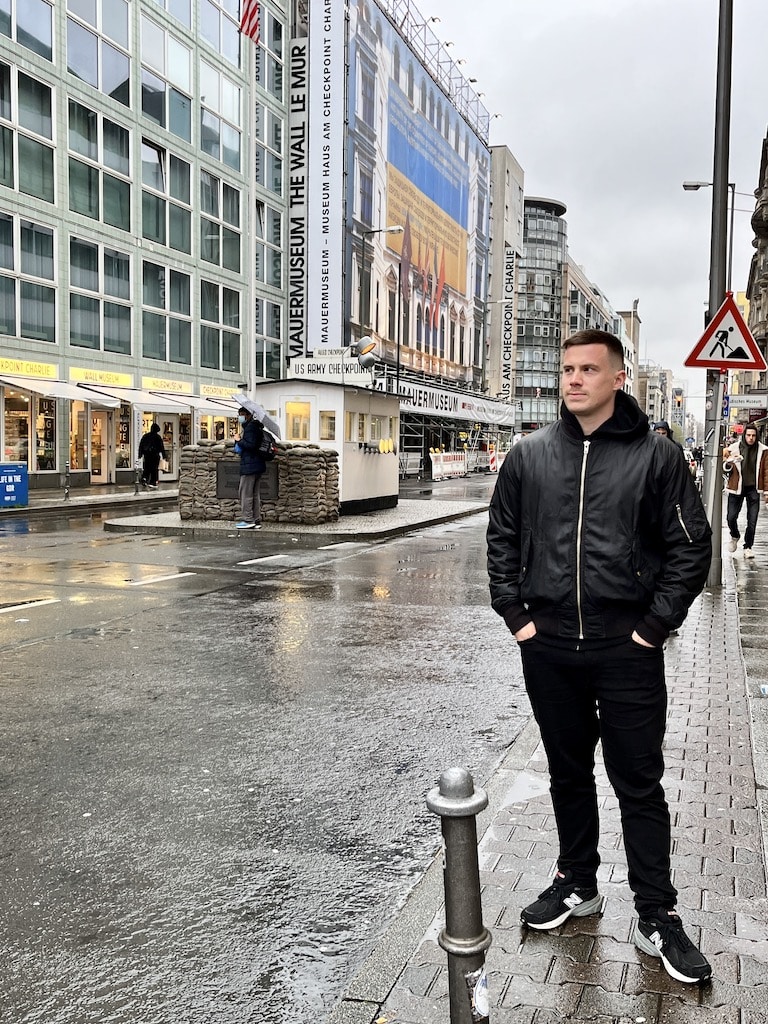 Personally, I don't think the GDR is something that should be celebrated, and I always cringe when I see people who wear GDR merchandise but to each his own taste…
13. The Wall Panorama museum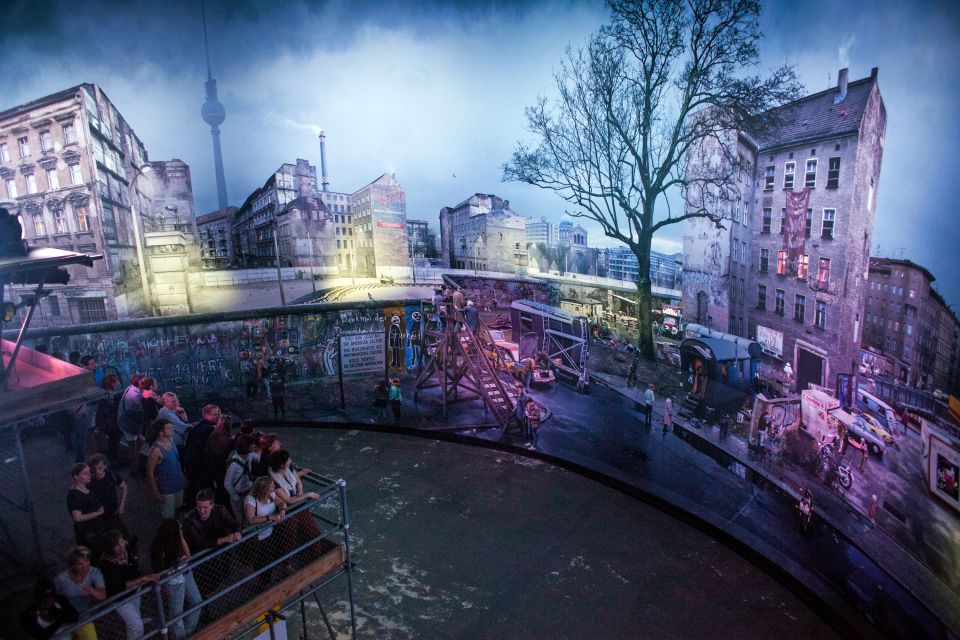 Right next to Checkpoint Charlie is an interactive museum that always triggers my curiosity when I'm on these edges. It is relatively new, and the times I have been past it, I have not had time to look inside.
On the other hand, I have only heard positive things about it and can also read from the reviews that it should be fascinating.
The museum is called THE WALL – Panorama and, although I can't say for sure, I think it's worth a visit.
Read more about the museum and buy a ticket here, it's quite cheap actually.
WWII things to do in Berlin
The next places on the walk are unfortunately not ones you pass with a huge smile on your face, but I still think they are important to pass by.
14. Topography of Terror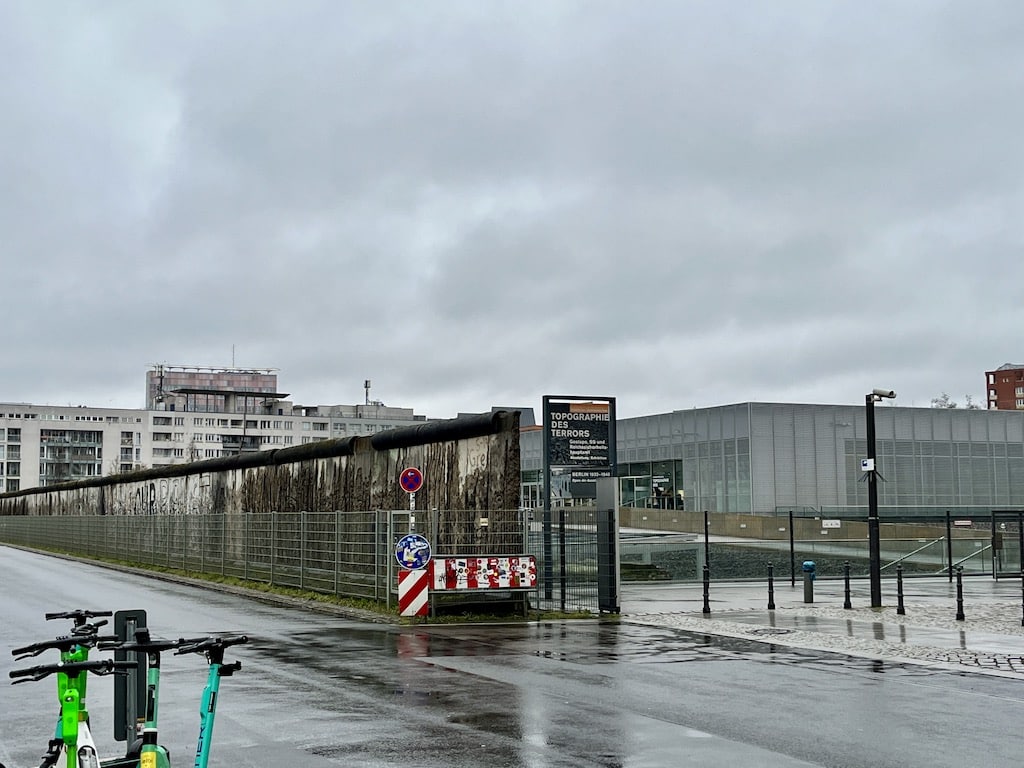 From here, it's just a matter of following the Berlin Wall westbound.
Then you hit (yet another) slightly depressing thing to see in Berlin, the SS's old headquarters, which has now been converted into a museum, which shows just what atrocities the Nazis were behind – Topography of Terror.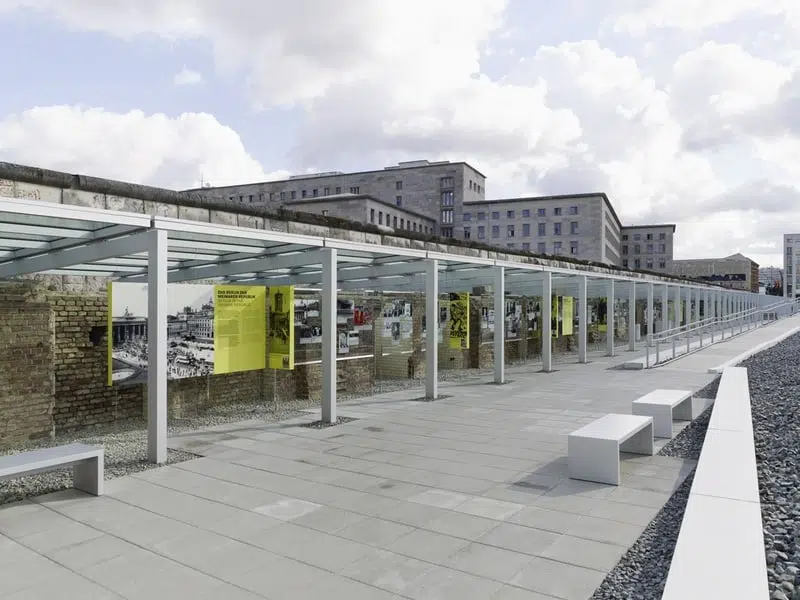 The Topography of Terror in Berlin isn't particularly cheerful, but I'd still recommend it if you're interested in history – it's free, by the way.
You could swing past Potsdamer Platz from here, which is often mentioned as a place in Berlin you should see, but in my view, there is nothing to go there for – it's just a big square…
15. The Holocaust Memorial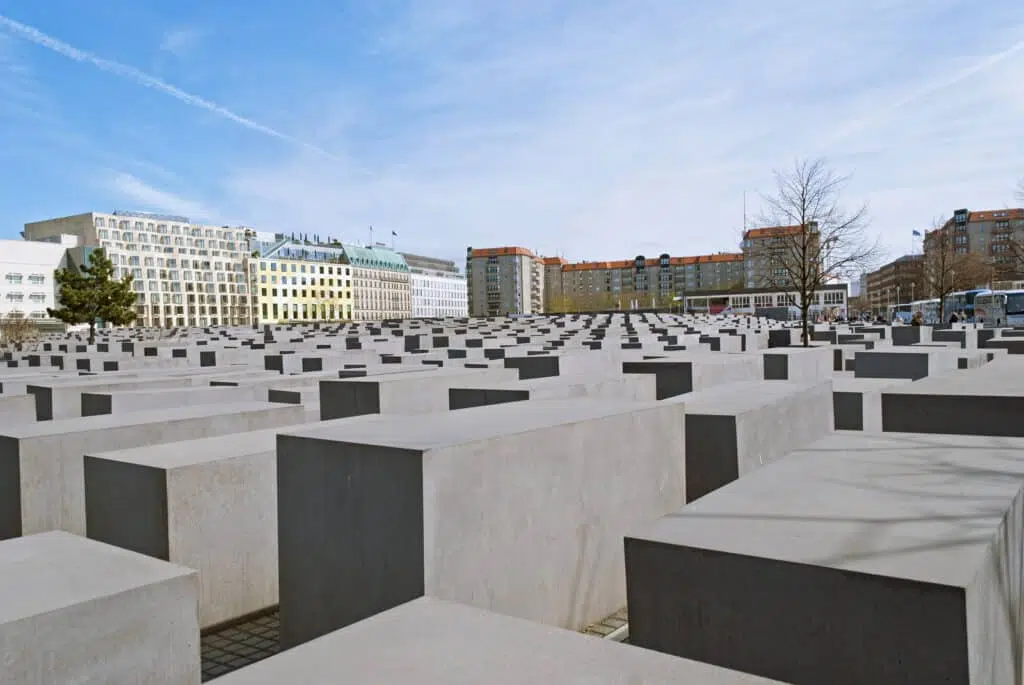 The next point on the walk is also not in the funny category, but nevertheless one of the city's most well-known and visited attractions – the monument to the Jews killed during the Second World War.
You have undoubtedly seen pictures of the place, but it is a different experience to walk around in the middle of the memorial, which is surprisingly 'deep'.
As a side note, Hitler's bunker is buried a few meters from the memorial. But there is nothing to see as it's just a parking lot and is not marked with anything other than a small sign, so it won't be an attraction in itself – I like that very much.
16. The Brandenburg Gate – Berlin's best-known sight?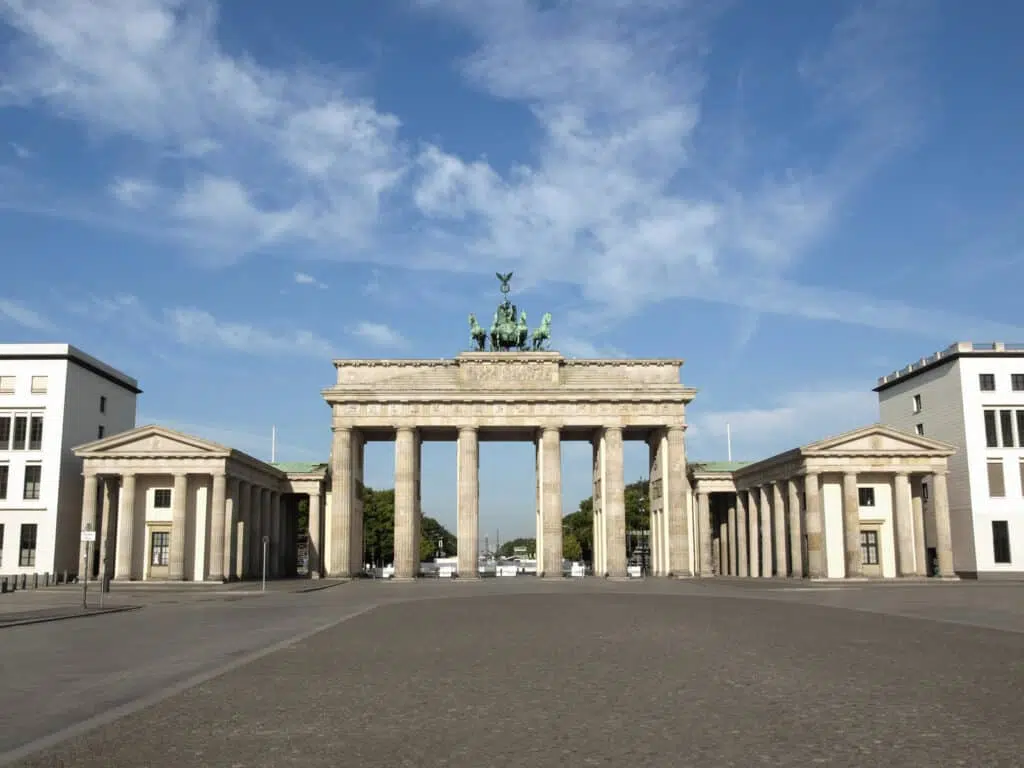 Just around the corner from the memorial, we find the Brandenburg Gate, which must be one of the gates that have experienced the most in its history.
Like so many other places in Berlin, you feel the whir of history at the Brandenburger Tor and Strasse des 17. Juni, which leads up to the Victory Column.
However, my walk does not end there – it instead "ends" just around the corner at the German Bundestag.
17. The Bundestag – the German parliament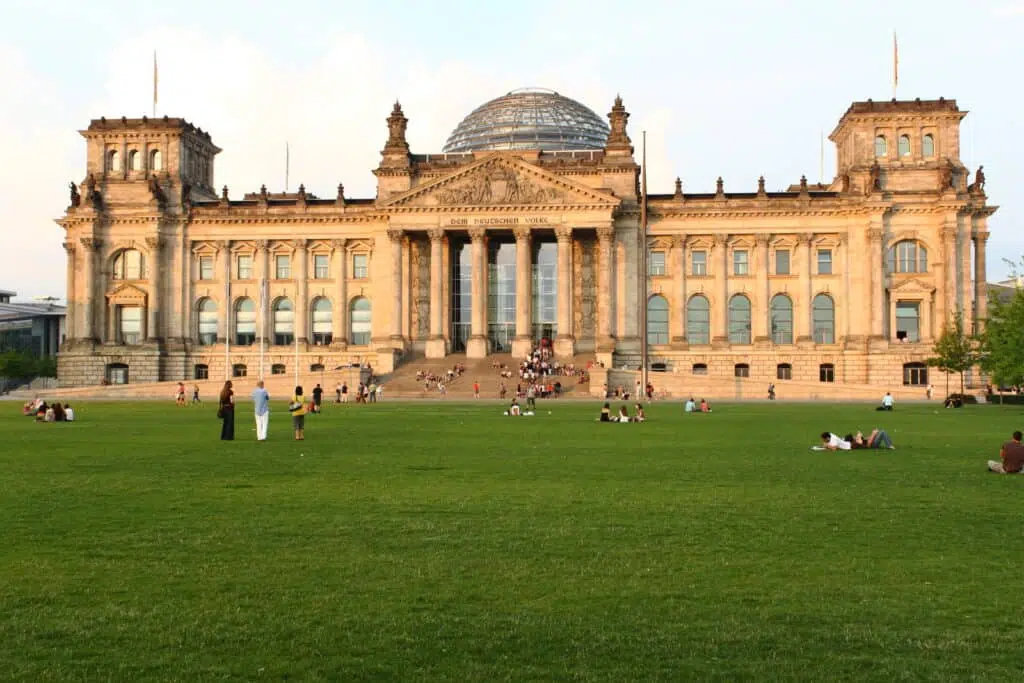 The Bundestag building, like the Brandenburg Gate and generally this Berlin area, has seen much happen.
The history of the building is truly unique and, thus, an attraction in Berlin that you have to experience.
I have made a Google Map that shows all the mentioned sights you can experience on this walk from Alexanderplatz to the Bundestag:
The Berlin Wall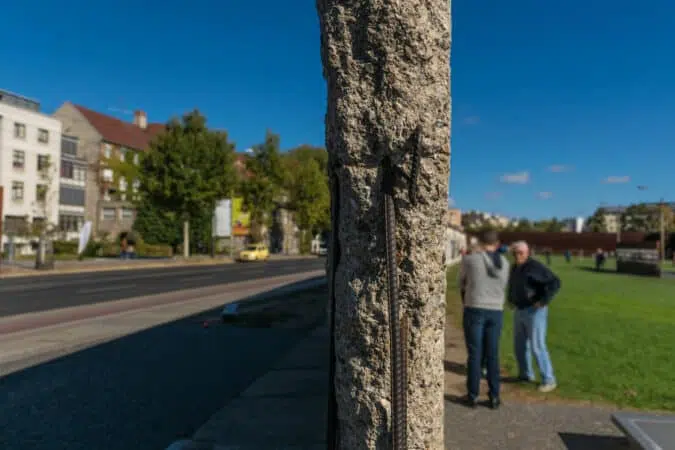 Of course, you can't make a guide on things to do in Berlin without mentioning the Berlin Wall, one of Berlin's sights that must be experienced.
There are still quite a few pieces of the Berlin Wall around the city, but more and more are being removed year by year.
Below, let me briefly review two of the most well-known places to experience the Berlin Wall.
18. East Side Gallery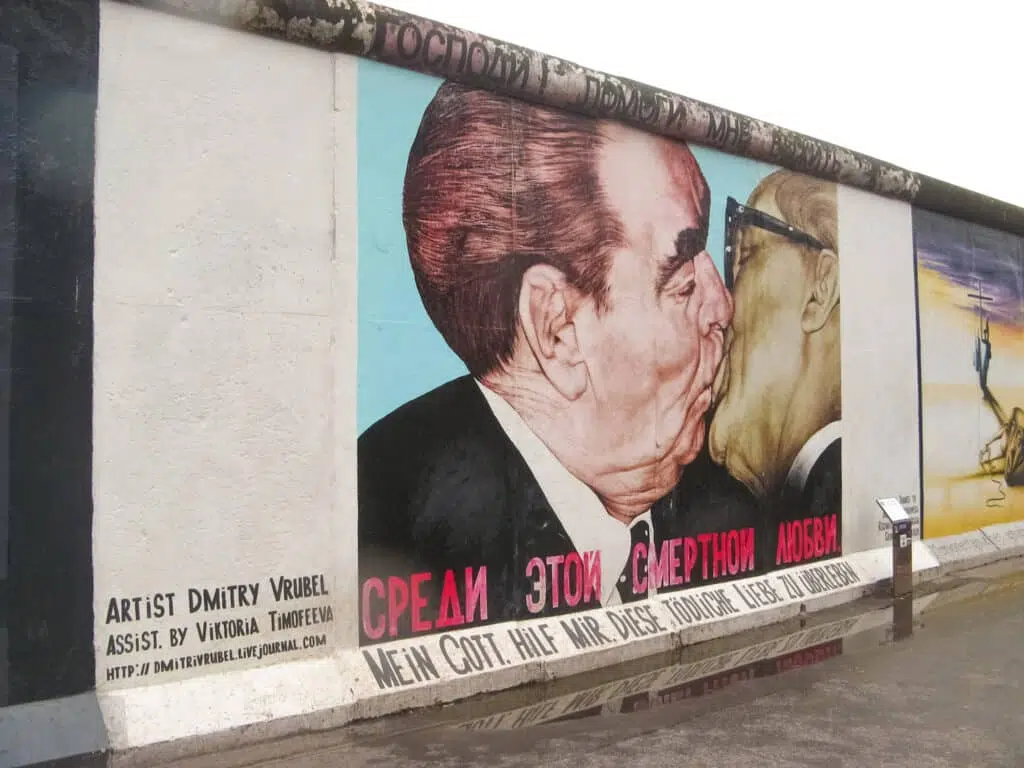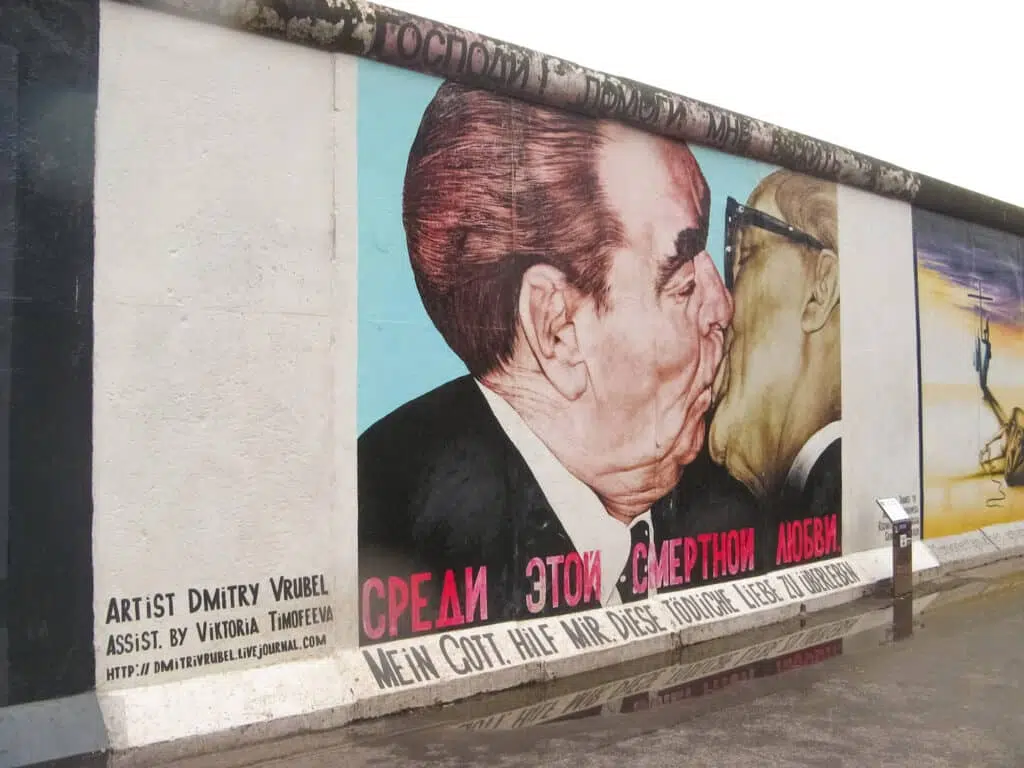 The East Side Gallery, located right by the Spree on the east side (close to, among other things, Warschauer Strasse Station and the well-known Simon Dach Strasse), is the part of the wall that most people have seen from home.
This is where the wall is decorated with graffiti and the well-known "kissing painting" of Gorbachev and Honecker, which in many ways symbolises the fall of the GDR.
You can still see that, and it is undoubtedly a rather exciting experience in Berlin, which can be recommended.
Incidentally, the area around the East Side Gallery has developed a lot (like the rest of the city) in the last few years.
When I lived in Berlin, the area was relatively dead – now it is packed with offices, brand-new buildings and the large Mercedes Benz Arena for concerts and ice hockey.
Check out this Cold War Walking Tour if you want to get the full experience at the East Side Gallery.
19. Gedänkstätte Berlin Mauer
Many tourists love Prenzlauer Berg (I lived there myself and still love the area), so we like to go there. And it is especially recommended on Sundays when there is a large flea market in Mauerpark.
But did you know that a few hundred meters from Mauerpark are a larger area where you can see pieces of the Berlin Wall?
Gedenkstätte Berliner Mauer is a larger area where you can experience the history of the Berlin Wall for free.
Read more about the site here.
20. Museum Island – 5 world-famous museums on one island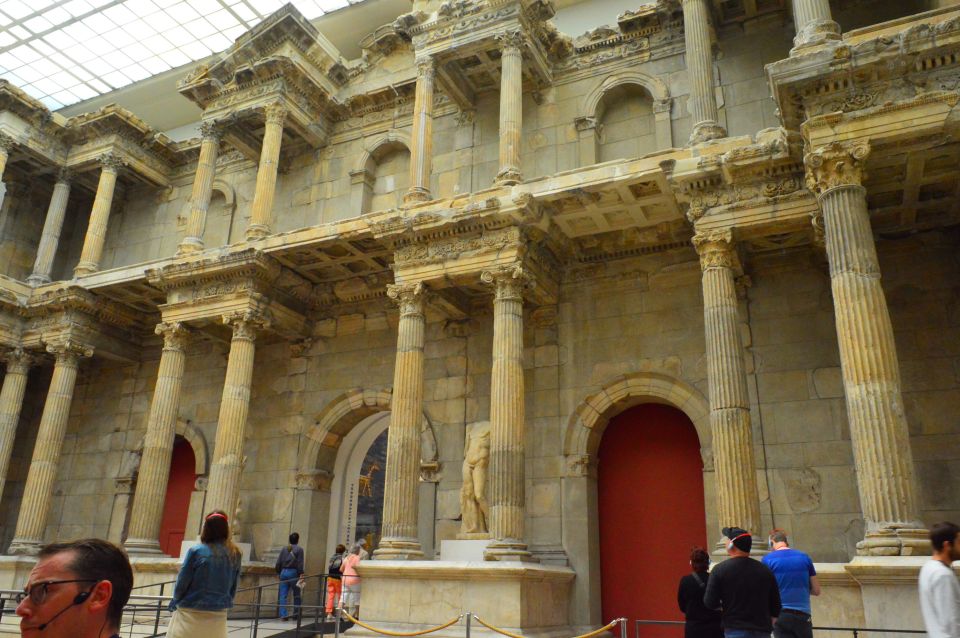 Museumsinsel, the museum island, is located in Mitte and a stone's throw from Berliner Dom so you could squeeze it into the sightseeing tour.
Still, there is also good reason to set aside most of the day if you want to visit all five museums on Museum Island.
Altes Museum is the island's and one of Berlin's oldest museums, originally built from 1823 to 1830. Here you will find antique exhibitions with everything from antique vases to sculptures and antique pieces of architecture.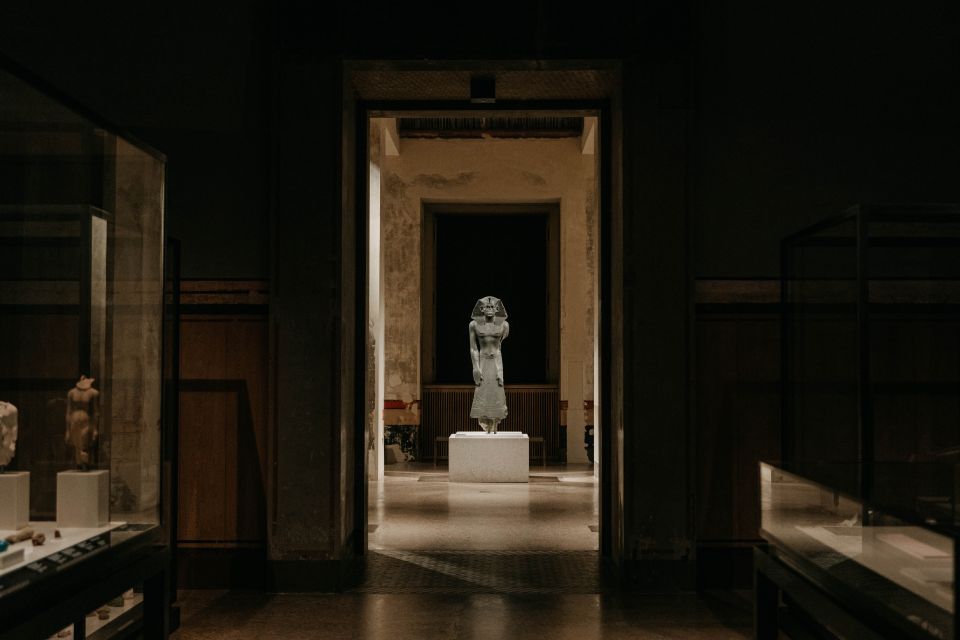 Neues Museum was built between 1843 and 1855 but was unfortunately partially destroyed during World War II. The Neues Museum was then renovated and fully opened in 2009, where you can now see exhibits from the Egyptian Museum and much more.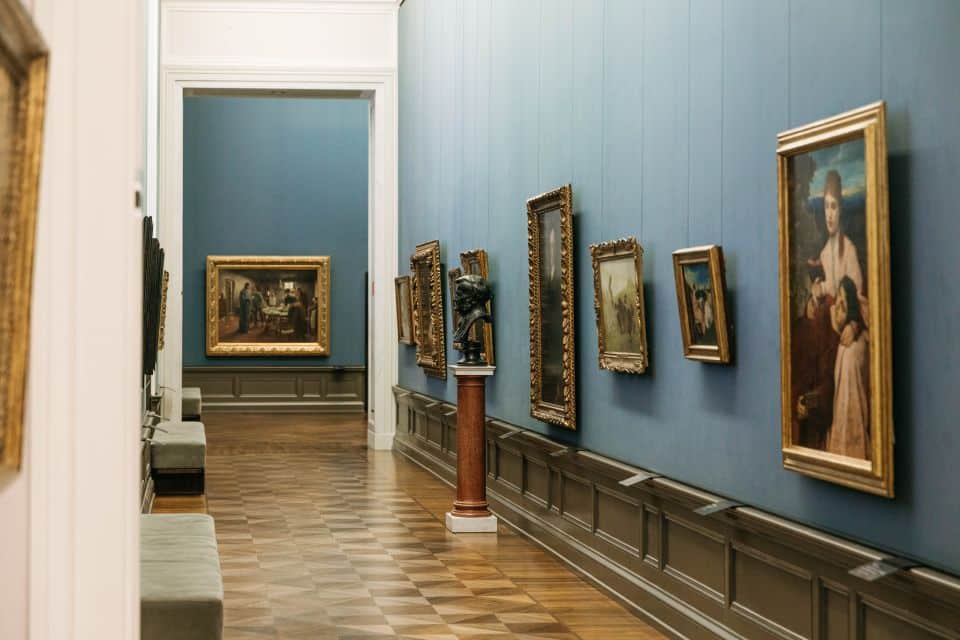 Alte Nationalgalerie is, as the name suggests if you know German, the old national gallery where you will find all kinds of works from classicism, romanticism and much more.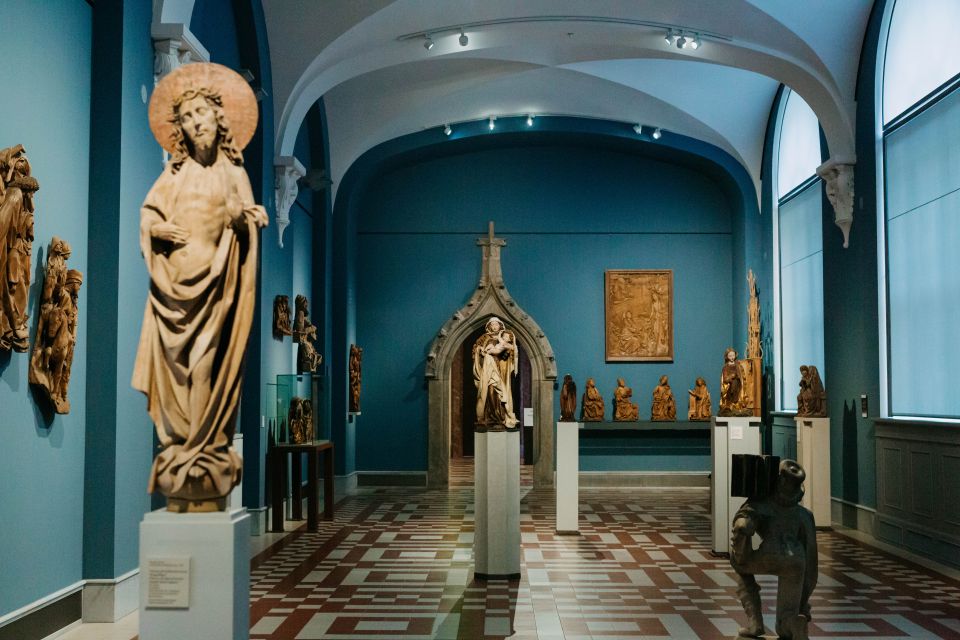 Bode Museum is the island's neo-baroque museum building, which, among other things, exhibits European sculptures, paintings and Byzantine art. In addition, you will find here one of the world's largest coin collections in the Münzkabinett.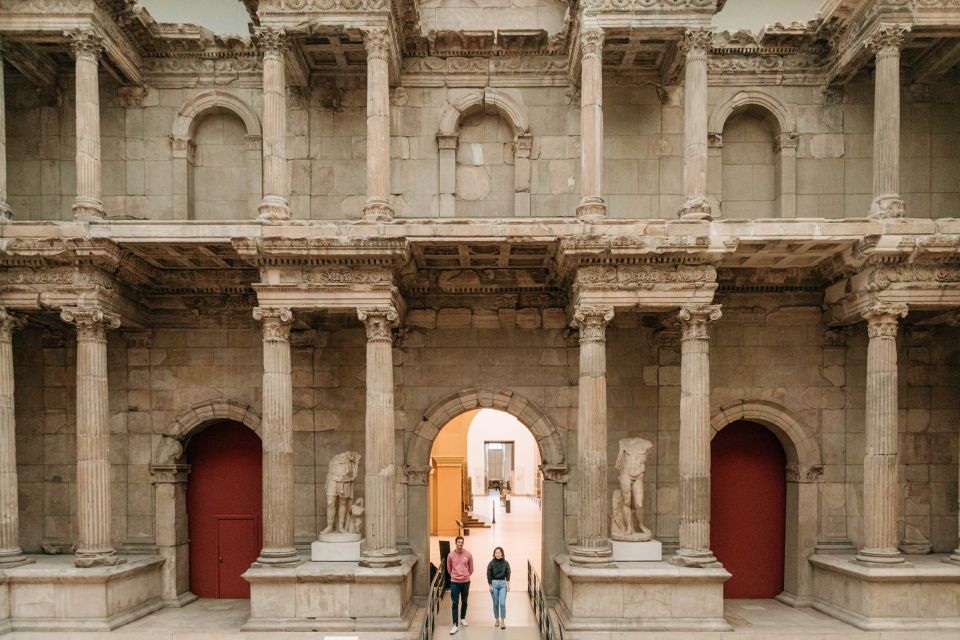 Pergamon Museum is the newest building on the museum island, and here you will find, among other things, the Museum of Islamic Art and exhibits from ancient Babylon.
However, it must be said that a large part of the Pergamon Museum is undergoing renovation and will not open until 2025.
21. Panoramapunkt – see Berlin from the top of Potsdamer Platz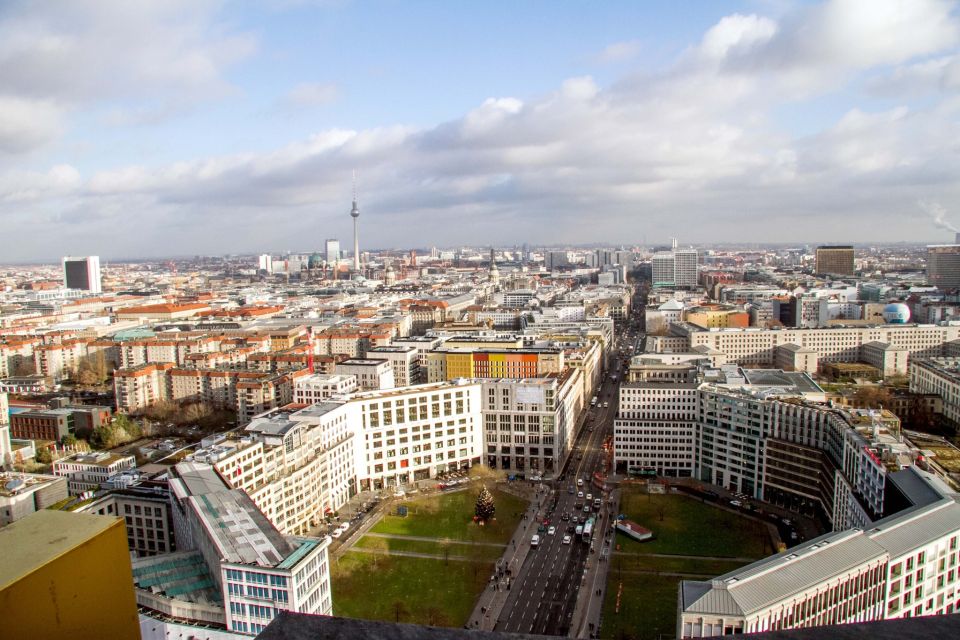 If you don't make the trip up the TV tower or can't get enough of the view over Berlin, you can make the trip past the Panorama point on Potsdamer Platz.
I haven't gone up there myself, so I can't describe the view myself, but I can see on the sales page that there are only good reviews of the ticket.
See more about Panoramapunkt here.
22. Madame Tussauds Berlin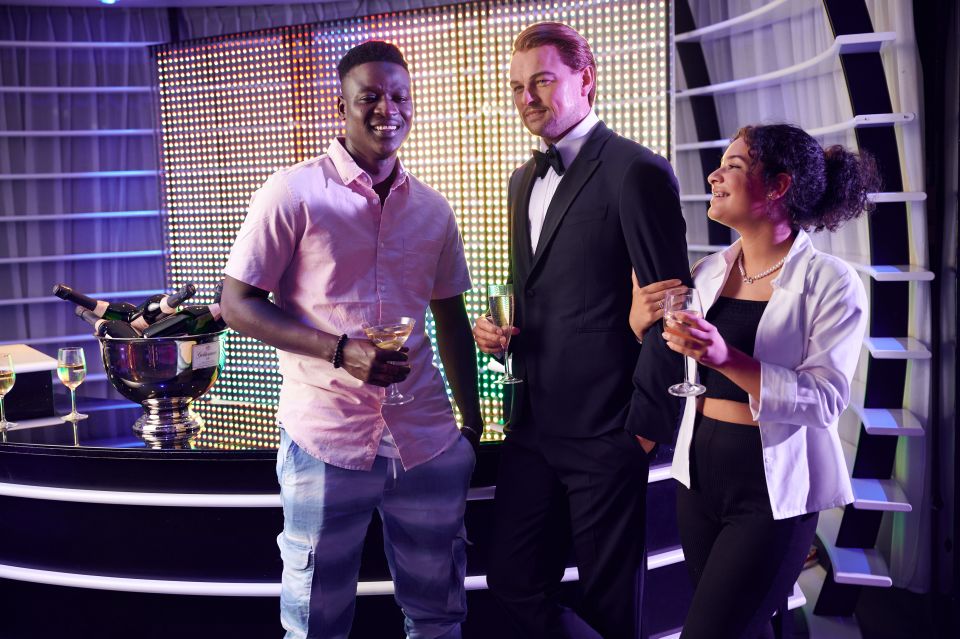 You might have thought Madame Tussauds was only to be found in a guide on things to do in London.
But no – the world-renowned wax museum has also opened in Berlin with great success.
It is thus possible to see similar wax dolls of Lady Gaga, the Beatles and Michael Jackson.
Madame Tussauds Berlin is a top-rated attraction where a certain number of people are admitted for 90 minutes at a time. This is positive, as it never gets too crowded at the wax museum.
However, remember to book the ticket from home and skip the long queue!
Skip-the-line tickets can be bought online here.
23. Alternative Berlin Experience – an alternative guided tour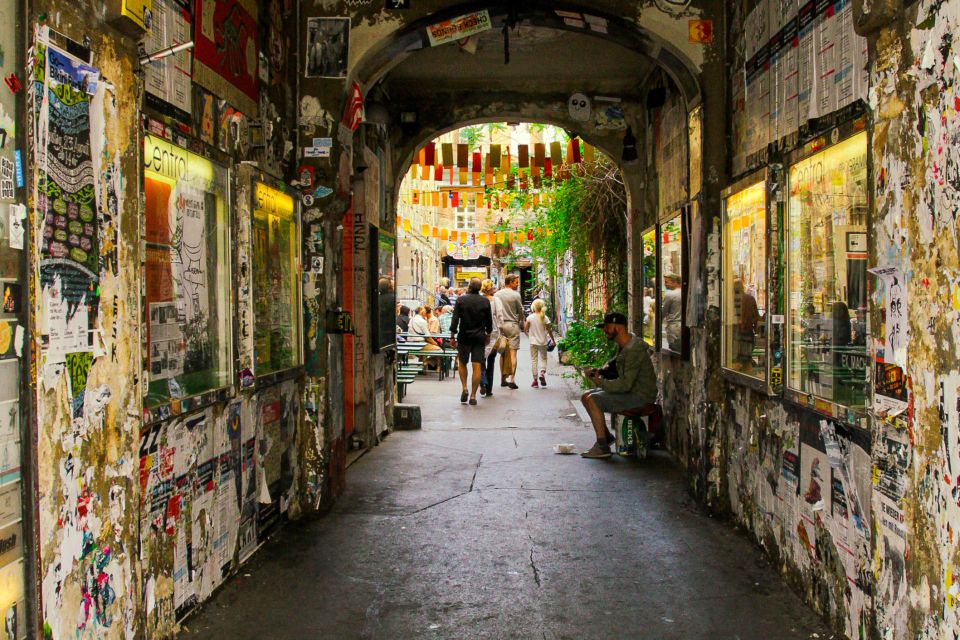 What is the 'alternative Berlin'? The German capital is probably one of the edgiest cities in Europe, so it is easy to stumble across so-called alternative sights in Berlin.
Nevertheless, it makes sense to take a tour (which is relatively cheap) that shows off some of the more closed underground places in Berlin.
The trip takes place on foot and takes about 4 hours, where you pass by Kreuzberg and experience the most important sights in Berlin within various subcultures.
The alternative Berlin tour is top-rated among photographers. Still, with the knowledgeable tour guide, there is enough to do for everyone – indeed, an attraction/activity in Berlin that not everyone comes home to talk about.
Read more about the tour here.
24. Kurfürstendamm – the trendy shopping street in Charlottenburg
Kurfürstendamm is to Berlin what Oxford Street is to London, 5th Avenue is to New York, and the Champs-Élysées favour Paris. To experience world-class shopping, you must pass Berlin's most famous shopping street in West Berlin.
This is also where you will find KaDeWe, Berlin's best-known shopping centre worth visiting. I also mention the area as very child-friendly in my guide on the best areas in Berlin.
25. Kaiser Wilhelm Memorial Church
There are other sights in the area, such as the Kaiser Wilhelm Memorial Church, which was bombed in World War II and was not restored on purpose.
The Kaiser-Wilhelm Church is a stark yet beautiful testament to the city's turbulent past.
Severely damaged during the Second World War, its hollow spire, known as the 'hollow tooth', persists as a monument of resilience.
Adjacent to the ruined structure is a striking modern bell tower, adding to the site's unique blend of history and modernity.
Visitors are greeted by a serene ambience accentuated by stunning blue stained-glass windows.
26. Berlin Victory Column and Tiergarten
The Tiergarten is a vast park that starts from the Brandenburg Gate and the Reichstag.
From the Brandenburg Gate to the Siegessäule as it's called in German, you can see the significant victory column celebrating the Prussian victory over Denmark, Austria and France in the 19th century.
The entire area around the Victory Column is full of history, and the road from the Brandenburg Gate is now called Strasse des 17. Juni must be one of the streets in the world that has seen the most historical moments.
These days the street is used for the Berlin Half Marathon (which I did a couple of years ago), and there are extensive screenings when Germany plays in the football World Cup.
27. Berlin Zoo
Berlin Zoo is one of the most visited zoos in Europe and one of Berlin's most visited attractions.
There are over 1,500 species and almost 20,000 different animals in the park, located on the western edge of the Tiergarten (Tiergarten can also be translated as Animal Park, so it all makes perfect sense).
28. Olympiastadion – the Olympic stadium used at the 1936 Olympics
As you know, Berlin hosted the Olympic Games in 1936, where Hitler got everyone's eyes on him and perhaps hosted one of the first major sports-washing events …
For the 1936 Olympics, the Olympiastadion was built in West Berlin and is still in use. This is where Hertha Berlin plays its home matches, and you can also watch big stadium concerts at the impressive stadium.
I have been out there for a concert (with Bruce Springsteen), football matches (Hertha Berlin vs Bayern Munich), and outside match days for a tour of the stadium.
Whether a football fan or interested in history, taking the S-Bahn to the Olympic Stadium is highly recommended.
29. Eat a Döner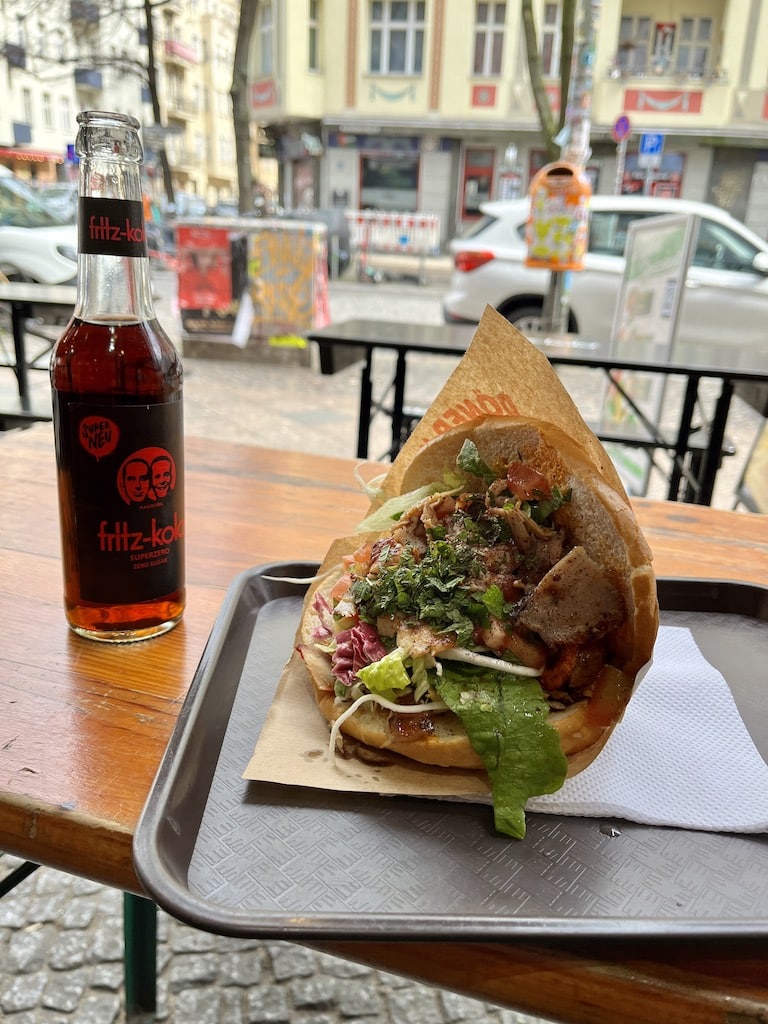 I've got to be honest: I like kebab, but it's not something I'm too fuzzed about. Apart from when I'm in Berlin!
Berlin has a rich, tangy secret that its history belies – the tantalising döner kebab.
While this savoury delight originates from Turkey, Berlin's multicultural fabric transformed the döner into the city's beloved fast food icon.
It was in the swinging '70s that a Turkish immigrant named Kadir Nurman noticed Berlin's bustling metropolis of on-the-go workers and decided to introduce a hearty, handheld meal.
He innovatively served up juicy rotisserie meat with fresh vegetables inside a fluffy bread pocket, and just like that, Berlin's döner kebab was born.
Trying a döner in Berlin isn't just about filling your stomach; it's about tasting a story of migration, adaptation, and gastronomic innovation.
It's definitely a must-do when you're coming to Berlin – and it's cheap as well.
My favourite place to eat döner in Berlin is at K'Ups Gemüsekebap in Prenzlauer Berg:
I hope you could use this guide to the best things to do in Berlin.
If you have any questions about your trip to the German capital, please comment below, and I will do my best to help.
FAQ:
What are the best things to do in Berlin?
With its compelling cocktail of history and modernity, Berlin offers much more than its star attractions – the imposing TV Tower, the iconic Brandenburg Gate, the moving Holocaust Memorial, and the notorious Checkpoint Charlie. But don't stop there!
The real joy of Berlin lies in its hidden corners and bustling local haunts. In this guide, I'm excited to share 29 of my favourite spots that offer a unique peek into the heart of this dynamic city.
Here are a few hidden gems you might want to check out:
Spreepark: This abandoned amusement park in the Plänterwald has an eerie charm. You can't go in, but you can walk around the perimeter and catch glimpses of the overgrown rides. Sometimes they even do guided tours.
Teufelsberg: This man-made hill built on top of a Nazi military school is now home to an abandoned Cold War-era spy station. It's a fascinating spot for history buffs, with amazing street art and panoramic views of Berlin.
"Thai Park": Officially called Preußenpark, this spot in Wilmersdorf becomes a vibrant outdoor Thai food market on weekends. It's a great place to grab a bite and enjoy a picnic.
Viktoriapark: This lovely park in Kreuzberg has a waterfall, a national monument, and a great view of the city. It's a bit less touristy than other parks, so you can enjoy a more relaxed atmosphere.
Klunkerkranich: This rooftop bar in Neukölln is located on top of a shopping center parking garage. With its eclectic vibe, urban garden, and fantastic views, it's an awesome spot to enjoy a drink and watch the sunset.
Sammlung Boros: This contemporary art collection is housed in a converted WWII bunker. Visits are by appointment only, so make sure to book ahead.
When is it best to visit Berlin?
The best time to visit Berlin really depends on your preferences, but I absolutely love Berlin in spring through early fall (May to September) offers the most pleasant weather.
During this time, you can expect mild to warm temperatures, with plenty of sunshine and longer daylight hours. Outdoor events, festivals, and open-air cafes are abundant during these months, making it a great time to explore the city and soak up the atmosphere.
That said, winter in Berlin has its own charm, with Christmas markets and festive lights, but be prepared for cold temperatures and potentially snowy or wet conditions. Just make sure to pack warm clothes and enjoy the city's cozy cafes and indoor attractions.
What are the best areas of Berlin?
I used to live in Prenzlauer Berg, and I loved it. Prenzlauer Berg is still my favourite area, but Mitte, Kreuzberg and Friedrichshain also have much to offer. Check out my guide on the best places to stay for more about the different Berlin areas.
How many days should you spend in Berlin?
I'd say you should plan for at least 3-4 days to really get a good feel for the city. This should give you enough time to check out the must-see attractions, explore cool neighbourhoods, and maybe even catch a few off-the-beaten-path spots.
Of course, if you can spend more time, like a week or so, that's even better! You'll have a chance to dive deeper into Berlin's history, art, and culture, plus enjoy some laid-back days in the city's parks and cafes.
Berlin has so much to offer, and the more time you have, the more you'll be able to experience it. Even if you only have a weekend, you'll still have a blast – make sure to prioritise the things you really want to see and do
What to do in Berlin on a Sunday?
Unfortunately, most things in Berlin are closed, but one of my favourite things to do in Berlin is only open on Sundays. One of the best things to do on a Sunday is to head over to Mauerpark, where you'll find a lively flea market – Flohmarkt im Mauerpark. It's a fantastic place to browse for vintage treasures, unique crafts, and tasty street food. Plus, you can enjoy the famous open-air karaoke sessions that take place in the amphitheatre.
After you've had your fill of Mauerpark, why not explore the charming Prenzlauer Berg neighbourhood? You can stroll along its tree-lined streets, check out some cute boutiques and art galleries, or grab a coffee and a bite to eat at one of the many cosy cafes. It's a lovely area to unwind and soak up the laid-back Berlin vibe.