In this guide, I'll tell you about the 5 best areas in Berlin and provide links for booking good hotels in different price ranges.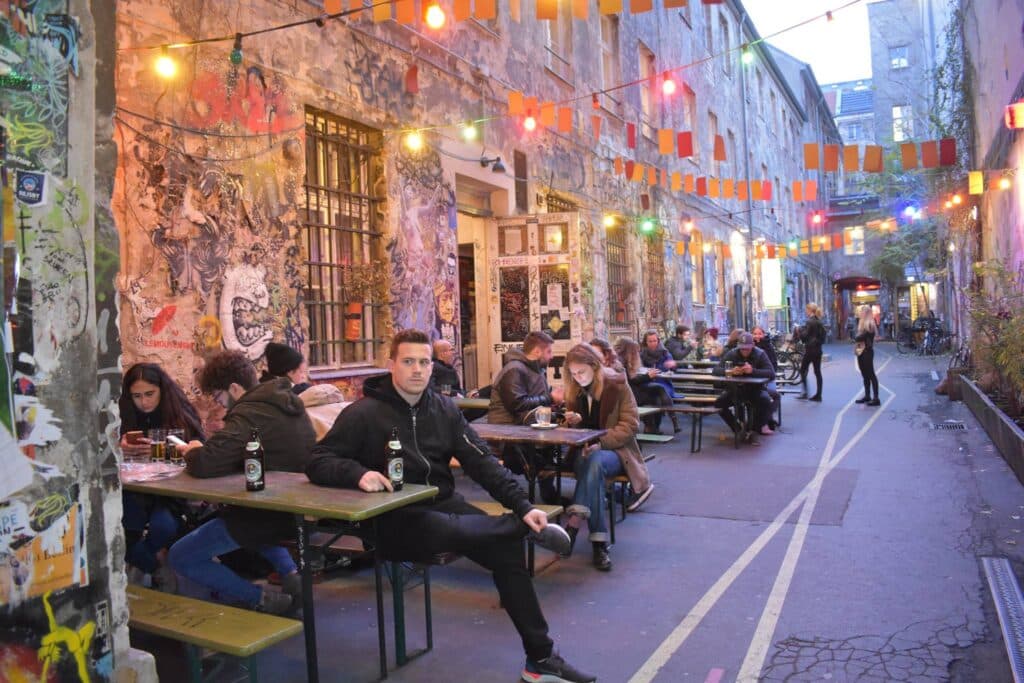 When I was in Berlin for the first time on a high school trip, I was surprised by how huge a city it is. And at the same time, I was surprised that there is no actual center in Berlin.
There is, of course, Berlin Mitte, which means the middle, but Berlin must in many ways be viewed differently from other European cities such as Paris, London and Prague.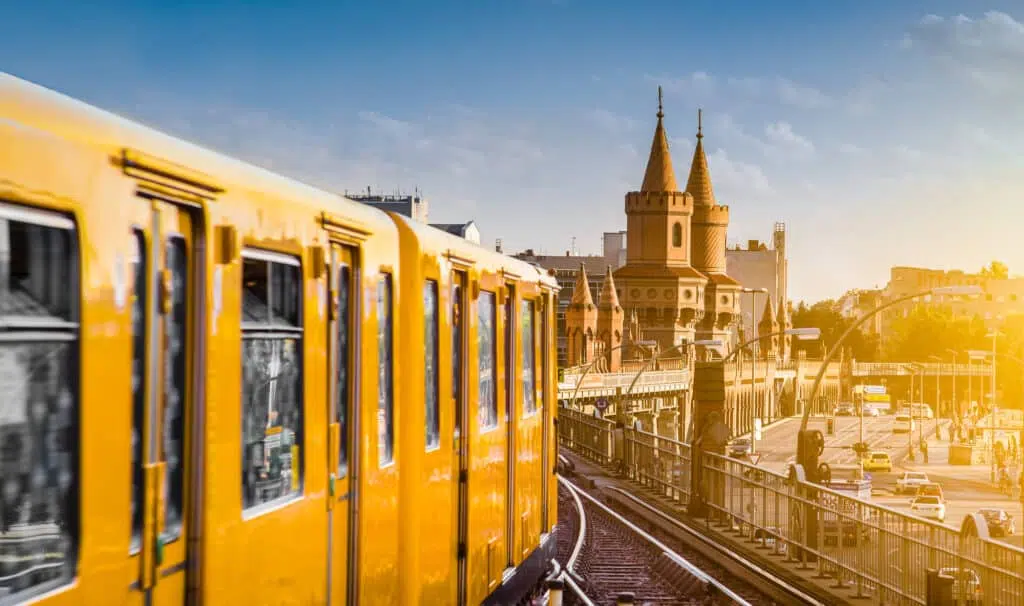 Berlin is a city comprised of many smaller villages that have merged and, with its 3,664,088 inhabitants, now form one of Europe's most exciting and vibrant capitals.
In other words, it makes good sense to spend some time thinking about which area of Berlin you book a hotel in – there is a huge difference between whether you stay in Charlottenburg or Krezuberg.
And although Berlin is a safe city to move around in (I never experienced anything unpleasant either when I lived there or on my many trips back there), I do not recommend the same area for families with children as for young people in their early 20s who want to experience Berlin's nightlife.
With that said – let's get started with the guide on where to stay in Berlin.
1. Mitte – best area to stay for sightseeing & first-time travelers ⭐️
Mitte is the closest we get to a centre in Berlin, and you may have already heard about Alexanderplatz, which served as the centre of East Berlin when the city was divided in two by the Berlin Wall.
The Berlin Mitte area itself is relatively large.
Still, in this area, you will find some of the best sights and experiences in Berlin, such as the Brandenburg Gate, the Reichstag Building, Unter den Linden, the Pergamon Museum, and Checkpoint Charlie (right on the border with Kreuzberg, an area we'll get to later).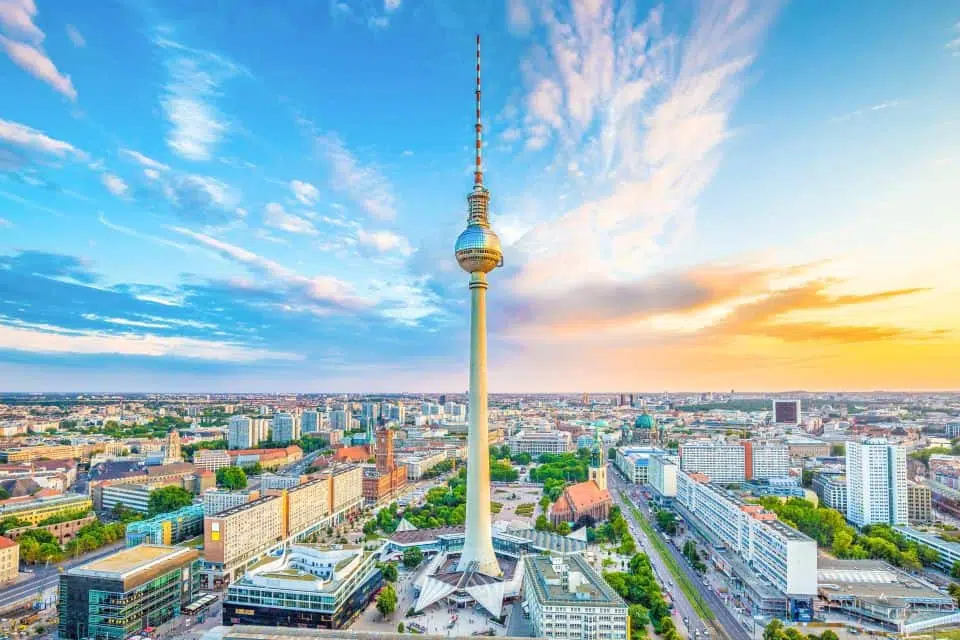 No matter where you stay in Mitte, you will never be far from the S-Bahn, U-Bahn or Tram, so you can quickly get around the rest of the city, and you will also be able to get from Berlin Airport to your hotel in less than 1 hour.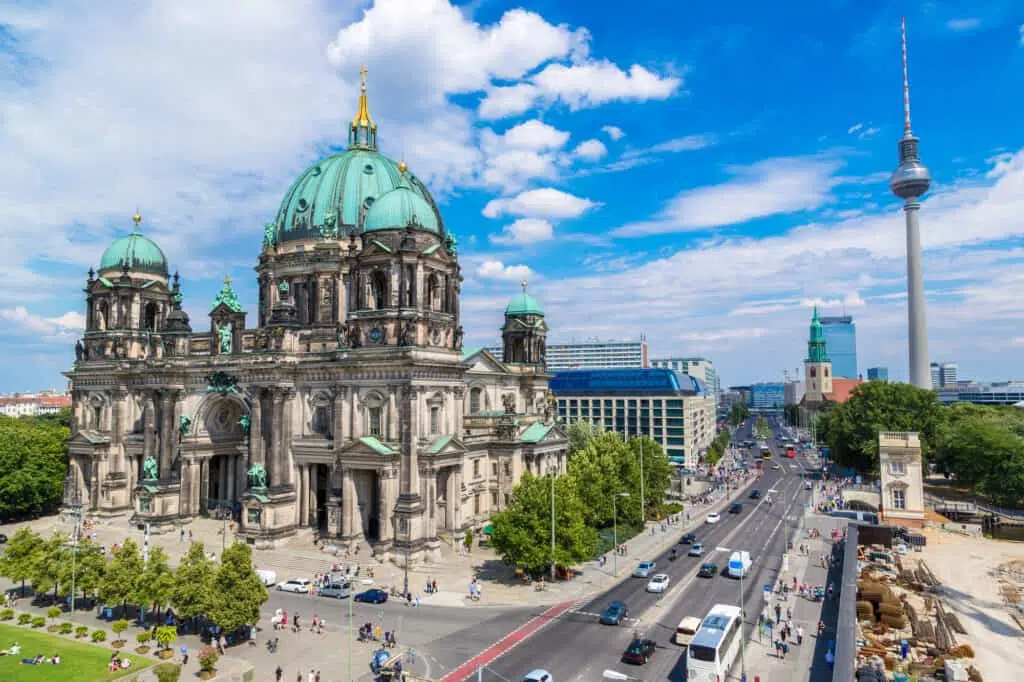 There are an incredible number of good restaurants, bars, cafes and shopping opportunities in Mitte.
Stay in Mitte if you are:
Best hotels in Mitte
Berlin is a unique city, but many new things have been built since the fall of the wall, and especially in Mitte, a lot has happened, which is good for us when we have to find a good hotel in Mitte.
There are many to choose from in several price ranges 😎
Best luxury hotel in Mitte: Regent Berlin
Best mid-range hotel in Mitte: H4 Hotel Alexanderplatz
Best budget hotel in Mitte: Best Western am Spittelmarkt Berlin
2. Prenzlauer Berg – best area to stay for true Berliner vibes 😍
Prenzlauer Berg is close to my heart, as this is where I stayed when I lived in Berlin.
After the fall of the Berlin wall, Prenzlauer Berg was where young artists moved to, as no one else wanted to live in the buildings and therefore, the area quickly developed into a haven for the cool and trendy Berliners.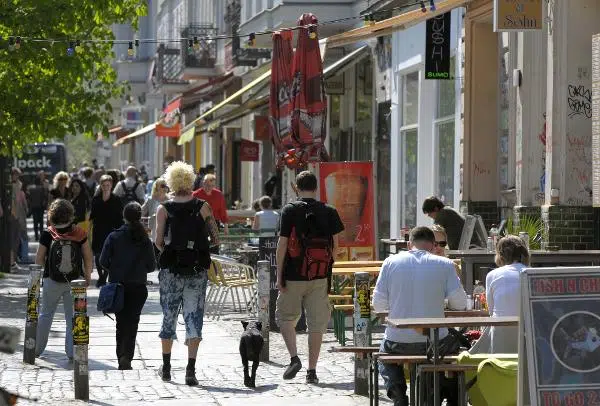 However, the 90s are long gone, and the trendy artists have become parents, so now Prenzlauer Berg is known to be the most child-friendly area of Berlin and an extremely desirable area to stay in.
Although Prenzlauer Berg is now gradually mentioned in all guidebooks to Berlin and is no longer the city's hippest area, I think there is something liberating about strolling around streets such as Kastanienallee, Oderberger Strasse and further north on Lychener Strasse around Helmholtzplatz.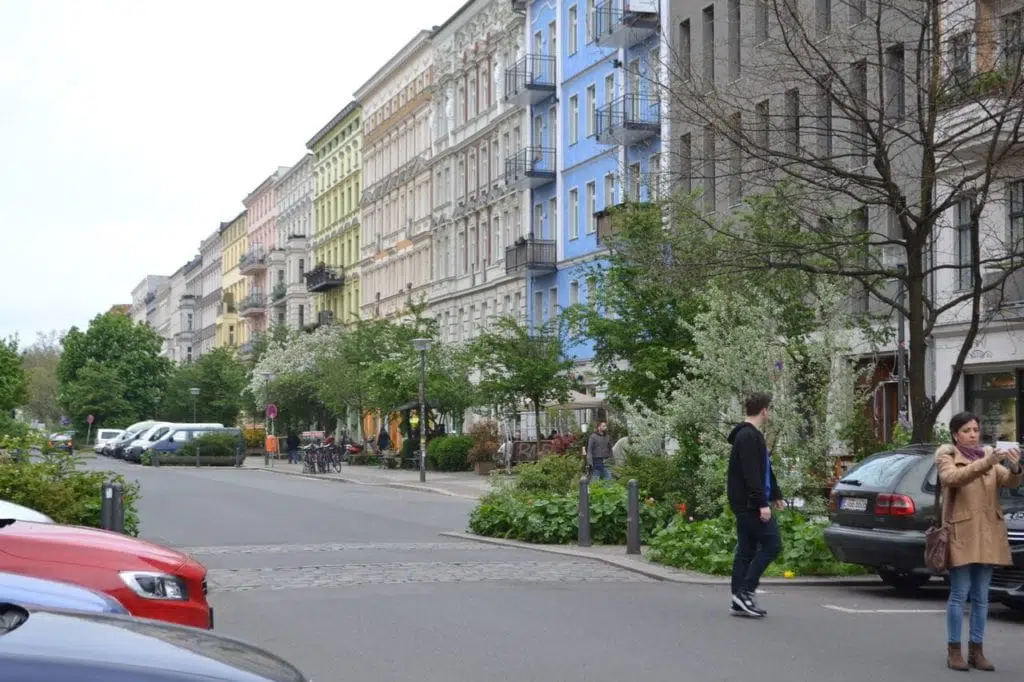 That's Berlin for me – a good mix of small indie shops, kebab shops, fancy cafes and dive bars with cheap beer.
A wonderful mix of everything that makes Berlin one of Europe's most incredible cities!
If you're in Berlin on Sunday, don't forget to drop by Mauerpark, where there is a huge flea market with a cosy atmosphere every Sunday.
Close to Mauerpark, you can visit Gedenkstätte Berliner Mauer, one of the few places where a part of the Berlin Wall still stands at Bernauer Strasse.
Stay in Prenzlauer Berg if you:
Love good food and coffee
Want to experience a more authentic side of Berlin than Mitte
Are okay with having to use Berlin's public transport to get to the most famous sights
I love Prenzlauer Berg and can't recommend the area enough!
Best hotels in Prenzlauer Berg
When you stay in Prenzlauer Berg, there are slightly fewer hotels to choose from, and, contrary to Mitte, it is more local, smaller hotels than the big chains.
Of course, it also has its charm, but I still have a classic on the list below – because it has an excellent price and is close to the s-Bahn and tram.
Best luxury hotel: Myer's Hotel Berlin
Best mid-range hotel: Holiday Inn Berlin Prenzlauer Berg
Best budget hotel: Hotel Kastanienhof
3. Charlottenburg – best area to stay for families with children 👨‍👩‍👧‍👦
For the first time, we'll talk about an area in the former West Berlin, Charlottenburg.
In Charlottenburg, we find places such as the Kurfürstendamm shopping street, KaDeWe, Berlin Zoo and Schloss Charlottenburg.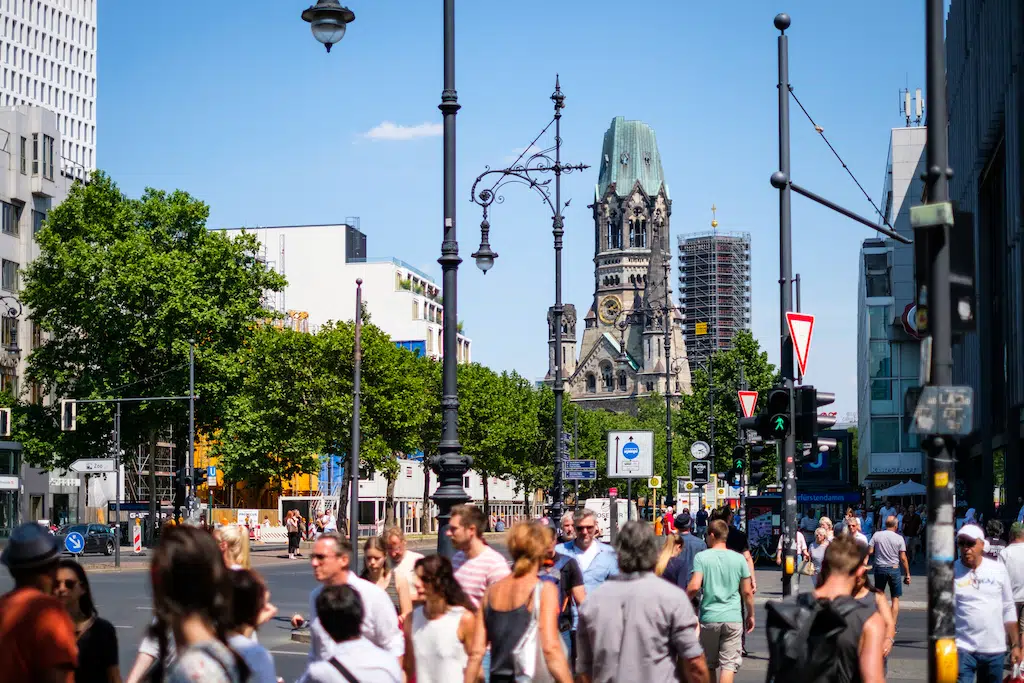 Charlottenburg is traditionally a more decadent and nicer area than, for example, Prenzlauer Berg, which, as mentioned, was part of poor East Berlin.
The area is also one of the parts of Berlin that was relatively spared during World War II, so you can still find quite a few older, beautiful buildings from before the war.
There is a different atmosphere in Charlottenburg and, in particular, around the Kurfürstendamm than in the rest of Berlin. Here, the city is more reminiscent of other big European cities than in the different areas.
The slightly cleaner area is thus the perfect area for those of you travelling to Berlin with children.
Stay in Charlottenburg if you:
Want to shop in the high-street shops in Berlin
Want to stay in nice, modern hotels
Want to experience the "nice part" of Berlin
Are going to a concert or football at the Olympiastadion (which is located further west)
Best hotels in Charlottenburg
Even before the fall of the Berlin Wall, Charlottenburg was an area where tourists from all over the world stayed. Therefore, you must be careful when you book the hotel, as there are a few very old hotels.
If you choose one of the three on the list below, you can look forward to some excellent accommodation.
It should also be said that Charlottenburg is generally a more expensive area than the others I mention in the guide here. So if you are looking for a cheap hotel in Berlin, you will get more for your money in Mitte or Prenzlauer Berg.
Best luxury hotel: Waldorf Astoria Berlin
Best mid-range hotel (also quite luxurious): Hotel Zoo Berlin
Best budget hotel: Leonardo Hotel Berlin Kurfürstendamm
4. Kreuzberg – best area to stay for hipsters 👨🏻
When I lived in Berlin, I worked in Kreuzberg, which was an absolute pleasure.
However, my body weight also increased as the months went by, which I, among other things, attribute to the fantastic döner kebabs you can get for a few euros on every street corner in Kreuzberg.
Kreuzberg is known for being a multicultural area where in particular, many people with Turkish roots live.
At the same time, Kreuzberg has been notoriously a cheap area to stay in, contributing to many artists and creatives moving here (as was the case with Prenzlauer Berg in the 90s).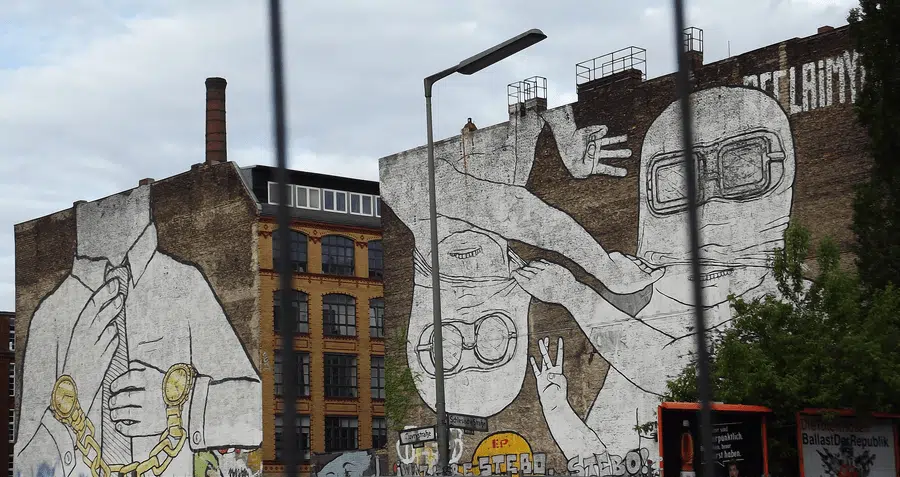 That's why Kreuzberg (and the area south of it, Neukölln) is perhaps one of the most hipster areas in the world. If you've been to Williamsburg in New York, you know how high up on the hipster scale we are 😀
So if you're young, want to drink IPAs at the trendiest bars and go to underground nightclubs you've dusted off on Instagram, then Kreuzberg is the area for you.
I would not recommend booking a hotel in Kreuzberg if you travel with children to Berlin.
Not because it is a dangerous area, but simply because there are better alternatives and if you have to say something negative, the area around Kottbusser Tor might seem a little unsafe in the late hours of the night (but if you're in Berlin with children you probably wouldn't be around at that time of night) 😀
Furthermore, Kreuzberg is a large area, and it borders, among other things, up to Checkpoint Charlie to the north, but otherwise, there aren't many prominent top attractions or sights in the area. Kreuzberg is more of a vibe.
I recommend strolling along the Maybachufer, walking in Görlitzer Park and people-watching and enjoying the many unique streets and the cheap restaurants.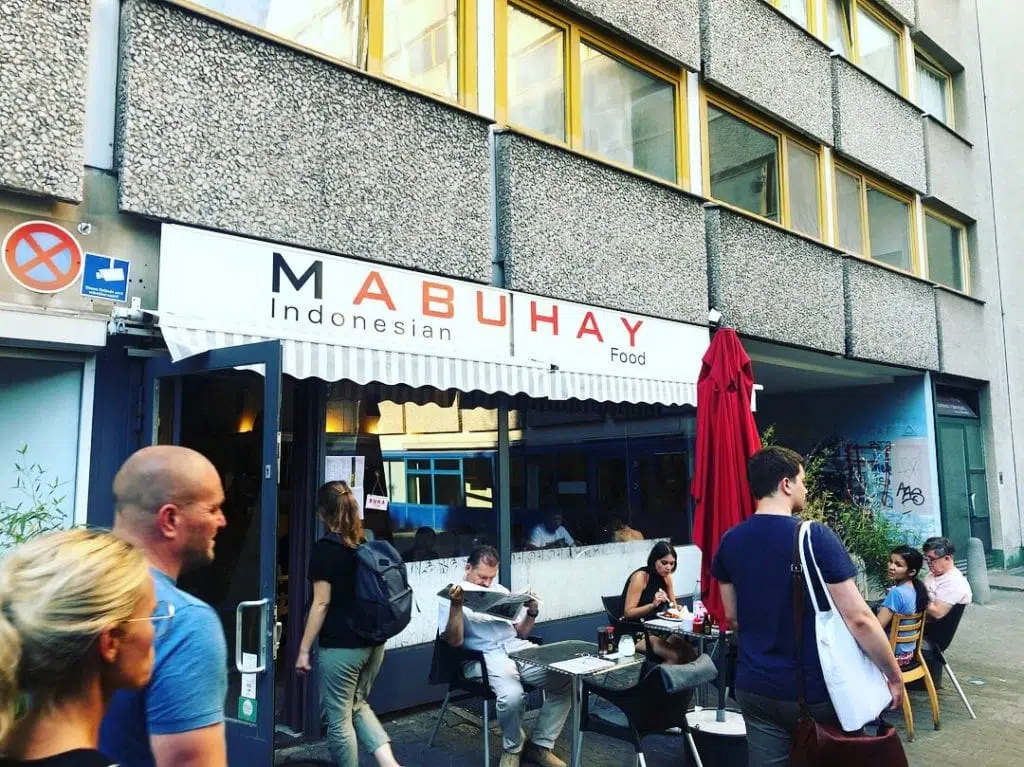 One of my favourite restaurants in Berlin is technically in Kreuzberg, although it's close to Mitte and Potsdamer Platz: Mabuhay is a tiny little Indonesian restaurant you must know to pass by.
Stay in Kreuzberg if you:
Are a bit of a hipster 😎
Love doner kebab
Want to experience a local Berlin atmosphere with people from all corners of the world
Best hotels in Kreuzberg
As mentioned, Kreuzberg is a large area, but I have chosen a few hotels that are located in the part of the area that I think is the most exciting and coolest 😉
Here you will never be far from a good bar or a U-Bahn station.
Best luxury hotel: Orania.Berlin
Best mid-range hotel: Hotel Vier Jahreszeiten Berlin City
Best budget hotel: Hotel Prens Berlin
5. Friedrichshain – best area to stay for nightlife 💃🏽
The last good area to stay in on your trip to Berlin is Friedrichshain. An area which, in addition to being difficult to spell, is also packed with good restaurants, cafes and bars.
Where Kreuzberg lies to the west of the Spree (the river that divides Berlin), we find Friedrichshain on the eastern part, and thus we are back in the former East Berlin.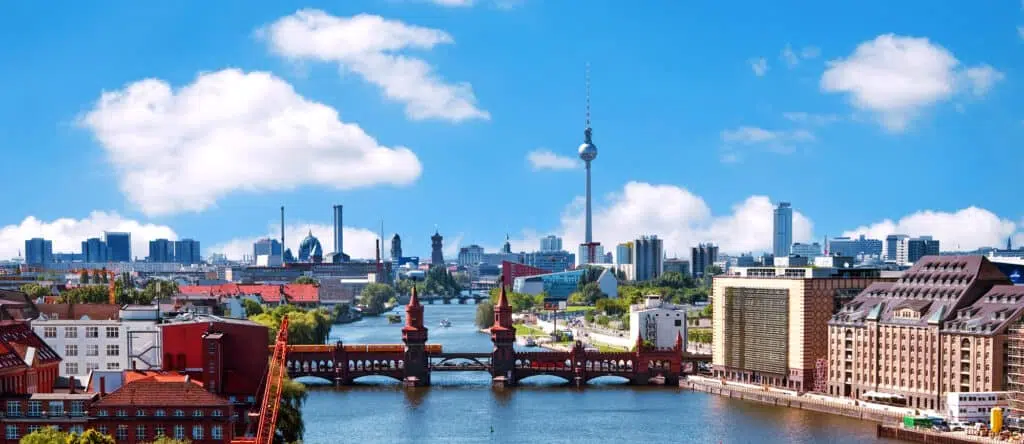 You can still feel that when you walk around the cosy, famous streets around Simon-Dach-Strasse and Grünberger Strasse.
In Friedrichshain, we also find the RAW-Gelände right next to the Warschauer Strasse Bahnhof, a vast outdoor and indoor area with nightclubs. Undoubtedly a place you must visit if you travel to Berlin to experience the city's world-famous nightlife.
It is also in Friedrichshain that we find the East Side Gallery, which should be on everyone's bucket list when visiting Berlin.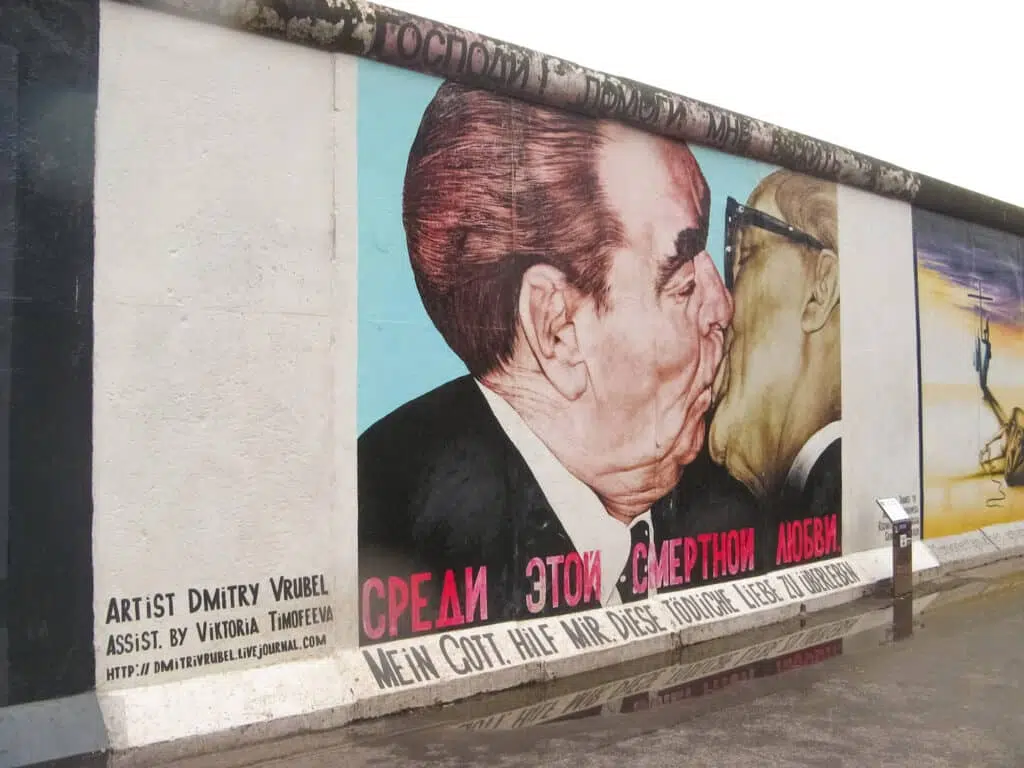 In general, Friedrichshain is an area that is very similar to Kreuzberg but without an equally sizeable multicultural mix. It was only after the wall's fall that it was opened up to people from other parts of the world.
I have had one of the best Vietnamese meals of my life here in the area at New Day Vietnam Heritage Food. I know – the name is not the best, but the food indeed was 😀
Stay in Friedrichshain if you:
Would like to go clubbing (for example, you can try to get into the world-famous Berghain)
Want to experience an area of old East Berlin that is still a bit raw and unpolished
Are going to a concert at the Mercedes Benz Arena
Best hotels in Friedrichshain
Friedrichshain is an area with quite a few hostels and hotels on the cheaper end, so if you're travelling to Berlin on a budget, it might be an excellent place to look.
However, let me introduce you to three hotels in different price ranges.
Best luxury hotel: Hotel Indigo Berlin East Side Gallery
Best mid-range hotel: Nhow Berlin
Best budget hotel: Industriepalast Hostel Berlin (the place does have private rooms with private bathrooms even though the name says it's a hostel)
I hope you found this guide on the best areas to stay in when travelling to Berlin helpful. If you have any questions about where to stay in Berlin or the city in general, please leave a comment below.
Have a great trip to the German capital.
FAQ:
Which part of Berlin is best to stay in?
The best part of Berlin to stay in for most travellers is Berlin Mitte as it's the closest to an actual city centre in Berlin.
What is the main area of Berlin?
Berlin doesn't have an actual main area, but Mitte is the closest, as Mitte translates to "center".
What's the coolest neighborhood in Berlin?
Kreuzberg and bordering Neukölln are considered the coolest neighbourhoods in Berlin and probably in all of Germany. Wedding has long been named "the next Kreuzberg", but Kreuzberg still takes the prize.
Is it better to stay in East or West Berlin?
If you're travelling with children and want to do some high-street shopping, you should stay in Charlottenburg in the West. But if you'd like to stay close to the main attractions and enjoy the best nightlife, I'd suggest you stay in the East in areas such as Mitte, Prenzlauer Berg or Friedrichshain.
How walkable is Berlin?
Berlin is a vast city, and you'll be surprised how far from each other some of the areas are. So Berlin can't be categorised as a walkable city, especially compared to other European cities such as Prague, Copenhagen, Amsterdam and Budapest.