I will dive into how to buy a ticket, what the prices are and what you should be aware of when travelling by either U-Bahn, S-Bahn, bus, tram, ferry or regional train in Berlin.
I will try to be brief, as the topic is not the most exciting, and you would probably rather read my extensive guide on the best things to do in Berlin (which is very exciting).
Important info before boarding 👮‍♂️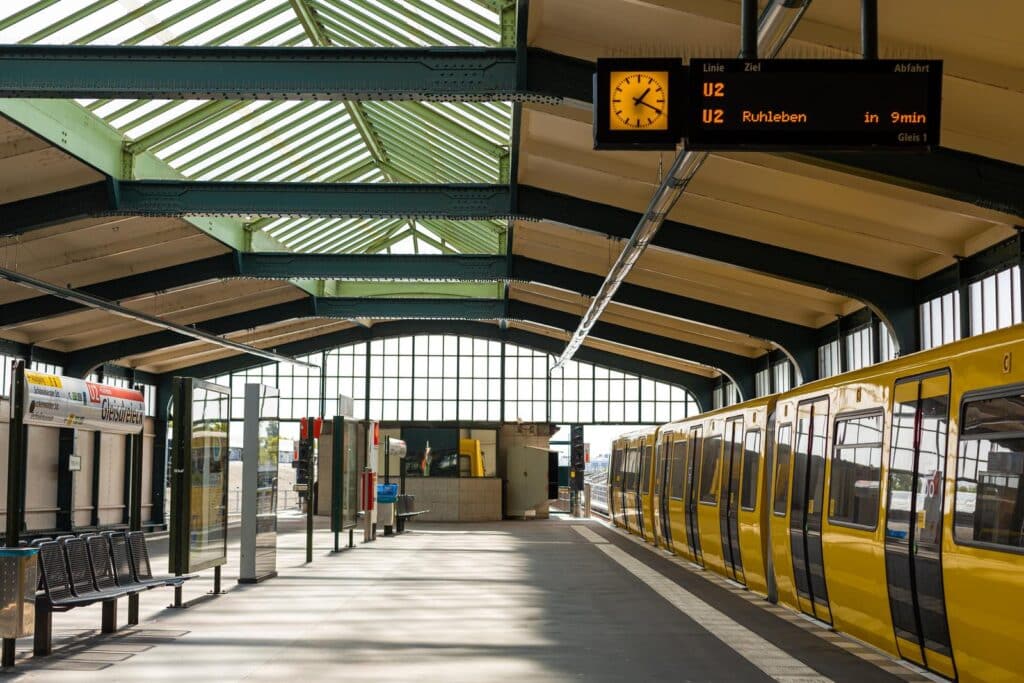 Let's go to the most important thing – what you need to know before boarding transport in Berlin.
Prices & ticket types 💸
There are several ticket types for public transport in Berlin, which may initially seem confusing. The good news is that you quickly get to know the different ticket types.
Let's briefly outline the most common tickets: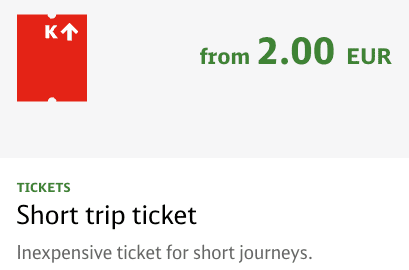 Short trip ticket: a ticket valid for a short trip of 3 stations with s-Bahn & u Bahn or 6 stations with tram or bus. The ticket costs 2 euros.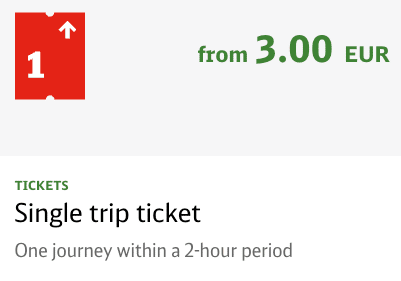 Single trip ticket: a ticket valid for a trip of 2 hours regardless of the means of transport and how far you are going. The ticket costs 3 euros.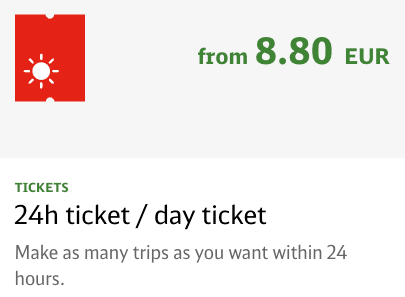 24-hour ticket: a ticket valid for 24 hours of unlimited use of public transport in Berlin regardless of means of transportation. The ticket costs 8.80 euros.
Children under the age of 6 travel free on public transport in Berlin.
See all ticket types on the official S-Bahn website.
Zone AB + C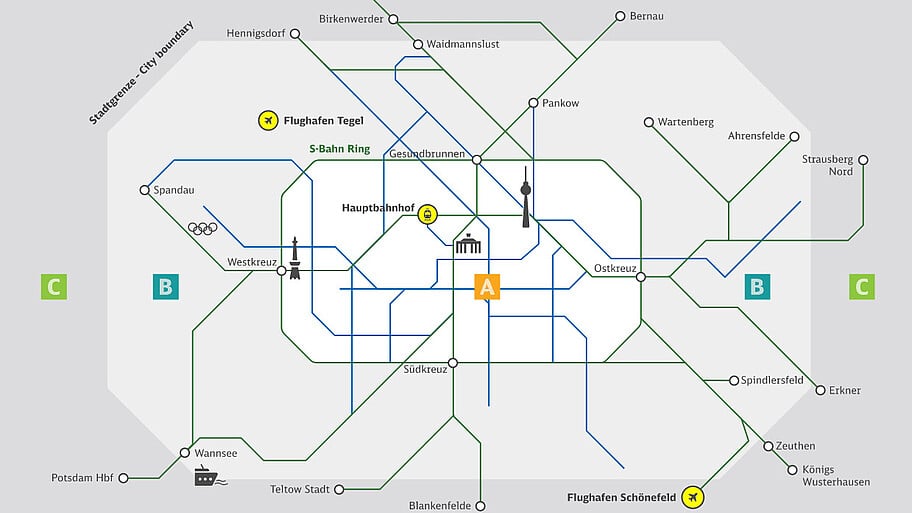 The above prices apply in Berlin's Zones A and B, which cover the entire city centre and outskirts.
99% of all ordinary tourists will only come to Berlin's Zone C when going to and from Berlin Brandenburg Airport.
Most will even be exclusively in Zone A, within Berlin's "ringbahn", as this is where most things to do in Berlin are located.
How to buy tickets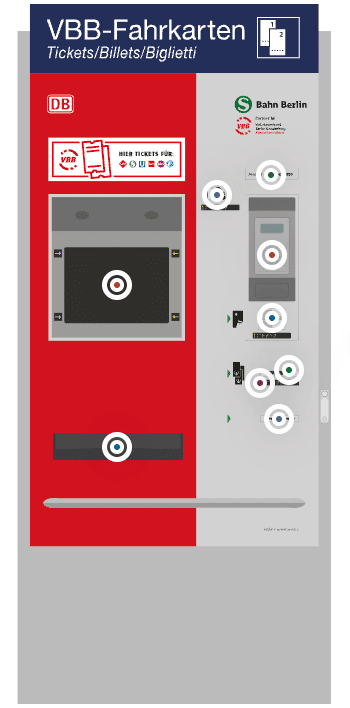 For trains, you can buy tickets from ticket machines found at all train stations.
In buses, you can buy tickets from the driver (only by card, they no longer take cash) and in trams, you can buy tickets from a ticket machine inside the carriage – remember to do it immediately when you enter.
The best way to buy tickets is to use the BVG Tickets app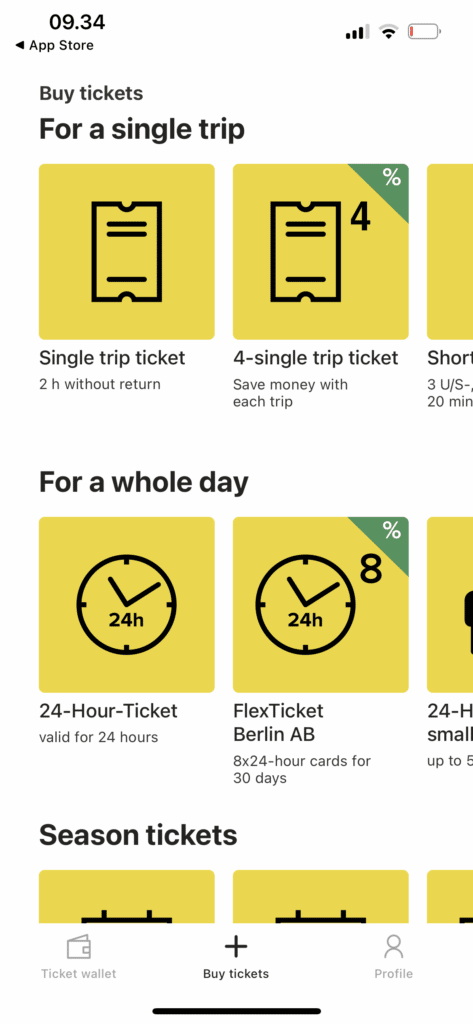 However, I recommend downloading the BVG Tickets app, which is in English and works exceptionally well. You can create a user or pay directly with either Paypal or Apple Pay.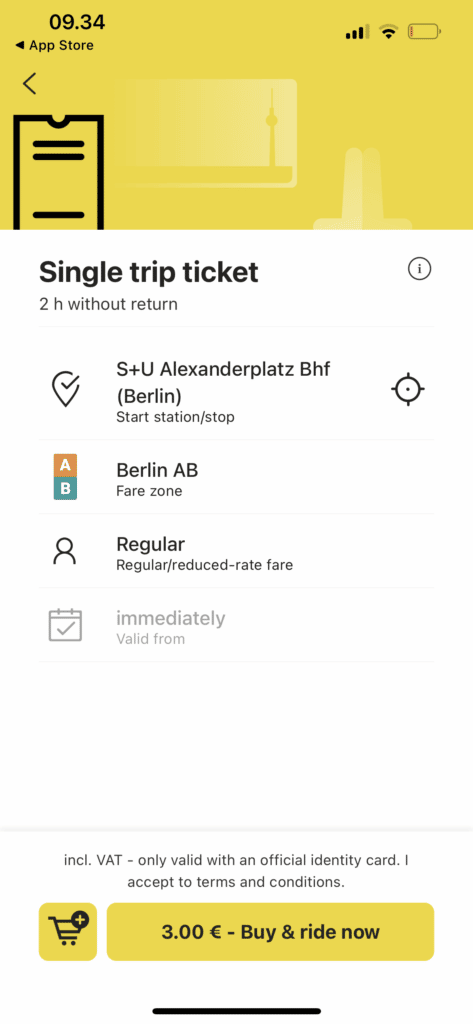 In other words, there is no need to use the ticket machines or stand in line when you need to buy a ticket for public transport in Berlin.
Remember to validate your physical ticket!
If you buy an old-school physical ticket anyway, remember that it must be validated/stamped before you board the S-Bahn and U-Bahn – and immediately when you get on a bus or tram.
If you do not validate your ticket, it is not valid, and the ticket inspectors can give you a 60 euro fine.
If you buy a ticket in the BVG Tickets app, you can choose whether it should be used "Immediately" or later.
Berlin Welcome Card (great ticket option for tourists)
The third option for travellers to Berlin who will be going all-in sightseeing is the Berlin Welcome Card.
The Berlin Welcome Card gives up to 50% discount on popular attractions such as the TV Tower, Madame Tussauds, Sealife Berlin and many more. You can see the complete list here.
In addition, the card (which is downloaded to your phone, so you always have it with you) also gives access to unlimited use of public transport.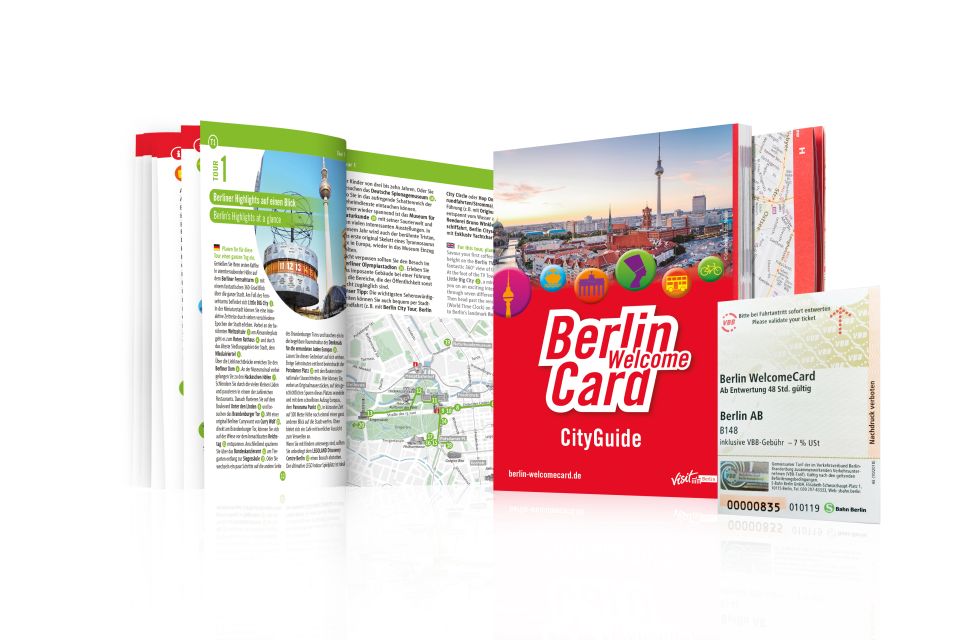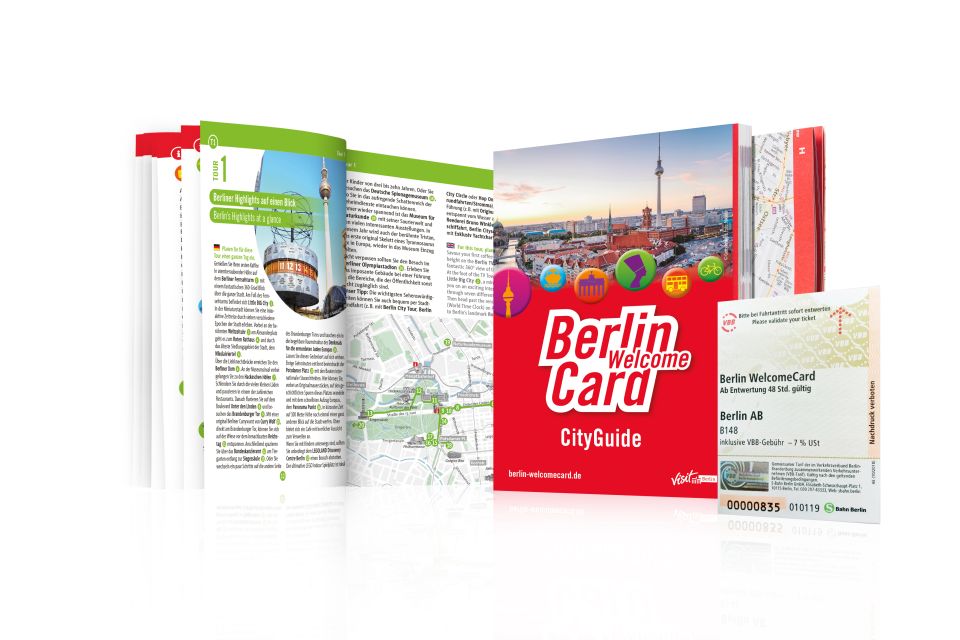 In other words, the Berlin Welcome Card is a good idea for you who want total value for your trip to Berlin, want to experience many of the city's popular attractions and want to make it as easy as possible to travel around the city without thinking about which ticket type you must buy this time.
There is a Berlin Welcome Card AB, which only covers the AB zones, and the Berlin Welcome Card ABC, which also covers transport to and from the airport.
You can take up to 3 children aged 6-14 on public transport for free on your Berlin Welcome Card. Children under 6 travel for free.
See more about the Berlin Welcome Card and buy online here.
Modes of transport in Berlin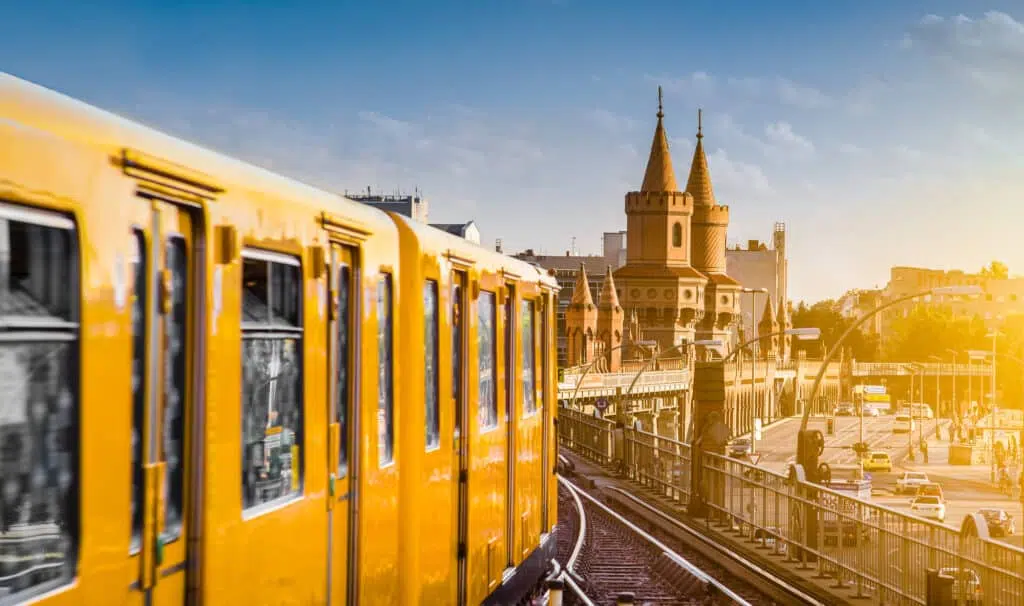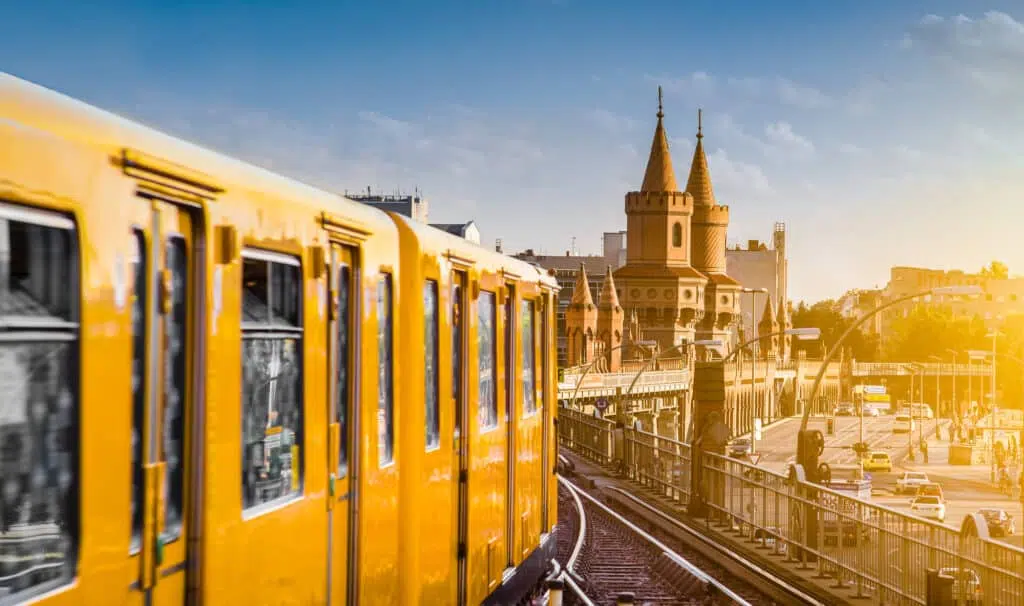 There are plenty of options, but most travellers will mainly use the U-Bahn, the S-Bahn and the Trams.
U-Bahn (subway/metro)
The U-Bahn is the Berlin subway and runs underground – near the famous U1 line that starts from Warschauer Strasse and runs over the Oberbaum bridge to Kreuzberg.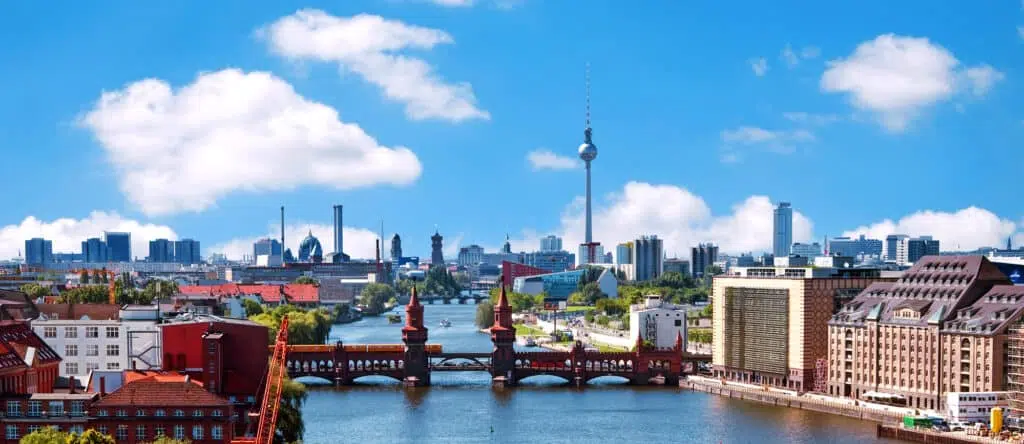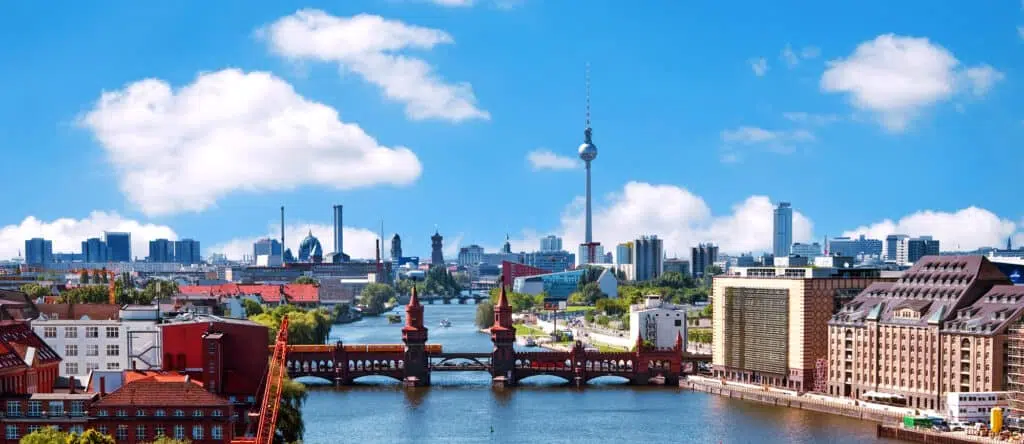 S-Bahn (suburban trains)
The S-bahn is the city's S-train that can take you to all corners of Berlin. The S-Bahn even goes all the way to Berlin Brandenburg Airport.
Tram
Tram or strassenbahn is the city's tram, mainly used in the former East Berlin. There are excellent connections with the tram when you move around in Prenzlauer Berg and Friedrichshain, so don't underestimate how smart it can be to get around by tram.
By the way, have you read my guide on the best places to stay in Berlin?
Bus
The buses in Berlin are available in several different types, and there are double-decker buses as we know them from London.
Regional train

It rarely makes sense to take a regional train in Berlin, but it might make sense if you, for instance, are at the Ostkreuz station and quickly want to get to the Hauptbahnhof.
In addition, you will probably only use the regional train when going from the Berlin airport to the city centre, where it is faster to take these trains than the s-Bahn.
Ferries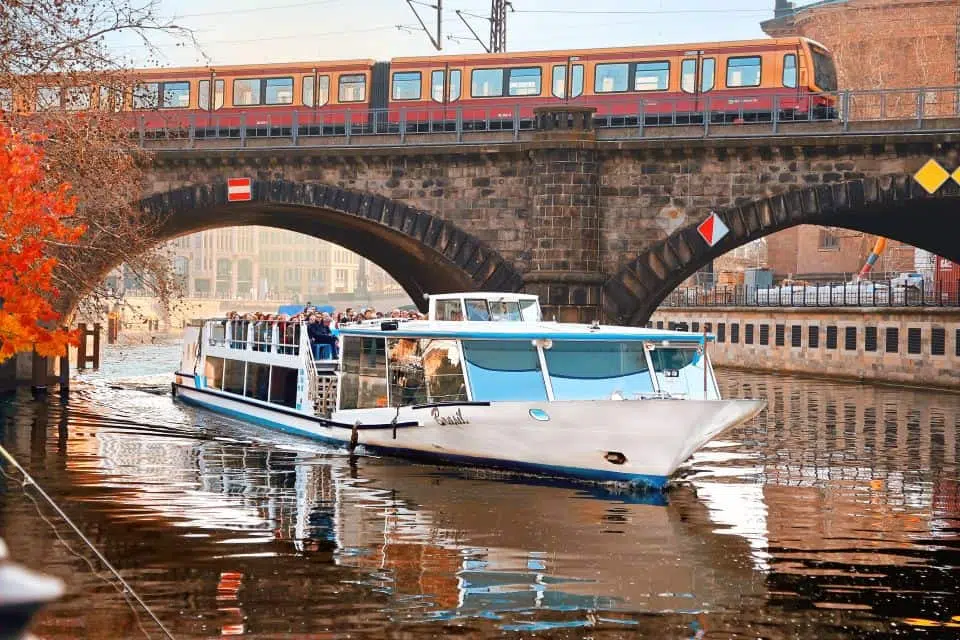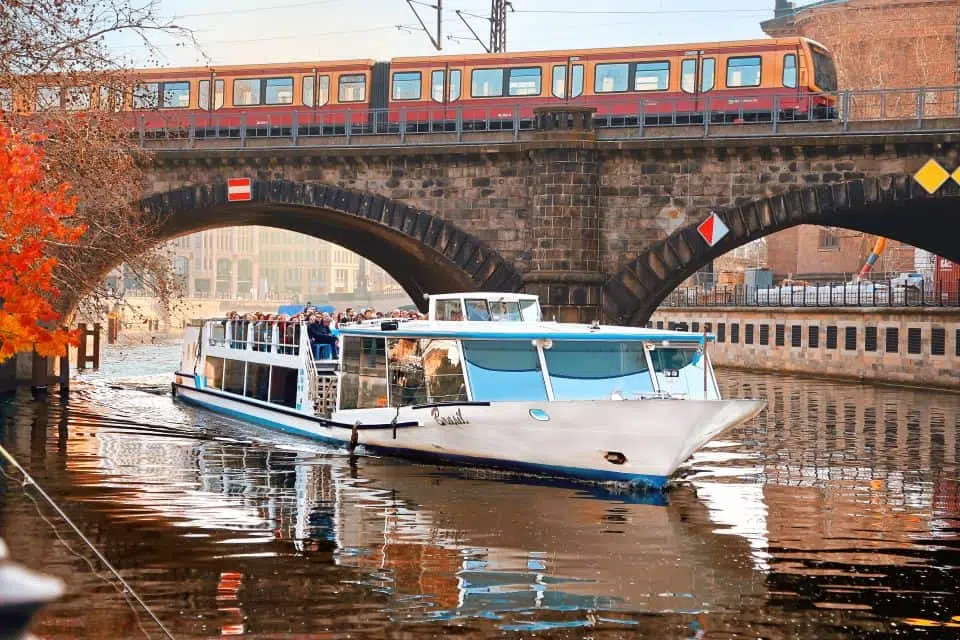 Yes, there are a few too ferries in Berlin as well as popular tourist boats, which I also strongly recommend.
How to get around in Berlin?
Now you know everything about the different transport options and how to buy tickets. But how do you get from your hotel to any destination?
As always, I highly recommend using Google Maps' route planner tool, which works brilliantly in Berlin.
Below I have entered that I have to go from the brilliant H4 Hotel Alexanderplatz to KaDeWe:
Google Maps now shows me several different routes.
I can quickly see that the easiest option is to walk to Alexanderplatz, take the regional train in the direction of Dessau to Zoologischer Garten, change to the U-Bahn and take the U12 in the direction of Warschauer Strasse and get off at Wittenbergplatz, from where I can walk to KaDeWe in a few minutes.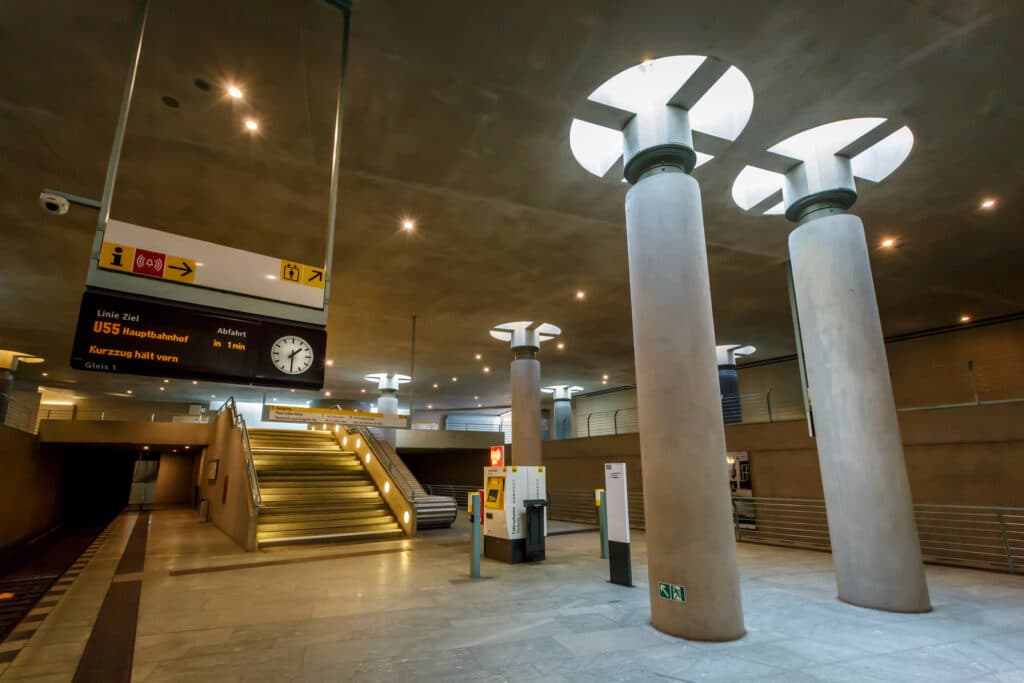 The most important thing when using Google Maps to plan your route is knowing which direction you are going.
You can even follow your journey live with Google Maps to see how close you are to your destination and much more.
And also, remember to look up from your mobile – sometimes it makes good sense to get off at a stop earlier or skip the last connection with the U-Bahn if you want to experience some of the city's beautiful sights and experiences.
I hope you can use this guide on public transport in Berlin. As mentioned, I used to live in Berlin, so if you've any questions, please comment below, and I'll do my best to help you plan your trip.
FAQ:
What is public transport like in Berlin?
Public transport in Berlin is convenient and extremely cheap compared to many other European capitals.
How late does public transport in Berlin run?
On weekends the S-Bahn, U-Bahn and Tram run 24 hours. From Monday-Friday, the S-Bahn operates until around 1:30 AM, the U-Bahn operates until about 1 AM, and the tram operates 24 hours. Use Google Maps to get live updates and timetables.
What time does Berlin public transport start?
On weekdays, the U-Bahn starts running at 4 AM, and the S-Bahn begins at 4.30 AM.
Is public transport in Berlin free?
No, tickets start from 2 euros for a short trip.