Krabi is an area in Thailand that is tailor-made for tourists seeking a blend of stunning nature, some of the world's best beaches, and plenty of options for excursions or total relaxation, depending on what you're after.
Krabi is a region located in southern Thailand, approximately a one-hour flight from Bangkok, and with its airport, it's easy to start or end a tour of Thailand here.
In other words, it makes perfect sense to stay in Krabi and travel around to several different areas within Krabi.
I've travelled around Krabi on several trips to Thailand, so I have a good overview of what you get in the different areas.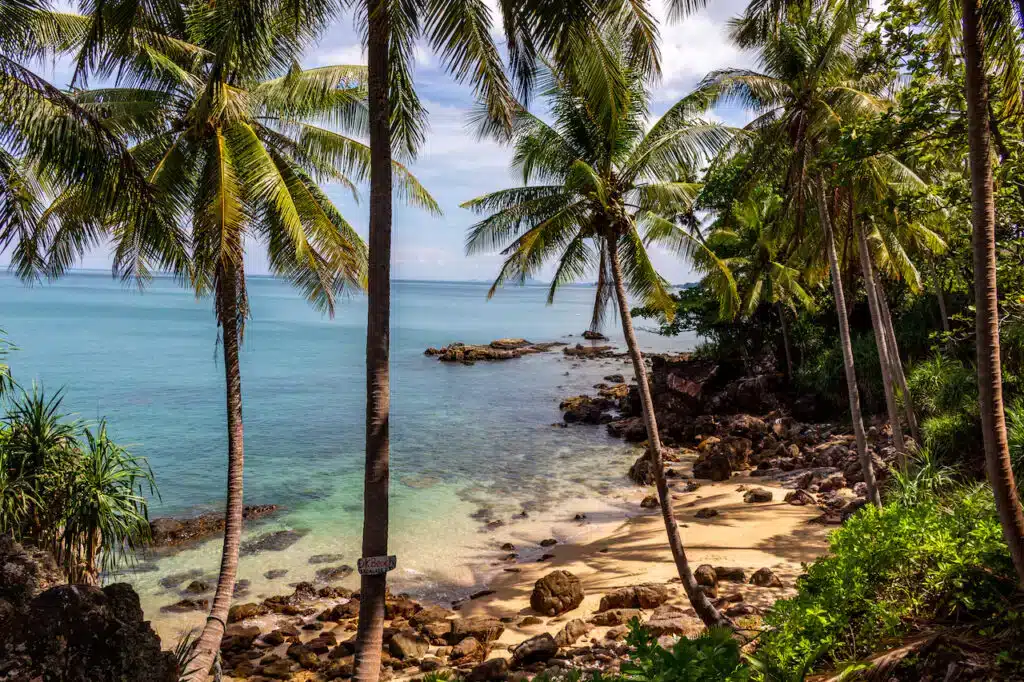 Below, I share the best areas and recommendations for the best places to stay.
So whether you want to stay in a lively town, on one of the world's best beaches, or at a luxury resort, you'll have the opportunity here in Krabi.
Where to stay in Krabi? Let's get started with the guide.
Best Areas in Krabi
If you're short on time or need a quick overview, here are the best areas to stay in Krabi:
Click on the name of the area above to see the best hotels there.
The guide continues below, where I dive deeper into the different areas and recommend hotels.
1. Ao Nang – best all-round holiday area ⭐️
If you're planning a trip to Thailand and are seeking the perfect balance between adventure and relaxation, then Ao Nang is the place for you.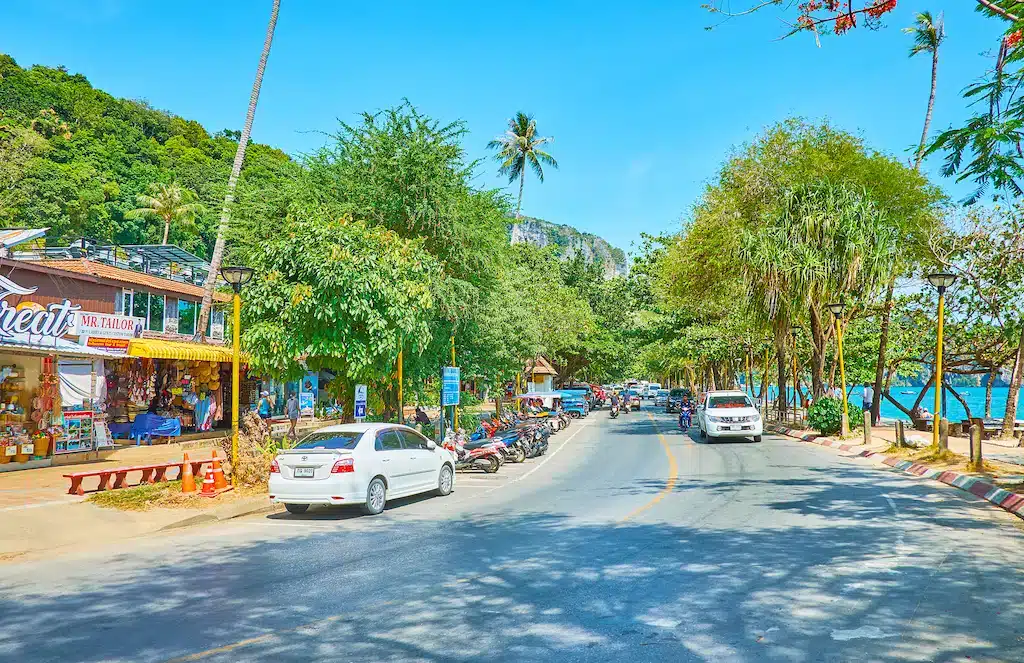 It's the most prominent tourist area in Krabi, and there are plenty of good reasons for that:
In Ao Nang, everything is within walking distance – from your hotel to the beach to many dining options.
The town is more or less designed with tourists in mind.
You can start your morning with a stroll along the beach, grab a pad thai for lunch, and hop on a longtail boat to Railay Beach – all without the hassle of long travel times.
Get a feel for Ao Nang in this video:
Hotels in Ao Nang range from budget-friendly to pure luxury, so there's something for every budget.
Many places offer fantastic pools, spa facilities, and the eminent view of the limestone cliffs this part of Thailand is famous for.
Check out the best hotels in Ao Nang here.
But the true appeal of Ao Nang is its location, which makes it the perfect springboard to some of Thailand's most beautiful natural experiences.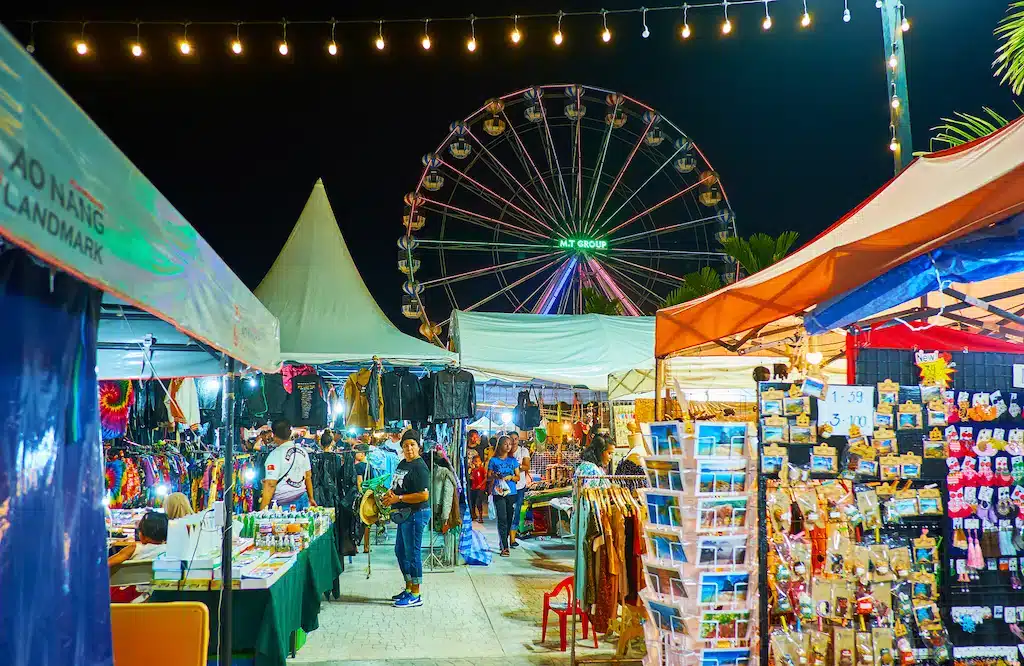 As previously mentioned, you can easily take a longtail boat over to Railay Beach, known as one of Thailand's most beautiful (more on that later in the guide) or go on a 4 Islands Boat Tour to paradise islands just like the ones you've seen on Instagram.
There are countless opportunities for sea excursions, and you can also drive to places within Krabi like the Tiger Cave Temple, Klong Root, and then there's Krabi Airport, which is only about 25 km away from Ao Nang.
It's convenient to go on day trips and then come "home" to an area with a lot of life in the evenings.
Markets light up with colorful lights, and stalls abound with local crafts and delicacies.
Restaurants and bars offer international and local food, and you can find everything from quiet, romantic corners to places where music and dance continue well into the night.
So, if you're looking for a holiday area in Krabi that offers the best of everything – from easy access to stunning natural beauty to a secure base with plenty of shops and restaurants, then Ao Nang is the place to stay.
If I have to mention a downside to Ao Nang, it would undoubtedly be that it is a very touristy area. So, if you're travelling to Thailand solely to slow down and experience a more local side of the country, then Ao Nang is not the place.
On the other hand, if you're travelling around and want to stay in several places in Thailand, then Ao Nang is a really good place to stay for a few days to have a base and, from there, go on excursions.
Places to stay in Ao Nang
On my fourth trip to Thailand, I researched hotels in Ao Nang extensively and was surprised at how affordable they were compared to those in the main areas of Phuket and other popular holiday areas in Thailand.
So you get a lot for your money in this area – here are some of my favourite hotels in Ao Nang.
Centara Ao Nang Beach Resort & Spa Krabi offers a prime location right on the beachfront, meaning you can step directly onto the soft sand from your door.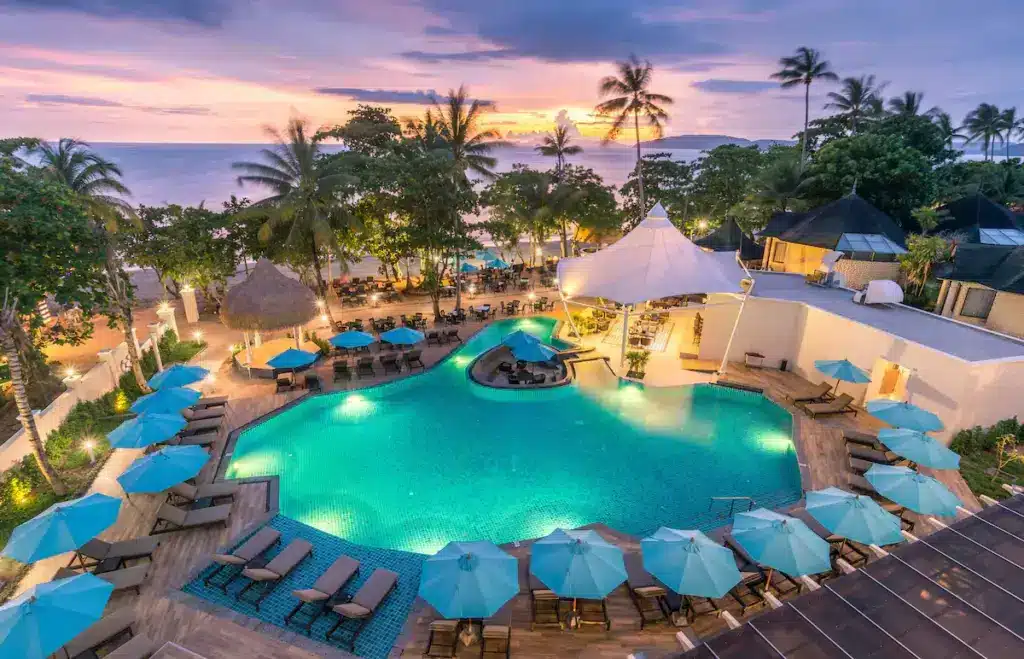 This resort is a hit for families and couples looking for a mix of sun, sea, and spa luxury.
Guests particularly praise the impressive pool areas, close access to the sea, and the resort's ability to create a sense of exclusive seclusion despite its central location.
Reviews often highlight the friendly staff and the spacious, clean rooms, making it an obvious choice for those who value comfort and service.
See more photos and book here.
Right in the heart of Ao Nang, you'll find the Holiday Inn Resort, a gem for cost-conscious travellers and families.
This place offers the reliable comfort that Holiday Inn is famous for, wrapped in Thai hospitality.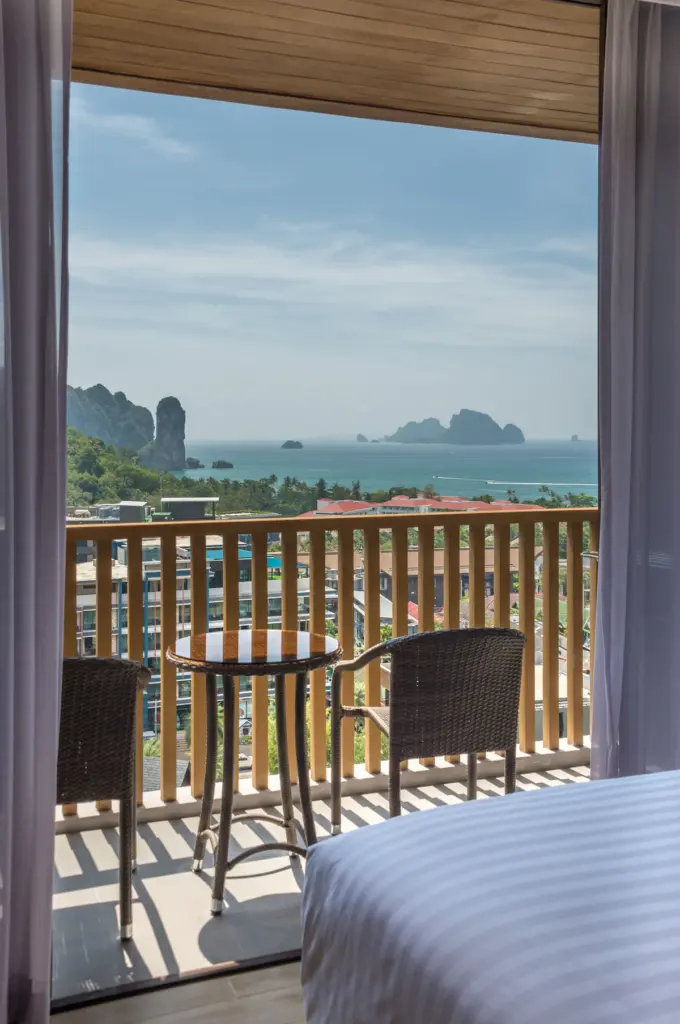 Guest reviews warmly speak of the clean and comfortable surroundings, kid-friendly pools, and the undisturbed relaxation experienced here.
With its central location, the hotel is a stone's throw from the beach and Ao Nang's shopping and dining options, making it a safe choice for an effortless and enjoyable holiday.
A perfect place to stay for families with children travelling to Krabi, but it's not just a family-oriented hotel.
See more photos and book here.
Andaman Breeze Resort is a hidden gem tucked away from Ao Nang's bustling beachfront, offering an oasis of peace and spectacular views from its elevated pool area.
The hotel is significantly cheaper than the previously mentioned places to stay in Ao Nang.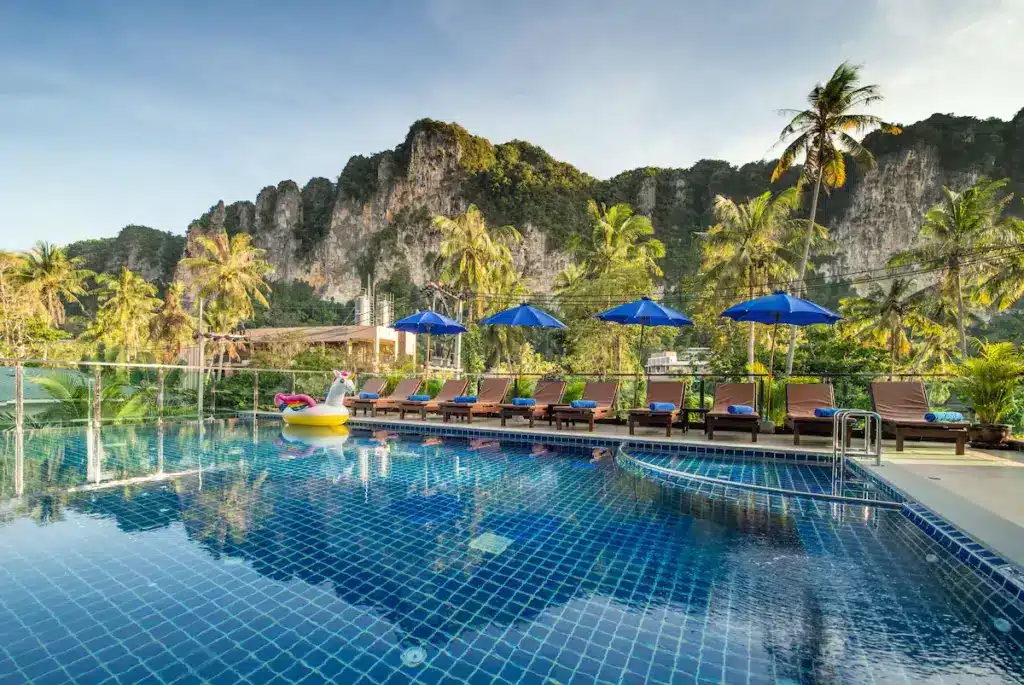 Reviews praise the place's relaxed atmosphere, helpful staff, and value for money.
The rooms are comfortable and well-maintained, and even though you're a bit away from the beach, the magnificent view of the limestone cliffs compensates for the distance.
Perfect for those who prefer to sleep away from the noise but still want easy access to Ao Nang's many offerings.
See more photos and book here.
2. Railay – stay at one of the world's best beaches 🏖️
On my first trip to Thailand, we started in Bangkok and flew to Krabi, drove for about 30 minutes, and then took a boat to Railay. And I must admit, I highly recommend staying in this part of Krabi.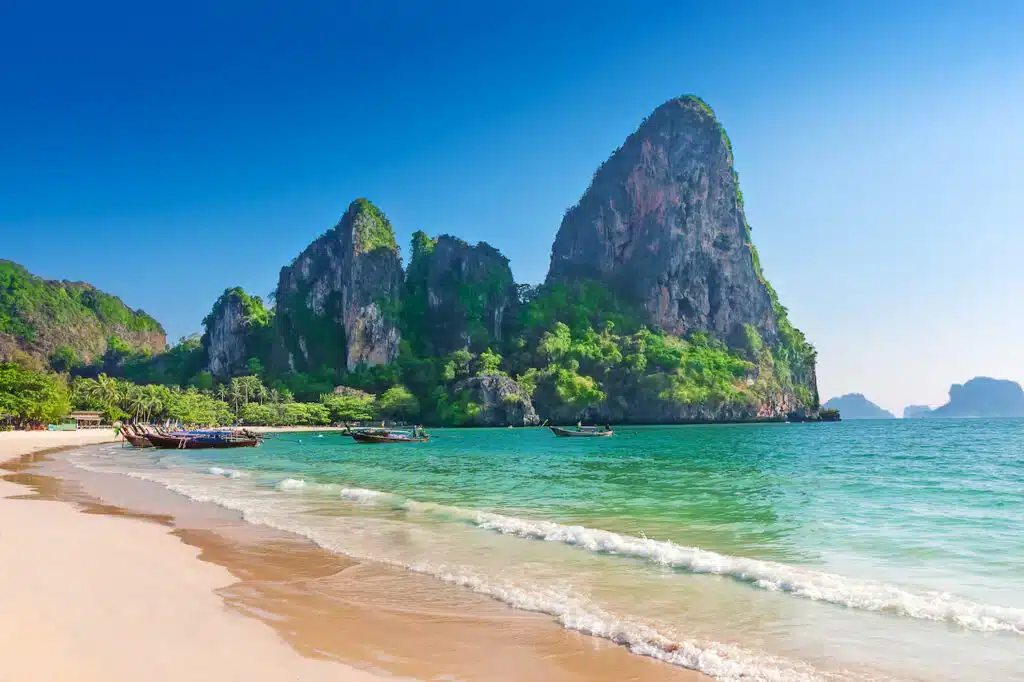 Railay is one of those unique spots on the globe where you find the tranquility that's hard to match.
Railay is not an island, but because of the majestic limestone cliffs surrounding this small area, you can't drive there, so there's a very laid-back island vibe.
Staying in Railay means waking up to the sight of the magnificent limestone cliffs rising from the turquoise sea and strolling along some of the world's most beautiful beaches.
Railay West is the most popular, known as Railay Beach, with soft sand and crystal-clear water, while Railay East has more budget-friendly hotels – there's no beach here, but instead, you get a more affordable price.
And you can walk over to Railay West in a couple of minutes.
See the best hotels in Railay here.
Evenings in this little holiday paradise are quiet, with a relaxed vibe, where you can enjoy a drink under the stars or listen to the gentle strum of an acoustic guitar.
In other words, not much really happens, so you have to know that when you stay in Railay, it is exclusively to enjoy the beautiful nature and the peace.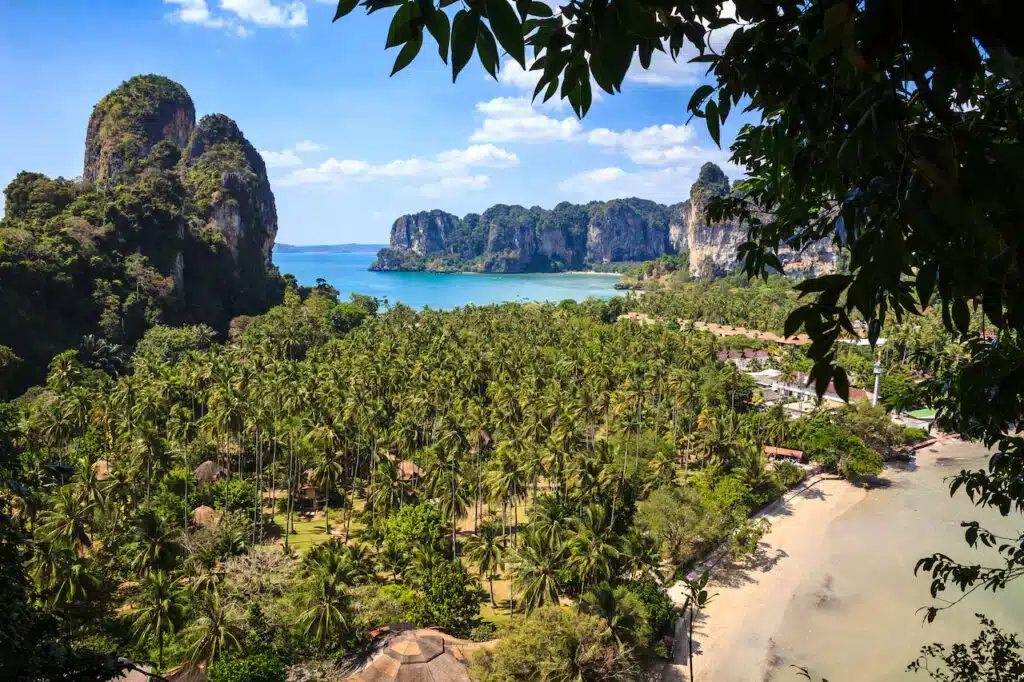 You can also go on many of the same excursions (at least on boat trips) from here as you can from Ao Nang.
For example, I went on the popular Four Islands tour from Railay, and I think that's a must-do.
If I have to mention any drawbacks, you can feel isolated and maybe miss being able to walk into a 7/11 and buy some cheap snacks – the prices in the small kiosks and restaurants in Railay are pretty high compared to, for example, Ao Nang.
They know that you don't have many options, so the prices are jacked up 😀
However, I highly recommend staying here for a few days if you want to try staying in some of Thailand's – and perhaps the world's – most beautiful surroundings.
Places to stay in Railay
Railay is the smallest area in Krabi I mention in this guide, so there are fewer choices than usual. But here are some of my favourite hotels in Railay – across different price ranges.
Rayavadee in Railay West is the epitome of luxury in Thailand's most breathtaking settings.
With its exclusive location surrounded by cliffs and sea, this resort offers a unique combination of natural beauty and five-star service.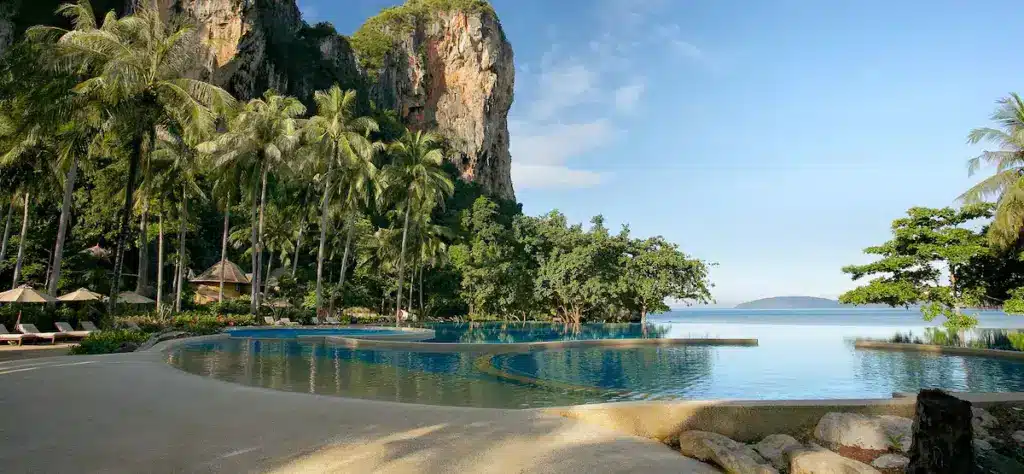 Previous guests talk about the attentive service, exquisite dining options, and private villas that provide peace and privacy.
Reviews often highlight the relaxing spa area and the activities organised by the resort. For travellers seeking ultimate relaxation and luxury, Rayavadee is the perfect choice.
See more photos and book here.
Railay Village Resort welcomes families and anyone looking for comfort and relaxation with open arms.
This family-friendly hotel, located in the heart of Railay and right on the beach, is known for its hospitality and delightful facilities that ensure a comfortable stay for guests of all ages.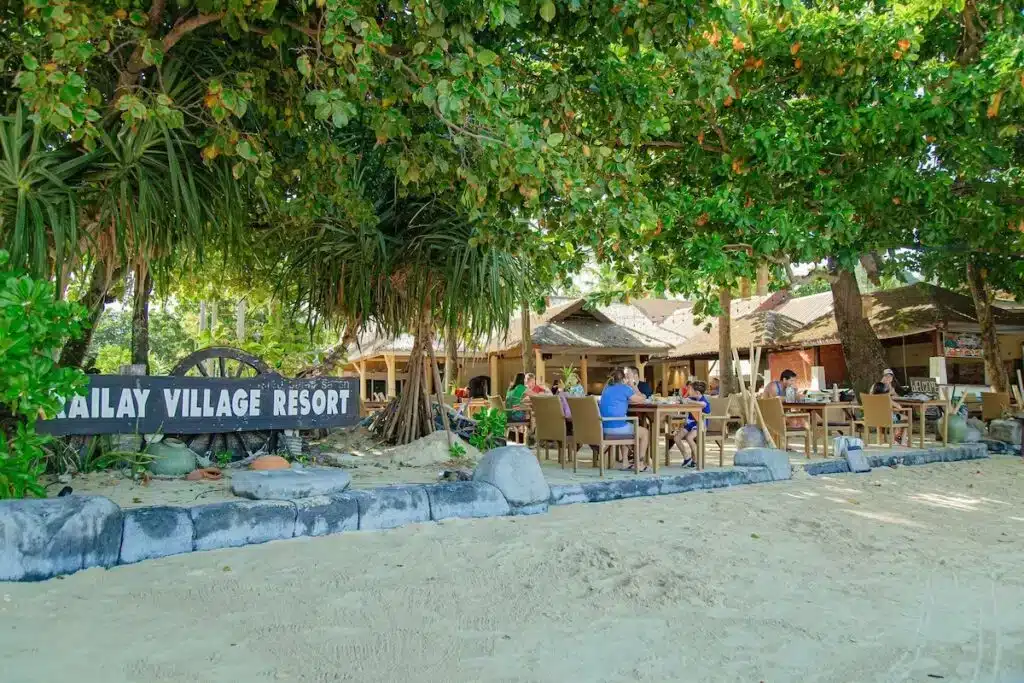 Reviews praise the spacious rooms, the inviting pool area, and the easy access to Railay Beach.
The atmosphere is relaxed, and the staff go the extra mile to ensure families have everything they need for a memorable holiday.
Railay Village Resort is an excellent choice for those who want comfort and friendliness in beautiful surroundings.
See more photos and book here.
Railay Phutawan Resort is ideal for budget-conscious travellers who dream of experiencing Railay's beauty without breaking the bank.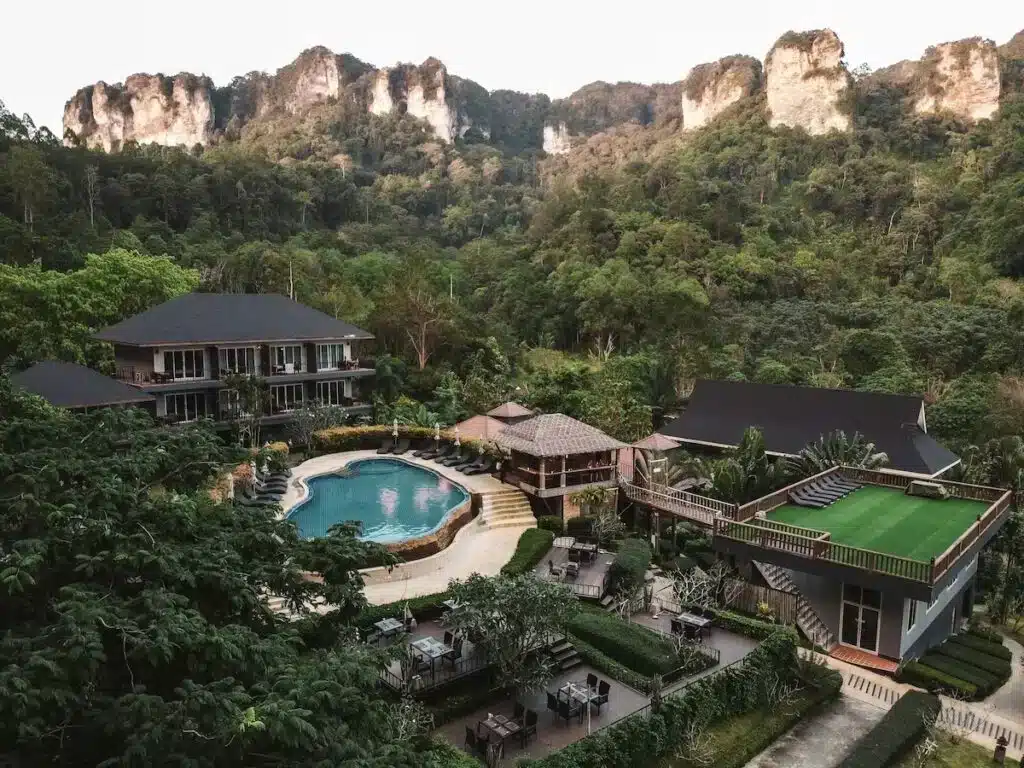 The hotel is situated in the heights, away from the hustle and bustle of the beach, providing guests with a peaceful retreat with breathtaking views of the limestone cliffs.
Guest reviews highlight the hotel's good value for money, helpful service, and comfortable, clean rooms.
Even though it's not right on the beach, the nearby path provides easy access to Railay East and West.
See more photos and book here.
3. Phi Phi – a lively holiday island with beautiful beaches 🍹
And let's now address the first island in Krabi in this guide.
Phi Phi Islands are two islands, but only one is inhabited – the other houses the famous Maya Bay, known from the iconic film The Beach.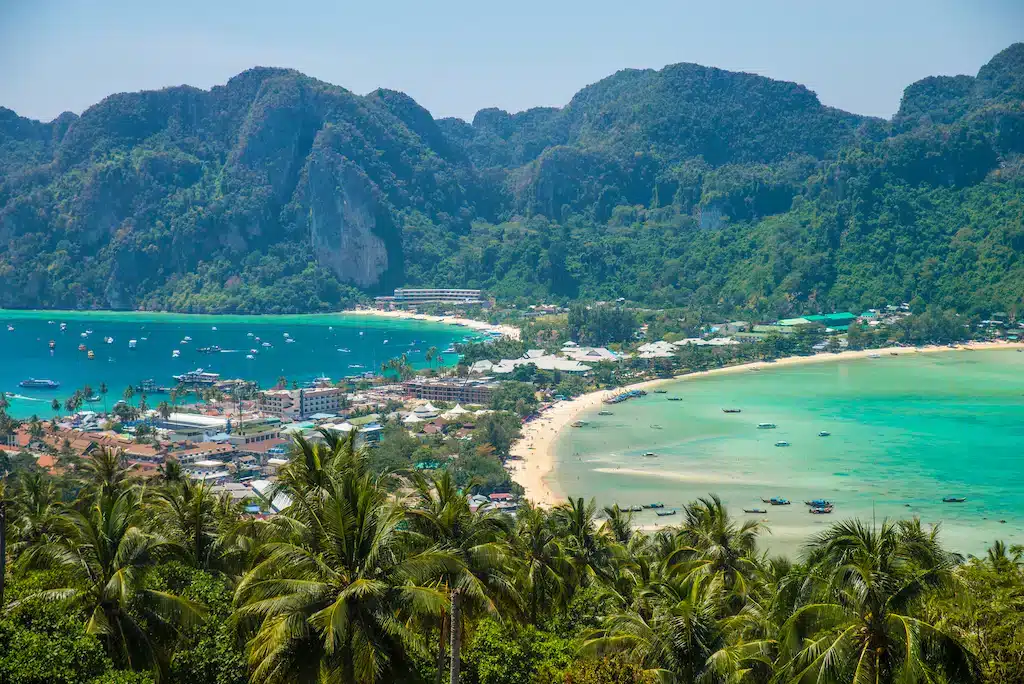 Phi Phi, both the inhabited island Phi Phi Don and Maya Bay island called Phi Phi Leh, are popular excursion destinations for tourists in mainland Krabi and Phuket.
See the best hotels on Phi Phi here.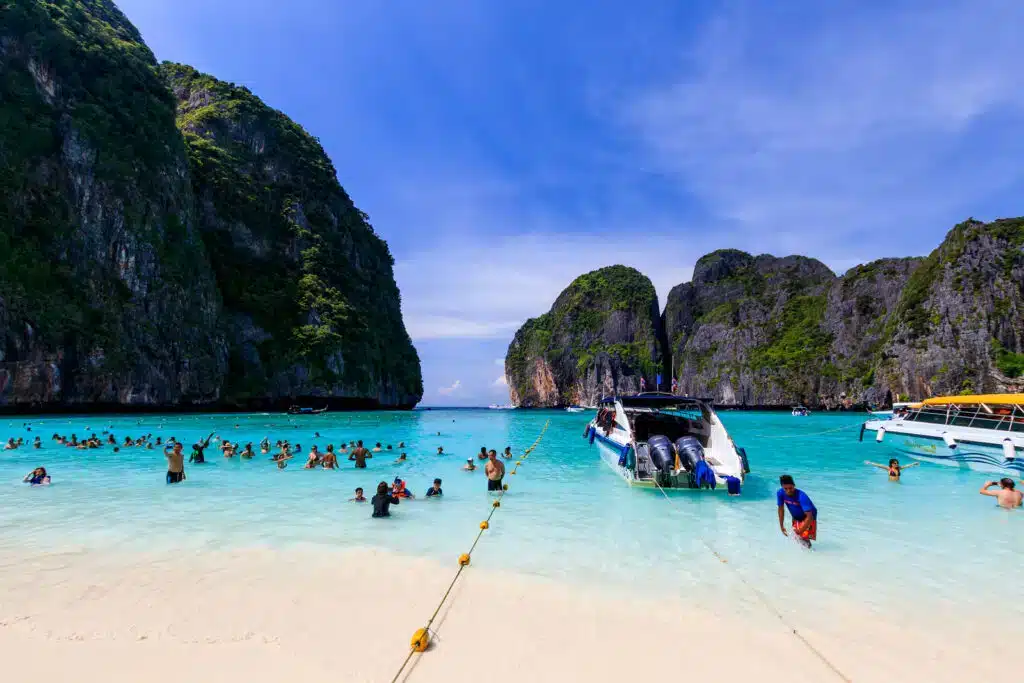 The islands' popularity is quite noticeable in the small town, which is so compact there are no cars, and one can walk from one side of the island (where the ferry docks) to the other, where the main beach is located.
Here, it's packed with hotels of varying price ranges, and it's extremely important to do some research before booking.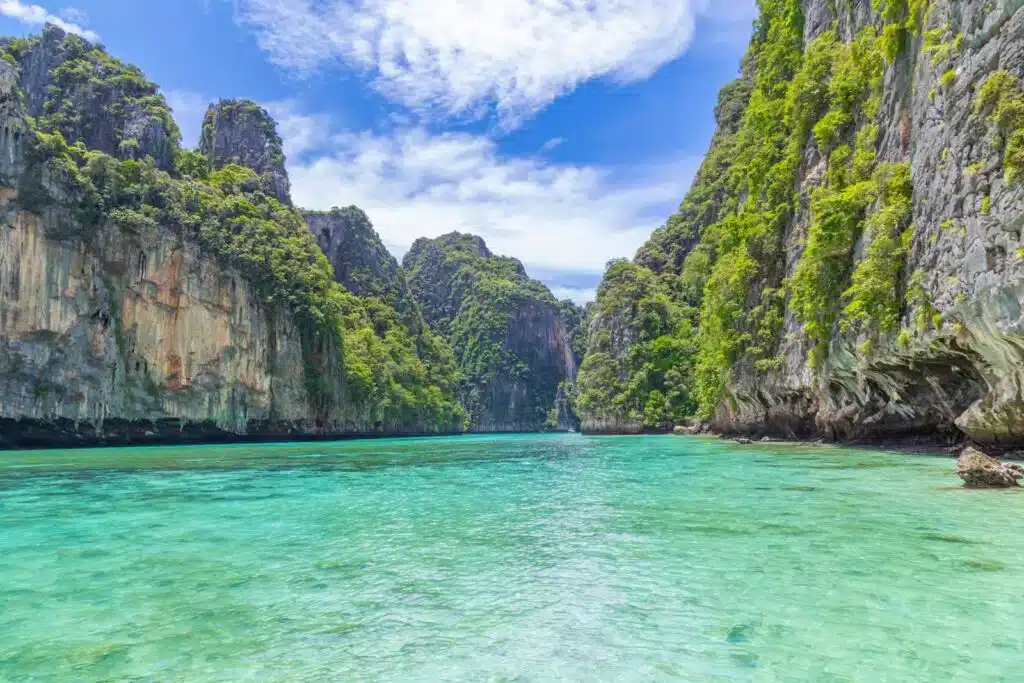 I made a mistake when I first visited Phi Phi and wanted to stay close to the many bars and restaurants, but I ended up booking a hotel that was out by a private beach – charming but far from the night life.
While the island is known for its vibrant party culture that attracts a lively crowd of globe-trotting youths, that's not the whole story. Though the night brings festivities, the days offer opportunities to discover the island's soul.
Nature trails are winding through lush greenery and secret beaches where you can enjoy tranquillity.
Get an impression of Phi Phi in this video:
You can also find quieter accommodations away from the main areas, where you can wake up to the sound of waves and a spectacular sunrise.
However, there are a lot of tourists who come to experience this unique gem in Thailand, so as I said before – there is limited local culture.
Some would say there are too many people to truly enjoy the island, especially in the peak season in January and February.
I'm not saying this to deter you from staying on Phi Phi, but I promised an honest guide on the best areas to stay in Krabi – so I'm telling both the good and the less good things so you can make a well-considered decision.
Maya Bay doesn't look quite the same as in the movie – the background is computer-generated 😀
Places to stay in Phi Phi
You should be mindful when booking your hotel on Phi Phi. There is a great difference in the atmosphere depending on where on the island you stay – let me, therefore, recommend a couple of hotels that cater to different types of travellers.
SAii Phi Phi Island Village stands in a class of luxury on its own, situated in a more secluded part of Phi Phi, where the silence and sounds of nature create an atmosphere of peace and exclusivity.
This resort is a favourite among those looking to escape the more touristy areas and enjoy the island's beauty and tranquillity.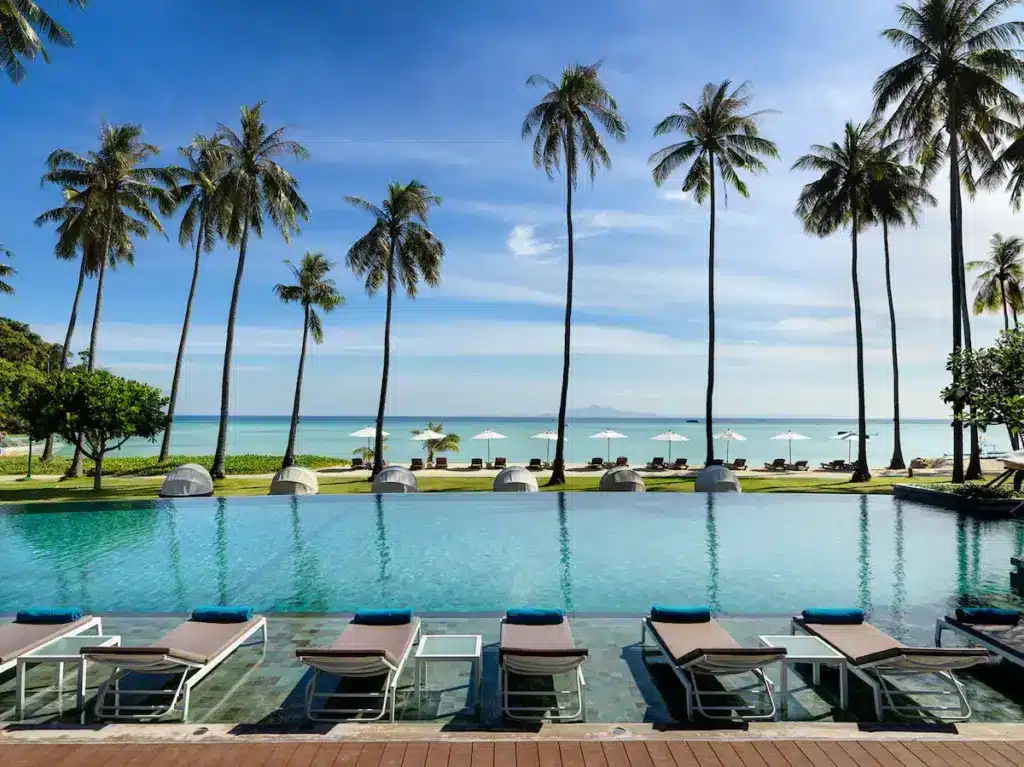 Past guests talk highly of the private bungalows scattered along the pristine beach, the personal service, and the eco-friendly initiatives.
With its own stretch of beach and a sense of secluded luxury, SAii Phi Phi Island Village is the perfect retreat for travellers looking for a more authentic and relaxed Phi Phi experience.
See more photos and book here.
Phi Phi CoCo Beach Resort is one of the island's top hotels, and its location is arguably the best – right by the island's most beautiful beach and within walking distance to Phi Phi's 'town'.
However, the hotel is at the end of the beach, away from the parties, so you won't have to listen to thumping bass all night long.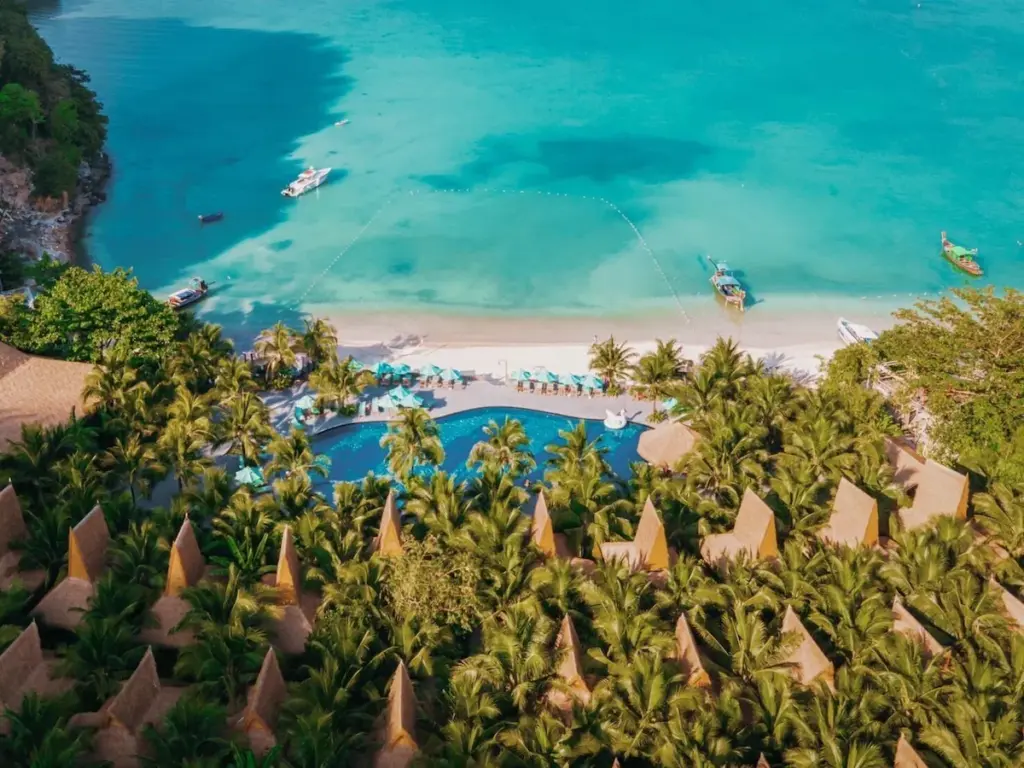 This hotel offers a charming mix of Thai hospitality and modern comforts, making it an attractive base for visitors to the island.
Guest reviews highlight the resort's delicious infinity pool, direct beach access, and cosy bungalows that provide a sense of privacy and tranquillity amidst the island's bustle.
Phi Phi CoCo Beach Resort is an ideal place to stay in Phi Phi for travellers who want to be pampered with comfort and easy access to all that Phi Phi has to offer.
See more photos and book here.
And then there's the complete opposite – a hotel close to where everything happens in the evening.
Phi Phi Indigo Hotel is the obvious choice for nightlife enthusiasts and party-loving souls who want to immerse themselves in Phi Phi's nightlife.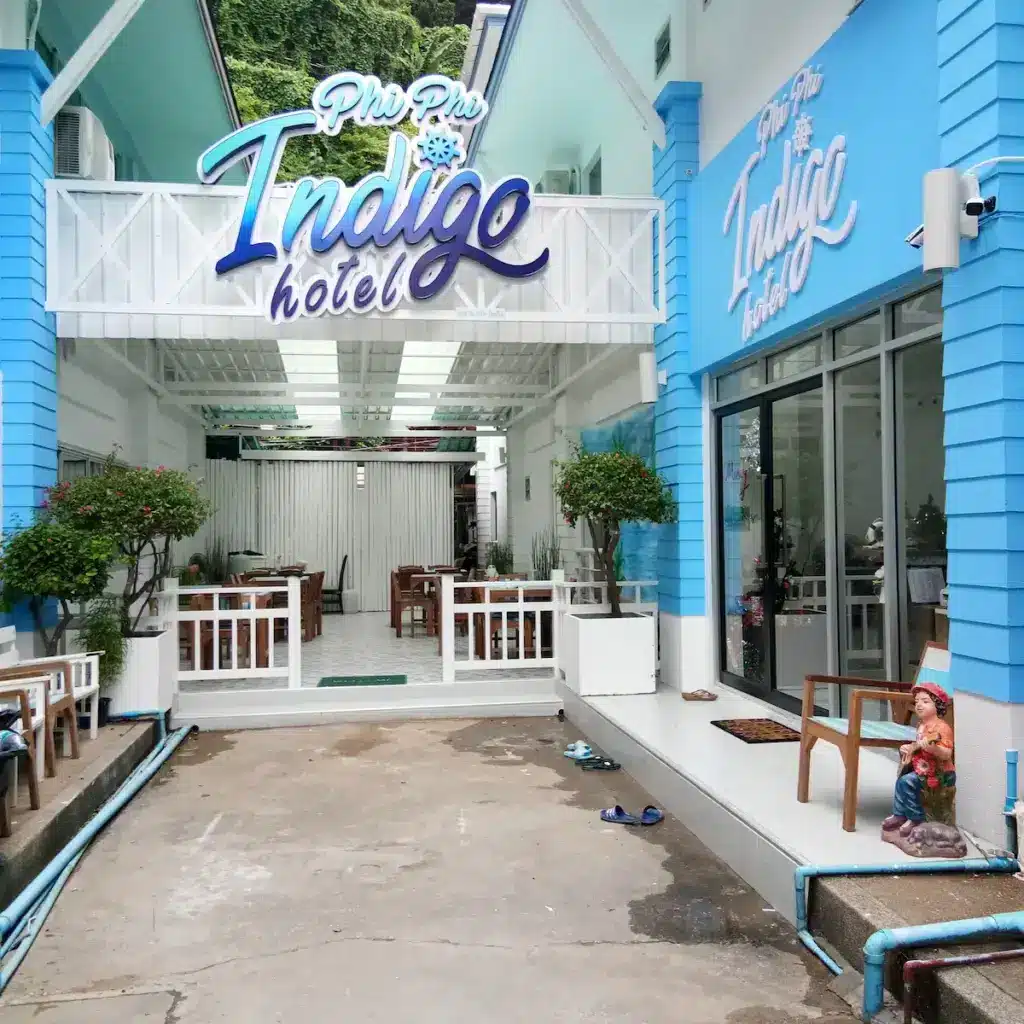 The hotel is in an area known for its many bars and lively street atmosphere.
Down on the beach by Slinky Bar, there are always parties every evening, so it's easy to get there "where it happens" on Phi Phi from this hotel.
If you've come to celebrate life and meet new people in a festive atmosphere, Phi Phi Indigo is where your search for fun never ends.
It's also a super budget-friendly hotel where things are still well managed.
See more photos and book here.
4. Krabi Town – the main city in Krabi with local life 🇹🇭
Krabi Town is a prime location for those seeking a more local and authentic Thai experience.
Unlike the tourist-frequented beach areas such as Phi Phi and Ao Nang, Krabi Town offers an authentic taste of daily life in Thailand, complete with bustling markets, street food stalls, and a friendly local populace.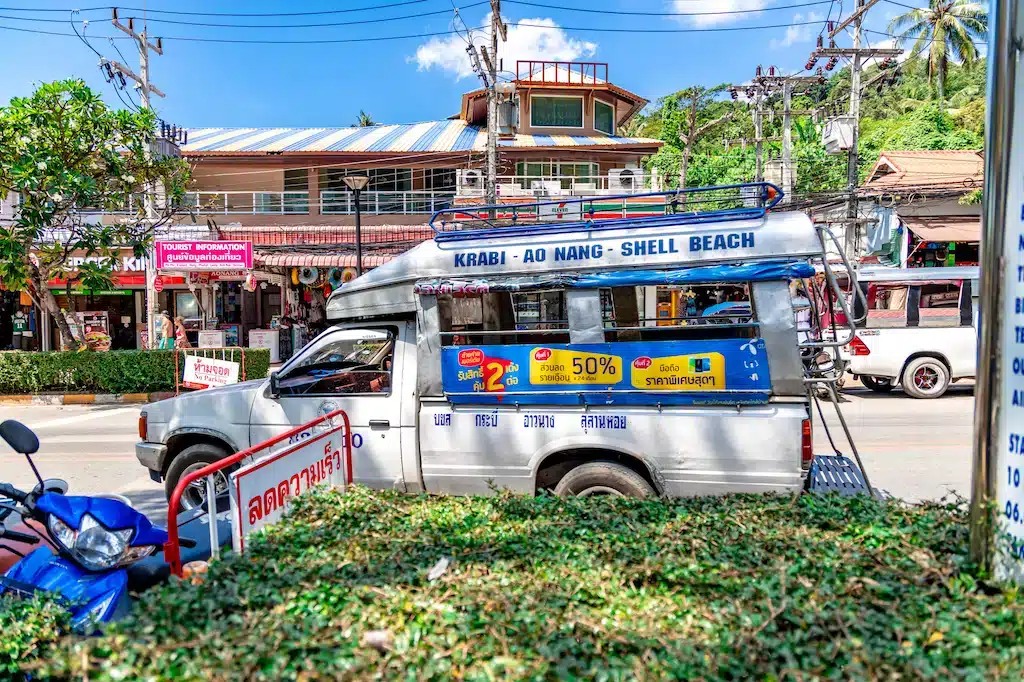 Krabi Town is an excellent hub for exploring the region's natural wonders, as it's straightforward to arrange day trips to nearby national parks and beaches.
Check out the best hotels in Krabi Town here.
This locale is ideal for those who want to blend relaxation with adventure: embark on a kayak adventure through the mangroves by day, then return to the genuine atmosphere of the town by night.
While the nightlife is less intense than Phi Phi's or Ao Nang's, there's still a good selection of restaurants and bars for evening entertainment.
Krabi Town is for you if you're looking to delve into the Thai community and live a bit more in harmony with the locals, all while having easy access to some of the country's most impressive landscapes.
The major downside is the absence of a beach in Krabi Town, so please remember this before booking your hotel here.
Places to stay in Krabi Town
I understand that Krabi Town might not be the most obvious choice for spending an entire holiday in Thailand, but I believe it deserves to be mentioned – after all, it's the town that gives the entire region its name.
Plus, the hotels in Krabi Town are affordable!
Therefore, I introduce two good places to stay in Krabi Town that offer great value for money.
The Seens Hotel provides a budget-friendly stay without compromising on quality. Located in the city centre, it offers guests easy access to local markets and cultural attractions.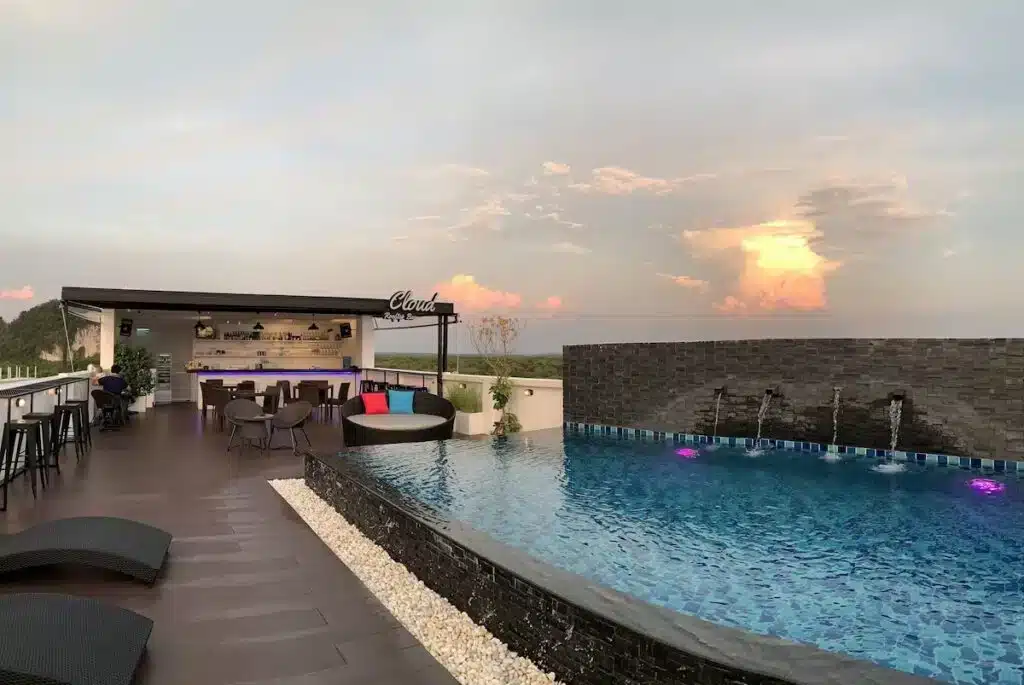 The hotel's small rooftop pool is a real hit, offering a refreshing dip with a view over the city's rooftops.
Past guests have praised the clean and modern decor, good service, and reasonable pricing.
See more photos and book here.
The Brown Hotel is a stylish place to stay in the heart of Krabi Town.
Known for its elegant decor and sophisticated ambience, it offers a luxurious respite from the hustle and bustle of the city.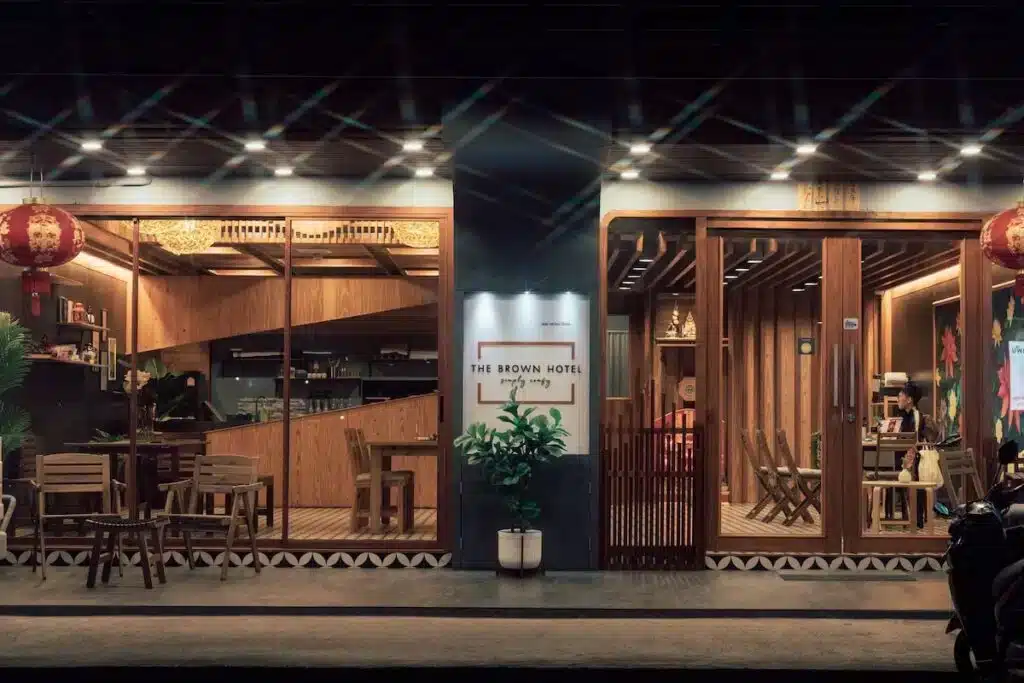 It's close to the Krabi night market, a must-visit if you stay here.
Reviews by former guests mention the modern and tastefully decorated rooms, excellent customer service, and the hotel's central location, making exploring the city's many offerings easy.
See more photos and book here.
5. Koh Lanta – the best island for families with children 👨‍👩‍👧‍👦
Koh Lanta is a dream destination for families and those seeking a peaceful retreat from the busier tourist areas in Thailand.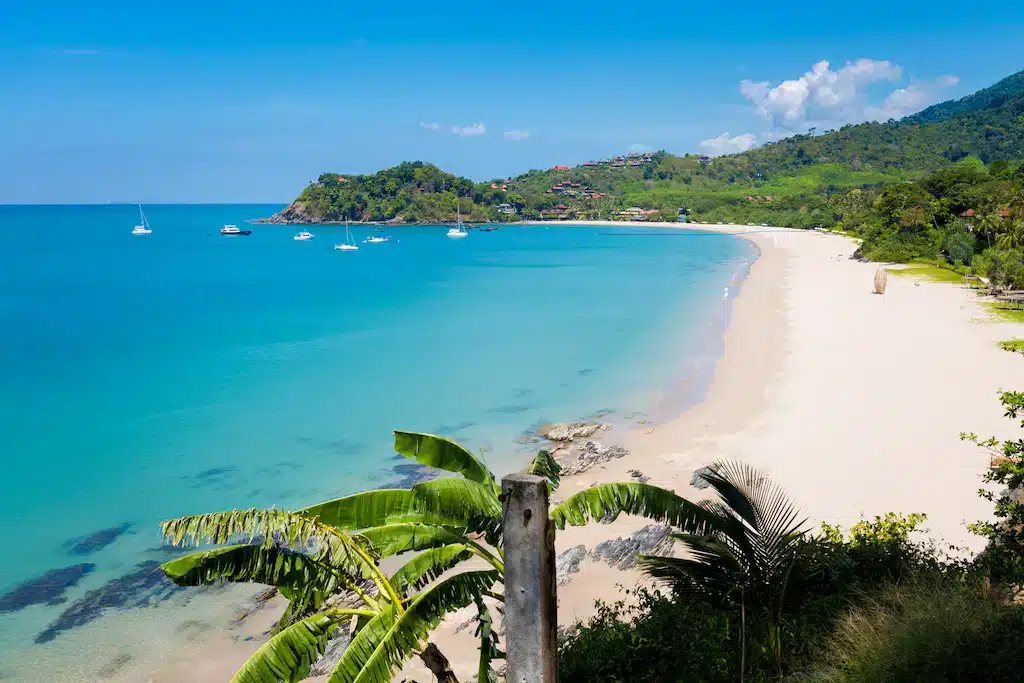 The island is known for its relaxed atmosphere, perfect for families with children.
Here, the busy streams of backpackers and nightlife seekers are replaced with quiet days on broad beaches and a friendly local culture that welcomes all ages.
In recent years, Koh Lanta has also become popular among digital nomads who like the tranquil surroundings.
I was here on my first trip to Thailand and liked the atmosphere, which starkly contrasted with the fast life in Ao Nang and Phi Phi – and then the nature is also beautiful on Koh Lanta.
See the best hotels in Koh Lanta here.
The beaches here are ideal for the little ones in the family with their gentle waves and clear, shallow waters, making them safe playgrounds for children.
But it's not only for families; Koh Lanta also attracts those looking for a place to unplug.
At Koh Lanta, you can immerse yourself in yoga meditation and enjoy healthy, delicious food at the many beach restaurants focusing on organic and local products.
There is also plenty of local life on Koh Lanta.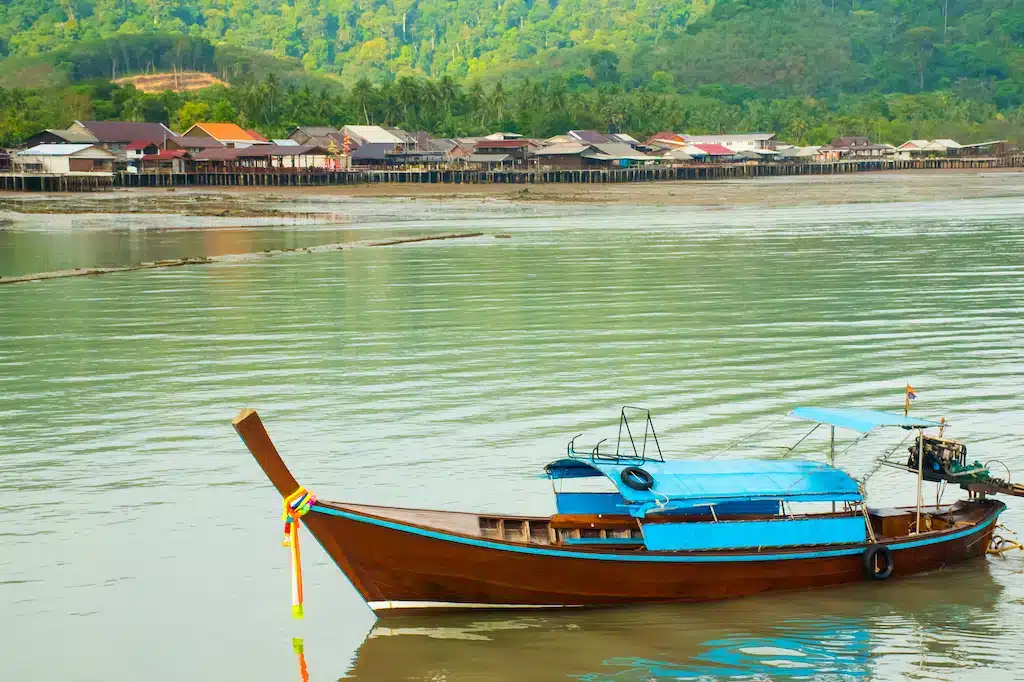 So, if you're looking for a place to relax with your family, enjoy nature right outside your doorstep, and take in a more authentic Thai atmosphere, then Koh Lanta is the best place to stay in Krabi.
The island is about a 1.5-hour drive from Krabi Airport – you take a small ferry from the mainland, which only takes a few minutes. We drove in a minibus where we didn't even have to get out, so it was very fast.
If you're considering Koh Lanta, also check out my guide on where to stay in Phuket, where I tell you about Koh Yao Yai, which has a bit of the same vibe – although it's even less visited by tourists.
Places to stay in Koh Lanta
Accommodation options in Koh Lanta range from luxurious resorts to charming beachside bungalows, catering to all preferences and budgets.
Since Koh Lanta is a relatively large island, your experience can vary greatly depending on where you stay.
Here are some of the best family-friendly hotels on the island, each in different price categories:
Lanta Sand Resort & Spa is an ideal retreat for families and couples, offering a variety of accommodations, including family rooms with private plunge pools.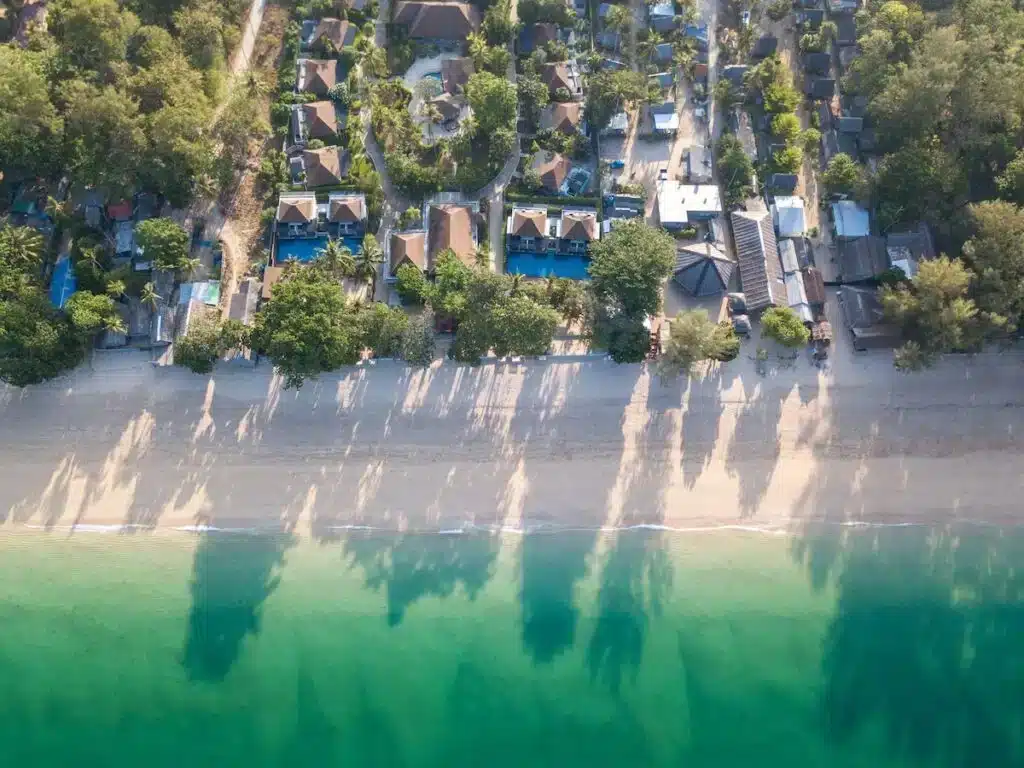 Guests have commended its extensive amenities, inviting beach, and attentive service.
Being right on the beach, Lanta Sand is excellent for those desiring a serene family vacation in picturesque surroundings.
See more photos and book here.
Lanta Castaway Beach Resort has a special place in the hearts of many returning guests due to its family-friendly ambience and welcoming atmosphere.
It's noted for providing great value, and many guests choose to stay for an extended period.
The staff's helpfulness, clean and comfortable facilities, and the child-friendly beach nearby are consistently praised.
See more photos and book here.
Long Beach Chalet is noted for its combination of cosy rooms and an excellent location on Long Beach, one of the island's finest.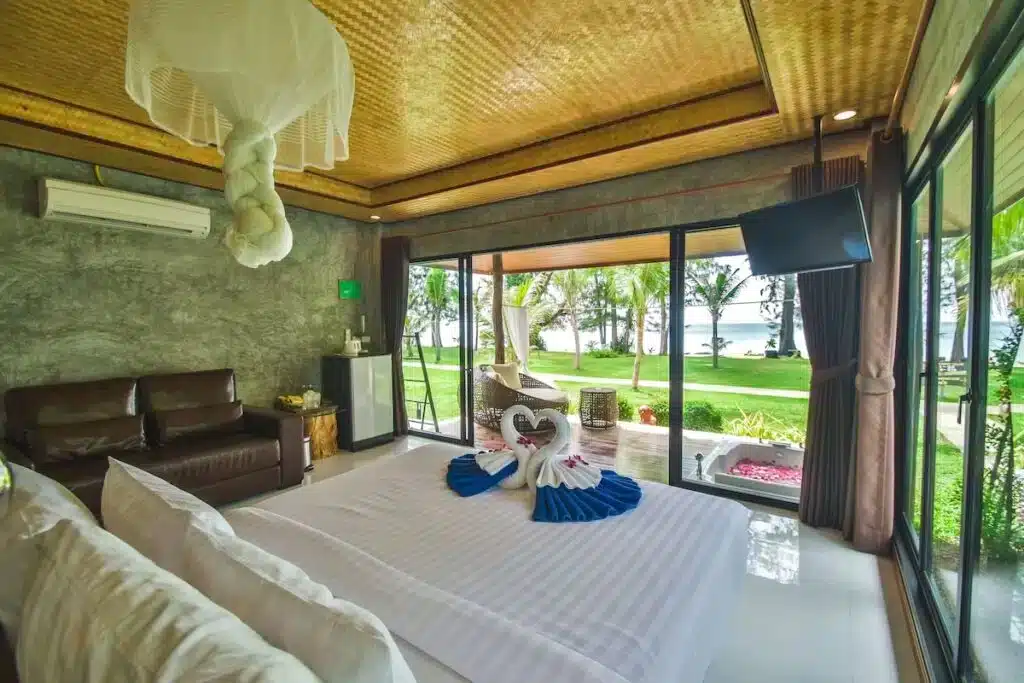 The chalet is popular for its direct access to the beach and proximity to local dining spots offering fresh seafood.
Guests have appreciated the well-appointed rooms and the overall convenience the location offers.
See more photos and book here.
As noted, Koh Lanta has a diverse array of areas, beaches, and hotels to choose from, so it's recommended to explore the full range of hotels in Koh Lanta here.
6. Tubkaek Beach – a peaceful area perfect for couples 👩‍❤️‍👨
Tubkaek Beach is Krabi's best-kept secret – a small, exclusive enclave where luxury and tranquillity coexist.
This quiet beach area is a true paradise for couples seeking a romantic getaway, where they can replace the everyday hustle with relaxing days and intimate evenings.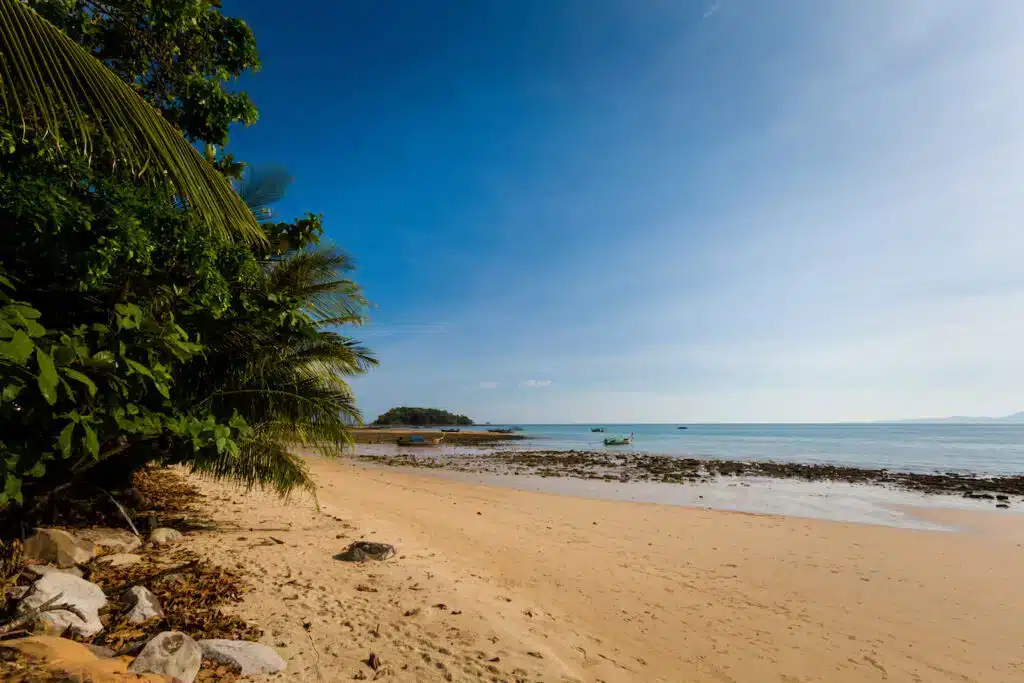 Here, against the backdrop of the Andaman Sea's turquoise waters meeting the fine sand, you'll find some of the region's most luxurious resorts.
Tubkaek is perfect for those seeking top-notch service, exclusive spa treatments, and gourmet meals with a view of stunning islands like Koh Hong and Koh Lao Lading (worth visiting by longtail boat).
Check out the best hotels in Tubkaek here.
Additionally, Tubkaek is just a short drive from Ao Nang, making it easy to transition from seclusion to adventure.
Couples can immerse themselves in Ao Nang's vibrant markets and dining scene or take day trips to nearby attractions before returning to their peaceful haven.
Tubkaek is for those who want to savour the quiet and beauty of one of Thailand's most exclusive areas yet still have access to local culture and activities within easy reach.
Places to stay in Tubkaek
It doesn't make sense to stay in this area if you're travelling to Krabi with children, so the hotels I mention below are exclusively aimed at couples. And there are some really great places to stay here at Tubkaek Beach.
Let's start with the best of them all.
Banyan Tree Krabi is the epitome of luxury and relaxation, designed for couples seeking an escape from everyday life's bustle.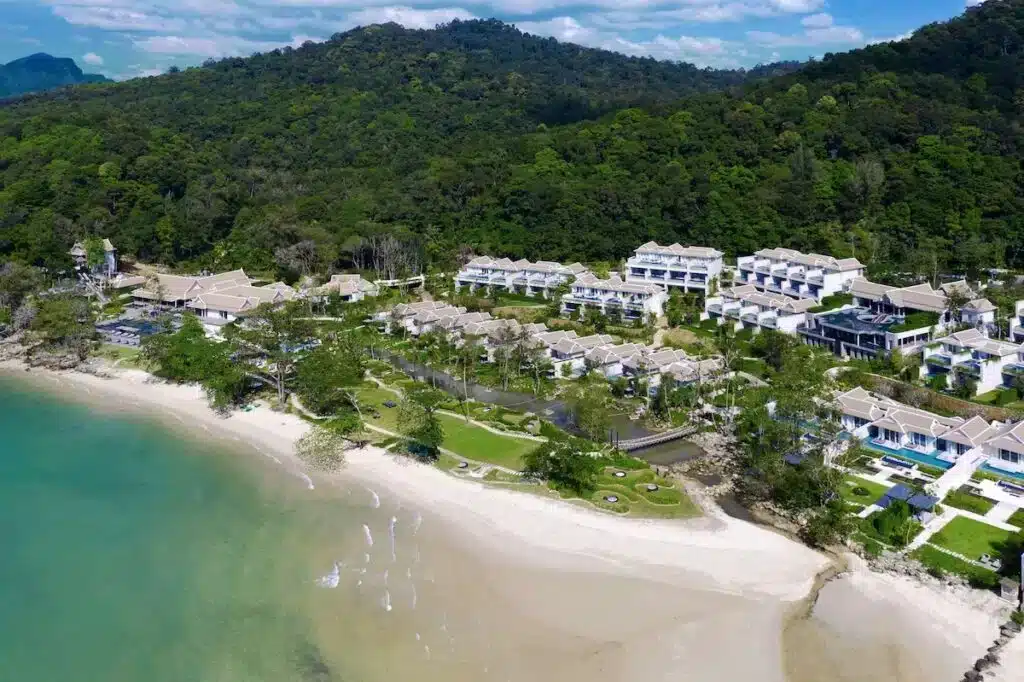 The hotel is located on the peaceful Tubkaek Beach and embraces its guests with calm and refined elegance.
Reviews from past guests are a clear testament to the resort's luxurious rooms, the spectacular views of the Andaman Sea, and the sublime spa offering world-class treatments.
Banyan Tree Krabi is the perfect choice for couples who want to immerse themselves in intimate and tranquil surroundings.
See more photos and book here.
The Tubkaak Krabi Boutique Resort is an idyllic hotel that offers luxury without the price needing to be overwhelming.
The Tubkaak Krabi Boutique Resort features various room types – including villas with private pools.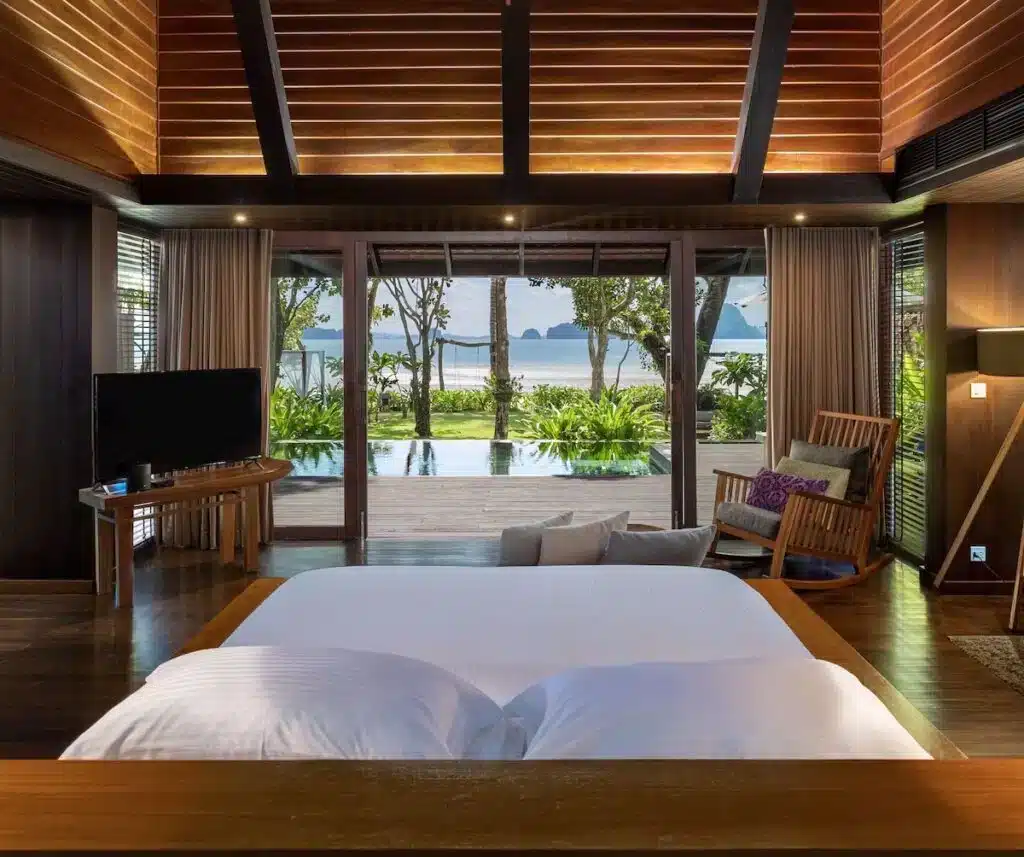 To suit different preferences and budgets, you can enjoy staying at a true luxury resort without paying as much as those who want a private pool.
Past guests praise the detailed rooms, exquisite service, and romantic atmosphere.
See more photos and book here.
Krabi Home Resort is another charming and cosy hotel that offers an affordable oasis without compromising quality.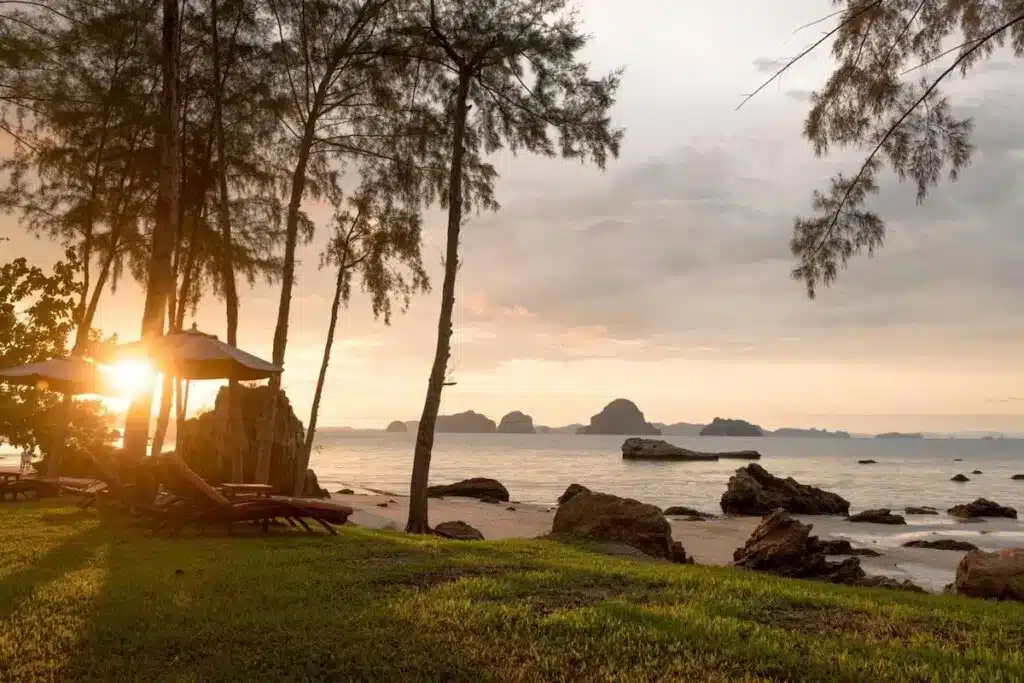 Perfect for couples looking for a relaxing holiday but who don't necessarily need all the luxurious facilities.
Guest reviews commend the hotel's warm and welcoming atmosphere, friendly staff, and clean, comfortable rooms.
This YouTuber has made an entire vlog about the hotel:
Krabi Home Resort is a great place to stay in Krabi for travellers who want value for money without sacrificing a good experience.
See more photos and book here.
And here ends the guide on where to stay in Krabi.
So, Krabi offers many accommodation options that cater to every taste and travel style. The choices are abundant, from the tourist-friendly Ao Nang, perfect for any traveller, to the secluded peace of Railay or the tranquil charm of Krabi Town.
Phi Phi is the place for those seeking party vibes and stunning nature, while families and couples find their paradise in Koh Lanta and Tubkaek.
Each destination and hotel has its unique appeal, so no matter what you are looking for, Krabi promises to have a place that can become your home away from home.
If you have any questions about any of the areas, feel free to leave a comment below. You can also check out the guide on where to stay in nearby Phuket if you consider travelling further in Thailand.
Frequently Asked Questions:
Where is the best place to stay in Krabi?
The best place to stay in Krabi really depends on what you are looking for on your trip. If you want a lively atmosphere with easy access to restaurants and day trips, Ao Nang is ideal.
For a more secluded and scenic experience, Railay is perfect, accessible only by boat and known for its breathtaking beauty. Krabi Town offers a more local feel with cultural experiences and markets.
Phi Phi is for those who seek beauty combined with nightlife, while Koh Lanta is the perfect choice for families wanting a calm and relaxed atmosphere.
Tubkaek is ideal for couples looking for a romantic getaway to luxurious resorts and quiet beaches.
Which is better, Krabi or Phuket?
Krabi and Phuket offer unique experiences, and their choice depends on personal preferences. Phuket is known for its vibrant nightlife, shopping options, and tourist attractions.
On the other hand, Krabi is praised for its magnificent nature and dramatic landscapes, especially the imposing limestone cliffs that rise from the sea and offer a more relaxed atmosphere. Krabi also boasts less crowded beaches and a more authentic Thai experience, which may appeal to those seeking tranquillity and nature.
I like both areas in Thailand – each place has unique characteristics.
Is Krabi worth visiting?
Yes, absolutely! Krabi is undoubtedly one of the most beautiful places in Thailand, with its breathtaking limestone cliffs, crystal-clear waters, and picturesque beaches. The area is a paradise for nature lovers, adventurers, and those seeking relaxation in idyllic surroundings. It would be a shame to travel to Thailand and not experience Krabi and the islands in the Andaman Sea.
When is the best time to travel to Krabi?
The ideal time to travel to Krabi is between November and April when the weather is dry and sunny, perfect for beach days and exploring the scenic beauty. This is the high season, so expect larger crowds and higher prices.
However, a visit in the low season, such as in August, can also be charming. Although the sun may not shine as much and there can be more rain, the temperature is still warm, and you can enjoy the area's attractions without the large crowds. Hotels and resorts are often much more affordable outside the high season. For example, I visited Phi Phi, Railay, and Koh Lanta in August, and it was still a great experience.
Websites I use to book my trips 👇

• Booking.com has the best offers on hotels and unique places to stay
• GetYourGuide is the best place to book tours & activities with free cancellation
• Omio is my go-to booking platform for trains in Europe
• Welcome Pickups is the best & safest place to pre-book airport transfers

Psst 👀 Have you subscribed to my Youtube channel where I provide more useful travel tips?