In Budapest, there are 23 city districts, and you can spend a long time finding the best places to stay. In this guide, I'll cut straight to the best areas and recommend some nice hotels for your trip to Budapest.
Some of the districts in Budapest are not very tourist friendly, and as I assume you travel to Budapest to experience the city's best things to do, I have focused on the areas closest to the city centre.
Where to stay in Budapest? These areas are the best 👇🏻
The best areas in Budapest
Click the link above to check out the best-rated hotels in the areas mentioned.
Are you in a hurry?
I can particularly recommend the Hotel Continental, located in the Jewish quarter.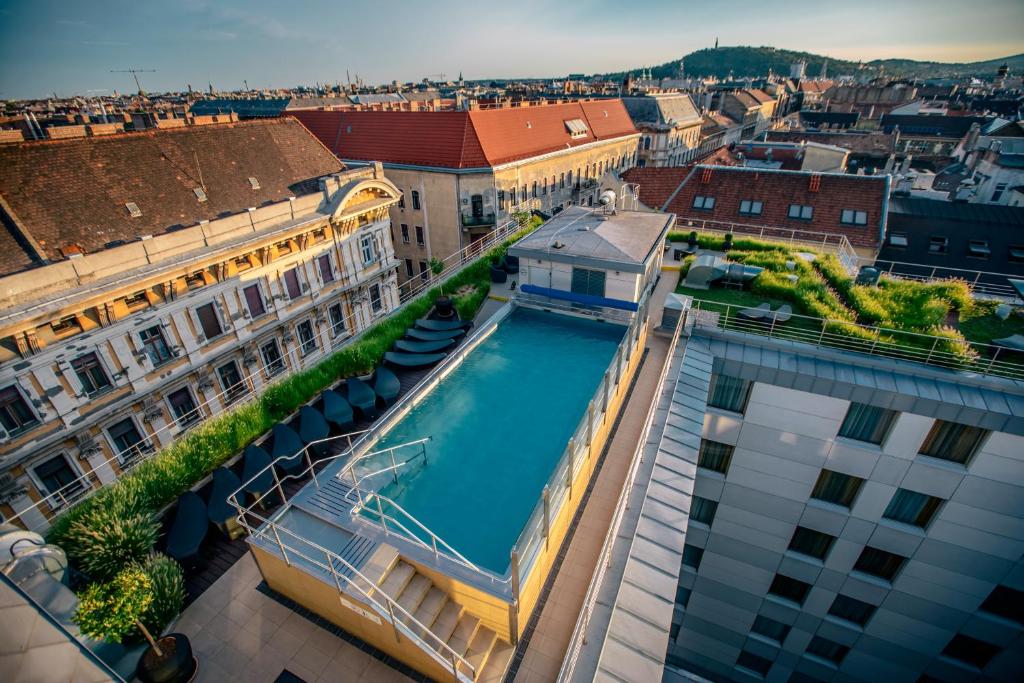 There is an excellent rooftop swimming pool with the best hotel gym I've ever experienced, nice and spacious rooms, and the breakfast is delicious.
See more about the hotel here.
What to expect from Budapest?

Budapest is an affordable place for most tourists.
But it's more than just cheap to stay in Budapest; you can also get around cheaply and shop for more affordable branded goods than most European destinations.
When it comes to food, it often costs less than half compared to what it costs in other popular European capital cities like Copenhagen, Paris or London.
There are many things to do in Budapest, where you can experience everything from history to shopping and the wild nightlife.
But since this guide is about Budapest's areas and accommodation, I won't spend much time writing about the sights.
Where to stay in Budapest? Let's dive into the guide – let's start with an overview of the best areas for tourists coming to Hungary's capital.
1. Várkerület/Budvar – a historical centre
There is plenty of beautiful architecture in this historic area. The area is located on the west bank of the Danube – the river that runs through Budapest.
Várkerület is an excellent area to stay if you are interested in history and want to see something different from the typical tourist route.
The city centre of Budapest is just on the other side of the Danube river.
Monastery Boutique – 4 star hotel at a reasonable price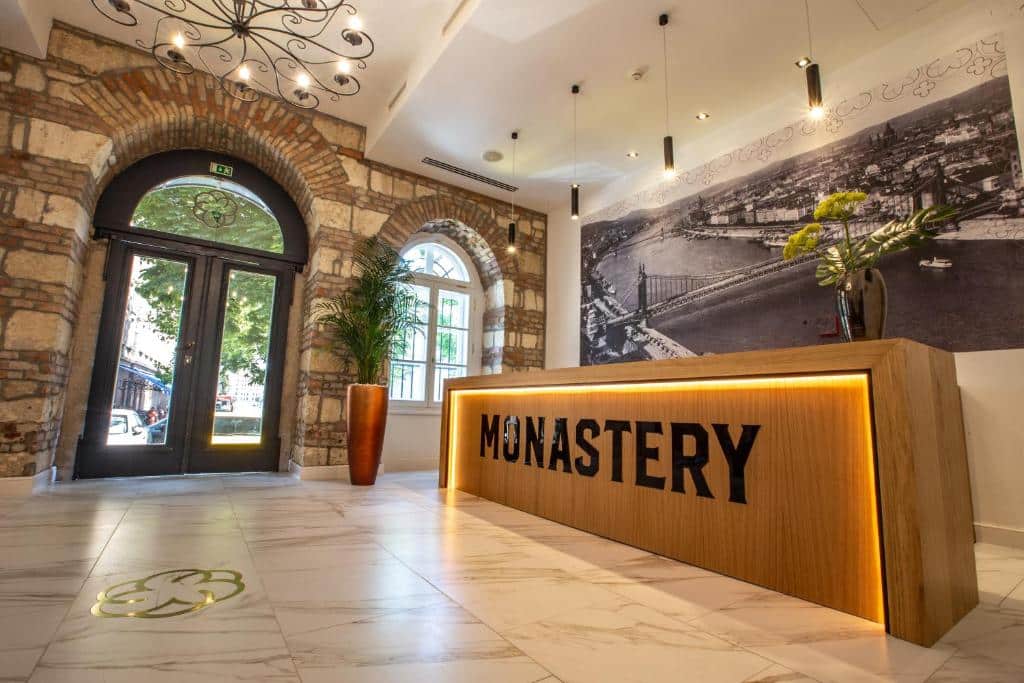 Hotels in Budapest are reasonably priced and it's easy to find a cheap place to stay.
So I'm going to recommend a nicehotel, suitable for both families and those who travel alone and want a bit of luxury.
See more photos and book online here.
2. Belváros – Lipótváros – stay in the centre of Budapest
This area is the best place to stay in Budapest if you want to be close to as many sights as possible and feel the city's pulsebeat.
In addition to the many shops on the main street, you can quickly escape the other tourists and move down the small side streets. Here you will also find many cosy shops.
Hotel Erzsébet City Center – the best place to stay on a budget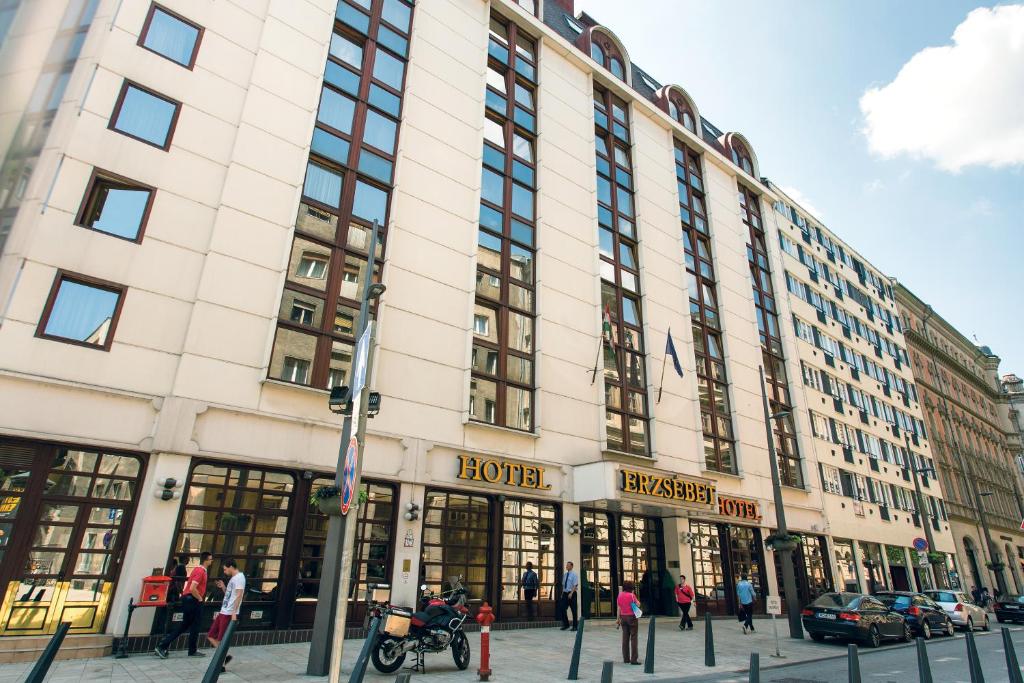 This is a perfect hotel if you want to stay close to everything – see the hotel here.
Suppose you're only on a short trip to Budapest. In that case, you won't be able to see it all – but it gets easier if you stay here as you'll be close to places such as:
A metro station
The large market hall
Gellert's Hot Baths
The chain bridge
Buda Castle
The hotel is a 3-star hotel and may have a different luxury than so many other places, but if you choose to stay here, it is not really because you have planned to spend your time in the hotel.
See more photos and book online here.
If you want to live in the centre and experience lots of luxury, the area also offers that.
The next hotel is also located in the central area but has a lot more to offer – a good choice for those who want a luxury hotel in the city centre of Budapest.
Best place to stay for luxury in the city centre – The Kempinski Hotel Corvinus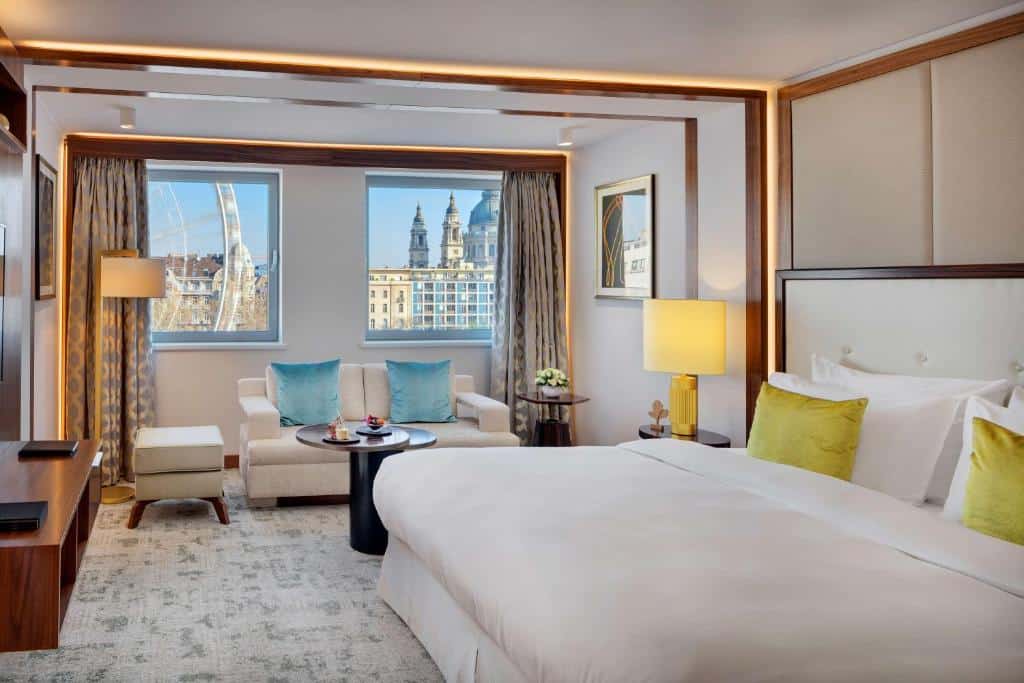 The Kempinski Hotel is luxurious and elegant – there is even access to the swimming pool and spa department.
If you are not careful, you can easily forget that there is a fantastic city outside the hotel that you must also experience.
See more photos and book online.
3. Terézváros – the best place to stay for shopping
If you think travelling and shopping go hand in hand, it's a good idea to find a hotel in Terézváros.
The area's best-known street is Andrássy út, a place you must experience if you are into art, shopping and culture.
Some call the street Budapest's answer to Paris's Champs-Elysees.
You will find plenty of small cafes and bars down the street, so you can rest your legs and quench your thirst.
Charming place to stay in Budapest – Callas House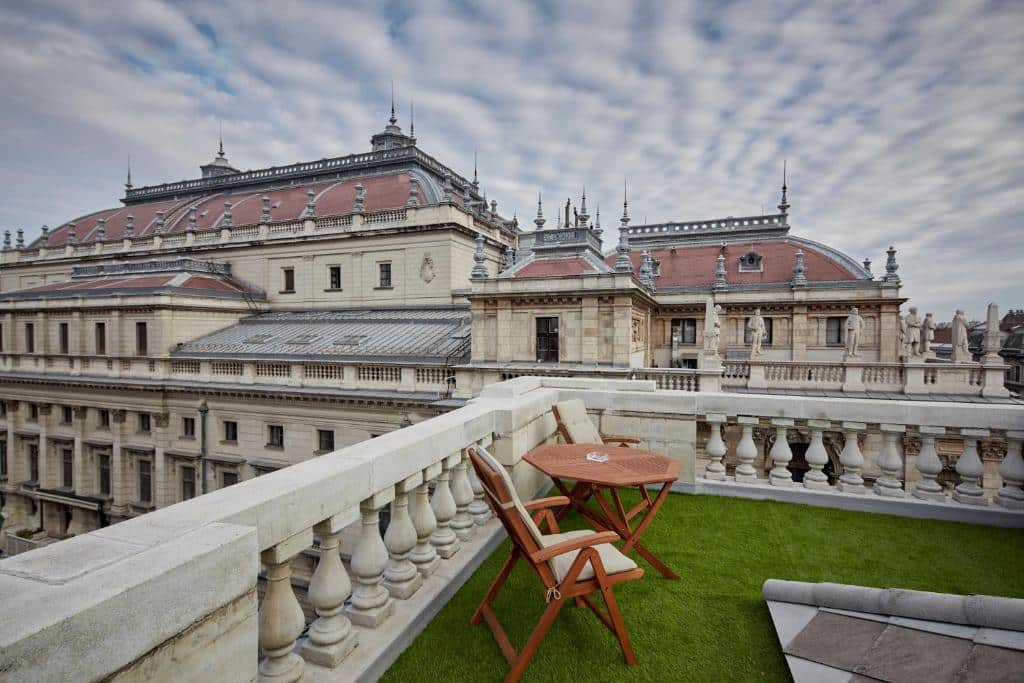 If you would like to stay somewhere where the design fits in with the urban style and where the details are on point, then this is a great place to stay in Budapest.
Also, this hotel is next to the opera, and they will pick you up from the airport in Budapest when you arrive.
Book the hotel or see more photos here.
4. Erzsébetváros, the Jewish Quarter – best place to stay for nightlife
If you are more into being part of the vibrant nightlife than shopping, staying in Erzsébetváros, the Jewish Quarter, is highly recommended. The area is not that big, but still one of the places where you will find the most tourists and generally many people.
It is also known for its many ruin bars, of which Szimpla Kert is the most popular.
Continental Hotel – rooftop pool hotel in Budapest (my favourite hotel)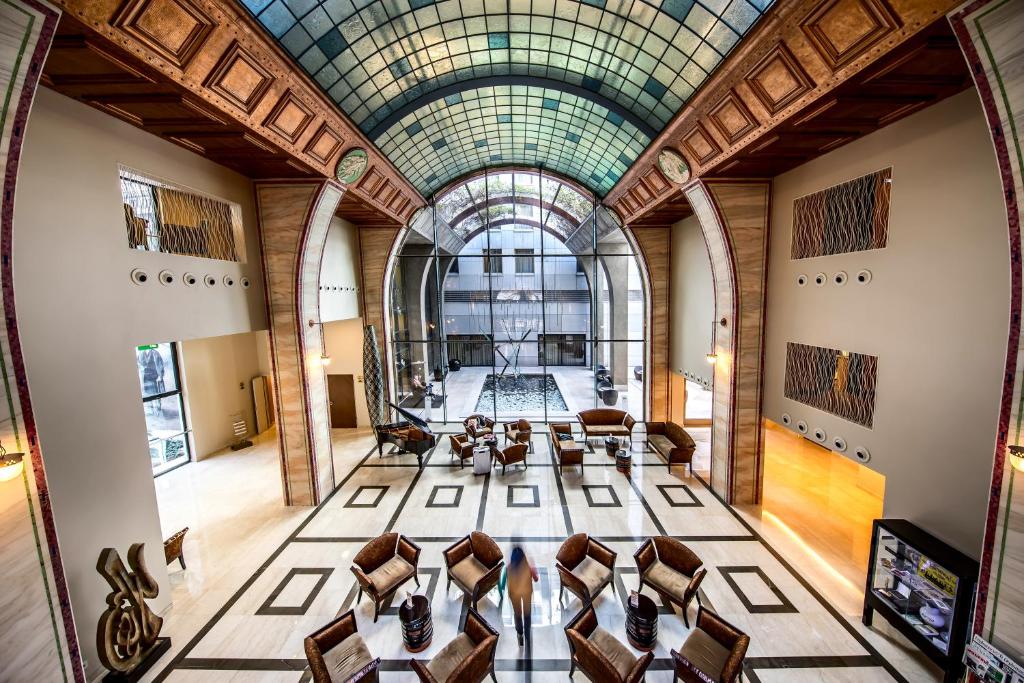 The Continental Hotel is my favourite hotel in Budapest. You can conveniently jump into the hotel's indoor or outdoor pool if you need a refreshing dip to get rid of the worst hangover from Szimpla Kert.
I booked into this hotel during the Sziget Festival in Budapest in 2022 and was extremely satisfied.
Apart from the fantastic rooftop pool, overall, it is a good hotel with an excellent breakfast and plenty of space to relax in the sun on the hotel's rooftop.
The hotel's gym is also the best hotel gym I've seen, so you can also work up a sweat on your trip to Budapest 😉
See more photos and get the best rate online here.
5. Ujlipotváros – best place to stay for families
Since I also have readers travelling to Budapest with children, I will finally recommend a family-friendly place.
Ujlipotváros is a perfect area to stay for families with children. Here lies the beautiful Margit Sziget, a small oasis in the city.
You can take advantage of everything by living in the area, and there are many delicious restaurants and cafes. There are also outstanding shopping opportunities in the Westend shopping center, with over 400 shops.
Danubius Hotel Helia – a 4-star child-friendly hotel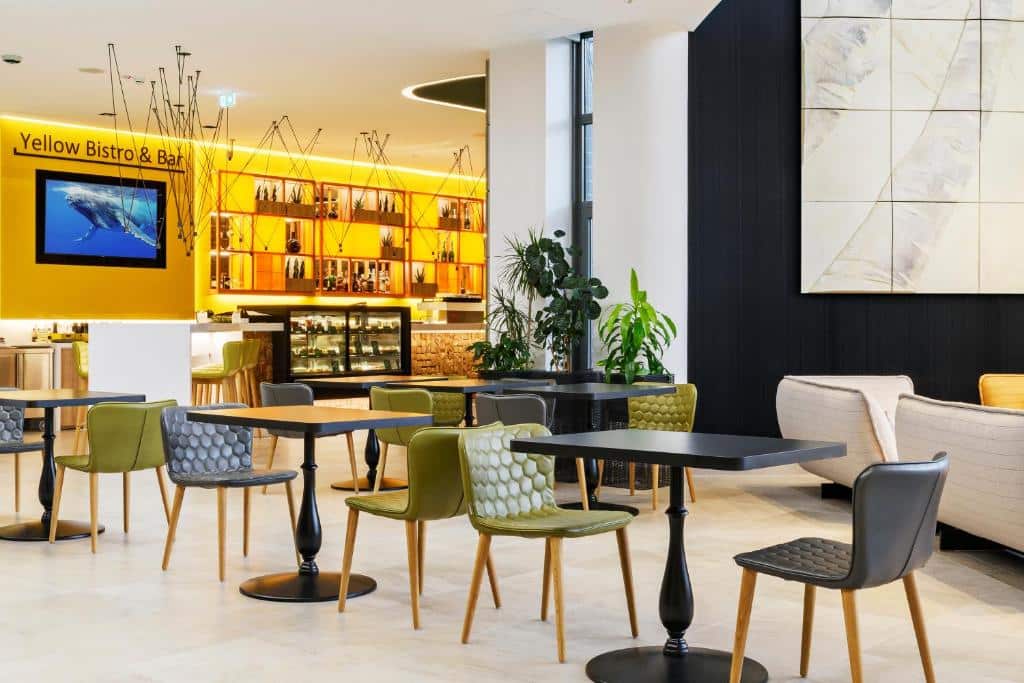 When the children need a break from the city, sightseeing and long walks, it's great that they can also enjoy themselves indoors.
At this lovely hotel, there are 4 heated swimming pools. There is plenty of space in the rooms, some with bathtubs and double sinks, which makes it easier when an entire family have to get out the door in the morning.
See more photos and book online here.
So, there are quite a few options for places to stay in Budapest.
But now I have given you a good overview of the most popular areas, and helped you well on your way to finding a place to stay.
Feel free to leave a comment if you know of other good areas or hotels in Budapest, or you've got questions about the capital of Hungary.
FAQ:
What area of Budapest is the best to stay?
I recommend staying in the city centre of Budapest, which includes areas such as Belváros – Lipótváros, The Jewish Quarter (also known as Erzsébetváros) and Terézváros.
Where should I stay in Budapest for the first time?
If you're young and want to experience some nightlife in Budapest, I'd recommend staying in The Jewish Quarter. For travellers looking for a more calm atmosphere, I'd recommend Belváros – Lipótváros in the city centre.
Is it better to stay in Buda or Pest?
Pest, on the East side of the river Danube, is where most of the best things to do in Budapest are located so most tourists will be staying here. However, one of the areas of Budapest I recommend in this guide (Várkerület/Budvar) is on the Buda side as it's a bit calmer, and here you get under the skin of the city.