In Budapest, there are 23 city districts, and you can spend a long time finding the best places to stay. In this guide, I'll cut straight to the best areas and recommend some excellent hotels for your trip to Budapest.
Some of the districts in Budapest are not very tourist friendly, and as I assume you travel to Budapest to experience the city's best things to do, I have focused on the areas closest to the city centre.
Where to stay in Budapest? These areas are the best 👇🏻
The best areas in Budapest
Click the link above to check out the best-rated hotels in the areas mentioned.
Are you in a hurry?
I can particularly recommend the Hotel Continental, located in the Jewish quarter.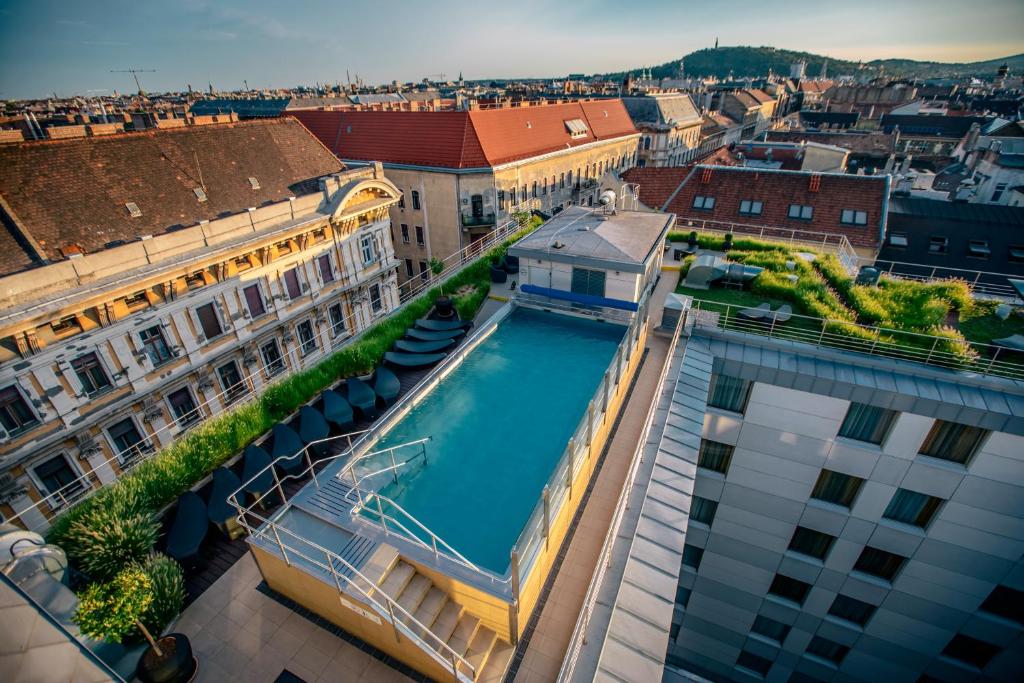 There is an excellent rooftop swimming pool with the best hotel gym I've ever experienced, nice and spacious rooms, and the breakfast is delicious.
See more about the hotel here.
What to expect from Budapest?

Budapest is an affordable place for most tourists.
But it's more than just cheap to stay in Budapest; you can also get around cheaply and shop for more affordable branded goods than most European destinations.
When it comes to food, it often costs less than half compared to what it costs in other popular European capital cities like Copenhagen, Paris or London.
Check out my video where I'm showing 3 of the best areas to stay in Budapest:
There are many things to do in Budapest, where you can experience everything from history to shopping and the wild nightlife.
But since this guide is about Budapest's areas and accommodation, I won't spend much time writing about the sights.
Where to stay in Budapest? Let's dive into the guide – let's start with an overview of the best areas for tourists coming to Hungary's capital.
1. Belváros – Lipótváros – best area to stay for most tourists ⭐️
First off, let's chat about District V, otherwise known as Belváros – Lipótváros. If you're a first-timer in Budapest, this is your go-to area.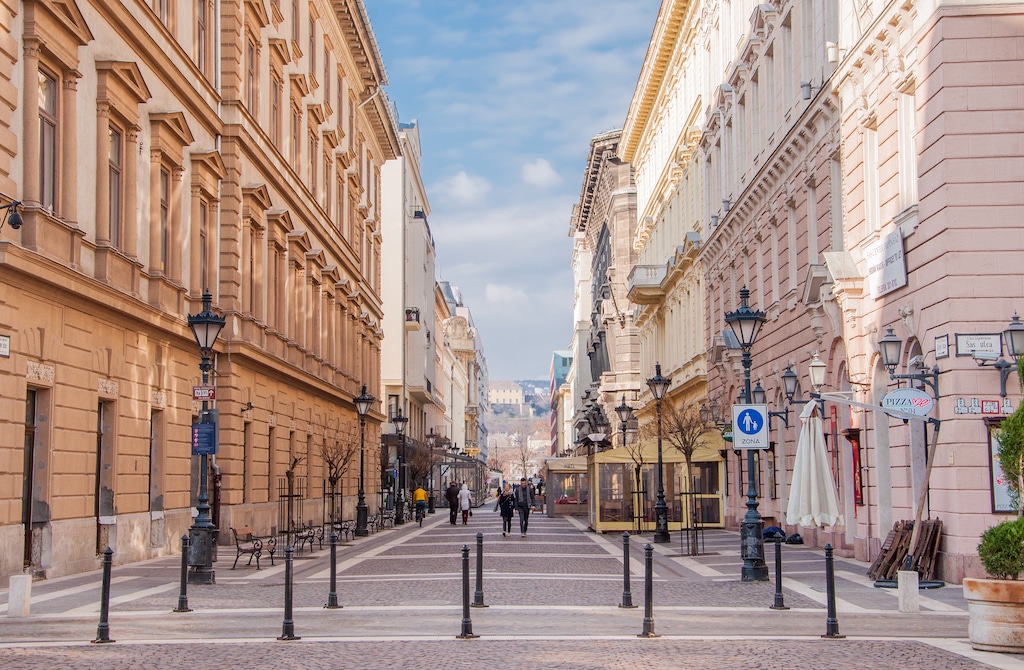 District V is nestled on the Pest side of the Danube, where Budapest's heart beats. It's crammed with history, grandeur and a contagious buzz sweeping you off your feet.
See the best hotels in the area here.
You'll be tripping over iconic sights and things to do here.
The jaw-dropping Hungarian Parliament Building is a stone's throw away, and you won't want to miss the panoramic views from St. Stephen's Basilica – one of the city's towering giants.
But District V isn't all about sightseeing – it's got a vibrant food and drink scene that'll have your taste buds doing a happy dance.
Whether it's a cosy bistro serving hearty Hungarian classics or a trendy bar offering the finest local wines, you're spoilt for choice.
Fancy a bit of retail therapy? Váci Street (Váci Utca), the city's main shopping avenue, has everything from big-name brands to unique Hungarian boutiques.
And the cherry on top? District V is a doddle to get around with trams, buses and the metro right on your doorstep.
But don't worry, despite its central location, you'll find plenty of quiet parks and squares to catch your breath in.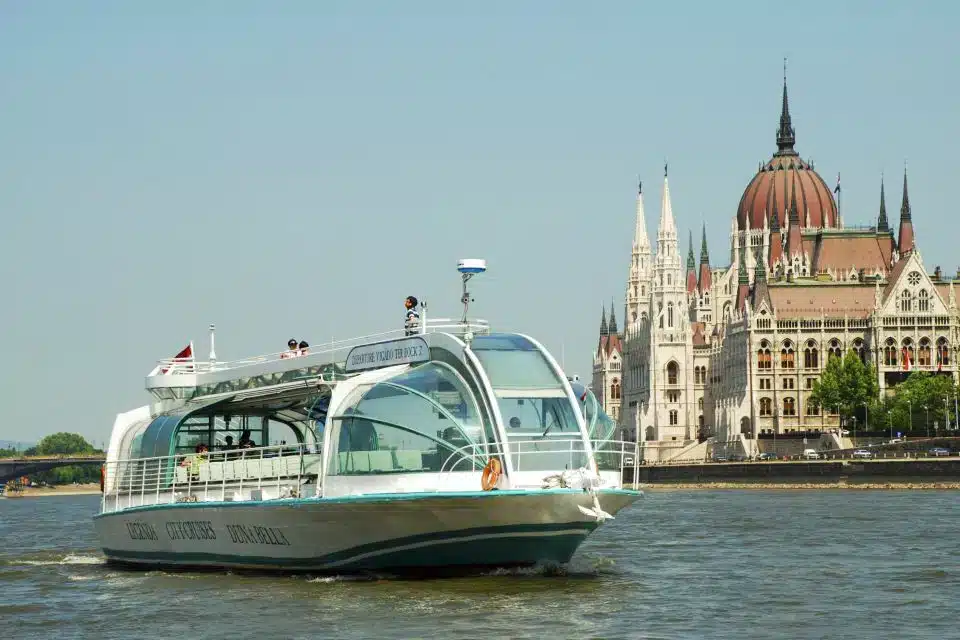 I like to chill down by the Danube and enjoy seeing the boats that sail by.
In a nutshell, District V mixes convenience, history and a ton of must-see sights, making it a top pick for most visitors to Budapest.
Hotel Erzsébet City Center – the best place to stay on a budget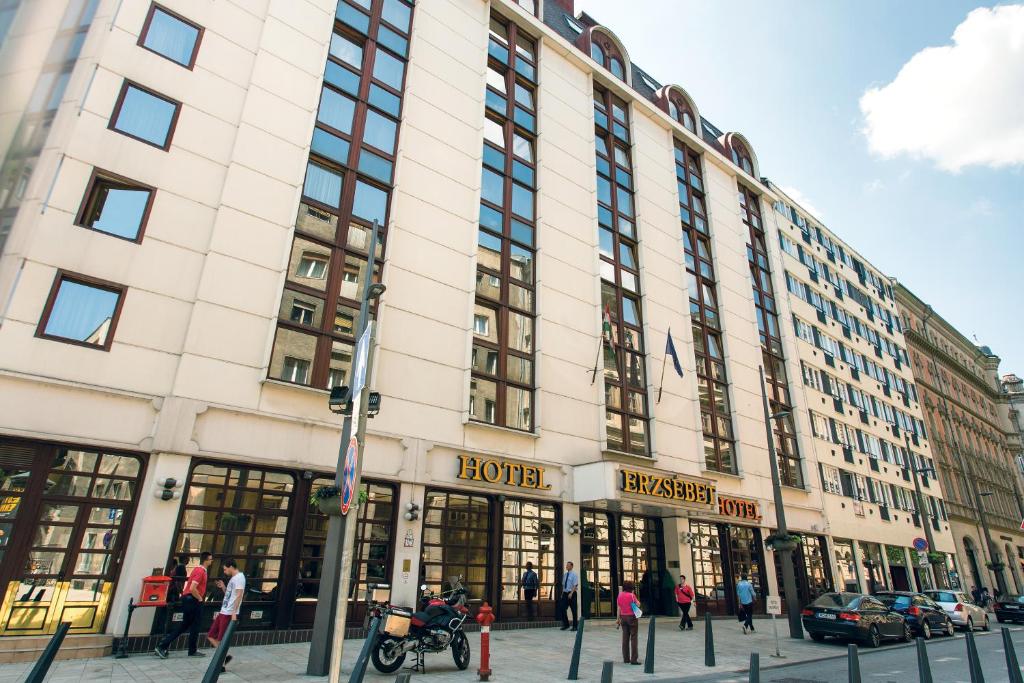 This is a perfect hotel if you want to stay close to everything – see the hotel here.
Suppose you're only on a short trip to Budapest. In that case, you won't be able to see it all – but it gets easier if you stay here as you'll be close to places such as:
A metro station
The large market hall
Gellert's Hot Baths
The chain bridge
Buda Castle
The hotel is a 3-star hotel and may have a different luxury than so many other places, but if you choose to stay here, it is not really because you have planned to spend your time in the hotel.
See more photos and book online here.
If you want to live in the centre and experience lots of luxury, the area also offers that.
The next hotel is also located in the central area but has a lot more to offer – a good choice for those who want a luxury hotel in the city centre of Budapest.
Best place to stay for luxury in the city centre – The Kempinski Hotel Corvinus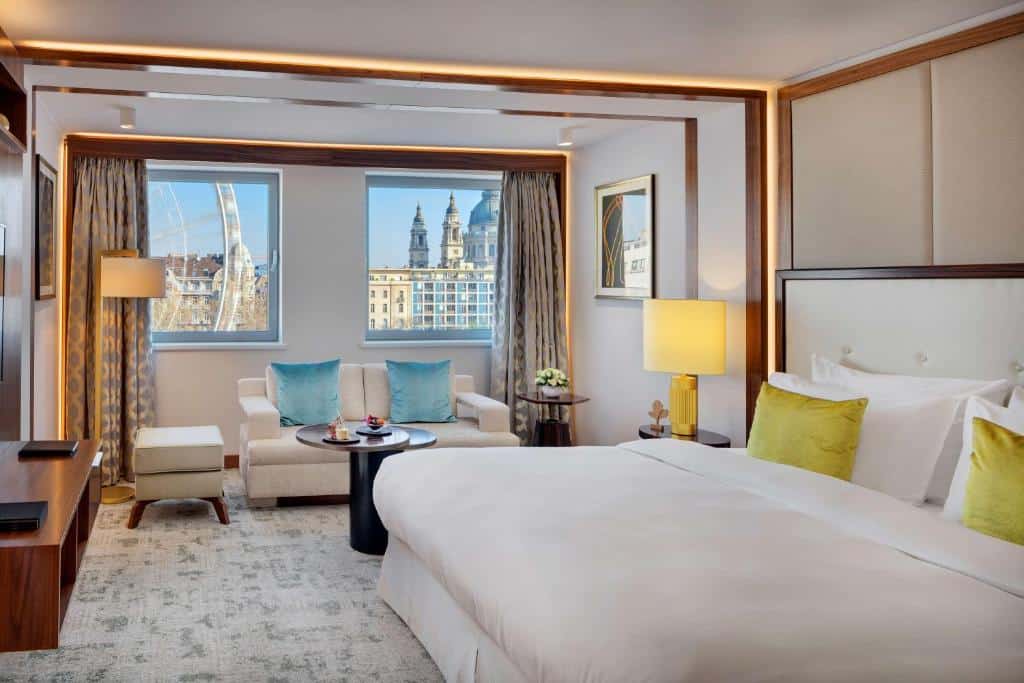 The Kempinski Hotel is luxurious and elegant – there is even access to the swimming pool and spa department.
If you are not careful, you can easily forget that there is a fantastic city outside the hotel that you must also experience.
See more photos and book online.
2. Várkerület/Budvar – a historical centre
Let's talk about Várkerület, also known as District 1.
Situated on the Buda side of the river (the left side if you're looking at a map), it's the city's oldest district and one of the most historic areas in Budapest.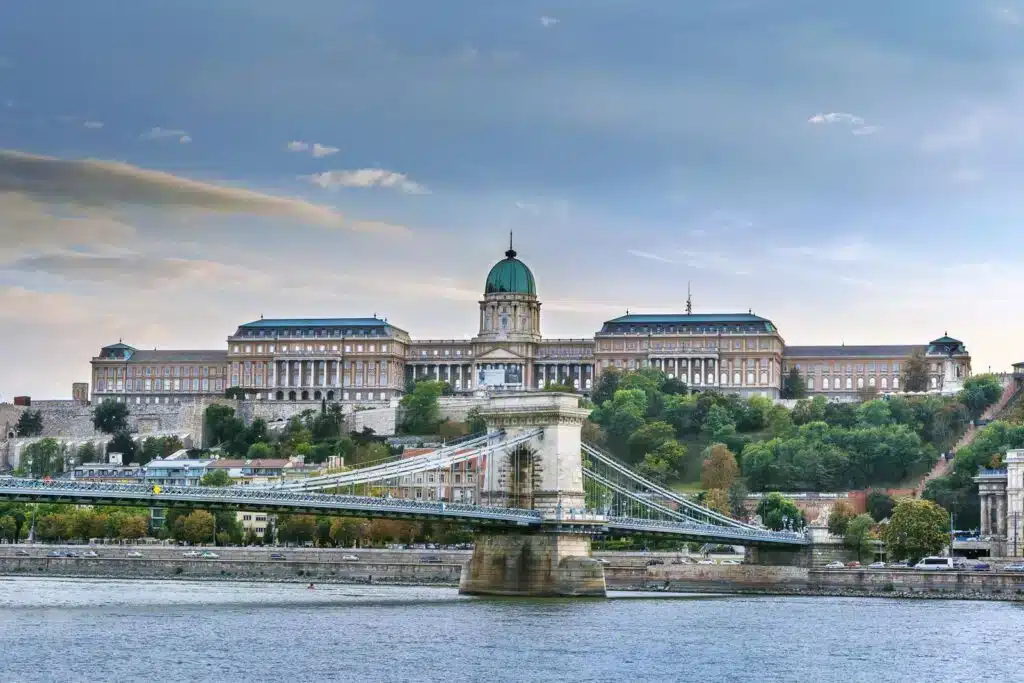 With its cobblestone streets, pastel-coloured buildings and sweeping views of the Danube, it's easy to see why it's a UNESCO World Heritage Site.
See the best hotels in District 1 here.
What makes Várkerület unique? It's home to the iconic Buda Castle – a royal palace housing the National Gallery and the Budapest History Museum.
Nearby, you'll find the enchanting Fisherman's Bastion, its fairy-tale towers, and Matthias Church, known for its colourful tiled roof and intricate interior.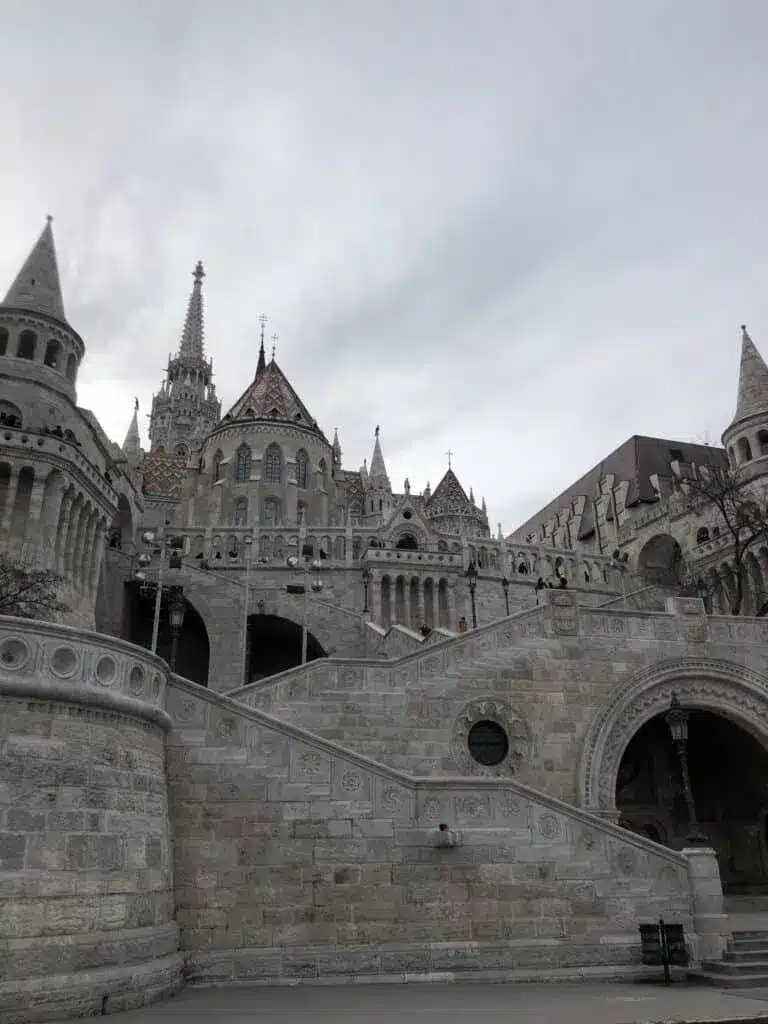 But there's more to Várkerület than just its historical sites.
It's a bustling neighbourhood with charming cafes, exquisite restaurants, and unique boutiques. The district is also known for its vibrant cultural scene with numerous galleries, theatres, and summer festivals.
Despite its central location, Várkerület retains a calm and peaceful atmosphere, making it a perfect retreat after a day of sightseeing.
Its hilltop location offers stunning panoramic views across the river to Pest, especially magical at sunset.
Whether you're a history buff or foodie or enjoy wandering picturesque streets, Várkerület is a fantastic base for your Budapest adventure.
Monastery Boutique – 4 star hotel at a reasonable price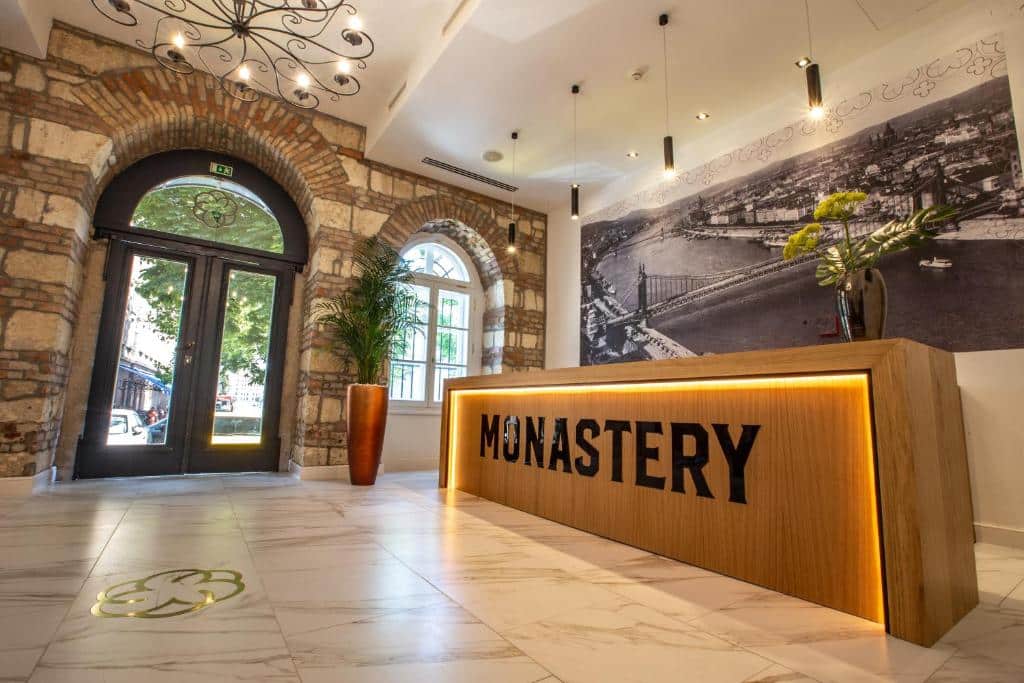 Hotels in Budapest are reasonably priced and it's easy to find a cheap place to stay.
So I'm going to recommend a nice hotel, suitable for both families and those who travel alone and want a bit of luxury.
See more photos and book online here.
3. Terézváros – the best place to stay for shopping
Let's head to Terézváros, also known as District VI.
This district is a lively blend of history, culture, and modern city living – it has a little bit of everything and does it all in style.
Terézváros is home to the magnificent Andrássy Avenue, a UNESCO World Heritage site brimming with stunning Neo-Renaissance mansions and townhouses.
See the best hotels in the area here.
You'll find the Hungarian State Opera House along this grand boulevard, a must-visit for its exquisite architecture and world-class performances.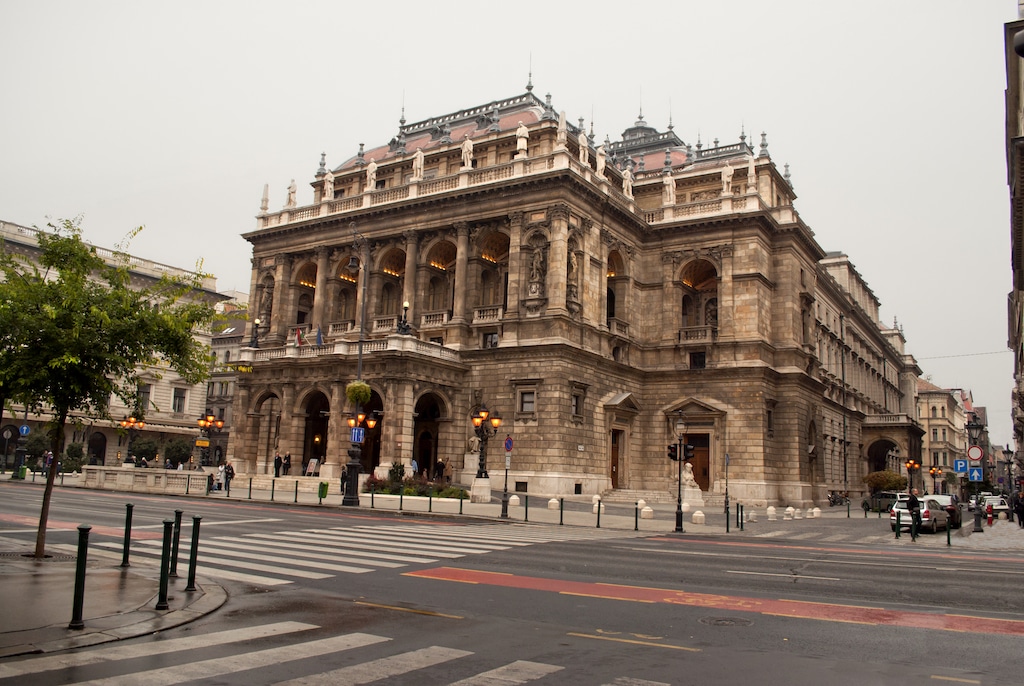 Culture vultures, you're in for a treat here. Terézváros is dubbed the 'Broadway of Budapest' thanks to its impressive collection of theatres and galleries.
And if you're a fan of literature, the district's many bookshops and literary cafes will make you feel right at home.
When it's time to refuel, you have a smorgasbord of options, from upscale restaurants to quirky hole-in-the-wall eateries serving the best Hungarian cuisine.
And for those who enjoy a good night out, the district's vibrant nightlife offers everything from laid-back pubs to buzzing clubs.
But it's not all go, go, go – Terézváros also boasts beautiful parks and green spaces, perfect for a lazy afternoon stroll or picnic.
Plus, getting around is a breeze with the metro line 1 (the first subway line in continental Europe) and numerous bus and tram lines.
In essence, Terézváros offers a mix of cultural riches, bustling city life, and tranquil spots to unwind, making it a top-notch pick for your stay in Budapest.
Charming place to stay in Budapest – Callas House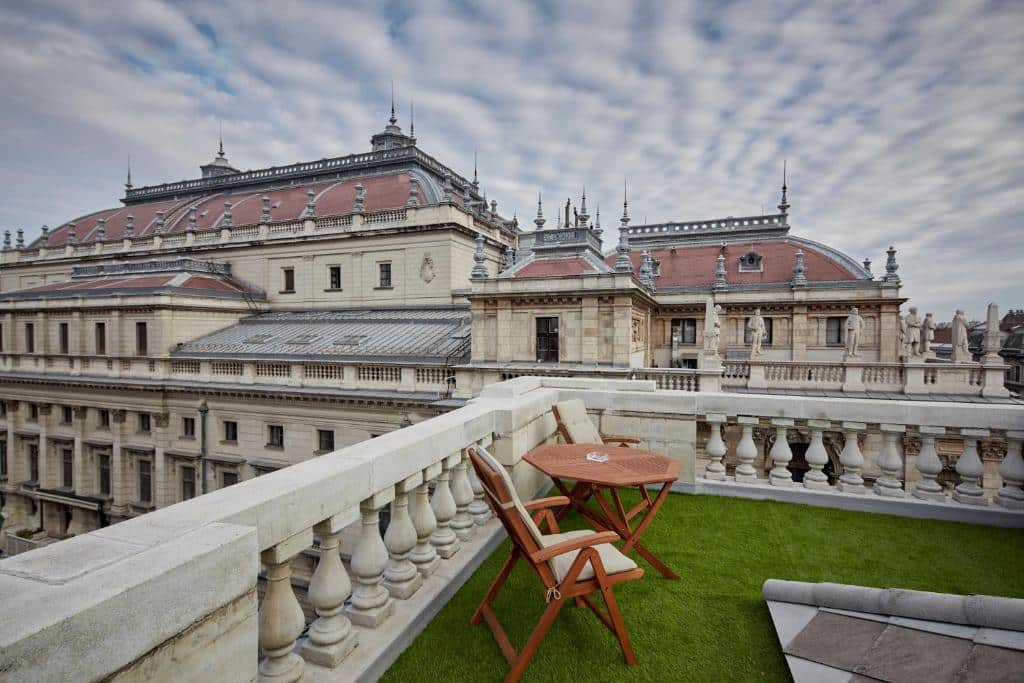 If you would like to stay somewhere where the design fits in with the urban style and where the details are on point, then this is a great place to stay in Budapest.
Also, this hotel is next to the opera, and they will pick you up from the airport in Budapest when you arrive.
Book the hotel or see more photos here.
4. Erzsébetváros, the Jewish Quarter – best place to stay for nightlife
Let's jump right into Erzsébetváros, also known as District VII. If you're a young traveller or a night owl on the hunt for an energetic buzz and vibrant nightlife, this district has your name written all over it.
Erzsébetváros is best known as the home of Budapest's 'ruin bars'. These unique hangouts, set in abandoned buildings and decorated with eclectic furnishings, offer a nightlife experience.
See the best hotels in the area here.
The granddaddy of them all is Szimpla Kert, a massive multi-level bar institution in its own right.
But there's more to Erzsébetváros than just its party scene.
The district is also the historic Jewish Quarter, and landmarks like the Dohány Street Synagogue (the second largest in the world) and the haunting Holocaust Memorial Centre are well worth a visit.
By day, you'll find a host of trendy cafes, boutiques, and local markets to explore. The district's street art scene is booming, so keep your eyes peeled for colourful murals as you wander the streets.
Despite its reputation for nightlife, Erzsébetváros also offers pockets of tranquillity. The serene Klauzál Square and lovely Erzsébet Square are perfect for a bit of downtime.
If you're after a lively district with rich history, booming nightlife and trendy vibes, Erzsébetváros is your perfect match.
Continental Hotel – rooftop pool hotel in Budapest (my favourite hotel)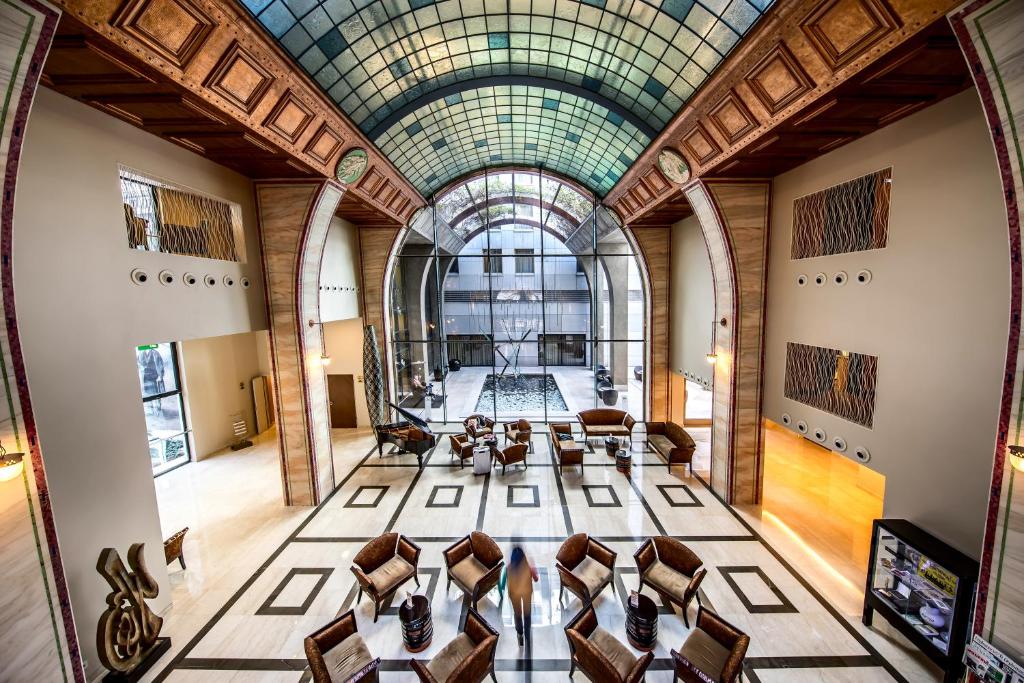 The Continental Hotel is my favourite hotel in Budapest. You can conveniently jump into the hotel's indoor or outdoor pool if you need a refreshing dip to get rid of the worst hangover from Szimpla Kert.
I booked into this hotel during the Sziget Festival in Budapest in 2022 and was extremely satisfied.
Apart from the fantastic rooftop pool, overall, it is a good hotel with an excellent breakfast and plenty of space to relax in the sun on the hotel's rooftop.
The hotel's gym is also the best hotel gym I've seen, so you can also work up a sweat on your trip to Budapest 😉
See more photos and get the best rate online here.
5. Ujlipotváros – best areat to stay for families
Ujlipotváros is a top choice for families journeying to Budapest for numerous reasons.
The district is especially family-friendly due to its abundant offerings that cater to both adults and children.
Margit Sziget is next to Ujlipotváros on the Danube, a serene oasis amidst the urban landscape.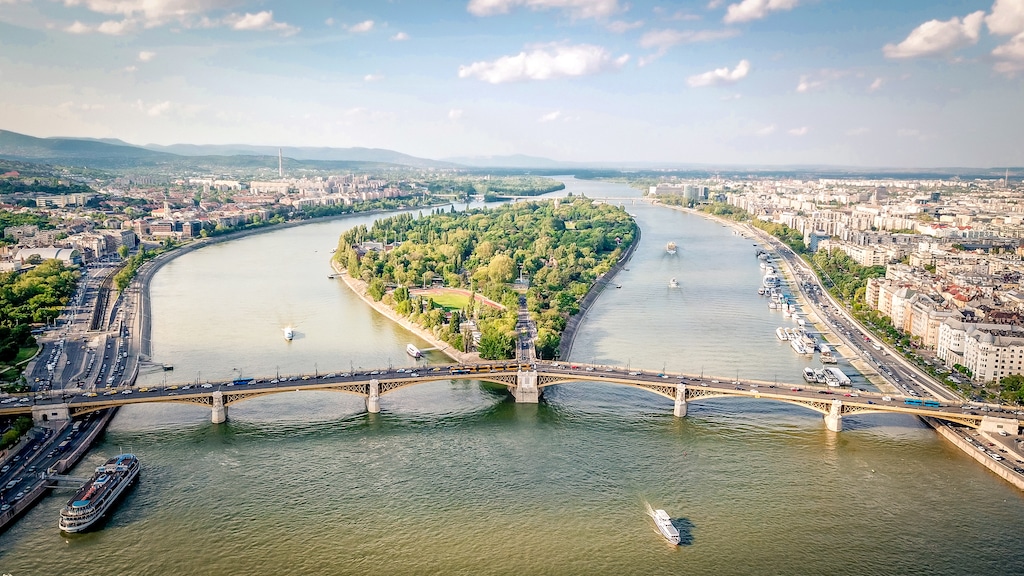 Children can engage in various outdoor activities while adults relish the tranquillity. It's an ideal spot for a family day out, offering a chance to reconnect with nature in the city centre.
See the best hotels in the area here.
Dining options in the area are abundant, with a wide range of family-friendly restaurants and cafes. These eateries cater to diverse palates, ensuring that everyone from toddlers to grandparents can find something they like.
Another aspect that makes Ujlipotváros a fitting choice for families is the presence of the Westend shopping centre.
With over 400 shops, this one-stop destination takes the stress out of shopping. You can find everything from children's clothing to toys, making it an easy solution for any family's retail needs.
In essence, the appeal of Ujlipotváros for families lies in its ability to balance recreation, dining, and shopping in one vibrant neighbourhood.
This blend of convenience and variety makes it an ideal base for families exploring Budapest.
Danubius Hotel Helia – a 4-star child-friendly hotel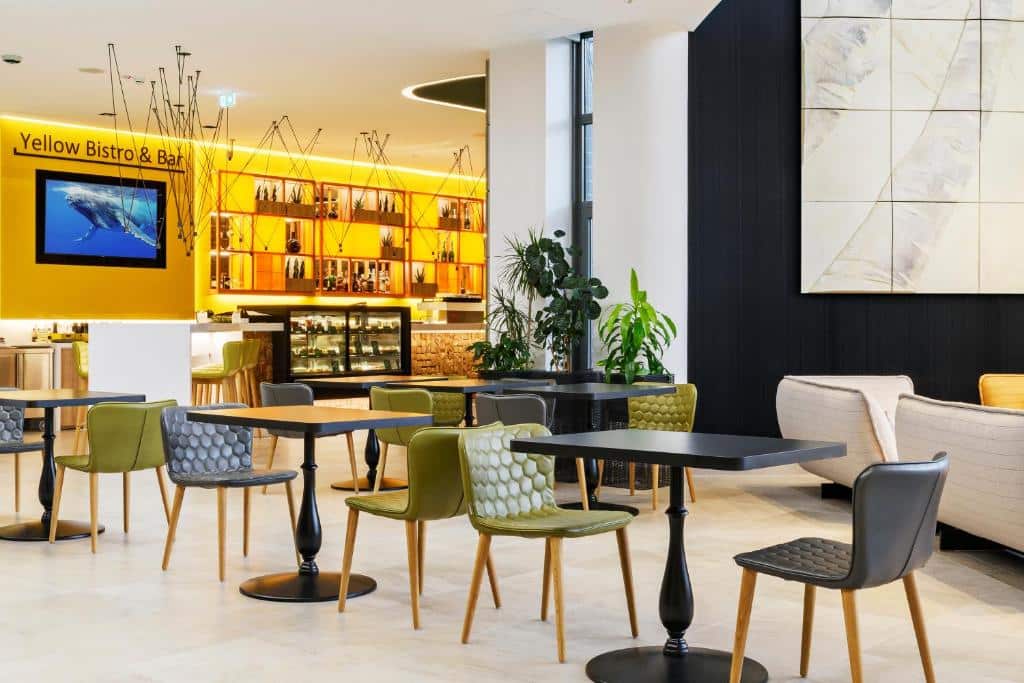 When the children need a break from the city, sightseeing and long walks, it's great that they can also enjoy themselves indoors.
At this lovely hotel, there are 4 heated swimming pools. There is plenty of space in the rooms, some with bathtubs and double sinks, which makes it easier when an entire family have to get out the door in the morning.
See more photos and book online here.
So, there are quite a few options for places to stay in Budapest.
But now I have given you a good overview of the most popular areas, and helped you well on your way to finding a place to stay.
Feel free to leave a comment if you know of other good areas or hotels in Budapest, or you've got questions about the capital of Hungary.
FAQ:
What area of Budapest is the best to stay?
If you're looking to stay where the action is, where history meets modernity, and where local life buzzes vibrantly, the city centre is an excellent choice. Comprising areas such as Belváros – Lipótváros, Erzsébetváros (also known as The Jewish Quarter), and Terézváros, it serves as the pulse of Budapest.
Belváros – Lipótváros, located in the heart of the city, offers a mix of grandeur and convenience. This district, encrusted with stately architecture, is home to several key attractions such as the Hungarian Parliament Building and St. Stephen's Basilica. With easy access to public transportation and a host of dining and shopping options, staying in Belváros – Lipótváros keeps you in the thick of things, making it an ideal base for first-time visitors.
If you're seeking a blend of history and vibrant nightlife, Erzsébetváros, popularly known as The Jewish Quarter, might be just the place for you. Here, you can wander through time-stamped streets, explore significant landmarks like the Great Synagogue, and then, as night falls, experience the unique vibe of Budapest's ruin bars. This fusion of the past and the present creates a dynamic and exciting environment to base yourself in.
Finally, the Terézváros district adds to the mosaic of the city centre. Known for its art-nouveau architecture and the bustling Andrássy Avenue – a UNESCO World Heritage Site – Terézváros is not just about aesthetics. It's also a hub for shopping, with luxury boutiques lining the streets, and the cultural heart of the city, home to the State Opera House.
Each of these districts has a distinct character, yet all of them are woven together by the common threads of convenience, culture, and an underlying hum of vibrant city life. They are all excellent options for tourists, making the city centre arguably the best area to stay in Budapest.
What areas in Budapest should I avoid?
While Budapest is generally safe for tourists, like any major city, it has certain areas where caution is advised, particularly late at night. Here are a few areas that you might want to be more cautious about:
District VIII (Józsefváros): This district, particularly its outer part, has traditionally been considered less safe. However, the inner part of the district, known as the Palace Quarter, is quite safe and beautiful.
District X (Kőbánya): Some areas in this district are known for higher crime rates. It's off the typical tourist trail, so there's usually no reason for visitors to go there.
Train and Metro Stations: As in many cities, stations can sometimes be hotspots for pickpockets, especially during peak times. It's a good idea to stay alert and watch your belongings in these areas.
Remember, these are just precautions. Budapest is a wonderful city to explore, and tourists rarely encounter problems. Just apply the same common sense you would in any other city: don't flaunt expensive belongings, avoid isolated areas at night, and be aware of your surroundings.
Where should I stay in Budapest for the first time?
The Jewish Quarter, also known as Erzsébetváros, is an excellent choice for first-time visitors to Budapest seeking lively nightlife. It has historic landmarks and vibrant after-dark venues like unique ruin bars and trendy clubs.
Conversely, if you're looking for a quieter stay with easy access to attractions, consider Belváros – Lipótváros. Located in the city centre, this district is near iconic sites like the Hungarian Parliament Building and St. Stephen's Basilica, providing a calm yet convenient base for exploration.
Is it better to stay in Buda or Pest?
Deciding between Buda and Pest as your base during your Budapest visit depends largely on what kind of experience you're seeking.
Pest, positioned on the eastern side of the river Danube, is the bustling heart of the city. A majority of Budapest's noteworthy attractions, restaurants, nightlife, and shopping centres are concentrated here. This district resonates with the energy of a vibrant city, the streets buzzing with locals and tourists alike. By choosing to stay in Pest, you're placing yourself in the epicentre of activity, with quick and easy access to many of the city's most popular spots.
However, not all of Budapest's charm is contained within Pest. Across the river Danube lies Buda, embodying a completely different vibe. While it's true that Pest often steals the spotlight due to its abundance of attractions, Buda, with its tranquil atmosphere and scenic beauty, has a unique allure.
One of the areas in Buda, Várkerület, also known as Castle District or Budvar, comes highly recommended. With its serene, almost idyllic ambiance, Várkerület offers a stark contrast to the bustling Pest. Here, you'll find fewer tourists and more opportunities to truly immerse yourself in the local culture.
Staying in Buda, and particularly in Várkerület, is like lifting the lid off Budapest's exterior and delving deeper into its soul. You get a chance to experience the city beyond its popular tourist sights, to witness Budapest's quieter, more contemplative side.
What is the best time to visit Budapest?
Budapest is a city that offers unique charms throughout the year, and the best time to visit can often depend on your personal preferences.
If you're a fan of mild temperatures and fewer tourists, spring (March to May) might be your perfect season. The city begins to bloom in this period, parks are green and fresh, and outdoor activities are plentiful.
On the other hand, summer (June to August) in Budapest is quite lively, and the city truly comes alive. It's the peak tourist season, so you'll find a buzz of activities and events, including numerous festivals such as the Budapest Summer Festival and Sziget Festival. Do keep in mind, temperatures can rise, so ensure you're comfortable with warm weather.
Both spring and summer have their unique appeals, and visiting Budapest in either of these seasons can offer a fulfilling and enjoyable experience.
I've been to Budapest in spring and summer and both were amazing in their own regard.
How many days should you spend in Budapest?
Three full days in Budapest allows tourists to experience a balanced overview of the city. This duration provides ample time to explore key attractions, soak in the local culture, try Hungarian cuisine, and even relax at one of the city's famous thermal baths. Remember, the city's layout and efficient public transport make it easy to move between sites, ensuring you can make the most of your time in Budapest.