Amsterdam is one of Europe's most popular tourist destinations, and it's not hard to see why. The city boasts a rich cultural history, beautiful canals, and a lively nightlife. However, when planning a trip to Amsterdam, it can be tricky to decide where to stay.
In this article, I will guide you to the best places to stay in Amsterdam as a tourist so that you can make the most of your trip to this fantastic city.
Where to stay in Amsterdam? Let's dive in.
Best areas in Amsterdam
If you're in a rush and want a quick rundown – here are the places you should stay in Amsterdam:
Click on the name of the area above and check out the best hotels in that particular area.
The guide continues below, where I delve deeper into the best places to stay as a tourist in Amsterdam.
1. Centrum – best area for 99% of tourists ⭐️
If you're seeking the perfect place to stay in Amsterdam, Amsterdam-Centrum (centrum translates to city centre) is an excellent choice.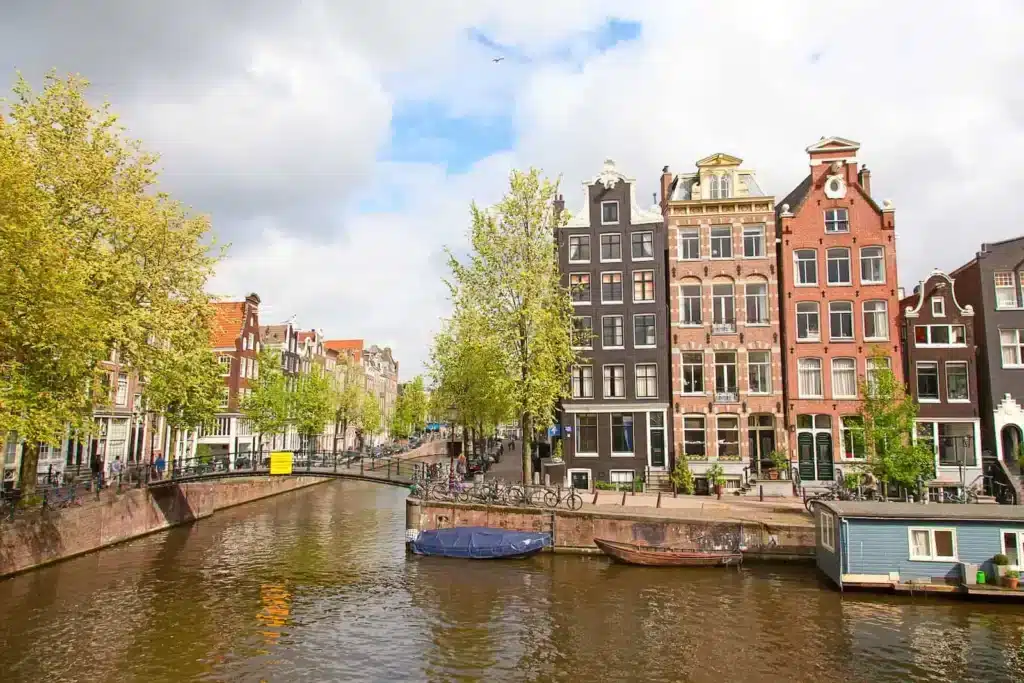 As the name implies, you'll be at the heart of everything, within strolling distance of most of Amsterdam's best things to do.
Imagine strolling to world-renowned museums like the Rijksmuseum, the Van Gogh Museum, or the moving Anne Frank House.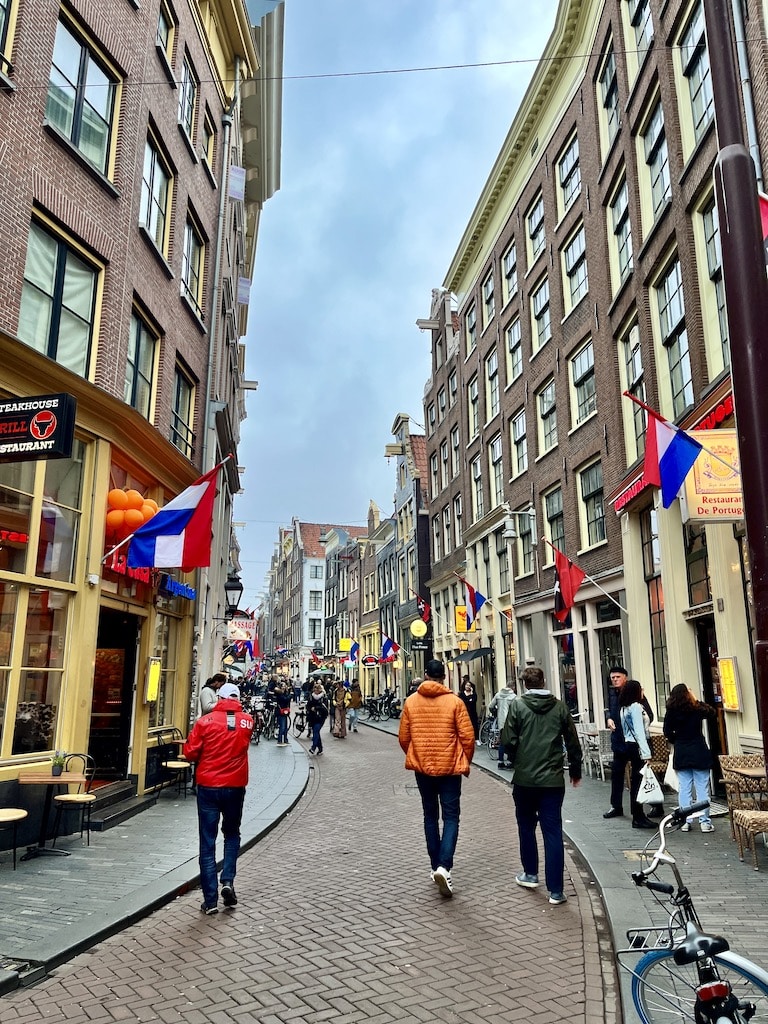 You can also explore the iconic Dam Square and the infamous Red Light District, both hallmarks of this city's diverse character.
Moreover, the Centrum is a haven for those who enjoy shopping and culinary adventures.
The area boasts a plethora of boutiques, stores, restaurants, and cafés.
From charming local specialities to international gourmet dishes, the gastronomic offerings in the Centrum will cater to every palate.
Take a look at the best hotels in Amsterdam Centrum here.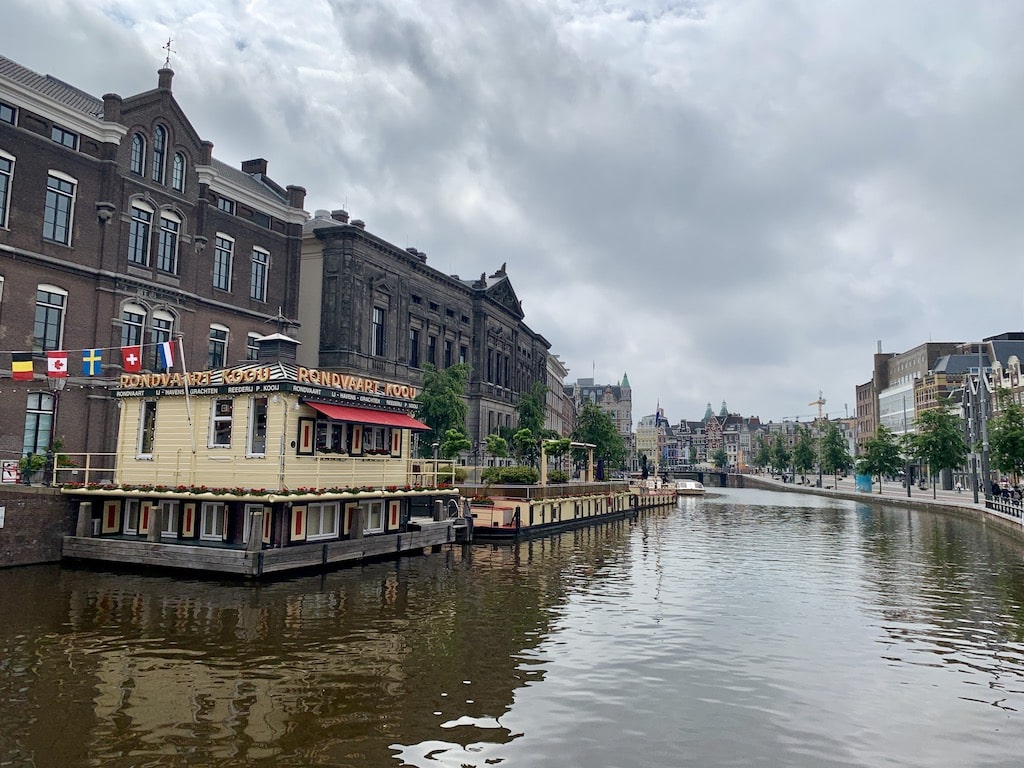 One significant advantage of staying in the Centrum is the accessibility and ease of travel.
You can conveniently navigate the city using its efficient tram network or hop on a bike to truly immerse yourself in the authentic Amsterdam experience.
Importantly, Amsterdam Centraal, the city's central train station, is nestled in this area, making inter-city travel a breeze.
In conclusion, if your heart desires a location that boasts proximity to the best attractions, exceptional shopping venues, and an array of dining options that Amsterdam offers, then the Centrum is the ideal area for your stay.
It's where convenience meets charm, offering you an unforgettable Amsterdam experience.
Places to stay in the city centre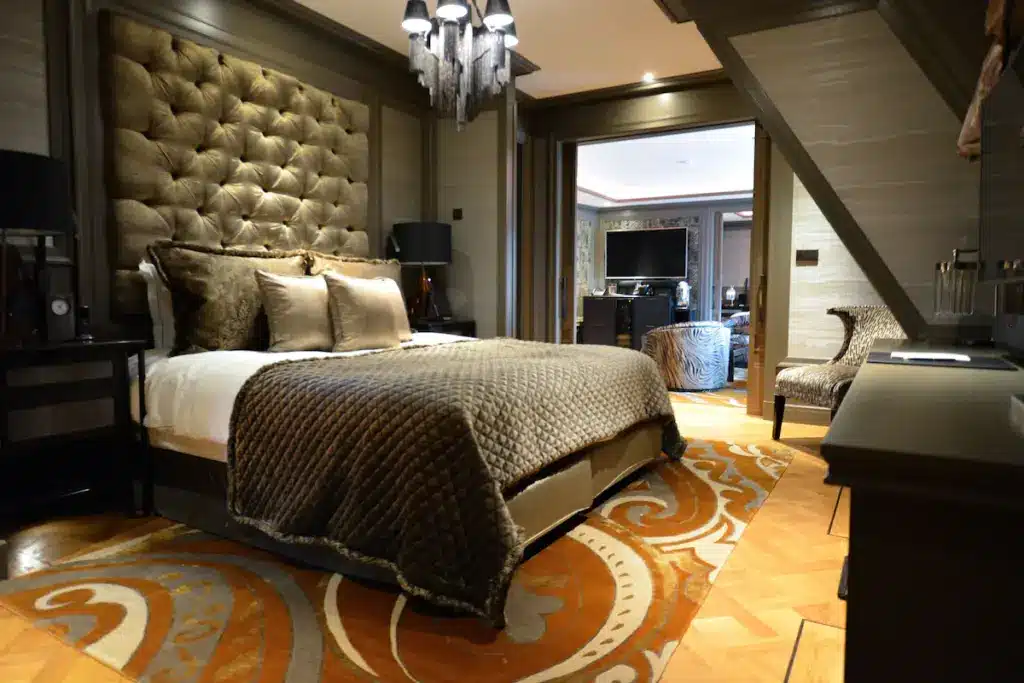 Hotel TwentySeven: This luxury hotel is located in a historic building in the heart of Amsterdam Centrum. The rooms offer fantastic views of Dam Square, and the hotel has a Michelin-starred restaurant.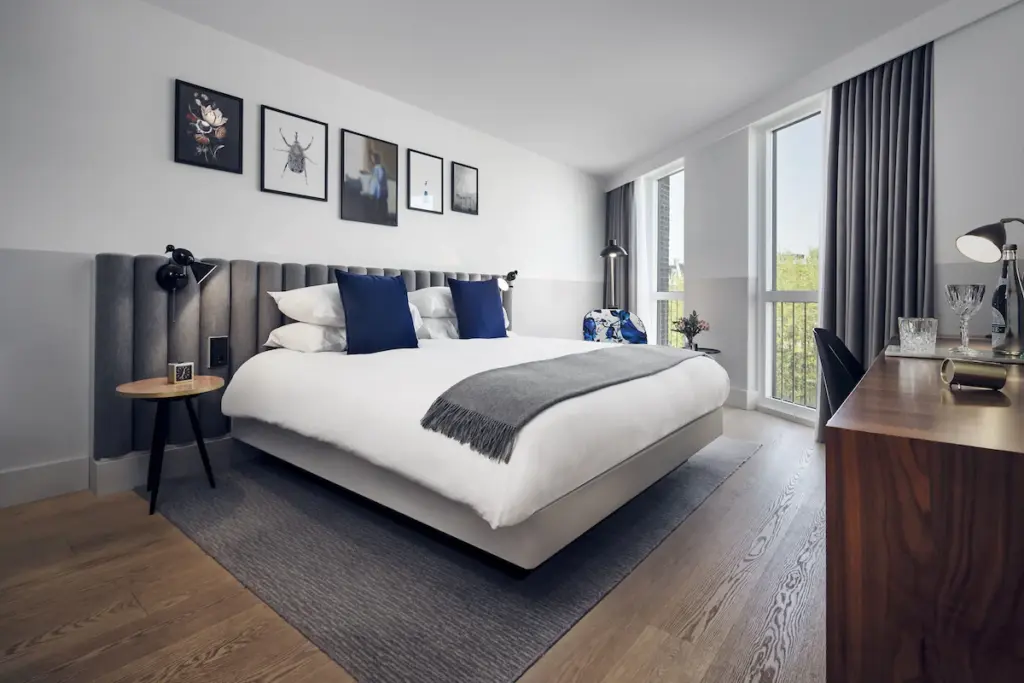 Kimpton De Witt Amsterdam: This boutique hotel is exceptionally close to Amsterdam Centraal Station and is the perfect choice for those who want to explore the city on foot.
The hotel has modern rooms with stylish interiors and an on-site fitness centre. Amsterdam Centraal is where you arrive by train from Amsterdam Schiphol Airport. Hence, getting to and from the airport is super easy.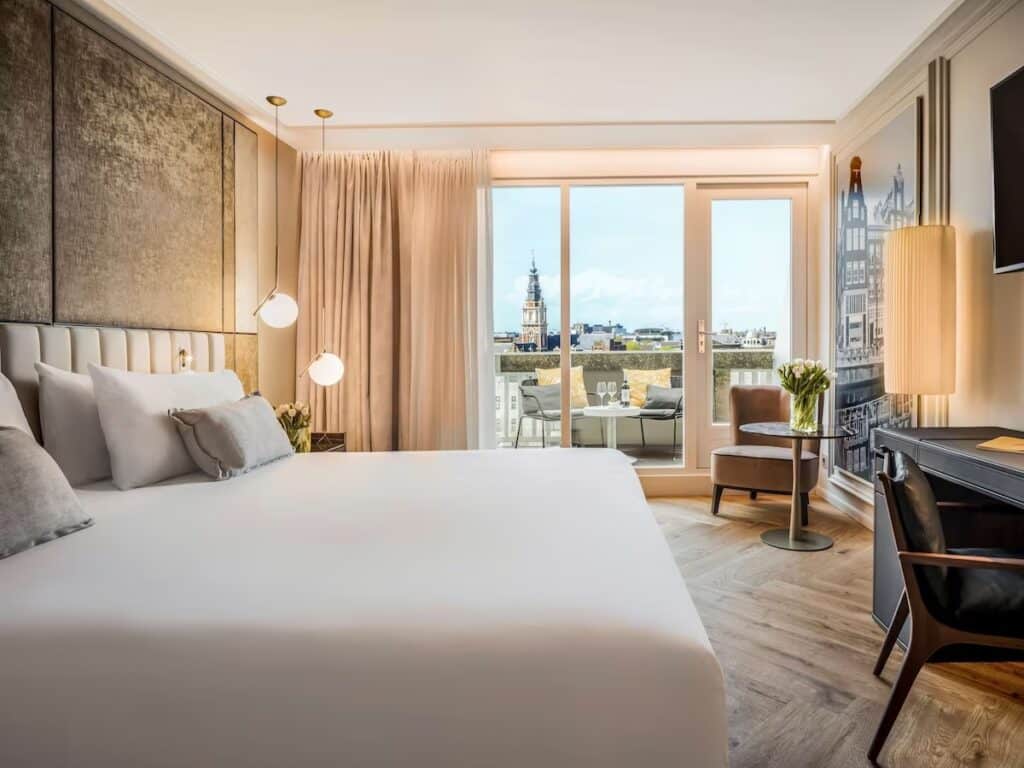 Grand Hotel Krasnapolsky: This iconic hotel is located next to Dam Square and has an impressive history dating back to 1866. The rooms are spacious and elegant, and the hotel has a spa and several restaurants.
2. De Pijp – Stay in a Trendy and Lively area
If you're seeking a trendy and vibrant area to stay in Amsterdam, then De Pijp should be on top of your list.
This district, located south of the city centre, is an enchanting blend of buzzing energy and understated cool.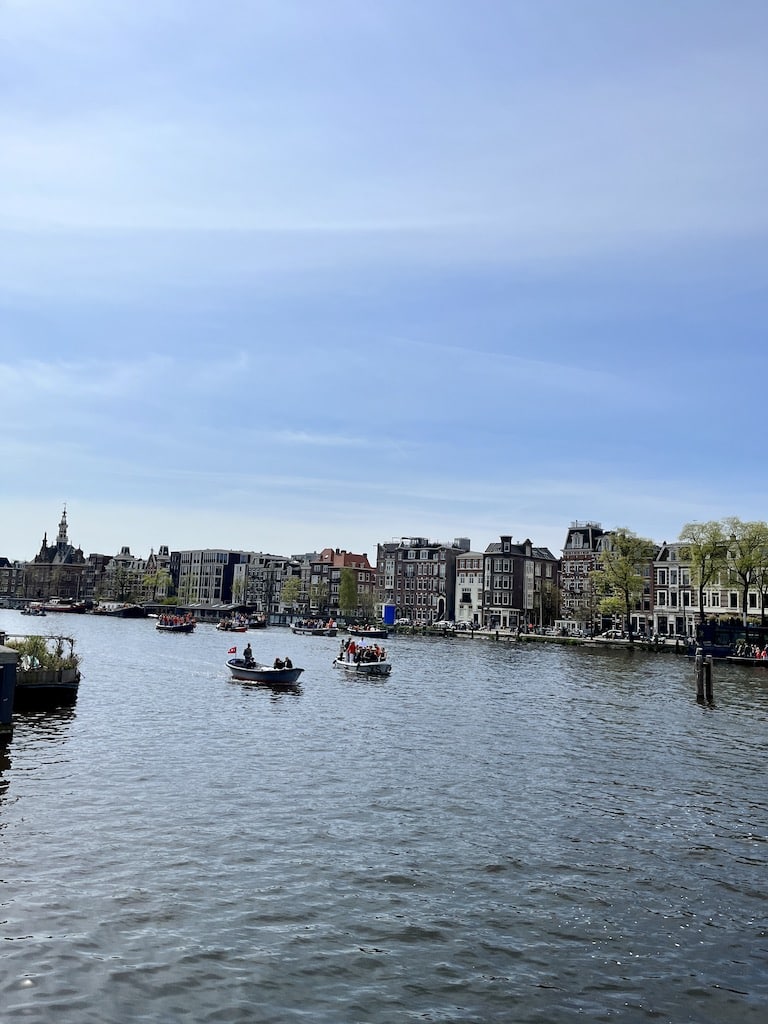 Choosing to stay in De Pijp doesn't merely place you near some prime locations; it immerses you into a microcosm of Amsterdam's unique culture.
Here, a laid-back atmosphere beautifully co-exists with vibrant energy.
This place is a food lover's paradise, teeming with dining venues serving everything from traditional Dutch dishes, an assortment of cheese, and mouth-watering stroopwafels to a wide variety of international delicacies.
Discover the best hotels in De Pijp here.
A key highlight of De Pijp is the Albert Cuyp Market, one of the Netherlands' most prominent and charming open-air markets.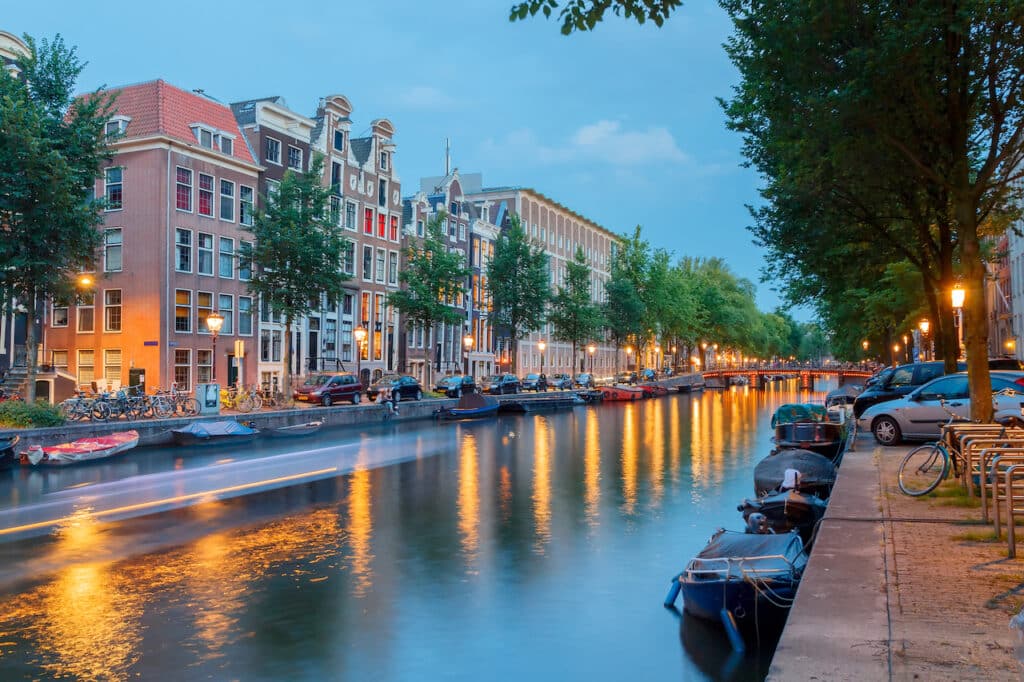 Strolling through this market feels like stepping into a lively tableau, with stalls selling everything from fresh flowers, cheese, fish, and clothes and accessories.
The experience of interacting with the friendly locals, bargaining for prices, and feeling the pulse of everyday life in Amsterdam is different.
Staying in De Pijp also places you near Amsterdam's green lung, the verdant Vondelpark. Just a leisurely stroll away, it's the perfect place to relax, people-watch or enjoy an impromptu picnic amidst nature.
You might also catch one of the free concerts at the open-air theatre during summer.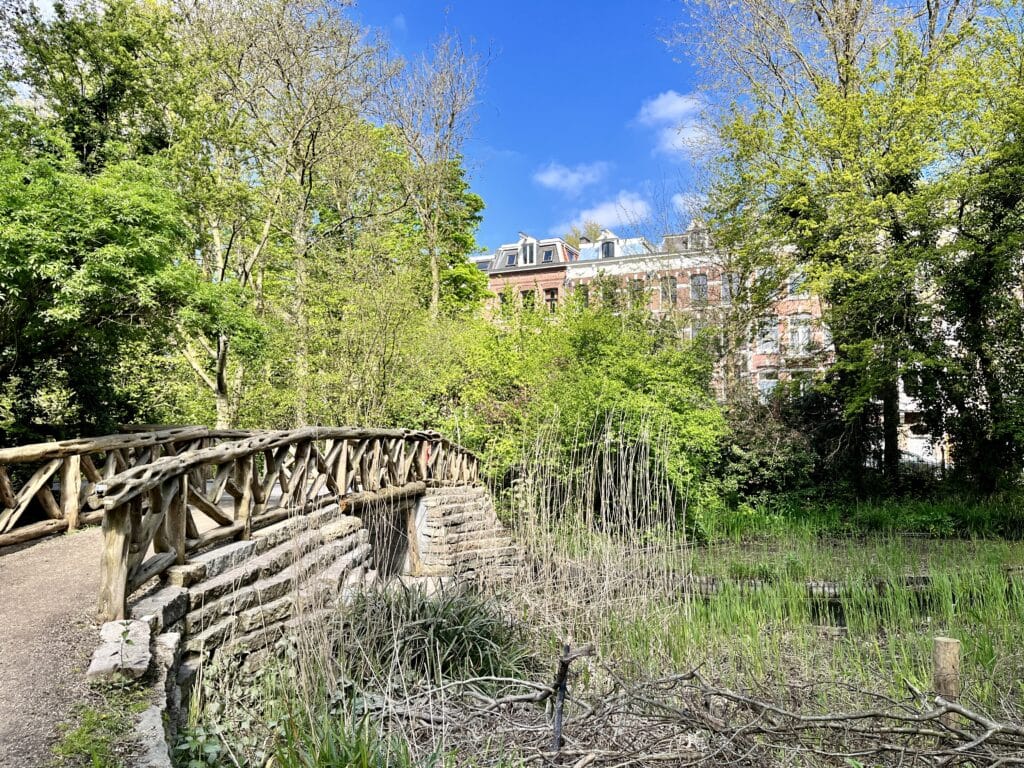 Finally, De Pijp is an incredible blend of buzzing cafes, classy bars, and local markets, harmoniously co-existing with quiet, tree-lined streets.
Its undeniable charm lies in its ability to offer a rich, local experience, making you feel less of a tourist and more of an Amsterdammer during your stay.
Places to stay in De Pijp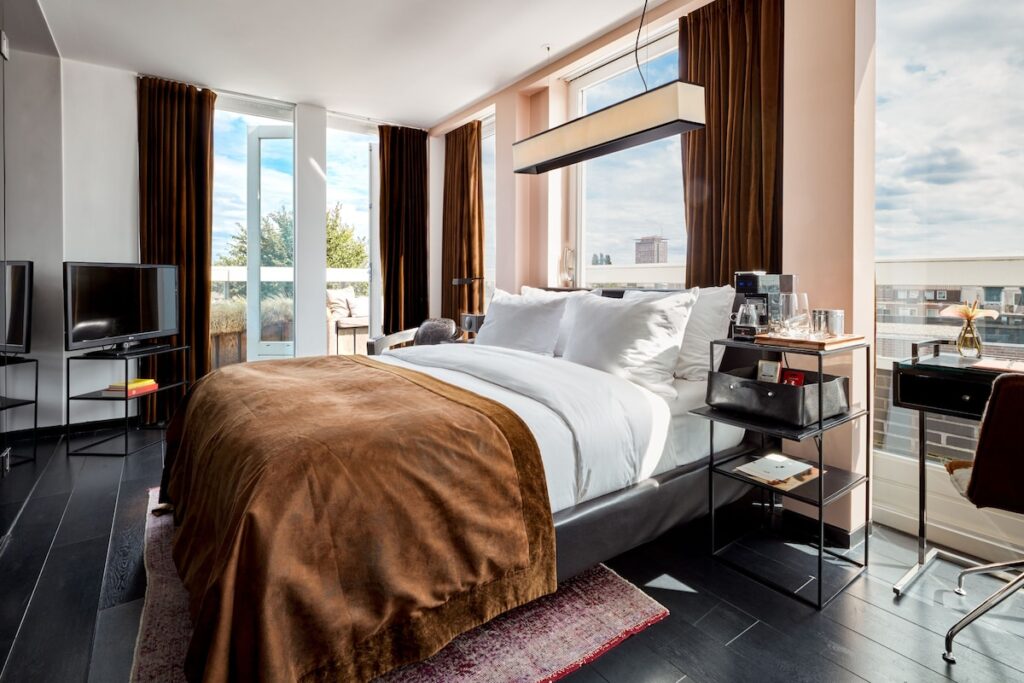 Sir Albert Hotel: This boutique hotel boasts a stylish interior adorned with modern artwork. The rooms are spacious and luxurious, and the hotel also features a rooftop bar with city views.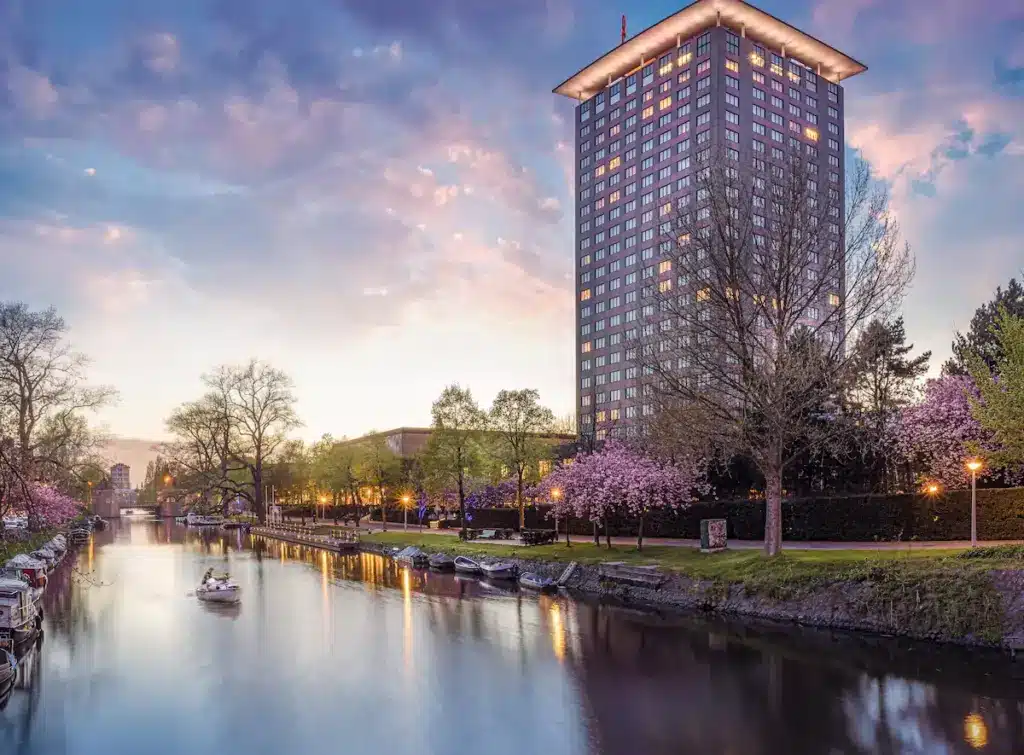 Hotel Okura Amsterdam: This five-star hotel is close to the Amstel River and offers elegant rooms with Japanese-inspired design.
The hotel also has several Michelin-starred restaurants, including Yamazato Restaurant, which serves authentic Japanese cuisine. It's also one of the best hotels in Amsterdam, with an indoor swimming pool.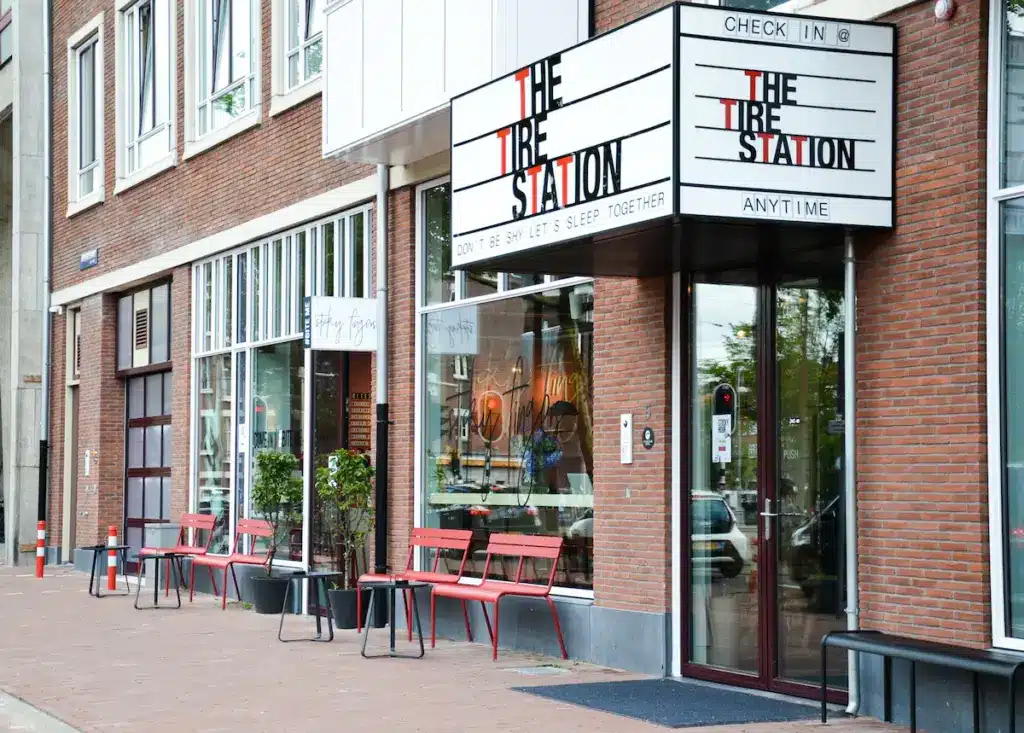 Conscious Hotel The Tire Station: This eco-friendly hotel is located in the heart of De Pijp and offers modern rooms with sustainable materials and energy-saving technology. The hotel also has an organic restaurant on-site, serving fresh dishes made from local ingredients.
An excellent choice for those who don't need absolute luxury but still want to stay relatively cheaply in Amsterdam.
3. Jordaan – city centre area with cobblestones & canals
If you're yearning to immerse yourself in the more historic and charming aspects of Amsterdam, then the Jordaan district should undeniably be your first choice.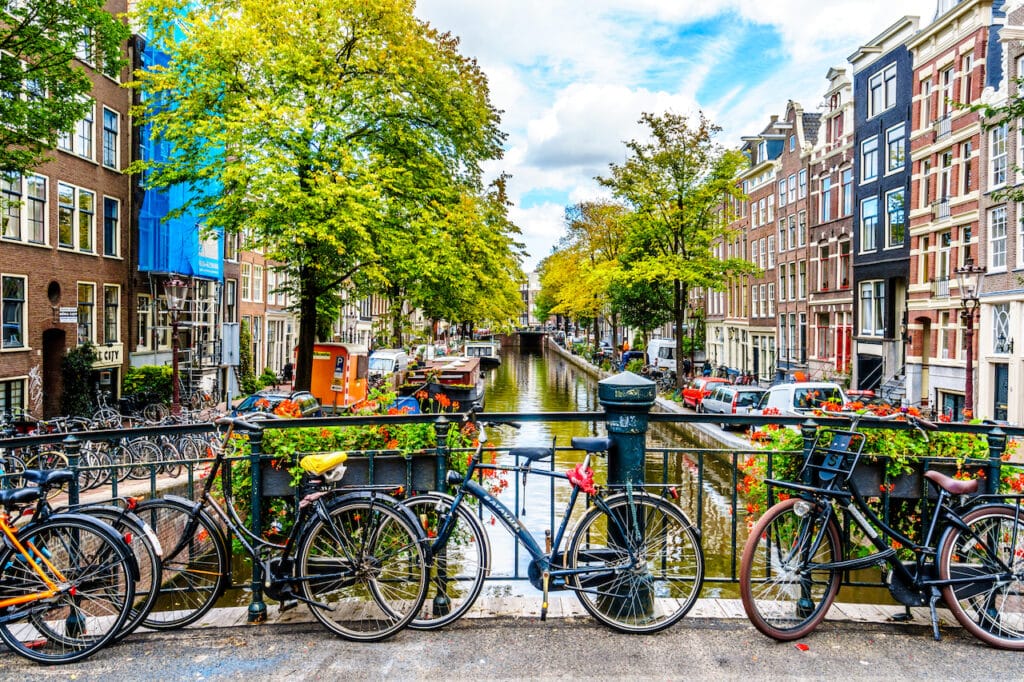 Tucked away to the west of the city centre, this neighbourhood is an enchanting labyrinth of narrow, cobbled streets and meandering canals, a veritable throwback to an Amsterdam of yesteryears.
Although Jordaan may technically be considered part of Amsterdam's "Centre", it exudes a slightly more laid-back ambience than the hustle and bustle of the city's heart.
Jordaan possesses a unique charm, exuding an understated tranquillity that starkly contrasts its vibrant surroundings.
Staying in Jordaan offers a golden opportunity to delve headfirst into an authentic Dutch atmosphere.
See the best hotels in Jordaan here.
This area teems with quaint boutiques, inviting art galleries, and welcoming local cafes, perfect spots to while away your hours, simply observing the ebb and flow of life or soaking in the infectious vibe.
Jordaan has also earned a sterling reputation for its pulsating music scene, with many bars featuring live music performances, adding another layer to its undeniable appeal.
Moreover, Jordaan boasts some of Amsterdam's most renowned landmarks. Here, you will find the Anne Frank House, a poignant testimony to the city's history, and the magnificent Westerkerk Church.
One of Jordaan's standout features is its tranquil atmosphere. Despite its strategic location in the city's heart, it exudes an aura more akin to a serene village than a bustling metropolis.
Here, amidst the constant hum of city life, you find a peaceful refuge.
In conclusion, if your travel objectives include basking in an authentic Dutch atmosphere while having access to all of Amsterdam's significant attractions, then Jordaan would be an ideal place for your stay.
Places to stay in Jordaan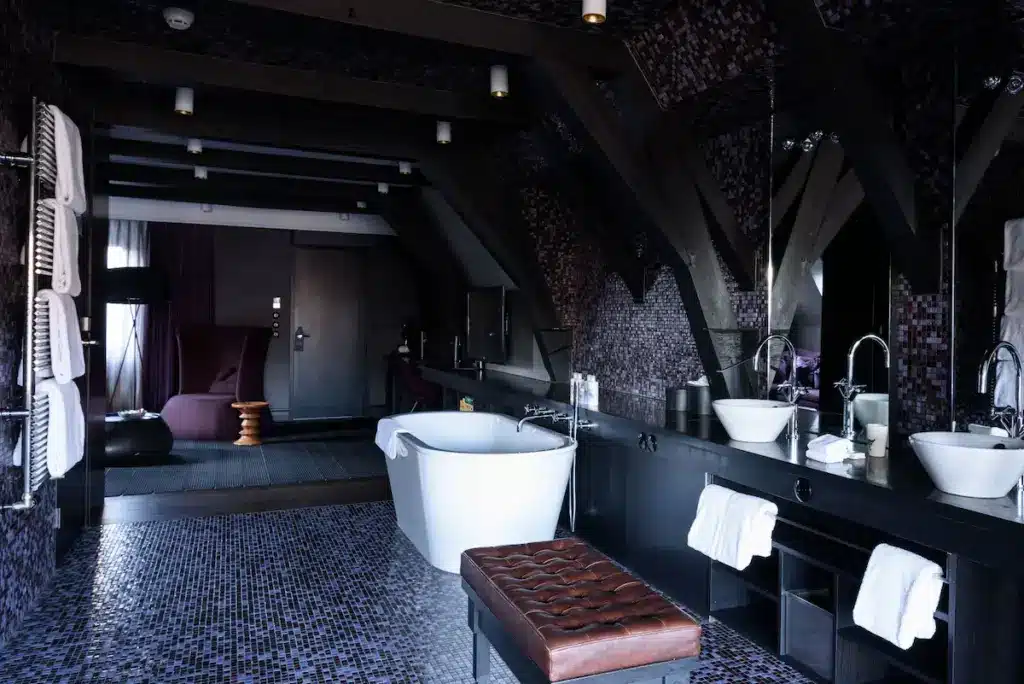 Canal House: This elegant hotel in a beautifully restored 17th-century canal house offers stylish rooms with antique furniture and modern amenities. The hotel's bar serves cocktails and snacks, while the restaurant serves dishes inspired by French-Mediterranean cuisine.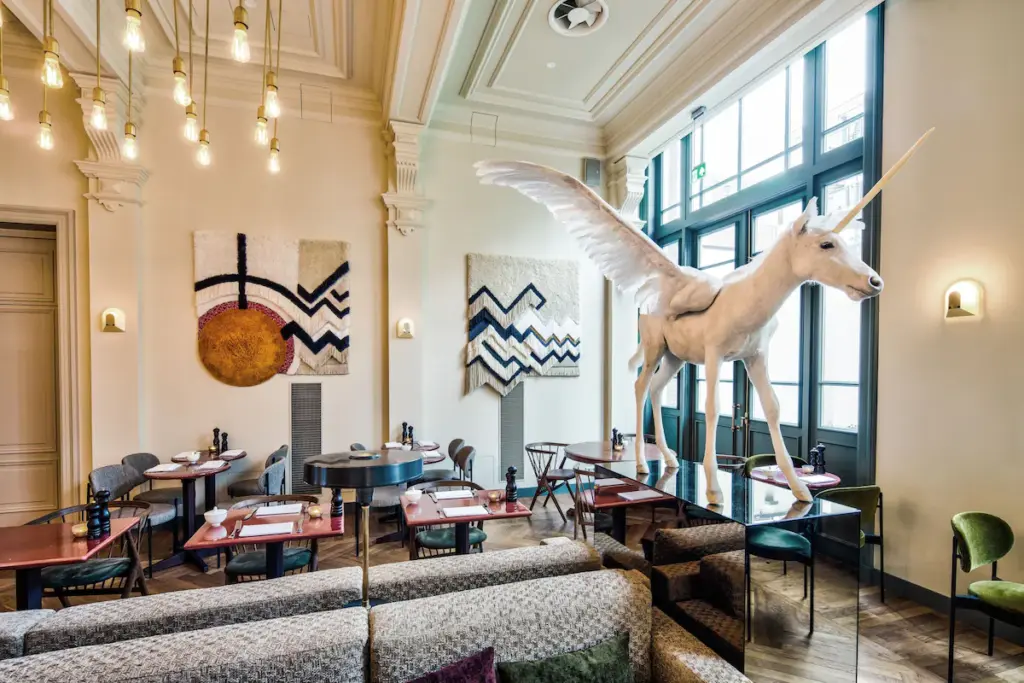 Hotel Mercier: This boutique hotel stands out with its unique and modern décor, featuring comfortable and luxurious rooms.
The hotel also features a lovely patio and a restaurant serving French cuisine.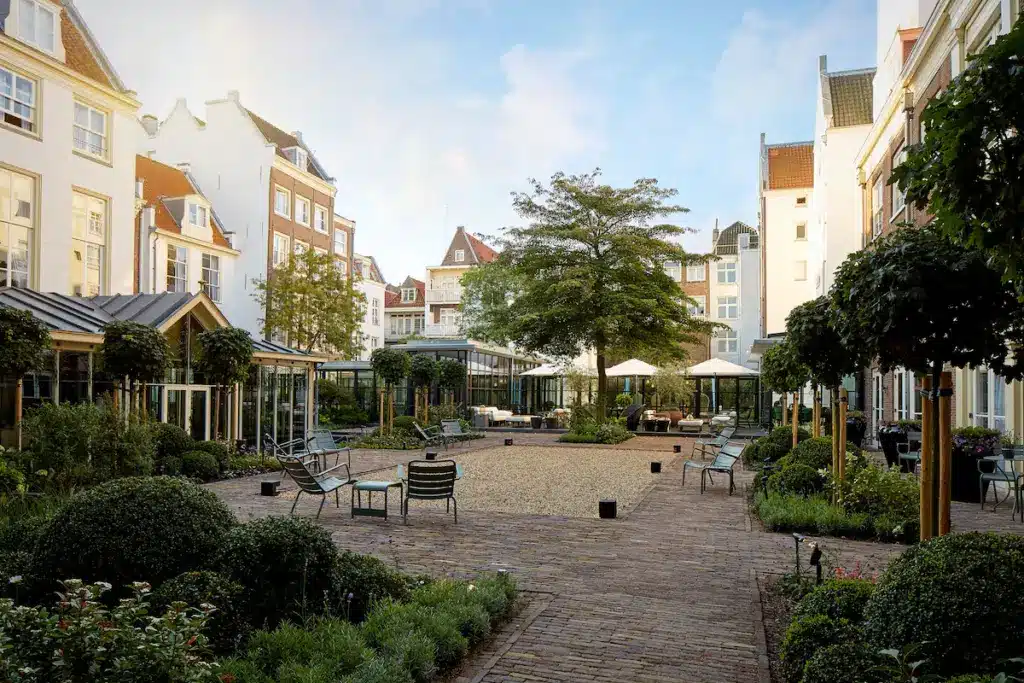 Pulitzer Amsterdam: This five-star hotel lies in the heart of the Jordaan district, comprising 25 interconnected canal houses from the 17th and 18th centuries.
The rooms are elegantly decorated with antiques, artworks, and modern amenities, while the hotel also features several on-site restaurants, including Jansz Restaurant, which serves Dutch-inspired cuisine.
4. Oud-West – a cool, up-and-coming area
If you're looking for a young and trendy area to stay in Amsterdam, then Oud-West would be a good choice.
This area is located west of the city centre and is known for its lively atmosphere, arts scene, and good places to eat.
Staying in Oud-West allows you to experience Amsterdam's young and creative side. You will find many small shops, vintage clothing stores, and art galleries here.
The area is also known for its cosy cafes and restaurants, serving everything from traditional Dutch dishes to international specialities.
See the best hotels in Oud-West here.
Oud-West is also home to Vondelpark, one of Amsterdam's largest parks.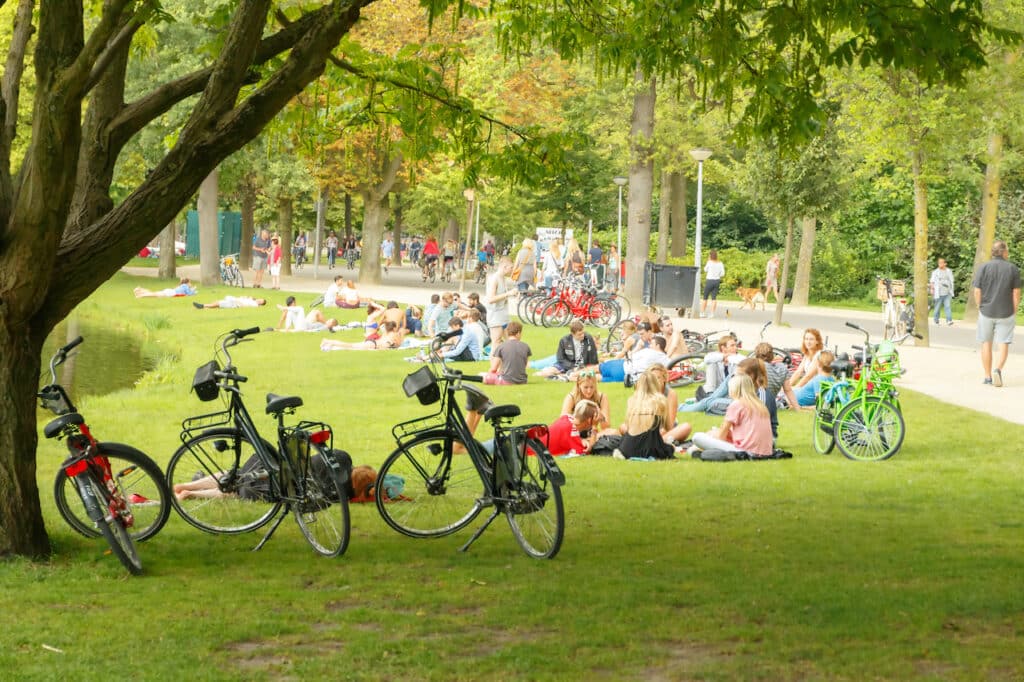 Here you can relax in the middle of the city or run along the many paths.
The area also boasts some of Amsterdam's best nightlife, with plenty of bars and clubs, many of which play live music. This means that there will always be something to do after sunset.
So Oud-West is the perfect place to stay if you want to experience Amsterdam's young and creative side while being close to all the major attractions in the city.
Places to stay in Oud-West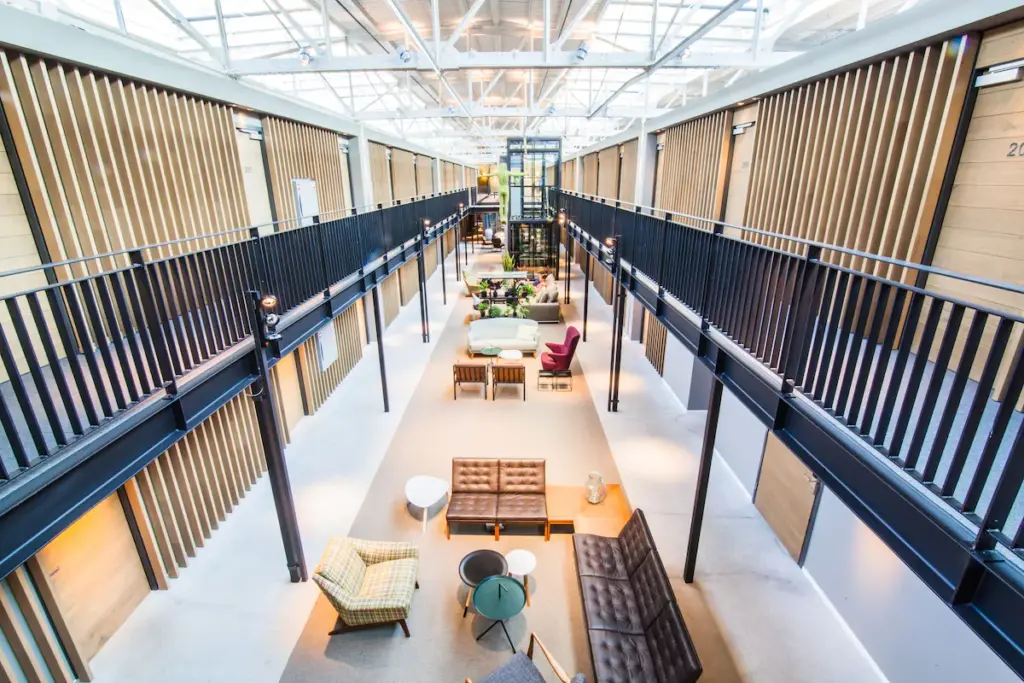 Hotel De Hallen: This trendy hotel is located in a former tram hall and has a unique and modern design with rooms that offer comfort and style. The hotel also has a cosy bar and restaurant serving local specialities.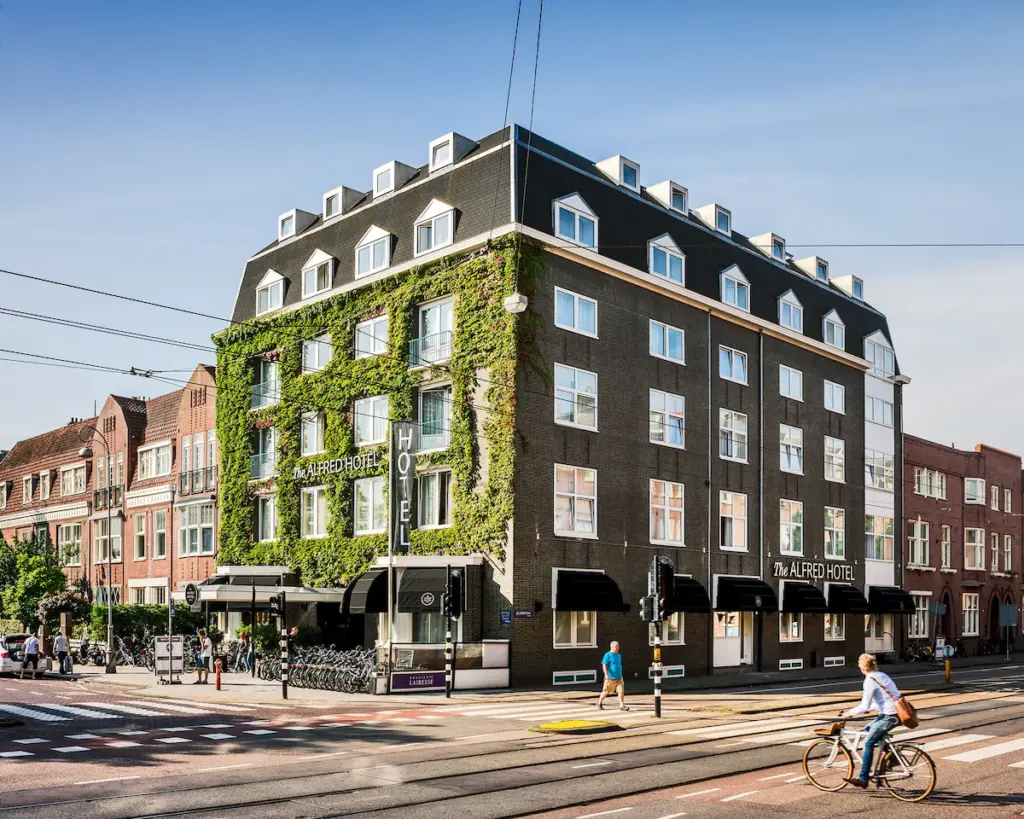 Conscious Hotel The Alfred The Alfred: This environmentally friendly hotel is close to Vondelpark and offers bright and modern rooms with sustainable materials. The hotel also has a rooftop terrace with city views to enjoy a cocktail or two.
Still unsure where to stay in Amsterdam? Let's summarise
Amsterdam has many different areas to choose from, each with its charm and advantages. Let me summarise – where to stay in Amsterdam for different vibes:
If you want to experience authentic Dutch culture, the Jordaan area is a good choice, while De Pijp is perfect for those who love food experiences and vibrant markets. Centrum is the best place to stay if you want to be close to the city's nightlife and shopping opportunities.
And if you want to experience Amsterdam's young and creative side, Oud-West will be the best place to stay.
No matter where you stay in Amsterdam, you will find a fantastic mix of history, culture, and nightlife.
I hope this guide has helped you decide where to stay in Amsterdam.
Frequently asked questions:
Where to stay in Amsterdam close to everything?
I recommend the Centrum as the prime location if you want to be near everything. This district is the city's heartbeat, bustling with energy, brimming with historical charm and packed with various attractions.
Here, you will find yourself a stone's throw away from must-visit spots like the iconic Anne Frank House, the Royal Palace, and the famous canal network, a UNESCO World Heritage site. The world-renowned Dam Square, with its historical buildings and vibrant street performers, is also located in this area.
Centrum is also a shopper's paradise, offering a range of stores from high-end brands along the upscale "Nine Streets" (De Negen Straatjes) to the more quirky and eclectic shops of the Jordaan neighbourhood.
When it comes to food and drinks, Centrum is a melting pot of cuisines. You can find everything from cosy Dutch brown cafes and high-end Michelin-star restaurants to hip coffee shops and international eateries.
Finally, the nightlife in Centrum is second to none. Whether you're looking for jazz clubs, cocktail bars, or dance clubs that keep the party going till the break of dawn, this district has got you covered.
As for accommodation, Centrum offers a wide range of options to suit all budgets, from luxury hotels and chic boutique establishments to budget-friendly hostels and guesthouses.
Which areas are the most popular to stay?
Centrum: This area is the most popular among tourists due to its central location and proximity to many attractions, restaurants, and shopping opportunities.
Jordaan: a trendy neighbourhood with beautiful canals, art galleries, and cosy cafes.
De Pijp: This area is known for its vibrant Albert Cuyp Market and many international dining options.
Oud-West: This area is popular among young people because of its hip cafes and bars.
Where to stay in Amsterdam with children?
Centrum is a wise choice, especially if you want to be close to many of the city's attractions and activities. The area has many family-friendly accommodation options, and it is easy to get around by public transport or walking or cycling to different places.
Are there any areas that should be avoided? 
Amsterdam is a relatively safe city, but as with any big city, some areas can be more challenging than others. Areas such as Bijlmer and Slotervaart have previously had a reputation for being less safe, but there have been significant efforts to improve safety and quality of life in these parts of Amsterdam.
Websites I use to book my trips 👇

• Booking.com has the best offers on hotels and unique places to stay
• GetYourGuide is the best place to book tours & activities with free cancellation
• Omio is my go-to booking platform for trains in Europe
• Welcome Pickups is the best & safest place to pre-book airport transfers

Psst 👀 Have you subscribed to my Youtube channel where I provide more useful travel tips?