New York City is a fantastic metropolis, but it can be overwhelming for many – because where do you start and end when it comes to things to do in New York?
In this travel guide, I'll share my favourite things to do in NYC that you should consider on your trip.
Depending on the length of your trip, it may be difficult to see all the sights, but I will give you an overview and then you can choose what to do and see.
However, there are some New York sights that you have to see. That's why this travel guide starts with the best-known things to do in New York, as they are famous for good reason.
But don't worry – I'll further suggest some hidden gems and unknown experiences in this guide.
Let's start with some of the best things to do in New York City.
1. New York skyline from a skyscraper – Top of The Rock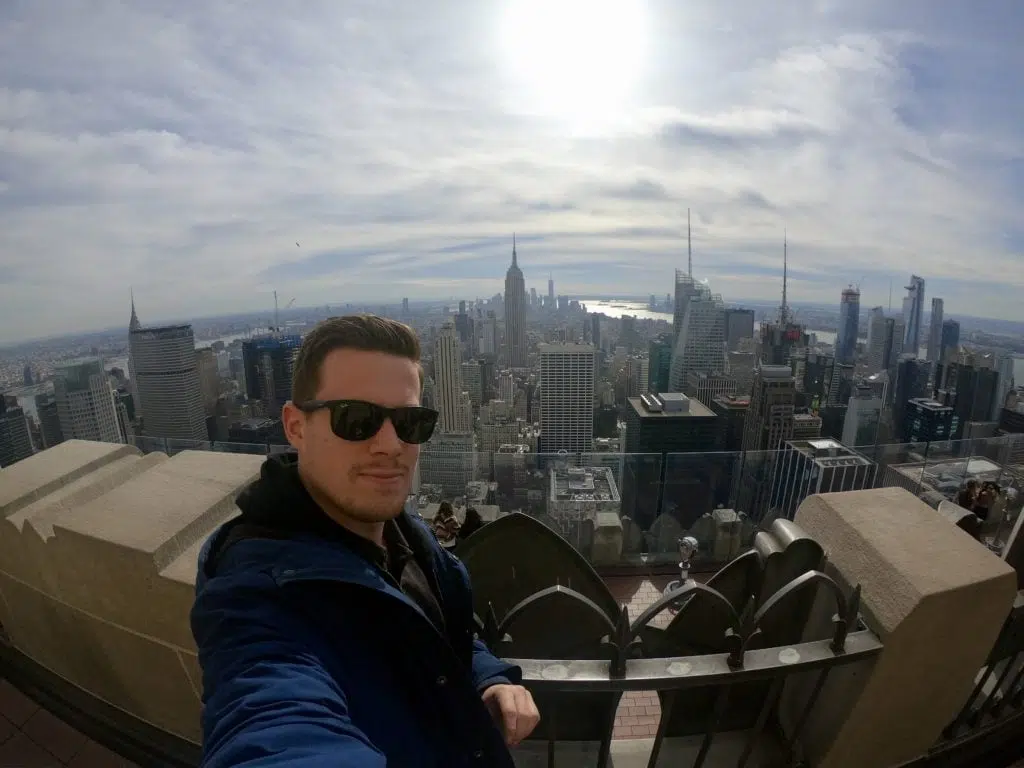 Manhattan's skyline is tremendously impressive, but when you walk around the city's streets, it's hard to see how massive a city you're walking around.
That's why you have to take the elevator up in one of the city's (many) skyscrapers and enjoy the view of the entire New York.
I recommend going up to the Top of The Rock, which is on top of the iconic Rockefeller Center.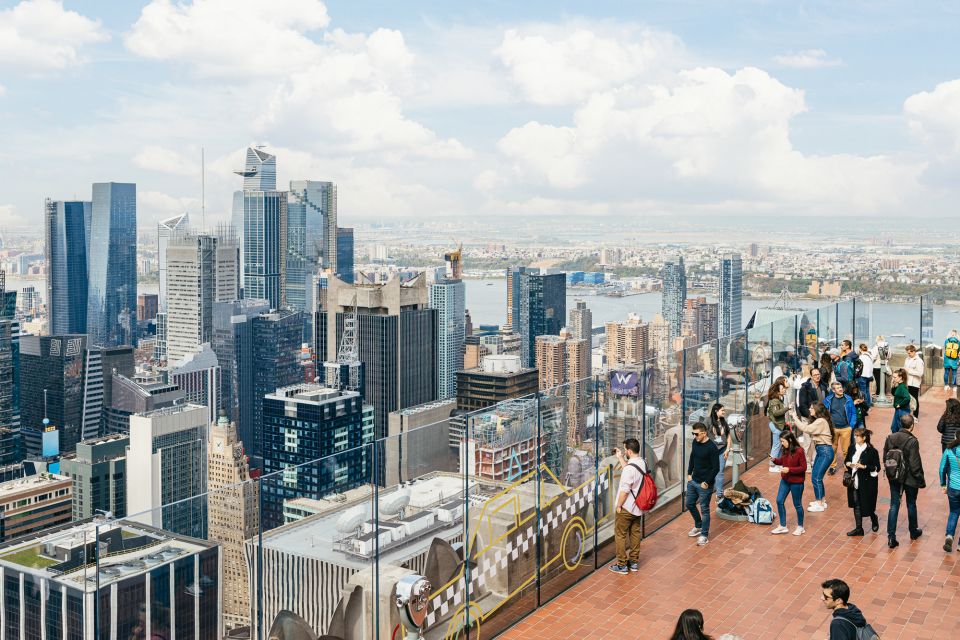 But why not go up the Empire State Building?
Well, you can, but you know what you can't see when you're in the Empire State Building? The Empire State Building 😀
From Top of The Rock you can see the Empire State Building, One World Trade Center and Central Park.
So I recommend buying tickets to the Top of The Rock and going up there while it's still light out, so you get a feel for how unique New York City is.
Get tickets for Top of The Rock.
2. Central Park – NYC's breather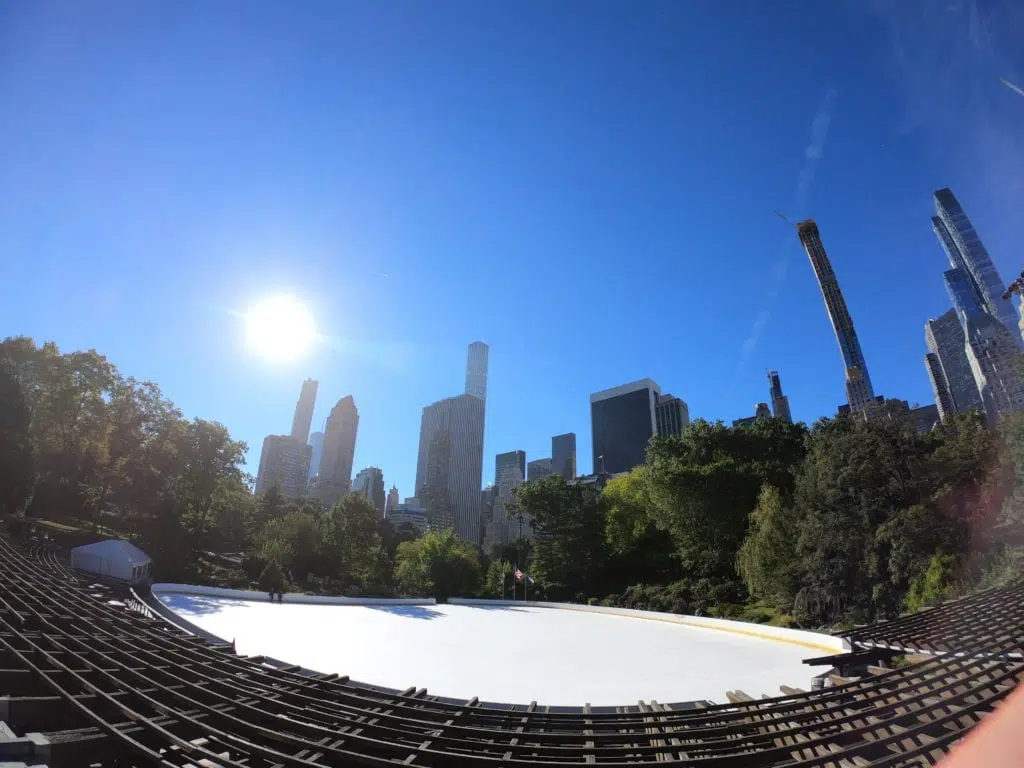 If you've been up the Rockefeller Center, you understand how huge an area Central Park spans. Central Park is truly Manhattan's breathing space, where you can relax from the hustle and bustle of the streets.
I was quite surprised at how cool a park it is. We generally have some incredibly boring parks here in Copenhagen where I live, so it might take little for me to be impressed, but Central Park really is something else.
It would be a shame to travel to New York and not stop by Central Park. I've mapped out a route through Central Park that passes some of the best sights there:
The walk ends at the next thing to do in New York on the list.
3. American Museum of Natural History
If you follow the walk through Central Park, you end up right next to the Natural History Museum, which is said to be one of the wildest in the world.
At the museum, there are, among other things, massive skeletons from dinosaurs, giant whales and almost everything you can imagine in natural history.
Suppose you are interested in natural history and are travelling to New York. In that case, you must stop by American Museum of Natural History , located next to Central Park.
You can buy special 'fast-track' tickets to the museum in advance at Get Your Guide here.
Other famous museums in New York cannot be missed – you can also buy skip-the-line tickets on Get Your Guide (simply click on the link to the Museum of Natural History above)
Guggenheim
Museum of Modern Art
Metropolitan Museum of Art
Protip: consider getting the New York CityPASS to save 40% on 5 of the city's major attractions.
4. Walk across The Brooklyn Bridge – best free thing to do in New York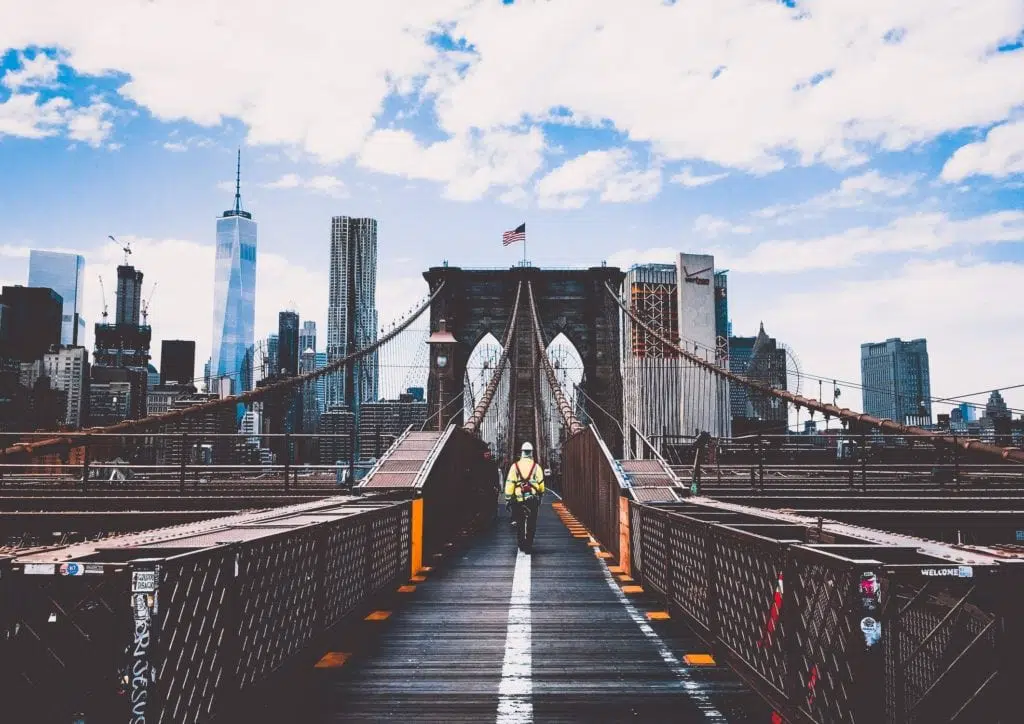 Another iconic New York attraction (and it's even completely free).
I recommend starting the walk on the Manhattan side, which will also be most convenient as most people stay in hotels in Manhattan – have you seen my guide to the best areas and places to stay in New York?
The walk across the Brooklyn Bridge is one of the things you have to do in New York.
However, remember to take a break and enjoy the view 'back' towards Manhattan, where you can, among other things, get a good look at One World Trade and generally all of Downtown Manhattan.
The following thing to do on the list comes right as you turn away from the Brooklyn Bridge.
5. DUMBO (Down Under the Manhattan Bridge Overpass)
DUMBO is an area of Brooklyn with an exceptional atmosphere.
It goes slower than in Manhattan, and the architecture shows that there have been many factories here, which are now being transformed into trendy shops, cafes and restaurants.
From DUMBO, you can also take a boat trip on the East River – for instance, you can go up to Williamsburg, which I mention later in the travel guide.
6. Boat Tour in New York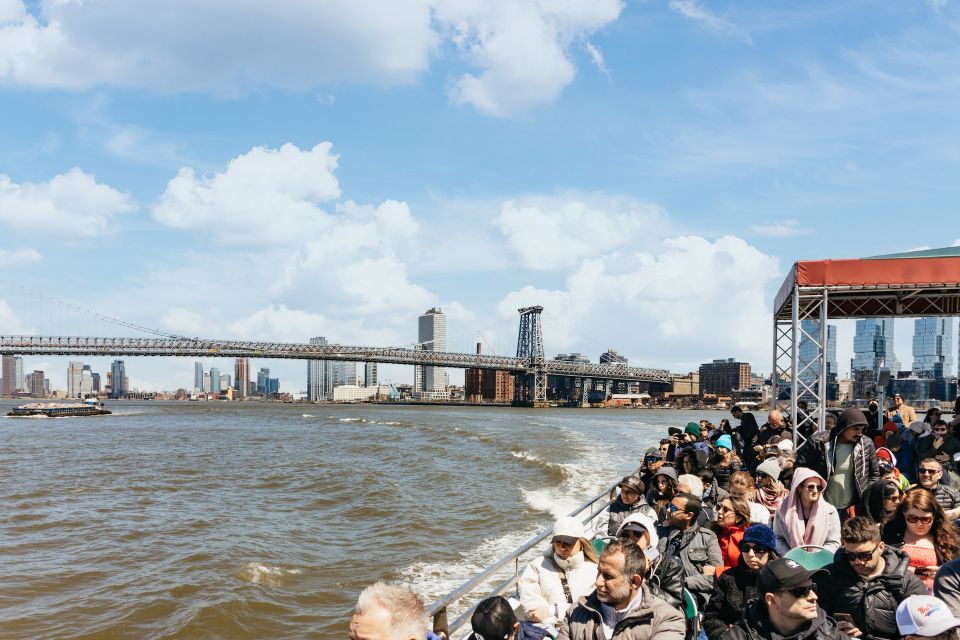 A boat tour is another fantastic thing to do in New York. 
Not really an experience that requires much explanation; on a boat tour around Manhattan, you get a completely new impression of The Big Apple, and at the same time, you can enjoy the city's skyline while sitting in calm surroundings.
There are many different boat trips, but the one I have found with the best reviews and a fair price is this 90-minute boat tour.
7. World Trade Memorial Museum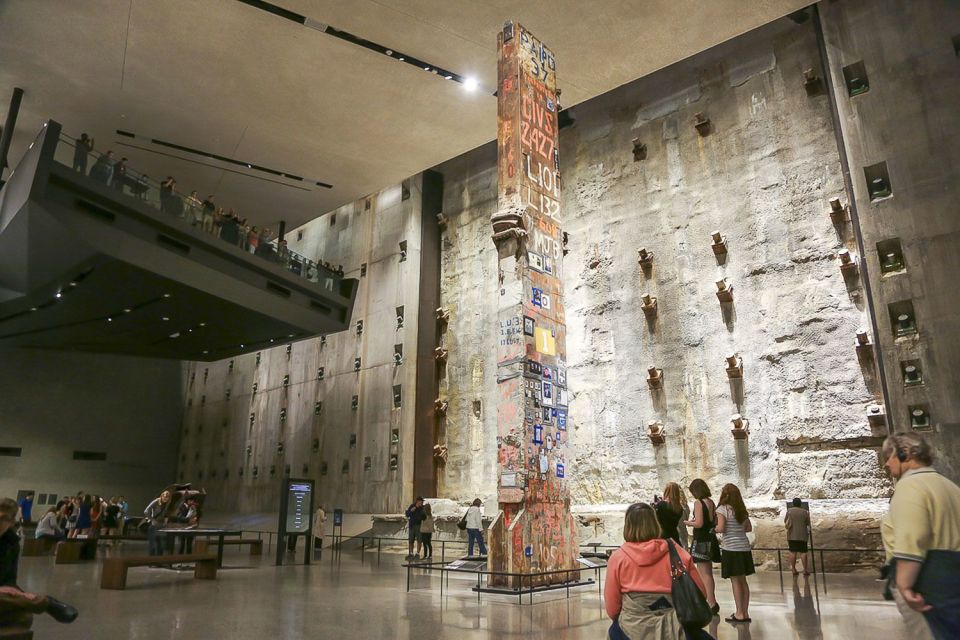 We all remember where we were on September 11, 2001, and on your trip to New York, I recommend everyone to go to 'Ground Zero' to see the area with their own eyes. It's a memorable experience – you don't leave with a big smile, but it's one thing you'll remember.
You can just go to the large memorial for the terrorist attack, but there is also a large museum that gives incredible insight into the events back in 2001.
You can buy skip-the-line tickets to the 9/11 Memorial Museum online at Get Your Guide here.
I recommend that as the queue for the museum can be very long – after all, it is one of the most well-known things to do in New York.
You can also use the New York CityPASS for the 9/11 Memorial Museum.
You can also enjoy Manhattan's best views from the One World Trade:
8. Times Square by night
Another one of New York's best-known sights – Times Square.
Yes, there is a lot of fun going on in the streets, and it's a pretty big area with many advertising signs and – well, that's about it, to be honest.
So I understand if it doesn't sound super appealing, but it's simply a must to make your way past Times Square – especially in the evening when the many impressions and lights shine through.
9. Grand Central Station
New York Central train station is impressive!
It's an imposing building located centrally in Manhattan, so it's easy to plan a trip to the terminal.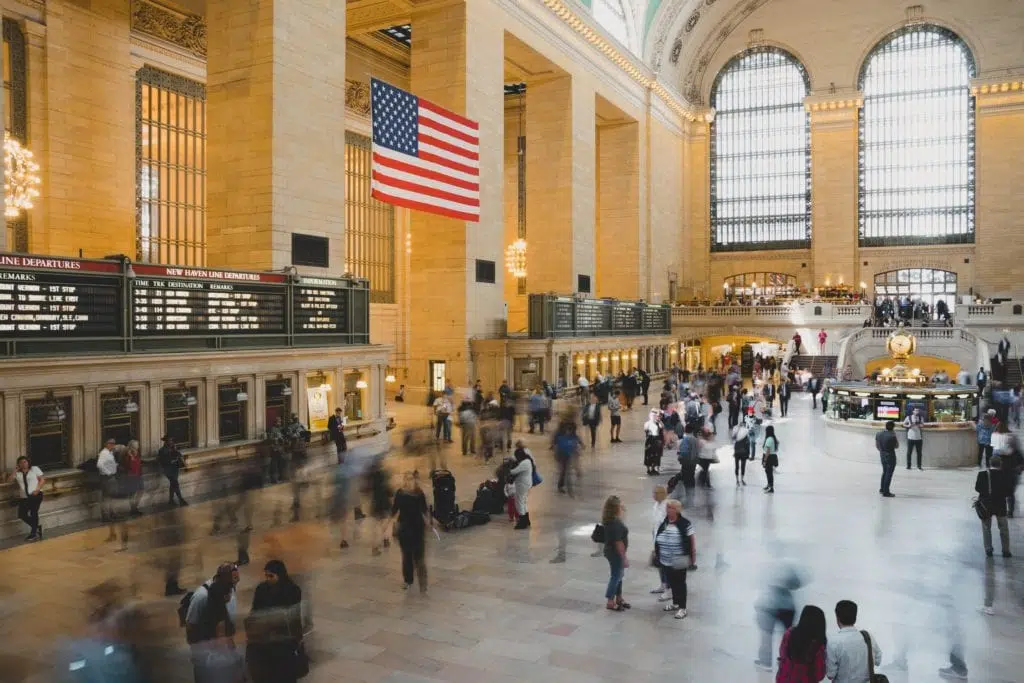 The Chrysler Building is next to Grand Central Station, so you can easily cross it off the list.
10. The Statue of Liberty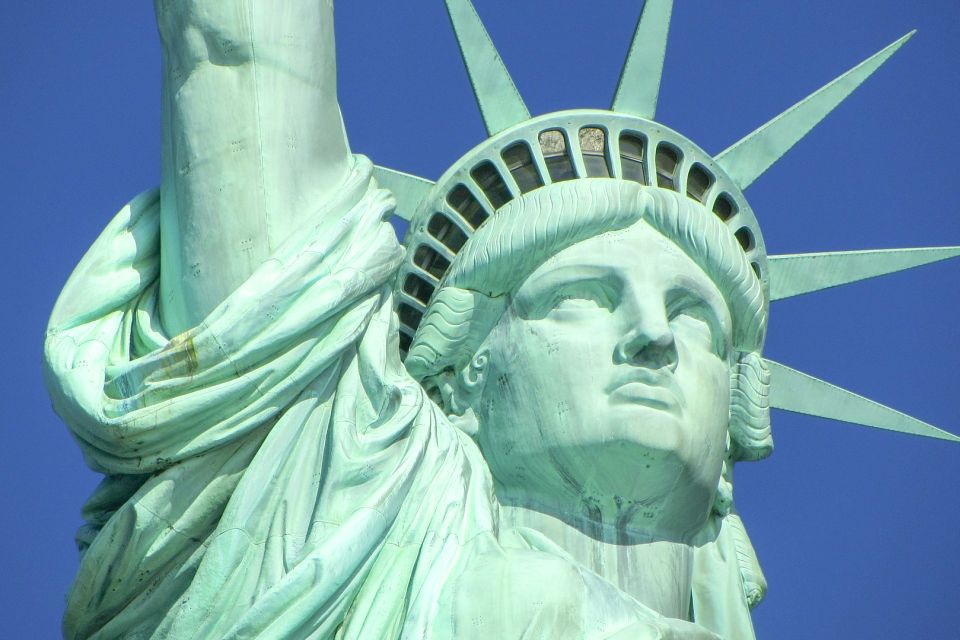 The Statue of Liberty is another of the city's best-known and most iconic things to see.
So it is another one of the city's 'must see' sights, which many do not want to return home from NYC without seeing with their own eyes.
I wasn't too impressed when I first saw the statue, if I've got to be honest – it's just a statue after all, but I'll admit it's an iconic New York landmark, so of course, it's on my list.
Countless boat trips go around the Statue of Liberty, and you can also book tickets for a trip up the dome (get an overview here), but in fact, you can go on a boat trip from Manhattan and past the Statue of Liberty for free.
You've just got to jump aboard the Staten Island Ferry.
Just head down to the southernmost tip of Manhattan and grab the Staten Island Ferry from Whitehall Terminal – remember to sit on the right side of the ferry if you want to see the Statue of Liberty!
And by the way, ignore anyone trying to sell you tickets for the Staten Island Ferry – it's a free ferry for New Yorkers and tourists alike. So all "Staten Island Ferry tickets" are fake!
Get more information about the ferry here.
11. The High Line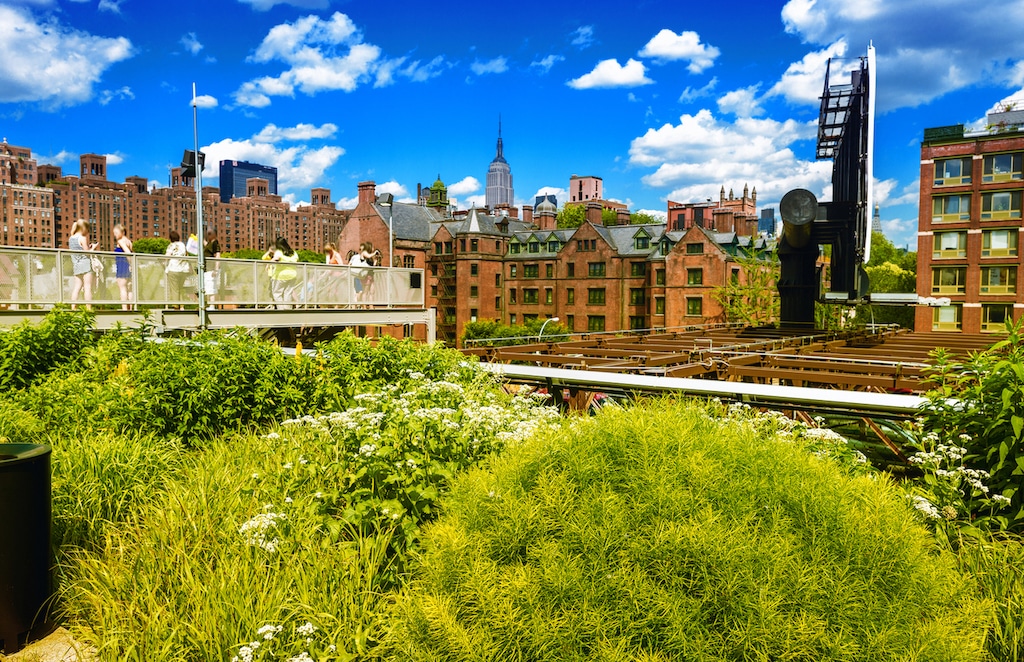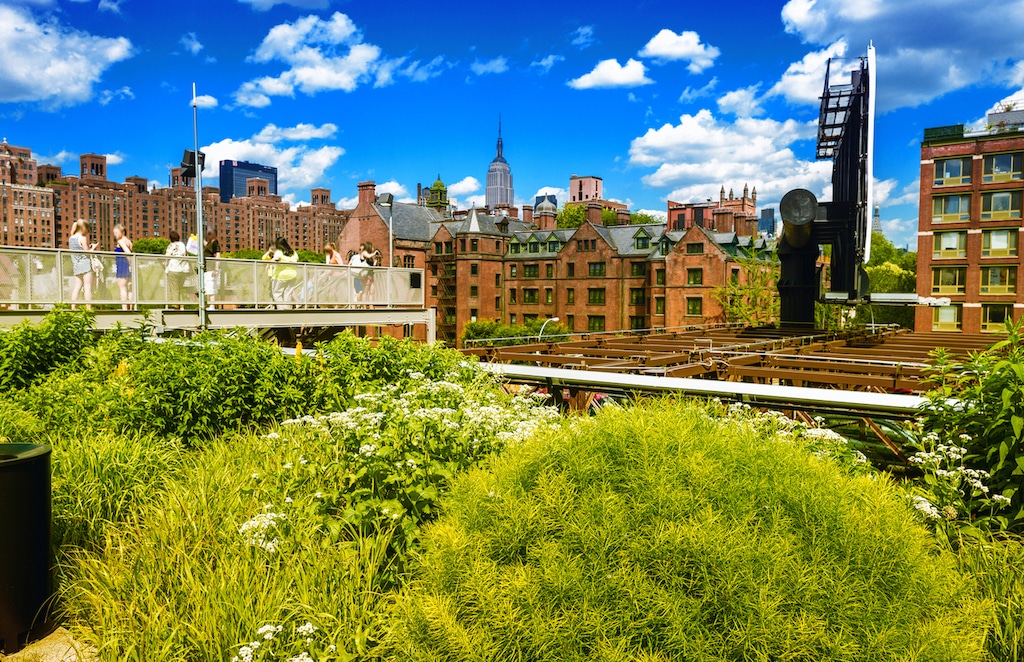 A free thing to do in New York? Yes! The High Line is a disused, elevated train track, where green areas have been laid out, and you walk elevated above the streets of Manhattan.
It's a memorable experience to climb the stairs, walk south (my recommendation) and then get incredible views of the long, classic American streets here and there.
The High Line is a thing that should be on your list of must-do's in New York – and if you start from the North and go South, you'll end up at the next thing to do on my list.
12. Chelsea Market 
The indoor Chelsea Market has everything from vintage shopping, excellent wine bars and hip little street food places.
It is undoubtedly a place where you can easily spend a few hours. I recommend either going there in combination with The High Line or saving it for a day when the weather is not suitable for the many outdoor experiences NYC offers.
I've embedded a video from Chelsea Market above so you can get an idea of what kind of place it is.
13. Williamsburg – the trendy area in Brooklyn
Williamsburg is one of thenNew York areas most often described as the city's hipster centre.
It doesn't matter that much that an area is called one or the other. What counts for me is whether I like the area myself – and that is definitely the case with Williamsburg.
The atmosphere is more down-to-earth than in Manhattan, where things are always going fast.
Williamsburg is a little calmer, and all the streets are not overpopulated with other tourists and honking cars – but that does not mean that there are no tourists in Williamsburg because there are.
But there are also many good cafes, restaurants, bars and shops. It doesn't take long to get to Williamsburg from Manhattan by subway, so I recommend going there and experiencing a slightly different side of New York than the one in Manhattan.
It is, in particular, the area north of the Williamsburg Bridge and to Nassau Avenue that I recommend – around Bedford Avenue for example.
14. Smorgasburg – street food market in Williamsburg
Yep, we're staying right in Williamsburg, where every Saturday (note: spring-summer-autumn only – see website for opening dates) is a large street food market.
Street food is upon us these years, but I was amazed by the quality of the food stalls at Smorgasburg. In addition, quite a few stalls specialise in American food that we can't get anywhere in Copenhagen, where I live – and I have yet to see it anywhere else in Europe.
And if good street food isn't enough to attract you, I can tell you that the area is in a park down to the East River. That means the market area offers a fantastic view of the Manhattan skyline.
15. Chinatown 
I have since visited quite a few Chinatowns around the world. The one in Bangkok is the coolest so far, but Chinatown in New York almost beats it.
Here you feel like you've come to another country – and it's not just in a single street or two.
Chinatown in New York stretches over a large area, teeming with Chinese people, restaurants only with Chinese writing and generally many strange shops, where you feel very far from the United States.
Check out my short video from Chinatown (although the text is in Danish I'm sure you'll get a feel for the area):
A cool and exciting thing to do in New York. And by the way, Chinatown is super well located – almost right "below" Soho, where most tourists pass by at some point.
So come on down and experience Chinatown; I'm sure you won't regret it. And it's free! 😀
I highly recommend Whiskey Tavern if you're looking for a nice place to get a couple of beers in the area.
16. Little Italy – touristy but charming
Just north of Chinatown, we find another area dedicated to a country far from the United States, Italy.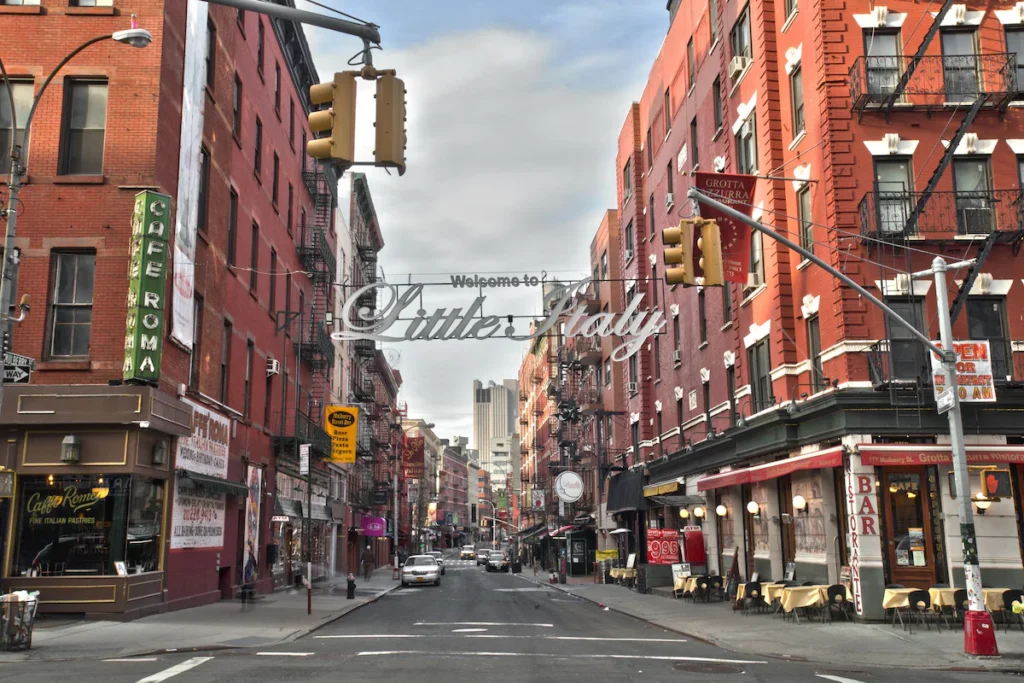 Little Italy is different from Chinatown, and I've got to be honest here; it is a very touristy area where you have to be careful not to end up in a tourist trap of a restaurant.
However, it is quite fun to wander through the streets of Little Italy, which are markedly different from other areas of Manhattan.
However, remember to check Yelp, Google or Tripadvisor before entering a restaurant – there are so many good places to eat in New York, so it would be a shame to end up in a tourist trap where they serve bad food at high prices.
17. Soho – cosy side streets and good shopping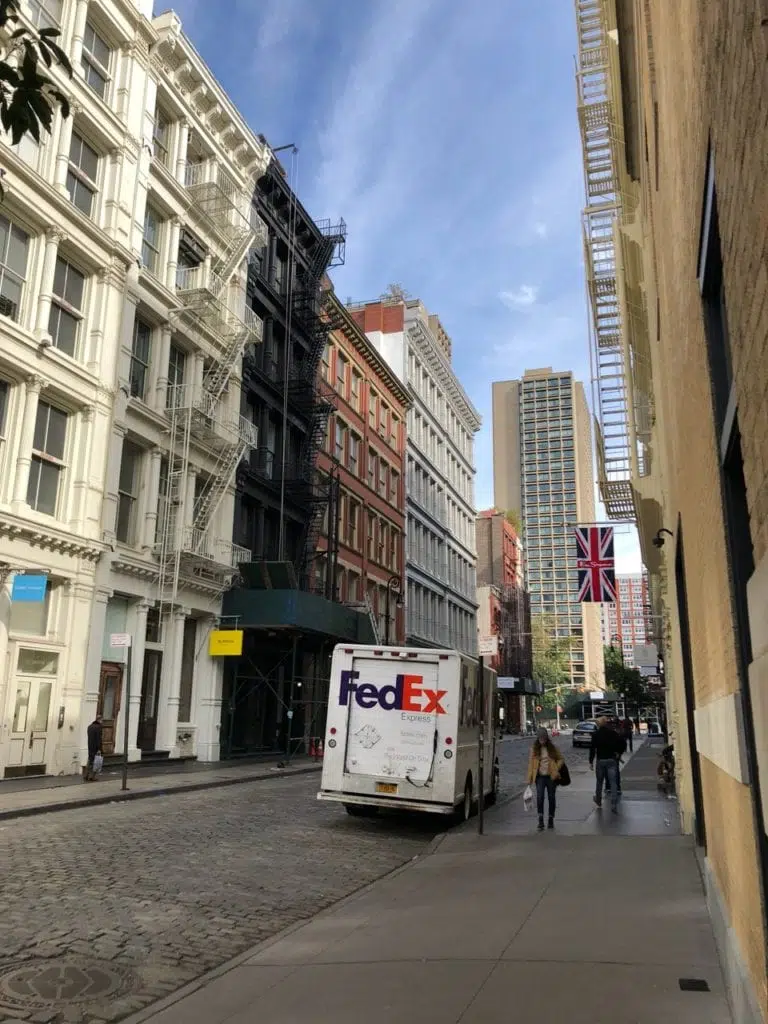 I touched briefly on Soho earlier in this travel guide and recommend visiting the area.
If you're going to be shopping on your trip to NYC, you will probably naturally gravitate towards Soho, as there are many good shops in the area.
However, I especially love the side streets around Broadway. Here you find the beautiful cobbled streets with the classic New York fire escapes, small cafes and cosy shops.
Soho is just a great, cosy area and one of the areas I recommend staying in when you're going to New York.
18. Flatiron Building – an Instagram paradise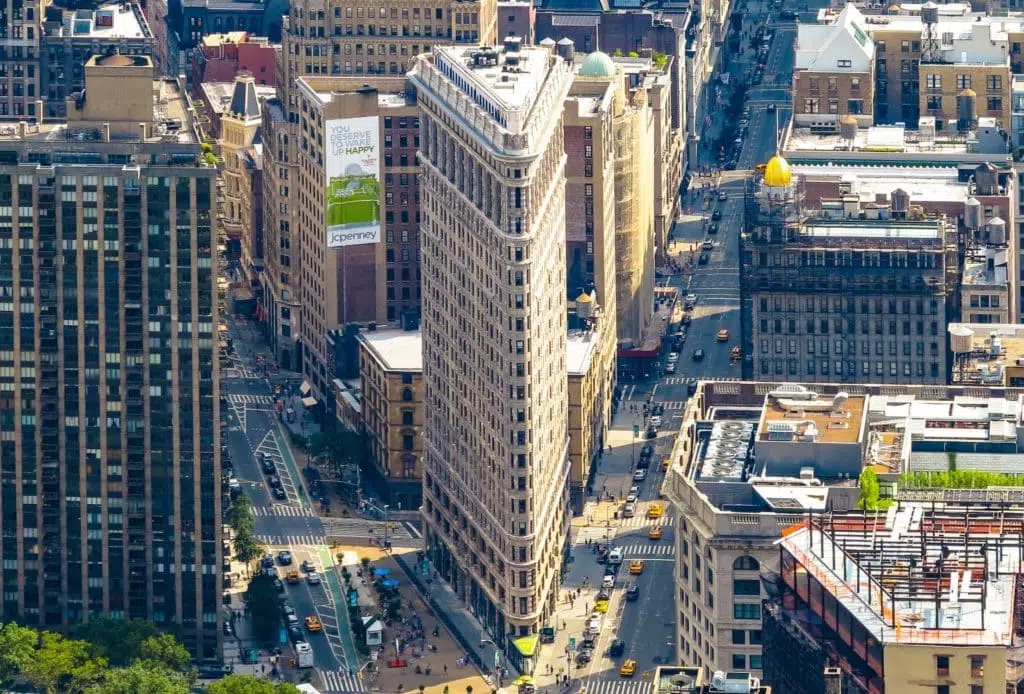 There isn't much to tell about the Flatiron Building – just check out the picture above (or read the building's history here), and then you know what it's all about.
If you need an excellent photo for your Instagram or want to see beautiful, iconic buildings, then you should stop by the Flatiron Building in New York.
Fortunately, it is also a building located in an area where many tourists would still pass by.
19. Roosevelt Island Tramway
This is one of the more extraordinary things to do in New York, and very cheap. You can use your Metrocard to ride on the Roosevelt Island Tramway, a ski lift that takes you from Manhattan to the small Roosevelt Island in the East River.
The video above actually tells everything you need to know before taking the Roosevelt Island Tramway, so I won't write much more 😀
Please note that you cannot pay with cash – only Metrocard. Read more practical information here.
20. East Village & Lower East Side – best area for local vibes
The East Village and Lower East Side are my favourite areas of New York (closely followed by Williamsburg). The two areas exude history, beautiful buildings, and just another feel to them than elsewhere in Manhattan. You truly feel that locals are living here.
While I previously mentioned Soho as a good area (it is!), the East Village and Lower East Side are a little less populated by tourists, but on the other hand, these areas are packed with fantastic bars, cafes and restaurants.
If you want to go for a walk in the city with the cool New Yorkers, I recommend going on a pub crawl in the East Village.
Possibly start on the excellent Fool's Gold 😀
21. Sports in NYC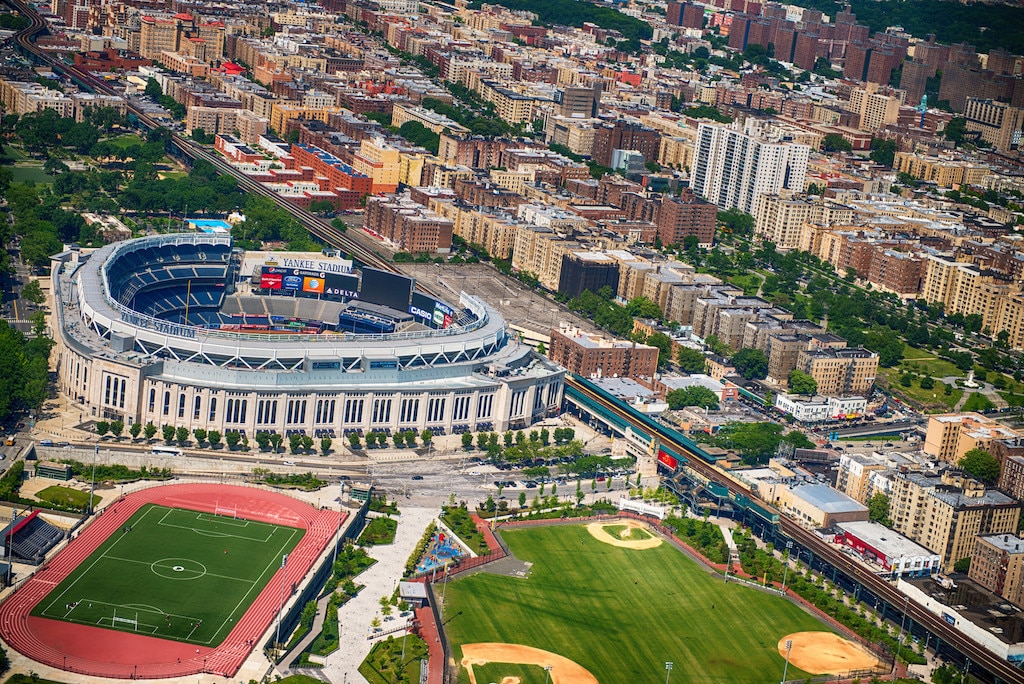 This is one of the things to do in New York you can quite easily forget. When we travel to New York, we are so obsessed with seeing as many things as possible that we (perhaps) forget that many big sporting and cultural events are taking place in the city.
Of course, baseball, basketball and ice hockey are some of the major sports.
Especially tickets for baseball are worth paying for, and it should be an incredible experience (I'm still missing my first visit to a baseball stadium) – think draft beer, hot dogs and a good atmosphere 😀
Take a look at the calendar for concerts, sporting events and cultural events.
22. Shows & Musicals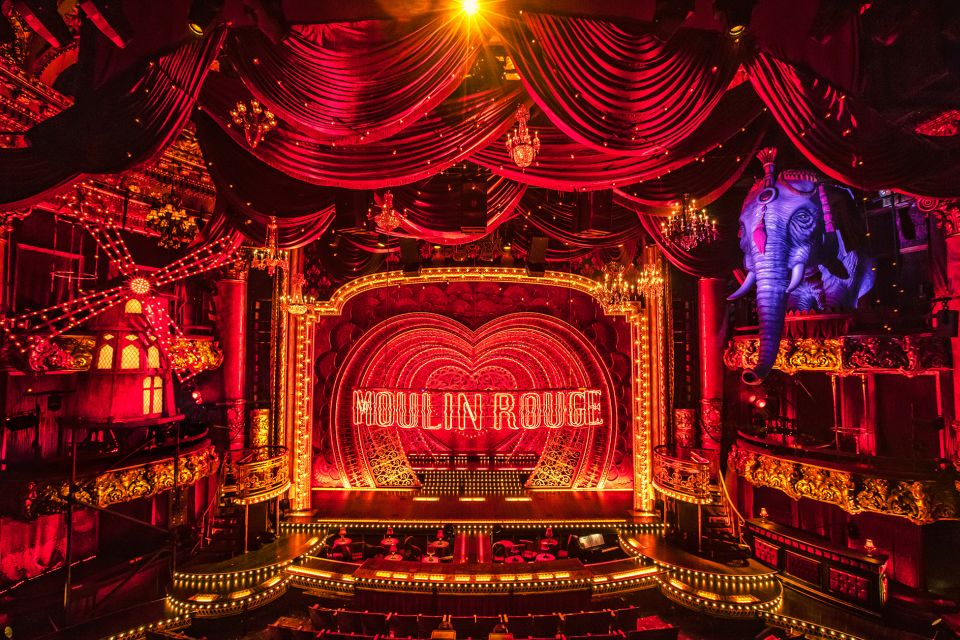 And then there are always the fantastic musicals on Broadway, where shows like Aladdin, Phantom of The Opera and the like are always running – get tickets for Broadway musicals and other shows in NYC here.
I hope you enjoyed this guide on the best things to do in New York City and that you're ready for your trip to the fantastic city in the United States.
If you've any questions about NYC or the things mentioned in this travel guide, please comment below, and I'll help you.
Frequently Asked Questions about New York
Below I answer several questions about New York that travellers often ask.
What are the must-do's in NYC?
You have to experience Times Square, the Brooklyn Bridge, the Statue of Liberty and Central Park, as they are some of the city's most famous sights. However, New York offers many other exciting experiences, and there is enough to see for many trips. In this guide, I tell you more about the well-known must-see attractions and give my recommendations for the lesser-known things to do in New York.
What to do in NYC with children?
There are plenty of great experiences for people of all ages in NYC. Times Square is full of child-friendly experiences and just walking around the square with all the costumed Disney characters is an experience in itself. I mention Central Park Zoo, Roosevelt Island Tram, and many other child-friendly experiences in the guide.
When is the best time to visit New York?
Spring is the best time to visit New York. The winter in New York can be freezing, and it's not uncommon for the city to be covered in snow. Spring, however, comes early, and April is a great month to travel to NYC. Summer in New York quickly becomes very hot, and the locals tend to escape the city in July when it can be +25 degrees celsius.