Where to stay in New York City? The question comes up once you have your plane tickets under control and start checking prices on hotels in NYC.
In this guide, I tell you more about the city's best areas and recommend hotels in New York that are centrally located in good locations.
I'm a Danish travel blogger who used to have a travel agency that did tours to New York City – so if you're still unsure where to book your hotel after reading this guide, please comment below, and I'll try and help you out.
The post here is long but requires research and planning before choosing where to stay in NYC.
So grab a cup of coffee – I promise that the guide below will make you more knowledgeable about the best areas of New York and that my hotel recommendations can help you find an excellent place to stay in 'The Big Apple'.
Are you busy?
Soho is the best area in New York and is always a safe choice if you want to stay centrally and close to everything. See the best hotels in Soho here.
Best areas in NYC
The best places to stay in New York City for most tourists are:
Soho
Lower East Side & East Village
Chelsea
Williamsburg
1. Soho – the best place to stay in New York ⭐️
Yep, I just chose the best area in New York. Soho is located in Manhattan's Downtown, and many also call Soho 'the real New York'.
I love Soho, which combines many of the good things I like about New York. There are, of course, many people here, as there are everywhere in the city, but it does not feel as intense as further north in Manhattan.
Check out the best hotel deals in Soho.
There are still many small side streets where you can sneak down and then be rewarded with finding an excellent coffee shop.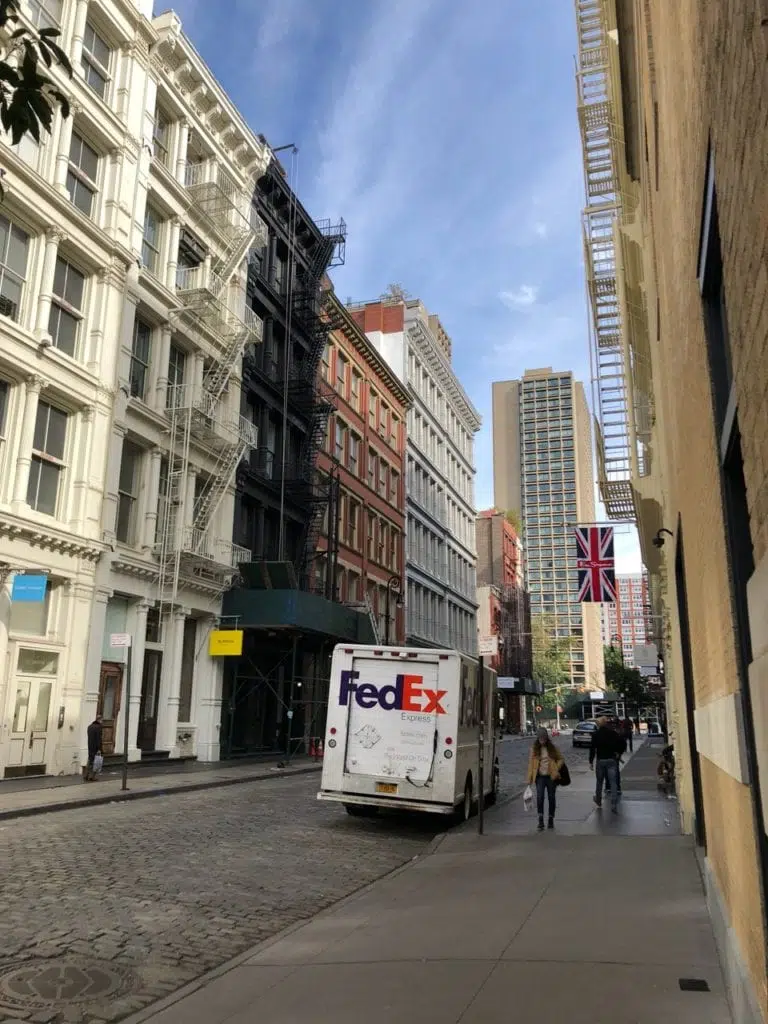 There is also Broadway, where the shopping opportunities are eminent – just ask my girlfriend, who could spend many days just shopping in Soho 😀
Soho is a safe area, by the way; there are a lot of tourists here, but it's not annoying.
In Soho, as mentioned, there are also pleasant side streets with little traffic, and you can just wade around and enjoy the lovely buildings.
Watch a short video from Soho below to get an impression of the area – the guide continues below the video:
Incidentally, Soho is right next to Little Italy and Chinatown – both are must-see areas and places to go in New York.
Another good thing about Soho is that there are several Subway lines to choose from here, which means that you can easily and quickly get around to the other parts of the city, both in Manhattan and Brooklyn.
It's also easy to get to/from Newark and JFK airports, so it all just works – also with the practical details that matter a lot on your trip to New York.
I am a fan of Soho and would like to recommend finding a hotel in the area.
Nice hotel in Soho – citizenM New York Bowery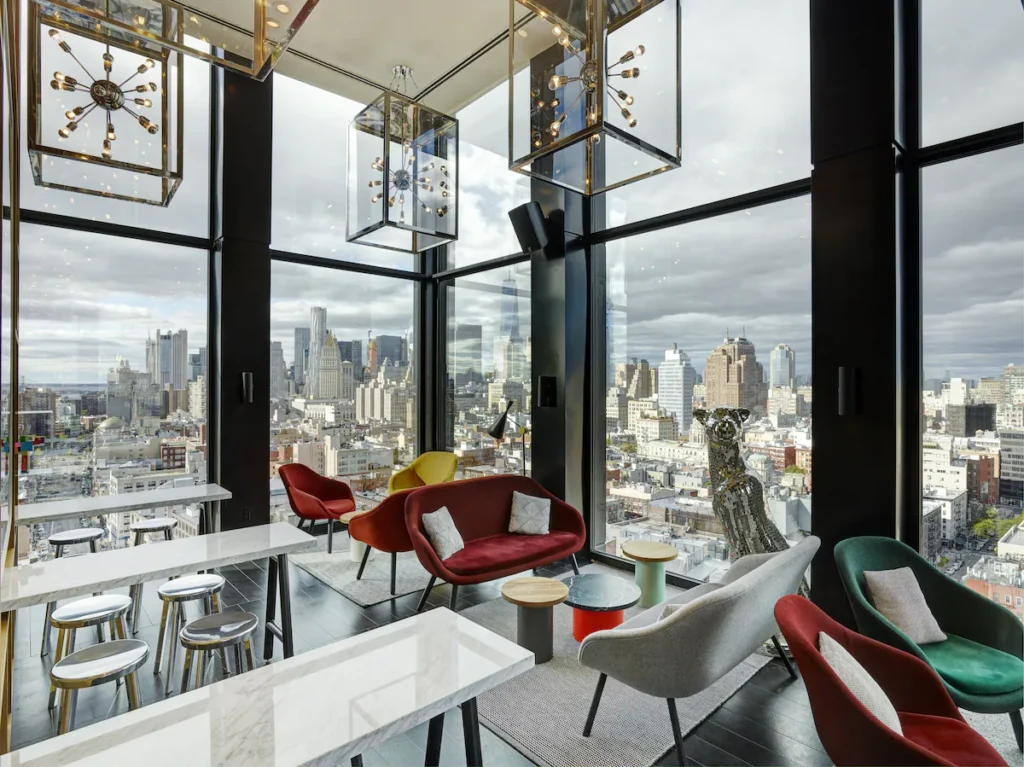 The hotel has this cool bar attached, so you also save the trip to the Empire State Building if you stay here 😀
And then to a somewhat different hotel, the fantastic citizenM New York Bowery.
It is a new hotel that opened its doors in September 2018 – if you look at the reviews from the guests of the place (the hotel gets a score of 9.6 out of 10), it must have been an excellent idea to open this hotel.
Here you get a super-modern hotel in Soho; actually right in the area I like best, east of Broadway towards the Lower East Side right off the Bowery Subway St. In my eyes, it doesn't get any better in terms of location in New York.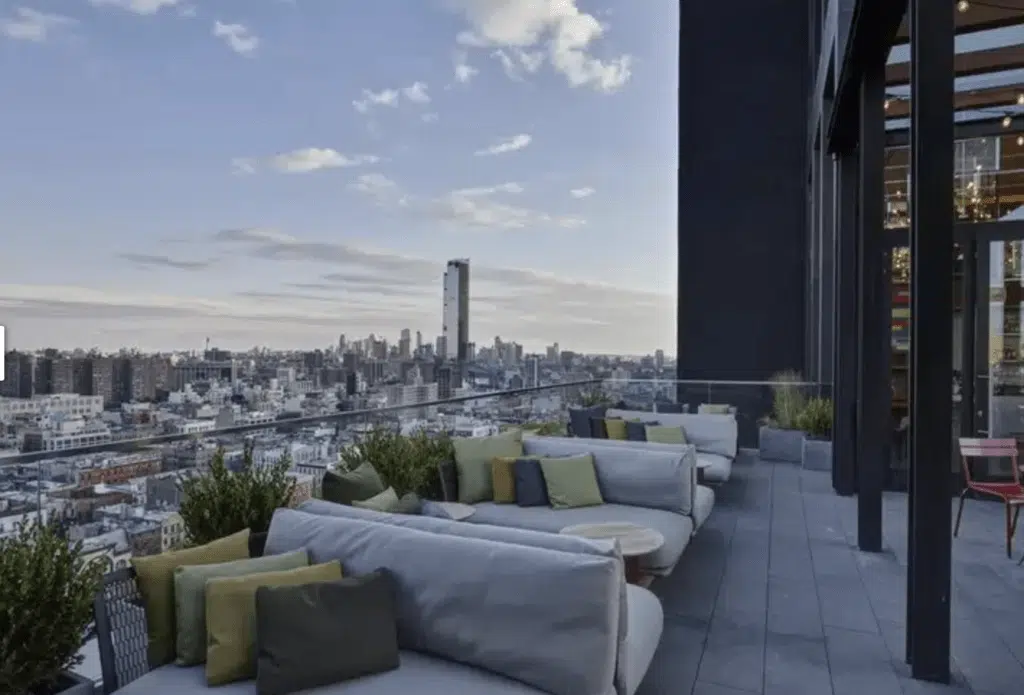 I honestly don't have much else to say about this hotel – if you're looking for a good hotel in Soho, book here. There is a cool lounge/bar in the reception area, free wifi and even an (almost) rooftop bar with a formidable view of the city (see more photos from the hotel at the link below).
The price is actually surprisingly low, but of course not cheap as it is a brand new 4 star hotel in New York City.
See more photos and book the hotel here.
NoMo Soho
NoMo Soho could also be mentioned in the same ballpark.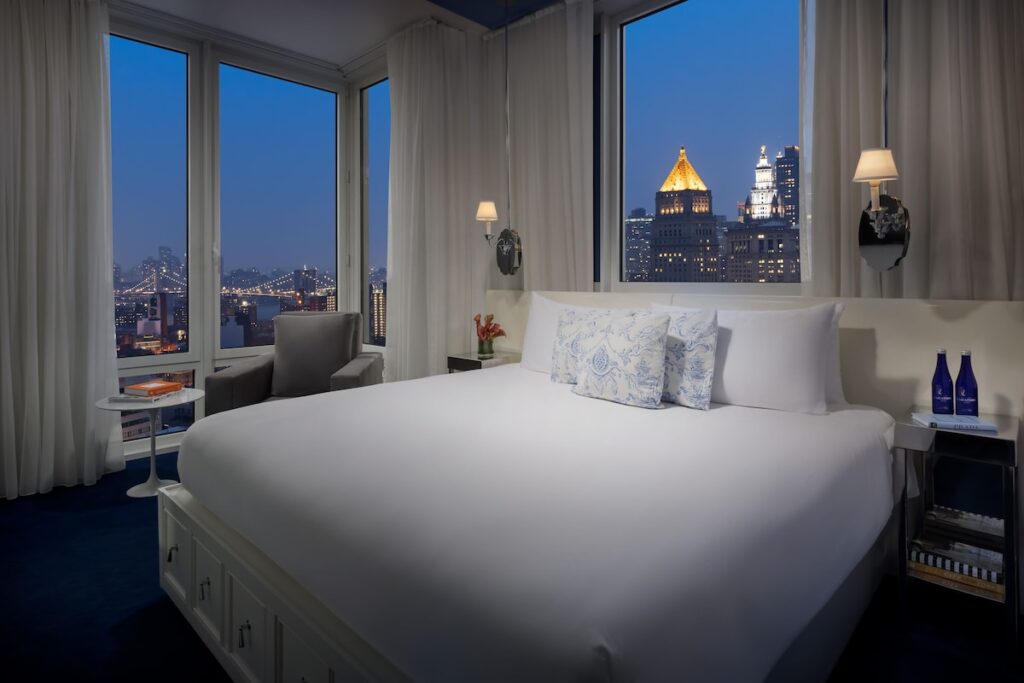 There are slightly more rooms here, the hotel has half a star more and the price is also just a few percent higher. Again a hotel with a perfect location in Soho, incredibly good reviews and a very modern interior.
It is a slightly larger hotel with 263 rooms, two bars and a restaurant. The advantage compared to citizenM is that NoMo has a large number of different room types.
So if you e.g. are a family with children traveling to New York, you can book into a room type with room for the children.
See more about NoMo Soho and book the hotel online here.
2. Lower East Side & East Village – stay here for the best vibes in Manhattan
On my first trip to New York, I stayed in the Lower East Side (right on the border with the East Village) and was sold immediately.
Here you stay in New York without feeling trapped in a 'Disneyland New York' – understood in the way that NYC (and all other big cities) can feel a little fake if you are in the most touristy area.
It's not the case with the Lower East Side or East Village. There is a vast selection of good restaurants, bars and cafes in these areas.
See current offers for hotels in the Lower East Side.
Again, a small video showing the East Village and Lower East Side, so you can get an impression of the area – the guide continues below the video:
While Soho is undoubted quite a touristy area (though not in a bad way), the Lower East Side and East Village feel much more like an area with a local feel in New York.
The Lower East Side also has plenty of classic New York fire escapes.
I would recommend all types of travellers to stay here, but it might be perfect for young people who also want the opportunity to have a few drinks at a super cool local bar – and come home with a good story from an area where the neighbour may not have been recently, even if he has been to New York several times 😉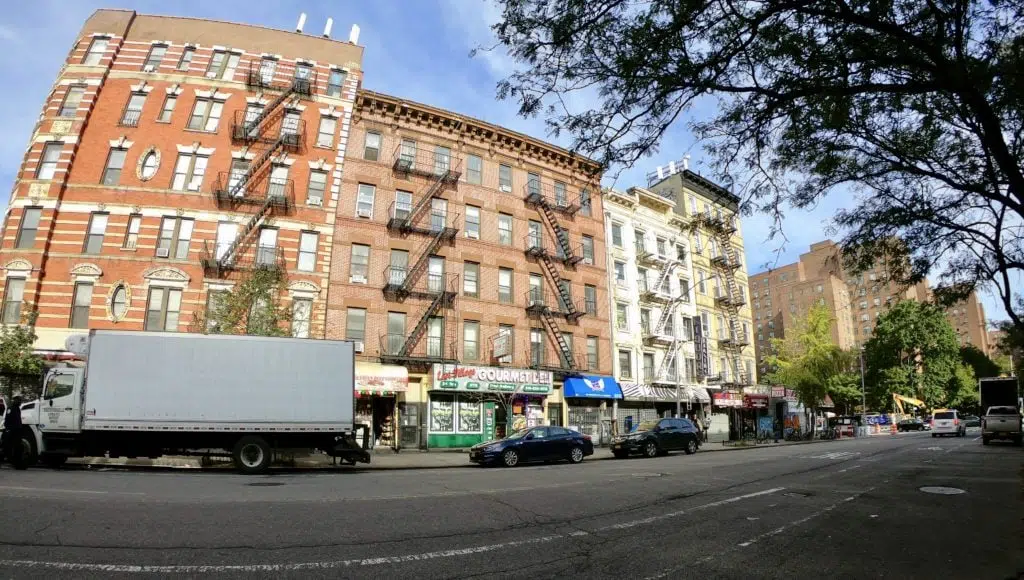 "LES" is one of my favourite areas in New York and, without a doubt, the first place I look for cheap hotels when I go to the city. The area is within walking distance of Soho, so you are close to all the excellent shopping opportunities, but you are also away from (most of) the tourists.
Incidentally, LES is also close to Williamsburg, an exciting area that you should visit on your trip to New York – more about Williamsburg later…
The Lower East Side is an excellent place to stay on a city break in New York.
Have you seen my guide to the best things to do in New York City?
Cheap hotel in a good location – The Ridge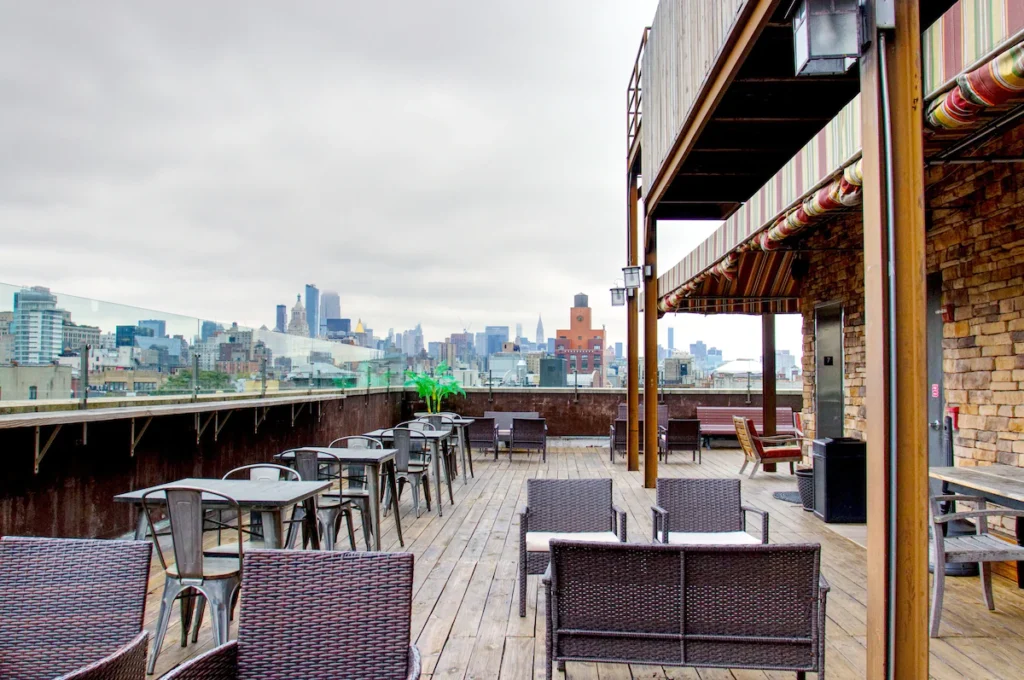 I stayed right next door to The Ridge on my recent trip to New York, so I can attest that the location is excellent.
The hotel also gets excellent reviews (8.2 out of 10) and looks like an awesome offer for a good but affordable hotel in New York.
The hotel is located on East Houston Street, which divides the Lower East Side and the East Village, so you are right in the middle of two of the best areas of New York.
In addition, you are only 2 minutes by subway from Soho (or a 5-10 minute walk, depending on how you define the 'border').
As such, the hotel is not fancy; it is a 3-star hotel with nice rooms, a private bathroom and a prominent location.
And as a side note, I can mention that one of the city's best bars (if you ask me), Fools Gold, is a stone's throw from the hotel 😀
If you are looking for a cheap and good hotel in a great area, have a look at The Ridge – not to be confused with The Ritz in London 😀
See more and book online here.
Hotel Mimosa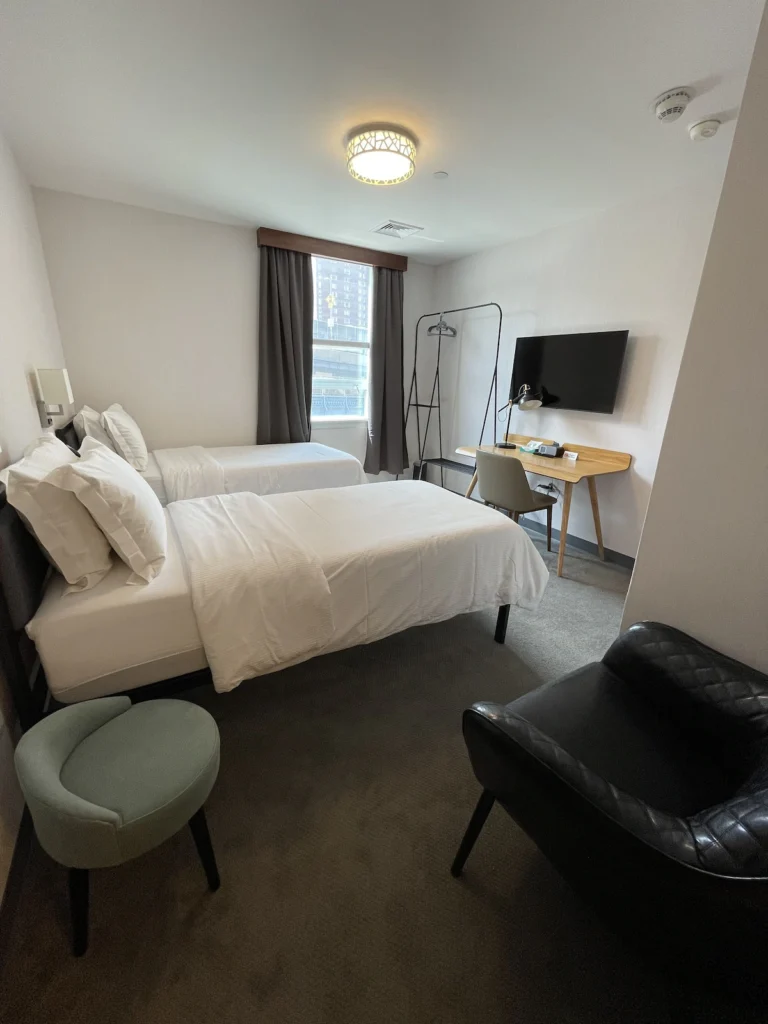 A similar hotel (cheap & good) is Hotel Mimosa, a little further south in the Lower East Side – right next to Chinatown, Little Italy and Soho.
It also gets good reviews (also 8.5 out of 10) and has some charming rooms.
See more photos and book online here.
Luxury hotel with rooftop bar and room view of the NYC skyline – Public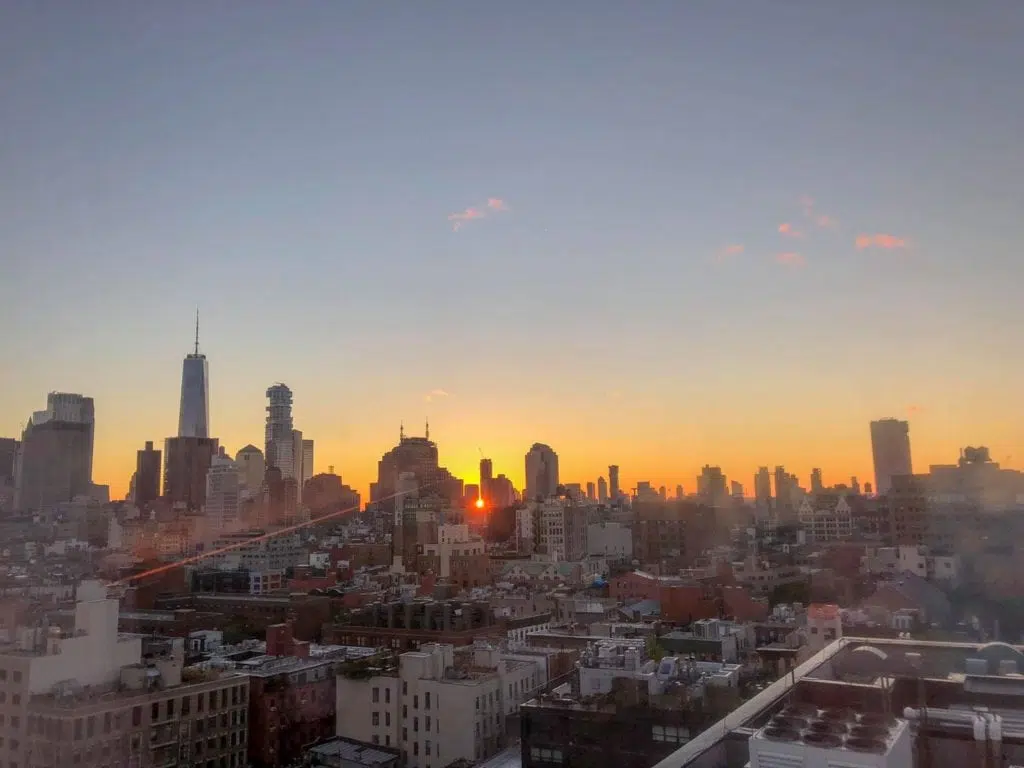 I had a single night at Public when I recently travelled to New York. It was a memorable experience because this is a well-executed, fabulous hotel.
The Public Hotel was designed by Ian Schrager, who has been one of New York City's local heroes since 1977 when he became known for Studio 54.
The aim of Public has undoubtedly been to create a beautiful hotel for those who have the wallet in order – because it is not exactly cheap to spend the night here.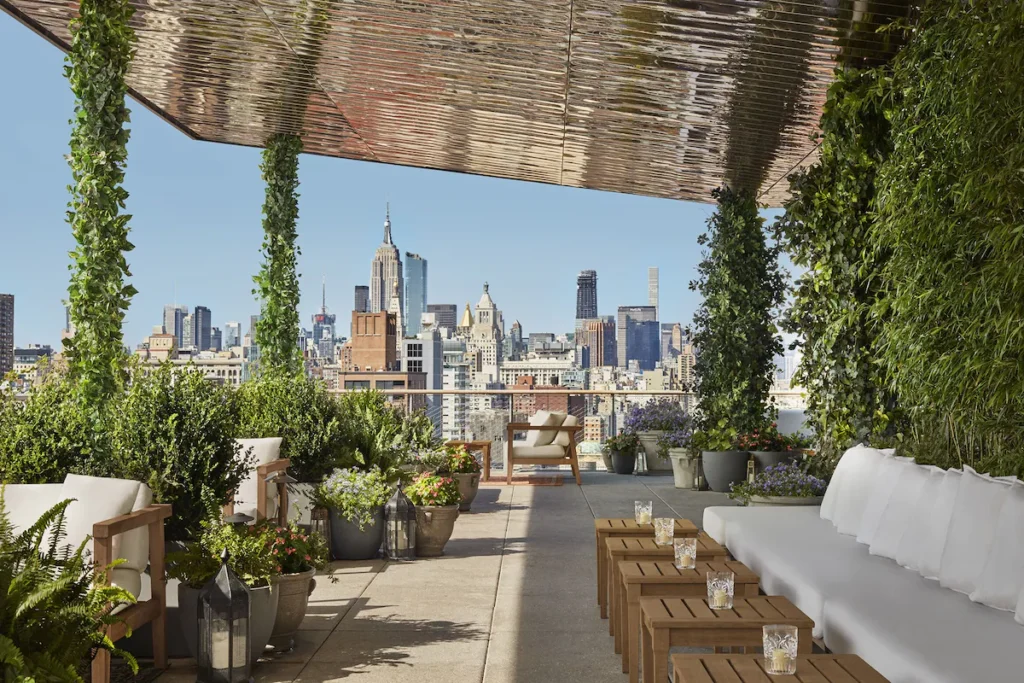 There is a rooftop bar, the possibility to book rooms with extra good views, and several bars, cafes and restaurants. So it is a massive hotel with almost 400 rooms.
The rooms themselves are brand new and modern, but the bathroom itself was a bit strange – the sink was, for example, not in the bathroom, but out in the room itself…
A little weird, but nothing to stop you from staying here if you're considering this.
See more about the hotel and book online here.
3. Chelsea – stay in a classic New York area
Chelsea is not an area I know very well, but despite my limited acquaintance, I can still recommend staying here on a trip to New York.
Among other things, we find one of New York's most special sights; The High Line. The High Line is an old railway that now functions as a footpath raised several meters above the busy streets.
Check out the best hotels in Chelsea here.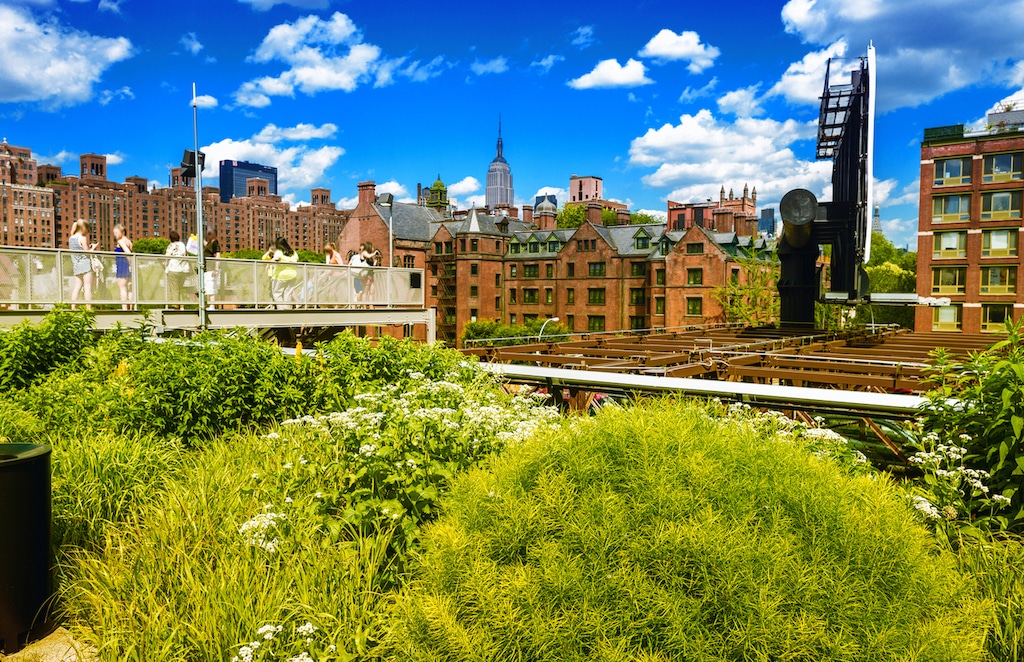 It's fantastic that you can wander around and enjoy the view of the hectic city life.
At the end (or beginning depending on where you start), at the southern part of The High Line is another reason to stay in Chelsea, Chelsea Market.
Chelsea Market is an exciting market with food, vintage clothes and various hawker market-like shops/stalls. Super cool and a place you can spend many hours.
Of course, we also have to have a video showing Chelsea:
I still need to explore Chelsea in detail, but I would definitely consider staying here on a future trip to New York. The Flatiron District, just east of Chelsea, is also an excellent area with many cool shops.
Cheap place to stay in Chelsea – Chelsea Savoy Hotel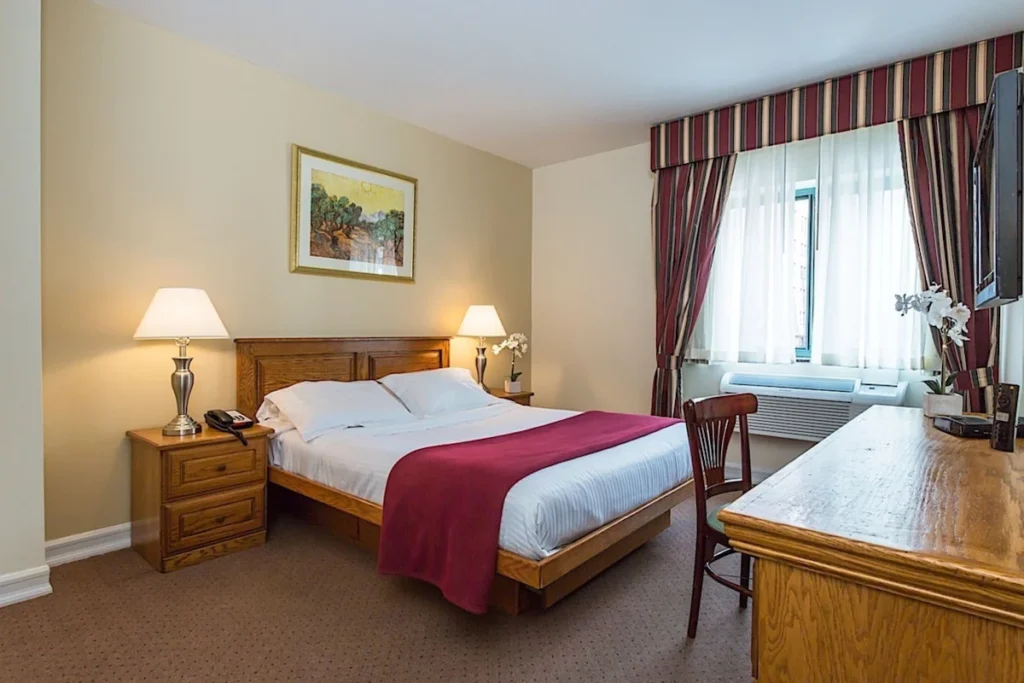 Chelsea is not a cheap area, but I have found a hotel that can be booked relatively cheaply – by NYC standards.
It's called the Chelsea Savoy Hotel and has an excellent location close to, among other things, 5th Avenue, Madison Square Park and the Flatiron Building, all of which should be passed by when visiting New York.
It's a 2-star hotel, but it gets great reviews (8,6 out of 10) and looks like a wonderful little hotel for those who want to save money on their stay in NYC.
Read more about the hotel and book online here.
Hampton Inn Chelsea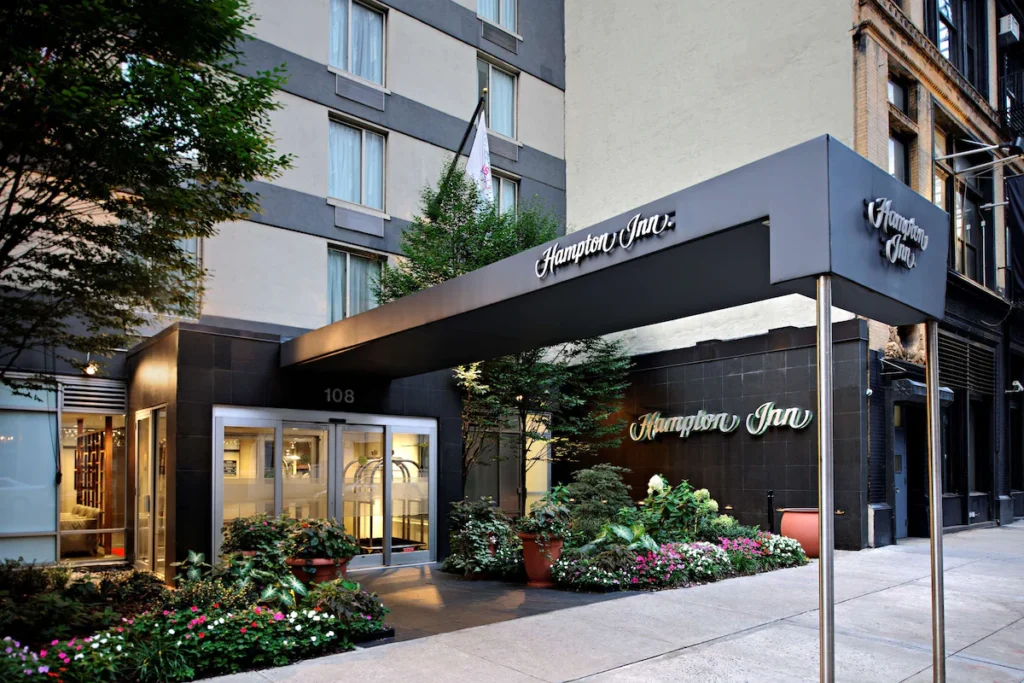 If you want to stay in a hotel that is a bit more luxurious but still on the low end of the price range, look at the Hampton Inn Manhattan-Chelsea.
Here, there is also the option of choosing rooms with two double beds, so it can quickly become quite a cheap place to stay in New York City for families with children.
4. Williamsburg – the coolest place to stay for trendy travellers 😎
Williamsburg is the only area on my guide on the best places to stay in NYC, not in Manhattan, but it has topped the charts for the coolest area in the world for many years, so it's not like you're arriving in a complete mecca without tourists.
However, Williamsburg has a feel I have yet to experience in Manhattan.
In Williamsburg, you will find countless cool coffee shops, and the best vintage shops, and in general, there is just a more chilled atmosphere here than in Manhattan. It's a very cool and trendy area, so there's an insane amount of hipsters and some extremely cool bars.
Check out the best hotels in Williamsburg.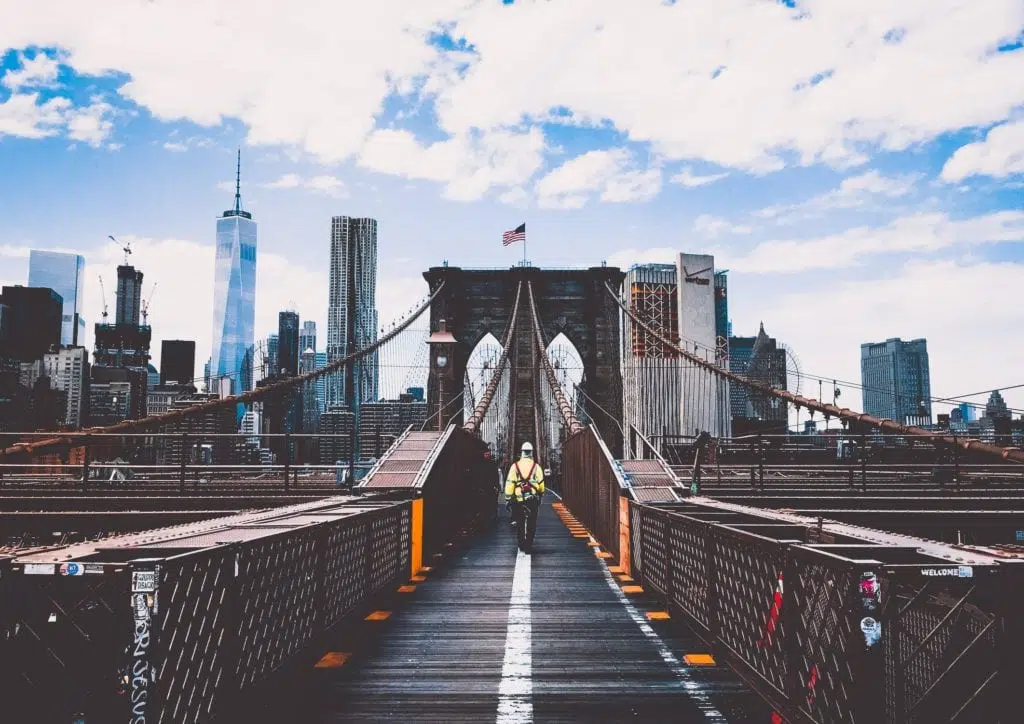 But let's get straight to the point about hipsters – because what exactly is a a hipster area?
In Copenhagen, it's Vesterbro, but it's also Vesterbro that all tourists want to experience. Likewise, in London, where all young people flock to Shoreditch. In Berlin, it's… all areas of Berlin 😀
When an area is named a 'hipster area', it's just because there is a good mix of bars, shops and restaurants – that's how I interpret it, anyway.
It also fits perfectly in Williamsburg, where I felt right at home, and I don't see myself as a hipster in any way…
Let's take a little video from Williamsburg here:
There are several subway lines from Williamsburg to Manhattan, so you can quickly get 'into the city'; on the other hand, it is typically cheaper to stay in Williamsburg compared to Manhattan.
So if you're a super trendy hipster, you can choose to find a hotel in Williamsburg on your trip to New York 😀
Cheap hotel in New York's cool area – Pod Brooklyn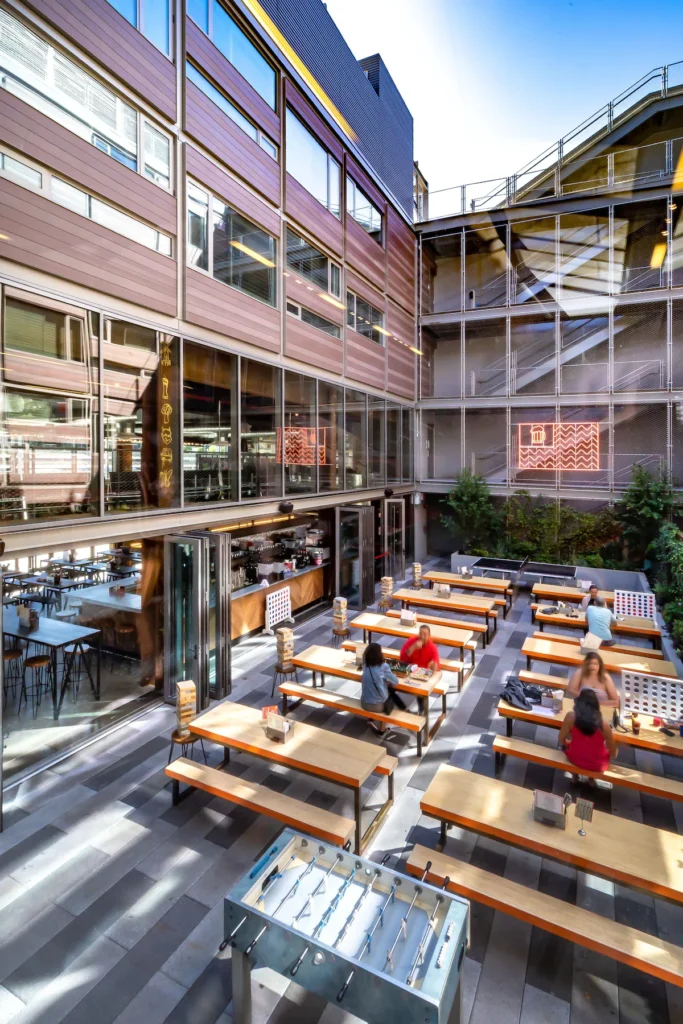 The pod hotels are located in several New York places, but the Williamsburg hotel is (according to my research) somewhat cheaper than the others. As the name suggests, this is a tiny room with a bathroom and a very low price compared to more traditional hotels in New York City.
Pod Brooklyn has a near-perfect location in Williamsburg, so if you're okay with staying in a tiny room, consider booking this place to stay in NYC.
Pod Brooklyn scores a whopping 8.8 out of 10 on satisfaction from previous guests, and several tell good stories about a very modern hotel.
Hotel with rooftop pool in New York City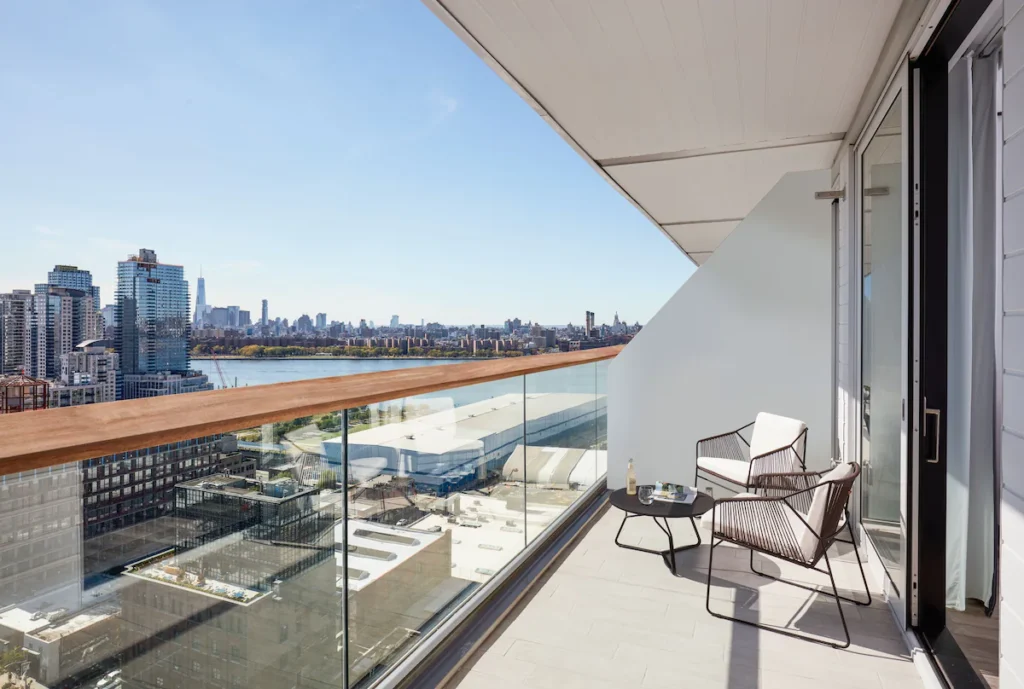 One of the most incredible hotels in Williamsburg has to be The William Vale Hotel.
I stopped by and checked it out myself when I was sneaking around in Williamsburg, and it is an impressive hotel with 5 stars and scores top marks in reviews from previous guests.
There is even a swimming pool with a view of the Manhattan skyline, so you expect it to be expensive. However, it's not crazy expensive – because we are still 'out' in Williamsburg, it is cheaper than similar hotels in Manhattan.
If you are looking for an amazing hotel with a rooftop pool in New York, I think this is the place to book.
If there is room in your budget for one or more nights here, then it is worth all the money – especially in the summer, when you can enjoy the pool.
See more photos and book online here.
I hope you enjoyed this guide on the best areas and places to stay in New York City.
If you've got any questions about your trip to New York please comment below.
You can read all New York City travel guides here.
Frequently Asked Questions about areas in NYC
What is the best area in New York?
The best areas in NYC are Soho, Chelsea, Lower East Side and Williamsburg. Those are my preferences, but you could choose a hotel in places like Tribeca, East Village, or Midtown.
As long as you stay in Manhattan or Williamsburg, you are more or less 'home safe'. I would always choose an area in Manhattan south of Central Park.
How much are hotels in New York?
Hotels in New York City are expensive so expect to pay at least 150 USD per night.
How do I get from the airport to my hotel in NYC?
There are several airports in and around NYC, but most tourists from Europe will be landing at either Newark or JFK Airport. Public transport is available in both airports, but taking a taxi, Uber or Lyft will be the easiest mode of transportation.