On the hunt for the perfect stay on the popular Canary Island? Deciding where to stay in Tenerife can be crucial in ensuring your vacation is as relaxing, adventurous, or romantic as you dream.
With a plethora of diverse landscapes and atmospheres to choose from, the best places to stay in Tenerife are those that can provide you and your fellow travellers with an authentic and memorable experience.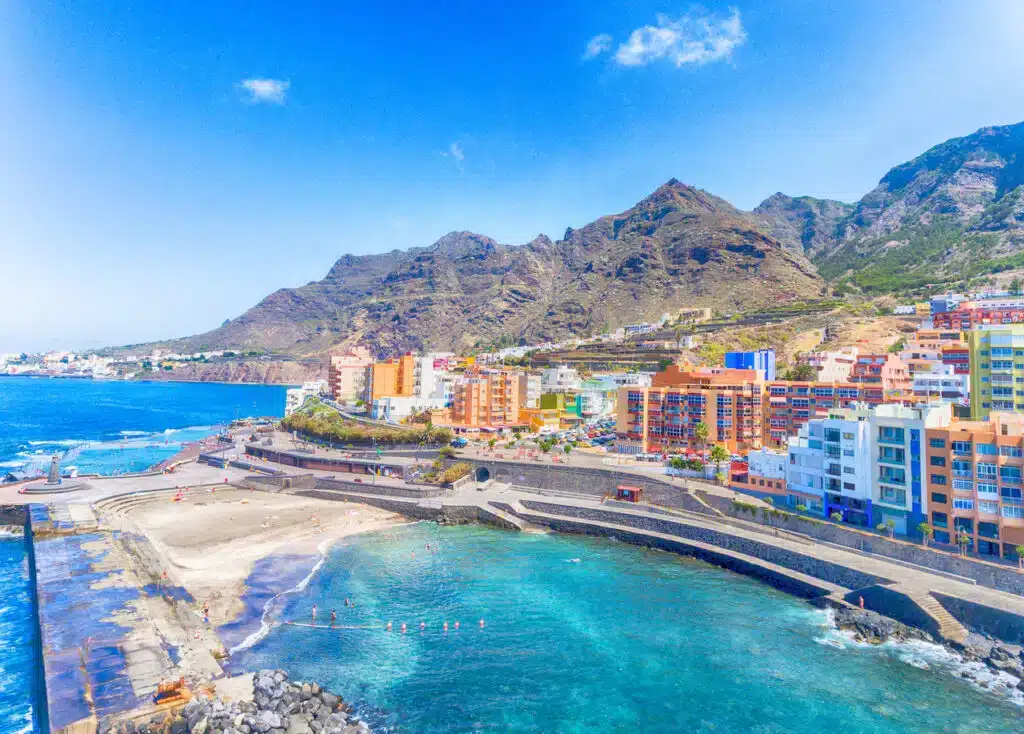 Below, I'll walk you through some of the best holiday areas in Tenerife and offer recommendations for hotels in various price ranges – especially selected for their location, great amenities, and value.
So, let's dive into the guide on where to stay in Tenerife.
Best Areas in Tenerife
If you're in a hurry or just want a quick overview, here it is:
Click on the area's name above to see current hotel offers in the mentioned areas in Tenerife.
The guide continues below, where I delve deeper into these areas and recommend places to stay.
1. Playa de las Américas – resort area with vibrant nightlife & lots to do 🏖️
If sun, sand, and lively nightlife appeal to you, then Playa de las Américas is an area you won't want to miss when deciding where to stay in Tenerife.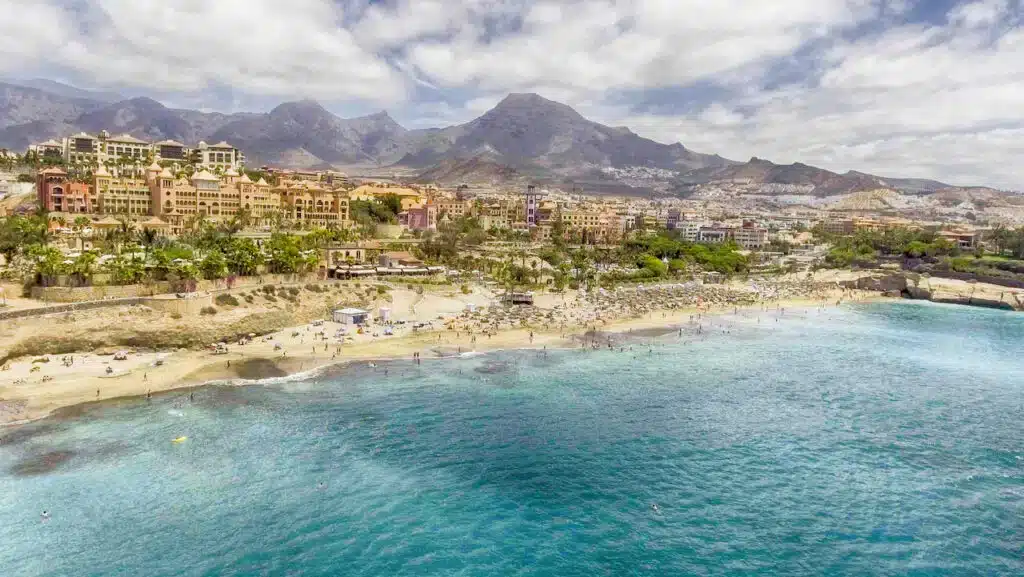 Located on the island's south coast, this holiday hotspot combines beaches with many activities appealing to visitors of all ages.
Moreover, it's in the southern part of Tenerife where you have the best odds of sunny and pleasant weather (especially during winter).
With a mix of black volcanic sand beaches and classic beaches, there's ample opportunity to find the perfect spot to relax with a book or take a refreshing dip.
Get a feel for the beach and the area here:
Playa de las Américas transforms into a bustling nightlife hub with bars, clubs, and restaurants offering various entertainment options as the sun sets.
Whether after a quiet evening with dinner and perhaps a glass of wine or a night of dancing till dawn, Playa de las Américas has got you covered.
See the best hotels in Playa de las Américas here.
Although the area is known for its party atmosphere, don't be mistaken: Families and couples looking for a more relaxed vacation will also find plenty to enjoy.
There's a range of water activities, shops, and family-friendly attractions, ensuring everyone in your group finds something they love.
Accommodation in Playa de las Américas ranges from luxury hotels with all imaginable amenities to more budget-friendly options that still keep you close to all the action.
So, regardless of your travel style and budget, there's a perfect place to stay in Playa de las Américas.
If you've been to Gran Canaria, this area resembles Playa del Ingles.
I'd also like to mention the area Los Cristianos, which has almost merged with Playa de las Américas but still has its unique vibe – located just south of the larger resort town.
Los Cristianos is for those seeking a more balanced and peaceful vacation with a taste of authentic Canarian life.
The town's former status as a quiet fishing village still shines through its cosy, slightly laid-back atmosphere.
Here, you can stroll along the tranquil promenades, enjoy a calm evening out, and even mingle with locals in the charming old town.
Los Cristianos leans towards a more traditional ambience, where you can enjoy the sunset from a peaceful café and experience a slice of authentic Tenerife.
Check out the best hotels in Los Cristianos here.
Places to stay in Playa de las Américas
Returning to the main town in this tourist-friendly part of Tenerife, I've selected some of the best hotels in the area for various types of travellers and budgets.
Let's kick things off with a genuine luxury hotel.
Europe Villa Cortes is right in the heart of Playa de las Americas, offering an unparalleled luxurious experience – it's arguably the most iconic hotel in this part of Tenerife.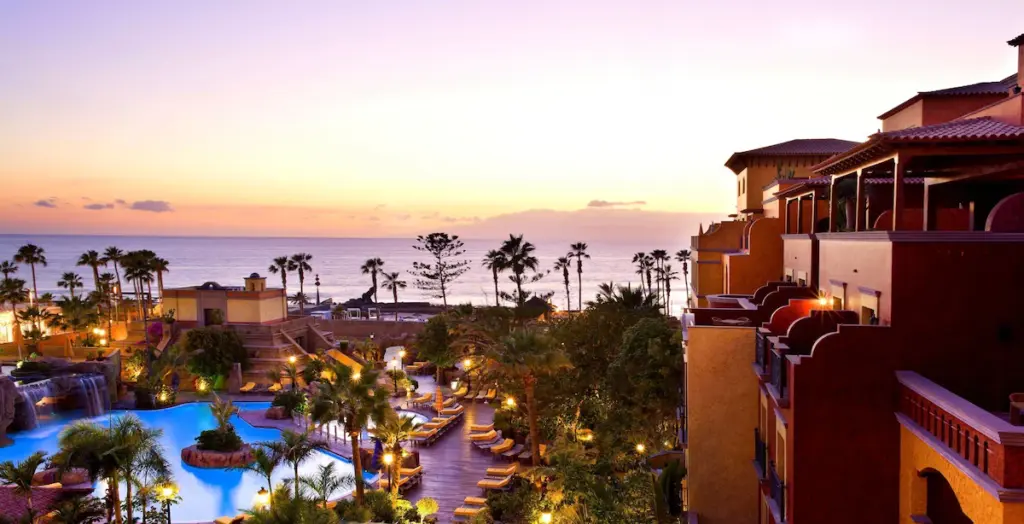 This 5-star hotel is a haven of tranquillity despite its central location.
The hotel ticks all the boxes for a dream vacation with direct access to the sea, an exclusive spa, and gourmet restaurants.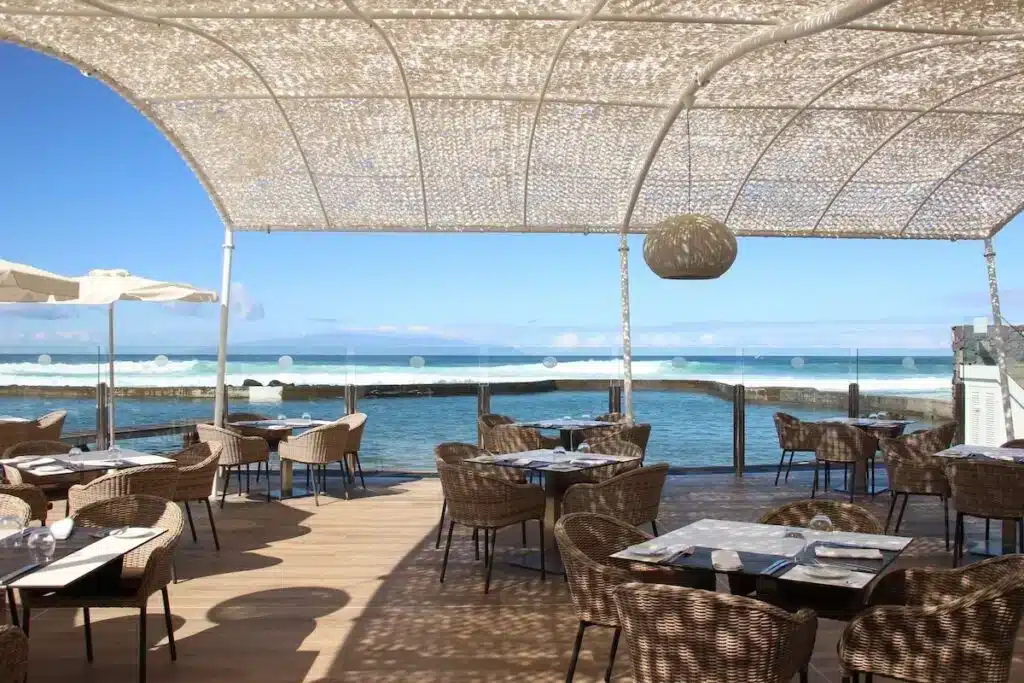 Past guests particularly praise the attentive service and the impressive facilities, while the colourful, Mexican-inspired architecture and decor also capture the hearts of visitors.
See more photos and book here.
Similarly situated on the beach, we have Cleopatra Palace Hotel, a paradise for those seeking sun, sea, and comfort in Tenerife.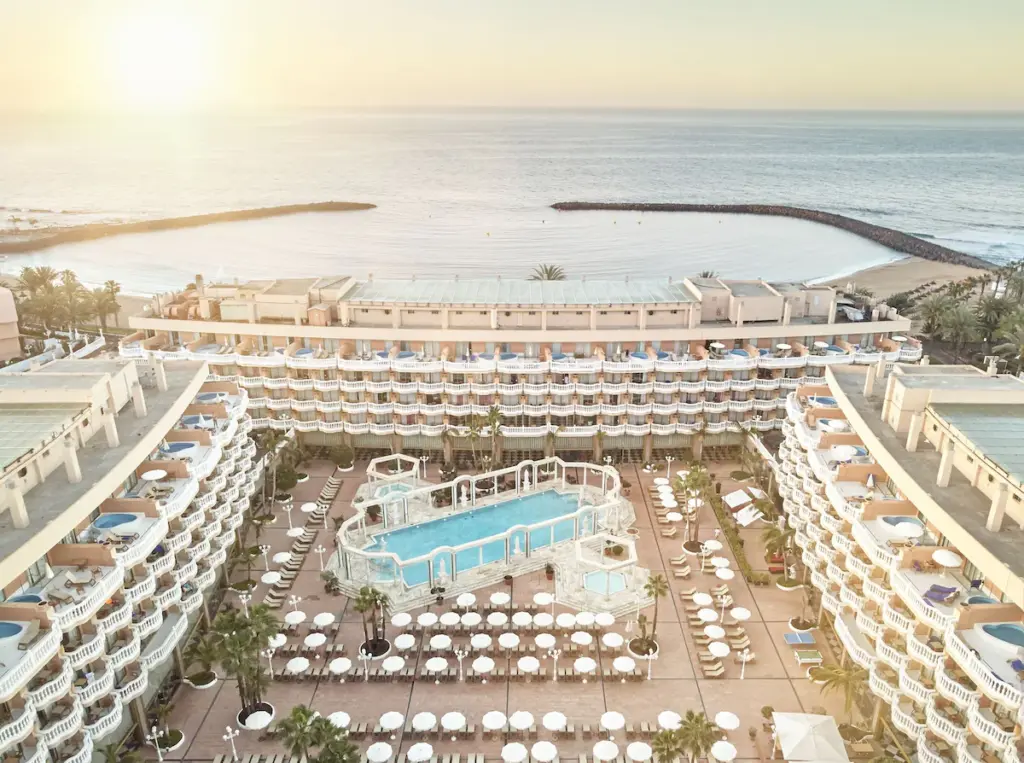 This charming 4-star hotel, with its architecture inspired by ancient times, promises an experience filled with luxury and relaxation.
Guests can enjoy the large pool, sunbathe on private terraces, and savour culinary delights in the hotel's restaurants.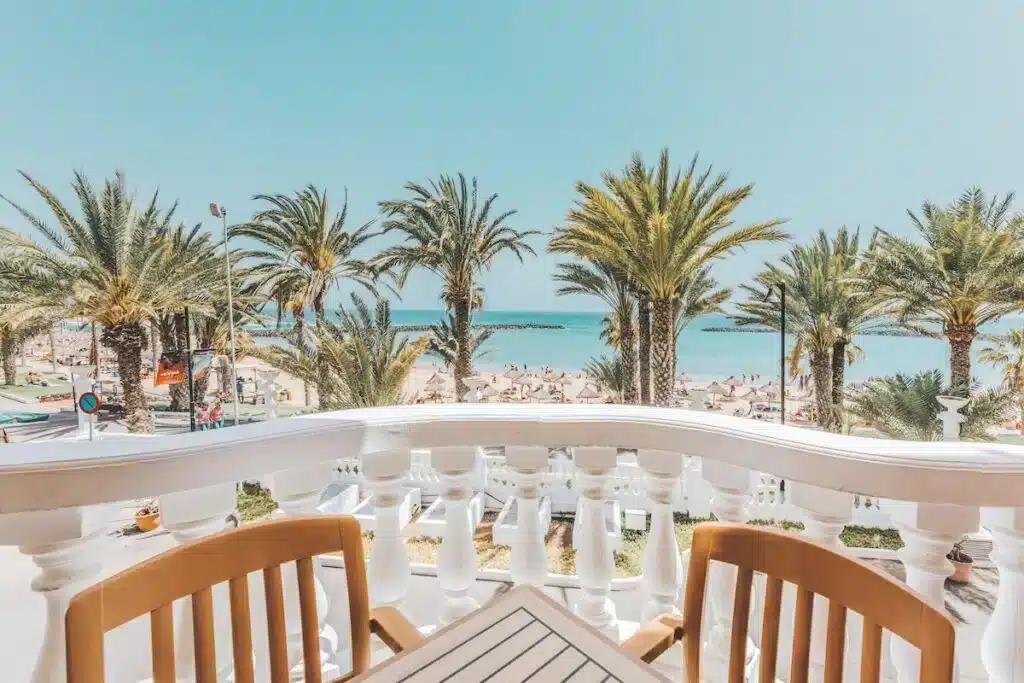 Reviews from former guests particularly highlight the excellent location and the welcoming service, while others mention the spacious and clean rooms as a significant plus.
See more photos and book here.
Next, let's consider a slightly cheaper hotel in the previously mentioned Los Cristianos area.
If you're seeking a peaceful stay a bit away from the hustle, Klayman Olivina Aparthotel in Los Cristianos is an excellent choice.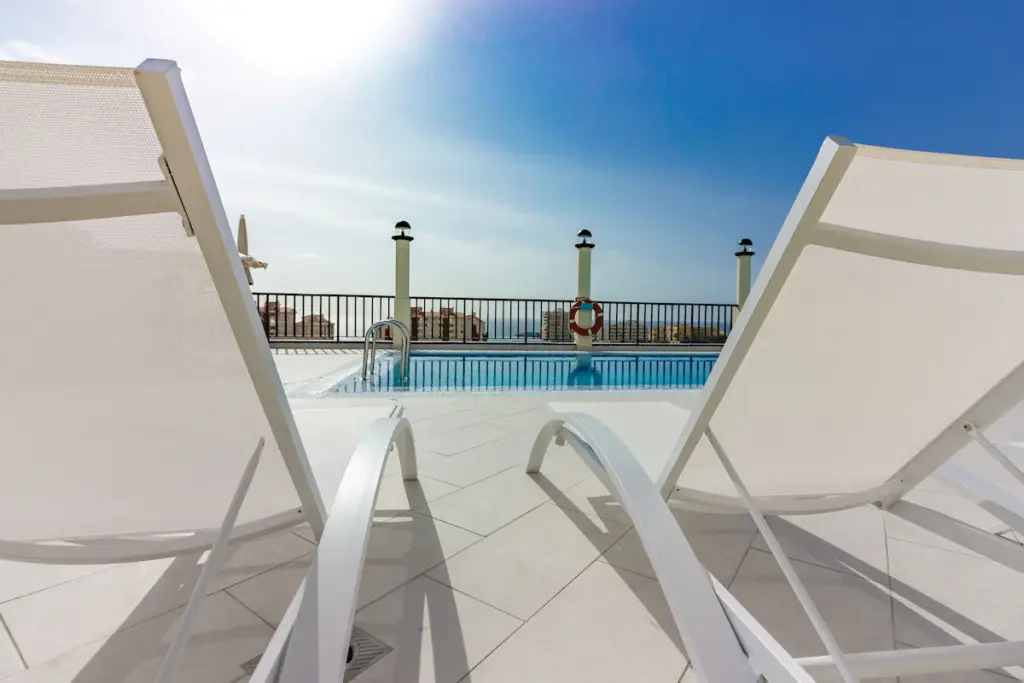 This cosy aparthotel offers the perfect mix of serene surroundings and proximity to various attractions and beaches that Los Cristianos is renowned for.
Former guests emphasize the friendly staff and the relaxing ambience, while some point out that, although the facilities are basic, there's excellent value for money and a comfortable base for exploring the island.
See more photos and book here.
2. Costa Adeje – Best Area for Luxury Hotels & Tranquil Ambiance 🏨
You don't need to travel far from Playa de las Américas to reach our next holiday destination. However, Costa Adeje still stands out significantly from the previously mentioned area.
Numerous lovely coves and beaches stretch along the entirety of Costa Adeje.
Even though it's just a short 10-20 minute drive between the two, the ambience in Costa Adeje is noticeably different, exuding a calmer, more refined experience.
Costa Adeje has made a name for itself as a locale where posh hotels, exclusive shops, and high-end dining establishments beautifully come together under the warm sun and gentle breezes of the Atlantic.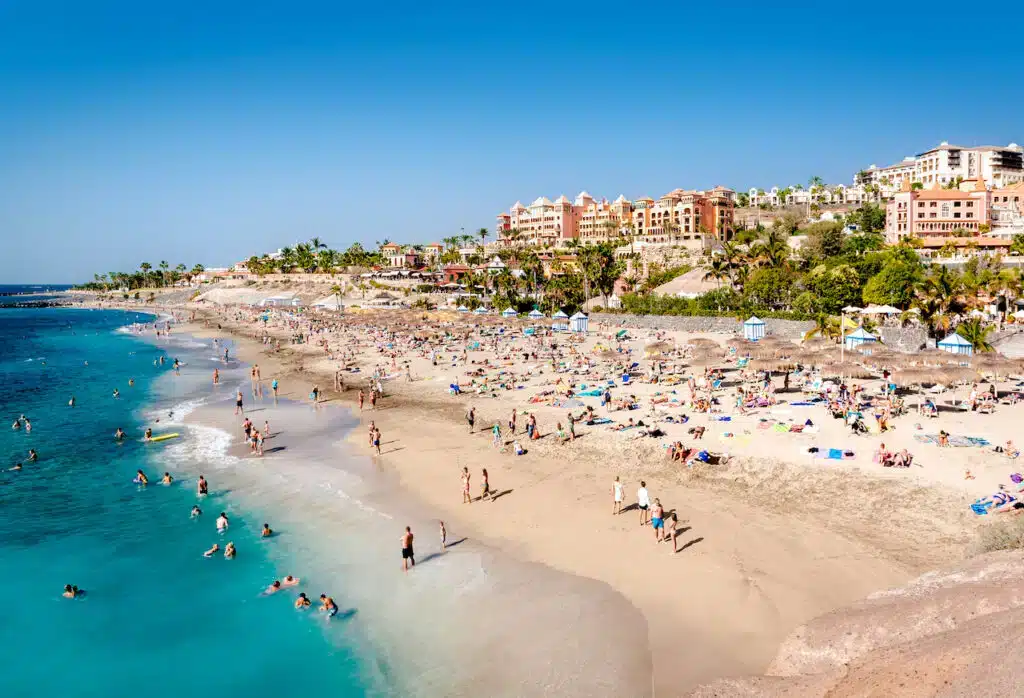 If your idea of a perfect holiday includes days at exquisite beaches like Playa del Duque, with its soft golden sands and blue waters, or afternoons spent browsing chic boutiques and evenings indulging in gourmet dining, then Costa Adeje is the ultimate place to stay in Tenerife.
Check out the best hotels in Costa Adeje here.
Here, holidays are characterised by quality and tranquillity, making the area particularly popular among couples, families, and travellers looking to indulge in luxury and relaxation.
You can explore the tranquillity and stunning views from the beach promenade, embark on boat trips from the local marina, or enjoy a day on the golf course surrounded by Tenerife's picturesque landscapes.
Costa Adeje also offers many fun activities, such as Siam Park, one of the world's top water parks, enjoyable for kids and adults.
Whether it's a family vacation, a romantic getaway, or a solo trip for some self-pampering, Costa Adeje offers a taste of the finer things in life.
It's just a stone's throw from the hustle and bustle of Playa de las Américas, yet in a world where peace, charm, and elegance prevail.
We're still in the southern part of Tenerife, where the weather is typically more favourable than in the north, making it an excellent spot for a winter vacation.
Places to stay in Costa Adeje
Costa Adeje is actually a larger area with small coves and beaches, so there are many hotels to choose from, depending on what you're seeking.
Below, I'll share some of my favourite hotels in the Costa Adeje area.
Let's start with a luxury hotel that looks perfect for a cosy vacation in Costa Adeje.
Proper luxury awaits you at Dreams Jardin Tropical Resort & Spa.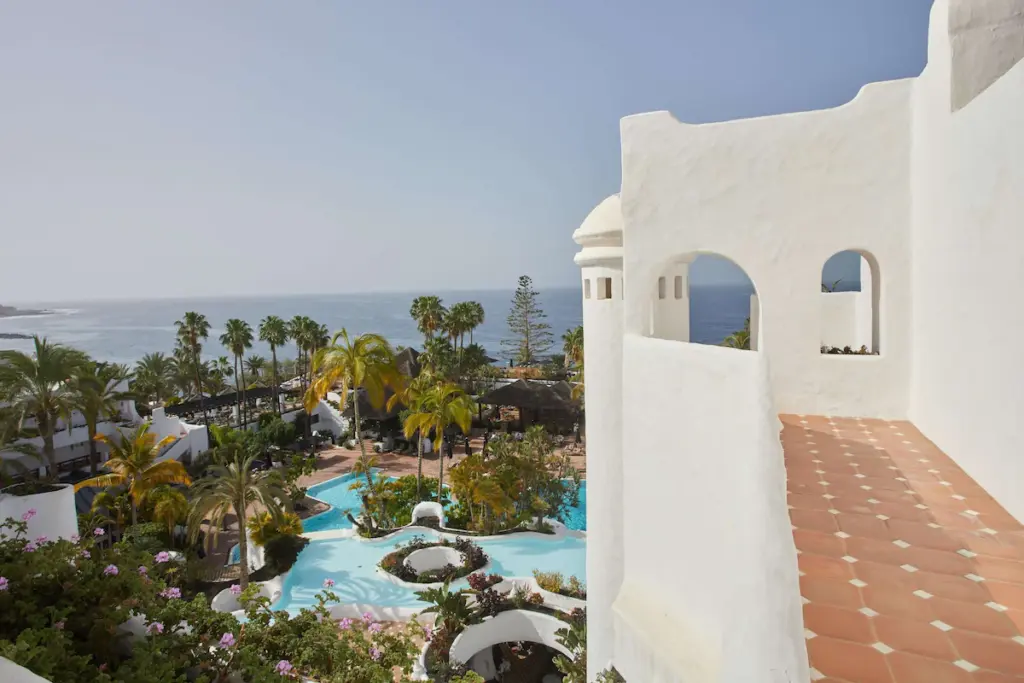 This 5-star resort doesn't compromise on quality and offers a world of indulgence with its impressive spa facilities, gourmet restaurants, and beautifully landscaped gardens that radiate tropical charm.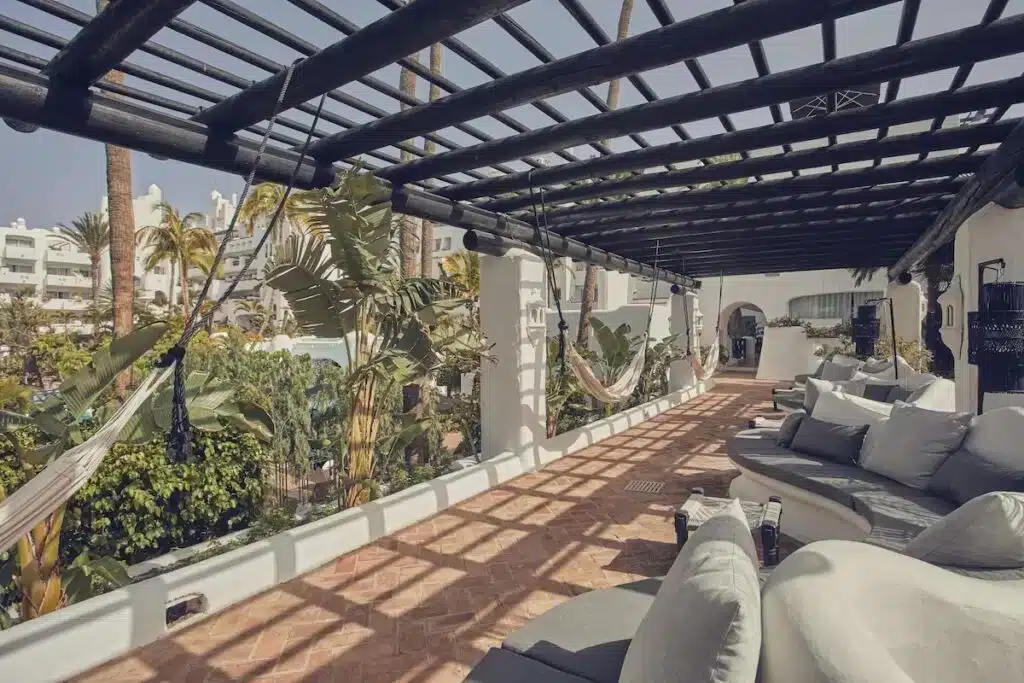 Here, you can immerse yourself in an oasis of tranquillity and enjoy the azure sea view from your private balcony.
Guest reviews often highlight the attentive service, luxurious surroundings, and culinary diversity. However, some mention that certain areas of the hotel can feel a tad busy during the peak season.
See more photos and book here.
For those seeking a genuine worry-free experience in Costa Adeje, Iberostar Las Dalias welcomes you with open arms and a generous all-inclusive concept.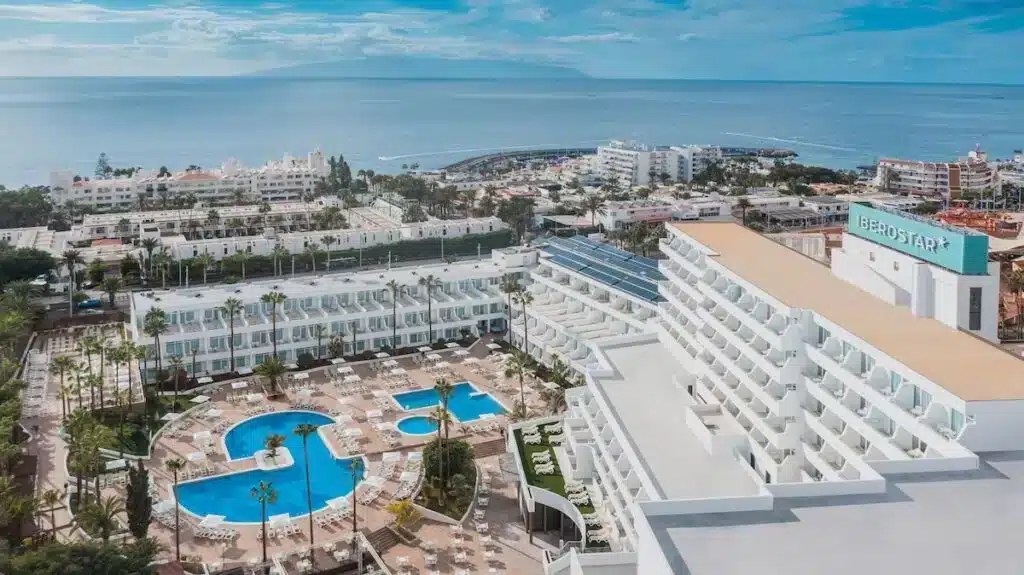 Here, you can dive into a world where every meal, snack, and beverage is covered, allowing for a relaxing holiday.
The hotel boasts many facilities, including kids' clubs, a vibrant entertainment program, and spacious, comfortable rooms.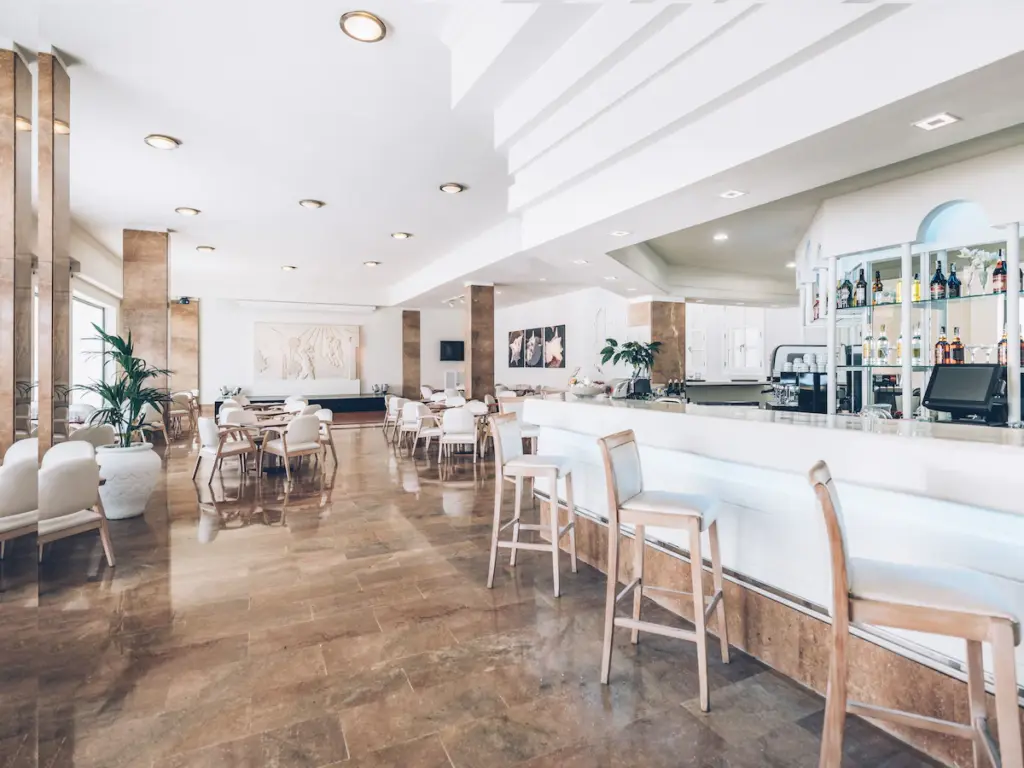 It's a great place to stay for both couples and families with children.
Former guests frequently praise the hotel's familial atmosphere, the constant flow of activities available for children and adults, and the dedicated staff.
See more photos and book here.
And now, onto an even more family-friendly hotel in Tenerife:
HOVIMA La Pinta Beachfront Family Hotel is a fantastic hotel for families with children, and its location offers direct access to Costa Adeje's gentle waves and golden beaches.
This hotel is designed with families in mind, providing a colourful children's area, a kids' club, and rooms tailored for young travellers.
Adults can also indulge in various relaxation and entertainment options while ensuring their little ones are happy and entertained.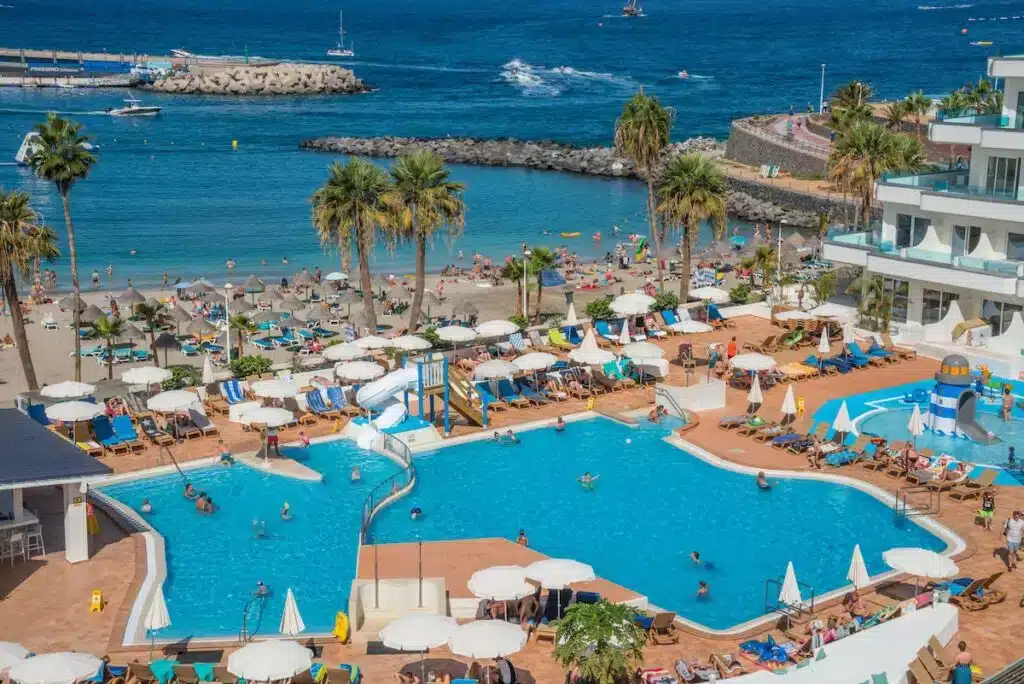 Previous guests have spoken highly of the accommodating staff, the laid-back atmosphere, and the numerous activities available for children of all ages.
However, it's noted that while the hotel is a haven for families, there might be better choices for couples seeking a quiet and romantic escape, given the hotel's child-friendly focus.
See more photos and book here.
3. El Médano – Exciting Area with Bohemian Vibe & Surf-spots 🏄‍♀️
Tenerife holds more than just the classic tourist areas; there are also hidden gems like El Médano – an area that offers a unique, relaxed, and bohemian-like atmosphere.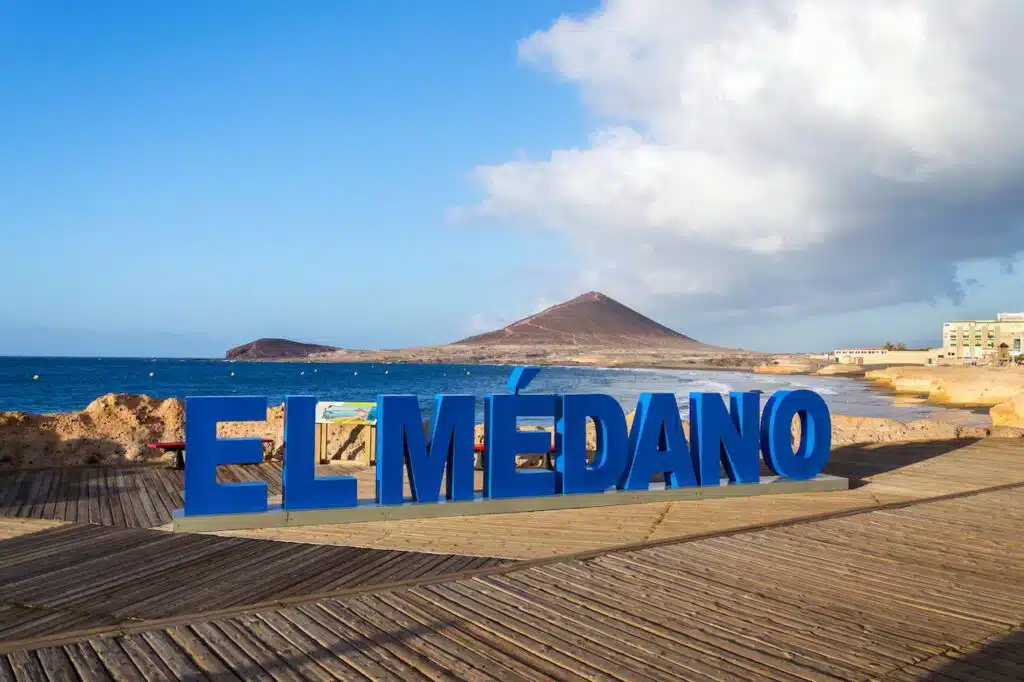 El Médano is known for its laid-back vibe and is a paradise for those looking to blend relaxation with adventure, especially those drawn to wind and water sports.
With its long, golden sandy beaches and constant breezes, El Médano has become a globally recognised hotspot for windsurfers, kitesurfers, and others looking to play with the elements in the clear Atlantic waters.
Playa El Médano and Playa La Tejita are among the highlights here, where locals and international surfers are frequently seen honing their skills and challenging the blue waves.
I get similar vibes from El Médano as from Corralejo in Fuerteventura.
Check out the best hotels in El Médano here.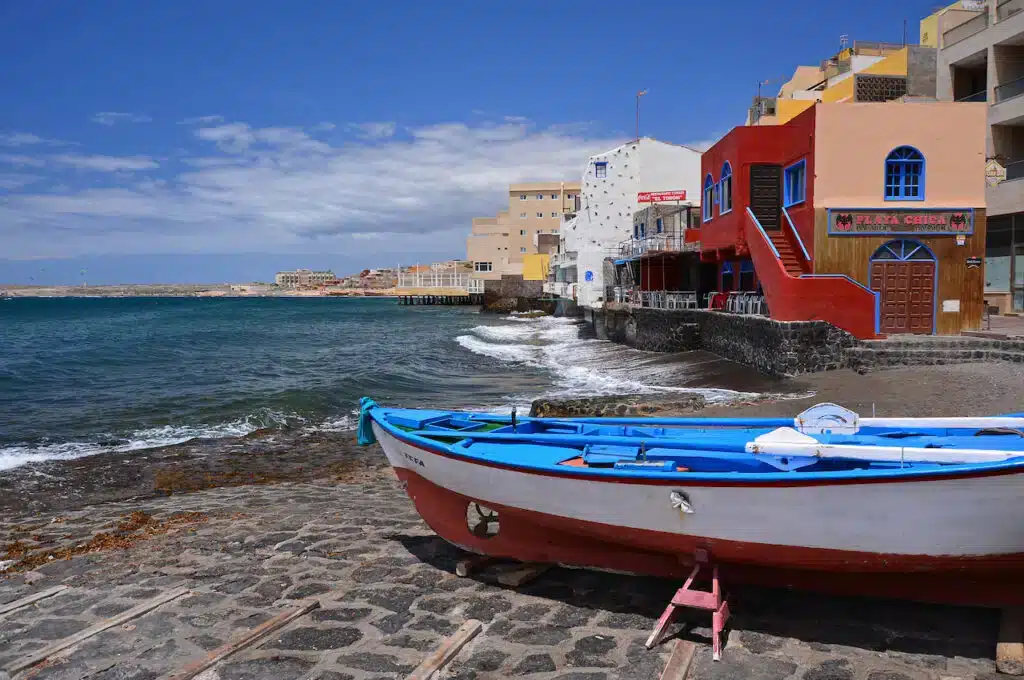 However, you don't need to be a surfer to enjoy this charming place.
Surrounded by the natural beauty of Montaña Roja Nature Reserve, El Médano also offers peace and beauty to those seeking a more understated vacation.
El Médano is also an excellent place to stay for those wishing to experience Tenerife from a more authentic perspective.
Whether you're an adrenaline junkie seeking the next wave, a nature lover dreaming of peaceful exploration, or a culture enthusiast looking for a deeper understanding of the destination, you'll find a home in El Médano.
It's a great place to stay for those travelling to Tenerife who don't need to be in the most well-known tourist cities.
Plus, the area is very close to Tenerife's southern airport, making it easy to get there.
Places to stay in El Médano
El Médano is not the area most tourists choose when travelling to Tenerife, so there aren't as many hotels here as in the previously mentioned holiday areas.
However, there are a few charming places to stay, so let's take a closer look at these.
Hotel Médano stands out as a solid accommodation option in the heart of El Médano.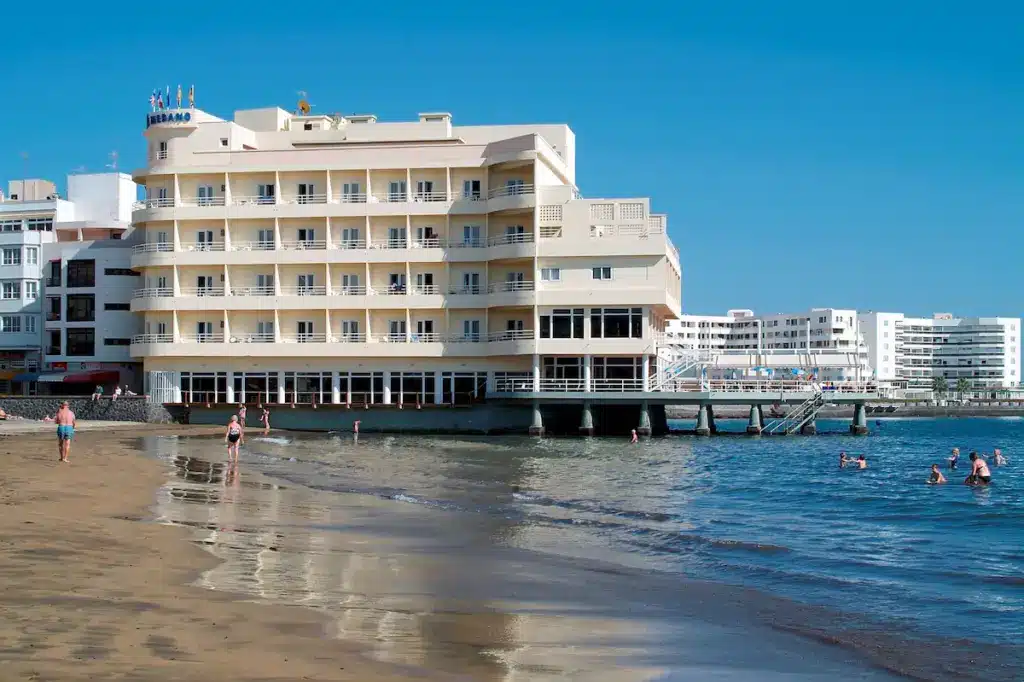 This beautifully situated coastal hotel offers guests a unique sea view and is just a stone's throw from the town's lively squares and local markets.
Past visitors often highlight the simple but comfortable ambience, which makes the stay pleasant without detracting from the surrounding beauties.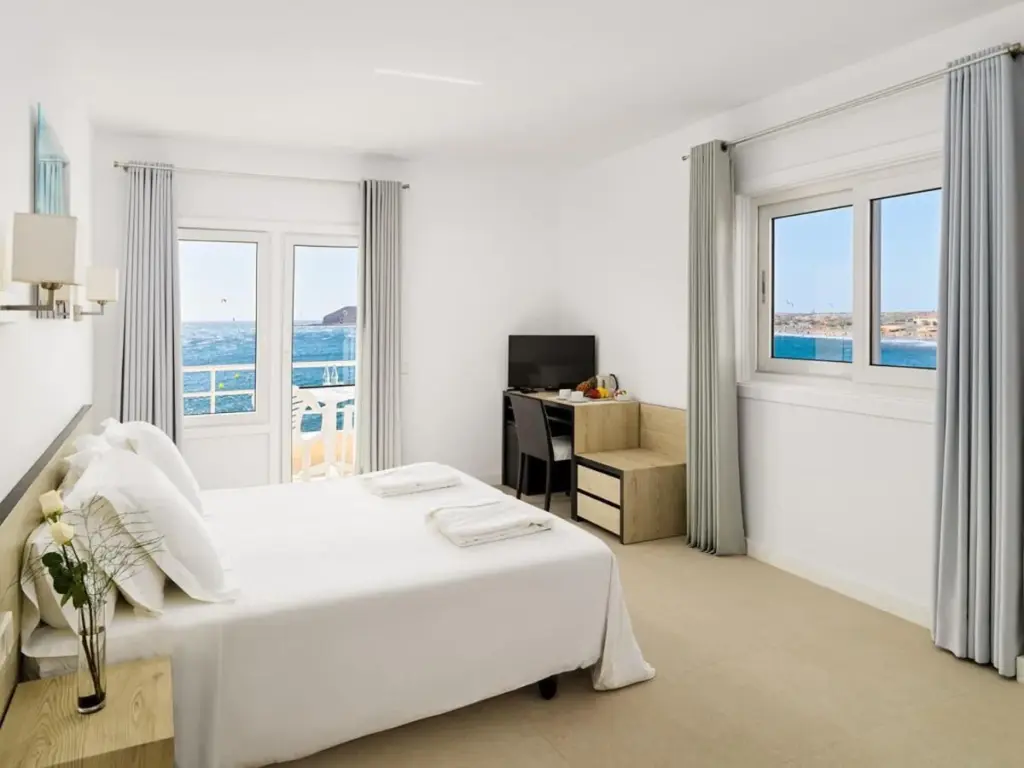 Guests have also praised the friendly staff and the easy access to everything in the town.
However, some emphasize that while the hotel offers an authentic and central experience, the facilities seem outdated, and modernization is a good idea.
On the other hand, you get significantly more for your money in El Médano than in some of the other areas in Tenerife.
See more photos and book here.
Prepare to feel the sea breeze lightly caressing your face as you enter the world of peace and tranquillity at Hotel Ventus in El Médano.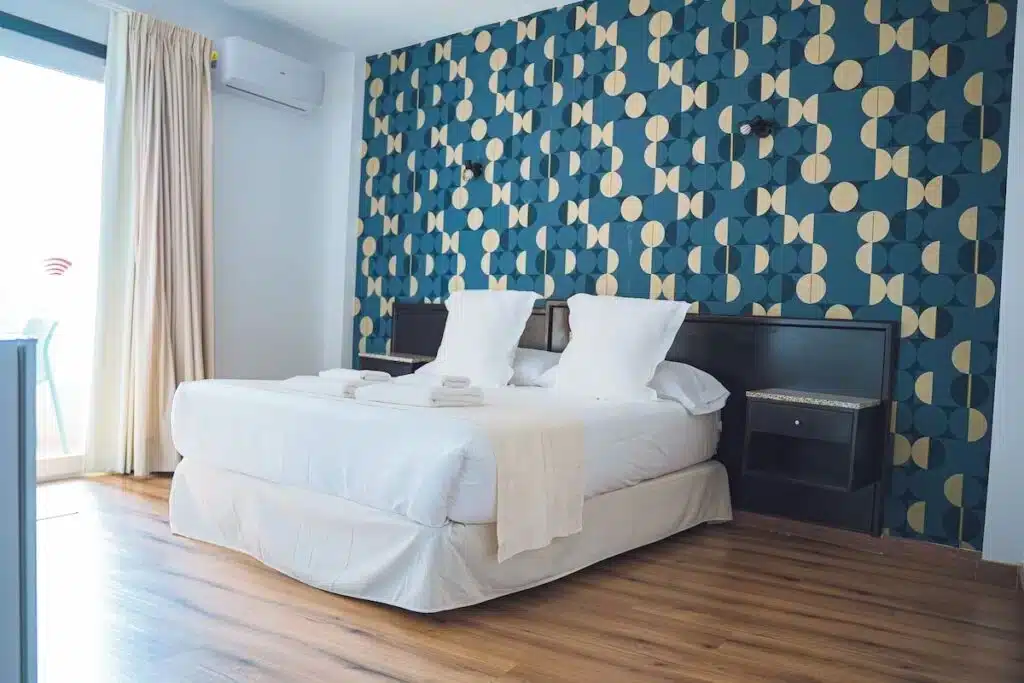 This charming hotel offers a personal and cosy atmosphere, providing a quiet counterpart to the more bustling holiday areas.
Past guests have raved about the attentive staff and the well-maintained facilities. However, a few remarks about the desire for more dining options have been made.
See more photos and book here.
Are you looking for a quiet, adult-only stay during your Tenerife holiday?
Kn Hotel Arenas del Mar, located slightly outside the heart of El Médano, opens its doors to a world where tranquillity, romance, and relaxation take centre stage.
This "adults-only" hotel is designed for those seeking a quieter vacation away from the city's buzzing activity but still within reach, with only a 15-minute walk to the city centre.
There's also an indoor pool and spa area, so even if the weather outside isn't cooperating, you can still relax indoors at this hotel.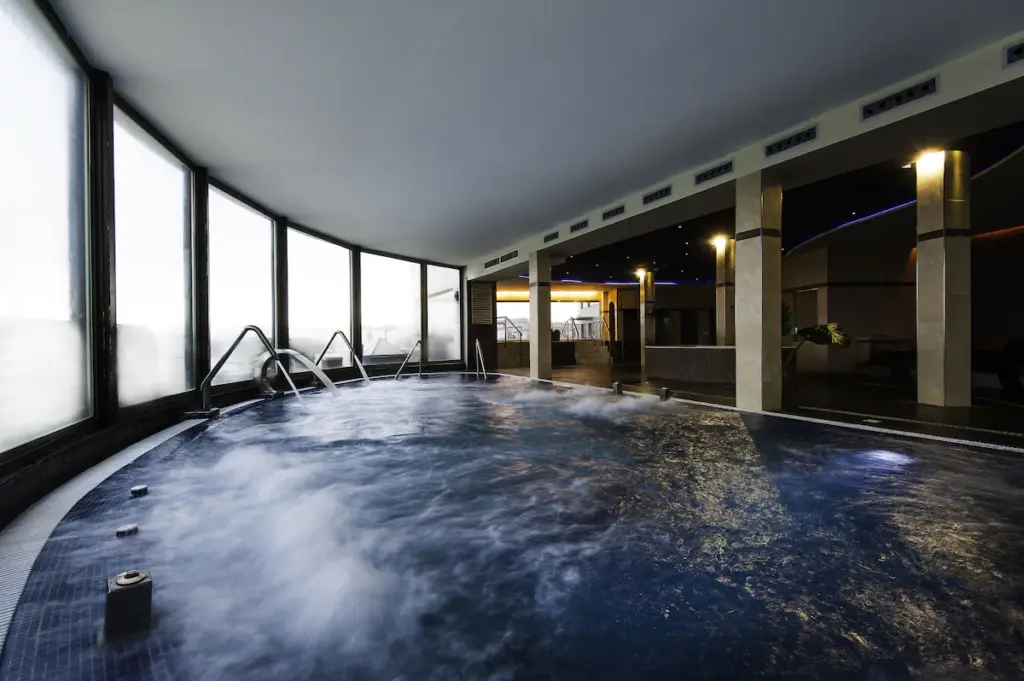 Past guests have praised the friendly staff and the peaceful surroundings, offering a true escape from everyday hustle.
However, while the distance to the town is short, it can be remote for some.
So, you should be looking for a tranquil vacation – but where you can still get to town quite quickly or rent a car and explore much more of Tenerife.
See more photos and book here.
4. Puerto de la Cruz – charming area close to beautiful nature 🏞️
If you dream of a vacation where lush, green landscapes meet the beautiful sea, Puerto de la Cruz is the place to stay in Northern Tenerife.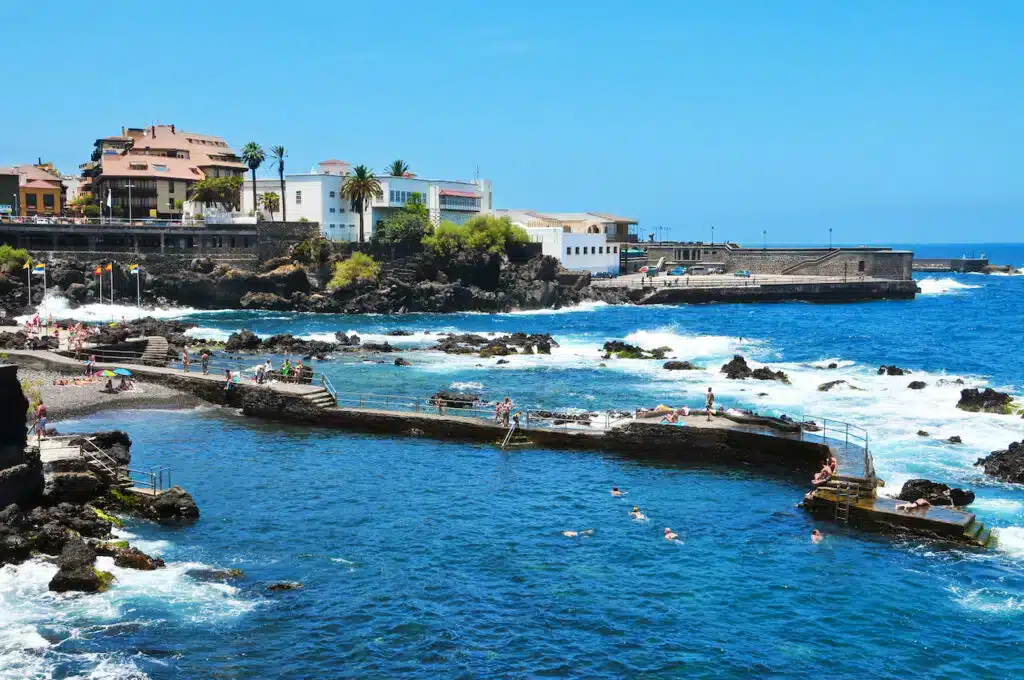 We've moved to the northern part of Tenerife, where Puerto de la Cruz shines with its unique charm that stands apart from the more tourist-heavy areas and holiday towns in the south.
Puerto de la Cruz is a cosmopolitan gem that has managed to preserve its original architecture and local culture while still offering modern amenities and activities for visitors.
Check out the best hotels in Puerto de la Cruz.
The winding cobblestone streets, colourful buildings, and historic squares reflect the town's rich history and architectural beauty.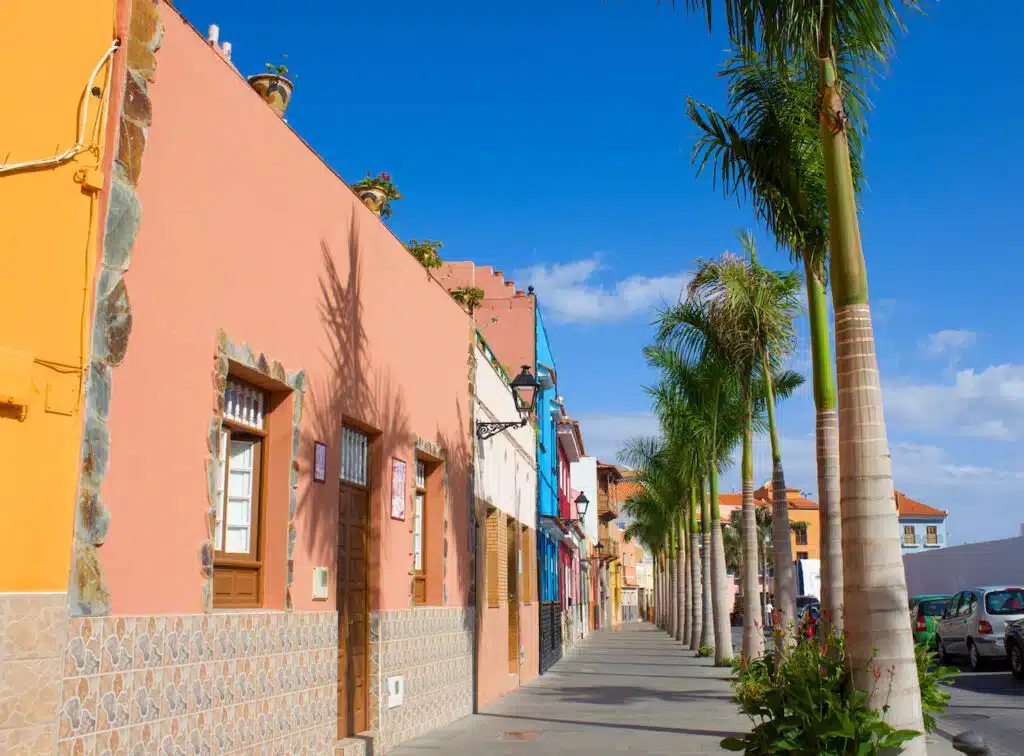 Beaches here, for example, Playa Jardín, are bordered by black, volcanic sand, offering a dramatic contrast to the crystal-clear waters of the Atlantic Ocean.
Puerto de la Cruz is also home to Loro Parque, a world-renowned zoo and wildlife park, one of the island's major attractions and undoubtedly worth a visit, especially for families.
For those looking to combine relaxation with a touch of exploration, the town's old district, La Ranilla, offers a blend of traditional taverns and modern bars where you can enjoy a drink or two while experiencing the local atmosphere.
Explore local markets where you'll find everything from freshly produced products to handicrafts and unique souvenirs.
Whether you're seeking cultural adventures, scenic hikes, soothing beach days, or quite an excellent nightlife, Puerto de la Cruz is a tempting destination that promises a well-balanced vacation between relaxation and experiences.
It is a great place to stay in Tenerife for many travellers.
One drawback of staying in Puerto de la Cruz is that the weather is typically sunnier on the southern part of the island.
It's not that the weather is always bad in the northern part of Tenerife, but you should expect it to be cloudier and cooler up here in Puerto de la Cruz compared to the holiday areas in the south.
Places to stay in Puerto de la Cruz
Being one of the larger cities in Tenerife, there's naturally a plethora of hotels in Puerto de la Cruz. Let me mention a few of the places I particularly like below.
If you're seeking a blend of elegance and comfort in Puerto de la Cruz, Atlantic Mirage Suites & SPA might be for you.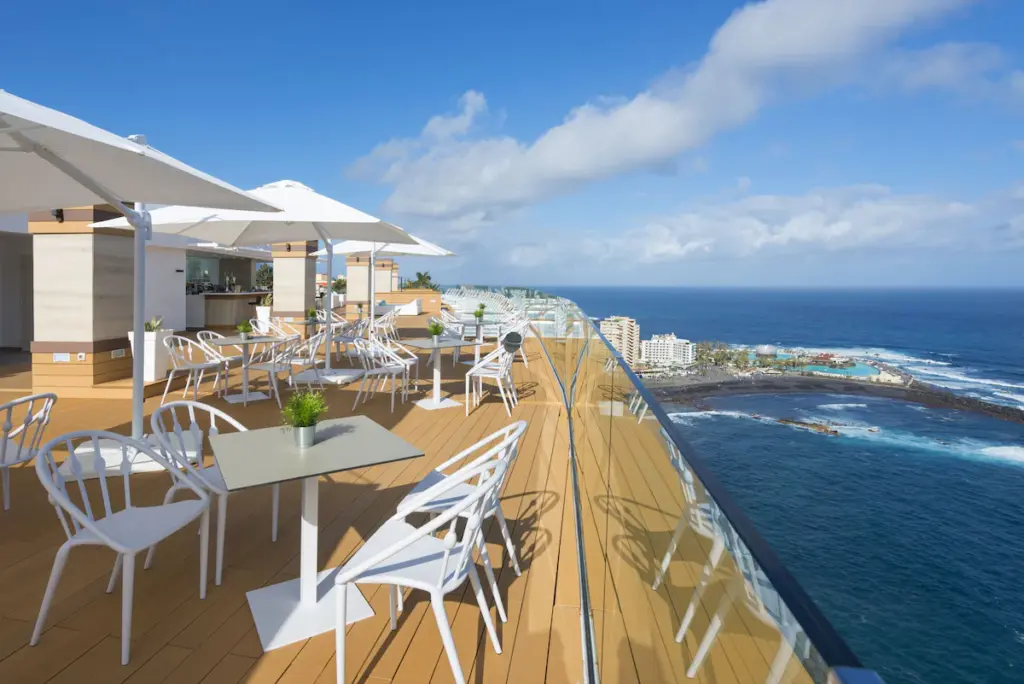 It's an adults-only hotel, so it's unsuitable for families with children.
Situated with a magnificent view of the Atlantic Ocean, this hotel offers an experience where relaxation takes centre stage.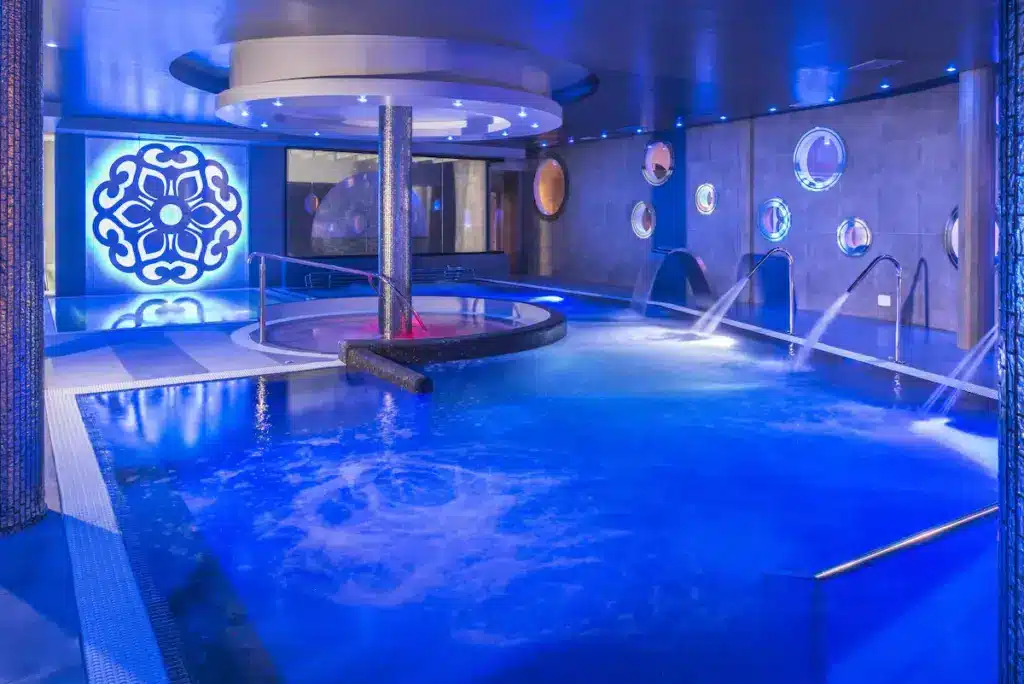 Previous guests often highlight the establishment's accommodating staff and exquisite gastronomy, making it a potential spot for culinary delights and a pleasant stay.
See more photos and book here.
In the heart of Puerto de la Cruz, you'll find Hotel TRH Taoro Garden, known for its cosy atmosphere and stunning surroundings.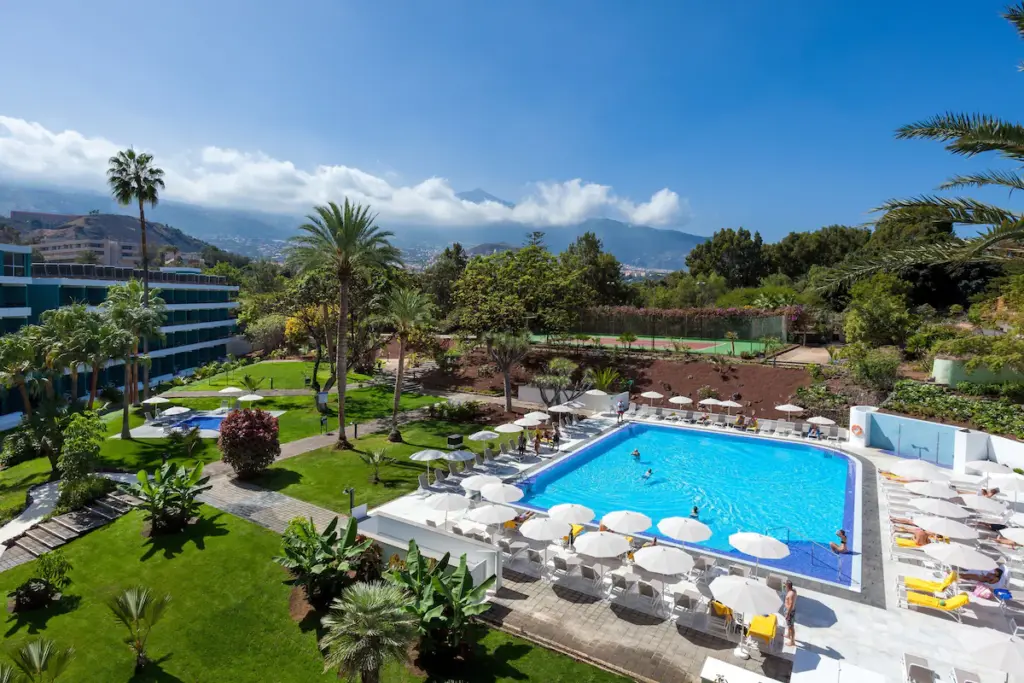 The hotel is surrounded by lush gardens, and those who have stayed here before particularly commend the friendly staff and the clean facilities.
Its central location can be the perfect base for exploring the town.
See more photos and book here.
Looking for a stay in Puerto de la Cruz filled with homely comfort?
Apartamentos Villa Rosalva offers holiday apartments that allow you to plan your days as you desire.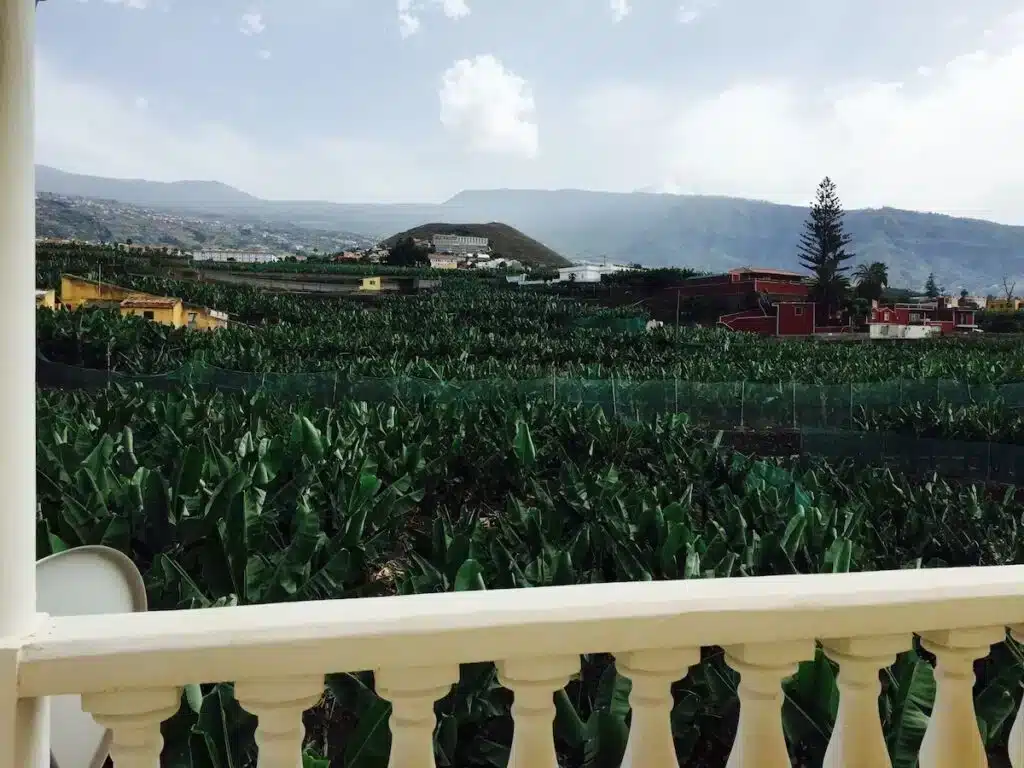 Past visitors often point out the helpful staff and the excellent facilities as positive aspects of their stay.
And with a dip in the pool and proximity to the town's vibrant life, you get both relaxation and adventure if you stay at this place in Puerto de la Cruz.
See more photos and book here.
5. Los Gigantes – Best Area for Hiking & Beautiful Nature 🥾
In the southwest corner of Tenerife, you'll find Los Gigantes, a remarkable town known for its imposing cliffs that proudly tower over the surrounding landscape and the deep blue waters below.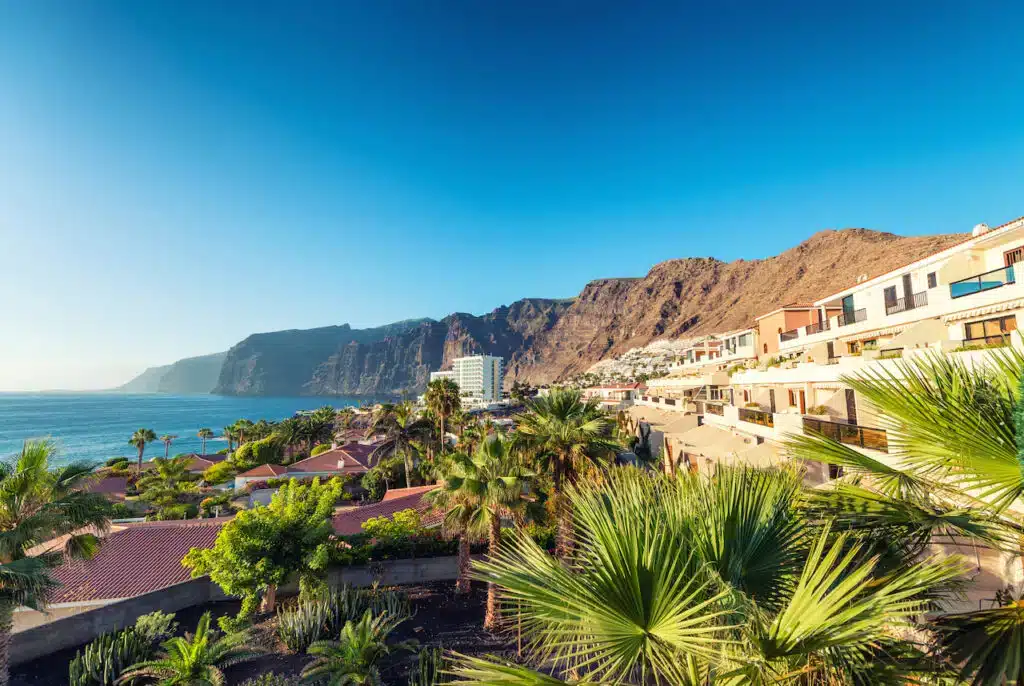 The name "Los Gigantes" translates to "The Giants," aptly describing the majestic cliffs that lend the area its signature silhouette.
As you step into this charming small town, the mighty cliffs, known as "Acantilados de Los Gigantes", will undoubtedly capture your gaze with their overwhelming and magnificent presence.
This scenic marvel, soaring dramatically up to 600 meters above sea level, offers a breathtaking backdrop and acts as a natural barrier, providing the area with a more stable and dry climate.
The beach in Los Gigantes, with its black volcanic sand, is a tranquil and picturesque spot where you can relax while gazing at the dizzying cliffs.
Check out the best hotels in Los Gigantes here.
The sea here is notably clear and is often regarded as one of Tenerife's best places for snorkelling and diving.
Here, you can explore the wondrous underwater world and even glimpse playful dolphins in the distance.
At the marina in Los Gigantes, you'll find a range of boat tours offering the opportunity to explore the cliffs from a completely different angle and spot whales and dolphins in their natural habitat.
The surrounding area also boasts several hiking trails that lead you through the encompassing nature, letting you experience unique flora, fauna, and magnificent views.
Whether you are an experienced hiker or simply looking for a peaceful walk, there are trails suitable for all fitness and adventure levels.
Undoubtedly, it's one of the best places to stay in Tenerife if you love hiking and trekking.
The town is quieter and more laid-back than many other holiday hotspots in Tenerife. It maintains a cosy and relaxed atmosphere with various cafes, restaurants, and shops where you can savour local delicacies or find the perfect souvenir.
Whether you want to relax on the beach or embark on nature hikes, there are plenty of opportunities to tailor your perfect trip to Tenerife by staying in Los Gigantes.
Places to stay in Los Gigantes
There are some genuinely splendid hotels in Los Gigantes. Let's take a closer look at a few of my favourites.
Hotel Stil Los Gigantes stands out because of its magnificent location and promise of tranquillity as it's an exclusive adults-only hotel.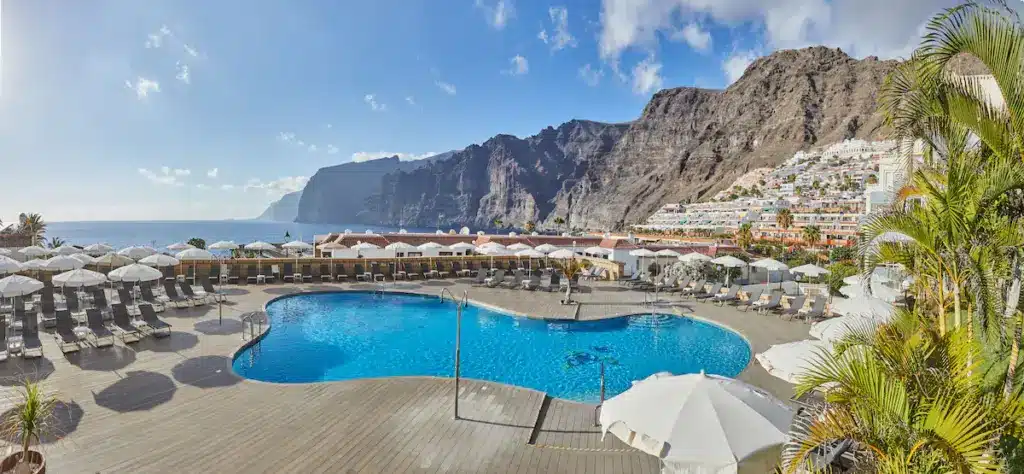 Imagine waking up to a panoramic view of the iconic Los Gigantes cliffs and swimming in one of the relaxing pool areas. Previous guests point out the sublime location and praise the hotel's restaurant and bar area.
Here, you have a place where you can truly relax in sophisticated surroundings.
See more photos and book here.
Luxury combined with the possibility of cooking 'at home' is what Klayman Diamond Aparthotel promises.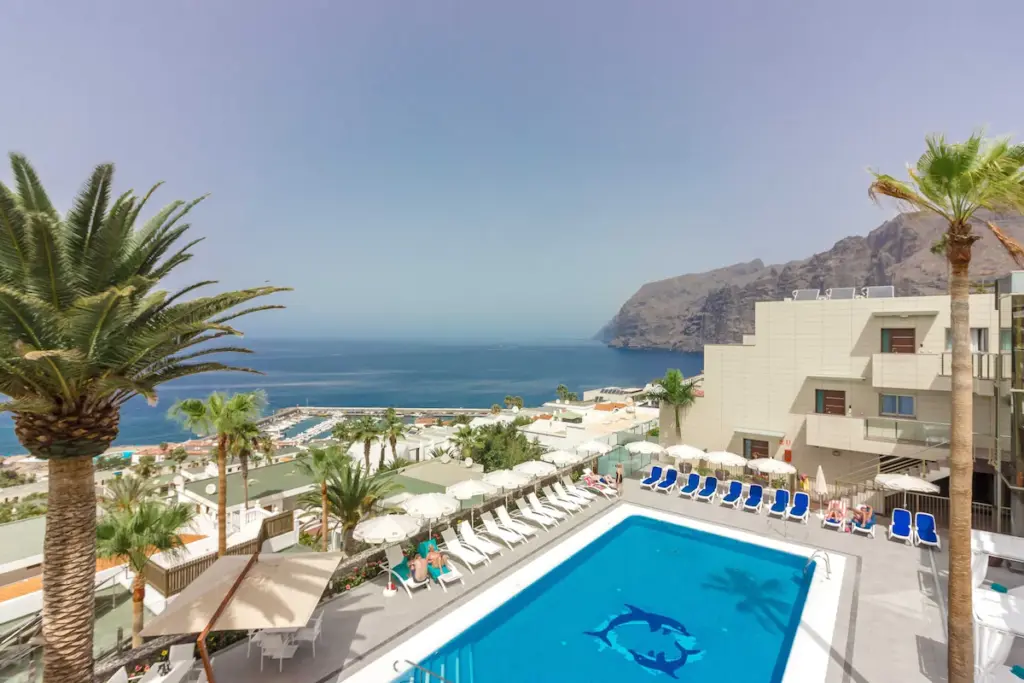 With holiday apartments that don't compromise on comfort, you can enjoy a vacation with ample opportunities for relaxation and culinary adventures.
Guests have previously highlighted the spacious and well-equipped apartments and the accommodating staff, making this place a gem for those seeking a luxurious base during their stay.
See more photos and book here.
You'll find Ona Las Rosas in the enchanting Santiago del Teide, just a short drive from Los Gigantes.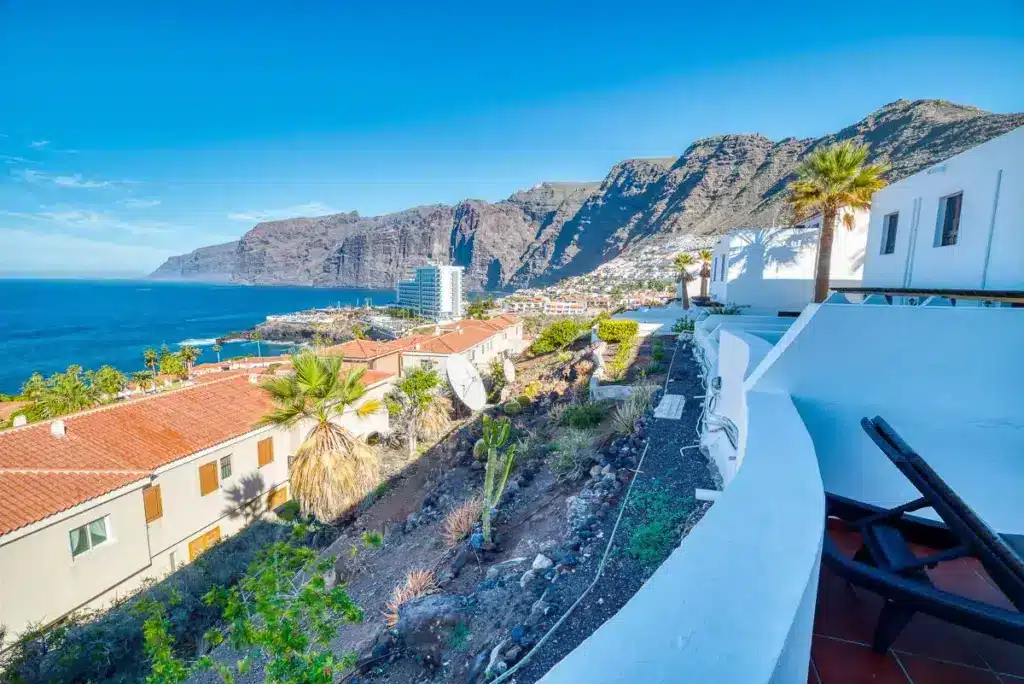 Many guests have pointed out the large pool area and the cosy apartments as highlights of the hotel.
With proximity to nature and local attractions, this place is an obvious choice for those wanting a balanced vacation with the opportunity for excursions.
See more photos and book here.
Where not to stay in Tenerife?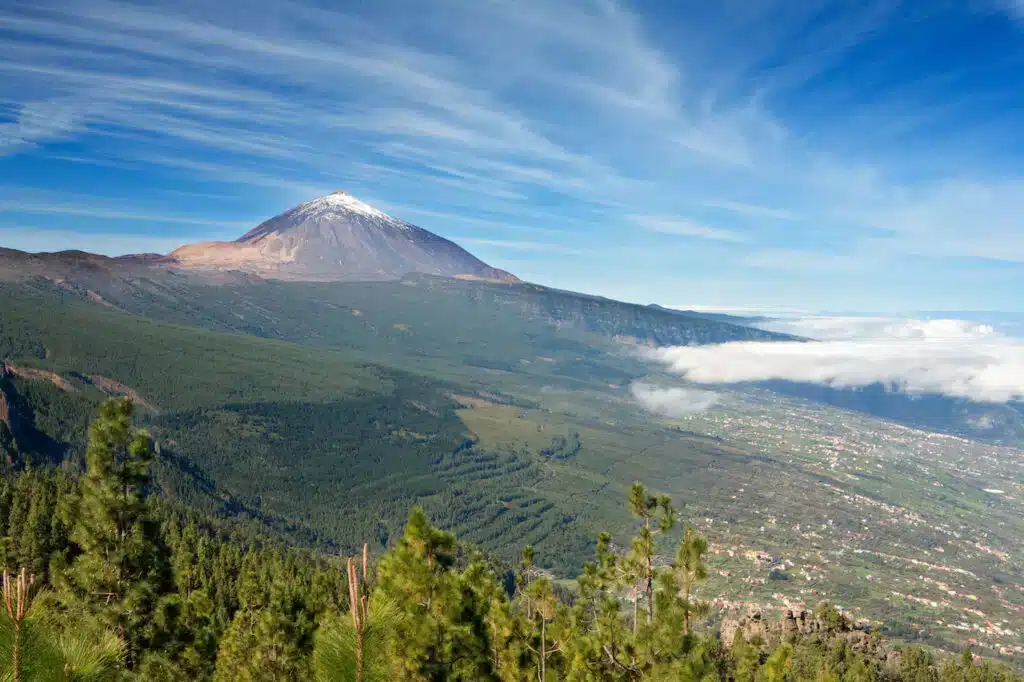 Although Tenerife is filled with many magnificent places suitable for all types of travellers, certain areas might not be at the top of your list, depending on the kind of holiday you are looking for.
Santa Cruz
While it is the island's capital and offers certain cultural and shopping benefits, there might be better choices than Santa Cruz if you're seeking a traditional sun and beach holiday.
The lack of proximity to the island's main beach areas and a busier urban atmosphere might reduce the relaxation factor for those seeking a more peaceful escape.
Güímar
There's nothing wrong with this town, known for its Pyramids (Pirámides de Güímar) and an exciting place to visit on a day trip.
However, Güímar may not be the ideal spot for tourists to stay. With fewer accommodation options and a lack of tourist infrastructure, it might be more challenging for visitors to navigate and experience the full range of what Tenerife offers.
As mentioned, Tenerife has plenty of varied, good areas to stay, ranging from the vibrant and lively Playa de las Américas to the calm and scenic El Medano and Los Gigantes.
Whether you're seeking the grand glamour of Costa Adeje or the traditional Canarian atmosphere in Puerto de la Cruz, there's a destination for every type of traveller on this captivating island.
I hope you found this travel guide to Tenerife helpful and are now ready to book your hotel. If you have any questions about any areas or hotels I mention in this guide, please comment below.
Have a wonderful trip to Tenerife!
Frequently Asked Questions:
When is the best time to visit Tenerife?
Tenerife is a wonderful destination to visit year-round due to the island's mild climate. However, the peak season from December to April is particularly popular, as many European travellers seek sun and pleasant weather during this period when it might be challenging to find similar conditions elsewhere in Europe.
So, if you desire sun and warmth during the winter months, Tenerife is an obvious choice.
Is there a difference in weather across Tenerife?
Despite the island being relatively small, there are notable differences in weather across Tenerife. These climatic variations are mainly due to the island's terrain and the dominant presence of Teide, Spain's highest mountain.
Northern Tenerife: The northern part generally has a cooler and more humid climate. This results in lusher landscapes, greener forests, and more rainy days, especially during winter. Cities like Puerto de la Cruz and La Laguna often experience cloudy weather and brief rain showers.
Southern Tenerife: The southern part, including popular tourist areas like Playa de las Americas and Los Cristianos, boasts a drier and sunnier climate. This region experiences fewer rainy days and tends to be warmer, making it a favourite among sun-seeking tourists.
Highlands and Teide National Park: The climate is cooler due to its higher altitude, and temperatures can vary significantly. It's not uncommon to see snow atop Mount Teide in winter.
Which airport should I fly to?
Is car rental necessary in Tenerife?
Car rental in Tenerife is optional, but it's undoubtedly the best option to explore the island at your own pace. With a car, you'll be free to visit more remote beaches, mountain villages, and other attractions that might be harder to reach by public transport.
However, if you mainly plan to spend your time in one of the larger holiday areas and only wish to embark on occasional day trips, there's an abundance of organised tours available from these regions. These tours can take you to the most popular attractions, such as Teide National Park, Masca Valley, and other notable spots.
Is Tenerife suitable for families with children? And where should families stay?
Yes! Tenerife is undoubtedly an excellent choice for families, and it's easy to see why. The island's beaches are not only picturesque, but many of them are also particularly child-friendly, with calm waters, making them ideal for the youngest family members.
Regarding activities, families won't lack options. Siam Park, one of Europe's largest water parks, and Loro Parque, a renowned animal park, are just a few attractions that will delight children and adults.
Tenerife is home to many family-oriented hotels and holiday accommodations. Many venues offer special facilities like children's pools, entertainment programs, and kids' clubs for younger guests.
Dining out with kids is easy in Tenerife. Most restaurants are accommodating to families with children, and it's common to find special kids' menus.
Regarding safety, Tenerife is known to be a secure destination, and the locals are generally very friendly and welcoming towards families. This, combined with the island's family-friendly activities, makes Tenerife an ideal spot for a family holiday.
For families wondering where best to stay in Tenerife, places like Costa Adeje, Los Cristianos, and Puerto de la Cruz are among the most recommended. These areas offer fantastic beaches and a wide range of activities and amenities that will make any family's stay comfortable and memorable.
All of the areas I mention in this guide are family-friendly.
Websites I use to book my trips 👇

• Booking.com has the best offers on hotels and unique places to stay
• GetYourGuide is the best place to book tours & activities with free cancellation
• Omio is my go-to booking platform for trains in Europe
• Welcome Pickups is the best & safest place to pre-book airport transfers

Psst 👀 Have you subscribed to my Youtube channel where I provide more useful travel tips?