London is one of my all-time favourite cities, I used to run a travel agency that tailored trips to London, and I travel to the English capital many times a year.
I have stayed in hotels in all areas of central London, so I know what you get in the different areas.
So, I think I am qualified to write a guide on where to stay in London and tell which areas are best for tourists who want to experience the best of the English capital.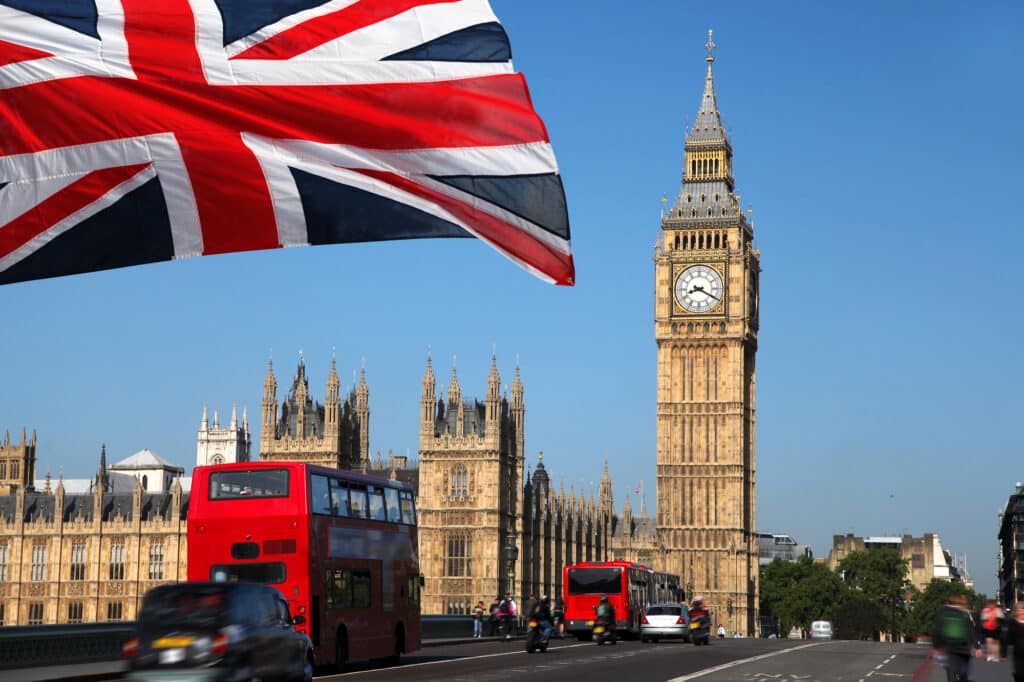 In this guide, I dive deep into the best areas in London to stay in as a tourist, provide links to booking my recommended hotels and tell you what you can expect from the different areas.
Let's get started with the guide: where to stay in London?
1. Paddington & Bayswater – best place to stay with kids & for first-time travellers ⭐️
I always recommend first-time travellers to London find a good hotel just north of Hyde Park.
The area, which can be called both Paddington and Bayswater (depending on where you stay), is quite simply an excellent introduction to London – and there are many cheap hotels.
So if you're travelling to London with kids and looking for a cheap hotel, this is an excellent place to look.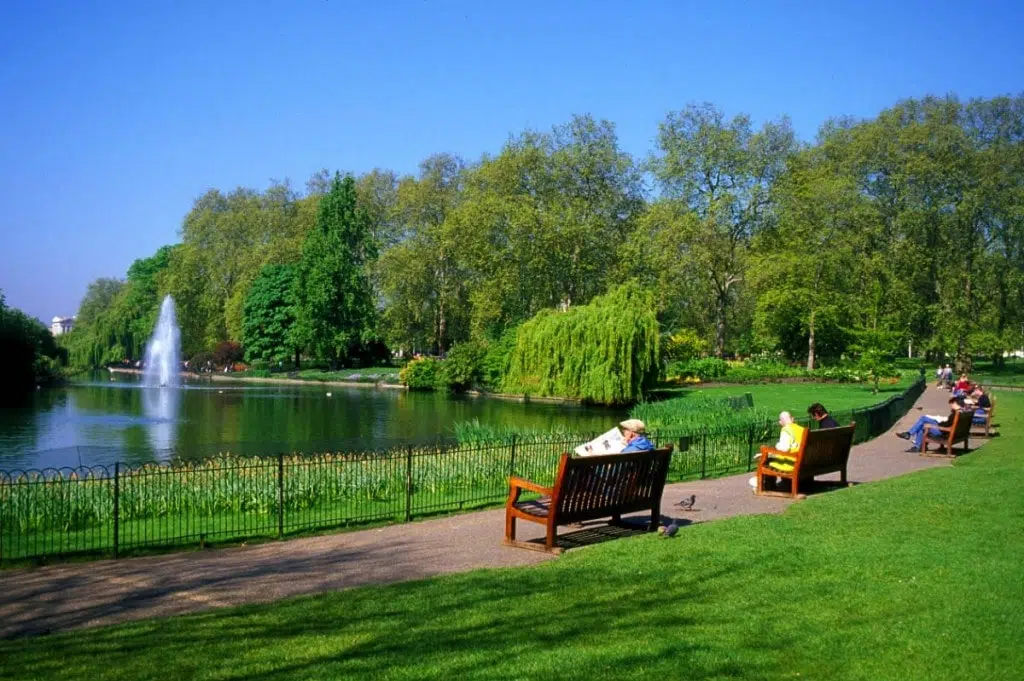 For many decades, Paddington and Bayswater are areas of London that have been among the most used by tourists travelling to London to experience the best the city has to offer.
We are in the west of London but very close to the central part. You will stay within walking distance of Marble Arch, where Oxford Street starts with all its high-street shops and all that comes with it.
Because Paddington and Bayswater are popular tourist areas, you will find everything you need, from cafes, restaurants and cosy pubs.
As for personal favourites, I recommend the Mitre Lancaster Gate, The Swan and the Leinster Arms, which all serve good beer and classic British pub food.
You can quickly get around the rest of London with the Central Line from Lancaster Gate and Queensway, while the District and Circle Line run from Bayswater and Paddington stations.
If you land at Heathrow Airport, you can get to Paddington St by express train in just 15 minutes, which is the fastest of all London airports.
If I have to mention a downside to the Paddington and Bayswater areas, they may not be the most authentic areas. So if you would like to stay in an area of London where you meet ordinary Londoners, you can choose another place to book a hotel – there are plenty more areas to come in this guide.
However, it is a perfect place to look for a hotel for tourists travelling to London for the first time and families with children.
Good hotels in Paddington & Bayswater
So let me share some of the hotels in areas I have stayed at and can recommend. It must be said that there are many hotels in this area and it is an excellent place to book cheap, classic London hotels.
However, be aware that many hotels can be relatively run down, so just read the updated reviews if you find a good deal – or choose one of these hotels I recommend.
Best Luxury Hotel: Royal Lancaster London
Best Mid-Range Hotel: Best Western Mornington Hotel Hyde Park
Best budget hotel: Point A Hotel Paddington or Athena
2. Soho & Covent Garden in West End – best place to stay in London (if you can afford it)
Let's jump into the heart of London in the areas of Soho and Covent Garden.
It doesn't get more central in London, and if you stay here, you can easily spend your entire city break in London without taking public transport.
In other words, these are perhaps the best districts to stay in for most tourists, but it also comes at a higher price.
Therefore, you should probably prepare to pay more for hotels here in the West End than in several other areas I mention here in the guide on where to stay in London. Soho and Covent Garden are not cheap!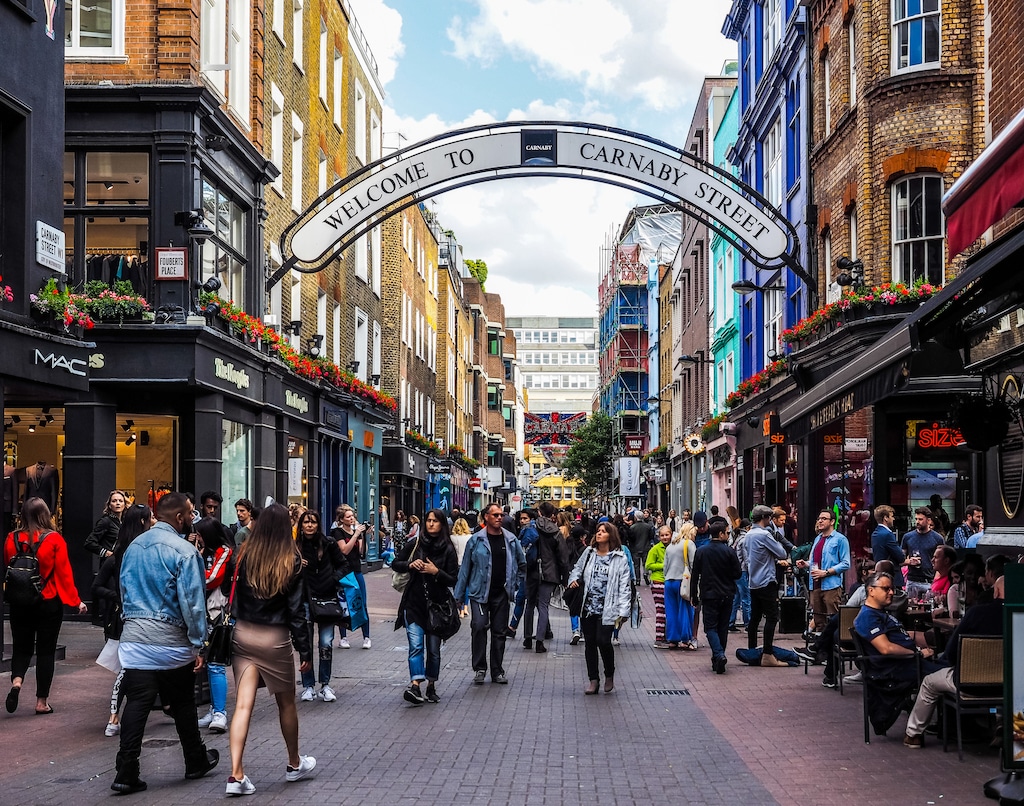 Soho is located just south of Oxford Street, and it's undoubtedly one of the nicest areas in London, where there is always life in the small cosy streets. You will find Carnaby Street, Liberty London and Berwick Street Food Market in Soho.
I rarely stay in Soho when I travel to London (because of the price tag – I wish I was always staying in Soho). But I always visit the area when in London and like to swing by good pubs like the Old Coffee House, John Snow and the Mason Arms, which are technically in Mayfair because you have to cross Bond Street.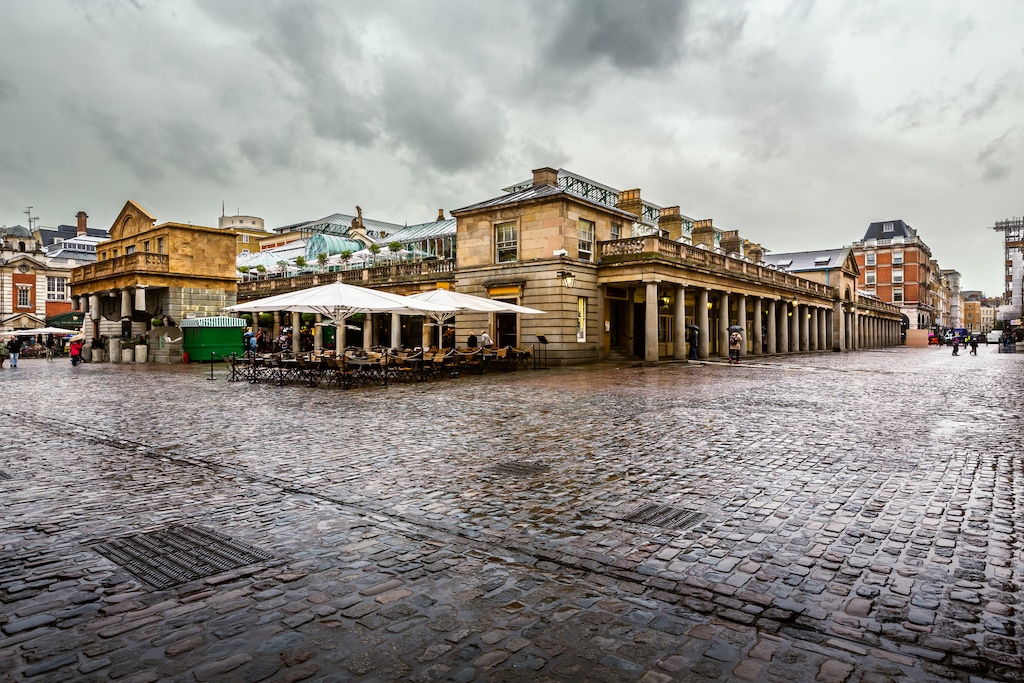 Covent Garden is also an area for you who want to stay close to everything in central London. Here I recommend enjoying the area around Seven Dials, visiting the cosy Neal's Yard, and maybe having a pint at The Lamb & Flag or The Harp.
In other words: if I had to point to an area of London where everyone would be happy to book a hotel, it would probably be Soho and Covent Garden.
You can easily walk to all the famous musical theatres, Chinatown, Leicester Square, Piccadilly Circus, Trafalgar Square and all the most notable things to do and see in London.
Good hotels in Soho & Covent Garden
There is no doubt that you get more bang for your buck further out of the absolute centre of London, but having said that, there is also something nice about living right in the city's heart.
Here are a few good hotels where you stay as centrally as possible.
Best luxury hotel: Chateau Denmark or The Londoner (has a swimming pool)
Best mid-range hotel: AMANO Covent Garden (has rooftop bar)
Best budget hotel: Mimi's Hotel Soho or Zedwell Piccadilly Circus
3. Camden Town – best area to stay with a teenager
Camden Town is one of my absolute favourite areas in all of London and a place I have spent many days.
In the 90s, Camden Town was known as one of the trendiest places in the whole of Great Britain, and it was not rare to see musicians from bands such as Blur, Oasis, The Smiths and Pulp hanging out in the pubs.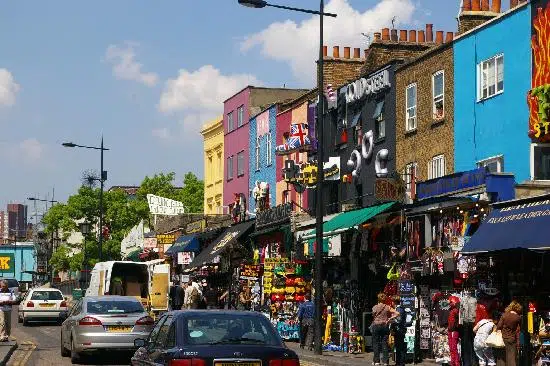 In other words, Camden and music go hand in hand, which you feel as soon as you step out of Camden Town Tube Station and turn right up towards Camden Market.
On the way up to the market, you pass exuberant shops, street shops and souvenir shops with everything your heart desires if you like rock n roll or are into a slightly alternative style of clothing.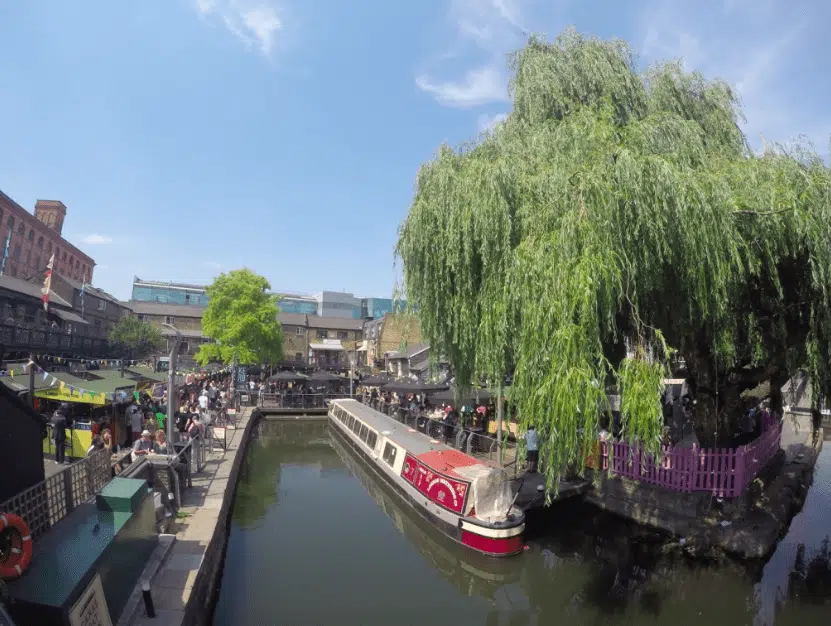 I love British music and style, so I can spend many hours walking in Camden and especially when I was in my early 20s I felt so cool when I bought new clothes and sat down at The Good Mixer, The Hawley Arms or The Dublin Castle where I had a pint and tried to look like a local 😀
Camden Town is an excellent area for those who don't need to stay in downtown London and maybe travel with a teenager who likes a bit of alternative style.
If you stay in Camden Town, I can also recommend going over to Primrose Hill, from where you get a fantastic view over the whole of London.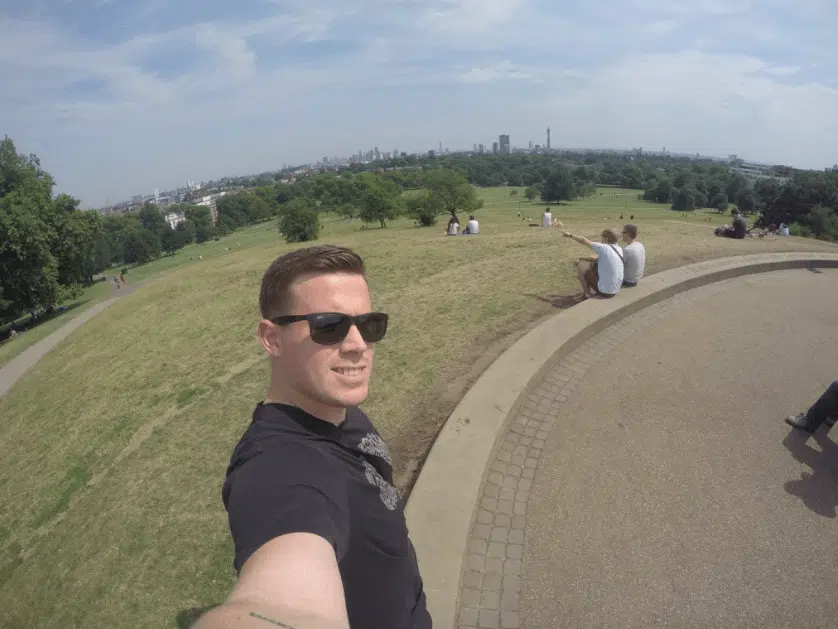 From Camden Town tube station, it only takes 8 minutes on the Northern Line down to Tottenham Court Road, where Oxford Street starts, and you can venture into Soho or Covent Garden.
So even though Camden is a little further from the absolute centre of London, it is still a central area of the metropolis.
Good hotels in Camden Town
Camden is one of the boroughs in this guide that is not packed with hotels. In other words, there is not a hotel on every street corner, but here are a few recommendations from my many trips to London.
Best luxury hotel: There is none in Camden Town, but the closest I recommend is St. Pancras Renaissance Hotel London, just off King's Cross St Pancras, approximately 15 minutes walk to Camden Town.
Best Mid-Range Hotel: Holiday Inn London Camden Lock (Camden Market view)
Best budget hotel: The Hurdwick
4. Bloomsbury – best central area with cheap hotels
Often when travelling on a city break, most of us look for the sweet spot: we want to stay centrally in a proper hotel that is not too expensive.
This is where the somewhat overlooked Bloomsbury area in central London emerges. The area is sandwiched between King's Cross and Covent Garden, so we are definitely in central London.
There are highly luxurious hotels in this area that few ordinary tourists can afford (more on the best luxury hotels in London later in this guide), but also quite a few hotels in the middle and budget class.
It's a charming area where you can find completely local streets with ordinary houses, where real people live, just living their lives.
That's why we also find several excellent restaurants, cafes and pubs that don't just live on tourists and therefore have a slightly different atmosphere than around Leicester Square and the like in the city centre.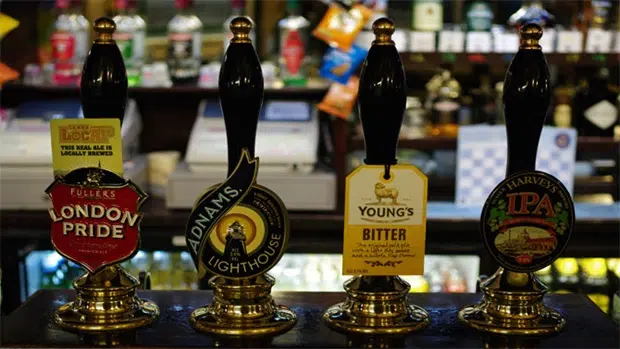 If we extend Bloomsbury a little to the north, I can recommend Casa Tua Kings Cross for breakfast and good coffee, while you should make your way past Friend at Hand and The Lamb for a few pints.
Bloomsbury is an underrated area of London that can be recommended to all types of travellers. Russell Square tube station is the 'centre' of the area, but there are many tube lines and buses all around the area.
Furthermore, in Bloomsbury, you are within walking distance of The British Museum, one of the best free things to do in London.
Good hotels in Bloomsbury
Bloomsbury is a good area for most travellers and an area in central London where you can stay cheaply. If you want – because the opposite is undoubtedly also possible.
Let me introduce a few good hotels in Bloomsbury.
Best luxury hotel: Kimpton Fitzroy London or NYX Hotel London Holborn (has swimming pool)
Best mid-range hotel: Mercure London Bloomsbury
Best Budget Hotel: The Royal National Hotel
5. Shoreditch – best area to stay in London for nightlife
In this guide to the best areas and districts in London, there must be something for young travellers coming to London to experience the world-famous nightlife.
I'm mainly into a couple of pints in a quiet pub, but I know many people want to go out in London.
And for that, there is no better area than Shoreditch in East London. Shoreditch is cool and trendy that cannot be debated.
This is where you'll find the trendiest travellers from all over the world, all of whom must have photos for Instagram in front of the most extraordinary street art.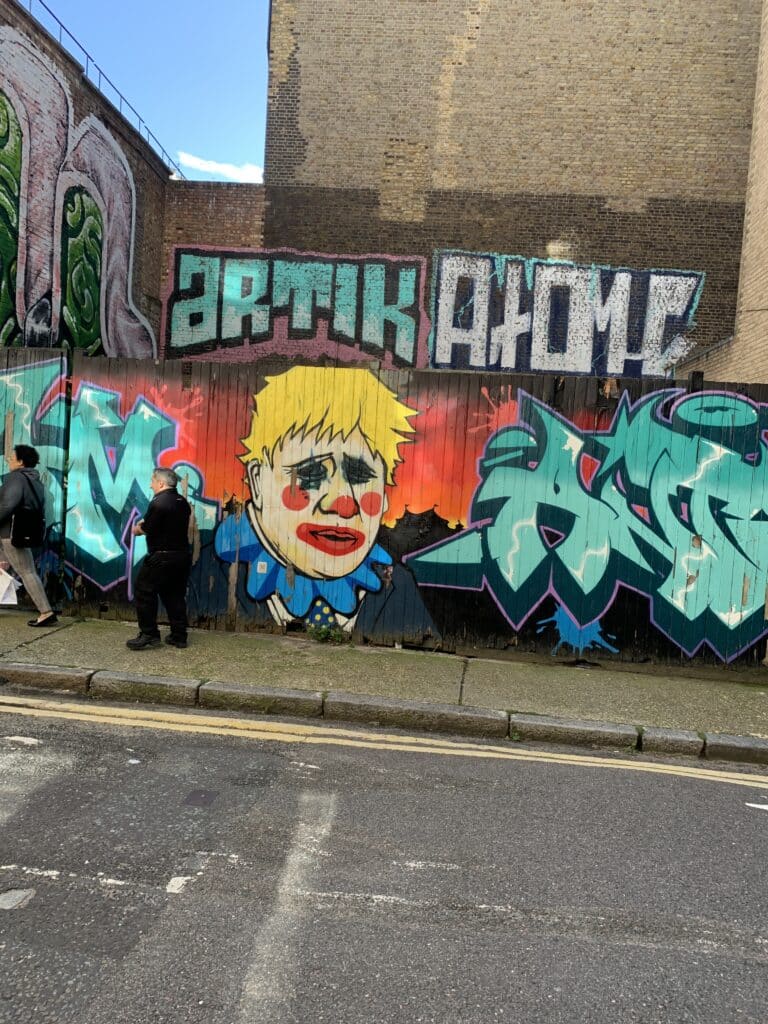 In Shoreditch, you should make your way past Brick Lane, London's Hipster High Street and a wonderful mix of Indian restaurants, vintage shops and record stores.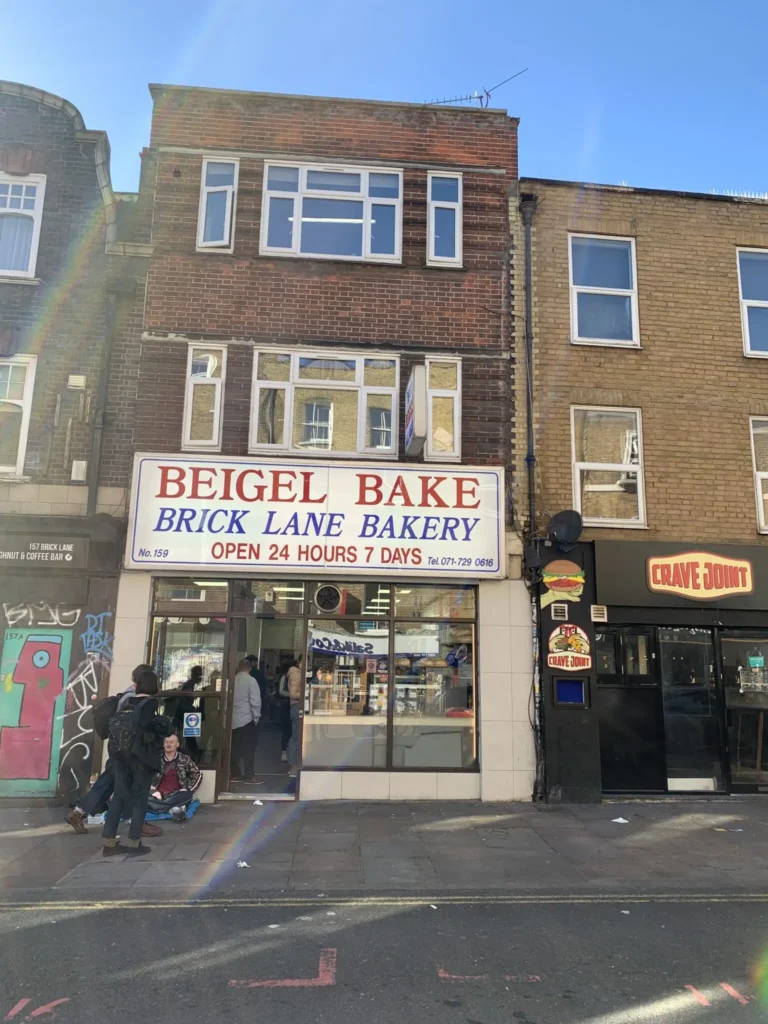 No music fan can go to Shoreditch without stopping by the enormous Rough Trade Records store on a side street off Brick Lane by The Truman Brewery.
I like Shoreditch, and the mix of new and old thrives well in this area, so it's a great place to book your stay in London.
I recommend walking further north to Columbia Road, Hackney City Farm and Broadway Market up in Hackney.
It's cool and trendy mixed with the best of The East End.
As such, there are none of the well-known London sights in the area, but you can walk down to the Tower of London with a bit of goodwill 😀
Good hotels in Shoreditch
Shoreditch and the whole of London's East End around Liverpool Street Station have undergone a considerable transformation in the last 10-20 years. It used to be anything but a cool area, but when the artists moved in in the early 00s, it suddenly became attractive.
That is why many hotels were hastily built, and now you can choose from many different accommodation options in different price ranges in Shoreditch.
Best Luxury Hotel: Mondrian London Shoreditch
Best Mid-Range Hotel: Shoreditch Inn
Best Budget Hotel: Point A Hotel London Shoreditch
6. City of London – best area to stay between the West & East End
The City of London is traditionally London's oldest area, so you will find many ancient buildings and churches here.
Want to stop by the pub where Charles Dickens and Mark Twain were also served pints? Then it would be best if you made your way past Ye Olde Cheshire Cheese in the City of London.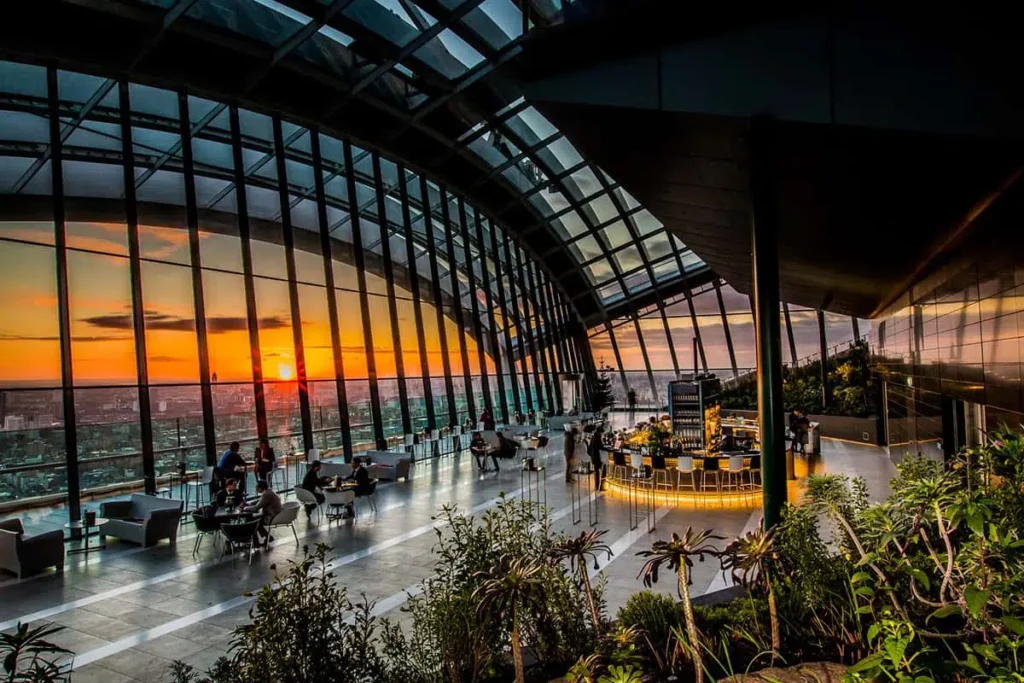 In the City of London, you will find an incredible number of sights that may not be the city's most well-known but are still worth a visit.
I can mention places like Temple Church (known from The Da Vinci Code movie), St Margaret's Church, Skygarden (a free public garden with a nice view over London) and the crowning glory of St Paul's Cathedral.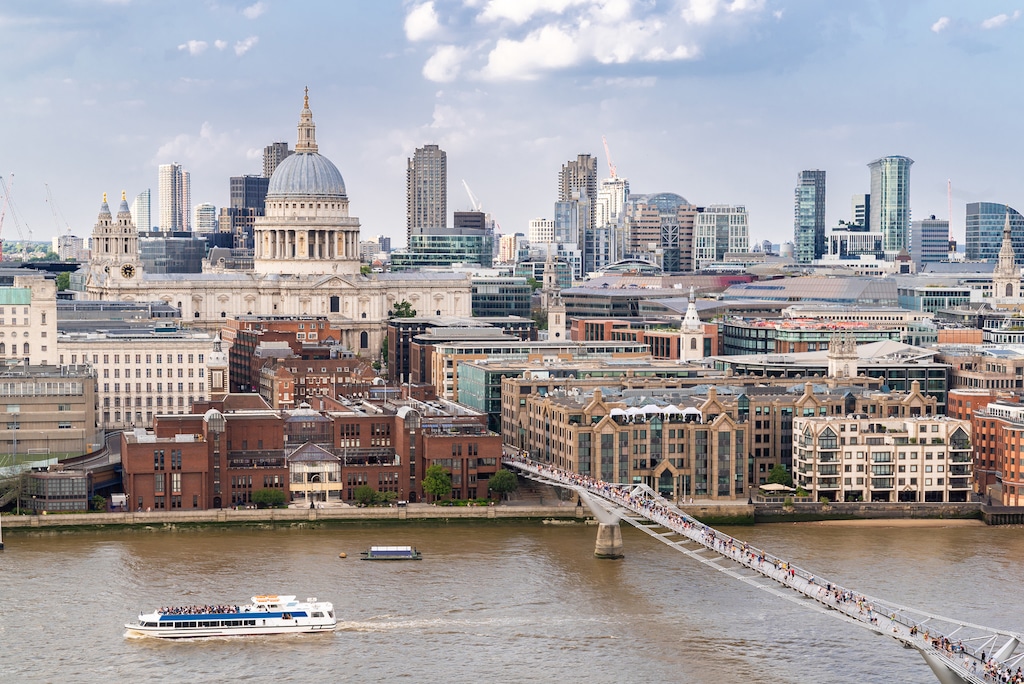 However, the City of London is a somewhat peculiar area, which also bears the stamp of being a financial district, especially in the area furthest to the East. So at weekends the streets can appear almost completely deserted because no one is at work – it's a bit strange.
Nevertheless, the area is a good choice for those who want to explore the classic sights of the West End (shopping on Oxford Street, fun in Soho etc.) and those who want to go out to the East End.
In the City of London, you stay right in the middle of it all, but the area itself is – if you ask me – not the most exciting or charming.
Good hotels in the City of London
On the other hand, many hotels in the City of London are relatively new and excellent, so you may be lucky to find a good deal here in the old London district. However, the hotels are generally not cheap here.
Best Luxury Hotel: The Westin London
Best mid-range hotel: Apex Temple Court Hotel or Apex London Wall Hotel
Best Budget Hotel: Club Quarters Hotel London City
7. Bankside – best area if you want to try something new
And then to an area situated south of the Thames. Most of what a tourist would like to experience in London takes place north of the Thames, but I would still recommend this area to those of you who have perhaps been to London a few times and would like to try a new district.
That's how I felt when I first booked a hotel in Bankside. I wanted to experience the pros and cons of staying here in an area I had often passed by on my way to the fantastic Borough Market.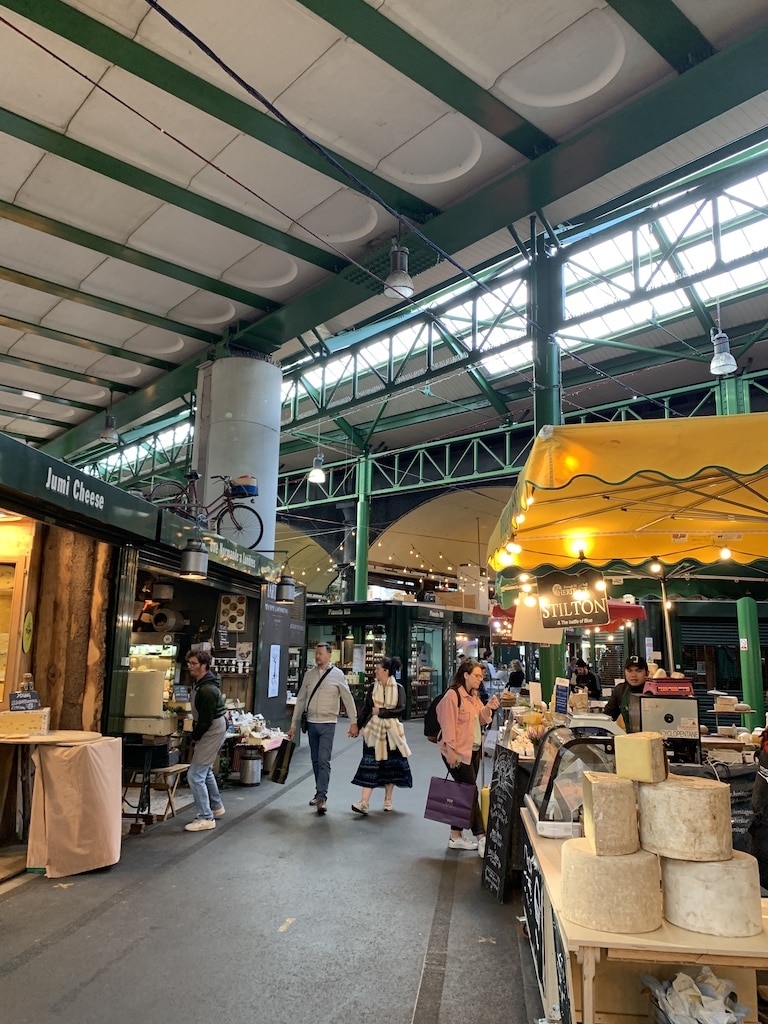 To be more specific, Bankside and the whole area around London Bridge offer many experiences within short distances.
Here you can find Shakespeare's Dome, Tate Modern, Southwark Cathedral, Borough Market and then the walk along the Thames past HMS Belfast to Tower Bridge and Tower of London is also lovely on a sunny day in London.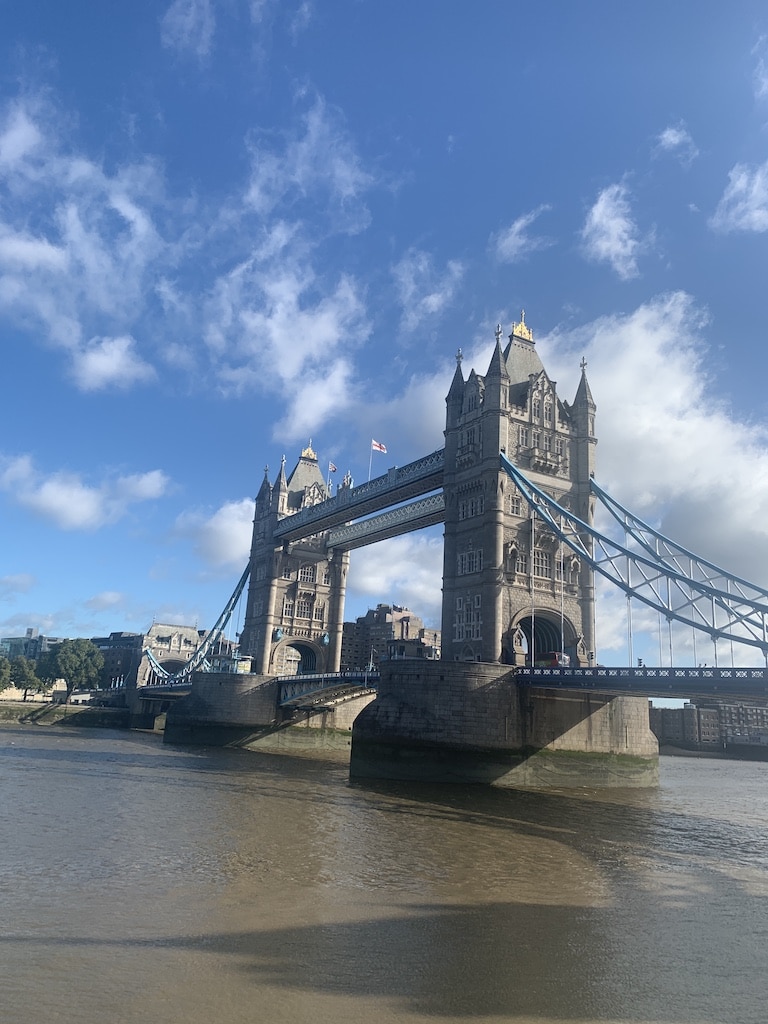 If you go the other way, you can walk along the Thames to the London Eye, which can also be recommended. This is a good area if you like walking around on your London holiday.
There are a few outstanding new hotels in the area and several tube lines, so if you want to try staying in an area that's a little off the beaten path, consider booking into the Bankside area around Borough Market west of London Bridge.
Good hotels in Bankside
Southwark and Bankside have blossomed in recent years, so the hotels in the area are also very new and modern.
Best Luxury Hotel: Sea Containers London
Best mid-range hotel: citizenM London Bankside or Native Bankside (hotel apartment with reception)
Best budget hotel: ibis London Blackfriars
It's easy to get to Bankside from Gatwick and Luton Airport by train.
8. Mayfair – best area to stay for luxury hotels
There must also be a recommendation for you who travel to London and want to experience world-class luxury. Here we have to mention Mayfair, one of the most expensive areas in Europe – and perhaps the whole world.
We are back on the north side of the Thames, in central London, with Soho on the right, Oxford Street to the north, Hyde Park to the west and Buckingham Palace to the south.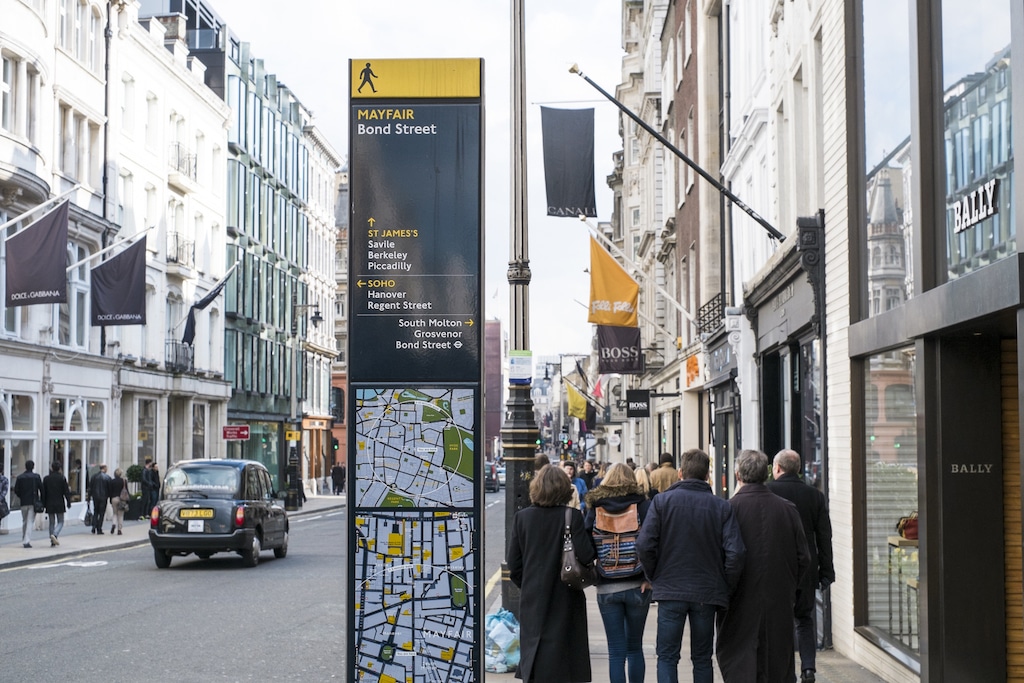 In other words, we are in the heart of London, where the most expensive homes in the English capital are found. It's not an area I would recommend to ordinary tourists, as the hotels in Mayfair exude upper class and are rather expensive.
But if you are used to luxury and want to experience the absolute best of London, then there is no doubt: you must book into one of the many luxury hotels in Mayfair.
Good hotels in Mayfair
This is where it gets tricky. Because some of the absolute best hotels in London are located in Mayfair, I must admit that I have not visited them. But I would like to recommend some hotels that get the best reviews.
Best luxury hotel: The Ritz or The Dorchester
Best Mid-Range Hotel: The Mayfair Townhouse
Best budget hotel (hard to find in this area): Washington Mayfair Hotel
More hotel recommendations in Central London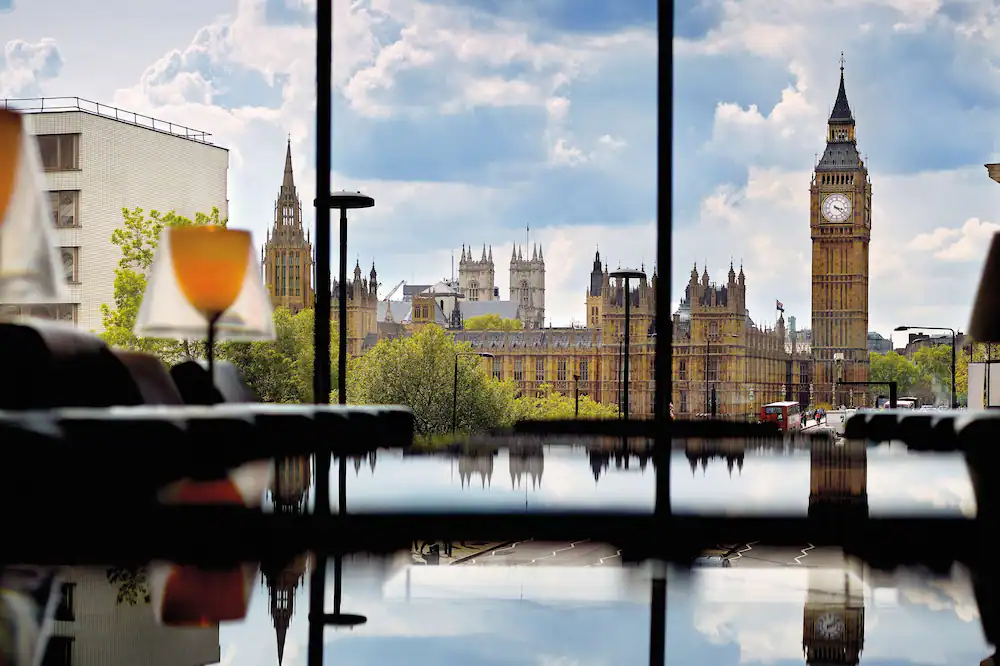 If you have not yet found a hotel that suits your trip to London, here are a few other suggestions located in perfect areas for most tourists.
Park Plaza County Hall London is a family-friendly hotel located a few minutes walk from the London Eye and Big Ben, so you stay incredibly close to the most famous sights here.
The neighbouring hotel Park Plaza Westminster Bridge London, is also excellent, but it is typically a bit more expensive – purely because the hotel has an indoor swimming pool, so if you want to take a dip, you should choose this one.
The Wellington Hotel by Blue Orchid is located in Westminster close to Victoria Station, where you enter by train from Gatwick Airport. Then you are also within walking distance of Buckingham Palace and Big Ben. The hotel is located in some tranquil streets – remember to visit The Jugged Hare pub around the corner, where they serve delicious pies.
In South Kensington, close to Harrods, there are also many fine hotels and a good area for many tourists. Here I can recommend the hotel The Rembrandt if it is to be luxurious and the Ashburn Hotel if you would like to save some money on the accommodation budget.
Bad and dangerous areas to avoid in London
I feel safe strutting around London, but we must recognise that it's a big city and crime happens.
Therefore, I will briefly touch on the areas in London you should avoid and should not book a hotel in any case.
But first let me tell you about an area you shouldn't stay in – not because it's dangerous, but because it will be annoying.
The area around the Excel Center at Victoria Dock in East London. There are a lot of hotels out there, and if you're looking for a good deal on well-known hotel booking sites, there will often be good deals out there.
But that is because it is far from the sights and experiences you want to see in London! So the cheap hotel room comes with the price that you must spend a long time on transport into Central London.
Additionally, there are some traditionally dangerous areas of London that few people would end up in, but I'll list them anyway:
Tottenham
Finsbury Park
Harlesden
Croydon
Tower Hamlets
Newham
Peckham
And then there are Brixton and Hackney, which have traditionally been dangerous areas to avoid but are now also trendy areas with many good restaurants and things to do.
I hope you were able to use this guide on the best areas of London and that you are now ready to book your hotel for your trip to the English capital.
Frequently asked questions:
Which area is the best in London?
It depends on whether you travel to London with children or as a young person. But in general, Soho and Covent Garden are the best areas for most tourists who travel to London and want to stay centrally close to the city's best attractions.
Where can you stay cheaply in London?
There are many cheap hotels in the Paddington and Bayswater areas, so I recommend staying there if you want to save money on accommodation. The areas are still centrally located in London, so you can quickly get around the rest of the city.
Which areas of London are dangerous?
Most tourists will never go out into areas that are dangerous or where they feel unsafe. But maybe you shouldn't go straight to Tottenham, Finsbury Park or Tower Hamlets and walk alone at night.
What is the prettiest area of London?
Mayfair, Notting Hill and Primrose Hill are some of the prettiest areas of London, where you get a feel of the charming British architecture.
Where is the coolest place in London?
In the 2010s, the coolest place in London was Shoreditch. Shoreditch is still cool, but areas like Hackney, Dalston, Stoke Newington and Peckham are now considered the coolest places in London.