Barcelona has hit me right in the heart, like so many other travellers who pilgrimage to the famous city on the Spanish coast every year.
I have now been to Barcelona two summers in a row and must admit that I love the city. Barcelona, however, is a vast city, and it's essential to know a bit about the many different areas of town before booking a hotel.
So after this brief introduction to Barcelona, I will dive into the best places to stay in the main areas and recommend a couple of great hotels.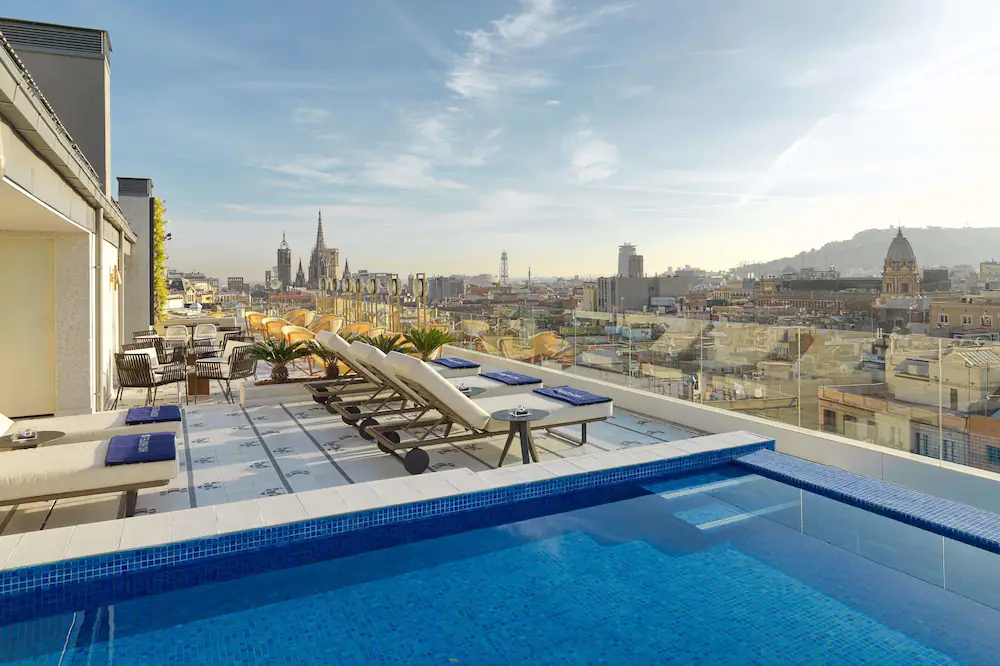 Barcelona is the second largest city in Spain (surpassed only by the capital Madrid), the prices for food and drink are low, and Barcelona is right next to the coast, so you can combine a city break with a beach holiday.
In other words, Barcelona is something close to the perfect destination. But where should one choose to book a hotel in a city that has a certain size and is visited by countless tourists every year?
We look at this in more detail in the guide on where to stay in Barcelona.
1. The Gothic Quarter – the best area in Barcelona ⭐️
I love the Gothic Quarter in Barcelona. It might be a bit touristy, but the best areas of the big cities in Europe always are.
It makes sense: the tourists want to see the best places, and in Barcelona, the best area is, in my opinion, The Gothic Quarter.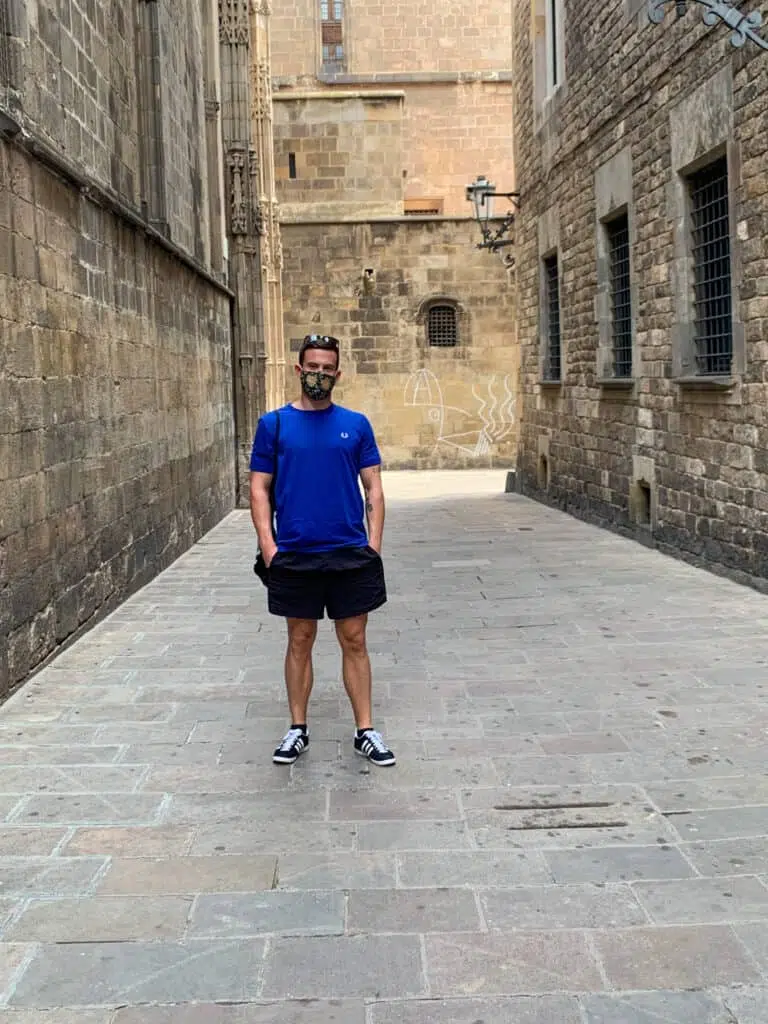 This is an area that, on my first visit, made me think of the cosy, narrow streets in Prague, Covent Garden in London or Edinburgh's Old Town.
Walking around the Gothic Quarter, you don't feel like you're in a big city but instead in a movie set for a film that takes place in the Middle Ages. And I mean that in the best way possible.
This is a unique area where tourist shops lie alongside local art museums, ancient churches and cosy restaurants with fantastic food at low prices.
It must be said that the Gothic Quarter is on every tourist's "must-see" list when visiting Barcelona so you won't have the area to yourself.
But you won't get that anywhere in Barcelona, so why not stay in the heart of the best area?
This is the old town of Barcelona, so there is no Holiday Inn on every street corner, and if you're booking your Barcelona hotel last minute, you might be unlucky searching in The Gothic Quarter.
However, I think it is a good benchmark for where to stay in Barcelona – if you are within 5-10 minutes walking distance of the Gothic Quarter, then you know your hotel is centrally located.
From The Gothic Quarter, it is a 15-25 minute walk to the beach depending on where you are.
See the best hotels in the Gothic Quarter here.
2. Plaça de Catalunya – stay right in the centre 🏪
If we have to talk about another landmark for where to choose to stay in Barcelona, then it must be Plaça de Catalunya.
In other words, this is the centre of Barcelona, so if you book a hotel close to Plaça de Catalunya and want to stay within walking distance of many of the popular things to do in Barcelona, then you've made the right choice.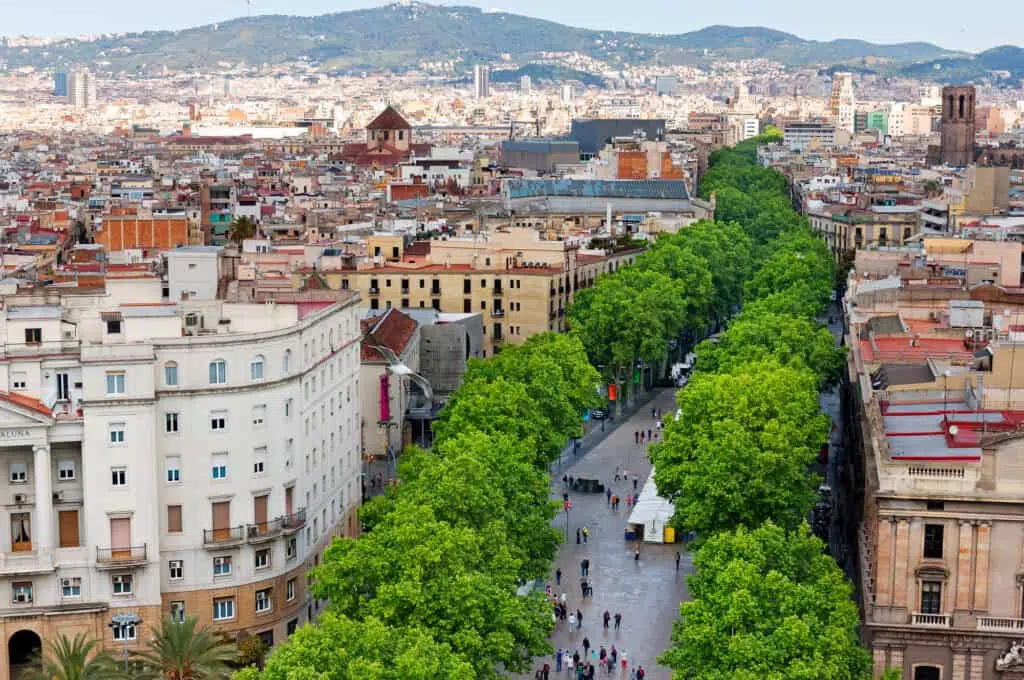 At Plaça de Catalunya, the legendary Rambla starts and stretches down towards the harbour.
So if you want to stay in the centre of Barcelona close to attractions, shopping opportunities and, among other things, you could quickly get from Barcelona Airport to the city centre – Plaça de Catalunya is a perfect choice.
It is about a 30-minute walk from Plaça de Catalunya to the beach, but the walk goes through cosy streets and the Gothic Quarter, so it's a great walk – or a short taxi ride if you've had too much sun and want to get straight back to your hotel after a day at the beach 😀
This is also an excellent area to stay in if you travel to Barcelona with children.
See the best hotels around Plaça de Catalunya here.
3. Gràcia – the best place to stay for a bohemian vibe 👩🏻‍🎨
While the first two areas have been classic places to stay in Barcelona, we now jump to a slightly different area – Gràcia.
Gràcia is an area that continues to be referred to as a bohemian area of Barcelona without tourists.
This is no longer the case, as any self-respecting travel blogger has now visited Gràcia and written about it (myself included).
Still, there is no doubt a different atmosphere than in the more classic tourist areas.
I loved the atmosphere, cosy streets, local bars and restaurants around Plaza del Sol.
It is perhaps an area you should stay in when you have been to Barcelona a few times and now want to get a little more under the city's skin.
If it's your first trip to Barcelona, I'd probably still recommend one of the other areas on the list, where you'll be closer to the sights and the beach – but consider Gràcia if you want to experience a different side of Barcelona and still be relatively close to the centre 🙌🏻
See the best hotels in Gràcia here.
4. La Barceloneta – stay right by the beach 🏖
Another area that could interest you who travel to Barcelona to enjoy the city's beaches is La Barceloneta.
Barcelona has several beaches, but the most famous (and closest to the city) is called Barceloneta.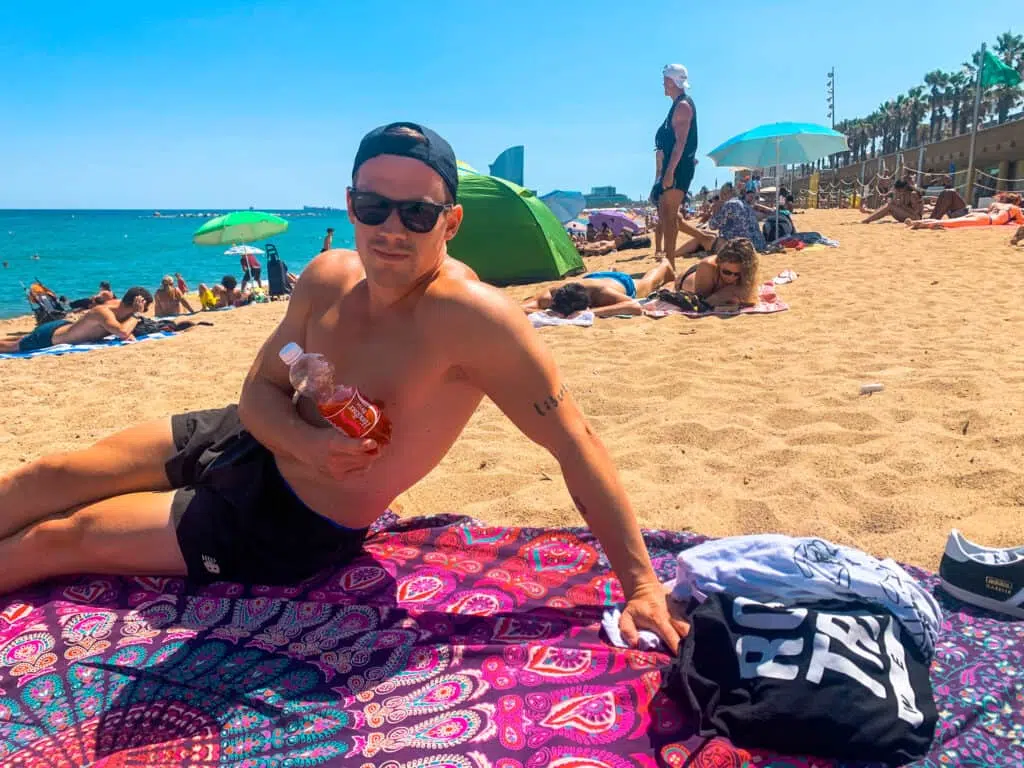 The area next to the beach is called La Barceloneta and is excellent!
There are, of course, lots of tourists here, but there is a unique and somewhat local atmosphere in this part of town. Not having been to South America, I got South American vibes for some reason – in a good way.
Get a taste of the area for yourself in the video here:
The area is packed with restaurants, cafes, bars and, of course, beach clubs down by the beach.
The main reason to stay here in the La Barceloneta area is that you are only a small stroll from Barcelona's famous beach. But you are also very close to the Gothic Quarter and the next place on the list (El Born).
So if you can find a good hotel deal on a hotel here in La Barceloneta and know that it's only a 20-25 minute walk to the Rambla, then this will be an excellent place to stay in Barcelona.
Especially if you expect to spend a lot of time on the beach! 🏖🍹
See the best hotels in La Barceloneta here.
5. El Born – best place to stay for nightlife 😎
Immediately northwest of La Barceloneta and east of the Gothic Quarter, we find El Born.
So whether you stay in The Gothic Quarter or El Born doesn't matter much.
You might say El Born is a bit livelier at night than the Gothic Quarter, so if you're travelling to Barcelona with kids, this might not be the best area to stay.
On the other hand, if you are a couple of young friends on a trip, then El Born will be the perfect choice to have as a base on your trip to Barcelona.
As in the rest of Barcelona, it is teeming with bars, restaurants and small cosy shops, while you are within walking distance of the beach, many sights and several metro stations, so you can quickly get around with public transport in Barcelona.
See the best hotels in El Born here.
I hope you can use this travel guide for where to stay in Barcelona and that you are now ready to book your hotel in the fantastic city.
If you have any questions about Barcelona, please leave a comment below.
FAQ:
Where to stay in Barcelona first time?
On your first trip to Barcelona, I'd recommend staying in the city centre. Look for hotels in areas such as The Gothic Quarter or close to Placa Catalunya, and you'll be within walking distance of many of the best things to do in Barcelona.
Where to stay in Barcelona for a romantic trip?
The best hotel for a romantic stay in Barcelona is H10 Cubik which is centrally located and has a rooftop terrace with a pool and bar.
Is it safe to stay in La Rambla?
La Rambla is not an area but a street in downtown Barcelona. It's one of the most famous streets and places in general in Barcelona, and therefore, it attracts pickpockets and scammers late at night. I would not classify La Rambla as unsafe, but you should have your wits about you in the area if you're out late at night.
Is Barcelona a walkable city?
Yes! Barcelona is one of the best cities in Europe if you enjoy walking and getting a feel for the city. There aren't too many hills and plenty of pedestrianised areas.