Edinburgh is one of my absolute favourite cities worldwide. I was lucky enough to call the Scottish capital my home for half a year a few years ago.
In this guide, I will share some of the best things to do in Edinburgh.
Edinburgh is a relatively small city, so it is ideal for an extended weekend trip, as you can easily see the most important sights and at the same time have a holiday instead of rushing around to a lot of different things.
Something that can be the case in particular if you try to see all the sights in London or Paris.
Edinburgh is easy to get to and get around. It is simply an enchanting city that I have yet to hear of anyone coming home disappointed.
It's also worth noting that you can reach incredible nature in just a couple of hours.
For instance, this mountain in Glencoe I got to on a one-day trip from Edinburgh (it's #11 on this list):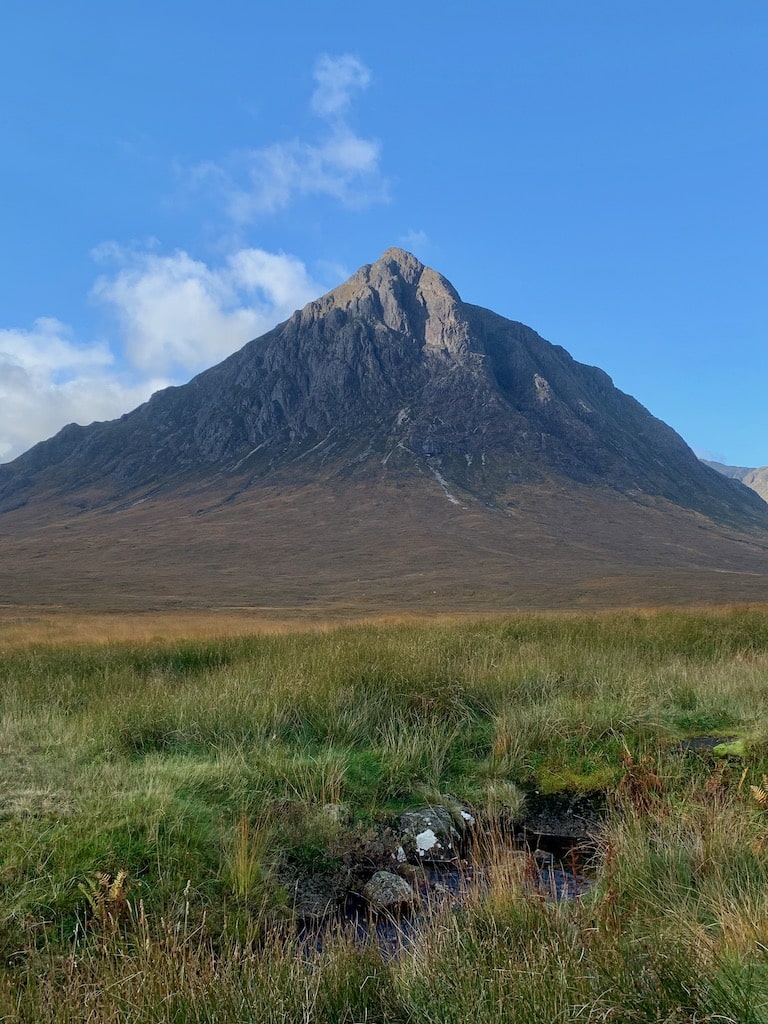 So if you have planned a trip to Edinburgh, you can start looking forward to it. Otherwise, let's go straight to the guide to sights in Edinburgh.
I will review the main things to do and share my favourites and a few hidden gems.
1. Edinburgh Castle – the city's main attraction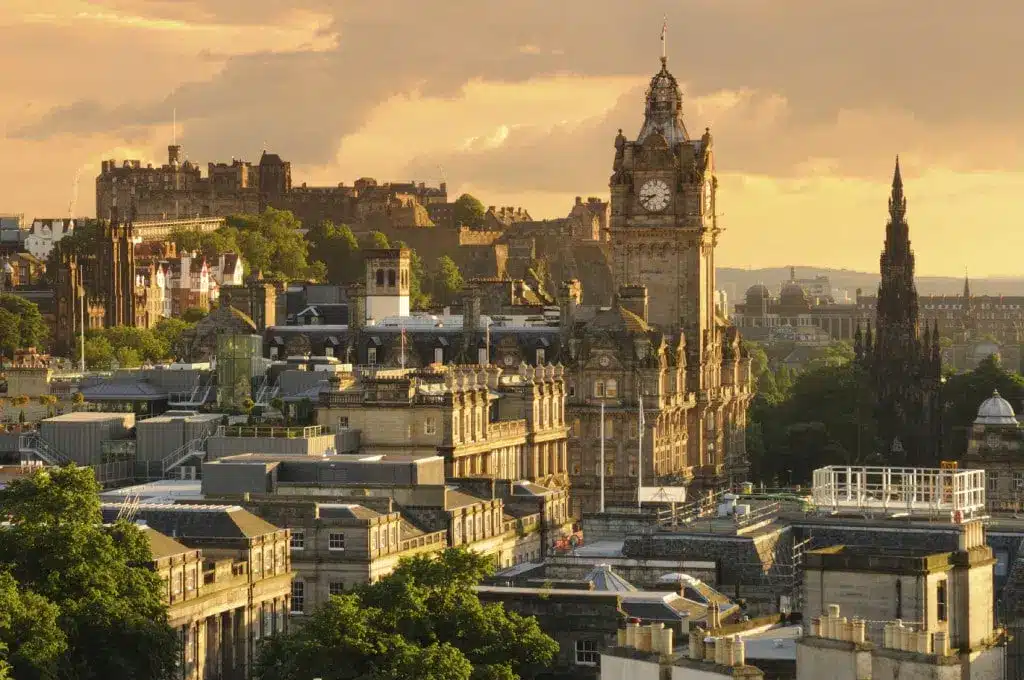 Edinburgh Castle (in the background in the photo above) can be seen from all over the city and is, therefore, worth a visit.
The castle rises above the entire city centre, so it is only possible to be drawn by the impressive building.
The castle dates back to the 12th century and has been one of Scotland's most important fortresses for several hundred years. Its importance to the military has been enormous, and there remains a war museum (and much more) behind the walls.
You can "make do" by walking up to the esplanade in front of the castle, where you get an excellent view of Edinburgh's new and old parts.
If you book your ticket online, you get a skip-the-queue ticket, which can prove useful – this is one of Scotland's best-known sights, so it can be well-visited in the high season.
Buy tickets for Edinburgh Castle here.
2. The Royal Mile – unites the two royal buildings
It is not without reason that I write about The Royal Mile between Edinburgh Castle and the Palace of Holyroodhouse, which comes further down on my list here.
The Royal Mile is the road from the castle down to the Holyrood Palace.
In other words, it is the most famous street in the whole of Scotland and is packed with tourist shops, where you can buy whiskey, kilts, all-in-wool clothes and all kinds of tourist bras 😀
All tourists come here at least once, and most will probably end up here several times on their trip to Edinburgh, as there are many sights and experiences on and around the Royal Mile.
Check out my guide on where to stay in Edinburgh.
3. St Giles' Cathedral
On the Royal Mile, you can, among other things, recommend looking inside St Giles Cathedral, which is free to visit and is simply stunning.
Remember to also explore the side streets, called a 'close', where a cosy pub or a staircase down to another street may be waiting.
Almost up by the Castle, you will find, among other things, a cosy pub in close, namely Jolly Judge.
4. Palace of Holyroodhouse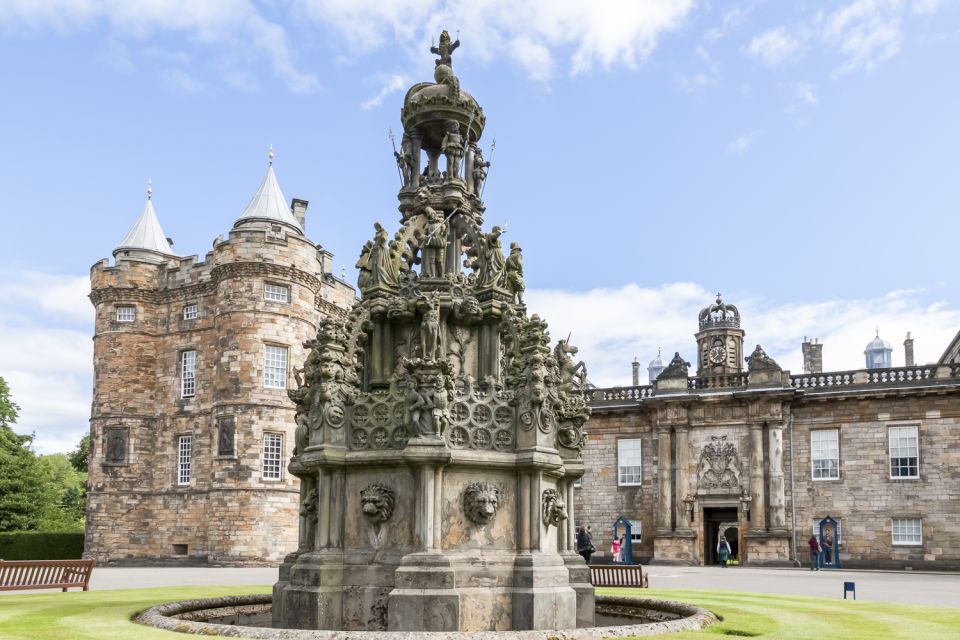 Holyrood Palace is at the bottom of the Royal Mile – opposite the Scottish Parliament. I have to admit that I have never been inside but only passed by and showed family and friends the place from the outside.
So I only have a little insider knowledge about what it looks like inside, but even though it's a royal palace, you can get a tour inside…
Get more info and tickets here.
5. Arthur's Seat – climb Edinburgh's volcano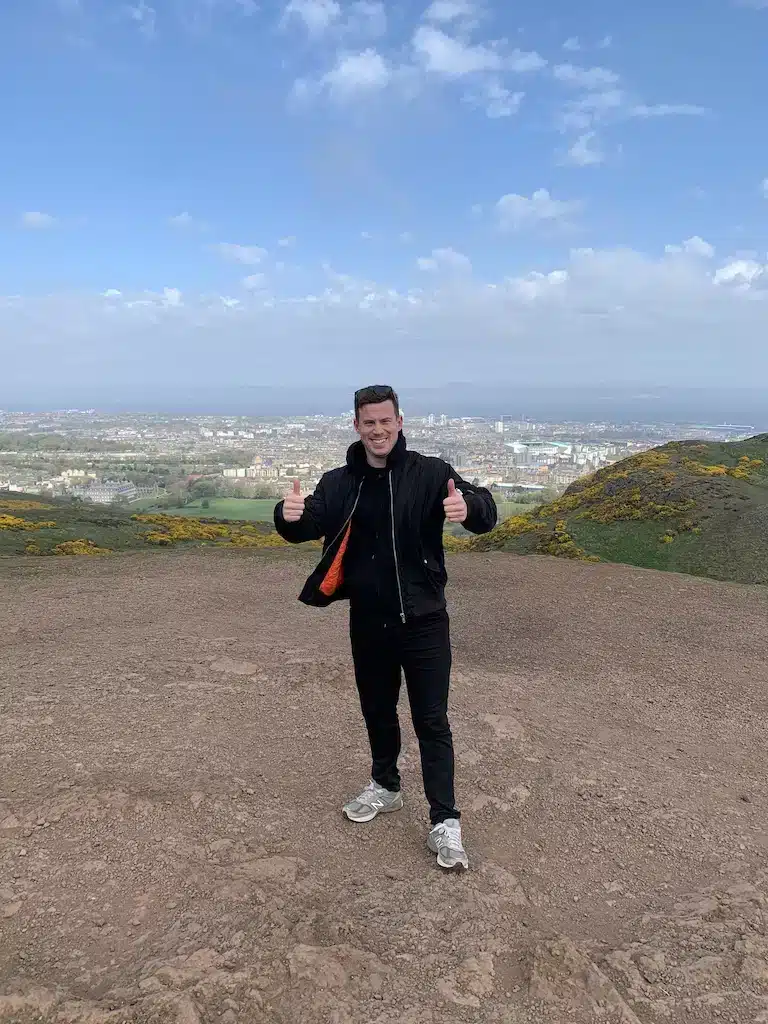 Next to Holyrood Palace is Holyrood Park, whose highest point you cannot overlook when in Edinburgh. While Edinburgh Castle is undoubtedly located high up, Arthur's Seat (as the volcanic peak inside the park is called) is the city's overriding highest point.
And, of course, you can hike up there, which I highly recommend if you are in reasonable shape.
It's not a challenging climb if you take it down from the Royal Mile end, but in wet conditions, it may require some good shoes, and you have to expect mud to get on them.
6. Calton Hill – viewpoint in the city centre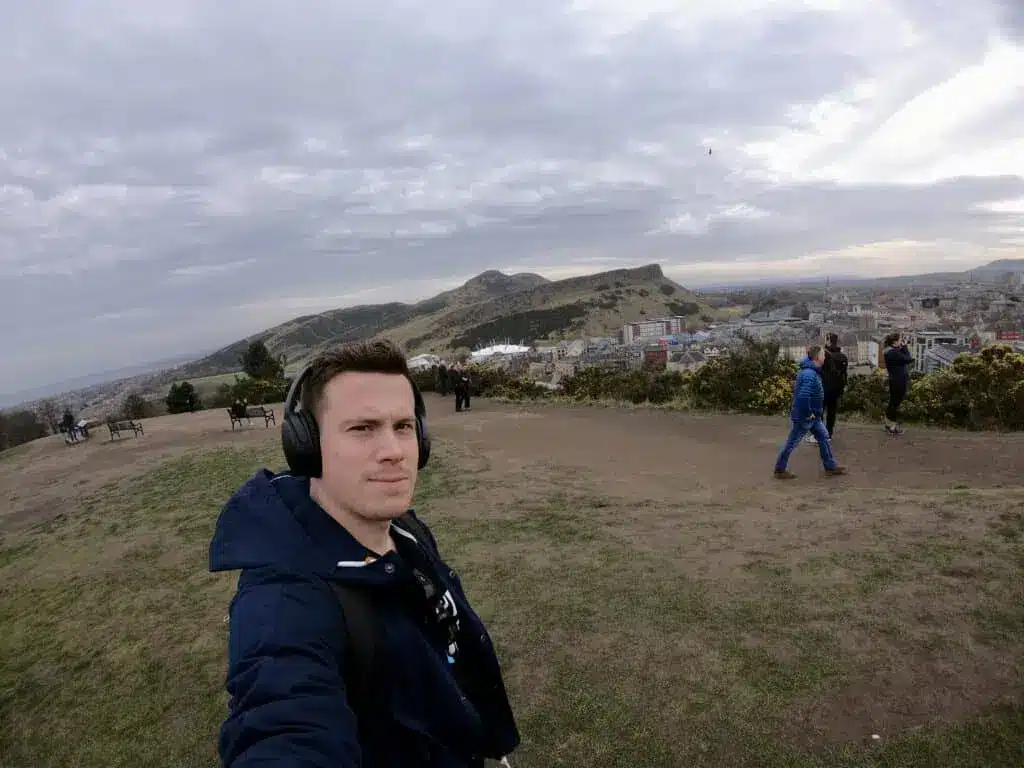 Where it takes about 45 minutes to go up to the top of Arthur's Seat, it is more manageable to slip up to the top of Calton Hill, located at the end of Edinburgh's answer to London's well-known Oxford Street, Princes Street.
There are stairs up here, so you can get (very) high up into the centre of Edinburgh and be rewarded with a fantastic view in minutes.
It would be a shame to travel to Edinburgh and not take a trip to the top of Calton Hill.
And it's a free thing to do in Edinburgh which is always nice 😀
7. The National Museum – free and exciting for children and adults
The National Museum in Edinburgh is a free experience, and there is plenty to see for both children and adults.
Located in the Old Town, a few hundred meters from, among other things, Royal Mile, Victoria Street and the Grassmarket, it's an excellent place to have in the back of your hand for a day when the weather might not cooperate.
It's Scotland, after all, so there's a good chance the sun won't shine during your city break in Edinburgh.
At the National Museum, you can, among other things, experience Dolly The Sheep – the first cloned mammal in the world.
I recommend finding your way to the top of the building, where there is an outdoor open terrace where you get an excellent view of Edinburgh and can see down to the Pentland Hills.
8. Victoria Street – Diagonal street from Harry Potter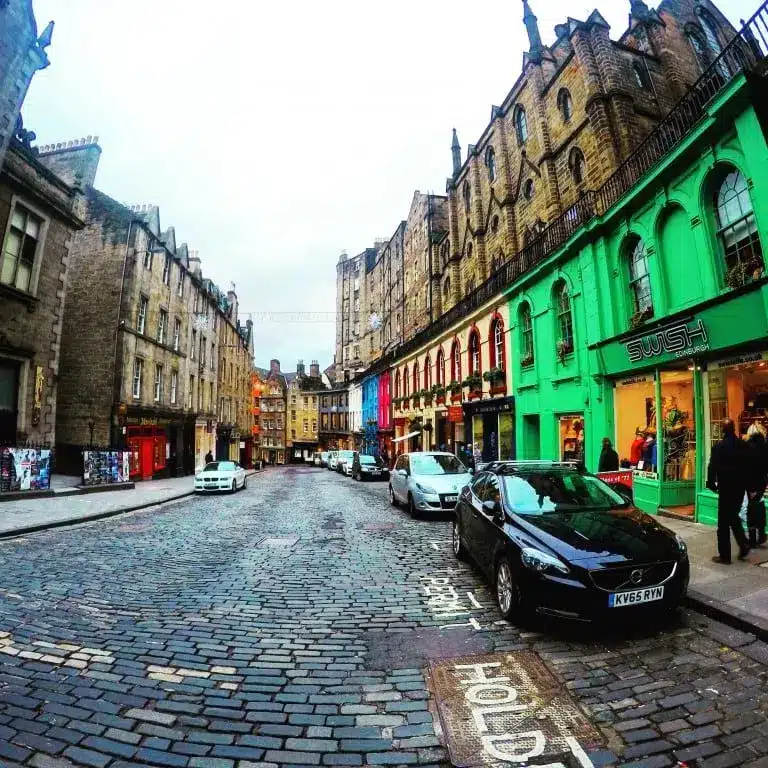 JK Rowling wrote the Harry Potter books (at least the first one) when she lived in Edinburgh. This means many places from the book are inspired by real places in Edinburgh.
One of the most well-known is Victoria Street, which is located a few meters from Rowling's permanent writing cafe in Edinburgh – and you immediately see that this is where she got the inspiration for Diagon Alley from the Harry Potter universe.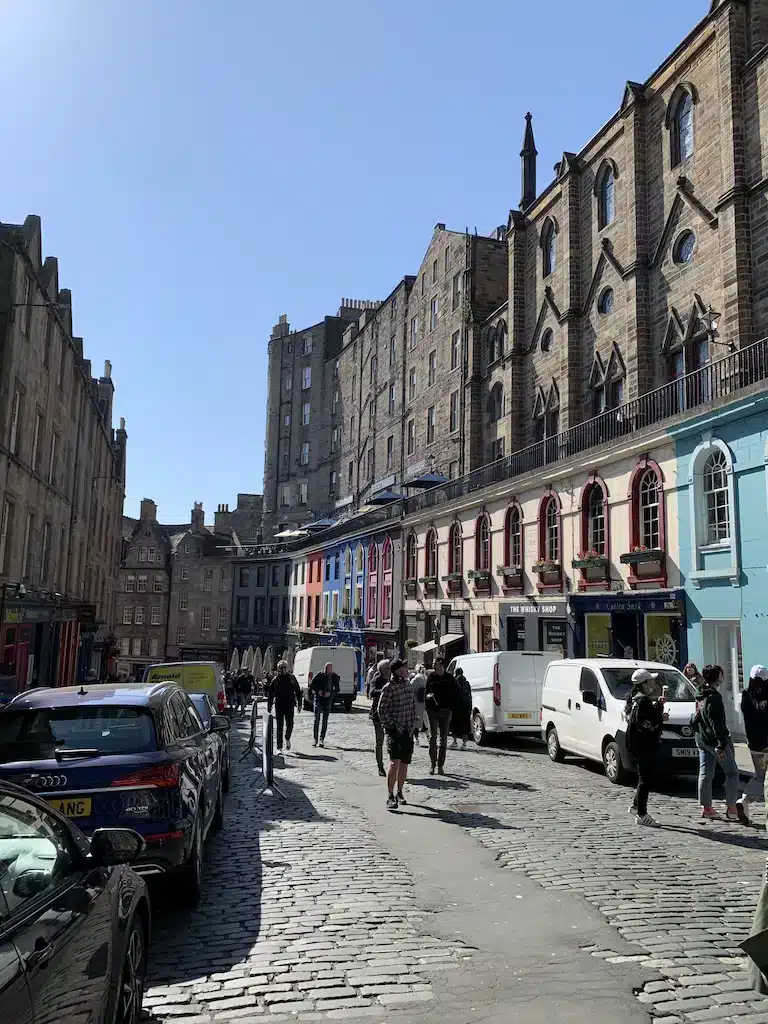 On Victoria Street, there are several cafes, indie shops and one of the city's best pubs, The Bow Bar.
9. Harry Potter Tour in Edinburgh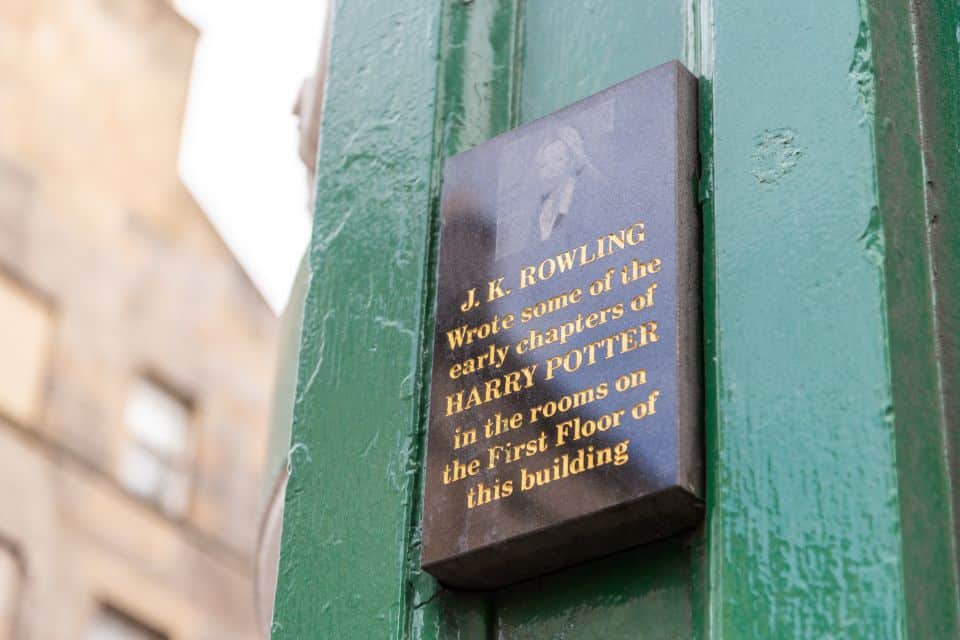 Suppose you are (also) a huge Harry Potter fan. In that case, you can take advantage of a 2-hour dedicated Harry Potter walking tour in Edinburgh.
The tour is cheap, has excellent reviews, and passes some of Edinburgh's most important Harry Potter-related sights.
Read more about the tour and get tickets here.
10. Real Mary King's Close – experience the old, underground Edinburgh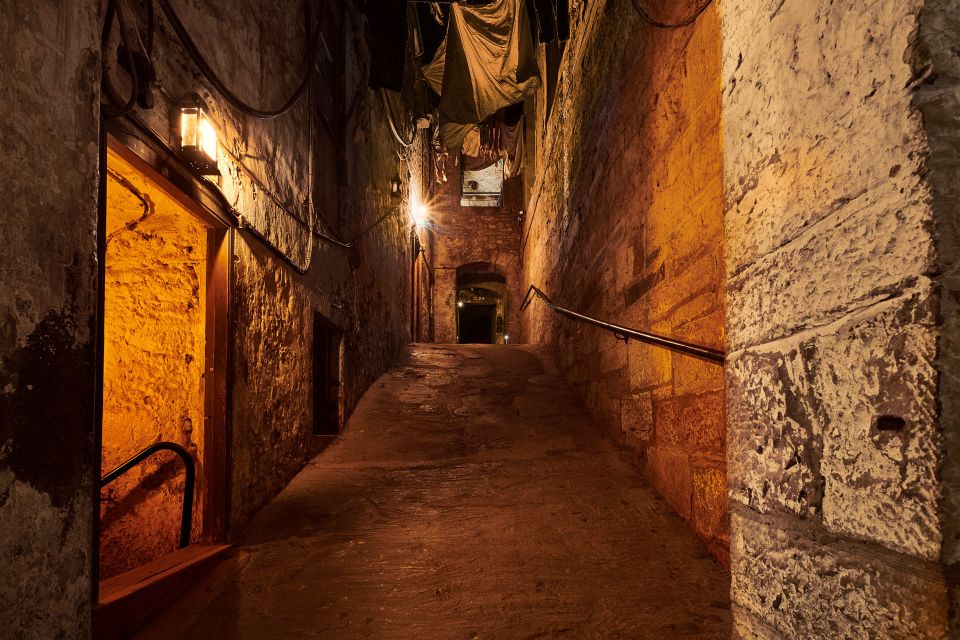 One of Edinburgh's most famous sights, or perhaps more precisely, experiences, is the Real Mary King's Close.
It's so popular that if you come on the day, there are rarely 'times' for tours – I had to admit that a few months ago when I was in Edinburgh and wanted to take a tour of Mary King's Close with some friends.
We were there just after opening time at 10 am, but could only get time late in the evening.
So I recommend booking this experience in Edinburgh online in advance!
Buy tickets and read more here.
11. Day trip to the Highlands ⛰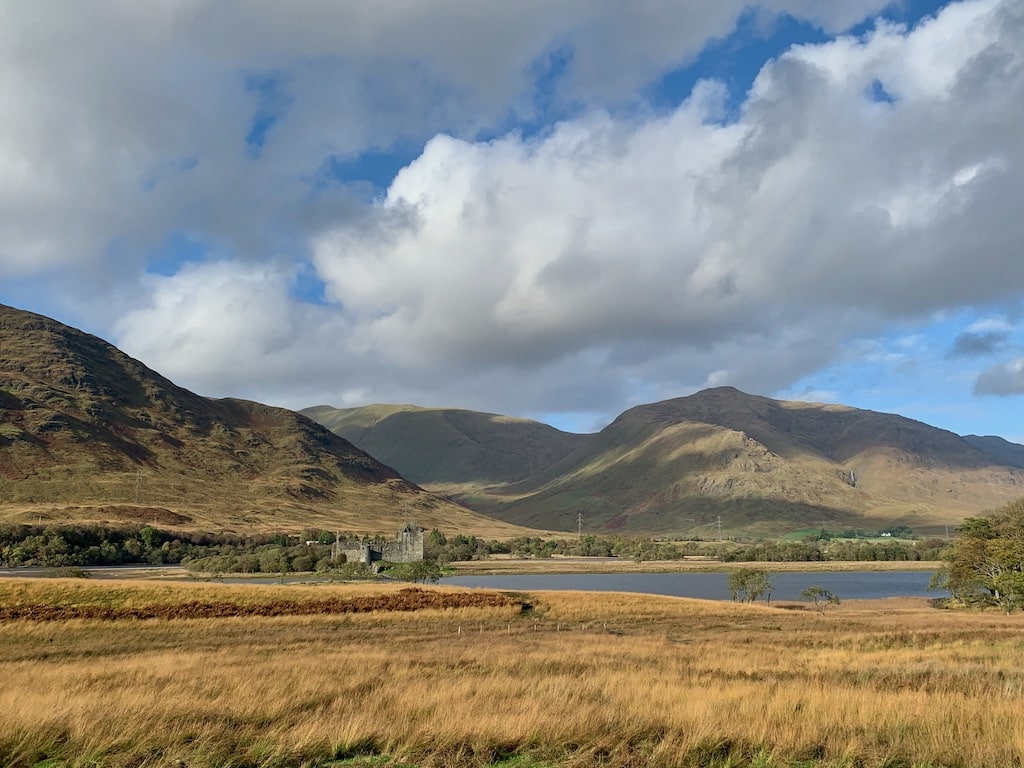 Okay, so a day trip to the Highlands is not an Edinburgh attraction. Still, anyone with more than a few days in Edinburgh should strongly consider taking a day trip out of the city.
It only takes 1-hour drive before you reach the Scottish Highlands, where the landscape changes dramatically. Then you feel like you're driving through a movie set.
The Highlands of Scotland are one of the places I always dream of returning to. Even though I have been on countless bus tours from Edinburgh, either as a guide or on my own, I can never get enough.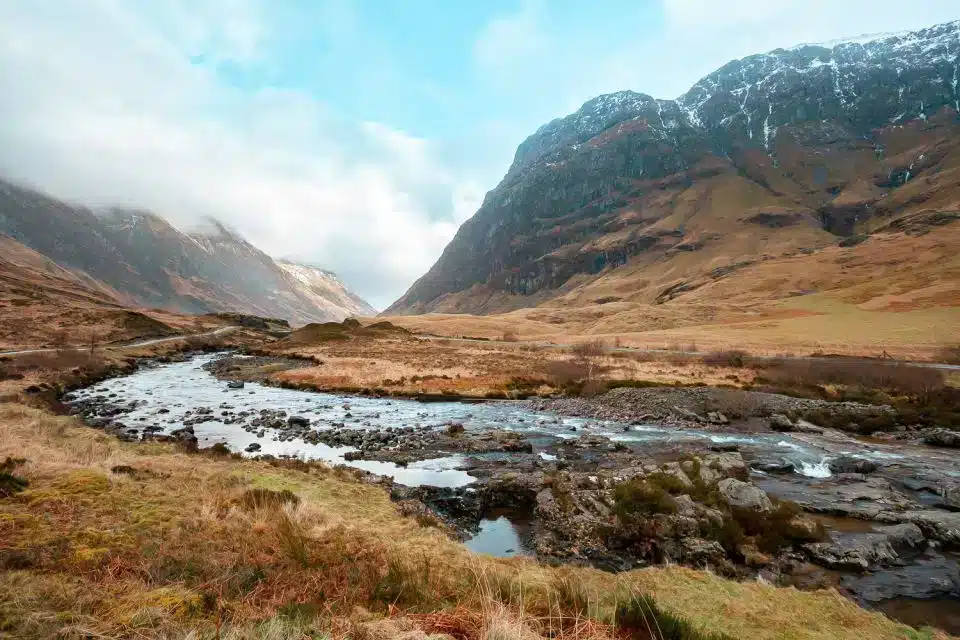 There are many different tours, but I recommend always taking one that takes you to Glencoe.
It could be this trip from Edinburgh to Loch Ness, Glencoe and the Highlands.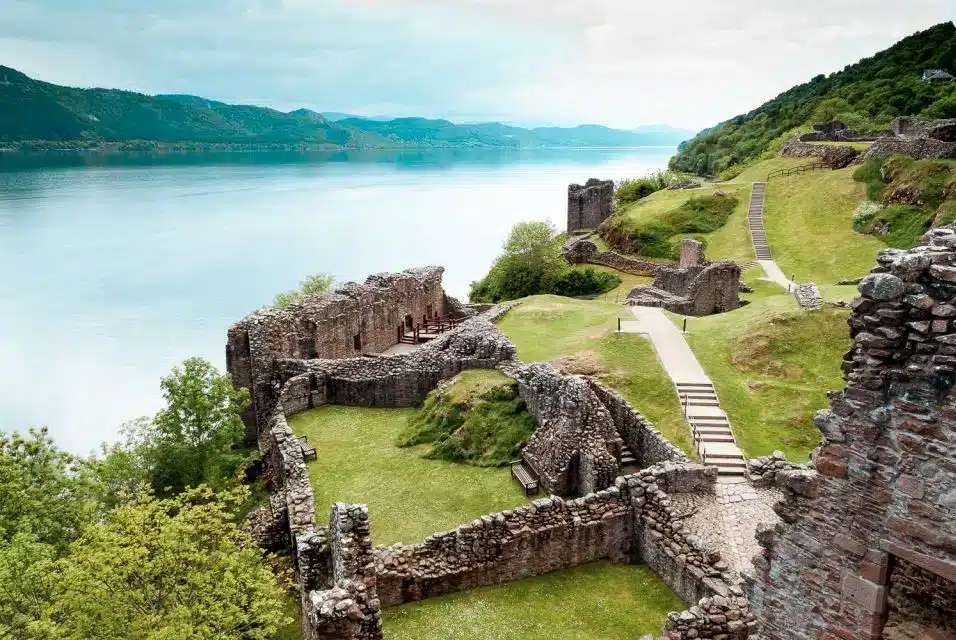 In my eyes, Glencoe is one of the most beautiful things to be found in Scotland – unless you go over to the Isle of Skye, which is too far for a day trip from Edinburgh.
So: take a day trip from Edinburgh to Glencoe – I bet you won't regret it.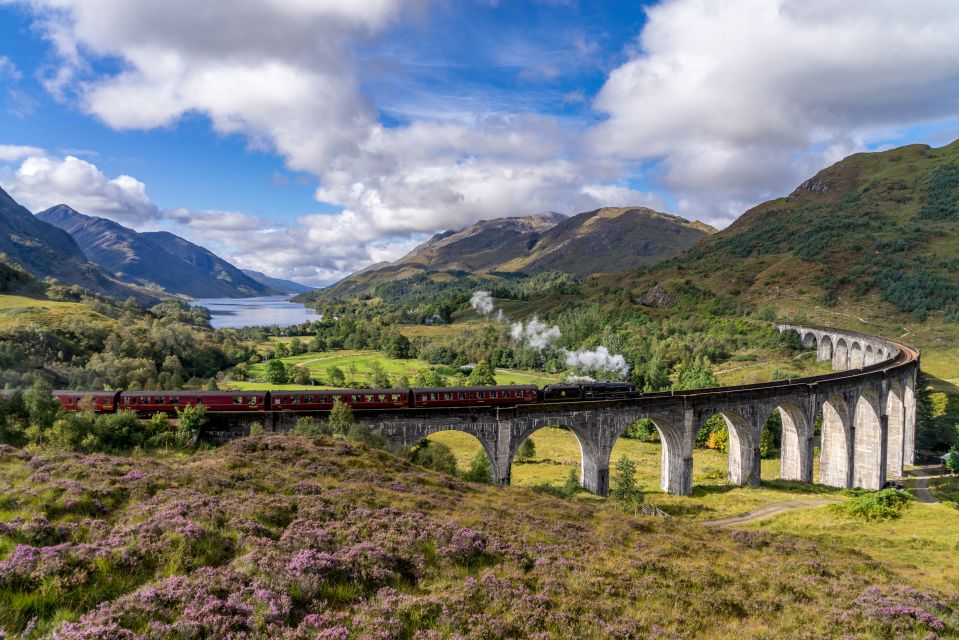 Suppose you want to experience the Glenfinnan Viaduct ("the Harry Potter bridge"). In that case, you must book a tour that goes specifically there.
You can even book a day trip from Edinburgh, where you can ride the "Hogwarts Express" – see more about this trip here.
12. Gin or Whisky tasting 🥃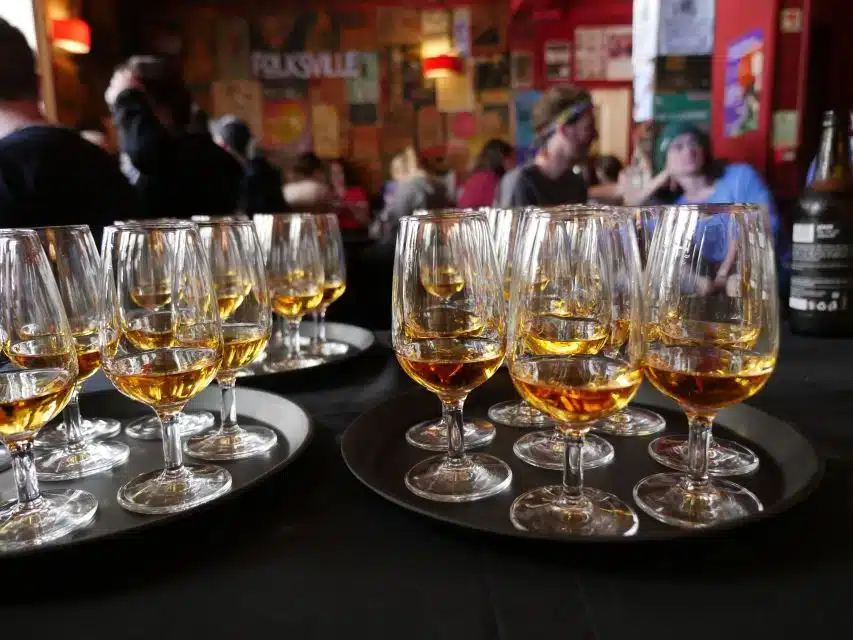 Scotland is world-renowned for its renowned whisky, and many travellers come from all over the world to visit a whisky distillery in Scotland.
Many of the best-known distilleries are located in the Scottish Highlands or outside Edinburgh in the Lowlands. Still, you can also come for a whisky tasting in Edinburgh.
Consider this whisky tasting, one of Edinburgh's best-reviewed whisky tastings.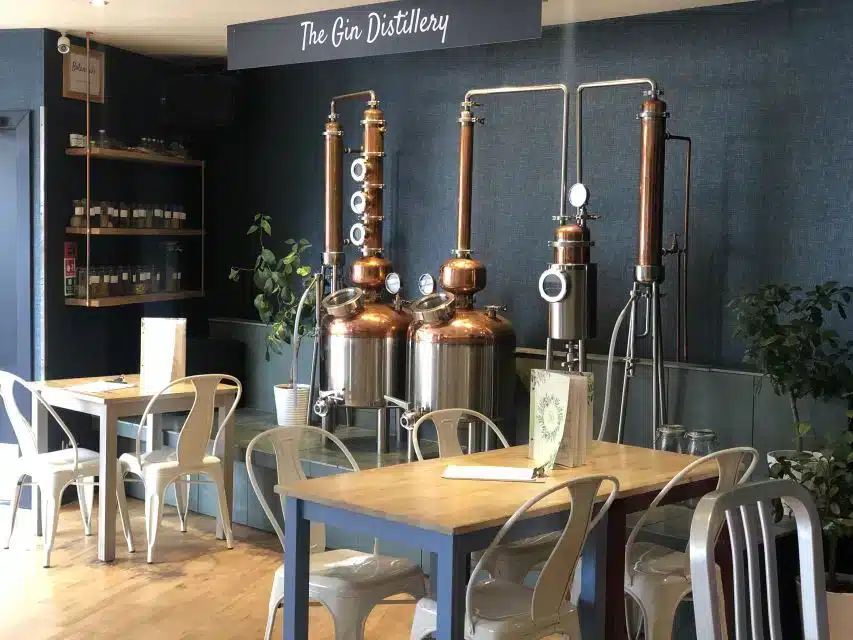 If you're more into gin, check out this gin tasting in Edinburgh.
Edinburgh Gin is also a decidedly excellent gin, which can be obtained in all the pubs if you want to do something other than a definite tasting.
13. Dean Village
Dean Village is, as the name suggests, a small village located in the middle of Edinburgh.
Dean Village is probably one of the areas of Edinburgh that is the most Instagrammable – but even if you are not constantly looking for the best shot for your social media, it is recommended to make your way past this cosy area of Edinburgh.
I have made a map showing one of Edinburgh's most excellent walking tours from Dean Village to Stockbridge:
The short walk ends at one of the city's best pubs (The Bailie Bar), where only a few tourists go.
I lived in the Stockbridge area, which is highly underrated by tourists, so stop by here if you want to experience the real Edinburgh 😉
14. Royal Botanic Gardens
Just north of Stockbridge, we find the Edinburgh Botanic Garden, a nice break from the hustle and bustle of the big city.
It is free to "enter" the gardens, where there is both a huge outdoor area and indoor greenhouses with all kinds of budding flowers and plants.
It's not that I'm personally that interested in flowers and plants, but I still enjoyed coming here and just walking around in the peaceful surroundings.
15. Ghost Tour in Edinburgh 👻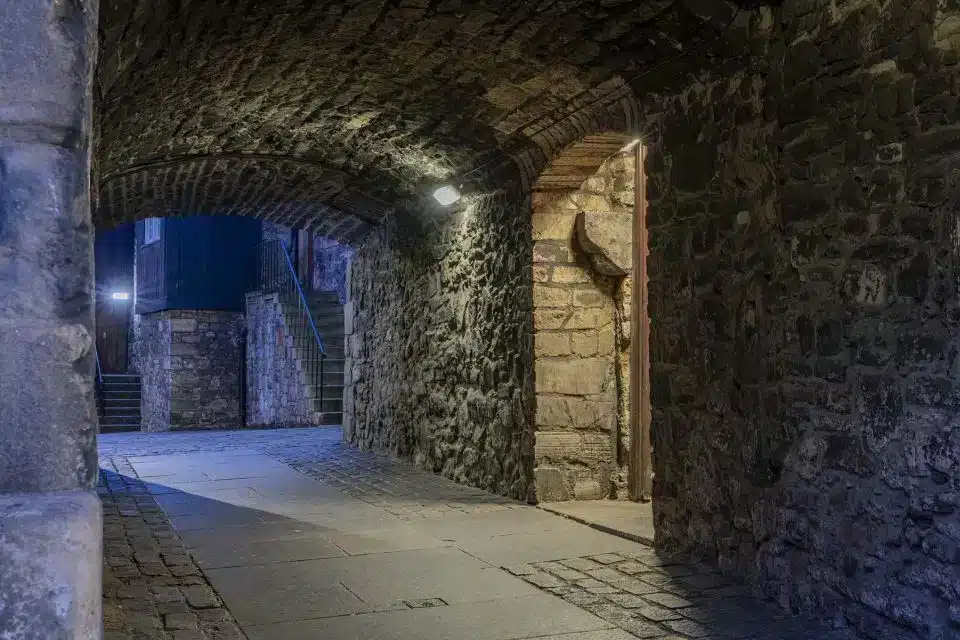 Edinburgh is one of the most beautiful cities in Europe and, in many ways, reminds us a little of Prague with its dramatic, almost Gothic churches and buildings.
So, of course, there are also plenty of ghost tours in Edinburgh.
I don't dare do that, but I can read that the tours are top-rated and get excellent reviews.
So if you're into spooky stories, consider going on a Dark Secrets Ghost Walking Tour in Edinburgh.
16. Hop On Hop Off Sightseeing Bus Tour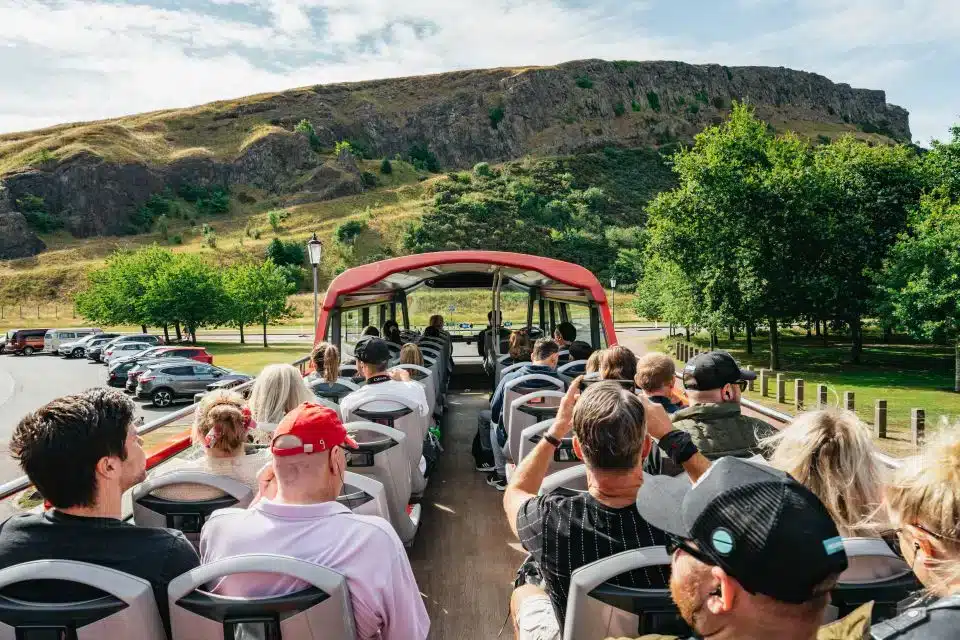 Edinburgh is a relatively small city, where you can easily walk around to all the city's sights in the New Town and Old Town, but be aware that there are a lot of ups and downs in Edinburgh.
That's why I have the opportunity to take one of the popular Hop On Hop Off sightseeing buses in this guide to Edinburgh's best sights.
I recommend it to those of you who may be a bit older, have walking difficulties or are travelling to Edinburgh with children.
Here, a sightseeing bus tour will be a great way to get an overview of the city and then either get off at the sights you want to see – or drive around and then choose which places you want to return to.
See more about the bus and buy tickets here.
If you have any questions about your trip to Edinburgh or Scotland in general, please leave a comment below.
As previously mentioned, I have lived in Edinburgh, worked as a tour guide in the city and run my own travel agency tailoring trips to Scotland, so I know a little bit about the place 😀
Frequently asked questions about Edinburgh
What is not to miss in Edinburgh?
The must-do's in Edinburgh include Edinburgh Castle, Calton Hill, the Royal Mile, Arthur's Seat and the National Museum of Scotland.
How many days should I spend in Edinburgh?
Edinburgh is quite a small city even though it's the capital of Scotland, so you can tick off most of the city's things to do in 2-3 days. However, if you want to dive deeper into the fantastic travel destination and perhaps go on a day trip to the Highlands, I'd recommend 4 days in Edinburgh.
What are some fun outdoor activities to do in Edinburgh?
You can hike up Arthur's Seat for stunning city views, stroll through Princes Street Gardens, or walk along Portobello Beach. If you're feeling adventurous, I recommend a trip to the Pentland Hills.
When is it best to visit Edinburgh?
The best time to visit Edinburgh really depends on your preferences and what you want to experience during your trip. Here are some things to keep in mind:
Summer (June – August)
This is peak tourist season, with warmer weather and longer days.
There are many festivals and events happening, such as the Edinburgh International Festival and the Fringe Festival.
Prices for accommodations and attractions tend to be higher.
Spring (March – May) and Fall (September – November)
These seasons offer milder weather and fewer crowds compared to summer.
You can still catch some festivals like the Beltane Fire Festival in April or the Scottish International Storytelling Festival in October.
Accommodation prices may still be high during peak weekends.
Winter (December – February)
The city is beautifully decorated for the holidays, especially along Princes Street.
January tends to be the quietest month for tourism, with lower prices on accommodations and attractions.
However, it can get very cold and dark during this time of year.
Overall, if you're looking for the most lively atmosphere with lots of events going on, then summer is a great time to visit. But if you prefer milder weather and fewer crowds, then spring or fall might be a better fit.
What are the best day trips from Edinburgh?
Stirling Castle and Loch Lomond
– Visit the stunning Stirling Castle, which played a key role in Scottish history.
– Take a scenic drive to Loch Lomond, one of Scotland's most beautiful lakes.
– Stop at charming towns along the way like Callander and Balloch.
Rosslyn Chapel and the Scottish Borders
– Explore the mysterious Rosslyn Chapel, famous for its intricate carvings and connections to the Knights Templar.
– Visit historic towns like Melrose and Jedburgh in the scenic Scottish Borders region.
– See picturesque countryside landscapes dotted with castles and ruins.
The Highlands and Loch Ness
– Take a scenic drive through Scotland's ruggedly beautiful Highlands region.
– Stop at iconic sites like Glencoe, Eilean Donan Castle, or Urquhart Castle on the banks of Loch Ness.
– Keep an eye out for Scotland's mythical creature – Nessie!
These are just a few ideas – there are many more day trip options depending on your interests.
Is Edinburgh Castle worth it?
Yes. Edinburgh Castle is a must-see attraction that offers visitors a glimpse into Scottish history and architecture. The castle has played a vital role in Scotland's past for centuries, and its medieval and renaissance-style architecture is imposing. Be sure to explore the Great Hall, Royal Palace, St. Margaret's Chapel, and other historic buildings while you're there. Additionally, the castle offers breathtaking panoramic views of Edinburgh and beyond.