Smørrebrød is arguably Denmark's unofficial national dish and a sure hit if you want a delicious lunch. In this article, I guide you through the jungle and tell you about the best places to eat smørrebrød in Copenhagen.
I tell both about the restaurants that often win awards for their smørrebrød but also give tips for slightly more unknown places to eat delicious smørrebrød in Copenhagen.
In the overview, I have used the emoji '💸' to show where we are in terms of price in the given place.
We're starting with a genuine Copenhagen classic – of course, I can't write a guide to Copenhagen's best smørrebrød without mentioning Aamans.
1. Aamans 1921 💸💸💸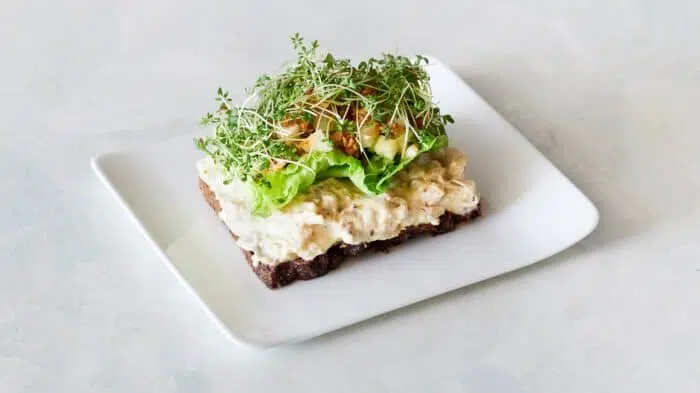 Aamanns 1921 is a Danish restaurant with a strong focus on ecology and traditional Danish dishes, which can, however, have an international twist from time to time.
For lunch, you will find a selection of smørrebrød that do not have a Michelin star but are nevertheless mentioned in the Michelin guide, which must be said to be a massive pat on the back.
I include Aamann's smørrebrød in the guide here, as I would recommend it to those of you who are looking for the city's best smørrebrød and don't care too much about what the bill ends up with.
Smørrebrød at Aamanns is indeed quite expensive, but the quality is also second to none.
So to sum it up: if you're looking for the best smørrebrød in Copenhagen City Centre, then Aamanns 1921 is a good bet.
It is recommended to book a table, as this is a very popular restaurant in Copenhagen.
Opening hours:
Lunch: 11:30-17:00
Evening: 18:30-22:00
Note: only open in the evening Tuesday-Saturday
Website (only in Danish)
Phone: +4520805204
---
Looking for more epic culinary adventures in Copenhagen? Check out these high-rated food tours:
2. Café Halvvejen 💸
Okay, so this is probably more of a personal preference for you looking for a cosy, classic Danish and cheap place to eat smørrebrød in Copenhagen.
Right opposite the Synagogue in the heart of Copenhagen, we find Café Halvvejen, which serves traditional Danish dishes in cosy surroundings.
Here you will be served three pieces of smørrebrød for only DKK 89. A definite find at that price in the centre of Copenhagen.
This is probably the cheapest smørrebrød restaurant in Copenhagen City Centre.
In addition, large draft beers are served for only 35 Danish Kroner, and even the fantastic Albani beers, Odense Pilsner and Classic, are on tap.
I know the place from when I had an office just around the corner and often ended up at Halvvejen for lunch, so I have eaten here several times.
The food is quite good, but it is, after all, a cheap place, so if you are looking for the ultimate culinary experience, I recommend one of the other places to eat on the list here.
It would be best if you visited Café Halvvejen for the excellent atmosphere, the unpretentious service and the reasonable price.
This is not the best smørrebrød in Copenhagen, but it's a hidden gem where you'll be sure to meet the locals.
Website (only in Danish)
Opening hours:
The kitchen is open Monday-Saturday 12:00-15:00
The bar is open Monday-Thursday until 01:00 – Friday and Saturday until 03:00
---
Have you found your accommodation in Copenhagen yet? If not, check out my extensive guide to Copenhagen's best areas and hotels.
3. Norrlyst (smørrebrød with a twist) 💸💸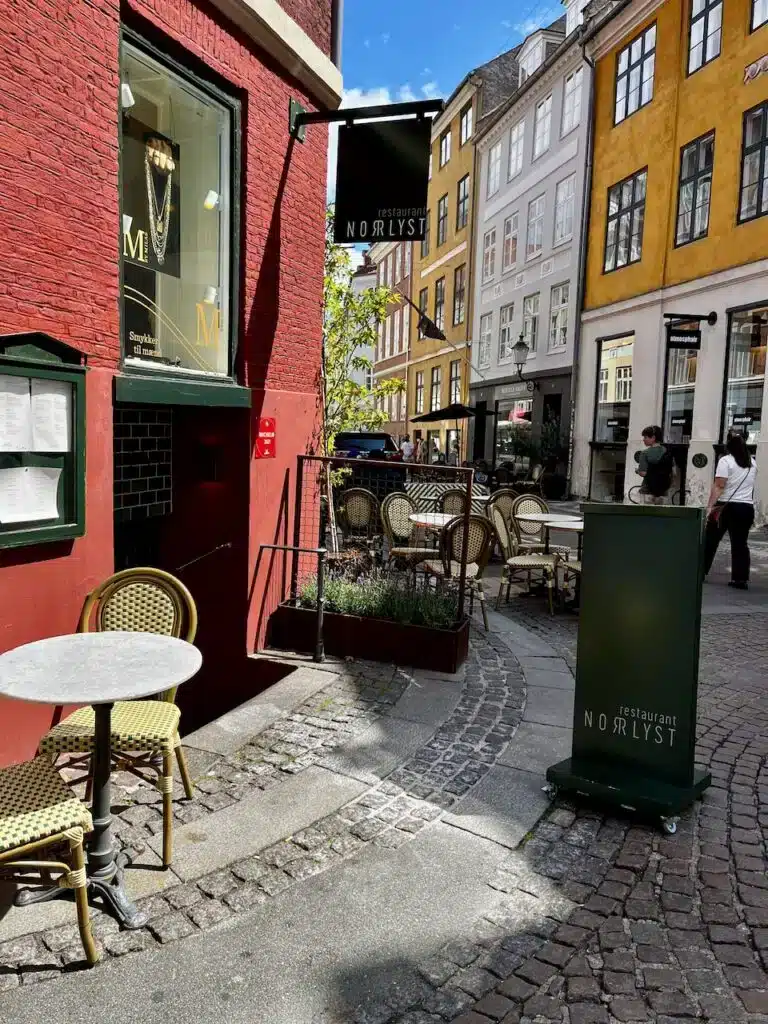 If you're up for trying something a bit different, I can highly recommend Norrlyst, which serves modern, gourmet smørrebrød.
I visited the restaurant in the heart of the city centre, where we opted for their lunch menu with two pieces of smørrebrød of our choice and a dessert, where we could choose between Danish cheeses and ice cream.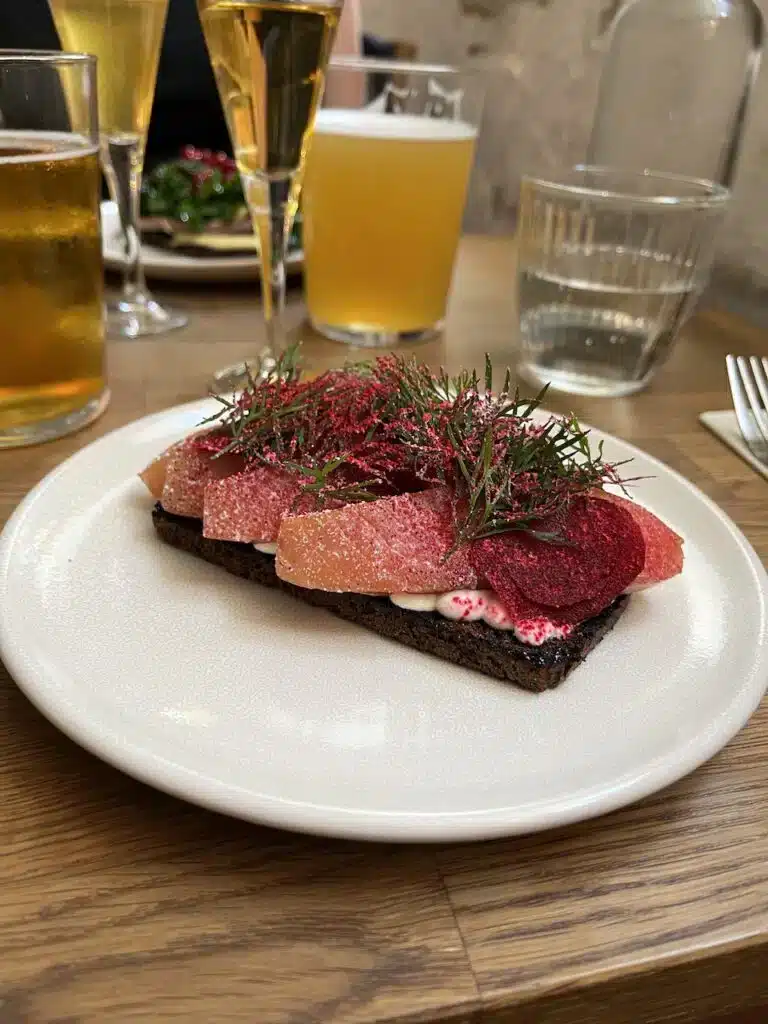 It was a splendid experience and I think that 'gourmet open sandwich' is the perfect description.
We wanted to try something a bit unconventional and received some excellent recommendations from the very friendly waiter, so here I also got my first taste of a tartar open sandwich 😀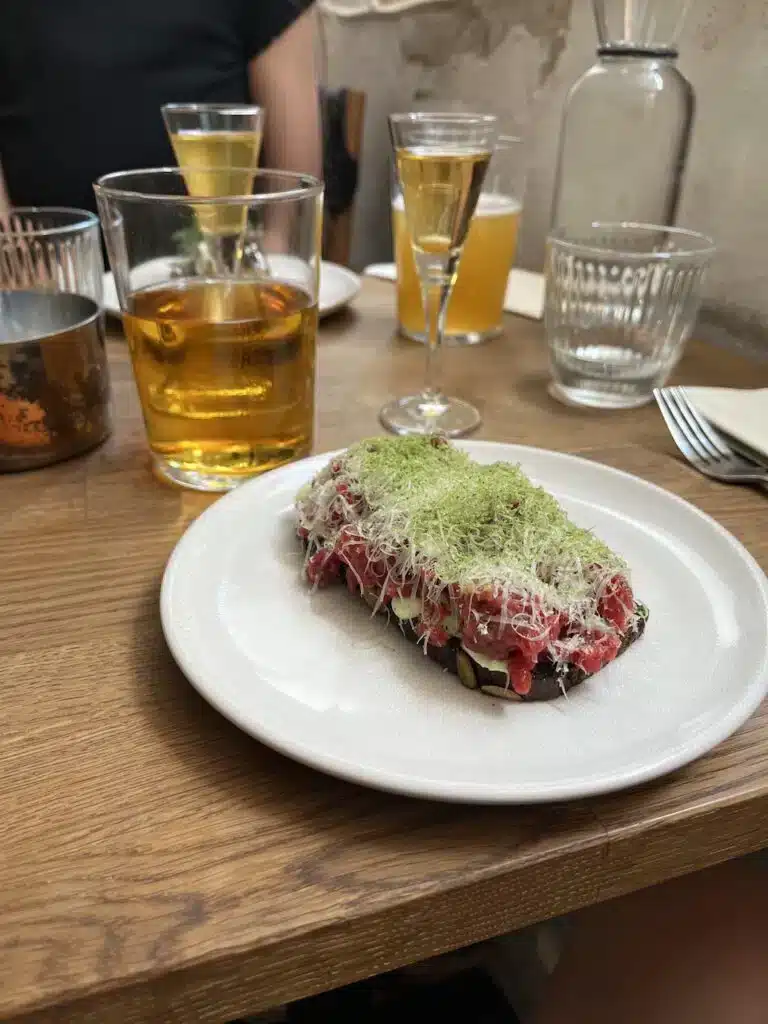 I was also quite impressed with the decor at Norrlyst, which was super cosy and I thought to myself that it is a place I would without a doubt bring my foreign friends to.
The lunch menu costs 285 DKK, which I think is incredibly fair considering the quality, and with the location in the heart of Copenhagen, there is really nothing to complain about.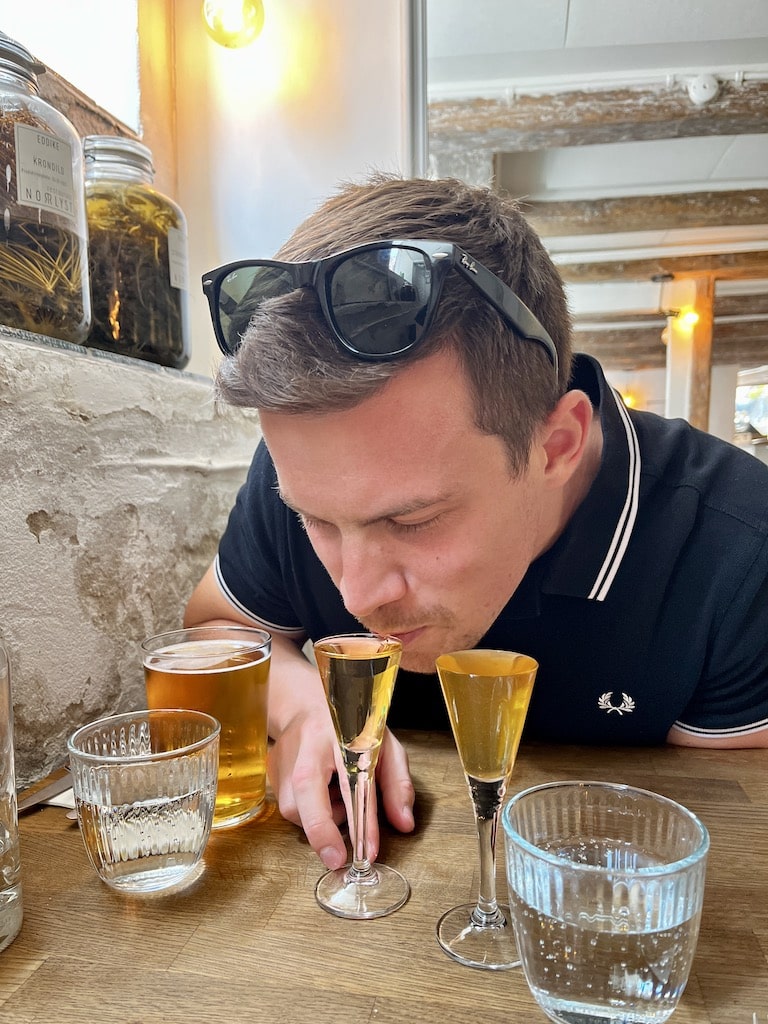 So a big recommendation for Norrlyst from me – especially for those who are keen to try a different twist on our beloved smørrebrød.
Opening hours:
Lunch 11:30-16:00
Dinner: 17:00-23:00 (note: smørrebrød is not served in the evening!)
4. Aamanns Genbo 💸💸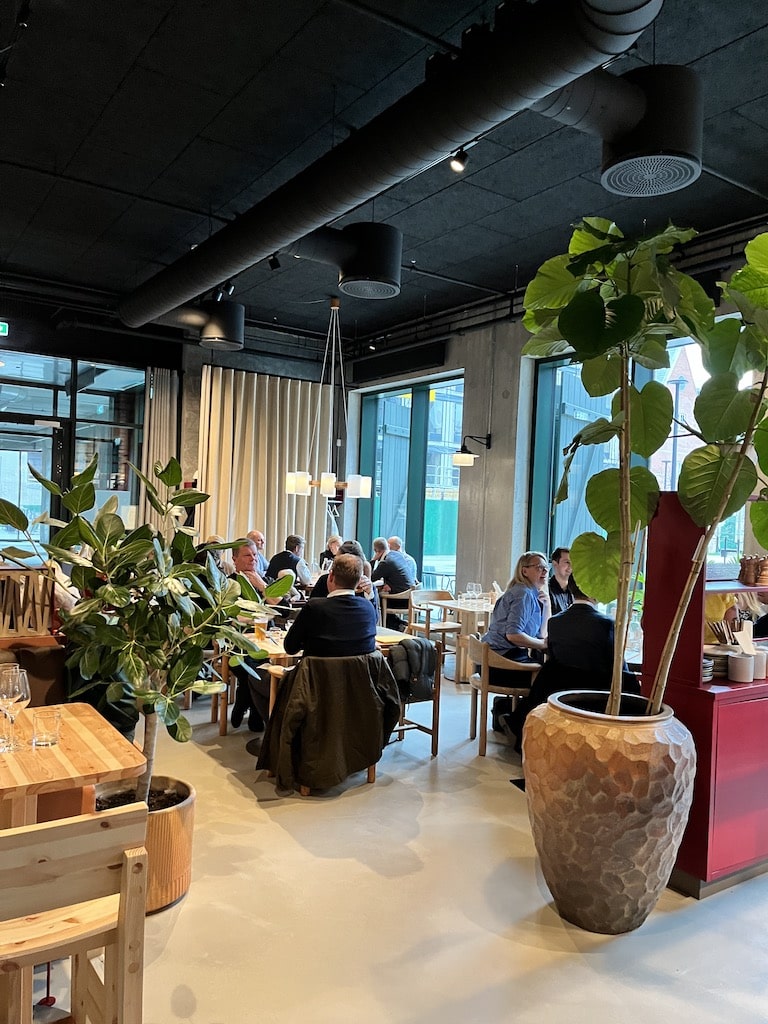 In Carlsberg Byen next to Vesterbro, a lot of exciting things are happening these years.
I therefore passed by Aamanns Genbo here in November 2022 to try the new restaurant Aamanns Genbo.
If the name tells you anything, then it is true that Aamanns was also number 1 on the list of the best smørrebrød places in Copenhagen – now the "chain" has opened a restaurant in Carlsberg Byen, which is significantly cheaper and has a different atmosphere than the traditional restaurant in Indre By.
I had a friend from the UK with me, and we agreed that Aamann's Genbo is taken from a home magazine that should try to show what the Scandinavian style looks like.
Even the toilets are impressive and beautiful in this trendy, Scandinavian style 😀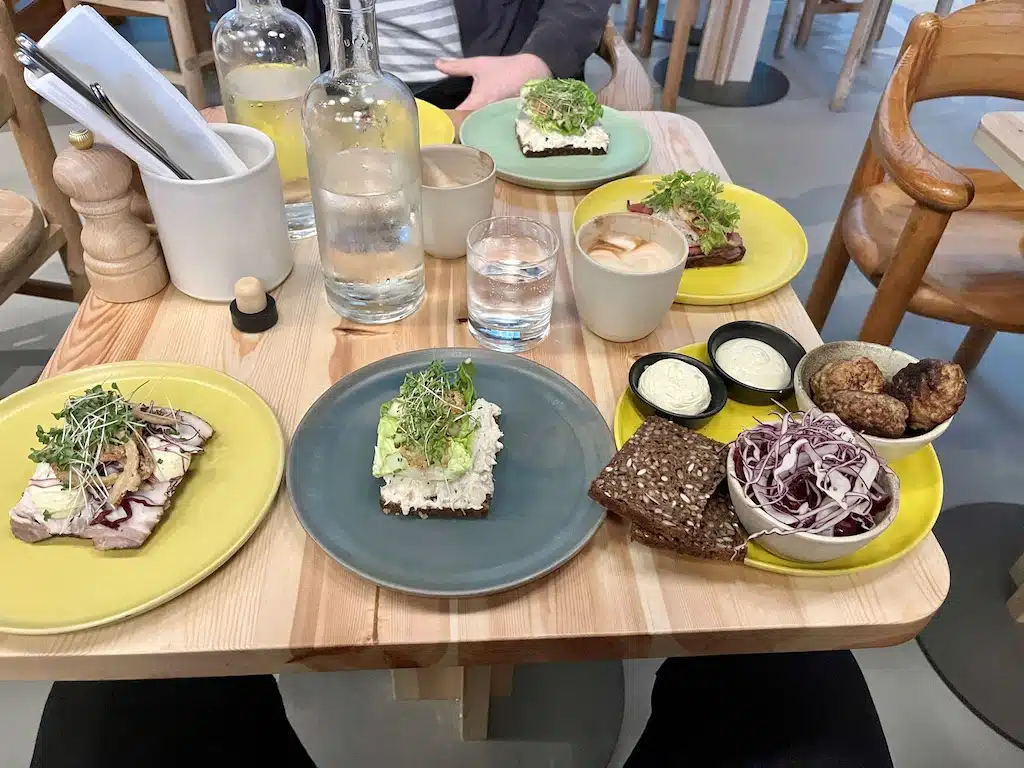 The food was also impressive, and we are close to saying that it is some of the best smørrebrød I have had.
A piece costs from DKK 90, which I think is a really fair price.
The waiters were super nice and there is generally a really good atmosphere at Aamanns Genbo, so I think it will be a huge success for them with this Scandinavian gem in Carlsberg Byen.
A bit of a hidden gem at the moment as Carlsberg Byen (the Carlsberg City) is an up-and-coming area of Copenhagen.
It's a bit hard to find, so load up Google Maps on your phone!
Opening hours:
Monday-Friday 11:30-17:00
Saturday-Sunday 12:00-1800
---
Have you seen my guide to the best things to do in Copenhagen?
5. Restaurant Schønnemann 💸💸
Then we take a step up the quality path again and enter Restaurant Schønnemann, a few hundred meters from Nørreport Station in Central Copenhagen.
Danish luxury smørrebrød has been served here since 1877, so this is a proper Copenhagen institution.
The price range is more ala Aamanns than Halvvejen, but the quality and taste should also be similar. You can get a taste of the dishes in their online food menu here.
Schønnemann is often mentioned when the conversation turns to the best smørrebrød in Copenhagen. It is thus again a good idea to book a table for lunch at the restaurant – it is popular.
An excellent choice if you are looking for an outstanding Danish lunch in the centre of Copenhagen.
Opening hours:
Monday-Sunday: 11:30-17:00
6. Tivolihallen 💸💸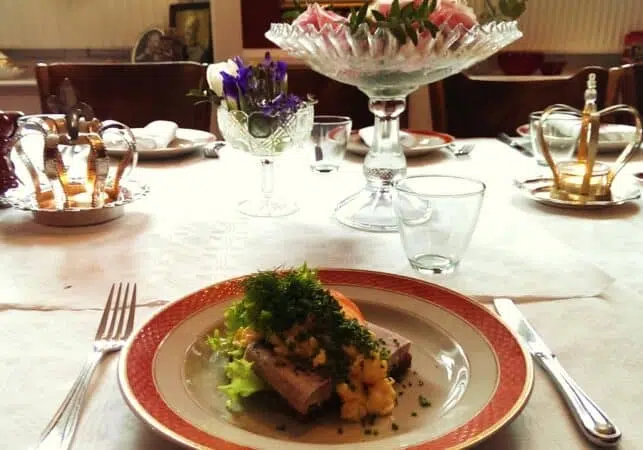 Then we have to get closer to Tivoli Gardens, where we find the cosy basement restaurant diagonally opposite the legendary Rio Bravo (which you could drop by as well, but they're best known for their roast pork "stegt flæsk" ad libitum), Tivolihallen.
Tivolihallen is a good choice for you who are looking for a middle ground between Schønnemann and Café Halvvejen:
the price is not too bad
the service is friendly with a classic Danish twinkle in the eye
the smørrebrød is of really high quality
In addition to smørrebrød, Tivolihallen also serves hearty dishes, where their speciality boiled clipfish is a popular dish in the small restaurant.
As the name suggests, the place is close to Tivoli Gardens in Indre By (the city centre), so it is an excellent place to stop by when you have been sightseeing in Copenhagen.
Tivolihallen is, among other things, included in the book "1001 Restaurants You Must Experience Before You Die", which only mentions three other Danish restaurants.
Smørrebrød costs from DKK 84, and a classic Danish, hearty dish such as roasted pork (kind of like pork belly – flæskesteg, my favourite) with red cabbage and cucumber salad costs just DKK 104.
All in all, an excellent Danish restaurant in Copenhagen, where you can get smørrebrød in cosy surroundings.
Opening hours:
Monday-Saturday 11:30-21:30
Closed Sunday
7. Husmanns Vinstue 💸💸
In this guide to the best smørrebrød in Copenhagen, we will stay in the city centre for the time being.
I'm not doing this on purpose, as I love the bridge districts (Nørrebro and Vesterbro).
Still, the truth is that many of the city's best lunch restaurants are located in the centre for good reasons: this is where the tourists come, and many of the eateries have been here for nearly 150 years.
Husmanns Vinstue is also a traditional restaurant that was founded in 1888 and continues to serve smørrebrød in the trendy Larsbjørnsstræde.
The prices are again affordable, with smørrebrød starting at DKK 76 for a spiced herring with curry salad and onion, which is the cheapest item on the menu.
Husmanns Vinstue also works in companies and has, among other things, a dedicated men's lunch menu that can satisfy even the hungriest groups of men on an excursion.
The place currently has a rating of 4.7 out of 5 stars on Google, which says something about the quality and price being linked here.
A really good choice of smørrebrød restaurant in cosy, traditional premises in the middle of the capital.
Opening hours:
Kitchen is serving:
Weekdays from 11:30 a.m. – 4:00 p.m
Saturday from 12.00 – 16.00
The restaurant is open:
Weekdays at 11.30 – 18.00
Saturdays from 12.00 – 17.00
8. Restaurant Palægade 💸💸💸
Then we put on our walking shoes and stroll towards Nyhavn, but we quickly and elegantly skip the tourist traps in Nyhavn itself.
We are heading towards Restaurant Palægade, where the price range leaps, but now we have also come to the expensive part of Indre By, so it goes without saying.
However, it is not the case that smørrebrød at Restaurant Palægade is too expensive. For instance, the cheapest piece of smørrebrød (curried herring with egg and cress) costs DKK 110.
This restaurant is excellent if you want a slightly finer restaurant in Copenhagen to try smørrebrød.
At Palægade, they strive to build a bridge between tradition and innovation, which is why their menu is also unique.
On the rating front, the restaurant got a whopping 4.9 out of 5 stars on Facebook and was voted the city's best lunch restaurant in 2021.
Opening hours:
Lunch:
Monday-Sunday 11:30-17:00
Evening:
Wednesday-Saturday 18:00-00:00
Website (booking is encouraged)
9. Hallernes Smørrebrød 💸💸
I thought Hallernes Smørrebrød only existed in Torvehallerne, but in my research for this guide to Copenhagen's best smørrebrød, I found out that they are also behind the places in Magasin and Tivoli Food Hall.
I once took my friend from Liverpool to Hallernes Smørrebrød in Torvehallerne, where he raved about both the one with chicken salad and liver pâté.
So the place is approved by the local (me) and the tourist 😀
The only drawback is that it is not a restaurant, so in winter when you cannot sit outside at Torvehallerne, it might work best as a takeaway.
On the other hand, I can remember the place in Magasin du Nord (a famous high-end mall), where seats are pretty cosy.
The food area is on the top floor of Magasin.
I hope you enjoyed this guide to the best smørrebrød in Copenhagen.
And as you probably know by now – I'm Danish and live in Copenhagen, so I'll be happy to answer any questions you might have before your trip to Denmark.
FAQ:
How much is a smørrebrød?
Smørrebrød in Copenhagen begins at 30 DKK in cheap restaurants such as Café Halvvejen, but the average price is around 80 DKK a piece.
Where do I get the best cheap smørrebrød in Copenhagen?
I recommend Café Halvvejen for a traditional, cheap Danish lunch in the city centre. If you're in Nørrebro or Northwest, you should try Vibes Smørrebrød. In Vesterbro, you can drop by Birthes Smørrebrød for a cheap bite.
What restaurant in Copenhagen has the best smørrebrød?
Aamanns 1921, Restaurant Schønnemann and Restaurant Palægade are three of the best smørrebrød restaurants in Copenhagen.
What is smørrebrød?
Smørrebrød is a traditional Danish open-faced sandwich, typically made with rye bread and topped with various ingredients such as meat, fish, cheese, vegetables, and spreads. It is often served as a lunch dish or snack in Denmark. The word "smørrebrød" literally means "buttered bread" in Danish, as the bread is usually spread with butter before adding the toppings.
What are some popular toppings for smørrebrød?
Popular toppings include smoked salmon and cream cheese, roast beef with remoulade sauce, pickled herring with onions and capers, egg salad with shrimp and dill, liver pate with bacon and mushrooms, and Danish blue cheese with sliced pear and walnuts. The choice of toppings varies depending on personal preference. My favourite is the pork called "flæskesteg" or "ribbensteg".
How do you eat smørrebrød?
Smørrebrød is eaten with a knife and fork. The bread is buttered before adding the toppings to prevent it from becoming soggy. The toppings are then arranged with garnishes such as fresh herbs or edible flowers. Smørrebrød is an open-faced sandwich, meaning only one slice of bread is used. It can be eaten as a snack or meal, depending on the size and number of toppings. We usually eat smørrebrød for lunch in Denmark.