In this guide, we take a closer look at airport transport in Budapest and how you can make the short trip to the city by bus, train or taxi.
Budapest is a stunningly beautiful European city that makes a perfect travel destination. The city is gorgeous and cheap so you can get a little extra for your money when you're coming to Hungary's capital.
How to get from Budapest Airport to City Centre? I want to start with a quick introduction to the airport in Budapest.
Budapest Airport is also called Ferenc Liszt International Airport
When you're flying to Budapest, you will be landing at Ferenc Liszt International Airport, also called Budapest Airport, as there is only one commercial airport in and around Budapest. The airport was previously called Budapest Ferihegy just to add to the confusion 😀
The airport code is simply BUD, and the official website is Bud.hu.
Budapest Airport is just under 20 kilometres from the city centre, so you can exit the arrival hall and enter your hotel in Budapest in about 30 minutes.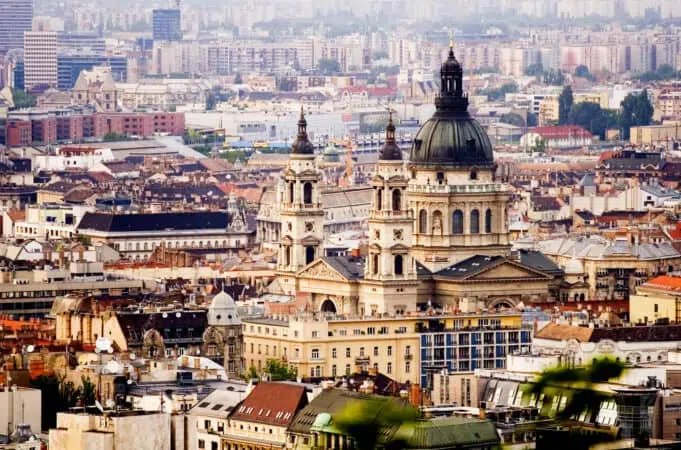 When I was in Budapest for the Sziget Festival a couple of months ago, the ride took 31 minutes from the airport to my hotel in the Jewish Quarter (I was staying at the Continental Hotel, which I highly recommend).
If you haven't booked your hotel, I recommend you check out my guide on where to stay in Budapest and watch my video:
And once you've got the airport transfer and accommodation sorted, check out my guide to the best things to do in Budapest.
Slight warning about airport transport in Budapest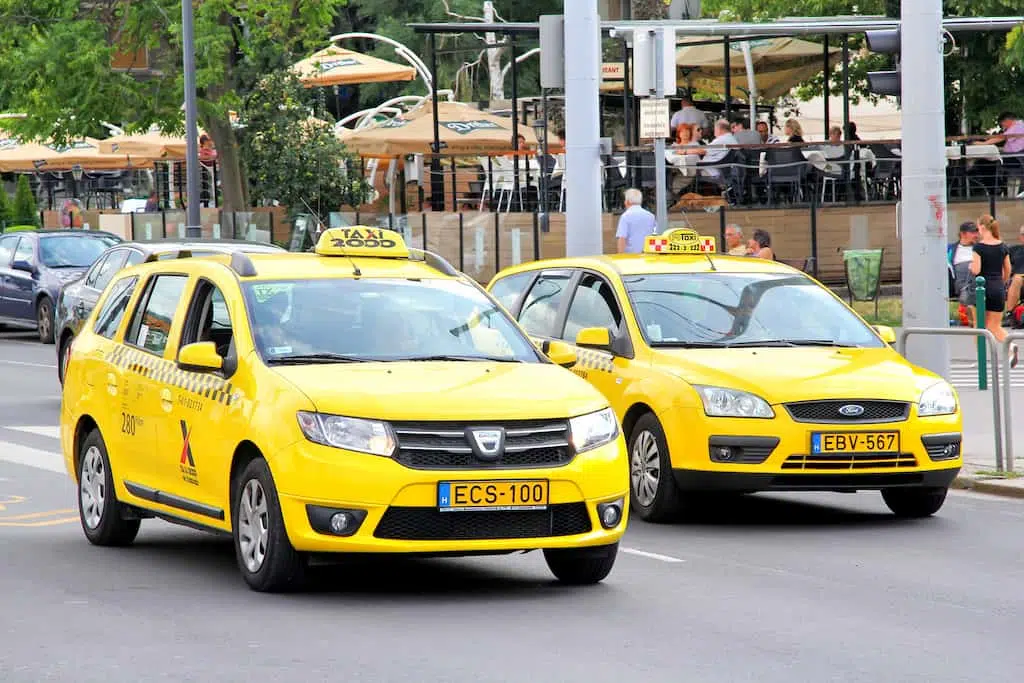 However, I have to make a small warning: the transport from the airport to the centre of Budapest can be challenging when you arrive, and not everyone speaks fluent English.
On my first trip to Budapest many years ago, I took a regular taxi where the driver didn't speak English and tried to scam me…
Therefore, I will present the different ways you can get from Ferenc Liszt International Airport to Budapest. And I will focus on the safest, so you can travel with peace of mind.
There are many different transport options, each with its advantages and disadvantages, so it's up to you to choose.
We're starting with the easiest and an option that's relatively cheap – like most things in Budapest. This is the service I've used on my two latest trips from Budapest Airport to the city centre.
Best way to get from Airport to City: pre-book a private transfer 🚖
You can book a private driver through WelcomePickups. You order the transport online, so there is a car and driver ready to transport you when you land in Budapest.
Go to WelcomePickups for Budapest Airport here.
The transport is paid in advance with a private driver, and you know your driver will be waiting when you land. The chance of being cheated is eliminated, and you will be transported directly to your destination in the centre of Budapest.
I have observed that the prices for transportation with WelcomePickups are in the same price range as the regular taxis you find outside the airport.
However, you avoid the trouble of finding a driver, discussing the price of the journey and the risk of being scammed.
Price: 28 euros for a private transfer to the Jewish Quarter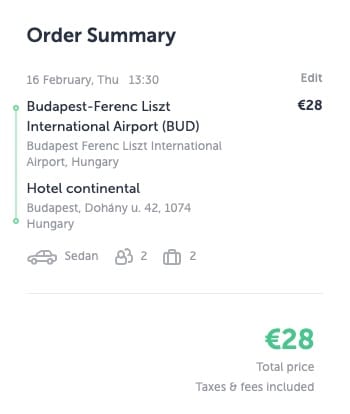 The price for a private transfer from Budapest Airport to the city centre depends on where in Budapest your hotel is, but for instance, the cost from the airport to the Jewish Quarter is 28 euros.
I've used WelcomePickups from Budapest Airport to the city centre numerous times, and it just works.
The driver was incredibly friendly the last time, and we all got a complimentary bottle of water in the car.
There are plenty of options for private transport from the airport to the city; look at Get Your Guide, where the cheapest option is a shared airport shuttle from 12 euros per person.
I'm simply recommending WelcomePickups as I've used their service and found it very convenient.
Cheapest: the airport shuttle bus 100E 🚌
Airport shuttle bus 100E operates between Liszt Ferenc International Airport and Deák Ferenc tér, one of Budapest's major transport hubs, also stopping at Kálvin tér which is a convenient stop if you're staying in the Jewish Quarter.
The bus service operates around the clock, seven days a week: every 7-10 minutes daily during the day; and every 30-40 minutes at night, between midnight and about 3:30 in the morning.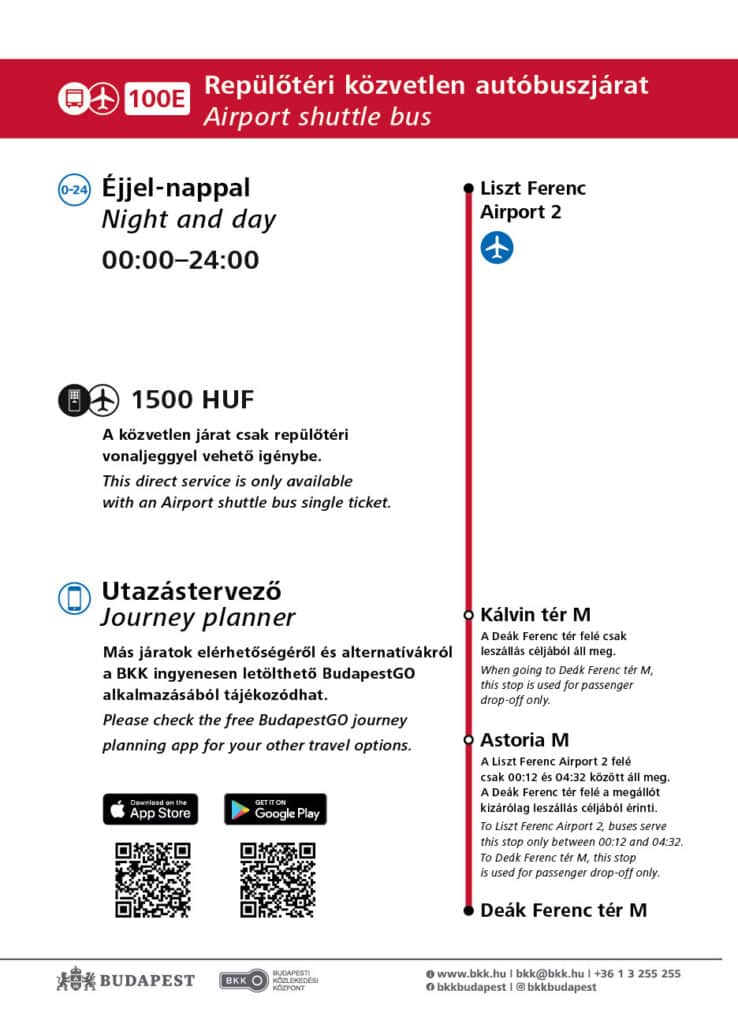 Once you arrive in the city centre at Kálvin tér or Deák Ferenc tér, you can easily reach your hotel by public transport or even just walking if you're staying in the city centre.
The ticket cost 1500 HUF, around 3,8 euros or 4,13 USD. This is one of the cheapest airport transport options in Europe.
Get more info about the airport shuttle bus at bkk.hu.
I recommend downloading the BudapestGO app to your smartphone and buying the ticket in the app. You can use the app for all public transport in Budapest, so it's a great app to have on your phone during your time in Hungary.
Train to city centre (requires a bus from the airport) 🚆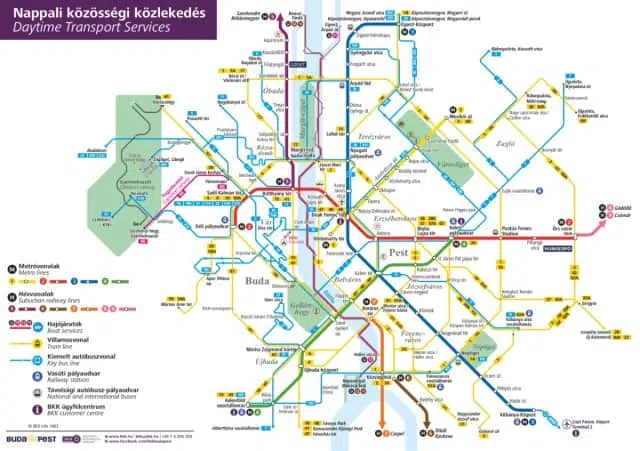 The short journey from the airport to Budapest can also be made by train, but you must take a shuttle bus from Terminal 2 – bus number 200E, which runs many times an hour during the day.
In a short time, you will then get to Ferihegy station and can take a train directly to Nyugati Station in the centre of Budapest.
Or you can stay on the bus and get off at the next stop, Kőbánya-Kispest metro station, where you can get on the metro network.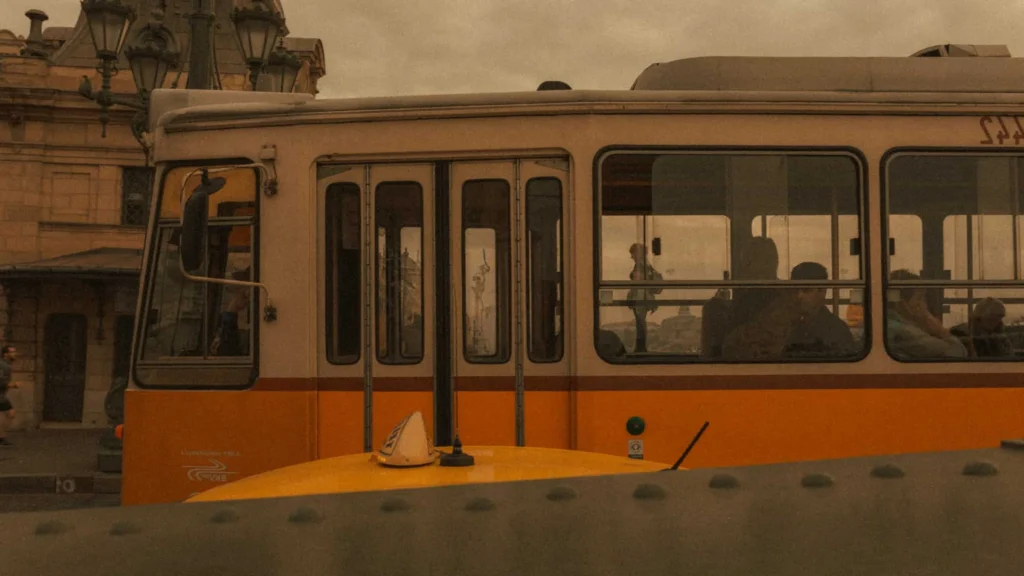 Key stops of bus line 200E – see more at Bud.hu:
Ferihegy vasútállomás (railway station): transfers available to the network of MÁV-Start Hungarian State Railways, to reach Nyugati pályaudvar (Western railway terminal) in the city centre, or the cities of Szolnok, Debrecen, Nyíregyháza and Szeged in the eastern part of Hungary.
Kőbánya-Kispest M: transfers to MÁV-Start trains and to buses serving East and South Pest.
Határ út M: transfers to several daytime and night buses to South Pest.
The journey takes about 25 minutes and costs a few hundred Hungarian Forints, which is very cheap.
Free public transport in Budapest for EU citizens over 65
If you are an EU citizen and have reached the age of 65, public transport has notable advantages. It gives you free public transport around the whole of Budapest.
Remember to have official documentation, such as a passport or driver's license.
I hope you can use this airport transport guide and that you're ready for your trip to Budapest.
If you've got any questions please comment below and I'll be happy to help.
Read all Budapest travel guides.
FAQ about Budapest airport transport:
How much is a taxi from Budapest Airport to the city?
If you use the official taxis, the price should be around 9800 HUF which is about 25 euros. However, taxi drivers in Budapest only sometimes speak English, and scams can occur. So I recommend booking a private transfer online in advance – the price for this is almost the same as the regular taxis, but it comes with a lot more safety. A private transfer will cost 28 euros.
What is the easiest way to get from BUD to city?
Taxi or pre-booked private transfers will take around 30 minutes from Budapest Airport to your hotel in the city centre.
How far is the Budapest Airport from the city?
The airport is located 16 km southeast of the city.