As a traveller, choosing hostels as accommodation is a cheap solution. Hostels have the advantages that you can travel on a small budget, spend the money on experiences instead of accommodation and meet other travellers.
Hostels in Copenhagen are typically of a relatively high standard and categorised with a minimum of two stars. The conditions are good, but they are also popular, especially in the summer season.
Many travellers come through Copenhagen, young and old, and travellers come from all over the world.
A hostel in Copenhagen is for you who want to:
Save money
Meet new people
Stay centrally in Copenhagen
In this guide, I help you find the best hostels in Copenhagen. Remember to book well in advance if you plan to travel in the high season.
1. Copenhagen Downtown Hostel – best located hostel in the city centre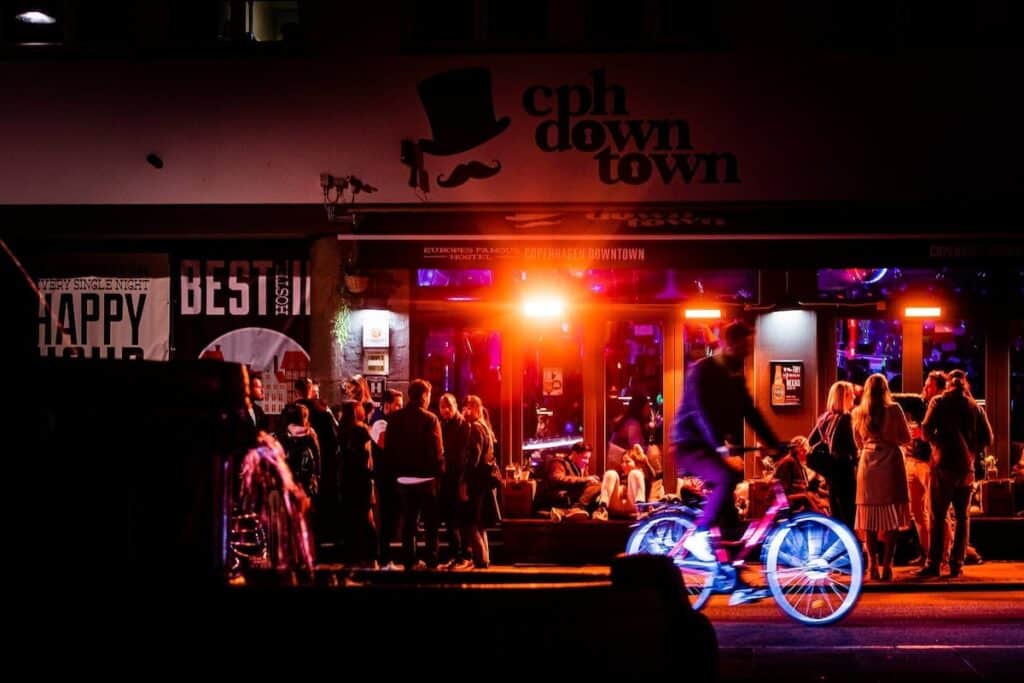 Location: Inner City (Indre By, the city centre)
Right in the heart of Copenhagen, only 1 minute walk from Town Hall Square, close to Tivoli Gardens and Nyhavn, is Copenhagen Downtown Hostel.
With its 85 rooms spread over several floors, it is a relatively large hostel with room for many travellers.
You can choose between private rooms with 2-8 beds and a private bathroom and then capsules for one person and larger public dormitories with room for 4-12 people – either mixed or for women only.
Whether you are travelling alone and prefer peace at night, whether you are travelling in a group, or would like to meet other travellers, there are options at this hostel that suit your wishes.
There is nothing to say about the fact that Copenhagen Downtown Hostel has previously been voted Copenhagen's most popular hostel because there are plenty of shared facilities such as a bar, karaoke, billiards and bicycle rental – and it is possible to buy breakfast, coffee and snacks on site.
See more photos and book with free cancellation.
I also mention this hostel in my extensive guide to where to stay in Copenhagen – there, I talk in-depth about the different areas of Copenhagen and link to good hotels and cheap hostels.
2. Urban Camper Hostel – coolest hostel in Copenhagen?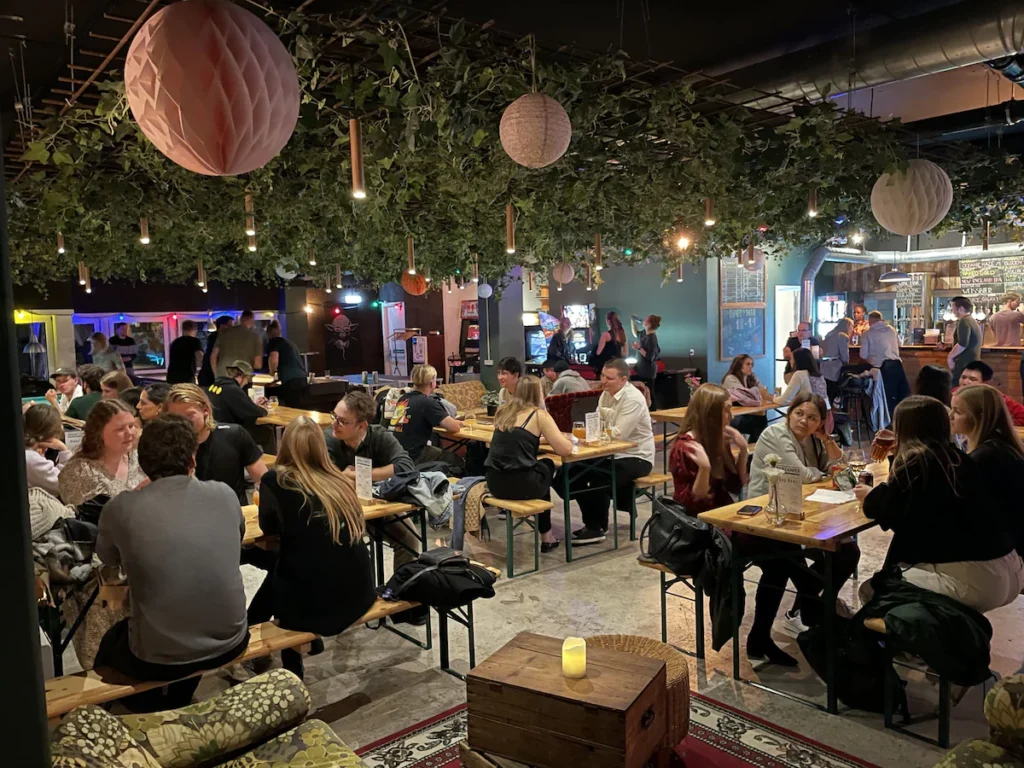 Location: Nørrebro
Urban Camper Hostel is created by travellers for travellers. It is a mix of a hostel and city camping (not to be confused with glamping), and the focus is on having fun and meeting new people.
Included in the price of all overnight stays are bed linen and towels, complimentary breakfast and free Wi-Fi. Emphasis has been placed on comfort when you camp indoors in the large tents at Urban Camper Hostel.
The tents are distributed over private rooms with 2-4 beds and shared dormitories with four beds – either mixed or only for women.
This hostel is located in Nørrebro, with only 4 km to Tivoli and 4 km to Nyhavn. It is possible to rent bicycles on-site to get around to Copenhagen's best things to do quickly.
Like public transport, it is super easy to reach – there are plenty of buses, S-trains and metro from Nørrebro Station, 1 minute's walk from the place.
If you need to wash your clothes, there are also laundry facilities at Urban Camper Hostel.
See more photos and book with free cancellation.
3. Danhostel Copenhagen City – best hostel in Copenhagen for families and groups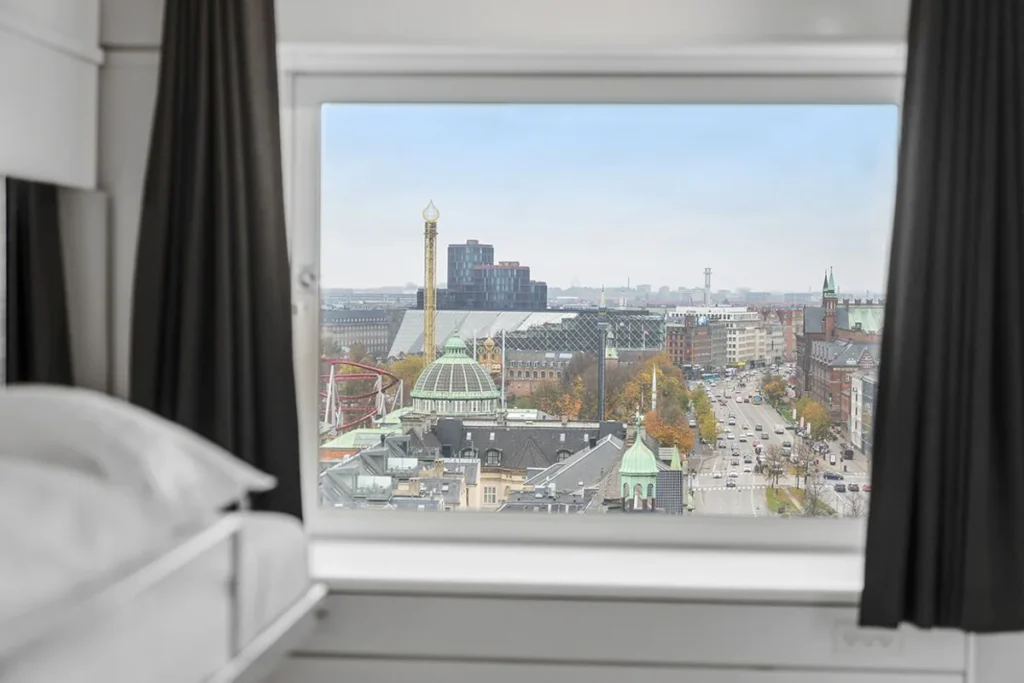 Location: Inner City (city centre)
Not many hostels can boast of being 5-star, but Danhostel Copenhagen City can.
Here, hostel life is taken to the next level. Of course, the price comes with it, and it is not a cheap solution, but on the other hand, it is a comfortable and slightly luxurious choice – and the view is phenomenal.
This is the right solution if you want to travel and meet new people – with a little extra comfort. It is more reminiscent of a nice hotel with dormitories. However, private rooms and apartments of various sizes are also available.
It is possible to buy breakfast, and there is a restaurant, communal kitchen and laundry on-site, just as there is plenty of entertainment in the form of billiards, table football and board games – as well as free Wi-Fi.
See more photos and book with free cancellation.
Check out my guide to the best escape rooms in Copenhagen.
4. Next House Copenhagen – modern hostel in the city centre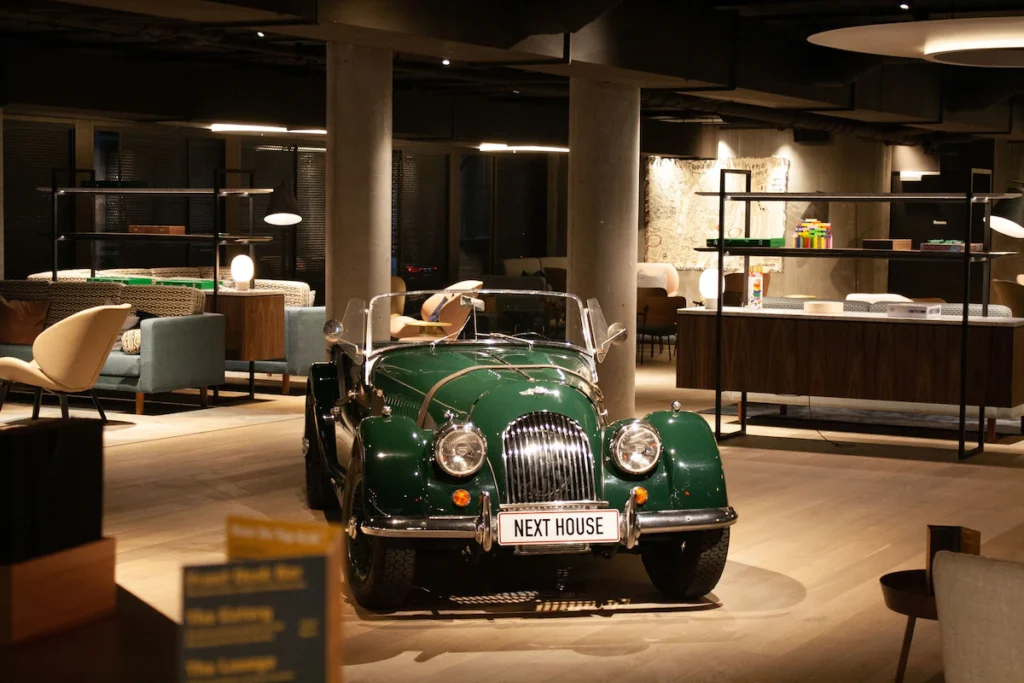 Location: City Centre / Waterfront
Located in the middle of Copenhagen with less than 10 minute's walk to Tivoli Gardens – and a little further to Nyhavn – you will find Next House Copenhagen, which calls itself a "next level hostel", as the comfort and facilities have been turned up a notch.
With a good mix of double rooms and shared dormitories with 4-6 beds, you can spend the night with privacy or the opportunity to meet other travellers – and there are usually plenty of them with as many as 433 rooms, 4 bars, restaurant with a pizza buffet, fitness centre with options for yoga and even cinema.
There is an option to buy a breakfast buffet in the restaurant, and then there is free Wi-Fi and nice communal areas for relaxing or working on the go.
This is one of the newer hostels in Copenhagen and undoubtedly one of the nicest.
See more photos and book with free cancellation.
I've also written a guide on the best budget-friendly and cheap hotels in Copenhagen.
5. Steel House Copenhagen – hostel with swimming pool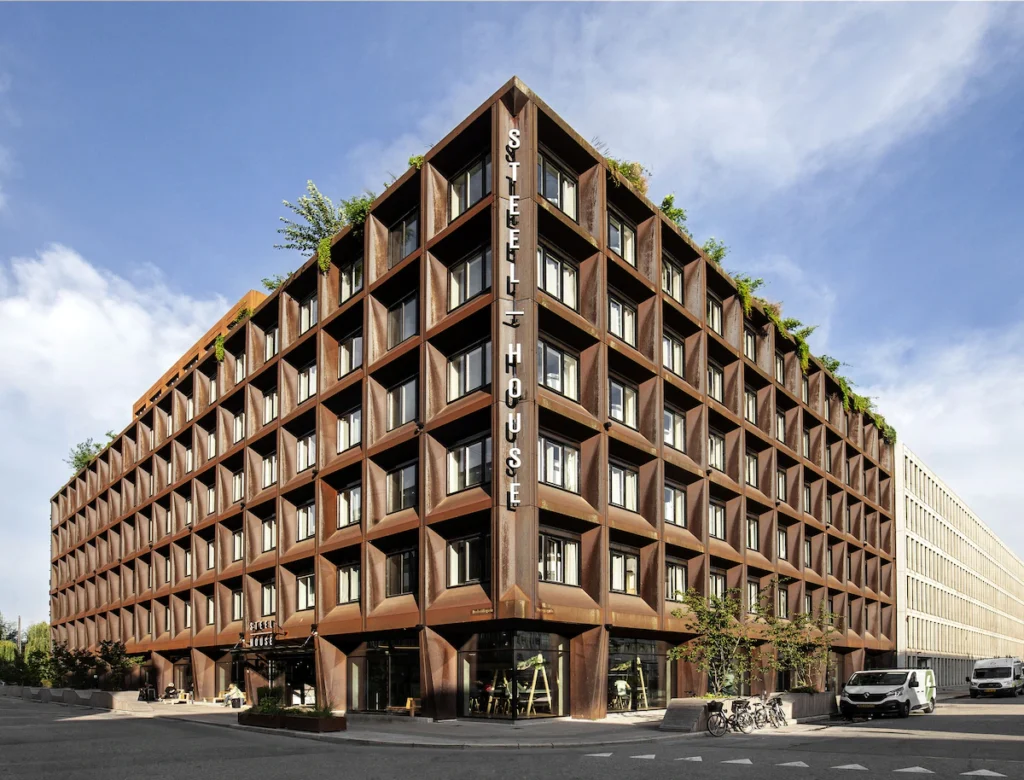 Location: Vesterbro
Like Next House, Steel House is also a more luxurious hostel where you get lots of excellent facilities.
This hostel is particularly suitable for those who want to hang out with other travellers in superb surroundings – or who are digital nomads and wish to have proper working conditions during the journey.
Tivoli Gardens is only 500 metres away, so the location is perfect, and there is free Wi-Fi, kitchen facilities, a snack bar, gym, games room, TV room, laundry, cinema and even an indoor pool.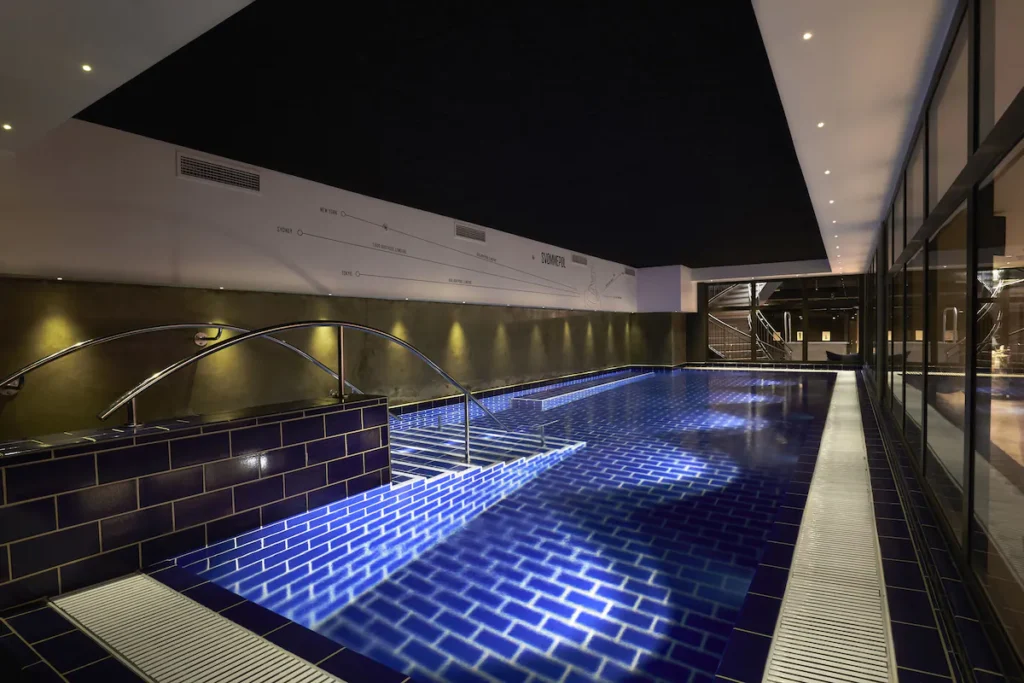 Here you get a lot for your money – and the opportunity to meet travellers from all over the world.
Despite the many excellent facilities, the prices at these luxury hostels are pretty reasonable – for Copenhagen, at least.
And with only a 2-minute walk to Vesterbro Station and the option of renting a bike, it's also easy to get around.
See more photos and book with free cancellation.
6. Globalhagen Hostel – stay in one of the coolest areas of Copenhagen
Location: Nørrebro
Globalhagen Hostel is a cheap hostel in Nørrebro that is mainly run by volunteers – which is also the case for Café Mellemrummet, located just below Globalhagen.
The hostel is mainly for travellers who want to meet other travellers and exchange experiences and ideas. If you're staying at this hostel, you can be sure to meet other artists and musicians.
The location is certainly not wrong, with 2 km to Tivoli Gardens and 2 km to Nyhavn, respectively, and both public transport and bike hire are easily accessible.
There are 22 rooms, so it is a small hostel, and the rooms are spread over dormitories, private rooms and family rooms.
There is free wifi, laundry, a cinema room and kitchen facilities, and then there is the option of buying breakfast or going to the bar for drinks and snacks. Events and arrangements are also held regularly.
See more photos and book with free cancellation.
This hostel is close to Nørrebro Bryghus, one of the best places for a beer in Copenhagen.
If you're looking for a Danish bite to eat, do check out my guide to the best places to eat smørrebrod in Copenhagen.
7. Sleep in Heaven – stay close to all the action in Nørrebro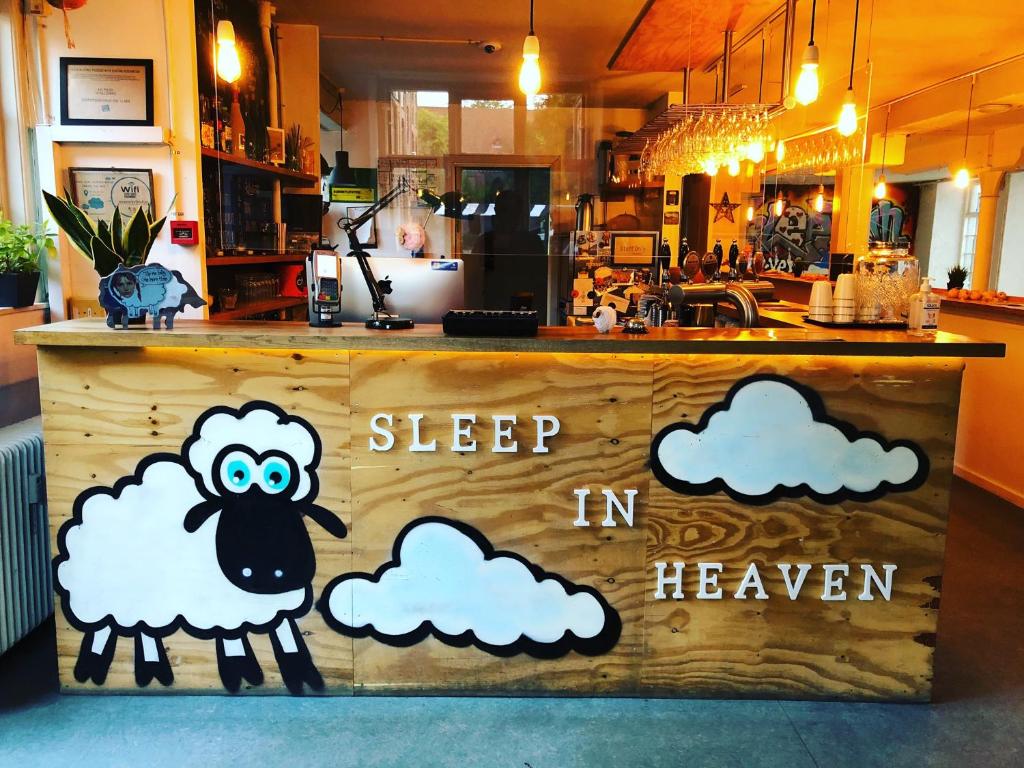 Location: Nørrebro
For young and party-loving travellers, Sleep in Heaven is the obvious hostel.
Here you get the option of cheap accommodation, happy hour every day, billiards, access to free wifi and computers – and bed linen is included in the price.
There is no more than 2 km to the Town Hall Square and Tivoli Gardens, good public transport connections, and easy access to rental bicycles.
It is, therefore, a nice place to experience everything that Copenhagen and Nørrebro have to offer – and previous guests are pleased about all the social activities that take place among the travellers.
It is somewhat reminiscent of a lively dormitory with small nooks and excellent common facilities, where the primary focus is meeting new people. It is possible to purchase breakfast on-site.
I recently had a visit from a friend from Canada who stayed at this hostel, and he was thrilled with the place.
See more photos and book with free cancellation.
8. Urban House Copenhagen – top hostel close to the Central Station
Location: Vesterbro
Centrally located in Copenhagen – just 2 minutes from the Central Station – you will find Urban House Copenhagen, which offers private rooms and dormitories where linen and towels are included at a very affordable price.
I stayed here once when I didn't have an apartment in Copenhagen, and I recommend it.
I had a private room, so it just functioned as a good hotel in the centre of Copenhagen, where the bar at the reception was lively.
At Urban House in Copenhagen, the focus is on a good atmosphere and social interaction. There is, among other things, a bar, billiards lounge, TV room and courtyard, and there are regular joint running and cycling trips and yoga classes.
In addition to being located right in the heart of Copenhagen, where there is plenty to experience, the hostel also offers plenty of entertainment.
You can easily walk over to the Meat Packing District (Kødbyen), which with its many bars and restaurants, is always a good choice for a night out in Copenhagen.
On-site, there is a laundry room, shared kitchen, restaurant, snack bar and the option to buy breakfast.
See more photos and book with free cancellation.
9. a&o Copenhagen Sydhavn – cheap but not centrally located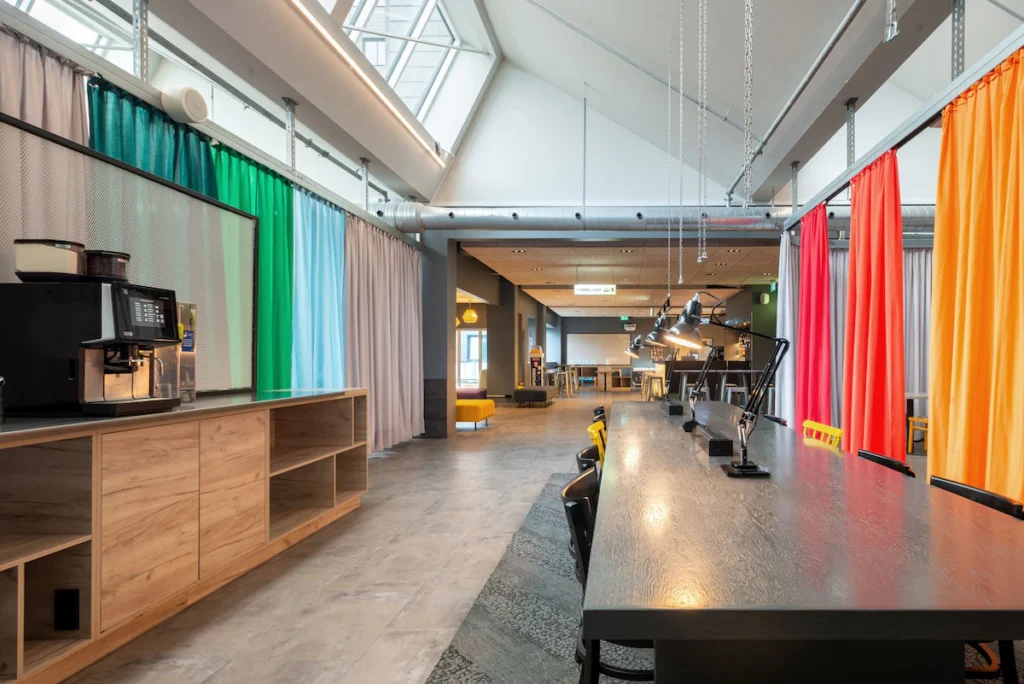 Location: Sydhavn
Sydhavn (the south harbour) has a new a&o hostel.
This is particularly suitable for travelling business people and digital nomads who need a shared workplace with free Wi-Fi – who prefer the cheap and social solution of a dormitory or a private room to retreat to.
There is a bar where you can buy snacks and drinks and purchase breakfast if needed.
On a map, a&o Copenhagen Sydhavn is located relatively close to Vesterbro and the city centre.
Still, I want to mention that the place is in a dead area, with only one gas station and not much else in the immediate area.
Therefore, you must be prepared to go to Sydhavn Station, take the suburban train a few stops to Copenhagen Central Station, or take the bus towards the centre or Vesterbro.
So there are hostels in Copenhagen with better locations, but for those who are just looking for an incredibly cheap place to spend the night and don't need to live right in the centre, this is a good choice for overnight stays in Copenhagen.
See more photos and book with free cancellation.
Warning: you need to know this about a&o Copenhagen Nørrebro 🚩
Location: Nørrebro
This hostel is particularly suitable for travelling students, as there is a "students' corner", a library and free Wi-Fi. There is the option of shared or private rooms and purchasing breakfast and a packed lunch.
However, I must say that the a&o hostel in Nørrebro does not have a particularly child-friendly location.
The place is in Mjølnerparken, which for 10-20 years has been home to one of Copenhagen's most violent gangs and in general, the area just outside this hostel can feel unsafe in the evening.
There has even been a shooting that took place at the hostel shortly after it opened.
I have lived in the area and was honestly surprised when I saw that a hostel was being built on the premises and I thought I would be very sorry if I mistakenly booked a similar place in a city for a trip abroad.
I don't want to scare anybody off coming to Copenhagen – as I said, I used to live quite close to Mjølnerparken, and 99.9% will not experience anything terrible.
I'd feel bad writing a guide to the best hostels in Copenhagen and not mentioning some of those in (kind of) bad neighbourhoods.
There are many other good hostels in Copenhagen, so unless you are okay with staying in a slightly rough area, I would not recommend a&o Copenhagen Nørrebro.
Instead, look at the other hostels in Nørrebro I mention in this guide. Or use this map:
I hope you found this guide to the best hostels in Copenhagen helpful. If you've any questions about the Danish capital, please comment below.
Frequently asked questions:
How much are hostels in Copenhagen?
The cheapest hostel in Copenhagen on my list costs DKK 290 per night. However, it is normal to pay approx. DKK 500 per night in a shared dormitory. Many hostels in Copenhagen have private rooms, so it works almost like staying in a hotel.
What are the best hostels in Copenhagen?
Some of the best hostels in Copenhagen are Steel House, Next House and Copenhagen Downtown Hostel.