Whether you are a traveller from somewhere out in the world or visiting Copenhagen from another place in Denmark, it can seem overwhelming with the expensive hotels that pop up in quick internet searches.
I'm Danish and live in Copenhagen, so I know a thing or two about the Danish capital city. I hope this shines through in this guide to the best budget-friendly hotels in Copenhagen.
Fortunately, there are cheap hotels in Copenhagen as an alternative to the many expensive ones. Here I have found ten excellent and cheap hotels, all of which are well located and where the price is on the nicer side.
You can also read my guide on where to stay in Copenhagen, where I go in-depth about the city's many different areas.
While some hotels have spacious rooms and many facilities, others are more suitable for a single night or two in connection with a concert or air transport.
I hope you'll be inspired to find a cheap hotel in Copenhagen.
1. Wakeup Copenhagen Borgergade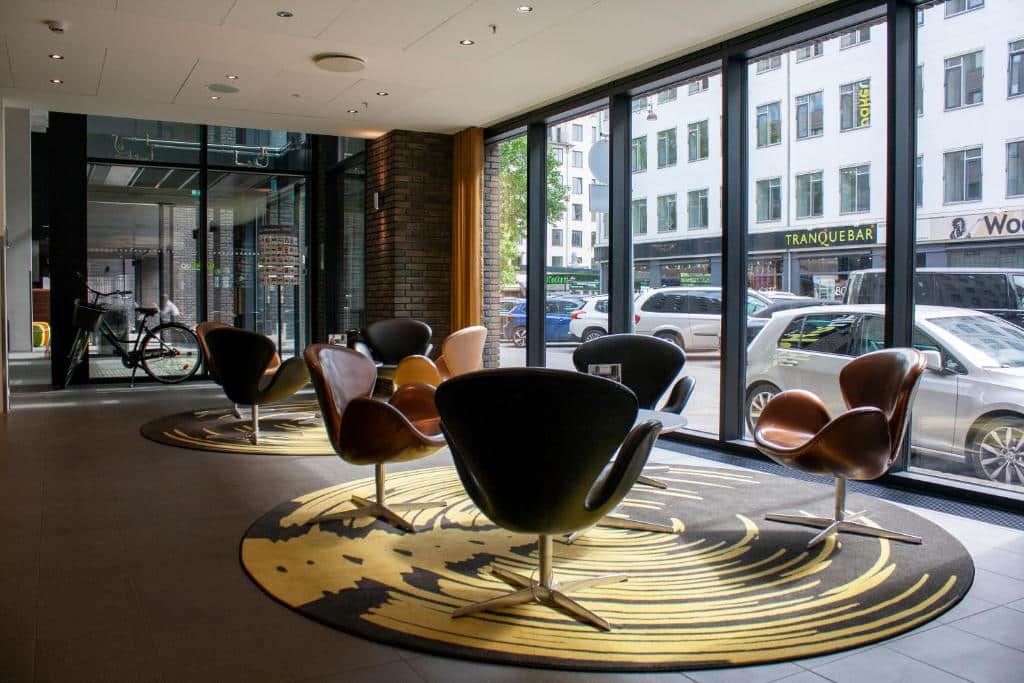 Location: City Centre (Indre By)
The first Wakeup Copenhagen hotel was one of the city's first low-cost hotels. It has been a resounding success, and today the concept covers three hotels in Copenhagen and one in Aarhus.
The idea is that a stay is minimalistic and straightforward without too many frills – but at a reasonable price.
You pay for one night in a room of limited size (however, small family rooms are also available) that includes free Wi-Fi. You can buy breakfast in the buffet, and for most people, the hotel will be a place to spend the night while experiencing the city.
For the same reasons, the hotels are strategically located so you can reach everything Copenhagen offers in a short time.
See more about the hotel and book online here.
This is a great place to stay if you're looking for a hotel within walking distance of the best things to do in Copenhagen.
2. Hotel M18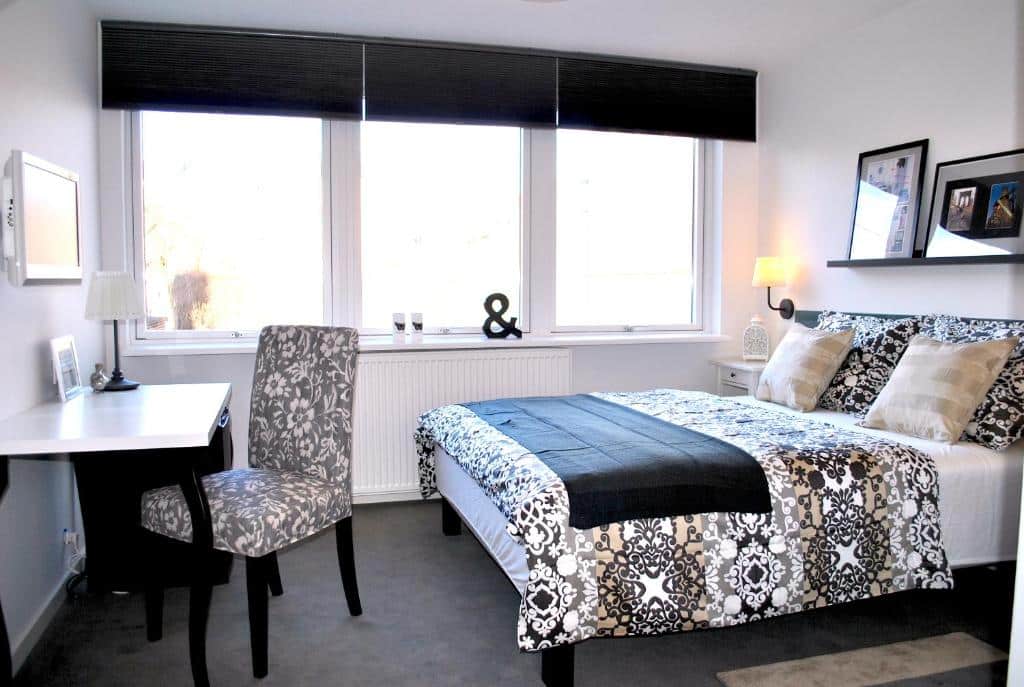 Location: Nørrebro
The location of Hotel M18 in Nørrebro is not too bad either. Nørrebro is, in fact, my favourite area of Copenhagen.
From here, you can quickly reach everything from various attractions to Copenhagen nightlife. The hotel doesn't make a big deal out of itself, but you have a decent place to spend the night, which is worth paying for.
You can choose from several different rooms in different price ranges – and you can save quite a bit if you book well in advance.
Depending on your space requirements, there are standard double rooms, family rooms and studio apartments.
The hotel has only 12 rooms, so it is a small hotel with a more intimate atmosphere.
See more about the hotel and book online here.
3. Wakeup Copenhagen Bernstorffsgade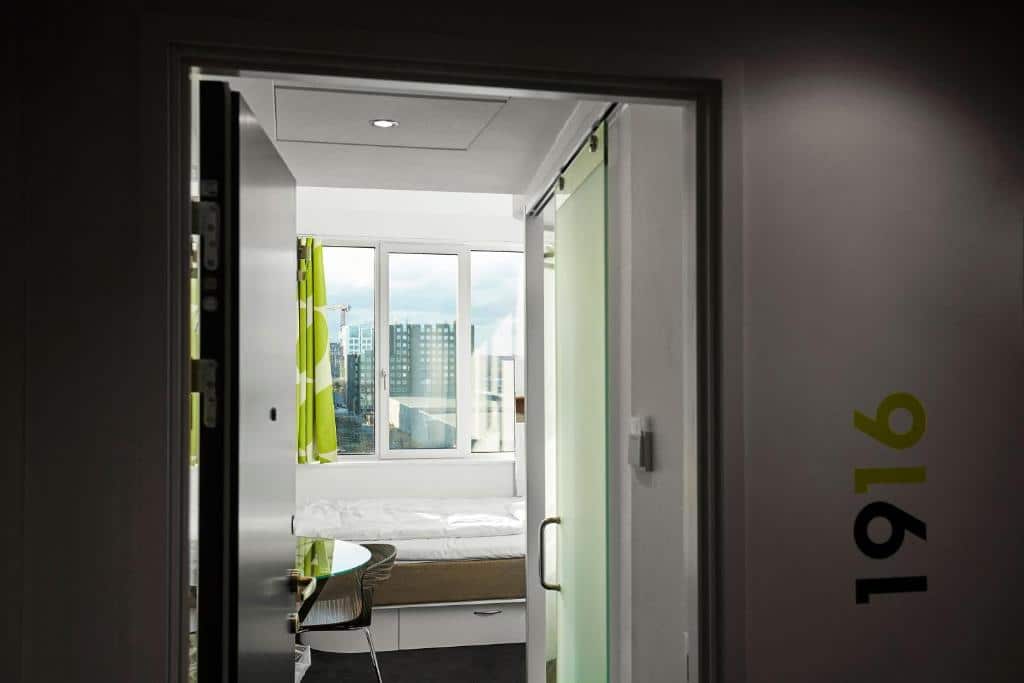 Location: City Centre (Indre By)
One of the newer Wakeup Copenhagen hotels is Wakeup Copenhagen Bernstorffsgade, which is super well located in Indre By (the city centre) with a short distance to everything Copenhagen offers.
For example, Tivoli Gardens is only 800 meters away – and the hotel is right down to the harbour, so rooms with a view are available.
All rooms – there are almost 600 rooms – are pretty small but with everything necessary for a comfortable stay, including free Wi-Fi and air conditioning. It is possible to purchase breakfast.
You typically save money if you book the hotel without free cancellation. You must be aware that you will not get the money back in the event of a cancellation. If it's a risk you're willing to take, there are reasonable prices.
See more about the hotel and book online here.
Are you looking for a fun experience in Copenhagen? Check out my guide to the best Copenhagen Escape Rooms in English.
4. Cabinn Metro Hotel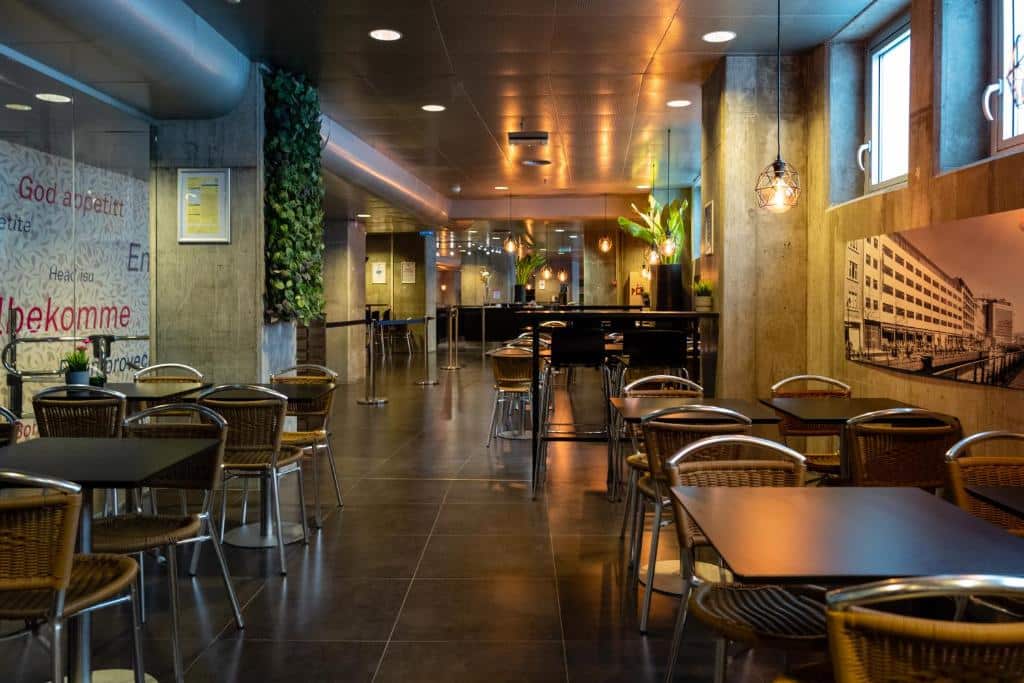 Location: Amager
Near the Royal Arena, you will find the architectural Cabinn Metro Hotel. Especially if you are visiting Copenhagen for a concert or other event in the Royal Arena, this hotel is the right choice.
Also, if you want to stay near Copenhagen Airport, it makes sense to stay at the Cabinn Metro Hotel, as it is less than 6 km from the airport – however, it is on a different metro line, so it requires a change or a very short taxi ride to the airport.
There is free Wi-Fi in the hotel, the option to purchase breakfast – and then children stay for free. There is also a 24-hour fitness centre that guests can use.
The rooms are tiny, but they are smartly furnished.
It is a cheap hotel in Copenhagen where it makes sense to spend the night, but if you plan to spend a longer time in the hotel room, it might become claustrophobic in the 9 m2.
See more about the hotel and book online here.
Check out my video, where I'm showing some of the best areas in Copenhagen:
5. City Hotel Nebo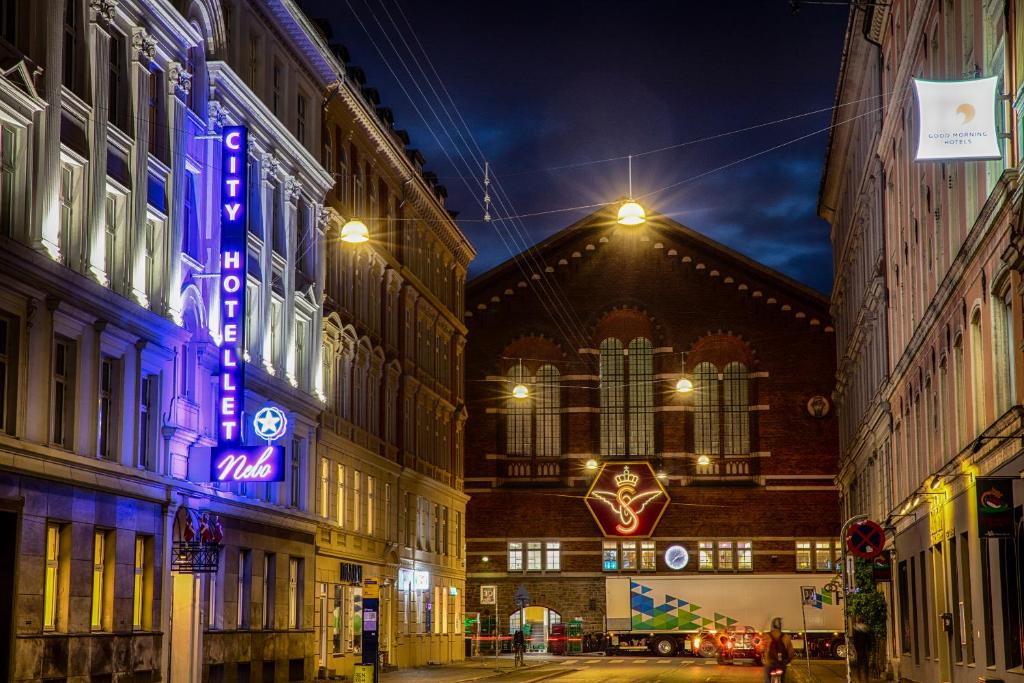 Location: Vesterbro
Right in the heart of Copenhagen – just a 5-minute walk from Tivoli Gardens – you will find City Hotel Nebo. And with only a 5-minute walk to Vesterport Station and 8 minutes to Rådhuspladsens Metro Station, you are very well located concerning transport to all of Copenhagen's many attractions.
The hotel has nice rooms in various sizes with space for 1-4 people, depending on needs. It is an opportunity to stay cheaply in central Copenhagen – even if several of you are travelling together.
There is an option to buy breakfast at the hotel, and then there is laundry and bicycle rental, so it is easy to be a traveller on a budget.
See more about the hotel and book online here.
Are you looking forward to trying Danish Smørrebrød in Copenhagen?
6. Copenhagen Go Hotel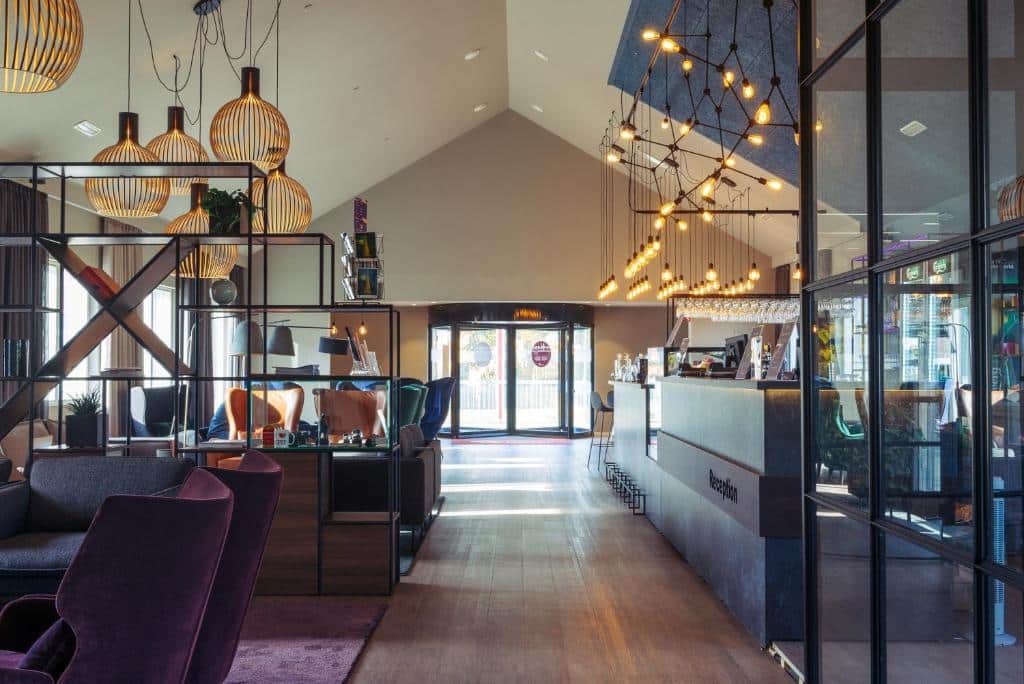 Location: Tårnby
Copenhagen Go Hotel is a modern and minimalist hotel located in Tårnby, close to the airport. The hotel offers very cheap accommodation and gets good reviews.
The location is perfect for those looking for a hotel in connection with airport transport to or from Copenhagen Airport – or those who would like a cheap night's accommodation in connection with an event in the Royal Arena.
It is possible to buy breakfast at the hotel, children can stay for free – and there is the possibility of bringing pets to a limited extent.
It is also possible to buy snacks and basic groceries, and there are pleasant common areas in the form of a garden, terrace and indoor TV room.
See more about the hotel and book online here.
7. Go Hotel City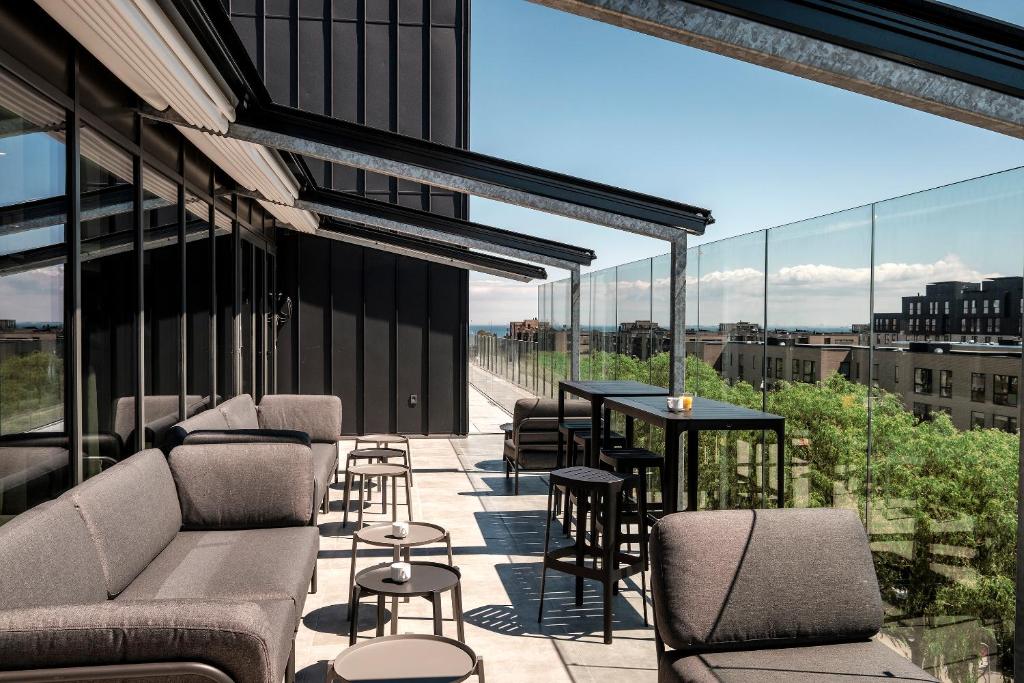 Location: Amager
Go Hotel City is a lovely modern hotel located in Amager. In terms of attractions, shopping opportunities and city life, it is an excellent location, and public transport is also accessible from the hotel.
The hotel, which has 140 rooms, is spread over single rooms, double rooms and apartments of various sizes.
Whether you are travelling alone or as a group, a couple or a family with children, it is possible to find a suitable room.
Most of the extrad has been cut at this hotel, and there aren't a lot of fancy facilities.
On the other hand, there are nice rooms at an affordable price with a good location in Copenhagen – and the option to buy breakfast.
See more about the hotel and book online here.
8. Go Hotel Saga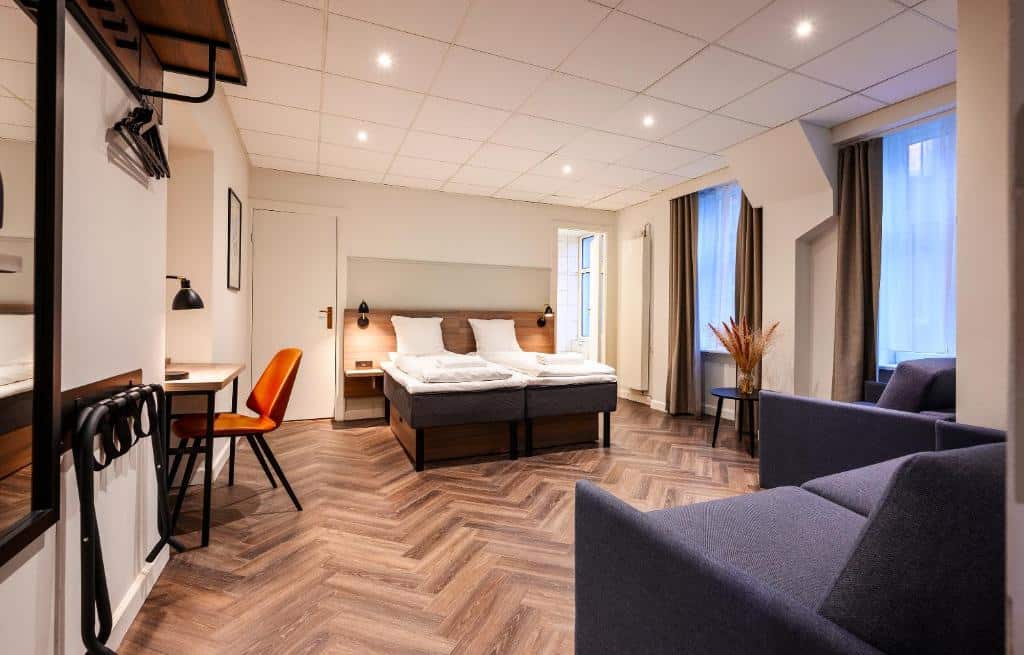 Location: Vesterbro
Despite a slightly older building and relatively small rooms, Go Hotel Saga gets good reviews – perhaps because of the correspondingly low price and the good geographical location.
The rooms are nice and modern in the interior, and there are both economy rooms with shared bathrooms at very affordable prices, standard rooms and group rooms.
It takes no more than 6 minutes to walk to Tivoli, and public transport is accessible at Copenhagen Central Station a couple of minutes from your hotel room.
In other words: this hotel is very well located in the city centre of Copenhagen.
There is also a bar in the hotel, and it is also possible to purchase breakfast.
See more about the hotel and book online here.
Are you thinking about venturing out of Copenhagen to explore more of Denmark? Check out my guide to the best glamping in Denmark.
9. Hotel Christian IV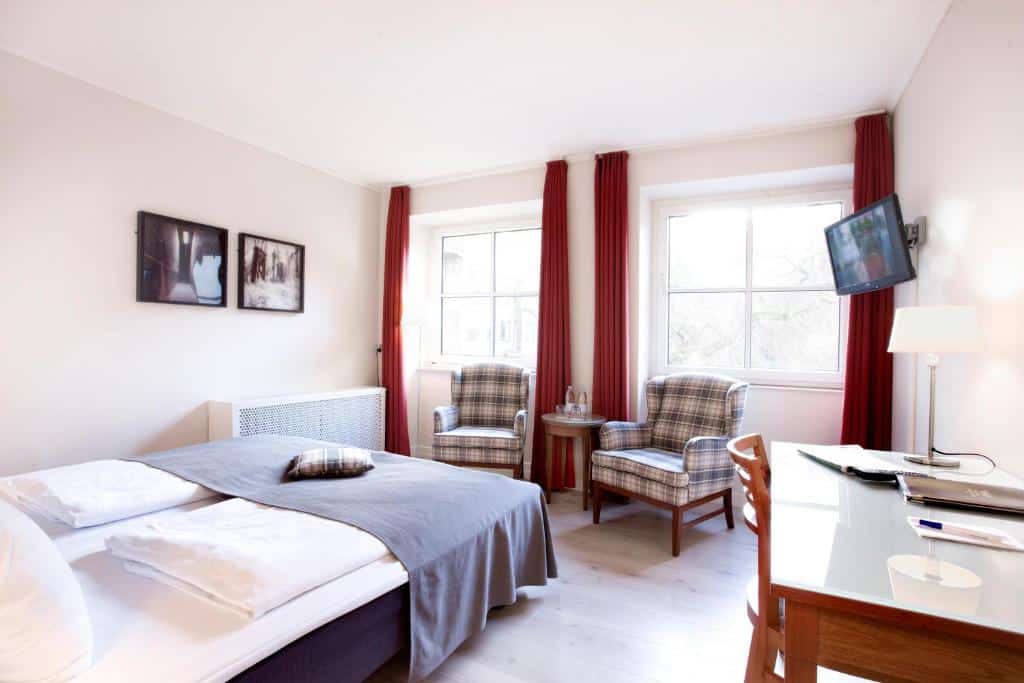 Location: City Centre (Indre By)
Hotel Christian IV is – unlike many other hotels in the guide – a smaller, family-run hotel with only 42 rooms. It is located in the historic part of Copenhagen with easy access to transport and all the famous sights.
The rooms are spread over single and double rooms in Basic and Classic categories, of which Basic is the cheapest choice. The rooms are nicely and classically furnished with free Wi-Fi, and complimentary tea and coffee are always included in the stay.
It is possible to get help with good walking and cycling routes at the hotel, which also offers bike hire.
See more about the hotel and book online here.
10. Zleep Hotel Copenhagen Arena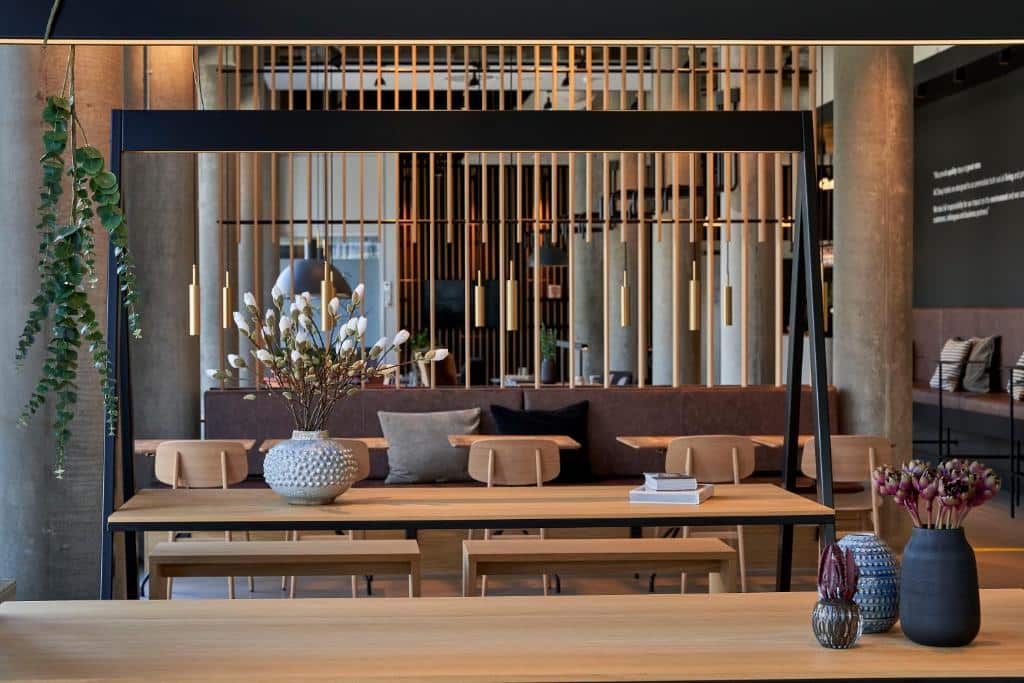 Location: Ørestad
With only 300 meters from the Royal Arena, this hotel is perfect if you are coming to Copenhagen to experience a concert or other attractions.
The hotel is one of the newer ones in Copenhagen, and the hotel rooms are modern, immaculate and up-to-date in their decor – and there is also a focus on comfort and well-being with 210 cm beds, a fitness room, organic breakfast and free Wi-Fi.
There are over 200 rooms in the hotel, spread over double rooms with double or single beds and family rooms. All rooms are also available in a handicap-friendly version.
See more about the hotel and book online here.
There's also a Zleep Hotel right by the airport, so if you want to stay close to Copenhagen Airport I recommend booking into Zleep Hotel Copenhagen Airport.
Hotel or hostel?
Although all the above hotels have some very affordable prices, it can be done even cheaper! Just see my overview of the best and cheapest hostels in Copenhagen.
The big difference is the possibility of shared rooms in hostels – and that there is typically an environment focused on meeting new people, which the facilities on site such as games room and communal kitchen support.
If you've any questions about the mentioned cheap hotels in Copenhagen or your trip to Denmark in general please comment below as I'd be happy to help.
FAQ about cheap hotels in Copenhagen, Denmark:
Where can I stay cheaply in Central Copenhagen?
In this guide I recommend 10 of the best budget-friendly hotels in Copenhagen. For a cheap city centre hotel I recommend Wakeup Copenhagen Borgergade, Go Hotel Saga and Wakeup Copenhagen Bernstorffsgade.
What is the center of Copenhagen?
The city centre of Copenhagen is called Indre By, which translates to Inner City. The area runs from Town Hall Square to Nyhavn, one of our most famous attractions.