Welcome to my comprehensive guide, designed to help you get smoothly from Copenhagen Airport to the city centre.
I'll cover various modes of transport, from efficient public options like trains and the metro to private taxis and ride-sharing services.
I'm Danish and live in Copenhagen, so I often go to and from this airport.
I've also made a video that shows precisely how to get from Copenhagen Airport to the city centre in just 13 minutes:
Let's get started with the guide and I'll tell you how to get from the airport to the city centre in just 13 minutes.
Copenhagen Airport (CPH)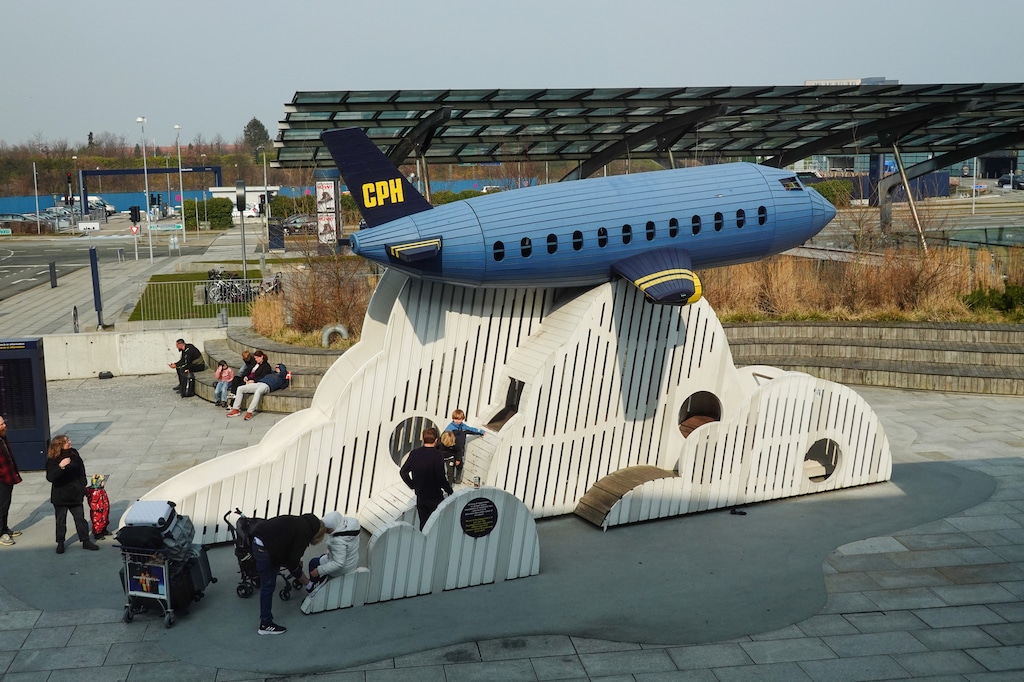 Copenhagen Airport, or Kastrup Airport as it's called in Danish, is the main international gateway to Denmark and one of the busiest airports in Northern Europe.
Located just 8 kilometres southeast of the city centre, the airport is convenient for travellers visiting Copenhagen.
In my opinion, it's one of the best airports in Europe.

My only bad note on CPH is that the F-gates (where low-cost airlines such as Ryanair and EasyJet operate) are a good 15-minute walk from security.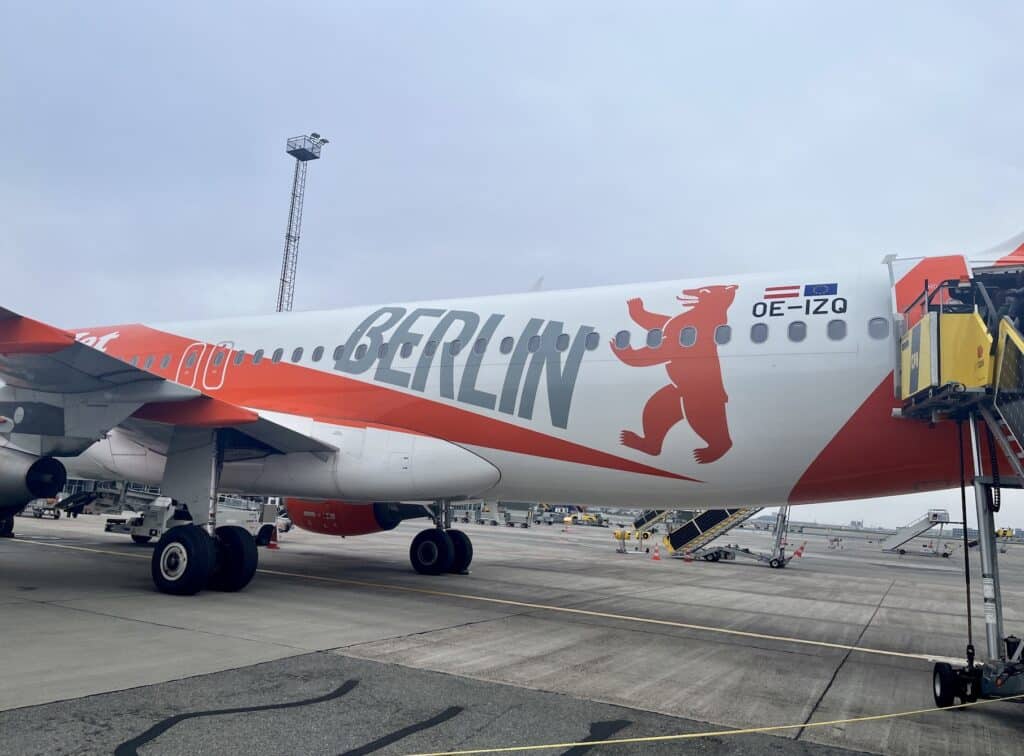 So if you're flying out of Copenhagen with Ryanair or Easyjet, I'd recommend getting to the airport earlier than you'd typically do.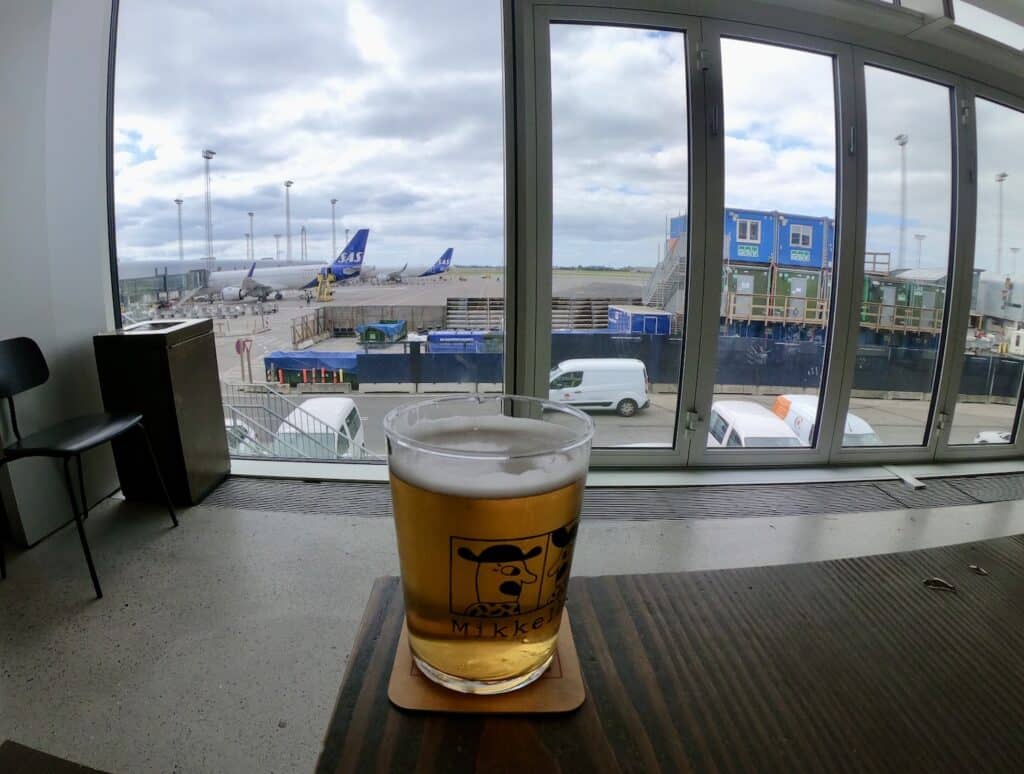 Apart from the F-gates, CPH is lovely, and there are some high-quality restaurants and bars – there's even a Mikkeller craft beer bar.
Metro – best way to get to the city centre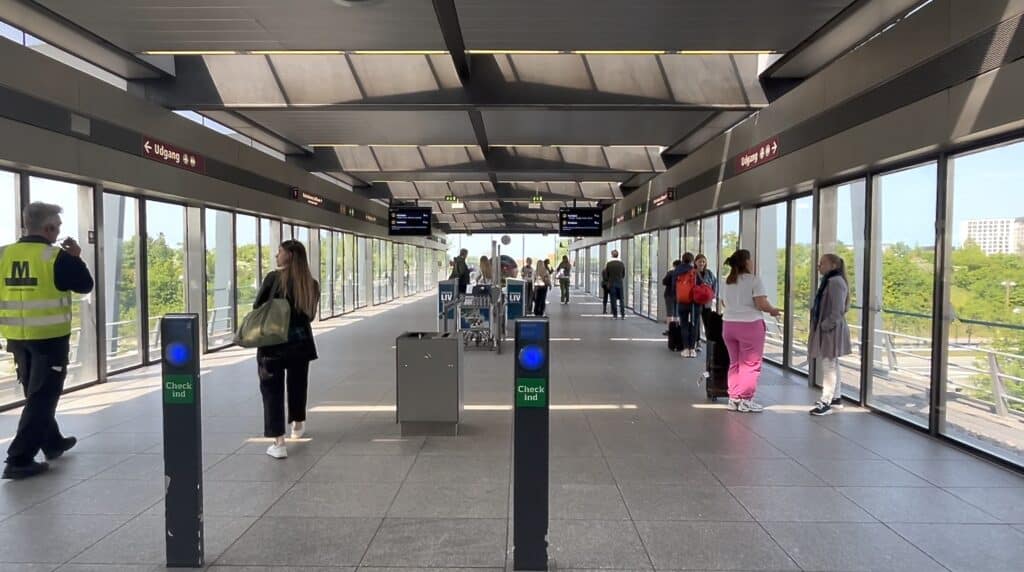 Arguably one of the most convenient ways to get to the city centre, the metro is available 24 hours a day, 7 days a week, offering a reliable round-the-clock service.
The M2 line will transport you directly from the airport to Kongens Nytorv and Nørreport, both central locations in the city centre.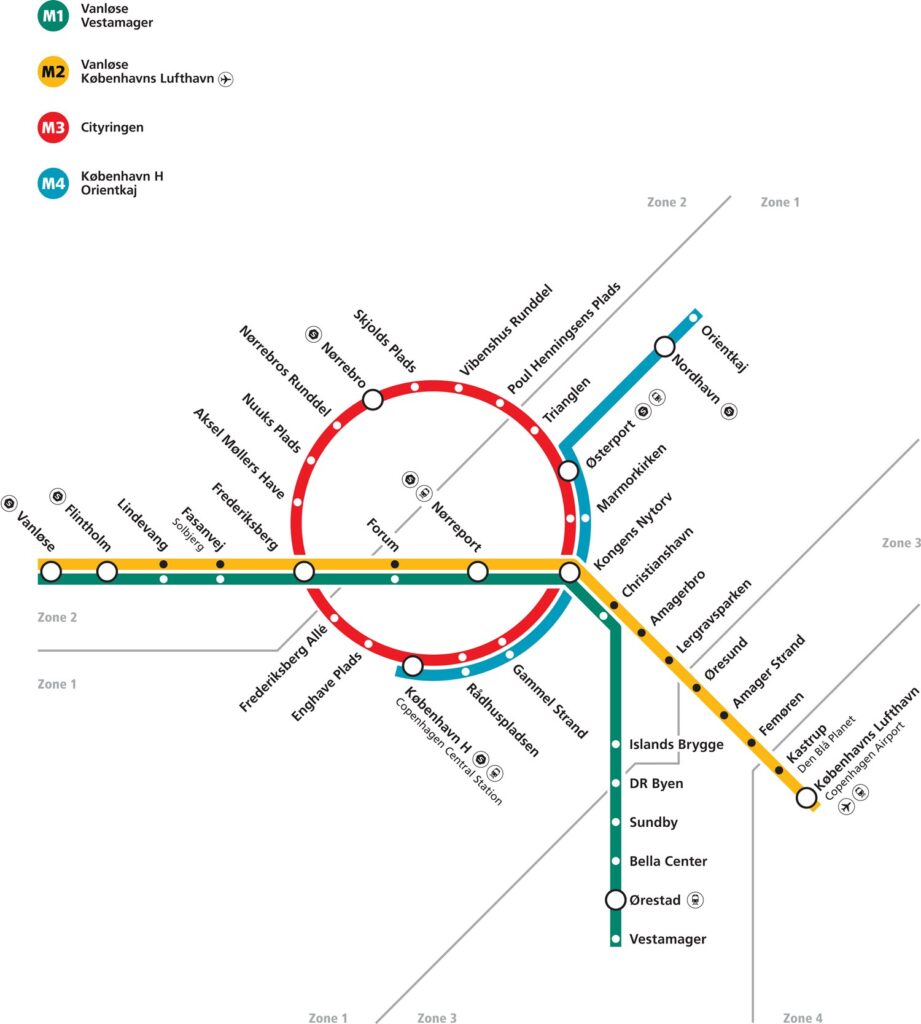 Trains depart every 2 minutes during the day, and every 15-20 minutes at night, so you'll never have to wait long.
The journey from CPH Airport to Kongens Nytorv takes approximately 13 minutes, making this a speedy option for those eager to start exploring the city.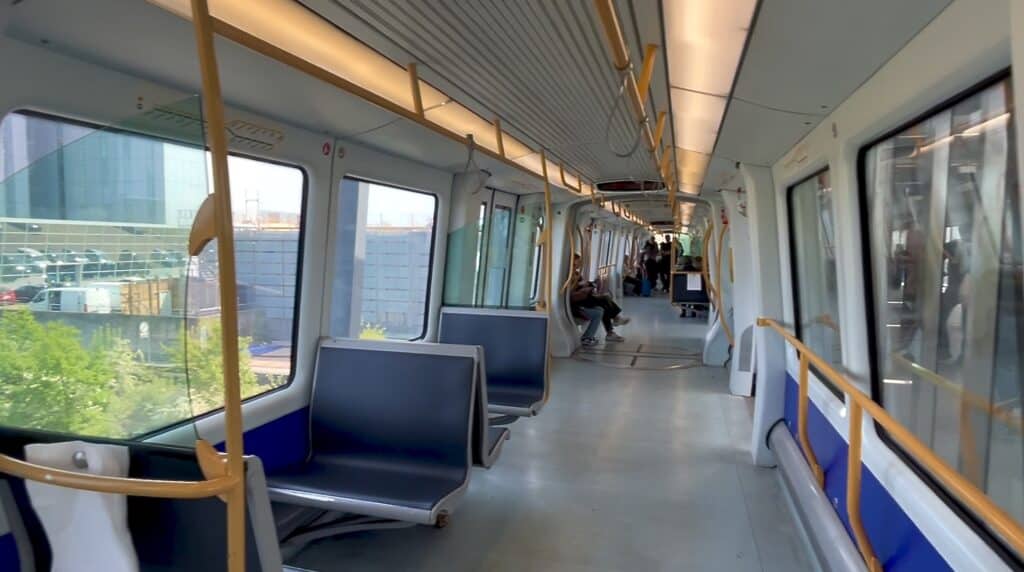 You can walk to your city centre hotel from both Kongens Nytorv and Nørreport – if you haven't yet booked your place to stay, check out my huge guide on where to stay in Copenhagen.
At Kongens Nytorv, you could also change to the M3-line and quickly access all other areas of Copenhagen.
If you're staying near Copenhagen Central Station, then the next option is slightly better.
Train – best way to get to Copenhagen Central Station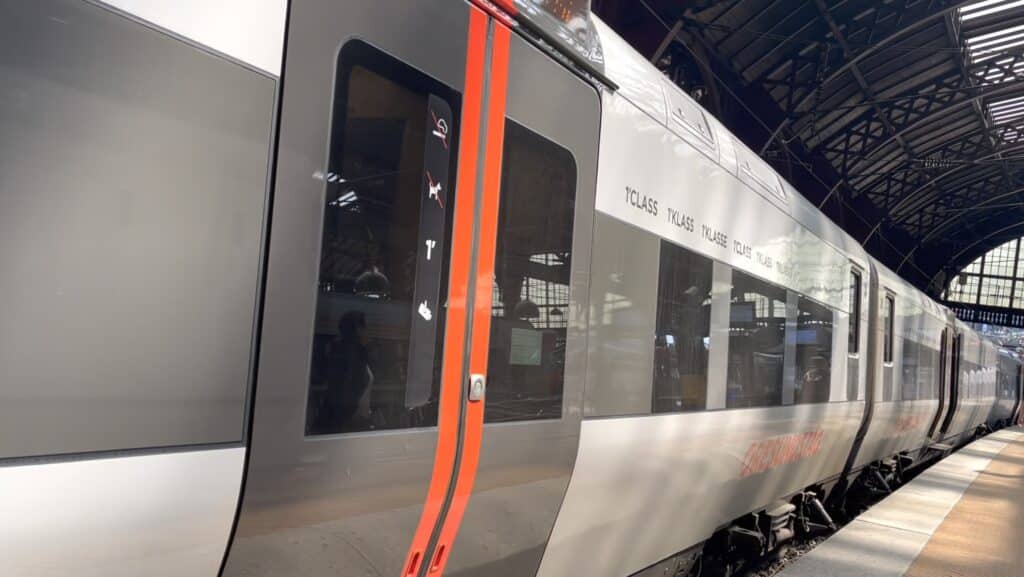 Consider taking the train if you prefer a slightly larger vehicle or wish to enjoy a bit of Danish scenery.
Direct trains run from the airport to Copenhagen Central Station every 10-20 minutes during the day, offering a journey time around 13 minutes.
Both the metro and the train station are located right next to the arrival hall at the airport.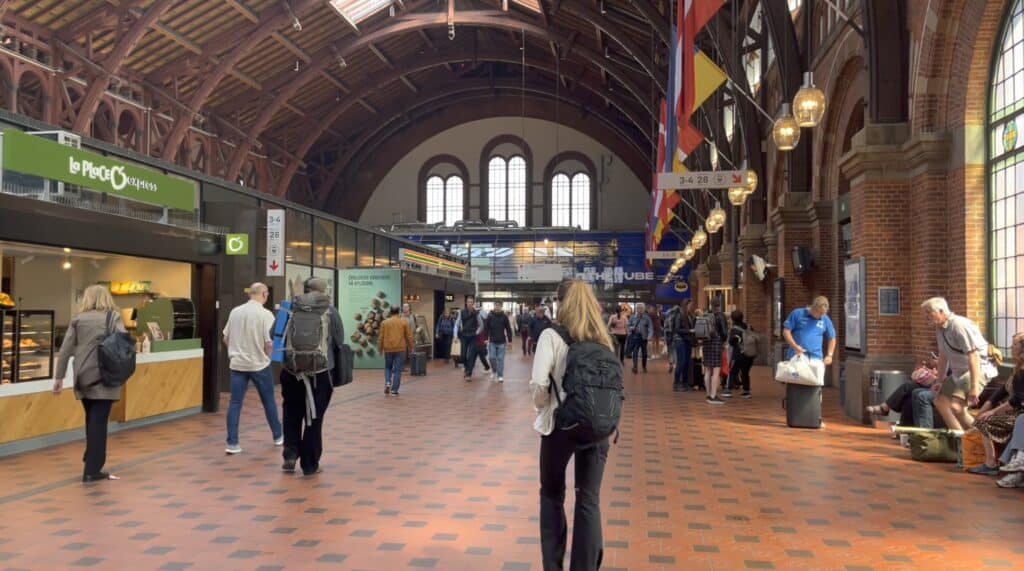 You can get train times at the Danish Journey Planner website or Google Maps.
There are plenty of cheap hostels and hotels near the Central Station in Copenhagen.
Ticket prices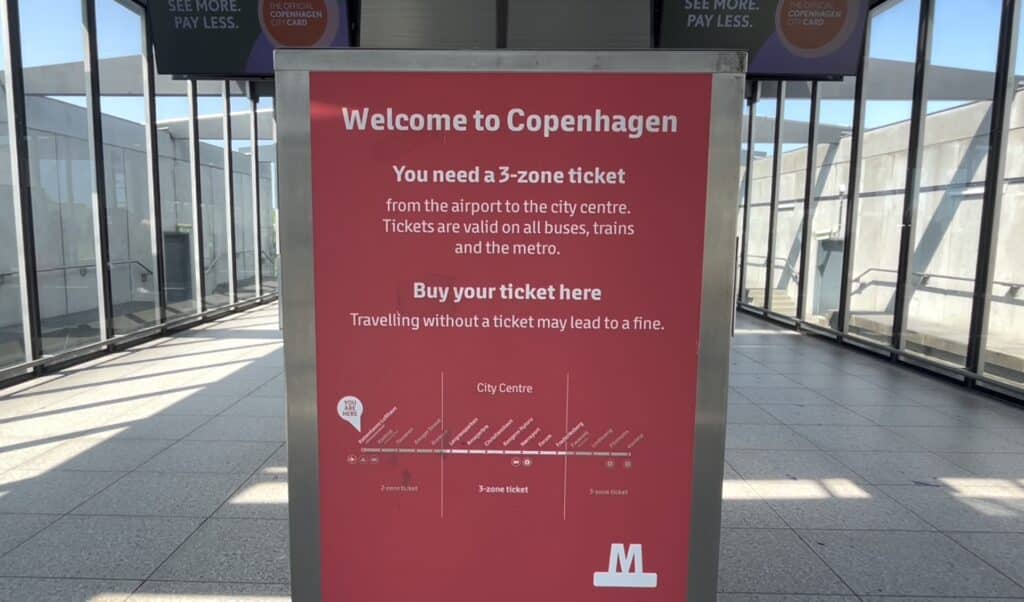 You can get tickets from the DSB ticket sales booth and ticket machines in the arrivals area, making this a highly convenient option.
The price to get from Copenhagen Airport to the city centre is 30 kroner no matter what mode of transport you're taking.
30 kroner is around €4.04 / $2.75/ £3.47
You'll need a 3-zone ticket, but if you use the ticket machine as I show in my video, then it will automatically work it out for you.
You could also get the Copenhagen Card and have free access to the train and metro.
Read more about the Copenhagen Card and its many advantages here.
It's worth noting that while buses are an option, they are not recommended due to their long journey times and less frequent service compared to the metro and train.
Taxi – slowest and most expensive way to get to the city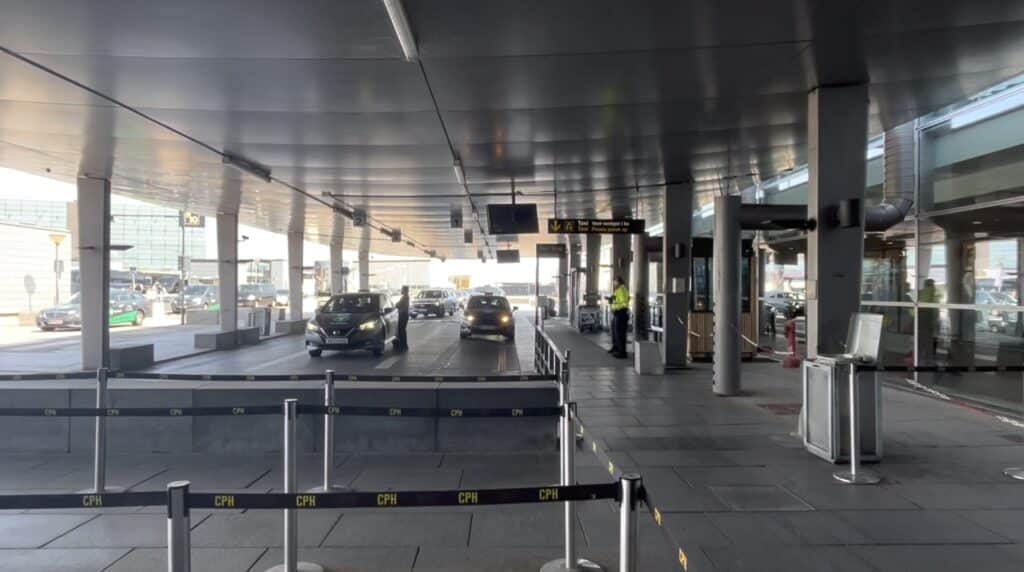 Taxis are available from ranks outside the airport, offering a more private travel option.
They provide door-to-door service, which can be especially useful if you travel with a lot of luggage or prefer not to navigate public transport.
However, be aware that taxis are more expensive than public transportation.
While it's possible to pre-book taxis, it's generally unnecessary as taxis are readily available at the airport.
The journey time to the city centre by taxi can vary significantly depending on traffic, but expect it to take 20 to 40 minutes.
Taxi prices
A taxi from Copenhagen Airport to the city centre will cost 350-500 kroner. All taxis in Denmark are metered so they can't cheat you.
You can pay by cash, card and contactless (Apple Pay etc).
Car Rentals in CPH Airport
If you prefer a more independent mode of travel, renting a car may be the perfect option. Copenhagen Airport hosts several international car rental companies, ensuring you have a broad selection of vehicles.
These companies include well-known names such as Hertz, Avis, Europcar, Budget, and Sixt, each offering a range of vehicles to cater to varying needs and budgets.
Read more about car rental at CPH Airport here.
Process to Rent
You will need a valid driver's license, passport, and credit card to rent a car.
Booking your car in advance, particularly during peak tourist season, is highly recommended to ensure availability and potentially secure better rates.
Driving in Copenhagen
Driving in Copenhagen is generally straightforward, with well-maintained roads and clear signage. However, like any city, it can get busy during peak hours, and finding parking in the city centre can sometimes take work.
If you are not used to driving in European cities, be aware that Copenhagen has a lot of cyclists, and special attention is needed to the dedicated bike lanes.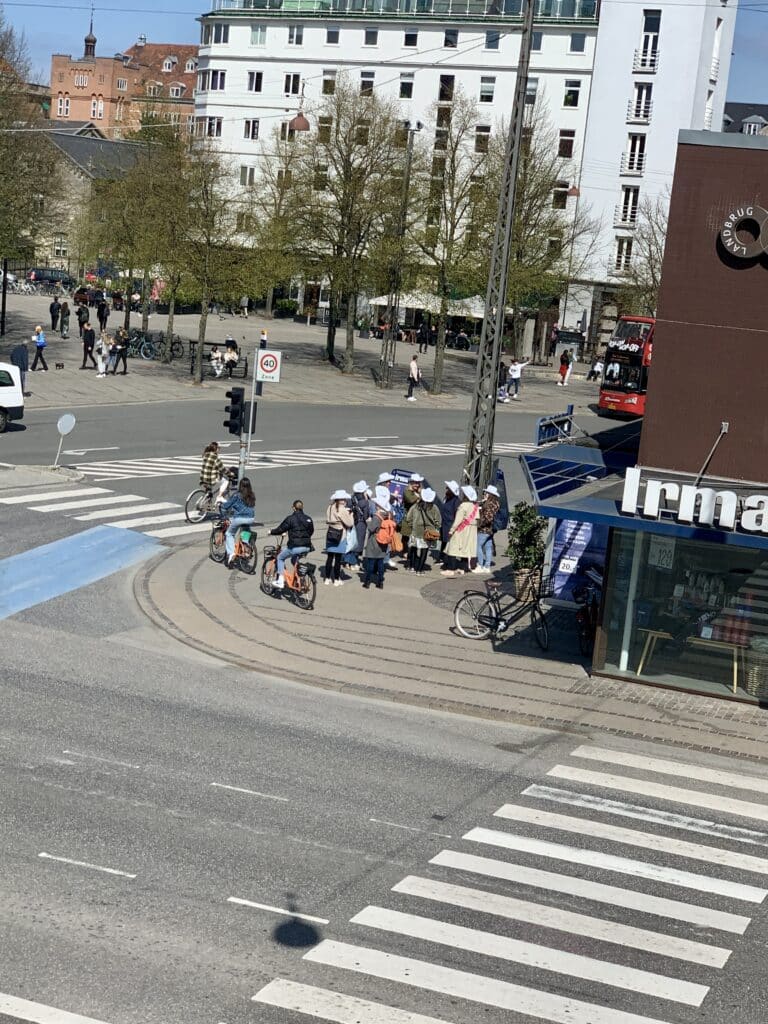 I ride my bike in Copenhagen every day, and I've got to say that it can get a bit insane – Copenhagen cyclists have got a temper, and you can't always know their next move. Now you're warned 😅
Remember, in Denmark, you must drive on the right-hand side of the road.
A car can be an excellent way to discover the charming Danish countryside and coastline at your own pace. Check out these brilliant places to go glamping in Denmark.
Still unsure about airport transport in Copenhagen?
Check out my video:
Whether you choose the rapid convenience of the metro, the more scenic route of the train, the comfort of a taxi, or the freedom of a car rental, Copenhagen offers a range of accessible and efficient transport options to suit every traveller.
To sum it all up:
Take the metro or train for a quick, reliable and cost-effective solution. Or a taxi for direct, door-to-door convenience.
However you decide to travel, Copenhagen's comprehensive transport system and the city's compact size make it wonderfully simple to journey from the airport to the heart of the city.
As mentioned earlier, I live in Copenhagen, so if you've got any questions about your upcoming trip to Denmark, please comment below and I'll do my best to help.
Read all my Copenhagen travel guides here.
FAQ:
Is there public transport available from Copenhagen Airport?
Yes, the airport has excellent public transport links. You can choose between the metro, trains, and buses to reach the city centre.
What is the best way to get from CPH Airport to the city centre?
The metro and the train are the best ways to get from Copenhagen Airport to the city centre. Both options are reliable and efficient and offer a quick journey to city centre stations such as Kongens Nytorv and Nørreport.
How much is train from Copenhagen Airport to city?
The cost of a train ticket from Copenhagen Airport to the city centre is 30 Danish Kroner.
Can you use Euro in Denmark?
We don't use Euro in Denmark; instead, we've got Kroner (Crowns). However, in some tourist-oriented establishments like hotels, restaurants, and certain shops, payments in euro might be accepted. But it's important to note that the exchange rate may not be favourable in these instances, and change is typically given in Danish Kroner.
How long does it take to get from Copenhagen Airport to the city centre?
Both the metro and train take approximately 13 minutes to reach the city centre from the airport.
Can I buy public transport tickets at the airport?
Yes, there are ticket machines and sales booths at the airport where you can purchase metro, train, and bus tickets.
Are taxis available at Copenhagen Airport?
Yes, there are taxi ranks outside the terminal buildings. However, taxis in Denmark can be expensive, and public transport is a more cost-effective choice.
Is it safe to travel by public transport in Copenhagen?
Yes, Copenhagen's public transport system is generally very safe. However, as with any major city, being aware of your belongings and surroundings is always a good idea.