If you are going on holiday to Copenhagen soon, you can already look forward to experiencing a fantastic city with lots of epic things to do.
I have included 27 things to do in Copenhagen in this guide, but this is just a fraction of everything you can experience.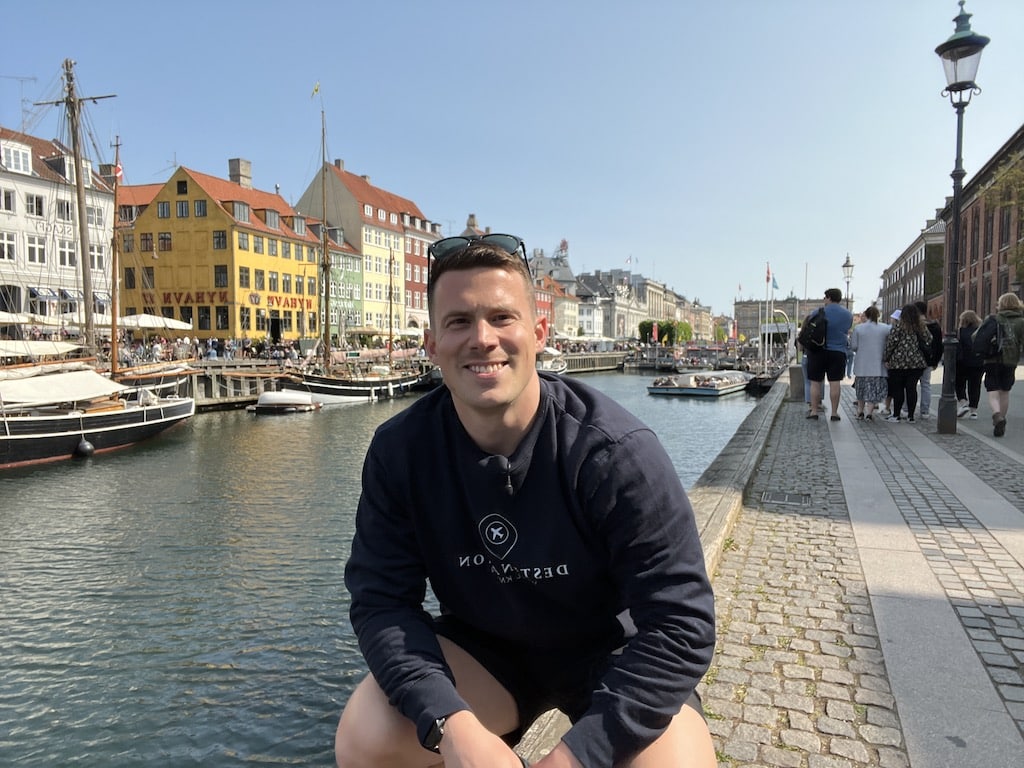 You're also more than welcome to comment below with any Copenhagen-related questions you may have, as mentioned in the beginning: I live here, so I know a thing or two about the city 😉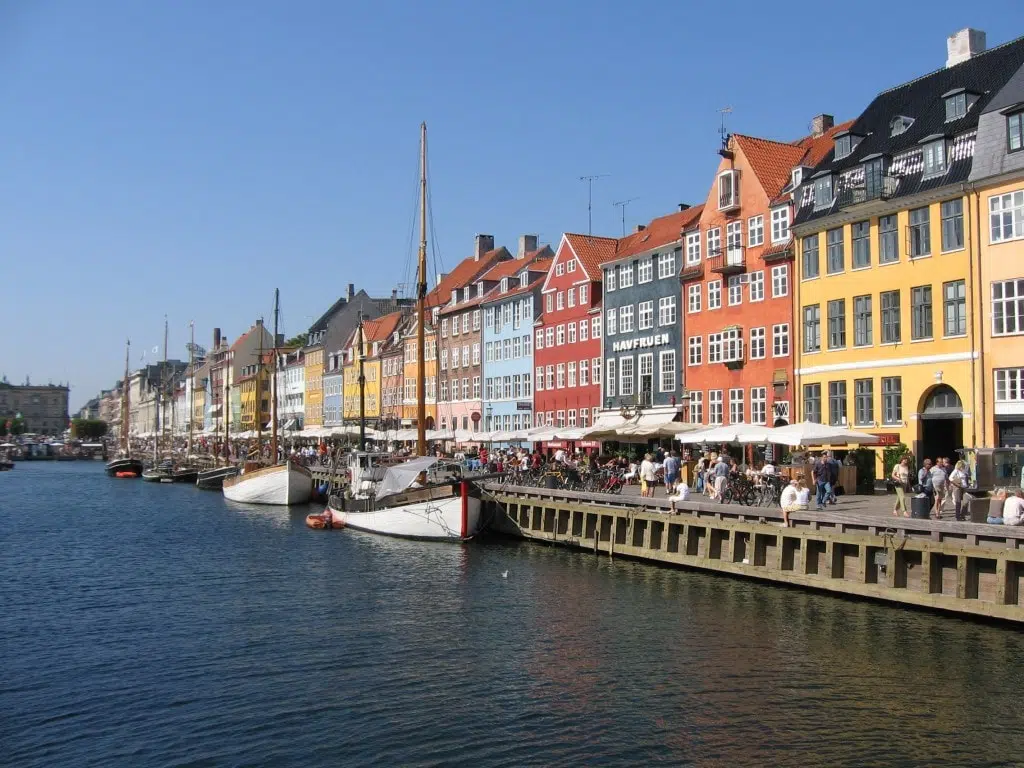 The Danish capital offers, among other things, two of the country's most visited attractions – namely, the amusement parks Tivoli and Bakken. You will also find a lot of historical sights around the city, such as Amalienborg and Christiansborg.
You can also experience many of the buildings and monuments from the water by hopping on a canal cruise, where you can view large parts of the city from Copenhagen's canals on a guided tour.
When going to Copenhagen, it may be a good idea to get the Copenhagen Card, which gives you free entry or a discount on entrance tickets to over 80 museums and attractions throughout the city. Such a card can quickly pay for itself if you visit a few places on the list.
Furthermore, it gives you unlimited access to all of Copenhagen's public transport.
Read more about the Copenhagen Card.
And then let's get started with the guide to the best things to do in Copenhagen.
1. Rent a boat and sail around the harbour
This is my absolute favourite thing to do in Copenhagen.
It is surprising how much fun it is to sail around and be able to control where you are going.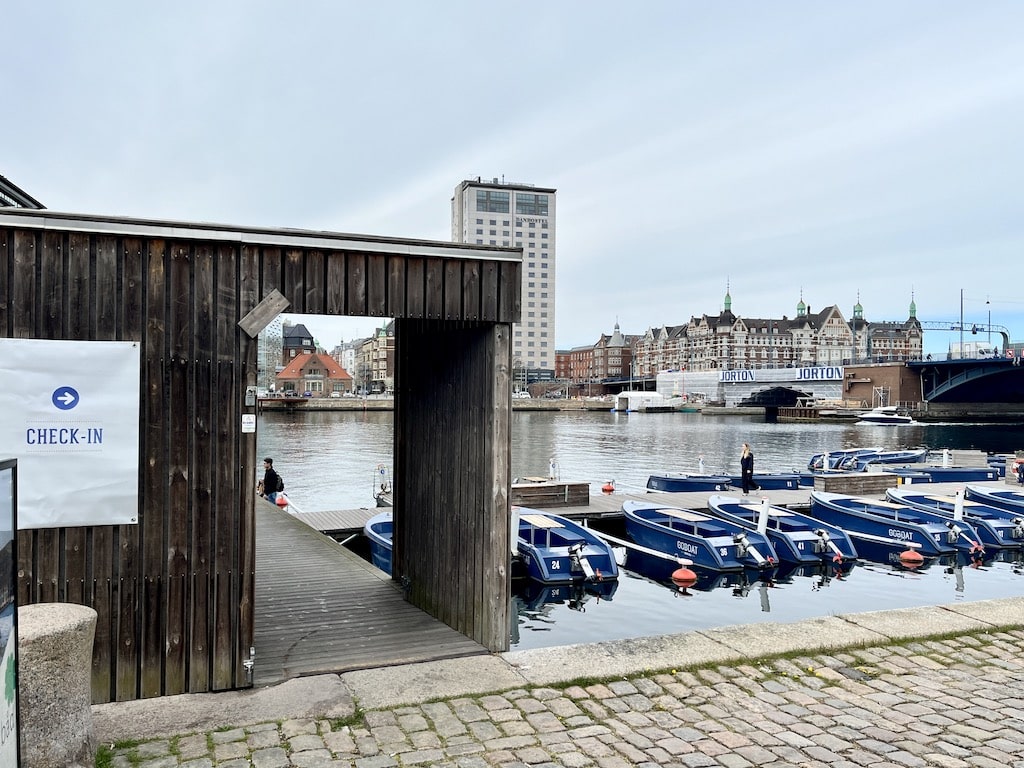 The boats sail pretty slowly, so there is never any danger, but at the same time it also means that you do not reach very much in 1 hour so I'd recommend booking the boat for at least 2 hours.
There are many different providers of boats, but GoBoat is the best known.
This is one of the most popular things to do in Copenhagen among locals, so make sure you book your boat online well in advance.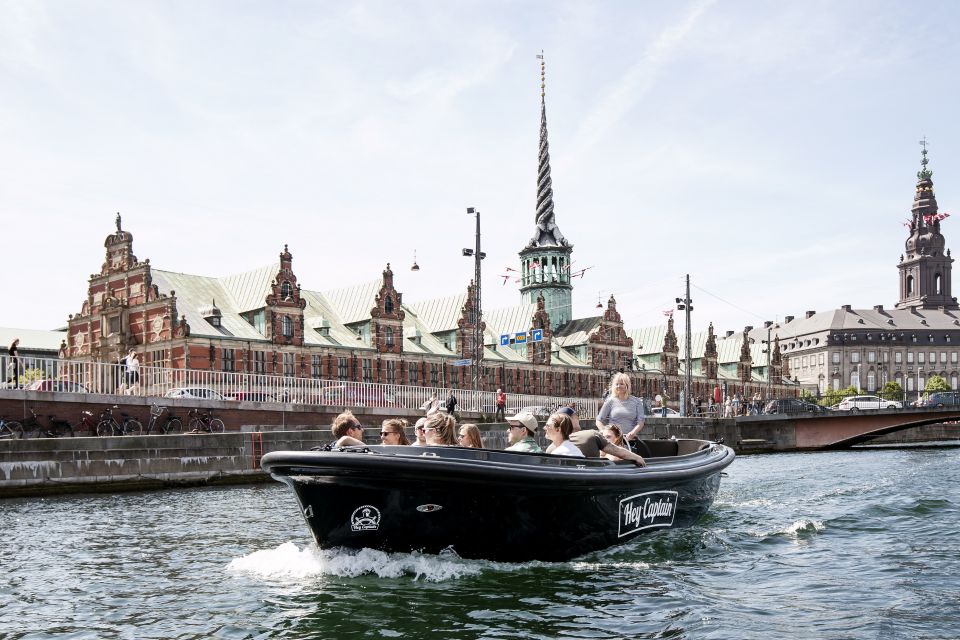 If you don't feel like steering the boat yourself, you can also relatively cheaply book a small boat with your own captain, who will take care of sailing you around to the most famous sights and the hidden gems you wouldn't usually know about.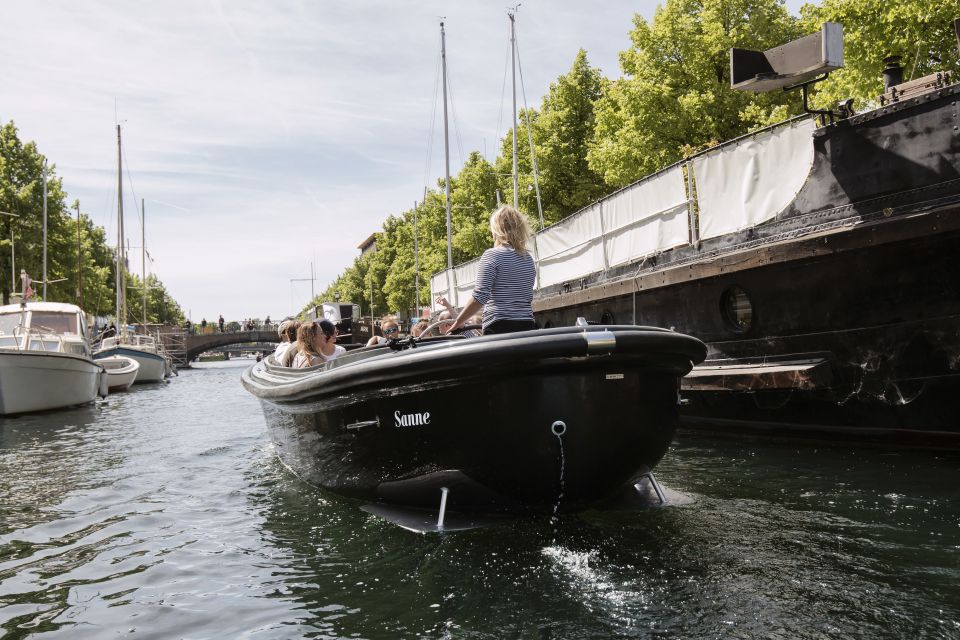 In addition, the captain tells you about everything you see from the boat, so if you want to get total value and see some of the city's best sights from the canal in your own boat, it makes good sense to rent this boat.
See more and book online here.
2. Tivoli Gardens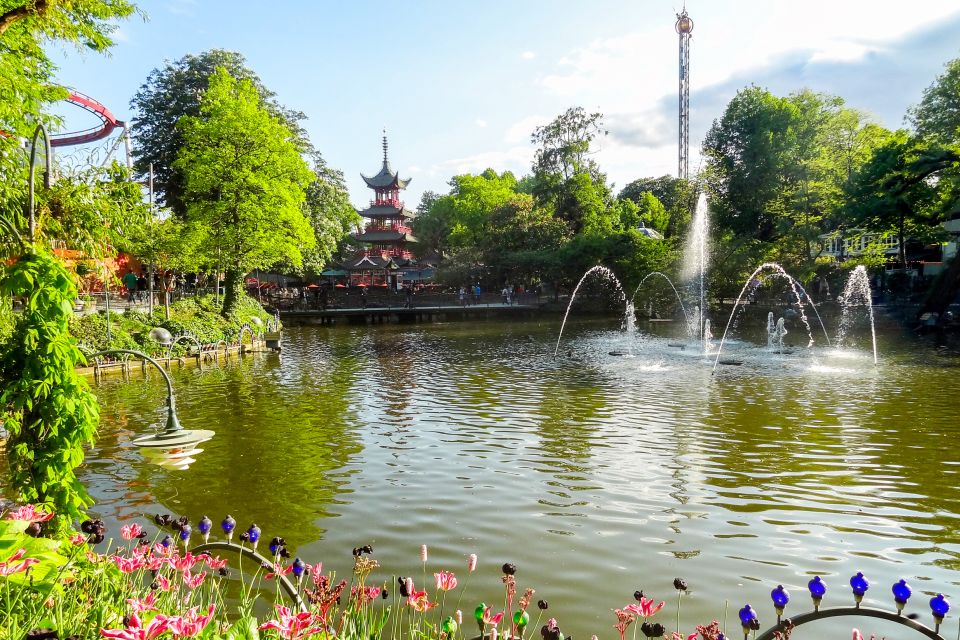 If you are going to Copenhagen, you must visit Tivoli.
It is always worth the time and the money to visit the beautiful garden and amusement park in the heart of Copenhagen.
If you want to make it easier for yourself to visit Tivoli, you can book your tickets from home.
You decide for yourself whether you want to settle for an entrance ticket so you can walk around and enjoy the garden or whether you also want a tour pass so you can come up and try the many rides.
Both tickets can be bought online.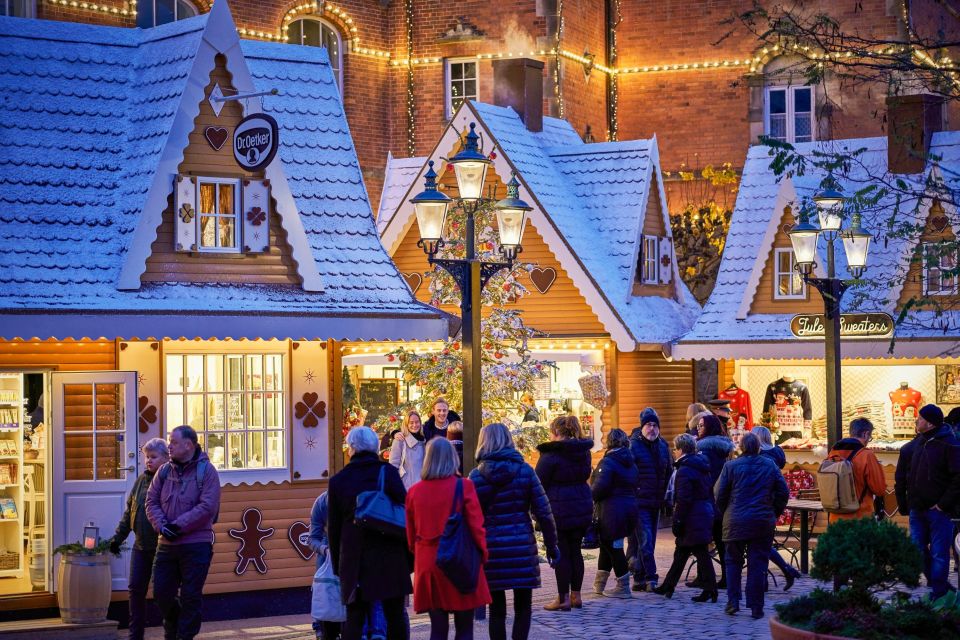 There are plenty of restaurants, bars and street-food options in Tivoli, so I got to warn you: once you go in, you might end up spending longer than you think 😀
Tivoli is one of the main tourist attractions in Copenhagen, but it's also close to every Danes' heart as we've all got so many fond memories of coming here as children.
So this is truly one of the top things to do in Copenhagen.
Get tickets to Tivoli here and skip the queue.
Especially in the summer, there can be long queues, so getting a skip-the-line ticket is a good idea.
If you've bought the Copenhagen Card, your entry to Tivoli Gardens is covered.
3. Amalienborg Castle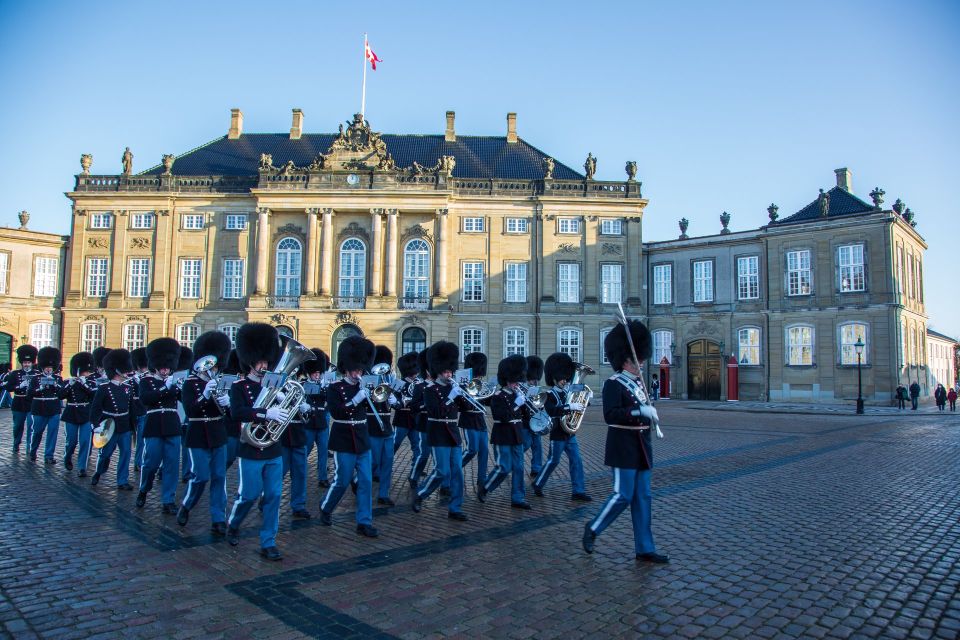 If you are interested in the Danish royal family, you should make your way past Amalienborg Castle. This is where Denmark's monarch lives, which means Her Majesty Queen Margrethe II at the time of writing.
You will find Amalienborg Castle close to several other attractions in the centre of Copenhagen, which are also worth visiting if you pass by.
If you pass by Amalienborg Castle, you can time it to experience the changing of the guard of the Queen's Guards, which takes place at 12.
It's not as spectacular as in London, but it's worth seeing.
The castle square is surrounded by the four royal mansions forming Amalienborg Castle together. These are Christian VII, Christian VIII, Christian IX, and Frederik VIII.
In the latter, you will find the Amalienborg Museum, where you can step directly into history and see royal life from the inside.
The Copenhagen Card gives access to Amalienborg Castle.
Have you booked your hotel in Copenhagen yet? I'd recommend you check out my extensive guide on where to stay in Copenhagen.
4. Christiansborg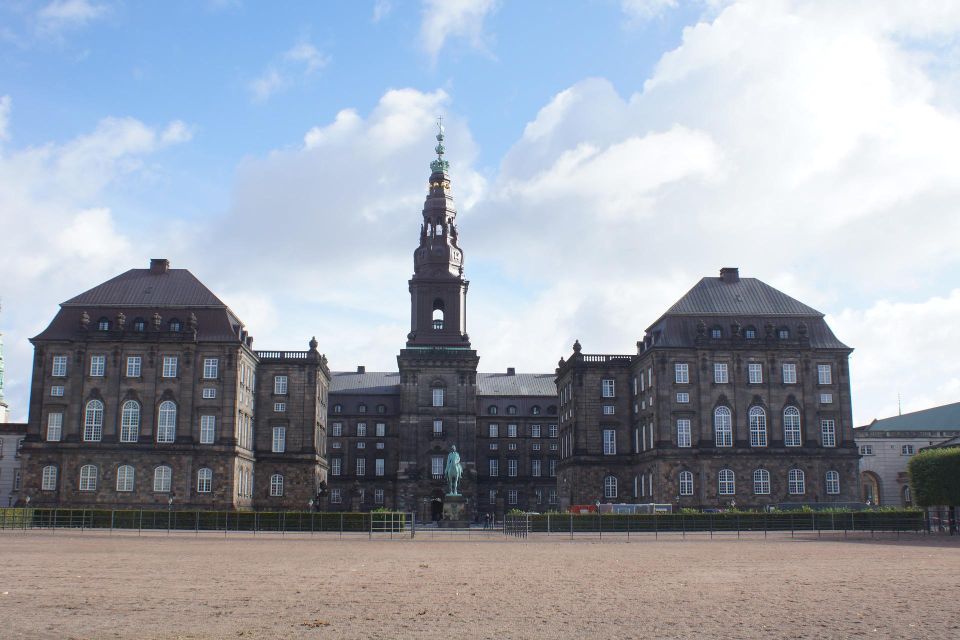 When you have visited where the Danish regent resides, you should almost also make your way past Christiansborg Castle, or just Christiansborg as it is colloquially referred to.
You can visit Denmark's most important workplace, Folketinget – the parliament.
One of the unique things about Christiansborg's history must be that the castle burned down twice, so the building was built over three stages. The last time it burned was on 3 October 1884, and it was not until 1928 that the castle was considered to have been finally rebuilt.
Today, the castle is divided into two, with the Folketinget housed in one wing, while the Royal House represents the other.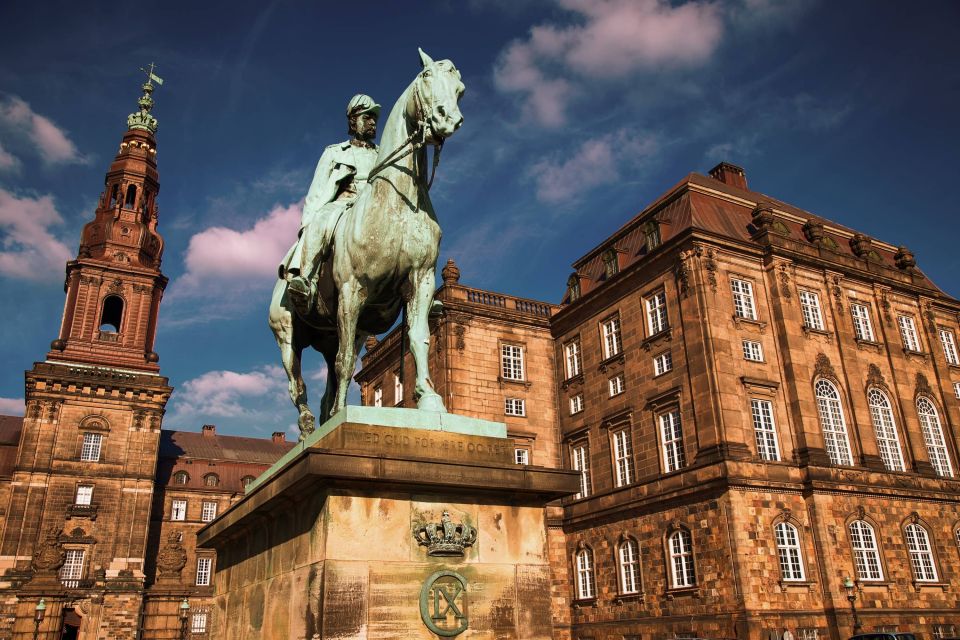 It is possible to get guided tours of both the Parliament and the royal chambers, but you must be aware that the two bodies are divided, and you must therefore book tickets for both places if you want to see both parts of the palace.
By now, you've probably guessed what grants you access to Christiansborg?
Yep, the Copenhagen Card.
5. Kronborg Castle (day trip from Copenhagen)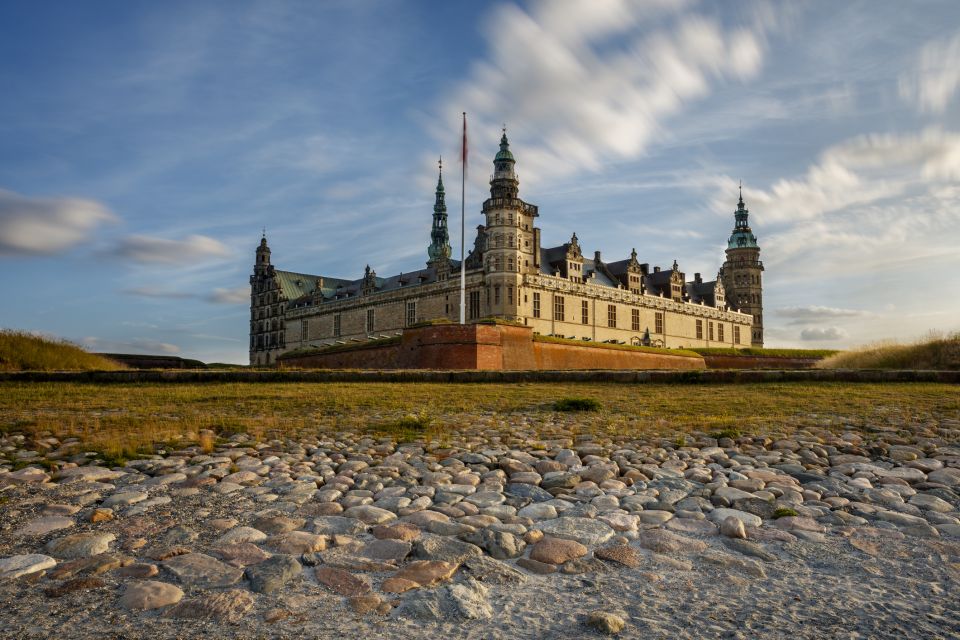 The next castle on the list is Kronborg Castle in Elsinore, one of Denmark's most important and beautiful castles. However, I would only recommend visiting it if you have several days to do well in Copenhagen.
The tour can quickly take a few hours out of your day, so if you are short on time and want to see as much as possible, you should focus on everything you can see inside Copenhagen itself. But if you have time, Kronborg in Elsinore is a great experience.
Here you can follow in the footsteps of Shakespeare's Hamlet, where Kronborg, or Elsinore, plays a central role. The castle was given precisely that location because of its location, right where Øresund is narrowest.
It was a strategically important location for Denmark to have a fortress because it was the only way to the baltic sea.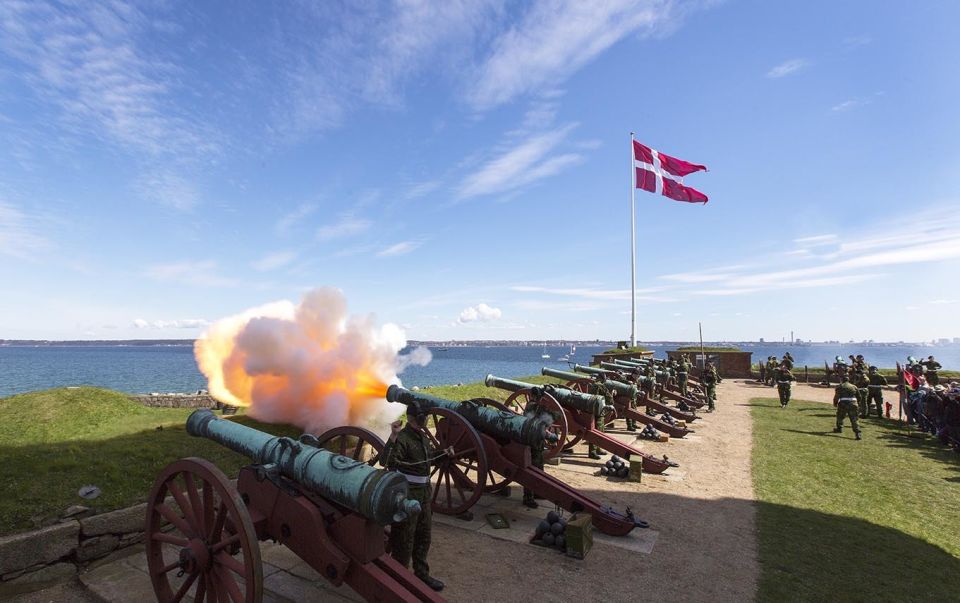 Since 1938, Kronborg has been open to the public, and you have the opportunity, among other things, to visit Holger Danske (Ogier the Dane), who sits in the casemates under the castle – ready to wake up if Denmark is in danger!
Book a day trip to Kronborg, Roskilde and Frederiksborg here (the tour gets fantastic reviews).
You could also take the train from Copenhagen Central Station to Elsinore which takes 45 minutes and then walk to the Castle in just about 15 mins.
And yes – the Copenhagen Card covers the entrance to Kronborg as well.
6. Canal Tour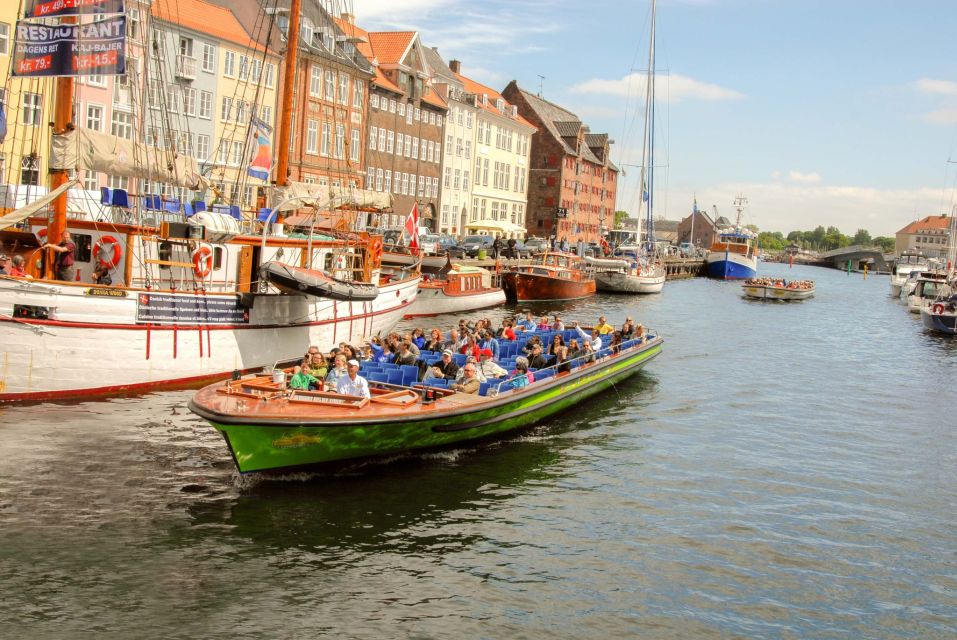 One of the best experiences and things to do in Copenhagen is a tour of the canals.
On a canal cruise, you will be sailed past some of the city's most important monuments and buildings, and along the way, you will be told lively stories about the Copenhagen sights you pass along the way.
The guide will speak Danish and English, which is understandable for everyone.
Your canal cruise can start from Nyhavn, for example.
The trip around Copenhagen's beautiful canals usually takes an hour, so there is plenty of room in the schedule to experience many other things in Copenhagen on the same day.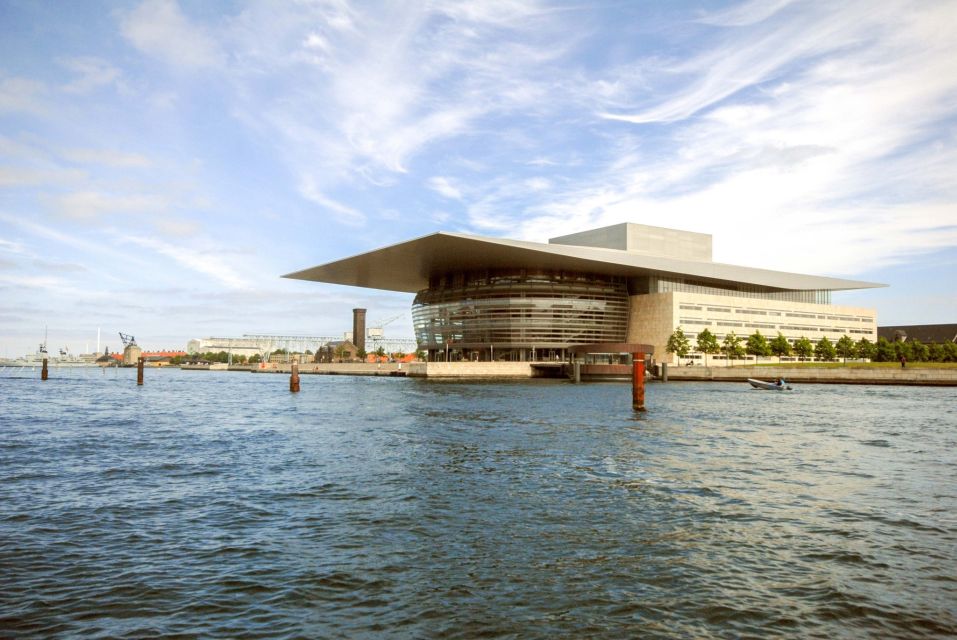 On the trip around the canals, you will, among other things, pass monuments and buildings such as:
The Little Mermaid
Christiansborg
Amalienborg Castle
The National Bank
The Opera House
You can find tickets for canal cruises online here (including Hop On Hop Off sightseeing busses as well).
7. The Little Mermaid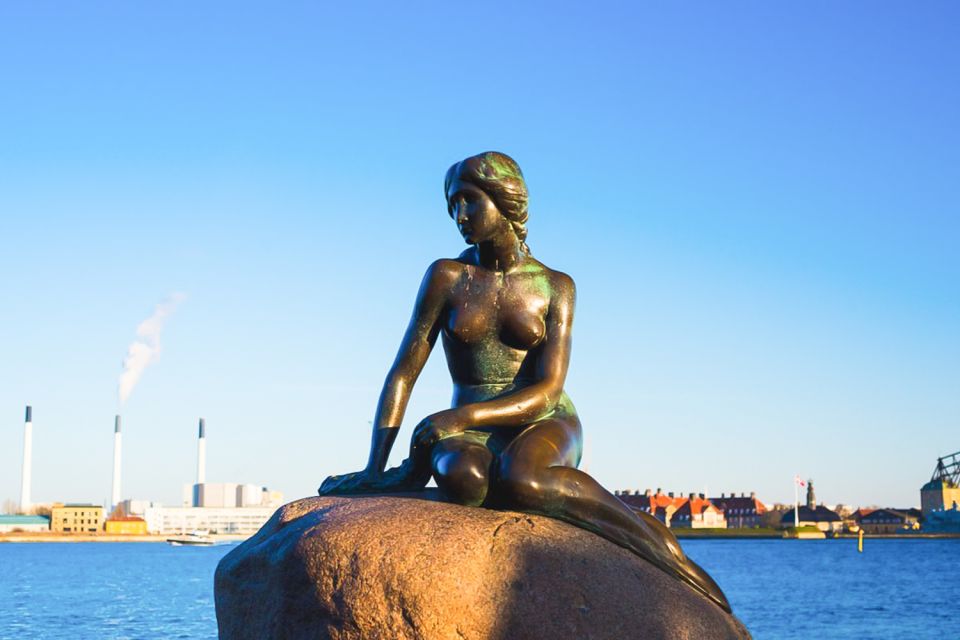 Yes, I need to include The Little Mermaid in my guide to things to do in Copenhagen. Why? Because it is one of the city's best-known sights and something many tourists want to see.
If you ask me about my honest opinion on The Little Mermaid, I would say that you shouldn't go out of your way and see the little statue only for the experience – you should do it only if you fancy the pleasant walk from Nyhavn.
There's a standing joke here in Denmark – and I'm not sure if it's true – that once a tourist asked a tour guide if it was possible to get to "the top of the little mermaid".
She was devastated when she learned that The Little Mermaid is, in fact – very little…
Okay, so I've mentioned her – no more about The Little Mermaid (Copenhagen's most overrated thing to do) in this guide 😀
On the other hand, I would like to mention her neighbour, Kastellet.
8. The Citadel (Kastellet)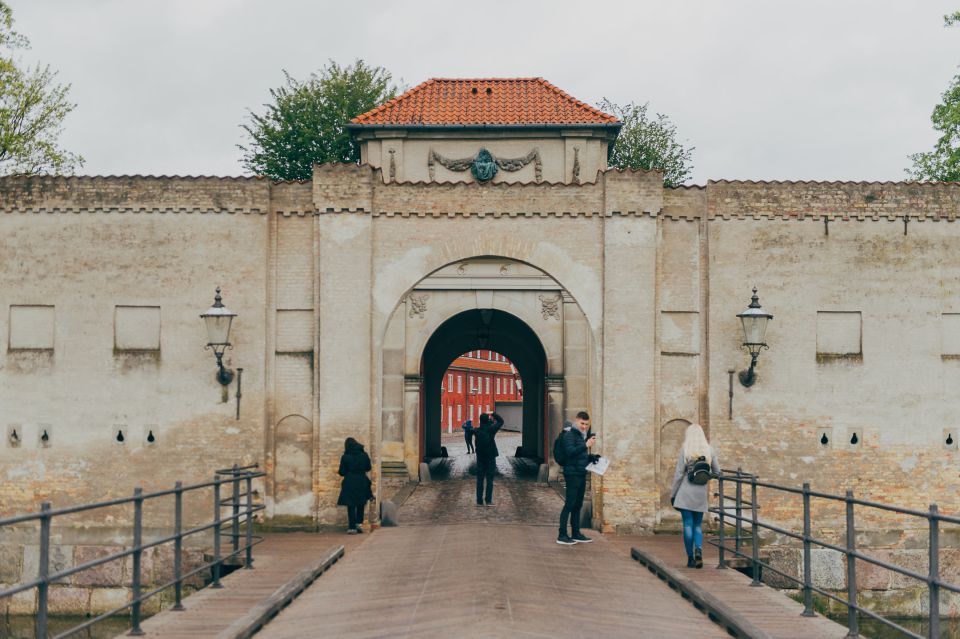 Right next to The Little Mermaid is one of Copenhagen's old defences, Kastellet.
Denmark's military still uses the Citadel, but it is open to us ordinary citizens, and you can have a nice walk on the ramparts.
From here you can actually also look over to The Little Mermaid – if you can spot her (she truly is tiny) 😅
From Kastellet, you should also make your way past the beautiful Gefion Fountain and St Alban's Church.
9. Experience Copenhagen nightlife on a bar crawl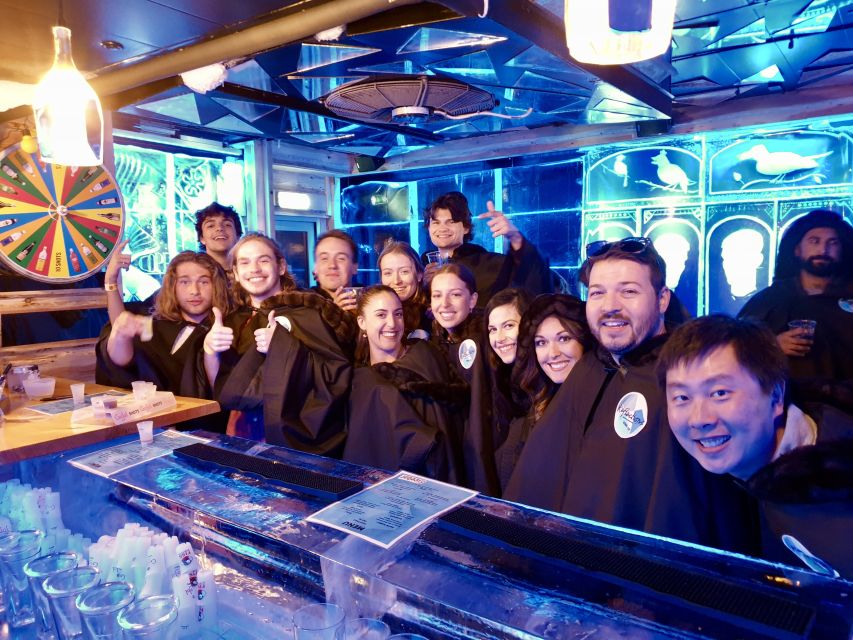 If you want to get out and experience the nightlife in Copenhagen, it might be an idea to book a place on a genuine bar crawl.
You, and the rest of the evening's group, will be guided around by a knowledgeable guide on the trip.
You will pass many different bars and clubs, and you can look forward to skipping the queue as part of the pub crawl group. Along the way, there will be free shots, drinks, access and wardrobe, and you will get special offers on drinks at the places you pass.
Please note that you must be over 18 to participate in a bar crawl, as under 18's can't legally buy alcohol in bars in Denmark.
These pub crawls bring together people from all over the world, so it's the perfect opportunity to meet lots of new and exciting people.
Read more about the next bar crawl here and meet lots of new people.
10. Beer tastings in Copenhagen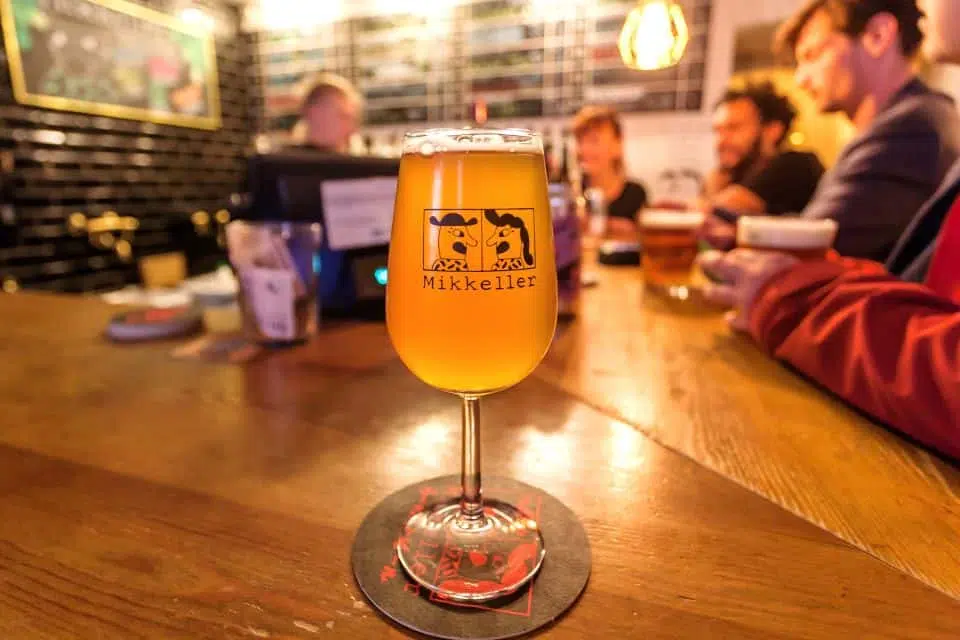 Denmark has some of the world's best breweries. And I am not talking about Carlsberg, which, unfortunately, probably takes the prize for being the best-known Danish beer.
No, we have many exciting microbreweries, and the best-known in craft beer is probably Mikkeller.
Mikkeller has many bars around Copenhagen, and at several of these, you can go to beer tastings, where you can taste a variety of their best beers.
I'd recommend looking at places like Fermentoren, Warpigs, ÅBEN, People Like Us Nørrebro (my friend works here, so if you're served by a guy called Mathias, say hi from Kris 😀 ), Himmeriget and BRUS for some fantastic craft beer in Copenhagen.
See the best-rated beer tastings in Copenhagen here.
11. Walking Tour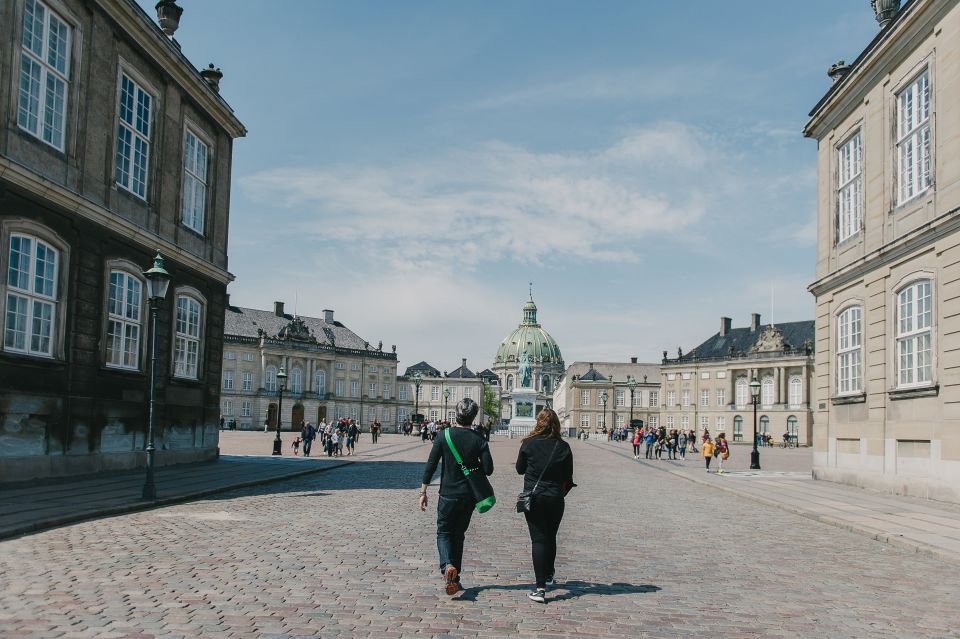 If you are pushed for time and want to experience as much of the city as possible, a guided walking tour in Copenhagen is perfect.
The tour takes two hours, and along the way, you will pass as many of Copenhagen's historical and cultural sights and buildings as possible.
In this way, you also avoid having to plan your trip around the city yourself. It has been taken care of for you, and you have a guide with you throughout the tour to explain and discuss the things and places you pass.
Along the way, you will pass by places such as Christiansborg, Amalienborg Castle, Strøget and Nyhavn.
If there are any of the places you would like to experience close by, you can always go back there yourself when the city walk is over.
The tour is the perfect starting point to form an overview of the city, which can be good to have during the rest of your stay in Copenhagen.
Read more about the two-hour walking tour.
12. Food Tour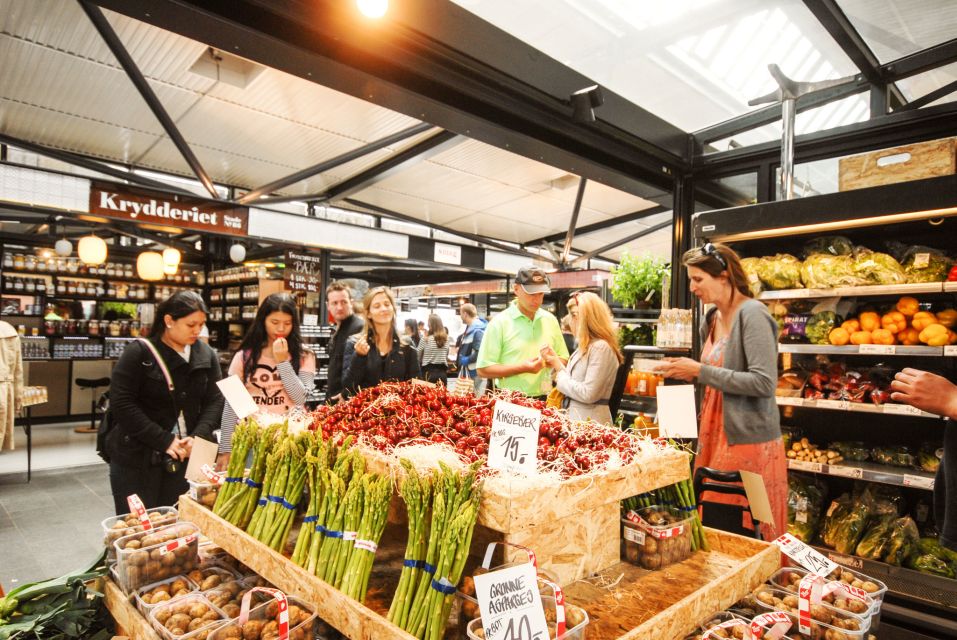 If you want to experience the best of Copenhagen's food scene, you should go on a dedicated food tour with a guide who will take you past the city's tastiest eateries.
There are several different tours, but a safe choice is CPH Foodtours. They have many years of experience and therefore know exactly how to organise the perfect food tour in Copenhagen.
On this food tour, you'll start in Torvehallerne, which is Copenhagen's best-known food market and past several places with everything from custard buns to smørrebrød (the famous Danish open-faced sandwiches), so if you want to experience the best Copenhagen's culinary scene has to offer, it's an excellent choice – and your guide will take you under their wing, so you get lots of exciting information.
See more about the tour and book online here.
13. Freetown Christiania
If there is one area that is a must to experience when you are in Copenhagen, it is, of course, Christiania.
The area has become Denmark's answer and symbol of free spirit and, not least, freedom. At Christiania, creative and alternative initiatives and measures abound.
You will find, for example, venues, galleries, restaurants, cafes, workshops and a lot of other exciting and interesting places in the area. You will find many gift ideas and good craftsmanship in the small shops.
All kinds of people live in Christiania, but unfortunately, a small fraction helps to give Christiania a tarnished reputation in the media.
The area is much more than just Pusher Street. It is beautiful nature, happy people, music, colours, originality and ingenuity.
If you come to Copenhagen and have never been to Christiania, you should go out and experience it yourself.
Consider booking a private guided tour for the full experience.
14. The Meat Packing District (Kødbyen)
As the name suggests, the Meat Packing District – or Kødbyen in Danish – is Copenhagen's old Meat Packing District, which 20-30 years ago was anything but a thing to do in Copenhagen.
However, a lot has happened, and Kødbyen in the Vesterbro area is now one of the trendiest places to visit a restaurant or bar.
I love the beer bars Warpigs and ÅBEN, while you can also eat everything from burgers at Tommis Burger Joint to pizza at Mother and seafood at Kødbyens Fiskebar.
A perfect place to stop by if you want to experience Copenhagen nightlife.
15. Copenhagen Zoo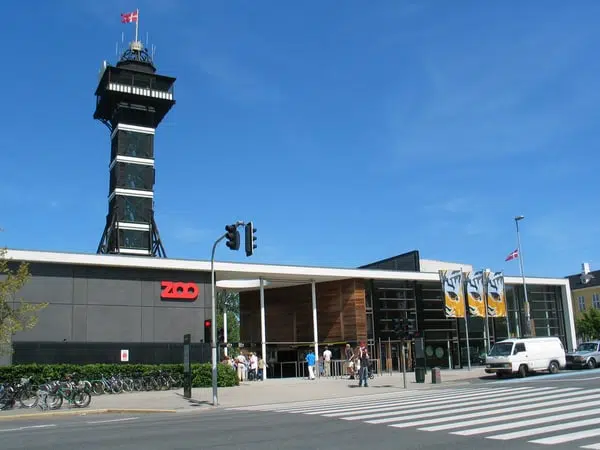 Whether you are travelling to Copenhagen with children or not, it is also recommended to take a trip past Copenhagen Zoo, which, together with the parks and gardens in the city, acts as a breather from the rest of Copenhagen's hustle and bustle.
You can easily spend many hours in the Zoo, so if you need something to do one day, it is an obvious destination.
The Zoo here is open every day all year round, so regardless of when you come to Copenhagen, you also have the opportunity to go to the Zoo.
In the garden, you can greet hundreds of animal species, such as the newly arrived pandas, polar bears, hippos, chimpanzees, sea lions, flamingos, and many more.
You will also find several eating places in the Zoo, where you can have a hearty lunch before heading out to see the other half of the garden.
The entrance is included with your Copenhagen Card.
16. Bakken (free amusement park)
There is another amusement park in the capital area in addition to Tivoli – called Bakken.
Bakken is a beautiful destination for a fun day trip for the whole family. Here, young and old can have a fun and experiential day speeding across the field.
You can easily take the S-train to Klampenborg St, which is a few hundred metres from the main entrance.
You will find many rides, restaurants, stalls, cafes and candy shops on Bakken. It costs nothing to enter, so if you don't want to try the rides, you can quickly go to Bakken and enjoy the atmosphere and surroundings for free.
Otherwise, you can buy a tour pass if you dare to try the slides and carousels.
Bakken is open from April to September, and there is a sea of ​​events and activities you can choose to participate in every year.
17. National Aquarium of Denmark (Den Blå Planet)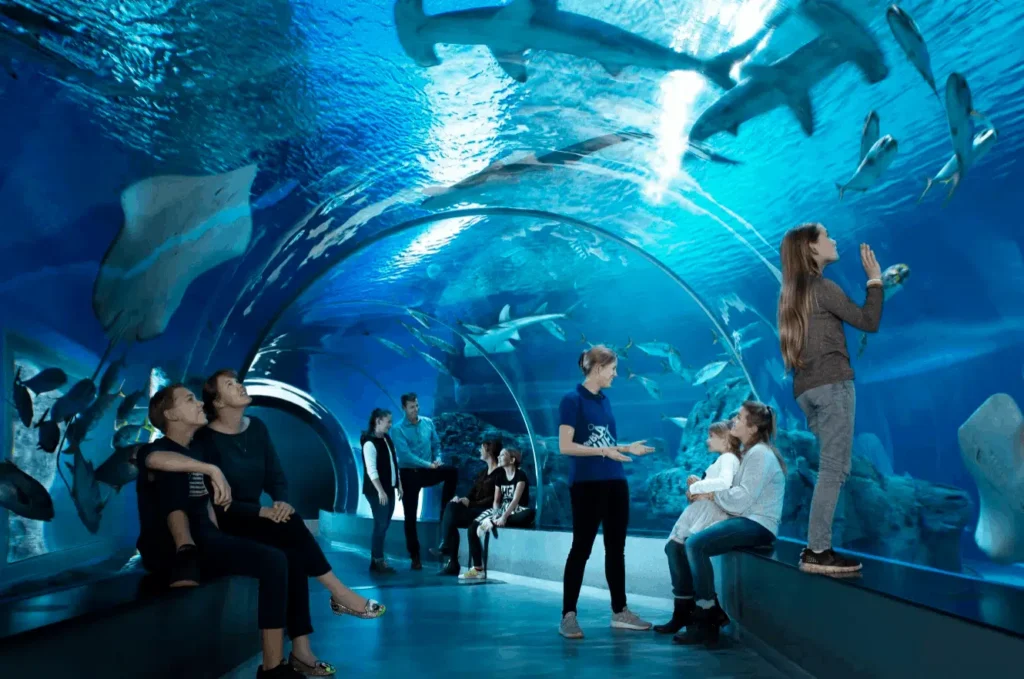 The most visited attractions in Copenhagen are Tivoli, followed by Bakken and Copenhagen Zoo. Not far from these mastodons, which have existed for almost many years, we find a fascinating attraction which has only recently opened its doors.
I am talking about the National Aquarium of Denmark, which we call Den Blå Planet (The Blue Planet), and you will find it in Kastrup on Amager – easy to get to with the metro line towards the Airport.
Over 600,000 people visit Den Blå Planet, Northern Europe's largest exhibition aquarium, every year. Here you and the family can meet and greet over 450 different species and nothing less than over 20,000 sea animals.
At Den Blå Planet, you can try everything from diving with sharks and getting up close to the mighty sea turtles, or how about going behind the scenes and getting a guided tour of the vast aquarium?
Read more and get tickets here.
18. Copenhagen Street Food (Reffen)
If you want a different and exciting taste experience out of the ordinary, you should also stop by Reffen – Copenhagen Street Food.
It is nothing less than Northern Europe's largest street food market, where food stalls from as many as 17 different nationalities are gathered with one purpose – to serve delicious new and exotic dishes to both the locals and the tourists in the city.
However, the reef is only open seasonally, so the area is closed during winter.
At Reffen, you are guaranteed to find something for every taste, and you can already look forward to sinking your teeth into the many tasty delicacies.
You will find everything from appetisers to main courses and desserts, and next to that, you will also find a large selection of drinks, including cocktails, wine, water and beer.
If you doubt where to enjoy dinner, you should head for Reffen. There are so many stalls and specialities that you can go there many evenings without trying it all.
19. Nyhavn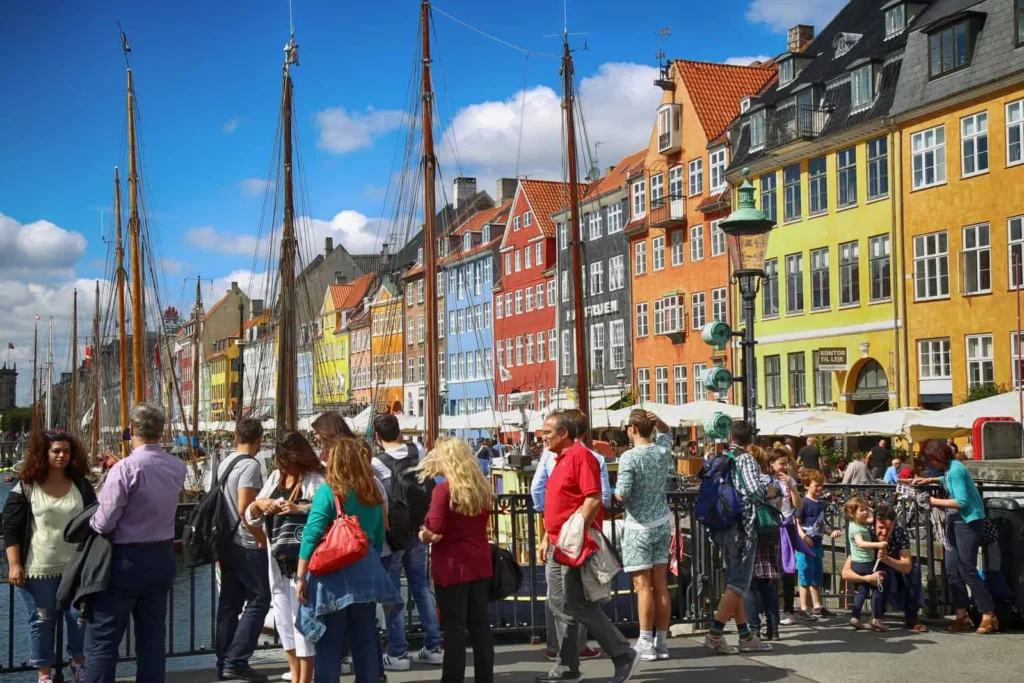 I have mentioned Nyhavn a few times in this article, but the harbour quarter also deserves a point of its own.
Hundreds of thousands of Danes and tourists drop by Nyhavn every year, and there is probably nothing more beautiful or charming than a warm sunny day in Nyhavn.
Whether you sit down at one of the many cafes or restaurants to enjoy a traditional Danish lunch or go for a walk along the water and soak up the good atmosphere, there is probably no cosier place in Copenhagen than Nyhavn.
For many years, the area has been one of the city's iconic neighbourhoods. Although in the first many years, it housed taverns for the city's many sailors, today it has taken on a much more positive appearance and now the image of Nyhavn is a much nicer and more peaceful one of a kind.
20. The National Museum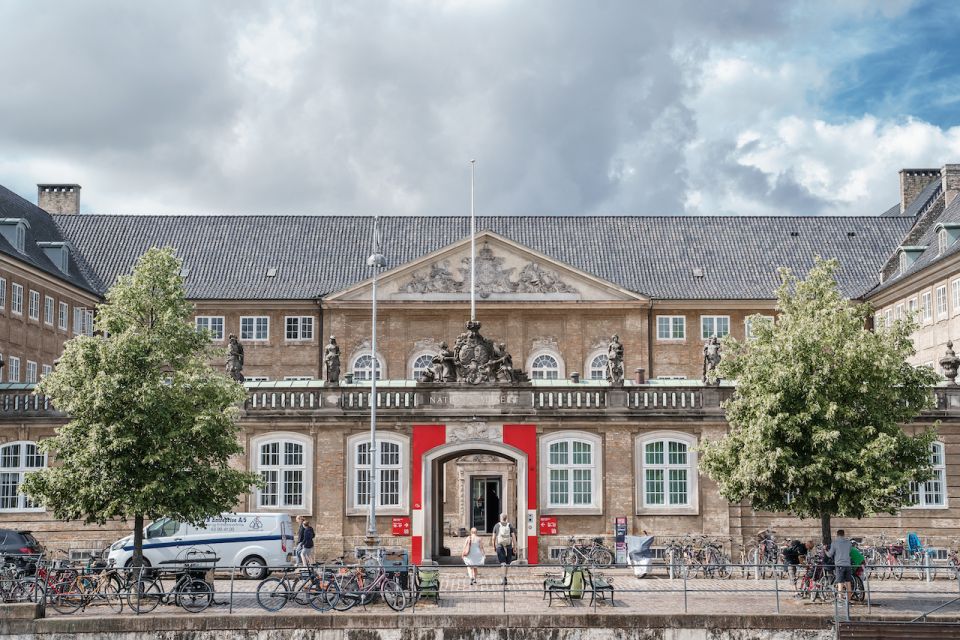 Between Tivoli and Christiansborg, you will find the National Museum, housed in the beautiful Prinsens Palæ, where it has been since its opening in 1849, as the Danish state took over the buildings.
If you want to get under the skin of Denmark's entire history, the National Museum is the right place to visit. Here you can see treasures that are all significant relics from the shared Danish past.
A trip to the National Museum is the ideal thing to do in Copenhagen for the whole family, as even the smallest can join in.
Visit the National Museum and step directly into Danish and world history.
The museum also contains a café and a restaurant, where you can conveniently enjoy a cup of coffee or a meal on top of your museum visit.
Get tickets online here or simply use your Copenhagen Card.
21. Go to Malmö, Sweden
You can also kill two birds with one stone in Copenhagen and experience two countries on the same trip. Because Copenhagen is a short drive to Sweden, it is obvious to take a quick trip across the strait if you are in the capital.
For example, you can take a full-day trip across the Øresund Bridge from Copenhagen. On the trip, you will experience both Lund and Malmø, right on the other side of the water.
The trip lasts around six hours, and it is a unique opportunity to experience Swedish culture and history now that you are so close to our neighbouring country.
22. National Gallery of Denmark (SMK)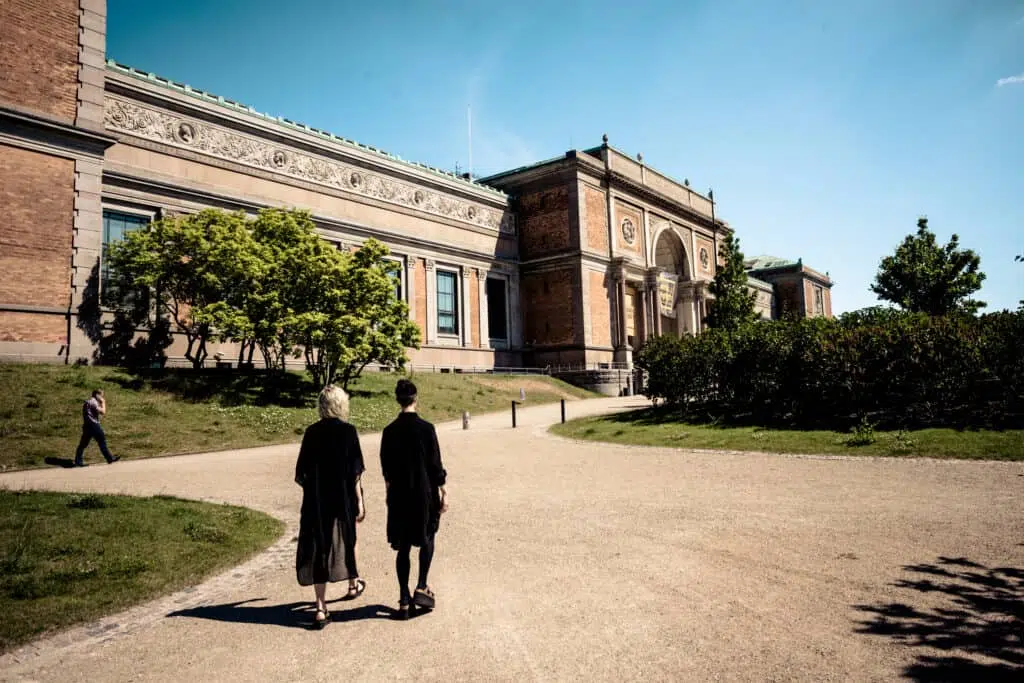 Here at the end of the guide to the best things to do in Copenhagen, we will also include a trip to the National Gallery of Denmark called Statens Museum for Kunst.
Close by; you will also find the Geological Museum and the State Museum of Natural History, which it is obvious to visit in the same vein.
The National Gallery, or SMK as it is also called, is Denmark's leading art museum. Over a quarter of a million people come here every year. With the museum's extensive and long-standing collection considered, it is not difficult to understand why it is so famous.
SMK has many Danish and international works of art, including works by artists like Rembrandt, Mantegna and Rubens. The museum's collections span the last 700 years, so there is plenty to discover when you enter through the doors at SMK.
23. The Marble Church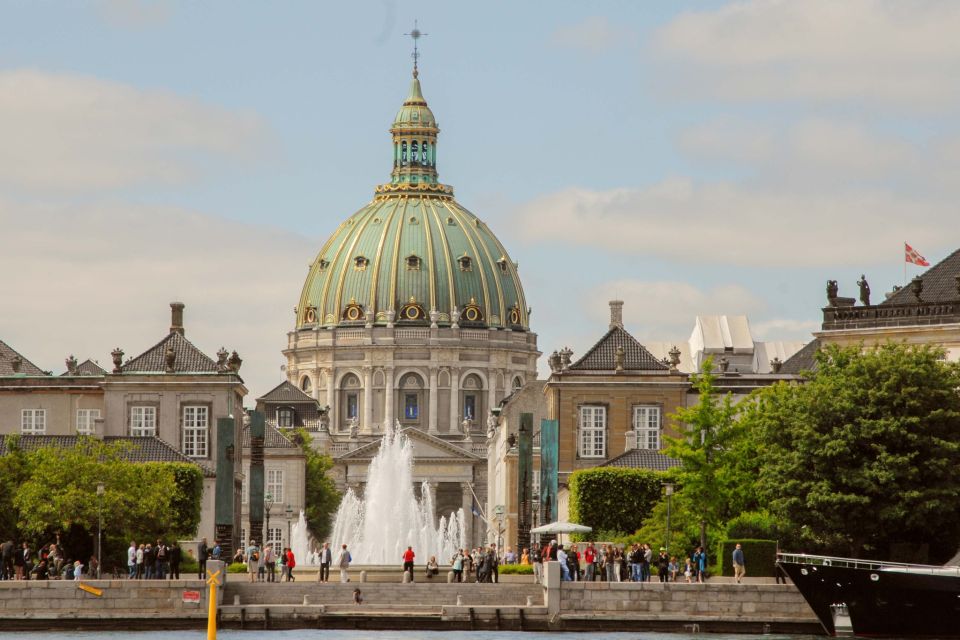 One of Copenhagen's most beautiful churches is between Nyhavn and The Little Mermaid. The church is called Frederiks Kirke but is known as the Marble Church – and that is also the name of the metro station (Marmorkirken) just below the church, so it is probably okay to call it that.
The church is from the 18th century, and the beautiful dome is the largest in Scandinavia.
You can come inside for services, and there are often concerts in the church.
Follow the church's website here.
24. Copenhill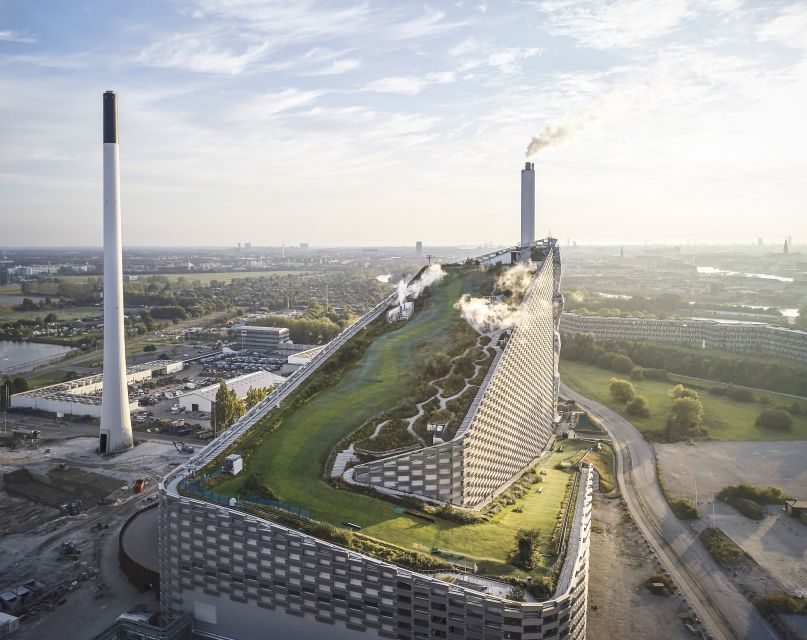 Admittedly, it gets freezing in Copenhagen in the winter, so we could probably have a ski slope or a ski area as we know it in Sweden or Norway. The problem is that Copenhagen and the rest of Denmark are almost as flat as a pancake.
So what do you do?
You build a ski area on an old waste plant in the middle of Copenhagen – welcome to Copenhill.
I don't ski, but I have been out on Copenhill several times, which is free if you want to experience the view of Copenhagen – and I can recommend it.
You can either hike to the top (it's steep but only takes a few minutes) or take the lift up to the top, where the ski slope starts, but where there's also a large viewing area and a bar.
To ski, you must buy a Ski Pass or a combined Pass with rental equipment.
25. Rundetårn (The Round Tower)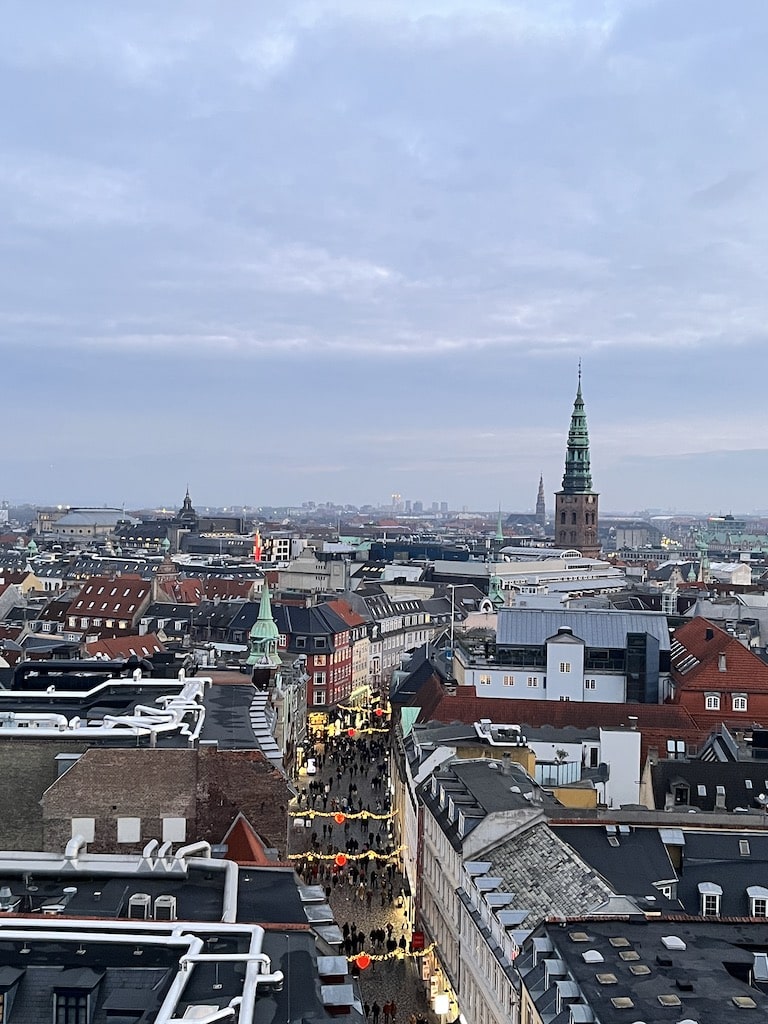 Rundetårn is, as the name suggests – it means The Round Tower in Danish, a round tower, and with its location right in the centre of Copenhagen, this is undoubtedly the best place to get a 360-degree rooftop view of the entire Danish capital.
Rundetårn is located in the city centre on one of the pedestrian streets, and I must admit that I think this is one of Copenhagen's best things to do.
And it's value for money – it only costs DKK 40 to get up to Rundetårn. But then you also have to walk all the way, so for those with walking difficulties and the elderly, it is not the best attraction.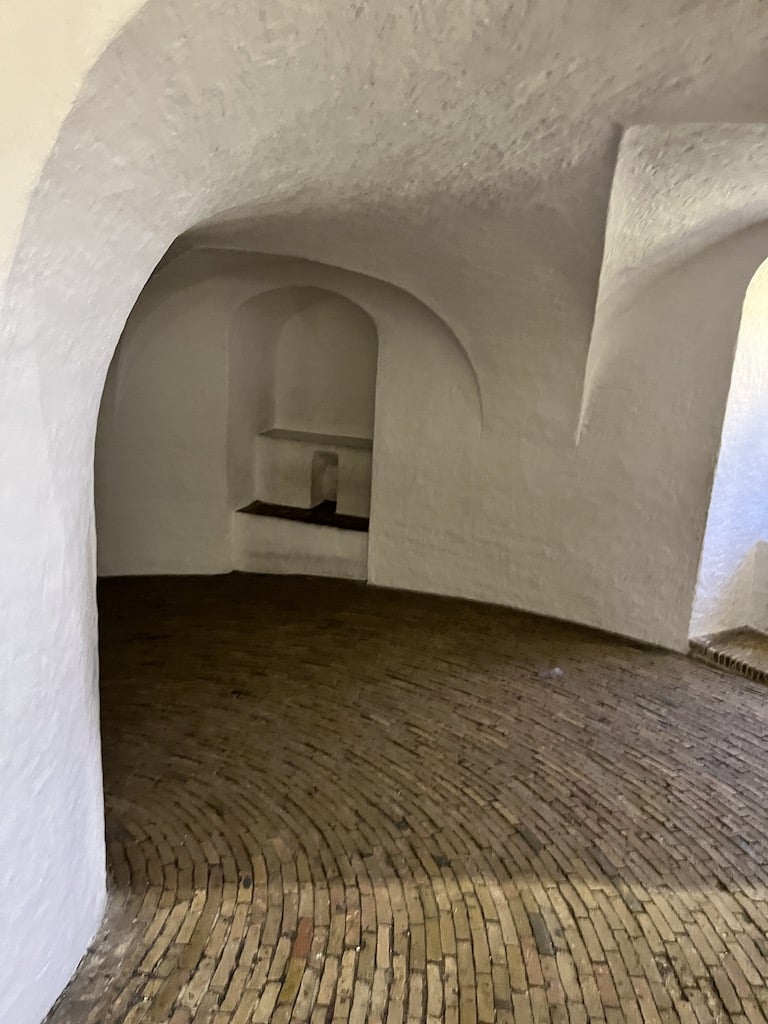 The view from the top is magnificent. In the pictures here, I was up in the tower in December, right around sunset, and it was lovely!
I showed some English friends around Copenhagen, and they also loved Rundetårn, so foreign tourists approve it 😀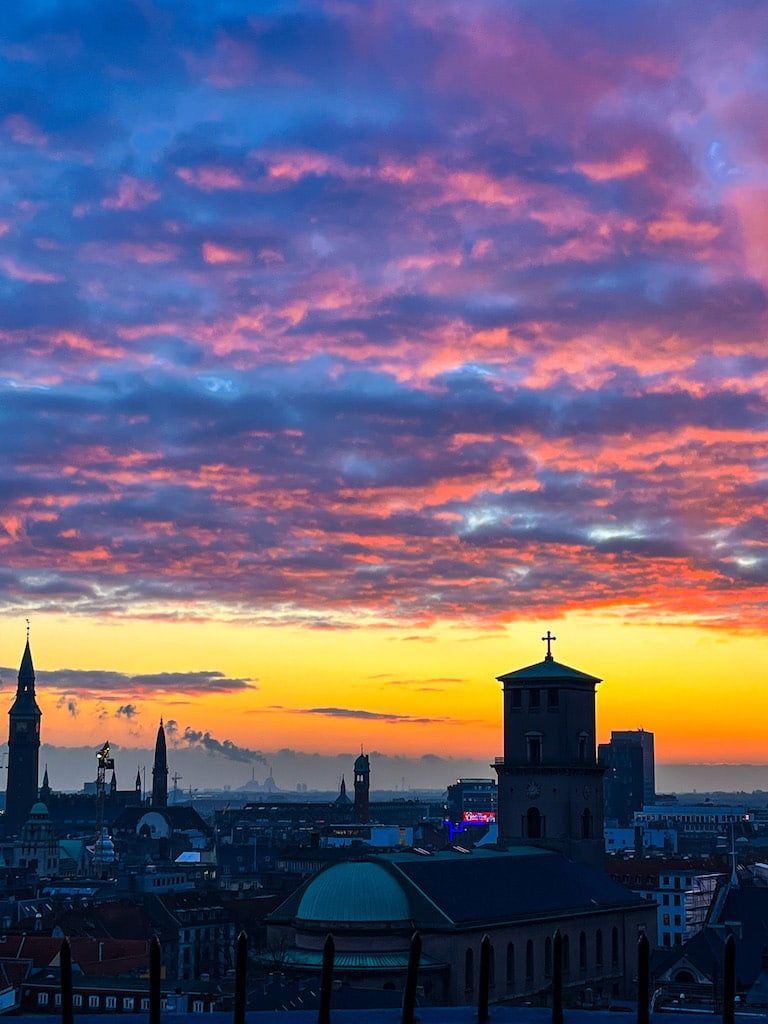 You buy tickets at the entrance, but if you have purchased the Copenhagen Card, the Round Tower is also included – just like so many other attractions and experiences in Copenhagen.
26. Rosenborg Castle & The Crown Jewels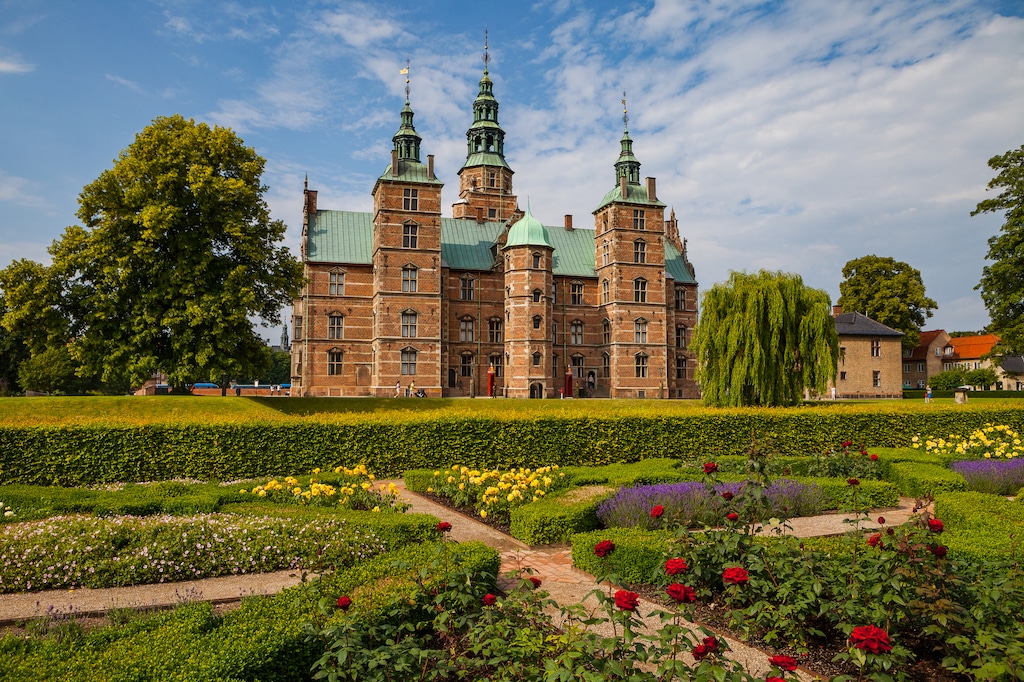 Yes, another castle! But this one's in the city centre, so I recommend dropping by Rosenborg Castle.
Rosenborg Castle is an absolute gem! Tucked away in the city centre, this Renaissance beauty is brimming with history and charm. It's like stepping back in time, with royal treasures and the exquisite Danish Crown Jewels on display.
And if that's not enough, the surrounding King's Garden is a tranquil haven, perfect for a stroll or a picnic.
27. Frederiksberg Gardens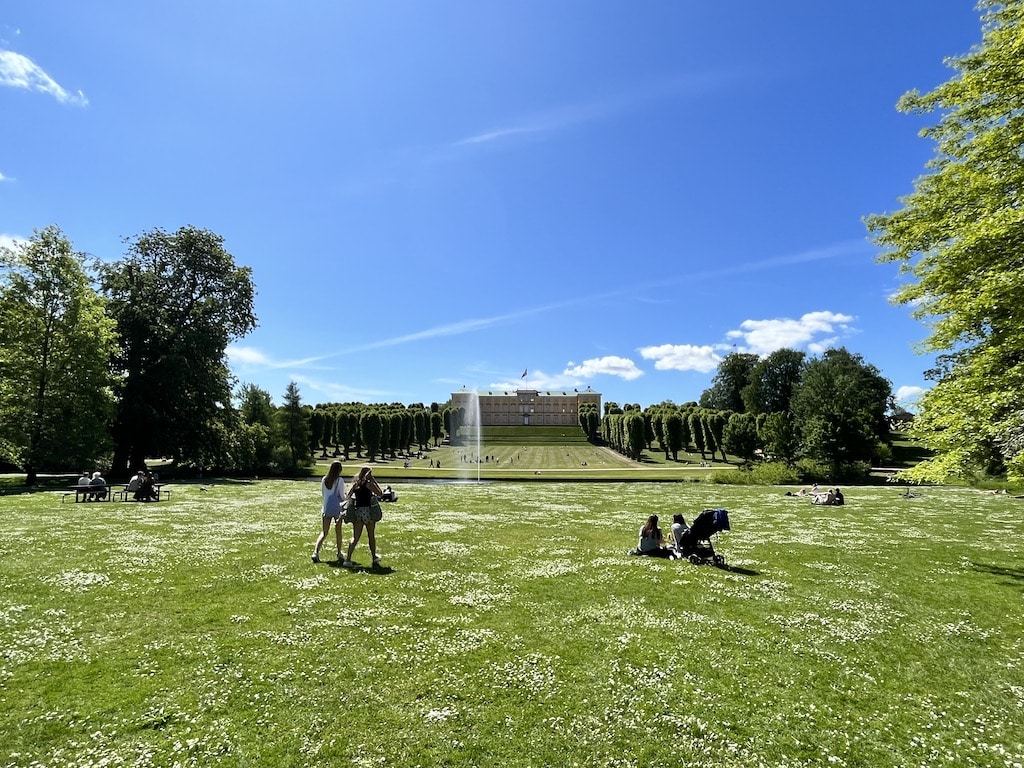 Frederiksberg Gardens is my favourite park in Copenhagen and it might even be considered a bit of a hidden gem for most tourists.
This park is located a bit away from Copenhagen's main attractions, so most tourists don't consider it, but you can reach it by metro extremely quickly from Nørreport.
This is where locals will chill out in the summertime and where I go for a walk if I need to clear my head and be surrounded by beautiful nature.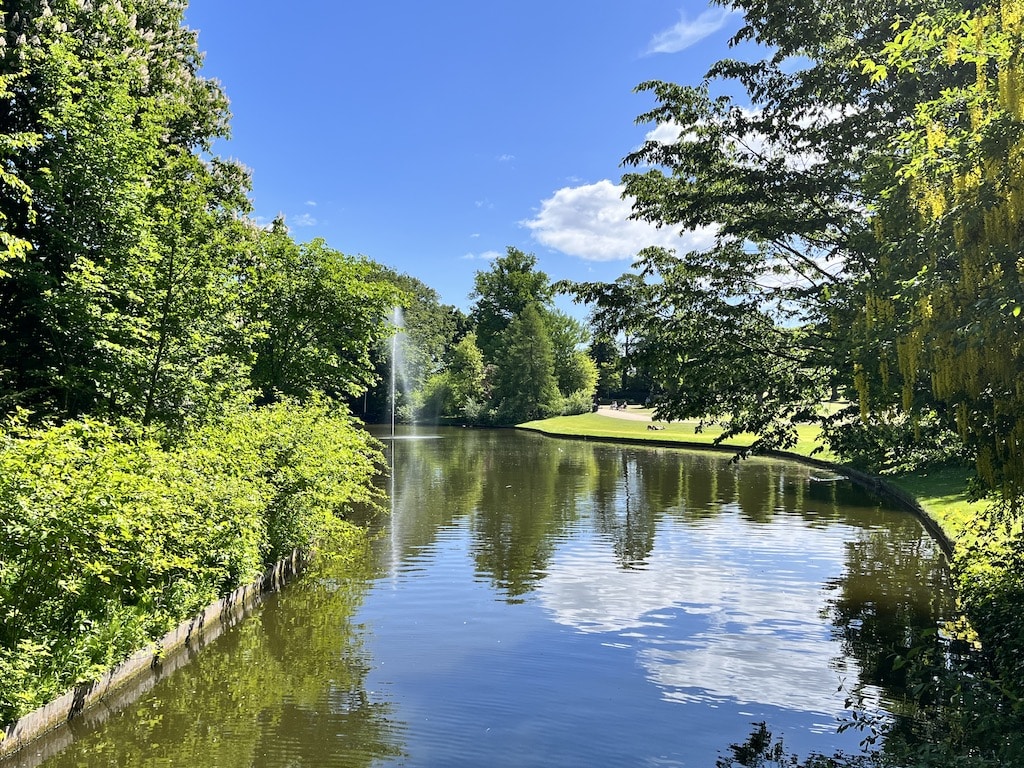 So if you're looking for a free thing to do in Copenhagen and you've already been to the main attractions in the city centre, I recommend going to Frederiksberg Gardens.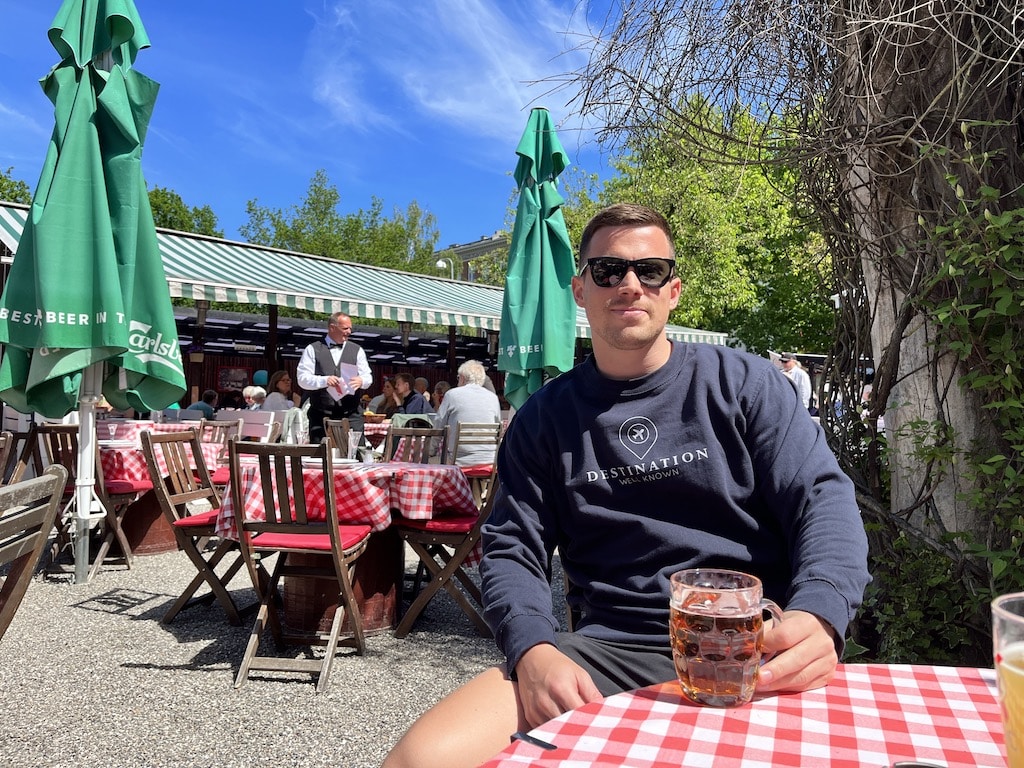 Next to the park are a couple of traditional Danish restaurants where you can get smørrebrød and other conventional Danish dishes.
I hope you found my guide on the best things to do in Copenhagen helpful.
If you've any questions about my city, please comment below, and I'll try my best to help you get a great trip to Denmark.
Read all travel blog posts about Copenhagen.
FAQ:
What is Copenhagen best known for?
Copenhagen, our lovely capital, has so much to offer! We're famous for our charming, colourful Nyhavn harbour, with its lively atmosphere and historic townhouses. And who could forget the enchanting Tivoli Gardens, a true fairy tale amusement park in the city's heart?
We're also proud of our sustainable living, bike-friendly streets and plenty of green spaces. And don't even get me started on our fantastic food scene and cosy cafes. Copenhagen has a little of everything, to be honest.
In this guide, I've shared some of my favourite things to do and some hidden gems.
What is the one thing you recommend doing in Copenhagen?
This is a good question that depends significantly on what you are for. I love boat tours in the inner harbour and Christianshavn's Canal. You can see the city from the seaside and see many exciting things you wouldn't notice when walking around the city.
What are the best free things to do in Copenhagen?
There are many good, free things to do in our capital. I recommend lacing up a pair of good shoes and walking around the city centre, where you can make your way past Strøget, Christiansborg (you can go up the tower for free), Nyhavn, The Little Mermaid and many other exciting sights. This guide talks about several free things to do in KBH.
What time of year is best to visit Copenhagen?
Now I live here, and it is best in summer. Winter is dark and cold, but in summer, Copenhagen is one of the best cities in the world.
What is a must eat in Copenhagen?
Oh, you absolutely cannot visit Copenhagen without trying our beloved smørrebrød. These open-faced sandwiches are a Danish classic, made with a slice of dense, dark rye bread topped with various delicious ingredients – my favourite is the roast pork called flæskesteg. Check out my guide to the best smørrebrød in Copenhagen.