As a Dane living in Copenhagen, I'm very familiar with Ystad Saltsjöbad.
Undoubtedly, the spa hotel in Skåne has invested much of its marketing budget over the past few years in sponsoring spa stays for various influencers.
So I've seen this spa hotel all over Instagram and YouTube, where Danish influencers have been on a trip to Southern Sweden for a spa retreat.
However, I'm not an influencer (I just blog and do travel videos on YouTube), so I had to pay for my long-awaited spa stay in Ystad 😀
Therefore, I can also offer my brutally honest opinion in this review of Ystad Saltsjöbad.
So, let's start with the review: is Ystad Saltsjöbad a good place for a spa retreat?
There are many spa hotels in Skåne, but I had been looking forward to visiting Ystad, as it looked really nice in (the many) pictures I had seen.
Getting from Copenhagen to Ystad
My girlfriend and I took the train from Copenhagen Central Station towards Malmö, got off at Malmö Hyllie after 26 minutes, and switched to the local train to Ystad, which took 41 minutes.
It was an excellent experience, with only about 10 minutes of waiting at the station.
The journey from Copenhagen to Ystad Station took about 1 hour and 20 minutes.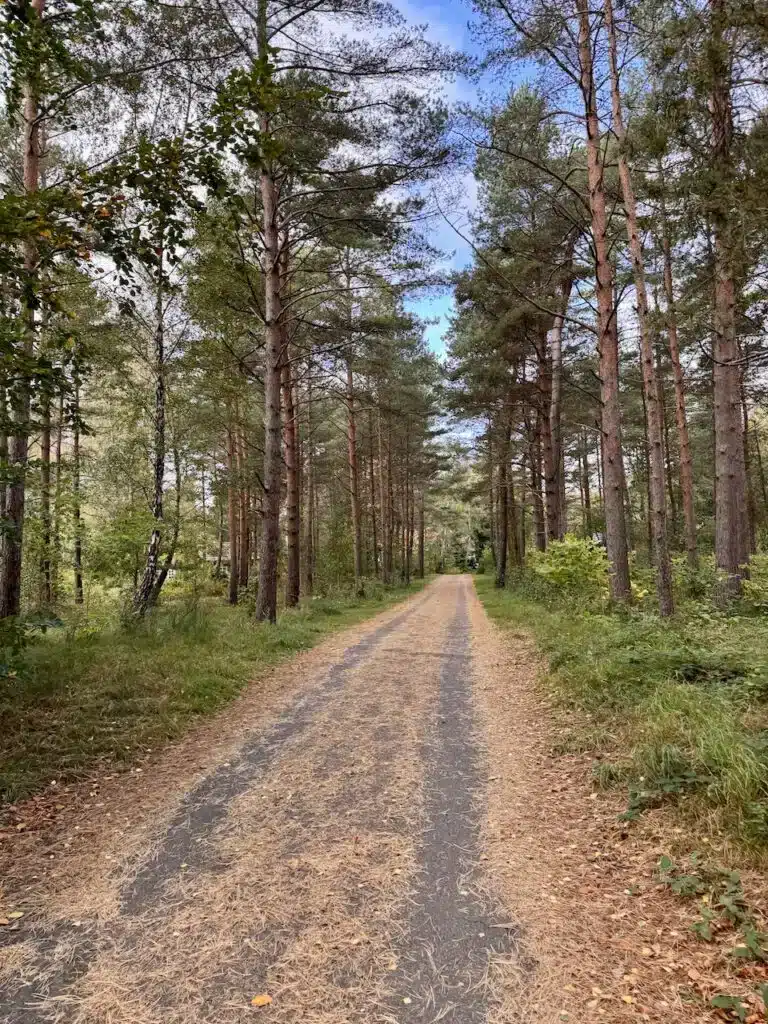 From Ystad Station, it takes about 25 minutes to walk to the spa hotel, which is a bit on the outskirts of town – right down by the sea.
If you come by car, there's a huge parking lot at the hotel, and it also seems that most guests arrive by car, but it's certainly feasible to reach by train.
There's also a bus that goes to the hotel, but we're young and healthy, so we just walked on foot through an urban area and then through a summer house area, which exuded Swedish charm.
Check-in was quick
As soon as we entered the doors, we were greeted by a pretty long queue for check-in, but it ended up being painless as a couple of staff members quickly arrived and got us checked in.
Already there in the queue, it was clear that all the marketing efforts had paid off: there was definitely only Danish being spoken among all the guests 😀
The staff member we spoke with was super sweet and explained everything about what we 'could' do during our stay, where we should eat, and how everything would unfold (more on that later).
So we were quickly on our way to our room at the spa hotel.
A worn room with complimentary silverfish🪳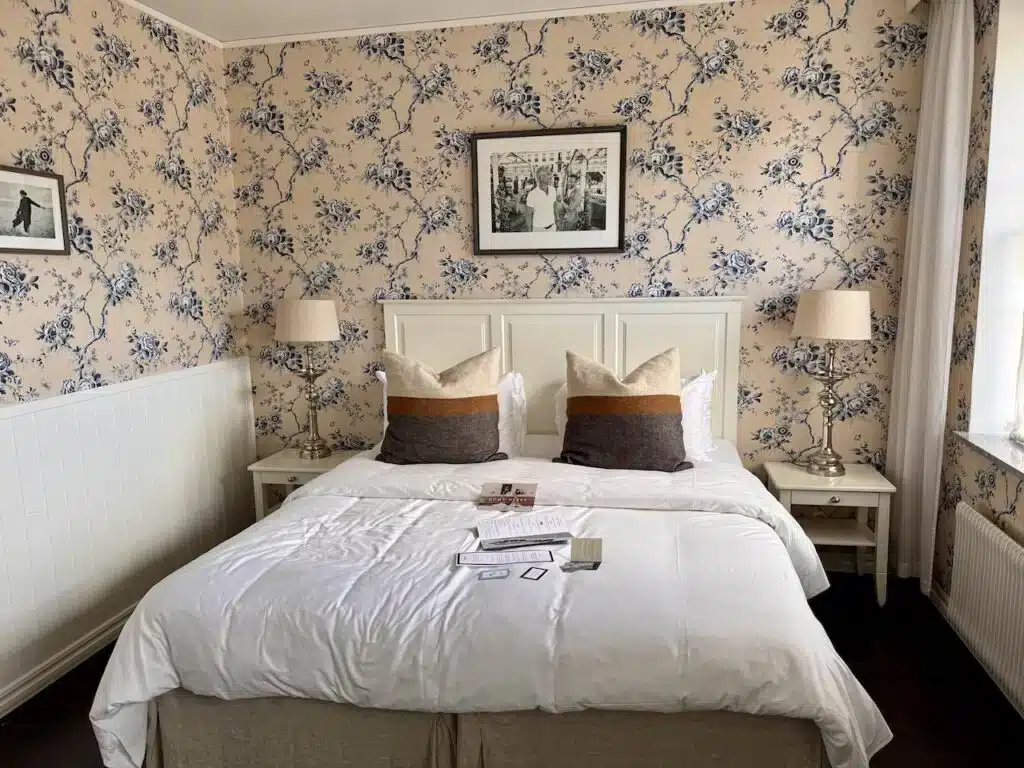 Ystad Saltsjöbad is an old bath hotel with lots of soul and history, so I didn't expect to come to a modern hotel room.
But I also didn't expect to find a silverfish in my bed when I moved our two bathrobes, which were waiting for us, over it.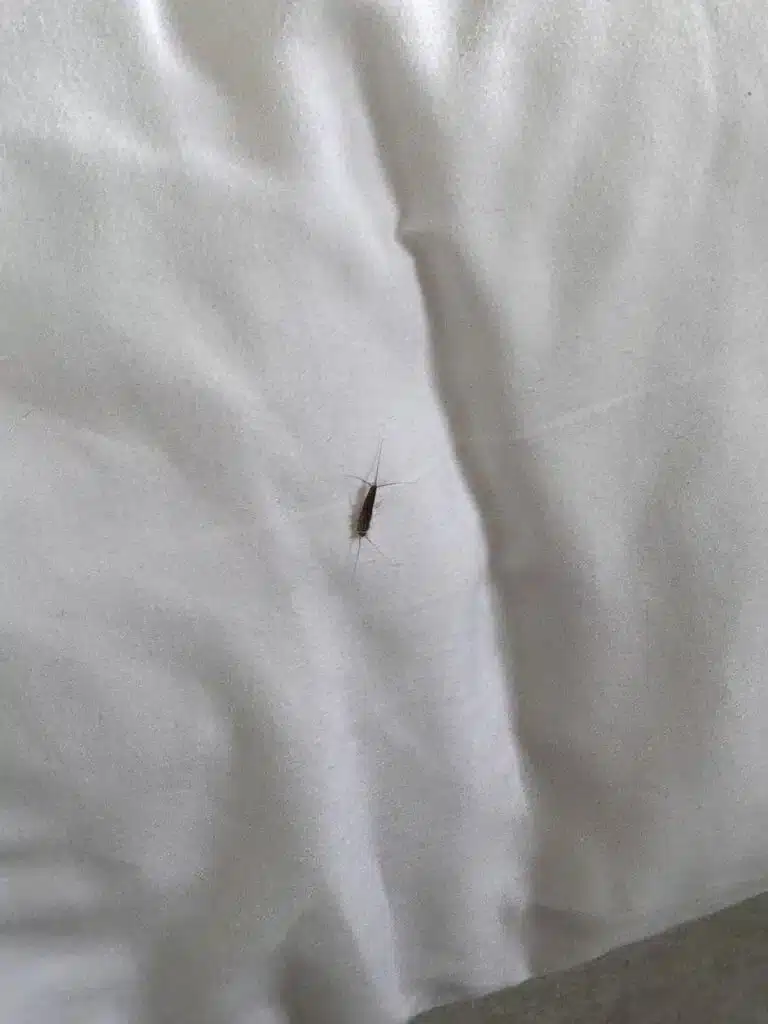 It was a letdown, but we quickly agreed it was 'just' a silverfish and not one of those feared bed bugs.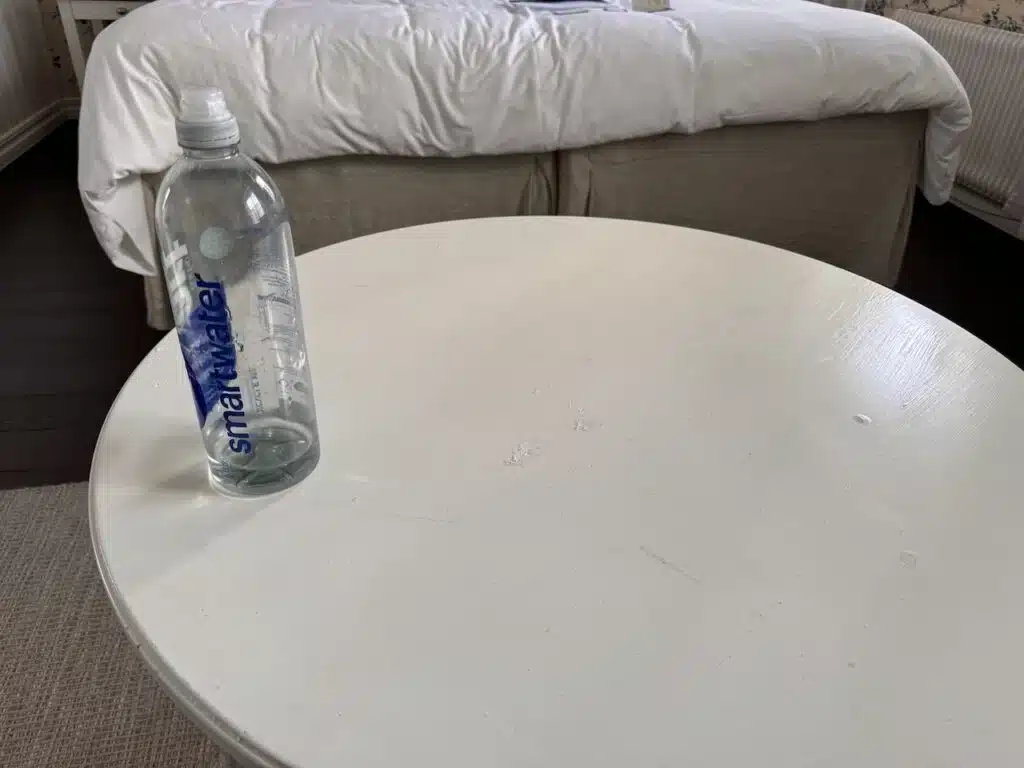 The room had plenty of soul, but it was also worn in a rather uncharming way.
The table was worn in a way that seemed dirty, and the same applied to the panels.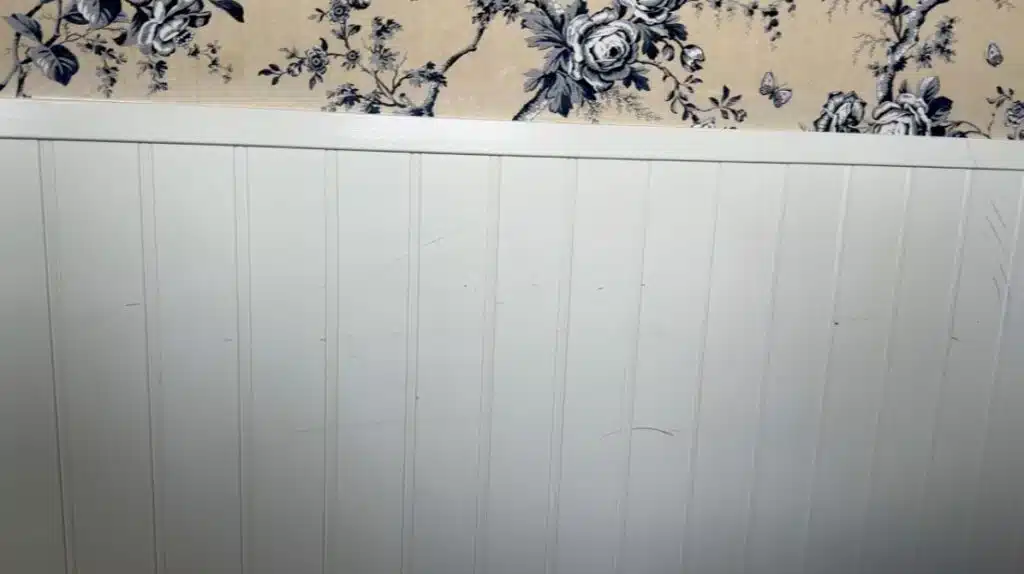 The bathroom was tiny and not very cosy, but I can accept and expect that when it comes to a bath hotel with over 100 years of history.
The rest are things that should be relatively easy to fix and which I also expect to be in order when you come to a spa hotel with a good reputation.
If I have to compare the rooms with a place like Kurhotel Skodsborg in Copenhagen, the latter wins by several kilometres over Ystad.
Check out my guide on the best spa hotels in Copenhagen or Stockholm if you're still unsure where to go.
Well, the most essential part of a spa retreat is the spa itself, so let's drop (most of) our clothes and head over there.
The spa area is smaller than I expected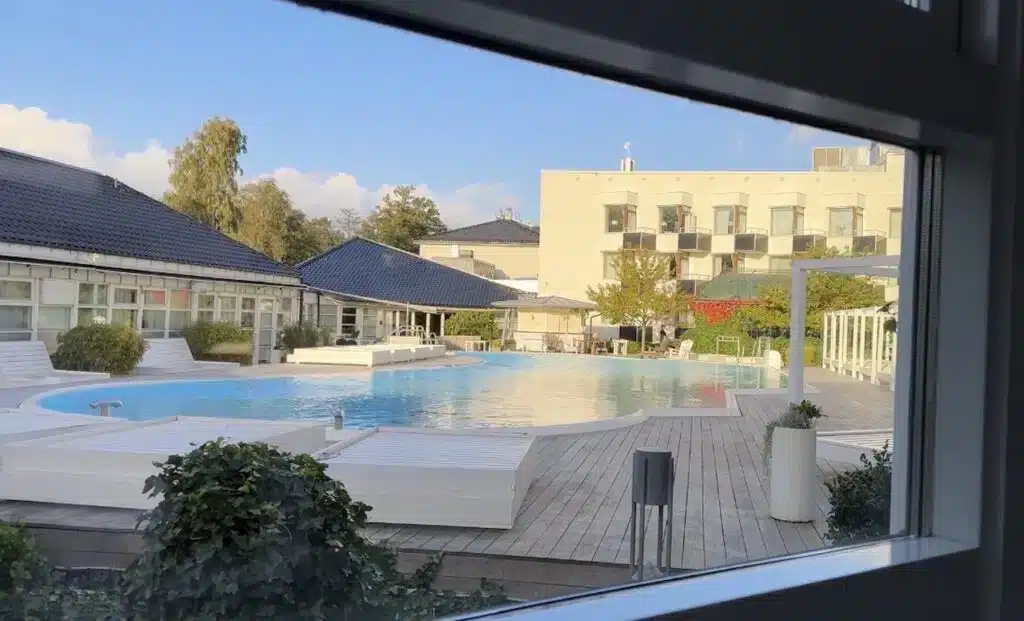 It's always tricky to take pictures of a spa area since we all enjoy not ending up on various Instagram stories or travel blogs when we're undressed and just want to relax in the pleasant surroundings.
So, sorry for not having many photos, but let me try to set the scene:
We arrived at the spa area around 4 PM on a Saturday, showered, and entered the spa. And it was completely packed with people.
Open this link for more photos (opens in a new tab)
I started thinking that this was going to be a thoroughly terrible experience because there were so many people that we couldn't find space for either our robes or ourselves 😀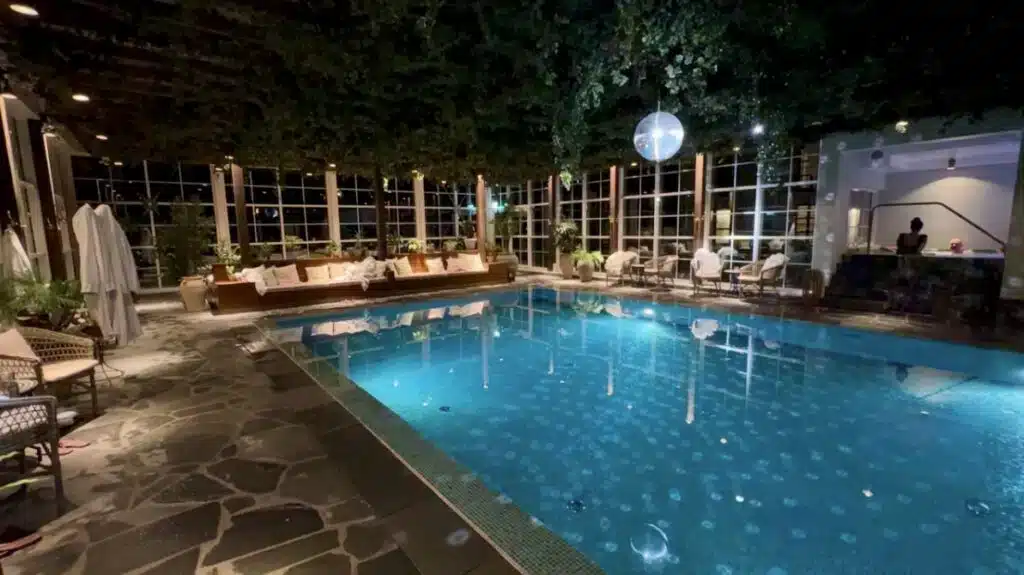 The spa area is surprisingly small and centred around a swimming pool with water that is not so warm that you just lounge on the edge and enjoy it.
There's a smaller pool with pleasantly warm water, where we (after a couple left) could squeeze in with 20 others, so we were sitting quite close.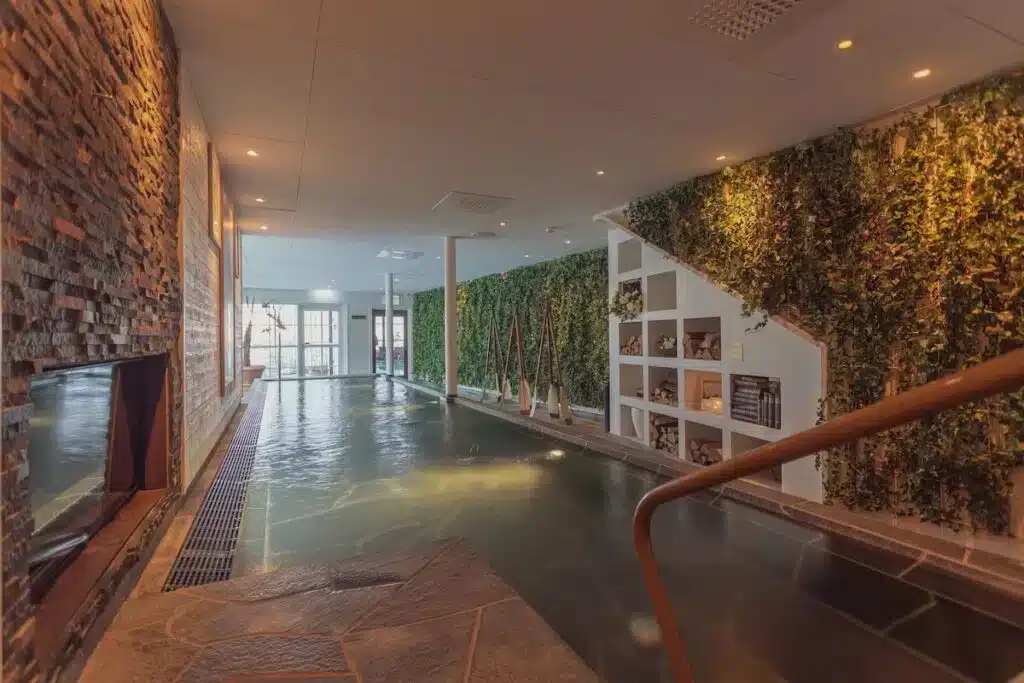 Outside, there are two warm, small plunge pools with space for 8-10 people, and although we really wanted to go there, we had to wait a long time.
After a while, we left the secure spot in the heated indoor pool to go up to the indoor hot tub, which has space for about 10-15 people.
We managed to find (or create) space up there and were a bit cramped, but we began to understand the atmosphere here.
It wasn't so much about relaxation, but more about drinks and beer 😀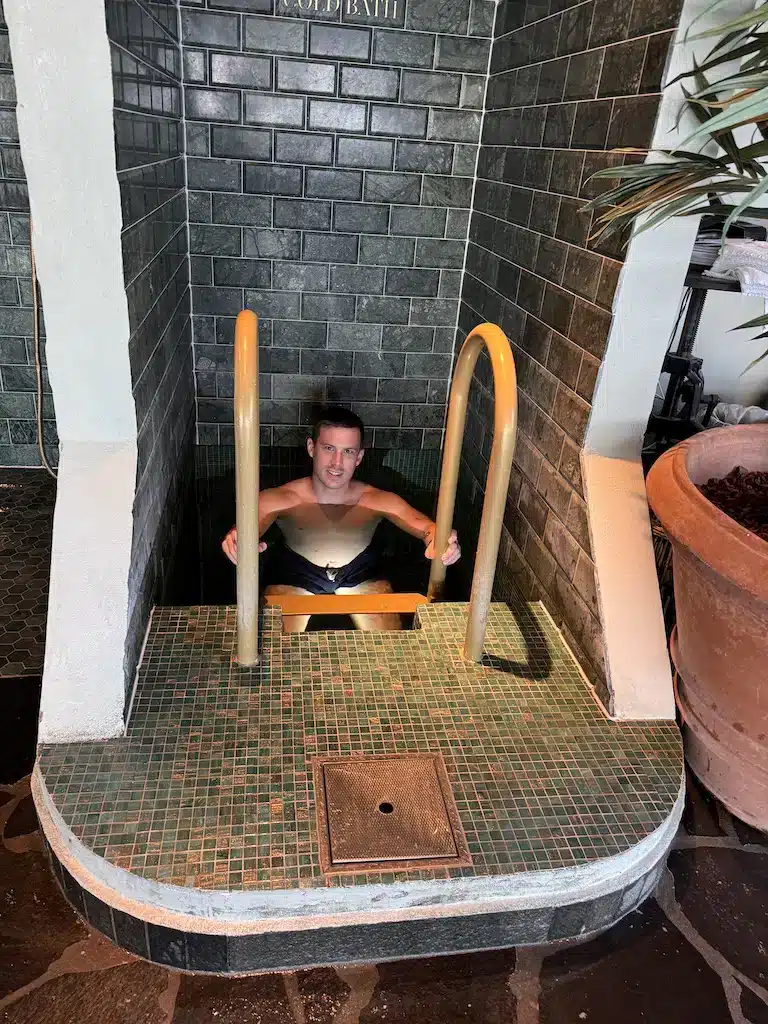 A few staff members take people's orders, so you can have drinks delivered while sitting in the hot tub – I am a massive fan of that.
I'm also a fan of the fact that there's a small cold plunge pool in the spa area, so you can play Wim Hof and see how long you can stay in the icy water.
But in the afternoon, I was quite disappointed with the spa area, which seemed incredibly small and, unfortunately, really overcrowded.
However, when we returned after dinner around 9 PM, it was perfect – because it was significantly less crowded.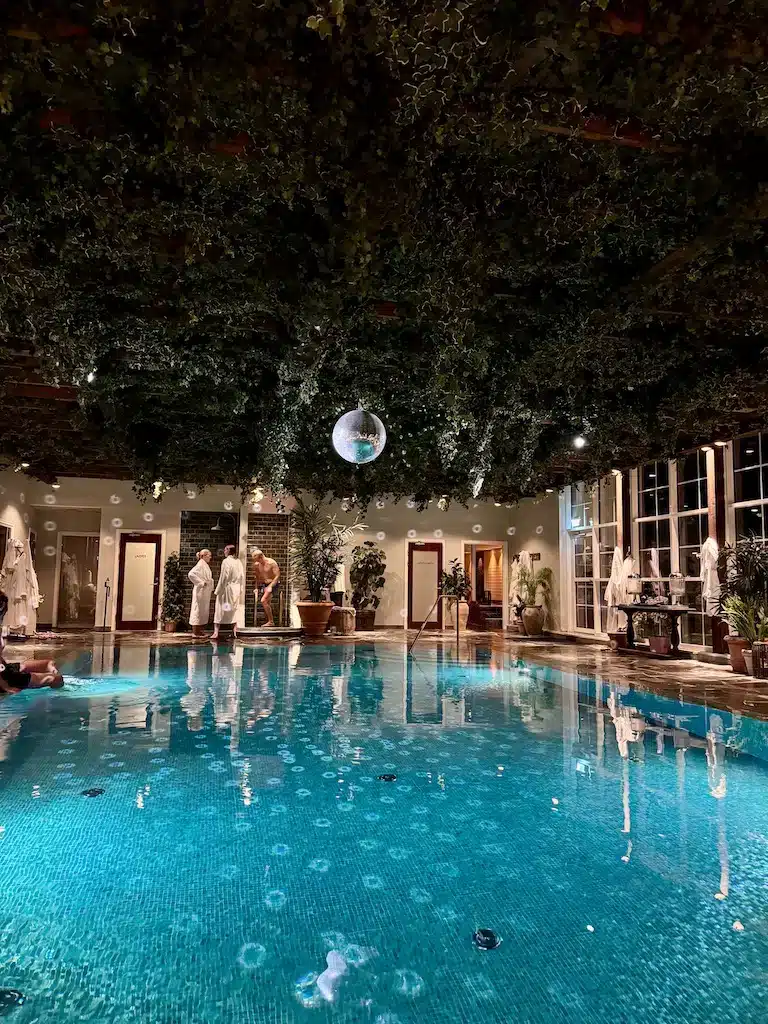 It's nice to be there in the evening when there aren't as many people.
So, I don't really know what to say about the experience.
We had a great time when we realized that there's a more party-like atmosphere, where you sit and have a beer in the warm water, but I had probably expected to leave with a wonderful wellness feeling in my body, not a hangover (although it was self-inflicted).
The food was a major highlight
The best part of our stay at Ystad Saltsjöbad was the restaurant experience.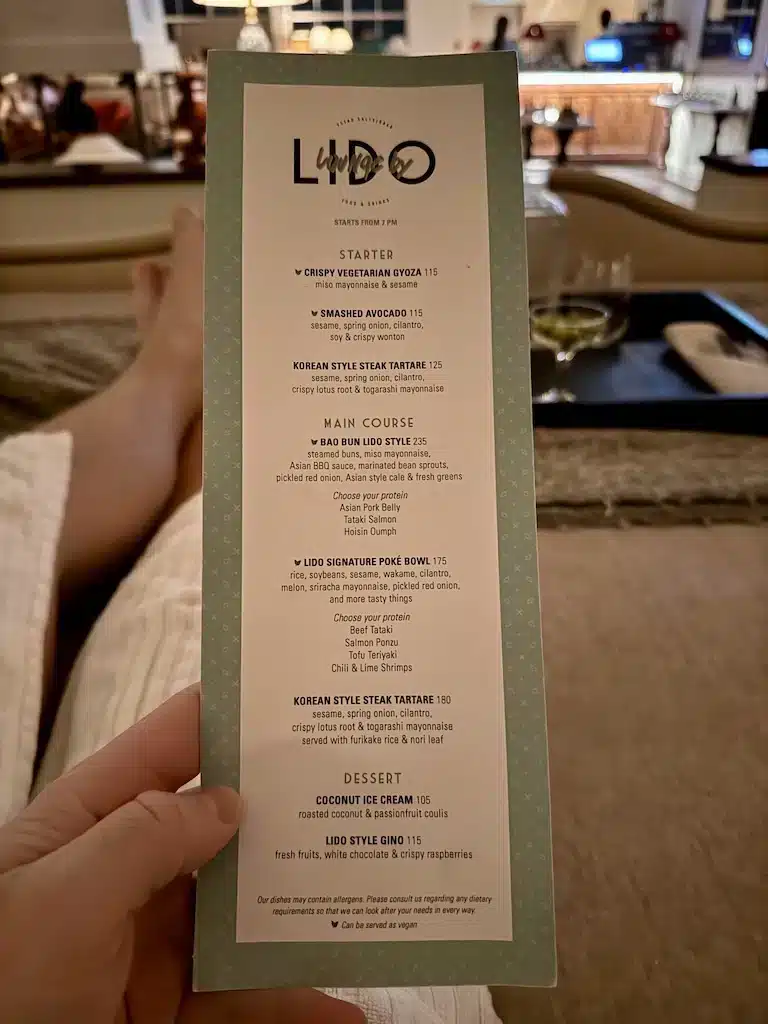 The hotel has several restaurants, and we dined at the Asian-inspired LIDO.
When we checked in earlier that day, the staff member told us that most people go directly from the spa and just eat in their swimwear and robe.
I had to hear that twice, but it was true – the restaurant is located just above the spa area, so it makes sense.
When we arrived, we were asked if we wanted to sit at a table or eat in bed. In bed? 😀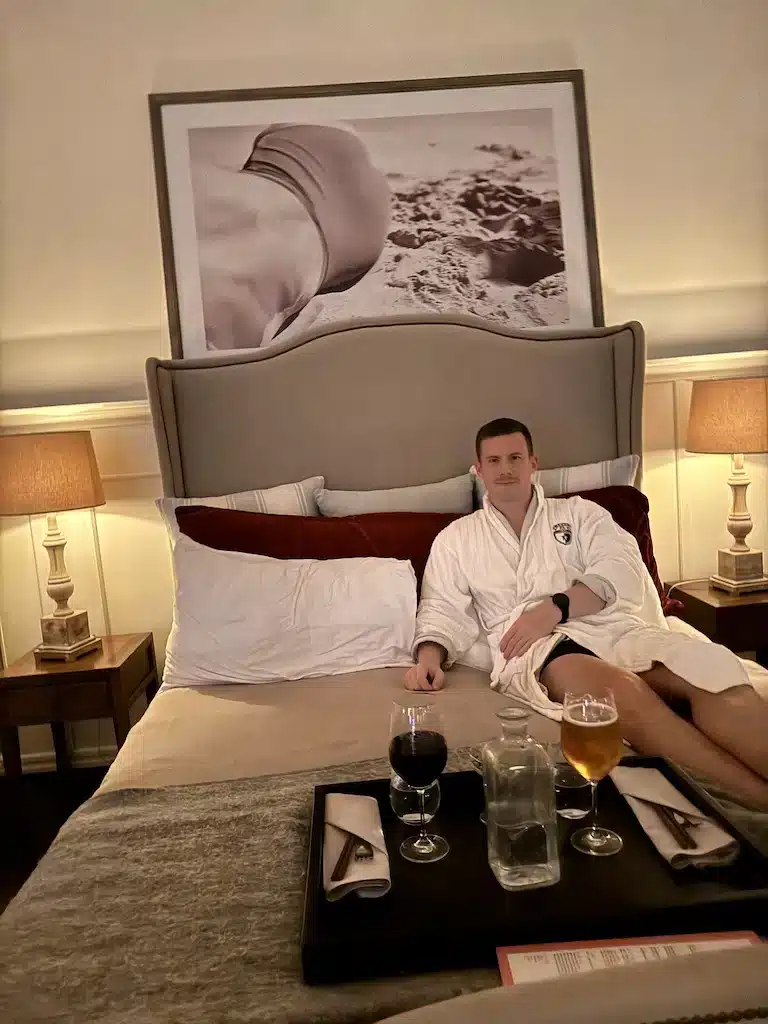 Yep, we got our own bed and were served a 3-course menu, and I wish more restaurants did this.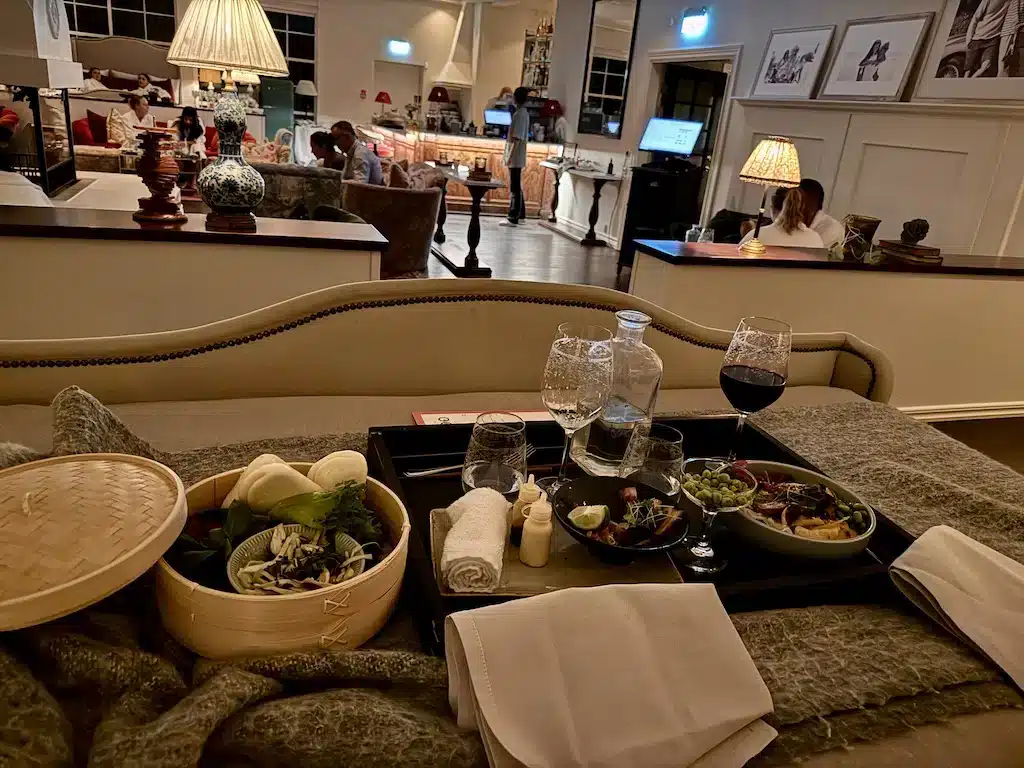 We shared various dishes from the menu, including the delicious poke bowl and bao.
The unpretentious atmosphere made the restaurant visit at Ystad Saltsjöbad the best part of the trip.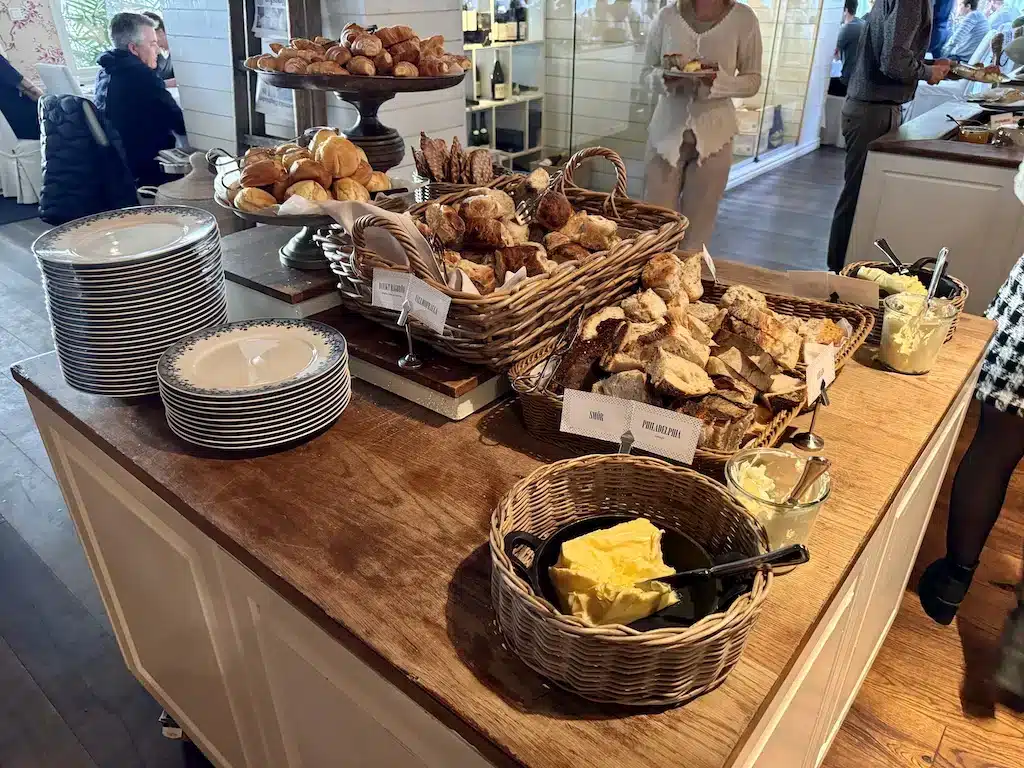 The next day's breakfast buffet was also really good – akin to a solid 4-star hotel, where nothing is lacking, but you're not blown away either.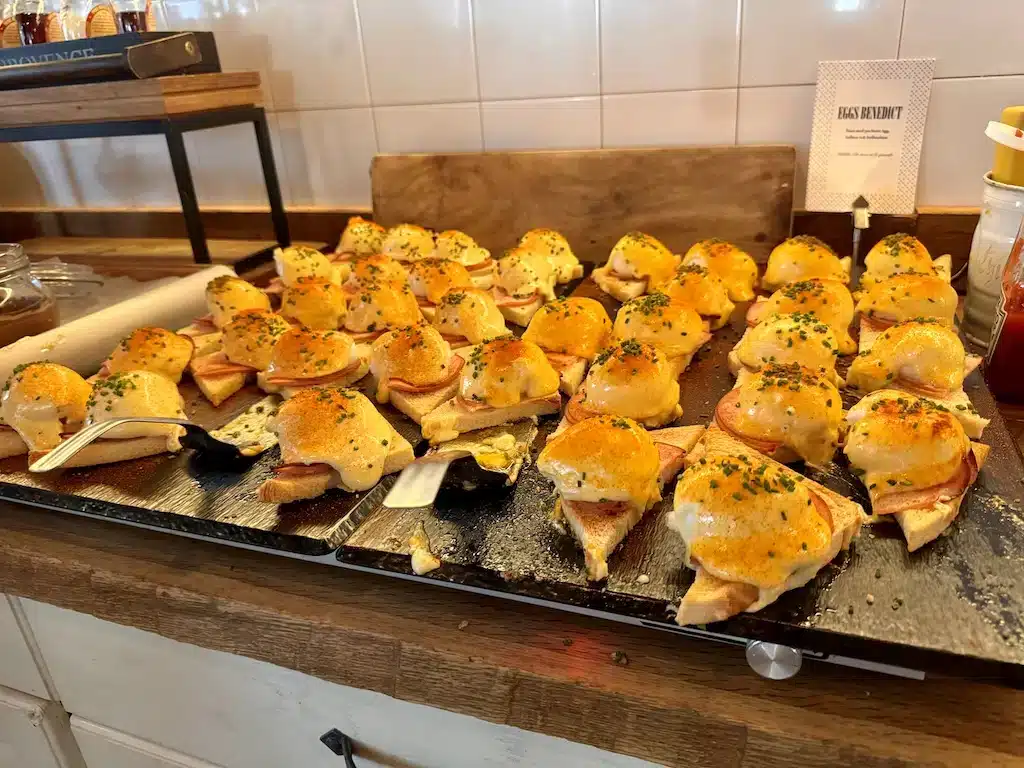 I loved that you could get eggs benedict directly from the buffet, but unfortunately, the egg whites weren't fully cooked, which dampened my appetite a bit…
How much does it cost? Price breakdown
I paid 3521 Swedish Krona (about €356) for an overnight stay with dinner and breakfast.
Additionally, 1300 SEK (about €132) went to drinks, where a 0.4 cl Carlsberg cost 79 SEK (about €8) – drinks like Aperol Spritz and Mojito cost 145 and 155 SEK (€15 and €16).
I think that just over €356 for a 2-person spa stay with a 3-course meal and breakfast buffet is a really fair and reasonable price.
Consider what a 3-course meal at a good restaurant costs in Sweden and add to that hotel accommodation and spa access.
Do I recommend Ystad Saltsjöbad?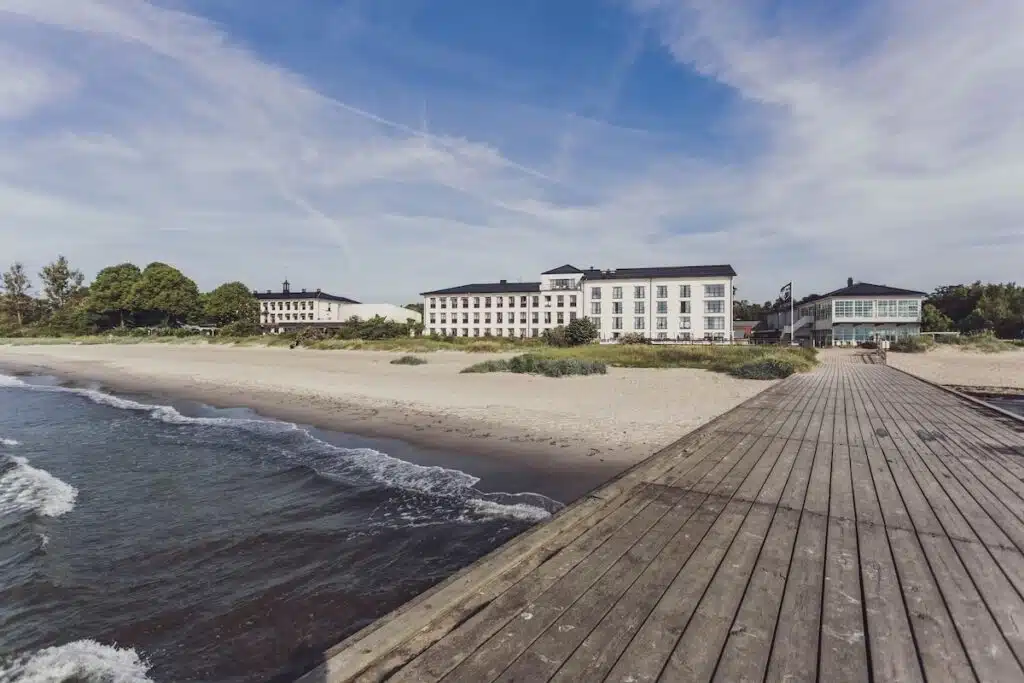 Yes, without a doubt. When you know what you're getting into, it's a fun place to go for some delicious food and enjoy some beers while in the spa.
The entire dining experience at Restaurant Lido was also top-notch.
The room is worn and nothing special, and you shouldn't be afraid to rub shoulders with a few strangers in the hot tub if you come during peak times.
There was a really cosy atmosphere in the spa area in the evening, and the staff throughout the hotel were amiable.
It was brilliant that you could order from a server in the spa area and have a beer delivered directly to the hot tub.
I would give Ystad Saltsjöbad 4/6 stars. I could imagine going back with a few friends, but for a romantic and relaxing weekend, I would probably look at some of the other spa hotels in Skåne or Copenhagen.
See more photos and book your stay here.
Check out my guide to the best hotels with a pool in Copenhagen.
Websites I use to book my trips 👇

• Booking.com has the best offers on hotels and unique places to stay
• GetYourGuide is the best place to book tours & activities with free cancellation
• Omio is my go-to booking platform for trains in Europe
• Welcome Pickups is the best & safest place to pre-book airport transfers

Psst 👀 Have you subscribed to my Youtube channel where I provide more useful travel tips?