This guide is your go-to resource for everything related to spa experiences in Copenhagen. I live in Copenhagen and love taking spa breaks in my local area, so I've come to know quite a few great places.
From the most luxurious resorts to charming hideaways, I present to you a curated list of the best spa hotels in Copenhagen, along with some unique gems close to the Danish capital.
Let's get started with the guide to the best spa hotels in Copenhagen.
1. Kurhotel Skodsborg ⭐️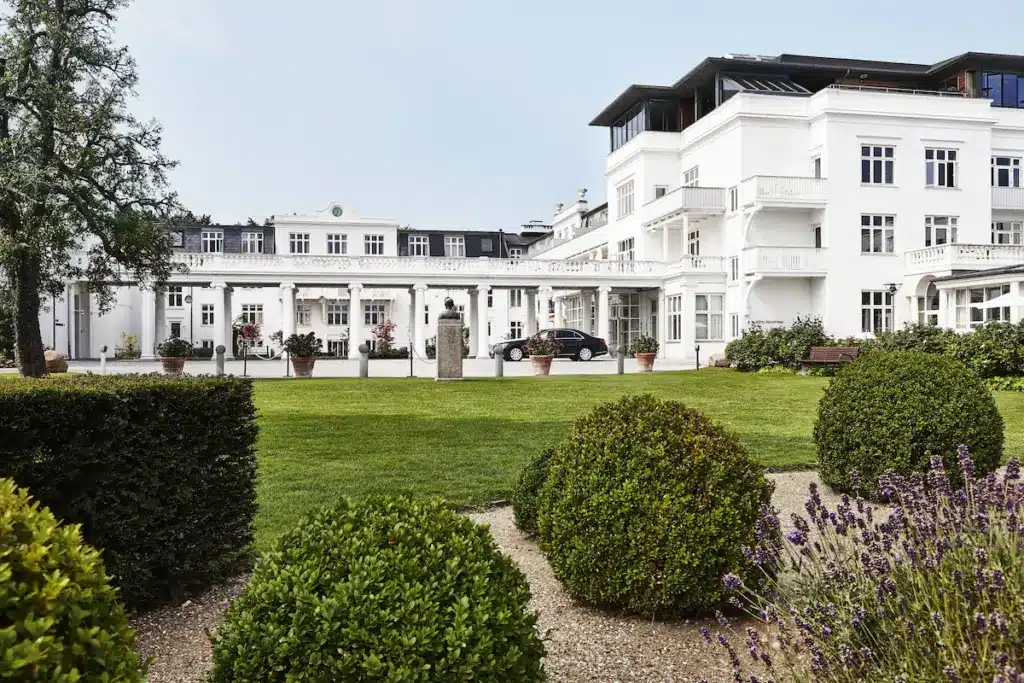 Although not technically within the city limits of Copenhagen, Kurhotel Skodsborg is just a 22-minute train ride from Copenhagen Central Station to Skodsborg Station, making it deserving of a spot on this list of the best spa hotels in Copenhagen.
I've personally stayed at this excellent hotel, and I think it's fantastic.
When you book a room at Skodsborg, you get free access to their spa and wellness facilities.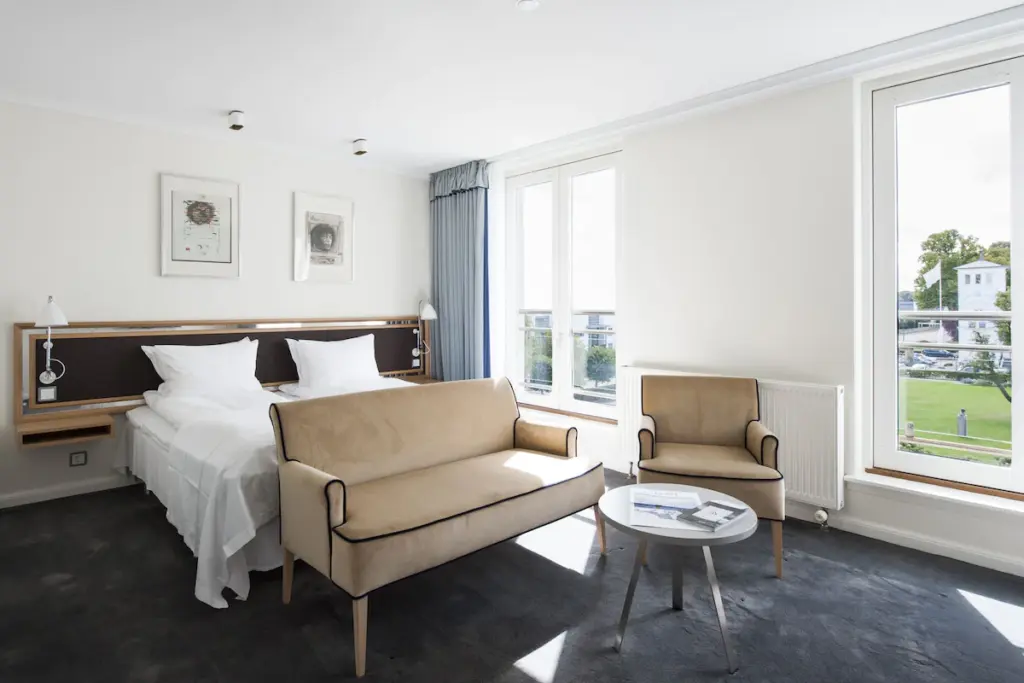 With two restaurants on-site, you can diversify your culinary experiences.
And if you need to stretch your legs, you can head down to the private beach, where you can swim in the summer.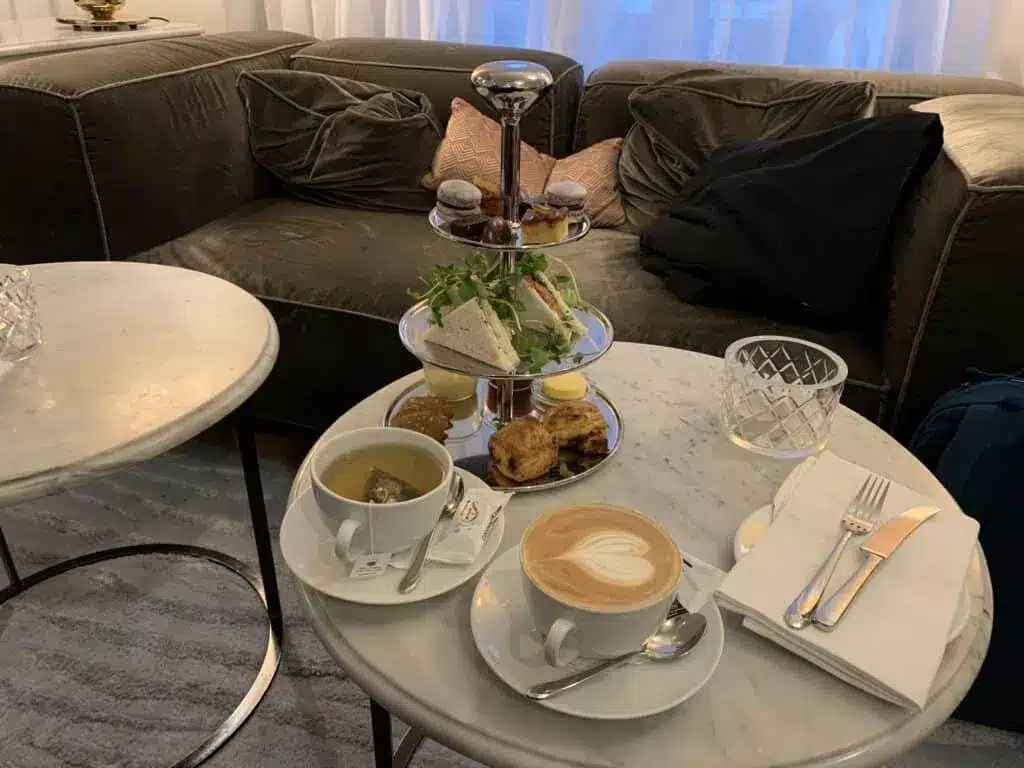 Free parking is available, and Skodsborg Station is just a 10-minute walk from the hotel.
Bike rentals are also available for those looking to get some exercise. At the hotel, you'll find:
Award-winning spa and wellness included in the price
The fitness centre is open from 12:30 p.m.
Two restaurants with excellent wine lists
Scenic and beautiful surroundings
Breakfast buffet (always included in the price when booking directly through the website)
All rooms are smoke-free and come with both Wi-Fi and Chromecast.
See more photos and book here.
2. Axel Guldsmeden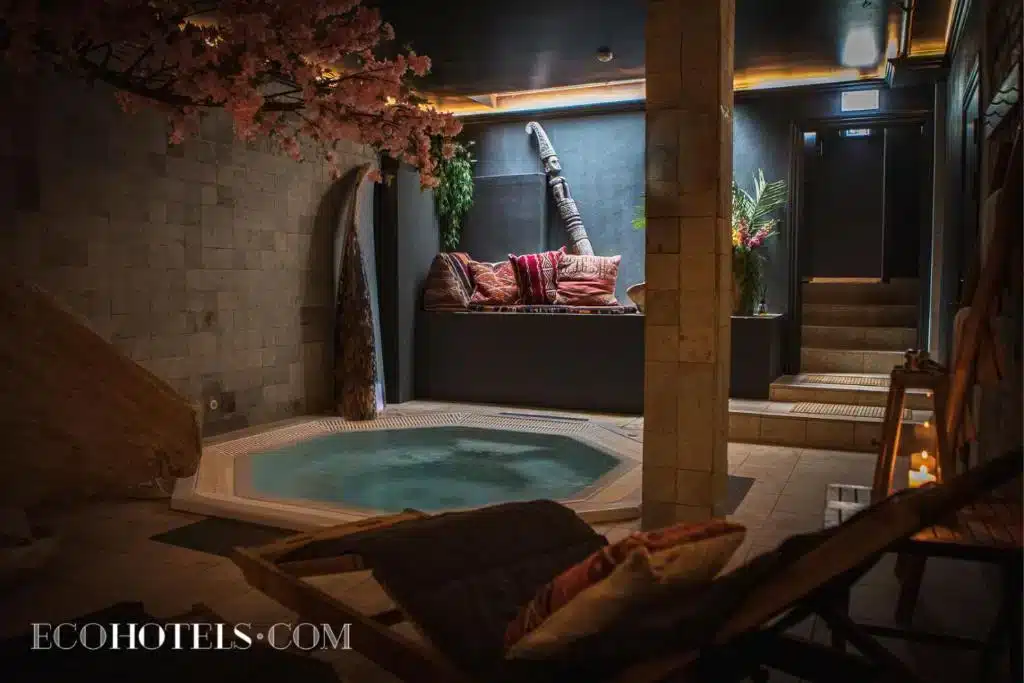 Centrally located in Copenhagen, close to the central station and Tivoli Gardens, Axel Guldsmeden is especially known for its sustainable approach to luxury and comfort.
The hotel's spa is no exception and offers a range of organic treatments using natural products.
The spa is designed in a Balinese style with exotic plants and creates a calming atmosphere.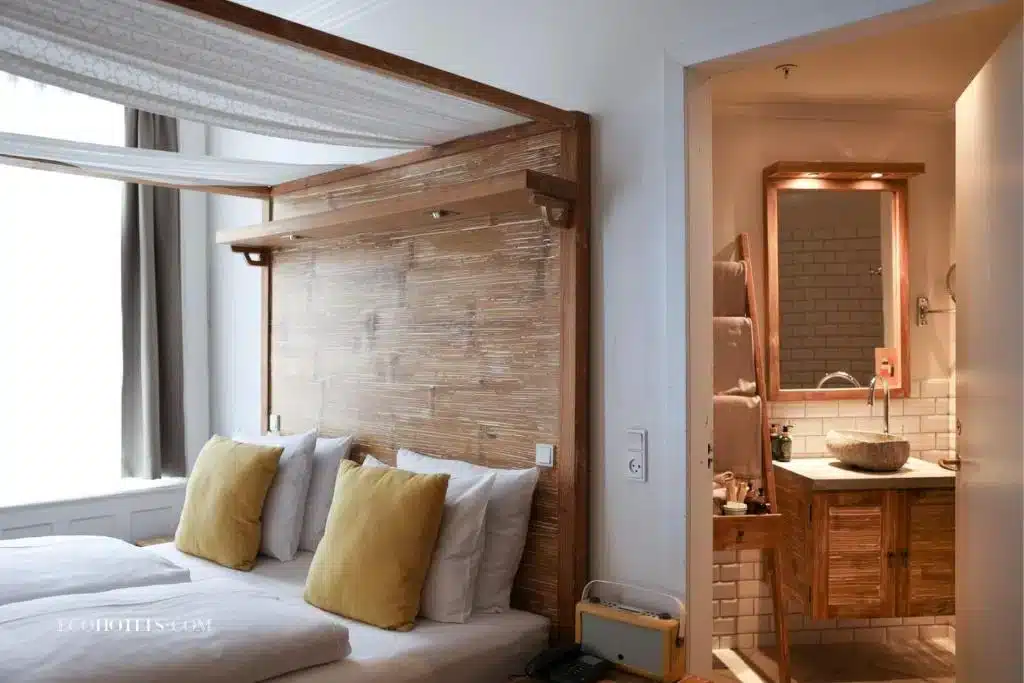 Guests particularly praise the hotel's ability to combine sustainability with luxury, making it a unique place to relax in the city's heart.
Facilities include a sauna, steam bath, and hot tubs, perfectly complementing the custom treatment packages.
See more photos and book here.
Also, check out my guide with more great hotels with pools in Copenhagen and the guide to the best areas and places to stay in Denmark's capital.
3. Marienlyst Strandhotel near Hamlet's Castle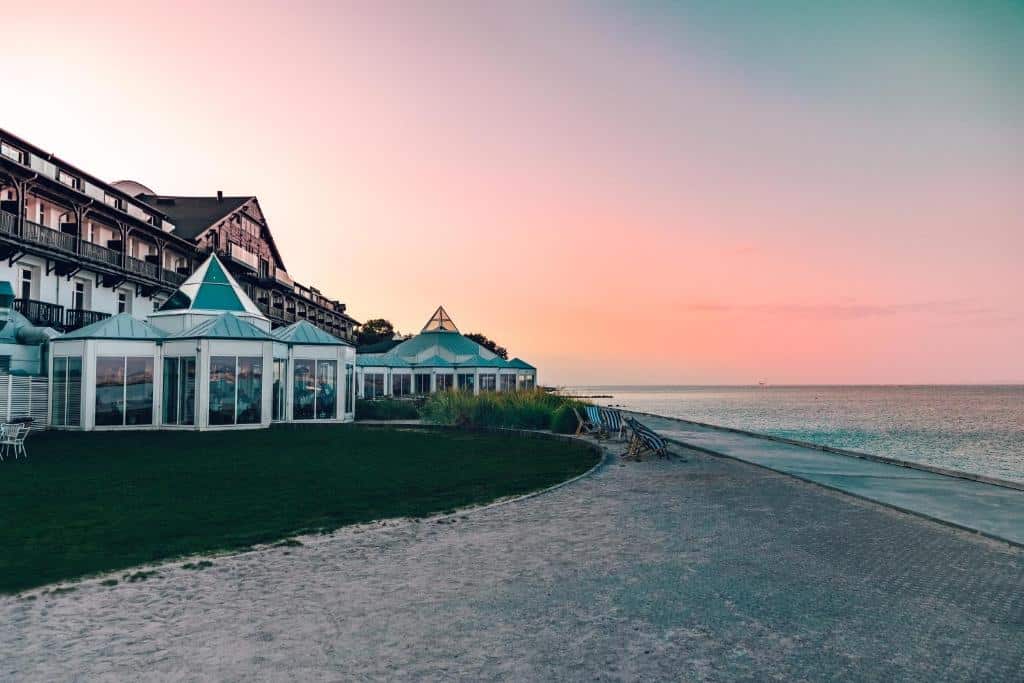 Now, let's take a quick train ride outside of Copenhagen to Elsinore (Helsingør, in Danish) – Marienlyst Strandhotel certainly deserves a mention in this guide.
The beautiful and unique Marienlyst Strandhotel is just 1 kilometre from Kronborg Castle (also known as Hamlet's Castle) and has a private beach.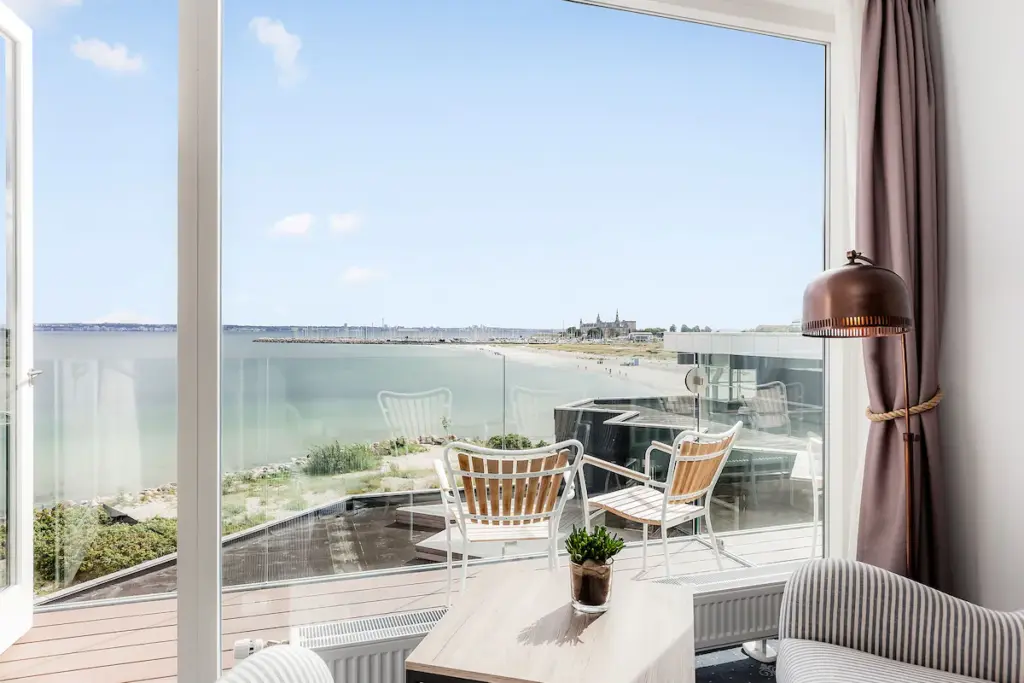 The scenic surroundings are particularly suitable for couples.
With both a fitness centre and a restaurant, there's ample room for cosy and intimate moments and focusing on yourselves and your well-being.
Marienlyst Strandhotel's history is intertwined with royal regulars and pampering. The hotel's history began in 1861, a number that recurs in the name of the hotel restaurant: Brasserie 1861.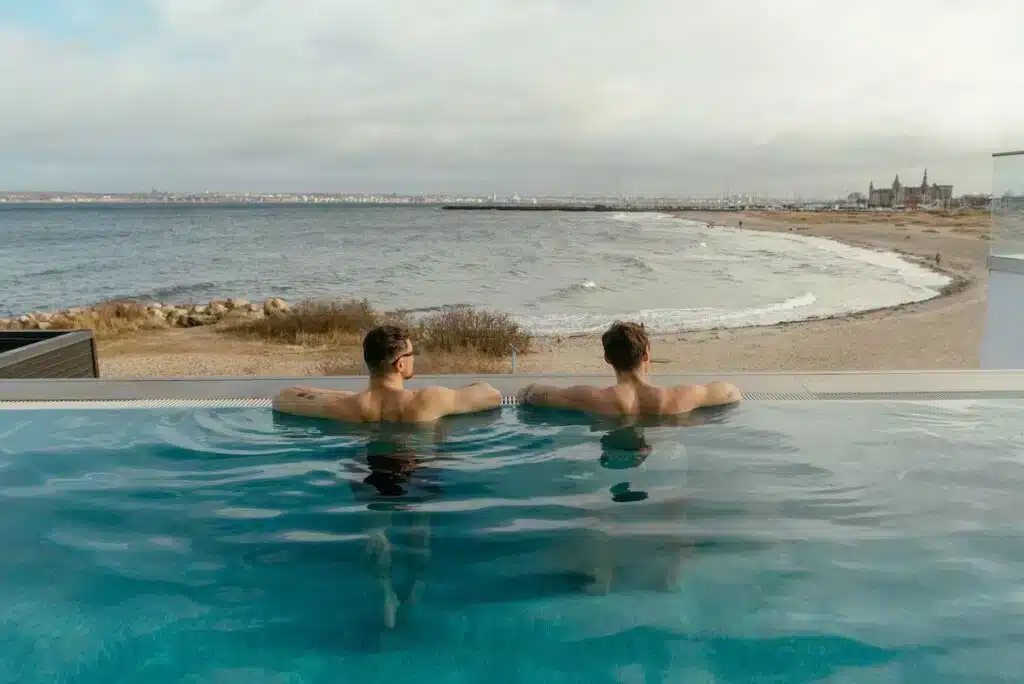 With over 150 years of experience serving guests, you and your partner are in good hands.
The romantic atmosphere at the hotel is further enhanced by the spa, developed over an entire 2-year period! That means 2 years spent perfecting the spa before it came into use.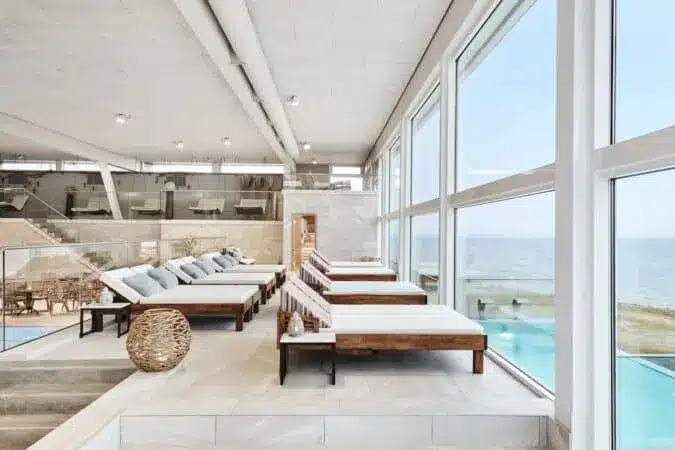 Body, mind, and soul will find peace and well-being in the 1,600-square-meter large spa, offering luxurious experiences and wellness at a high level.
The spa offers 10 specially developed treatments just for Marienlyst Strandhotel, all using natural products.
See more photos and book here.
4. Nimb Hotel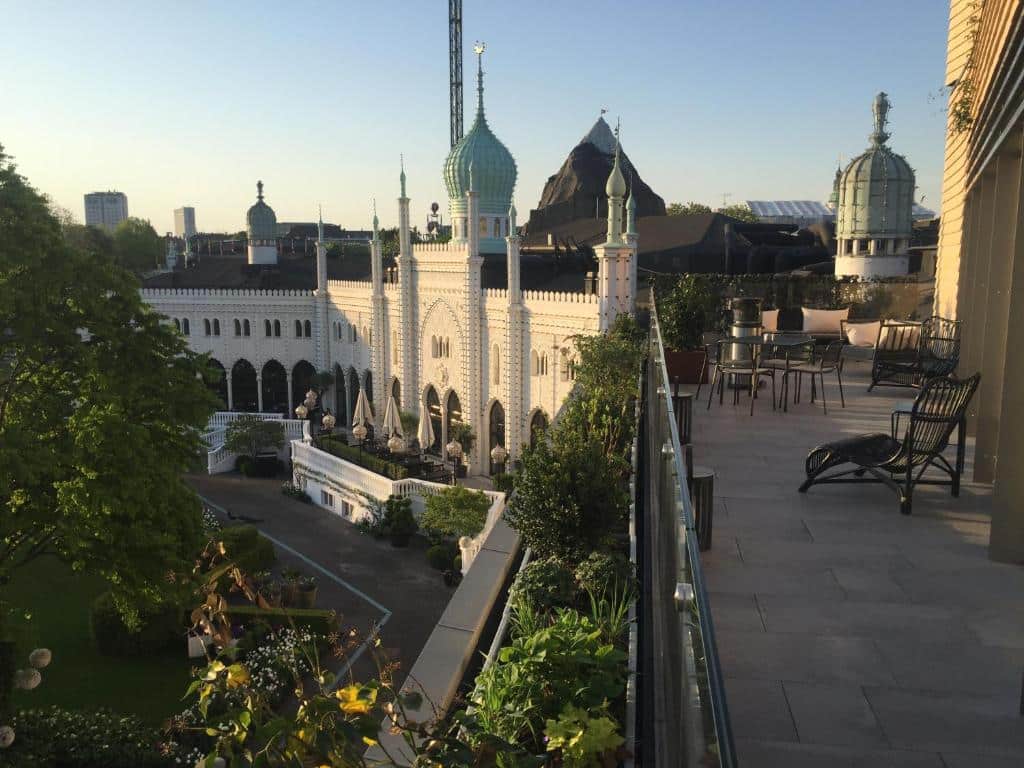 Though it might look like it, you don't have to visit India to stay at Nimb Hotel.
This five-star luxury hotel is located in the heart of Copenhagen and offers a stylish boutique experience with unique architecture.
Nimb Hotel receives an overall score of 9.6 from couples, setting the stage for an extraordinary stay!
If you're looking for an opulent experience beyond the ordinary, look no further.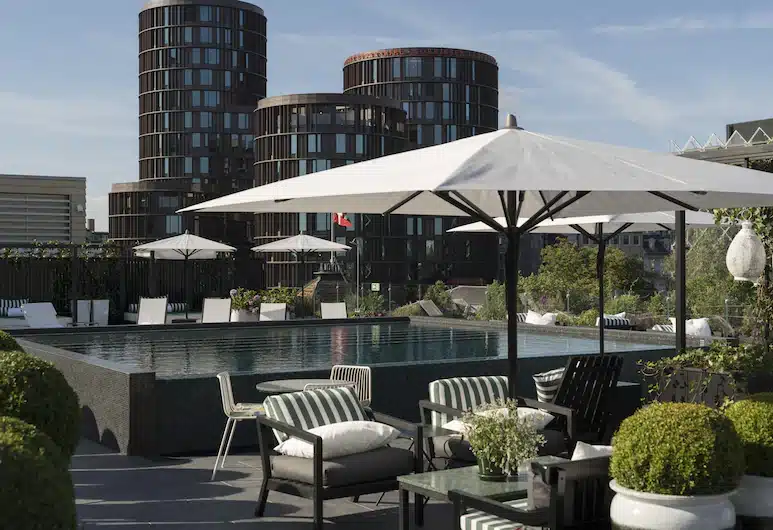 At Nimb Hotel, you will find a variety of elegant and uniquely decorated rooms with four-poster beds and antique furniture.
Here, you and your partner (or family, as Nimb Hotel is also child-friendly) can feel like royalty while the experienced staff takes care of you.
Nimb Hotel has a beautiful rooftop pool where you can relax at the bar or exercise in the heated counter-current pool. And of course, there's also a spa.
Nimb offers a 300-square-meter relaxation lounge inspired by a Moroccan hammam.
Here, you can unwind on your own from 6 a.m. to 10 p.m., or you can book a beauty or wellness treatment.
Located in the heart of Tivoli and Copenhagen, everything is within reach, offering limitless entertainment and activities.
See more photos and book Nimb Hotel in Copenhagen here.
5. Kong Arthur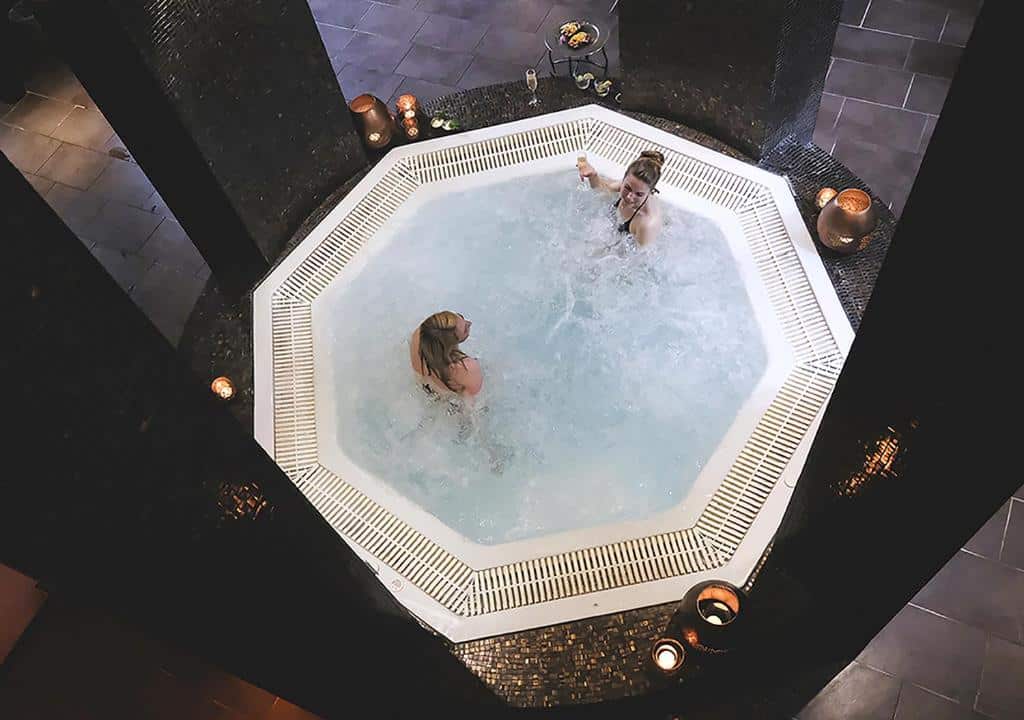 Hotel Kong Arthur is a 4-star hotel located in the heart of Copenhagen. The hotel offers an 800-square-meter spa, so there is plenty of room for pure relaxation.
At Kong Arthur & Ni'Mat Spa, you'll find:
Body treatments
Massages
Facial treatments
An "Oriental Water Temple"
Yoga
and much more!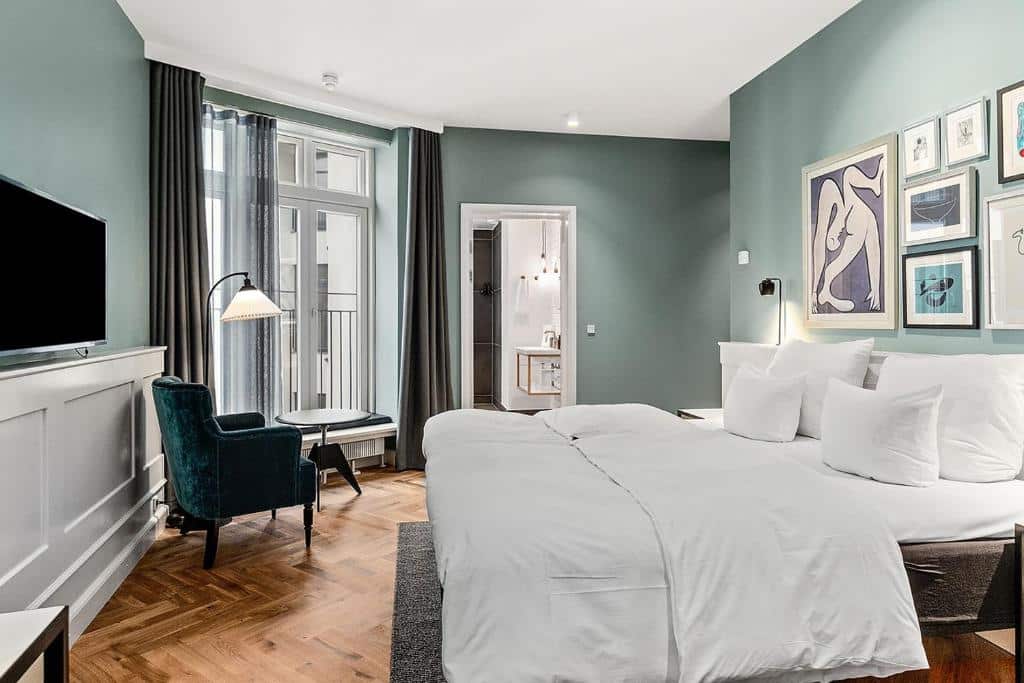 The Oriental Water Temple has a hot tub, aroma steam bath, sauna, and expansive areas where you can sit back in a lounge chair and enjoy life.
See more photos and book stays here.
Check out my guide to the best things to do in Copenhagen.
6. Villa Copenhagen (luxury & rooftop pool)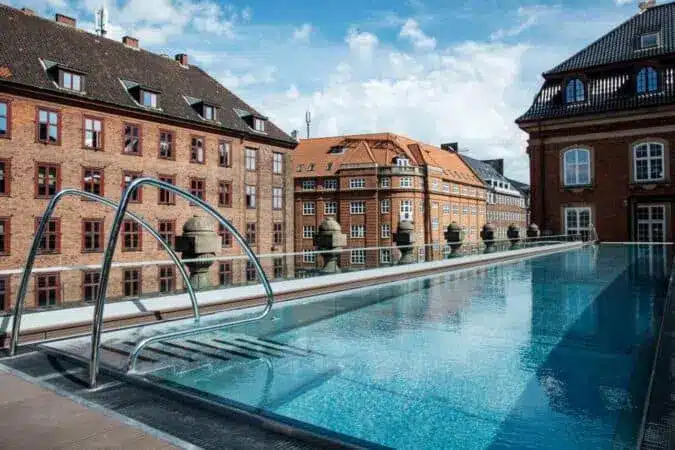 Villa Copenhagen is one of the hottest luxury hotels in Copenhagen, so if you feel like you've already seen it on your favourite Copenhagen influencers' Instagram, you're probably right 😄
It's a place where even locals book a room for a little getaway.
While it's not specifically a spa hotel, the main attraction is a heated rooftop pool, so it belongs on a list of good spa and wellness hotels in Copenhagen.
This luxury hotel is located right in the heart of Copenhagen – a stone's throw from the Central Station.
So, this is a fantastic starting point if you want to explore Copenhagen on foot, and it's easy to get to Copenhagen Airport by train.
There's also a fitness centre and indoor sauna, so even if there aren't specific spa facilities, it's an excellent choice for a little wellness getaway in Copenhagen.
See more photos and book here.
Fancy a trip to Sweden? Check out the best spa hotels in Stockholm.
7. Scandic Spectrum
Scandic Spectrum is a new hotel that stands out for its modern facilities and central location in Copenhagen.
One of the major attractions is the impressive indoor pool, designed with atmospheric lighting that provides a sense of peace and relaxation.
Next to the pool, you'll find a well-appointed sauna to warm up and relax after a day in the city.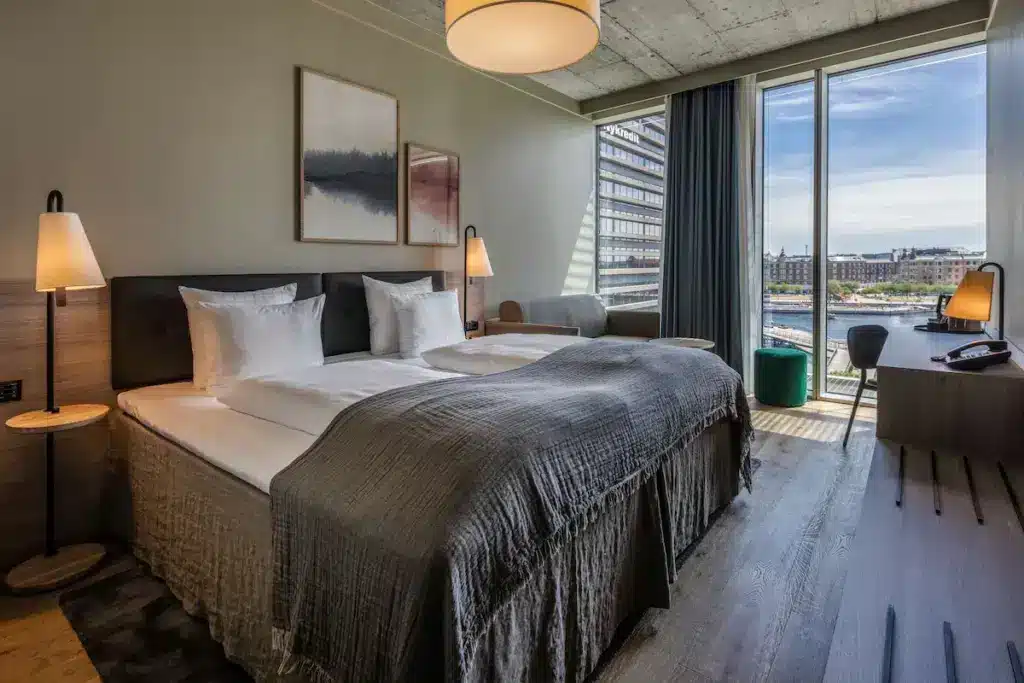 Guests often highlight the pool and sauna area as one of the significant advantages of staying at Scandic Spectrum, especially since it offers a break from the city's hustle without leaving the hotel.
This hotel is ideal for those seeking an urban lifestyle and wellness.
See more photos and book here.
8. Clarion Hotel Copenhagen Airport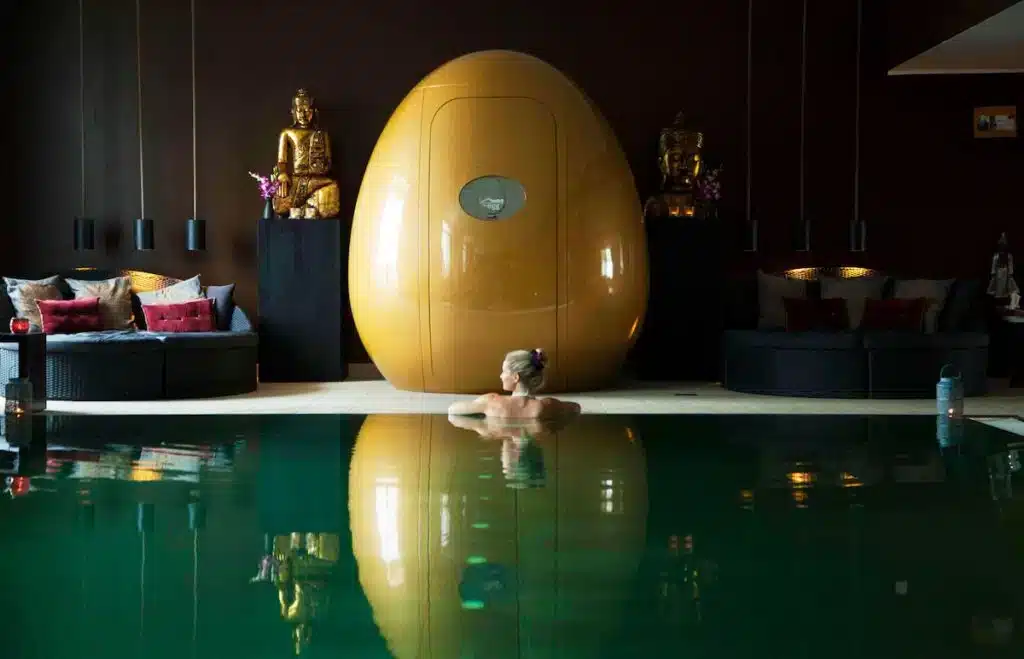 Clarion Hotel Copenhagen Airport is known for its unbeatable location right by the airport, but what really catches attention is the unique indoor pool.
The pool is designed with mood lighting and modern architecture, creating an almost surreal relaxation experience.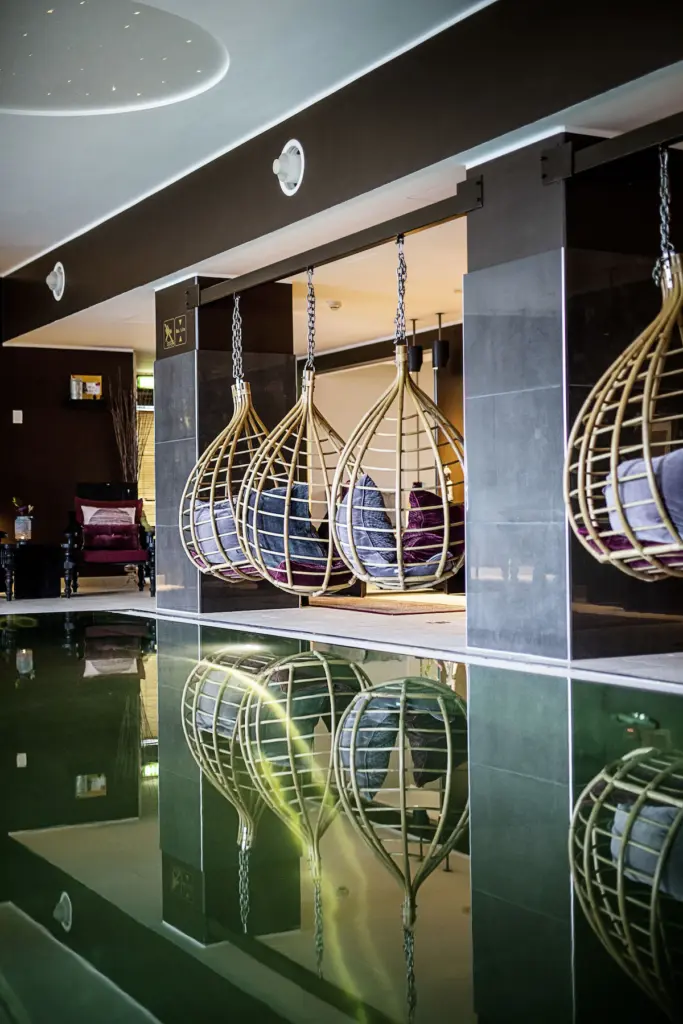 It's a perfect way to start or end a journey, with a dip in the calm waters before or after a flight.
Guests praise the hotel for its luxurious comfort combined with practical accessibility, making it an ideal choice for both business travellers and tourists looking for a stress-free transition to or from the airport.
Sauna and spa treatments are also available for a complete wellness experience.
See more photos and book here.
9. Kokkedal Castle Copenhagen (Castle with Indoor Pool & Spa) 🏰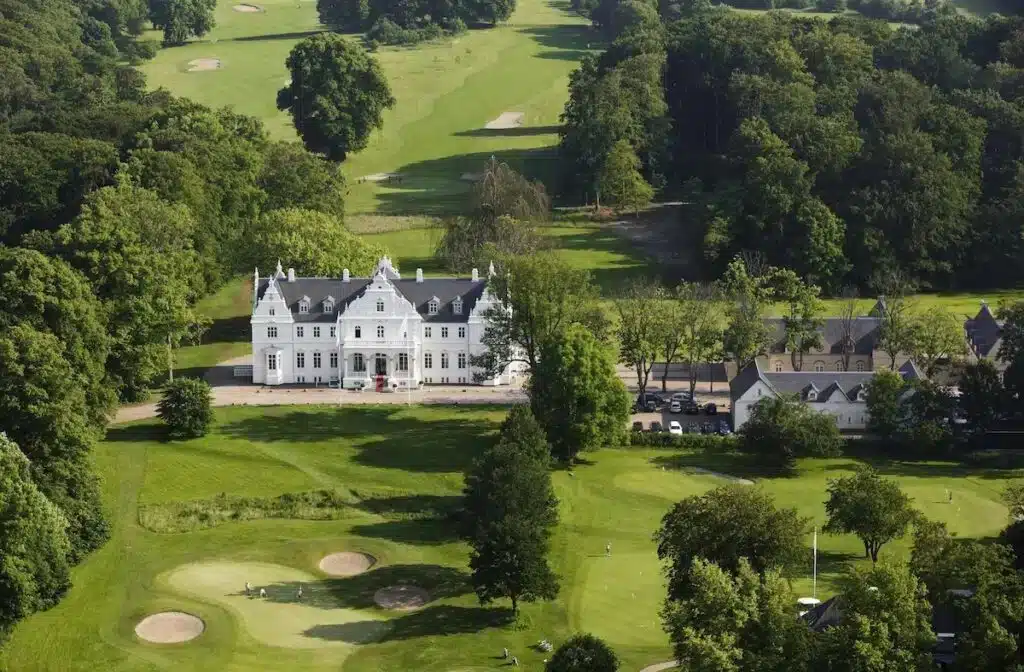 For those looking for a unique experience, Kokkedal Castle Copenhagen is not just a hotel but an actual castle in scenic surroundings just outside Copenhagen.
As the name suggests, the castle is located in Kokkedal, about 30 km north of Copenhagen.
This hotel offers an actual luxury experience, and one of the highlights is the beautiful indoor pool in a classical, grand castle hall with arched ceilings and elegant details.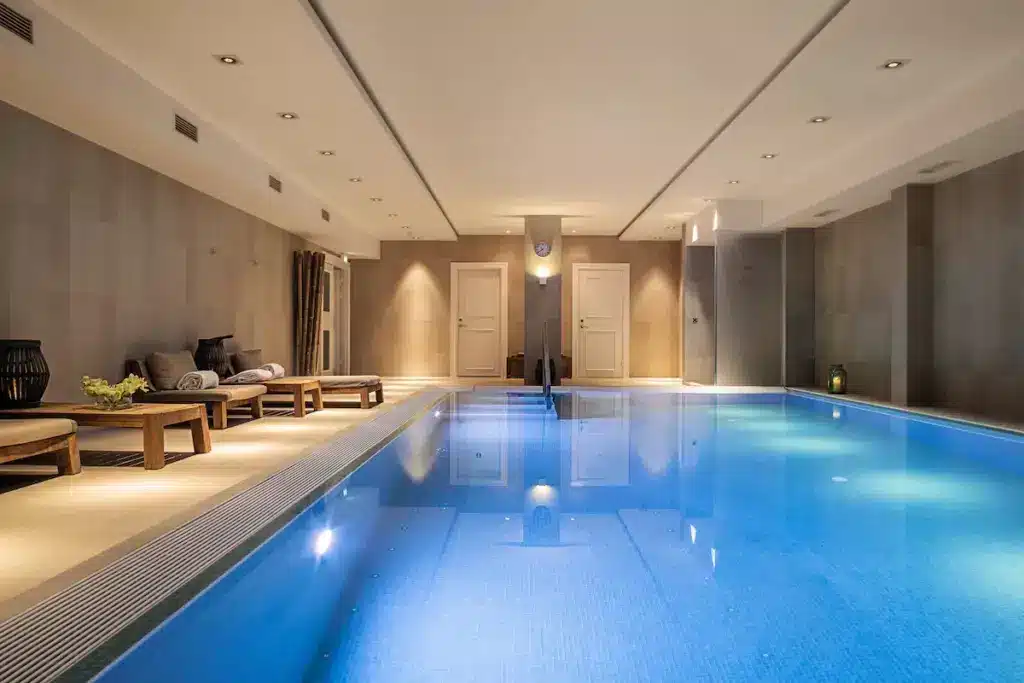 Guests can immerse themselves in the royal atmosphere while swimming or enjoying a spa treatment.
Previous guests speak highly of the unique combination of historical grandeur and modern conveniences that make Kokkedal Castle a stay to remember.
See more photos and book here.
10. Scandic CPH Strandpark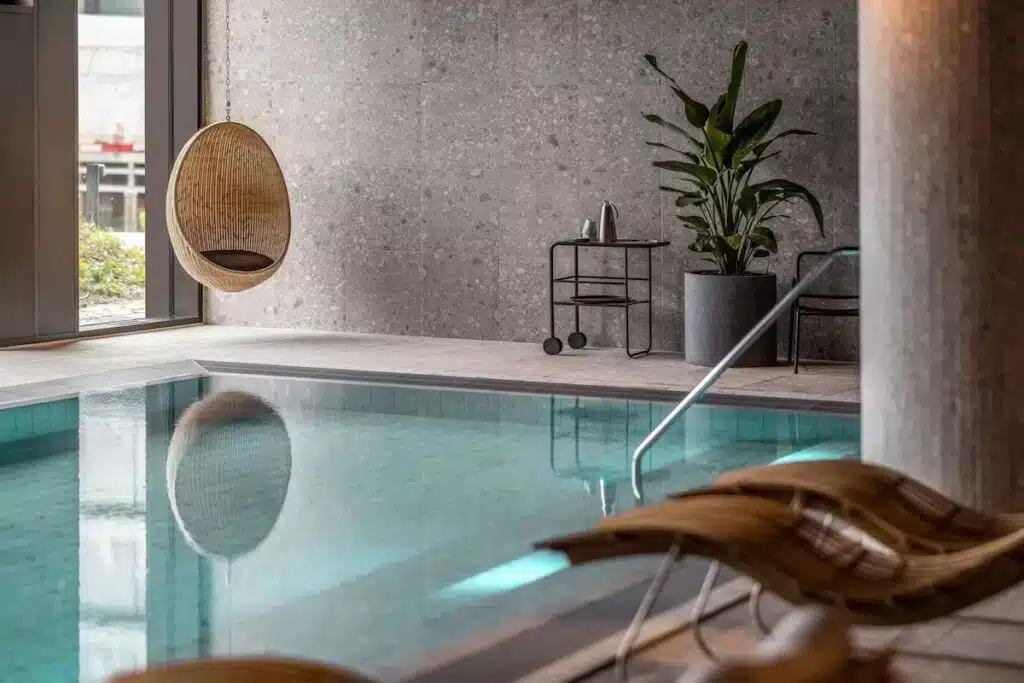 Scandic CPH Strandpark is an affordable alternative for those who want wellness facilities without spending too much money.
It is actually a reasonably budget-friendly spa hotel in Copenhagen.
Located close to Amager Strandpark (one of the best beaches in Copenhagen), it's ideal for those wanting to combine city and beach life.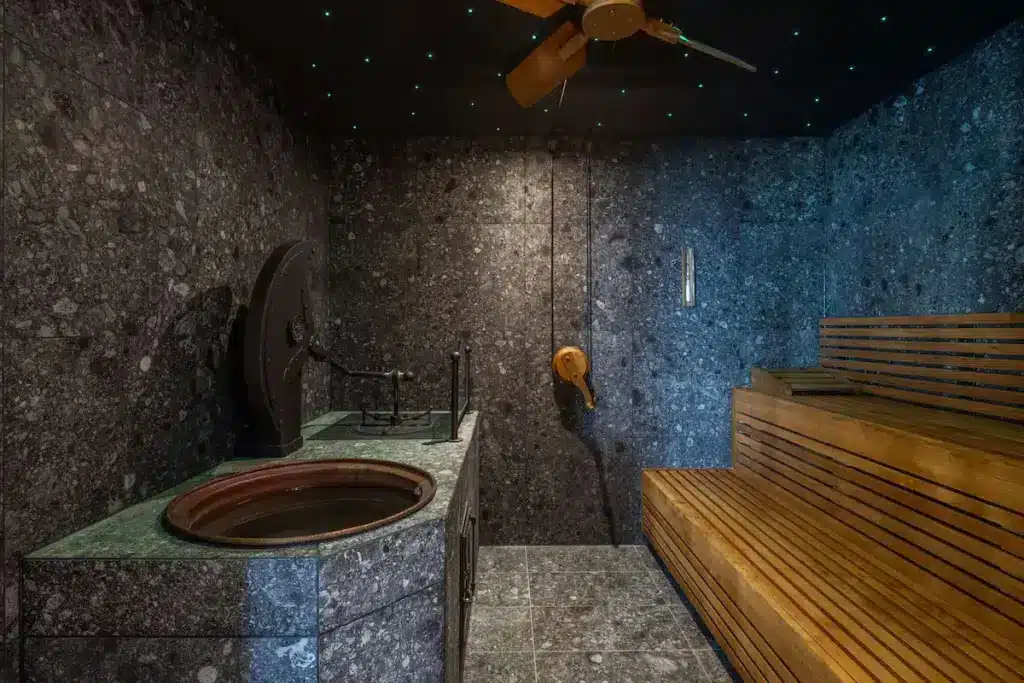 The most noteworthy feature of the hotel is its indoor pool, which, although simpler than those in luxury hotels, still offers a comfortable and relaxing experience.
Guests note that the pool and sauna provide a fantastic respite after a day of sightseeing or beach activities.
If you're looking for a budget-friendly hotel that doesn't compromise on wellness facilities, Scandic CPH Strandpark is a solid choice.
See more photos and book here.
Now that you have an overview of the best spa hotels in Copenhagen, it's time to make your choice.
Whether you're looking for luxurious pampering, a family-friendly stay, or a budget-friendly getaway, there is something for everyone in this guide to spas in Copenhagen.
Get ready to book your next wellness vacation and experience the ultimate relaxation in one of the most beautiful oases in the Danish capital.
Here, you can expect both rejuvenation for body and soul and a chance to recharge in beautiful, inspiring surroundings.
Read more Copenhagen travel guides here.
FAQ:
What is the best spa hotel in Copenhagen?
The spa hotels that receive the best reviews include Kurhotel Skodsborg, Marienlyst Strandhotel, and Nimb in Copenhagen. I discuss several spa stays in Copenhagen in various price ranges in this list.
What does a spa stay in Denmark cost?
Many hotels offer special spa stay packages and deals, with an offer that includes access to the spa, afternoon tea, dinner, and breakfast buffet, among other things. These packages typically cost from around 2000 DKK for two people, but you can, of course, opt to book just the overnight stay at the hotel 'as usual' and thus get a significantly cheaper stay while still being able to use the spa.