Lisbon, the capital of Portugal, is known worldwide as one of the most beautiful cities in Europe.
However, it's unique, making it essential to research before booking your hotel. And that's precisely what you're doing right now as you read this guide on where to stay in Lisbon.
In this guide, I discuss several of the top areas and neighbourhoods in Lisbon, and I recommend places to stay across various price ranges, ensuring you have a comfortable stay in the area that appeals to you the most.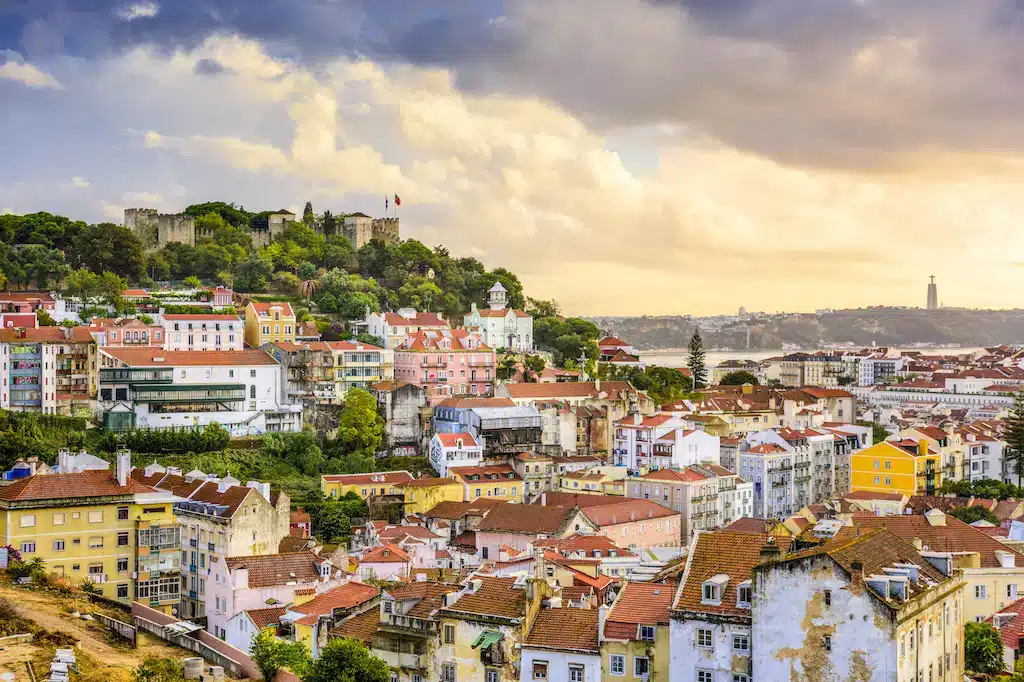 Lisbon is a city where history, culture, and modern life harmoniously blend. The Portuguese capital is a fascinating destination with its cobbled streets, historic trams, and panoramic views.
Let's delve into this city with this guide: where to stay in Lisbon? I'll tell you all about it.
Best areas in Lisbon 
If you're in a hurry, here are the best areas in Lisbon where it makes sense to stay during your trip:
Click on the area and go directly to the booking site with the best hotels available.
The guide on where to stay in Lisbon continues below, where I delve deeper into the areas and discuss the best hotels in the Portuguese capital.
1. Alfama – the Oldest & Most Charming Area ⭐️
As the city's oldest district, Alfama stretches from the impressive walls of Castelo de São Jorge down to the River Tejo (which flows into the sea), and it's here where you can truly feel the city's heartbeat.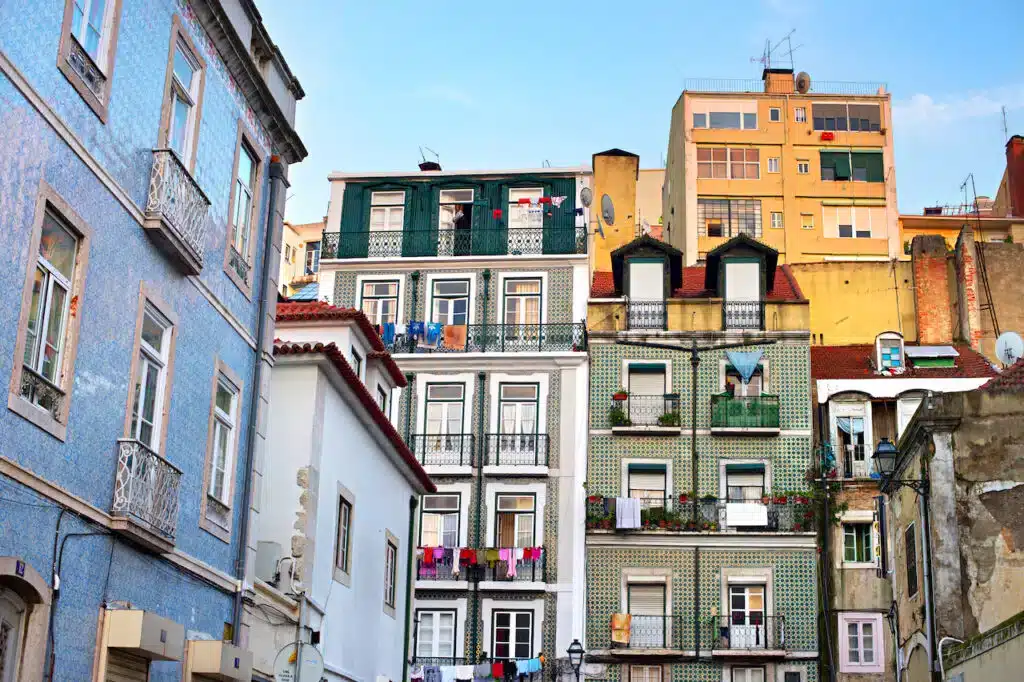 With its narrow, winding streets and cobbled lanes, Alfama is a maze of history waiting to be explored.
Every corner in Alfama holds a story. From traditional homes with colourful tiles to intimate fado bars where you can experience the soul of Portugal's most beloved music genre.
Check out the best hotels in Alfama here.
Wandering through Alfama is like being invited to a private show where the past and present unite perfectly.
But what makes Alfama the best place to stay in Lisbon?
Firstly, it's the location. You're in the heart of old Lisbon, close to some of the city's most iconic landmarks like Sé de Lisboa (Lisbon Cathedral) and Castelo de São Jorge.
Additionally, Alfama is known for its authentic vibe. Instead of large hotel chains, you'll find charming boutique hotels and guesthouses that offer an authentic taste of local life.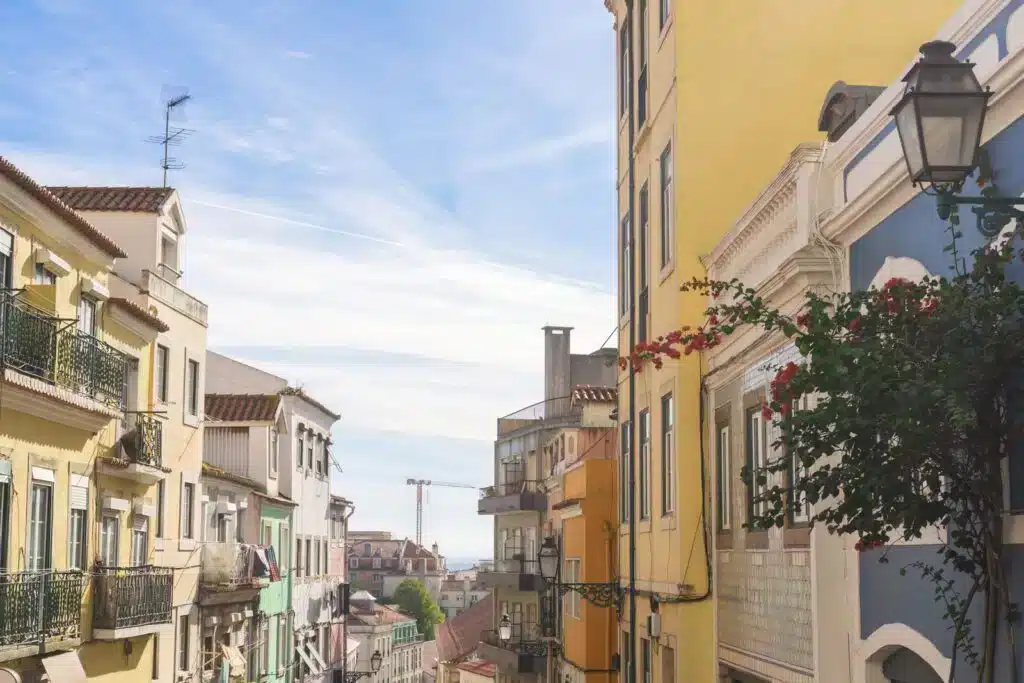 Staying in Alfama also means waking up to the sounds of Fado, enjoying a coffee in a sunlit square, and becoming part of a thriving local community where traditions are cherished.
Alfama in a nutshell:
Lisbon's oldest and most historic district.
Home to traditional fado bars and music.
Prime location near iconic landmarks.
Authentic atmosphere with boutique hotels and guesthouses.
A perfect blend of past and present.
Think Gothic Quarter in Barcelona, Old Town in Edinburgh and the old part of Copenhagen's City Centre, and then you understand the vibe here in Alfama.
Places to stay in Alfama
Let's take a closer look at some great places to stay in Alfama:
Memmo Alfama, located in the heart of historic Alfama, combines tradition and modern comfort within a restored 19th-century building.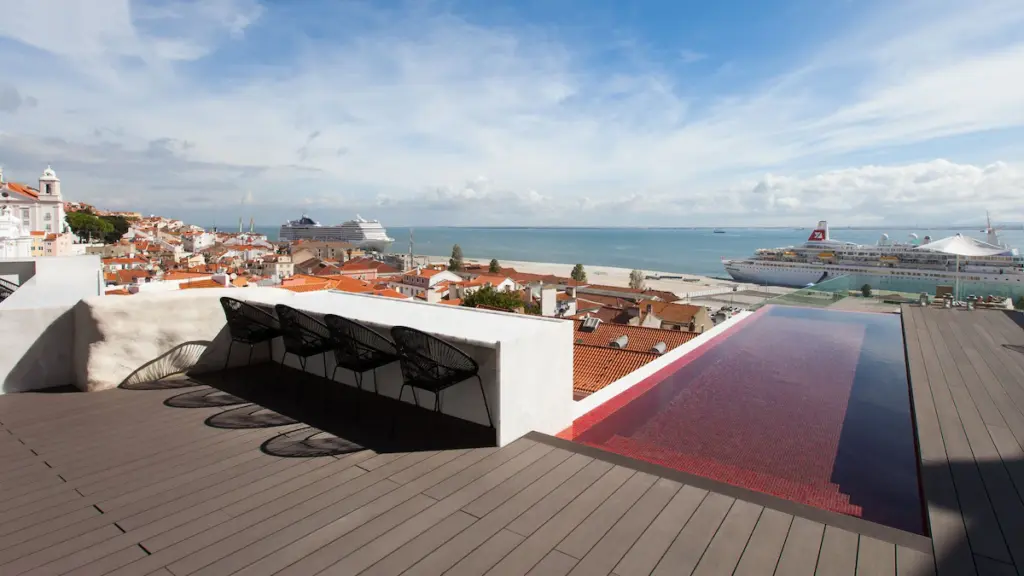 With breathtaking views from the terrace, this hotel truly captures the essence of Lisbon. 
The rooms are elegantly designed with wooden floors and contemporary amenities. Enjoy a buffet breakfast with local treats and explore the city with the hotel's complimentary guided tours.
See more photos and book here.
Dalma Old Town Suites is a hidden gem amidst Alfama's cobbled streets.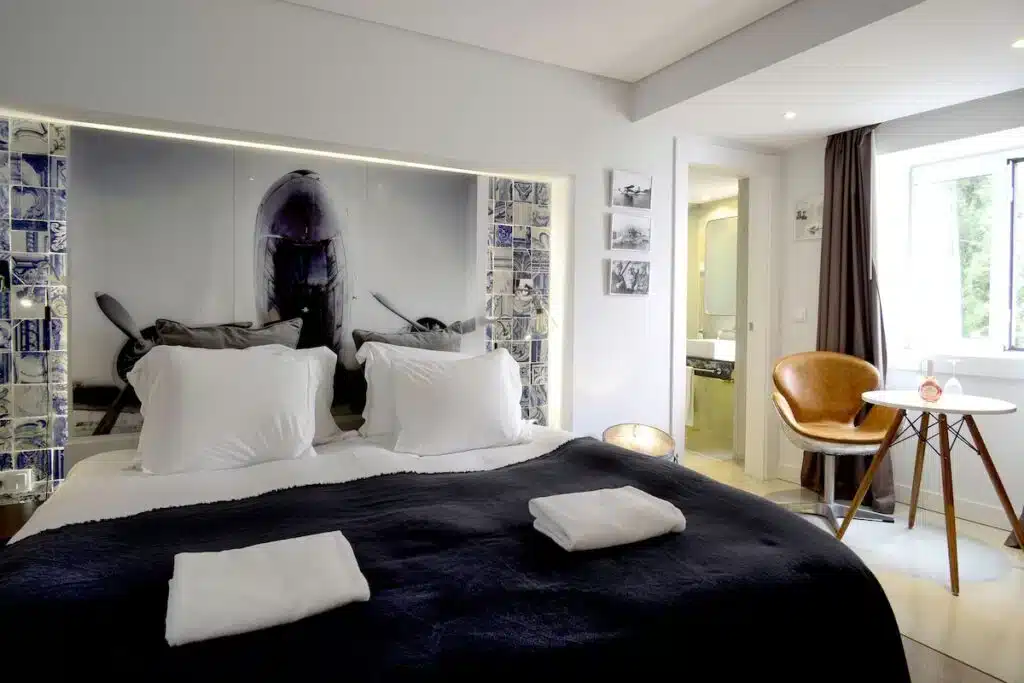 The hotel blends classic Portuguese charm with modern sophistication, creating an intimate and cosy atmosphere.
The Rooms, decorated with hand-selected local art, have received high praise for their comfort and design.
Previous guests have highlighted the helpful staff who go the extra mile to ensure a pleasant stay.
With a serene courtyard for relaxation after a day's sightseeing, Dalma Old Town Suites is not just a base but also a part of the genuine Lisbon experience. 
See more photos and book here.
Santa Luzia B&B – HOrigem embodies the authentic Lisbon lifestyle, situated in a renovated building that maintains its historic charm while offering modern facilities.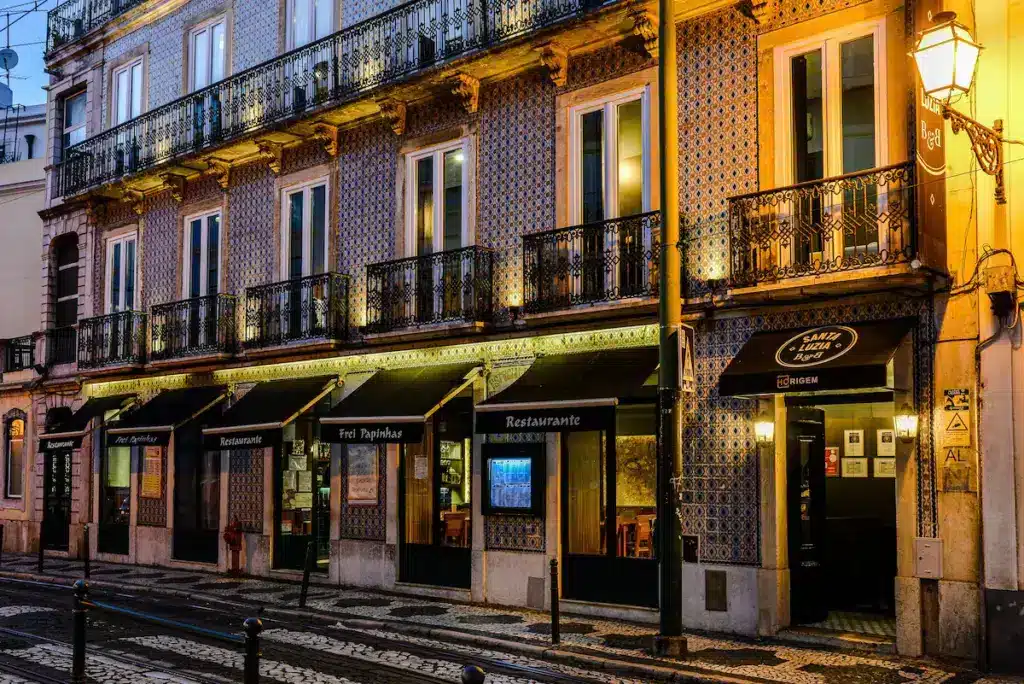 This bed & breakfast is known for its spacious, airy rooms with high ceilings and large windows, inviting Lisbon's light inside.
Former guests frequently mention the unparalleled views of the city's rooftops from the terrace, where a delightful breakfast can also be enjoyed. 
See more photos and book here.
2. Baixa – Lisbon's Downtown Close to Everything 🌉
When you step into Baixa, you step into the heart of Lisbon. This district, known as the city's "downtown", celebrates elegance, history, and urban beauty.
This is undoubtedly one of the best areas to stay in Lisbon for first-timers.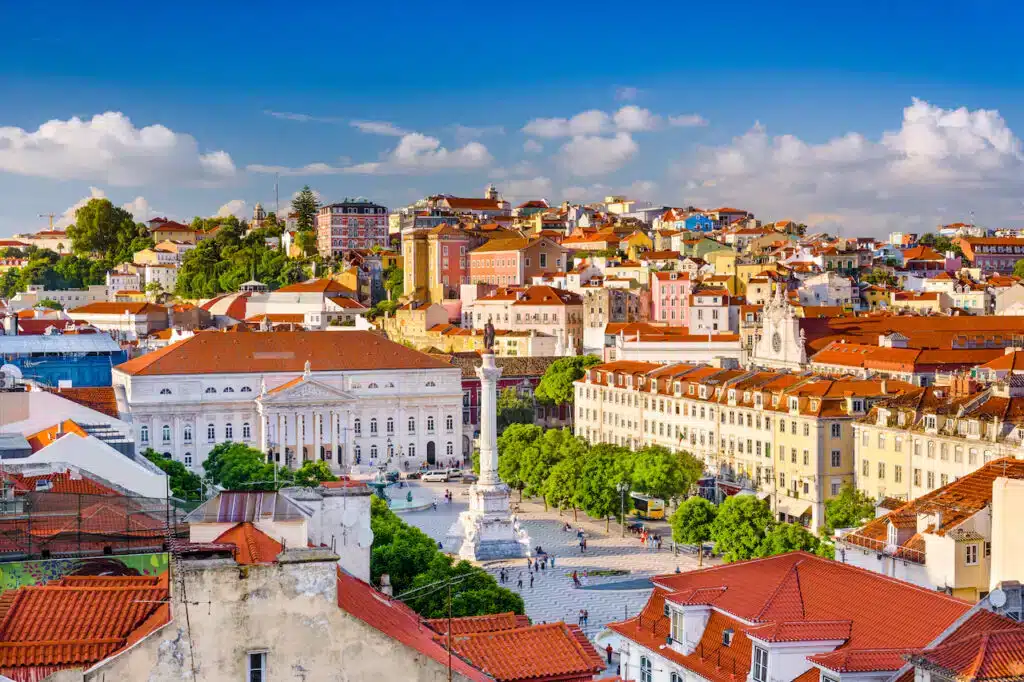 With its wide boulevards, majestic squares, and neoclassical buildings, Baixa is a tribute to Lisbon's reconstruction after the massive earthquake of 1755.
Baixa is the perfect starting point for any tourist in Lisbon. Here you will find some of the city's most iconic sights, such as the Elevador de Santa Justa, Praça do Comércio, and the triumphal arch of Rua Augusta.
See the best hotels in Baixa here.
But in addition to the major attractions, Baixa is home to countless cafes, restaurants, and shops, ranging from traditional artisan shops to modern fashion houses.
Why stay in Baixa? First and foremost, it's the district's central location. From Baixa, you can easily explore the rest of the city on foot or by the city's efficient public transportation.
Moreover, Baixa offers a mix of traditional charm and modern comfort. The many hotels in the area range from luxurious palaces to cosy boutique hotels, ensuring there is something for every taste.
Staying in Baixa means being at the heart of it all, surrounded by Lisbon's rich history while enjoying the district's modern comfort and convenience.
Baixa in a nutshell:
The city's central and historic "downtown"
Home to iconic landmarks and monuments
A mix of traditional shops and modern fashion houses
Perfect location to explore Lisbon
A wide range of hotels to suit all budgets and tastes
Places to stay in Baixa
Since Baixa is the centre of Lisbon, there are many great hotels here.
The One Palácio da Anunciada is a luxury hotel in Baixa.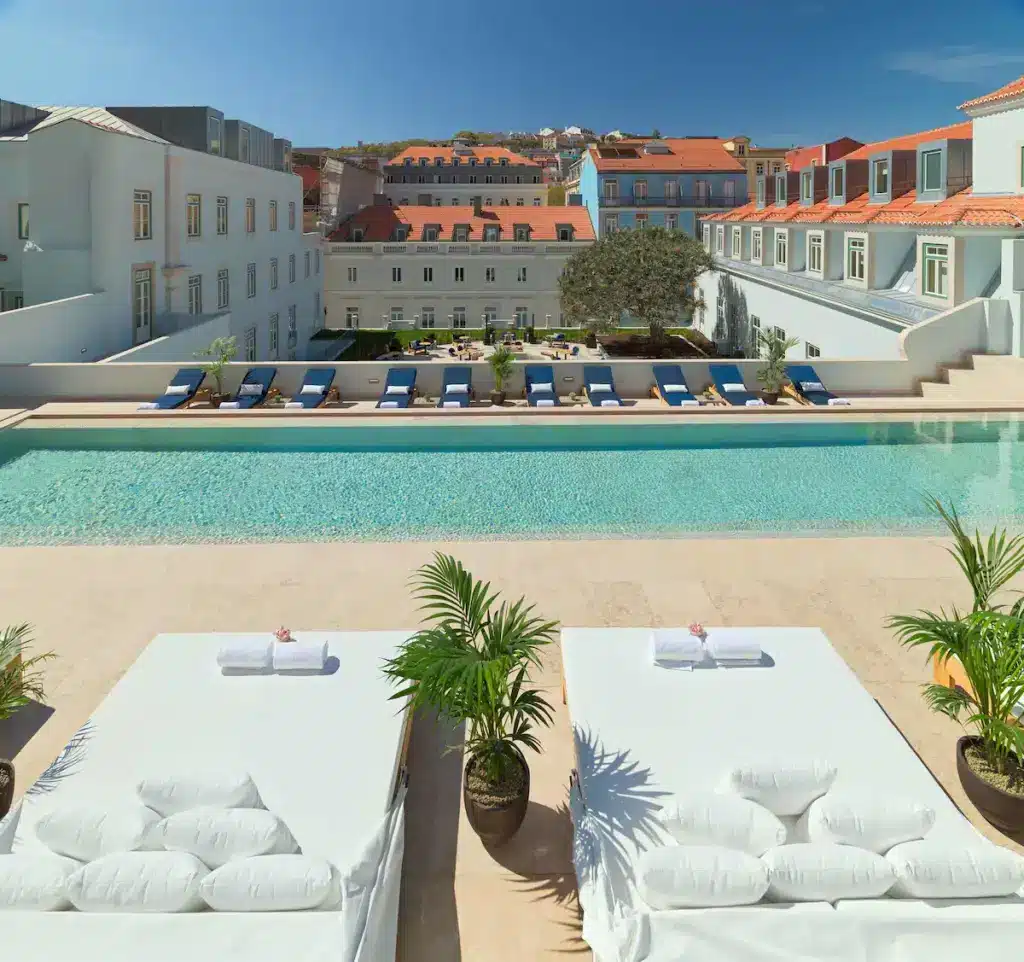 From the moment you step in, you will be enchanted by the hotel's sophisticated elegance, reflected in the preserved original details from the 16th century.
The rooms radiate luxury and comfort, while the spa offers tranquillity in the city's heart.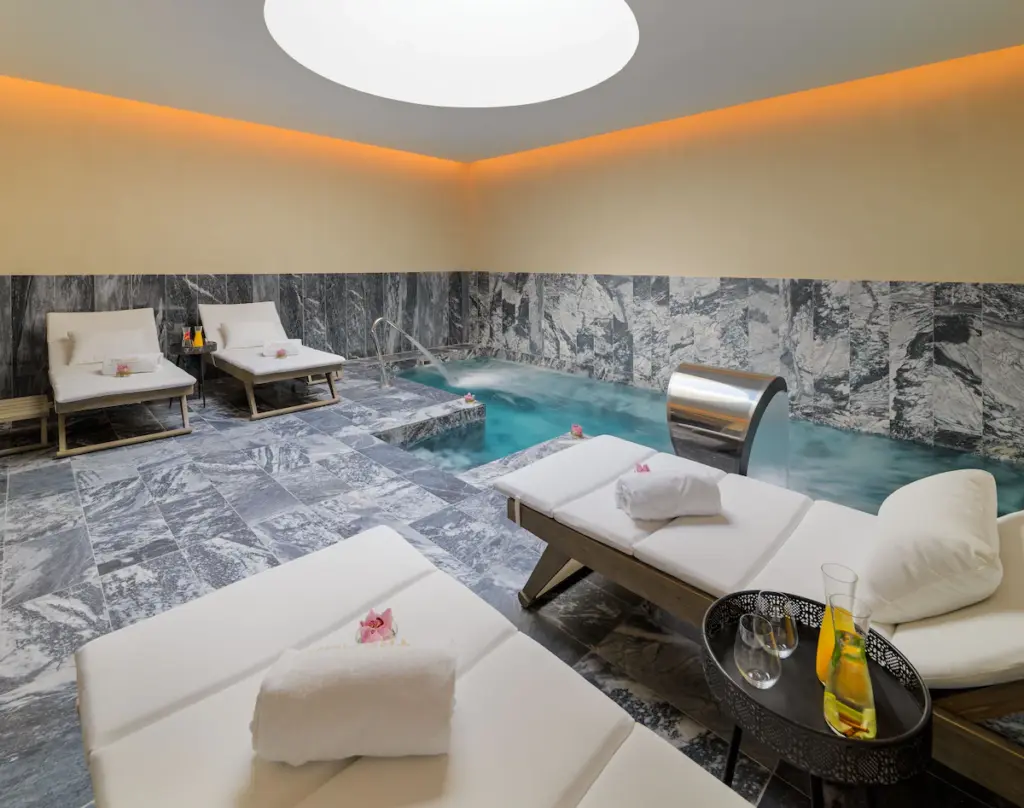 Past guests often praise the lush, enclosed garden, a rare treasure in the city centre, and the exquisite gastronomy in the hotel's restaurant.
With a perfect location close to the highlights of Baixa, The One Palácio is the epitome of luxury in Lisbon.
See more photos and book here.
Behotelisboa is another hotel in the centre of Lisbon, perhaps more for the average traveller who doesn't want to spend much of their holiday budget on accommodation.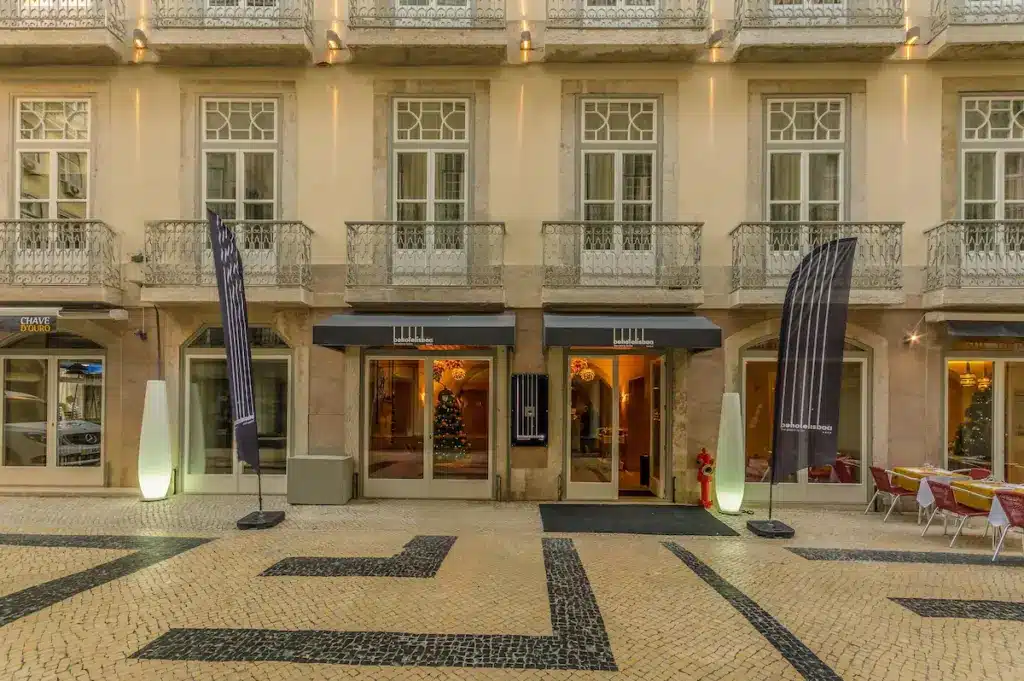 This boutique hotel offers stylish, functional rooms that are perfect for today's traveller.
Past guests have highlighted the comfortable beds and the exceptional soundproofing, ensuring a good night's sleep.
Behotelisboa is the ideal choice for a chic and central base in Lisbon.
See more photos and book here.
Esqina Cosmopolitan Lodge is a breath of fresh air in Baixa's hotel scene, where modern design meets traditional Portuguese elements.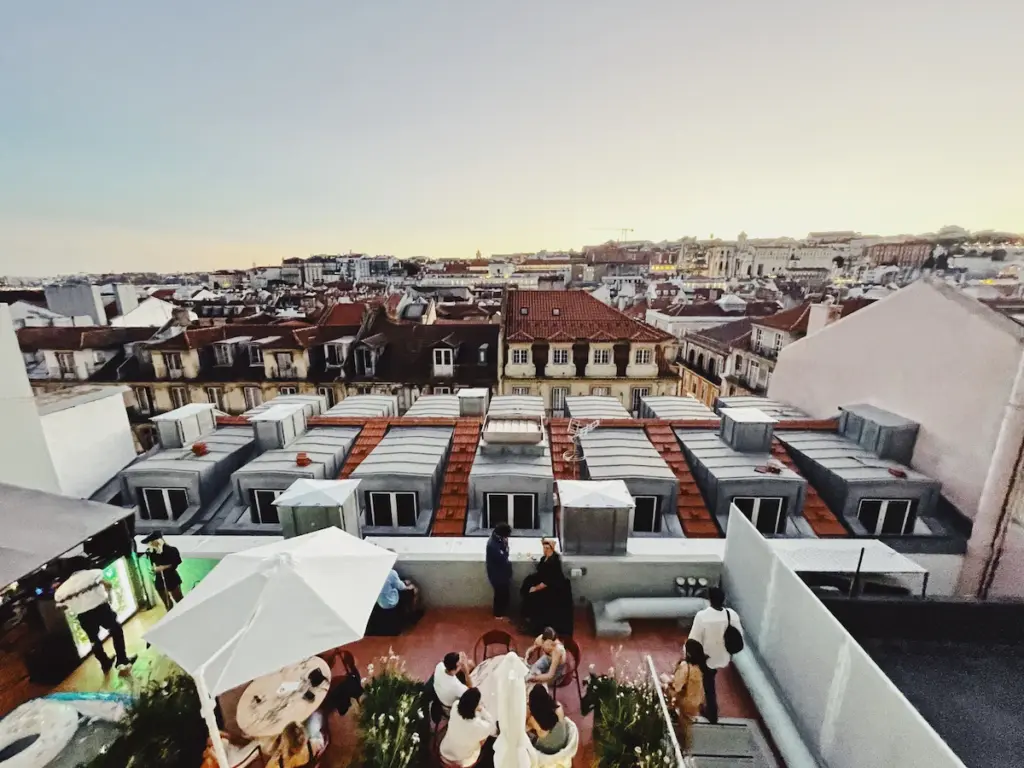 Rooms are bright, spacious, and adorned with local art, creating a sense of belonging to Lisbon's vibrant culture.
Past visitors often highlight the hotel's casual atmosphere and proximity to public transportation and attractions.
See more photos and book here.
3. Bairro Alto – best area for nightlife & trendy vibes 💃🏽
Bairro Alto comes alive as the day winds down in Lisbon, and the twilight light falls over the city's rooftops.
This neighbourhood, known for its bohemian atmosphere and vibrant nightlife, is where Lisbon's young souls and nightlife enthusiasts gather to celebrate life.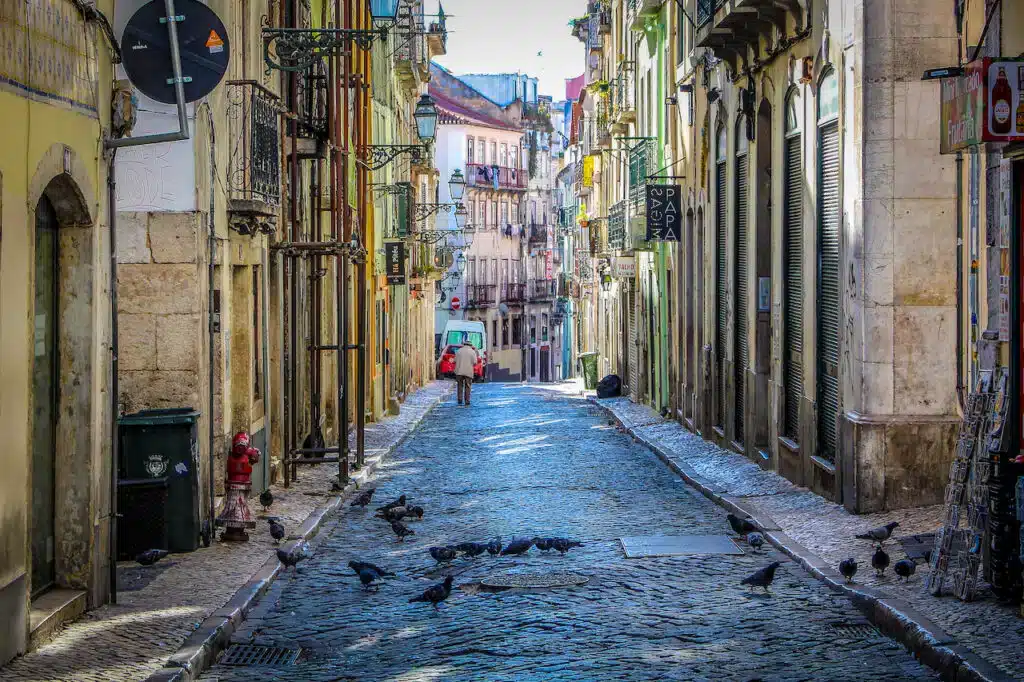 Bairro Alto offers a fascinating contrast between day and night.
During the day, it's a quiet neighbourhood with picturesque streets, colourful buildings, and cosy cafes, where you can enjoy a "bica" (espresso) and watch the world go by.
But when the sun sets, the neighbourhood transforms into a bustling centre of party and colour with countless bars, restaurants, and clubs playing everything from traditional fado to modern electronic music.
See the best hotels in Bairro Alto here.
Why should you stay in Bairro Alto? Firstly, it's because of the neighbourhood's unique atmosphere.
Here you get an authentic experience of Lisbon's nightlife and culture.
The area's many boutique hotels and traditional guesthouses allow you to stay in the heart of the party in comfortable and charming surroundings.
Furthermore, Bairro Alto is centrally located, making it easy to explore the city on foot and by public transport.
Bairro Alto was the area I found most exciting when I first visited Lisbon in my early 20s, and I'll likely still choose to stay here on my next trip (even though I'm now in my early 30s).
Staying in Bairro Alto means being a part of Lisbon's vibrant heart, where culture, history, and modern life come together in an explosion of colours, sounds, and flavours.
Bairro Alto at a glance:
The centre of Lisbon's vibrant nightlife.
A bohemian atmosphere with picturesque streets and colourful buildings.
A wide range of bars, restaurants, and music venues.
Centrally located with easy access to the city's attractions.
An authentic experience of Lisbon's cultural soul.
Places to stay in Bairro Alto
Bairro Alto is a popular area among locals and tourists who come to enjoy the many restaurants and bars. Therefore, there are plenty of good hotels in different price ranges – here are some of my favourites.
The Lumiares Hotel & Spa is Bairro Alto's star in the luxury hotel sky.
Located in a majestic building, this hotel offers unparalleled modern luxury and historic charm.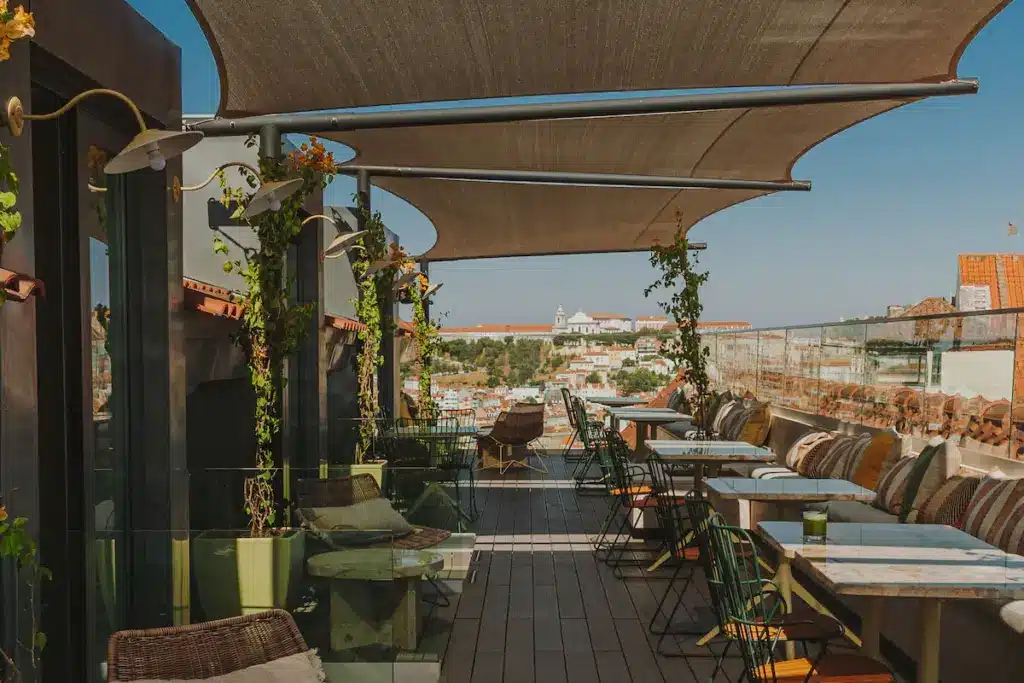 The rooms are spacious and exquisitely decorated, with panoramic windows opening up to breathtaking views of Lisbon.
The spa is a sanctuary where guests can pamper themselves after a day in the city. Previous visitors can't get enough of the hotel's rooftop and gourmet restaurant.
The Lumiares is undoubtedly the place for the ultimate luxury experience in Bairro Alto.
See more photos and book here.
9Hotel Mercy is an icon of elegant design and comfort in Bairro Alto.
With its modern architecture and interior design, the hotel welcomes guests to an atmosphere of sophisticated relaxation.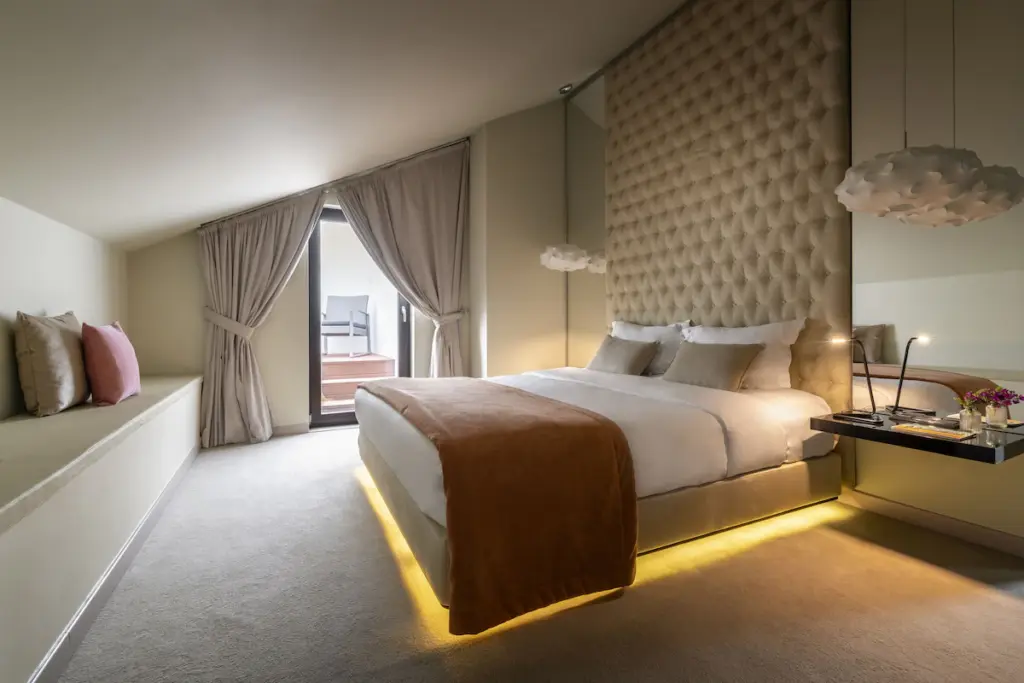 The rooms are comfortably furnished with modern amenities, while the chic rooftop bar offers one of the city's best views, especially at sunset.
Previous guests have praised the hotel's central location and excellent customer service.
9Hotel Mercy is perfect for travellers looking for stylish quality without the hefty price tag.
See more photos and book here.
Inn Bairro Alto – BA Sweet is the perfect choice for those seeking an authentic Lisbon experience without breaking the bank.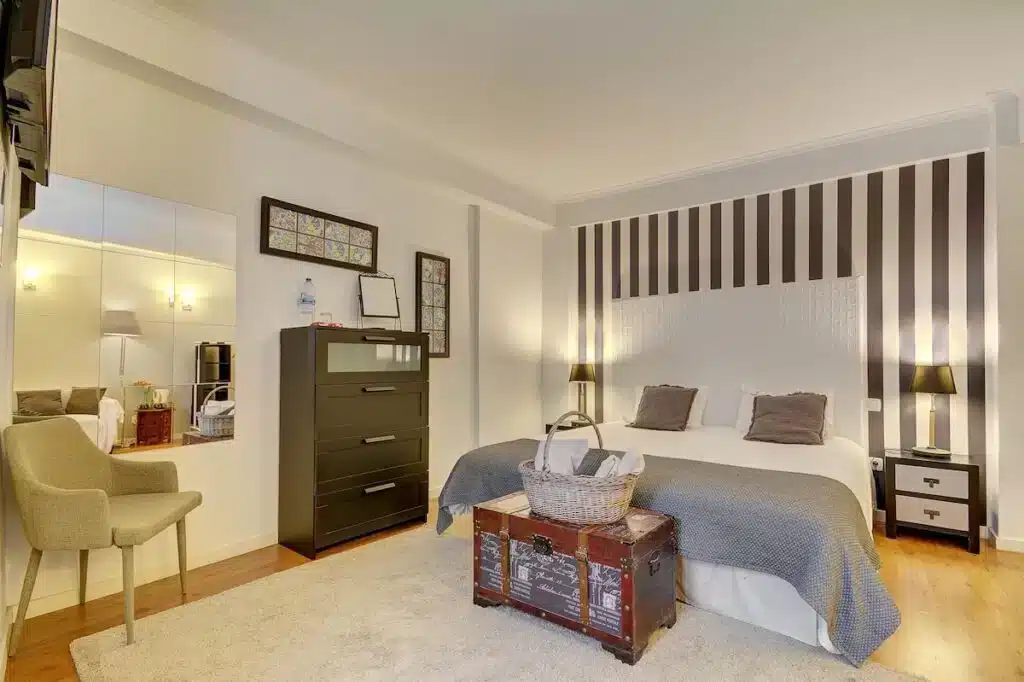 This charming hotel is in the heart of the vibrant Bairro Alto district and offers clean, comfortable rooms with simple yet tasteful decor.
The central location makes it easy for guests to dive into the local nightlife or explore Lisbon's many attractions.
Inn Bairro Alto is ideal for budget-conscious travellers who don't want to compromise on quality.
See more photos and book here.
4. Mouraria – the city's multicultural area brimming with life 🇵🇹
Often overlooked by the average tourist, Mouraria is one of Lisbon's most authentic and multicultural enclaves.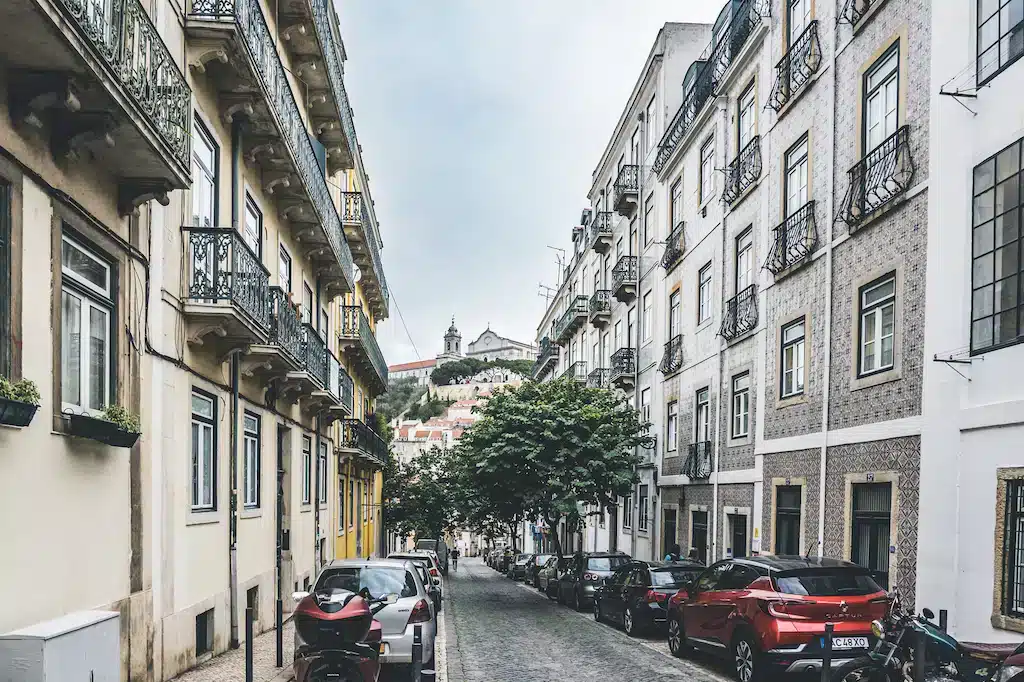 This neighbourhood, once the Moorish part of the city, is a maze of narrow streets and hidden alleys where the past and present come together in a vibrant tapestry of cultures.
Mouraria is where fado, Portugal's hauntingly emotional national music genre, was born. Today, you can still hear the strains of fado emanating from the small bars and restaurants that line the district's streets.
Check out the best hotels in Mouraria here.
But beyond the music, Mouraria is also known for its rich history and cultural diversity, reflected in the area's cuisine, art, and people.
Why choose to stay in Mouraria? For those looking for a more genuine Lisbon experience, Mouraria is the perfect choice.
Here, you are off the beaten tourist paths and deeply immersed in the city's true soul. The area's many guesthouses, and boutique hotels offer a unique and intimate experience that's hard to find elsewhere in the city.
Get ready to experience fado with this video:
Staying in Mouraria is like being welcomed into the innermost circle of Lisbon, where traditions are cherished and the city's true essence truly shines through.
Mouraria at a glance:
One of Lisbon's most authentic and multicultural enclaves
The birthplace of the poignant fado music
A rich history spanning from Moorish times to the present
A unique chance to experience the real soul of Lisbon
Intimate guesthouses and boutique hotels offer an authentic experience
Places to stay in Mouraria
In Mouraria, I think you generally get more value for your money compared to the other areas of Lisbon I mention in this guide. So, if you want to stay at a really good hotel at a relatively low price, Mouraria might be your best bet.
Let's start with a luxurious hotel in the area.
Hotel Portugal is a stunning hotel in Mouraria. This outstanding hotel is renowned for its unparalleled service, opulent rooms, and atmosphere exuding Portuguese elegance.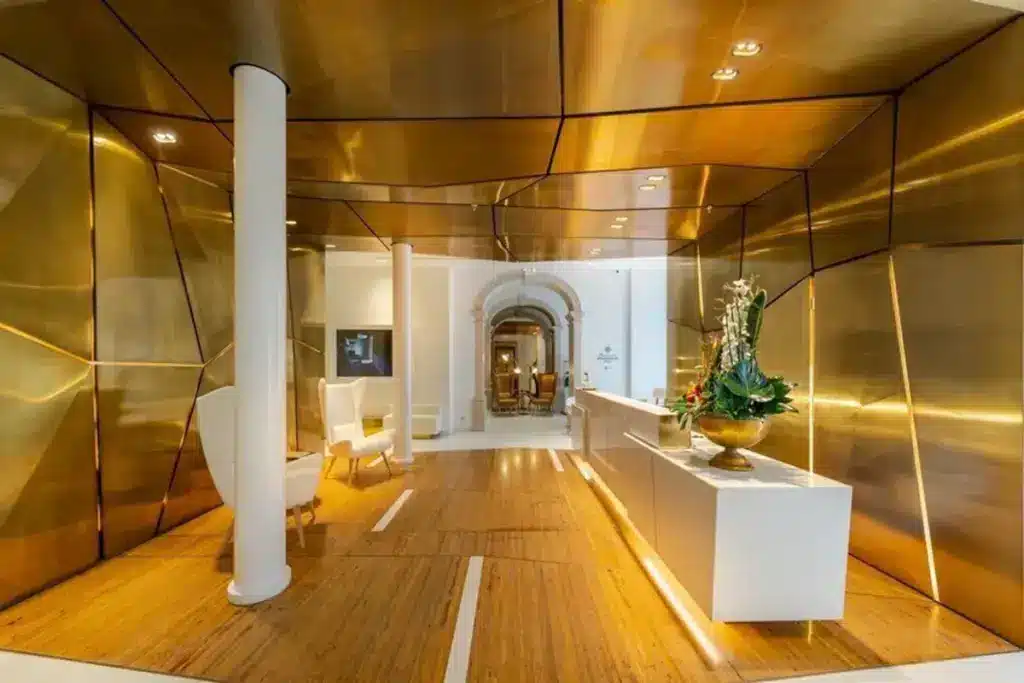 A delightful blend of classic and modern design creates a harmonious oasis amidst the city's hustle and bustle.
For those seeking a premium Lisbon experience, Hotel Portugal is undoubtedly the top pick in Mouraria.
See more photos and book here.
The following hotel, Hotel Mundial, is a robust bastion of comfort and quality.
This impressive hotel boasts spacious rooms and modern amenities, ensuring a pleasant stay.
But what truly sets Hotel Mundial apart is its famed rooftop bar.
From here, guests can enjoy a 360-degree view of Lisbon whilst sipping a cocktail at sunset.
Past visitors have lauded the hotel's excellent location and helpful service.
Hotel Mundial is the perfect choice for those looking for a well-run hotel in the heart of the city.
See more photos and book here.
For those hoping to experience the soul of Lisbon without breaking the bank, Mouraria Lisboa Hotel is an excellent choice.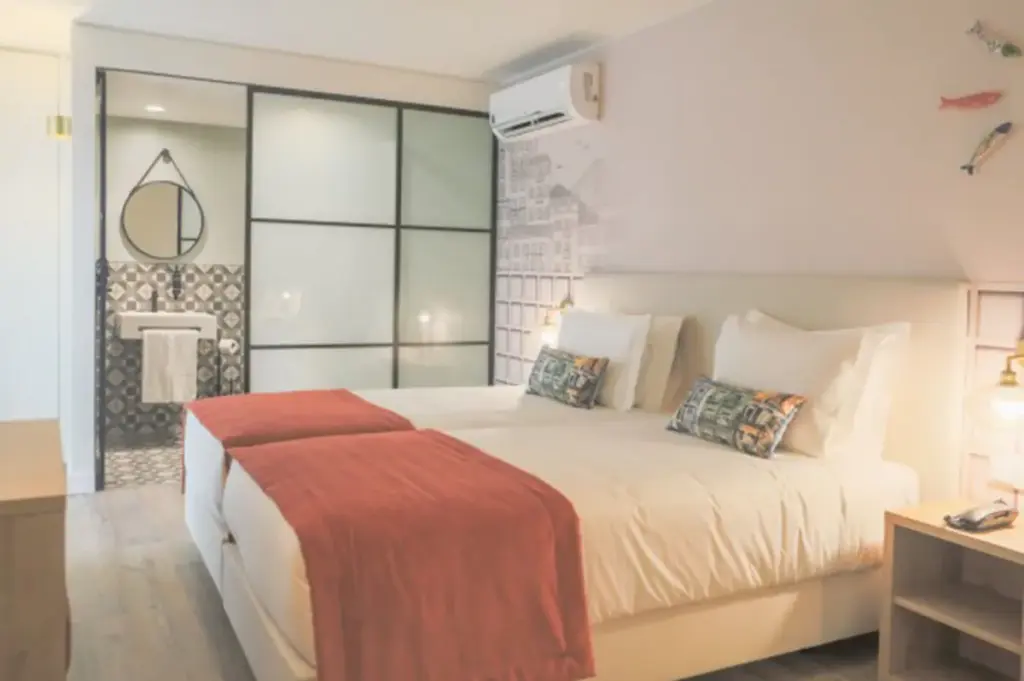 The hotel offers neat, comfortable rooms with a modern touch.
Even with its budget-friendly pricing, the hotel doesn't compromise on quality.
Previous guests have highlighted the clean and cosy atmosphere and the hotel's central location, making it easy to explore the city's attractions.
Mouraria Lisboa Hotel is ideal for travellers looking to experience the best of Lisbon without spending too much on accommodation.
See more photos and book here.
Areas to Avoid in Lisbon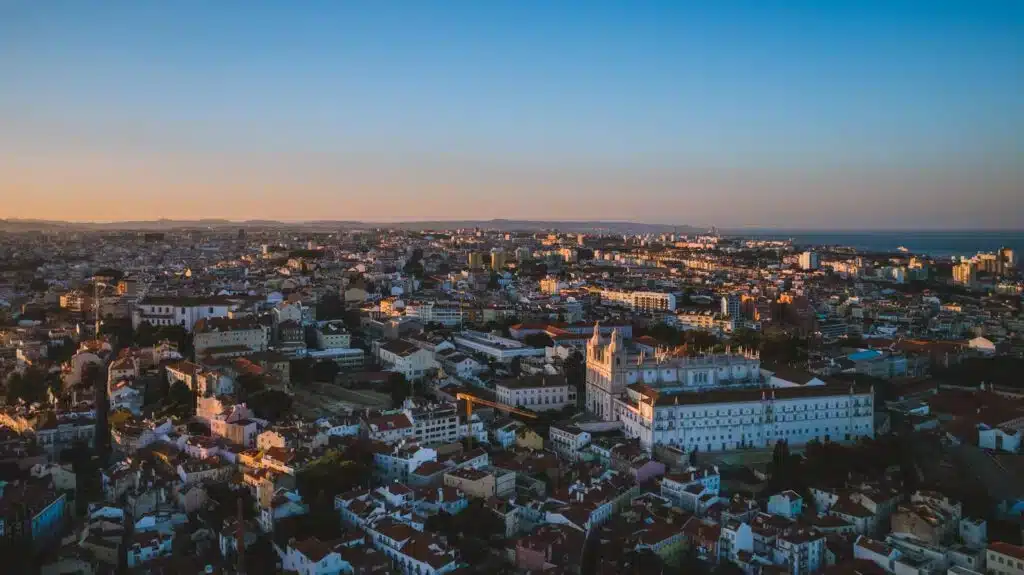 Lisbon is renowned for its beauty, culture, and history and is generally a safe city for tourists. However, as with all major cities, there are certain areas where tourists should exercise more caution, especially at night.
Baixa: This area is the heart of Lisbon, brimming with historical landmarks and beautiful architecture. But at night, some parts of Baixa can become less safe. The dark and secluded streets can be hiding spots for pickpockets and other dubious characters.
As it's a popular tourist area, it can also attract individuals targeting unsuspecting tourists. However, this is the case in all major European cities, so it's not to say the area is inherently dangerous! 
Avenida Reis and Praca da Alegria (around Rossio): These central areas of Lisbon can be bustling during the day, but at night they may attract individuals with less than honest intentions, including pickpockets and drug dealers.
Monsanto Park: This vast green space is lovely during the day, but it can become a haven for dubious activities at night. The lack of lighting and isolation can also make it a less safe spot for tourists.
Barrio Alto: Where there's nightlife, there's unfortunately also drug dealing at night. Although possession of small amounts of drugs has been decriminalised in Portugal, interacting with these dealers can lead to undesirable situations. Additionally, the busy streets and bars can be a hotspot for pickpockets.
Generally, it's important to note that while these areas might pose potential risks, it doesn't mean they are always dangerous. Many locals and tourists frequent these areas all the time without issues. But as a tourist, it's always a good idea to be extra cautious, especially in unfamiliar places, particularly at night.
Also, check out this lovely video from two Danes who used to live in Lisbon:
Here are some general safety tips:
Be aware of your belongings, especially in busy tourist areas and on public transport.
Avoid carrying important documents, large amounts of cash, and all your credit cards when out and about.
Steer clear of isolated, dilapidated roads or places where there are no other people, especially at night or early in the morning.
If possible, avoid street vendors as they might try to distract and confuse tourists to rob them.
Having said that, Lisbon is a fantastic city where 99.9% of all tourists will never experience any issues as long as precautions are taken.
With its rich history, vibrant culture, and unparalleled beauty, Lisbon is undoubtedly a city that deserves exploration. From the historic streets of Alfama to the lively nightlife in Bairro Alto, the Portuguese capital offers a variety of experiences waiting to be discovered.
I wish you a wonderful trip to Lisbon with adventure, discoveries, and unforgettable memories.
If you're still unsure where to stay in Lisbon, check out Dalma Old Town Suites in Alfama or Behotelisboa in Baixa, the city's centre.
If you have questions about where to stay in Lisbon or your trip to Portugal, comment below.
Frequently Asked Questions:
How many days should I spend in Lisbon? 
To get a good impression of Lisbon and its primary attractions, 3 days would be sufficient. During that time, you can explore the city's historical districts, taste the local cuisine, and experience the unique atmosphere. However, consider extending your stay if you want to delve deeper into the culture, visit more museums, or go on day trips outside the city.
What is the centre of Lisbon? 
The centre of Lisbon is Baixa, characterised by its wide boulevards, impressive squares, and neoclassical buildings. Right next to Baixa is Alfama, the city's oldest and most historical district. Here, you'll find narrow, winding streets, elderly residents going about their daily tasks, and the echo of fado music emanating from local bars. Alfama is a genuine time capsule of Lisbon's rich past.
Is Lisbon affordable? 
Lisbon was once known as one of Europe's more budget-friendly capitals. However, due to its rising popularity as a travel destination, prices for many things, including accommodation, dining, and attractions, have significantly increased. While it might not be as cheap as before, it is still more affordable than other European cities.
Where do you go out in Lisbon? 
The ultimate party area in Lisbon is Bairro Alto. After sunset, this district transforms into the city's vibrant nightlife hub, teeming with various bars, clubs, and live music venues. But Lisbon has much more to offer when the night falls. You'll find bars and cafes throughout the city, each offering unique atmospheres and experiences. Whether looking for a quiet wine bar or a bustling nightclub, Lisbon has something for everyone's taste.