I believe Bali is the quintessential travel destination that simply must be experienced.
Bali is perhaps the place I yearn for the most when I'm sitting in my apartment amidst the winter darkness of Copenhagen, dreaming of warmer climes.
I first visited Bali when I ran my own travel agency, and along with two colleagues, I scoured Bali to find the best areas, hotels, and experiences.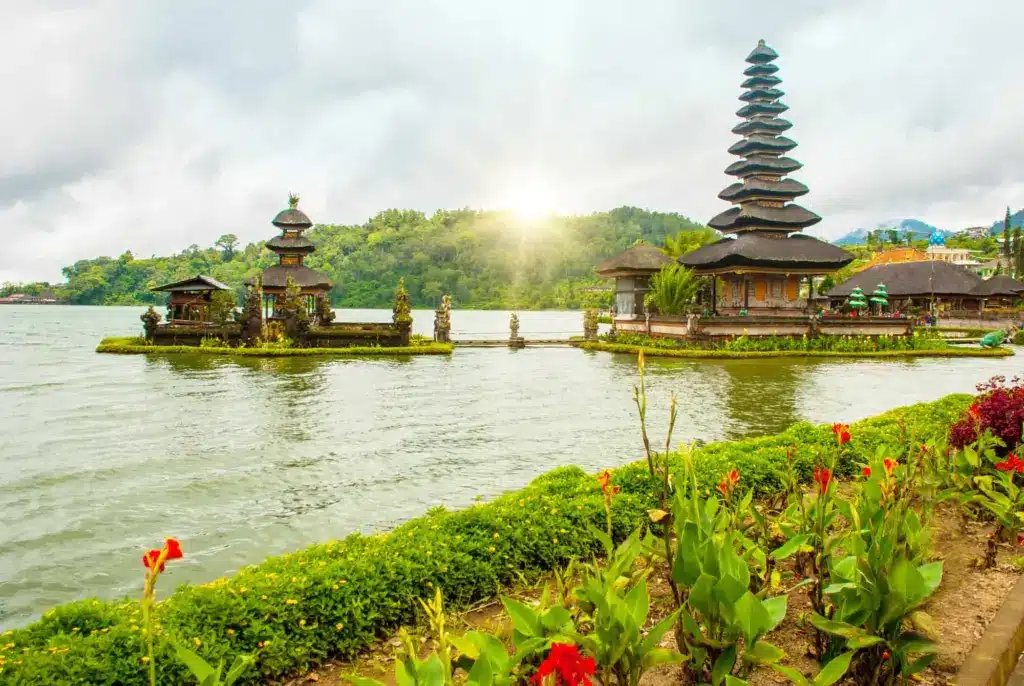 This meant that we didn't spend much time in the typical tourist spots; instead, we were hunting for "the real Bali".
I believe we found it, and hence, I want to champion the idea of you also experiencing some of the lesser-known areas where perhaps the experiences are more authentic.
However, I assure you that I also have included a few well-known holiday spots in the list – after all, they are popular for a reason 😀
So, let's dive into the guide: where to stay in Bali?
Best areas in Bali
Bali is a big island, and this guide to the best areas to stay in Bali is relatively long. So, if you're in a rush or want the quick rundown, here it is:
Click on the area's name above and see the best hotels in that part of Bali.
And now, let's get started with the guide.
1. Sidemen – the best & most beautiful area ⭐️
When I first travelled to Bali in 2018, Sidemen was a pretty blank slate on the internet. It took a lot of work to find any information, and there weren't any travel videos from Sidemen on YouTube.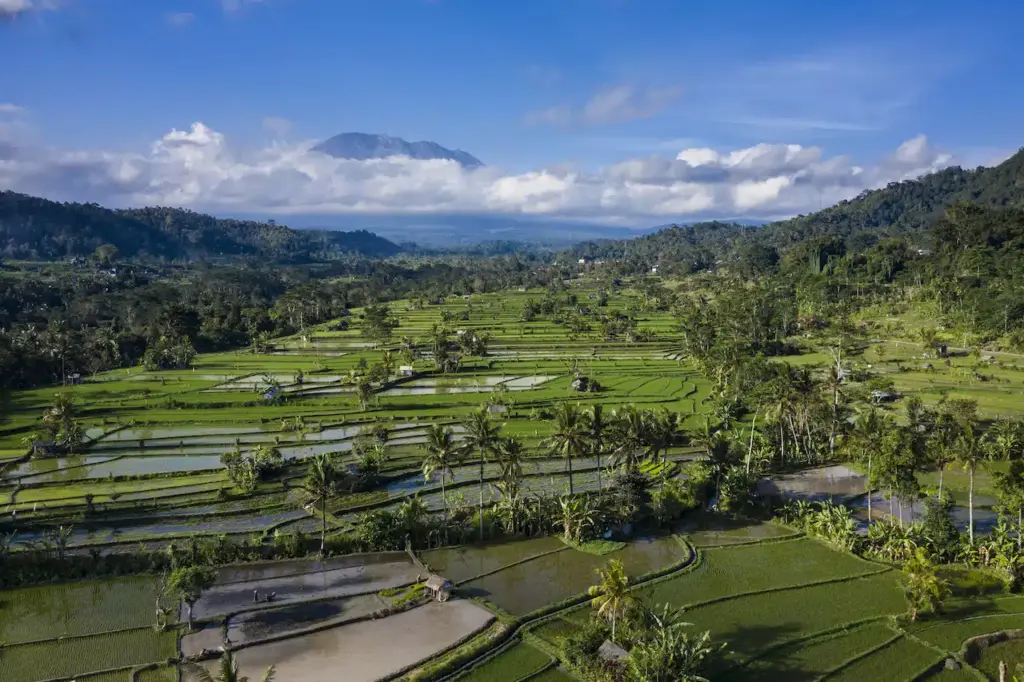 One can say that this has changed, especially since travel vlogger "Lost Leblanc" cast his love on Sidemen.
I, however, fully understand the love because, in this area, you find a more authentic Bali than places like Ubud, which has been acclaimed for decades as the place to visit if one wishes to experience tranquil surroundings amidst the rice fields.
See the best hotels in Sidemen here.
In my own video from Bali, I specifically showcase a hotel we stayed at, nestled within the rice fields and offering stunning views from the infinity pool.
The video is from my old Danish Youtube-channel (subscribe to my English channel here), so the language might seem weird, but check out the first part where I'm in Sidemen staying at a fabulous resort:
If you prefer to stay in an area where tourism has arrived but in a relatively calm manner, Sidemen is an excellent choice.
There are many good hotels to choose from, all built with respect for the area.
There isn't really a centre or a big city in the Sidemen area, so it's a place you stay if you just want to enjoy your incredible hotel, go on a couple of excursions, and otherwise simply wind down during your relaxing vacation.
Sidemen is about 55 km from Bali's airport, making it a great first stop on your journey to Bali.
I recommend booking a private chauffeur online (this one has great reviews), who will wait for you in the arrival hall.
So, this part of the journey is sorted out from home, and there's no stress upon arrival.
Places to stay in Sidemen
Among the hotels in Sidemen, I recommend Samanvaya Luxury Resort & Spa if you're travelling to Bali without children, as the hotel is adults-only.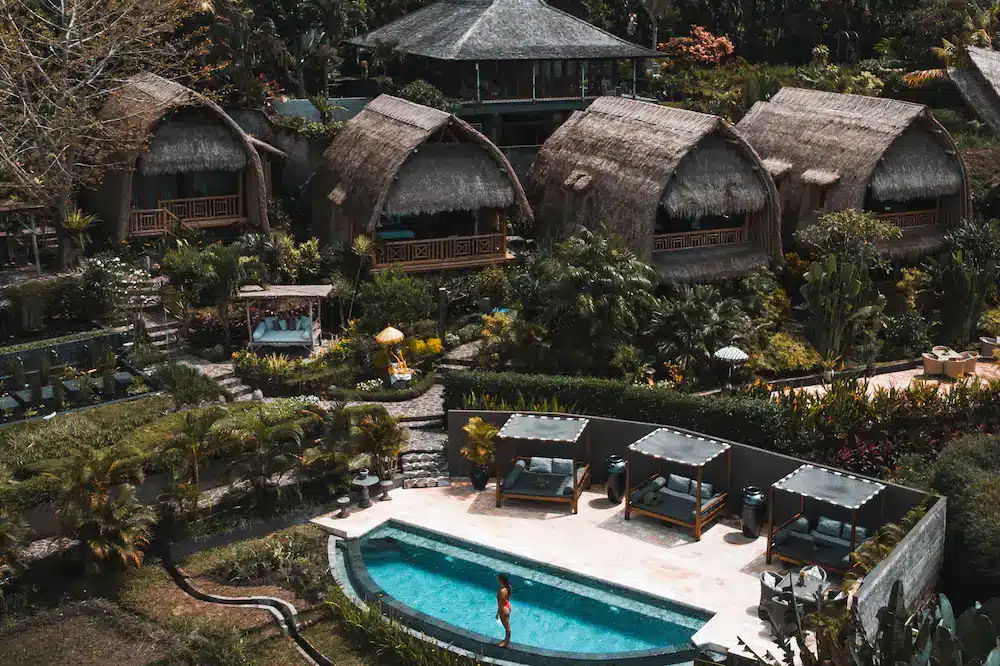 Here, I had one of my best meals in the restaurant during my entire Bali trip – it is truly one of the best hotels I have stayed at, and it also scores a 9.2 out of 10 on Hotels.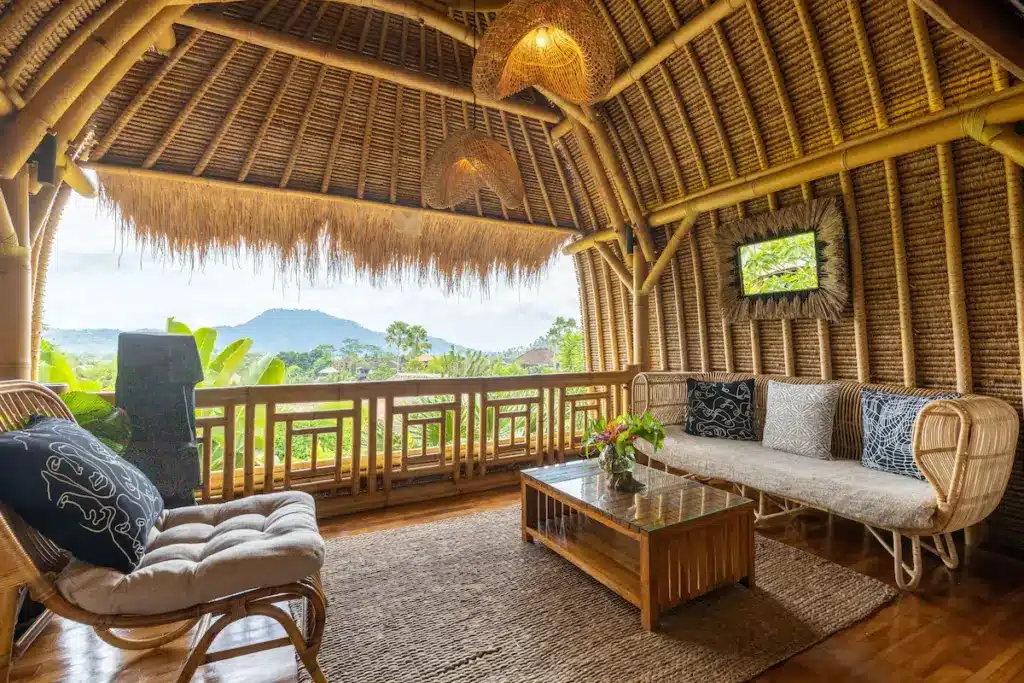 I stayed in a standard room, but you can also book a luxury villa with a private pool if you want something extra exquisite.
See more photos and book here.
If you're travelling to Bali with children, or the hotel is different from your liking, there are plenty of other options in all price ranges in Sidemen.
I did a quick search and found a very good, inexpensive, and family-friendly hotel that also looks absolutely fantastic: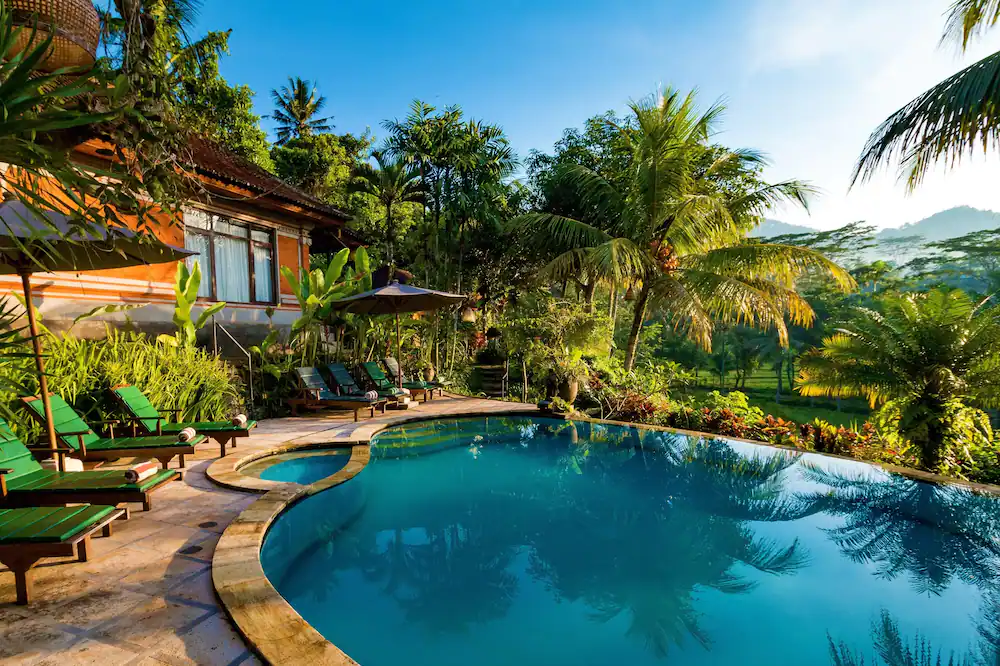 This hotel is called Cepik Villa Sidemen – learn more about the hotel here.
Now, getting in the mood to research, let's explore some more excellent hotels in Sidemen.
Wapa di Ume Sidemen epitomises luxury in one of Bali's most picturesque landscapes.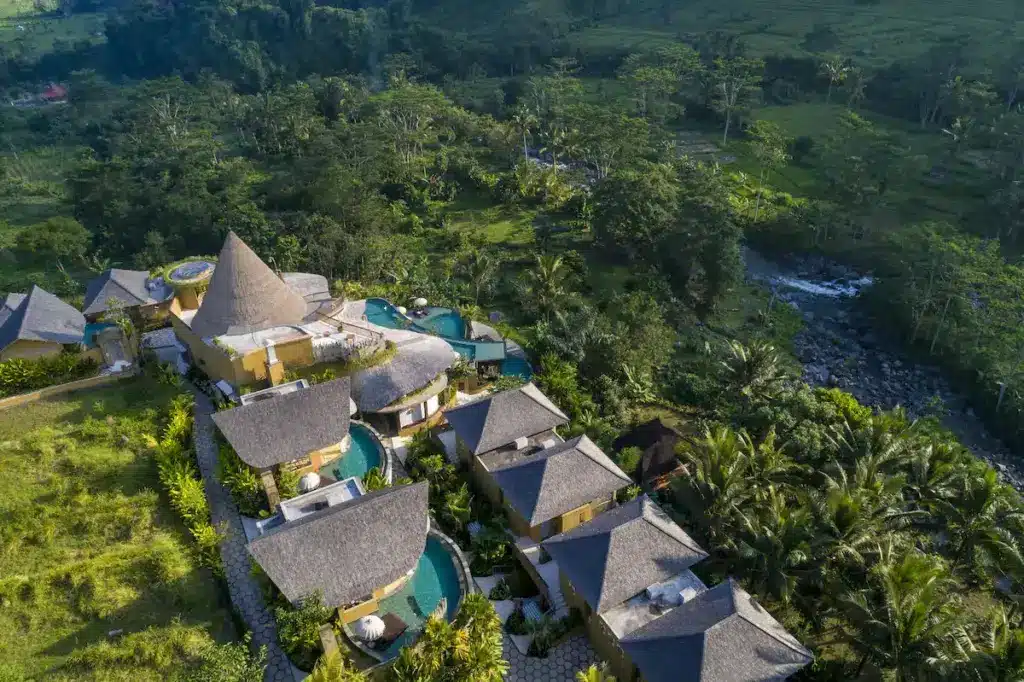 The hotel is set in a landscape of lush rice fields and tropical forests, creating an almost magical backdrop for your stay.
The rooms are designed in an elegant Balinese style with modern amenities.
Many rooms have their own private pool and terrace from where you can enjoy the breathtaking views of the rice fields and the nearby mountains.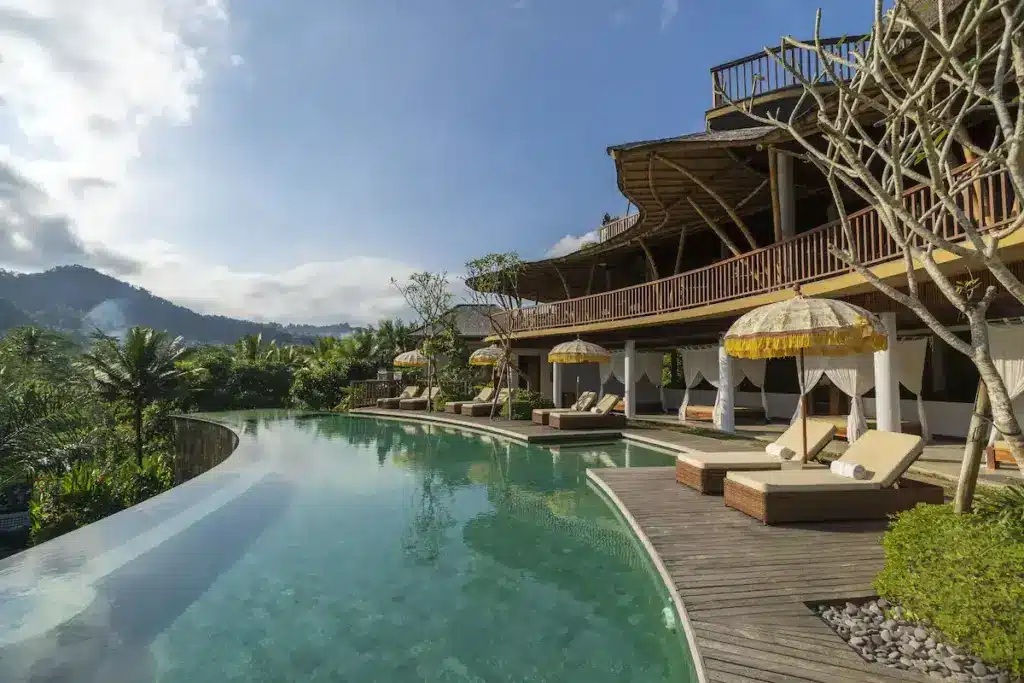 But what really puts Wapa di Ume Sidemen a step ahead of other hotels in the area is its focus on wellness and relaxation. The hotel has a top-notch spa area where you can indulge yourself with a range of traditional Balinese treatments.
In addition, they offer guided yoga sessions and meditation, leaving you feeling both physically and mentally recharged.
If you want to experience Bali from its most luxurious side while surrounded by pristine nature, Wapa di Ume Sidemen is the place for you.
See more photos and book here.
If you are looking for a more budget-friendly yet still wonderful experience in the Sidemen area of Bali, then Patal Kikian Villas is the place to stay.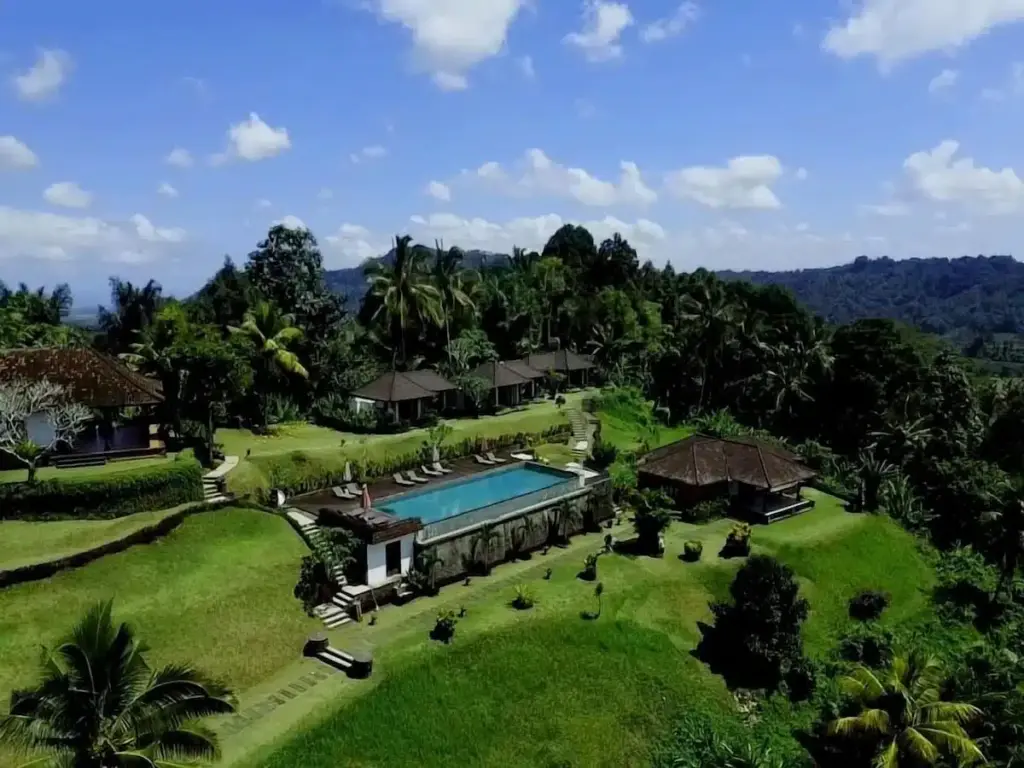 Each room offers a stunning view of the surrounding landscape, including rice fields, rivers, and mountains, giving a sense of peace and immersion in nature that is quite unique to the place.
The facilities are tailored to those seeking a relaxing stay.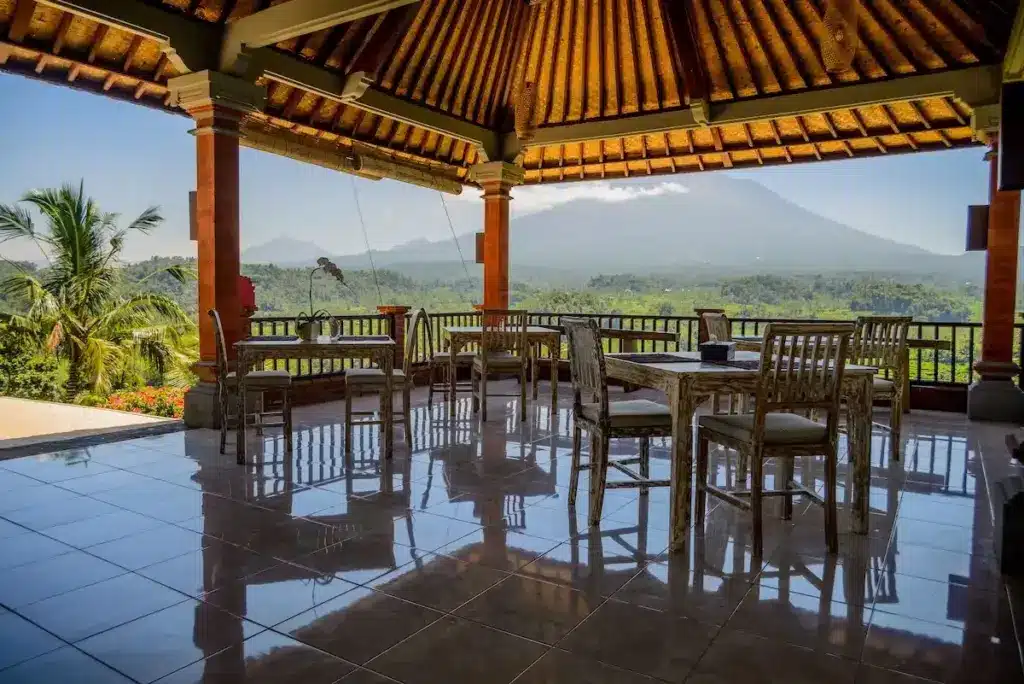 There is a lovely swimming pool where you can cool off during the hot hours and a restaurant with excellent reviews from previous guests.
So here, you get both the beauty of Bali's nature and a high standard of service and comfort, all at an affordable price for most.
See more photos and book here.
2. Canggu – best area for young travellers 🕺🏻
Next, we travel southwest to Canggu, located on the southwestern coast of Bali, extending from other popular holiday areas like Kuta and Seminyak.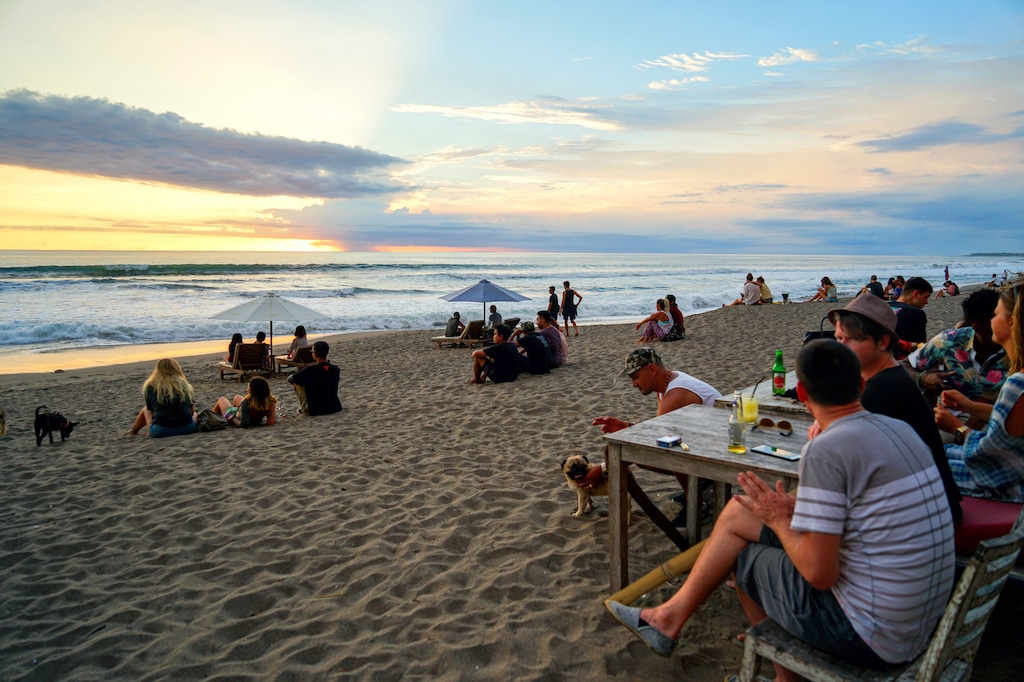 I stayed in a nearby area called Seminyak, which is also easily recommendable if you prefer to stay in a holiday area with plenty of shops, restaurants, and lively city life.
Canggu is slightly less touristy than Seminyak and is especially popular among digital nomads.
Check out the best hotels in Canggu here.
Thus, you'll find a string of delicious, Instagram-worthy cafés, restaurants, and bars in Canggu.
You can visit, among others, the popular Copenhagen Canggu, owned by a Danish couple.
Canggu is an area by the beach, so there are plenty of beach clubs, with Finns Beach Club being one of the most popular. Naturally, the area is also very popular among surfers.
I would recommend Canggu for young people and couples who want some excitement but not the wild "Australians on a weekend trip" atmosphere in Kuta.
Places to stay in Canggu
Since Canggu has been hyped by influencers for several years, there is a range of good hotels here.
Below, I share some places in Canggu I would consider booking for the next trip to Bali.
If you dream of luxury and want to experience the best of Canggu, COMO Uma Canggu is the place for you.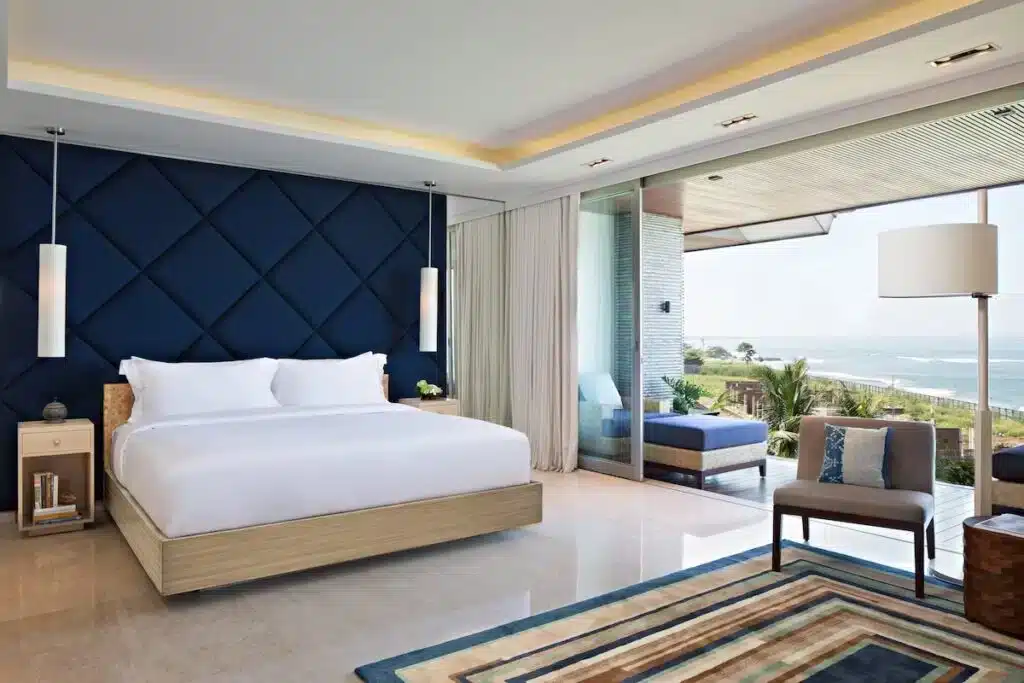 COMO Uma Canggu This luxury hotel is perfect for style-conscious travellers who want a unique and unforgettable Bali experience.
With its location directly on the beach, it's the right place to stay if you want to laze in the sun, try surfing, or just enjoy the view of the azure blue sea.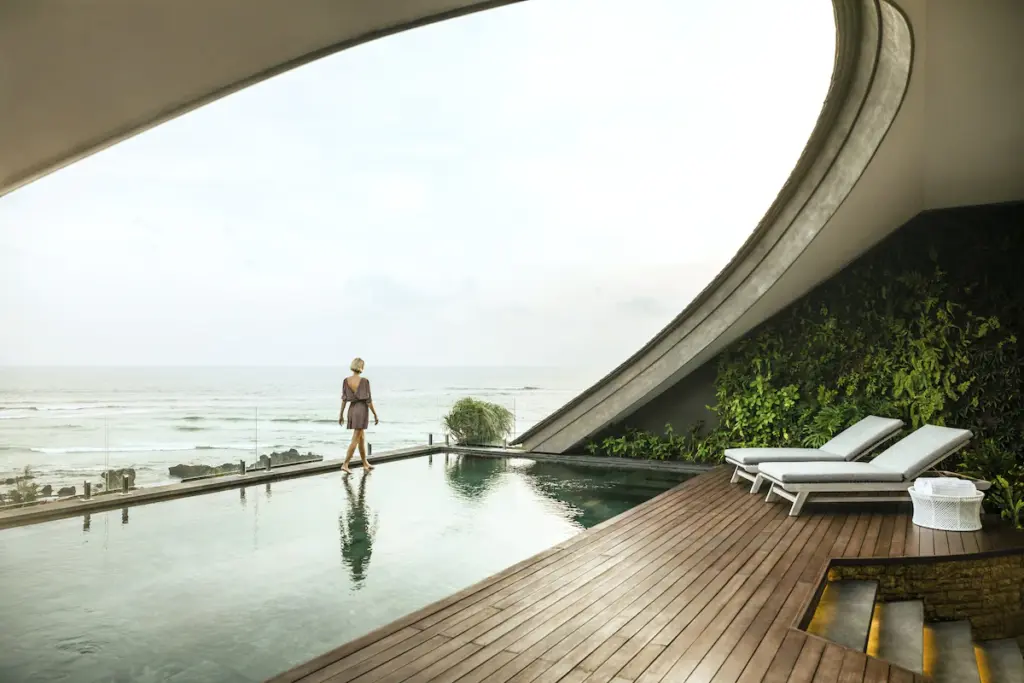 The design here is elegant and modern, with every detail carefully chosen. Many rooms offer sea views, and some even have a private pool.
It's, of course, priced accordingly, but if you want a luxury hotel with the possibility of a private pool in Canggu, the opportunity is certainly there.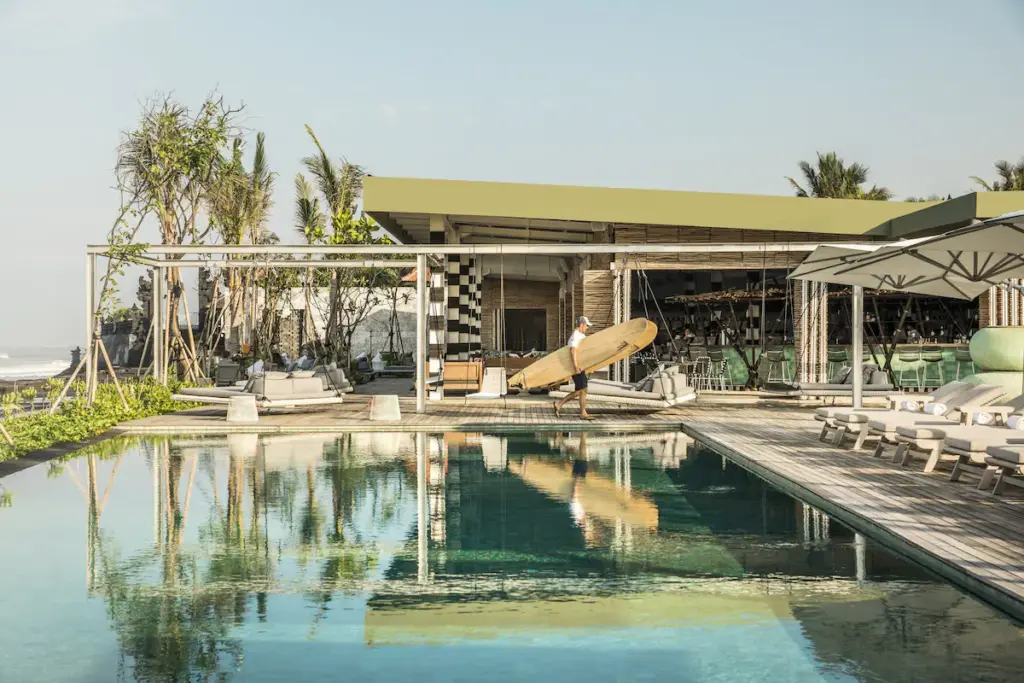 There are also common pools – several are distributed across the resort. So, if you want a mix of aesthetics, state-of-the-art facilities, and Balinese charm, COMO Uma Canggu is an excellent choice.
See more photos and book here.
And now, let's look at a hotel in Canggu that I think is surprisingly affordable!
If you want to stay right by the beach without breaking the budget, ASTON Canggu Beach Resort is an excellent choice.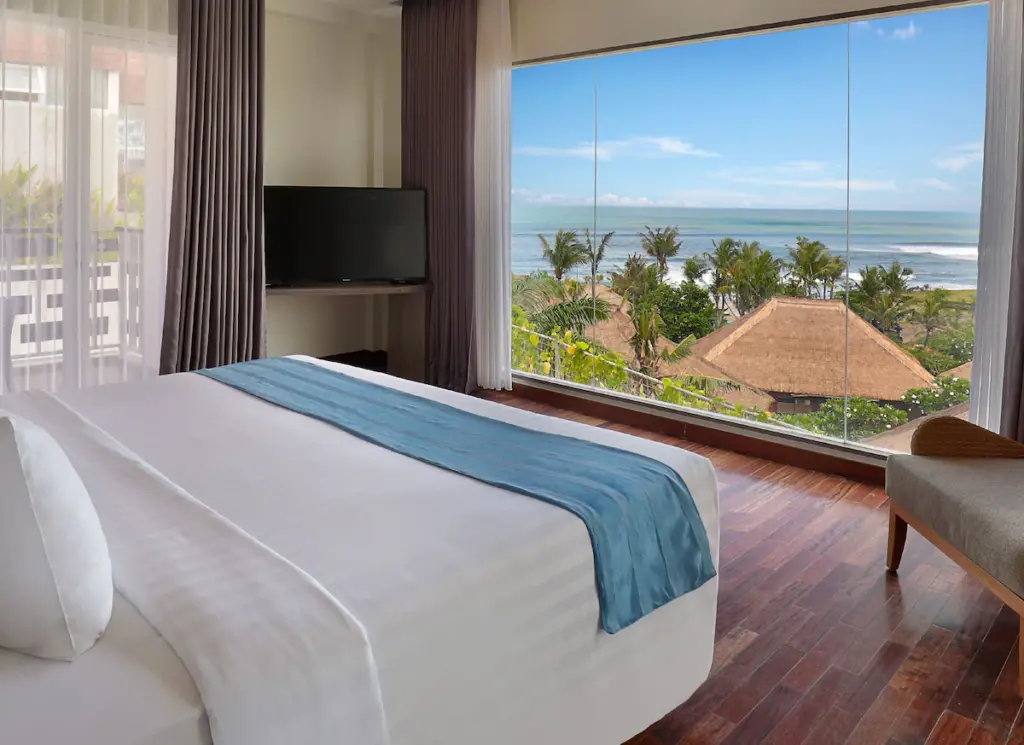 This resort offers you prime location and comfort at a very fair price.
ASTON Canggu Beach Resort has many facilities, and you can enjoy a dip in the lovely swimming pool or relax with a good book in the sun lounger – even with sea views from the top of the hotel.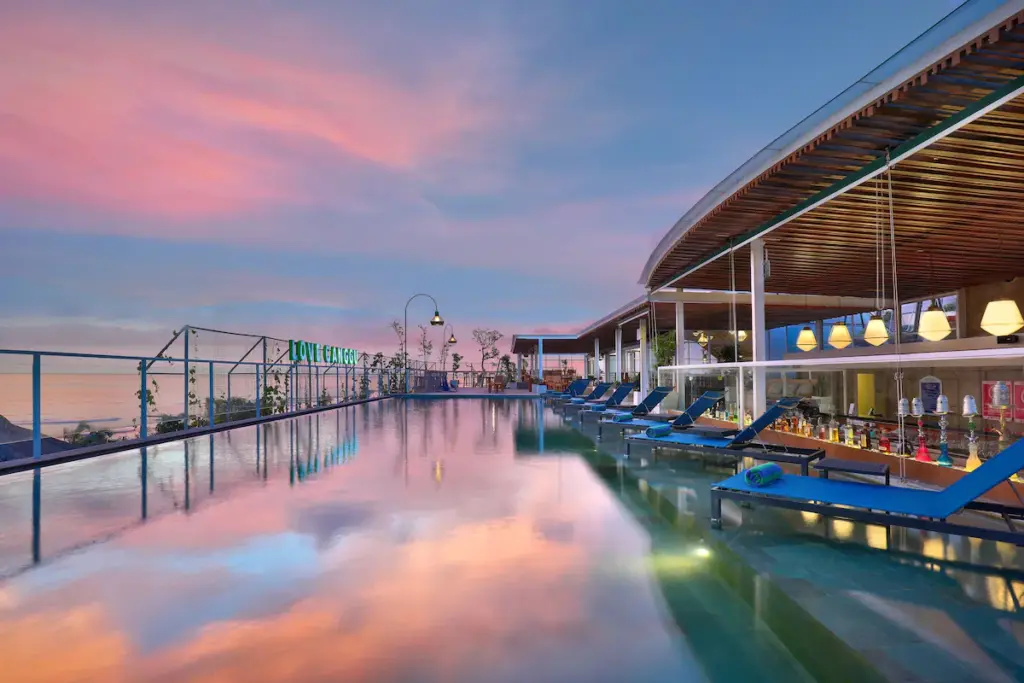 So, if you're looking for a place with a relaxed atmosphere, a fantastic location, and without emptying your wallet, ASTON Canggu Beach Resort is the best place to stay in Canggu.
Here, you get value for money and a genuine Canggu experience right by the beach.
See more photos and book here.
If you are looking for something different and dream of having your own villa with a private pool, then La Numa Villas Canggu is the perfect place.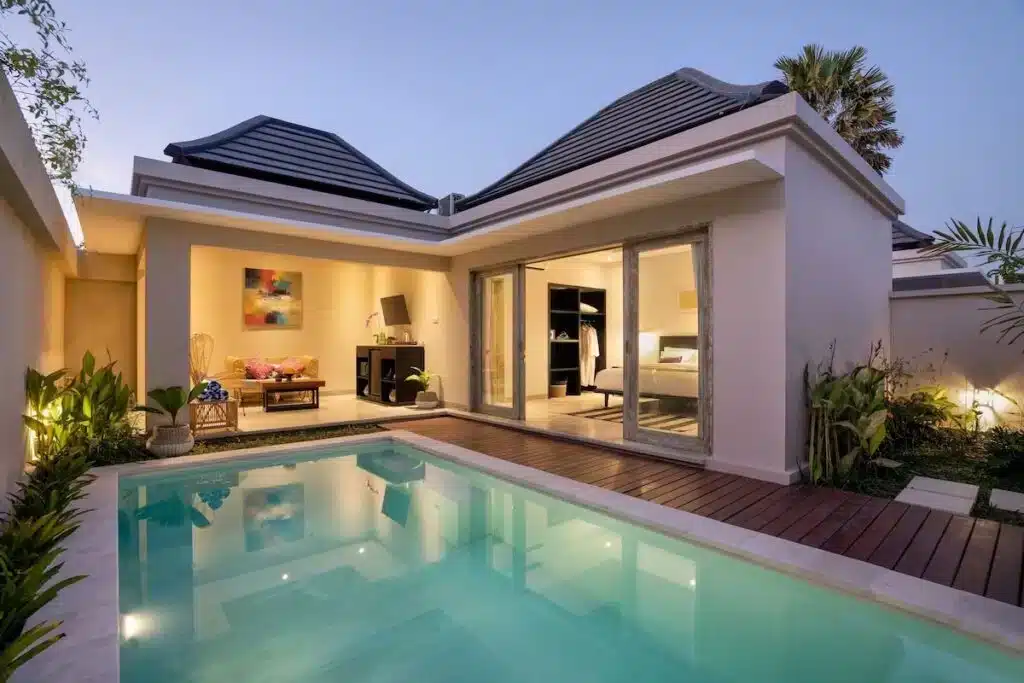 Here, you can experience a unique and personal atmosphere while enjoying the Balinese sun in your private oasis.
And the best part is, the prices here are surprisingly good, making it an obvious choice for those seeking luxury on a budget.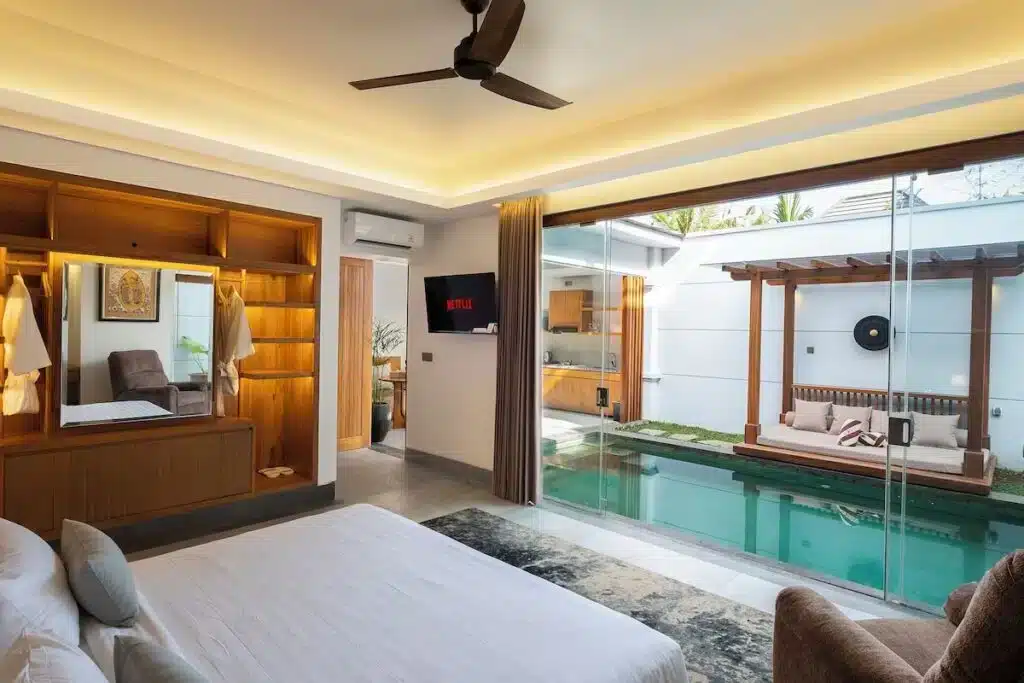 There are several different villas – however, all have a private pool. La Numa offers tastefully decorated villas laden with comfort and conveniences.
This place consistently receives good reviews from former guests who highlight the excellent service, the cosy surroundings, and the good value for money.
See more photos and book here.
3. Ubud – best area for yoga & nature lovers 🌴
No travel guide called 'Where to Stay in Bali' would be complete without mentioning Ubud.
Ubud is arguably the most renowned area in Bali, and it's a pity to travel to this Indonesian holiday island without spending a day or enjoying a couple of overnight stays in Ubud.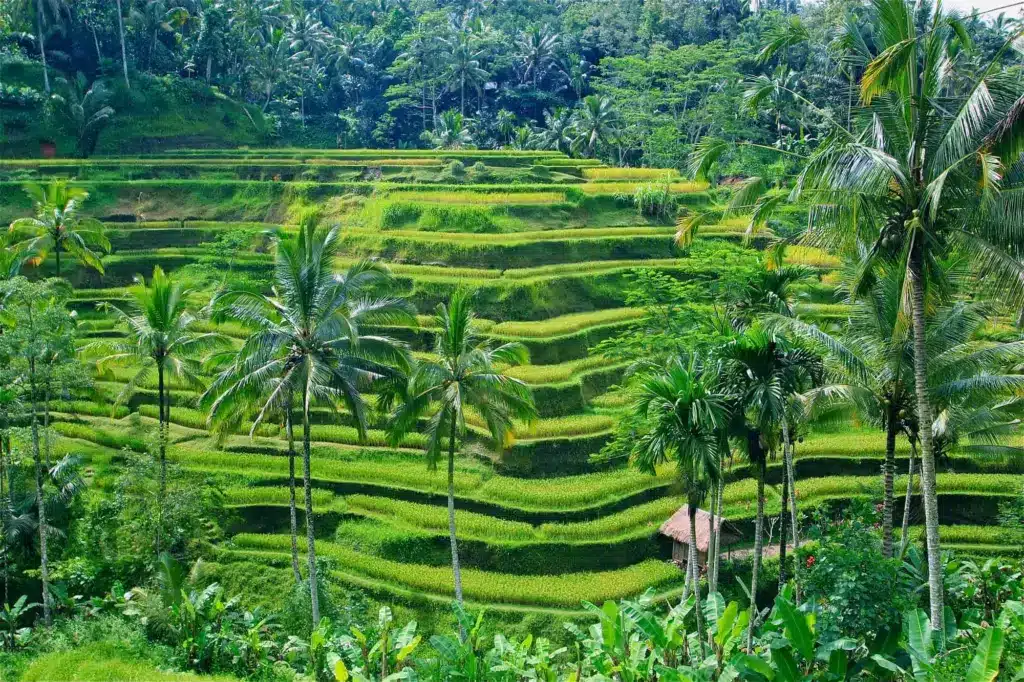 When you see holiday photos from your acquaintances who have travelled to Bali or when you search for Bali photos on Google, it's often the rice terraces and the nature around Ubud that are depicted.
See the best hotels in Ubud here.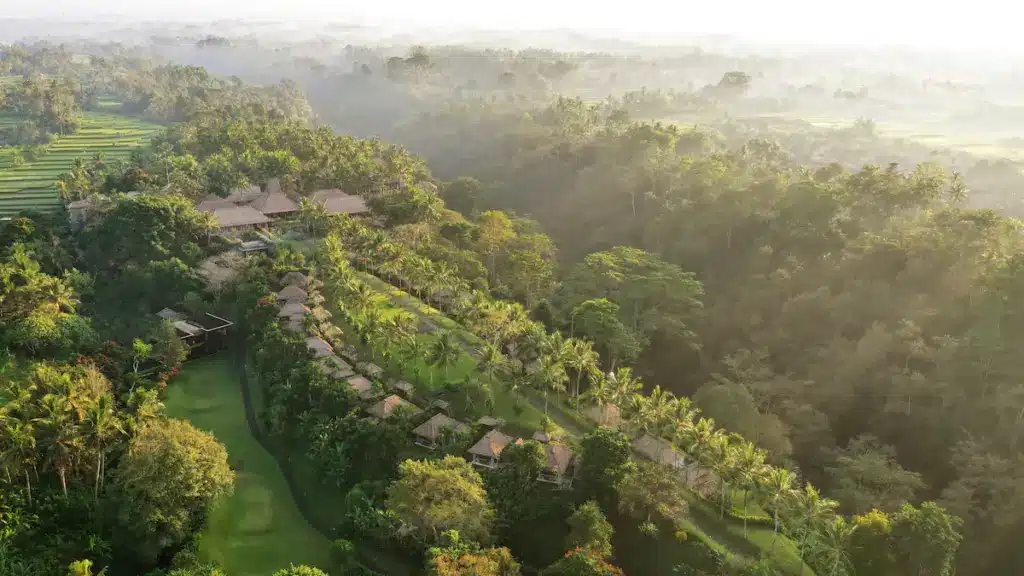 Ubud is home to, among other things, the epic rice terraces, and you can't miss Tegallalang and the famous Monkey Forest, where you can get up close and personal with these little rascals 😀.
The movie 'Eat, Pray, Love' was filmed in and around Ubud, and it certainly put Ubud on the map as a must-visit destination for many.
Ubud has plenty of city life but is more laid-back than Kuta, Seminyak, and Canggu.
There's a substantial focus on, for example, yoga, and you can find many retreats offering only vegetarian food and, sometimes, no alcohol.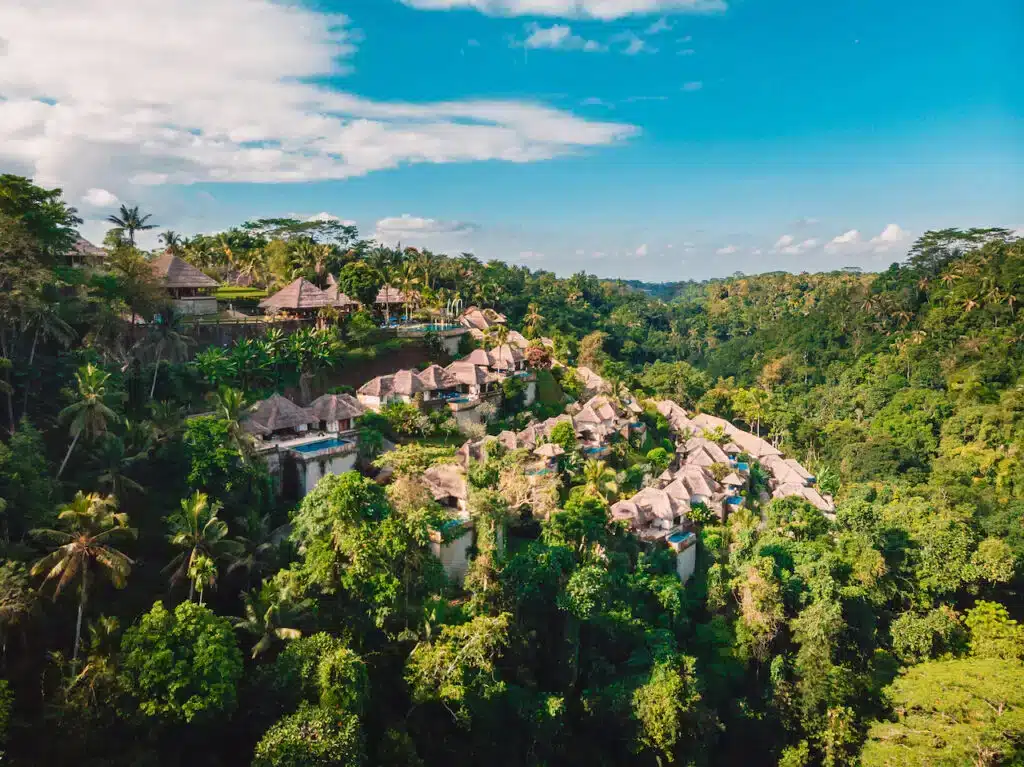 Ubud is Bali for better or worse: stunningly beautiful nature mixed with quite a few tourists, but it would be a shame to visit Bali and not see Ubud.
For families with children, Ubud is a wonderful area full of fun experiences.
I think this travel Youtuber does a great job of showing why you should stay in Ubud:
Places to stay in Ubud
You will find Ubud in the heart of Bali, so remember to book a hotel with a pool since there's no beach nearby.
If I had a choice, I would probably opt to stay at Maya Resort & Spa in Ubud, which looks like this: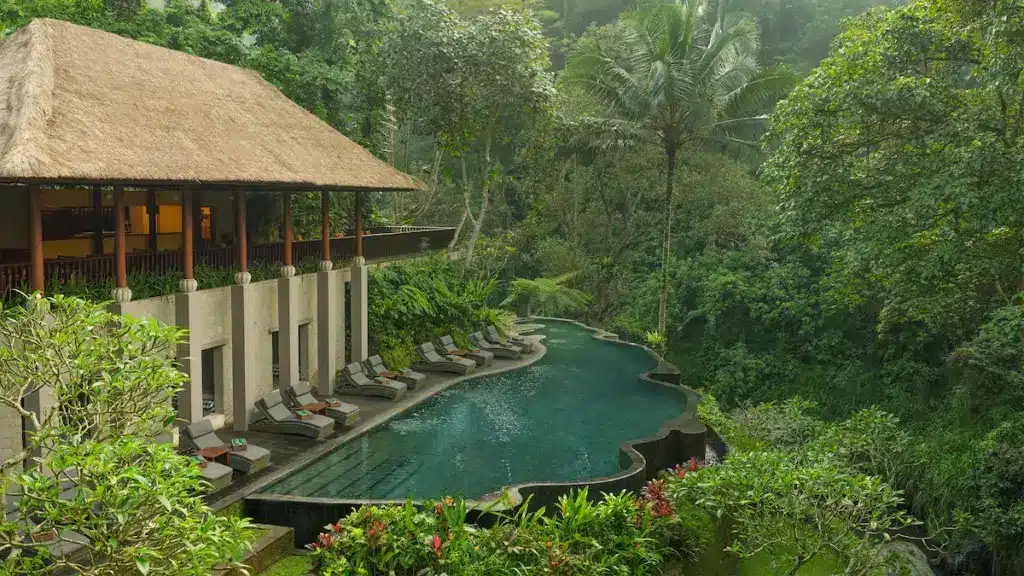 The hotel has multiple outdoor swimming pools, and you can also get your own villa with a private pool, as we know from so many other hotels in Bali.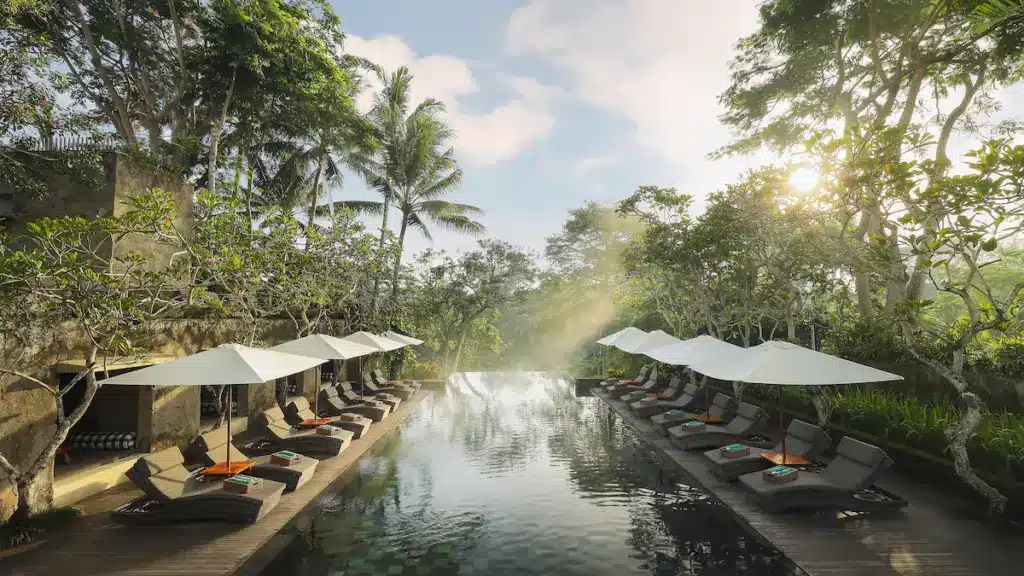 See more photos and book here.
Let's explore a couple of other best hotels in Ubud.
Puri Sebali Resort embodies Balinese luxury combined with an unmatched location.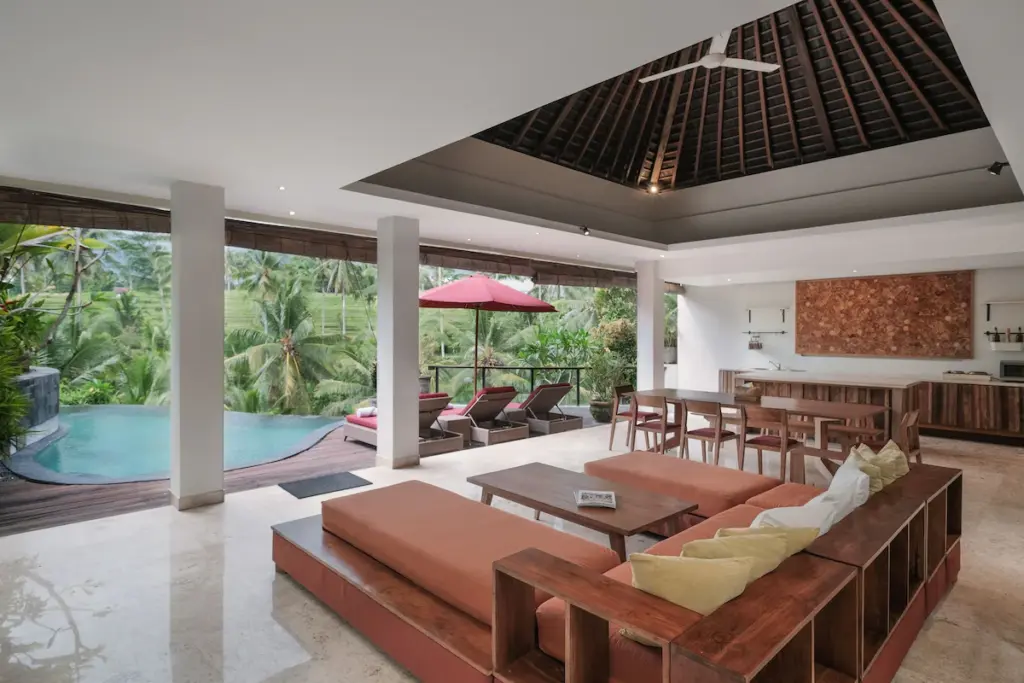 The hotel is high in the hills, offering unique views over the famous rice fields as far as the eye can see.
The rooms are in a league of their own, decorated with local crafts and modern amenities.
Many have a private pool and a terrace, perfectly designed for enjoying the sunrise over the rice fields with a cup of Balinese coffee.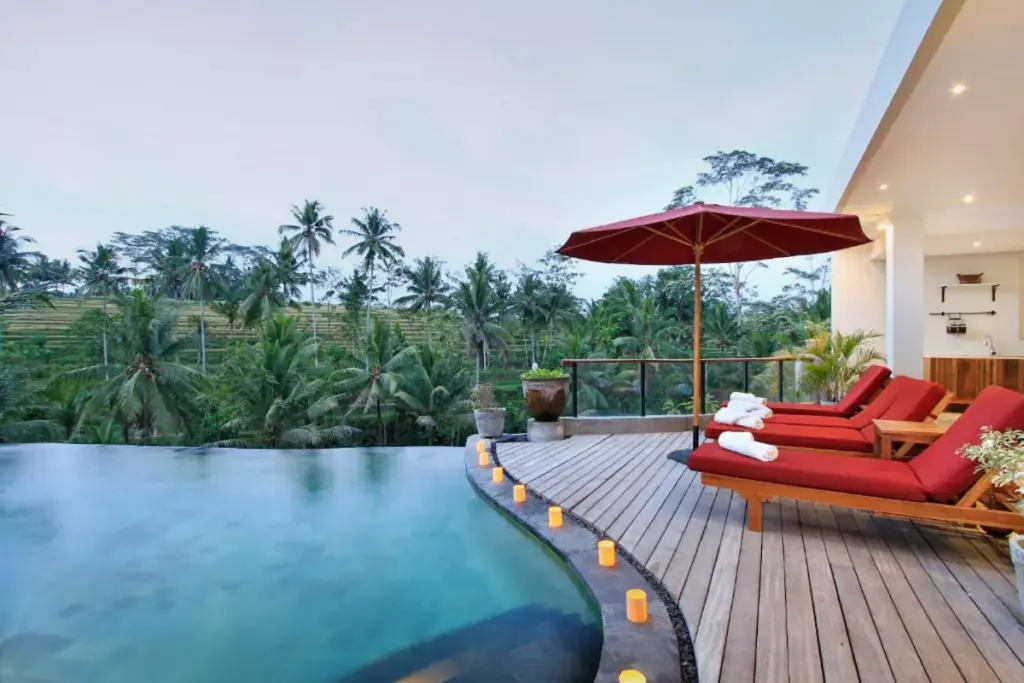 If you're seeking a luxurious and simultaneously authentic Balinese experience in Ubud, I don't think there are many better places than Puri Sebali Resort.
See more photos and book here.
Kappa Senses Ubud is not your average luxury resort.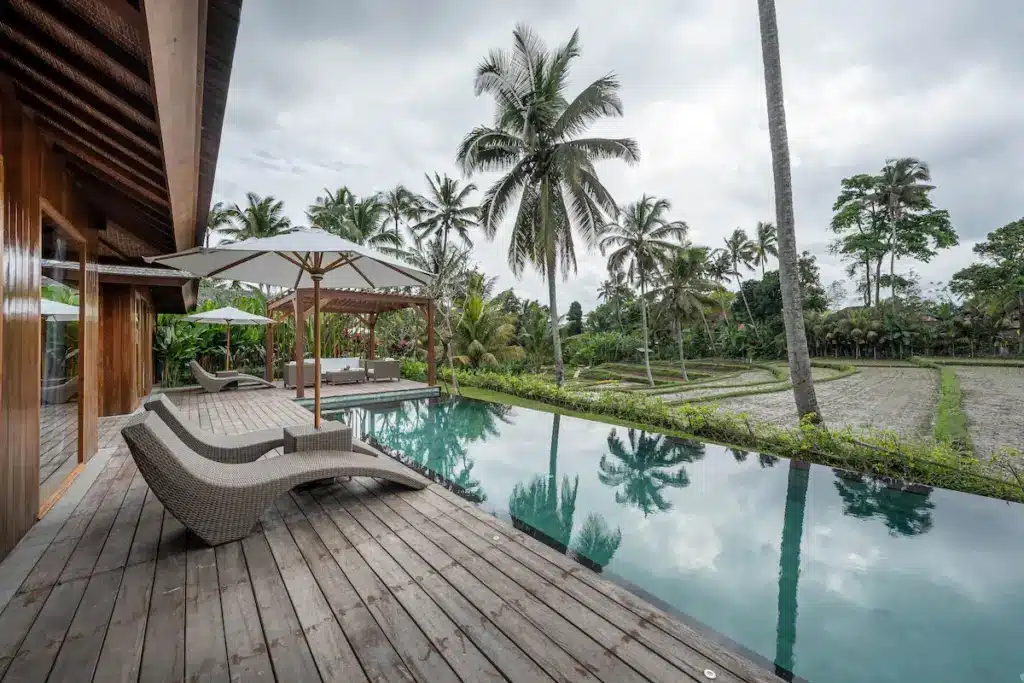 The hotel has a unique vibe, combining traditional Balinese elements with a modern, artistic twist.
The rooms feature a mix of local art and modern design, each with its unique character. Here, you don't feel like you're in an impersonal hotel chain but rather a luxurious, private residence.
Regarding facilities, there's an outstanding restaurant on-site, focusing on sustainable, local ingredients and a menu that will satisfy any foodie's dreams.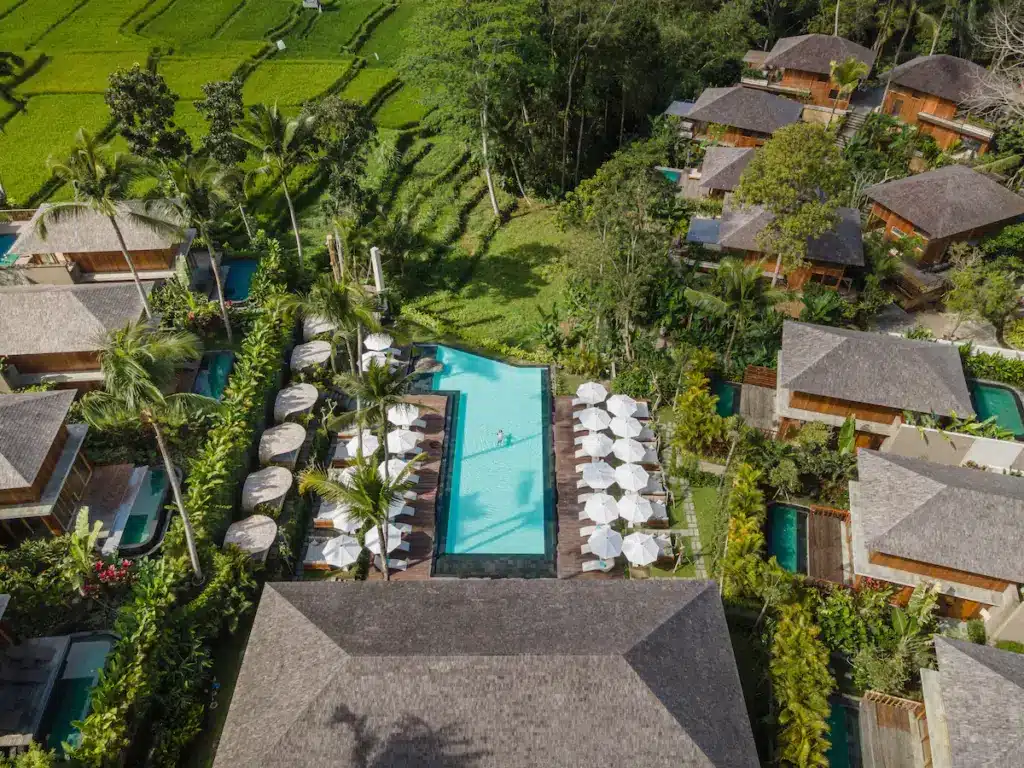 And in true Bali style, there's, of course, a large pool and another pool overlooking the rice fields – unless you choose a room with a private pool (as is almost customary in these luxury hotels in Bali).
See more photos and book here.
Alaya Resort Ubud is an excellent choice if you want to experience luxury in Ubud without breaking the bank and stay closer to the town.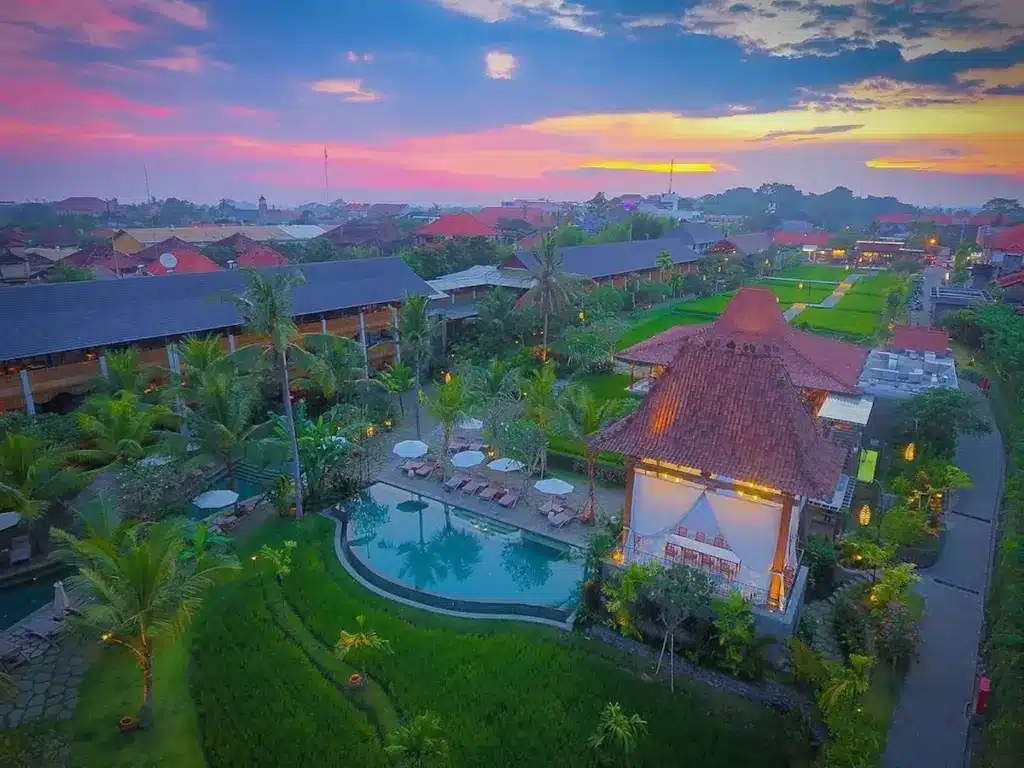 One of the most significant advantages of Alaya is its central location.
Even though they say it can be challenging to walk around in Bali, staying here is within walking distance to the centre of Ubud and right by the famous Monkey Forest I mentioned above.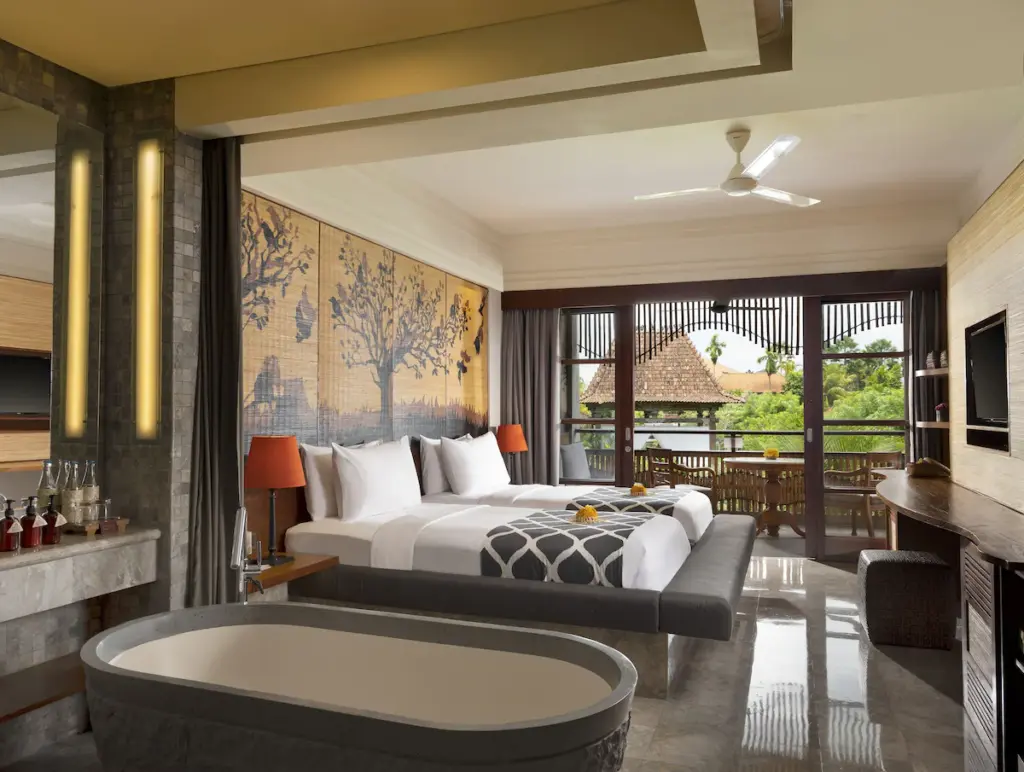 So if you want the best of all worlds – luxury, a central location, and a reasonable price – then Alaya Resort Ubud is the place for you.
See more photos and book here.
4. Nusa Lembongan – beautiful island 30 min from Bali 🏝
Yes, the guide is titled "where to stay in Bali?" but I'll allow myself to sneak in Nusa Lembongan.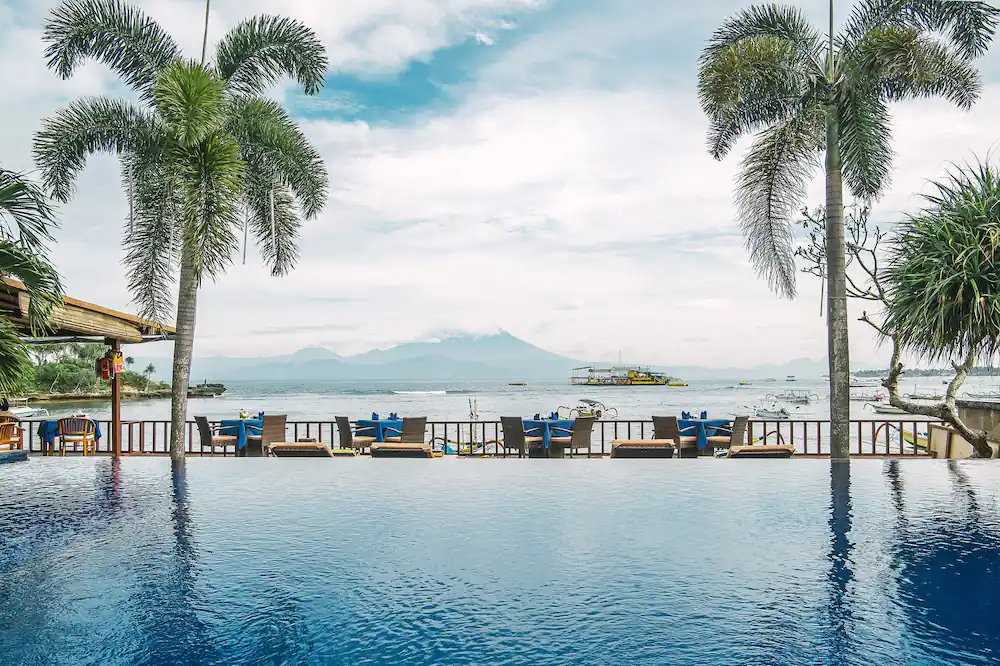 I've also got an old video on the Danish Youtube-channel where I start on Nusa Lembongan, but I must admit, I don't do the island justice, failing to show it from its best side (I think I need to get back and film for the Destination Well Known channel soon!).
So here's a way better video from the island:
You reach Nusa Lembongan by sailing from the holiday area Sanur, located on the east coast of Bali. You can also sail from Sanur to the Gili Islands, should you have such plans.
See the best hotels in Nusa Lembongan here.
Nusa Lembongan has been called 'Bali as before the tourists arrived', but I don't think that's quite true. Because tourists have indeed found Nusa Lembongan.
That said, it's significantly quieter here than in Bali, and there are some really cool hotels, so if you are travelling around Bali for a longer time, consider swinging by Nusa Lembongan.
Places to stay in Nusa Lembongan
Let's take a closer look at some of the best hotels in Nusa Lembongan. I'll start with a luxury hotel before I tell you where I stayed in Nusa Lembongan (which was also really good!).
You should check into Batu Karang Lembongan Resort & Spa to stay in absolute top-class.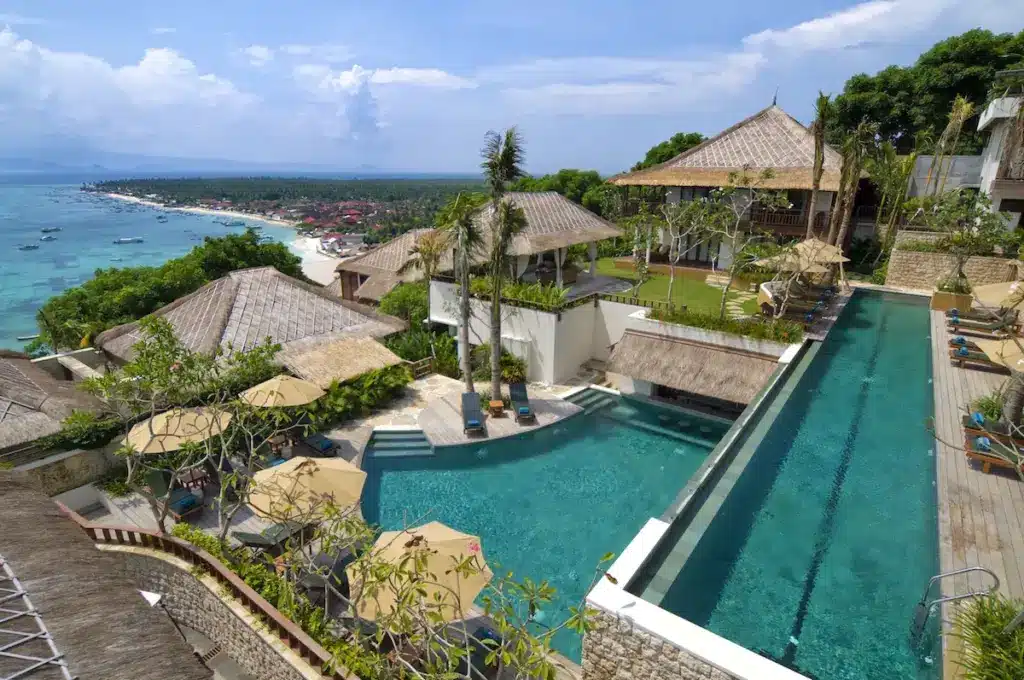 This resort is recognized as one of the best luxury hotels on the island, where you can expect exquisite service and high-standard facilities.
Batu Karang offers several inviting pools where you can take a refreshing swim and relax in the comfortable loungers.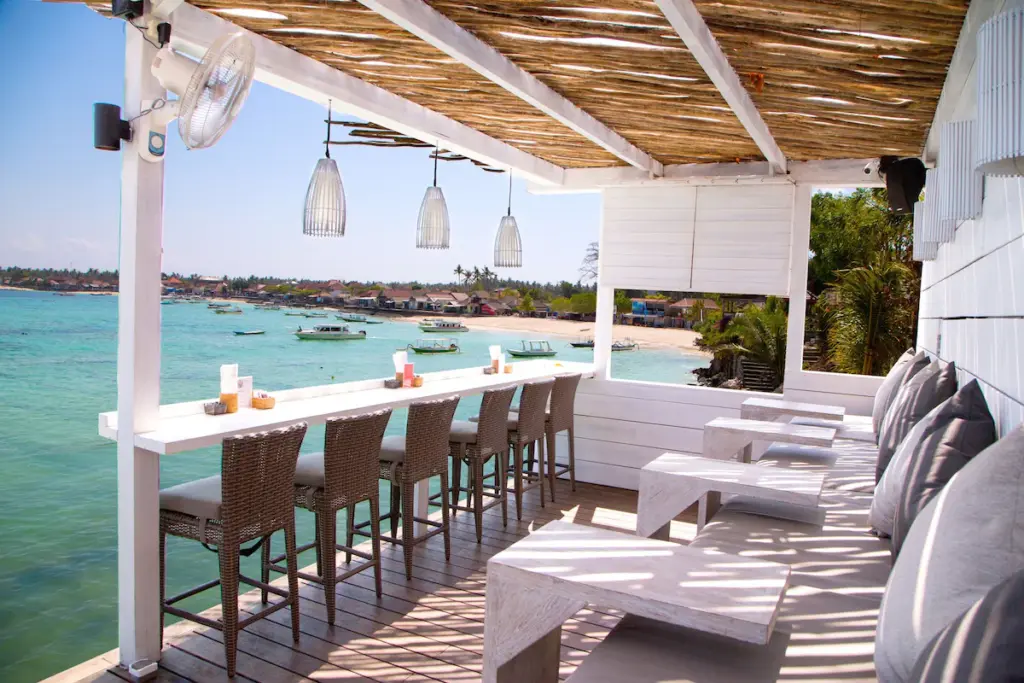 The resort is enriched with beautiful viewpoints, allowing you to enjoy the breathtaking views of the sea and the island's scenic surroundings.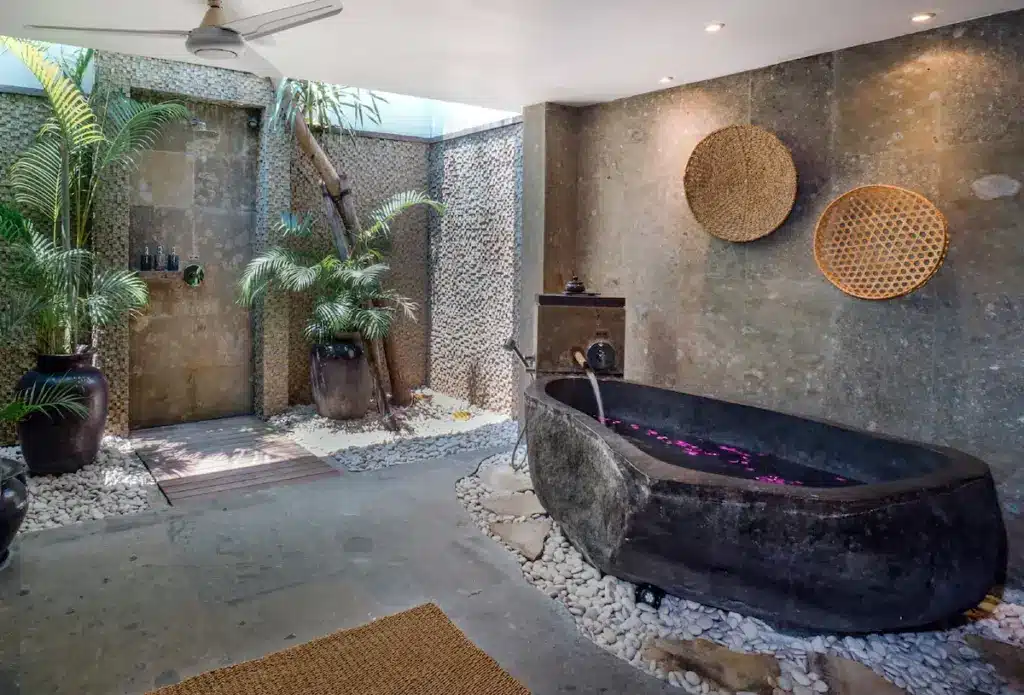 The rooms are meticulously decorated, and you will immediately feel welcomed in the beautifully designed and comfortable spaces.
So, if you are looking for a luxurious stay in Nusa Lembongan, where quality, comfort, and unforgettable experiences are paramount, Batu Karang Lembongan Resort & Spa is the obvious place to stay.
See more photos and book here.
I enjoyed staying at Lembongan Bay Shore Huts, and I highly recommend this excellent hotel if you appreciate a relaxed atmosphere and beautiful surroundings.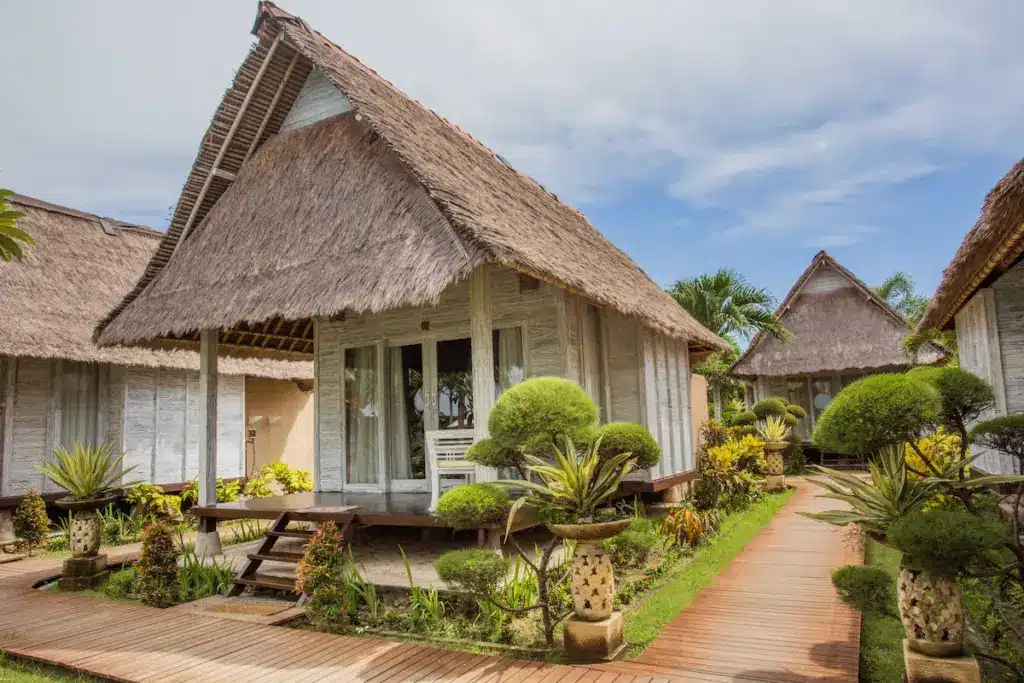 Here, you can enjoy the sun by the cosy pool while overlooking the sea and letting your thoughts wander.
You get accommodated in a little bungalow, where you can retreat and enjoy the tranquillity.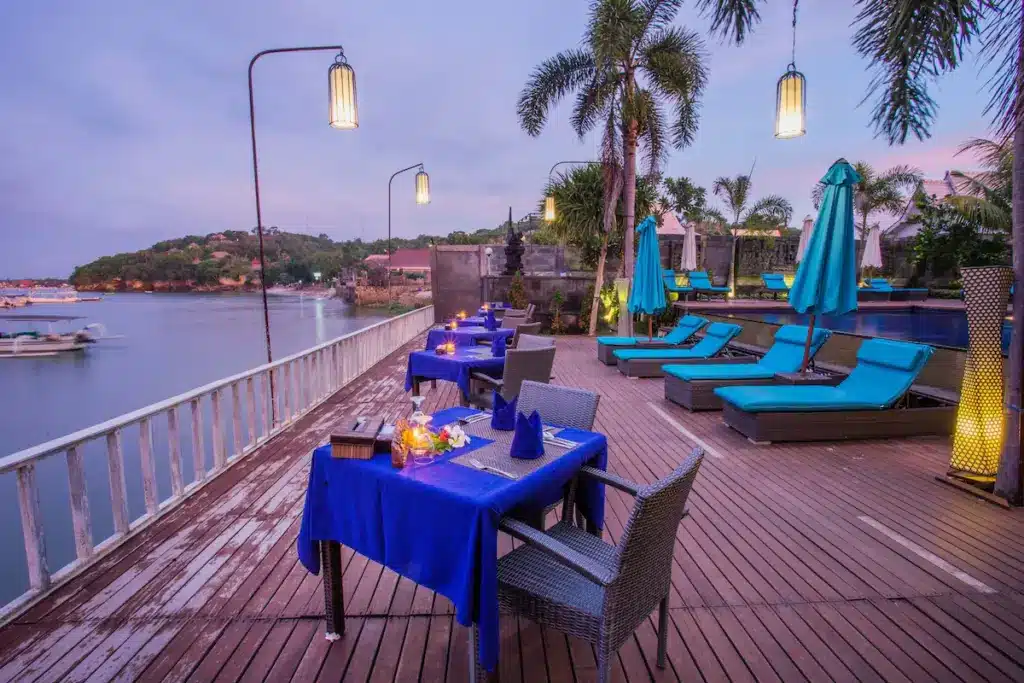 Even though the resort offers an oasis of peace, lively surroundings are not far away.
With only a 5-10 minute walk, you find yourself in Mushroom Bay, where various restaurants and bars offer local and international dishes and refreshing beverages.
Mushroom Bay also has a lovely beach.
It's an excellent base for relaxing in paradise or exploring the island.
See more photos and book here.
And now, let's look at one of the more affordable places to stay in Nusa Lembongan.
Mega Cottages are perfect for those who want to save on accommodation without compromising location – as you literally stay on the beach here.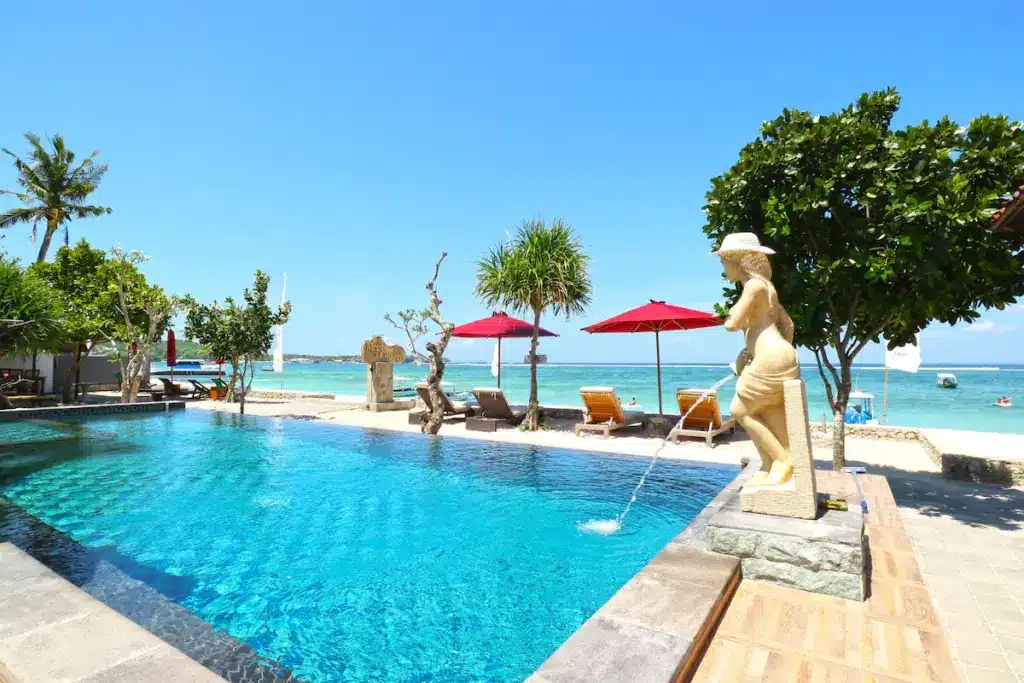 The hotel is very budget-friendly but is still located directly on the beach in one of the main towns of Nusa Lembongan, so you will be within a short distance of many restaurants and bars.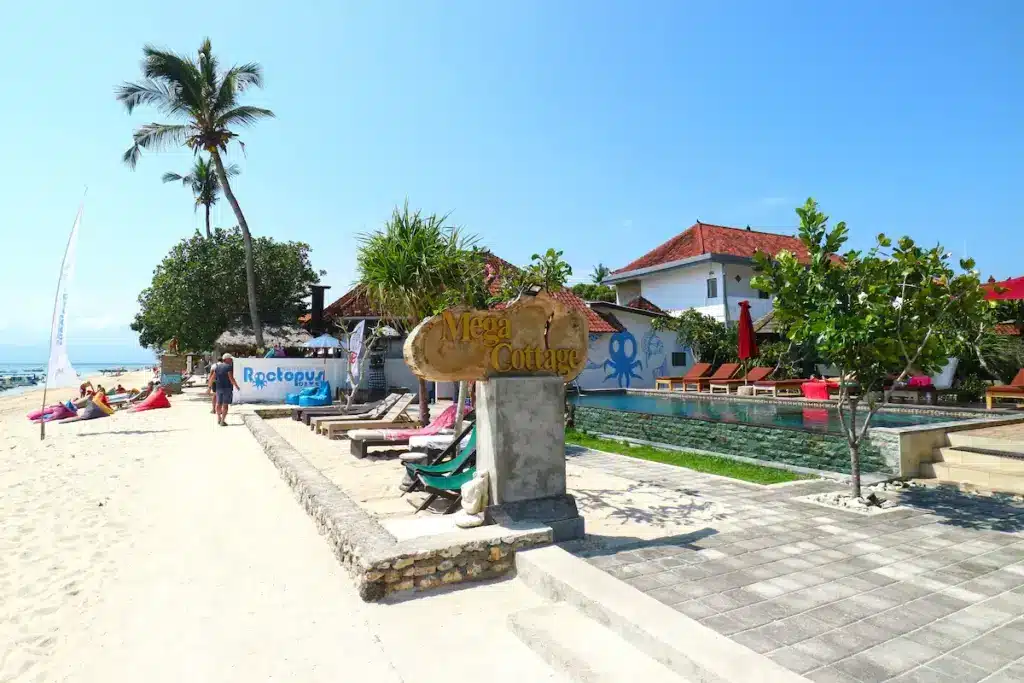 It seems like a place that's perfect for travellers who prefer to spend their money on experiences rather than accommodation but still want to stay central.
The rooms are pretty basic but affordable, so if you are ready for it to be (almost) just a bed to sleep in, then I think it's a perfect place to stay.
See more photos and book here.
5. West Bali National Park at Menjangan – Amazing Snorkeling and Beautiful Nature 😎
This area in Bali is located relatively far from the airport and the most popular holiday areas, such as Kuta, Nusa Dua, Uluwatu, Sanur, and the like.
But that's also why you should consider making the trip to West Bali National Park.
Once again, sorry for pulling out the old Danish Youtube-channel, but have a quick look at the area and 2 of the places I stayed here:
As the video above shows, you can stay inside a national park and experience the beautiful Balinese nature at all times of the day.
It's a hidden gem in Bali, as many don't consider travelling all the way up to the national park. However, since you've travelled to Bali, I'd still advocate that you consider visiting this area.
See the best hotels in West Bali National Park.
I noticed that one of the most prominent travel YouTubers has just visited the area:
Places to stay in West Bali National Park
I stay in two places in my video from the national park. Both were extremely good, so let me present them below.
The Menjangan by Lifestyle Retreats is an impressive resort in the national park's heart.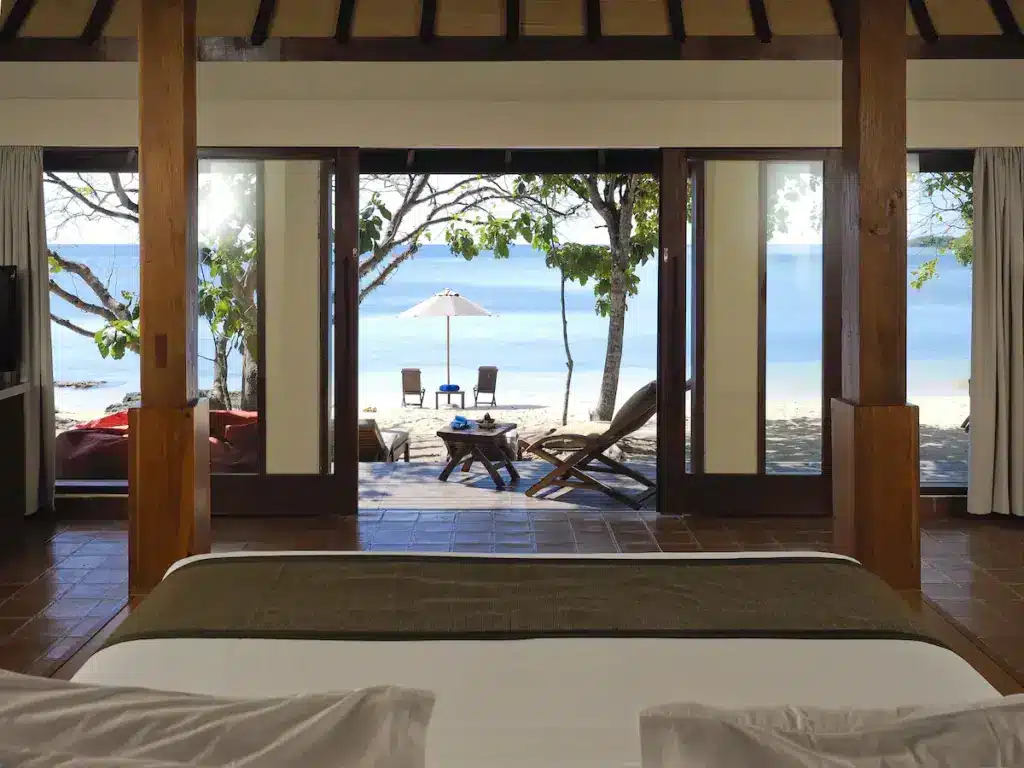 This place is nothing short of a massive experience, and the resort stretches over a large area where the focus is on nature.
Here, you can choose between many different types of rooms.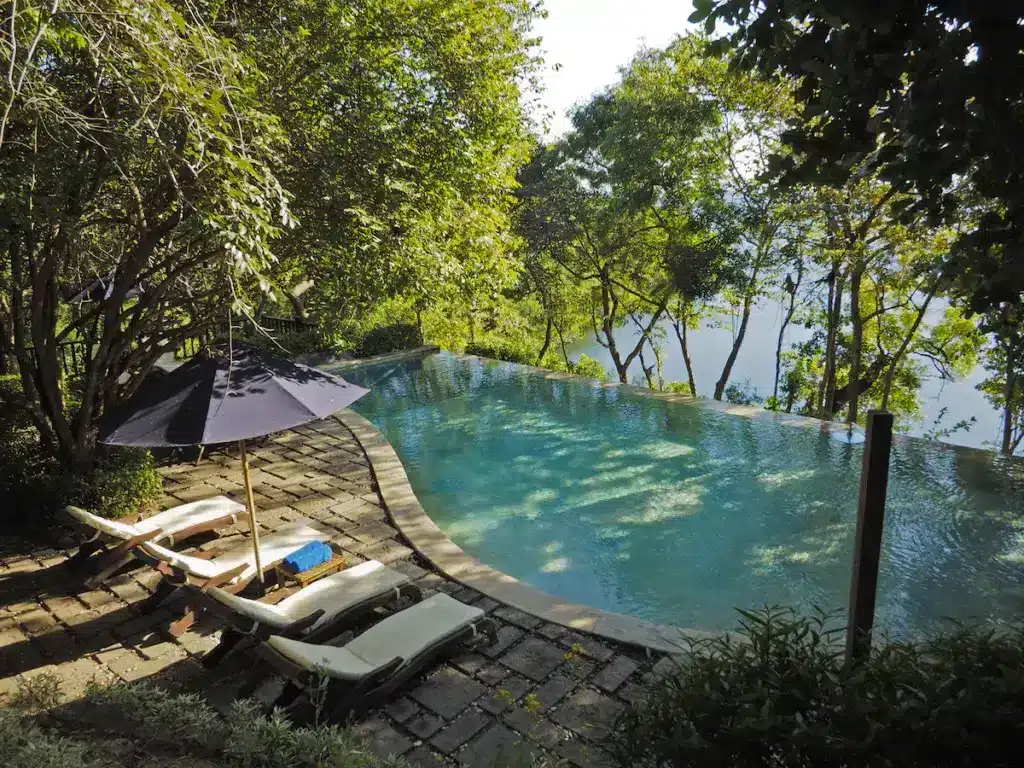 Staying in the heart of a national park offers a unique opportunity to get close to the local wildlife and explore the beautiful surroundings the area has to offer.
My stay at The Menjangan was an unforgettable experience marked by nature and luxury.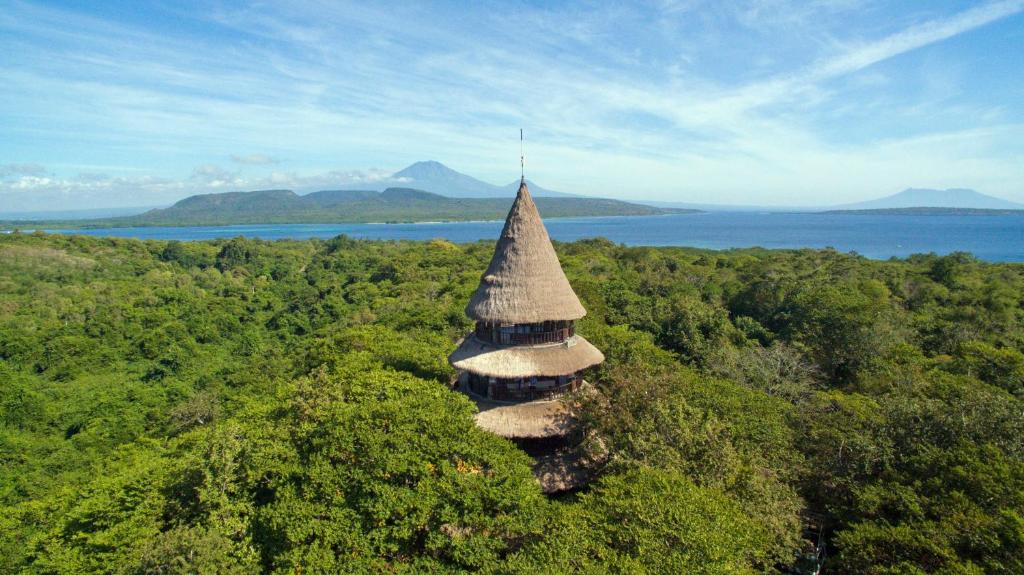 This place is perfect for those who want to disconnect from everyday life and step into a world of natural beauty and harmony.
See more photos and book online here.
The other hotel I stayed at in this area was Naya Gawana Resort & Spa, and it was also a completely enchanting experience.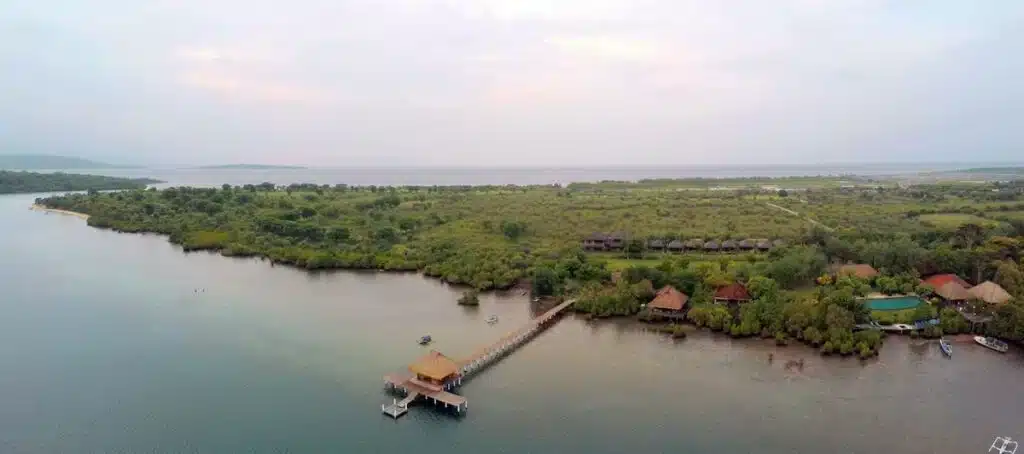 Here, I had the pleasure of staying in a luxurious villa with a private pool, where I could laze in the sun and take a refreshing swim in peace and quiet.
It's funny to watch the video I made (a couple of years later) – now I've stayed at more luxurious places, but my joy there was really genuine 😀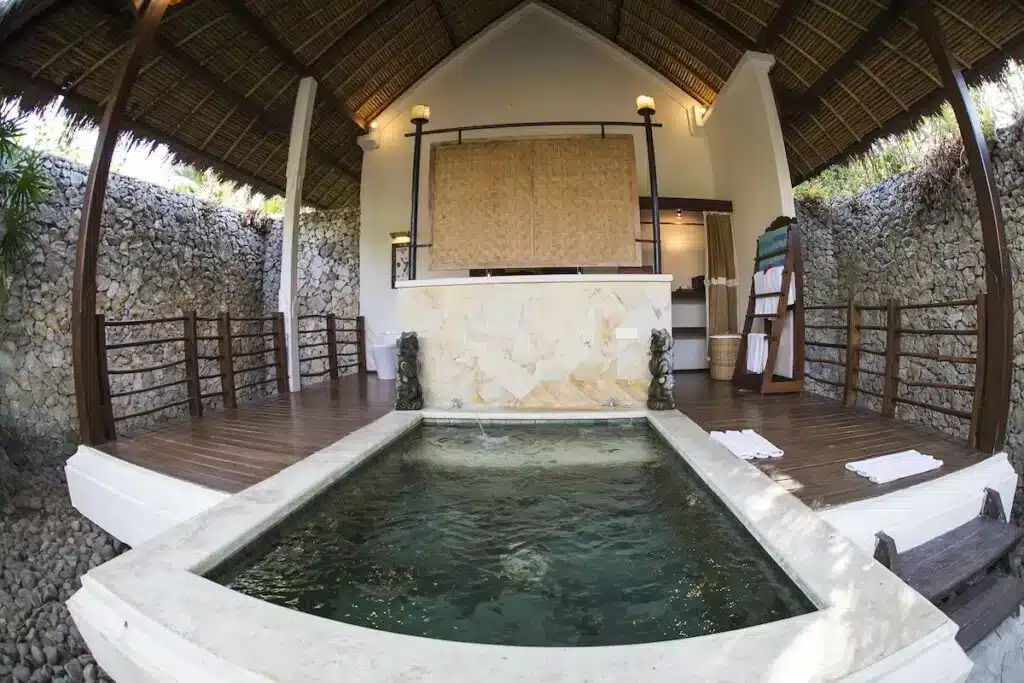 There are many different room types – 'room' is a poor word, as you stay in villas spread over a larger area, so it feels very private.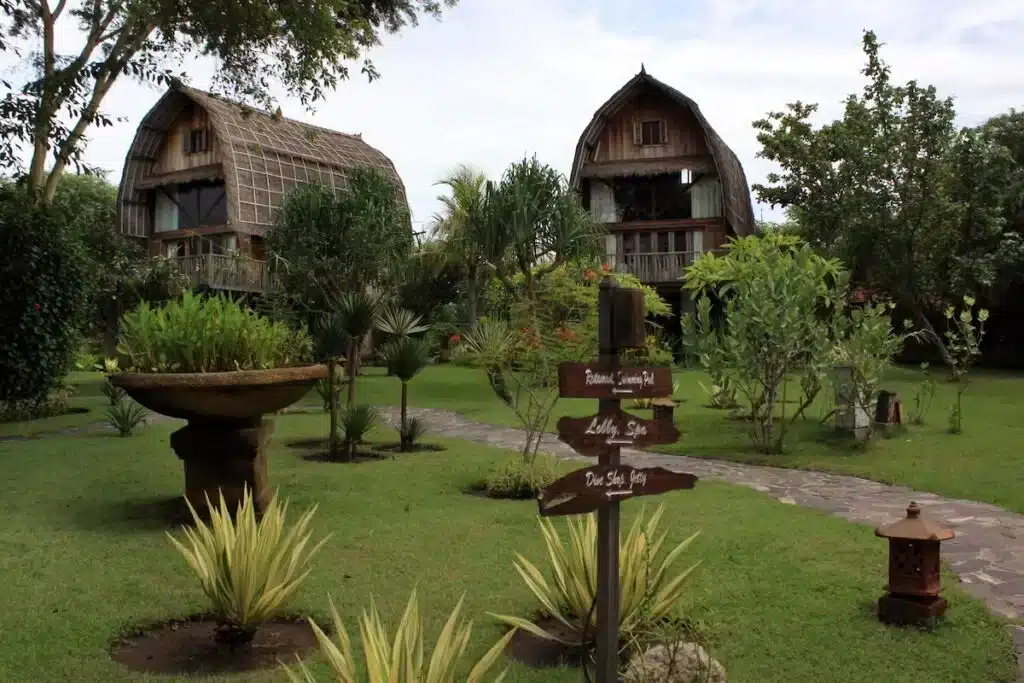 The resort's facilities are of a high standard, and there are plenty of opportunities to relax, enjoy good meals, and participate in activities.
Whether you prefer spa treatments, exploring the area, or just want to lie by the pool, Naya Gawana is where your wishes can be fulfilled.
See more photos and book here.
6. Nusa Dua – Best Area for Luxury Hotels (Near the Airport)
Nusa Dua distinctly differs from other popular resort areas in Bali.
It's a specially crafted resort area developed to offer visitors a more private, luxurious, and secure experience.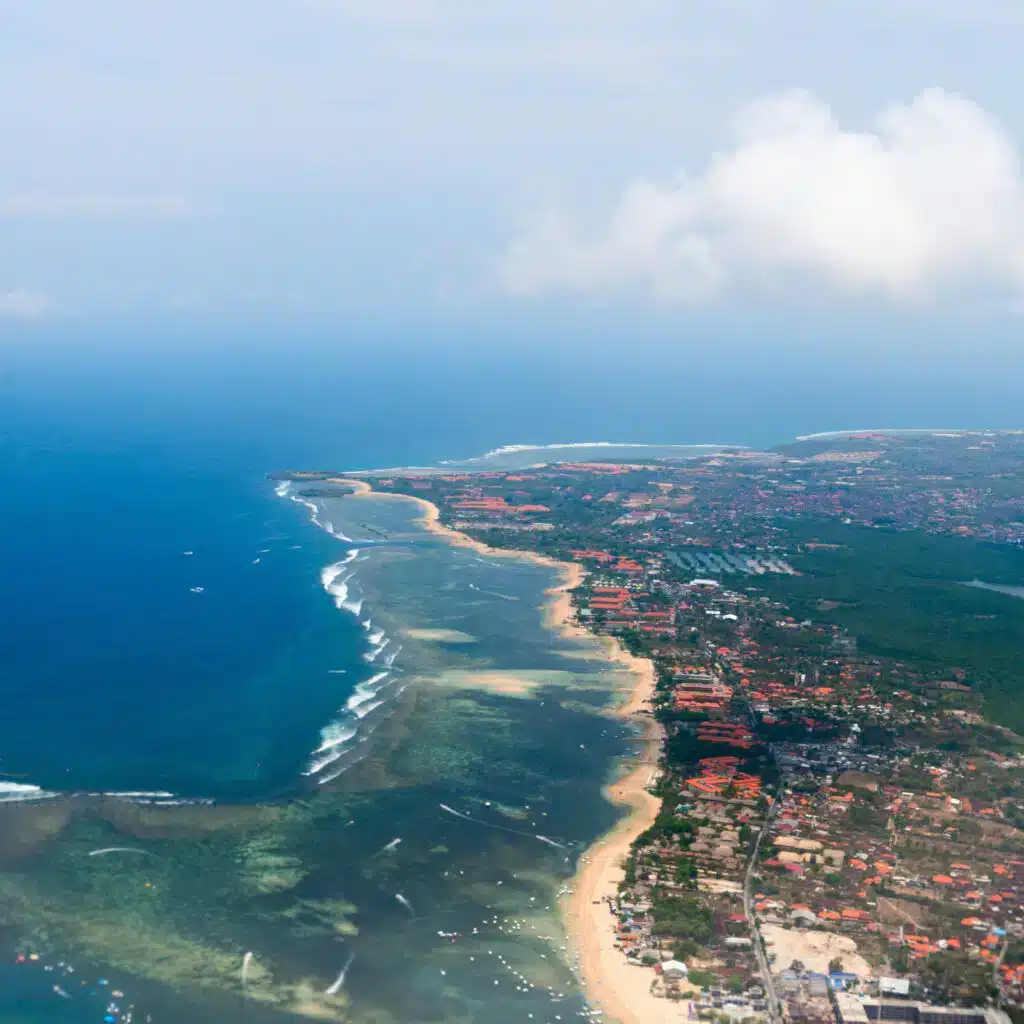 So here, you won't find as authentic a Bali as in some of the other areas I mention in this guide.
However, for those seeking a more relaxed and tranquil vacation away from crowds—possibly at a luxury hotel, Nusa Dua has many to offer.
The beaches of Nusa Dua are renowned for being among the cleanest in Bali. The water is crystal clear and ideal for snorkelling and diving, something Bali is not typically known for.
See the best hotels in Nusa Dua here.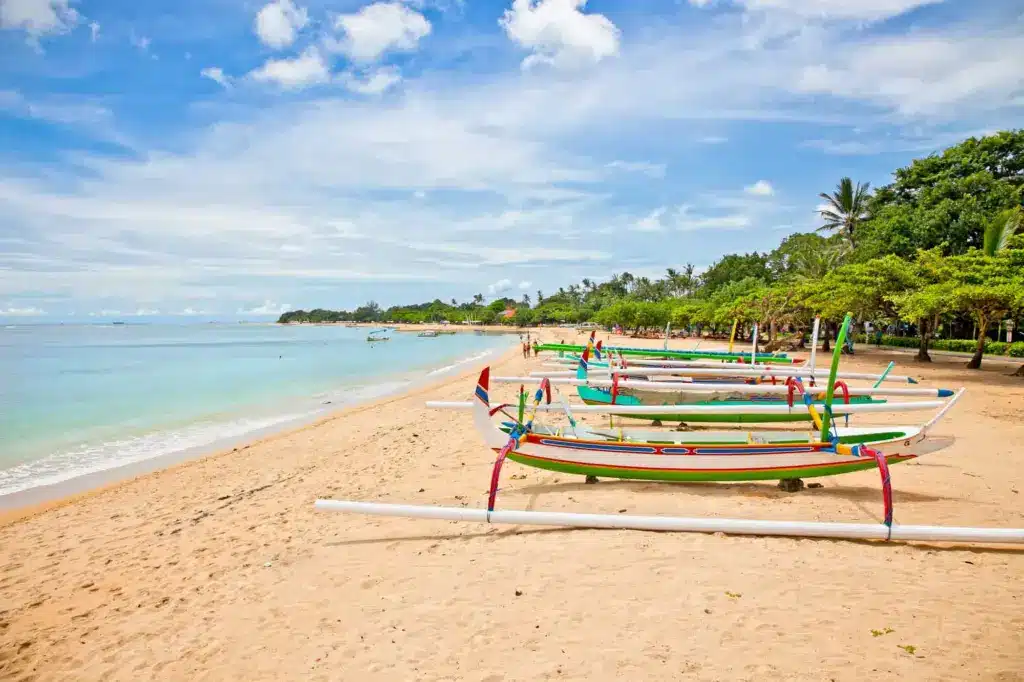 Another unique attraction is The Bali Collection, a large open-air shopping and entertainment complex. Here, you can shop everything from luxury items to local crafts, making it a worthwhile experience in the area.
Compared to busier and noisier areas like Kuta and Seminyak, Nusa Dua offers a more relaxed and luxurious experience, allowing you to dip your toes in the tranquil sea, explore vibrant coral reefs, and enjoy top-tier dining and shopping options at your own pace.
It's an excellent place to stay in Bali if you seek a well-organized holiday area close to other popular holiday areas in the southern part of the island, where the airport is also located.
If you are travelling around Bali, it's a convenient place to either start or end your journey.
Places to stay in Nusa Dua
Let me start with one of the best hotels in Bali, The Apurva Kempinski Bali, which undeniably represents luxury in its own class.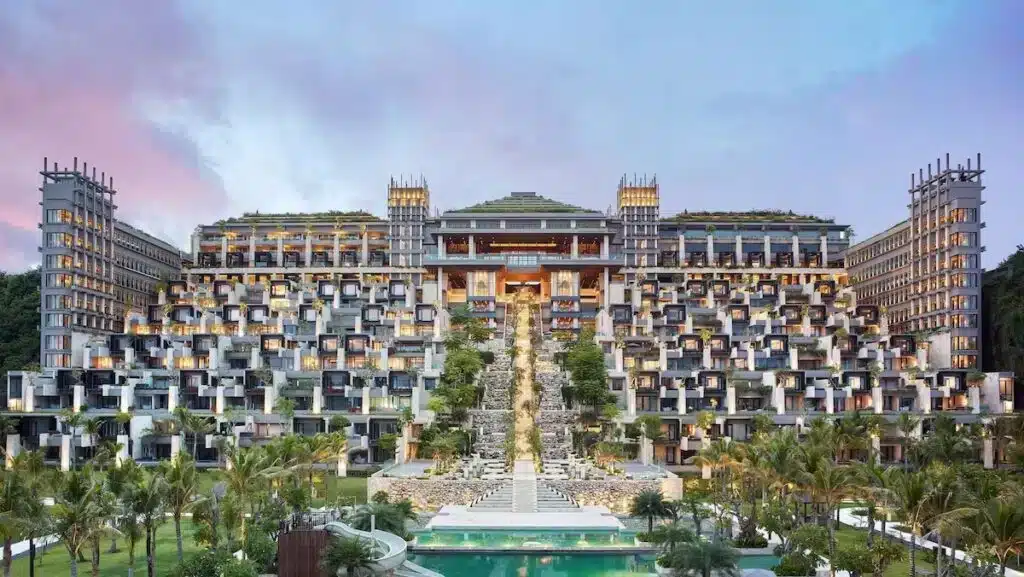 Here, you can expect to be indulged with sublime surroundings and service striving for perfection.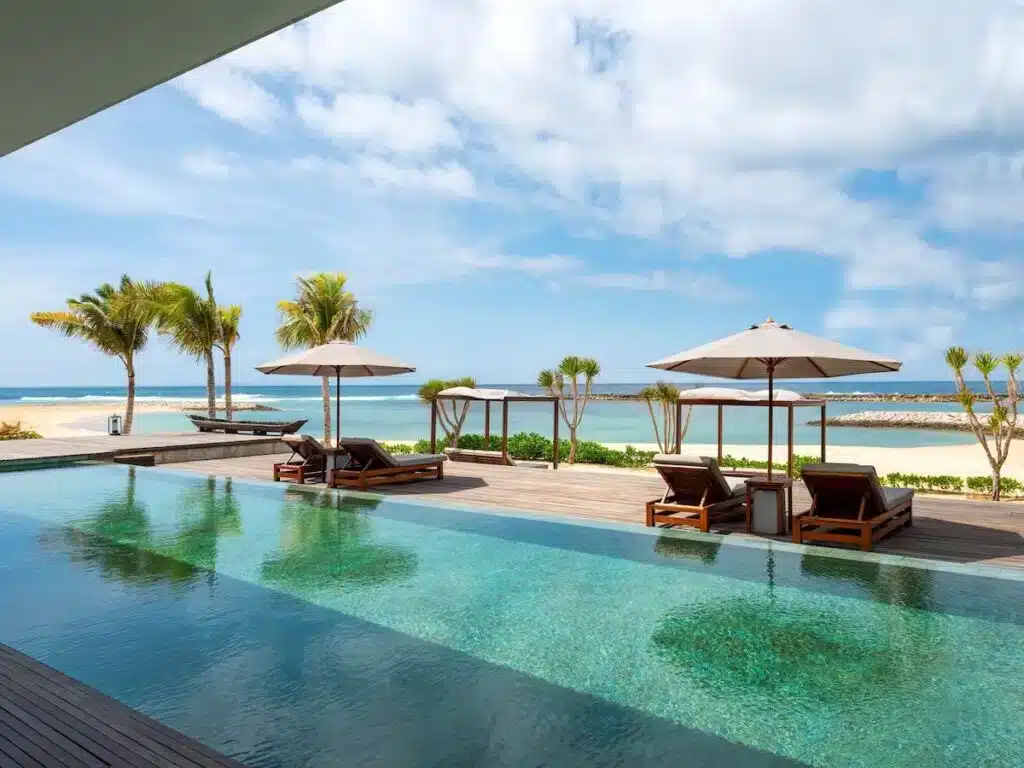 The hotel's multiple amenities include spectacular pools, exclusive spa treatments, and gourmet restaurants where gastronomy and quality are synonymous.
You can also book rooms with a private pool and sea views.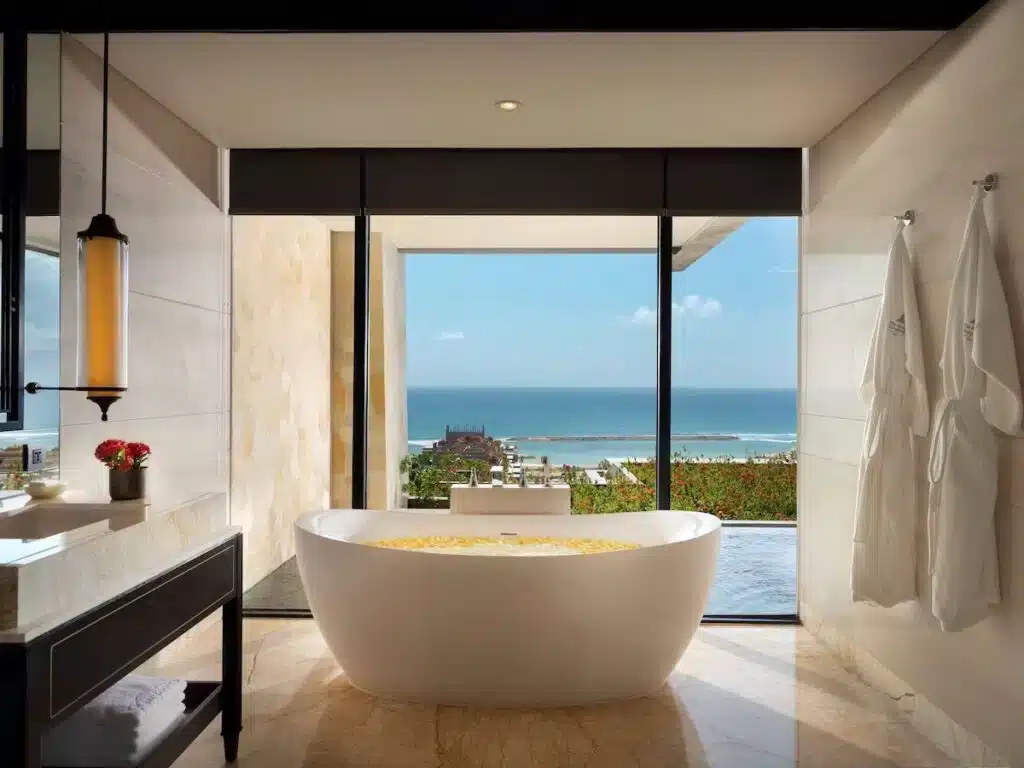 The Apurva Kempinski Bali is the place for those seeking the epitome of luxury and comfort.
See more photos and book here.
MERUSAKA Nusa Dua is another luxury hotel offering guests impeccable service and sublime surroundings.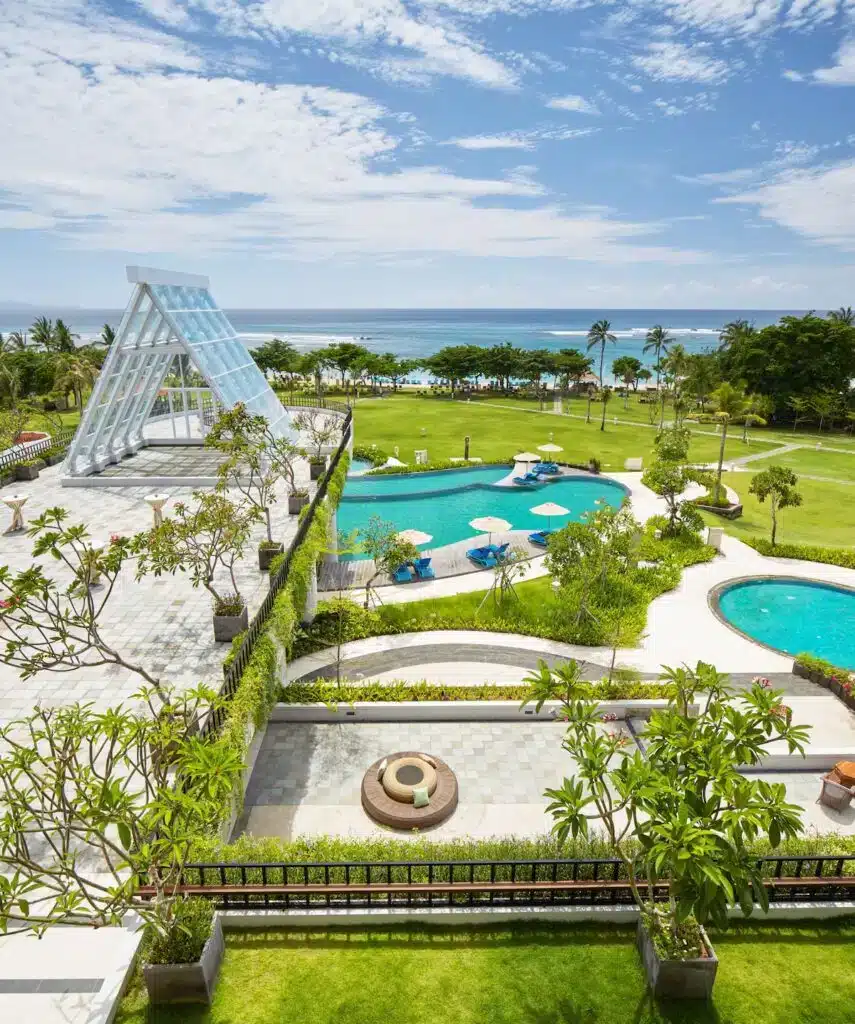 It's an excellent hotel with more affordable prices, making it an appealing choice for many travellers.
At MERUSAKA, you can expect beautifully decorated rooms with all the necessary facilities for a comfortable and relaxing stay.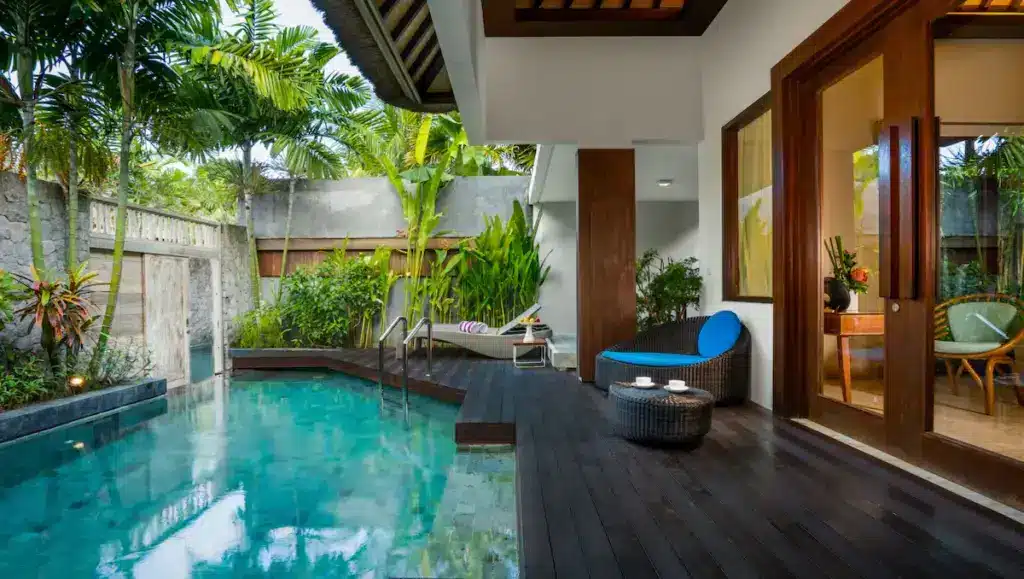 Whether you wish to relax by the pool or treat your taste buds at the hotel's restaurant, MERUSAKA is where your wishes can be fulfilled.
Past guests have mentioned it as the ultimate place for a peaceful vacation.
See more photos and book here.
And now, a hotel with a well-recognized name – Holiday Inn Resort in Nusa Dua is an excellent option for those seeking quality and comfort at a reasonable price.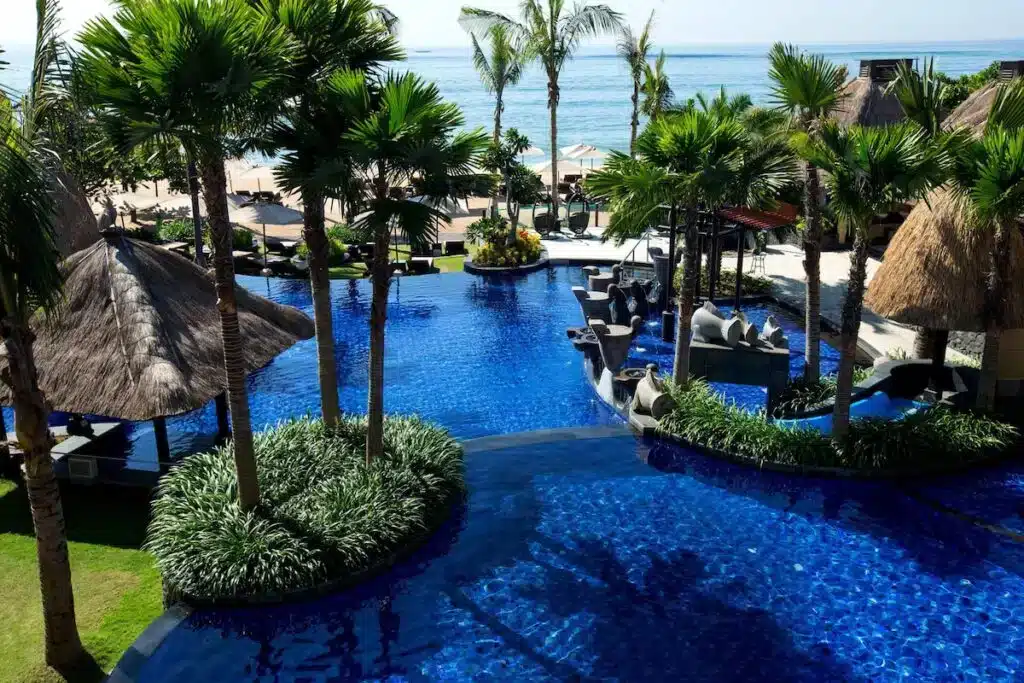 The hotel offers spacious, well-furnished rooms and is suitable for families, providing unique suites ideally adapted for families with children.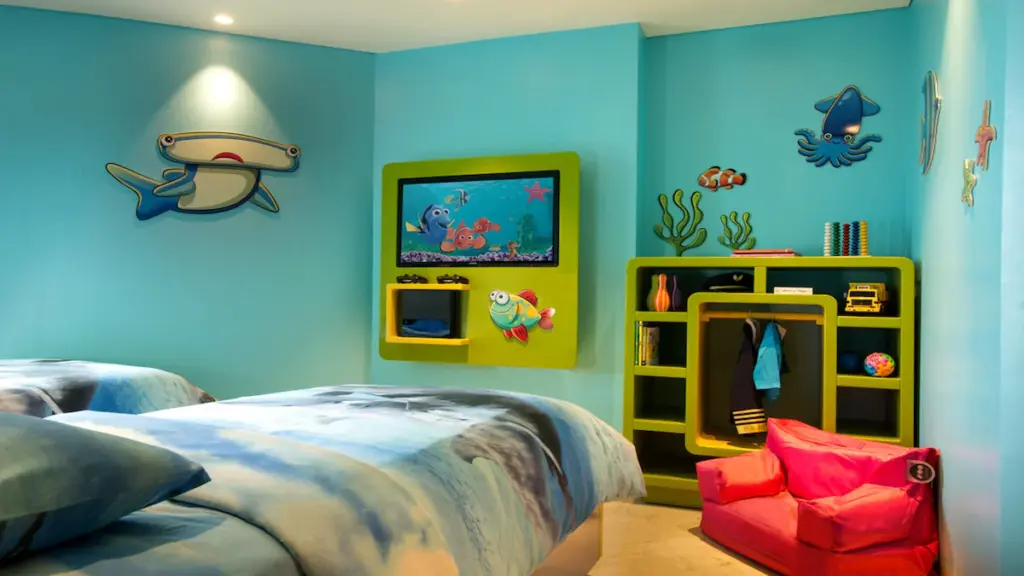 This hotel not only offers value for money but also provides a range of facilities to make your stay even more pleasant.
Opportunities for relaxation by the large swimming pool are available, and children can enjoy the kids' club while adults can savour a meal in one of the hotel's restaurants.
See more photos and book here.
What about Lovina, Sanur and Kuta? 🤯
This was my specific and personal opinion on where to stay in Bali.
Does this mean that you should not stay in Lovina, Sanur, or Kuta?
Absolutely not. Especially if you are travelling to Bali with children, I can easily see the sense in finding a large resort hotel in Sanur or booking into the luxurious surroundings in Nusa Dua.
What I fell for in Bali, however, was probably more the lovely nature and the experiences available when you enter "the countryside".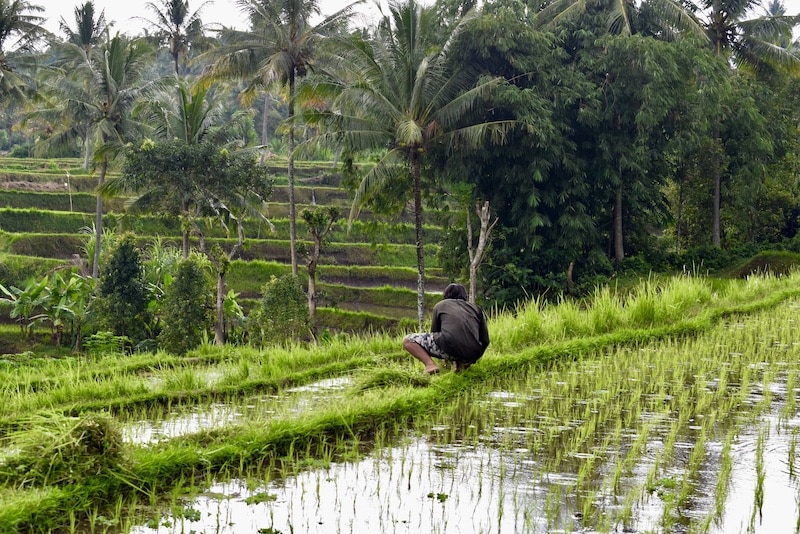 It is easy and affordable to hire a private driver who can, for example, ensure that transportation from one area to another becomes an experience.
For instance, a trekking tour in Mayong Village was scheduled during our transfer from Sidemen to West Bali National Park.
This way, it didn't feel like a long drive, but instead like a day of sightseeing, where we ended up at a new hotel in a new area.
I recommend travelling around Bali and not just booking 14 days at the same hotel.
But it's, of course, entirely up to you 😀
I hope you found this travel guide on where to stay in Bali helpful and now better understand where to stay on your trip.
Frequently asked questions about Bali:
What is Bali known for?
Bali is known for its lush green rice fields, rich cultural heritage, traditional ceremonies, Balinese dances, and music. Besides, Bali is also known for its friendly and warm population, making the island a fantastic destination for tourists wanting to experience Balinese culture and history. Bali is renowned for its sea life and is a popular spot for diving and snorkelling at places like Tulamben and Menjangan Island.
Where are the best beaches in Bali?
Bali is known as a tropical paradise island with numerous beautiful beaches. Travelers visiting Bali should not miss these sandy beaches, where white sand and crystal-clear water meet the land:
Nusa Dua Beach is one of Bali's most exclusive and luxurious areas, offering white sandy beaches and blue waters. Kuta Beach is famous as a surfer's paradise and is known for its vibrant nightlife. Seminyak Beach is another popular destination known for its trendy beach clubs and luxurious resorts.
Jimbaran Beach is a beautiful beach with a serene atmosphere and is famous for its seafood restaurants along the beachfront. Padang-Padang Beach is a picturesque beach surrounded by cliffs and trees. It's a great place to surf and watch wildlife.
Sanur Beach offers a long beachfront, ideal for families and those wanting a relaxing atmosphere.
Finally, Balangan Beach is more peaceful and pristine, different from the other beaches mentioned above.
Additionally, many also visit the Gili Islands or Nusa Lembongan and Nusa Penida, where the beaches are better than the beaches of Bali.
When is the best time of the year to visit Bali?
The best time of the year to visit Bali depends on your preferences and what you want to experience on the trip. Generally, Bali's climate is tropical, so it's hot and humid all year round. The high season in Bali is from June to August and from December through New Year, and during this time of year, hotel prices can be increased, and beaches can be very crowded.
The best time for sunny days and limited rain is April to October. This is also the best time to explore the island's beautiful beaches, diving spots, and Bali's nature and culture.
Where not to stay in Bali?
If you're looking for charming, untouched spots in Bali, you might want to steer clear of Kuta. This area is incredibly touristy and has lost much of its original charm and character. While it's bustling with nightlife, shops, and restaurants, the overwhelming crowds and noise can be a bit much for those seeking a more serene, authentic Bali experience. If you're in pursuit of tranquillity and the charm Bali is known for, exploring other areas of the island may be more rewarding.
Websites I use to book my trips 👇

• Booking.com has the best offers on hotels and unique places to stay
• GetYourGuide is the best place to book tours & activities with free cancellation
• Omio is my go-to booking platform for trains in Europe
• Welcome Pickups is the best & safest place to pre-book airport transfers

Psst 👀 Have you subscribed to my Youtube channel where I provide more useful travel tips?