In this travel guide to Fuerteventura, I talk about the best areas and give good tips for where to stay in Fuerteventura.
Fuerteventura is the second largest Canary Island, so there is a big difference in where you choose to book the hotel on this beautiful island.
I have been to Fuerteventura a couple of times and must admit frankly that I love the island. Landing on Fuerteventura in December, being greeted by 22 degrees of sunny heat and then just enjoying a glimpse of summer on the Canary Islands – it's absolutely outstanding.
So I envy you who are looking for the best area to stay in Fuerteventura. I am absolutely sure that you will have a good trip.
And with that – let's get started with the guide to where to stay in Fuerteventura.
1. Corralejo – the best area ⭐️
To that extent, I recommend staying in Corralejo when you travel to Fuerteventura – the city surprised me very positively on all parameters and is only about a 45-minute drive from the airport.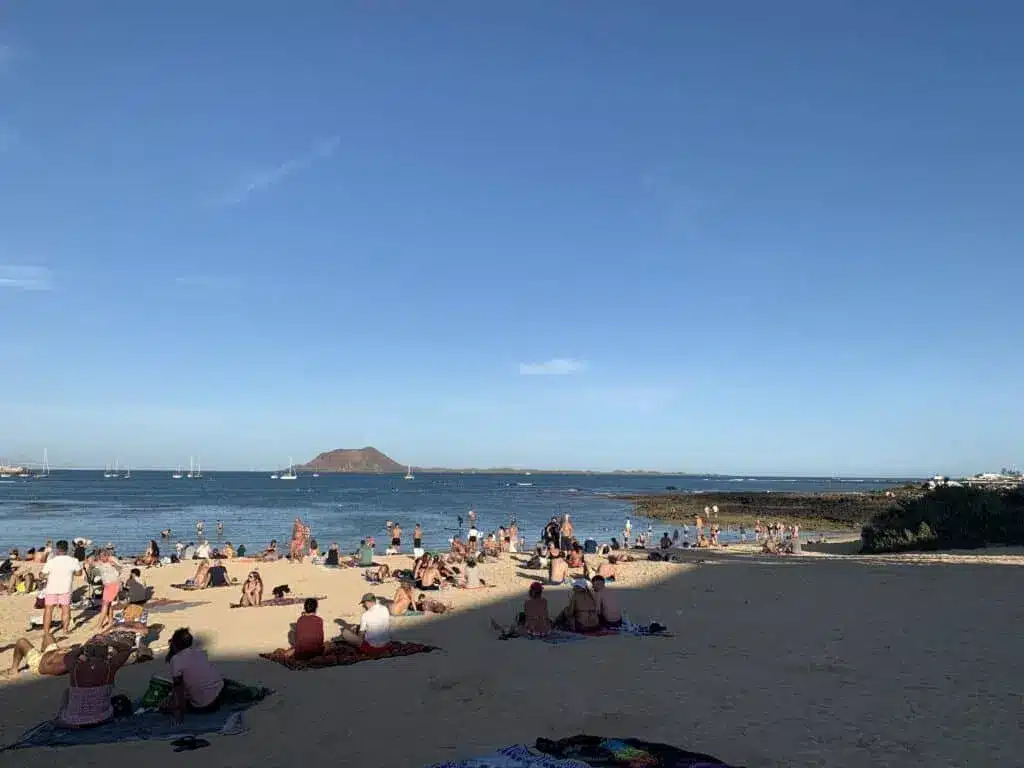 As a child, I have experienced several classic tourist destinations on charter holidays, e.g. Mallorca, Crete and Cyprus and perhaps little expected Corralejo to be the same story.
Fair must be fair: Corralejo is also a town with lots of tourism, but there was still a completely different local soul than in "just another charter town".
There are many excellent local cafes, restaurants and bars, while the town is small enough that you can easily walk around the city without taking a taxi or public transport.
Corralejo has several sandy beaches – even one right in the city centre. At the same time, there are ferry connections to Lanzarote and Lobos island if you want to explore more than just Fuerteventura.
My favourite beach is Playa de los Verilitos, where there are also several beach bars, so you can have a small draft beer in the sun.
Just south of Corralejo lies Dunas de Corralejo, which is a vast desert area with dunes right next to the coast.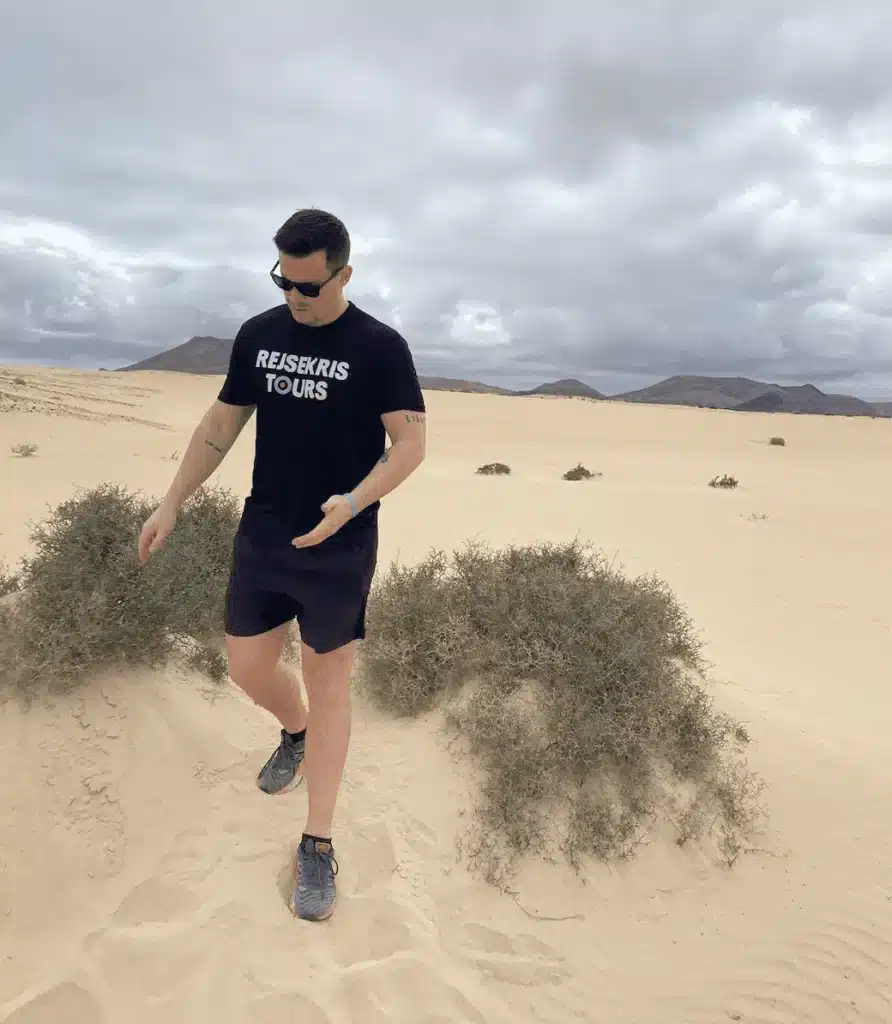 We rented bikes one day and rode around down there – it can be recommended to that extent.
In other words, Corralejo is the perfect area for those who want to be close to a relatively large city with plenty to do, good beaches and plenty of hotels to choose from.
I recommend Corralejo both for families with children, couples as well as single travellers of all ages.
See the best hotels in Corralejo here.
Personally, I have looked at this hotel in Corralejo that I am considering for my next trip to the Canary Islands.
It's centrally located, gets excellent reviews and generally looks like a really good choice.
2. Caleta de Fuste – best area for families with children 👨‍👩‍👦
If we have to choose an area on Fuerteventura as the most family-friendly, then the award must go to Caleta de Fuste.
The town is located on the island's east coast, approximately 7 km south of the airport, so the airport transfer is over in a very short time, and the holiday can begin.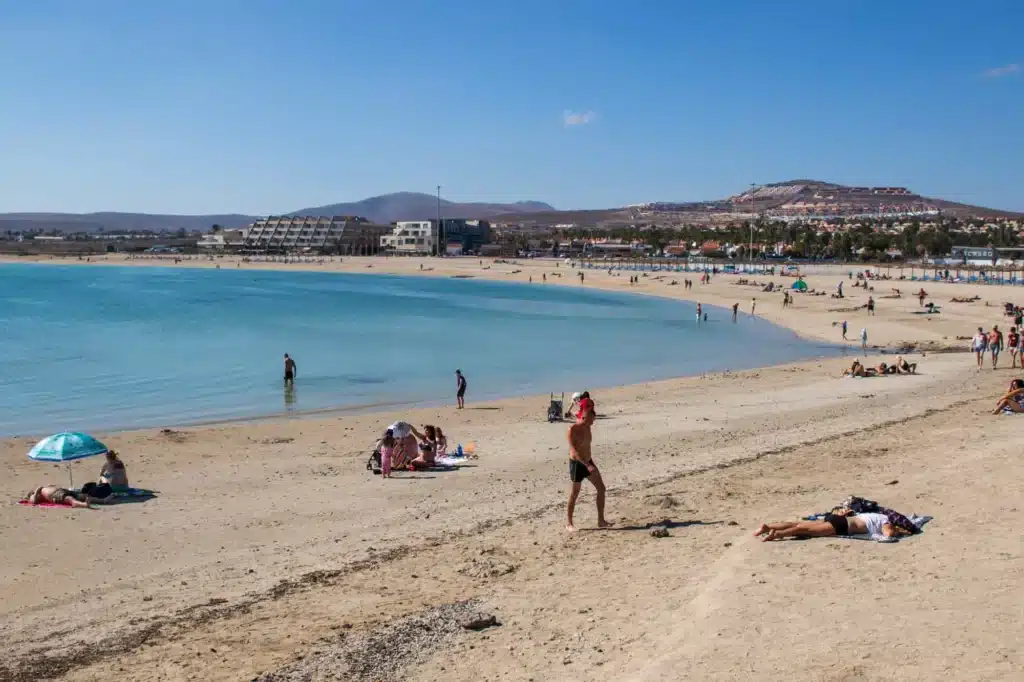 The holiday area is also known as El Castillo, as the town's beach is named after Playa de Castillo and is a natural landmark in the resort town.
The beach is well protected inside a cove, which is why there are not as violent waves as there can be in other places on Fuerteventura, which are known to have a lot of wind.
This is why this place is perfect for those who travel to Fuerteventura with children and want to let the youngest frolic in the water on the sandy beach.
It is a more traditional holiday town, where the pace is completely slowed down and the whole area is packed with child-friendly hotels.
With its location roughly in the middle of Fuerteventura, Caleta de Fuste is also an excellent starting point for those who want to rent a car or go on excursions to other places on the island.
See the best hotels in Caleta de Fuste here.
3. Puerto del Rosario – the capital of Fuerteventura 🏛
The capital of Fuerteventura is called Puerto del Rosario, and for many will be a slightly unconventional choice of area for the trip.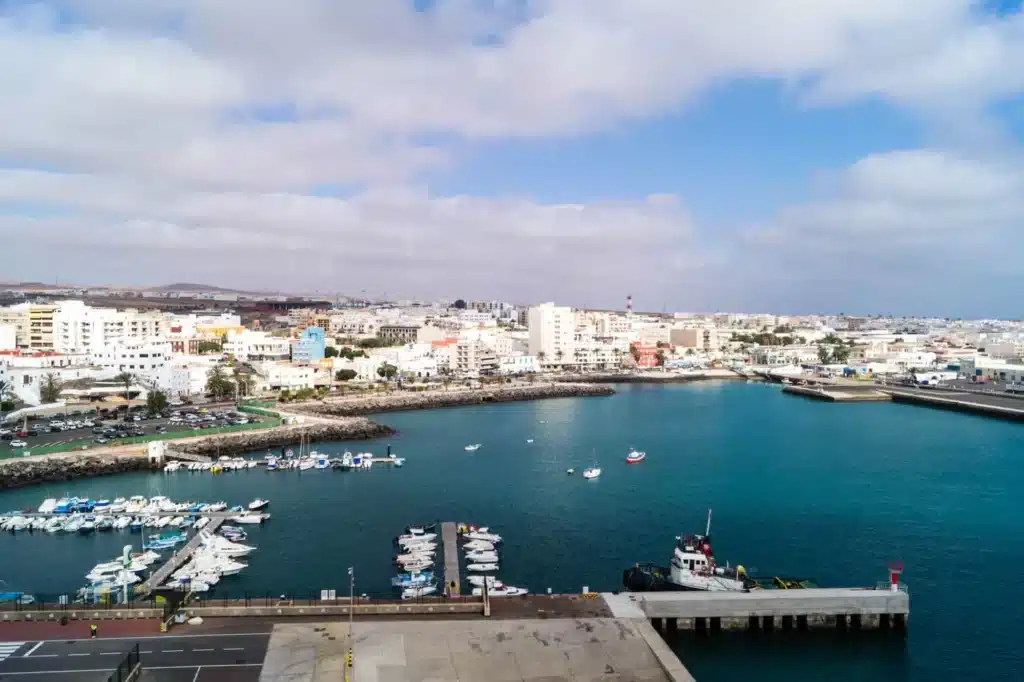 This is different from where you should book the hotel if you dream of a classic sun holiday, but the city could be a good choice for anyone travelling to Fuerteventura and might like to stay in several places on the trip.
Puerto del Rosario is where you experience what you can call the real Fuerteventura. This is an authentic Spanish city with all that it entails.
In fact, Playa del Rosario also has a beach that is relatively newly renovated, so you can also play beach lion while enjoying all that the big city has to offer – a bit like in Barcelona, but of course, on a significantly smaller scale here in the city, where there are only just under 30,000 inhabitants.
As this is the main city on Fuerteventura, you can easily get around the rest of the island by public transport.
Therefore it can be a suitable place to stay if you want to experience local culture and easily get around to other areas of the Canaries.
And then you are again super close to the island's airport!
See the best hotels in Puerto del Rosario here.
4. Costa Calma – best area with the most beautiful beaches 🏖
Then we go a little further south to Costa Calma, about an hour's drive from the airport at Puerto del Rosario.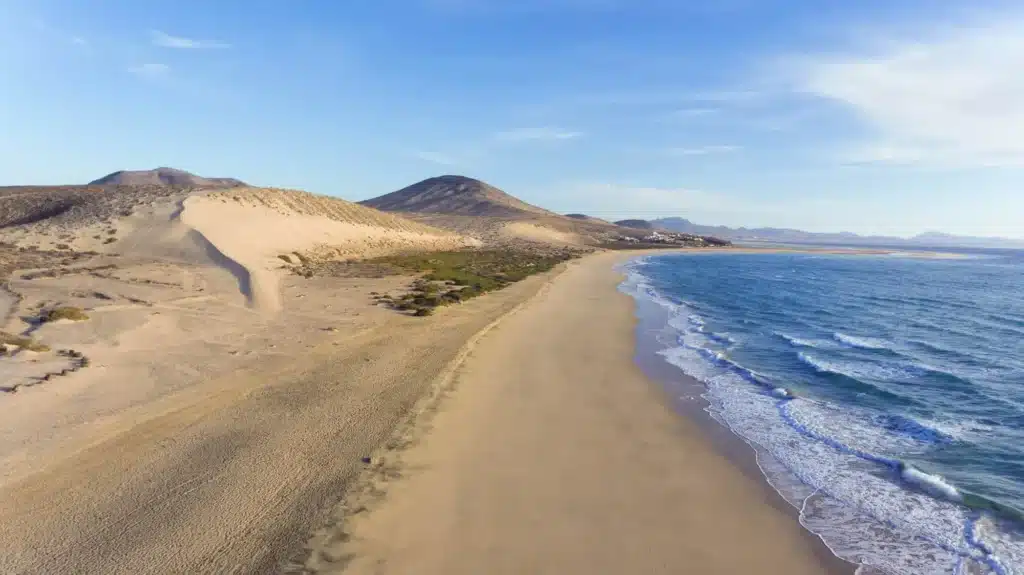 Costa Calma is a popular holiday area, and for some reason, it is particularly popular with travellers from Germany 😀
Maybe a little ala Agia Marina in Crete is popular with us travellers from Denmark, but in any case, you can count on bumping into a German or two if you choose to hotel in the Costa Calma area.
You should choose Costa Calma if you want to stay in slightly quieter surroundings than Corralejo. As the name suggests, this area is calmer – not much happens here, but many beautiful sandy beaches exist.
So Costa Calma will be a good area for you who want to come down to sun, warmth and some of the best beaches.
See the best hotels in the Costa Calma area here.
You can also book the hotel in areas such as Jandia and Morra Jable, located further south of Costa Calma.
Fuerteventura has much to offer all over the island, but it is generally said that the most beautiful sandy beaches are in the south.
I hope you were able to use this travel guide for where to stay in Fuerteventura and are now ready to book your hotel.
If you have any questions about Fuerteventura, please comment below, and I will do my best to help you plan your trip to the famous Canary Islands.
Frequently asked questions:
What is the best time of year to visit Fuerteventura?
The best time to visit Fuerteventura is between May and October when the weather is warm and sunny, and there is little rainfall.
Where to stay in Fuerteventura with children?
Fuerteventura has several areas that are great for families with children. Here are some suggestions for where to stay:
Costa Calma: Located on the southern coast of Fuerteventura, Costa Calma is known for its long sandy beaches and calm waters, making it a great spot for families with young children. There are plenty of family-friendly resorts and hotels in this area, as well as restaurants and shops.
Corralejo: This town in the north of Fuerteventura has a lively atmosphere and plenty of activities for families, including water parks, mini-golf courses, and boat trips to nearby islands. There are also many family-friendly resorts, apartments, and villas to choose from.
Caleta de Fuste: This resort town on the east coast of Fuerteventura has a large sandy beach with calm waters, making it ideal for families with young children. There are also several family-friendly hotels and apartments in the area, as well as restaurants and shops.
Jandia: Located on the southern tip of Fuerteventura, Jandia has several long sandy beaches that are perfect for families. The area is quieter than some of the other tourist spots on the island but still has plenty of restaurants and accommodations suitable for families.

How do I get around on the island?
You can rent a car or take a taxi to get around on the island. Local buses also connect most towns and villages on the island. However, I'd highly recommend renting a car as it can be a bit challenging to find bus schedules online.
Is English widely spoken in Fuerteventura?
English is widely spoken in tourist areas such as Corralejo or Caleta de Fuste, and most locals will be able to help you in English as Fuerteventura has been a tourist destination for a long time.
What are some popular tourist attractions in Fuerteventura?
Corralejo Natural Park, Betancuria Museum of Archaeology and Ethnography, Oasis Park Fuerteventura, and the beaches of Costa Calma.