Mallorca has for many years been a preferred holiday destination for tourists from all over the world. This is due to the wonderful climate and the fact that Mallorca is so much more than meets the eye.
You can find everything in Mallorca, whether you are into long mountain walks, the more crowded beaches, historic towns, or charter stays.
In this article, I'll share 5 beautiful areas in Mallorca, Spain. I'll also share links for booking good hotels in the mentioned areas.
Where to stay in Mallorca? Let's get this travel guide started.
The best areas to stay in Mallorca
Click the links above to see the best hotels in the different areas of Mallorca.
Mallorca may not be the biggest island in the Mediterranean, but the landscape, the cities and the population are as varied as if you travelled to a large country.
Therefore, you can have completely different experiences depending on where you travel and where you stay while you are in Mallorca.
And then let's get to the guide to the best areas in Mallorca and the hotel recommendations.
1. Serra de Tramuntana – stay close to the beautiful mountains ⛰️
Mallorca's magical mountain range, which stretches over 90 km along the west coast, is a must-see for nature lovers and a gem on the island that should be experienced.
It is also here in the area that the popular tourist area of Sóller is located.
See the best hotels in Sóller here.
Suppose you are looking for a holiday full of hiking and nature experiences. In that case, this is the perfect place to stay in Mallorca.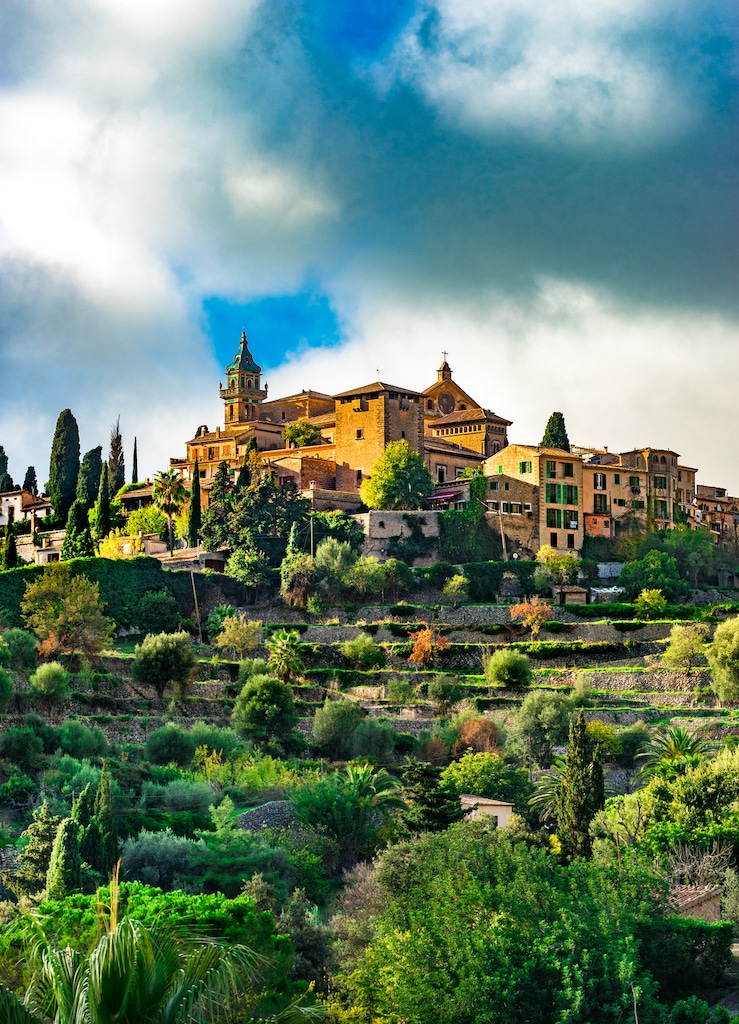 The mountain range covers 30% of the island's total area and has 11 great mountain peaks that reach over 1000 m in height.
In 2011 Serra de Tramuntana was included in the UNESCO World Heritage List.
Fantastic mountain routes in the Serra de Tramuntana
Most people associate a holiday in Mallorca with sun and sandy beaches, but if you want to travel to this area, the mountain range can be just as great an experience in the slightly cooler months.
In winter, you can also see the many beautiful almond trees in bloom.
The area offers spectacular views over the coast, where the deep blue colour of the sky stands out in harmony with the sea's surface, almost deserted walking paths, the scent of citrus fruits and century-old olive trees.
You don't have to be a professional hiker to experience some routes, although it is a good idea if you don't fear heights.
The towns in the mountain area are a whole chapter in themselves.
Although there are only a few hundred inhabitants in several towns, there is still life. Weekly markets are held in several places with local produce, and each town has its attractions.
Stay in the artist town of Deiá
Something else unique in Deiá is the town's many watchtowers, which were built in the 16th century to prevent pirates from going ashore.
The small town with 850 inhabitants also has a lot to offer gastronomically. You will find delicious cafes and tapas bars in several places in the city.
See the best hotels and villas in Deiá here.
Hotel recommendation – Hotel Des Puig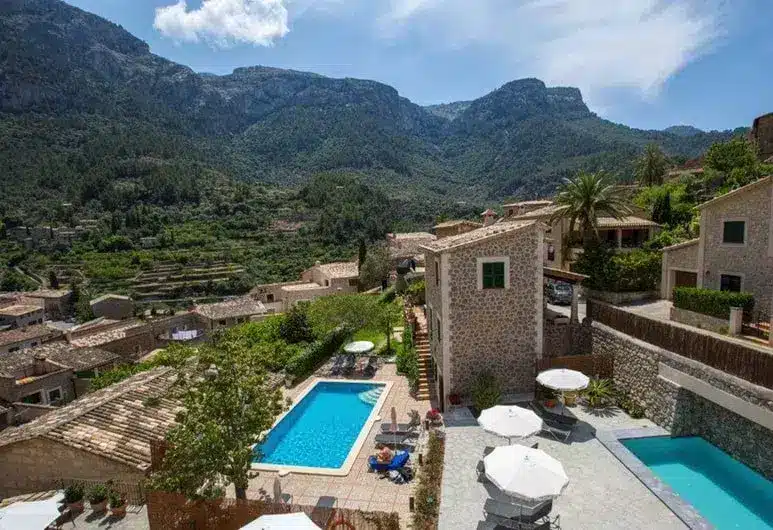 Staying in Deia, located at the foot of Teix mountain, gives you the perfect starting point for some beautiful hikes. This hotel is small and idyllic but has everything you need.
There is a pool and fitness centre, wifi and a delicious breakfast buffet, giving you the best start to the day you could wish for.
See more photos and book online here.
Places to stay in Sóller
Ecocirer Healthy Stay is a unique and eco-friendly boutique hotel in the charming town of Sóller.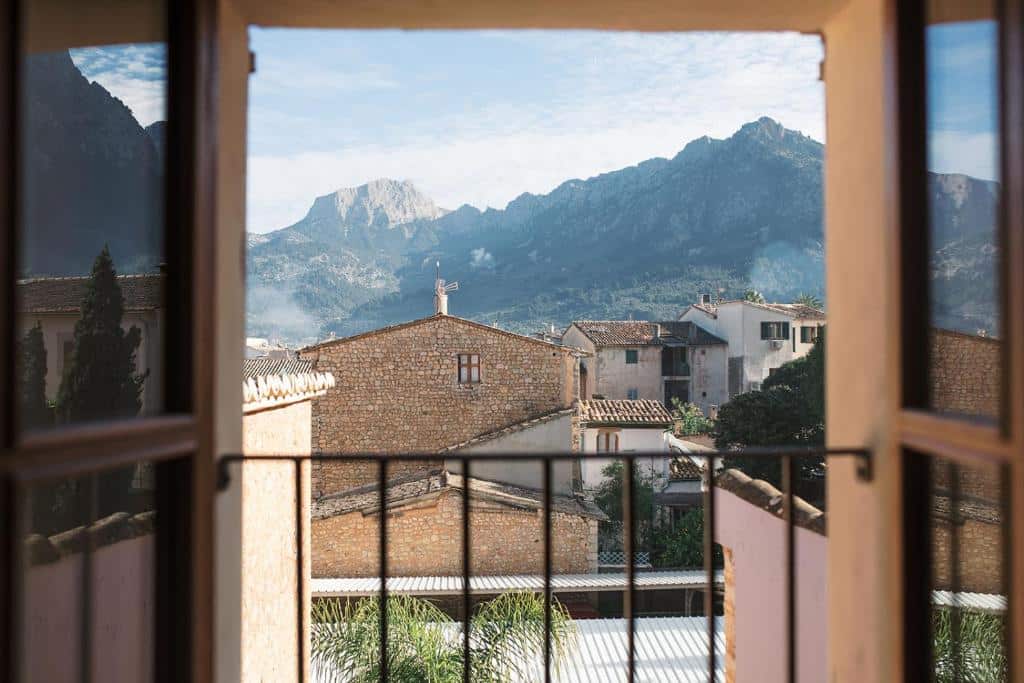 Focused on sustainable living and wellness, this hotel offers a tranquil retreat for those seeking a healthier and more mindful experience.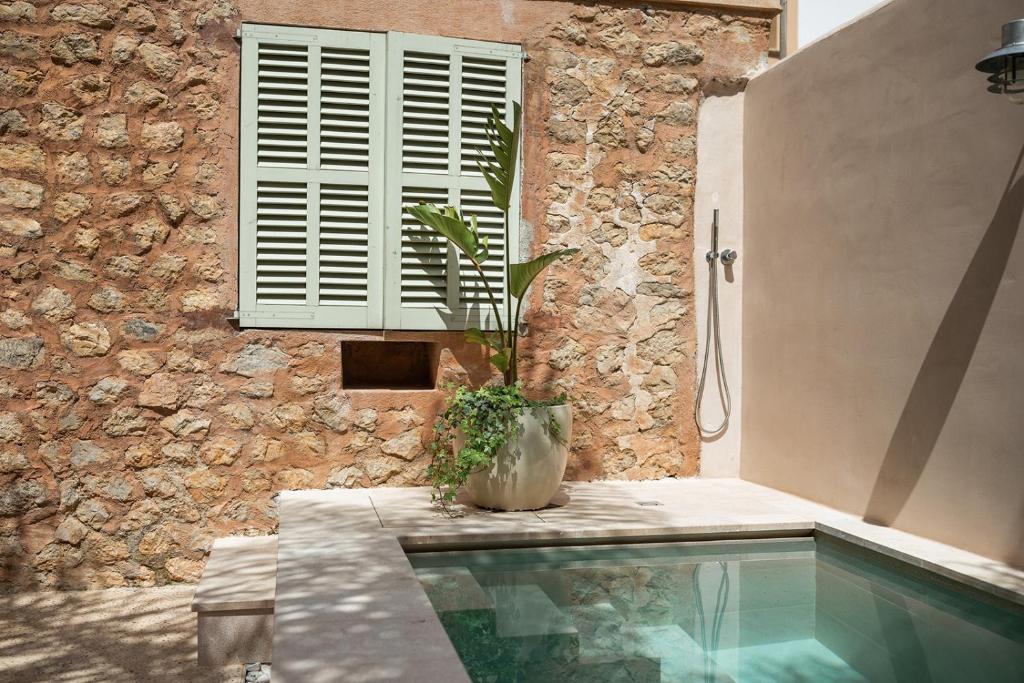 The beautifully designed rooms incorporate upcycled materials, providing a stylish and eco-conscious atmosphere.
Indulge in their delicious plant-based breakfasts with locally sourced and organic ingredients.
With close proximity to both the mountains and the beach, Ecocirer Healthy Stay is the perfect choice for nature enthusiasts and those looking for a rejuvenating escape.
See more photos and book online here.
Now, let's head down to Port de Soller (the seaside part of Soller).
Hotel Esplendido is a charming retreat along the scenic bay-front promenade of Port de Soller.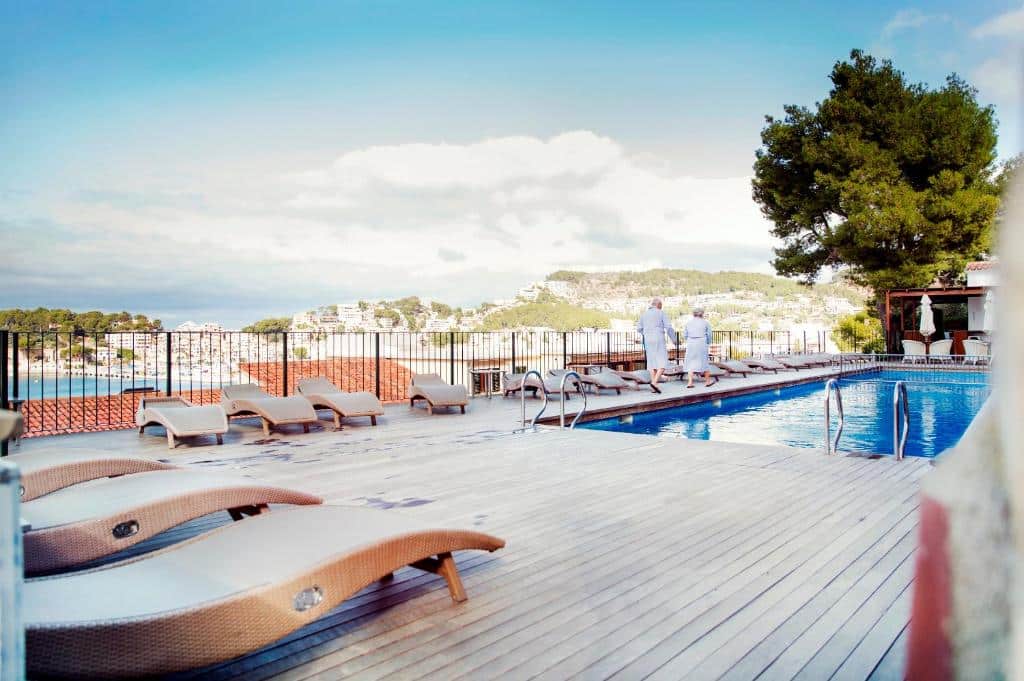 This stylish four-star hotel, with its chic Scandinavian styling, offers a luxurious stay with immediate access to the sandy beach and breathtaking seaside views​​.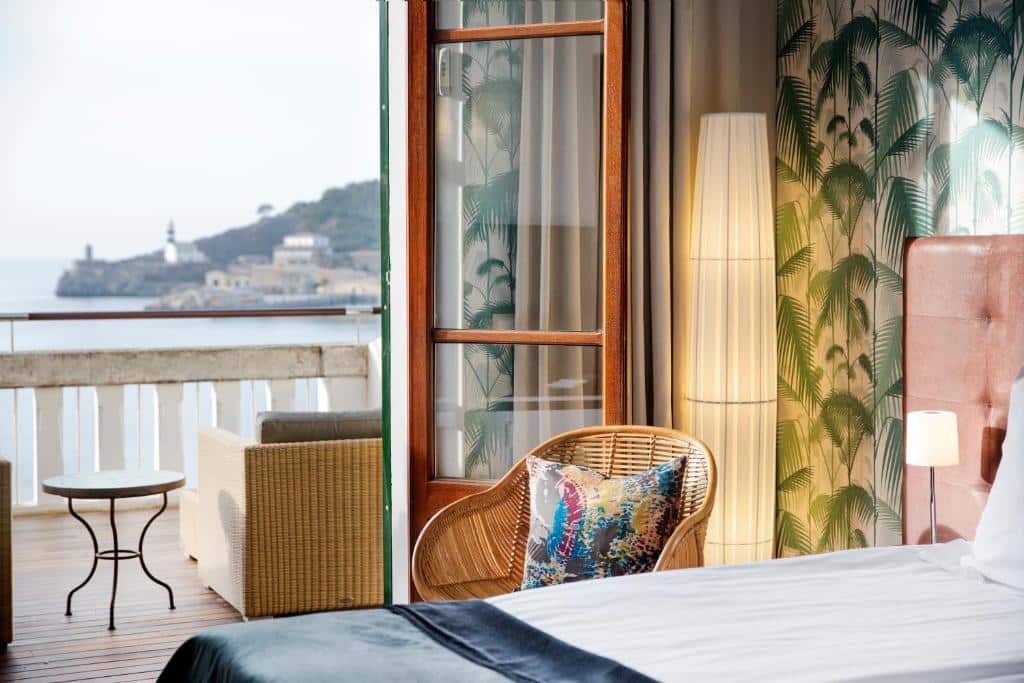 The rooms, equipped with modern amenities, ensure a comfortable experience.
Hotel Es Port in Port de Soller provides a tranquil retreat while still being a short walk from the lively promenade​.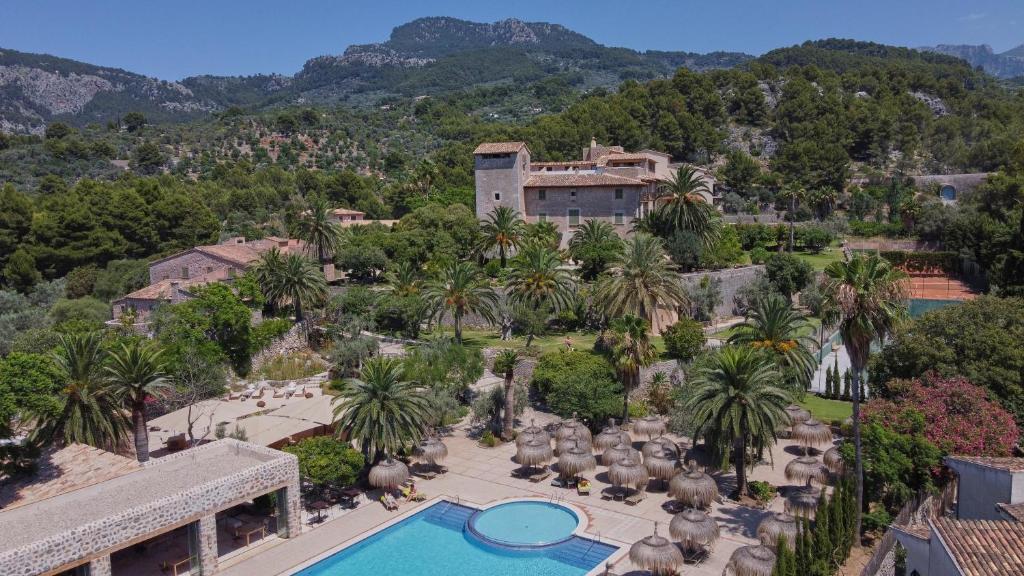 Housed in a 17th-century fortified mansion, it offers a unique stay near the Sierra de Tramuntana Mountains and the Mediterranean Sea​.
This family-friendly 4-star spa hotel offers extra beds and complimentary cots for those travelling with children​.
Guests can enjoy amenities like free Wi-Fi, tennis courts, a gym, indoor and outdoor pools, a spa, and on-site parking.
The hotel also has a "show-cooking" restaurant for a delightful dining experience​.
Hotel Finca Ca N'ai is celebrated for its excellent service and cleanliness, rated as 'exceptional' by numerous guests.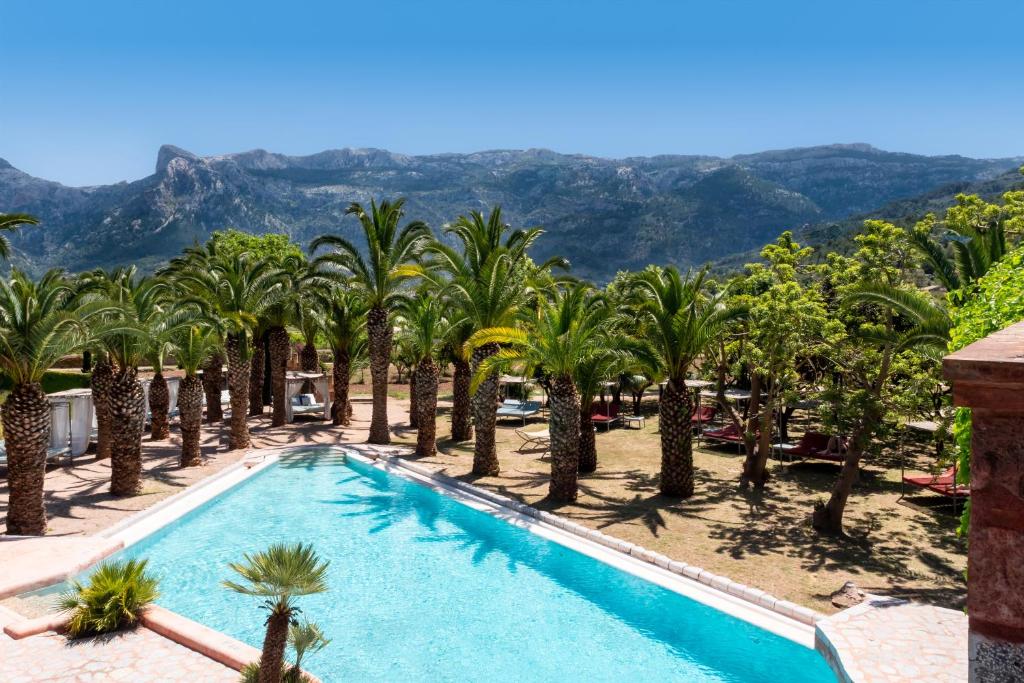 Located conveniently near Soller, with Port de Sóller and the Soller Botanic Garden just a short drive away, it offers a tranquil adults-only retreat​​.
The hotel is known for its luxurious amenities, which include two outdoor pools, a spa, and inclusive parking​.
Guests appreciate the proximity to the beach and the array of services, such as daily housekeeping and a pool bar, ensuring a carefree and indulgent stay​​.
The serene atmosphere is perfect for those seeking an adult-only holiday with a touch of nature and bio-luxury.
2. Palma de Mallorca – stay in the capital of the Balearic Islands
The whole area of Palma de Mallorca is the smallest on the island. It only consists of the capital, Palma and the surrounding municipality.
Nevertheless, it is approx. half of the island's population resides here.
See the best hotels in Palma de Mallorca here.
Palma truly is one of Europe's most incredible cities in miniature format.
Palma is a bustling city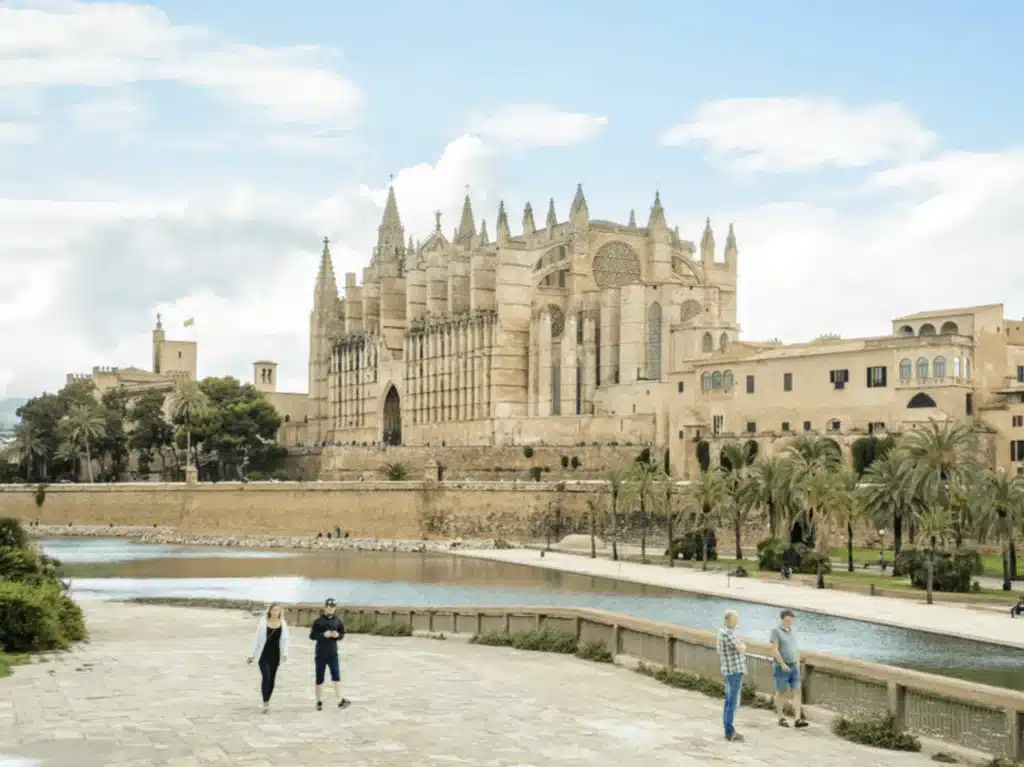 One of Mallorca's best-known sights and, therefore, worth a visit when you travel to the Spanish holiday island.
There are actually no limits to what you can experience in Palma. There are several museums in the old town of Casco Antiguo, but this is also where you will find the exclusive shopping street Jaime III.
The harbour promenade in Palma runs from the centre and 4 km to the shopping centre in Porto Pi. You will find many bars and discotheques along the promenade that kick off the nightlife.
To experience a bit of idyll, visit Es Portixol, a small fishing harbour to the east of the city centre in Palma.
You can hardly visit Palma without stopping by La Seu Cathedral, which the artist and architect Gaudi (who we know from Barcelona too) simplified 100 years ago. Here you will find one of the world's largest rose windows, with more than 12,000 pieces of coloured glass.
Le Seu is the city's trademark and pride, a piece of history you must experience if you spend your holiday in the Palma area.
Gastronomically, there are also plenty of experiences in the capital where delicious Mediterranean cuisine with lots of fish and shellfish, delicious vegetables and olive oil play a prominent role.
The tapas bars are side by side, but if you are into the more familiar fast food, there is plenty of that too.
Suppose you are more curious about the food and the ingredients – visiting the market halls for the weekly food market is worth spending time on.
Places to stay in Palma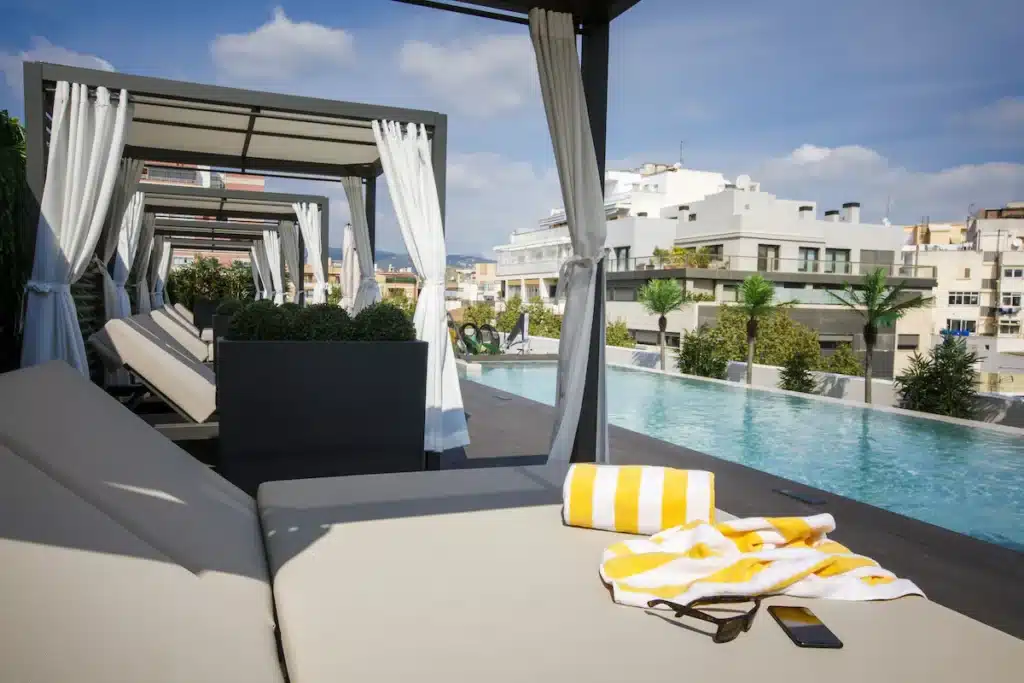 Are you looking for a luxurious place to stay in Palma de Mallorca? Look no further than Protur Naisa Palma Hotel.
Located in the heart of Palma de Mallorca, this luxury hotel has an atmosphere of sophistication and serenity. The hotel features 152 suites and rooms with modern design elements and comfortable furnishings.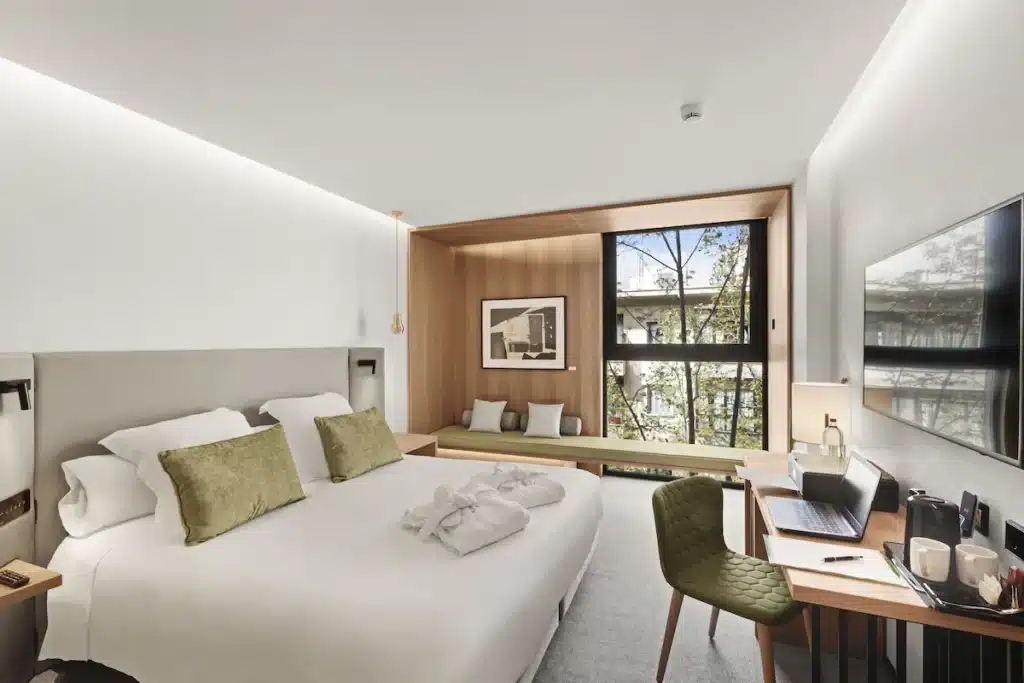 The rooms at Protur Naisa Palma Hotel provide all the amenities necessary for a comfortable stay, such as satellite TV, kitchenette facilities, daily cleaning services, and complimentary WiFi access.
The hotel also has an on-site swimming pool and jacuzzi and a children's play area for the younger guests.
Get the best rate online here.
There are plenty of luxury places to stay in Palma de Mallorca, so let's take another one.
MHOUSE Boutique Hotel Palma is an elegant and stylish urban retreat in the heart of Palma.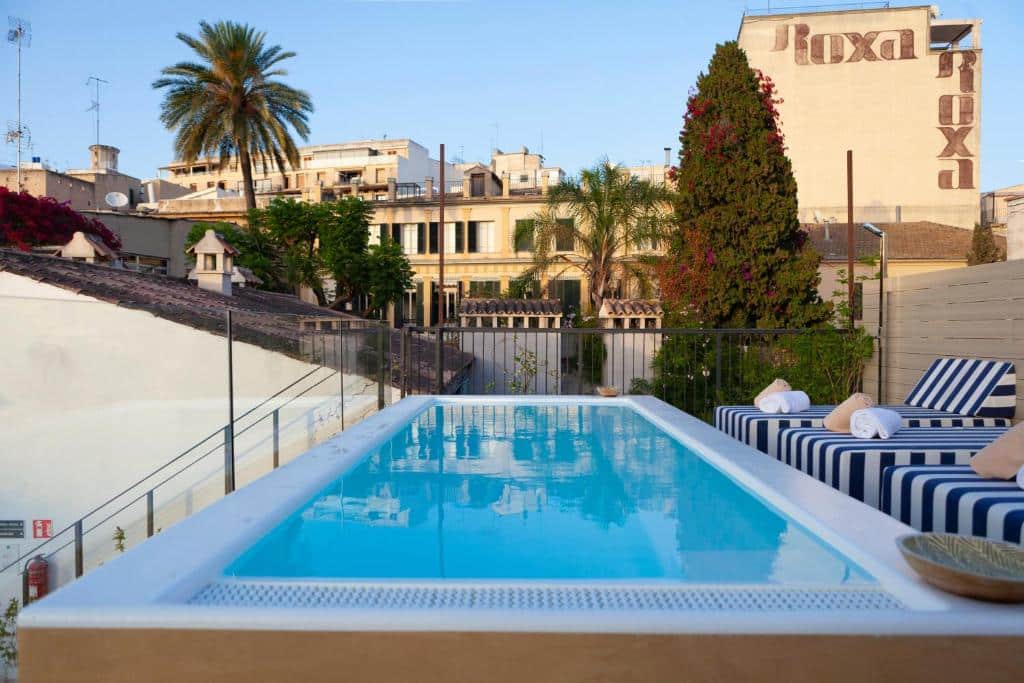 This contemporary hotel features beautifully designed rooms with modern amenities, ensuring you can enjoy a comfortable and luxurious stay in the city centre of Palma.
Relax on the sun terrace, dip in the chic rooftop pool, or enjoy a delicious meal at the hotel's trendy café.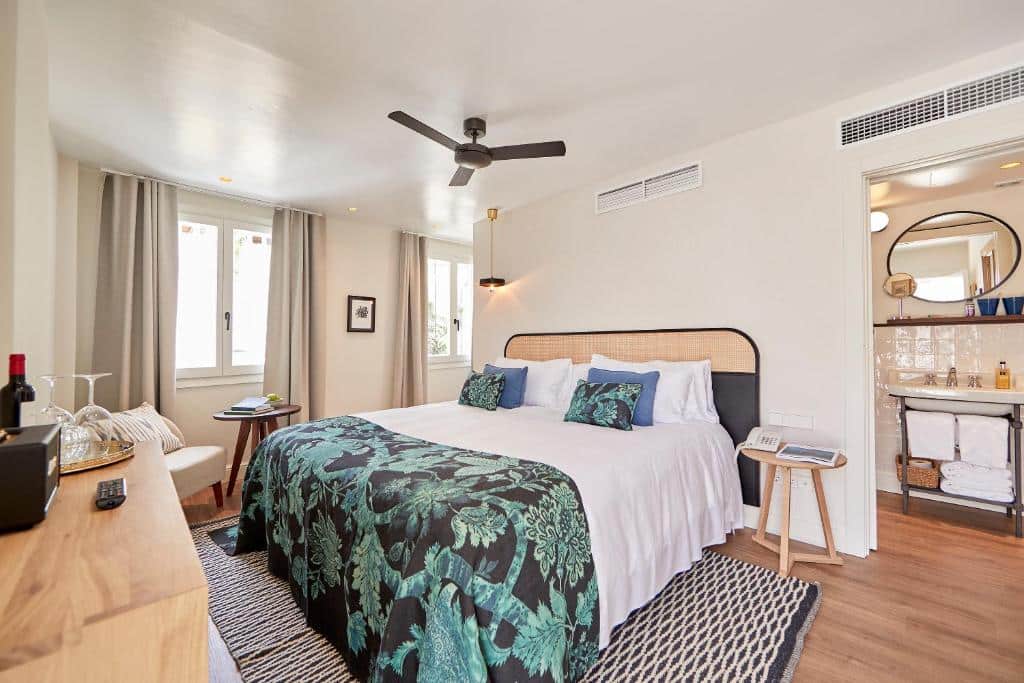 Its prime location allows easy access to Palma's iconic sights, charming streets, and vibrant culinary scene.
MHOUSE Boutique Hotel Palma offers a perfect blend of comfort, sophistication, and convenience for your Mallorcan adventure.
See more photos and book online here.
Bordoy Continental Palma is another brilliant place to stay in Palma.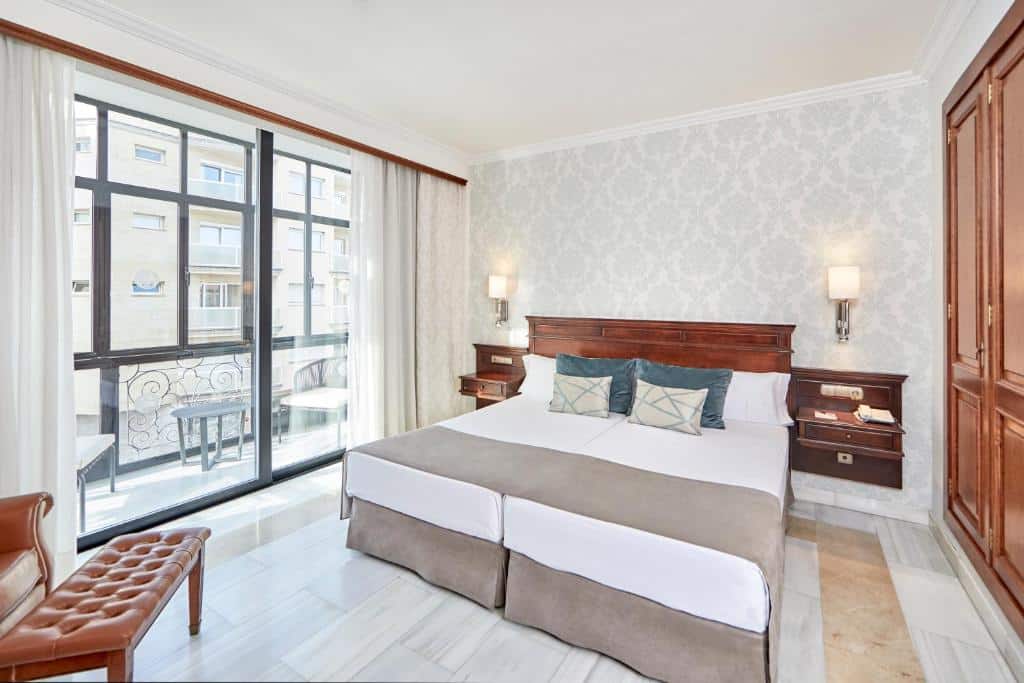 Combining modern amenities with traditional Mallorcan architecture, this hotel offers guests a warm and inviting atmosphere.
The well-appointed rooms provide a comfortable and relaxing stay. Its prime location means easy access to the city's top attractions, shopping, and dining options.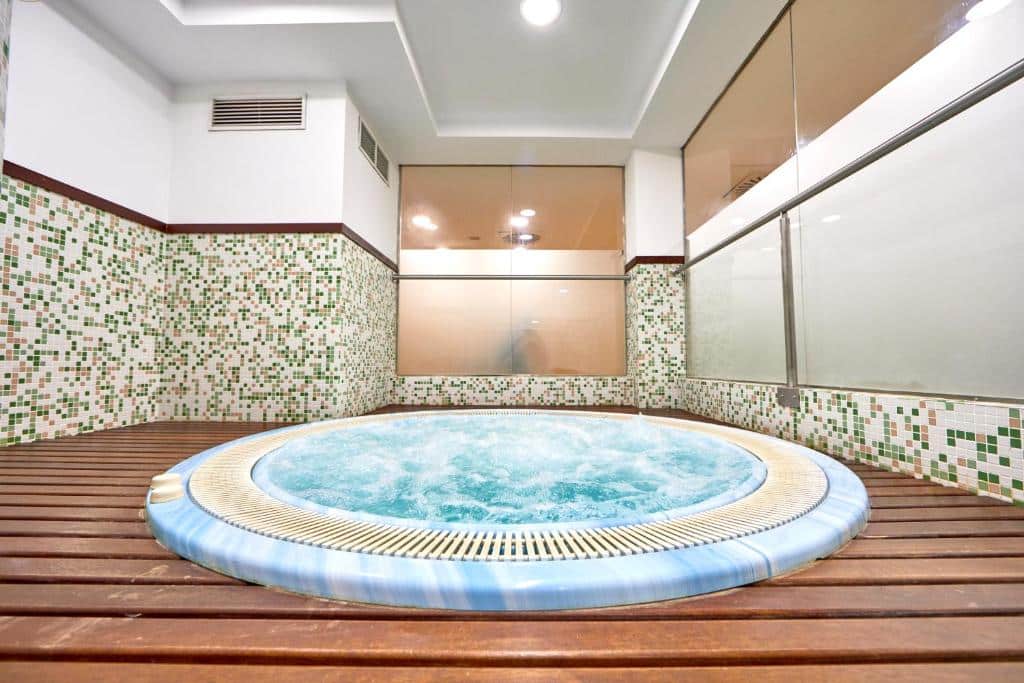 Enjoy an excellent breakfast at the hotel before exploring the city or unwind in the cosy lounge area after a day of sightseeing.
Bordoy Continental Palma is an excellent choice for travellers seeking both comfort and convenience in Palma.
See more photos and book online here.
Santa Clara Urban Hotel & Spa in Palma de Mallorca earns high praise for its value, with guests appreciating the balance of cost and quality.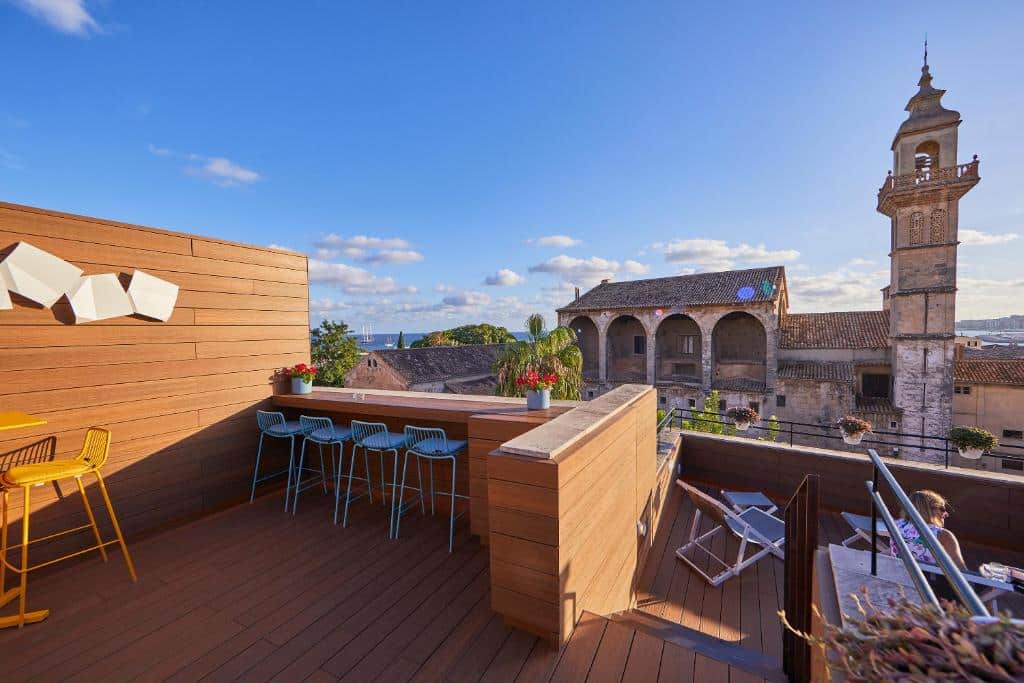 This boutique hotel is in the old town, away from the crowds but within walking distance of the city's attractions and beaches​​.
Previous guests rate it 'excellent' for its location, cleanliness, and service and are particularly enamoured with the views from the rooftop terrace​​.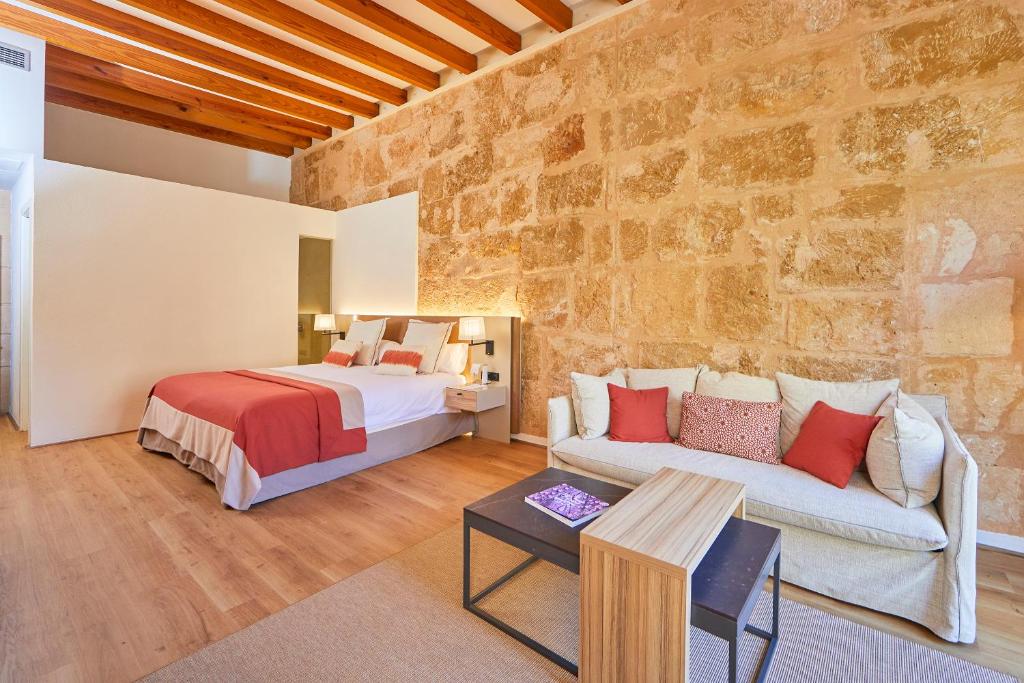 The rooftop terrace, often highlighted in reviews, adds a unique touch to the urban charm of the hotel, making it a standout choice for those seeking quality accommodations at a reasonable price​ in Palma de Mallorca.
3. Plá de Mallorca – stay in the middle of the island
You'll find the area called the granary of Mallorca in the middle of the island.
Most of the island's agricultural products, such as maize, potatoes and rice, are grown in this area. Here you will also find beautiful wine plantations and plantations with almond trees.
The area is sparsely populated compared to the rest of the island and characterized by rustic manor houses and iconic mills.
Can Picafort – best place to stay for families with children
You find the most tourists at Can Picafort, next to Alcudiá Bay, with kilometres of white sandy beaches. It is precisely the coastal areas that attract most travellers.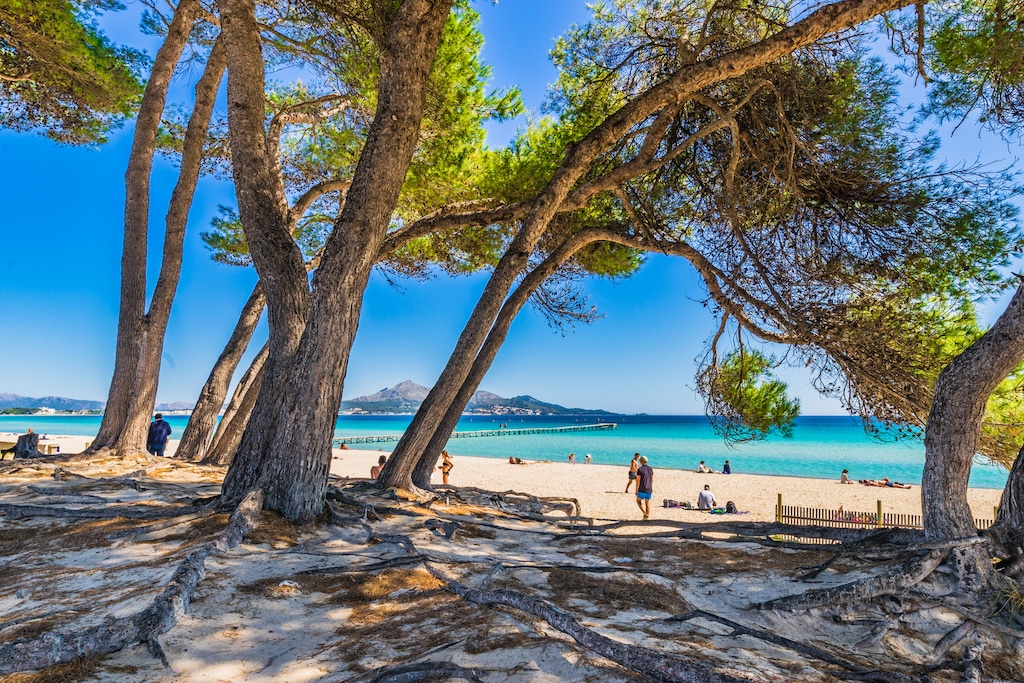 Can Picafort is a small resort town located in the beautiful Alcudia Bay. Located about 45 km northeast of Palma, it offers stunning views and miles of beaches and crystal-clear waters. The resort features quiet and peaceful beaches and several restaurants and bars catering to different types of cuisine.
See the best hotels in Can Picafort here.
Can Picafort's idyllic location also offers plenty of activities for tourists, including boat tours, scuba diving, walking trails, and other coastal activities like beach volleyball and kayaking.
I was there as a child and loved it, so it's also a great place to stay in Mallorca with children.
The lesser-known places to stay in Plá de Mallorca
But if you are more into a holiday in rural surroundings, with few tourists. In that case, you should stay at a so-called finca in this area.
For some, a holiday outside the city sounds boring, but Plá de Mallorca really has a lot to offer, whether you're into food, history, art or just quiet surroundings
If you are among wine lovers, perhaps you should take the famous wine route. A route that offers a tour of wine cellars and fields, with tastings and other delicacies.
The route goes along the 4 towns, Santa María, Santa Eugenia, Sencelles, Binissalem and Consell. Every year in September, a wine festival is held in Binissalem.
If you fancy a little adventure and a fantastic view, Puig de Randa might be something for you.
Puig de Randa is a popular destination that stands out as the only mountain on the otherwise flat area and is also called the holy mountain because of the 3 monasteries on the slopes.
At the top is Nostra Senyora de Cura. Second, only to the Lluc monastery, it is the most important place of pilgrimage in Mallorca. From the top of the 543-meter-high mountain, you can enjoy a unique view of the island.
Experience the open-air museum Els Calderers.
If you want to experience a real piece of Mallorca's history, visiting the open-air museum Els Calderers is an exciting experience. The unique property dates back to when the Arabs occupied Mallorca.
You can see delicately decorated rooms both from the nobility, but also from the working class. The rooms are delicately and beautifully furnished, and old clothes still hang in the chapel. In contrast, you can experience some of the island's traditional instruments in the music room.
In addition to the architecture, you get a good insight into how agriculture was run. If you're travelling with children, they may be delighted to meet many of the island's farm animals, including the famous black pig used for the local sausage sobrassada.
Recommendation: stay in a Spanish finca with a pool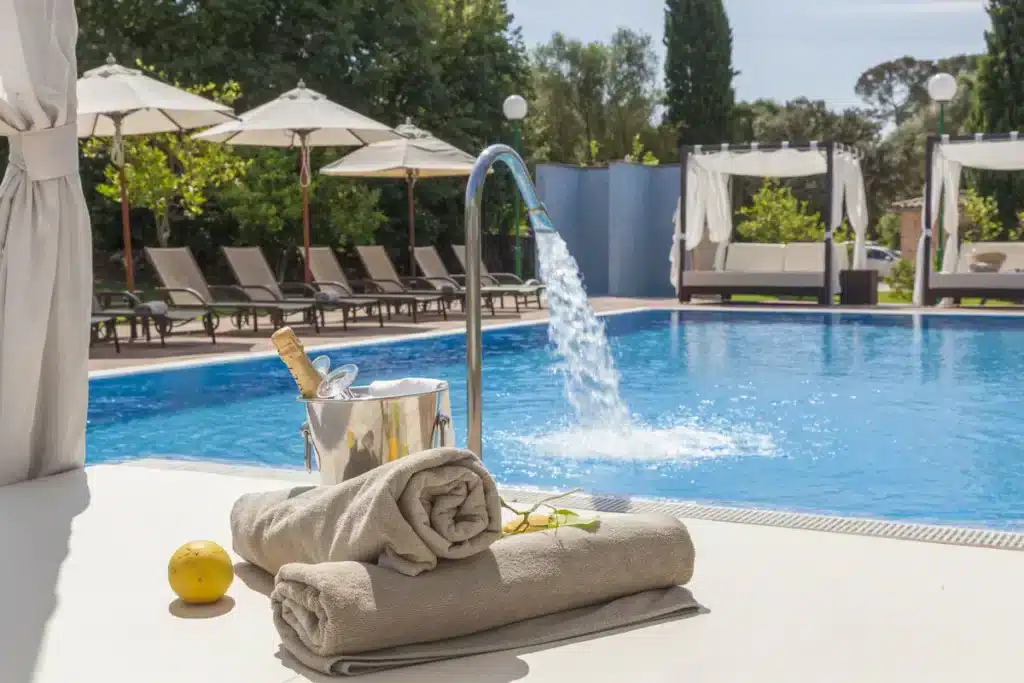 Choose an idyllic holiday in the countryside. You can hardly do anything but stay authentically on a Spanish finca.
A finca can be described as a farm ranging from a small private one-family farm to large manor houses with several rooms.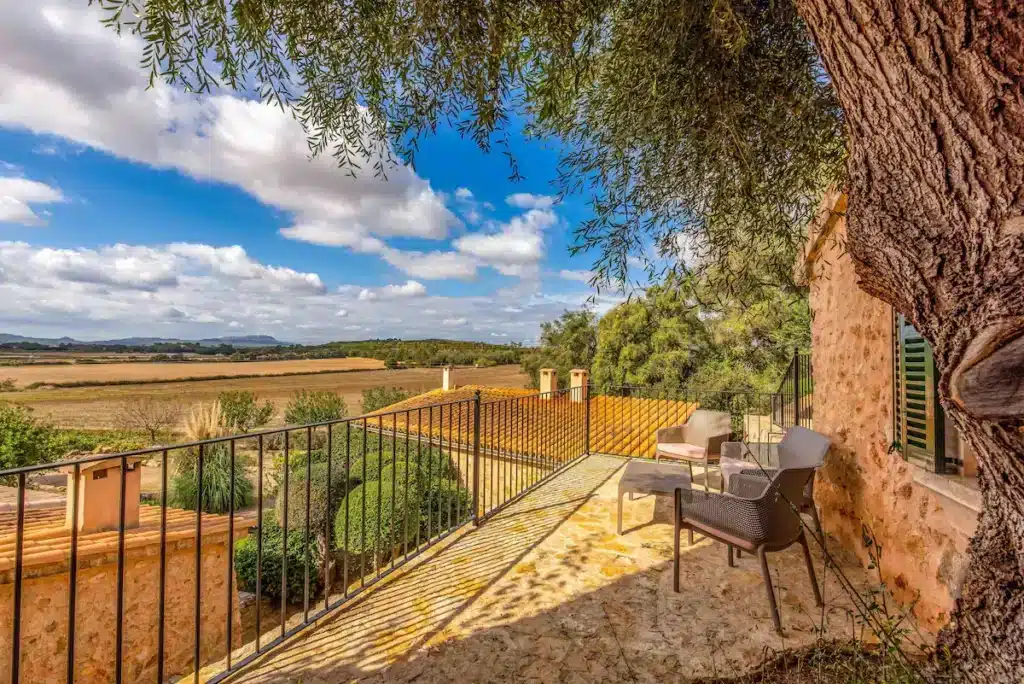 Regardless, you will experience staying in a more ordinary home than a large modern hotel.
At this finca in Porreres, there is plenty of rural idyll and relaxing surroundings, but at the same time, a little luxury in the form of a pool and the possibility of restaurant visits.
4. Raiguer – stay close to the best of both worlds
Raiguer is the most versatile area of Mallorca; the area borders the Serra de Tramuntana mountain range on one side, the flat landscape of Plá de Mallorca on the other, and borders right down to the region of Palma.
If you want to spend your holiday experiencing the versatile regions of Mallorca and enjoy city life, the beautiful beaches, the view from the mountains, and the rural atmosphere, staying in Raigur is a good starting point.
The town of Inca is incredible
The town of Inca is well known for its production of leather goods. Several well-known shoe brands are actually manufactured here. If you want to experience fantastic craftsmanship, the city is worth visiting.
Check out the best hotels in Inca.
In addition, the city is full of atmosphere and offers some of Mallorca's best restaurants.
Every Thursday morning, a large market is held in the town, offering everything from fruit and vegetables to souvenirs, jewellery and, of course, lots of leather goods.
It is certainly not too little to set aside three hours to visit the large, brightly coloured market.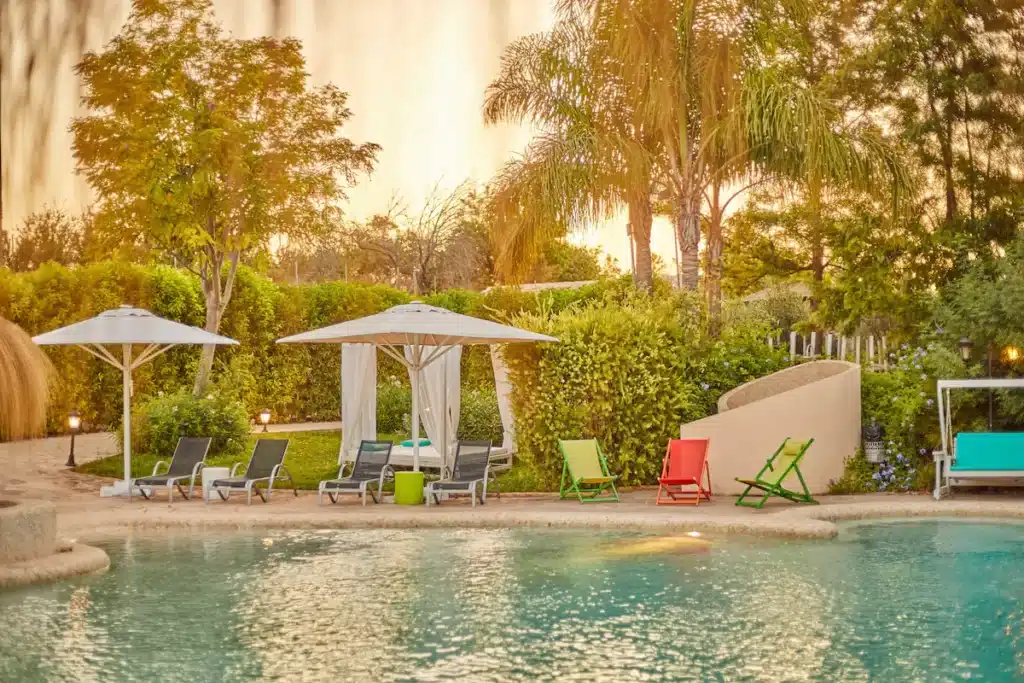 If you want to stay near the city but at the same time enjoy the tranquillity and experience Mallorca's more rural sides, then Sa Vinya des Convent is an absolutely fantastic place to stay.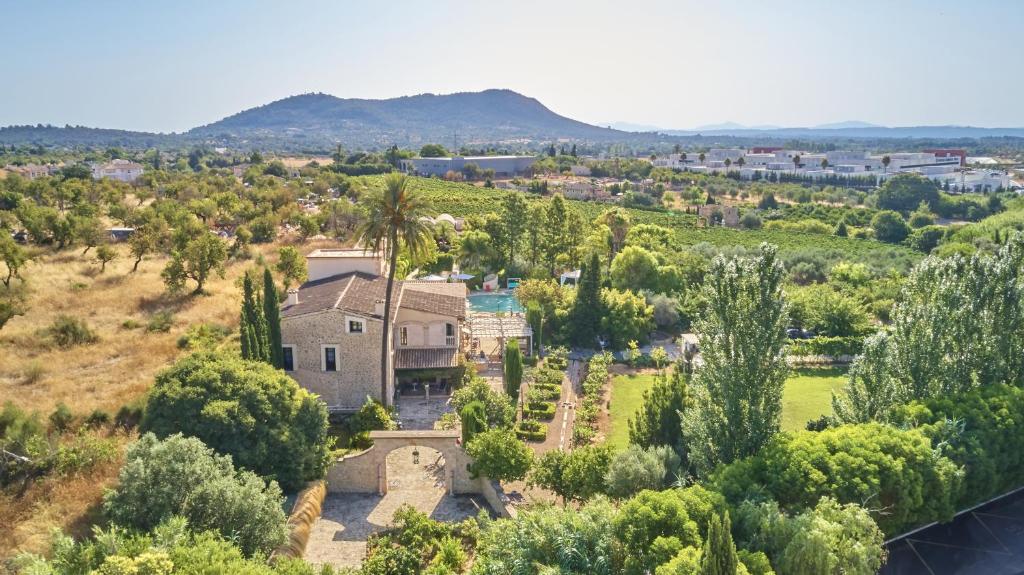 It is like a little hidden gem on the outskirts of Inca.
Get the best rate online here.
New Can Furios Hotel is another sophisticated and charming boutique hotel close to Mallorca's scenic Tramuntana Mountains.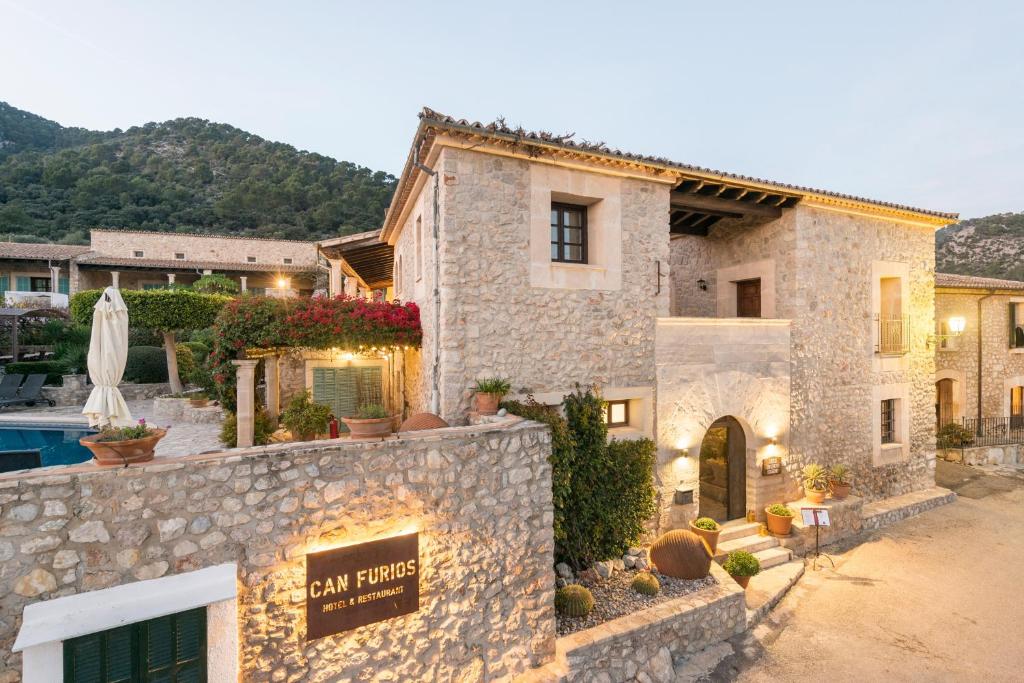 This tranquil retreat boasts tastefully decorated rooms with a blend of traditional and modern design elements. Unwind in the serene gardens, take a refreshing dip in the inviting pool, and indulge in delicious local cuisine at the on-site restaurant.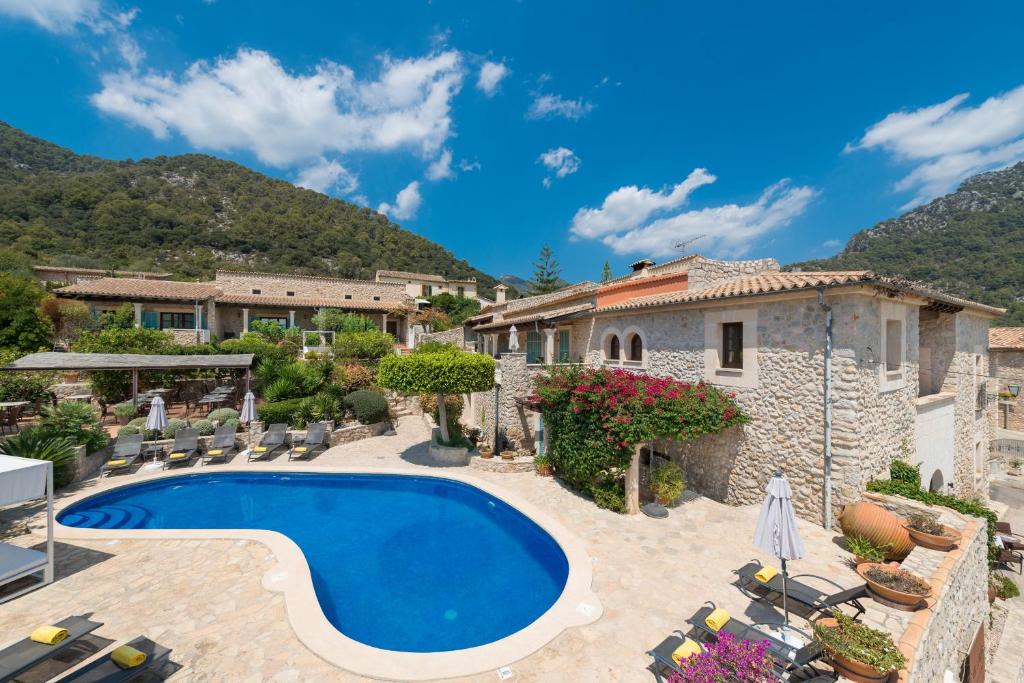 Venture out to explore the charming villages and stunning landscapes nearby.
At New Can Furios Hotel, you are assured a delightful and unforgettable stay in Mallorca's picturesque countryside.
See more photos and book online here.
5. Migjorn – best place to stay for the best beaches 🏖️
Migjorn to the south is a popular destination for the many guests looking for a fantastic (almost) Caribbean beach experience with white sand and crystal clear water.
Migjorn is an extension of Plá de Mallorca and is a plain-like area still very much characterized by agriculture.
However, it is here in the area that we find some of the best beaches in Mallorca, so if you are looking for the perfect place for a relaxing beach holiday, you can book the hotel here in Migjorn.
See the best hotels in Migjorn here (there are some fantastic places to stay in this part of Mallorca).
The link opens hotels in Sa Ràpita, but you could stay anywhere along the southern coast of Mallorca to explore the best beaches on the island.
Best place to stay in Migjorn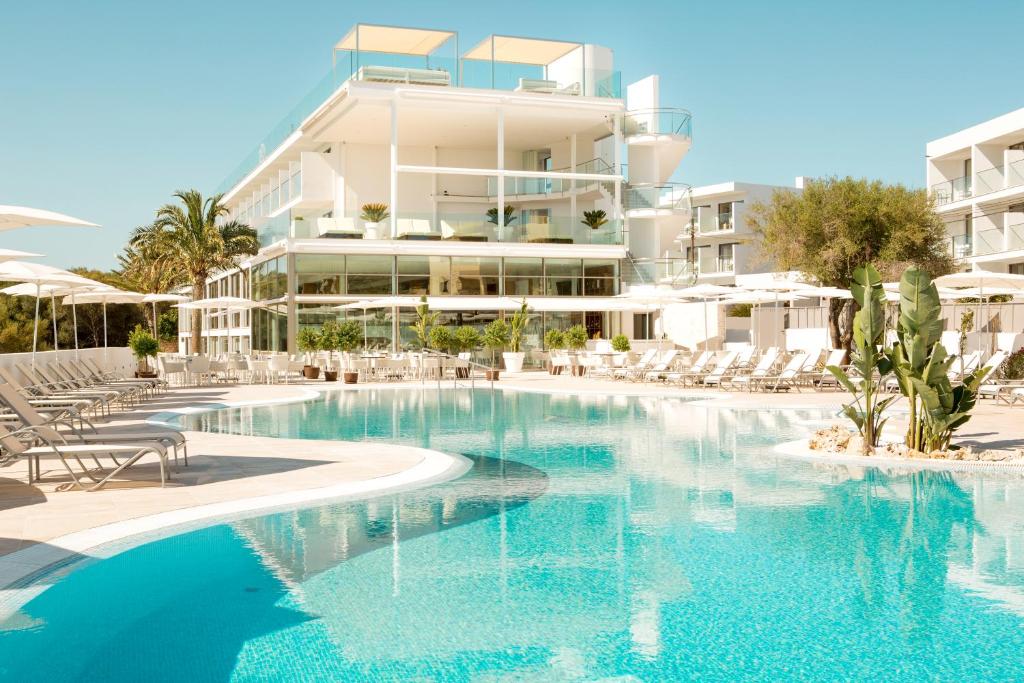 Monsuau Cala D'Or Hotel 4 Sup is an exceptional 4-star boutique hotel in the picturesque area of Cala D'Or.
The hotel boasts elegantly designed rooms that ensure maximum comfort, while the serene pool area provides the perfect relaxing space.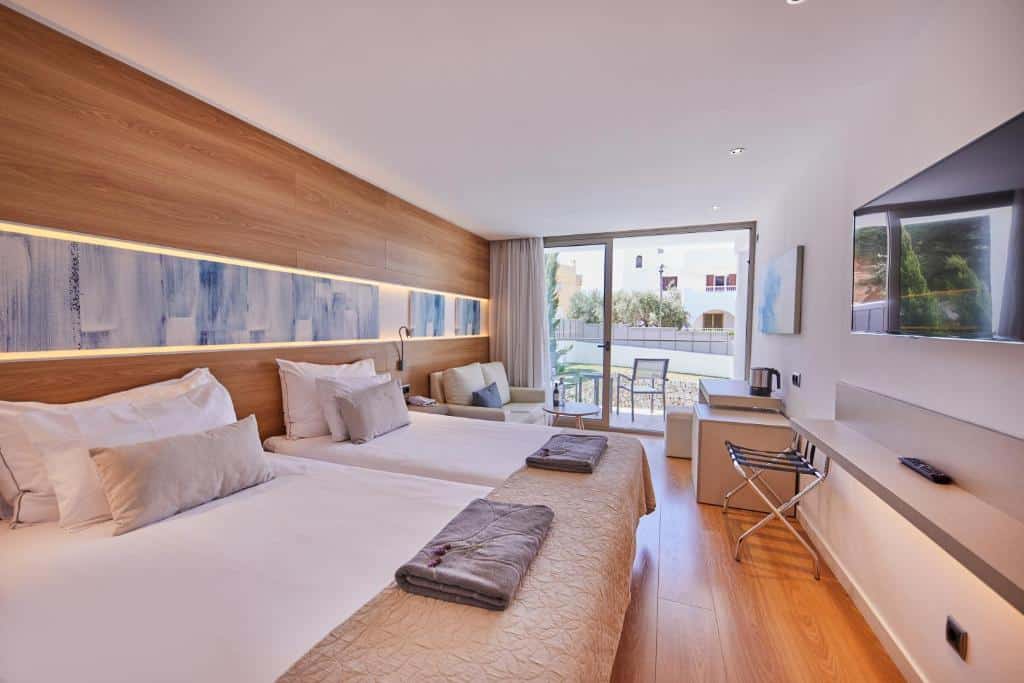 Please note that this is an adult-only hotel in Mallorca
For unparalleled sea views, make your way to the rooftop terrace. The on-site dining options offer delectable cuisine, but you can also explore the nearby marina, which features a range of exquisite restaurants.
Rest assured, a stay at Monsuau Cala D'Or Hotel guarantees a memorable experience.
You can get the best rate online here.
Since, as mentioned, most guests visit this part to experience the beautiful beaches, below are 3 suggestions for good beaches.
3 best beaches on Mallorca's south coast
The beach is located in a nature reserve and is therefore well preserved. The water is shallow all along Es Trenc, which stretches over 2 km, making it a very child-friendly beach.
There are several marked places for naturists along the beach, although most visitors still wear swimwear. However, visiting the beach can be an expensive pleasure, as you already have to pay the first 7 euros at the car park, just to park the car.
To get to this beach, you must walk 1.5 km on a rough path, but it's beautiful and definitely worth it. The 450 m long beach lies relatively undisturbed; there are no facilities such as beach bars, deck chairs and the like, only the fine sand and the sea that sparkles in beautiful blue and turquoise colours.
The nearest town is 7 km away, and there are no hotels or anything else in the area.
This beautiful beach is in a small bay surrounded by high rocks and pine trees. The beach is a little small, and it can quickly fill up in high season.
The clear water is ideal for snorkelling, but families with children also like this area because of the fine sand and shallow water.
The nearby holiday town is a quiet residential area mainly consisting of villas. The nearest restaurant is approx. 1 km away from the bay, so bringing your own food may be a good idea.
The prices in the only beach bar selling drinks and snacks are relatively high.
I hope this guide helped you and that you now know where to stay in Mallorca. If you've got any questions about the areas or hotels in Mallorca, please comment below and I'll do my best to help.
Frequently asked questions about Mallorca:
Where are the best beaches in Mallorca?
Mallorca is known for its beautiful beaches, and there are several popular choices. Playa de Muro could be the right choice for a family-friendly beach with clear water and calm waves.
Cala Agulla is another beautiful bay surrounded by pine trees and crystal-clear water. If you want to experience the natural beauty of Mallorca, Es Trenc, with its white sand and turquoise water, can be a good choice.
For a peaceful day at the beach in a nature reserve, Cala Mondragó is recommended with its rocks and pine trees all around. And if you want to visit a pristine beach in a secluded area, Cala Varques can be the perfect place with its clear waters and caves to explore.
How many days should you spend in Mallorca?
I've discovered that the perfect trip to this Mediterranean paradise lasts anywhere between 5-7 days. With its stunning beaches, charming villages, and vibrant culture, you'll have plenty of time to explore the island's must-see attractions while enjoying well-deserved relaxation. Let's dive into my 7-day Mallorca itinerary for first-time visitors.
Day 1: Palma de Mallorca – History and Architecture
Upon arriving in Palma de Mallorca, start your journey by exploring the city center's charming streets. Don't miss the iconic La Seu Cathedral, a stunning example of Gothic architecture that should definitely be on your Mallorca bucket list.
Day 2: Palma de Mallorca – Castles and Culture
Continue your Mallorca adventure by visiting the historic Bellver Castle, offering breathtaking views of the city. Next, immerse yourself in the world of Joan Miró at the eponymous foundation. Wrap up your day with a leisurely stroll around Santa Catalina, a picturesque neighborhood brimming with local character.
Day 3: Valldemossa – A Mountain Village Escape
A trip to Mallorca isn't complete without visiting the enchanting village of Valldemossa. Nestled in the Tramuntana mountains, this charming locale is home to the Royal Carthusian Monastery, a must-see historical gem.
Day 4: Sóller and Port de Sóller – Scenic Beauty and Coastal Charm
Head north to the captivating towns of Sóller and Port de Sóller. Opt for the vintage train ride or a scenic drive to witness the island's lush landscape. These idyllic destinations offer the perfect combination of mountain scenery and coastal allure.
Day 5: Cap de Formentor – Stunning Views and Beaches
Experience the awe-inspiring beauty of Cap de Formentor, boasting magnificent viewpoints, pristine beaches, and an iconic lighthouse. This breathtaking destination is an essential stop on your Mallorca itinerary.
Day 6: Caves and Beaches – Underground Wonders
Discover Mallorca's subterranean treasures at the Caves of Drach in Porto Cristo or the Caves of Artà. After exploring these fascinating sites, unwind with an afternoon at one of the island's gorgeous beaches.
Day 7: Leisure Time – Savoring the Last Moments
Spend your final day in Mallorca shopping for souvenirs, lounging at a beach club, or visiting any attractions you might have missed. Make the most of your time on this enchanting island before bidding it farewell.
Remember, this 7-day Mallorca itinerary is just my suggestion for those who are going for the first time. Feel free to tailor your trip to your interests, whether it's lounging on sun-kissed beaches, hiking rugged mountain trails, or indulging in exhilarating water sports. No matter how you spend your time in Mallorca, you're sure to create unforgettable memories on this captivating island.
Is Alcudia a good place to stay with children?
Yes, Alcudia is a great place to stay with children. The town has a long sandy beach, Playa de Alcudia, which is very child-friendly and flat. Plenty of space for the children to play and build sandcastles, and the water is calm and clear. There are also many outdoor activities for children, including water sports such as kayaking and windsurfing, a miniature golf course and a water park. Alcudia also has a beautiful old town with winding streets and historical monuments that can be interesting for the whole family to explore.
Is Palma de Mallorca a good place to stay?
Palma is a fantastic city to stay in. It is the capital of Mallorca and has a vibrant cultural life, good restaurants and bars, shopping opportunities and a beautiful old town with an impressive cathedral. The city also has many parks and green spaces, including Bellver Forest, perfect for walks or picnics with family and friends. There are also many beaches near Palma, such as Cala Major and Illetas, which can be reached by public transport or car. Overall, Palma is a lovely place to stay for people of all ages, with lots of activities to do.
Do you need a car in Mallorca?
While having a car in Mallorca can certainly enhance your travel experience, it's not an absolute necessity. Renting a car is a great idea if you want the freedom and flexibility to explore the island at your own pace, especially when visiting remote beaches, charming villages, and scenic viewpoints.
However, if you prefer not to drive, Mallorca's public transportation system is a viable alternative for getting around the island. The bus network, operated by TIB (Transport de les Illes Balears), connects many towns and popular tourist destinations. The island also offers a few train routes, such as the vintage train from Palma to Sóller, which provides a unique and picturesque journey through the mountains.
Another option is joining organized tours or excursions that cover specific attractions or areas of interest. This can be a convenient and stress-free way to visit popular sights without the hassle of driving and parking.
Websites I use to book my trips 👇

• Booking.com has the best offers on hotels and unique places to stay
• GetYourGuide is the best place to book tours & activities with free cancellation
• Omio is my go-to booking platform for trains in Europe
• Welcome Pickups is the best & safest place to pre-book airport transfers

Psst 👀 Have you subscribed to my Youtube channel where I provide more useful travel tips?