In this guide, I'm offering my take on what you should see when travelling to Cyprus. Discover the best things to do in Cyprus below.
Cyprus is one of the summer holiday destinations closest to my heart. We often travelled to Cyprus when I was a child, and I've since returned several times.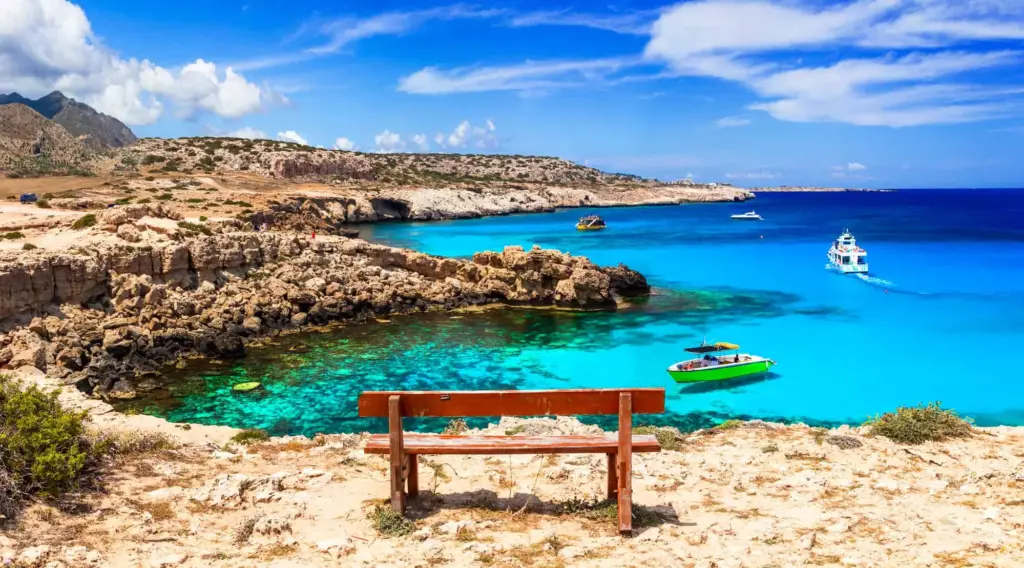 Therefore, I can write this guide to Cypriot attractions based on what to do as a child and an adult.
Below, I'm sharing the best things to do, experiences and excursions in Cyprus – to make you fall in love with this holiday island just as much as I have.
Also, read my comprehensive guide to the island's different areas: where to stay in Cyprus?
However, this article is solely about the attractions, excursions and experiences. So, let's take a look at what you should see and do in Cyprus below.
1. Day trips in Cyprus 🚌
We'll start with some of the things that stand out the most in my memory from my trips to Cyprus as a child: the excursions.
Cyprus is much more than just a classic Mediterranean holiday island – it's a country with 1.2 million inhabitants and a landscape that changes dramatically depending on where on the island you find yourself.
Furthermore, Cyprus has an incredibly fascinating history, which is almost a shame not to experience when you travel there.
So, whether you're staying in Ayia Napa and Protaras, Paphos or Limassol, I'd recommend going on at least one day trip if you're in Cyprus for a week.
Below are two of the most popular excursions in Cyprus.
2. From Paphos: Day trip to the Akamas Peninsula and the Blue Lagoon 🌊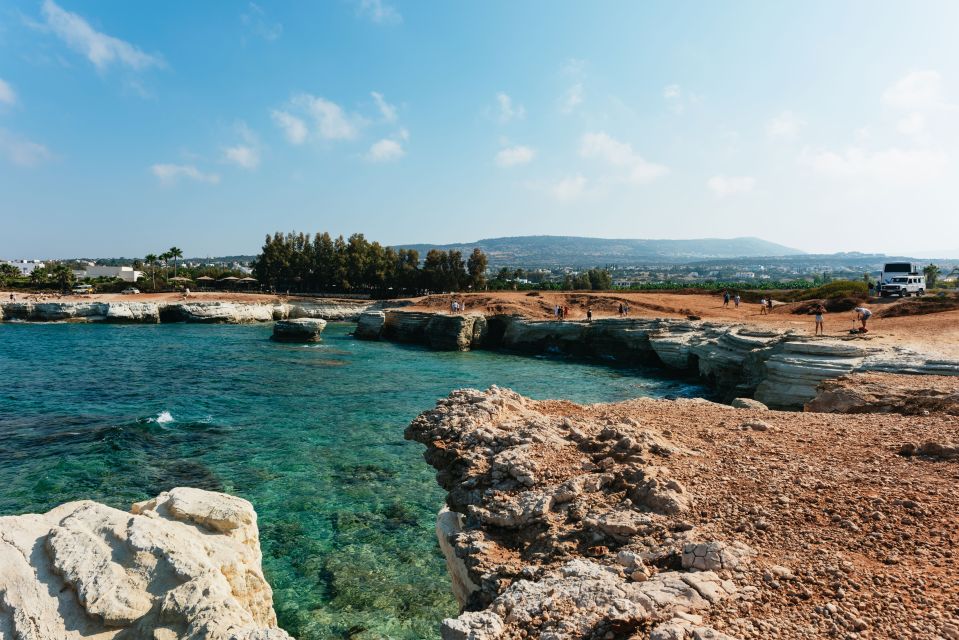 If you're staying in Paphos, you almost have to take a trip north to the Akamas Peninsula.
This excursion includes pick-up from your hotel in Paphos, a visit to a vineyard, Aphrodite's baths, and a boat trip to the Blue Lagoon, one of Cyprus's most famous attractions.
Get more info about the tour here.
Watch a video from Akamas here:
3. From Ayia Napa and Protaras: Jeep tour to the sea caves & Cape Greko 🌅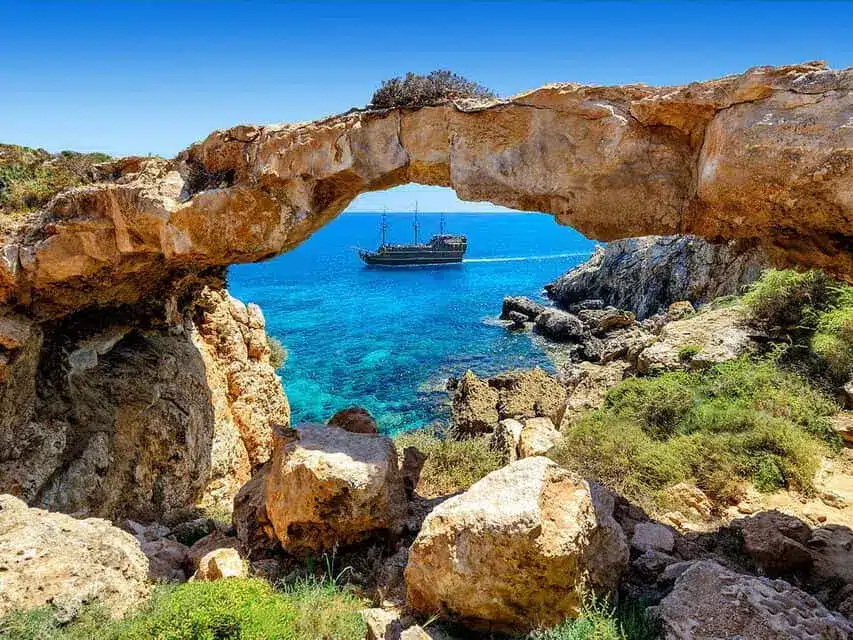 This excursion is for those of you staying in Ayia Napa and Protaras (the towns are very close to each other).
Here, you'll explore some corners of the Konnos National Park that you likely would need help finding if you came here on your own.
There's an opportunity to swim and reach the top of Cape Greko, which is the southeasternmost point of Cyprus and a wonderful place that should be seen by anyone staying in Ayia Napa or Protaras.
Get more info about the tour here.
Now, let's jump into other things to do in Cyprus.
4. Famagusta – The Ghost Town in the Occupied Area 🏚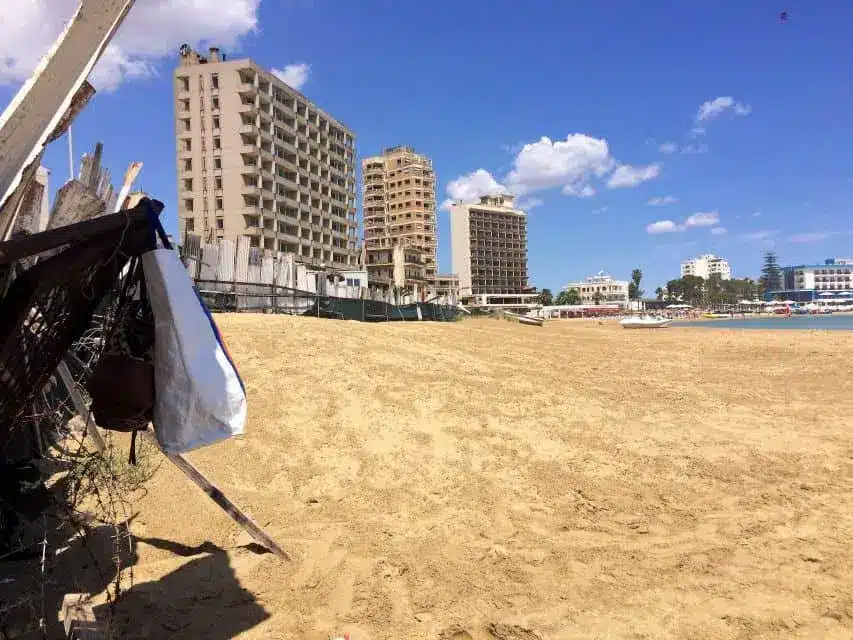 As a child, I was utterly fascinated by Famagusta.
A city that, before 1974, was a bustling tourist hub with hordes of holidaymakers, hotels, and a lovely sandy beach, but now it's wholly abandoned and off-limits to visitors?
Now that I'm an adult, it seems even more incomprehensible…
We took a boat trip from Ayia Napa to the "border", where there was a control tower manned by armed guards to ensure the boats didn't cross the line…
From there, we could gaze upon the ghost town – a truly profound experience – and we couldn't get any closer.
Things have recently opened up a bit, so you can go on a guided tour from Ayia Napa and Protaras to Famagusta.
If I'm being honest, I feel like booking my own trip to Cyprus just for this.
The excursion to Famagusta also gets excellent reviews.
Find out more about the trip to Famagusta and book with free cancellation here.
5. The Troodos Mountains ⛰
Did you know that the mountains in Cyprus are so high that they're covered in snow in the winter, and you can even go skiing?
Mount Olympus, the highest peak in Cyprus, is a whopping 1,952 metres tall, so we're talking about an actual mountain range here.
If you go to Cyprus and only stay on the beaches in the tourist areas, you might come home with the impression that Cyprus is a barren and rocky island.
And while it is, you can also find beautiful nature in the lush Troodos Mountain range.
Here are some of the best excursions to the Troodos Mountains.
6. Aphrodite's Birthplace 🪨
According to legend, the Greek goddess Aphrodite was born at this rock back in the day.
Even if you're not well-versed in Greek mythology, this is a particularly scenic attraction in Cyprus, located about halfway between Limassol and Paphos:
Find out more about the location at VisitCyprus here.
7. Nicosia – The Divided Capital 🏛
Nicosia is the capital of Cyprus, and much like Berlin before 1989, it is sadly still divided by a wall.
As we know, Turkey invaded Cyprus in 1974, and since then, Nicosia has been split.
However, you can cross The Green Line (as the border zone is called) and visit the Turkish part of the capital, but remember to bring your passport.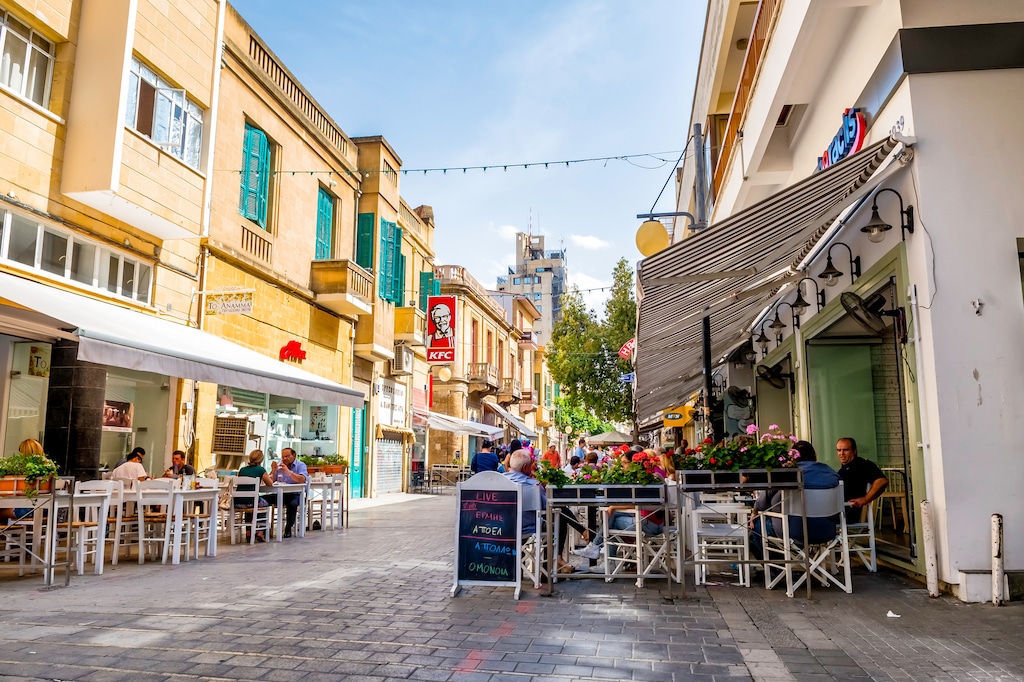 The area in the city centre near the border crossing is both cosy and unique as it suddenly ends at the border.
Naturally, the summer months in a modern city can be sweltering, so bear that in mind if you choose to visit Nicosia on your summer holiday.
Buses run from all tourist areas to Nicosia.
8. Nissi Beach – The Best Beach in Cyprus? 🏖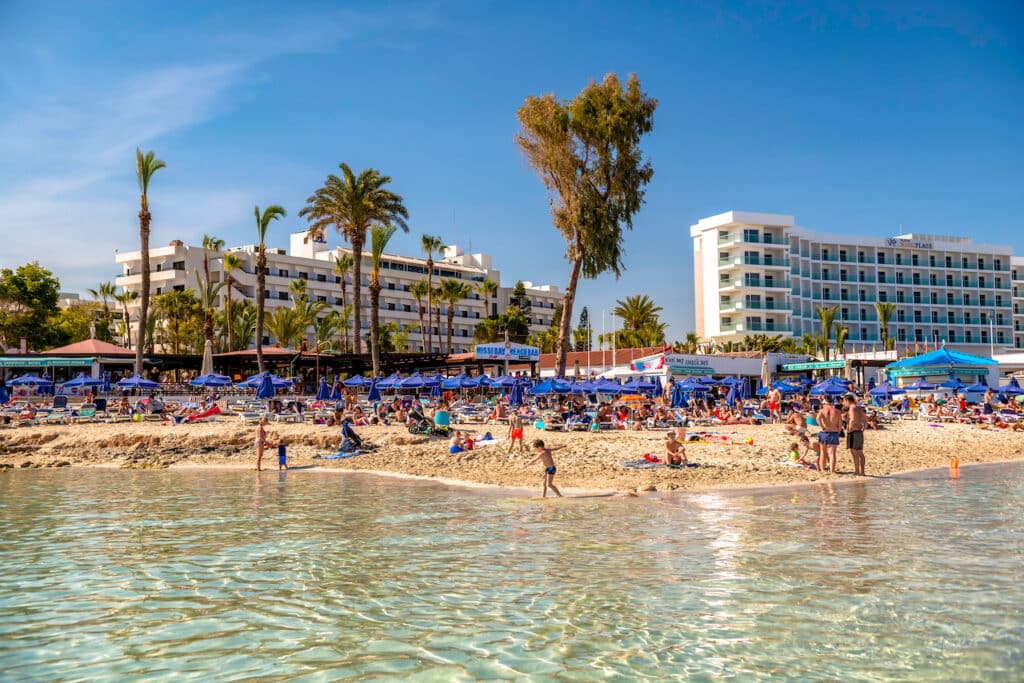 Of course, the beaches in Cyprus are one of the best reasons to visit, but there are so many beautiful beaches that I can't mention them all.
Moreover, you'll likely not be staying very far from a lovely sandy beach, especially if you choose one of the areas from my guide on where to stay in Cyprus 😀
However, one beach deserves a place in this guide to Cyprus attractions: Nissi Beach.
In the western part of Ayia Napa, Nissi Beach is easily accessible whether you stay in Ayia Napa or Protaras.
Nissi Beach is known for its crystal clear water, attracting visitors from all over Cyprus.
There are several beach bars that certainly draw a lively crowd, but if you're a family with kids, don't let that deter you from visiting the beach.
It could be a matter of finding a sun lounger or placing your towel away from the festivities.
Nissi Beach is definitely one of the best beaches in Cyprus and well worth a visit.
9. The Salt Lake and Flamingos in Larnaca 🦩
In Larnaca, where one of the island's two airports is also located, there's a large salt lake.
While that might not sound exciting, you can also see pink flamingos there, but only in winter!
A fun little experience if you're visiting Cyprus outside the high season, which more and more people are doing these days, thanks to the affordable flights available outside the summer months.
10. The Old Monastery in Ayia Napa ⛪️
Many tourists in Cyprus stay in the bustling Ayia Napa or nearby, where there are countless hotels.
Ayia Napa is an excellent destination and a city with plenty of things to do (it could have a guide all to itself), so it's a great place to book your hotel in Cyprus.
I highly recommend visiting the old monastery in the city centre in Ayia Napa. One of the trees near the monastery is said to be over 600 years old.
A fun experience for both kids and adults – in a city where history can easily be forgotten because there's so much going on 😀
11. The Tombs of the Kings in Paphos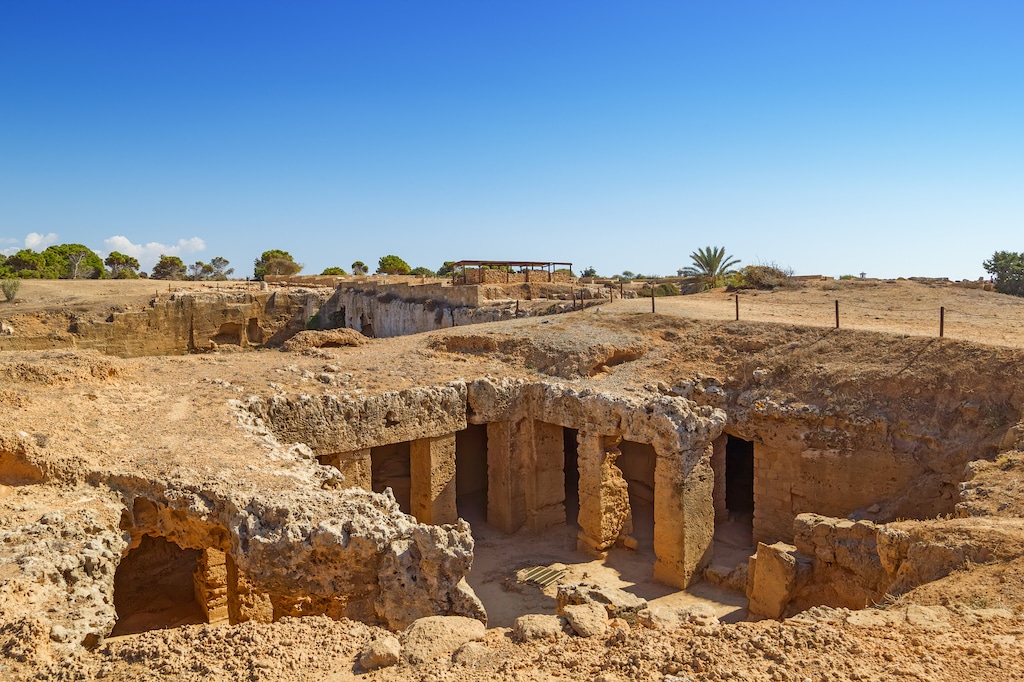 The Tombs of the Kings is a captivating historical attraction that is a must-visit in Cyprus.
This impressive archaeological site, dating back to the 4th century BC, is situated near Paphos and is a UNESCO World Heritage Site.
Despite its name, it wasn't kings, but high-ranking officials and aristocracy, who were buried there.
The site is renowned for its imposing underground tombs, hewn directly into the rock, many adorned with Doric columns.
Wandering among these ancient graves gives a sense of stepping back in time, and for history lovers, it's a veritable treasure trove.
Visit the Tombs of the Kings for a fascinating glimpse into the past of Cyprus.
Remember to bring water and sunscreen, as the area can be boiling and there's limited shade.
I hope you found this guide on things to do in Cyprus helpful and that you're ready to experience more than just the pool and beach on your trip.
If you have any questions about attractions in Cyprus or your trip, please leave a comment below, and I'll do my best to assist you.
FAQ:
What are the best beaches in Cyprus?
There are many beautiful beaches in Cyprus, but here are some of the most popular ones:
Nissi Beach – A beautiful beach with crystal clear waters and white sandy beaches, known for its lively nightlife.
Fig Tree Bay – A child-friendly beach with shallow waters and plenty of amenities like sunbeds and parasols.
Konnos Bay – A secluded beach surrounded by cliffs and greenery, perfect for snorkeling and diving.
Coral Bay – A long sandy beach with calm waters, ideal for swimming and sunbathing.
Which historical sites should I visit in Cyprus?
There are many historical sites to visit in Cyprus, but here are some of the most popular ones:
Kourion – An ancient city located on a cliff overlooking the sea, which includes an amphitheater and Roman baths.
Kolossi Castle – A 15th-century medieval castle that was once home to the Knights Templar.
Paphos Archaeological Park – A UNESCO World Heritage Site featuring the ruins of ancient palaces and temples.
St. Hilarion Castle – A medieval castle situated high up in the mountains, offering panoramic views of the coast.
Tombs of the Kings – A 4th-century BC necropolis containing underground tombs.
Where is the best nightlife in Cyprus?
Ayia Napa is a famous holiday town that attracts young people from all over Europe with its vibrant nightlife. Ayia Napa is one of the destinations in Europe that attracts the most party-minded youth during the summer months. Limassol is a bustling port city with many bars, clubs, and restaurants along the coast. You will meet more local Cypriots here, as the city offers more than just classic tourism.
Check out my guide to the best areas to stay in Cyprus for more info.
How many days should I spend in Cyprus?
To truly immerse yourself in all that Cyprus has to offer, I would recommend spending at least a week there.
This length of stay will allow you to explore a good mix of what the island has to offer. You can spend a couple of days lounging on the renowned beaches, a few days exploring the historical attractions such as the Tombs of the Kings or the ancient city of Kourion, and another day or two discovering the divided capital city, Nicosia.
Additionally, this will give you the opportunity to experience the diverse culinary scene, engage with the friendly locals, and even venture into the beautiful Troodos Mountains.
So, while you can get a flavour of Cyprus in a shorter trip, a week will give you the chance to fully appreciate this captivating and diverse island.