Are you looking for the perfect place to stay on your trip to Gran Canaria? In this guide, I talk about the best areas of Gran Canaria and give tips for choosing the best hotel for different types of vacations.
Here are the best areas in Gran Canaria ☀️
Gran Canaria has been a regular travel destination for many tourists for decades.
In the wintertime, many tourists travel here due to the excellent weather conditions, where you can typically experience a lot of sun and up to 20-25 degrees.
This is similar to the surrounding islands, such as Fuerteventura.
Most of the holiday areas are located in the southern part of the island, as the weather is simply the best there.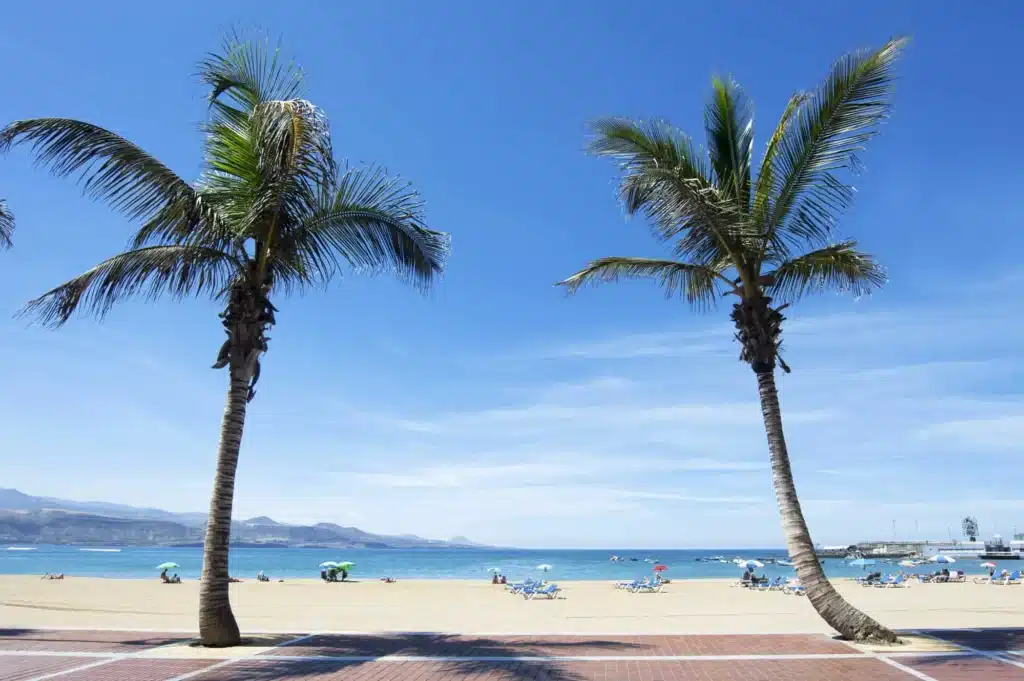 In the summertime (July), there is an average of 24 degrees and 30 rain-free days in the Maspalomas area, which we will get to in the guide below. So it's safe to say that Gran Canaria is pretty weather-safe regardless of the season!
But where to stay in Gran Canaria? I will tell you that in the guide below, where I describe the best places for all the different needs.
1. Maspalomas – best area in Gran Canaria ⭐️
Yes, I just voted Maspalomas the best area in Gran Canaria.
Maspalomas is also one of the most popular holiday areas in Gran Canaria, so it appears I'm not alone on this.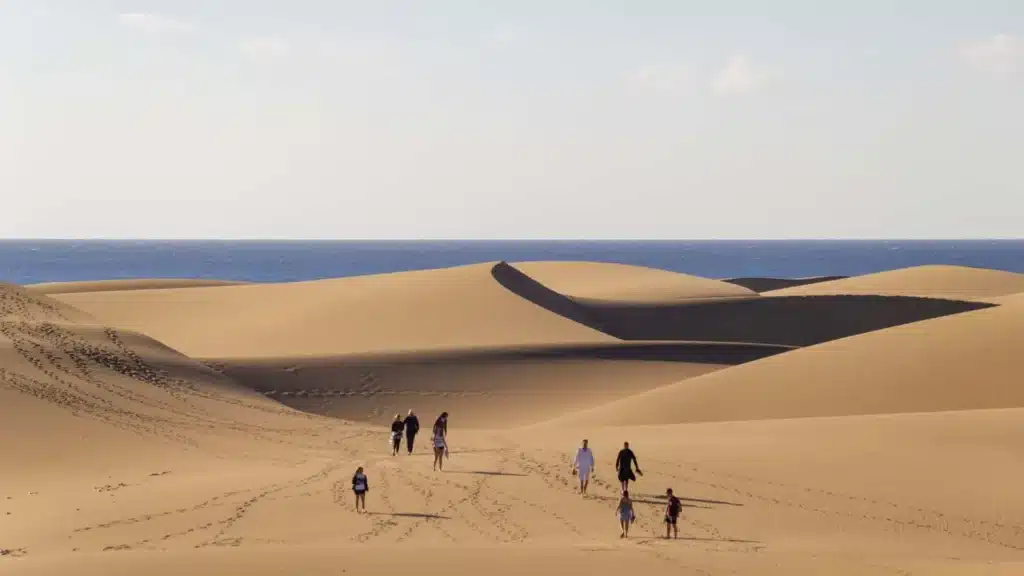 Maspalomas is also mentioned on all lists when you read about sights and experiences in Gran Canaria – primarily because of the beautiful sand dunes you find in the extension of the city.
When I was in Gran Canaria for the first time as a child, I was highly fascinated by the sand dunes in Maspalomas. There we were, suddenly standing in a desert with sand from the iconic Sahara desert.
Maspalomas is also a popular holiday area for families with children as well as couples. There are quiet surroundings, many child-friendly hotels and a very relaxed atmosphere.
As a side note, Maspalomas is also extremely popular with gay people, so there are many rainbow colours in the cityscape. 🏳️‍🌈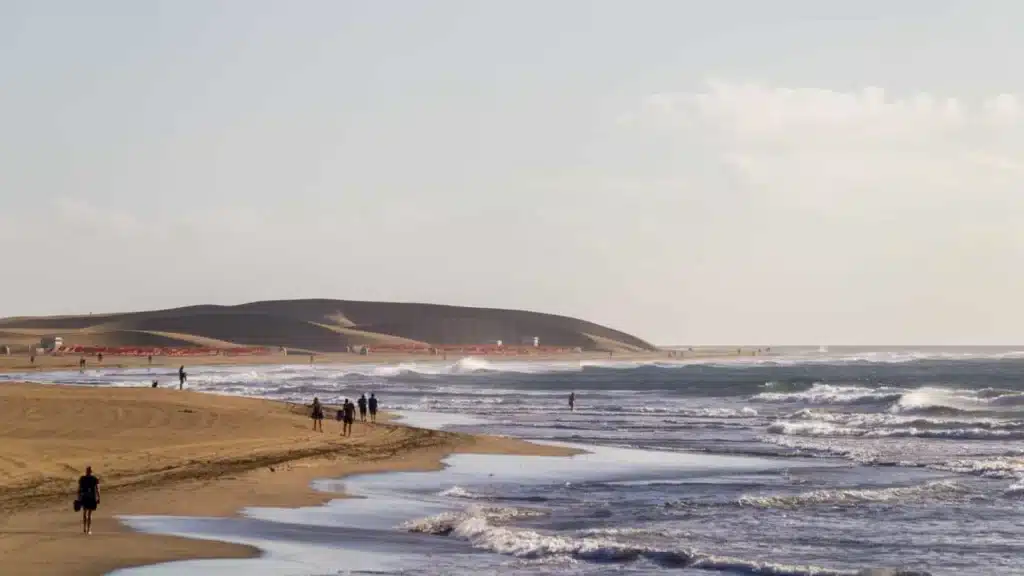 The dunes mentioned above are located down to the water, with several kilometres of sandy beaches nearby.
Maspalomas is also a relatively large area. For example, you can also easily look for hotels in Meloneras, which is immediately adjacent to Maspalomas.
See the best hotels in Maspalomas here.
Personally, I have fallen in love with this hotel: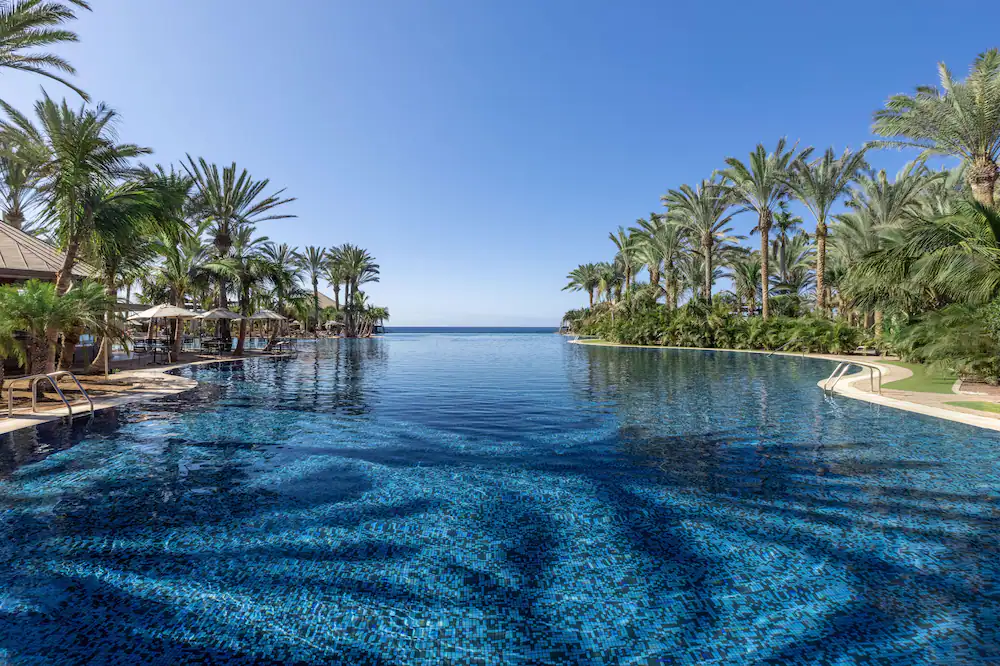 It is a hotel that is located in the Meloneras area mentioned above, west of the dunes. And it looks gorgeous!
And by the way, it is located just a stone's throw from the beautiful sandy beach that characterizes the area.
See more photos and book the hotel online here.
2. Playa del Ingles – best area for nightlife 🍻
In continuation of Maspalomas to the east, we find the area simply named after the beach: Playa del Ingles.
Where Maspalomas is 100% child-friendly and very quiet, there is more activity in the streets of Playa del Ingles. The area is often referred to as the best place to go to on Gran Canaria if you want to party.
But like Ayia Napa in Cyprus and many other destinations also touted as party destinations, these cities are often overlooked for other elements, which make them great.
And the same goes for Playa del Ingles.
See the best hotels in Playa del Ingles here.
I mention the holiday area especially because you can easily travel here, stay in a great hotel and enjoy one of Gran Canaria's most beautiful beaches.
At the same time, you have many restaurants and shopping opportunities, and you can also swing past a bar (or two) in the evening.
However, there will be better areas in Gran Canaria for families with children.
Therefore, my recommendation for a hotel is also one that is adults-only: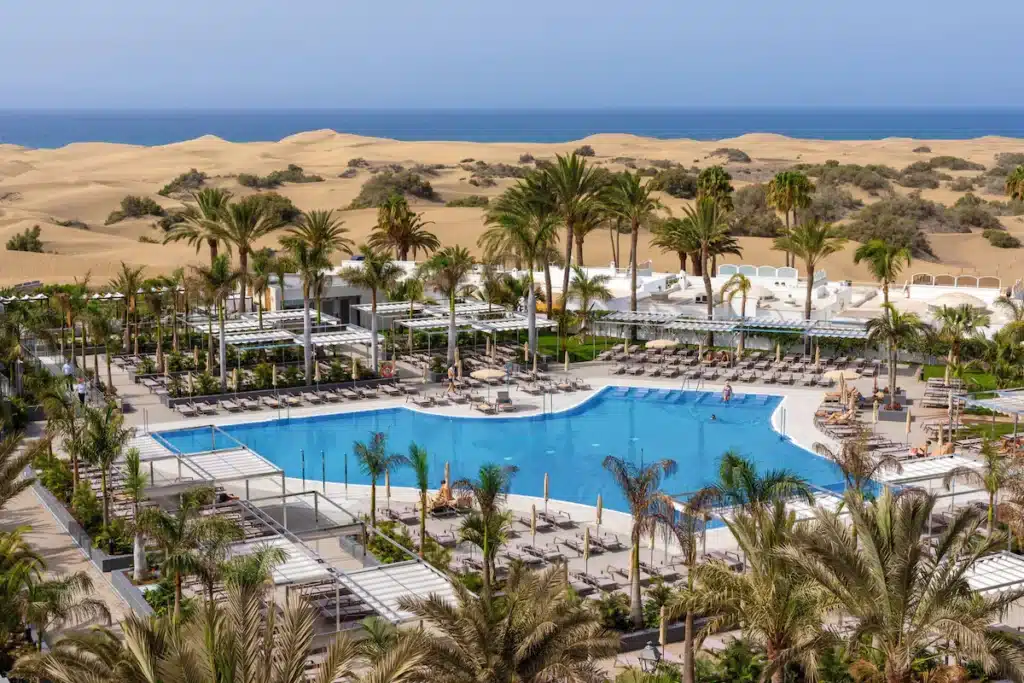 I stayed at one of these adult-only hotels (in Crete) recently with my girlfriend, and it was nice that we could just lie by the pool with a book in silence, whereas a family-friendly hotel might have been more hectic.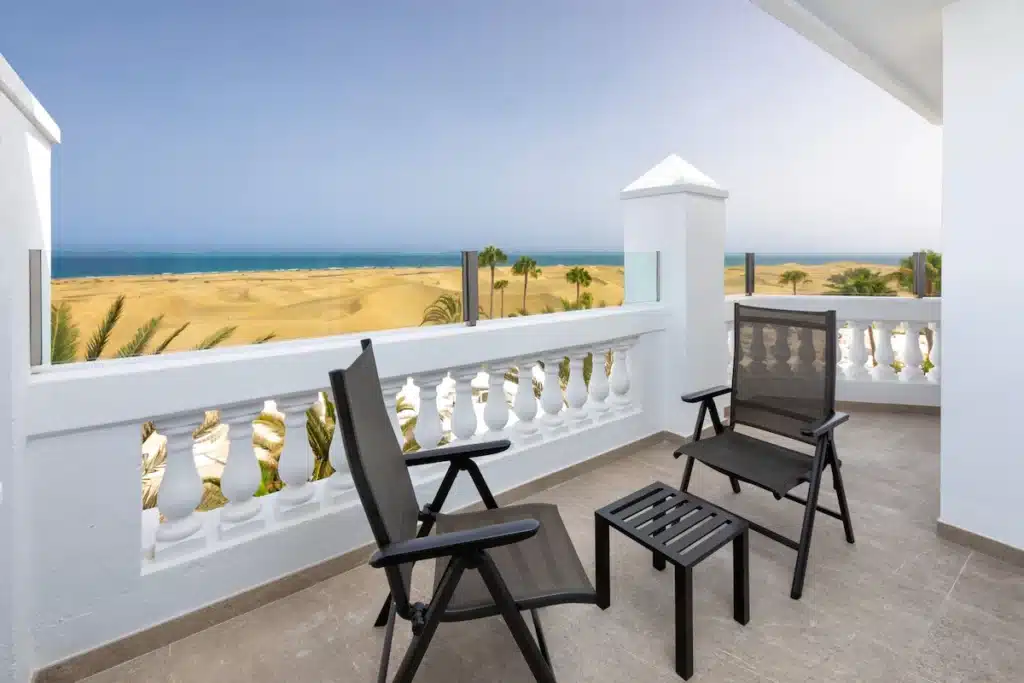 As the picture above shows, this hotel is located right next to the famous sand dunes in the Maspalomas/Playa del Ingles area.
See more photos and book online here.
3. Puerto Rico – stay here for the beach & a city in a cosy bay 🌊
Puerto Rico is, in many ways, the obvious choice of area when travelling to Gran Canaria – whether as a single person, on a couple's holiday or travelling with children.
It is a very classic holiday area that is particularly family-friendly.
See the best hotels in Puerto Rico here.
If you have tried travelling to places like Protaras/Fig Tree Bay in Cyprus, Platanias and Agia Marina in Crete and Alcudia in Mallorca, then you also know the atmosphere that also exists in Puerto Rico.
In other words, it may not be in this area that you get the completely authentic Canarian experience, where you only mingle with locals – but that is also otherwise difficult to find anywhere in Gran Canaria.
In Puerto Rico, we have an excellent sandy beach, many restaurants, a shopping centre and many hotels to choose from.
It is a good area for you looking for a holiday town where you can just commute between the hotel swimming pool, the beach and one of the many restaurants.
If I had to choose a hotel in Puerto Rico, I would go for this: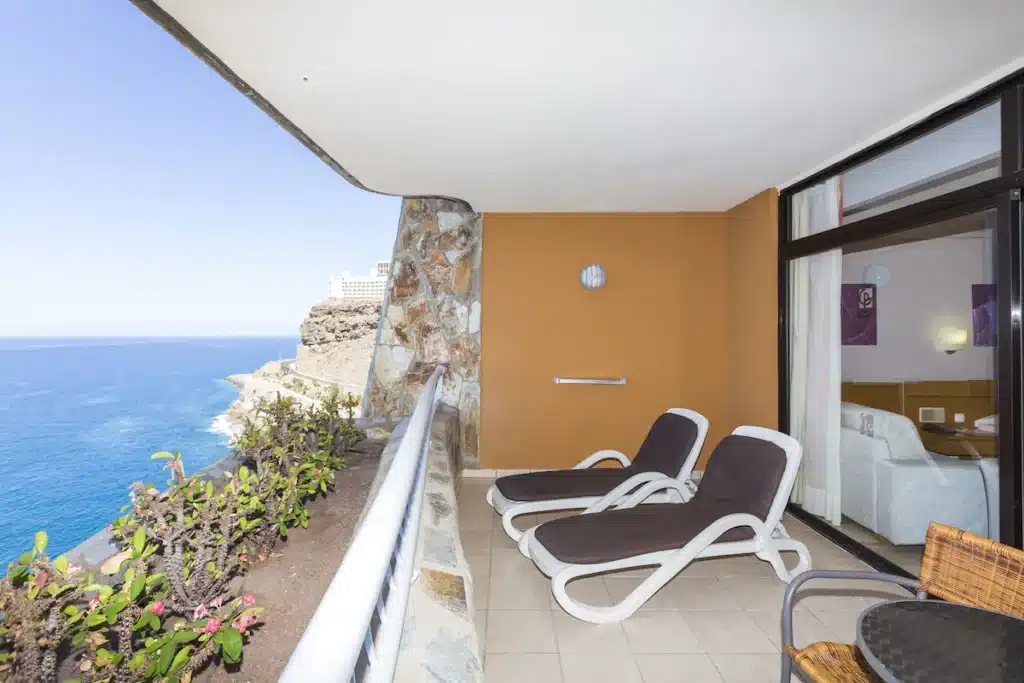 It is located between Puerto Rico itself and the neighbouring Playa de Amadores, so you have 2 good sandy beaches to choose from 😉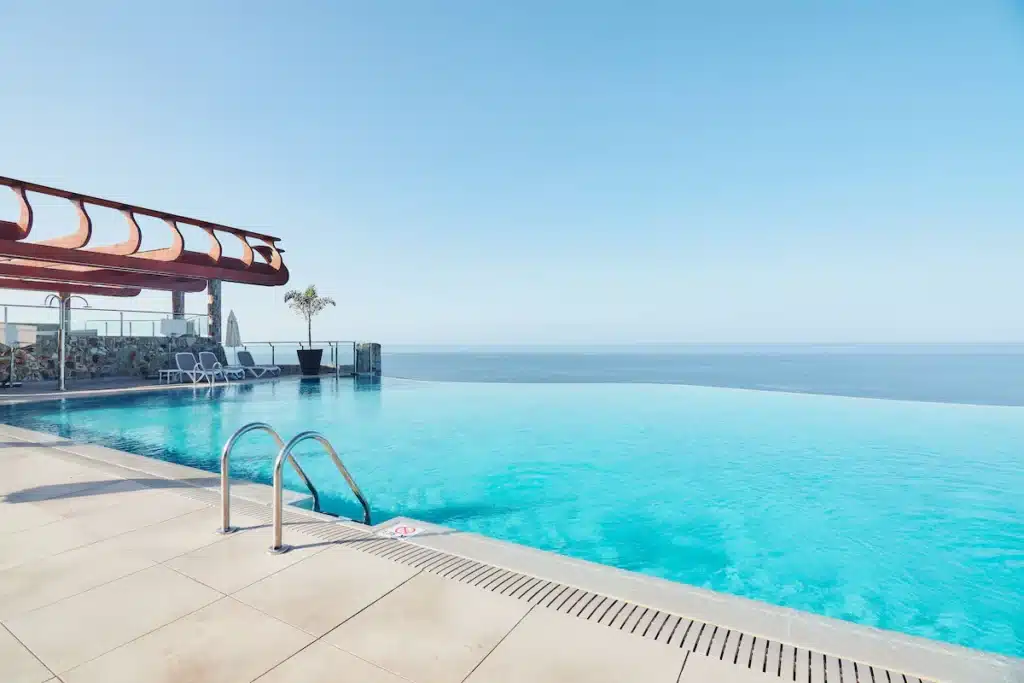 See more photos and book online here.
4. Arguenegin – best are for families looking for a calm atmosphere 🌅
If you are looking for a town on Gran Canaria that is smaller and with a slightly more relaxed pace, then Arguineguin is an excellent choice.
Here we are talking about an old fishing village, which has also experienced a boom in tourism, but in a different way than, for example, Maspalomas and Puerto Rico, which for many decades have lived 100% from tourism.
In Arguineguin, it is quieter, but still plenty of hotels, restaurants and shops.
Get an impression of the city here:
So it's not because you won't meet other tourists here, but it's a good choice for those of you who might just want to stay at the hotel, go for a few walks in the city or rent a car and drive to the other areas on day trips.
We stayed here as a family when I was a child one winter, and it was an excellent experience.
Se the best hotels in Arguineguin here.
I hope you can use this guide to find the best areas of Gran Canaria for you to stay.
I have tried to mention places that could be something for all types of travellers and include my personal experiences.
If you're looking for classic sightseeing and perhaps don't want to lie by the pool as much, consider also staying in Las Palmas, the island's "capital".
If you are looking for nature experiences, Tejeda in the middle of the island up in the mountains is recommended.
Feel free to comment below if you are looking for tips on a specific area that suits your needs.
FAQ:
What is the best time of year to visit Gran Canaria?
The best time to visit Gran Canaria depends on what you want to do. If you're looking for sunny beach days, the summer months (June-August) are ideal. If you prefer milder temperatures and fewer crowds, spring (March-May) or fall (September-November) can be a good choice. I'm from Denmark, and Gran Canaria is incredibly popular as a destination in the winter months when we don't get much sunshine up here in Scandinavia – so honestly, Gran Canaria is good year around.
Where to stay in Gran Canaria with children?
If you're looking for a family-friendly place to stay in Gran Canaria, here are some suggestions:
1. Puerto Rico
Puerto Rico is a popular resort town on the southern coast of Gran Canaria that's well-suited for families. The town's sheltered bay makes it a great spot for swimming and water sports, and there are plenty of restaurants and shops nearby. There are also several family-friendly hotels and resorts in the area.
2. Maspalomas
Maspalomas is another great option for families. The town has a large beach with calm waters that's perfect for children, as well as amusement parks like Holiday World and Aqualand Maspalomas. There are also several family-friendly hotels and apartments available in the area.
3. Arguineguín
Arguineguín is a charming fishing village located on the southern coast of the island. It's a quieter option compared to some of the more touristy areas like Maspalomas and Playa del Inglés, which can make it an ideal choice for families looking for a more relaxed atmosphere.
The town has a small beach that's perfect for children, as well as several restaurants and cafes serving up fresh seafood dishes. There are also several family-friendly hotels and apartments available in the area.
What is Gran Canaria known for?
Gran Canaria is known for its beautiful beaches, warm climate, and diverse landscape. It's also famous for its vibrant nightlife and excellent shopping opportunities.
What language do they speak in Gran Canaria?
The official language of Gran Canaria is Spanish. However, most locals also speak English, especially in tourist areas.