Rome has 2 major airports – Fiumicino and Ciampino. In this guide, I'll tell you everything there is to know about how to get from Fiumicino Airport to Rome's city centre.
If you're in a hurry:
The easiest way to get from Fiumicino Airport to Rome's city centre is by the Leonardo Express train, a dedicated express train that runs directly from the airport's train station to Termini (Rome's central train station) in the city centre of Rome.
The journey takes 32 minutes, with trains running every 15-20 mins. I recommend buying tickets online, so you skip the long ticket machine queues and walk straight onto the train.
Get tickets with free cancellation here.
---
Leonardo da Vinci-Fiumicino Airport in Rome ✈️
For the record, Fiumicino is also called Leonardo da Vinci Airport (much to the confusion of many tourists). So there's no difference whether you buy a train/bus ticket to Fiumicino or Leonardo da Vinci – it is the same airport.
Fiumicino has four terminals and is used by over 40 million travellers annually. The airport's official website is ADR.it.
The airport is located approx. 30 km west of Rome, on the coast of the Mediterranean Sea, so you can look forward to a very nice approach to the airport if you're flying in from the seaside.
And with that said – let's dive into the guide on how to get from Leonardo da Vinci-Fiumicino Airport to Rome. I'll start with the cheapest option.
Have you booked a place to stay? Check out my guide on the best areas and where to stay in Rome.
Bus – cheapest way to get to the city centre 🚍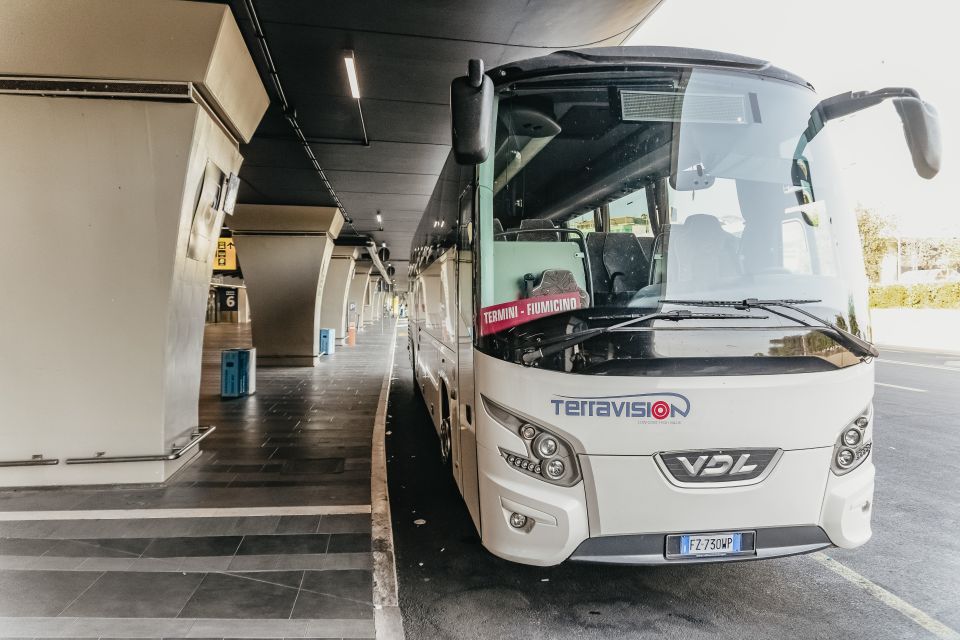 The cheapest way to get from the airport to the centre of Rome is by bus. We are lucky enough there that there are a lot of different buses from Fiumicino to Termini in the city centre of Rome:
Termini is the largest railway station in Rome and serves as a hub in the Italian capital. You can buy bus tickets online from Terravision at GetYourGuide.
Tickets are valid for all buses on the day
You will receive a ticket by email, and you can show it on your smartphone – so you don't need to print anything.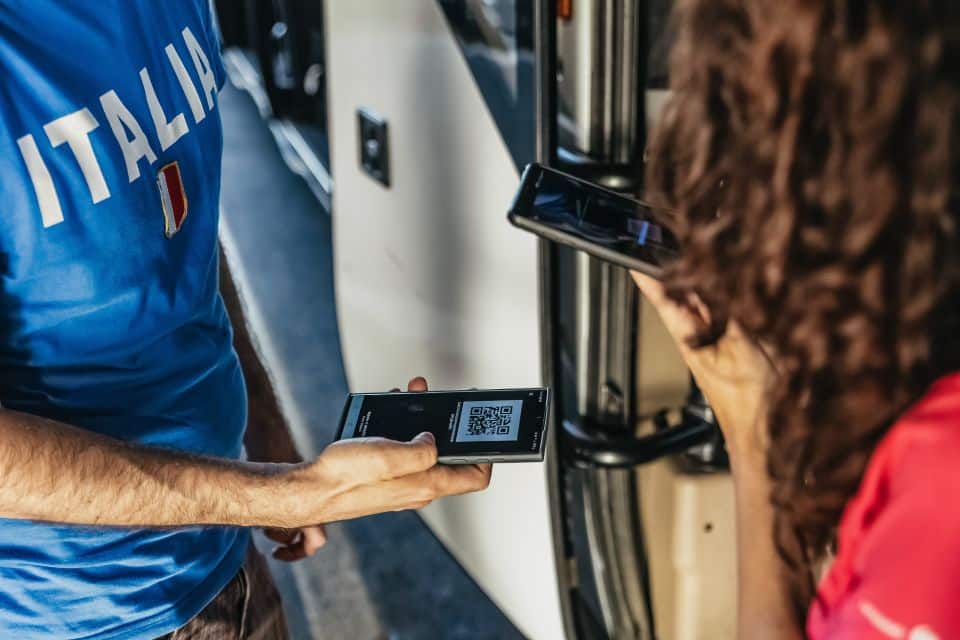 You have to choose a date, and the ticket is valid for all departures on that day. This is super smart, as you don't risk being late for a bus if the plane is delayed.
Buses run approximately every 30 mins, and the ride to Termini should take around 45 mins – depending on traffic.
If your final destination in Rome is closer to the Vatican City you can choose another bus route.
This bus stops at Via Crescendo which could be closer to your hotel in Rome city centre:
The bus is a reliable and cheap transport from Fiumicino to Rome, but it can take up to 1 hour in rush hour. On the bus, you might even be able to spot some of the best things to do in Rome.
Train – fastest way to get to the city centre 🚄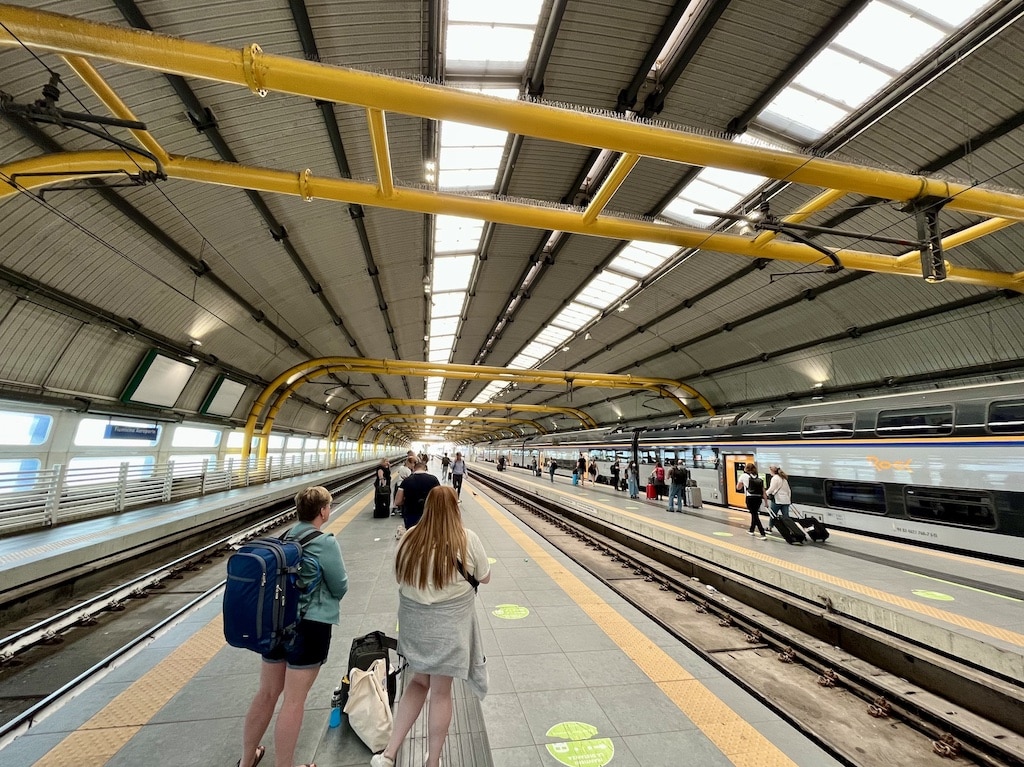 It is also possible to pay more than the bus and take the fast train from Fiumicino to Termini in the centre of Rome.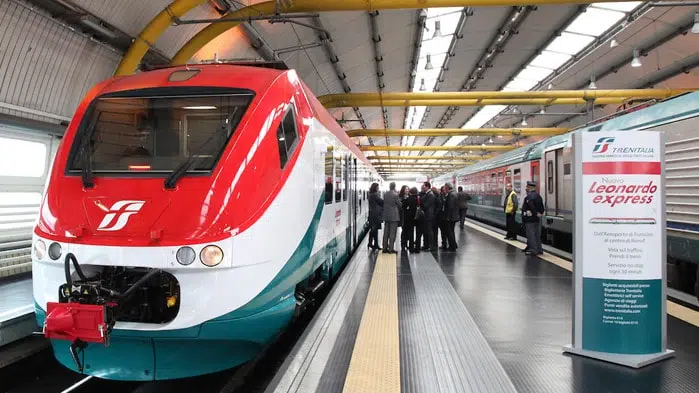 This is a fast airport express train as we know it from the airports around London, Barcelona, Berlin and many other European destinations.
This airport train is called the Leonardo Express, and the trip from the airport to Termini Station takes only 32 minutes.
This is my go-to airport transport in Rome as it simply works well if you want to quickly get from the airport to the centre of Rome.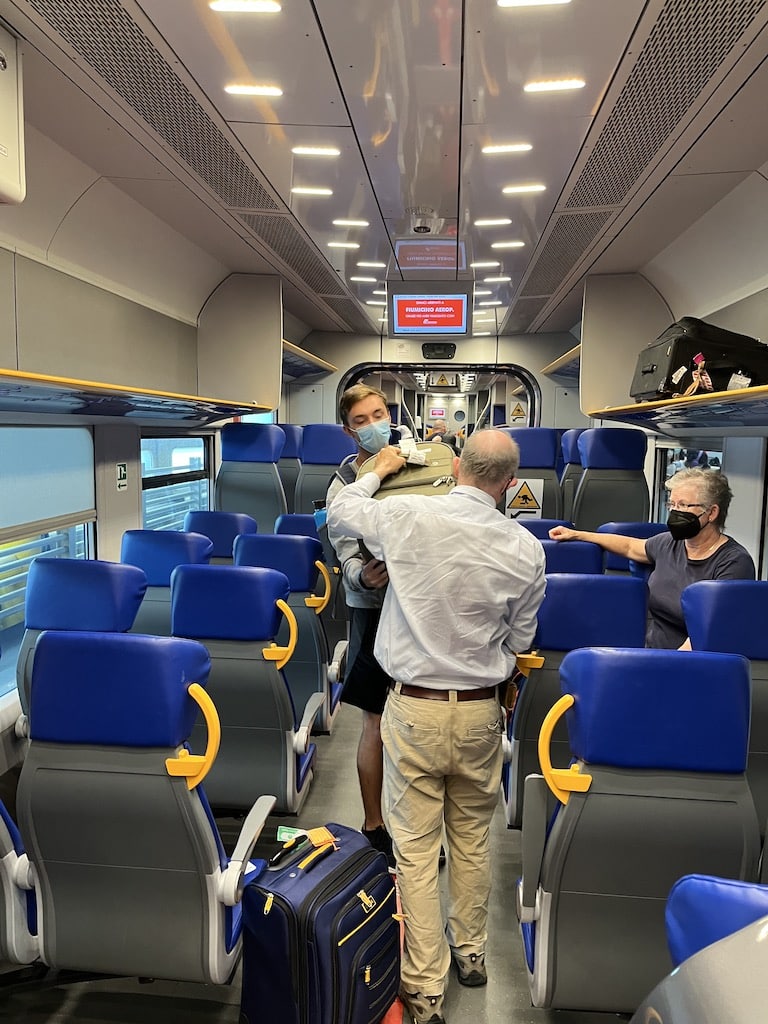 Timetable for the Leonardo Express
The train departs every 15 minutes in the daytime – the first train is at 06:08 and the last train is at 23:23.
From Termini, the first train is at 05:20 – the last train is at 22:35. Google Maps works great for checking live times and planning your route.
Train tickets & prices
A Leonardo Express train ticket is 14 euros, and children under 12 travel free when accompanied by an adult.
You can buy tickets for the train at a counter at the airport, or if you want to have all tickets ready on arrival and avoid queues, they can be bought online at a slightly higher price.
Buy train tickets online here.
You receive your ticket by email and scan the QR code to enter the platform.
You can also buy tickets at Trenitalia:

I highly recommend getting your tickets in advance. I've just been to Rome and want to mention how long the line for the ticket machines was at Fiumicino Airport.
I bought train tickets from home, which saved maybe 15-20 minutes in the queue for the ticket machine.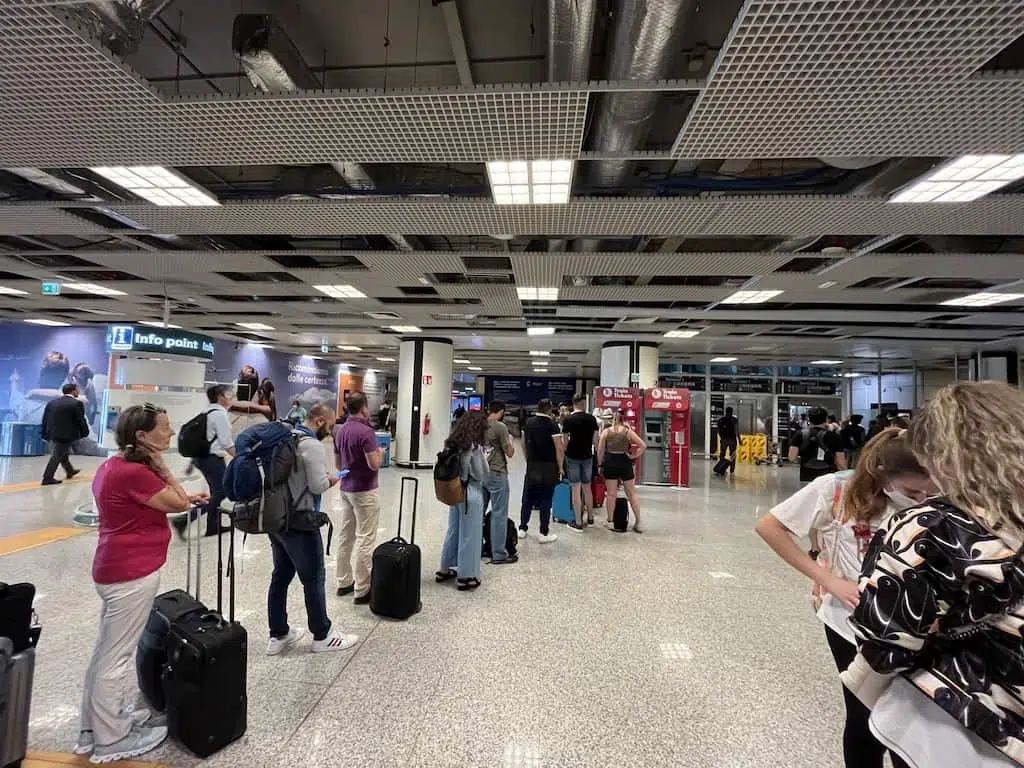 With the ticket bought from home, I scanned the QR code on my mobile, went through the barrier into the platform, and got on the train.
32 minutes later, I departed at Termini and got on my next train to Naples (where an adventure on the Amalfi Coast awaited).
Taxi or private transfer straight to your hotel 🚕
It is of course also possible to take a taxi from the airport. However, the taxi drivers in Rome have a habit of trying to rip you off, especially at the airports.
On a trip to Rome, I took a taxi from the centre to Fiumicino, where the driver would not use the meter and also gave me a significantly higher price than I know you should pay.
So I would recommend either being ready to discuss with the driver – he must use a taxi meter, and by law, the price cannot be higher than 48 euros from Fiumicino to the city centre – or pre-book a private driver online from home.
The latter is only marginally more expensive, and then you avoid having to discuss with an Italian right on arrival.
You can pre-book a private transfer for 50 euros here.
If you have any questions about your transport from Fiumicino Airport to the centre of Rome, please feel free to comment below.
Otherwise, I want to wish you a pleasant trip to Rome.
FAQ:
How do I get from Fiumicino Airport to Rome city Centre?
You can either take the bus, train or a taxi. The bus takes around 45 minutes, the train takes 32 minutes, and a taxi will take about 30-45 minutes, depending on where you stay in Rome.
How much does it cost to get from FCO Airport to Rome?
The bus is the cheapest option as it costs only 6 euros. The Airport Express train costs 14 euros, and a taxi should only cost 48 euros.
What is the best way to get from Fiumicino Airport to Rome Termini?
The Leonardo Express train runs directly from the airport to Termini Station without any stops. It takes 32 minutes and costs 14 euros.
Websites I use to book my trips 👇

• Booking.com has the best offers on hotels and unique places to stay
• GetYourGuide is the best place to book tours & activities with free cancellation
• Omio is my go-to booking platform for trains in Europe
• Welcome Pickups is the best & safest place to pre-book airport transfers

Psst 👀 Have you subscribed to my Youtube channel where I provide more useful travel tips?