Manchester, with its iconic football clubs, rich industrial history, and vibrant music scene, is a city that begs to be explored. But first things first, where to stay in Manchester?
In this guide, I'll walk you through the best areas and places to stay in Manchester, ensuring your home away from home is perfect. In the end, I'll also tell you about where to avoid in Manchester.
One of my best friends lives in Manchester, so I've spent a significant amount of time here. So, I've experienced the charm of its various neighbourhoods first-hand.
Whether you're here for the football, the music, the history, or the ale, there's a perfect place to stay for you.
Let's dive into the best areas to stay in Manchester, England.
Best Areas to Stay in Manchester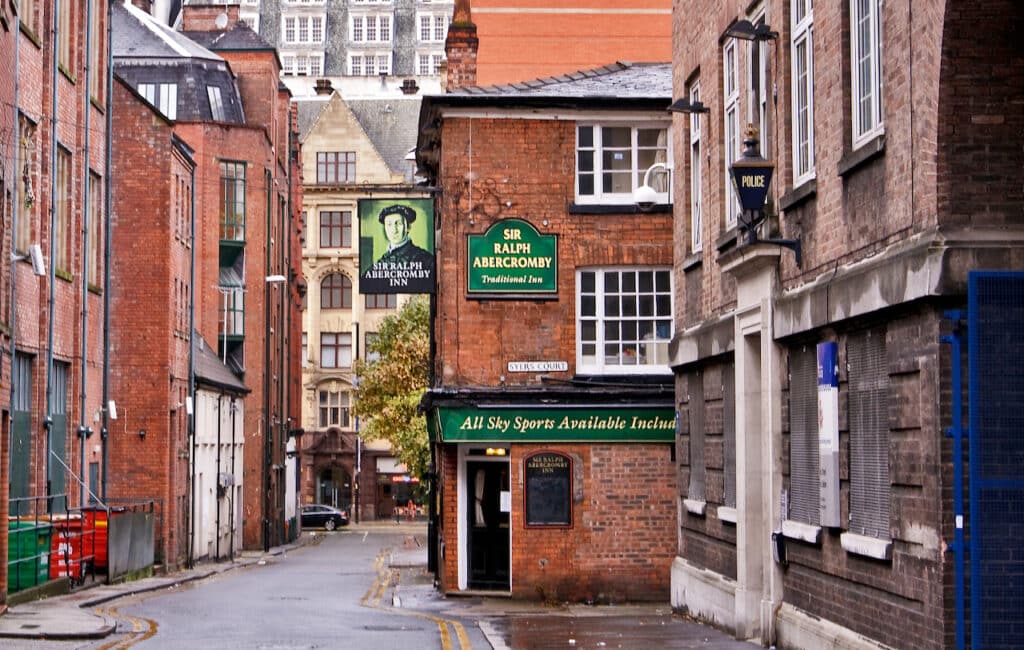 I'm sharing a concise rundown for those in a hurry, but please keep reading for a deep dive into what makes each area unique.
Click on the area's name above to book the best hotels.
Let's delve deeper into what each of these areas has to offer.
1. Manchester City Centre – The Heartbeat of Manchester ⭐️
The Manchester City Centre is a bustling hub known for its convenient location and accessibility to various parts of the city.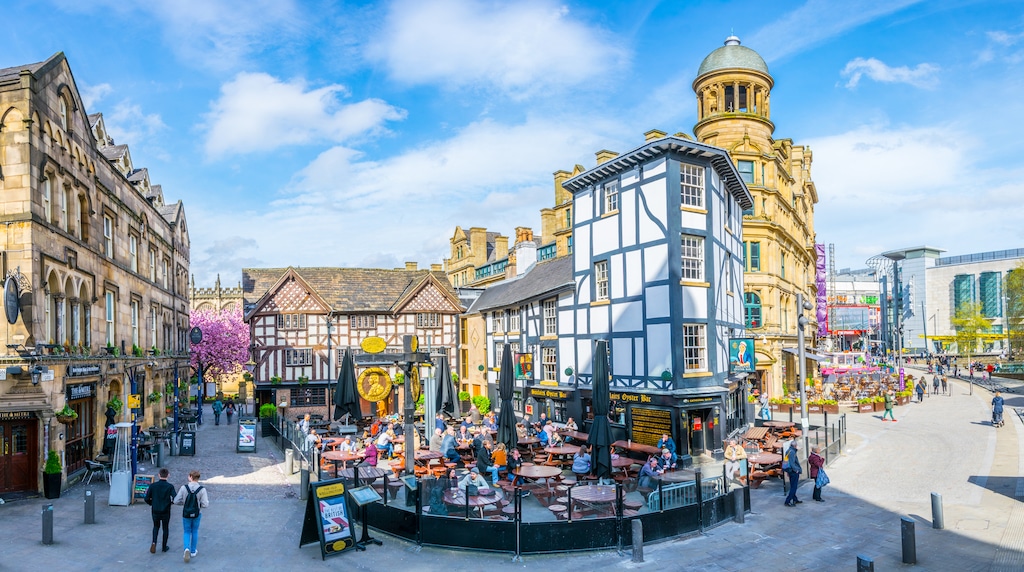 It's a prime spot for travellers looking to have the city's main attractions within arm's reach.
The area is known for its mix of modern retail stores, restaurants, pubs, and historical landmarks like the Manchester Cathedral and the Royal Exchange Theatre.
See the best hotels in the city centre here.
Staying here means you'll have a variety of dining, shopping, and entertainment options right at your doorstep.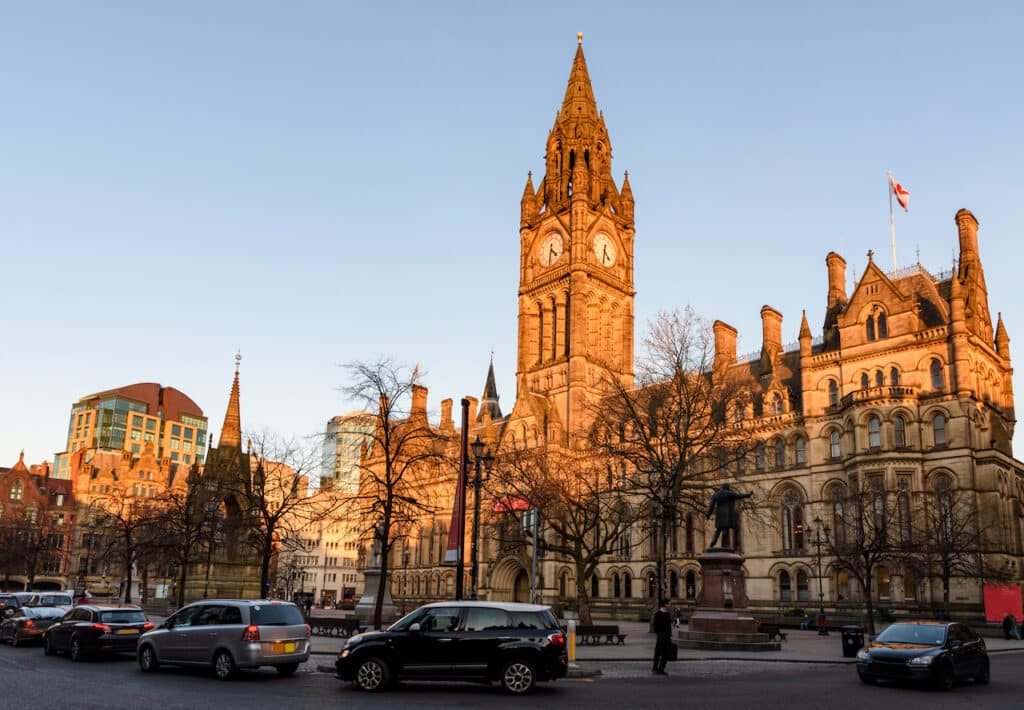 It's a lively area, always buzzing with activity, making it an ideal base for those who want to be in the middle of the action.
The City Centre is without a doubt the best place to stay in Manchester for first-time visitors.
Pros:
Accessibility: Central location with easy access to public transportation.
Shopping and Dining: Home to numerous shops, restaurants, and bars.
Cultural Hotspots: Within walking distance to museums, galleries, and theaters that showcase the city's cultural richness.
Cons:
Pricey: The demand for this prime location reflects in the prices of accommodations.
Crowded: The central location can get quite busy, especially during weekends and events.
Some of my favourite places in the city centre are: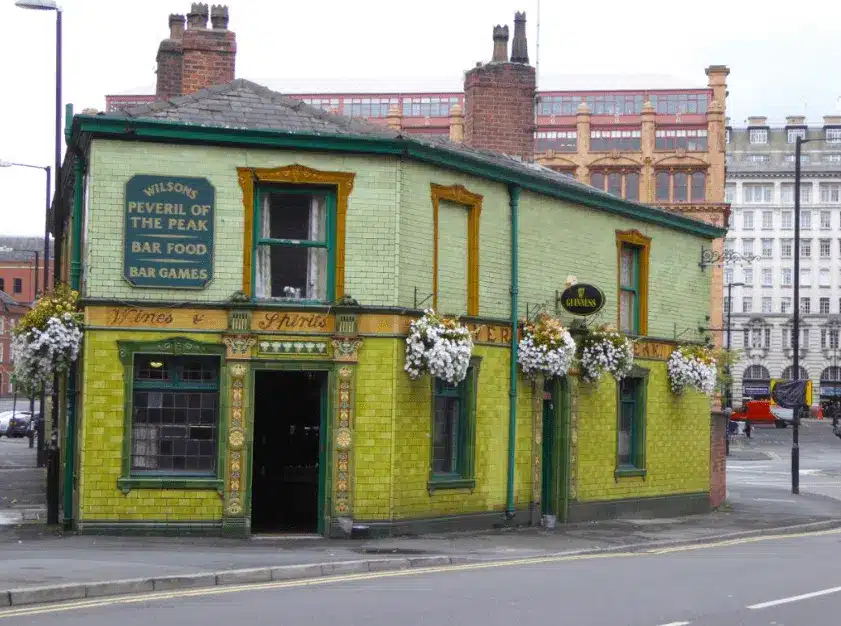 Places to stay in Manchester City Centre
I tend to stay in the city centre on most of my trips to Manchester, so I know quite a few good hotels here. Here are my favourite places to stay in Manchester City Centre – in different price ranges.
Let's start with one of the most unique hotels in this part of England and surely one of the best hotels in all of Manchester.
Having stayed at King Street Townhouse, I can vouch for its luxury and comfort.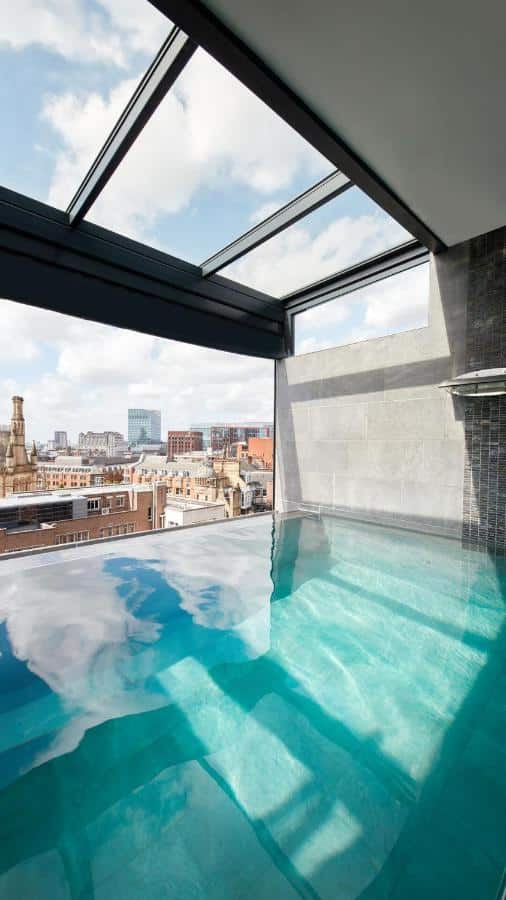 Housed in an elegant Italian Renaissance building, this hotel marries timeless charm with modern amenities.
The crown jewel is the indoor pool on the upper deck, where a dip comes with poetic views of Manchester.
The rooms, a blend of classic elegance and contemporary comfort, provide a serene escape from the city's buzz.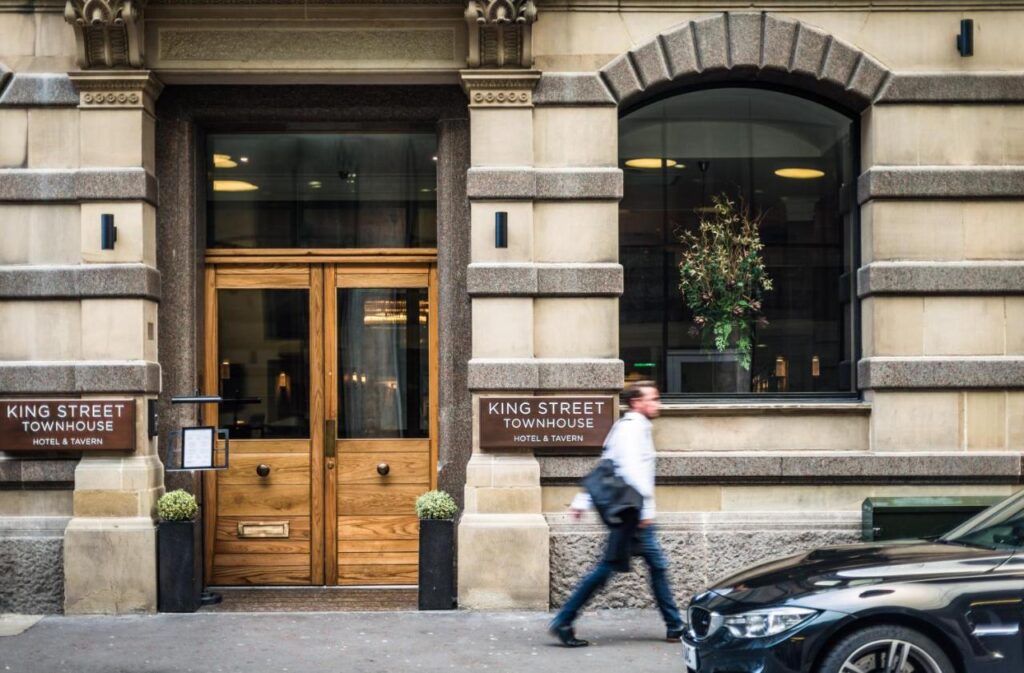 There's also a spa area, a rooftop bar and even a cinema in the hotel's basement.
I was really impressed with all the small details when I stayed here, so I highly recommend this place if you want to stay in a different kind of luxury hotel in Manchester.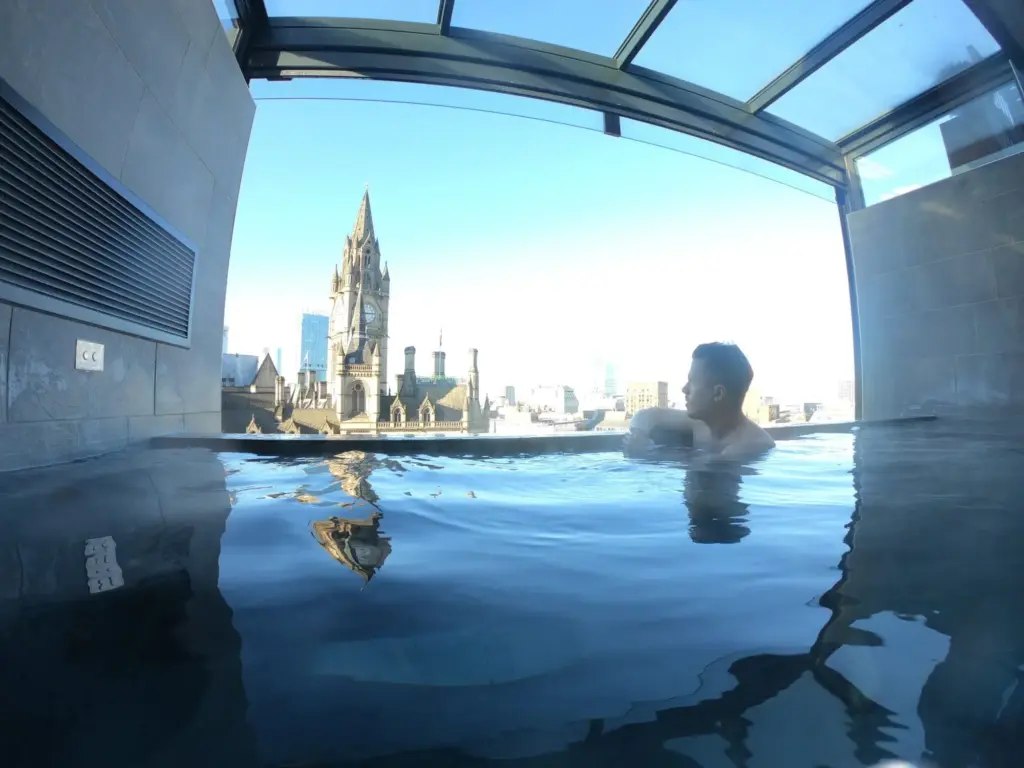 The opening clip in my old video from Manchester (on my Danish channel, sorry) is filmed in the pool here:
Located right in the city centre yet offering a tranquil retreat, King Street Townhouse enhances your Manchester journey, making it unforgettable.
During my last trip to Manchester, I stayed at INNSiDE by Meliá Manchester, and the convenience of its location struck a chord.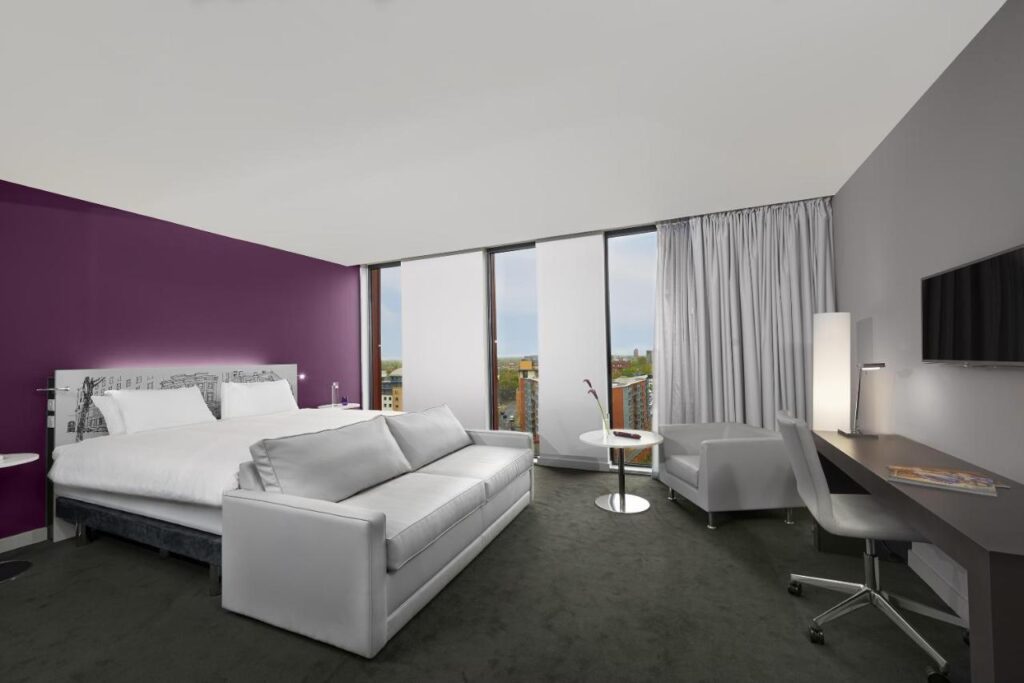 Positioned near two major train stations (Oxford Road and Deansgate), the jaunt to Manchester Airport or a trip to Liverpool is hassle-free.
I actually liked this hotel (and the price) so much that I'm staying there again on my next trip to Manchester in a couple of weeks.
While it's a tad more affordable compared to some establishments a short stroll away in the city centre, the experience is very good.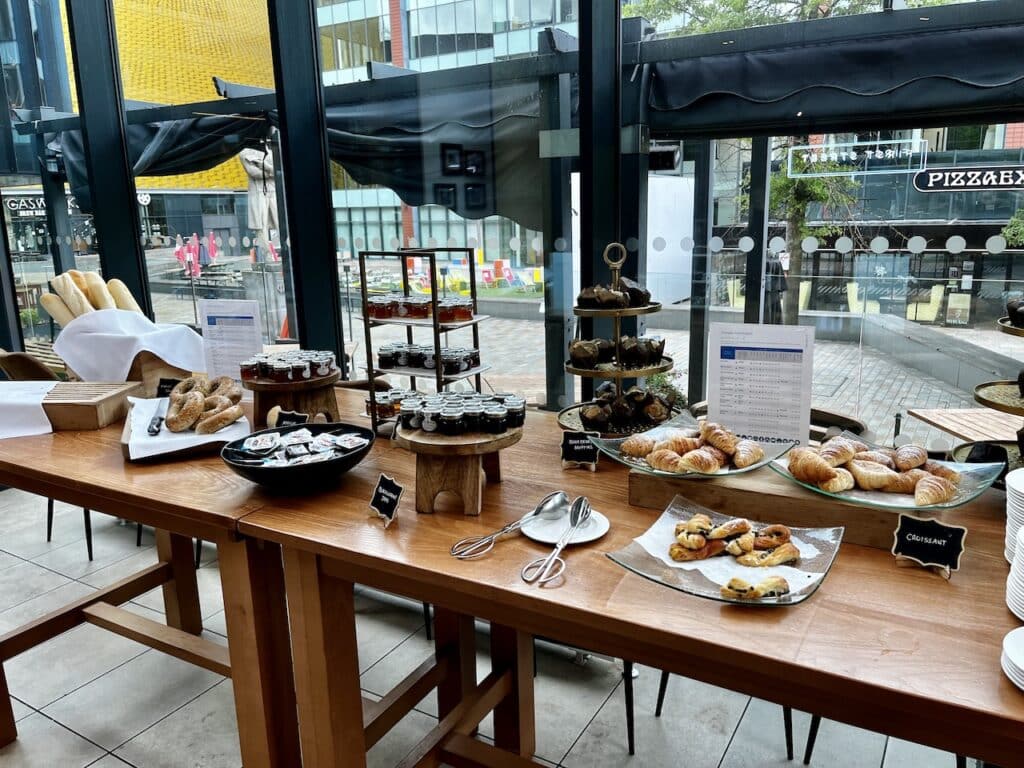 The breakfast buffet here was a delightful surprise, easily among the best I've savoured in a UK hotel. The morning delicacies laid out were a feast for the taste buds and a brilliant start to the day.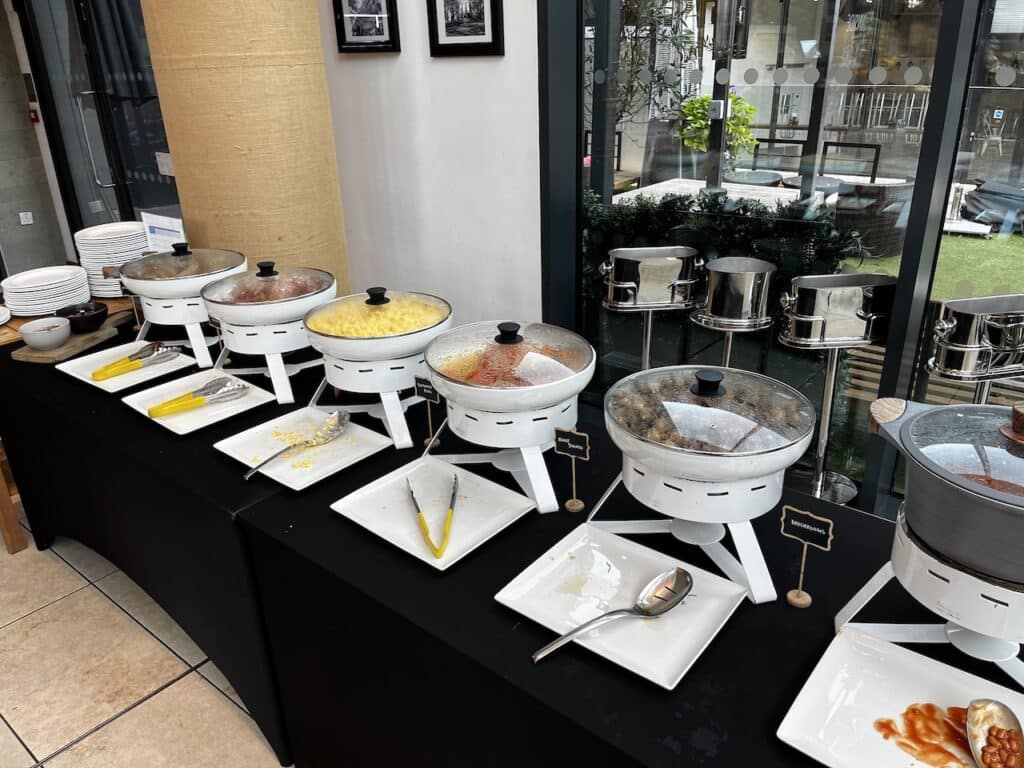 You should try their bagels and chocolate chip cookies if you stay here.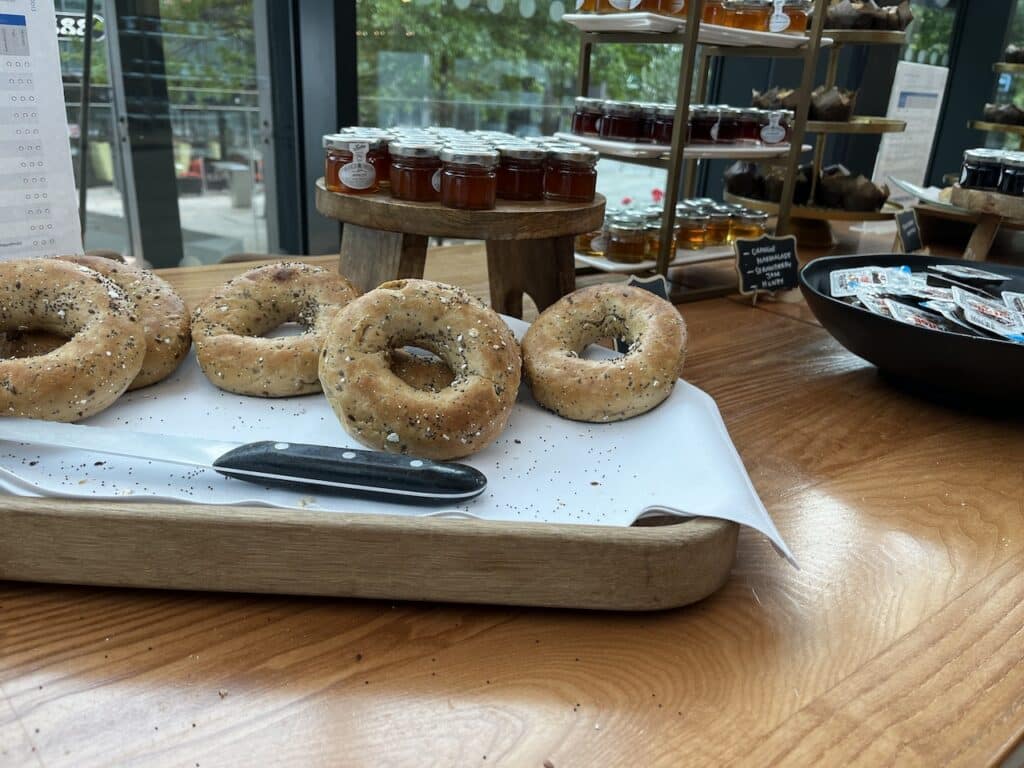 Another nice touch was that the drinks in the minibar were free – I think there was water, a few ice coffees and a fizzy iced tea, if I recall correctly.
With modern, cosy rooms and this hearty breakfast to look forward to, INNSiDE by Meliá makes a compelling case for a comfortable, well-placed, and delectably satisfying stay in Manchester.
I'm staying at the Innside by Melia Hotel in this video:
A couple of years ago, a friend and I went to Manchester for a concert and found our stay at Ibis Manchester Centre on 96 Portland Street perfect for our needs: a cheap city centre hotel near 'everything' in Manchester.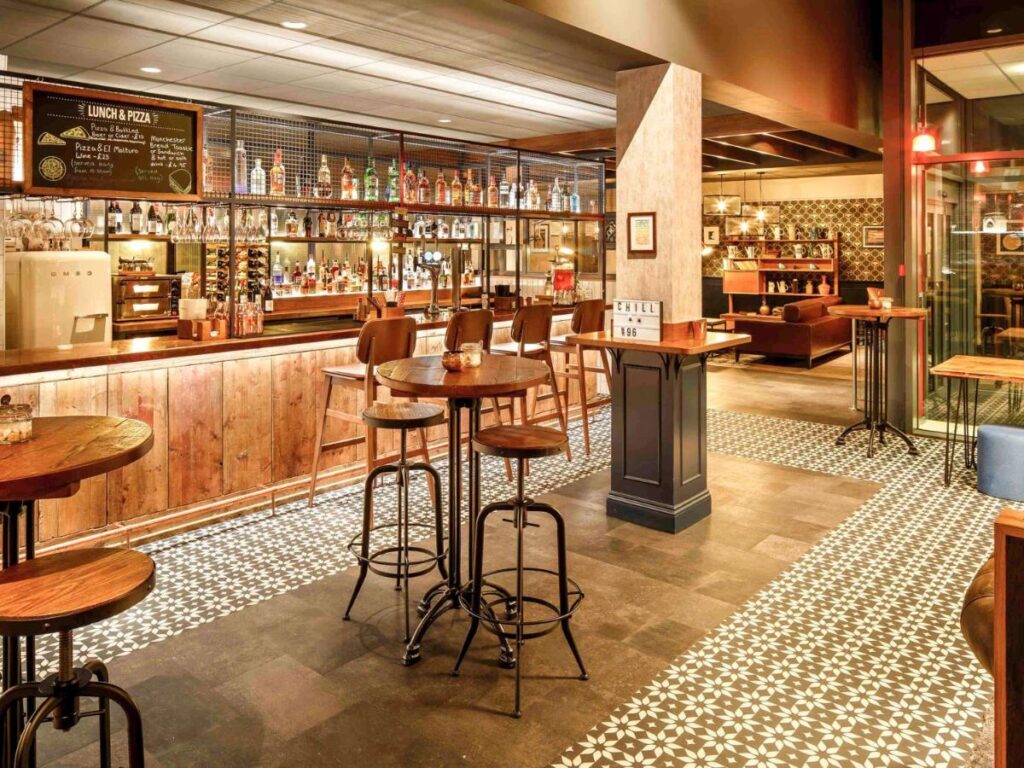 The location is unbeatable, close to Chinatown and just a short stroll from Piccadilly Station (the main train station in Manchester).
The rooms, though budget-friendly, were clean and cosy, providing a comfortable rest after the concert buzz. The on-site bar was a pleasant spot to recap the night's highlights over a drink.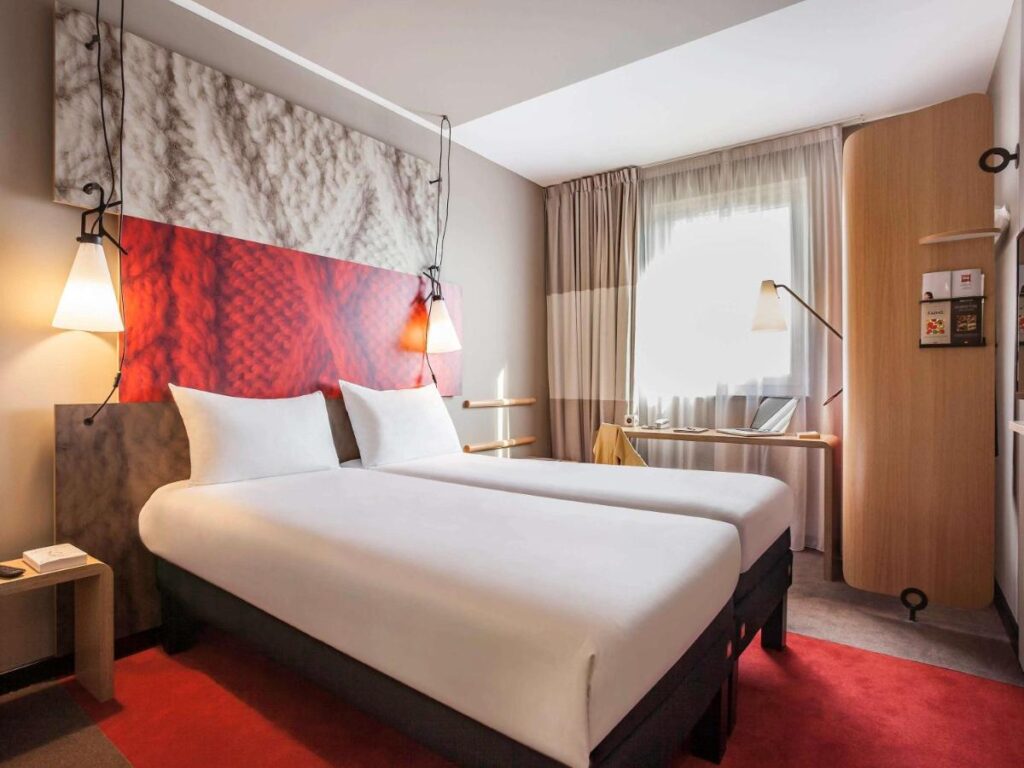 Its central location made navigating the city a breeze, especially for the concert venue.
With clean rooms, a handy bar, and its prime location, this Ibis hotel was a wise choice for a budget-conscious trip filled with music and exploration.
2. Northern Quarter – The Hipster Haven 🍻
The Northern Quarter is renowned for its alternative and bohemian vibe, making it a favourite among artists, musicians, and young travellers.
It's a place where vintage shops, record stores, and indie music venues thrive.
The area is a hub for unique shopping and live music, with streets adorned with vibrant street art.
The Northern Quarter has a youthful energy, with plenty of cafes, bars, and small eateries offering a taste of the local culture.
See the best hotels in the Northern Quarter here.
It's an area that embraces the quirky and unconventional, offering a distinct contrast to the more commercialised parts of the city.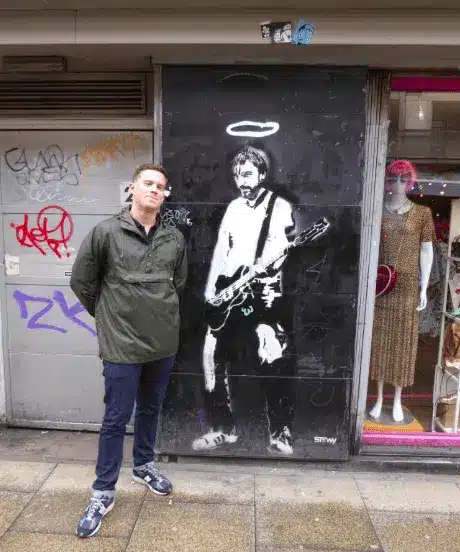 Staying here will give you a taste of Manchester's vibrant music scene.
Some of my favourite places in Northern Quarter include: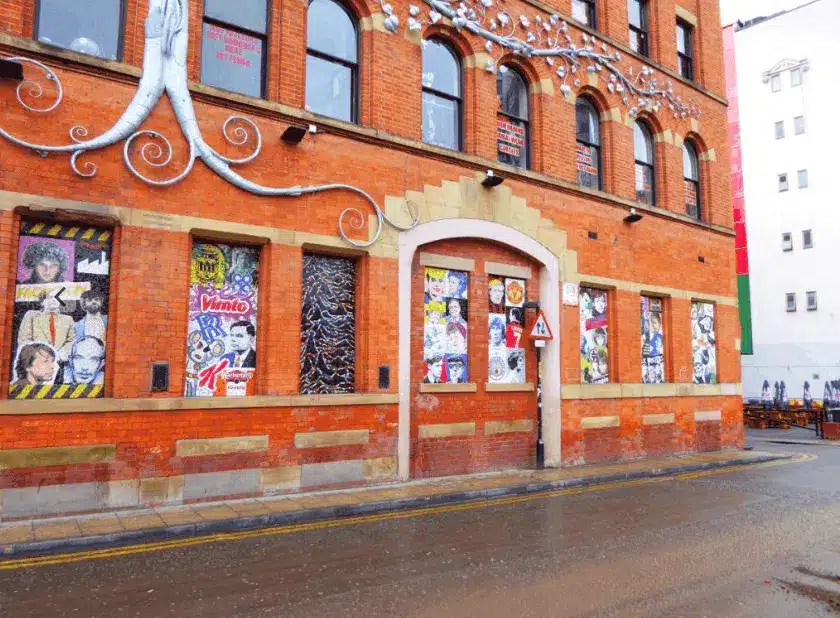 Pros:
Artsy Vibe: The bohemian atmosphere is a magnet for artists, musicians, and creatives.
Unique Shopping: Vintage shops offer one-of-a-kind items, a treasure trove for those seeking the unusual.
Live Music: Indie music venues are aplenty, a testament to Manchester's rich musical heritage.
Cons:
Noisy: The lively atmosphere can extend into the night, which might not appeal to everyone.
Limited Upscale Lodging: More bohemian in its lodging offerings with fewer luxury options.
Ancoats is another area, but as it's snuggled right next to the Northern Quarter I'll include it here.
Ancoats is fast becoming Manchester's go-to area for food enthusiasts and nightlife lovers. The area brims with youthful energy, reflected in its modern bistros, trendy coffee shops, and cool bars.
This video shows bits of Ancoats:
Ancoats has a distinct character; it's where the old industrial Manchester morphs into a modern, food-centric haven.
The refurbished mills now house some of the city's most talked-about restaurants and bars, making Ancoats a vibrant spot for gastronomic discoveries and evening revelries.
Ancoats is so "new" that there aren't any hotels in the area, but it's literally across the road from the Northern Quarter so it's easy to get to if you're staying in the NQ.
Check out places like Rudy's Pizza, Jimmy's and Cask if you're in the area.
Places to stay in the Northern Quarter
So, the Northern Quarter is a unique area, and many of the buildings have been there since before it was a cool place in Manchester. So there aren't many hotels in the Northern Quarter – here are some of my favourites in and around the area.
Hotel Indigo Manchester, located a brief walk from the Northern Quarter, serves as a gateway to the bohemian heartbeat of the city while providing a touch of luxury.
The hotel boasts modern, well-appointed rooms with all the amenities to ensure a comfortable stay.
The proximity to the Northern Quarter means easy access to its quirky cafes, vintage shops, and indie music venues.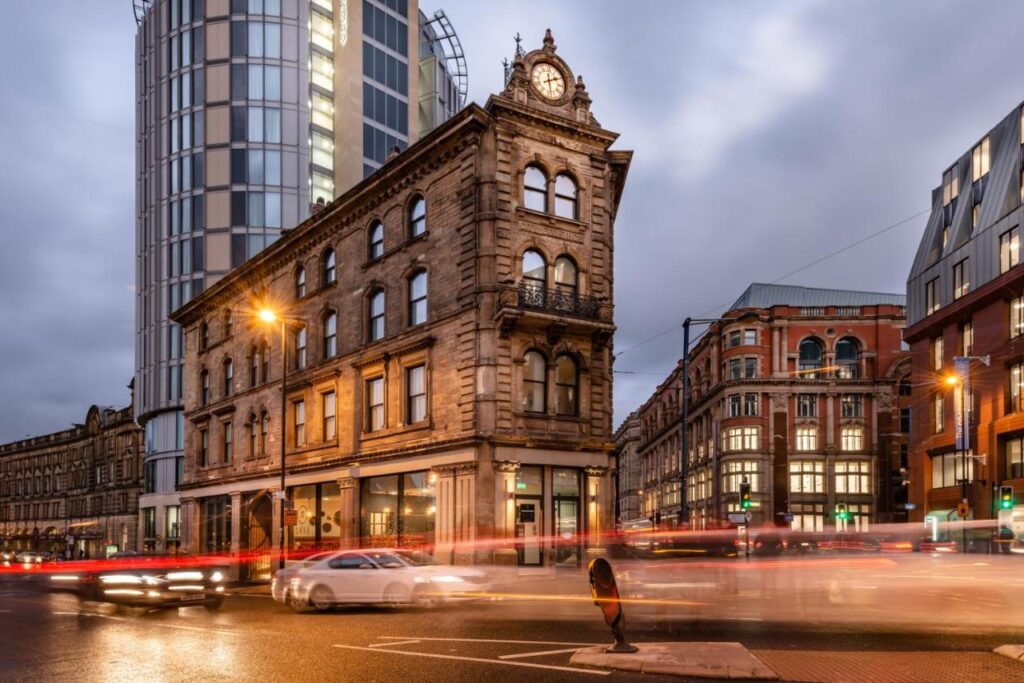 So Hotel Indigo is a favourable choice for those wanting to explore the city's cool, bohemian vibe yet retreat to a cosy, upscale haven at day's end.
Crowne Plaza Manchester City Centre places you in the heart of the Northern Quarter, offering premium comfort within steps of the area's bohemian charm.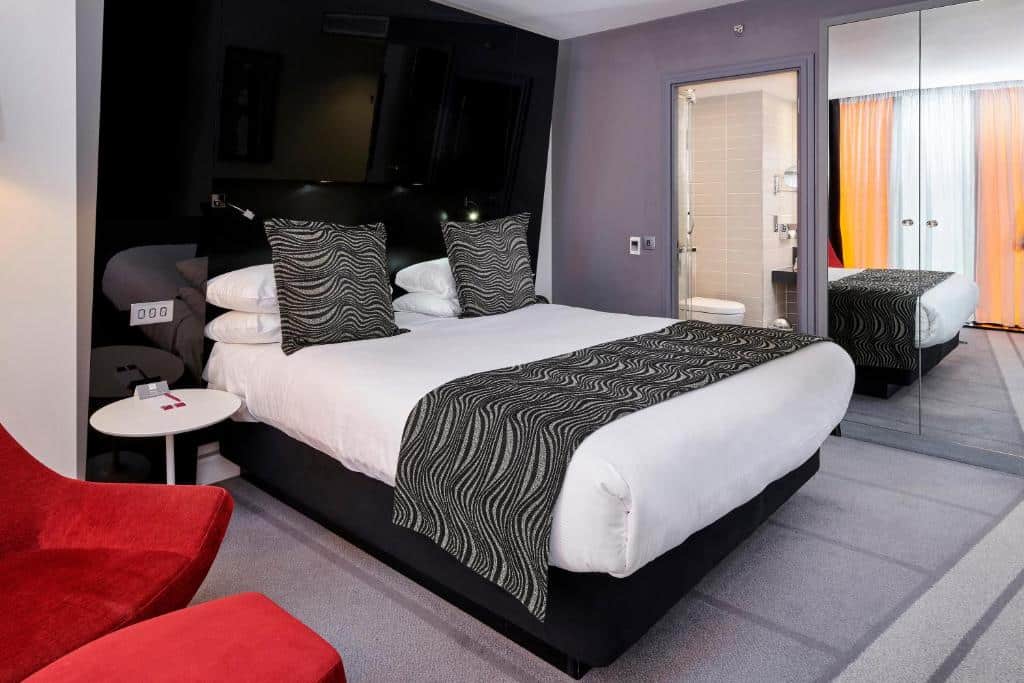 Located just around the corner from the iconic Mackie Mayor (a fabulous indoor food court), guests are positioned well to delve into the local food scene.
The hotel provides modern, well-appointed rooms featuring all essential amenities to ensure a restful stay.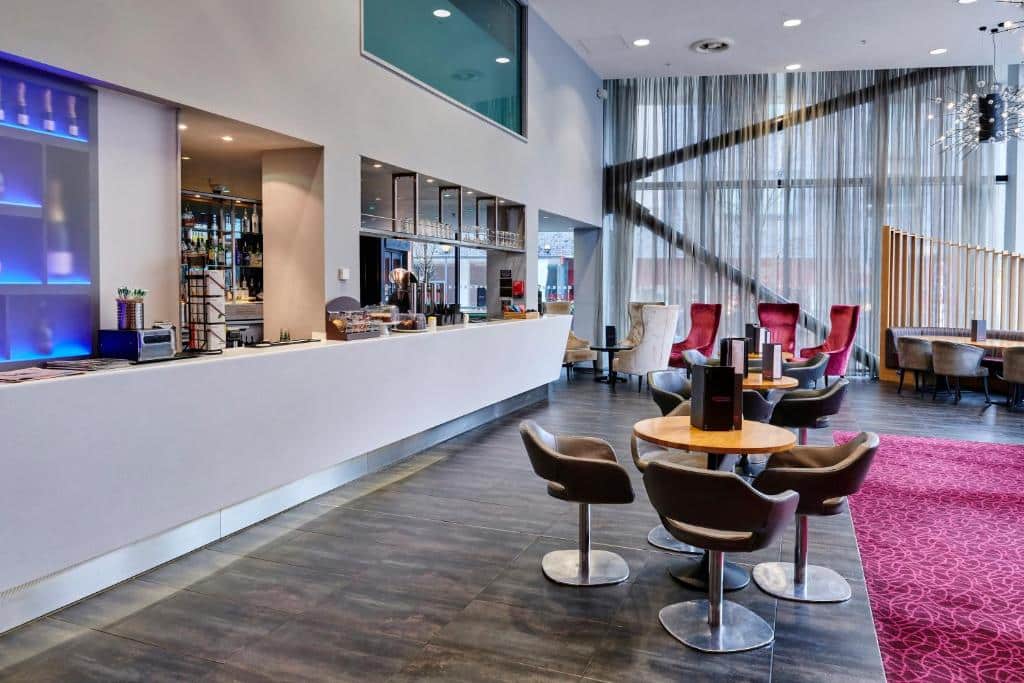 The location is a major perk, providing easy access to the eclectic shops, cafes, and indie music venues that define the Northern Quarter's allure.
And the city centre of Manchester is also just a 5-minute walk from the hotel.
The following hotel in Northern Quarter is right around the corner from the Crowne Plaza, so the location is brilliant as well.
Holiday Inn Express Manchester City Centre Arena is a wallet-friendly option without compromising location.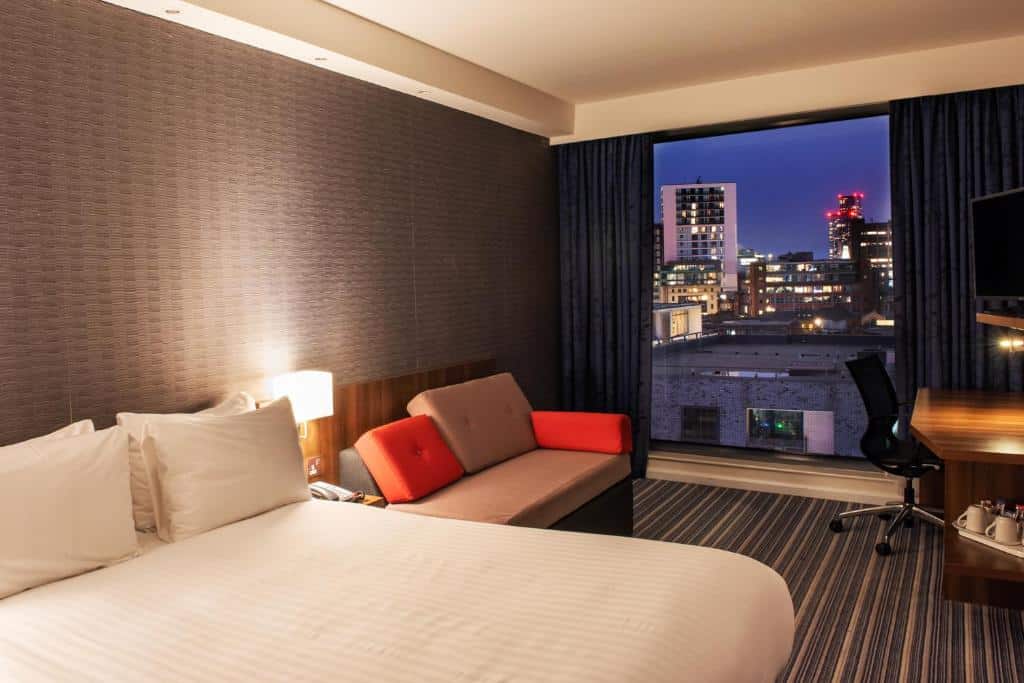 While a bit more budget-conscious, the hotel ensures a comfortable stay with modern, clean rooms equipped with the necessary amenities.
The complimentary breakfast is a pleasant start to a day of city exploration.
Holiday Inn Express in NQ presents a nice balance of cost, comfort, and convenience, making it a solid choice for travellers keeping an eye on their budget yet eager to be in the heart of Manchester's cool, bohemian vibe.
3. Deansgate – Nightlife Central in the city centre 💃🏽
Deansgate is the nightlife epicentre of Manchester.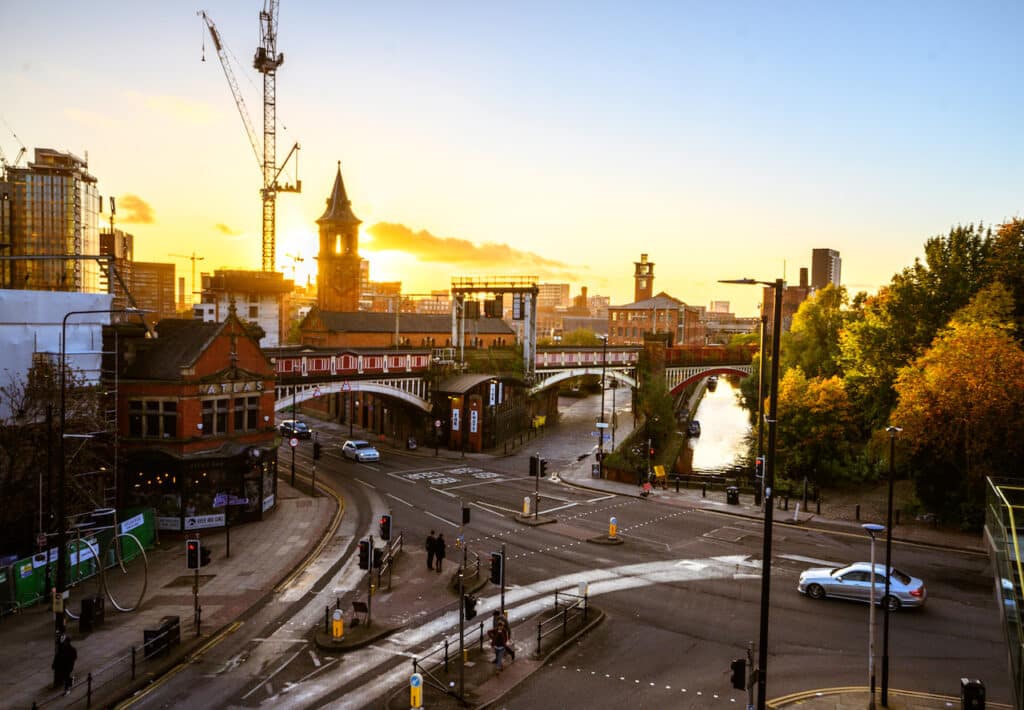 This area is known for its lively atmosphere once the sun sets. It's home to numerous pubs, bars, and clubs, each offering a unique ambience and a good time.
Deansgate is part of Manchester City Centre, but I thought it needed its own section in this guide as it truly is one of the best areas to stay in Manchester.
See the best hotels in Deansgate here.
Deansgate is not all about nightlife; during the day, the area is bustling with shoppers exploring its retail outlets and enjoying meals at various restaurants.
Staying in Deansgate means you'll be at the heart of Manchester's social scene, with plenty of entertainment options.
If you're coming to Manchester to watch football (especially Manchester United), it's easy to get from Deansgate to Old Trafford, and the tram also runs all the way out to Manchester City's stadium.
Pros:
Nightlife: Rich nightlife with a plethora of bars, pubs, and clubs.
Shopping and Dining: Diverse shopping and dining options available.
Deansgate is in Manchester City Centre
Cons:
Noisy: Can be noisy, especially during weekends.
Pricey: Accommodation and amenities can be on the higher end as it's so central.
Places to stay in Deansgate
So, we're in the city centre, so the hotels I previously highlighted are all very close to Deansgate. Here are a few of my favourites that are even closer.
We're starting off with one of my favourite hotels in Manchester.
I stayed at The Edwardian Manchester on a press trip with Visit Britain, and it was nothing short of magnificent.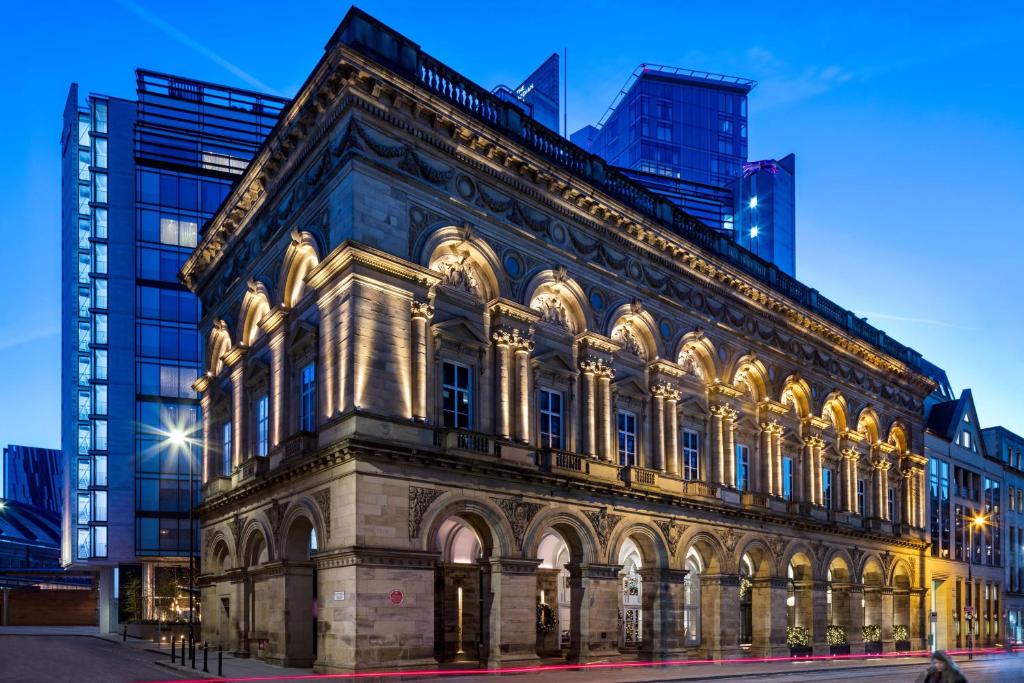 Located near Deansgate in the heart of the city, the hotel resides in one of Manchester's historic buildings, adding vintage charm to the modern elegance that pervades the premises.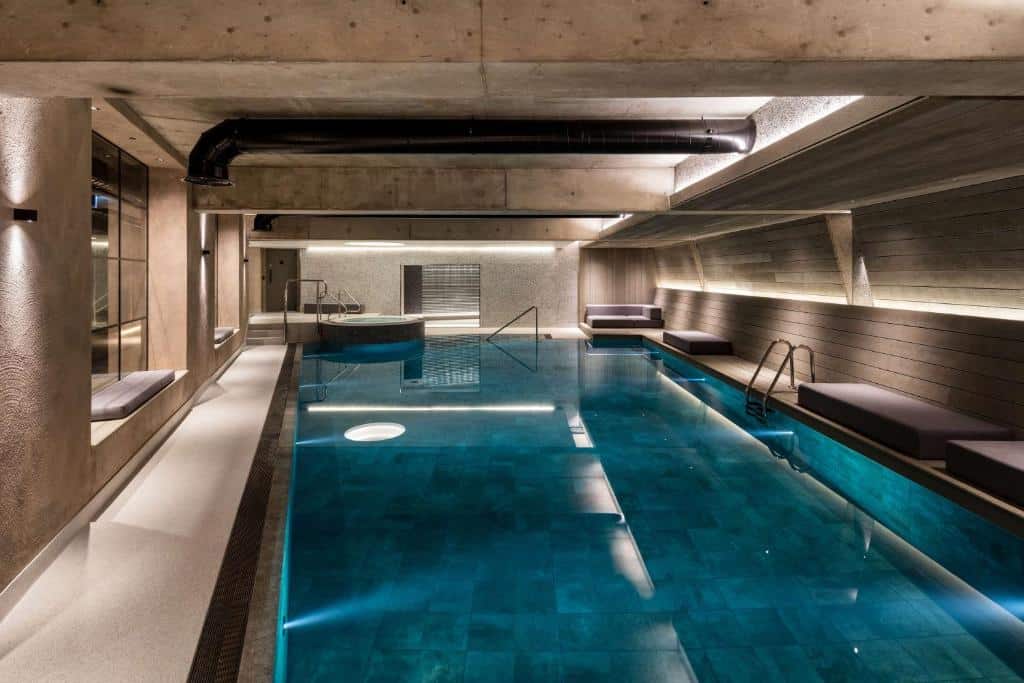 I'm a massive music fan, and to know that this hotel is in the building that hosted the famous Sex Pistols gig in Manchester is wild to think about.
One of the staff told me that this is the hotel Noel Gallagher usually stays in when he's in Manchester, so if you're a fellow Oasis-fan, this is the place to stay in Manchester.
From the moment I stepped in, the tasteful decor spoke volumes of its commitment to luxury.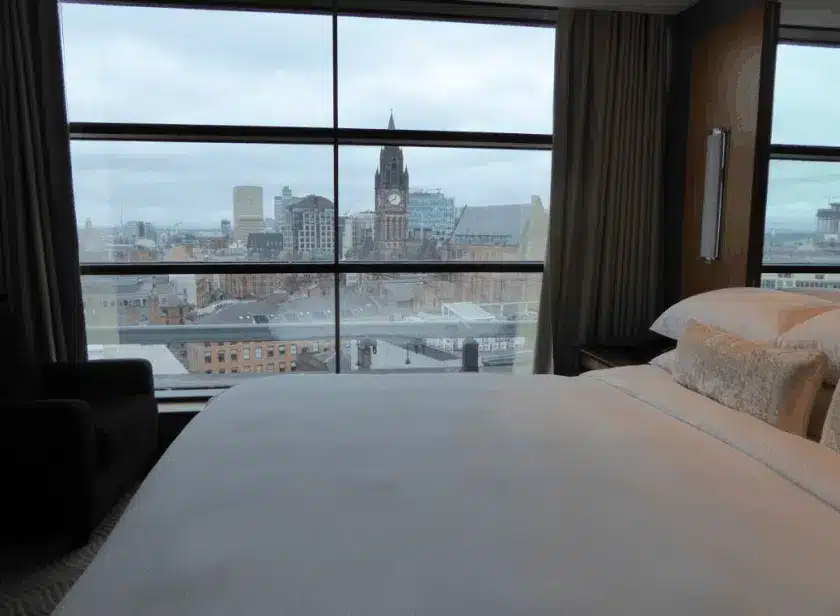 The room was a haven of comfort, furnished with a plush bed, modern amenities, and an ensuite bathroom equipped with premium toiletries.
The morning began on a delightful note, with a breakfast buffet that was as lavish as delicious.
The afternoon tea later in the day was a quintessentially British experience, with a fine selection of teas and various fresh, gourmet pastries and sandwiches.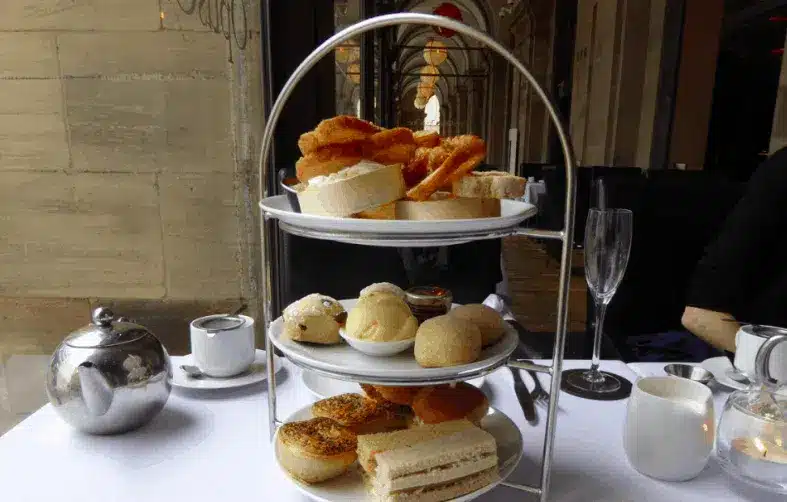 The amenities at The Edwardian are top-notch, including a well-equipped fitness centre, a serene indoor pool and spa for those rejuvenating massages, and, not to forget, an on-site restaurant and bar.
The rich history of the building, coupled with modern comforts and impeccable service, makes The Edwardian Manchester a sublime choice for a memorable stay in the heart of the city.
Moxy Manchester City is a well-regarded 4-star hotel just off Deansgate, offering stylish accommodation in a convenient city-centre location.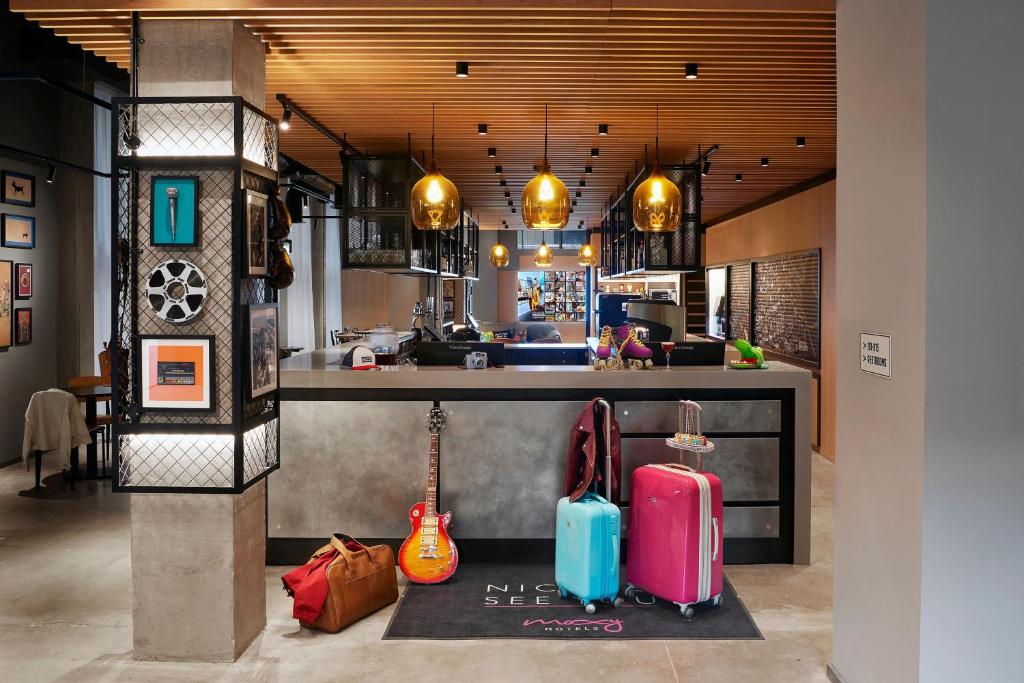 The hotel brings a modern, youthful vibe with its chic decor and vibrant communal spaces.
The rooms are designed with contemporary aesthetics, ensuring a comfortable and visually pleasing environment for guests.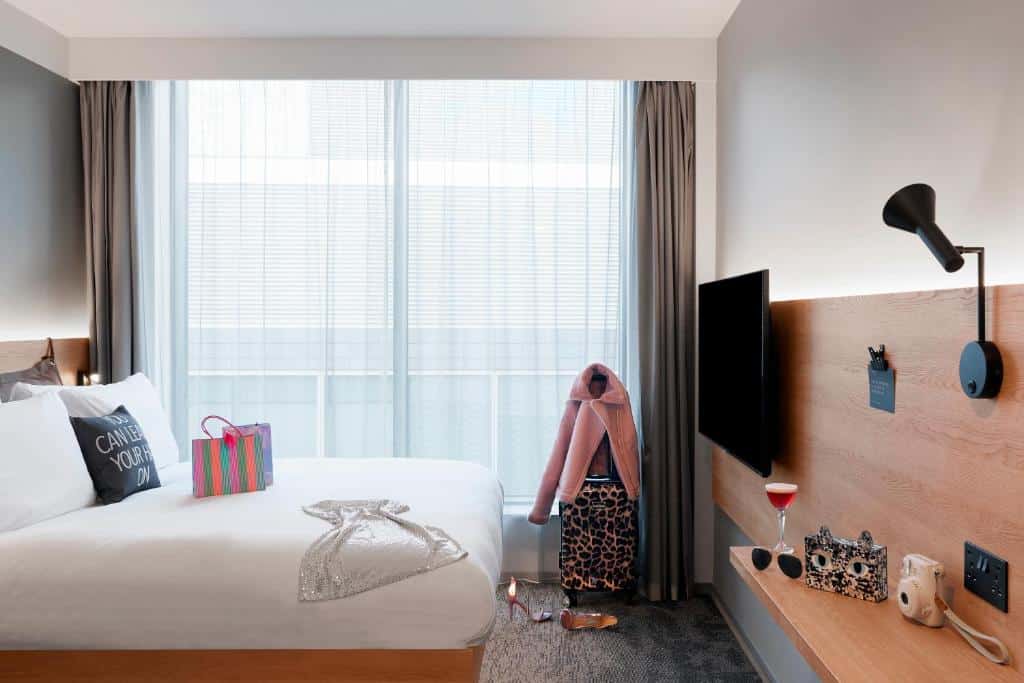 Located literally metres from Deansgate, guests have easy access to a host of restaurants, bars, and shops that the area is known for.
Plus, the central location allows for exploring Manchester's many attractions conveniently.
YOTEL Manchester Deansgate is a budget-friendly haven for young travellers in Manchester's city centre.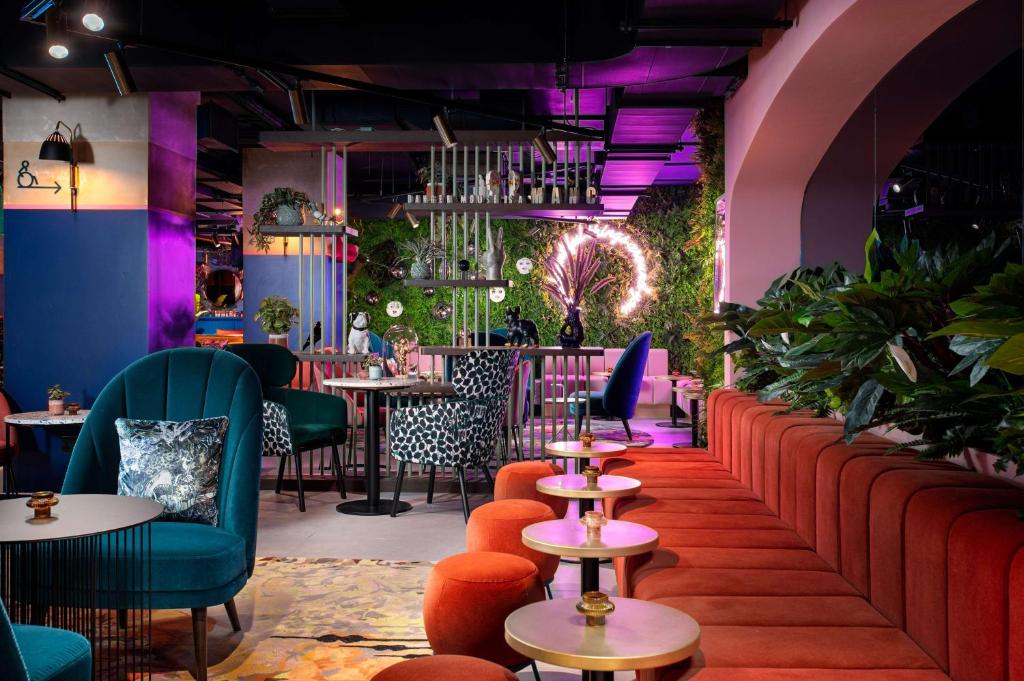 The hotel exudes a youthful, energetic vibe, making it a perfect spot for those seeking a party-friendly base.
The modern, compact rooms are cleverly designed to maximize space without compromising on comfort.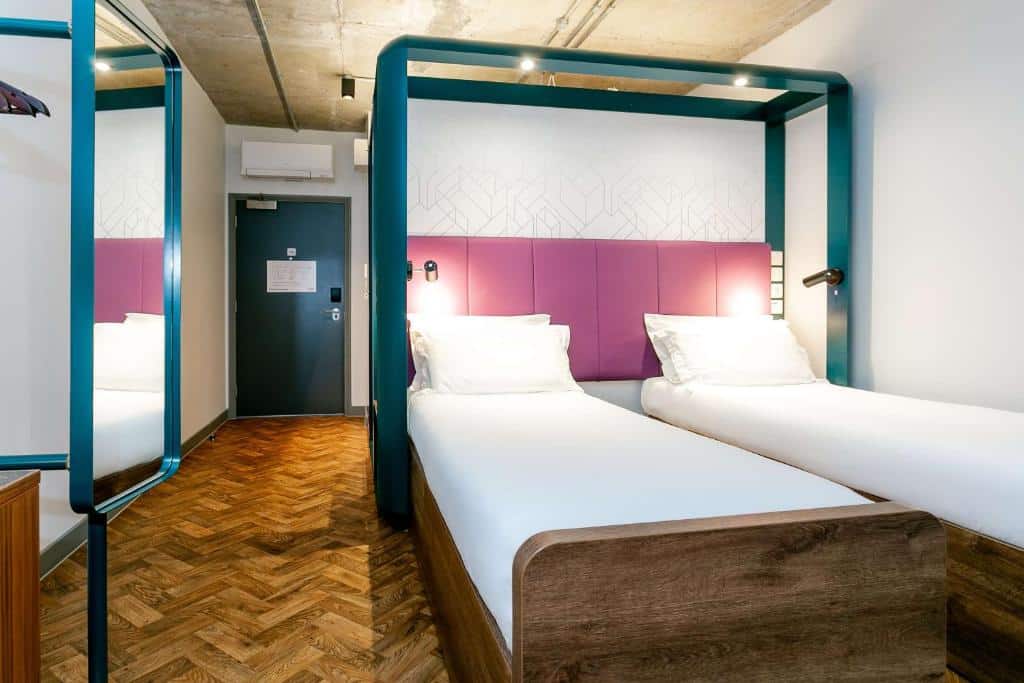 The communal areas of the hotel buzz with social energy, providing a great platform to meet fellow travellers.
The on-site bar is a lively spot to kickstart your evening before heading out to the nearby clubs and bars.
4. Castlefield – peaceful area perfect for families 👨‍👩‍👧‍👦
Castlefield is a peaceful area known for its picturesque canals and historic Roman forts. It's a place where history meets tranquillity.
Like Deansgate, Castlefield is more or less in the city centre of Manchester, so it's not like you'll be staying in a small village far away from the centre of town.
Castlefield is just a bit more laidback and residential compared to, for instance, Deansgate.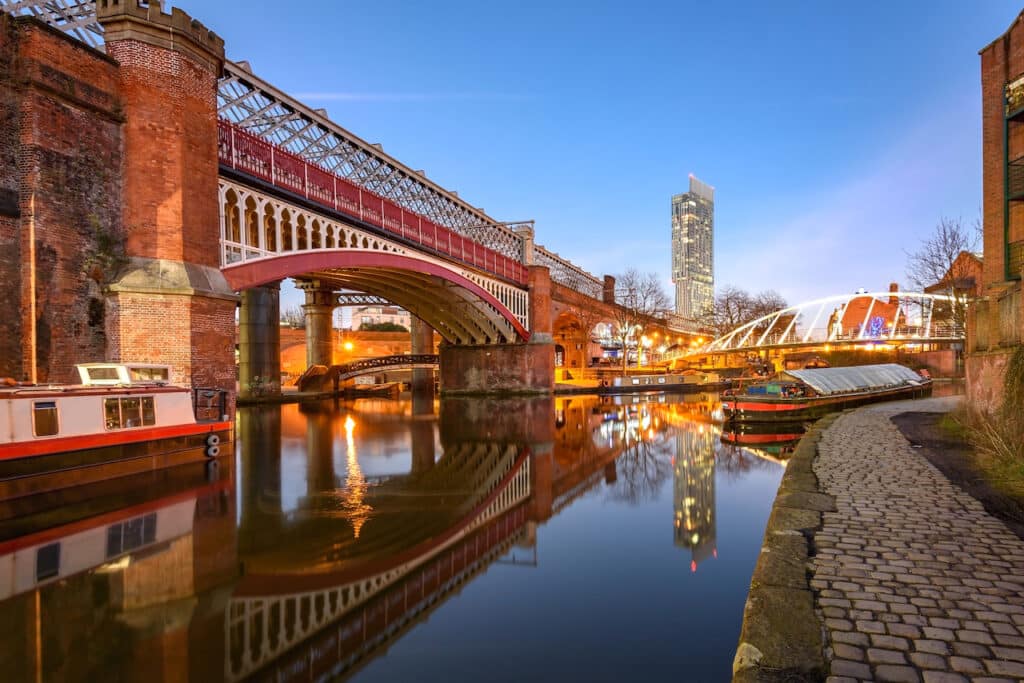 The old industrial warehouses have been transformed into modern apartments and offices, blending the past with the present.
This area is perfect for those looking to escape the city's hustle while still being close to the centre.
See the best hotels in Castlefield here.
The calm waters of the canals and the open green spaces provide a serene escape within the city.
Staying in Castlefield offers a peaceful retreat with a touch of history. And it's literally only a 10-minute walk to the city centre so it's still very central.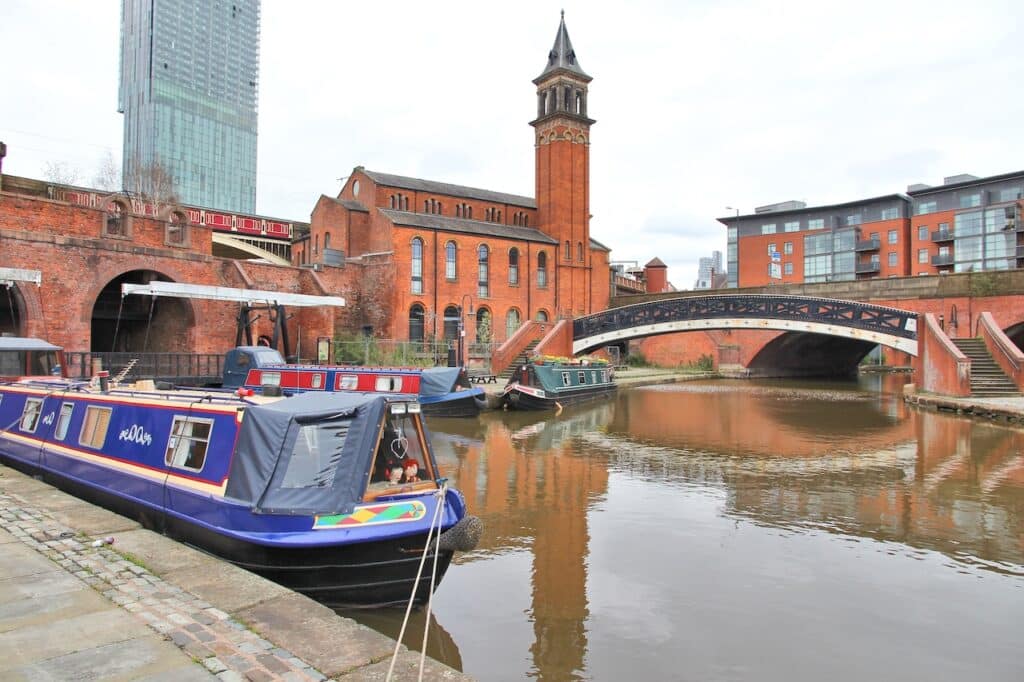 My friend lives in Castlefield, so I've spent a lot of time here, and I think it's one of the best areas in Manchester – both to stay and wander around.
Remember to head into The Wharf for a pint with the locals when you're in Castlefield.
Pros:
Historic Charm: Rich historical ambiance with well-preserved Roman forts.
Tranquillity: Less bustling, offering a peaceful retreat.
Scenic Canals: Beautiful canals provide a picturesque setting.
Deansgate Station is a few minutes from Castlefield (easy to get to the airport)
Cons:
Less Nightlife: Not as lively at night compared to other areas.
Limited Shopping: Fewer shopping outlets compared to the city centre.
Places to stay in Castlefield
As I mentioned before, Castlefield is a fairly small area, and you won't find a massive amount of hotels here.
I'd recommend checking out Innside by Meliá, which I suggested in the City Centre section of this guide, as it's only a few blocks from Castlefield.
There's only one (proper) hotel in Castlefield, and its name checks out.
Castlefield Hotel is a value-for-money choice for travellers seeking a comfortable stay close to Castlefield and the city centre.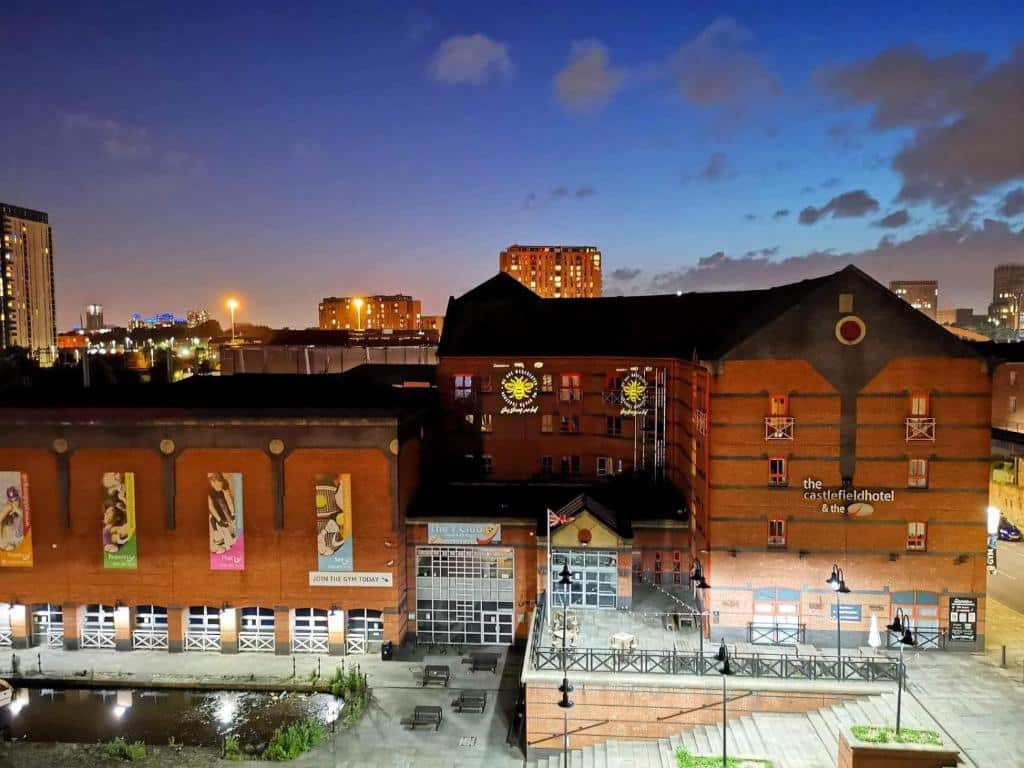 This 3-star hotel provides a range of well-maintained rooms with all the basic amenities for a good stay in Castlefield near the town centre.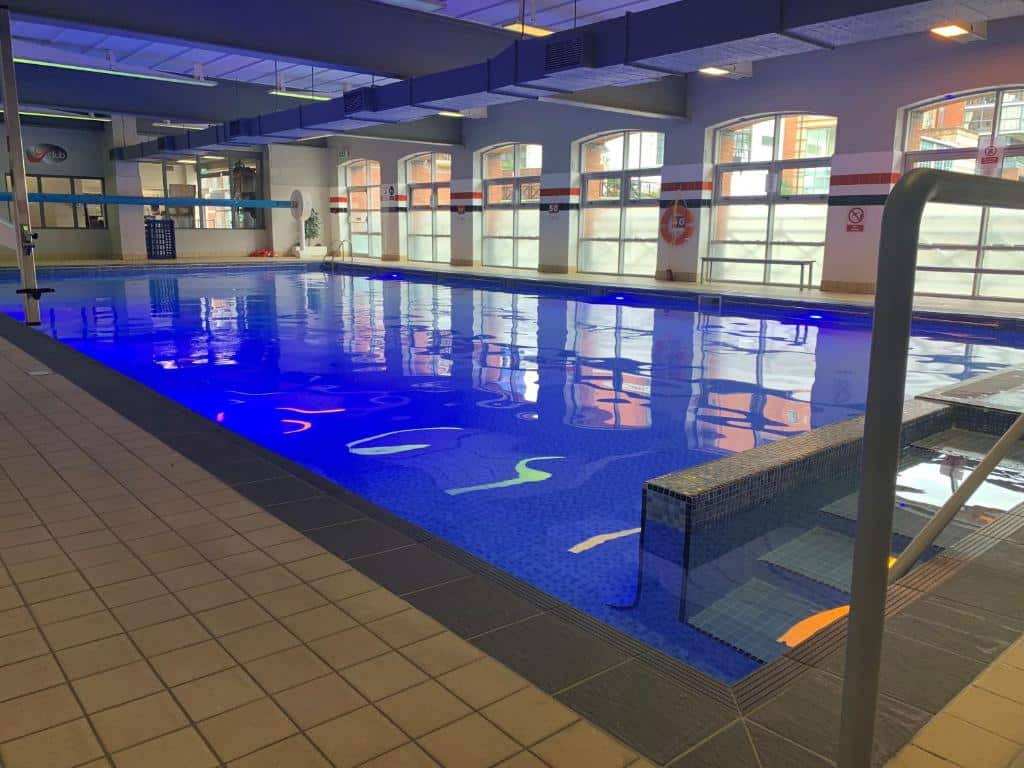 One of the highlights of this hotel is its indoor pool, a rare find in a budget-friendly establishment.
Castlefield Hotel is an excellent option for those seeking a budget-friendly yet comfortable stay with the added perk of an indoor pool, all within a stone's throw from the heart of Manchester and the charming Castlefield area.
There are a few holiday apartments listed in Castlefield on Booking.com – check them out here.
5. West Didsbury – The Hidden Gem 🌱
West Didsbury, and Didsbury in general, is a delightful area that combines a village feel with urban amenities.
Staying here means enjoying a relaxed atmosphere, exploring local favorites, and discovering the lesser-known, yet equally enchanting, part of Manchester.
So, this area is not for most tourists or first-time travellers, but if you've been to Manchester a few times and want to travel like a local, West Didsbury should be on your radar.
See the best hotels in Didsbury here.
At the heart of West Didsbury is Burton Road, a hidden gem with independent shops, artisanal bakeries, and quaint bistros.
My friend took me here for dinner at Zena, and after eating, we had a great evening in the numerous bars and pubs on Burton Road.
The road encapsulates the area's spirit, where local businesses thrive and the community gathers.
It's a place where each establishment tells a story, contributing to the distinct charm of West Didsbury.
So, even if you're staying in the Manchester city centre, I'd recommend making the journey out to West Didsbury to see a unique and more local area of Manchester.
Pros:
Burton Road: A vibrant street full of local charm and independent businesses.
Community Atmosphere: A strong sense of community with a laid-back vibe.
Unique Shopping and Dining: Independent shops and eateries offering a unique local experience.
Cons:
Distance from City Centre: It's a bit farther from the city center, though well-connected by public transport.
Quieter Nightlife: Less vibrant nightlife compared to central areas.
Here's a nice video showing what life in Didsbury looks like:
Places to stay in Didsbury
I know most people reading this won't be staying in this part of Manchester, and to be fair, there aren't that many places to stay in Didsbury. But there is one that looks excellent.
Didsbury House Hotel encapsulates the quaint charm of a cosy English village while ensuring Manchester's city centre is just a quick 20-minute tram ride away.
This unique hotel exudes a vintage aura, with tastefully decorated interiors that transport guests to a bygone era, yet with modern comforts at hand.
It's just a few minutes on the tram to Burton Road as well
The lush garden provides a serene escape, a place to unwind and soak in the peaceful surroundings.
Didsbury House Hotel is a charming choice for travellers seeking a unique stay that blends the quaintness of a village setting with the convenience of city accessibility.
Where Not to Stay in Manchester & Areas to Avoid
While Manchester is mostly safe and welcoming, certain areas might be less appealing to tourists.
For instance, despite its central location, Piccadilly Gardens in the city centre has a notorious reputation for drug abuse and can feel unsafe at night. It's advisable to exercise caution if you find yourself in the area after dark.
Areas such as Moss Side, Cheetham Hill and Rusholme have had reputations for higher crime rates in the past, although there have been significant improvements over the years.
However, avoiding these areas might still be wise, especially after dark.
Check out this list showing the most dangerous areas of Manchester.
While not particularly dangerous, some neighbourhoods might be inconvenient for tourists due to their distance from the city centre and lack of nearby attractions and amenities.
Choosing the right area and hotel in Manchester boils down to your preferences, whether you're chasing the vibrant nightlife, seeking a tranquil retreat, or looking for a budget-friendly yet comfy stay.
Each area has its unique flavor, with hotels catering to various tastes and budgets.
Manchester accommodates all, from the historic charm of Castlefield to the Northern Quarter's bohemian allure or the city's bustling heart near Deansgate.
Dive into the city's diverse culture, music scenes, and culinary delights from any of these fantastic bases.
If you have any questions about the areas in Manchester I've mentioned above or your trip to the North West of England in general, please let me know in the comment section below.
FAQ:
What part of Manchester is best to stay in?
For the majority of tourists, staying in the city centre of Manchester is a smart choice as it places you right in the hub of activity with easy access to a plethora of attractions, dining options, shopping venues, and public transport.
However, the city has other appealing areas too. For those drawn to a more bohemian vibe, the Northern Quarter is a lively and artistic part of town known for its indie shops, music venues, and quirky cafes.
On the other hand, with its serene canals and historic charm, Castlefield provides a tranquil escape while still being conveniently close to the city centre. Each area has its charm and caters to different preferences, ensuring a memorable stay in Manchester.
What is a nice area of Manchester?
Didsbury and West Didsbury are among the charming areas in Greater Manchester that I find appealing. These suburban neighbourhoods offer a more tranquil, village-like vibe while still providing easy access to the city centre. With leafy streets, quaint cafes, boutique shops, and lovely parks, they offer a peaceful retreat from the urban hustle. The architectural charm and friendly community atmosphere contribute to the pleasant ambience of these areas.
With the East Didsbury Metrolink station nearby, hopping to the city centre is a breeze, making these areas nice and conveniently located for those wanting to explore more of Manchester.
Is Manchester a walkable city?
Yes, Manchester is indeed a walkable city, especially if you stay in the city centre. You could easily spend three days exploring without hopping on public transport. The city's compact nature and well-designed pedestrian areas make strolling around a pleasant experience. Whether you're off to a museum, a historic site, or just enjoying the urban scenery, Manchester's city centre is conducive to exploration on foot, making it an excellent city for walkers.
Websites I use to book my trips 👇

• Booking.com has the best offers on hotels and unique places to stay
• GetYourGuide is the best place to book tours & activities with free cancellation
• Omio is my go-to booking platform for trains in Europe
• Welcome Pickups is the best & safest place to pre-book airport transfers

Psst 👀 Have you subscribed to my Youtube channel where I provide more useful travel tips?