Welcome to this guide, where I'll share some of the top things to do in Amsterdam and a few hidden gems.
If you've never been to Amsterdam, you're in for an adventure-packed trip filled with many sights, attractions, and experiences.
I've been to Amsterdam 4 times, so I know a thing or two about this fantastic city. So let's dive into the guide on the best things to do in Amsterdam.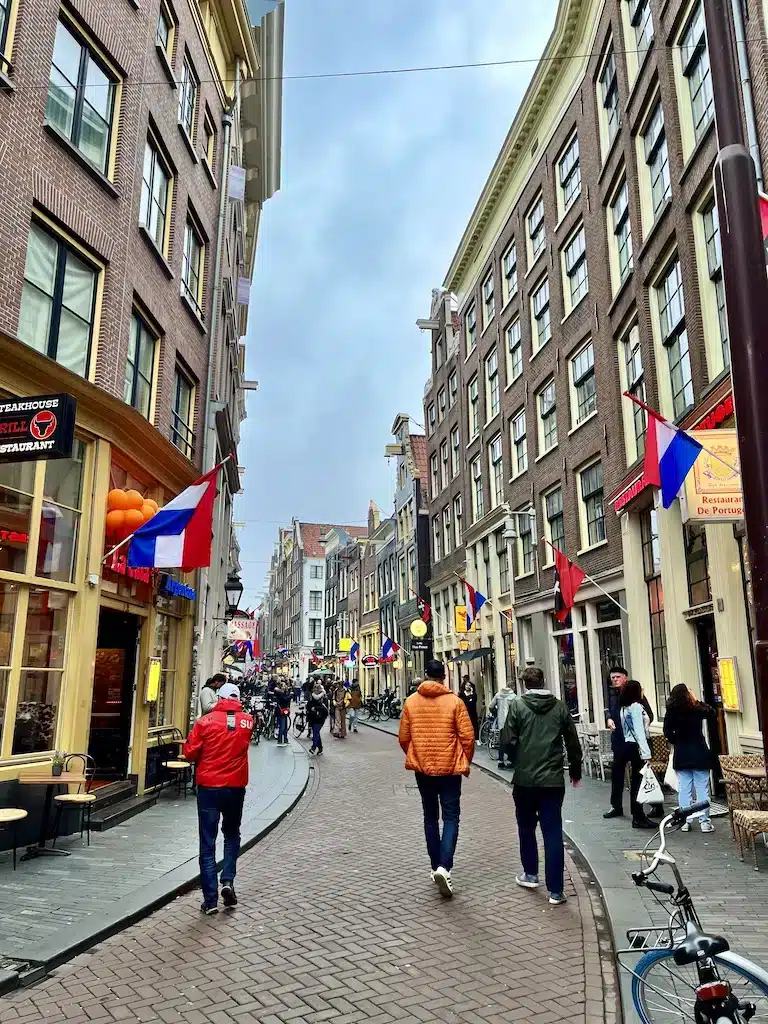 Top Tip: Get the official GVB ticket online.
For only 9 euros per day, this ticket provides unlimited use of public transport (trains, trams, ferries, buses, and the metro). 
1. Canal Cruise – An Amazing Amsterdam Experience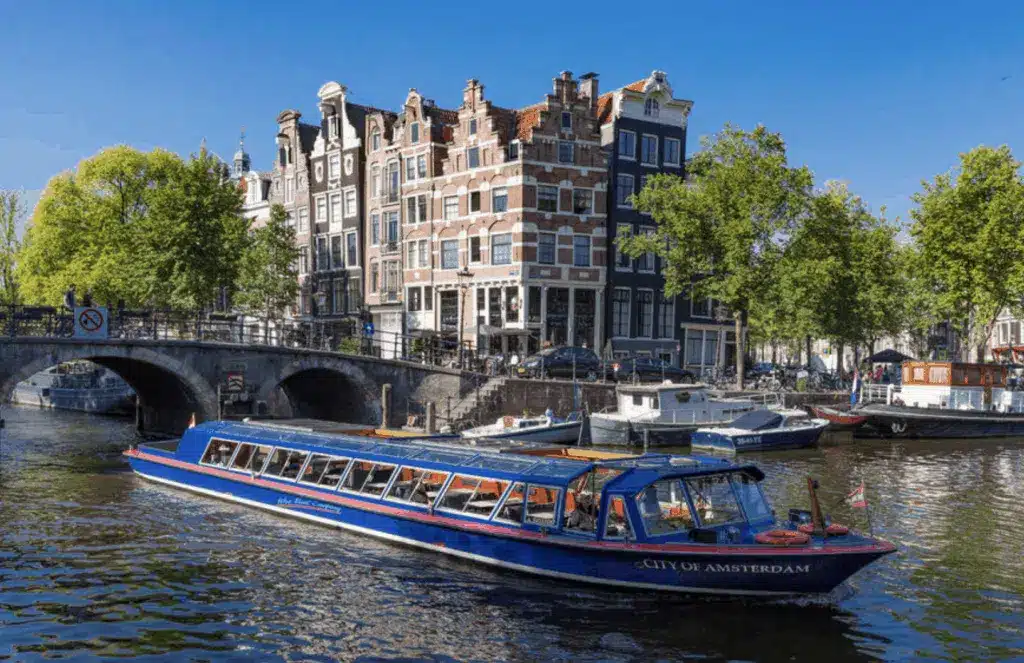 Looking at a map of Amsterdam, you'll quickly notice the city's intricate network of small and large canals. These canals are a significant tourist attraction, drawing in millions of visitors annually.
When you first arrive in Amsterdam, taking a canal cruise is a brilliant way to get your bearings. During your cruise, audio guides will share interesting facts about the monuments and buildings you pass.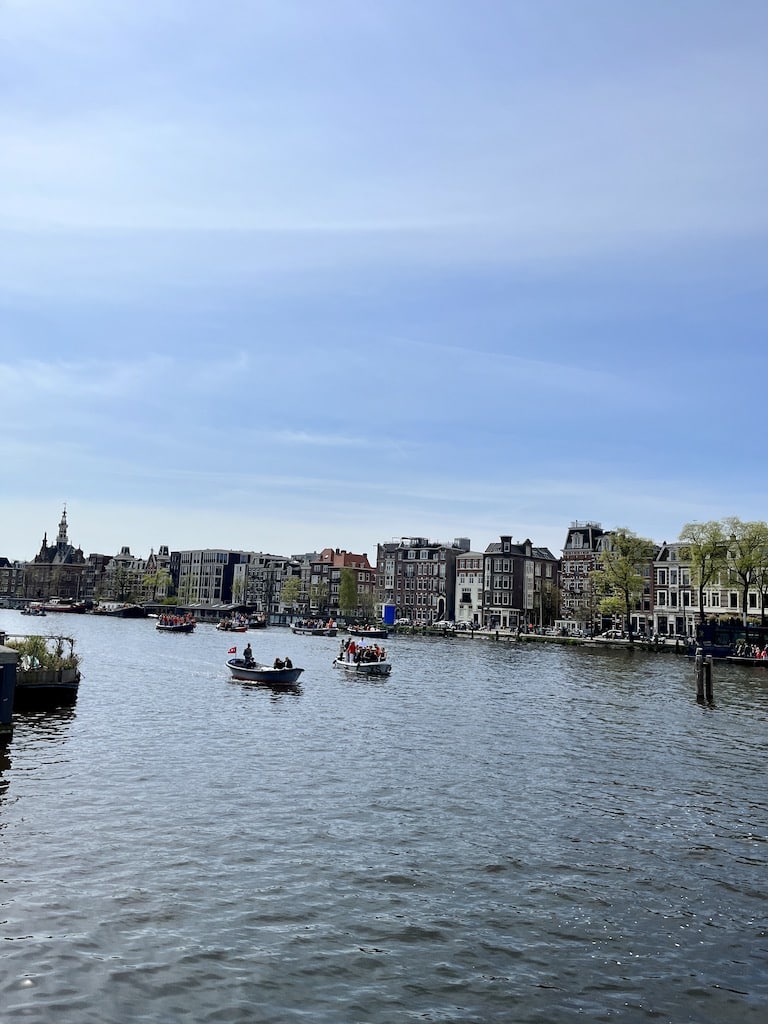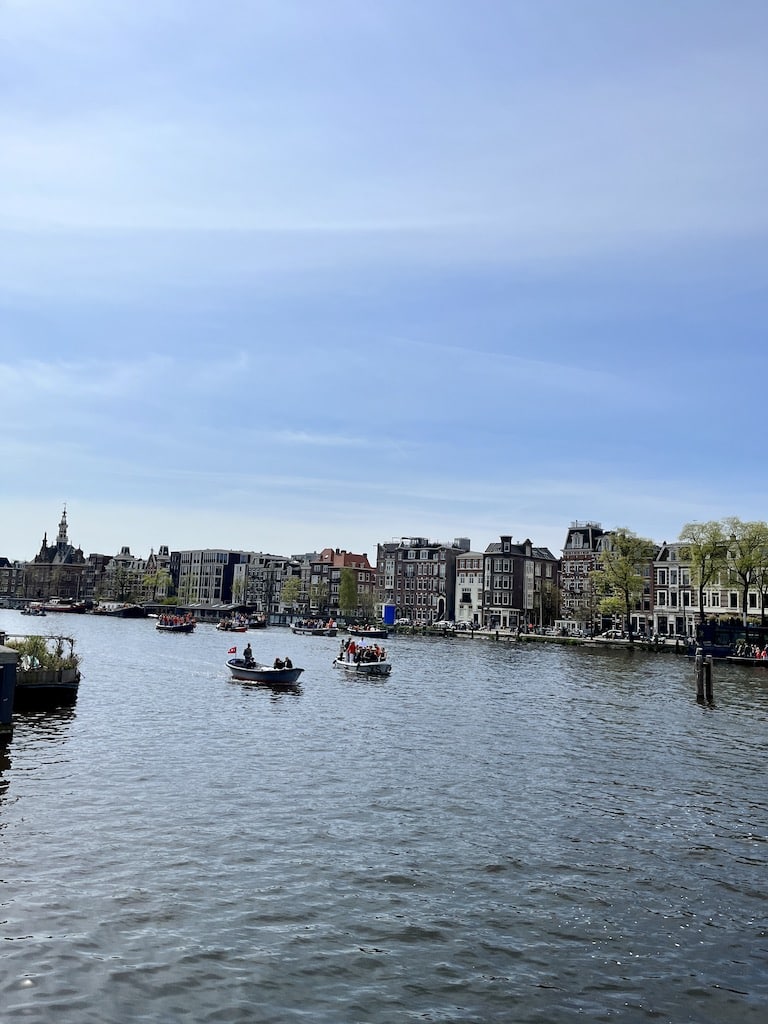 The tour lasts around 75 minutes, and once you're back on land, you can explore any sights you've taken a fancy to during the cruise.
Get your ticket for a 75-minute canal cruise here.
2. Heineken Experience – A Must for Beer Lovers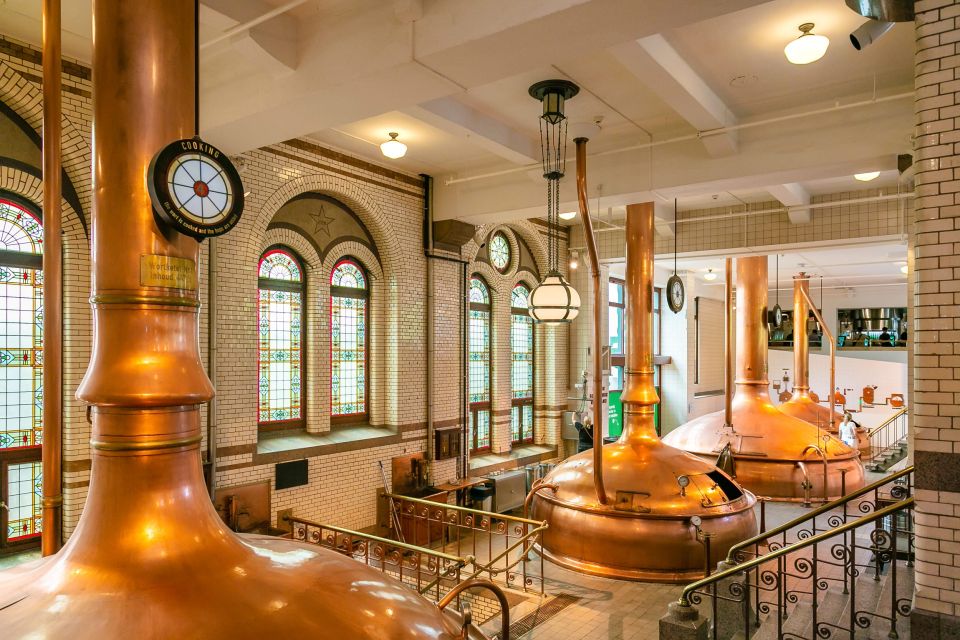 Just as you wouldn't miss a trip to the Guinness Brewery in Dublin, you should take advantage of the Heineken Experience in Amsterdam.
Of course, this is mainly for those who enjoy a good beer, but it's almost a must-see in Amsterdam.
Since its establishment in 1867, Heineken has become one of the most popular and well-known beers globally. 
This means you can look forward to an engaging and comprehensive experience in the old brewery.
Learn about the brewing process, discover how to pour the perfect Heineken draft beer, and taste the beer at the end of the tour.
You'll also hear more about Heineken's many sponsorships, including the Champions League and Formula 1. Your ticket includes two beers.
Book your ticket for the Heineken Experience.
3. The Van Gogh Museum – A Treat for Art Lovers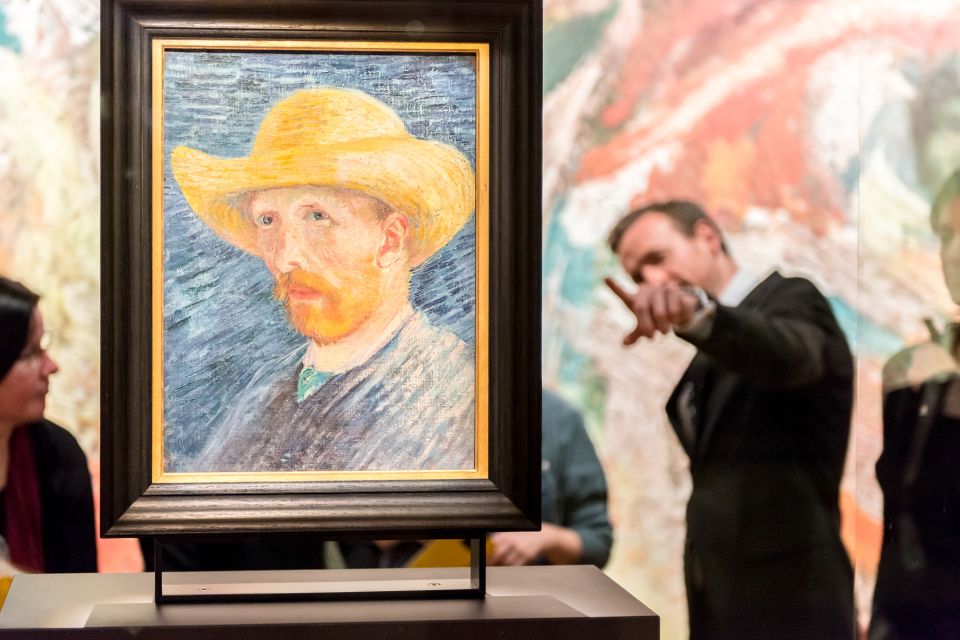 If you're an art enthusiast, the Van Gogh Museum is the perfect experience in Amsterdam.
Founded in 1973, this museum has welcomed millions of visitors who come to marvel at the historical and valuable paintings by Vincent Van Gogh.
Over two million people visit the museum annually, which holds the most extensive collection of Van Gogh's artworks worldwide.
You'll find around 200 paintings, 400 drawings, and 700 letters from the artist himself. The collections primarily originate from Van Gogh's nephew.
In 2019, the museum unveiled a new virtual tour, the "Meet the Vincent Van Gogh Experience," which you can enjoy during your visit.
Book a time slot that suits you, and your ticket will give you access to the entire exhibition.
Get your skip-the-line entrance ticket here.
4. Rijksmuseum – Perhaps Amsterdam's Best-Known Museum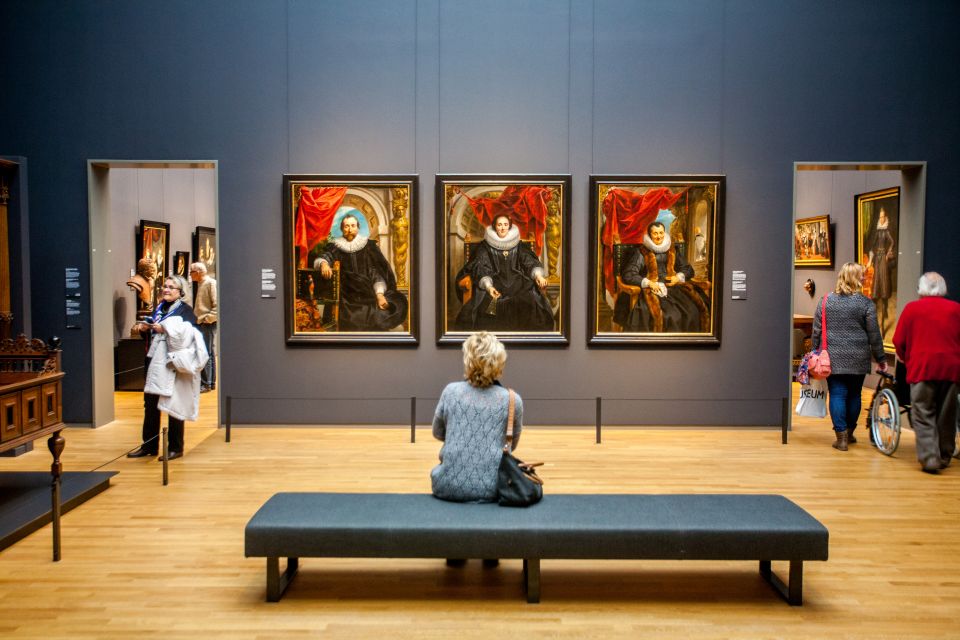 To continue your museum tour, the Rijksmuseum, situated right next to the Van Gogh Museum, is the next stop. Since they are only 300 meters apart, visiting them on the same day is a good idea.
The Rijksmuseum was founded in 1800 in The Hague, but eight years later, it was moved to Amsterdam, where it has remained since.
It boasts an extensive collection of paintings and works of art from various artists – the most famous perhaps being "The Night Watch" by Rembrandt.
The Rijksmuseum is quite large, with over 80 different galleries. So, select the sections you'd most like to see beforehand.
Get tickets for Rijksmuseum here.
5. Keukenhof – One of the World's Largest Flower Gardens
If you're after a spectacular nature experience, the Keukenhof, one of the world's most extensive flower gardens, is a must-visit.
Located just outside Amsterdam, you can catch a bus to Keukenhof and return after seeing the impressive garden's beauty.
Visiting the garden in late spring is recommended as most flowers are in bloom, and the garden is at its best.
The buses run back to Amsterdam until 18.30, allowing plenty of time to enjoy the park at your own pace.
6. Xtracold Icebar – A Very Unique Experience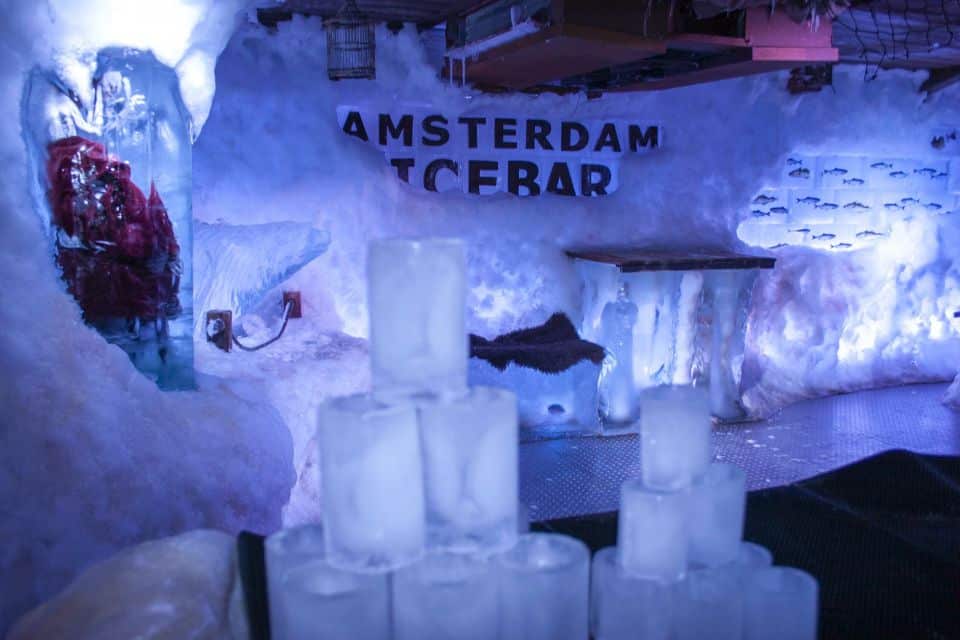 Fancy a few drinks in the city? How about a visit to the Xtracold Icebar, a bar built entirely from natural ice?
With 35 tons of ice in its construction, it offers a fun and unique alternative to traditional bars.
Don't worry if you haven't packed your ski jackets and thermal pants; jackets are provided at the entrance.
With a constant temperature of minus ten degrees, you can enjoy your drinks from glasses made of ice, ensuring they're perfectly chilled.
Book your tickets here and enjoy two free drinks included in the price.
7. Anne Frank's History and House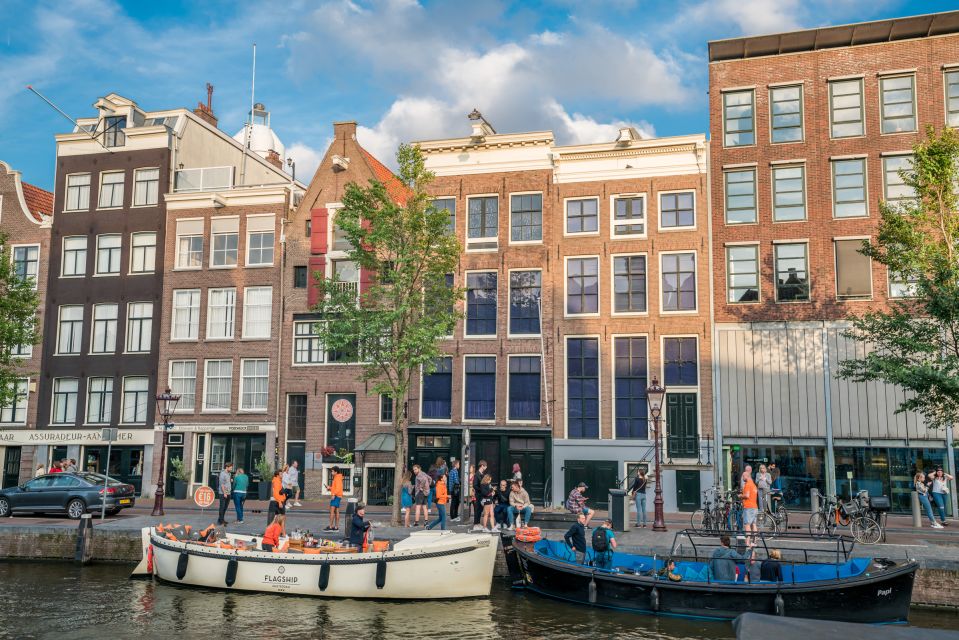 Amsterdam also offers the poignant and tragic story of Anne Frank. 
You can partake in a guided city walk, where you'll hear the full story of Anne Frank's life and how World War II impacted Amsterdam and its residents, particularly the Jewish minority.
The tour will take you past monuments and buildings from the Second World War and the city's Jewish quarter.
It starts at the Jewish History Museum and ends at the Anne Frank House, which you can choose to visit afterwards.
Please note entrance tickets to the Anne Frank House are not included in the tour and must be purchased separately at their website.
This tour will provide a deeper understanding of the harsh conditions Anne Frank grew up under. It's a devastating yet significant story to hear.
Read more about the tour here.
8. Madame Tussauds – A Popular Attraction in Amsterdam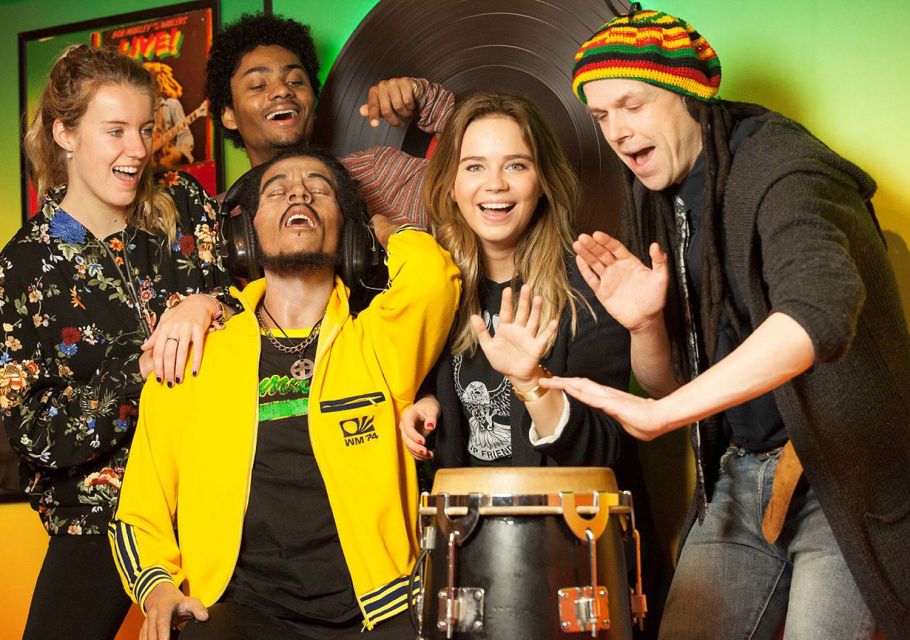 The famous wax museum, Madame Tussauds, is situated in the heart of Amsterdam.
Although the London and Los Angeles branches are the most famous, Madame Tussauds in Amsterdam offers a fantastic experience.
If you've never been to a Madame Tussauds wax museum before, the one in Amsterdam promises to be an incredible experience.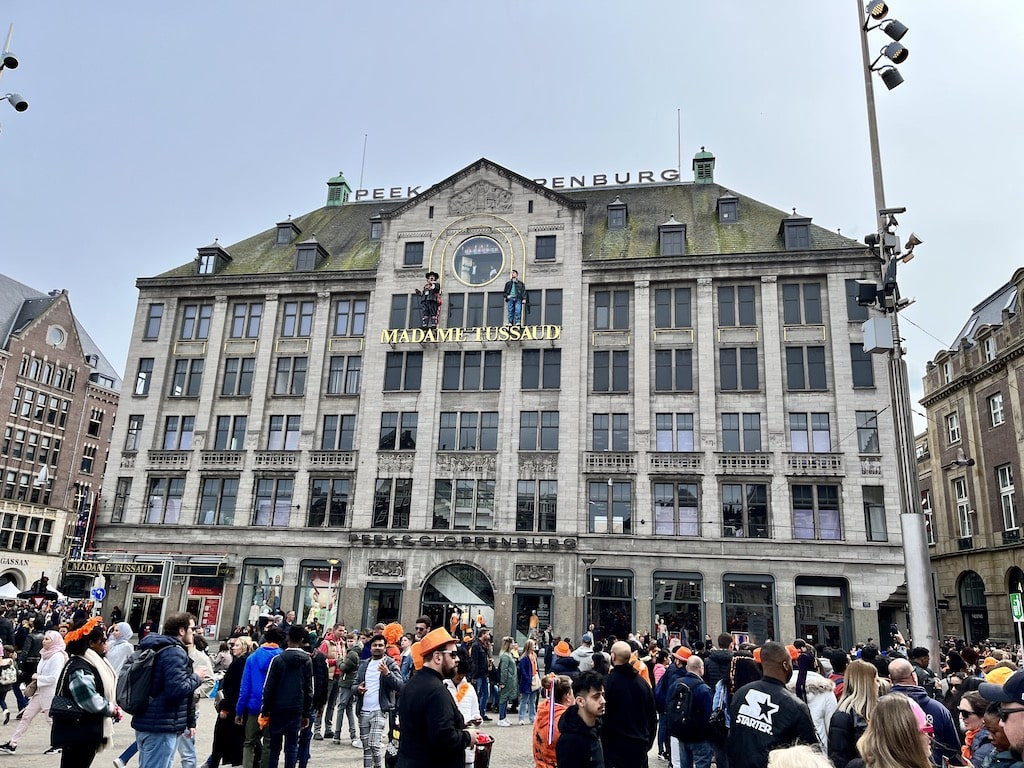 Here, you can take selfies with celebrities you've only seen on TV and media. Fancy a picture with George Clooney, Lady Gaga, or Taylor Swift?
You can get your entrance ticket to Madame Tussauds here.
9. Rembrandt House Museum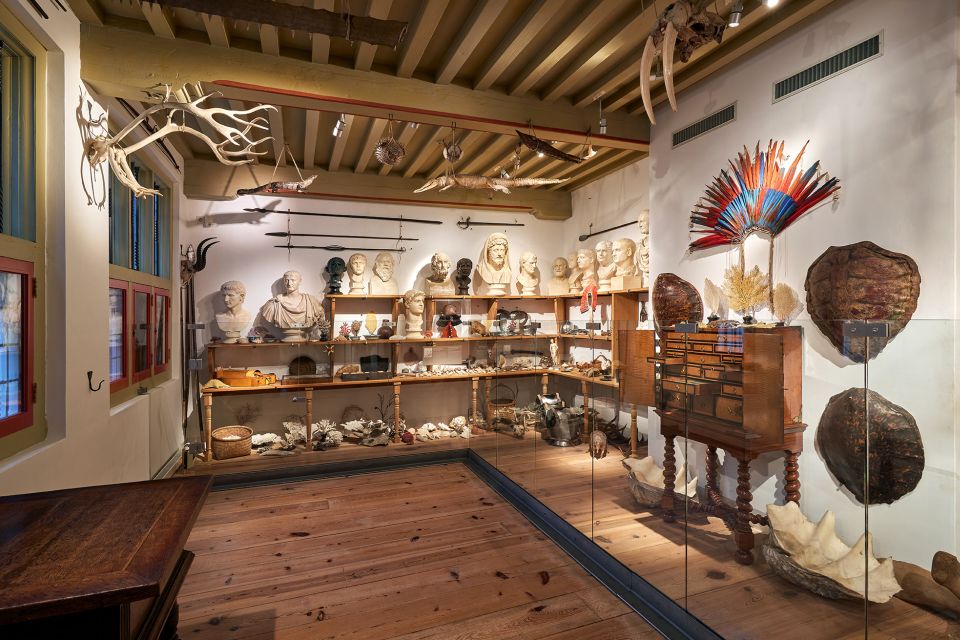 The Rembrandt House Museum, though less extensive than the Van Gogh Museum or the Rijksmuseum, is still a must-visit in Amsterdam.
It offers exhibitions of his works and insights into Rembrandt's life and personality.
The museum is set in Rembrandt's house, where he lived for several years and created many works.
The museum opened in 1911, almost 250 years after Rembrandt lost the house due to personal bankruptcy.
Read more and get tickets here.
10. A'DAM Lookout – Amazing View of Amsterdam
Located in northern Amsterdam, across the river dividing the city's north and southern parts, the A'DAM Lookout is an exciting attraction that offers a 360-degree panoramic view of the beautiful Dutch capital.
If you're adventurous, try "Over The Edge", Europe's highest swing.
Here, 100 meters up, you can swing your legs over the building's edge and enjoy an adrenaline rush.
11. Volendam, Marken & the Historic Windmills – Day Trip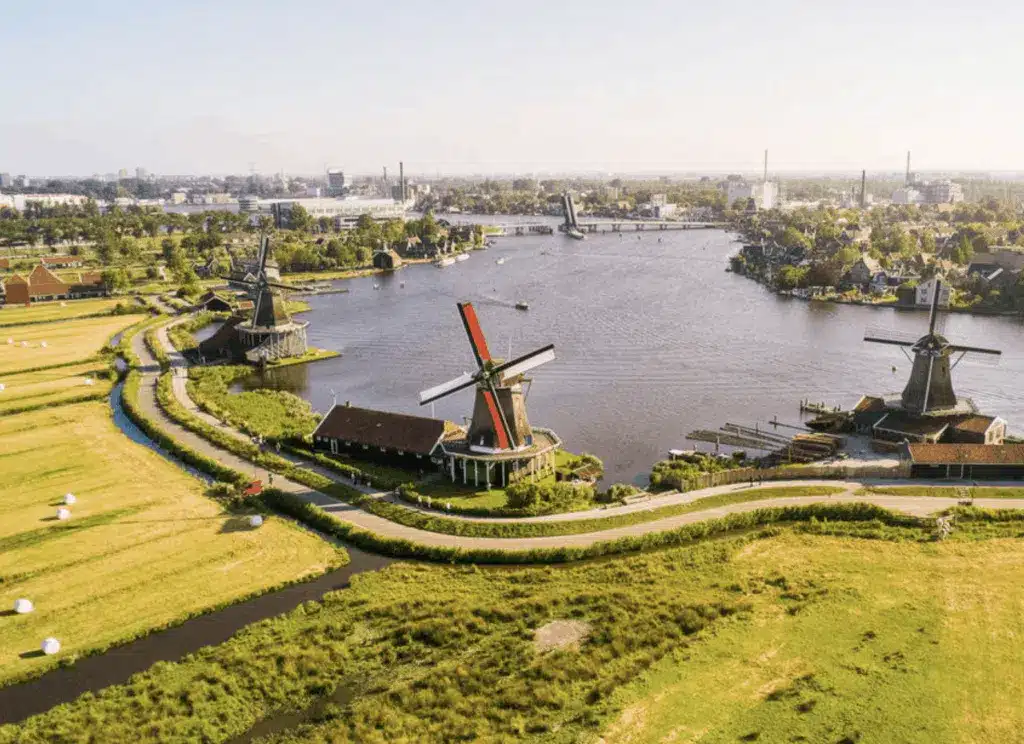 This tour is perfect if you'd like to escape the city and experience the real Netherlands. 
It includes a half-day trip from Amsterdam, passing through the small town of Volendam. 
From there, you sail to the island community of Marken and drive past the world-famous Zaanse Shans windmills, with ample time to take pictures.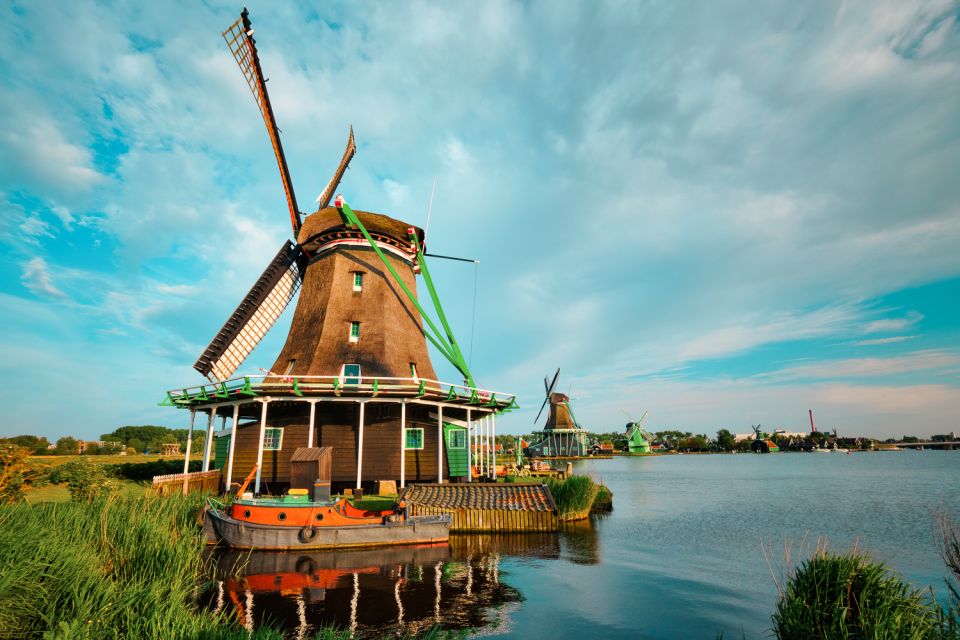 The tour lasts about 6-7 hours and includes an English-speaking guide who will narrate the story of the beautiful places you pass along the way. 
On tour, you'll visit an authentic cheese shop, a waffle shop, and a traditional wooden shoemaker who will share his craft and history.
This tour is ideal for those who want to experience more than just the big city.
See more and book the tour here.
12. The Royal Palace in Amsterdam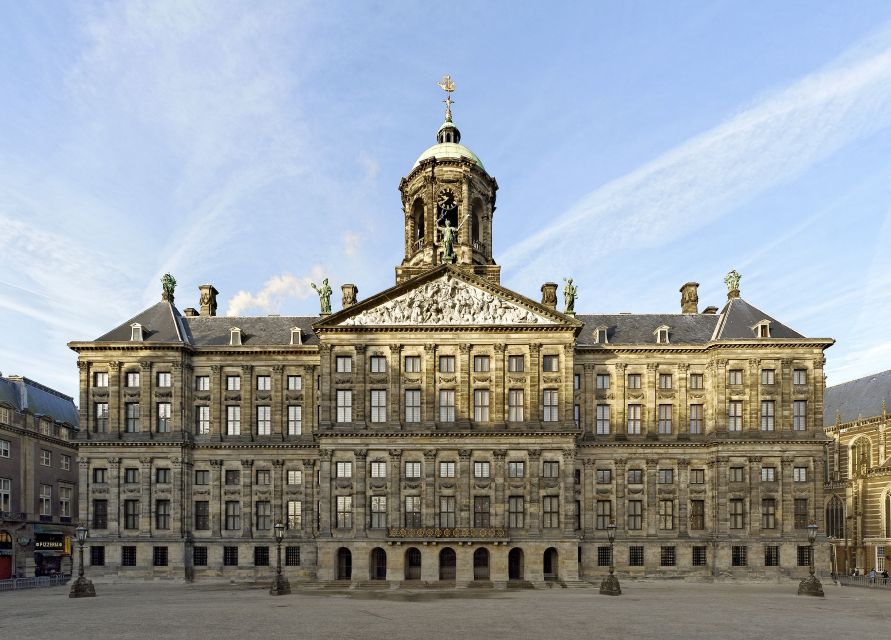 If you have an affinity for royal buildings, the Royal Palace in Amsterdam should be on your list.
The palace is an architectural delight both from the inside and outside. Though not a residence for the royal family, it serves as the venue for state ceremonies, including state visits and royal receptions.
The palace was built in the mid-17th century and has been owned by the Dutch royal family ever since.
Now, you can see where the royals and their guests celebrate, stay, and dine during ceremonies at the palace.
Tickets to enter the palace can be booked here (audio guide included)
13. The Jordaan Quarter
The Jordaan neighbourhood in central Amsterdam is a charming and vibrant area, home to narrow streets, canals, and local shops. 
Built in the 17th century for the working class, it has become a popular destination for tourists and locals.
In Jordaan, explore the quaint streets and traditional houses adorned with flower boxes on the windows.
It also houses numerous cafes and restaurants where you can savour coffee or try local specialities like bitterballen or stroopwafels.
Jordaan boasts several markets selling everything from fresh fruits and vegetables to antiques and art.
Noordermarkt is among the most popular, offering various goods, from organic products to vintage clothing.
Check out my guide to the best areas and where to stay in Amsterdam, where I also mention Jordaan.
14. Moco Museum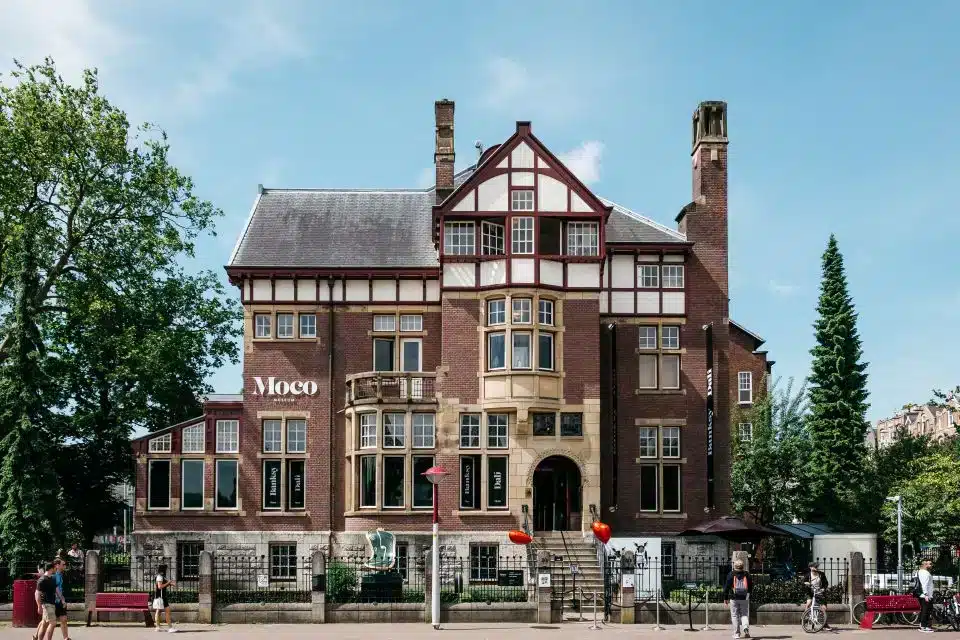 If you have a thing for modern art or seek a unique experience during your Amsterdam visit, the Moco Museum is a must-visit.
This museum is dedicated to contemporary artists and movements and is situated in an elegant building on the Museumplein, sharing the vicinity with other renowned museums like the Van Gogh Museum and the Rijksmuseum.
Opened in 2016, the Moco Museum quickly became a favoured destination for international visitors.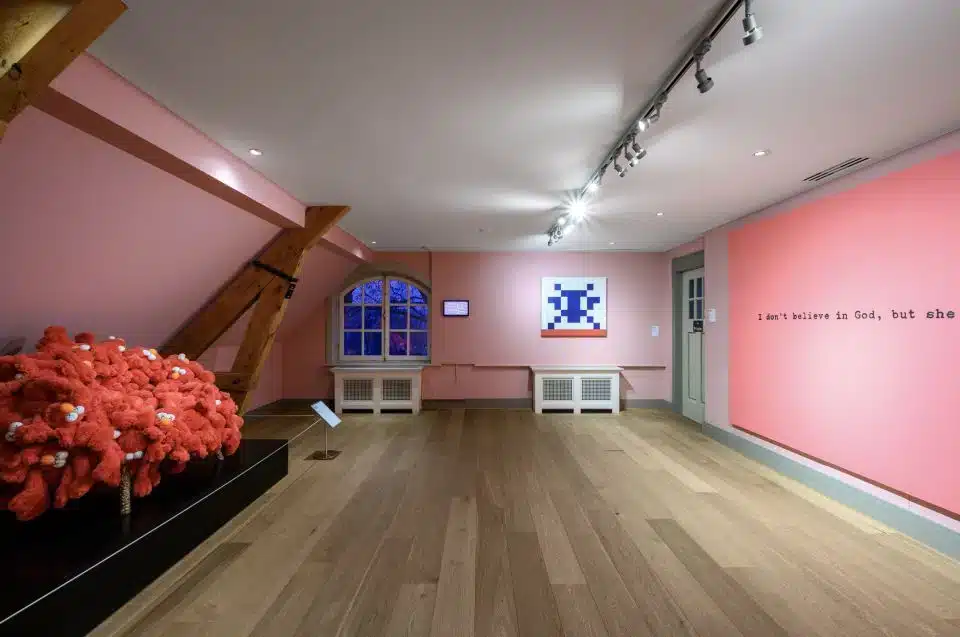 It showcases works by some of the most notable contemporary artists, including Banksy, Andy Warhol, and Keith Haring.
One of the museum's key attractions is the permanent exhibition "Laugh Now" by Banksy, displaying several of his iconic street art pieces and some works specially created for the museum.
Besides the Banksy exhibition, Moco hosts temporary exhibitions featuring captivating artworks from various artists.
You can learn more and get skip-the-line tickets to the Moco Museum here.
15. Artis – Oldest Zoo in Netherlands
Artis is one of Europe's oldest and best-preserved zoos and the oldest in the Netherlands. 
A delightful destination for the whole family, Artis is a standout with its aquarium and planetarium, both accessible with your entrance ticket.
If you're interested, guided tours around the zoo are available, where you can learn more about the various animal species housed there. 
Learn more and get tickets here.
16. Bloemenmarkt – Floating Flower Market
Another sight I recommend during your visit to Amsterdam is the Bloemenmarkt, the world's only floating flower market.
Since 1862, this market has been the primary supplier of flower seeds to locals and tourists alike.
Whether you want to purchase tulip bulbs or simply appreciate the unique setting, the Bloemenmarkt is a fascinating thing to do in Amsterdam.
Although it's not a large market, it remains a charming attraction in Amsterdam, free to explore and pleasant to experience.
17. Hop On Hop Off Sightseeing Buses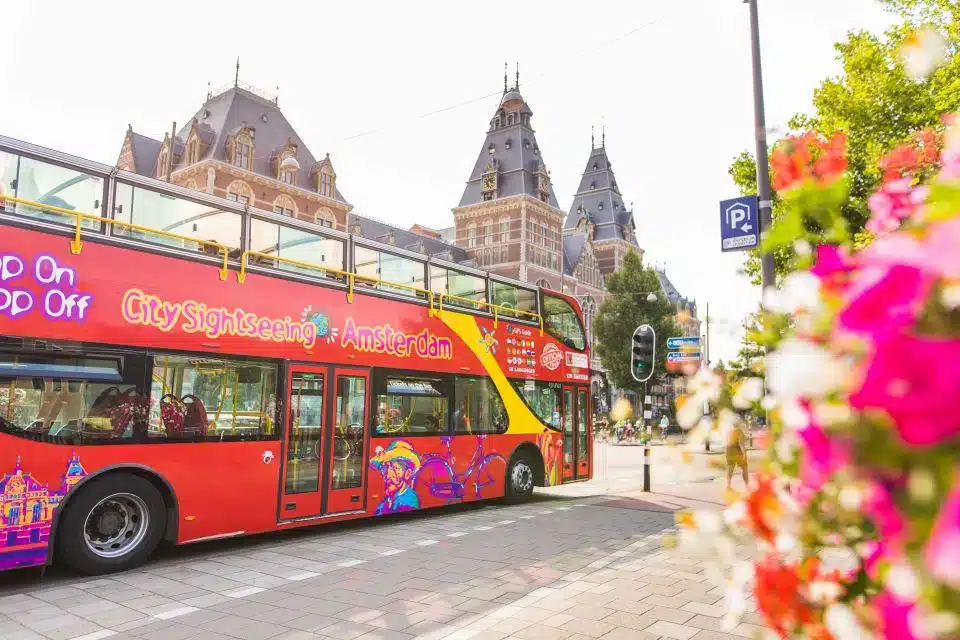 While not a specific attraction, the Hop On Hop Off sightseeing buses are an excellent way to see Amsterdam, particularly if you prefer a more leisurely pace.
You can customize your sightseeing to suit your interests and schedule.
The buses pass all the major sights, from the iconic canal ring to the bustling Museumplein.
An informative audio guide provides insight into the city's history and culture, all while you enjoy the view from the double-decker bus.
You can learn more and get tickets online here, which includes free cancellation and the option of a boat trip.
18. Westergas – Cultural Hub in Westerpark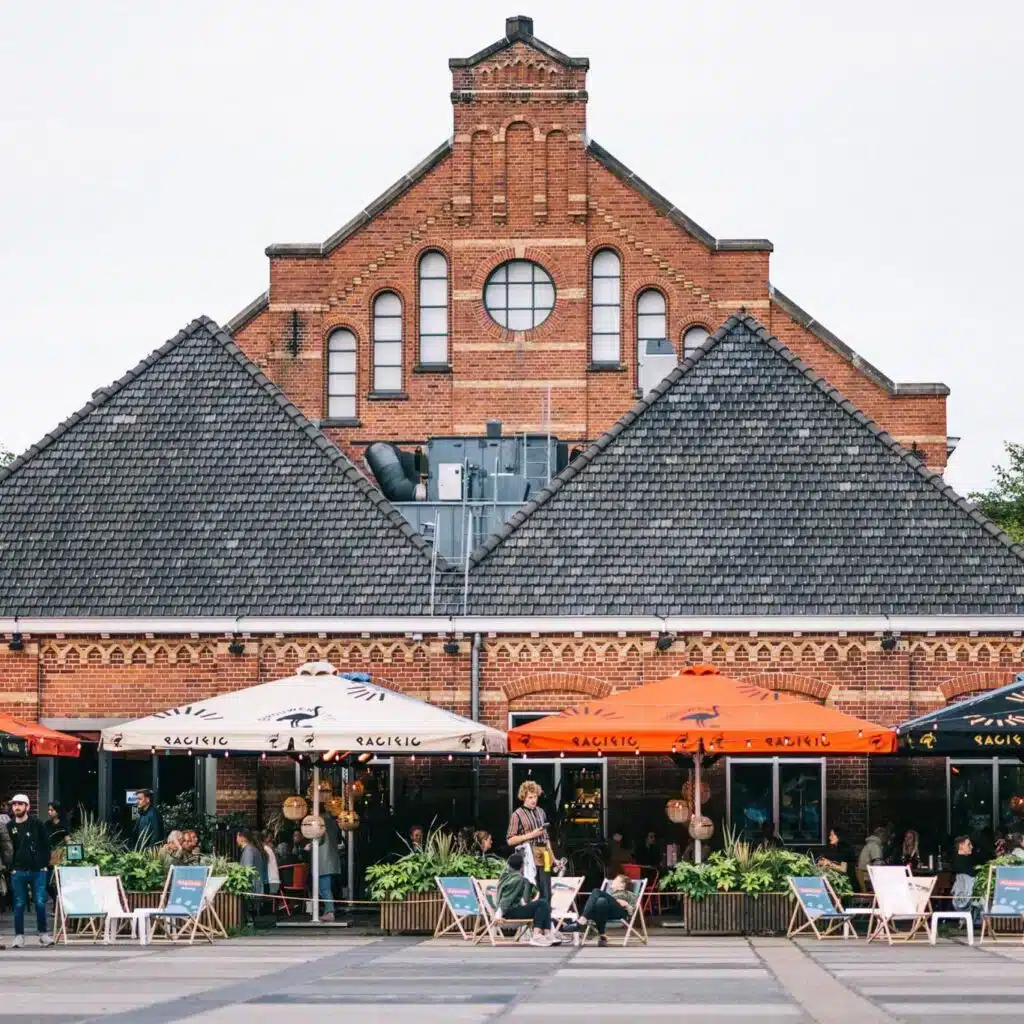 Located in the expansive Westerpark, Westergas is a cultural haven you won't want to miss during your Amsterdam visit. 
This former gasworks has become a vibrant collection of bars, restaurants, coffee breweries, and even an art-house cinema.
At Westergas, you can enjoy locally brewed beer, explore a diverse culinary scene, and partake in cultural events within the framework of Amsterdam's industrial past. 
Westergas is known for its frequent food markets, mini-festivals, and events, fostering a dynamic atmosphere where creativity flourishes.
I hope this travel guide to Amsterdam's best things to do and see was helpful.
If you've got any questions about your trip to Amsterdam, please comment below and I'll do my best to help.
You will find all my travel guides to Amsterdam here.
Here are some FAQ's about Amsterdam:
What are the 10 most famous things to do in Amsterdam?
The 10 most famous sights and things to do in Amsterdam are:
1. Rijksmuseum
2. Van Gogh Museum
3. Anne Frank House
4. Dam Square
5. Amsterdam Canal Tours
6. Vondelpark
7. Red Light District
8. De Wallen (Amsterdam's Old Town)
9. Madame Tussauds Amsterdam
10. Jordaan Quarter
How many days should you have in Amsterdam?
I recommend three days in Amsterdam. This gives you enough time to experience the city's highlights and explore its charming neighbourhoods and ambience without feeling rushed.
Is the Rijksmuseum worth a visit?
Absolutely! The Rijksmuseum is renowned for its extensive and impressive Dutch art and history collection. Here, you can admire masterpieces by Dutch masters like Rembrandt, Vermeer, and Frans Hals. Additionally, the museum has a fascinating collection of Asian art objects and European crafts. The Rijksmuseum is a must-visit if you're a fan of art and history.
Is the Red Light District in Amsterdam worth seeing as an average tourist?
This depends on your personal preferences and comfort level. Known for its prostitution, the Red Light District can be controversial. If you're open to seeing a different facet of Amsterdam, the Red Light District may be intriguing with its red-lit windows. But if the concept of the sex industry discomforts you, it's advisable to avoid this area and focus on other attractions in Amsterdam. The Red Light District is quite explicit.
I've only walked through the Red Light District once and felt super uncomfortable, but it was still interesting to experience.
Can you enter Anne Frank's house?
Yes, you can visit Anne Frank's house in Amsterdam. It's been preserved as a museum commemorating the hiding place of Anne Frank and her family during WWII. You can see Anne's original diary entries and exhibits about life during the war. But note that queues to enter the museum are usually long, so advance ticket purchase is recommended.
Is Amsterdam cheap?
Amsterdam isn't necessarily a cheap city, especially regarding accommodation and dining. But there are ways to economize during your stay. For example, consider staying at a hostel instead of a hotel, eating at local cafes or buying food from supermarkets instead of expensive restaurants.
You could also consider purchasing the "I Amsterdam City Card", which provides access to numerous museums and public transportation, plus discounts on various activities and attractions.
So, while Amsterdam can be expensive, with some planning and budgeting, it's possible to enjoy the city without breaking the bank.