Malaga is one of the most beautiful cities in Spain, but when visiting as a tourist, it can be challenging to determine where to stay. Each neighbourhood has its own unique character and appeal, which can often confuse many visitors.
That's why I've written this guide to help you choose the best area to stay in while you visit this fantastic city.
Whether you want to be close to the beach, stay in the historical centre, or find yourself in a more modern district, this guide will help you find the best location for your stay in Malaga.
So, where to stay in Malaga? Let's get started with the guide.
Best Areas in Malaga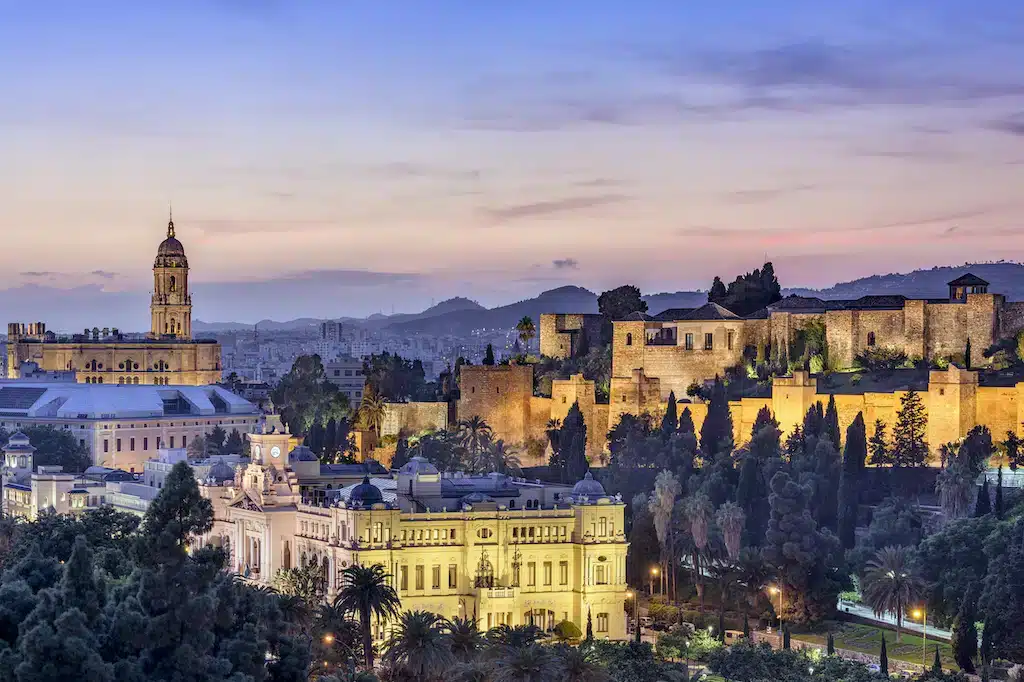 In this guide, I delve deep into the best areas of Malaga, but if you want the short version, here it is.
Best areas to stay in Malaga:
Click on each area to discover the best hotels in Malaga in the given district.
Later on in this guide I'll also tell you a bit about 3 interesting holiday towns near Malaga.
1. Centro Histórico – Best Area in the Centre ⭐️
The best area to stay in as a tourist in Malaga is undoubtedly Centro Histórico, the historic centre of Malaga.
This area is brimming with charm and atmosphere, making it the perfect base for exploring the city's many attractions.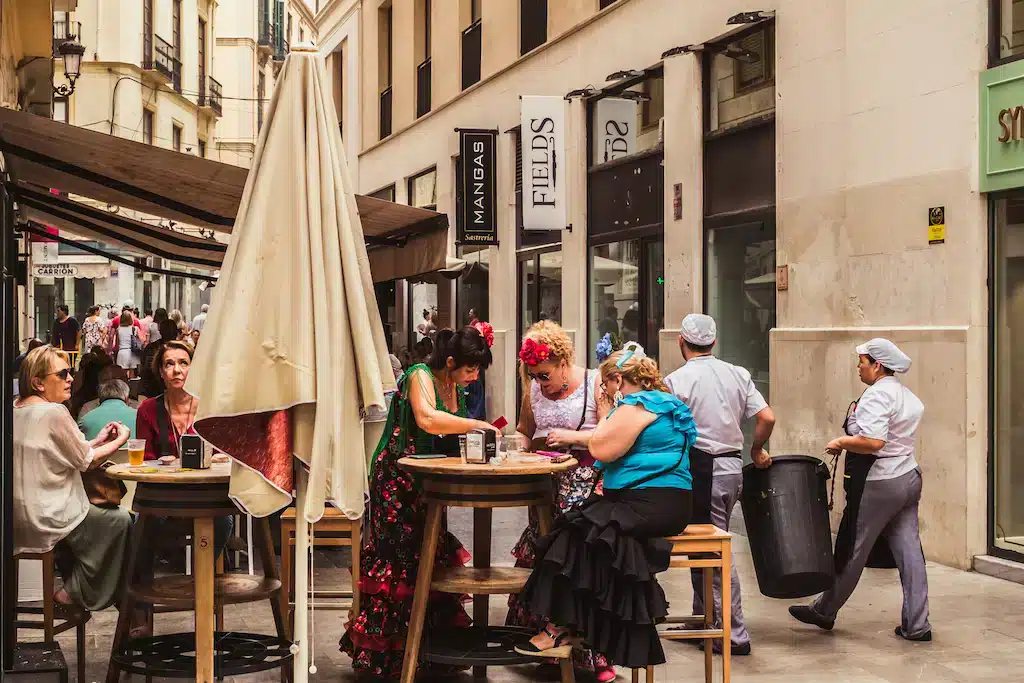 You'll be within walking distance of numerous tourist attractions like the impressive Alcazaba fortress, the iconic Malaga Cathedral, and the Picasso Museum.
The area is also teeming with lively cafes, bars, and eateries, ensuring you'll always have things to do in this bustling neighbourhood.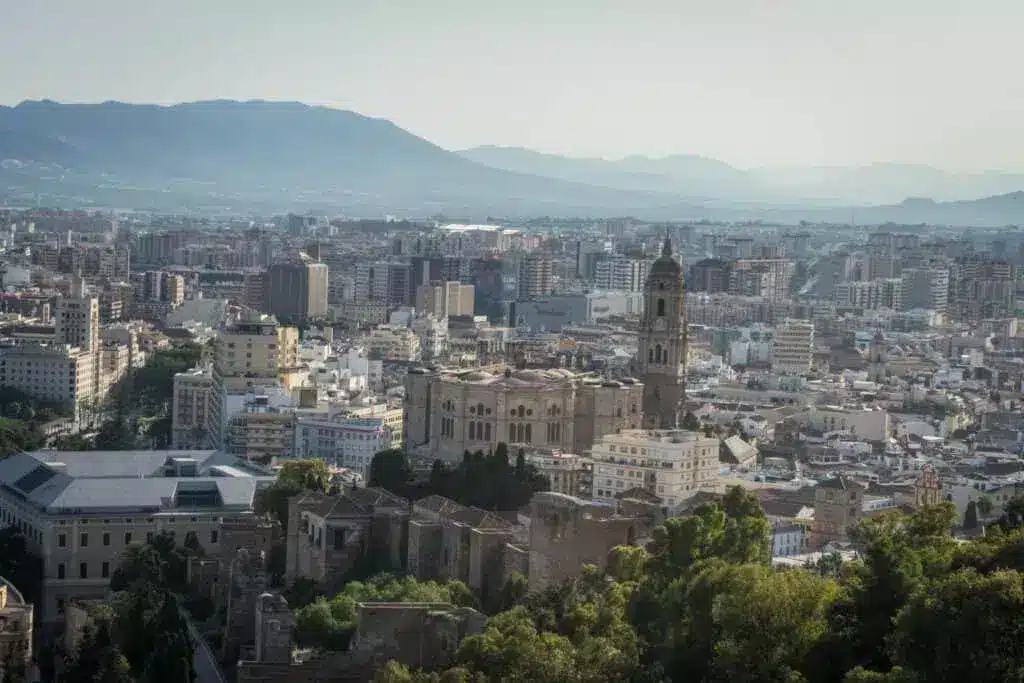 Calle Larios, the city's most famous shopping street, is also located in Centro Histórico, a spot most tourists will pass by during their trip to Malaga.
See the best hotels in Centro Histórico here.
Get an impression of the historic centre in this video:
Another significant advantage of staying in Centro Histórico is the easy access to public transport to other areas of Malaga or the entire Costa del Sol.
So, Centro Histórico is the perfect place to stay for tourists who want to experience Malaga's history, culture, and vibrant nightlife.
It's a safe and convenient location that will give you an unforgettable experience of this beautiful city.
Places to stay in the Centre of Malaga
Naturally, there are plenty of excellent hotels in the centre of Malaga.
Below, I've selected some of my favourites across different price ranges, so there's something for everyone, whether you're after luxury hotels with pools or looking to save a bit on your holiday budget.
We start with one of the more luxurious hotels with a stunning rooftop pool overlooking Malaga.
Located in the heart of Malaga's historic centre, AC Hotel Malaga Palacio by Marriott offers an ideal base for those wanting to explore the city's rich past and vibrant culture.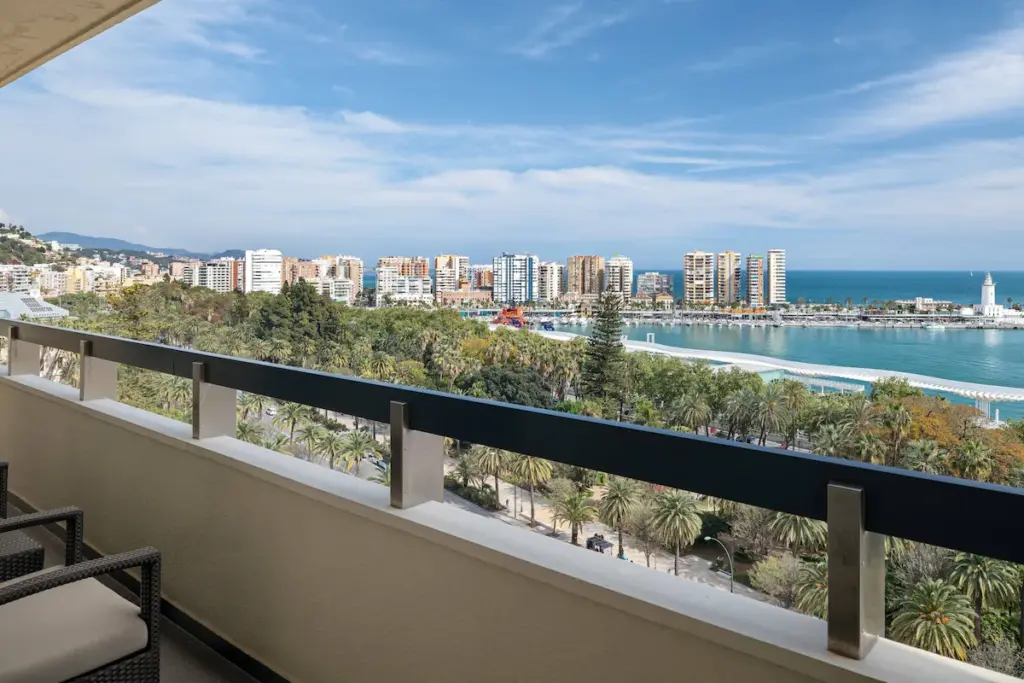 One of the hotel's most prominent features is its impressive rooftop terrace with a pool, offering panoramic views of Malaga's skyline and the blue Mediterranean Sea.
The rooms are modern, with an elegant touch that reflects Andalusia's charm.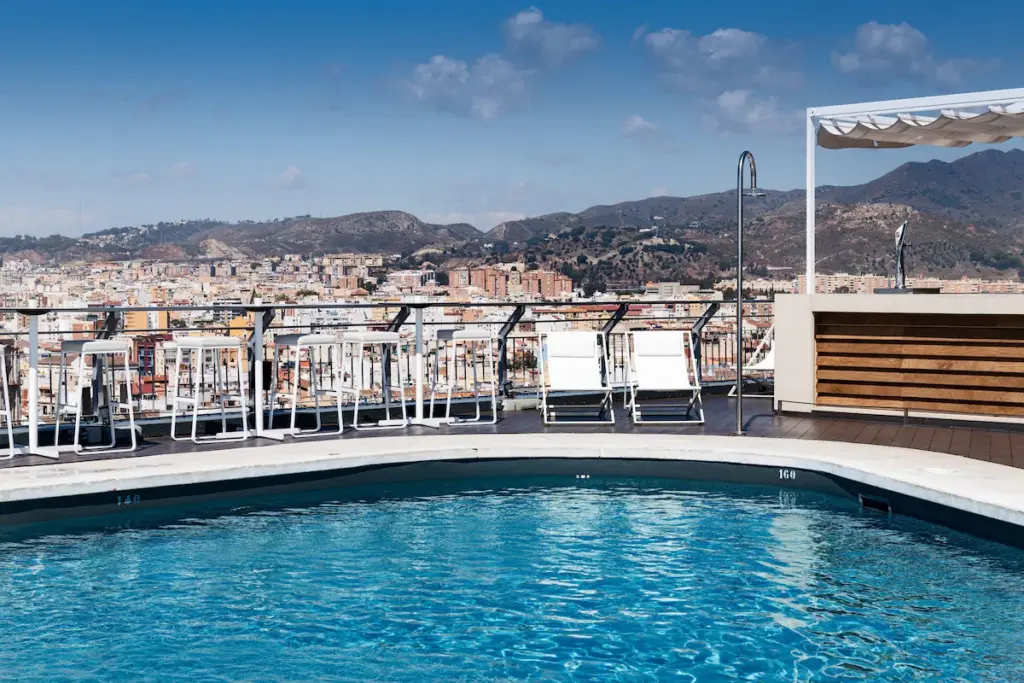 You'll find several of the city's most famous attractions within walking distance of the hotel, including the Cathedral and the Alcazaba Fortress.
This hotel is a top choice for those seeking both comfort and a central location.
See more photos and book here.
And I must also mention another excellent hotel in the same class—although not in the historic centre, it's nearby.
Although H10 Croma Malaga is not situated directly in the heart of Malaga's centre, it's only a pleasant 10-minute walk away.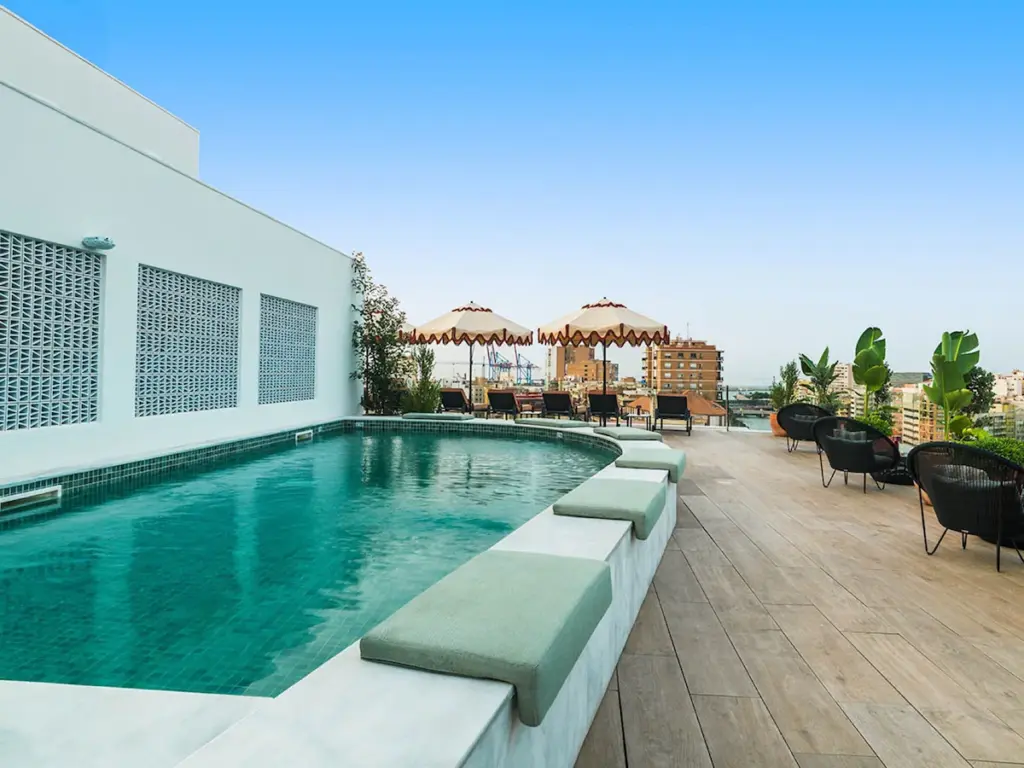 This short distance makes it an attractive option for those wanting peace while still having easy access to the city's bustling life.
The hotel features a modern aesthetic and offers rooms with all the modern amenities.
H10 also has hotels in cities like Madrid and Barcelona, so you may already be familiar with the chain.
The rooms are consistently superb, and often they come with delightful rooftop pools, which this hotel in Malaga also has.
See more photos and book here.
Debambú Suites offers something different than the traditional hotel experience; it provides a range of professional luxury-style apartments.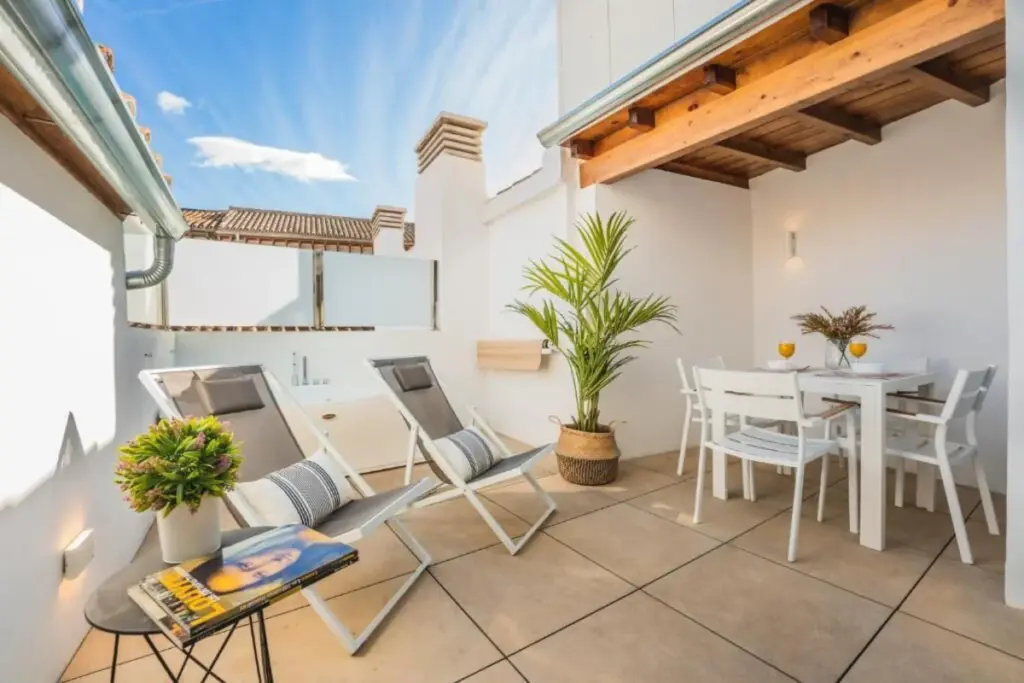 This can be extremely pleasant if you travel to Malaga with older children or want to cook for yourself on a longer holiday.
Located right in the central part of Malaga's historic centre, these suites give you a sense of being at home while still enjoying luxurious comforts.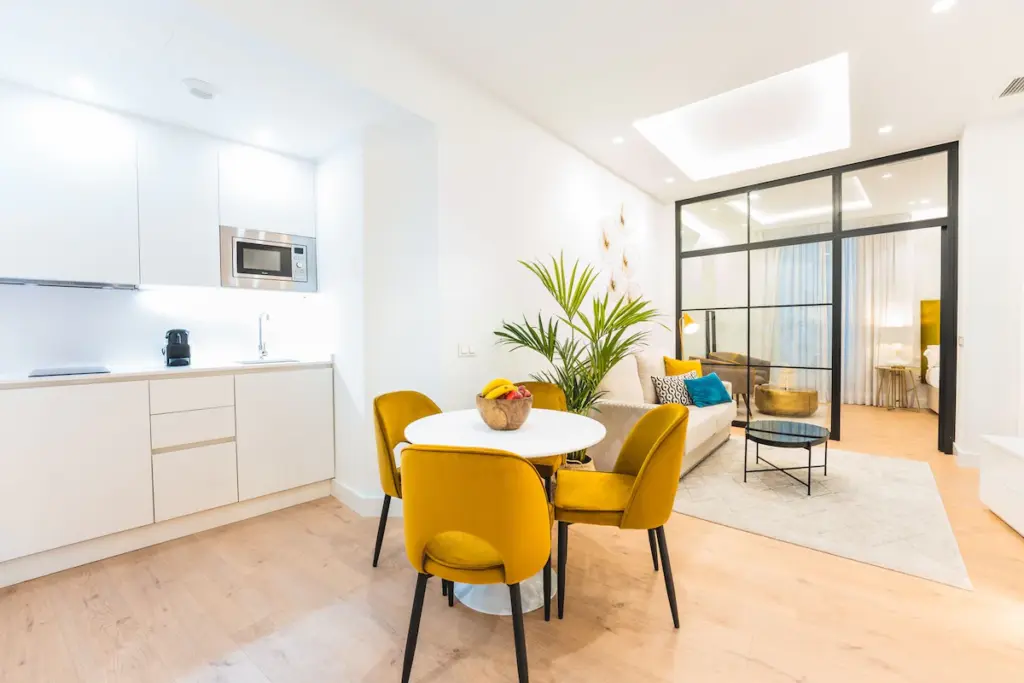 Each apartment comes with modern conveniences combined with stylish decor that provides a sense of elegance and comfort.
See more photos and book here.
And now for a more budget-friendly hotel in central Malaga.
Málaga Premium Hotel is a budget-friendly option that doesn't compromise on quality.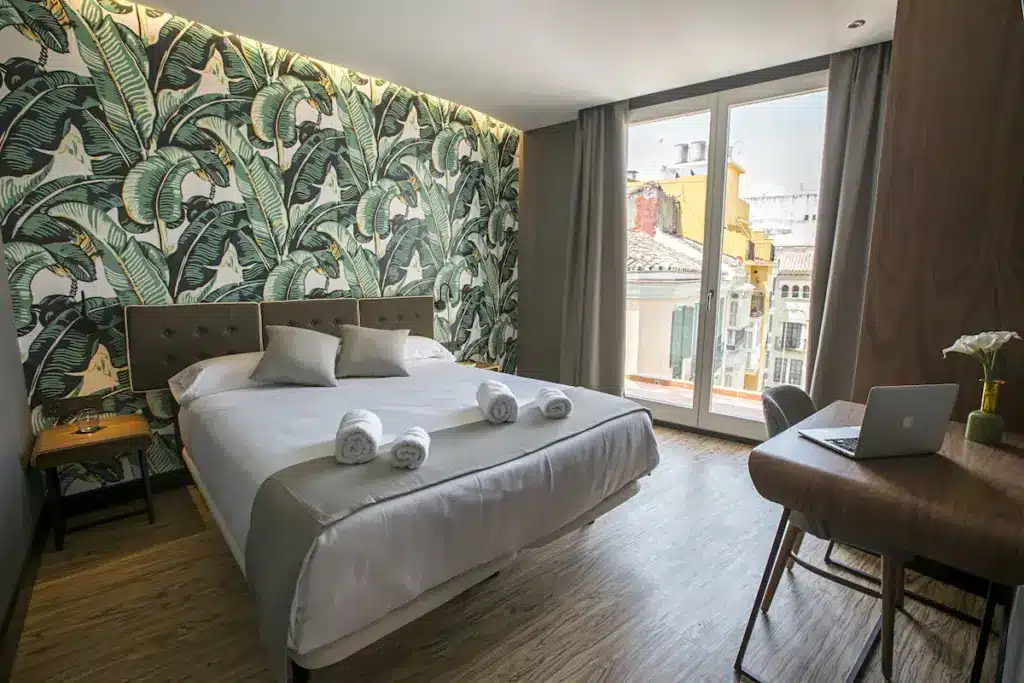 The rooms at the hotel are neat and clean. Although it's a more affordable option, you can expect a comfortable stay with all the essential facilities.
According to previous guests, the rooms are comfortable, and the staff is helpful and friendly.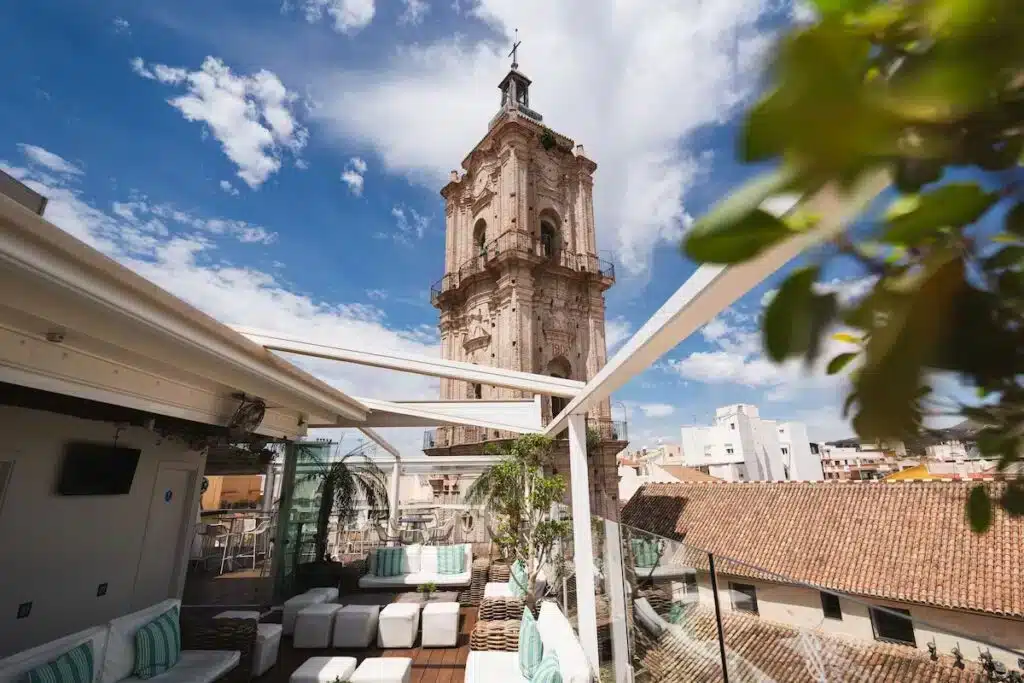 For travellers looking for a combination of value for money and a good location, Málaga Premium Hotel is an excellent choice.
See more photos and book here.
2. La Malagueta – stay by the Beach in Malaga 🏖️
La Malagueta is a popular area to stay in as a tourist in Malaga.
With its ideal location close to the beach, this is a perfect place to stay if you want to enjoy the beach while still having easy access to the centre of Malaga.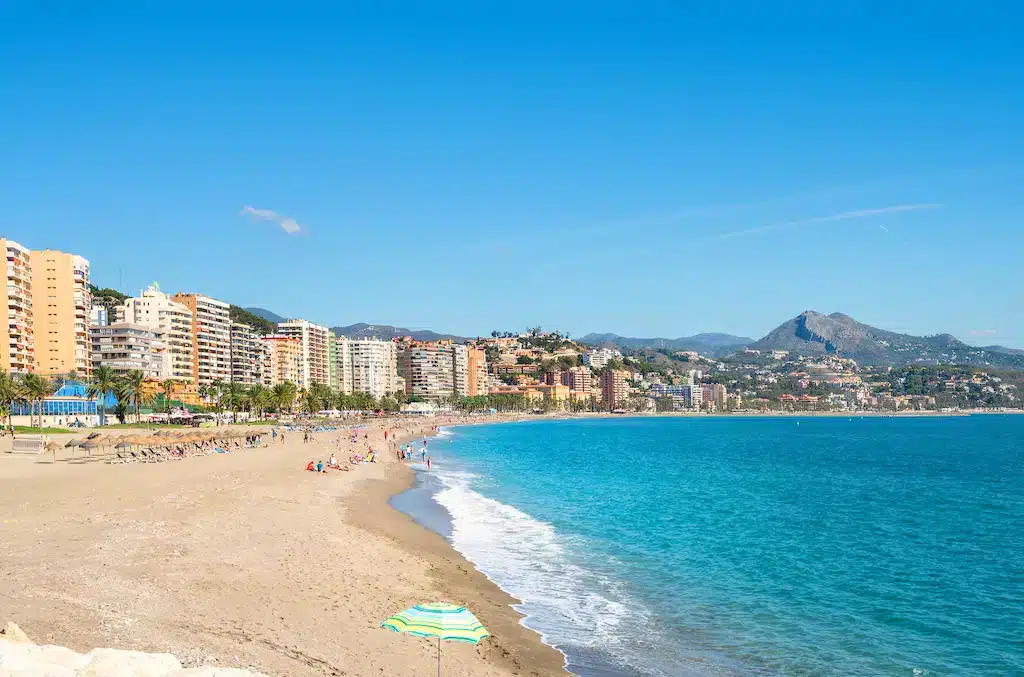 The area has one of the city's most famous beaches, La Malagueta, and several cosy cafes, bars, and restaurants along the promenade.
See the best hotels in La Malagueta here.
There is also a wide range of water sports and beach activities you can engage in.
Compared to some of the busier areas of Malaga, La Malagueta is known for its relaxing atmosphere and is an ideal place to stay for tourists who want to combine beach life with the city's charming and cultural atmosphere.
At the same time, you are not far from the historic centre, as you can easily walk there quickly (depending on precisely where your hotel in La Malagueta is located).
If you've been to Barcelona, the area is comparable to La Barceloneta, which is also right by the city's beach.
Places to stay near the beach in Malaga
Malaga is popular as a holiday destination all year round, but it's especially in the warm months when you can go to the beach that tourists flock to the Spanish city.
Therefore, it makes good sense to stay by the beach in Malaga – here are some of my favourite beach hotels in Malaga.
Gran Hotel Miramar GL is located right by the beach in La Malagueta. This five-star hotel combines comfort and class in the best way.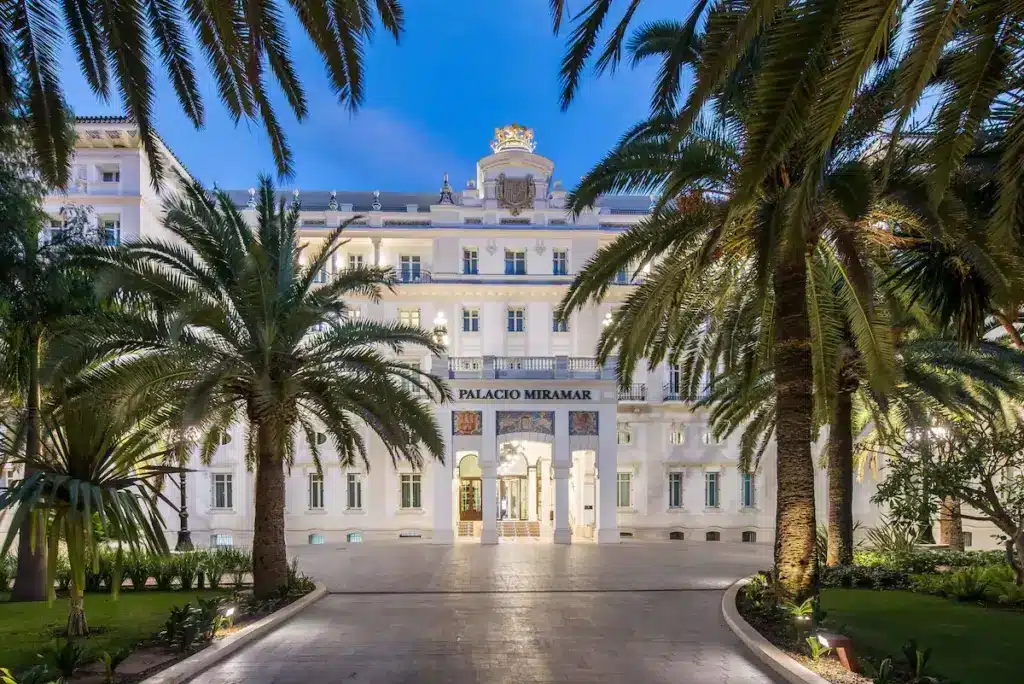 The rooms are cosy and inviting, and the pool area with sea views is a definite highlight. If you fancy a dip in the sea, the beach is just a stone's throw away.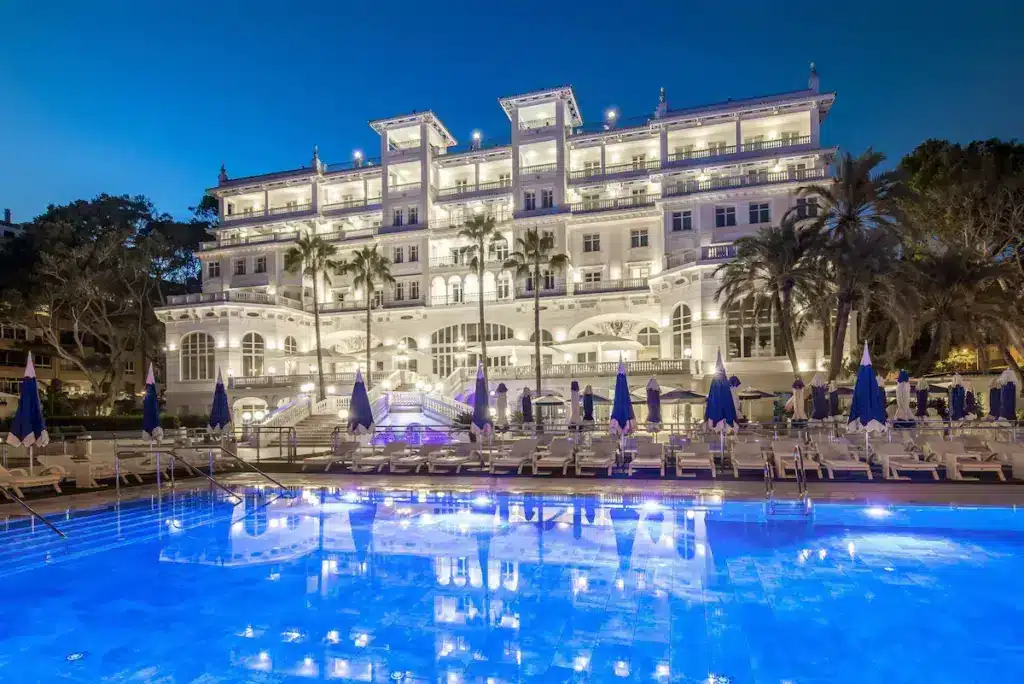 Many who have stayed here love the place – especially the excellent food and easy access to the beach.
If you want to experience Malaga with a wonderful mix of relaxation and luxury, Gran Hotel Miramar GL is a top choice.
See more photos and book here.
Hotel MS Maestranza is also superbly located, where city life meets the beach.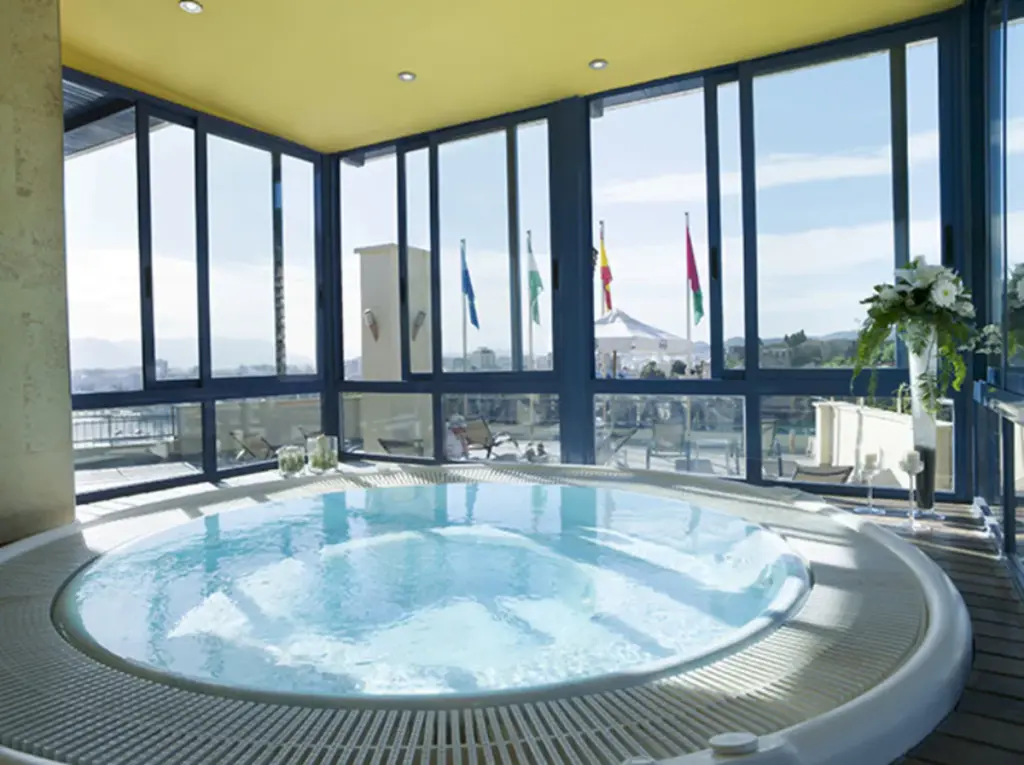 That means you can take a city tour and shop or enjoy an ice-cold drink by the sea – all within a few minutes walk.
The rooms are lovely and provide everything you need to feel comfortable.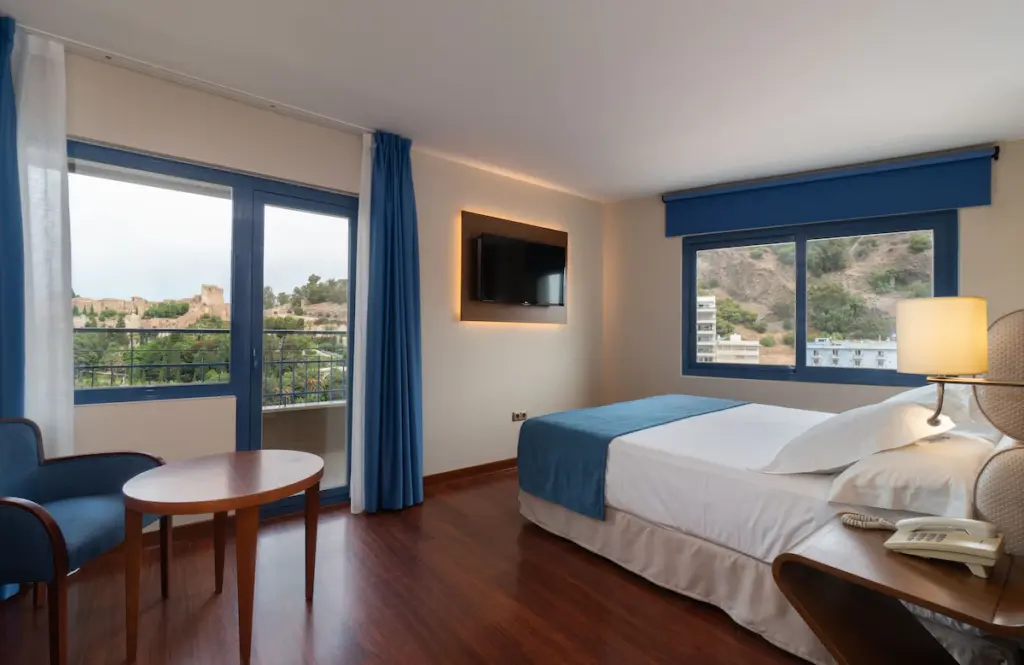 Many previous guests speak warmly of the hotel's helpful staff and the fantastic rooftop terrace with views over the city and the sea.
See more photos and book here.
A slightly cheaper option in the area is Hotel California, which boasts a fabulous location where you get the best of both worlds.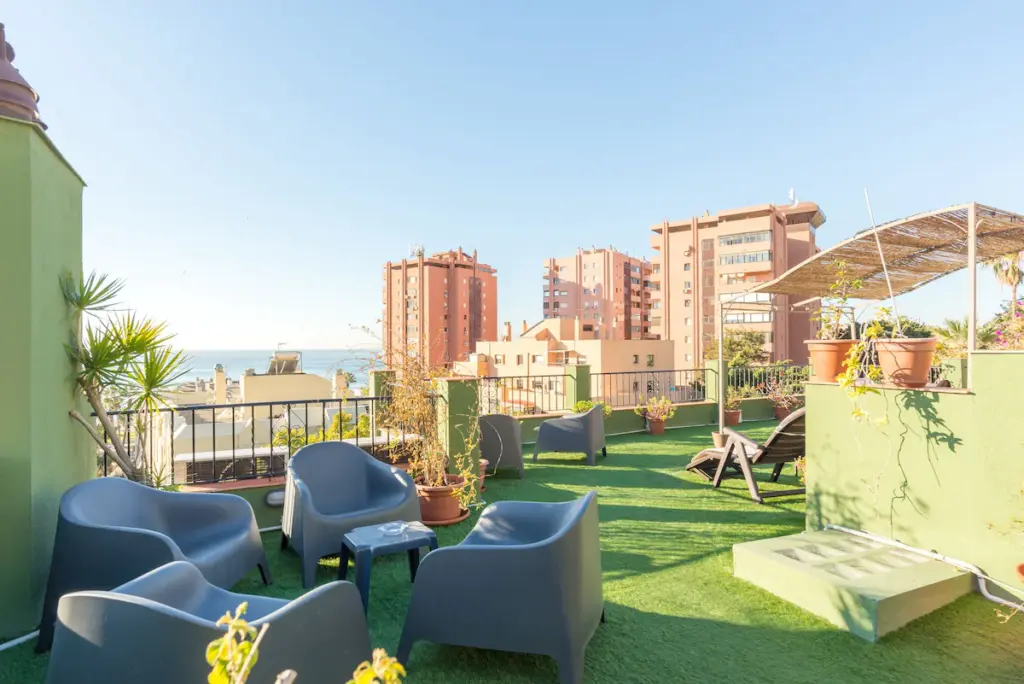 Located right between Malaga's bustling city centre and the relaxing La Malagueta beach, it lets you choose how you want to spend your day.
The rooms are comfortable and cosily furnished, so you'll feel at home. Many guests praised the hotel's friendly staff and the cosy atmosphere.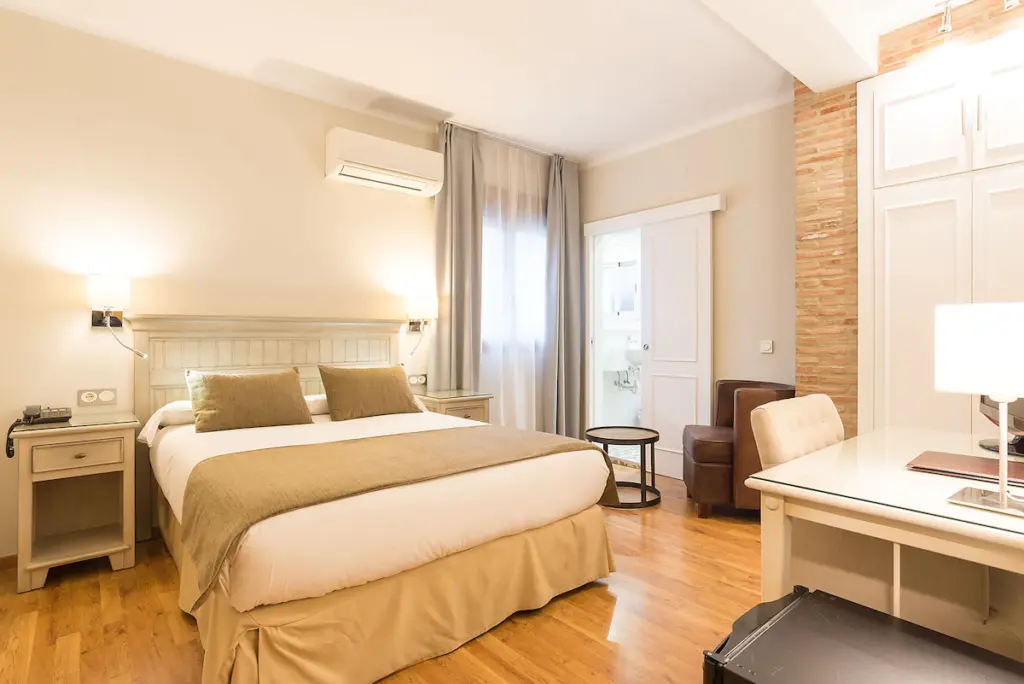 Furthermore, it's easy to get around from the hotel, whether you want to go shopping, enjoy a good meal, or simply relax by the water.
For those who want to experience the best of Malaga without any hassle, Hotel California is the perfect choice.
See more photos and book here.
3. Soho – the Trendy & Cool Area 🍹
If you want to experience Malaga's more trendy and creative side, Soho is a fantastic place for tourists to stay.
Soho is an artistic area that has been renovated in recent years and is now home to the city's coolest galleries, shops, and trendy eateries.
It's quite similar to what we know of Soho in London and New York City.
See the best hotels in Soho here.
The area is filled with creative and alternative cafes, bars, and restaurants, and the colourful streets are brimming with life and energy. 
Soho in Malaga is known for its cosy shops selling everything from clothes and crafts to inventive souvenirs.
One of the best tapas restaurants in Soho is Mesón Ibérico, popular among both tourists and locals.
You can also easily walk from Soho to La Malagueta and the historic centre.
It's a great area to stay in Malaga if you're interested in experiencing the most trendy bars and restaurants.
Places to stay in Soho
Soho is trendy and cool, but it's also right next to Malaga's historic centre. So, staying in Soho doesn't mean you're compromising on being "close to everything". Some hotels are even cheaper than those in Centro.
Here are some of my favourite hotels in Malaga's Soho area:
Mariposa Hotel in Soho is a place where you can really feel the city's vibe. The hotel is super nice, and the rooms are inviting.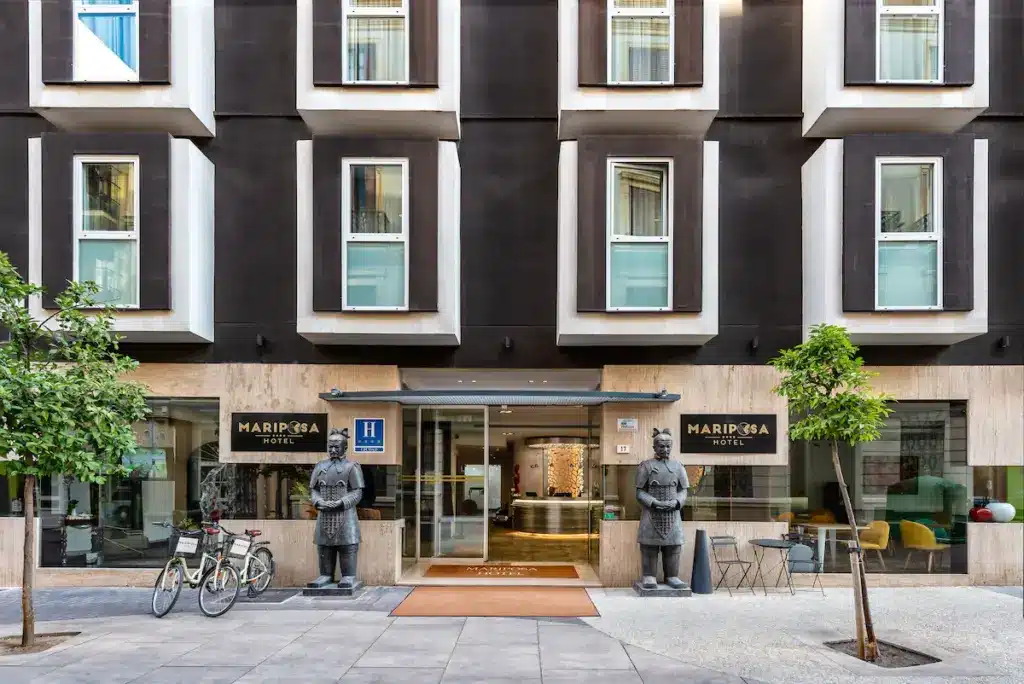 But the best part? Their rooftop terrace!
From here, you get a fantastic view of the city, and it's the perfect place to relax after a day of sightseeing.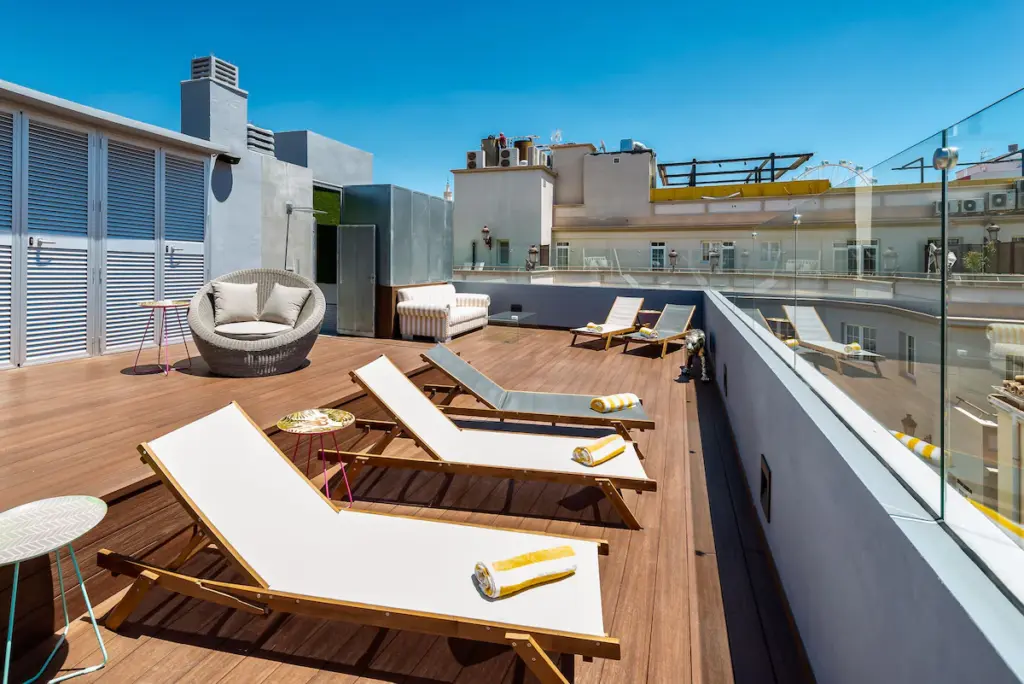 Many visitors praise the hotel for its location, atmosphere, and wonderful terrace.
See more photos and book here.
Aparthotel Gran Alameda gives you more space than you'd typically get in a hotel, and it feels almost like having your own apartment in Malaga.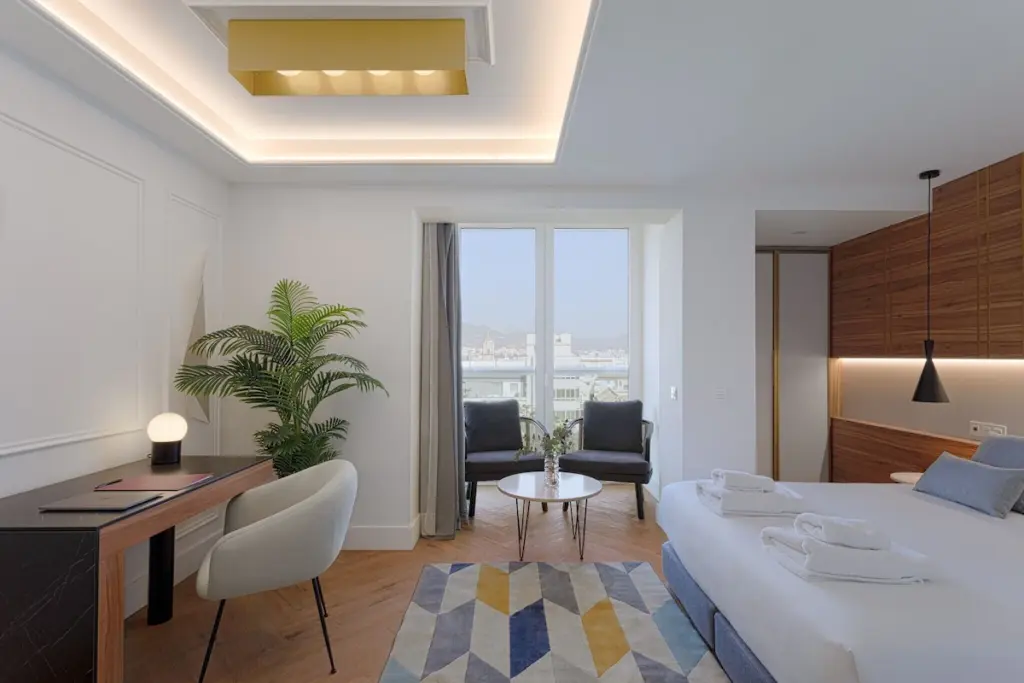 The place is well-organized, so everything runs smoothly – from check-in to daily chores.
People who have stayed here particularly talk about how easy and comfortable everything was.
See more photos and book here.
ICON Malabar in Soho is the hotel where you know you'll have a good stay.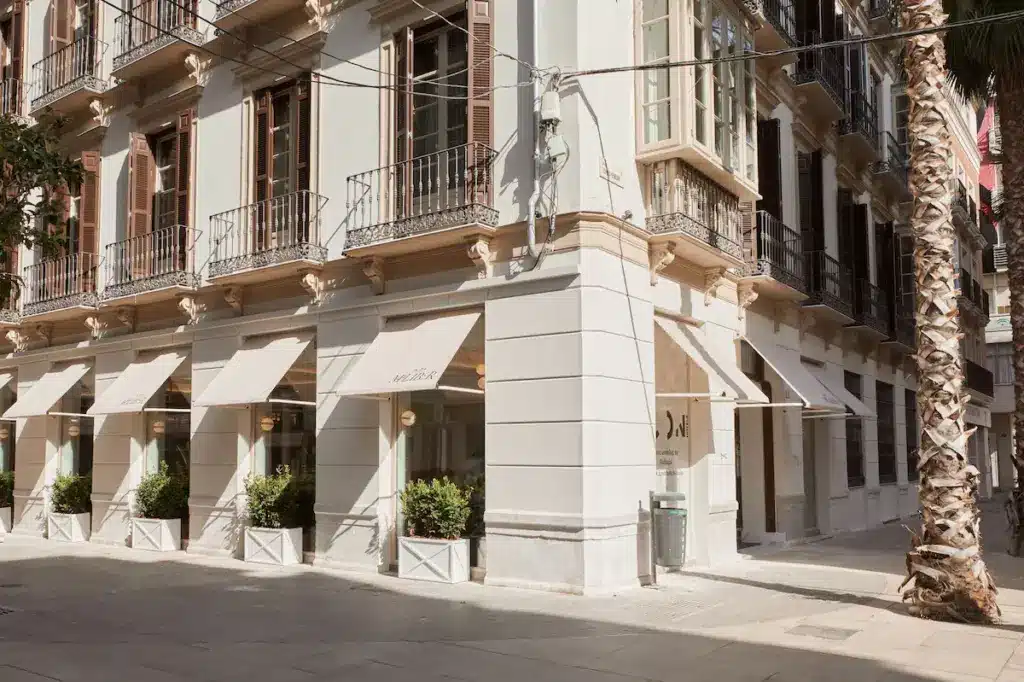 The rooms are not only stylish; they are also super comfortable and well-furnished. The hotel blends modern design with cosy surroundings, making it feel new and homely.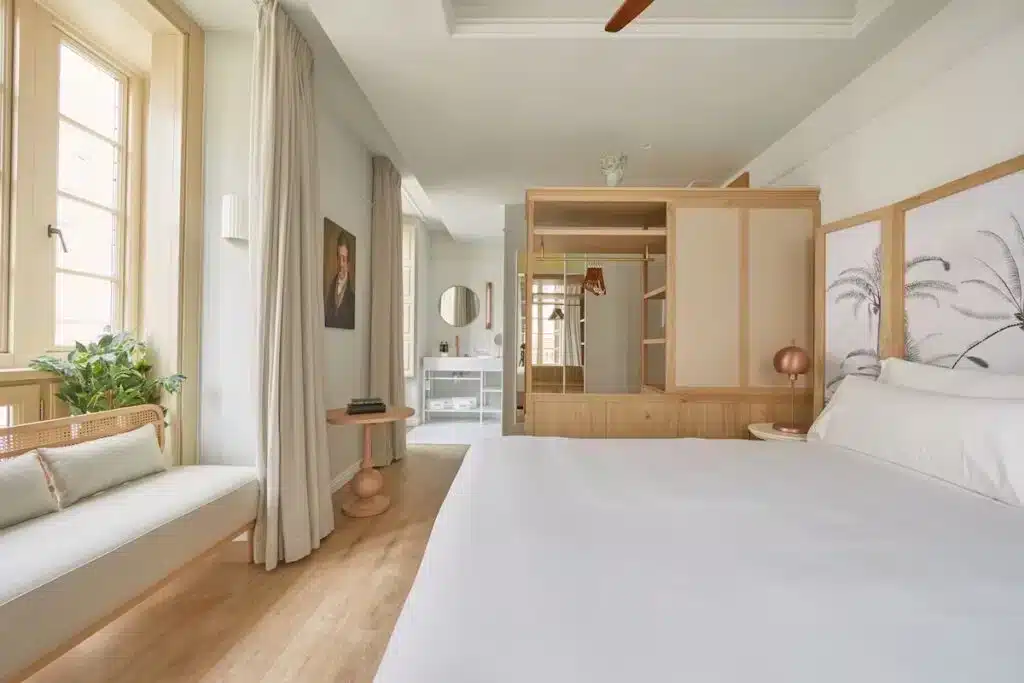 Many guests highlight the friendly staff and the beautiful rooms as some of the hotel's significant advantages.
If you're looking for a solid and stylish place to stay in Malaga, ICON Malabar is the place for you.
See more photos and book here.
3 Popular Holiday Towns near Malaga
Southern Spain and the Costa del Sol boast some of the most spectacular holiday and excursion destinations, all easily accessible from Malaga.
Especially if you visit Malaga during the summer, it makes sense to venture out and explore these nearby areas—or perhaps even spend the night there.
Nerja
If you're dreaming of a gem of a holiday town close to Malaga, Nerja is absolutely worth checking out. It is undoubtedly one of the most picturesque villages in Andalusia.
The town is famous for its stunning cliffs, which rise beside crystal-clear beach areas.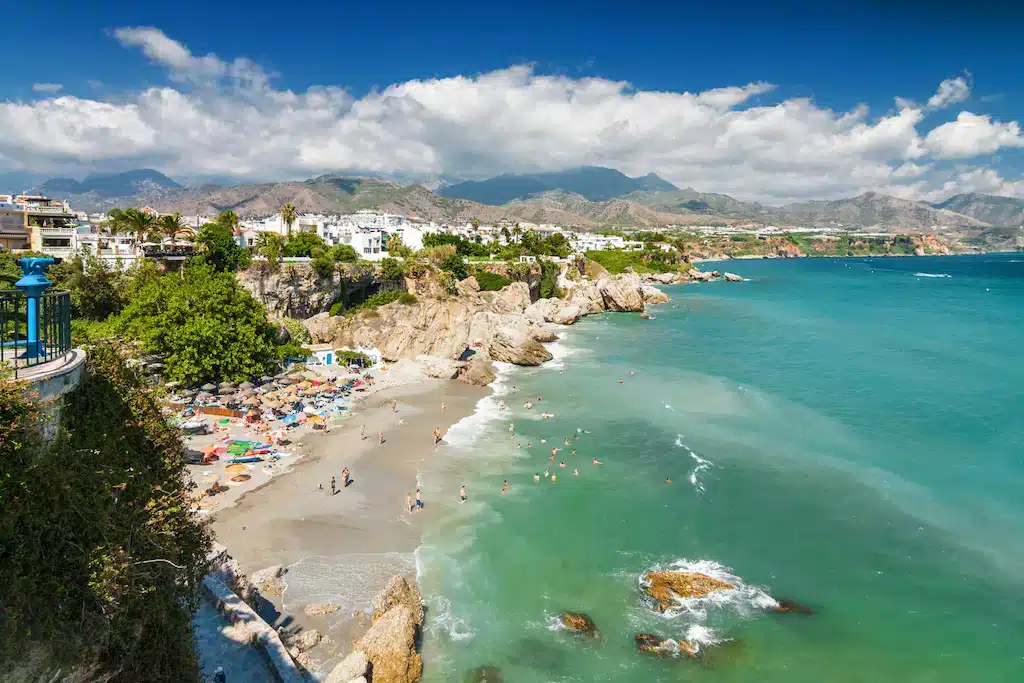 And then there's Balcón de Europa—a beach promenade so renowned it's almost a must-see. 
You can enjoy unparalleled sea views from here and experience the genuine Andalusian ambience.
See the best hotels in Nerja here.
With its narrow streets, charming squares, and irresistible coastline, Nerja is ideal for those wanting to experience the best of the Spanish coast without sacrificing charm and beauty.
So where to stay in Nerja?
Located in the heart of Nerja, Parador De Nerja is not just a place to sleep – it's an experience in itself.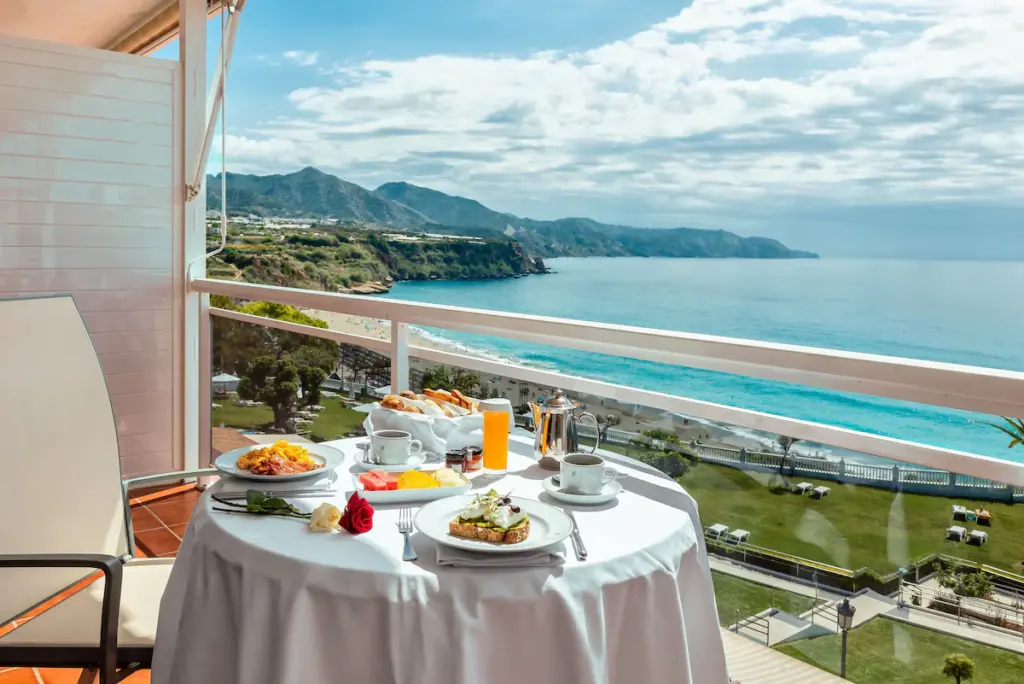 Perched on a cliff overlooking the Mediterranean, the hotel offers panoramic views that are hard to beat.
The rooms are comfortable and thoughtfully designed, and the hotel beautifully blends traditional Spanish architecture with modern amenities.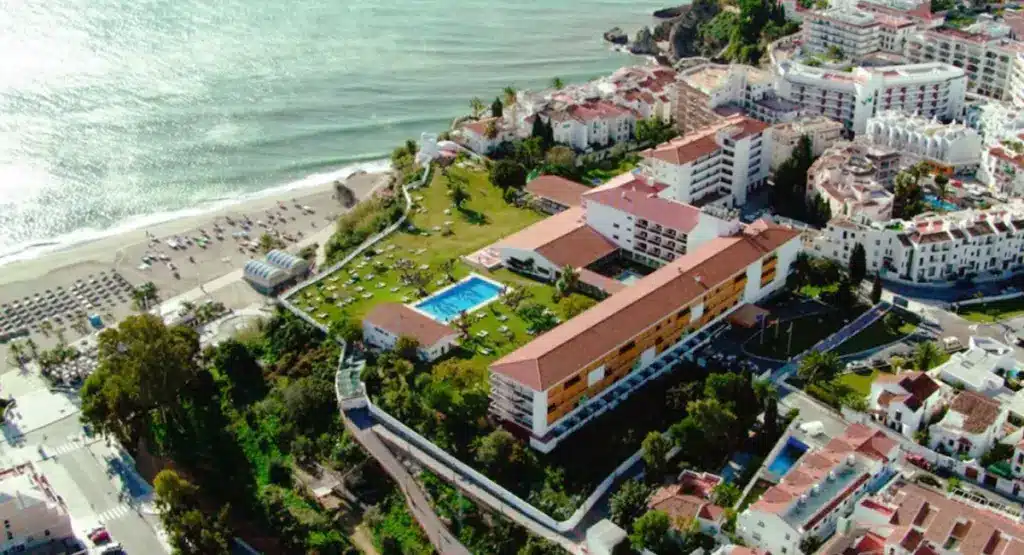 And let's not forget the incredible pool where you can dip with the sea as a backdrop.
Past guests are particularly impressed with the hotel's location, excellent service, and unbeatable views. Parador De Nerja is a sure bet if you want to indulge in a stay that combines relaxation and luxury in Nerja.
See more photos and book here.
Mijas
Just 20 km from the centre of Malaga, you'll find Mijas – a mountain village that takes charm to a whole new level.
Mijas is renowned throughout Andalusia as a top holiday destination, and once you step into the town, it's easy to see why.
Here, classic, aesthetic architecture meets the most picturesque streets imaginable.
White buildings contrast sharply to the blue sky, and the narrow streets wind up and down the mountain, providing some stunning vistas.
See the best hotels in Mijas here.
If you want to experience an authentic Andalusian ambience and breathtaking views, Mijas is the place to visit.
Here, you get relaxation, beauty, and a good dose of Spanish culture.
So where to stay in Mijas?
Nestled in the enchanting mountain village, you'll find Mijas Residence – an apartment hotel that stands out.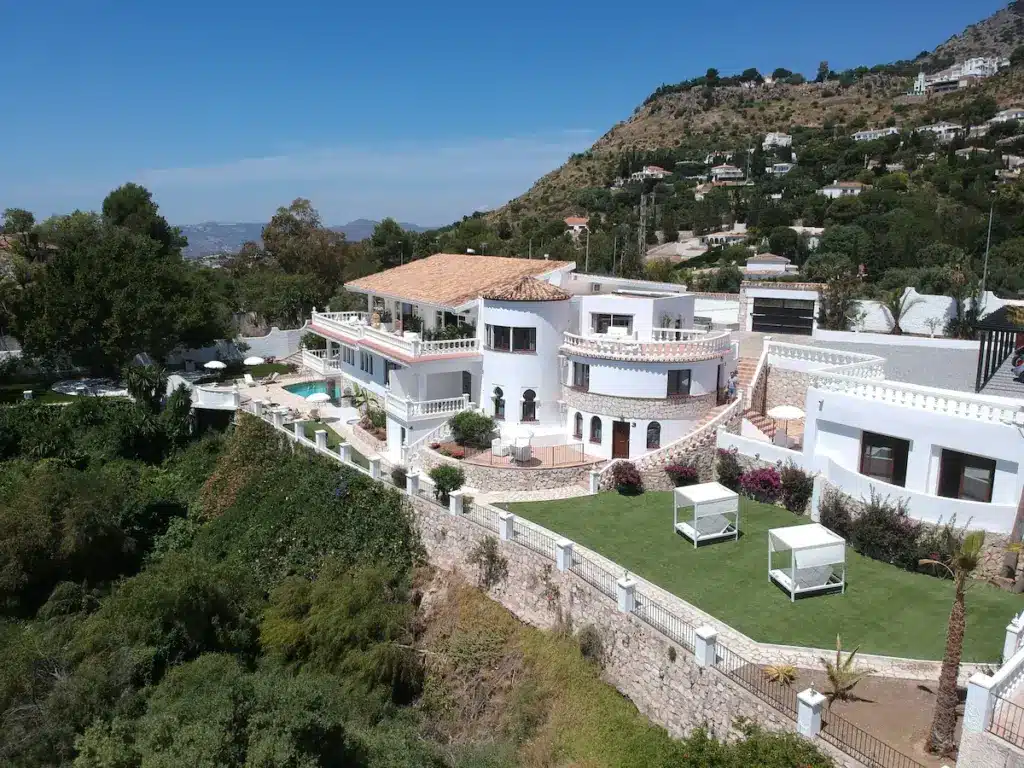 Each suite is designed with a perfect blend of modern luxury and traditional Spanish charm, allowing you to enjoy the best of both worlds.
With well-equipped kitchens and spacious living rooms, it's easy to feel at home here.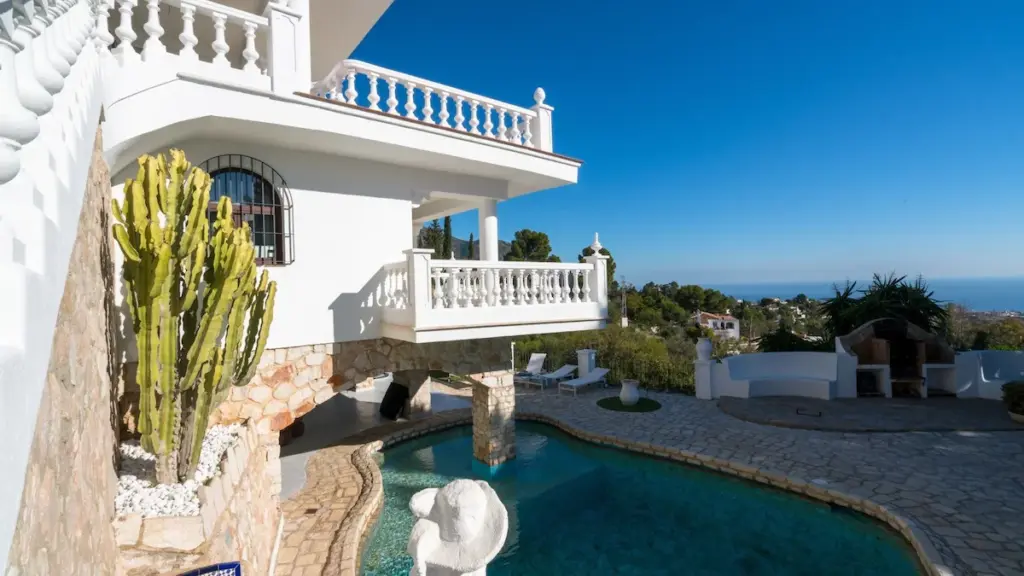 And let's not forget the fantastic reviews! Previous guests cannot get enough of the friendly service, the beautiful surroundings and the comfortable facilities.
If you are looking for a place in Mijas where you can combine the authentic with the luxurious, Mijas Residence is definitely worth a look.
See more photos and book here.
Frigiliana
The delightful village of Frigiliana is close to Nerja mentioned above, just 10 km to the east. This gem is the ultimate representation of Andalusian charm.
The village is known for its traditional architecture: whitewashed houses, cobblestone streets, and colourful doorways.
See the best hotels in Frigiliana here.
Frigiliana is the kind of place where time seems to stand still and where you can truly feel the soul of Andalusia. If you want to experience a village that exudes authenticity and charm, then Frigiliana is the place to visit.
So where to stay in Frigiliana?
Tucked away in the picturesque streets of Frigiliana, you'll find Millers of Frigiliana – an authentic little treasure of a hotel.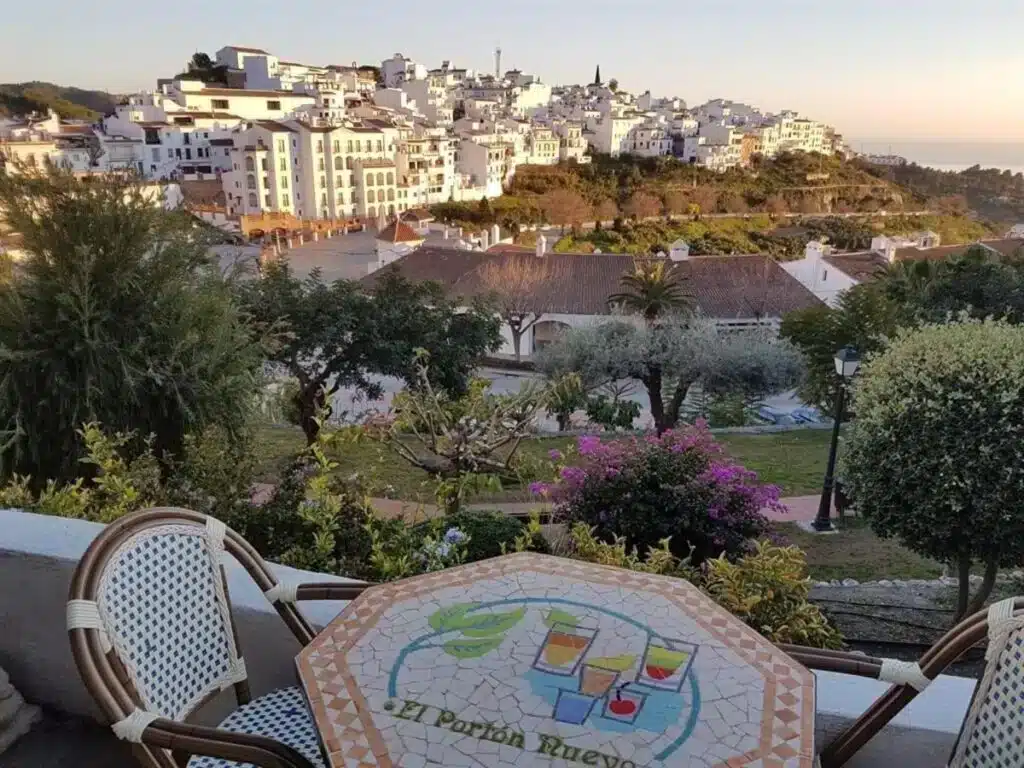 This place is a gem that combines cosy and historical with modern comfort. Millers has a charm that immediately makes you feel welcome.
The rooms are inviting and stylishly decorated, mixing traditional Andalusian charm with modern amenities.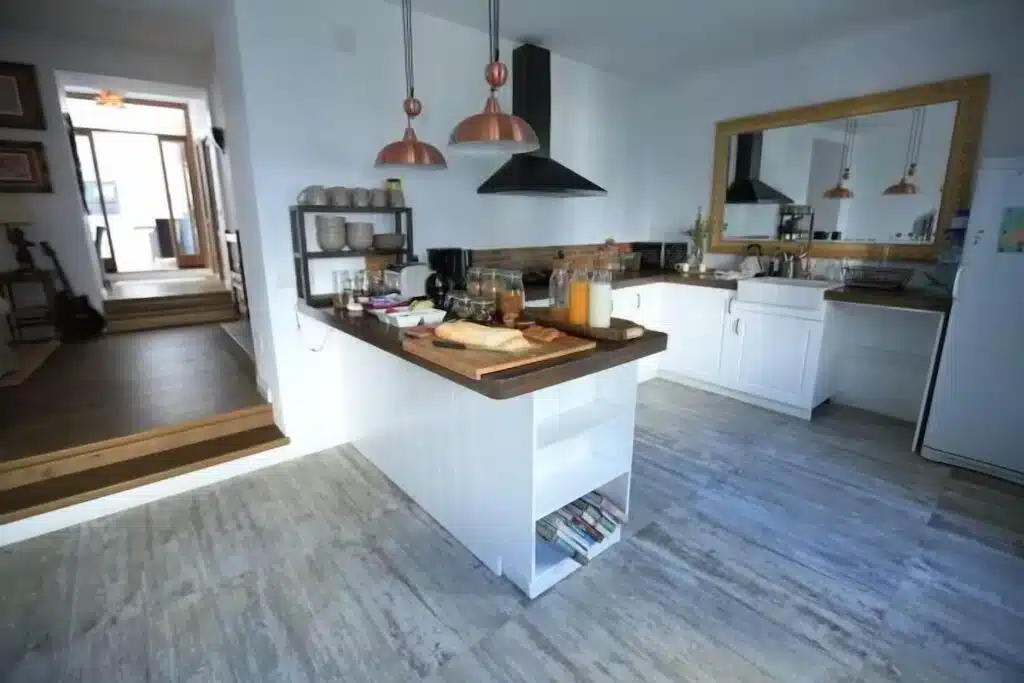 But it's not just the place that's special—it's also the experience. Past guests often praise the personalized service and homey atmosphere.
Some even mention that it feels like visiting old friends.
If you're looking for a unique and authentic lodging experience in Frigiliana, then Millers of Frigiliana is the place to book.
Here, you get a combination of warm hospitality and a genuine Spanish ambience.
See more pictures and book here.
And this is where the guide comes to an end! So whether you wish to explore authentic Spanish culture, enjoy the exciting nightlife, or relax on the beach, Malaga and its surroundings offer many options.
No matter where you end up staying, you're guaranteed an unforgettable holiday in Malaga, and we hope this guide will help you make the best decision about where to stay in Malaga.
Frequently Asked Questions:
Is it better to stay in Malaga or Marbella?
Choosing between Malaga and Marbella depends on what kind of holiday experience you're looking for. Both locations have their pros and cons, so here's a quick rundown:
Marbella:
Pros:
Beach Resort Vibe: Marbella is one of the Costa del Sol's most famous resort towns, renowned for its luxurious atmosphere and beautiful beaches.
High-End Options: If you're looking for a high-end, luxurious holiday, Marbella has a wide range of five-star hotels, high-end shopping, and gourmet dining options.
Nightlife: Marbella is famous for its vibrant nightlife, including beach clubs and bars that attract a glamorous crowd.
Golf: For those interested in golf, Marbella and its surroundings offer some of the best golf courses in Spain.
Cons:
Pricey: Marbella tends to be more expensive than Malaga, especially in the high season.
Tourist-Centric: While beautiful, Marbella is a resort town through and through, meaning it might lack some of the cultural depth you'd find in a larger city.
Malaga:
Pros:
Cultural Activities: Malaga is not just a beach city but also the birthplace of Pablo Picasso. It offers a variety of museums, historic sites, and cultural activities.
Dining and Shopping: Malaga has a broader range of dining and shopping options compared to Marbella, suitable for all budgets.
Transport Links: Being a larger city, Malaga has better transport links, including an international airport and better bus and train services for exploring other parts of Andalusia.
Urban Beach Experience: Malaga does have beaches, so you can still enjoy a beach holiday along with all the other amenities of a city.
Cons:
Crowded: Malaga can get very crowded, especially in the summer months.
Less Exclusive: If you're looking for a more exclusive, resort-type environment, Malaga's beaches may not meet your expectations.
Summary
For a Luxurious Beach Holiday: If you're looking for a luxurious, 100% relaxed beach holiday with high-end amenities, Marbella might be more to your liking.
For a Mixed Experience: If you want a mix of beach time, cultural experiences, dining, and shopping, then Malaga could offer a more balanced holiday.
Ultimately, both destinations offer wonderful experiences; it just depends on what kind of vacation you're aiming for.
What is the best time to visit Malaga?
The best time to visit Malaga is typically from April to June or September to November. These months are usually less crowded than during the peak high season, and the weather is still excellent.
How many days should I spend in Malaga?
I recommend at least 2-3 days in the city, but you might consider staying longer if you wish to visit several nearby towns or beaches and go on longer day trips. Using Malaga as a base and taking day trips to the many exciting areas nearby is a good idea.
Is Malaga a safe city to visit?
Yes, Malaga is generally a safe city to visit. As with any tourist destination, one should take the usual precautions and be aware of one's surroundings and belongings.