I have just returned from a trip to the Amalfi Coast, where I stayed in several different places and travelled around.
I will share the best transport options from Naples to Sorrento in this guide.
If you've read my extensive guide to the best towns and areas to stay on the Amalfi Coast, you know there are many options for finding a place to stay.
I loved Sorrento, which is admittedly not part of the Amalfi Coast itself but is often mentioned in the same vein and, to that extent, is worth a visit.
On this trip, we flew to Fiumicino in Rome, took the train to Naples, stayed a single night in Naples and then went to Sorrento.
So, let's look at how to get from Naples to Sorrento.
1. Train from Naples to Sorrento 🚃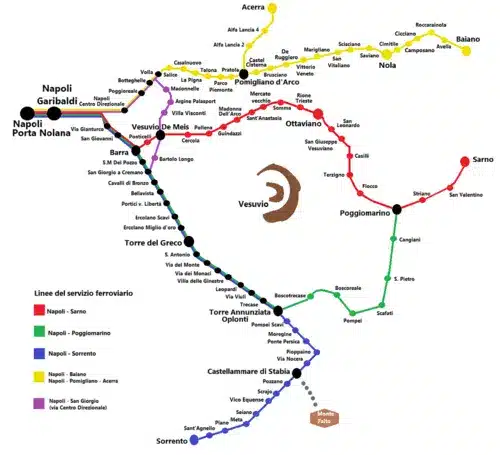 From Napoli Centrale (which is the city's main railway station and also called Napoli Garibaldi), there is a regional train with terminus Sorrento.
By the way, if you're looking for a cheap place to stay near the station, check out ibis Styles Napoli Garibaldi. I stayed there on my trip to Naples, and it was excellent value for money and extremely close to the train station.
Check out my massive guide on where to stay in Naples.
Here is the railway station on a map:
In other words, it is extremely easy to get from Naples to Sorrento by train.
You can take a regional train that takes 1 hour and 13 minutes with 29 stops on the trip along the coast of Naples.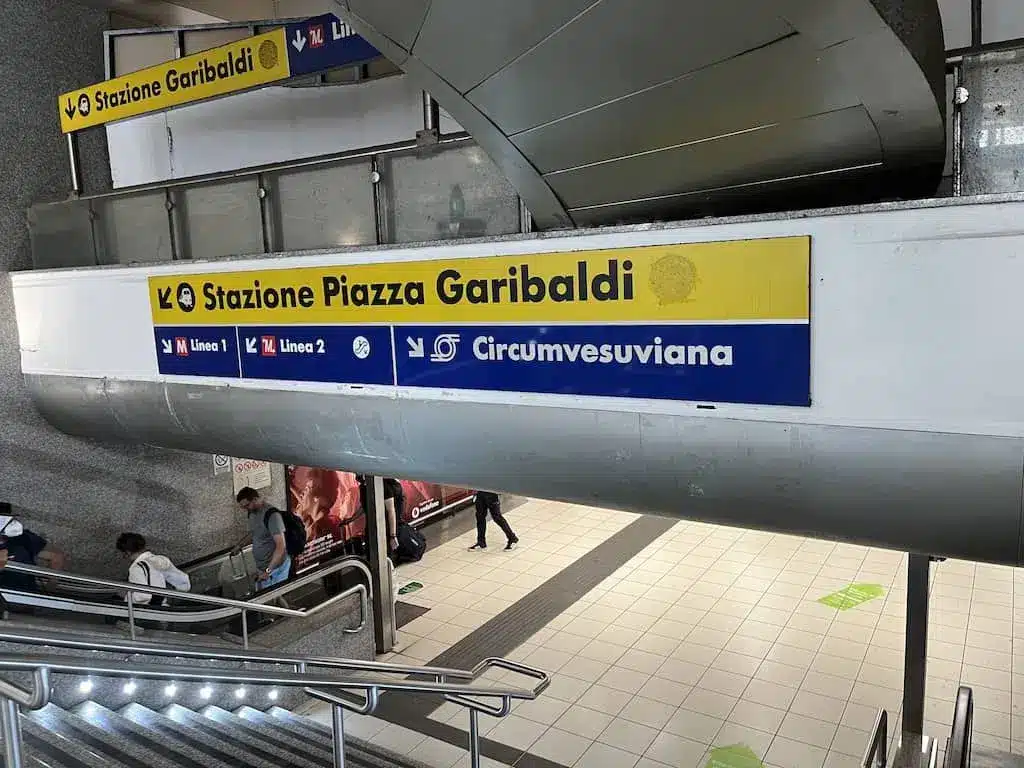 The train operated by the Circumvesuviana also stops at Pompeii, so here is a good opportunity to experience one of Italy's most famous landmarks on the trip from Naples to Sorrento.
You can find tickets to Pompeii here.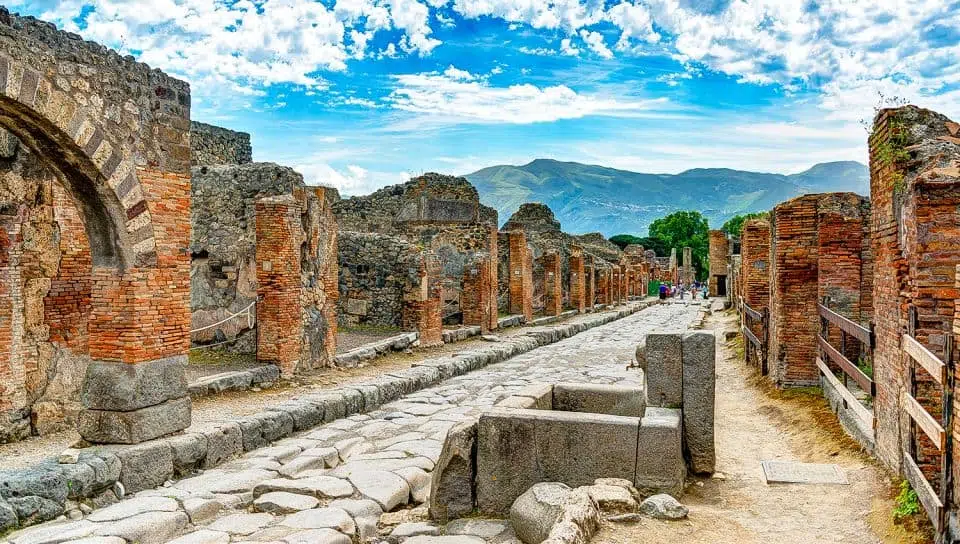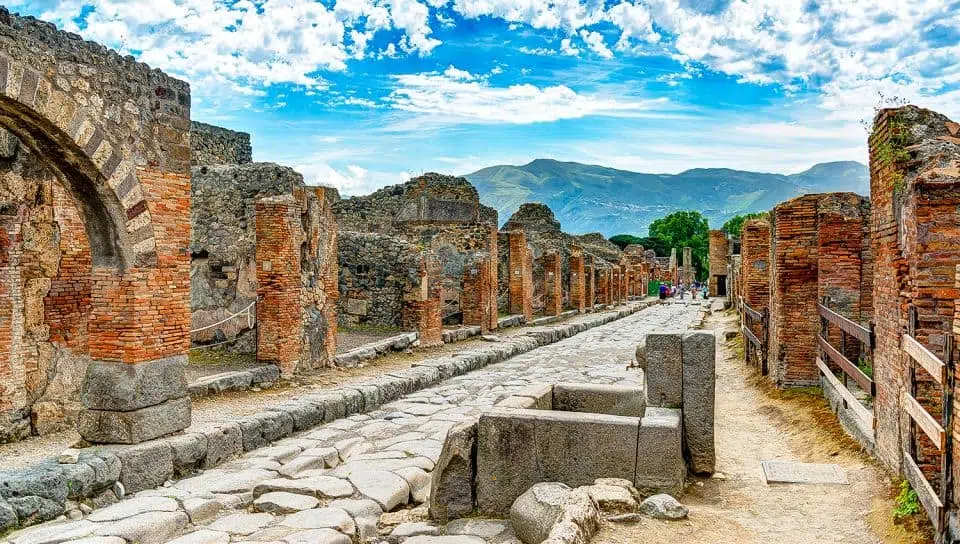 Schedule and tickets ⏱
We took the train from Naples to Sorrento in the summer of 2022, and everything worked flawlessly. Trains run approximately every 20-30 minutes.
See a timetable for the train here.
You cannot buy train tickets online for the regional train, but must go past the ticket kiosk located before the barrier down to the platform. In other words, you cannot "get" to stand on the train without a ticket.
The train tickets cost only 4.90 Euro per person.
There were many people on the train, so we were lucky to get a seat.
I would therefore not recommend the train if you are travelling with elderly people during the summer months.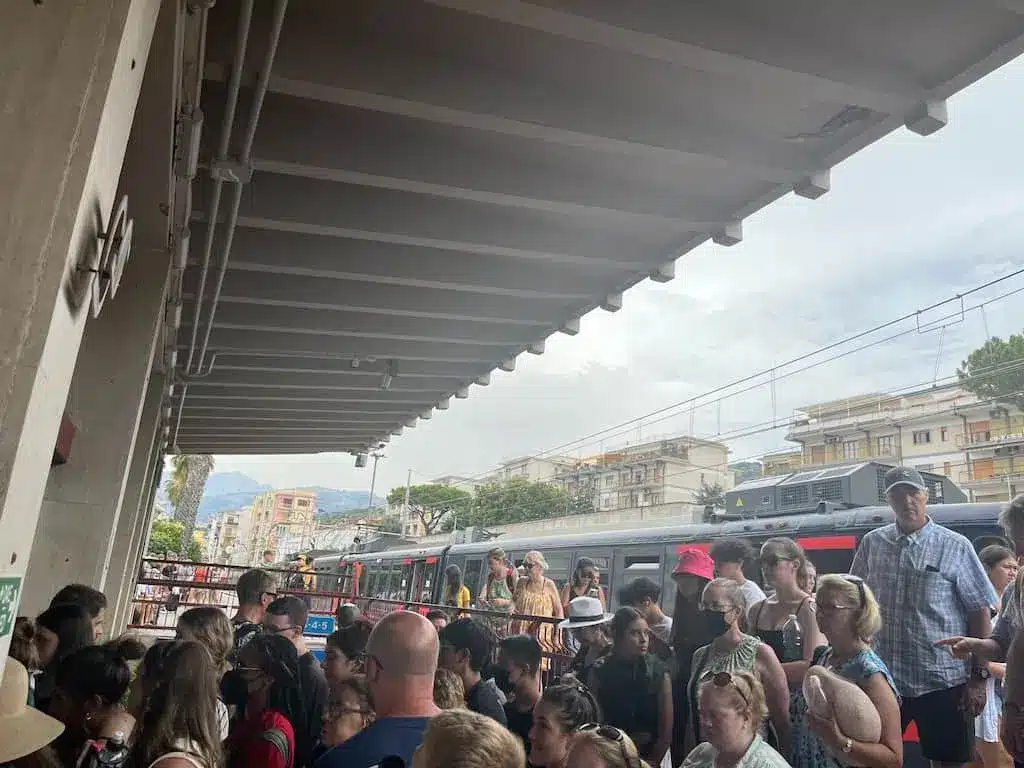 You arrive at Sorrento Station, located very centrally in the beautiful holiday town, so if you stay centrally in the town, you can probably stroll to your hotel in a short time.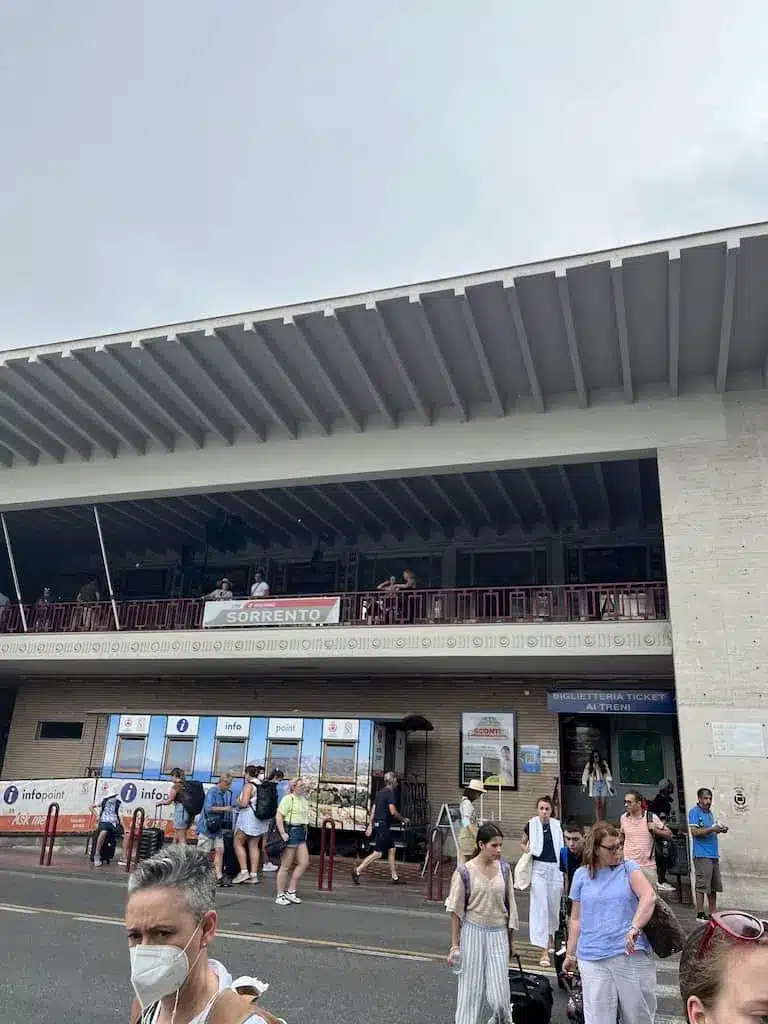 2. Taxi to Sorrento 🚖
Of course, you can also get from Naples to Sorrento by taxi or private driver.
I recommend agreeing to a fixed price with a taxi driver for you driving from Naples – or even better, book the transport online with a verified driver at Get Your Guide.
How much is a taxi from Naples to Sorrento? 💸
There are many options, but you should expect about 135 euros for 4 people from Naples to Sorrento.
3. Ferry to Sorrento ⛴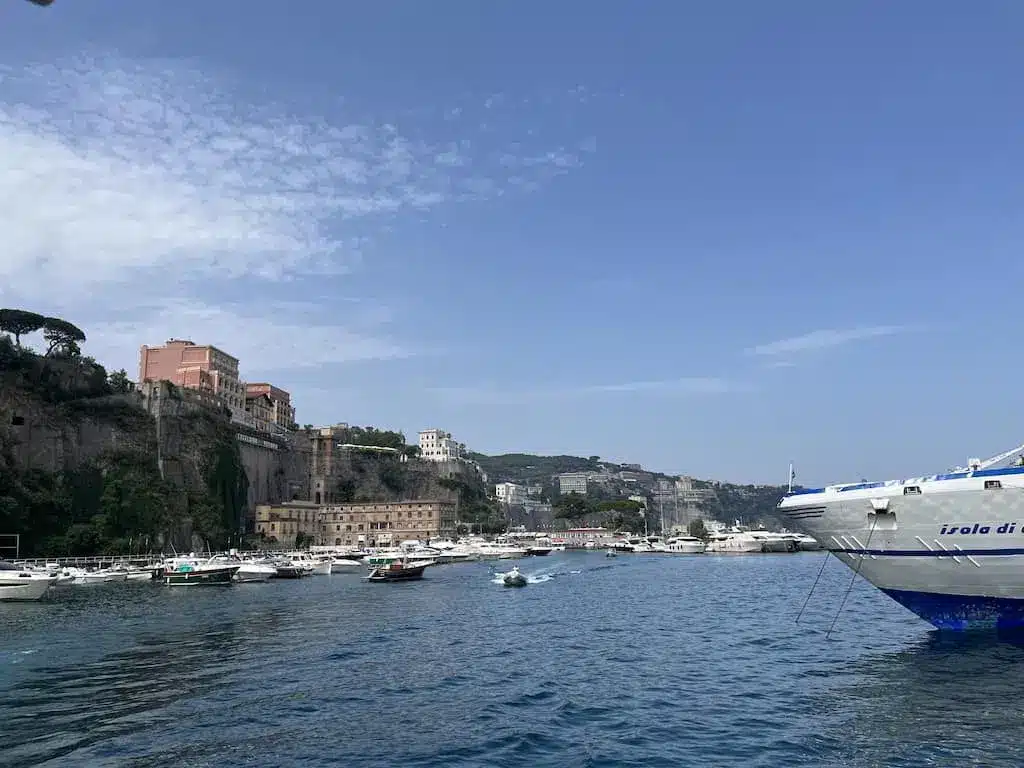 It is also possible to get from Naples to Sorrento by ferry, where several companies sail the trip daily.
As I said, we took the train, but I understand that Alilauro is an excellent company.
Timetable and tickets for the ferry ⏱
They sail from Naples to Sorrento in high season at the following times:
At 09:00
At 11:00
At 13:00
At 15:05
At 17:15
At 19:30
And return from Sorrento to Naples:
At 08:10
At 10:00
At 12:00
At 14:00
At 16:25
At 18:45
So if you want to take a day trip from Naples to Sorrento by ferry, it can easily be done.
The journey by ferry from Naples to Sorrento takes 45 minutes.
The price is 14 euros for adults and 9.80 for children from 2-12 years.
You can see current timetables and buy tickets at this link.
The ferry departs from Napoli Beverello:
There are also ferries from Naples to many destinations in southern Italy, so you can actually get to all sorts of destinations such as Sardinia, Ischia, Sicily and even Corsica in France.
From Naples Airport to Sorrento ✈️
If you land at Naples Airport and go directly to Sorrento, there are many options for transport. Let's take a closer look at them below.
The easiest way would be to take a shared shuttle directly from the airport to Sorrento.
Get Your Guide has an option that costs 50 euros per person and where you ride in a shared minibus with others who are also going to Sorrento (or Amalfi and Ravello, which the company also drives to).
See more and book the transport here.
Private driver or taxi 🚖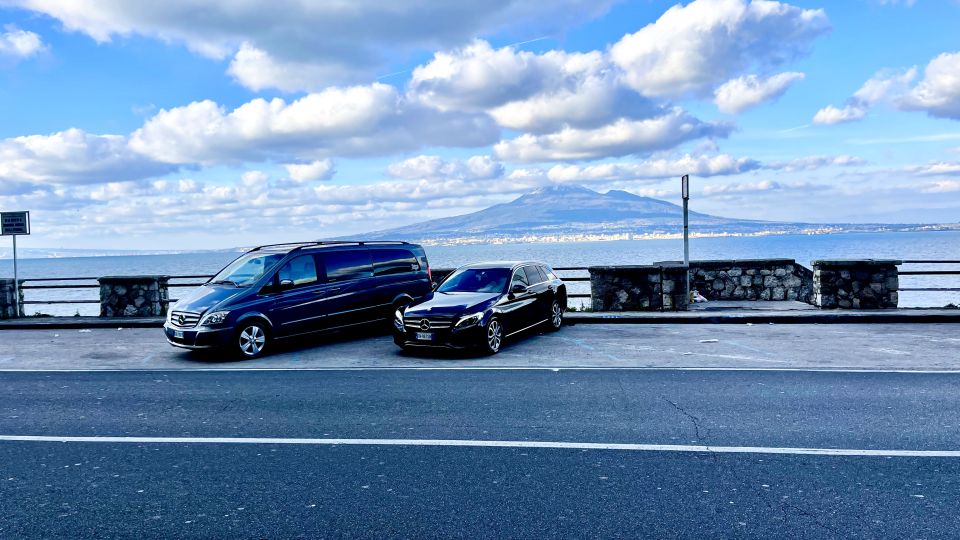 You can, of course, also book your own private car from the airport to Sorrento.
Here the price is very similar to that from the centre of Naples, so you have to expect about 135 euros, but there you also get a private driver waiting for you in the arrivals hall.
See the options for booking here.
Shuttle bus to the centre of Naples & the train onward 🚃
If you want to take public transport from the airport to Sorrento, you must take a shuttle bus from the airport to the main railway station in Naples (Centrale/Garibaldi).
The bus is called Alibus and only takes 15-20 minutes from the airport to Garibaldi, so it's also quite an easy option.
The bus runs every 20-30 minutes and costs 5 euros – tickets can be bought on entry. The bus from the airport to the centre runs from 06:00 to 23:20.
You can then take the Circumvesuviana train from Garibaldi, which is described at the top of the guide here.
I hope you could use this guide and are now ready to travel to beautiful Sorrento with peace of mind.
If you haven't booked your accommodation in Sorrento yet, check out my guide on the best places to stay in Sorrento & the Amalfi Coast.
Have a great trip 🍋 🇮🇹
Websites I use to book my trips 👇

• Booking.com has the best offers on hotels and unique places to stay
• GetYourGuide is the best place to book tours & activities with free cancellation
• Omio is my go-to booking platform for trains in Europe
• Welcome Pickups is the best & safest place to pre-book airport transfers

Psst 👀 Have you subscribed to my Youtube channel where I provide more useful travel tips?