Eager to explore the heart of Bavaria but unsure where to stay in Munich? Your neighbourhood choice can significantly impact the flavour of your adventure in this historic yet ever-vibrant city.
With a rich tapestry of architectural marvels, legendary German breweries, and lush green spaces, Munich offers a unique blend of the traditional and the contemporary.
Below, I'll lead you through some of the best areas to stay in Munich and offer recommendations for hotels in various price ranges – especially selected for their location, great amenities, and value.
So, let's delve into the guide on where to stay in Munich.
Best Areas in Munich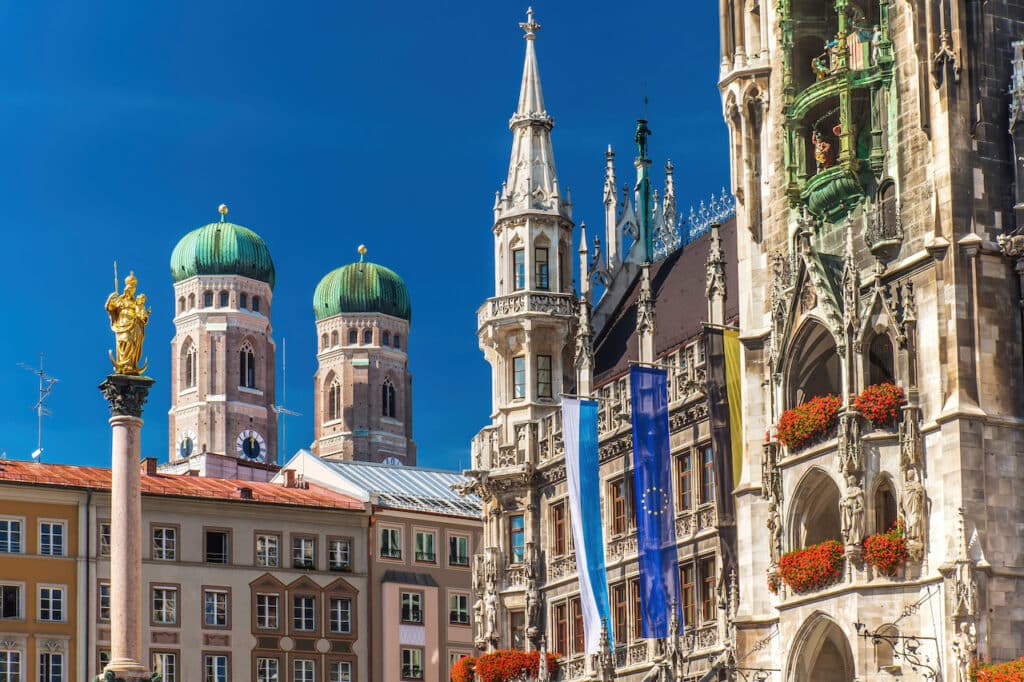 If you're in a hurry or just want a quick overview, here it is:
Click on the area's name above to see current hotel offers in the mentioned areas in Munich.
The guide continues below, where I delve deeper into these areas and recommend places to stay.
1. Altstadt-Lehel – The Heart of History & Culture 🏰
When the echoes of the past beckon, Altstadt-Lehel answers. The city's heart beats strongest in this central Munich district, with centuries-old buildings whispering tales of bygone eras.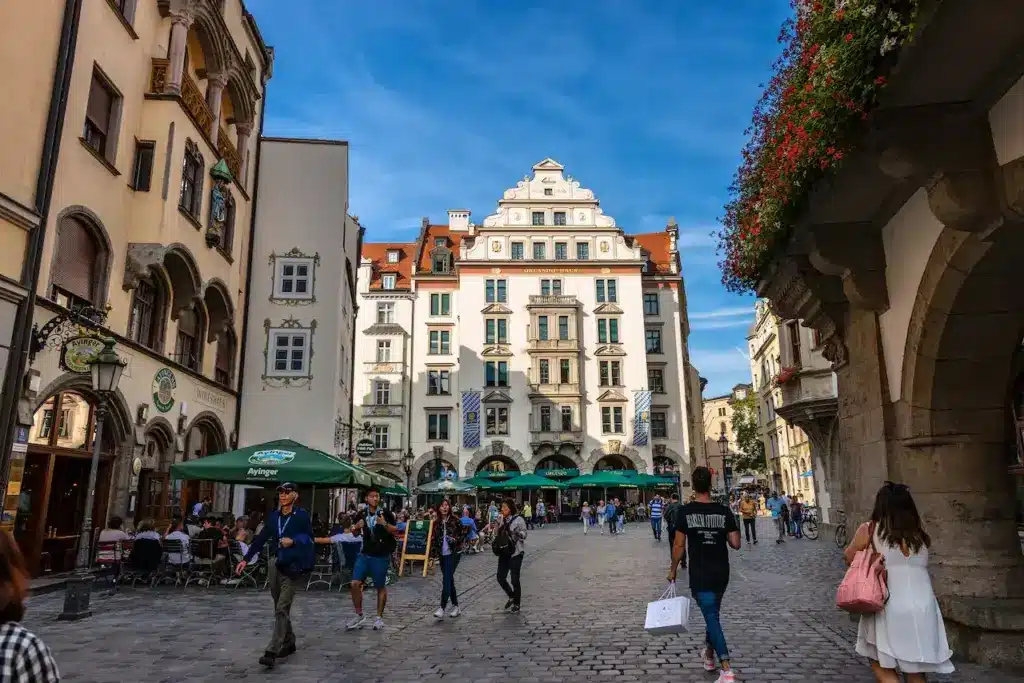 Wander through the cobblestone streets, and you'll stumble upon iconic sites like the Marienplatz, Munich Residenz, and the majestic Frauenkirche.
Yet, amidst the antique charm, modern cafes and boutiques find their home, crafting a delightful blend of the old and new.
Whether sipping a coffee at a quaint cafe, admiring the architectural splendour, or diving into Munich's storied past at a local museum, Altstadt-Lehel offers a rich and authentic Bavarian experience.
See the best hotels in Altstadt here.
In Altstadt-Lehel, every corner holds a narrative waiting to be discovered.
The cobbled pathways narrate tales from the Middle Ages, while the majestic structures are a testament to Munich's rich architectural heritage.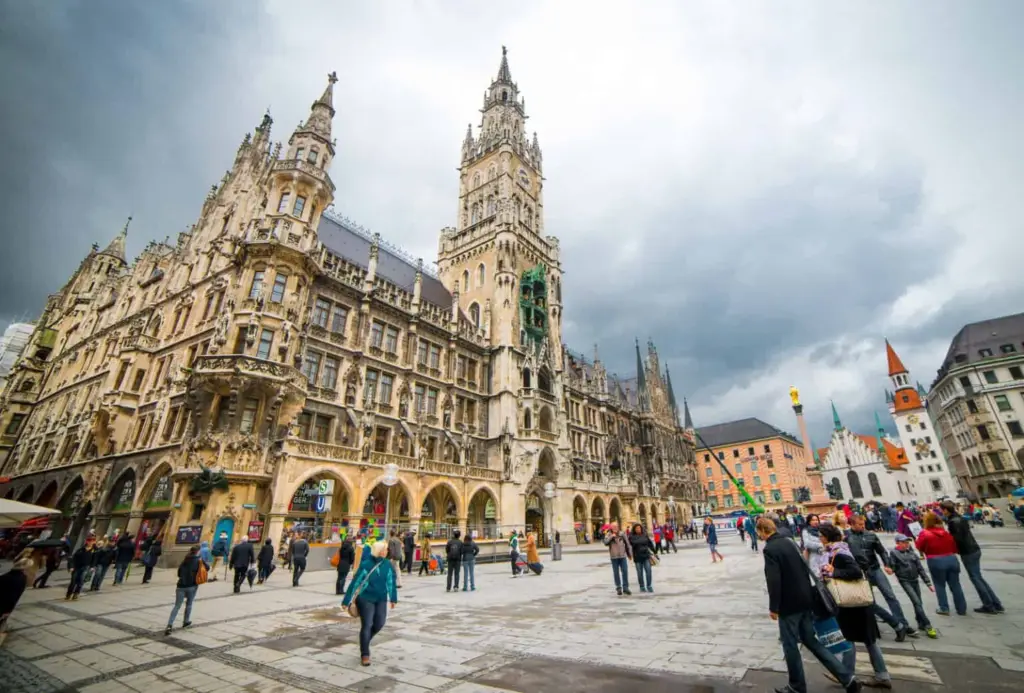 The aroma of freshly brewed coffee from quaint local cafes mingles with the ancient allure, offering a timeless retreat within the bustling city.
As the sun sets, the area transforms. The quiet alleyways come alive with the chatter from cozy wine taverns and the soft melodies of street musicians, encapsulating the enduring charm of Munich.
Places to stay in Altstadt-Lehel
The area houses some of Munich's most prestigious hotels, where traditional Bavarian hospitality meets modern luxury. Whether it's the view of the iconic town hall's Glockenspiel from your window or the easy access to the city's historic sites, staying in Altstadt-Lehel is akin to living in the pages of a richly illustrated history book.
Let's explore some of the best hotels here in the city centre of Munich.
Right in the heart of Munich's old town, you'll find DO & CO Hotel München, a true gem for those seeking a luxurious stay.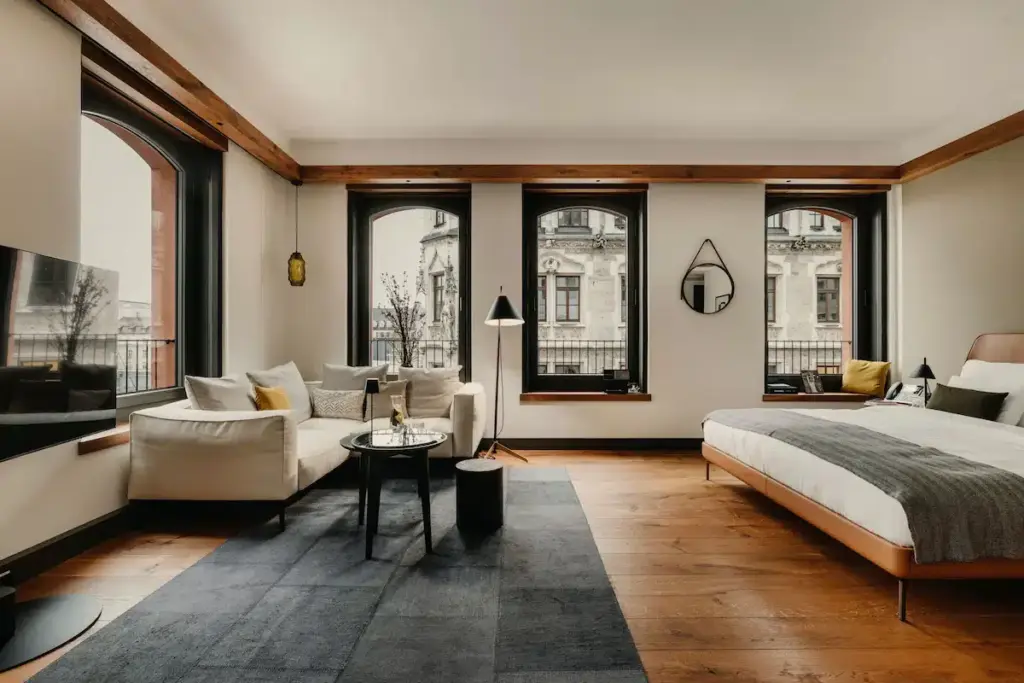 Its location is hard to beat, as you'll be within walking distance of the city's most popular attractions and shopping streets.
Despite the hotel's luxurious status, you might be surprised at how affordable it can be if you travel on the right dates.
I was certainly taken aback when I saw the price on the booking site.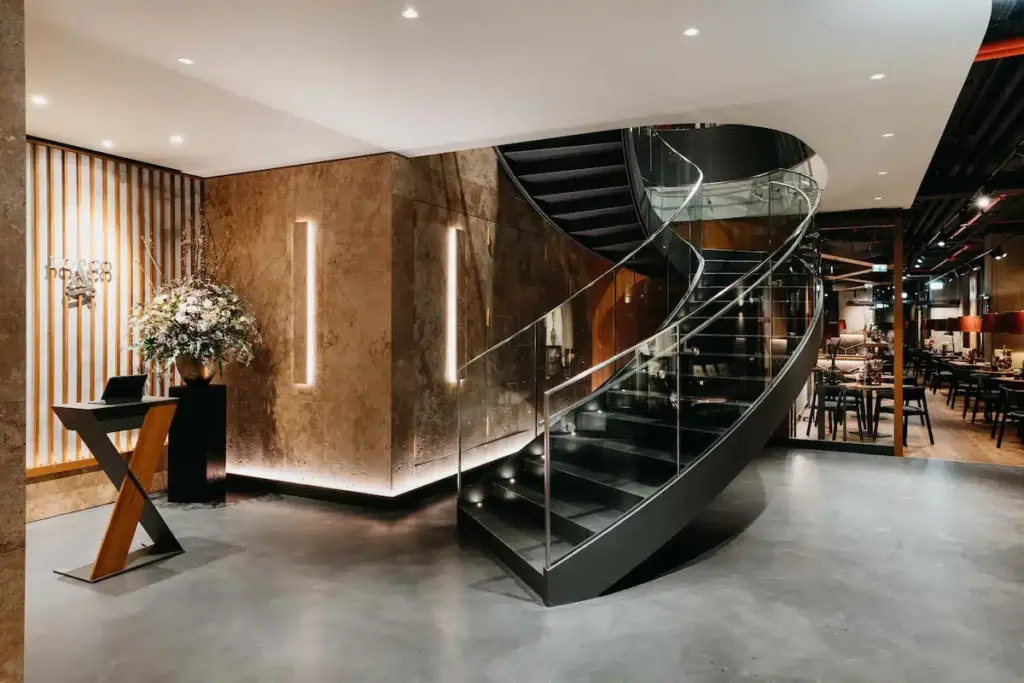 Previous guests especially highlight the outstanding service, exquisite dining experiences, and comfortable rooms.
If you're headed to Munich and want an unforgettable experience, DO & CO Hotel München should definitely be on your list.
See more photos and book here.
Located in the heart of Munich's centre, Mercure Hotel München Altstadt is ideal for those wishing to combine comfort with a central location.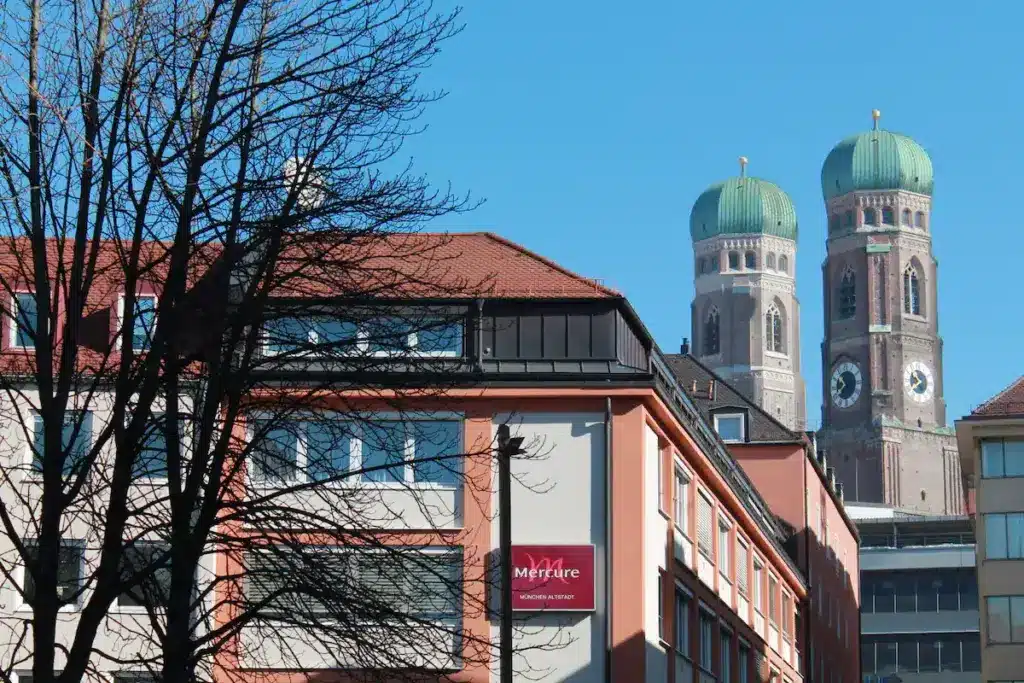 This 3.5-star hotel boasts modern amenities and a welcoming ambiance, making it a favourite among many visitors.
Guests often highlight the friendly service, clean rooms, and the hotel's central location as top-notch.
When you stay here, you're just a stone's throw away from Munich's main attractions, shopping areas, and restaurants.
Mercure Hotel München Altstadt is a hidden gem in the city's heart, ensuring you a pleasant and memorable stay in Munich.
See more photos and book here.
The next hotel in Munich offers an authentic German experience, from its traditional architecture to its cosy atmosphere.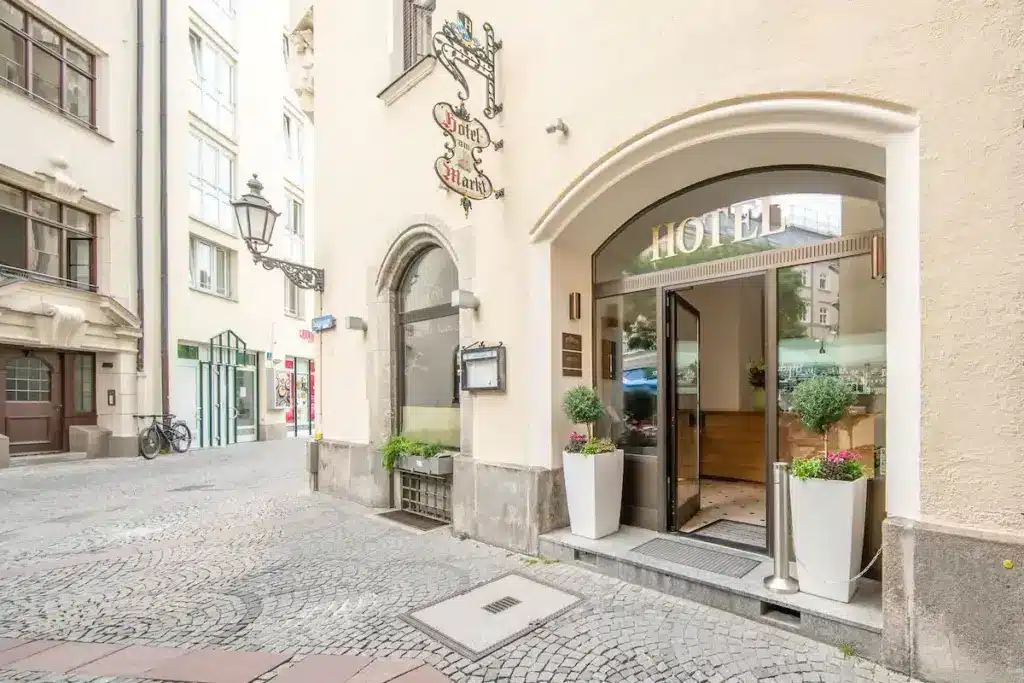 Hotel Am Markt is housed in a historic building and provides guests with a blend of comfort and old-world charm, creating an atmosphere that feels homey and unique.
Even though it's one of the more budget-friendly options in Munich, Hotel Am Markt does not compromise on the quality of the stay.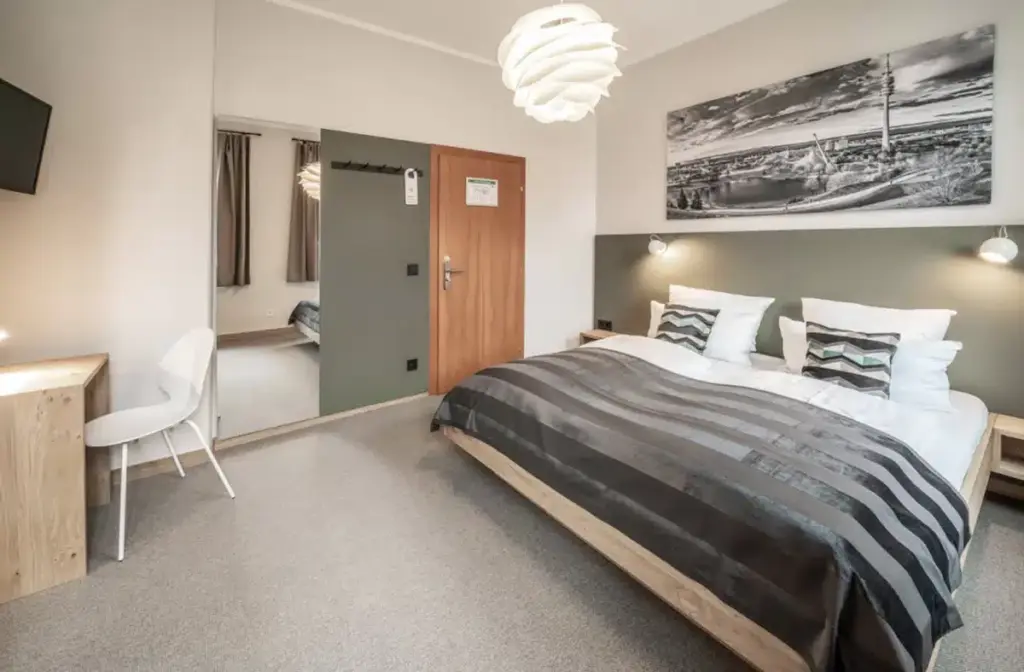 The rooms are tastefully decorated, clean, and spacious.
Its central location makes it easy to explore the city, and the staff is always ready to assist with tips and recommendations.
See more photos and book here.
2. Maxvorstadt – The Intellectual and Artistic Hub 🎨
Step into Maxvorstadt and you'll step into Munich's brain and cultural heart. Known as the "Brain of Munich," Maxvorstadt hosts two major universities and many museums, galleries, and libraries.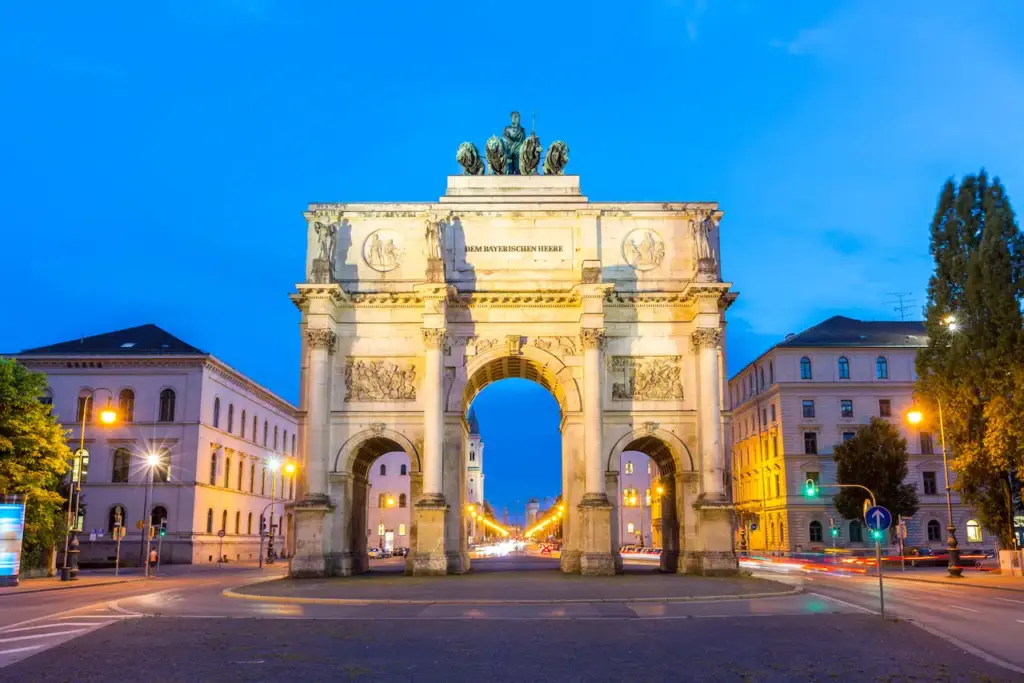 Here, the air buzzes with intellectual discussions, and the city's artistic spirit thrives amidst the classical architecture.
From the art collections in Alte Pinakothek and Neue Pinakothek to the thought-provoking exhibits at the Museum Brandhorst, Maxvorstadt invites you on a journey through time and imagination.
See the best hotels in Maxvorstadt here.
At night, the district reveals its bohemian soul. The bars and pubs become the gathering spots for the city's intellectuals, artists, and students, making Maxvorstadt a melting pot of ideas and creativity.
Places to stay in Maxvorstadt
The accommodation options here range from stylish boutique hotels to charming guesthouses, each offering a unique perspective of this intellectual hub.
Here are some of my favourite hotels in Maxvorstadt.
Rocco Forte The Charles Hotel is a premier luxury hotel ideally situated in Maxvorstadt, just a stone's throw from Munich's Altstadt.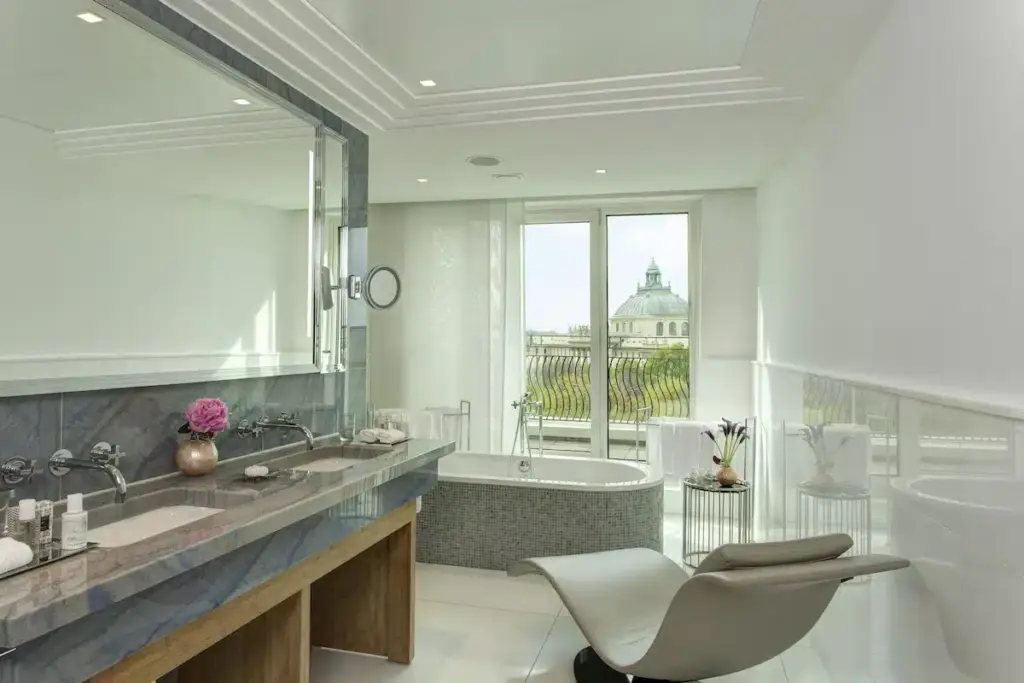 The hotel stands out with its elegant architecture and stylish interior. One of the hotel's highlights is the indoor pool, providing a perfect oasis of calm amidst the city's hustle and bustle.
The rooms are equipped with modern conveniences, exquisite decor, and offer breathtaking views of the city.
Its central location ensures that guests can easily explore both Maxvorstadt and the nearby Altstadt.
See more photos and book here.
In the heart of Maxvorstadt, elaya hotel munich city, formerly known as Arthotel ANA Diva, is a cozy haven offering pet-friendly accommodations.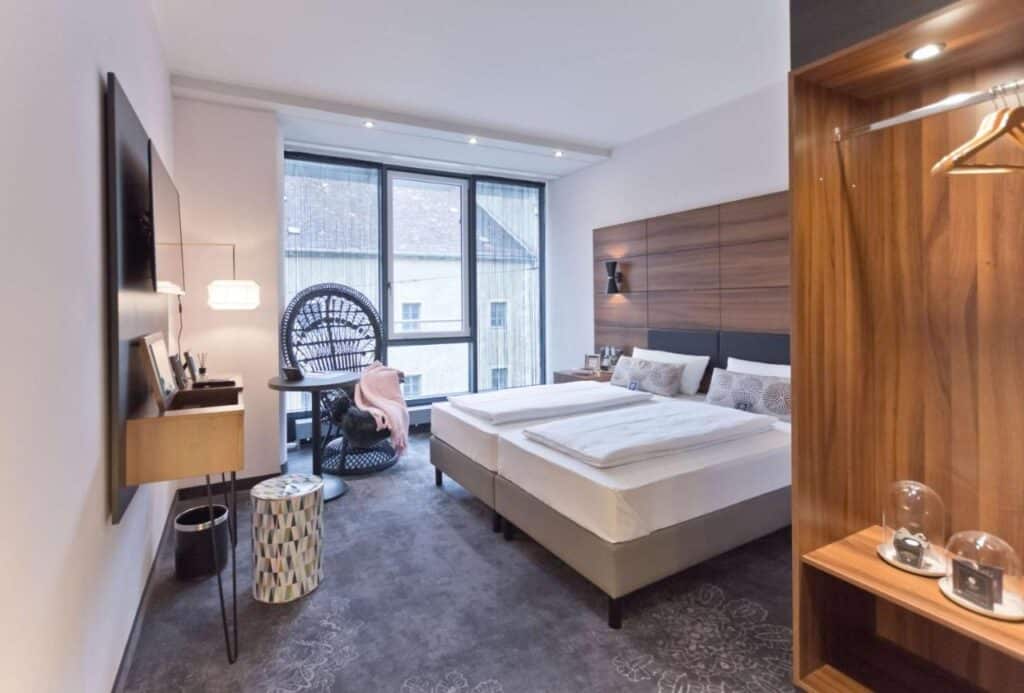 Guests commend the central location, the comfortable settings, and the friendly staff, encapsulating a promise of a pleasant return. The sentiment, "I'll be back," resonates among satisfied guests.
With prices starting from a modest 100 euros per night, this hotel is a blend of comfort and affordability, making it an excellent choice for various travellers.
See more photos and book here.
AdvaStay by KING's is the epitome of budget-friendly elegance.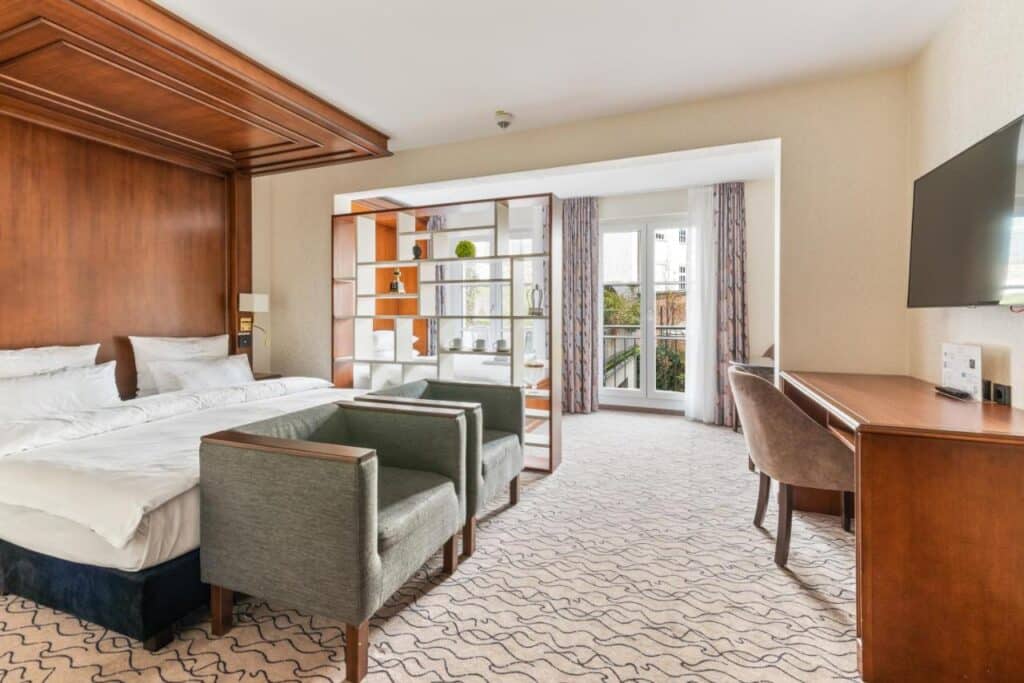 With a price tag of around 100 euros per night this hotel offers a blend of comfort and affordability.
Guests have rated it an excellent 8.8/10, applauding its prime location merely 4 minutes away from the central train station, making it a convenient choice for travellers.
See more photos and book here.
3. Schwabing – Bohemian Vibe & Engaging Nightlife 🎶
Schwabing is where the free spirits of Munich converge. This lively district blends bohemian culture, night-time revelries, and a young, energetic ambience.
Schwabing blossoms into a playground for night owls as the sun dips below the horizon.
The rhythm of live music spills from the numerous bars and clubs, each with its unique ambience, ranging from the cosy and quaint to the vibrant and exhilarating.
See the best hotels in Schwabing here.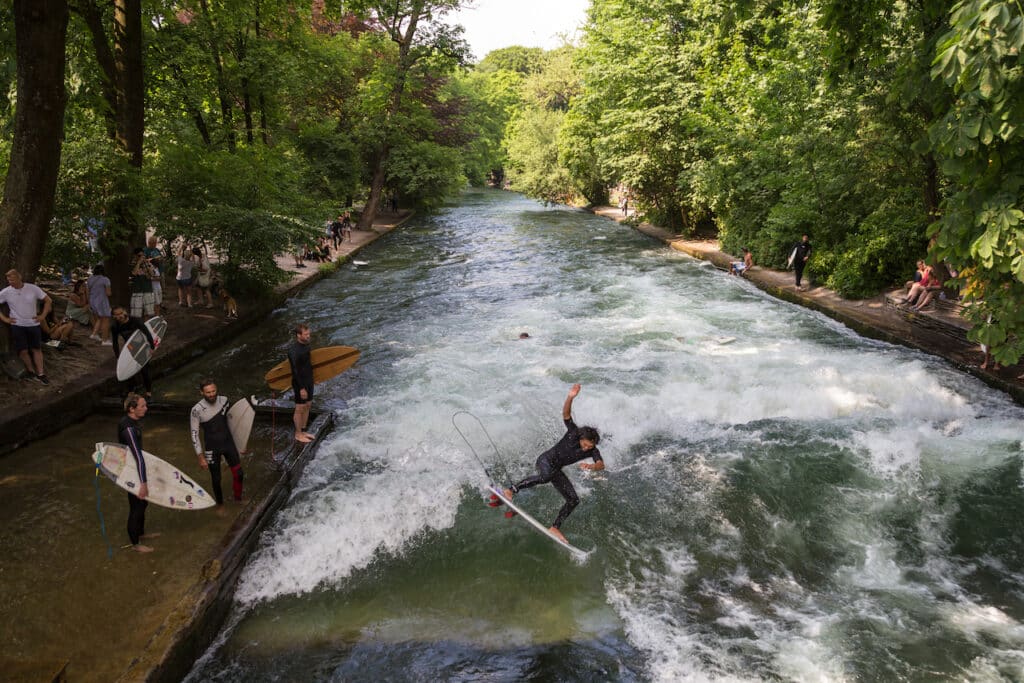 The Englischer Garten, one of the world's largest urban parks, offers a peaceful retreat where locals and visitors alike can enjoy a leisurely stroll or a paddleboat ride on the serene lake.
The district's rich literary and artistic history adds depth to its contemporary, lively atmosphere. This is where poets and playwrights of yore found their muse, and today's artists come to find inspiration.
Places to stay in Schwabing
Accommodations in Schwabing range from modern, stylish hotels to charming, historic guesthouses, offering a slice of Munich's vivacious spirit to every visitor.
Here are 3 of my favourite places to stay in Schwabing.
The Munich Marriott Hotel offers a blend of modern comfort and Munich's vibrant culture. Its contemporary design, infused with a touch of American hospitality, ensures a memorable stay​.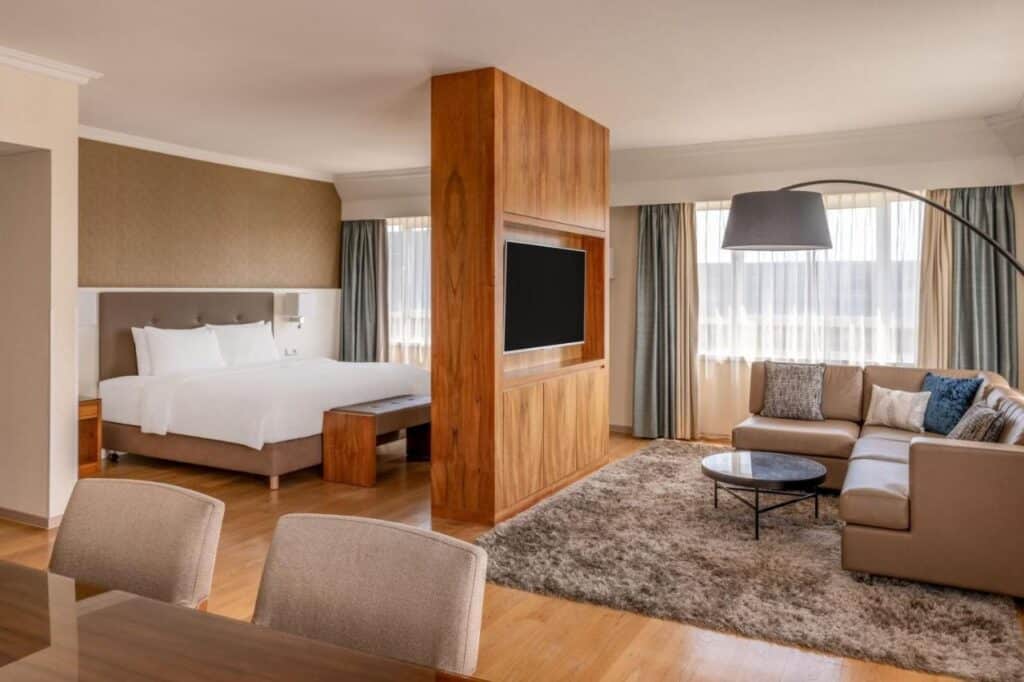 With four on-site restaurants and two cozy bars, your culinary journey is just a step away. The full-service spa provides a serene retreat, while nearby attractions like BMW Welt and Olympic Park enrich your Munich exploration​.
See more photos and book here.
Schwabinger Wahrheit by Geisel not only impresses with its contemporary architecture but also its well-appointed rooms, ensuring a comfortable stay.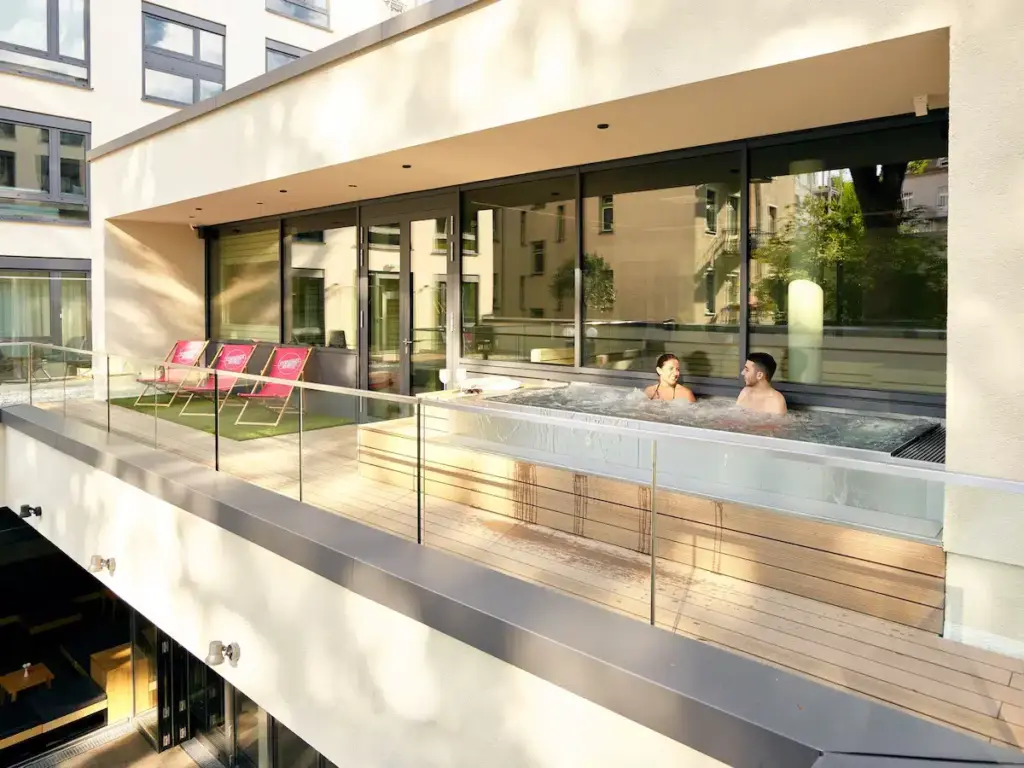 One of the hotel's major attractions is the unique rooftop pool, where guests can take a dip and relax.
After a day of sightseeing in the city, visitors can unwind in the pool or enjoy a drink at the pool bar.
See more photos and book here.
For those seeking a mix of modern charm and a relaxed vibe, HOtello Schwabing is the right place to stay in the Schwabing area.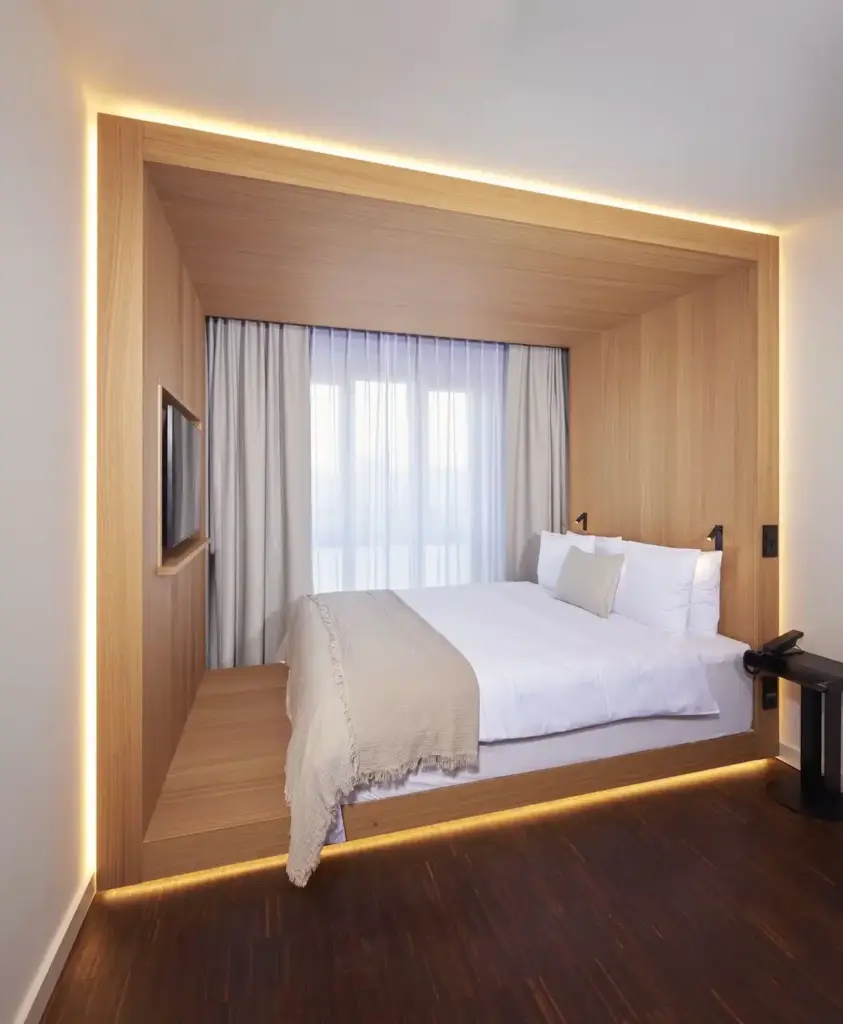 The rooms are tastefully decorated with modern amenities, ensuring a pleasant stay for all visitors.
Beyond its impressive interior, HOtello Schwabing is also known for its cool ambiance that permeates the entire hotel, from the lobby to the lounge.
For those wanting to experience Munich from a trendy and comfortable place, HOtello Schwabing is an ideal choice. Plus, the stay here is (typically) significantly cheaper than in Altstadt.
See more photos and book here.
4. Glockenbachviertel – Trendy & LGBT+-Friendly 🌈
Glockenbachviertel is the epitome of cool in Munich. Known for its inclusive and diverse atmosphere, it's a hub for the city's LGBT+ community and a trendy, avant-garde culture stronghold.
See the best hotels in Glockenbachviertel here.
Here, every street and square buzzes with a youthful, progressive energy.
The stylish boutiques, modern art galleries, and hip eateries reflect the district's forward-thinking and inclusive vibe.
By night, Glockenbachviertel comes alive with a dynamic nightlife scene, offering everything from relaxed wine bars to energetic dance clubs.
Places to stay in Glockenbachviertel
Let's look at some of the best hotels in Munich's party area.
The Flushing Meadows Hotel & Bar is where modern design meets comfort. This boutique hotel is a favourite among travellers looking to splurge a little.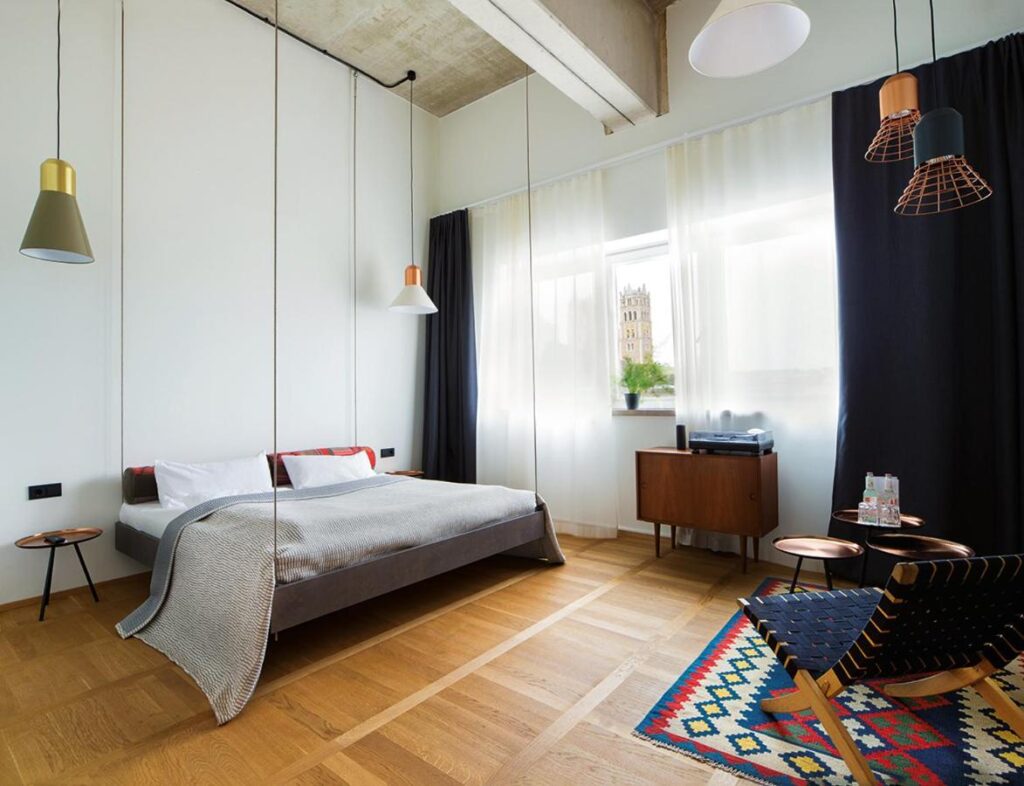 With its signature loft rooms and a rooftop bar offering a stunning view of the city, it's not just a place to stay but an experience.
Previous guests frequently write (in their reviews) about the trendy yet laid-back atmosphere that makes you want to lounge around all day.
Convenience and comfort are the hallmarks of Hotel Olympic. Just two underground stops away from Munich Central Station, getting around is a breeze.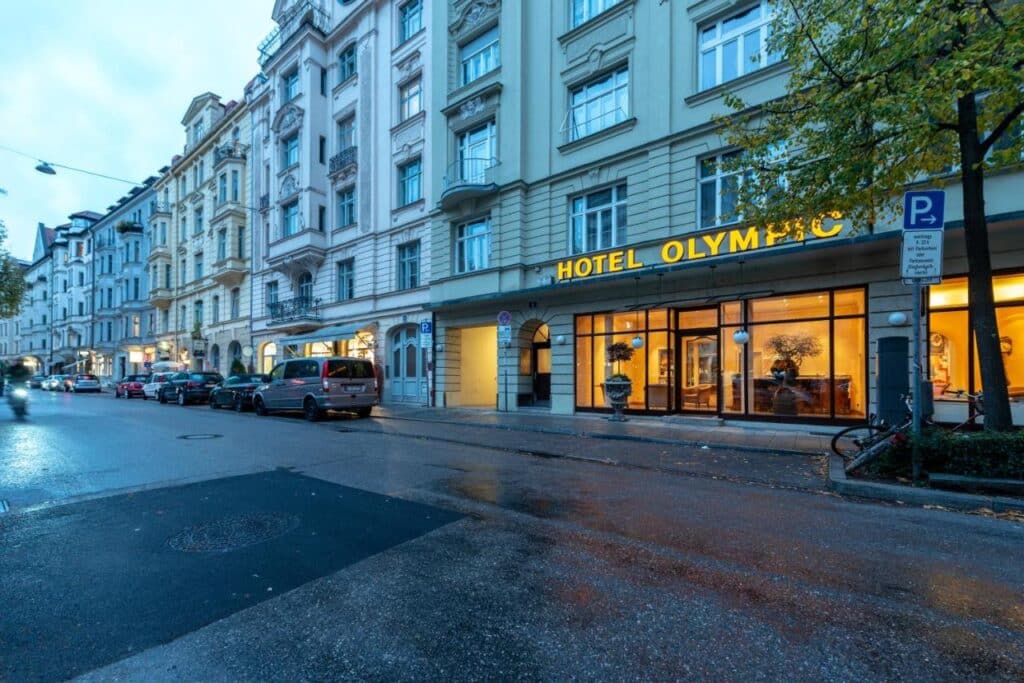 The rooms are tastefully decorated with floor-to-ceiling windows, letting in plenty of natural light. It's the kind of place where good service and a hearty breakfast set the tone for a day of Munich exploration.
Guests often compliment the warm and friendly staff, who are always ready with a smile​.
Living Hotel Prinzessin Elisabeth is a pocket-friendly choice without sacrificing comfort.
This apartment hotel offers spacious living arrangements, making it feel like a home away from home.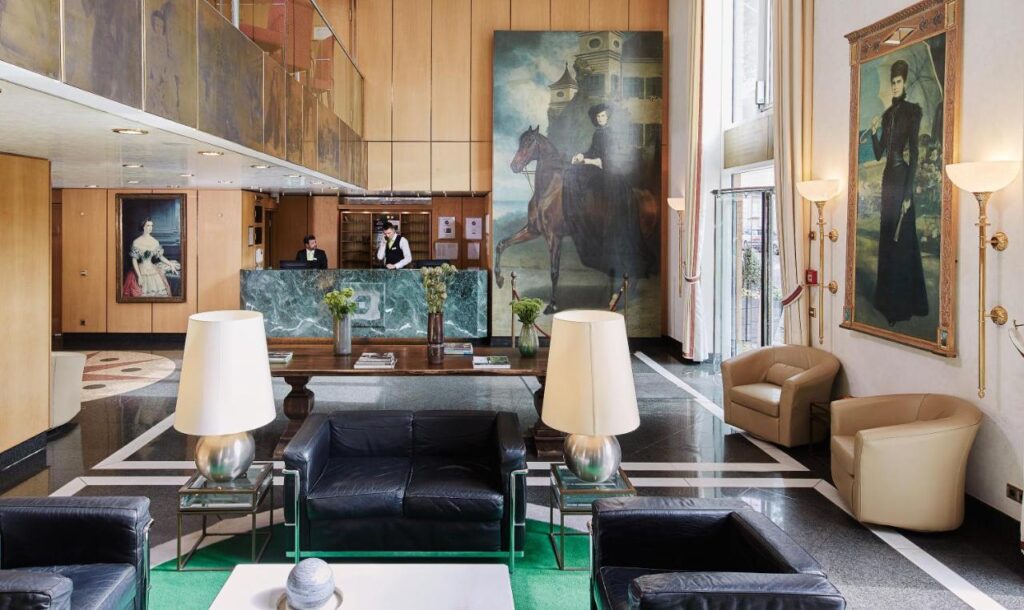 It's a solid pick for travellers who keep an eye on their budget but do not want to compromise on a good night's sleep.
The rating of 83/100 based on verified reviews echoes a promise of satisfaction without breaking the bank​.
5. Haidhausen – Tranquil & Picturesque 🌳
Haidhausen, often dubbed the "French Quarter" due to its Parisian-style architecture, is a neighbourhood that allows you to slow down and savour the quieter side of Munich.
The district's heart beats around Orleansplatz, where you can enjoy a leisurely cup of coffee amidst the backdrop of beautiful old buildings.
The streets here are lined with charming boutiques, artisan bakeries, and cosy cafes, where the aromas of fresh pastries fill the air.
As you wander, you'll discover pockets of tranquillity in the lush gardens and along the idyllic paths by the River Isar.
See the best hotels in Haidhausen here.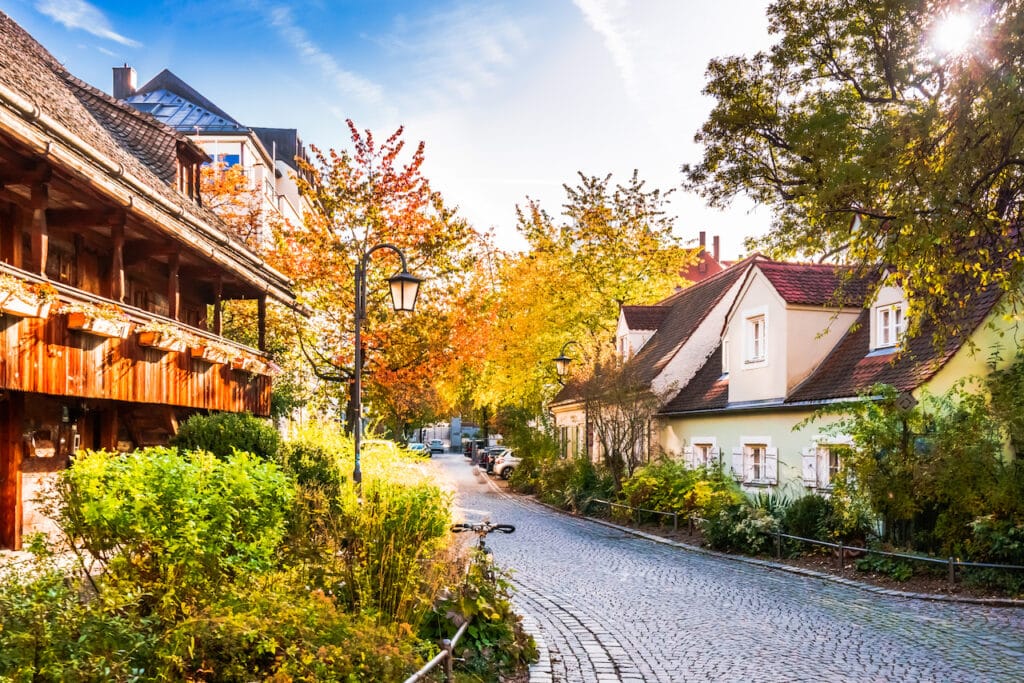 In the evening, Haidhausen reveals a different facet with its elegant dining venues and classy bars, offering a sophisticated, relaxed nightlife experience.
Places to stay in Haidhausen
The accommodation options here range from luxurious hotels to quaint bed and breakfasts, all nestled within this peaceful enclave yet a short ride from the city centre of Munich.
JAMS Music Hotel Munich is where every music lover would want to lay their head.
This hotel blends serenity and urban life, located beside the tranquil Maximiliansanlagen Park and just a five-minute jaunt from Munich's bustling city centre.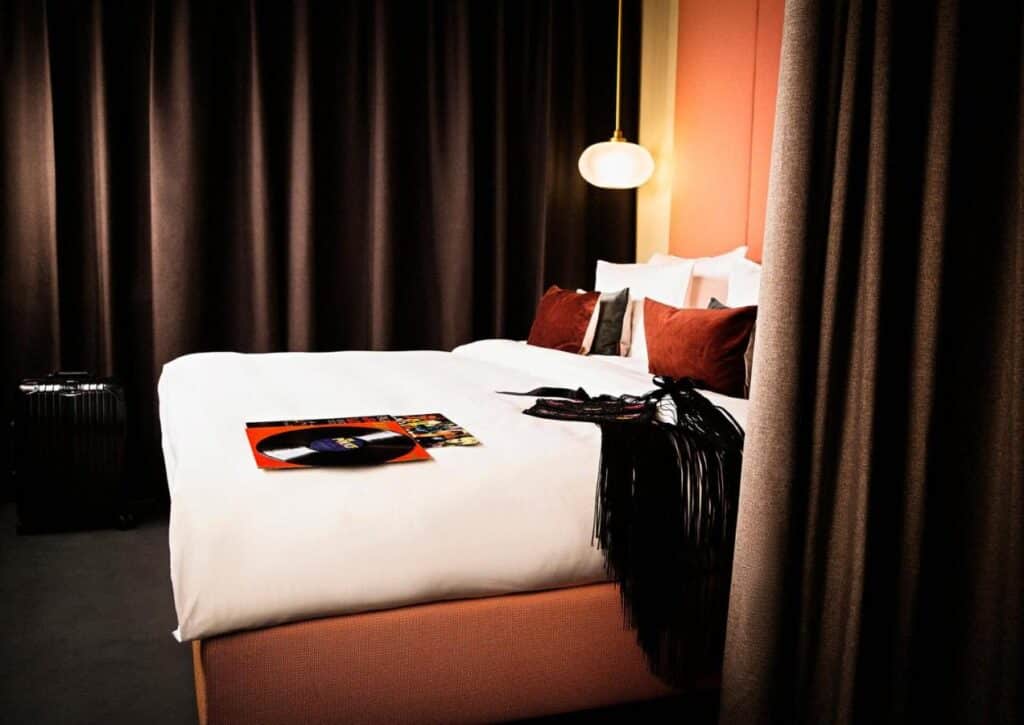 The rooms are stylish, mirroring the cool ambience of the entire hotel. Guests have particularly enjoyed the music theme that resonates throughout the hotel, making their stay a unique experience.
Holiday Inn Munich – Leuchtenbergring is a comfortable haven in Munich.
It's only a few tram stops from the Old Town and Opera House, making it a convenient base for your exploration.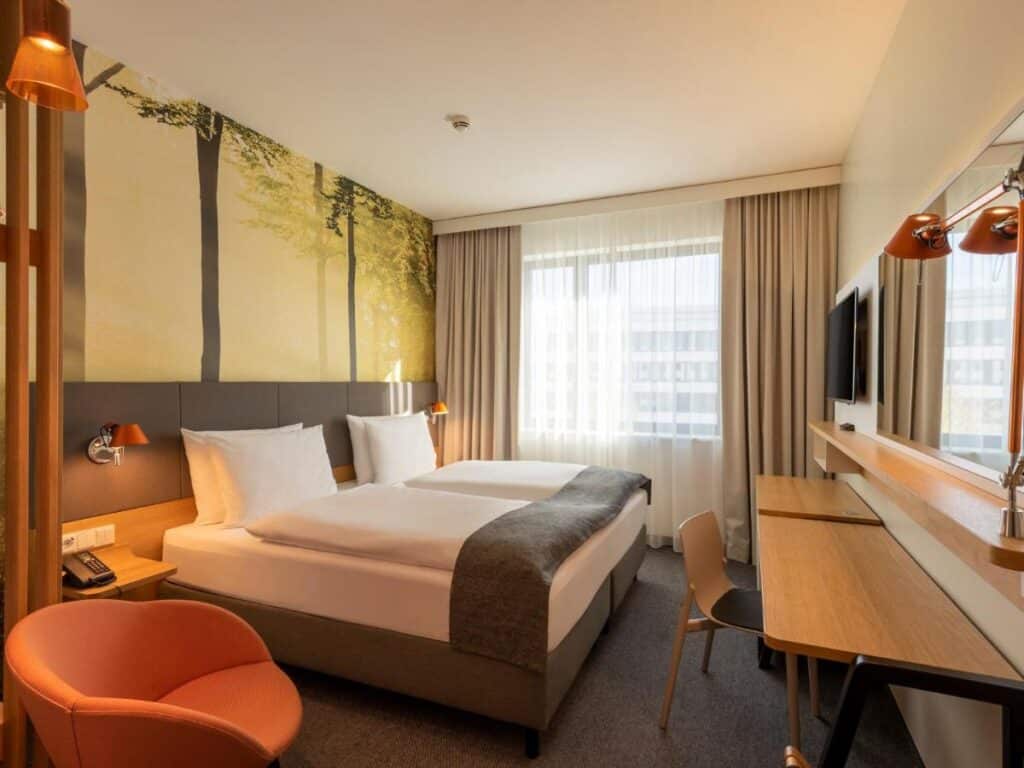 Previous guests talk about the tasty and generous breakfast buffet that kickstarts their day on a high note.
Motel One München-East Side is a budget-friendly choice without skimping on style or comfort.
A mere five-minute walk from the Ostbahnhof station, this hotel is well-connected to the city's highlights.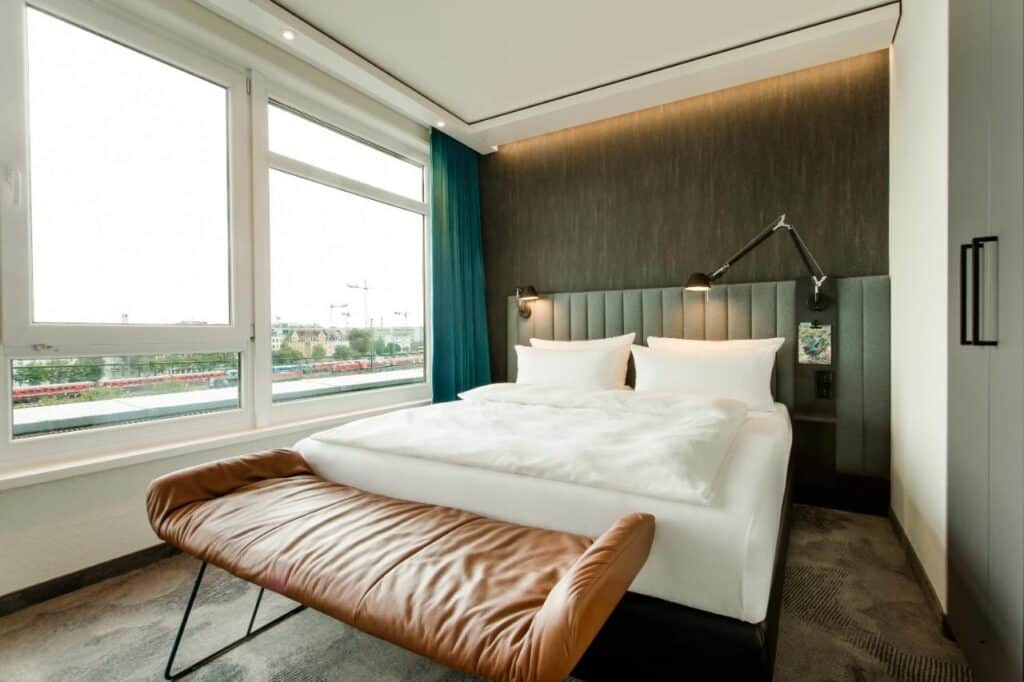 The modern rooms, 24-hour front desk, and stylish lounge ensure a pleasant stay.
A guest review's phrase "Like the price, love the design" encapsulates what this hotel offers.
It's a solid pick for travellers keeping an eye on their budget but still desiring a trendy stay​.
Munich is a city with a rich tapestry of experiences awaiting your discovery. Each neighborhood we've explored offers a unique flavor of Munich's diverse culture, history, and modernity.
Whether you're drawn to the historical allure of Altstadt-Lehel, the bohemian rhythm of Schwabing, or the tranquil charm of Haidhausen, a corner of Munich will resonate with your wanderlust.
Take your pick and dive into the multifaceted magic that Munich generously offers. Your Bavarian adventure is just a booking away.
FAQ:
What is the best area to stay in Munich for first-time visitors?
Altstadt-Lehel is highly recommended for first-timers due to its proximity to major historical sites and various accommodation options catering to different budgets.
Where should I stay in Munich for nightlife?
Schwabing and Glockenbachviertel are your go-to districts for a lively nightlife scene, offering a variety of bars, pubs, and clubs.
Is it better to stay near the city centre or outside Munich?
Staying near the city centre provides easy access to attractions while staying outside the centre could offer a quieter atmosphere and potentially lower prices.
Websites I use to book my trips 👇

• Booking.com has the best offers on hotels and unique places to stay
• GetYourGuide is the best place to book tours & activities with free cancellation
• Omio is my go-to booking platform for trains in Europe
• Welcome Pickups is the best & safest place to pre-book airport transfers

Psst 👀 Have you subscribed to my Youtube channel where I provide more useful travel tips?