I fell in love with the Amalfi Coast on my first visit, but that came down to very proper travel planning from my hand. The Amalfi Coast is a fantastic place, but what the influencers don't tell you is that it's also extremely crowded and (can be) very expensive.
In this guide, I'll share with you which areas on the Amalfi Coast are the best to stay in to get the Italian experience.
I've just returned home after a week in Italy, where the trip's main destination was the Amalfi Coast.
We flew to Fiumicino Airport in Rome, took the train directly to Naples, where we spent the night, and then went to the Amalfi Coast.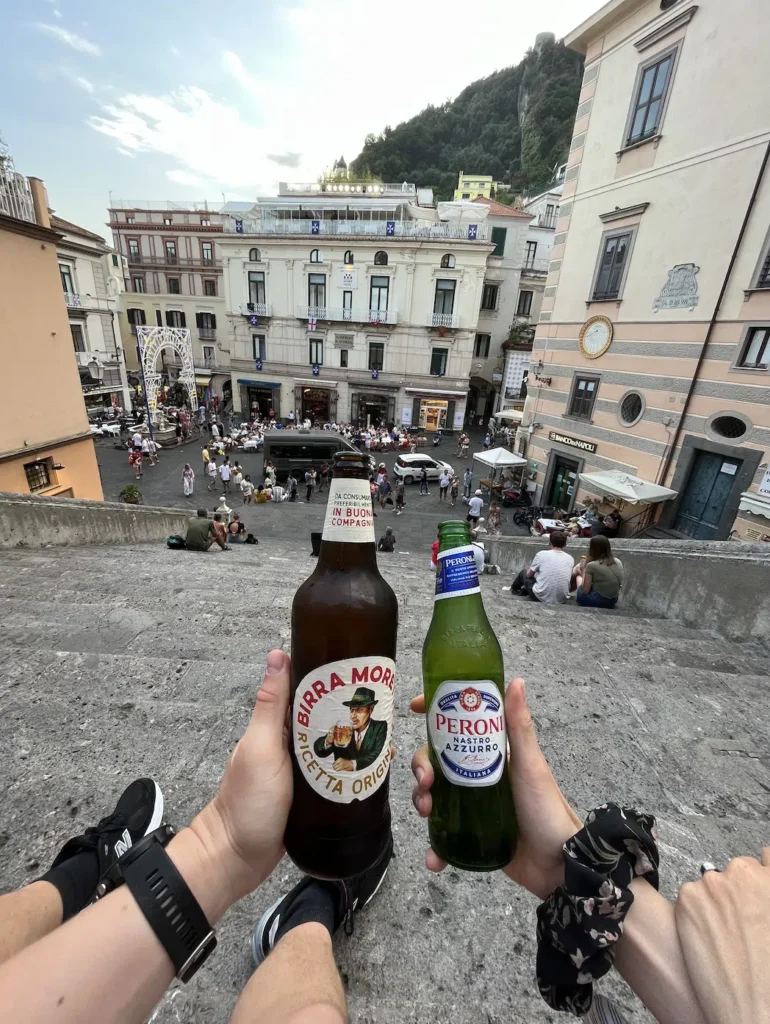 Below I will share my personal experiences with the different areas and towns on the Amalfi Coast to answer questions quickly: where to stay on the Amalfi Coast?
Best areas on the Amalfi Coast
If you're in a rush or just want a quick overview, here are the best areas to stay on the Amalfi Coast:
Amalfi Town – best all-round area to stay ⭐
Positano – the most picturesque town 🙌🏻
Sorrento – my favourite town in the area 🍋️
Ravello – good area for cheaper accommodation (if you rent a car 🚗)
Maiori & Minori – best place to stay with children 🏖
Click on the area name above to see the best hotels & deals.
The guide continues below.
1 . Amalfi – truly the best place to stay on the Amalfi Coast ⭐ ️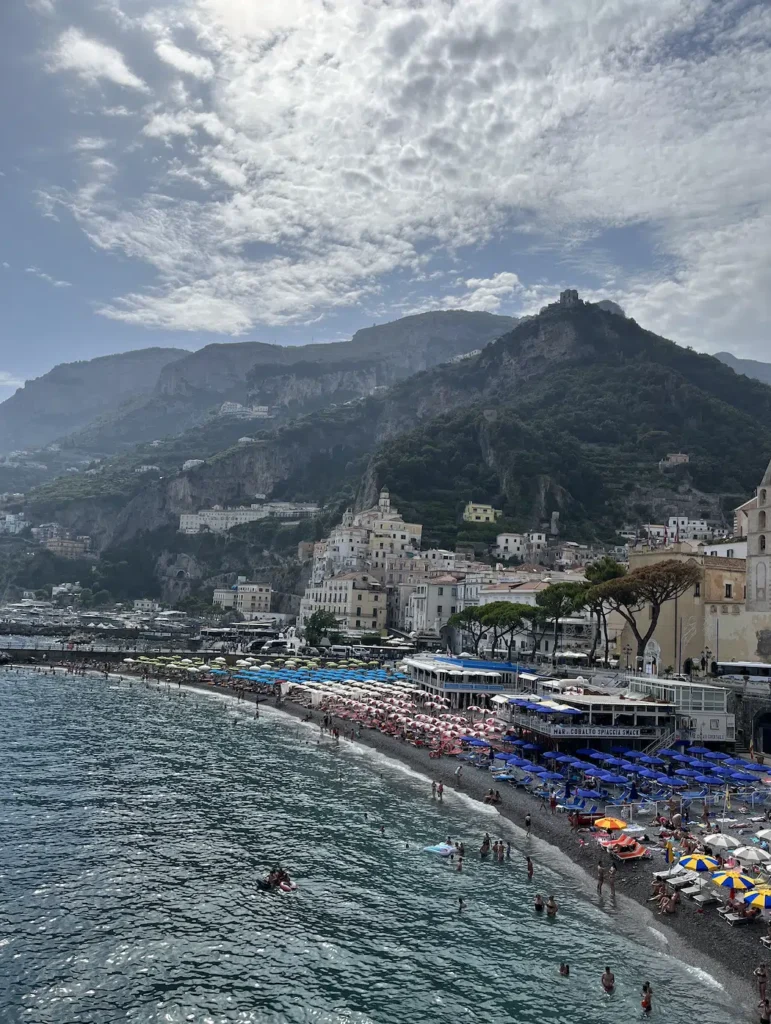 The town of Amalfi has given its name to the holiday area Amalfi Coast, so it is natural to start your research by looking at the main town.
I did the same when I had to find out where we would stay on our trip a few months ago.
I quickly learned that driving a car on the Amalfi Coast can be a decidedly stressful affair. Many advise against renting a car but instead take buses and ferries.
I found this video on Youtube and then decided that we had to make do with ferries 😀
That's why I chose to look for a place to stay in Amalfi town since from here you can quickly get around to the rest of the coast – and at the same time, the city is packed with restaurants and shops, so I thought it would be an exciting place to stay on our holiday.
And do you know what? I was right – even my girlfriend agreed with me after our trip 😀
See the best-rated hotels in Amalfi here.
Transport to Amalfi is convenient ⛴
We got to Amalfi by ferry from Sorrento in about 2 hours (I'll get back to Sorrento later in the guide, by the way, what a revelation that town was) and took a ferry on a day trip to Positano (20 min).
When we had to continue north to Rome, we took the ferry to Salerno in 40 minutes, from where you can walk to the central train station in 5 minutes.
Logistically, Amalfi is simply the perfect city to stay in on the Amalfi Coast.
You can get to Amalfi town by ferry, car, public bus and of course taxis.
Is Amalfi town worth it?
We traveled from Sorrento to Amalfi by ferry where you arrive at the port, a few minutes walk from the main town square, Piazza Duomo.
Here we were met by the owner of the apartment we had booked (more on that later) and walked along the main street to our apartment.
There is only one main street in Amalfi, and it is mainly where you find restaurants, ice cream bars, cafes, and shops.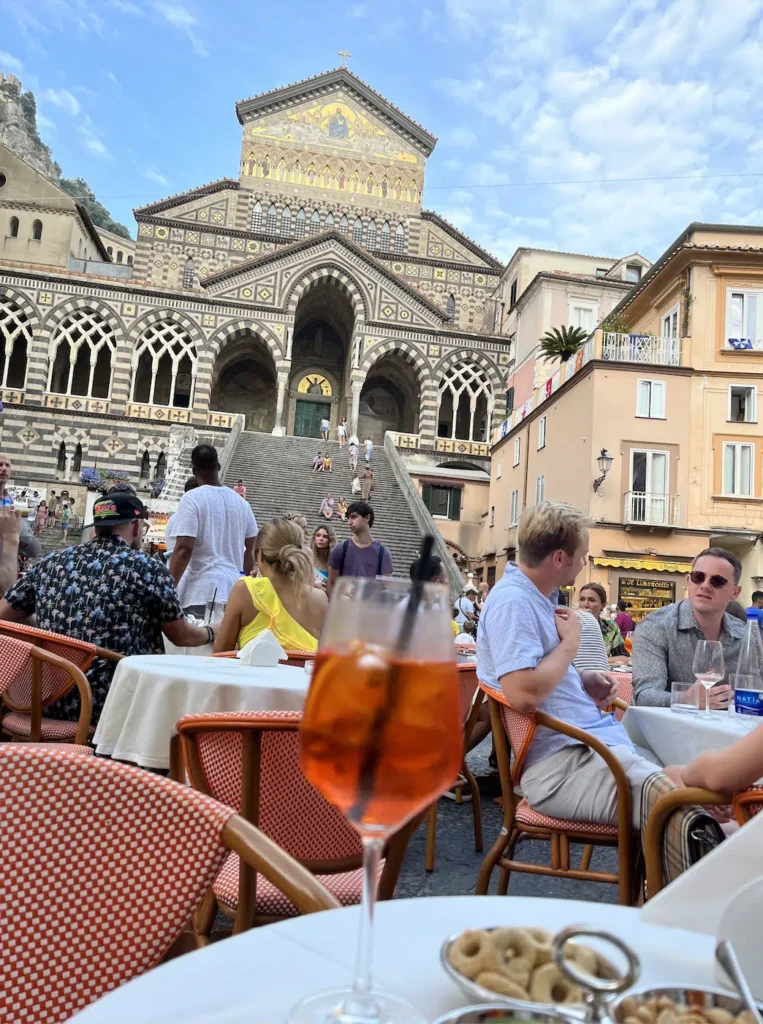 I could imagine that many on a day trip to Amalfi do not go further than the cathedral, the main street, and the waterfront.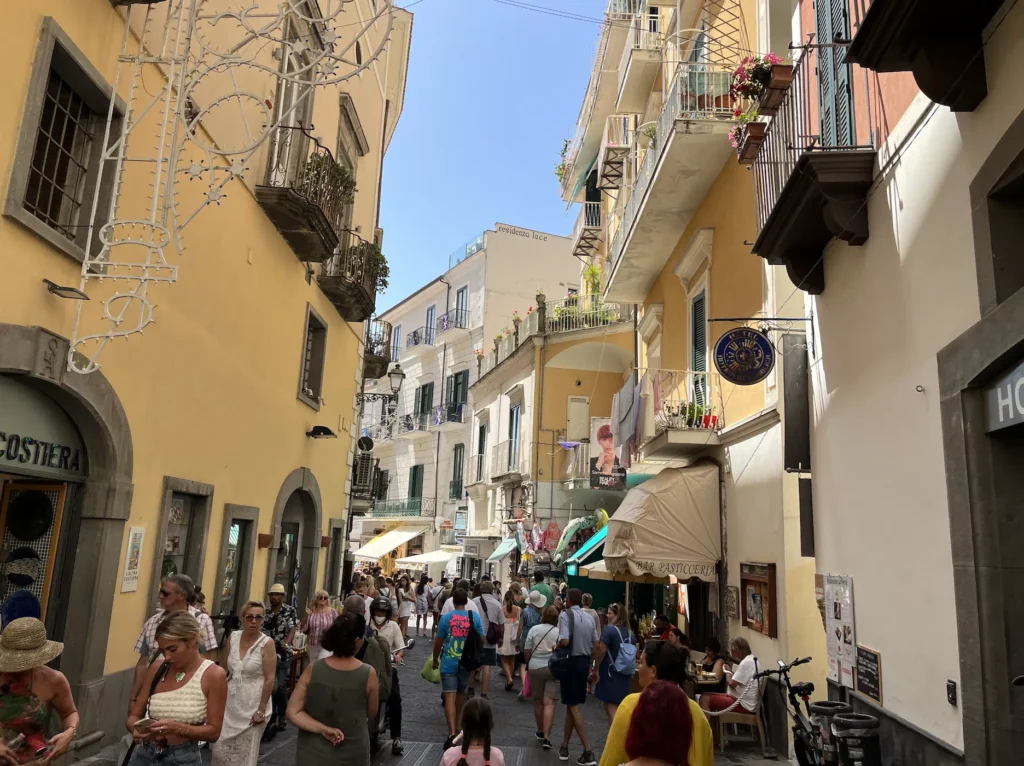 We stayed about 10 minutes' walk from the cathedral, which was enough to get away from the (very) touristy main street, which tells you a little about the fact that Amalfi is actually quite a small town.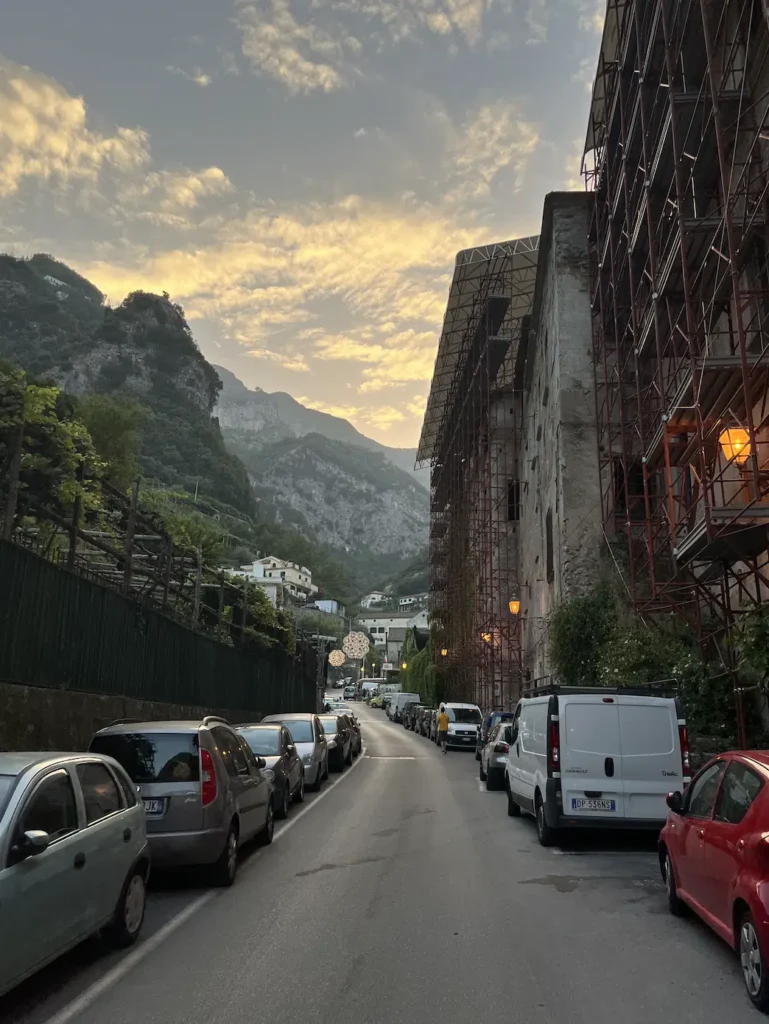 I loved sitting on the steps up to the cathedral and enjoying a beer and people-watching at 8 pm when the sun went down.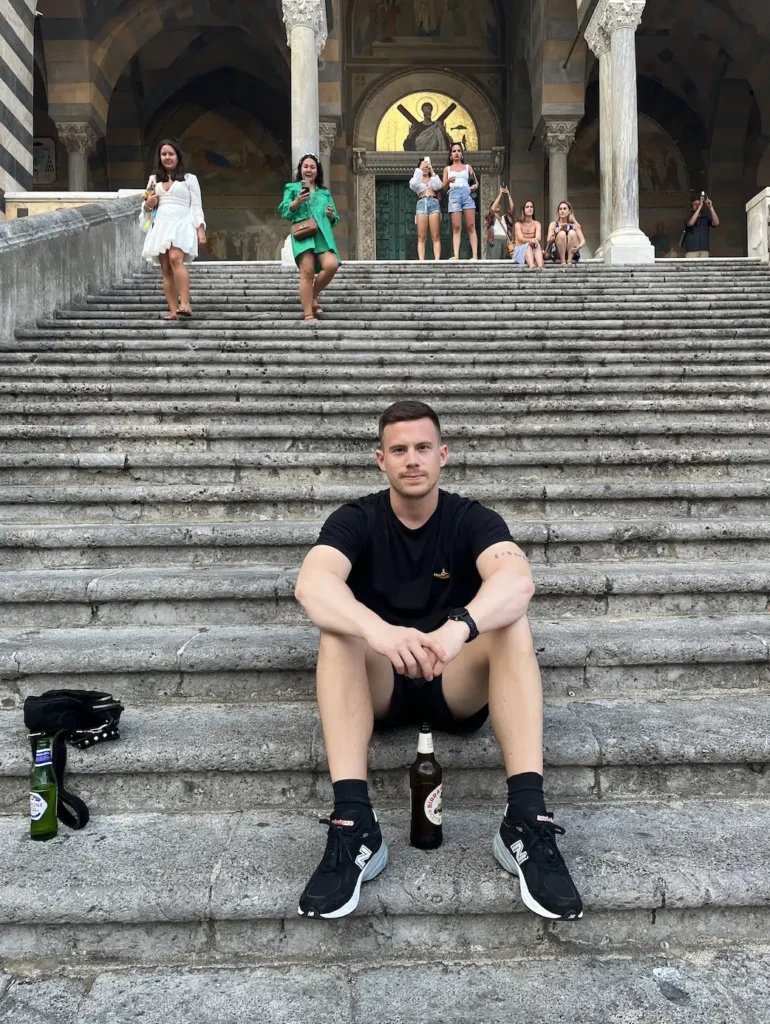 We stayed in Amalfi for three nights which was just right: one day of arrival, one day on the beach, and one day of excursion to Positano, and then we travelled by ferry to Salerno and went to Rome.
More days in Amalfi would probably have become a bit boring – it's a surprisingly small town, and you have to be careful when choosing a restaurant since this is one of the most touristic areas of Italy, so the prices have been turned up and the quality down, if you don't think about it.
Places to stay in Amalfi
So Amalfi may not be a big city, but tourists still flock here from all over the world. This means that there is competition for hotels and holiday apartments.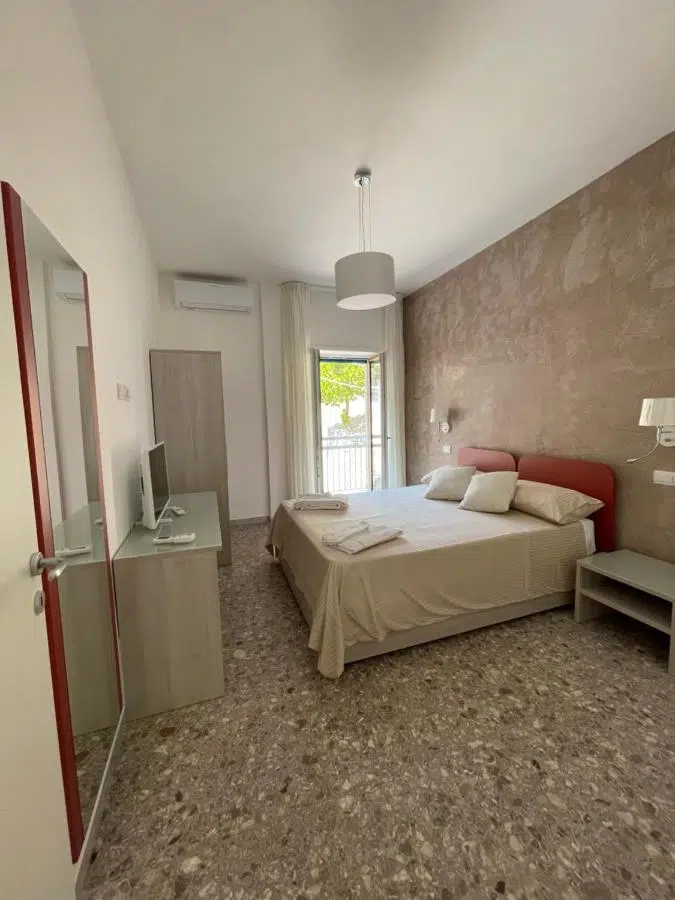 This also increases the price for an overnight stay, and I have to admit that I was surprised by just how expensive it is to stay in Amalfi.
The hotels were either fully booked or cost hundreds of dollars per night for basic rooms.
So I'd definitely recommend that you book your accommodation on the Amalfi Coast as soon as possible.
See the 10 best hotels in Amalfi here.
I myself was out a few months before we traveled to Amalfi in June and there were plenty of options at good prices, but when we decided not to rent a car it narrowed down.
When you don't have a car, you naturally either have to be ready to take the bus a lot or stay centrally in one of the towns on the Amalfi Coast.
Cheap accommodation in Amalfi (which isn't easy to find)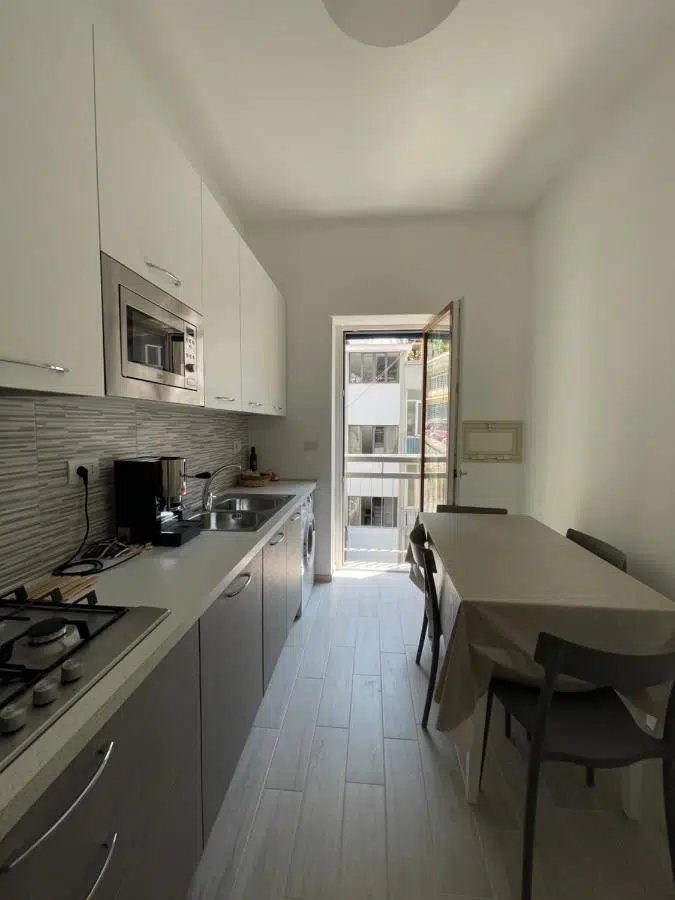 I found a holiday apartment 10 minutes walk from the cathedral, which was almost too good to be true, at a price of around 150 USD per night, which looked very cheap.
However, the place had good reviews from previous guests, so I thought that you must also have a bit of luck as a travel planner 😎
It also turned out to be a perfect apartment, and after a few days in hotels in Naples and Sorrento, it was amazing to have a whole apartment with a kitchen, living room, and bedroom.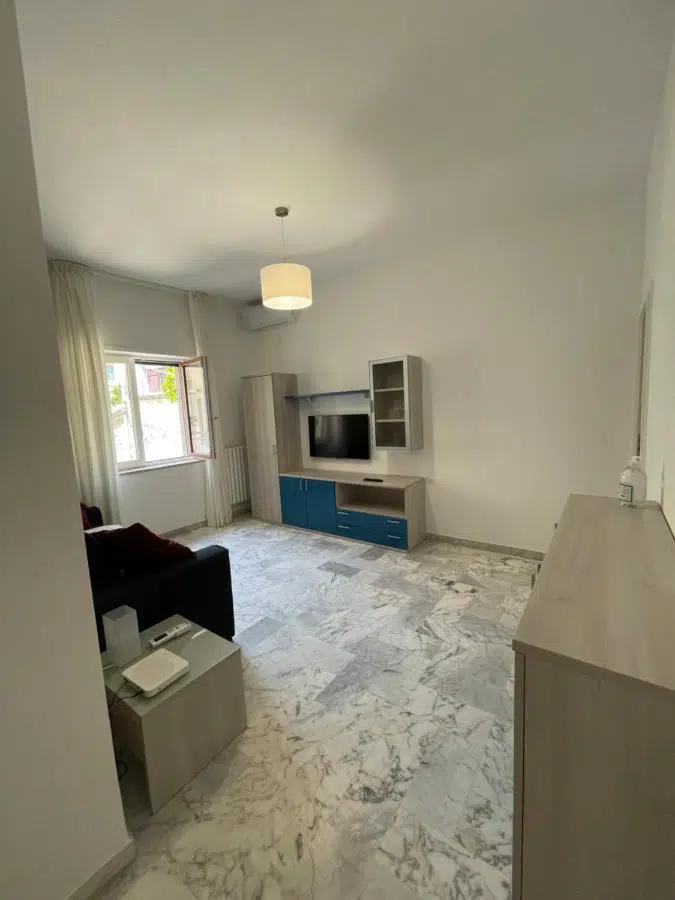 My only complaint about the apartment is that there might have been a few kitchen utensils missing, so if we had actually wanted to cook something other than eggs for breakfast, then we would probably have come up a little short.
But when you are in Italy, and there is an excellent pizzeria with the option of takeaway 5 minutes away, it's not a problem 😀
See more photos of the place and book online here.
Let's explore a few other hotels in Amalfi in different price ranges.
The Anantara Convento di Amalfi Grand Hotel offers an unparalleled luxury experience.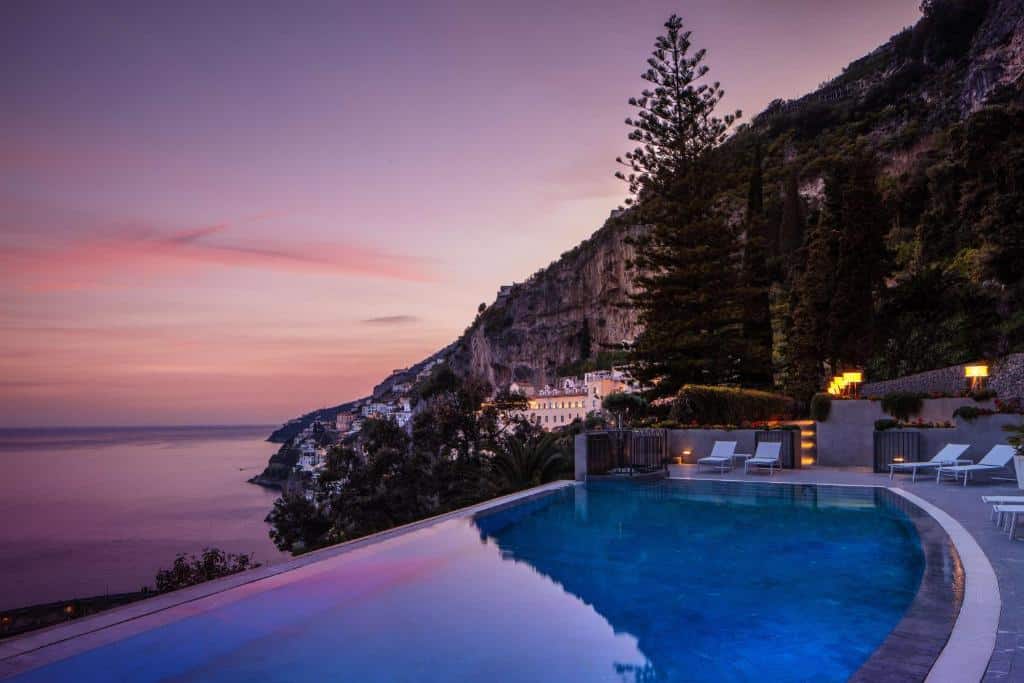 This hotel masterfully captures the region's essence, seamlessly combining Amalfi's rich history with top-tier amenities.
Guests are treated to breathtaking sea views, making morning awakenings a delight. Its prime location allows easy exploration of the town's narrow, picturesque streets and local attractions.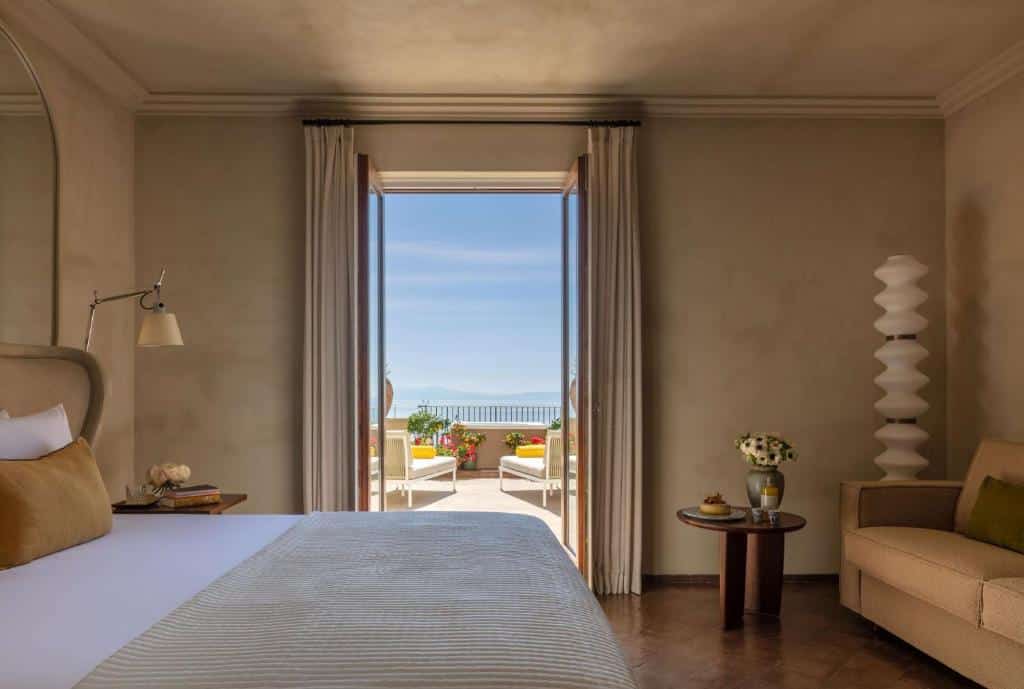 The rooms are elegantly designed, ensuring the utmost comfort after a day of touring. For those seeking a refined stay in Amalfi, this hotel stands out as one of the finest choices.
See more photos and book here.
Just as you thought Amalfi couldn't get any dreamier, the Hotel Marina Riviera comes along.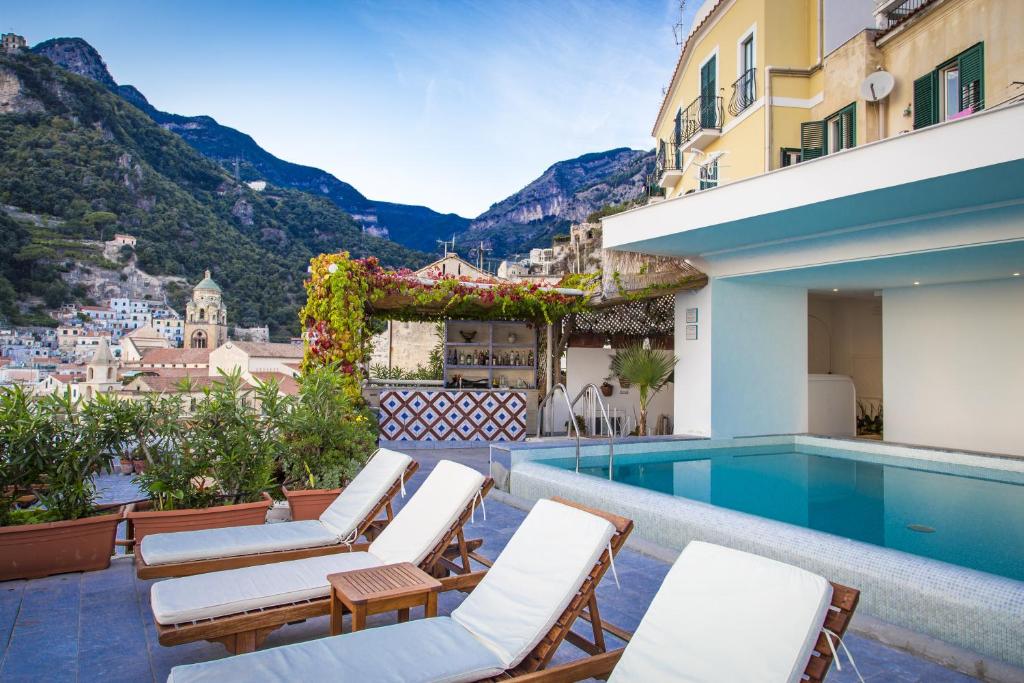 Perched high, it gifts its guests with panoramic views of the coastline.
The rooms are tastefully adorned, resonating with the vibrant charm of Amalfi itself. Walking through its corridors feels like a gentle stroll through Amalfi's history but with all the comforts of today.
See more photos and book here.
Terrazza Duomo undoubtedly holds one of the most coveted spots in Amalfi town.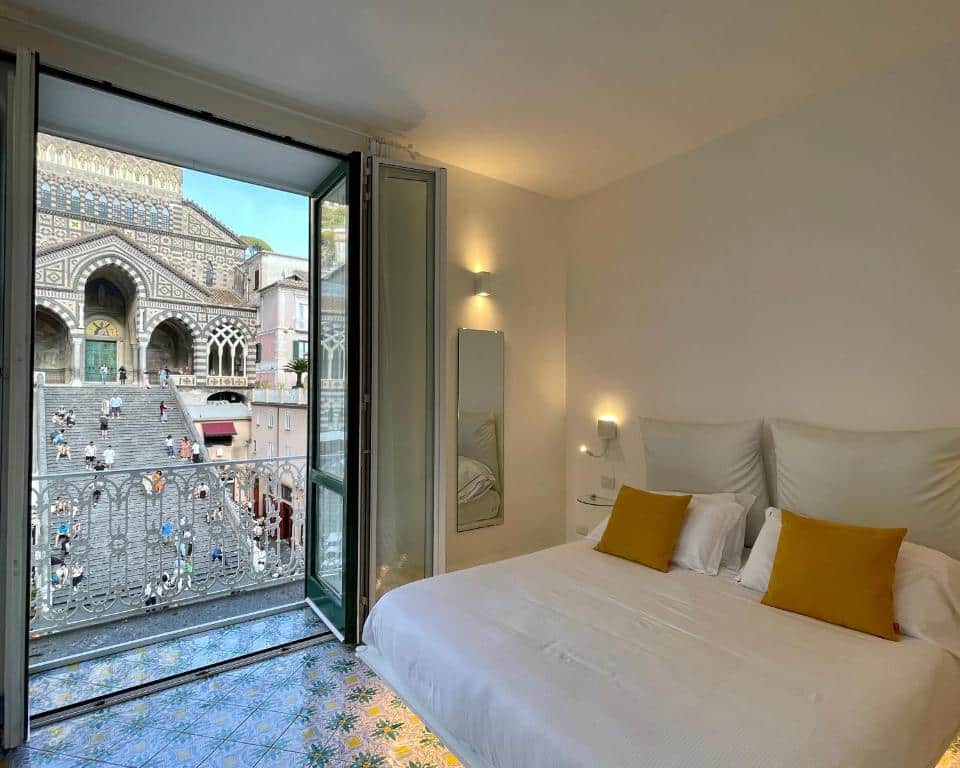 Just steps away from the famous Amalfi Cathedral, this hotel ensures you're right in the thick of things while still offering a peaceful retreat.
Many guests cannot stop talking about how they could almost touch the Duomo from their balconies.
The cosy ambience of the rooms, combined with modern amenities, makes for a comfortable stay.
See more photos and book here.
2. Positano – the most picturesque place to stay on the Amalfi coast 🙌🏻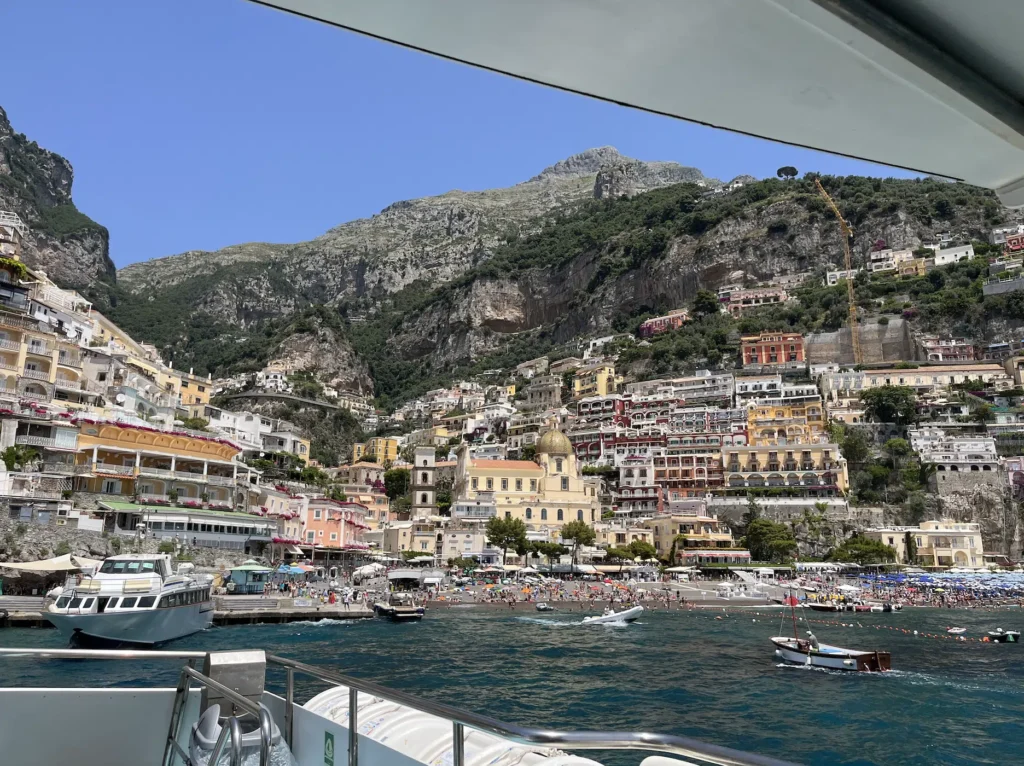 The next area on the Amalfi Coast is, of course, Positano.
Before the trip, I started looking for hotels in Positano, as I thought it was the best place to stay on the Amalfi Coast.
Accommodation in Positano is

not

cheap!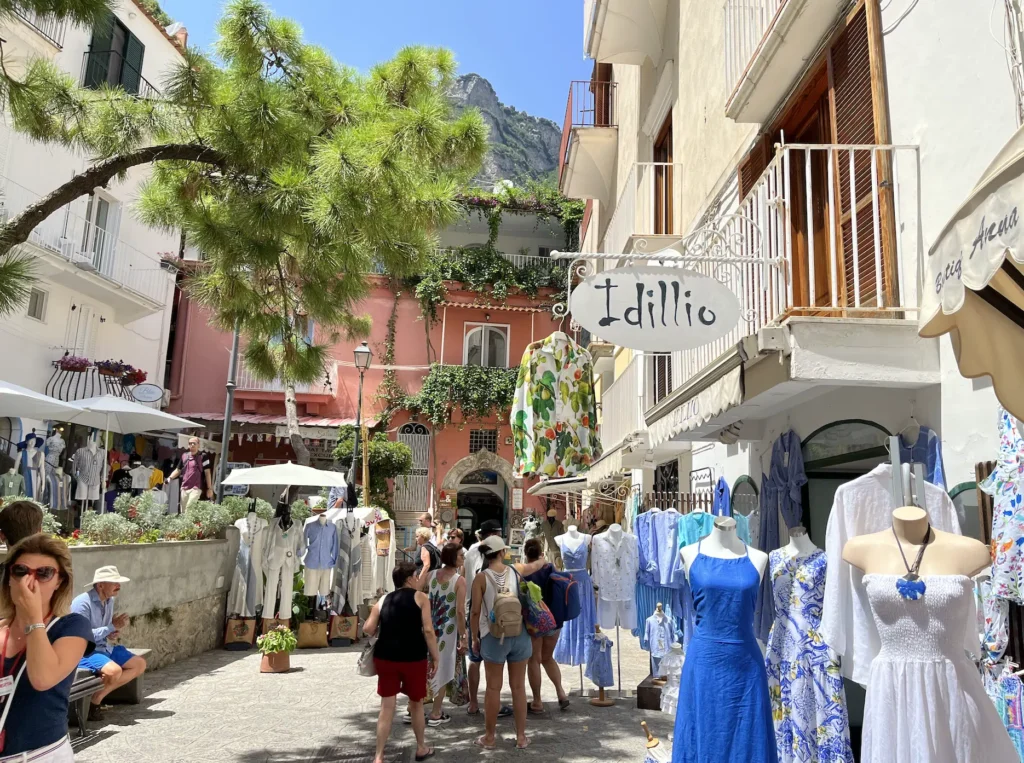 However, the prices turned out insane (I couldn't find anything under 1000 USD per night), and the idea was quickly shelved.
I was happy about that, as I also read and experienced that Amalfi has more to offer when you have to be there for several days.
That being said, Positano is truly something special and worth a visit.
It is a different experience than Amalfi, as Positano is smaller and more or less only has narrow streets of a meter or two, where there is no room for either cars or scooters.
On the other hand, the streets are filled with souvenir shops, cafes, restaurants and… really, really many one-day tourists who come to Positano to experience the place they have seen so often from home on Instagram and Youtube 😀
As previously mentioned, we took the ferry from Amalfi to Positano, which only took 20 minutes Positano Jet, and found a restaurant from which we could sit and have a view of the entire bay.
On Google Maps, it was only a 10-minute walk from the pier, but it turned out that you arrive at the beach in Positano, and then there is almost nowhere in the city where you don't have to go uphill.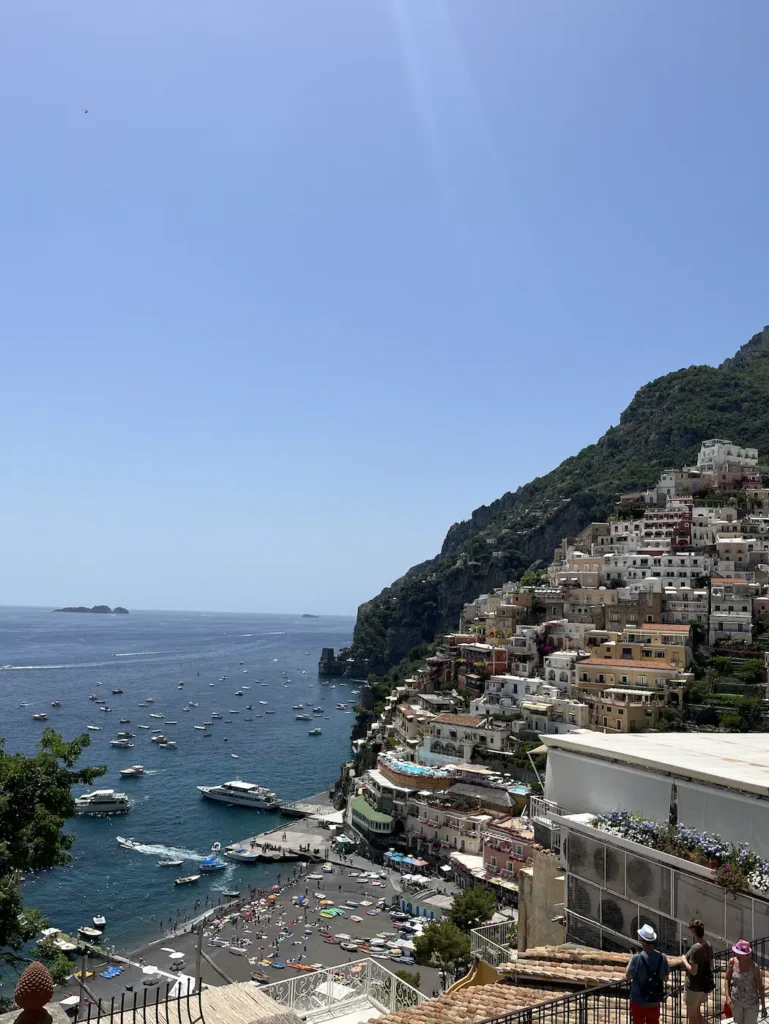 So it took a little longer, but in return, we got to go through all the small streets – which you can do incredibly quickly.
To be honest, it felt a bit weird to rush through one of the most sought-after places in Europe in 10 minutes.
Positano is small and beautiful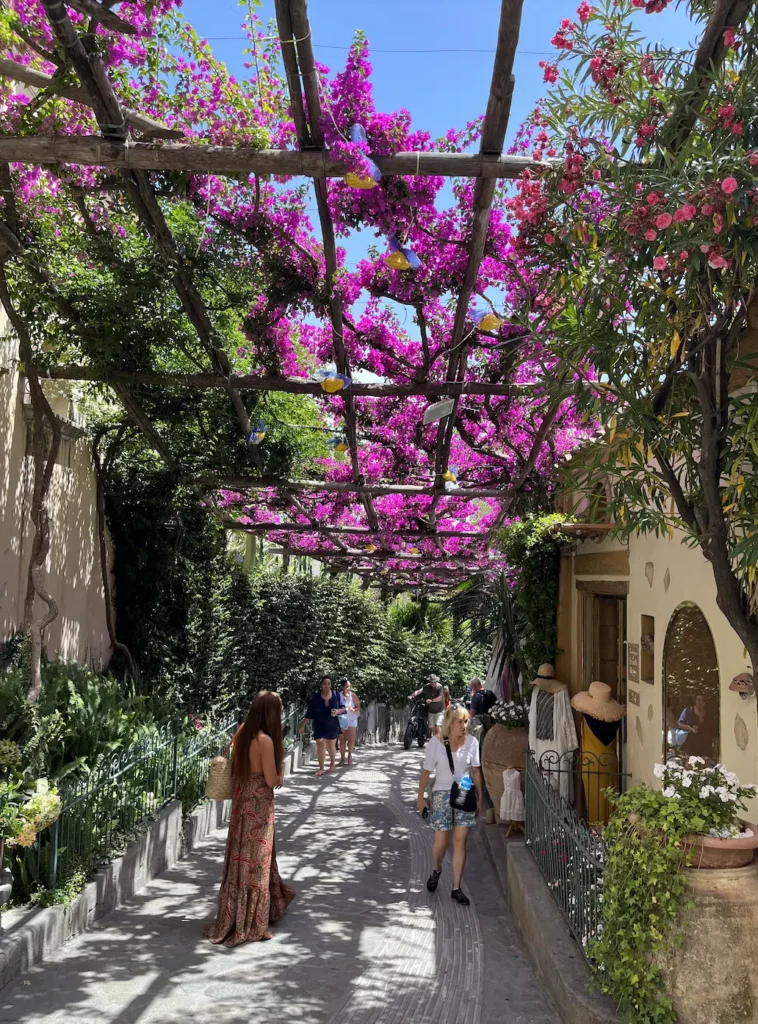 Like Amalfi, Positano is a very small town.
I must admit that I left Positano a little disappointed…
I don't know what I expected, but it was simply too touristy for my taste.
It was great to spend a few hours in Positano because it's an insanely beautiful city, but it's most beautiful when you get there by boat. You can't see the beautiful backdrop when you're in the small streets, obviosuly 😀
If you want to stay in Positano at a price worth paying and get a good experience, you must come outside the high season in the summer months.
This probably applies to the entire Amalfi Coast, but even more so to Positano as it is tiny!
See if you can find any good hotel deals in Positano here.
Places to stay in Positano
As previously mentioned, Positano hotels are less budget-friendly than other areas on the Amalfi Coast. But I've tried to find a few lovely places to stay in different price ranges – let's start with the most luxurious.
In the heart of Positano lies the elegant Hotel Palazzo Murat, a luxury haven that perfectly blends historical charm with contemporary comfort.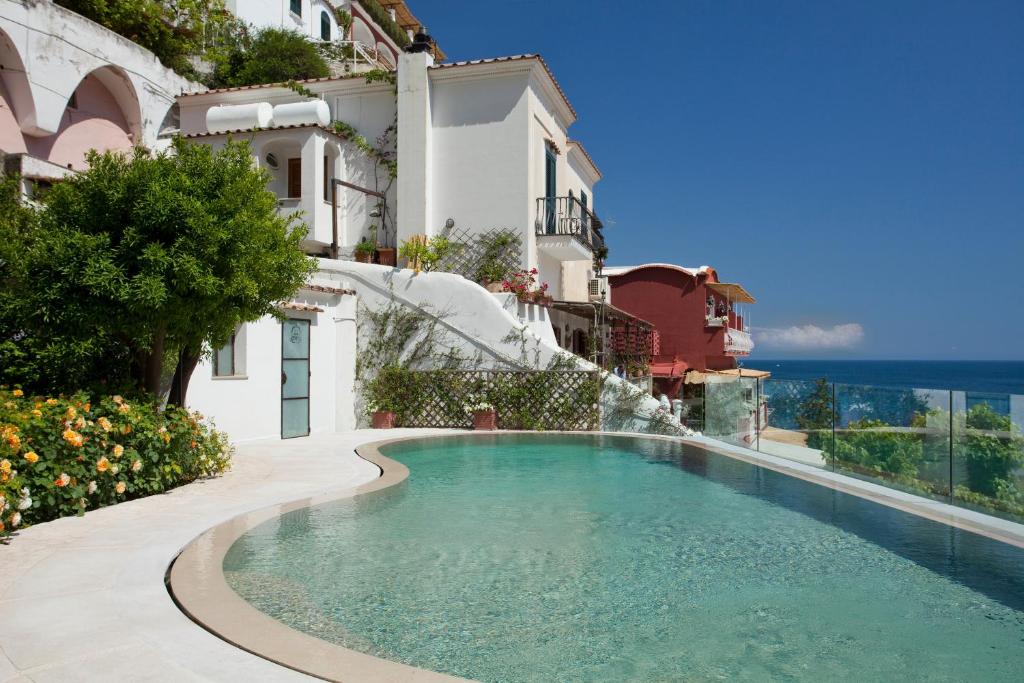 What sets this place apart, besides its rich history, is its prime location.
Guests are often thrilled at how everything – from the beach to the boutiques – is just a short stroll away.
Yet, despite its central location, the hotel offers an oasis of tranquillity.
A real gem is their pool, a rare find in Positano, where you can take a refreshing dip after a day of exploring.
With its lush garden setting and impeccable service, Hotel Palazzo Murat ensures a stay as memorable as the picturesque town itself.
The next hotel is more budget-friendly, but the location might be even better.
Palazzo Talamo offers a location that's hard to beat.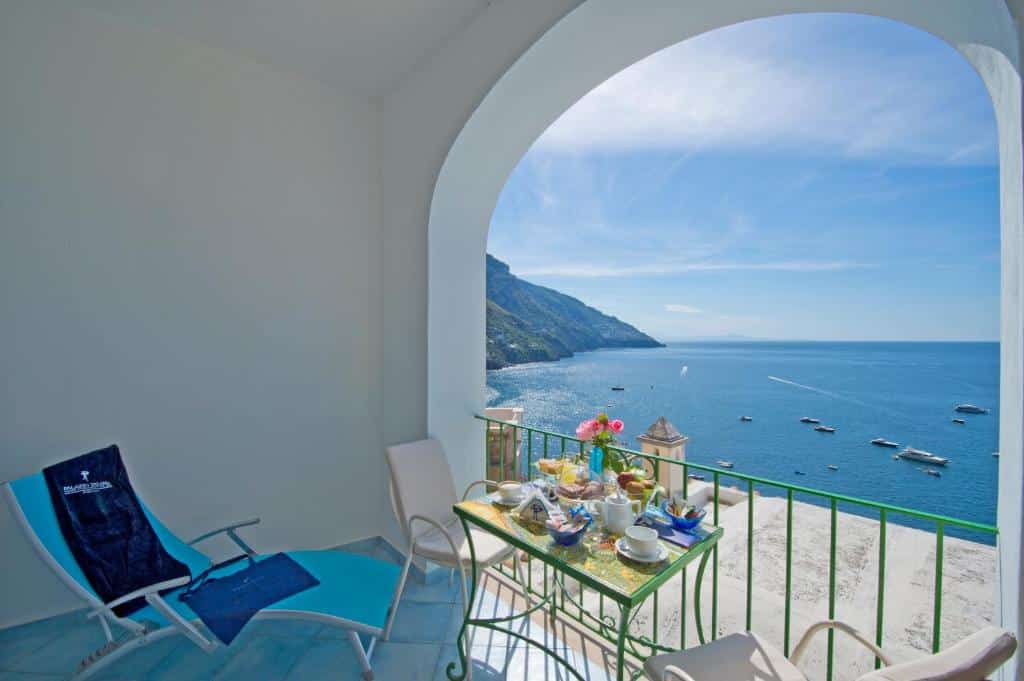 From its elevated position, guests can drink in sweeping views of the sparkling Mediterranean while Positano's centre, beaches, and renowned restaurants are just footsteps away.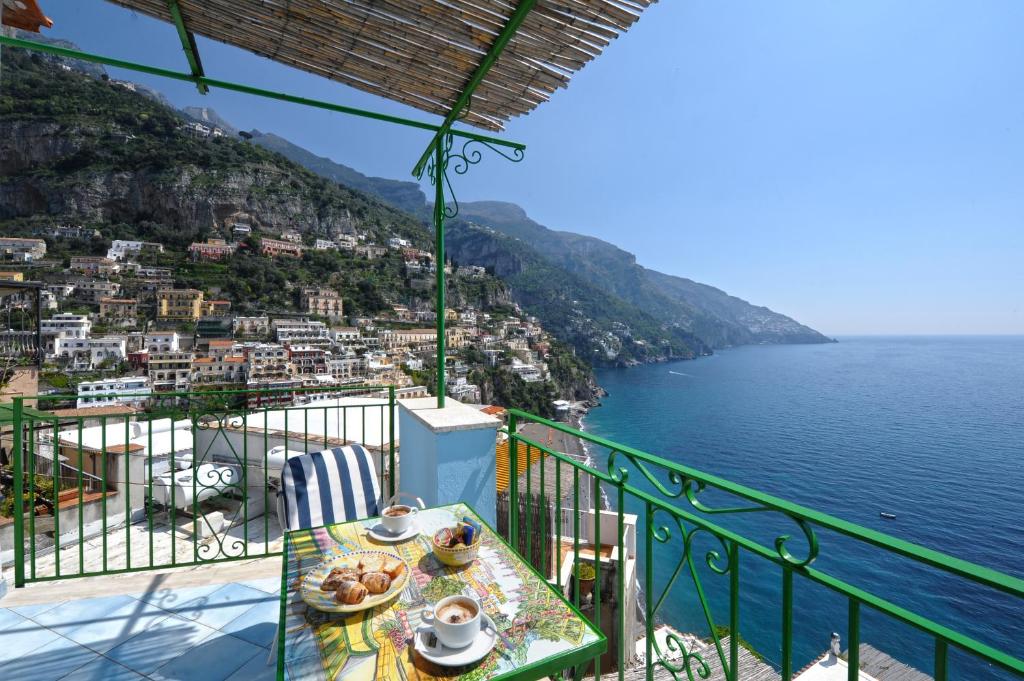 Palazzo Talamo's warm and attentive staff and ideal location make it a top choice for those looking to immerse themselves in the Positano experience without hassle.
If breathtaking panoramas are on your must-have list, Hotel Villa Gabrisa should be on your radar.
Perched higher up on the Positano cliffs, the vistas from here are genuinely jaw-dropping, offering guests a unique perspective of the town and the vast expanse of the sea.
The view, often described by previous visitors as one of the best in Positano, is a real showstopper, especially during sunset.
However, with such elevated beauty comes a bit of a trek: while the beach is accessible, it requires navigating a series of stairs, which might not be everyone's cup of tea.
But for those willing to take the journey, Hotel Villa Gabrisa promises an unforgettable stay in Positano.
3. Sorrento – my favourite place to stay in the area 🍋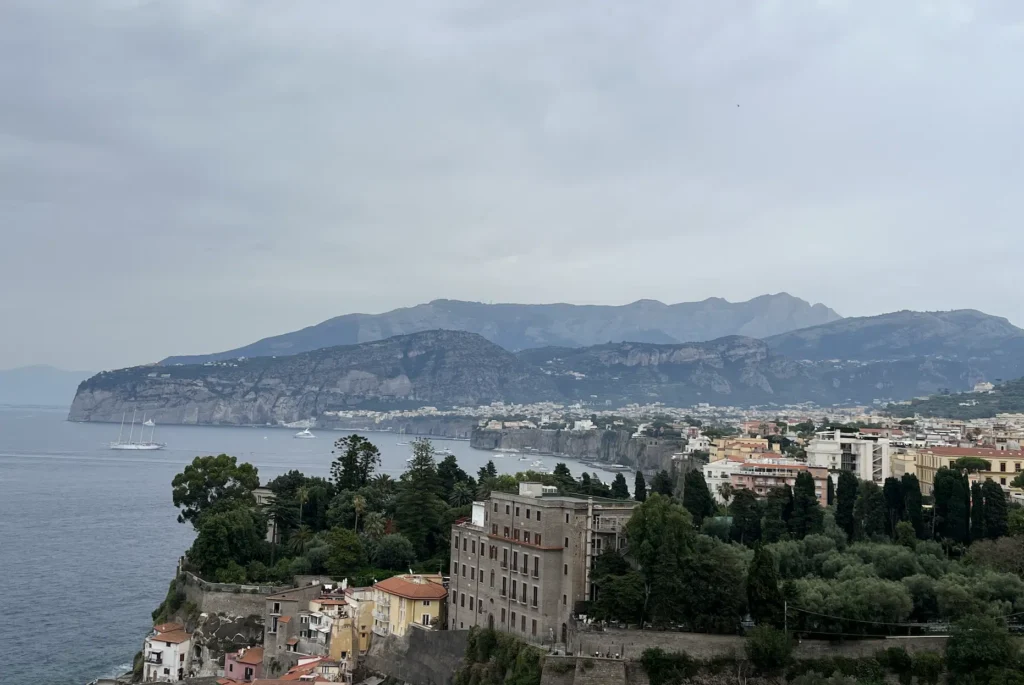 Sorrento is not on the Amalfi Coast but on the "other side" of the peninsula. It is, however, often mentioned in connection with trips to the world-famous coastal area.
This is precisely why we also chose to spend the night in Sorrento on the way from Naples – the city is easy to get to with a 1-hour regional train ride from Naples, and you can quickly get to the Amalfi Coast by ferry or bus.
We took the train from Naples to Sorrento, where you drive past Mount Vesuvius and can also stop off at Pompeii if you want to experience the city destroyed by the volcanic eruption back in 79.
The train journey takes just over 1 hour, and the station in Sorrento is right in the centre, so you can quickly go to your hotel in the cosy coastal town.
Consider Sorrento as a base for your Amalfi Coast trip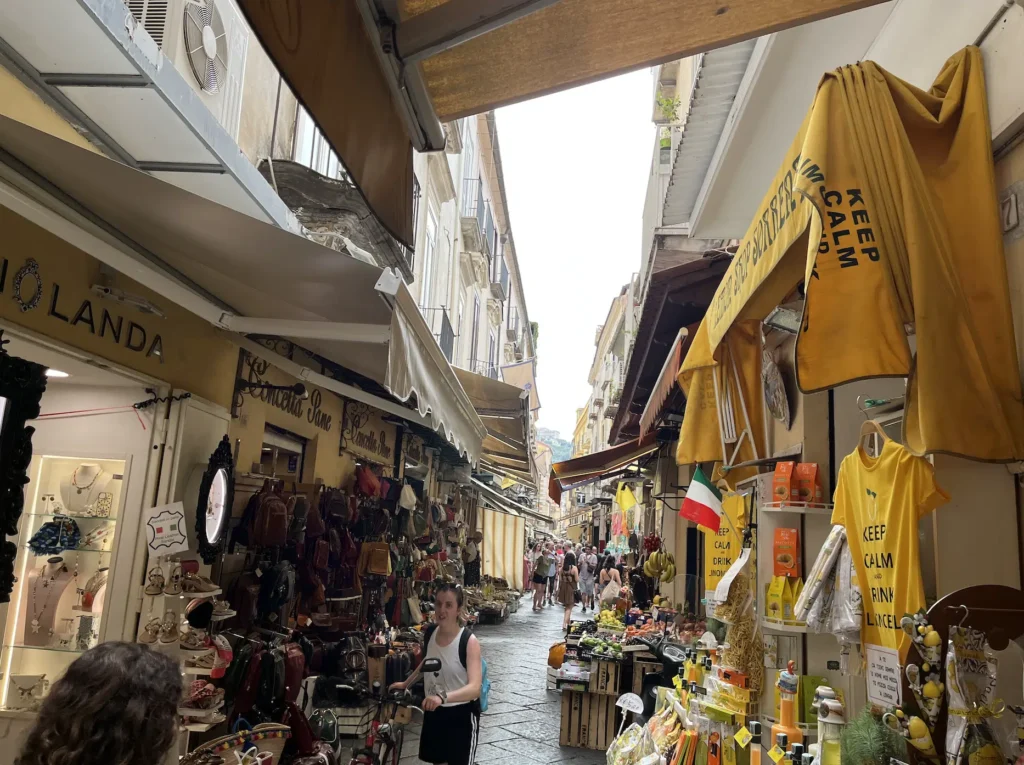 When we traveled from Sorrento towards Amalfi after just one night, we were actually left with the feeling that it was a little too fast.
After the trip, I also have to admit that Sorrento is the city that surprised me the most and, at the same time, is the place I would most like to travel to again.
See the 10 best hotels in Sorrento here.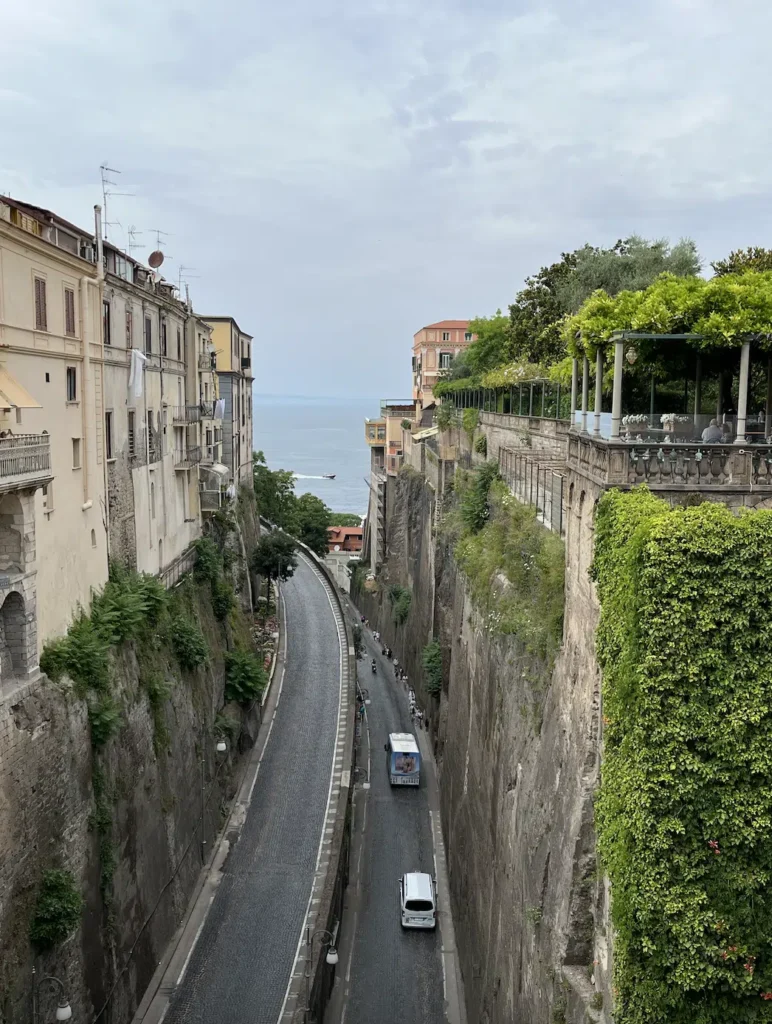 Other tourists have also discovered Sorrento, which for several decades has been a favorite destination just like (the rest of) the Amalfi Coast.
But because the city is a certain size, you don't feel the same way you walk around in a real-world Disneyland as it can sometimes feel like in Amalfi and Positano.
There are lots of restaurants, and small cozy streets in the center and it is also possible to find hotels at really good prices with a central location in Sorrento.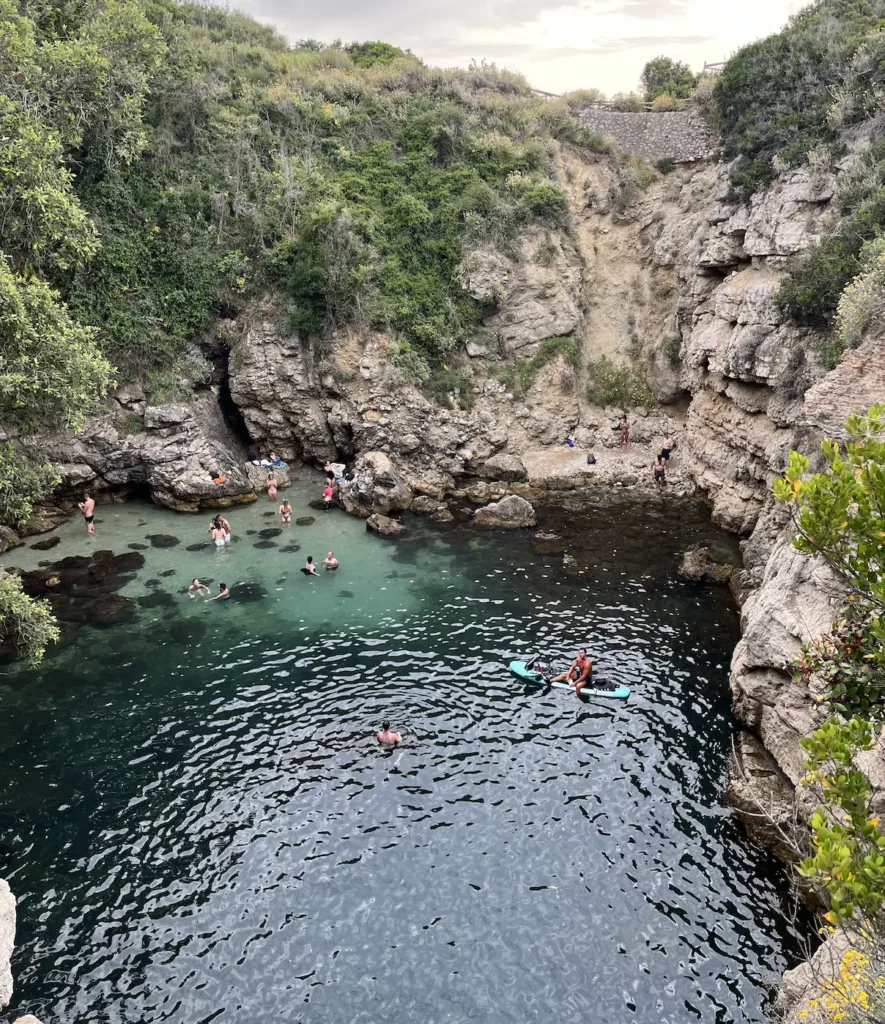 I can also recommend going out to Bagni Regina Giovanna, where you will find the most glorious grotto, which (like the rest of Sorrento) has been used as a place of excursion since Roman times.
Sorrento surprised me positively, and I want to encourage you to consider spending a night or two here in the city, which has a few beaches and ferry connections to, e.g., Naples, Capri, and Amalfi.
Places to stay in Sorrento
As we only had a single night in Sorrento, we chose to spend the night relatively spartanly, even though there are plenty of excellent hotels in Sorrento, which, e.g. has swimming pools and sea views.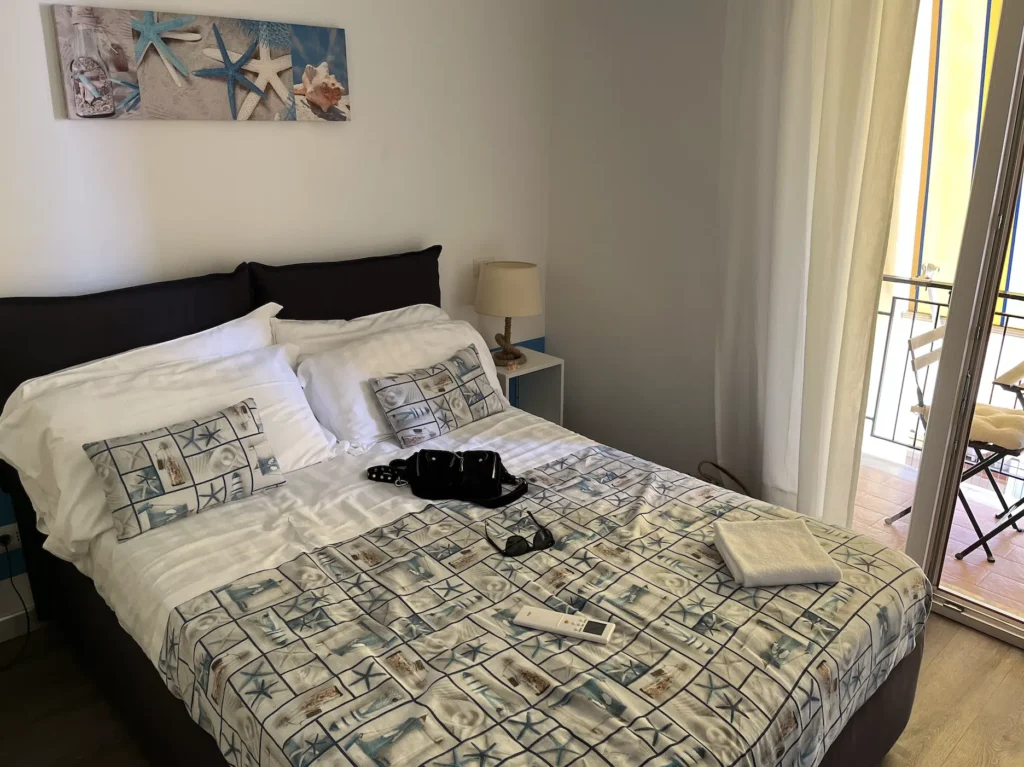 However, we wanted to save a little on the overnight stay in Sorrento, so we found a very cheap option called La Rada B&B, which scored top ratings from previous guests and is located a few minutes walk from the station in Sorrento.
Before arrival, there was really good communication from the owners, so we easily found the place, which is inside an ordinary apartment complex in the middle of Sorrento.
It is not really the nicest place to spend the night and I would not recommend it for more nights in Sorrento, but if you are looking for the classic "a place to sleep in the center at a cheap price", then it is a good offer.
The hosts were nice, the breakfast was really nice and served in the room so we could sit on our little balcony and enjoy it.
I will 100% book into one of the more luxurious hotels with a view over the bay next time I go to Sorrento.
I've found this outstanding hotel.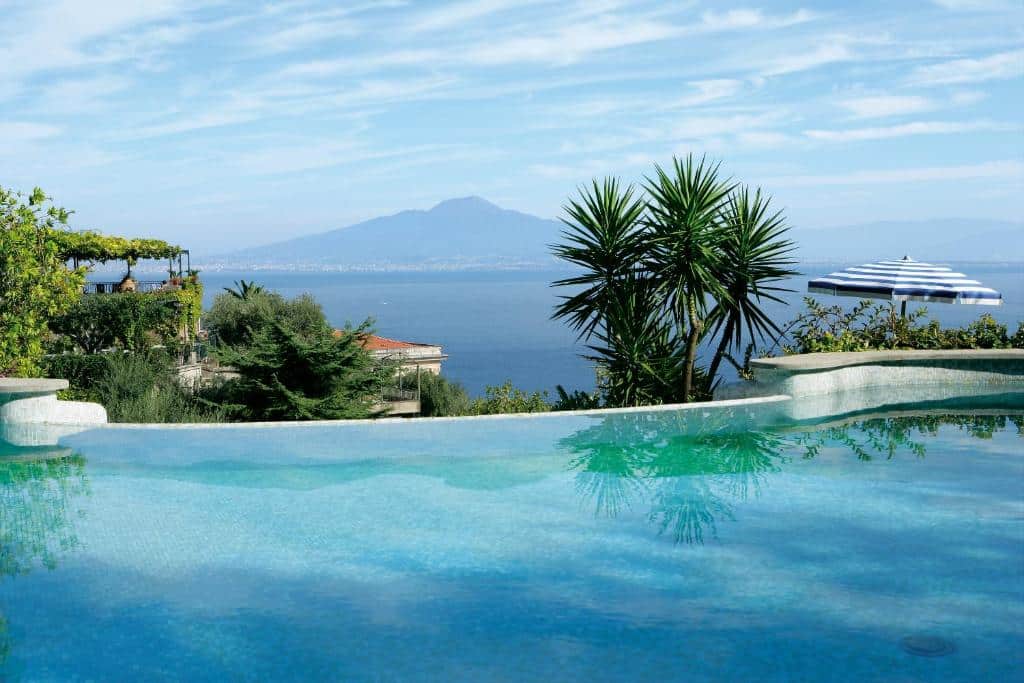 The hotel is located in the city centre, has good rooms with a view and this fantastic swimming pool with a sea view.
See more photos of the place and book online here.
Right in the heart of Sorrento, you'll find the Hotel Continental.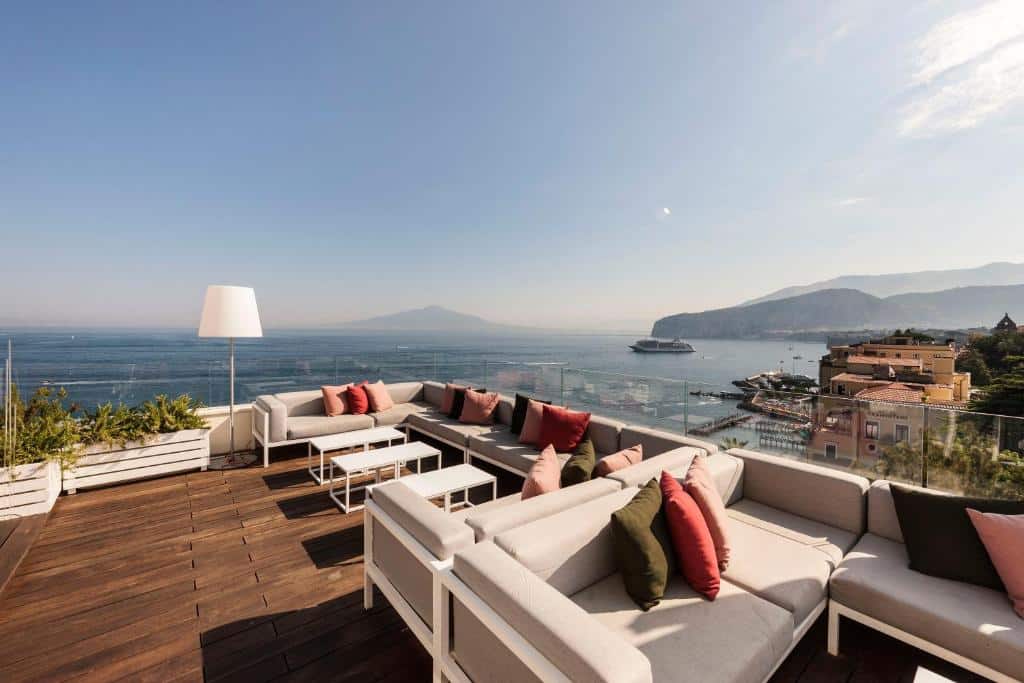 Its prime location makes it an excellent choice for those wanting to explore the city's cosy streets, historic sites, and local eateries.
What sets this hotel apart from many others in the city centre is its lovely swimming pool – a rare treat in central Sorrento.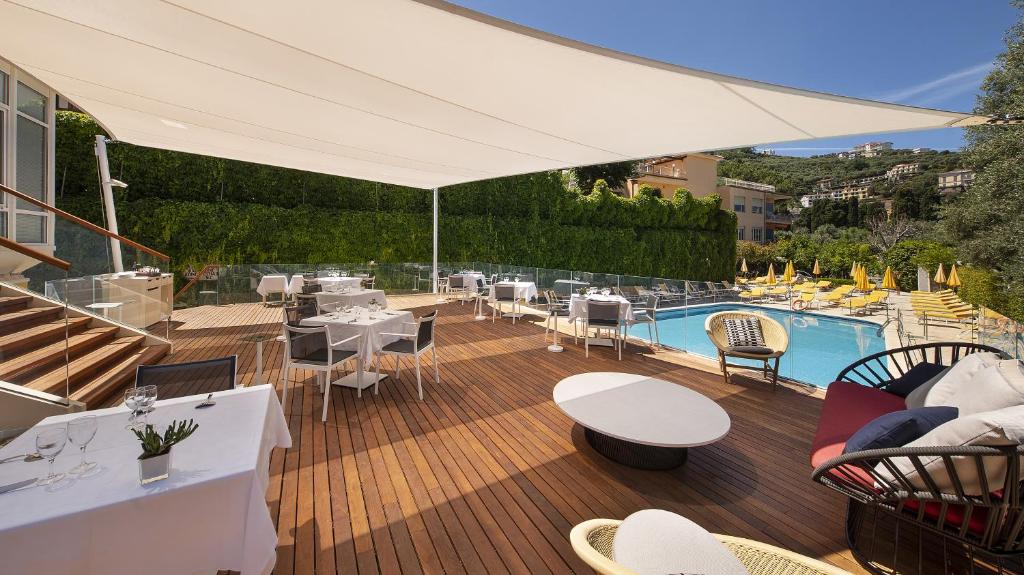 Guests frequently write in their reviews about this spot's convenience and serene pool area, making it a perfect blend of city adventure and relaxation.
Hotel Continental should be high on your list if you're looking for a top-notch place to stay in Sorrento.
Hotel Del Corso is a fantastic pick for travellers seeking a more budget-friendly option without sacrificing location or quality.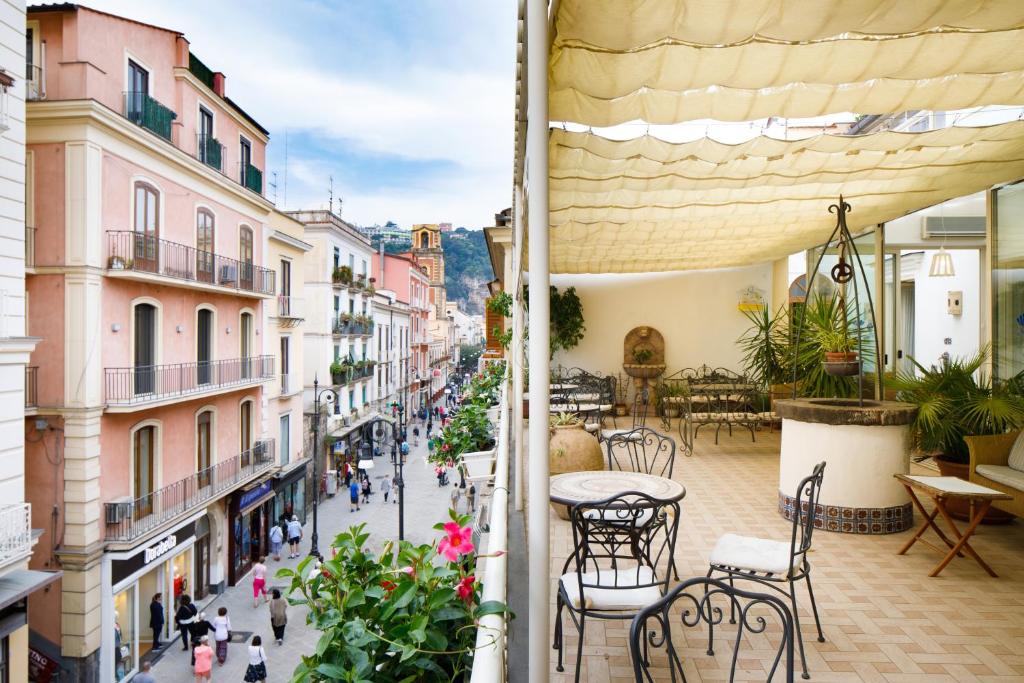 The hotel is located on Sorrento's main street, so you're right in the middle of all the action, with shops, restaurants, and local attractions steps away. It's a pedestrianised street so there's no noisy cars or traffic.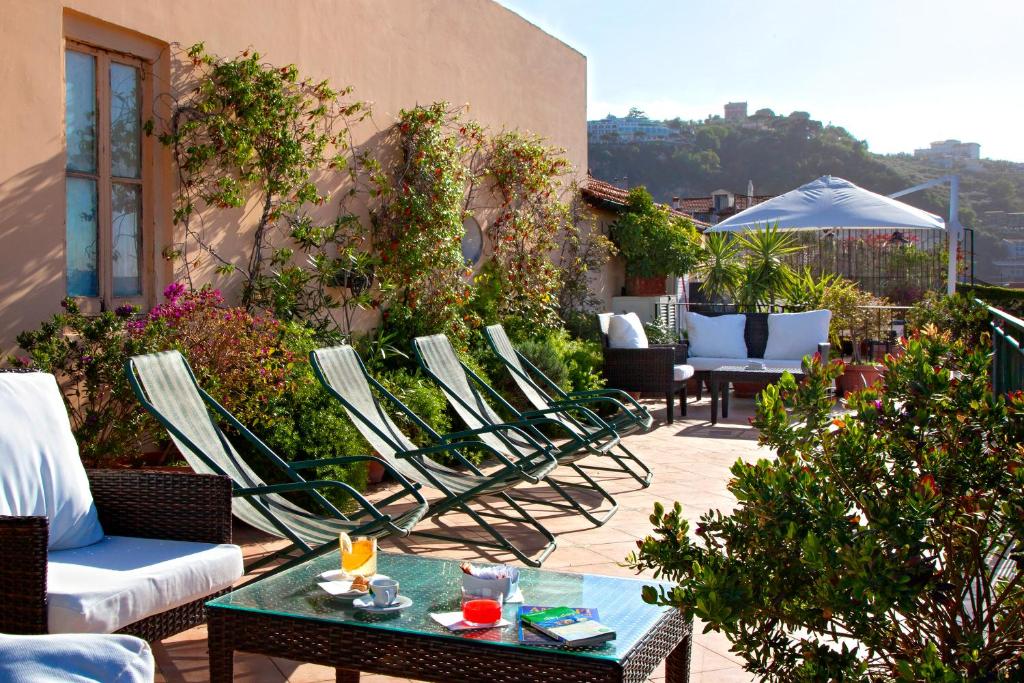 The convenience of its central location and its value for money make Hotel Del Corso a popular choice for many visiting Sorrento.
So, if you're looking for an economical stay right in the city's heart, this place ticks all the boxes.
4 . Ravello – good area to stay if you rent a car 🚗
The following recommended area on the Amalfi Coast is mainly for you who rent a car on your trip or are ready for a bus trip or two.
Ravello is located 'up in the country, so you can't jump on a ferry and get to the famous town on the Amalfi Coast.
I've talked about how easy it is to get around the Amalfi Coast with ferries, and I've told you that the traffic is terrible. It is, but having said that, you also earn considerable freedom by renting a car.
See the 10 best hotels in Ravello here.
Ravello is very close to Amalfi, so it is also an excellent place to live for those who want to experience more areas on the coast.
See location on map here:
I never made it to Ravello, but I've read excellent things about the town in the mountains.
It should be an area where you slow down more than in Amalfi and Positano, where there are always many people.
Places to stay in Ravello
Let's look at a few good places to stay in Ravello. Here are my favourites.
Looking for a good-value hotel in Ravello that doesn't compromise on the essentials? Hotel Bonadies might just be the spot for you.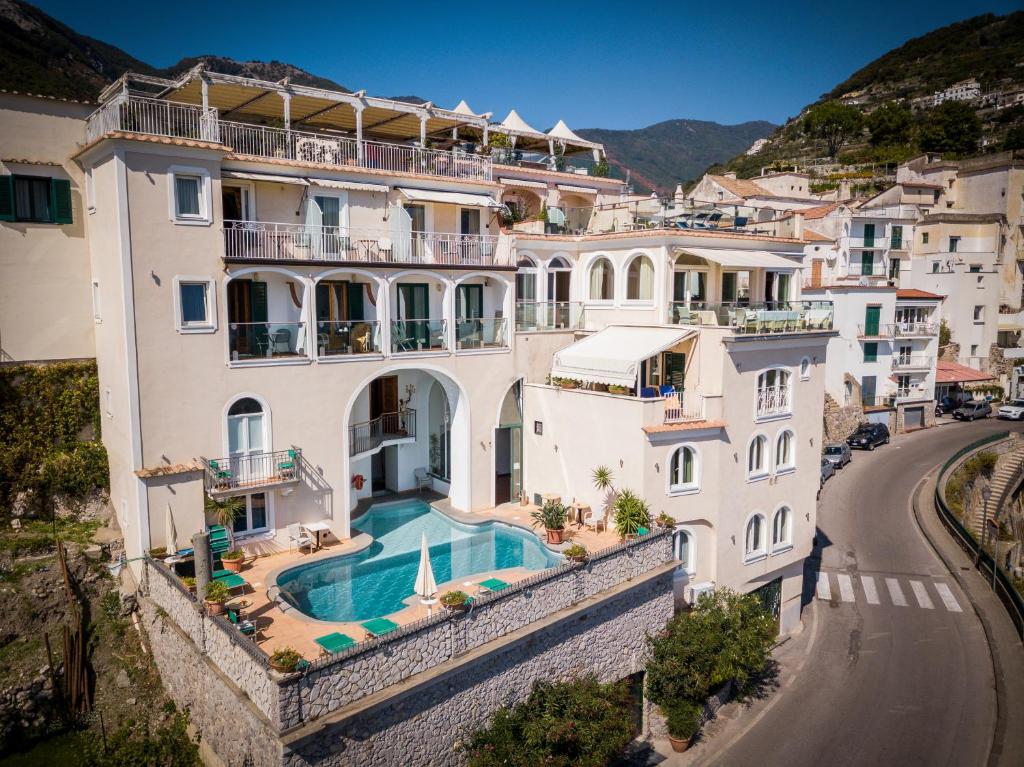 It's positioned perfectly to offer visitors some of the most unforgettable views of the Amalfi Coast. Additionally, it features a quaint swimming pool.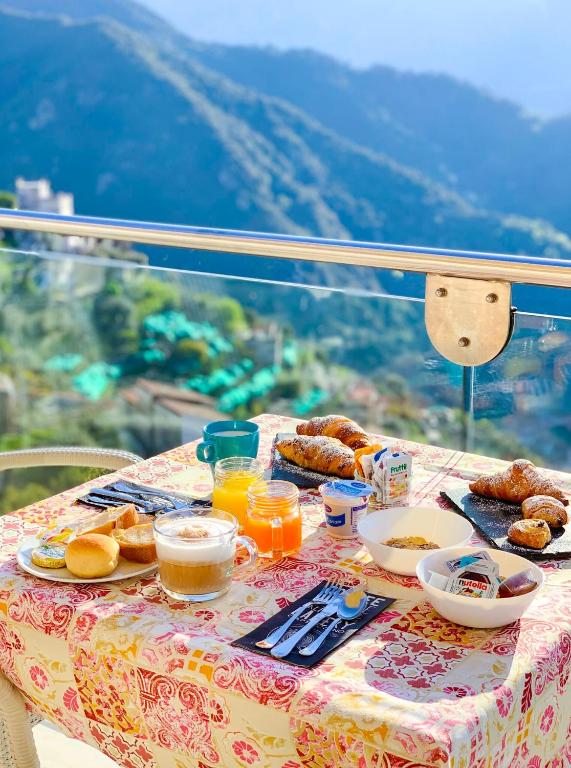 According to reviews from previous guests, the sunsets and sunrises witnessed from their rooms and the poolside are simply unmatched.
Hotel Bonadies is a standout choice in Ravello, delivering a memorable stay without stretching your budget.
The Garden Hotel provides a tranquil retreat in the heart of Ravello.
It's got an incredible rating from previous guests, so I'm sure this is an excellent place to stay on the Amalfi Coast.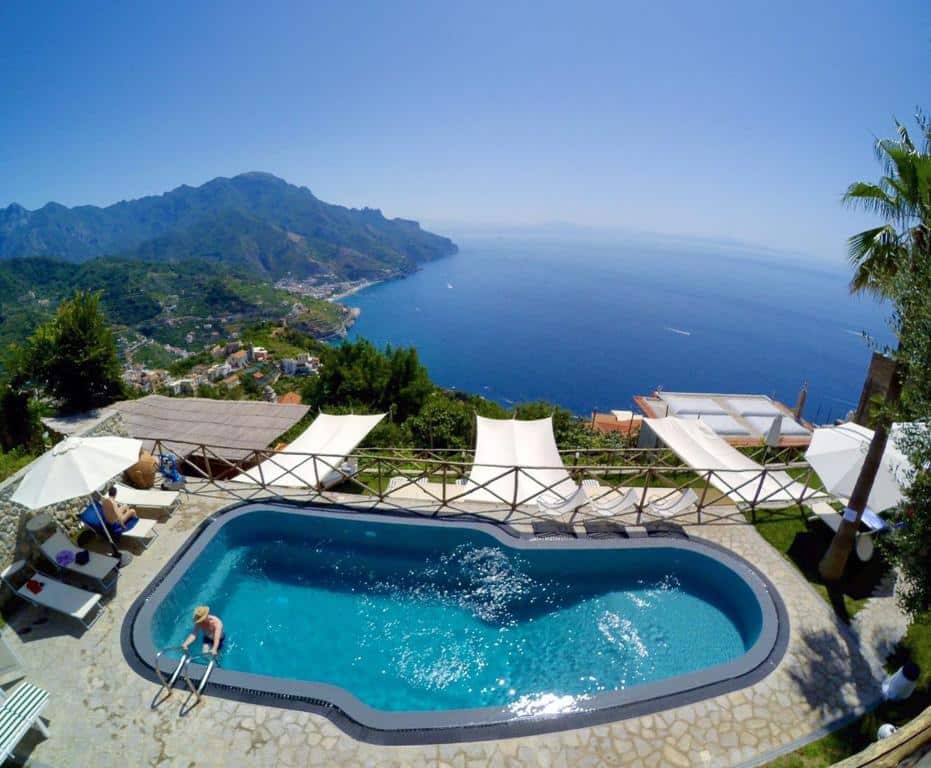 The standout feature is its inviting pool area, a spot where guests can relax and rejuvenate.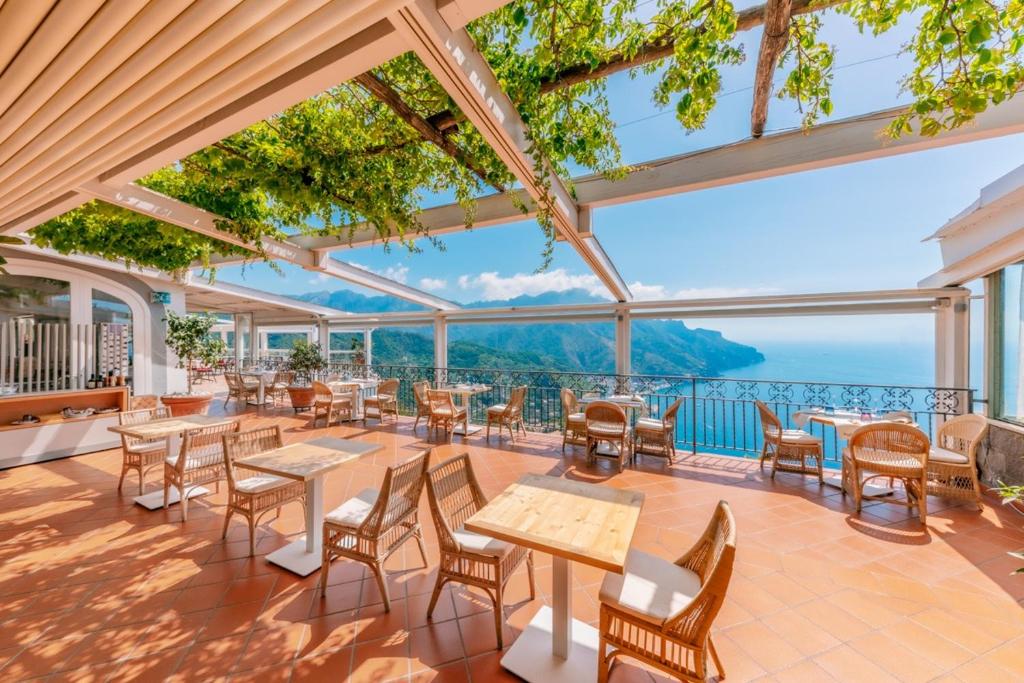 Past visitors frequently mention the unparalleled views of the Amalfi Coast that this place offers, making every sunrise and sunset an event in itself.
If you're seeking relaxation and breathtaking scenery, the Garden Hotel is a top pick for your Ravello visit.
5. Maiori & Minori – best place to stay with children 🏖
5-6 kilometers east of Amalfi town, we find Maiori, which is often described as the best place on the Amalfi Coast if you travel with children.
Together with the sister city of Minori, which is also described as a good area, this place is thus a sensible place to look for hotels. The town has a certain size and is built up with many restaurants, cafes, and shops.
See the 10 best hotels in Maiori here.
Maiori's biggest attraction, however, is undoubtedly the beach, which is the longest on the Amalfi Coast, where they are typically relatively small and also enclosed in beach clubs, where you have to buy access to a deck chair for 20-30 euros per day (yes, that's the price!).
I didn't visit Maiori, but I would probably have booked a hotel here in town if I hadn't found the cheap apartment in Amalfi.
There are good connections to Amalfi by bus and ferry (and also ferries for Capri and Salerno).
So you can also stay here if you don't rent a car on your Amalfi trip.
Places to stay in Maiori & Minori
As one of the more unknown areas on the Amalfi Coast, finding more affordable accommodation in Maiori is sometimes easier. So let's look at some of my favourite places to stay here.
Hotel San Francesco stands out for its unique beachfront location – a rarity along the Amalfi Coast. This feature alone makes it a coveted spot for travellers.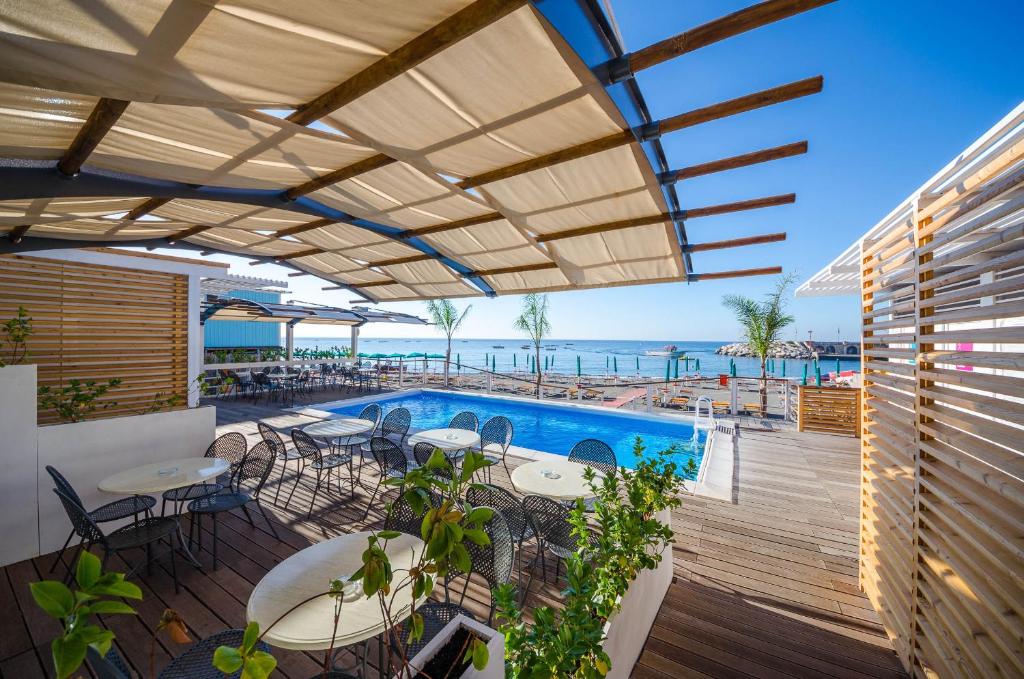 The privilege of stepping out directly onto the beach and the joy of hearing the waves during your stay cannot be understated.
Adding to its allure, the hotel boasts a pool area, a delightful space to unwind.
Many previous guests highlight the experience of sipping a drink by the pool while gazing out at the sea. If a blend of beach and leisure is what you're after, Hotel San Francesco in Maiori offers just that.
Palazzo Vingius offers an unforgettable visual treat in the charming town of Minori with its epic beach views.
Positioned slightly elevated, the hotel provides a panoramic spectacle of the coastline, making it a popular choice among travellers.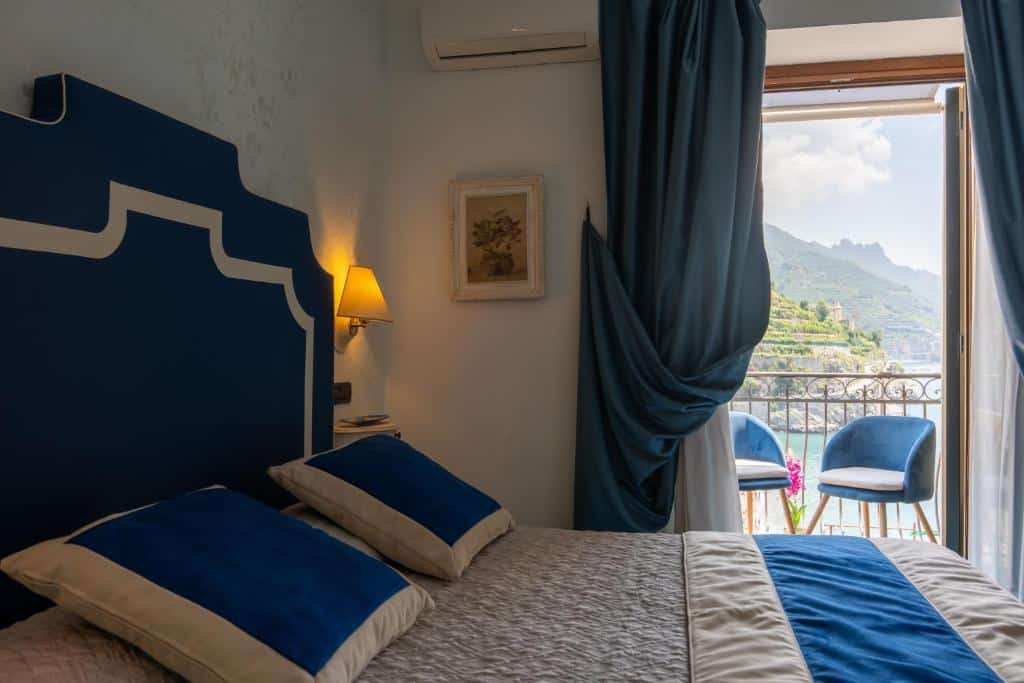 As many previous guests have mentioned in their reviews, the view is a standout feature.
Imagine waking up to the serene blue waters and the rhythmic sound of waves – it's a dreamy experience that this hotel promises.
I hope you were able to use this guide to the best areas on the Amalfi Coast, and you are now ready to book your trip to the beautiful holiday area.
If you have any questions about the places or hotels I mentioned in the guide, please comment below, and I will do my best to help with travel planning.
FAQ:
Where is the best base to stay on Amalfi Coast?
Amalfi Town is the perfect base on the Amalfi Coast. It's centrally located, making it a breeze to hop on a ferry or bus and explore the neighbouring towns and areas.
On the other hand, if you're into the idea of setting up camp and doing day trips, Sorrento is a fantastic choice. A bit removed from the main coast, Sorrento offers a unique vibe while providing easy Amalfi Coast access.
Is it better to stay in Positano or Amalfi?
It's a classic debate for travellers heading to the Amalfi Coast. While Positano boasts iconic cliffside views and picturesque streets, it can get incredibly crowded during summer. Many folks love the hustle and bustle, but if you're seeking a more relaxed vibe, Positano may be a tad overwhelming.
On the other hand, Amalfi offers a bit more breathing space and still packs in plenty of charm, historic sites, and accessibility to other parts of the coast. I lean towards Amalfi, especially if you're visiting in peak season.
How many days do you need in Amalfi Coast?
I'd recommend setting aside at least 4 days to truly soak in the region's beauty. But here's a little tip: To get the most out of your trip, consider splitting your stay between two towns, like Sorrento and either Amalfi or Positano.
By doing this, you'll have the daytime to explore the stunning coastal scenery, winding roads, and vibrant local life, while your evenings can be spent wandering the charming streets and squares of two different towns. This way, you get a dual experience without feeling rushed.
So, while 4 days is a good starting point, if you can spare more time, the Amalfi Coast has plenty to offer.
Websites I use to book my trips 👇

• Booking.com has the best offers on hotels and unique places to stay
• GetYourGuide is the best place to book tours & activities with free cancellation
• Omio is my go-to booking platform for trains in Europe
• Welcome Pickups is the best & safest place to pre-book airport transfers

Psst 👀 Have you subscribed to my Youtube channel where I provide more useful travel tips?