In this guide, I discuss where to stay in Prague and recommend good hotels in the mentioned areas.
There is plenty to choose from and you can look forward to a fantastic city where you get great value for money – also when it comes to hotels in Prague.
Best areas to stay in Prague
Let me quickly outline the main points from this guide for those of you in a hurry. If you click on the area's name, you'll be taken to the best hotels in that particular area.
Best areas to stay in Prague:
Are you in a rush? This is a rather long travel guide on the best areas in Prague, but if you want to book a great hotel in the city centre I'd recommend you check out the lovely Julius Prague.
The guide on where to stay in Prague continues below.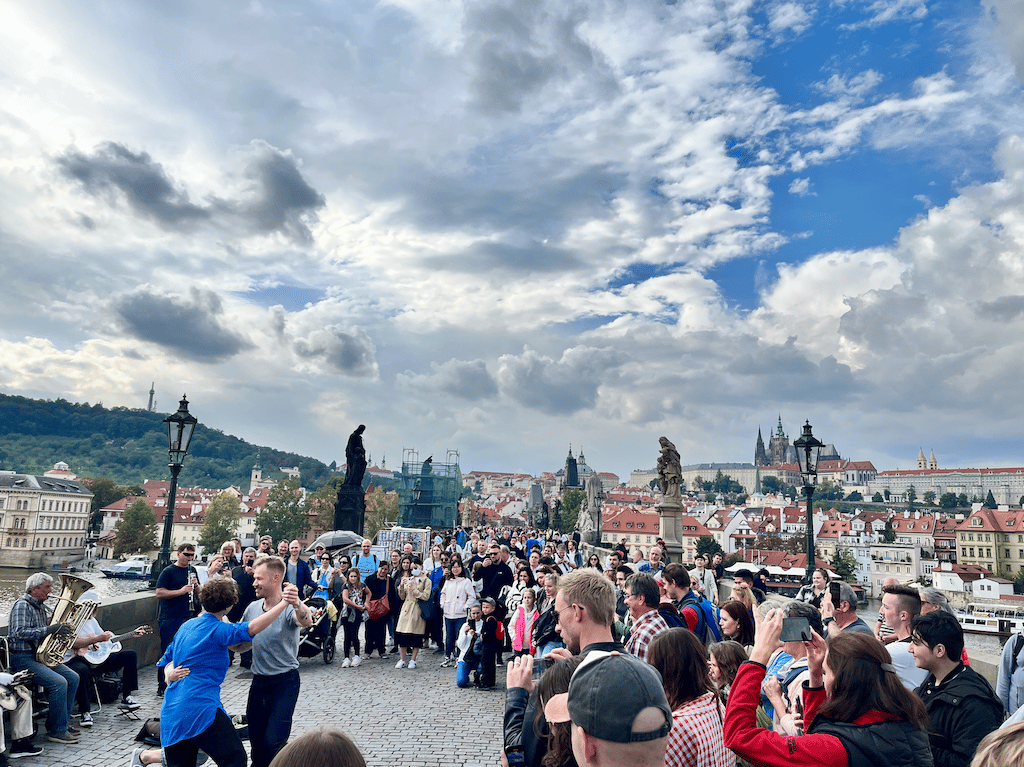 Prague is divided into a total of 22 numbered districts – the larger the number, the further away from the centre.
So as a tourist, it makes sense to stay in the city centre, but further out there are also many great things to do. And the accommodation is cheaper 😉
In general, all areas in Prague are safe and secure to stay in, so it mostly depends on what you want to experience while in the Czech capital.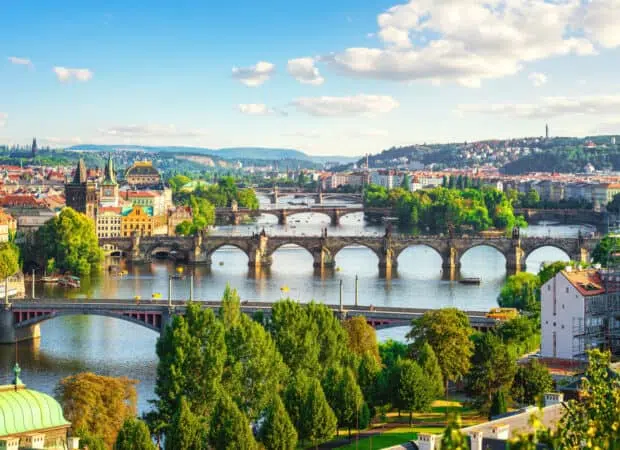 At the end of this post, I have made a section with tips and tricks before or while visiting Prague – I hope this will help you get even more out of your trip.
But let's dive into the different districts of Prague. I've chosen to tell you about the best 5 areas of Prague and I'll also recommend a couple of great hotels in those areas.
Where to stay in Prague? Let's start in the historic city center – The Old Town, Staré Mesto.
1. Staré Mesto, Prague 1 – The best place to stay for sightseeing 🗺
If you are looking for a classic city holiday and want to live in the center, I would like to recommend that you spend the night in Prague's old town, which is also called Staré Mesto.
Here you will find several museums and the Old Town Hall square. It is also in Staré Mesto where you can experience the Jewish quarter, Josefov.
See the best hotels in Staré Mesto here.
The area is, of course, characterised by the fact that quite a few tourists stay in this part of Prague, so there is plenty of restaurants, bars, and cafes, which is excellent!
It all adds a particular atmosphere to the experience of the magnificent architecture and the cosy cobbled streets.
Staré Mesto is located on the east bank of the Vltava, the 430 km long river which runs through Prague. So how do you cross from the east to the west?
The famous Charles Bridge, of course.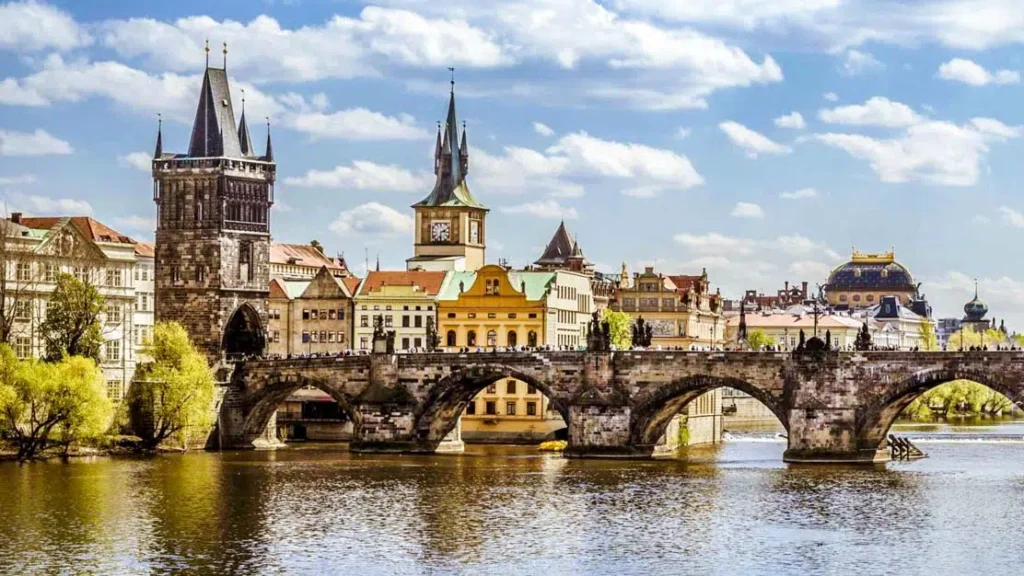 Charles Bridge is a 650-year-old stone bridge that spans 500 meters over the Vltava River.
It is an impressive sight to stand on the bridge and admire the river.
The bridge is also a fantastic piece of medieval architecture that must be experienced.
The whole of Prague 1 with its 4 areas is part of the UNESCO World Heritage List due to the impressive history and buildings dating back to the Middle Ages.
If you would like to delve into the history and discover why the city is on the list, you can start here.
You could also check out my guide to the best things to do in Prague after you've found a place to stay.
Places to stay in Prague Old Town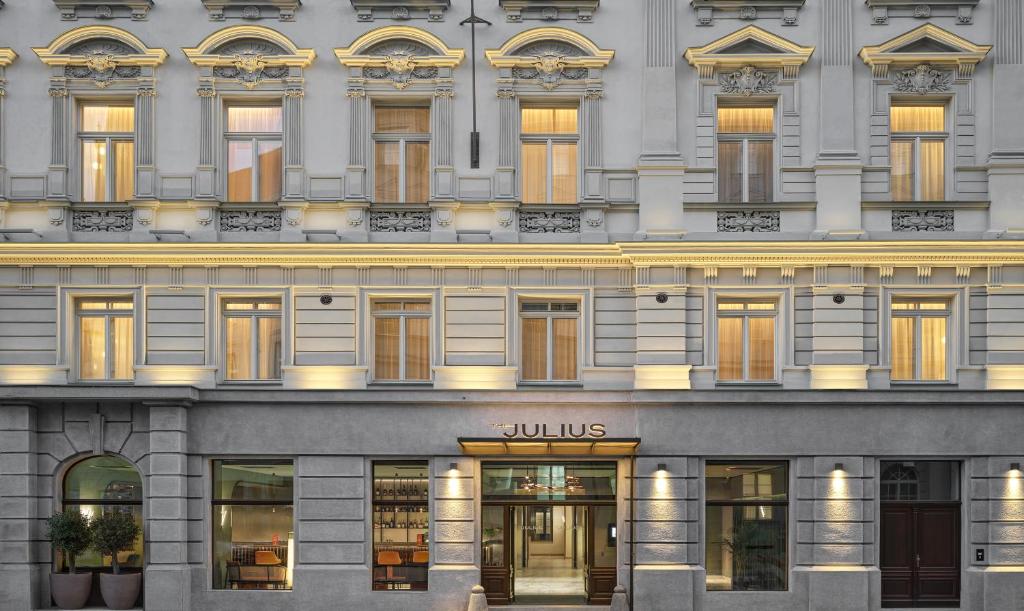 I first visited this hotel in the fall of 2022 and gotta be honest: it blew my mind.
The hotel is called The Julius Prague, and it's located a 5 min walk from Old Town Square, so you never have to worry about taxis or public transport (the Prague public transport is great and easy to use, though).
Looking for a mix of modern amenities and historic charm? Well, you've found it in The Julius Prague.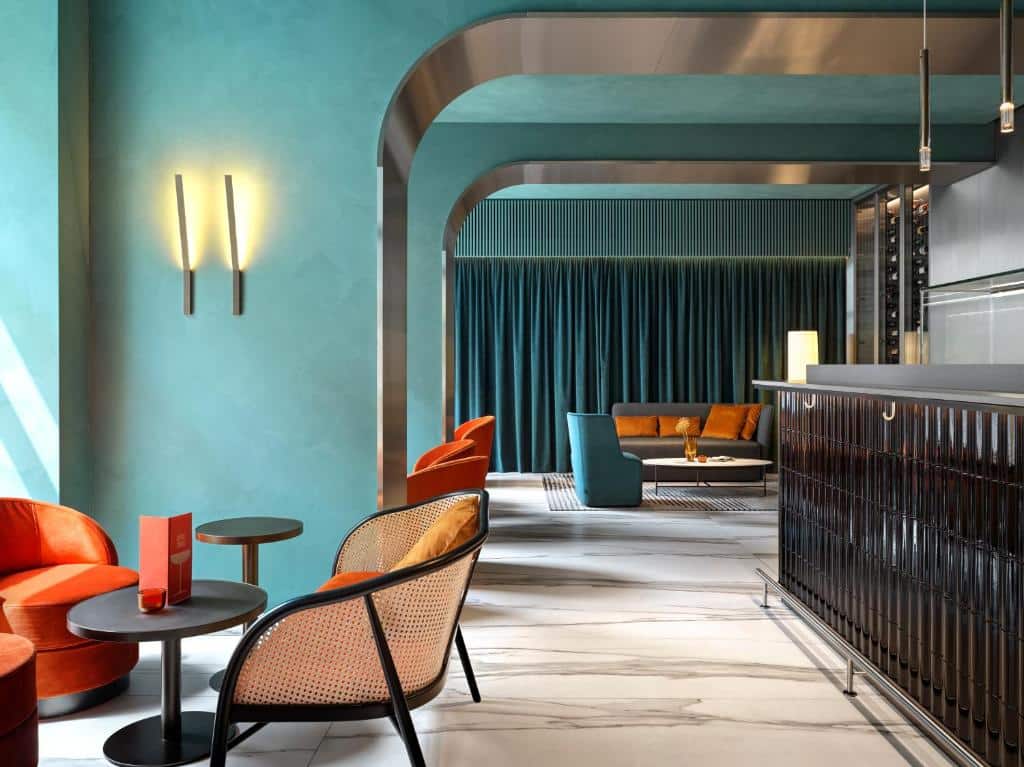 The rooms? Comfy, spacious and fitted with everything you'll need for a relaxed stay.
Ask for a room with a view; the city skyline is not to be missed.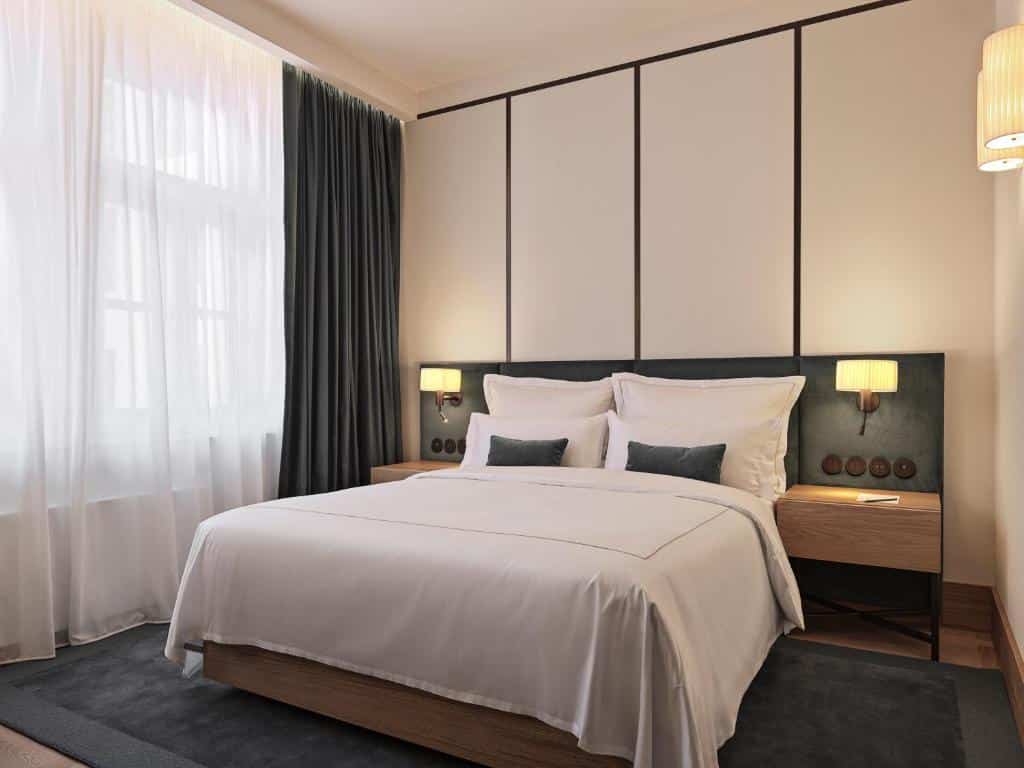 The staff are super helpful, and the buffet breakfast is top-notch, making The Julius Prague a fab choice for your Czech adventure.
This is one of the best places I've ever stayed in Europe when I consider the price.
See more photos of the hotel here.
Looking for something a bit more swanky? Check out The Emblem Prague Hotel.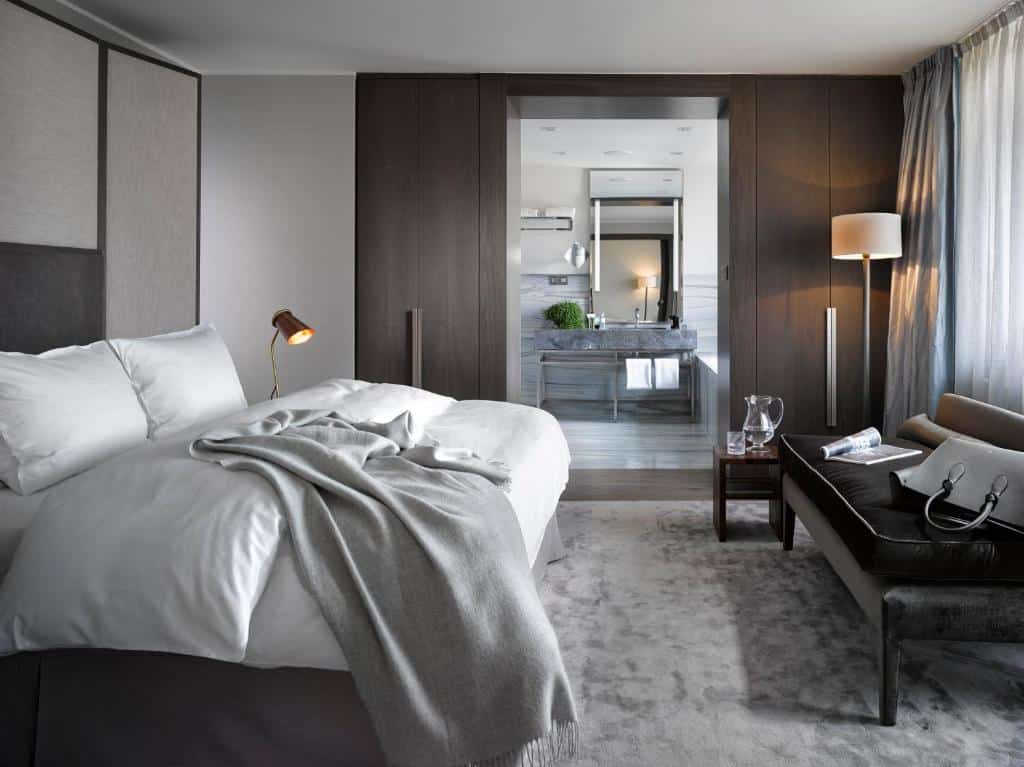 Situated just around the corner from Old Town Square, this 5-star spot is a haven of luxury and sophistication. The rooms are chic, modern and thoughtfully designed.
The facilities include a wellness spa, a rooftop terrace, and even a games room.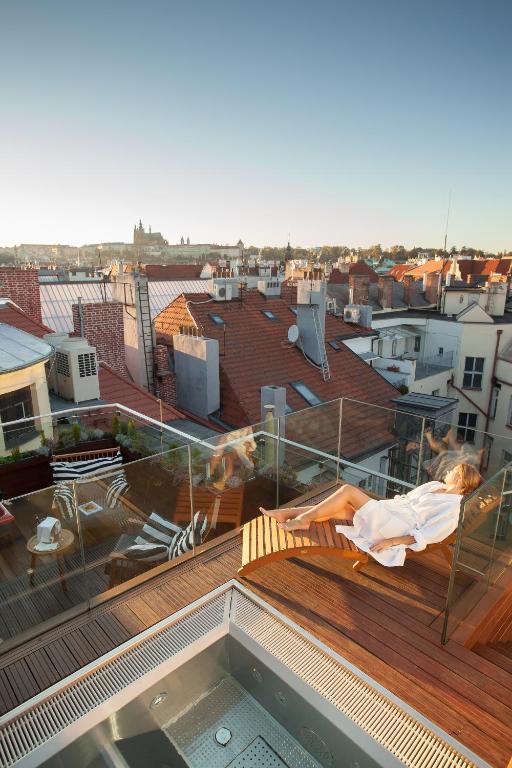 But what makes The Emblem stand out is its lounge area – The M Lounge, a space to relax, work or mingle with other guests.
Their in-house restaurant, George Prime Steak, is one of the top-rated places to dine in the city.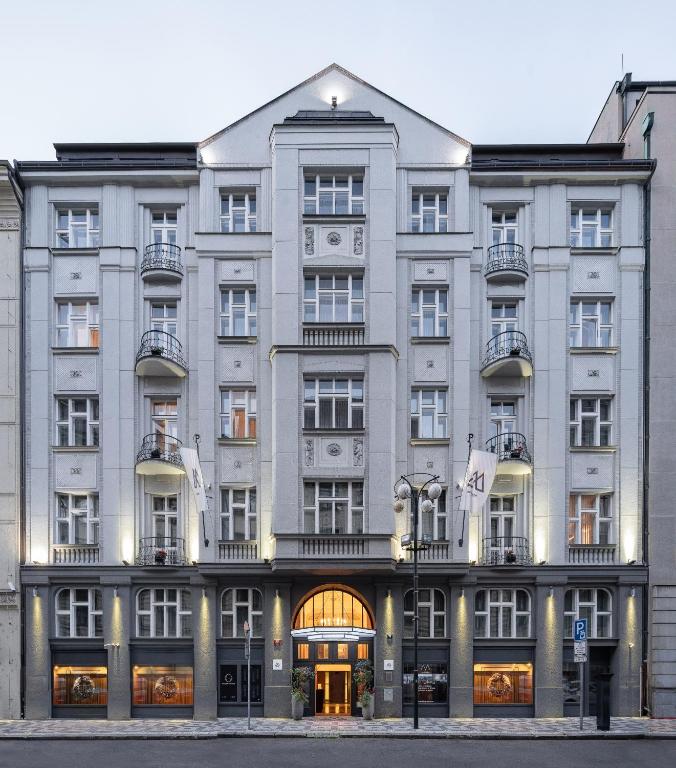 If you want to stay in an extremely luxurious hotel in Prague, then this is the place for you.
See more photos and book here.
On a budget but still want a taste of Prague's rich history? Meet Hotel King George.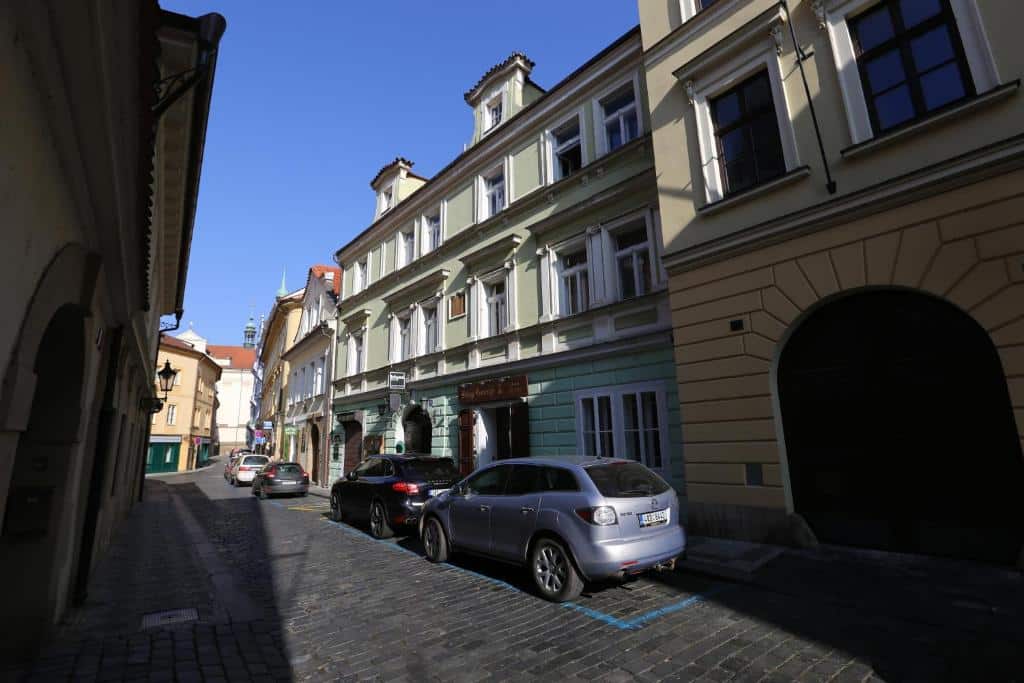 Located in the Old Town, this former 14th-century royal court doesn't skimp on historic charm.
You're right in the city centre, so the famous Astronomical Clock and vibrant Wenceslas Square are merely a stroll away.
The hotel boasts an old-world vibe, with wooden beams, antique furniture and even a suit of armour in the lobby – it's like stepping back in time!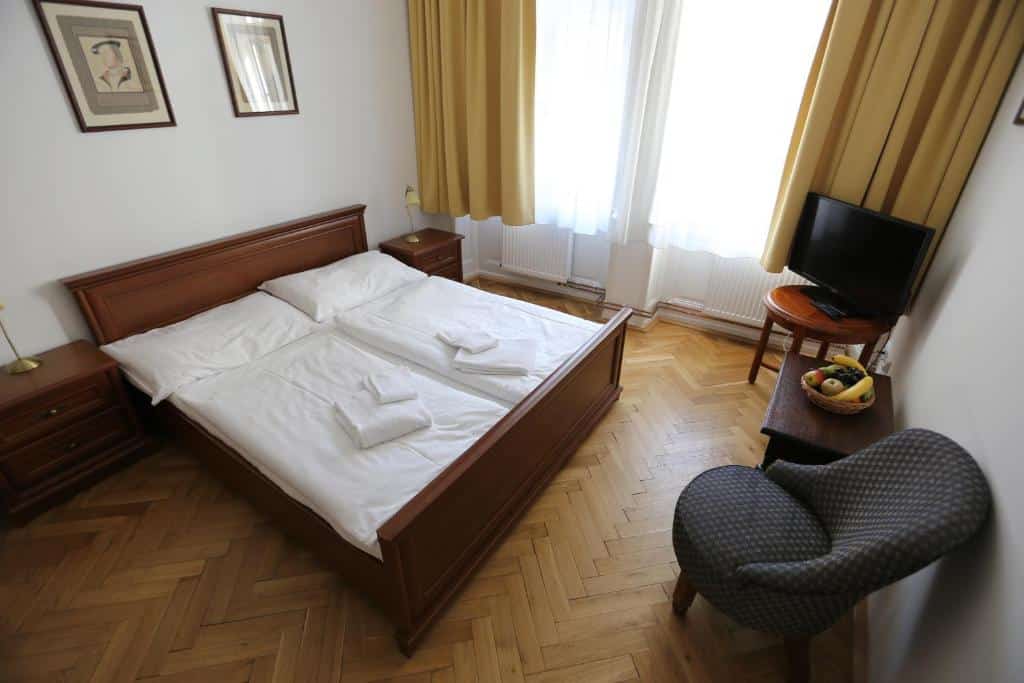 The rooms are simple and clean, offering all the essentials for a comfy stay.
There's also a restaurant on-site serving hearty Czech dishes that won't break the bank.
In short, Hotel King George is a fabulous choice if you're after a budget-friendly stay that delivers on location and character.
See more photos and book here.
2. Malá Strana – family-friendly area close to the Prague Castle 🏰
If you cross Charles Bridge from Staré Mesto, you come to the picturesque district of Malá Strana, with colourful and beautiful buildings in small streets that almost form a labyrinth.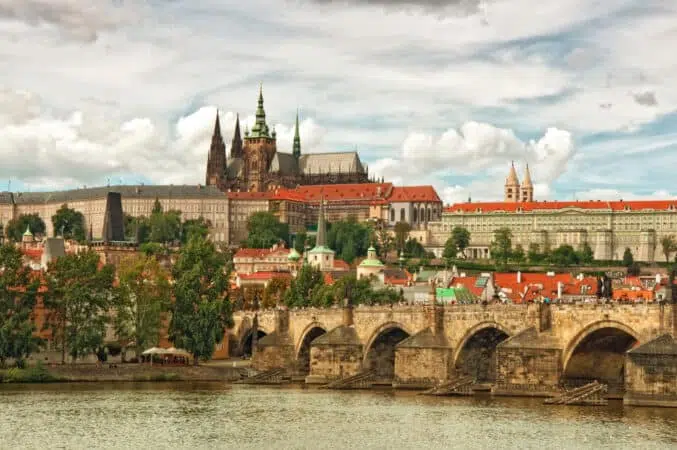 In this district, you will find Prague Castle, which for 1000 years has been home to heads of state ranging from Roman emperors to current presidents. The castle dates back to 870 and has an exciting history.
See the best hotels in Mala Strana here.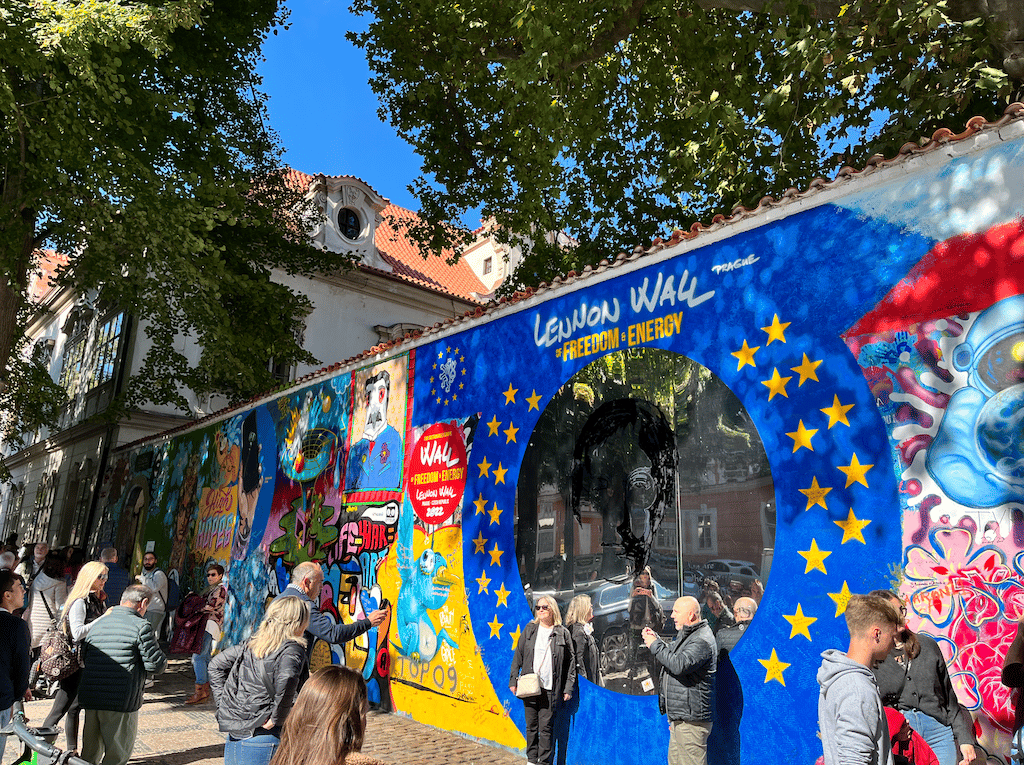 In this district, you can also experience The John Lennon Wall, many churches, and the Petřín Tower, a lookout tower that sits on a 318-meter-high hill and is 64 meters high.
There are 299 steps to the top, but you can also get up there by elevator.
Malá Strana has many bars, restaurants and cafes – but the prices are lower because the area is not as central as Staré Mesto.
In Prague, it is generally the case that the further you get from the centre, the lower the prices for the same goods.
Therefore, it is also recommended to stay in Malá Strana if you want to stay centrally, close to many attractions, but at the same time want to save a little money on accommodation.
There is also not as much going on in the nightlife in this area as on the other side of the river.
Places to stay in Malá Strana
Malá Strana is a cosy neighbourhood; with its small streets and colourful houses, it has a bias that gives it lots of charm.
Miss Sophie's Charles Bridge is close to Prague Castle and the tram runs right outside the door.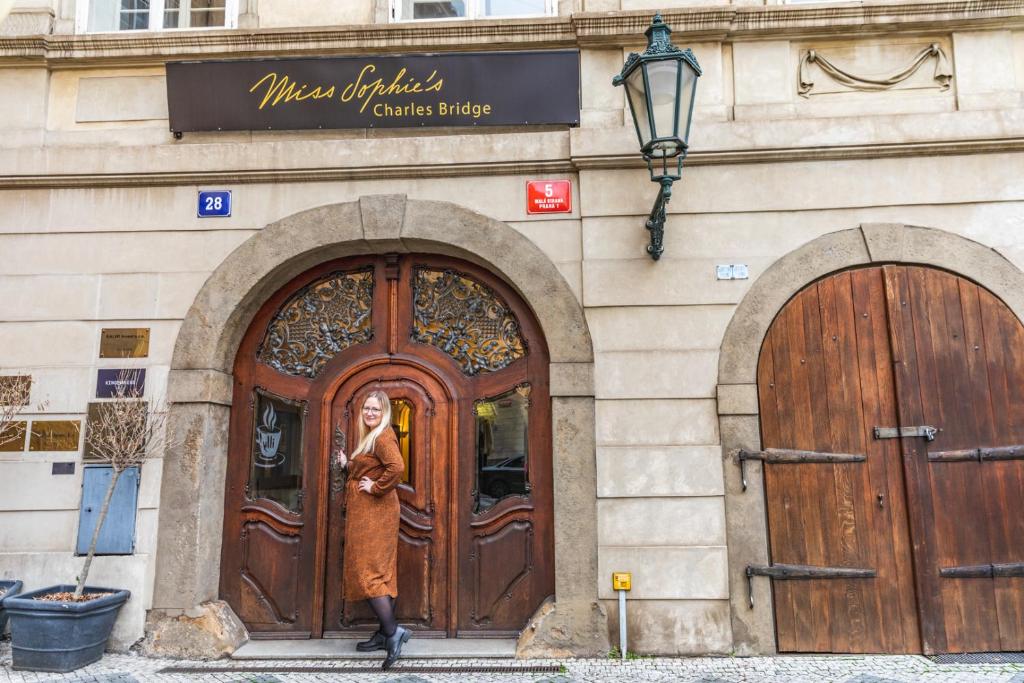 The atmosphere at the hotel is unique, and fits in well with what you expect in this district. You feel well received with a welcome basket and a handwritten letter.
You can see more pictures of the hotel here, as well as see prices and available dates.
If you're looking for a more luxurious place to stay in Prague, I'd recommend The Alchymist Grand Hotel and Spa.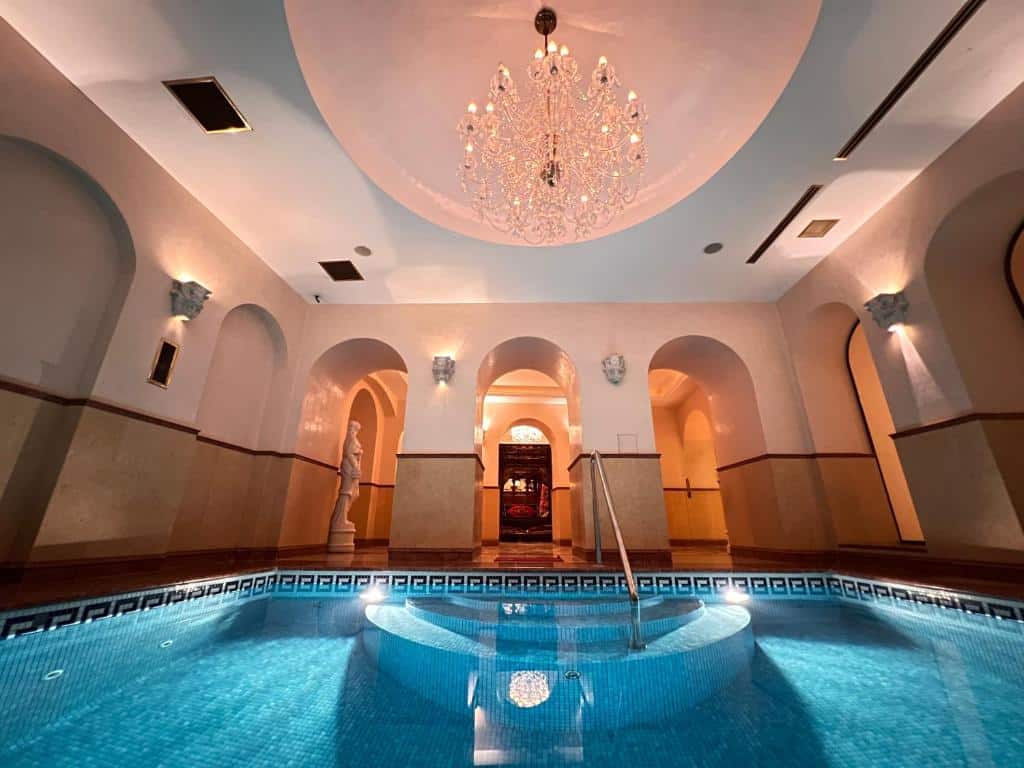 The Alchymist Grand Hotel and Spa is a 5-star hotel in Prague's enchanting Malá Strana district.
This boutique hotel is housed in a beautifully restored 16th-century Baroque building, offering an elegant and sophisticated atmosphere.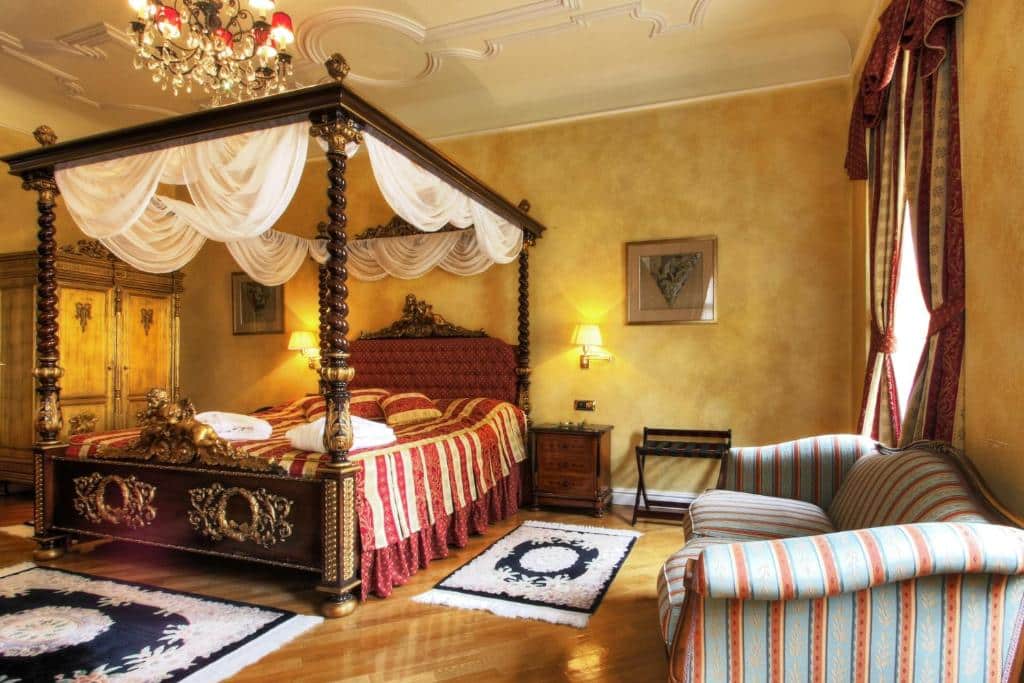 Its top-notch service, spacious rooms adorned with antique furnishings, and modern amenities make it the perfect place for a comfortable and indulgent stay. And there's a spa!
See more photos and book online here.
If you're looking for a wallet-friendly spot in the heart of Mala Strana, Hotel Pod Věží should be on your radar.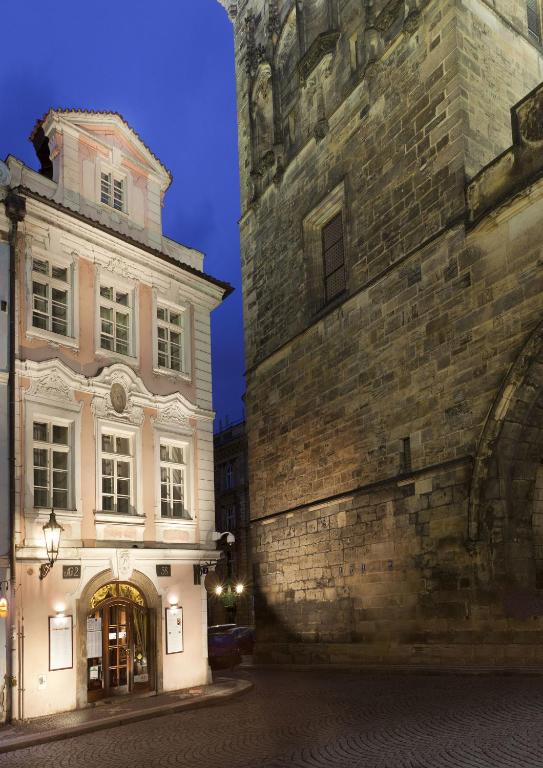 Smack bang next to Charles Bridge; you couldn't ask for a better location.
You're in the thick of Prague's history, with the scenic castle and charming alleys of Mala Strana right on your doorstep.
As for the hotel itself, it's a cosy and inviting place where traditional Czech style meets modern comforts.
The rooms are clean and well equipped, with many offering stunning views of the bridge.
Hotel Pod Věží truly offers great value without compromising on location or comfort.
See more photos and book here.
3. New Town – a cheaper area without (too many) tourists
If you don't want to stay side by side with other tourists and generally belong to those travellers who like to move a little outside the centre, then it may be that you will find yourself more at home in Prague 2 / New Town.
In Prague 2, you again move a little further away from the centre, but with slightly better offers on the prices at the hotels as a result.
It's still only a short walk to the nearest metro or train station.
See the best hotels in Prague 2 here.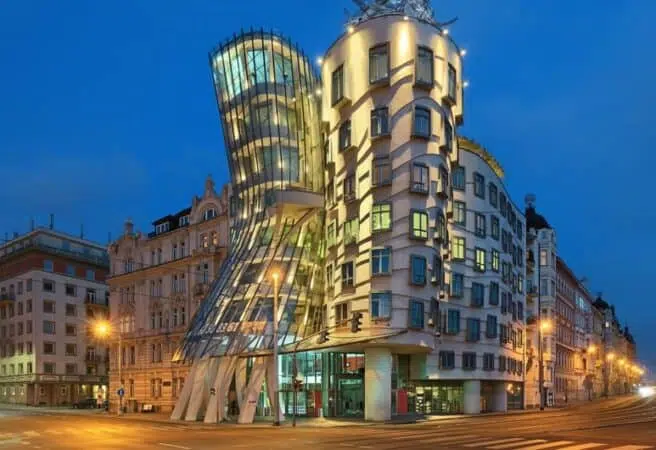 Depending on where you settle in the district, you can also enjoy a fantastic view of the river.
I stayed in this area on my first trip to Prague and was super happy about it, as here you also have the opportunity to go to bars only with locals, shop in regular supermarkets and still be only a 10-minute walk from the old town.
In Prague 2, you get a more local experience if you go out to eat, as the area here is not so full of tourists; the restaurants are more characterised by what the locals eat and pay.
It is also in this area that many Western foreigners choose to settle permanently if they want to live in Prague.
The area is also not that different from the centre, there are plenty of historic buildings, churches, and squares to experience.
Places to stay in New Town
Let's look at some lovely places to stay in New Town, where you get a bit more bang for your buck compared to the previous areas.
Miss Sophie's New Town & Wellness is a hidden gem in Prague's vibrant New Town.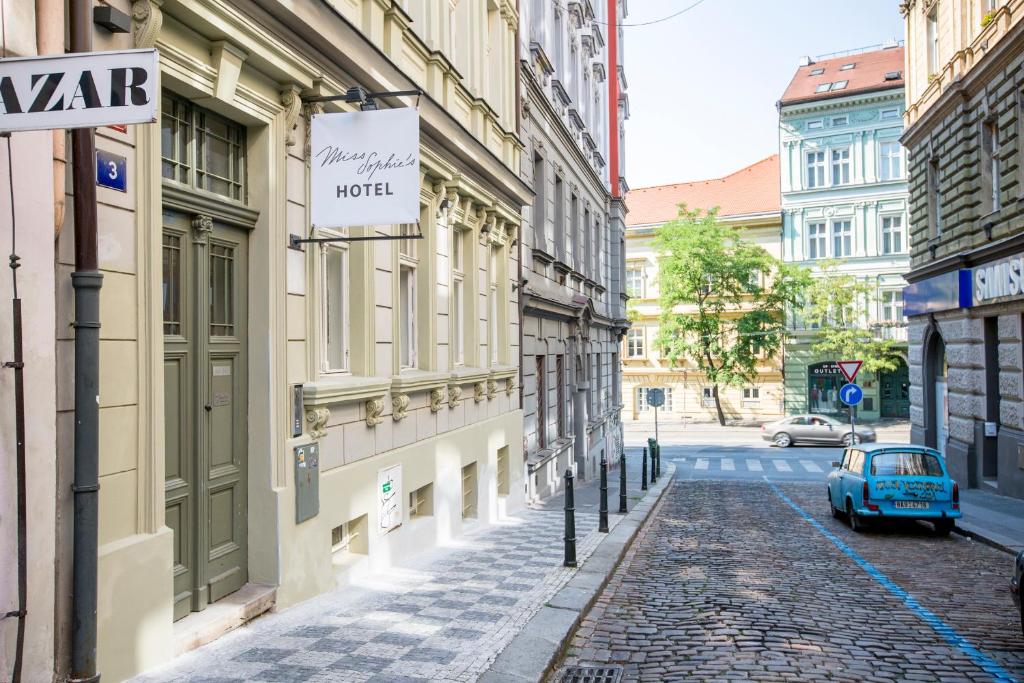 This boutique hotel is a delightful blend of contemporary design, personalised service, and home-away-from-home comfort.
The rooms? Think minimalistic chic with a homely touch.
Each is well-equipped with everything you'll need, plus little extras like luxurious toiletries that add a special touch.
But it's not just about the rooms. There's an on-site wellness centre where you can kick back in the sauna or enjoy a massage after sightseeing.
You're also in a fantastic location, with Wenceslas Square and the famous Dancing House within easy walking distance.
For travellers seeking a unique and value-for-money stay in the city, Miss Sophie's New Town & Wellness hits the spot.
See more photos and book here.
If you want to see some slightly different architecture, you should pass by The Dancing House, built in 1997 in a collaboration between the Czech architect Vlado Milunić and the well-known American architect Frank Gehry.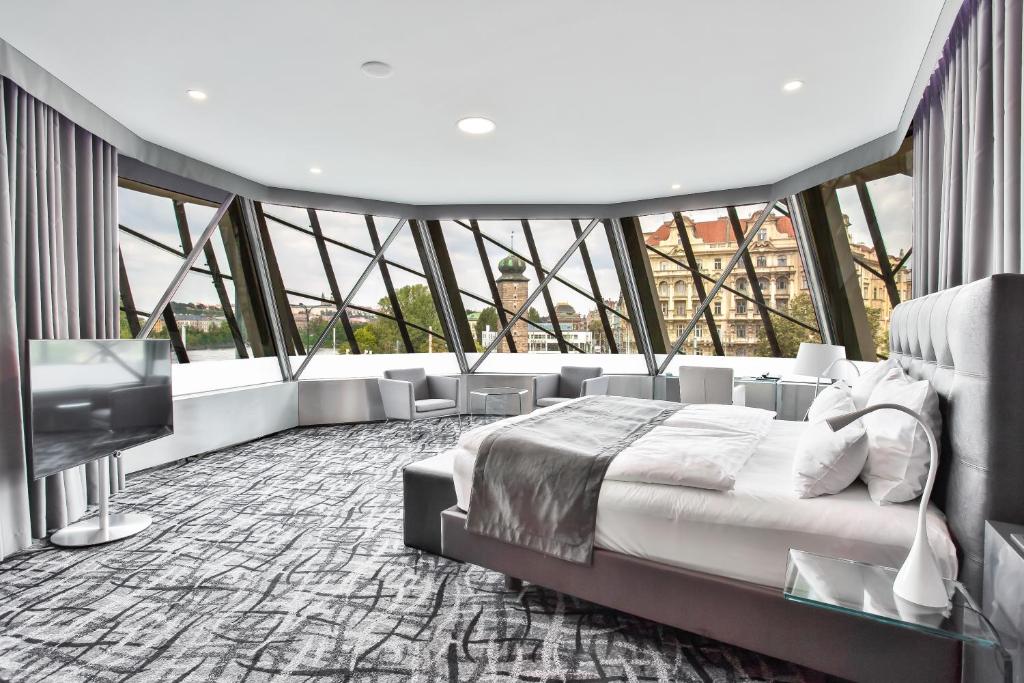 If you want to stay a little different and have a fantastic view, it is also possible to stay in The Dancing House, you can see more pictures and book your stay here.
How about a reliable favourite with a dash of local charm? Meet Best Western Hotel Moran.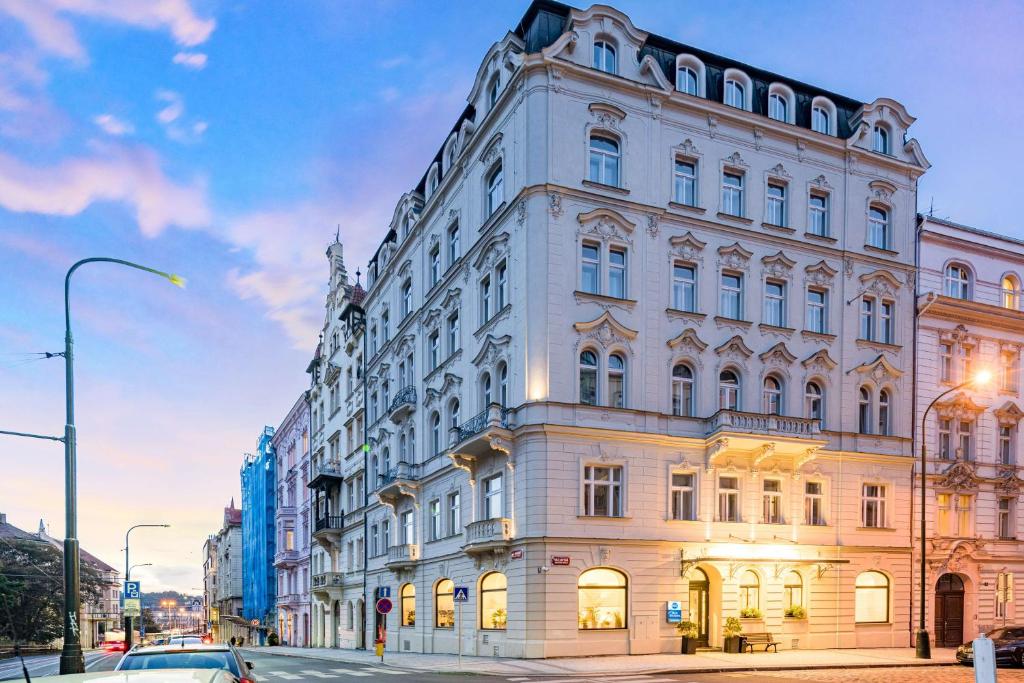 Situated in Prague's New Town, this hotel is perfect for those wanting a central stay without the hefty price tag.
You're a short walk from the Vltava River, the famous Dancing House, and plenty of local shops and eateries. The hotel itself is a mix of comfort and practicality.
The rooms are modern, clean and have all the essentials you'd expect from a Best Western.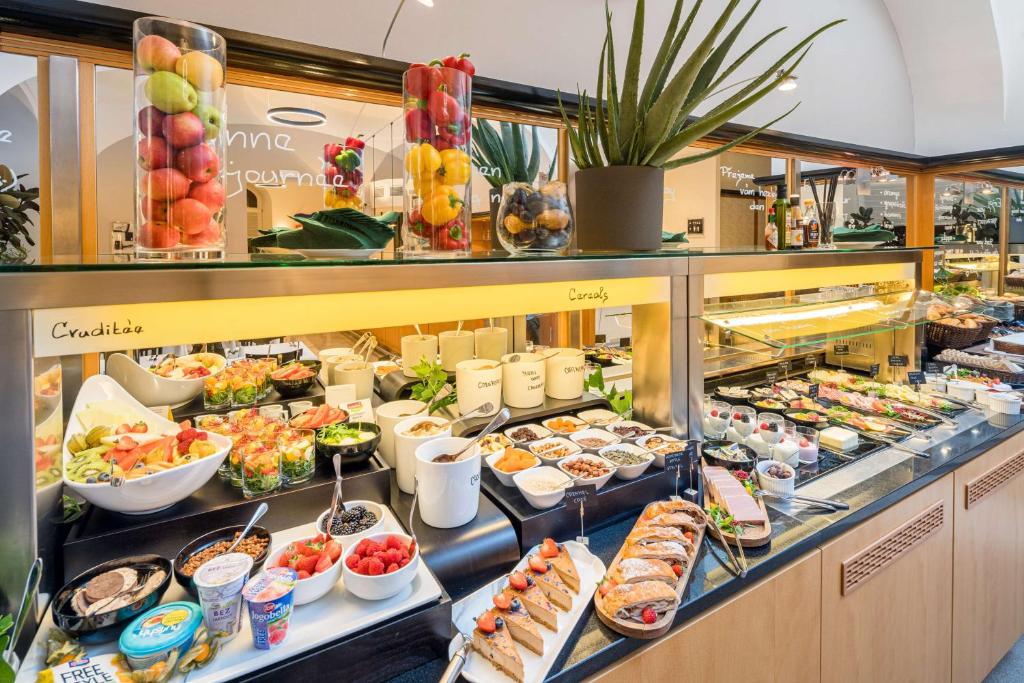 Their buffet breakfast is a real highlight, with a range of hot and cold options to set you up for a day of exploring.
And when you're ready to relax, their cosy lobby bar is the perfect place to unwind with a Czech beer.
Overall, Best Western Hotel Moran offers a solid, value-for-money stay in Prague.
See more photos and book here.
4. Žižkov & Vinohrady, Prague 3 – best place to stay for a hipster atmosphere
This district consists mostly of the area called Žižkov, but the Vinohrady area from Prague 2 also goes a little way into Prague 3.
Žižkov has a reputation for being a slightly "rougher" part of Prague, and it is said that this area has the most bars per capita. inhabitant.
In recent years, however, it is also here that the city's hipsters have made their way in, so there are lots of trendy cafes and generally a more trendy atmosphere than in the centre of Prague.
If you choose to stay near Vinohrady, however, there is plenty of things to do, and even though the metro does not go that far, there are pretty good tram connections.
There are lots of green areas in Zizkov, and you can enjoy a beer in the beautiful outdoor beer gardens.
A must-see in this area is the TV tower, a 216-meter-high tower from which on a clear day you can see over 100 km.
The tower is located in the middle of Mahlerhaven, but even though it is one of Prague's most obvious landmarks, not everyone has positive things to say about its appearance.
It is possible to visit the restaurant in the tower, which is located 66 meters above the ground.
Places to stay in Žižkov and Vinohrady
With half the accommodation price compared to staying in the centre of Prague, it's worth considering whether you want to spend a little extra time on transport.
Hotel Beránek is an excellent pick if you're after a central location with a neighbourhood feel.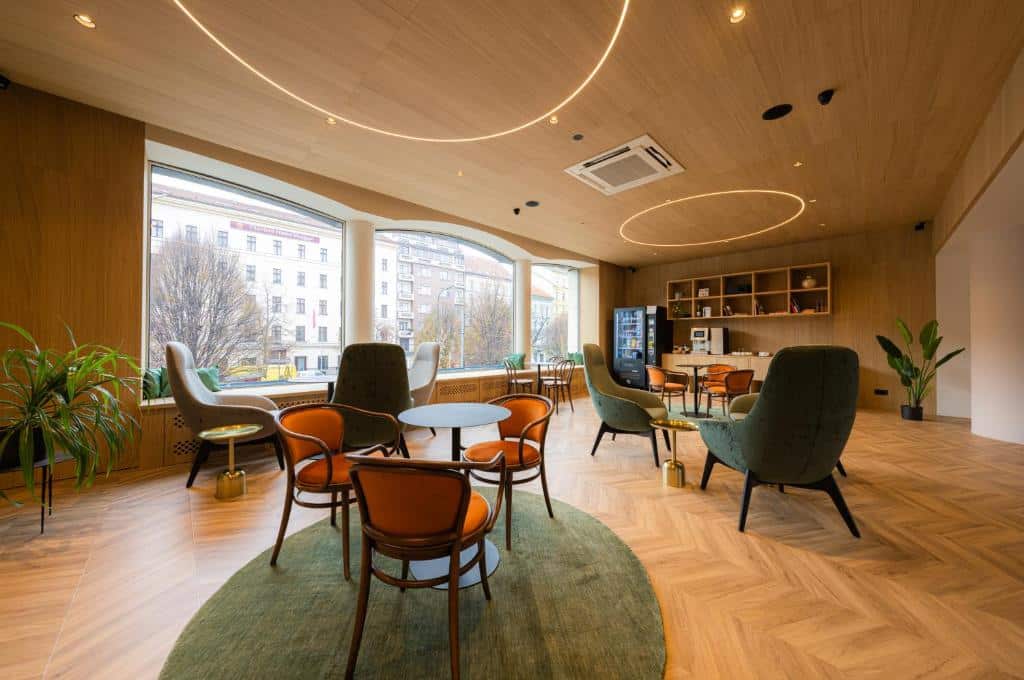 Located between Prague's bustling city centre and the trendy Vinohrady district, you're perfectly positioned for sightseeing and local exploration.
Rooms are spacious and bright, kitted out with all the basics you'll need for a comfortable stay.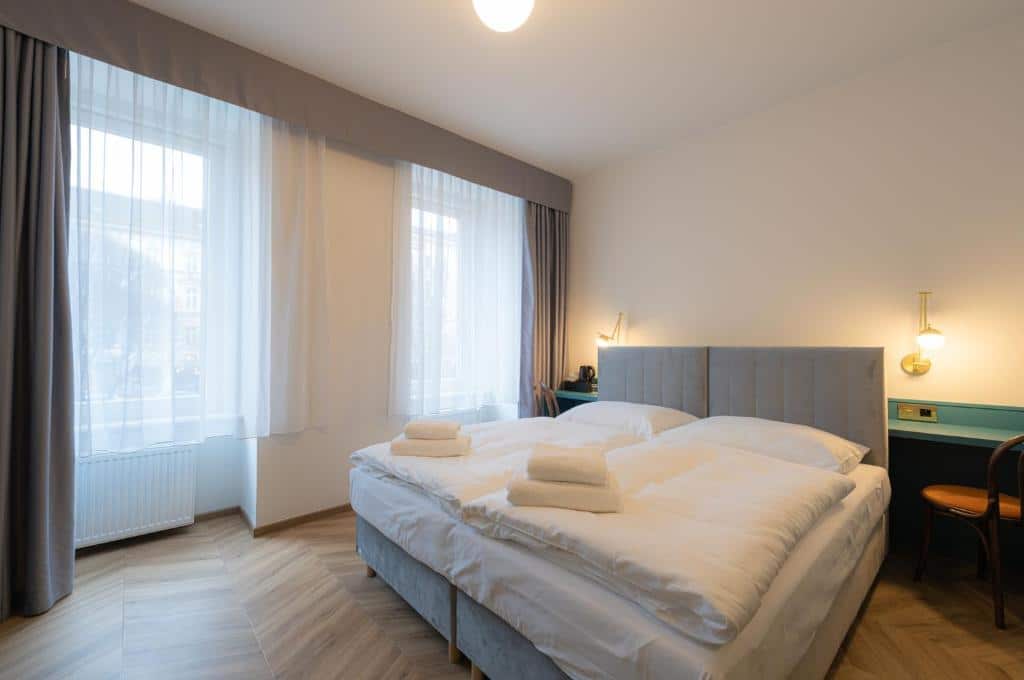 When it comes to food, you're in luck – the hotel is surrounded by some of the city's best restaurants and cafes, making it a breeze to sample local cuisine and get some of the best Czech beers you'll ever taste.
So Hotel Beránek offers the best of both worlds – a city centre stay with a local twist.
See more photos and book here.
If you're after a home away from home in Prague, you can't go wrong with Hidden Art Boutique Residence.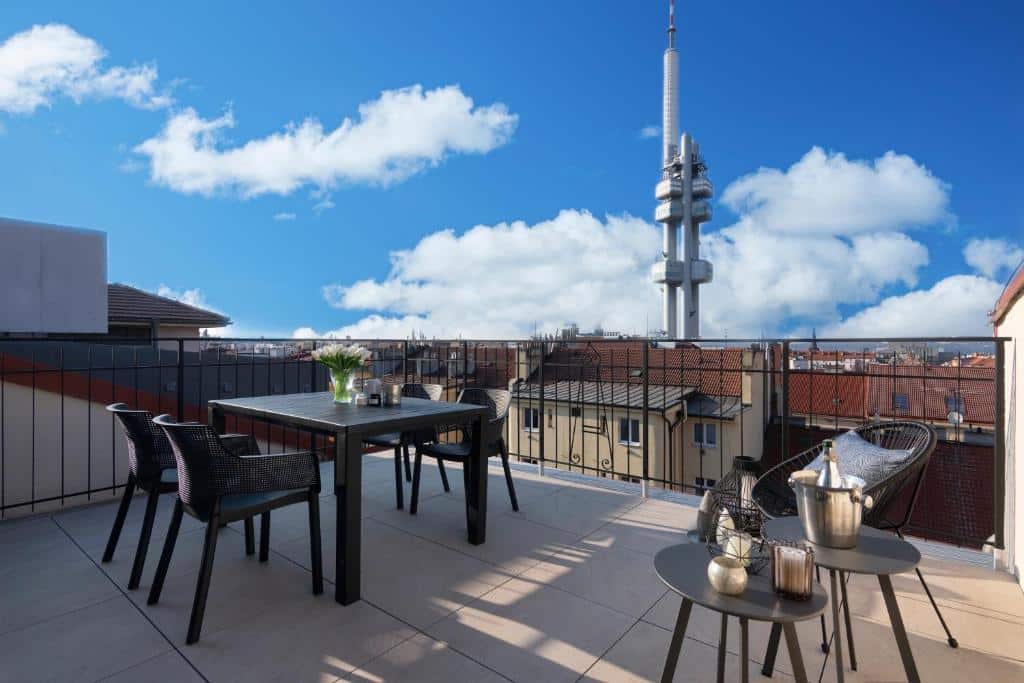 We're moving to the quirky Zizkov district, where these apartments offer a unique and cosy base for your Czech adventure.
Each apartment is tastefully decorated with local art and equipped with a kitchenette, making it easy to whip up your meals if you fancy a night in.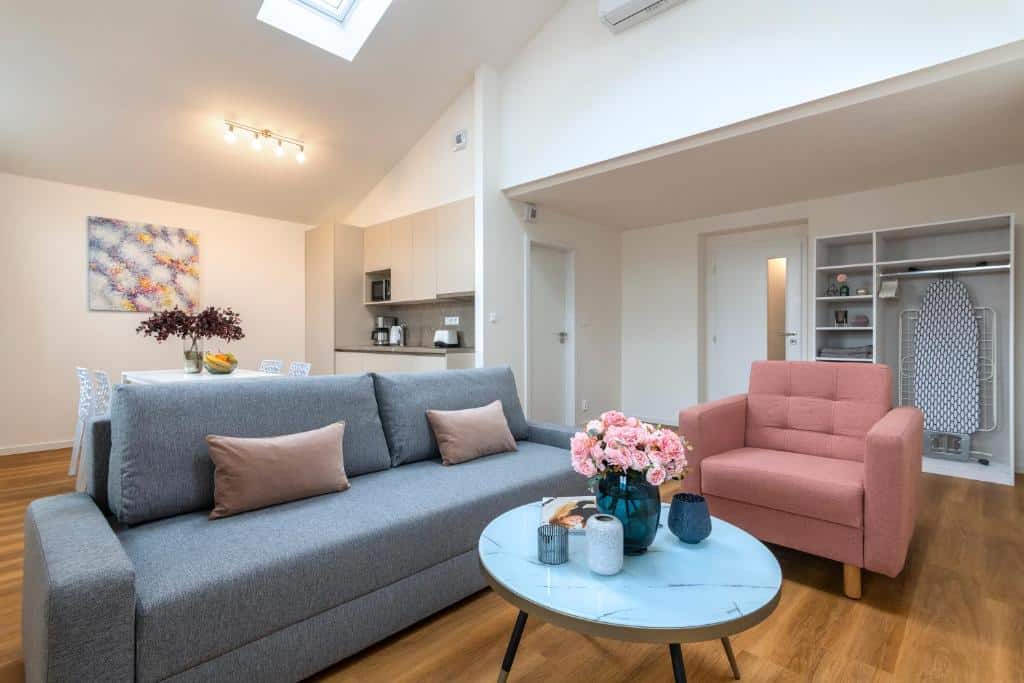 And don't worry about getting around – you're just a hop, skip, and jump away from local tram and metro stops, so you can zip around Prague with ease.
With the feel of a local neighbourhood and the accessibility of the city, Hidden Art Boutique Residence offers a unique Prague experience that's hard to beat.
See more photos and book here.
5. Smíchov-Anděl, Prague 5 – stay in a truly underrated area
I understand that most tourists want to live as close to the center as possible. Conveniently, you don't have to spend time on transport and all sights are right outside the door.
If you have been out shopping, you can quickly return to the hotel with your goods, before the trip continues toward restaurants and bars.
But for families or others who perhaps just appreciate that in the evening you can retreat to quieter areas, and also want to experience something other than the city, Smíchov-Anděl in Prague 5 is an underrated area.
See the best hotels in Smíchov here.
Metro and trams are in this district, so you are in no way prevented from getting out and experiencing something. You will find one of the city's largest shopping centres here, the Novy Smichov.
If you are a beer enthusiast, you should stop by Staropramen Brewery, where you can enjoy something good for the palate in their courtyard.
Staropramen Brewery is the Czech Republic's second-largest beer producer and produces up to half a million bottles of beer per day, as well as thousands of kegs.
Check out this video where a local show us the area:
Kinsky Garden is a 22-hectare park consisting of several gardens that were started in 1825 by the patriotic Count Rudolf Kinsky.
Not far from Kinsky Garden is the national museum Musaion. Here, the focus is on old local Czech coal pipes.
If you are more into art, you can visit the international center for modern art MeetFactory.
Places to stay in Smichov-Andel
This underrated area of Prague has got a number of very modern and well-priced places to stay – let's take a look.
Looking for a stylish stay away from the tourist throng? Step into OREA Hotel Angelo Praha.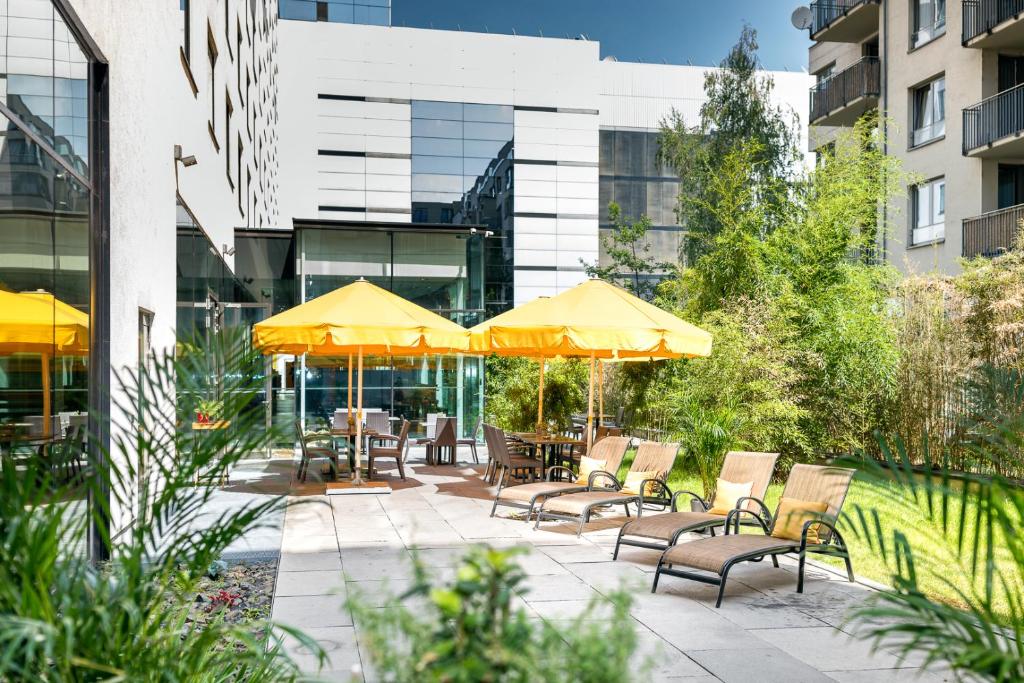 This hotel is located in the Smichov-Andel area, bringing modern luxury to your Prague adventure.
You're not in the typical tourist area, which is part of the charm – instead, you're in a bustling local neighbourhood full of shops, cinemas, and eateries.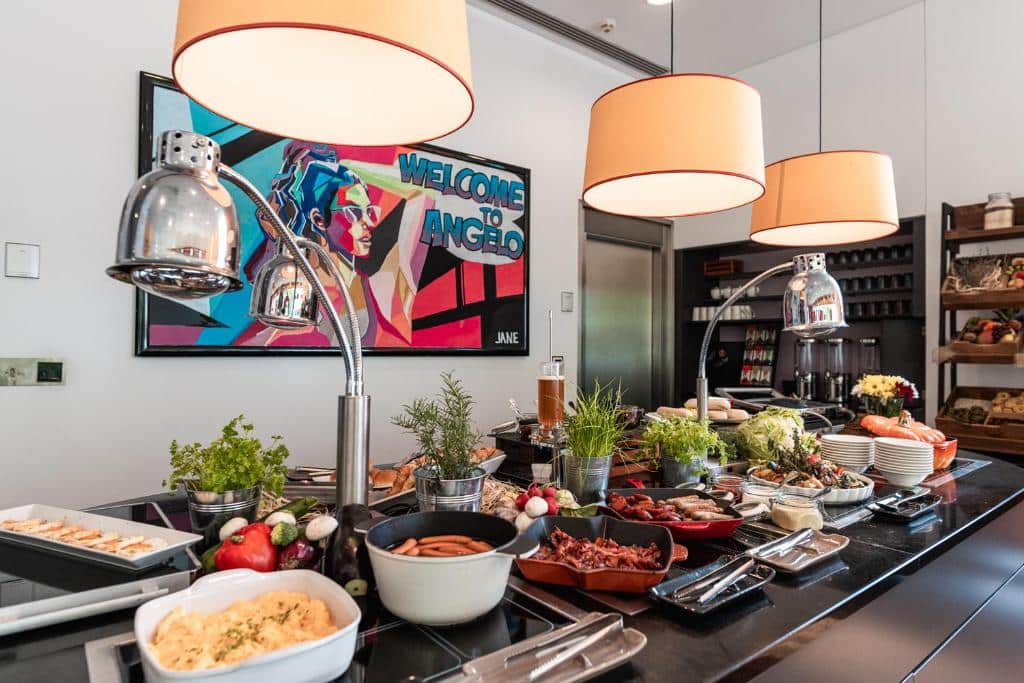 The rooms are chic and comfortable, featuring bold colours and modern furnishings.
You're also well connected here – the Andel metro station is just a short stroll away, making exploring the rest of the city easy.
OREA Hotel Angelo Praha offers a modern, relaxed stay with a local flavour.
See more photos and book here.
It's a bit weird to call a luxury hotel "cheap", but I'm going to do it anyways now: if you're looking for a cheap luxury hotel in Prague, say hello to Mamaison Hotel Riverside Prague.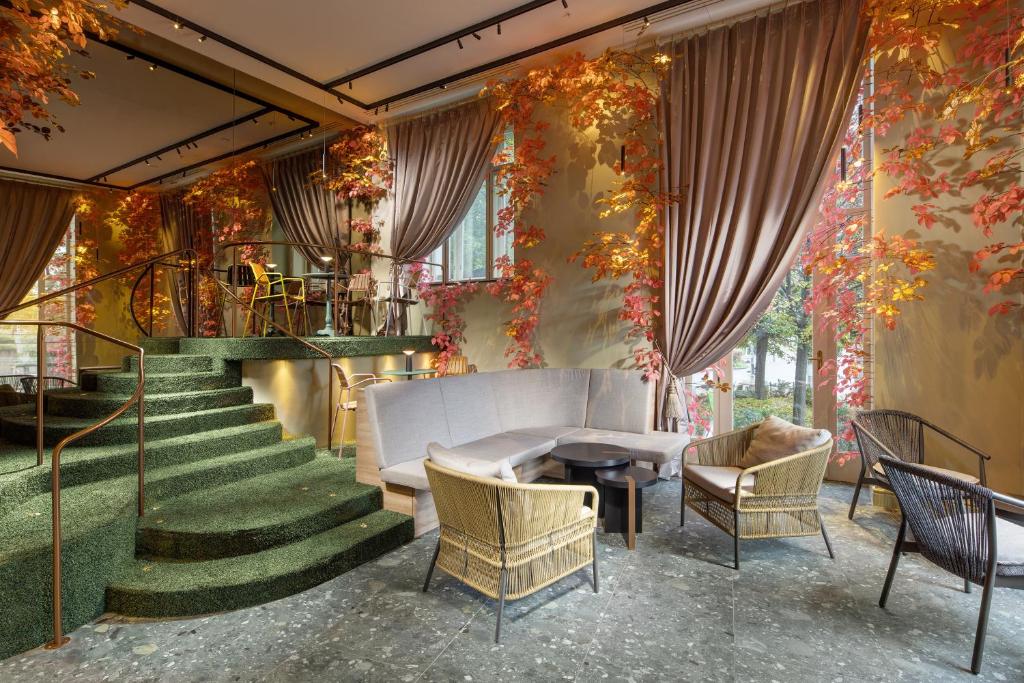 It's located right by the Vltava River, and this hotel is a stylish sanctuary. The building combines Art Nouveau charm and modern elegance with stunning river views.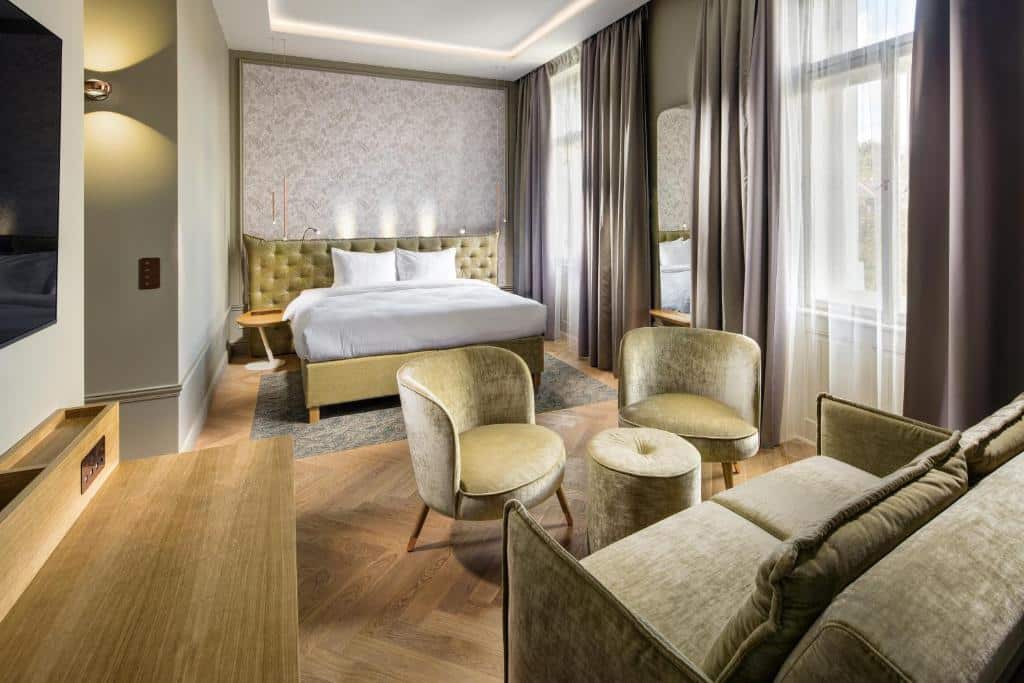 You'll find spacious rooms that blend comfort with a touch of opulence.
You're just a short tram ride away from Prague's main attractions but far enough to escape the tourist hustle.
Back at the hotel, why not enjoy a cocktail in the cosy bar or a stroll along the river?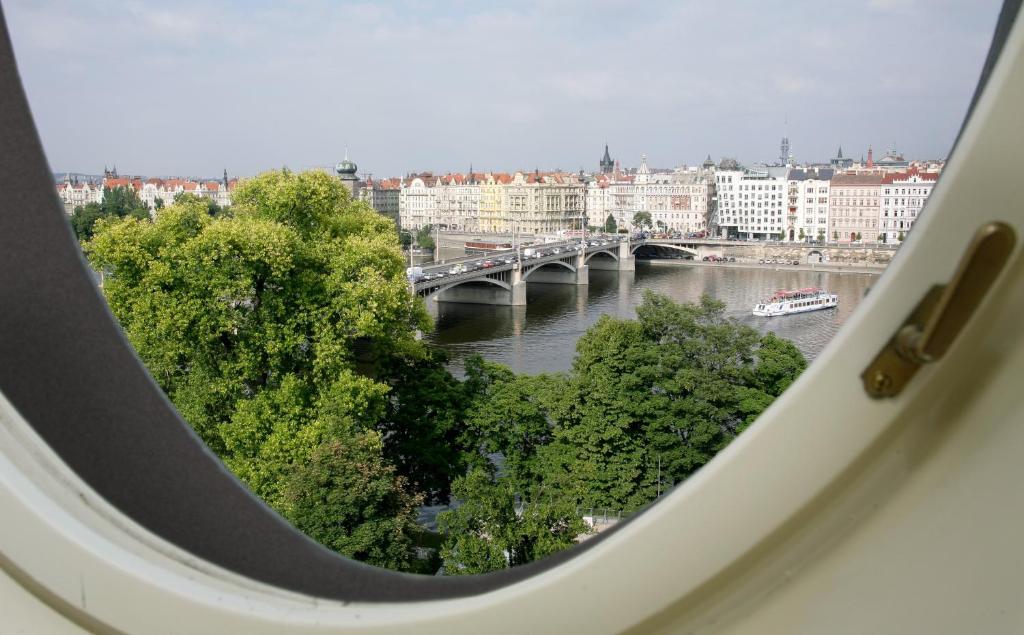 With its luxurious rooms, excellent location and more affordable rates compared to the city centre, Mamaison Hotel Riverside Prague really gives you more bang for your buck.
See more photos and book here.
Tips and tricks when travelling to Prague
I am an advocate of planning your trip as much as possible from home. What you want to see and how to get around, etc.
Prague is a fantastic city, with lots of history, and if you are into churches, museums and medieval buildings, there is an incredible amount to see.
With a Prague Card, you can save a lot on entrance fees to various attractions, and there are also discounts on restaurants and much more.
Read more about the Prague Card here.
It may also be that you are looking for certain experiences, a boat trip or perhaps a guided pub crawl, you can book this and many similar experiences here.
Since Prague is an area with many tourists, there are also several tourist traps to avoid falling into.
It can, for example, be that the waiter himself adds a handwritten amount to the receipt which should constitute a tip, or that the taxi driver offers a "fixed price" which is ultimately more expensive than what the taxi meter says.
This is not ok – you are never forced to pay a tip, and stories about the taxi meter not working, etc., should also never be jumped on.
Prague is not a dangerous place to visit – but there are many pickpockets at play in the busiest areas, so you should not carry valuables in visible bags or pockets.
By the way, I can recommend the Youtube channel "Honest Guide", which tells you everything you need to know before travelling to Prague.
I hope my guide to where to stay in Prague has helped you a little on the way to a better experience of Prague. It is not very expensive to travel to Prague or to stay in the city, perhaps that is why the destination is so popular.
Have a lovely trip to the Czech Republic.
FAQ:
What is the best part of Prague to stay?
In my opinion, Staré Mesto (Prague 1) is the best area for most tourists. If you stay in this neighborhood you're going to be within walking distance of all of the major sights and you're never far from a nice restaurant or bar.
What's the difference between Old Town and New Town?
In Prague, the Old Town (Staré Město) and New Town (Nové Město) are two distinct historical districts that differ in terms of age, architecture, and atmosphere.
Old Town is the city's historic heart, dating back to the 13th century. It is characterized by its narrow, winding cobblestone streets, medieval buildings, and iconic landmarks like the Old Town Square, the Astronomical Clock, and Charles Bridge. The area has a charming, old-world atmosphere, with numerous churches, historic buildings, and quaint squares.
New Town, on the other hand, was established in the 14th century by Emperor Charles IV to accommodate the city's growing population. Despite its name, New Town is still quite old but has a slightly more modern feel. It features wider streets, expansive squares, and a mix of architectural styles, including Gothic, Baroque, and Art Nouveau. Some notable attractions in New Town include Wenceslas Square, the National Museum, and the State Opera.
While both areas are rich in history and culture, Old Town is generally more popular among tourists for its picturesque charm, while New Town offers a blend of historic sites, shopping, and vibrant nightlife.
Which side of the river is best to stay in Prague?
In this guide, my top picks when it comes to all areas of Prague are Staré Mesto and Malá Strana. Staré Mesto is on the east side of the river and where most main tourist attractions are located. If you're looking for a more relaxed but still very central vibe, then I'd recommend you stay in Malá Strana on the west side of the river.
Is Prague a walkable city?
Yes, Prague is a highly walkable city. The historic city center, which includes Old Town (Staré Město), New Town (Nové Město), and Lesser Town (Malá Strana), is relatively compact and can be explored comfortably on foot. Many of the city's main attractions, such as Charles Bridge, Old Town Square, Wenceslas Square, and Prague Castle, are within walking distance of each other.
The cobblestone streets, picturesque squares, and beautiful architecture make walking through Prague a delightful experience. However, it's essential to wear comfortable shoes since the cobblestones can be uneven and difficult to navigate in some areas.
For longer distances or when you want to explore neighborhoods outside the city center, Prague also has an efficient and affordable public transport system, which includes trams, buses, and a metro system.
Where not to stay in Prague?
While the city is relatively safe and delightful, some spots might not be the most appealing or convenient for tourists. Here's my take on where you might want to reconsider staying:
The Wenceslas Square area (Prague 1): Despite being in the city centre, Wenceslas Square can be quite noisy and crowded, particularly at night. It's known for attracting pickpockets and overpriced tourist traps. Instead, I'd suggest looking for lodging in quieter parts of Prague 1 or exploring other charming neighbourhoods.
Certain parts of Prague 3: Some parts of Prague 3, particularly around the main train station (Hlavní nádraží) and adjacent streets, can be a bit sketchy, especially at night. While not necessarily dangerous, they may not offer the best experience for tourists.
Outer districts: Generally, the outer districts (such as Prague 9, 10, and 11) are more residential and industrial, lacking the charm and historical beauty of the city center. While they aren't dangerous, they might not provide the best experience for tourists seeking the magic of Prague. You want to stay close to the main things to do, so choose a hotel in the city centre.
Where to stay in Prague for nightlife?
For a good nightlife experience in Prague, look no further than Old Town. It's the absolute go-to place with its buzzing atmosphere, many bars, clubs, and pubs, all within easy walking distance. You'll always have places to explore and party the night away with friends.