In this guide, I discuss where to stay in Prague and recommend good hotels in the mentioned areas.
There is plenty to choose from and you can look forward to a fantastic city where you get great value for money – also when it comes to hotels in Prague.
Are you in a rush? This is a rather long travel guide on the best areas in Prague, but if you just want to book a great hotel in the city center I'd recommend you check out the lovely Julius Prague.
The best places to stay in Prague ⭐️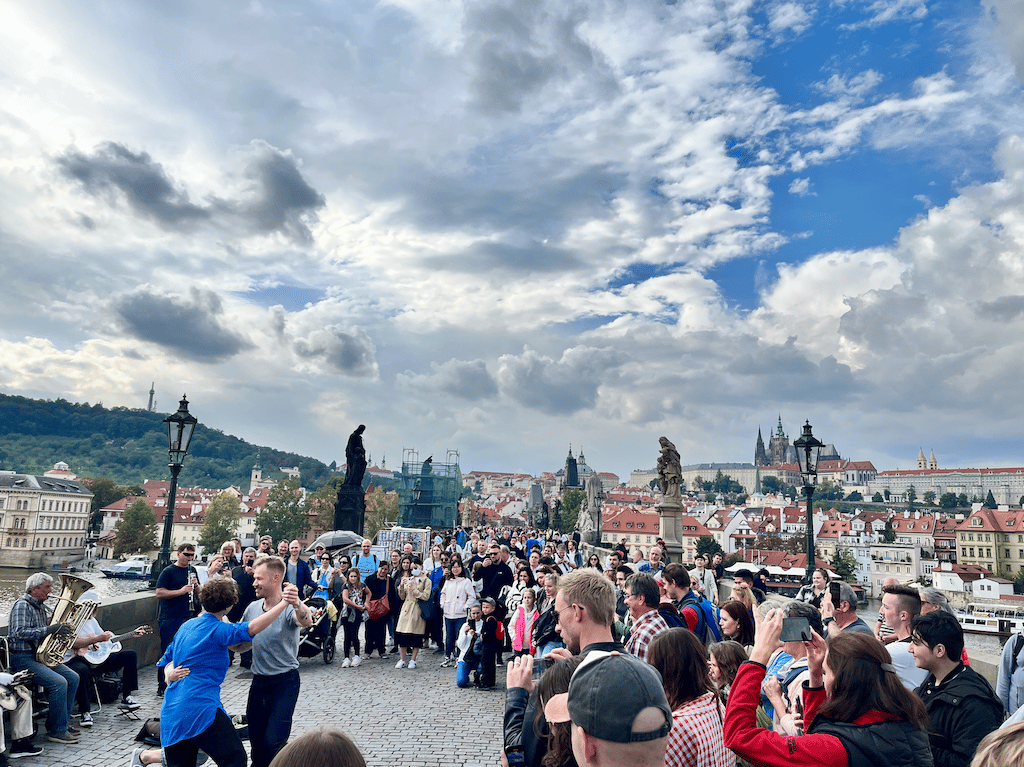 Prague is divided into a total of 22 numbered districts – the larger the number, the further away from the center.
So as a tourist it makes sense to stay in the city centre, but further out there are also many great things to do. And the accommodation is cheaper 😉
In general, all areas in Prague are safe and secure to stay in, so it mostly depends on what you want to experience while in the Czech capital.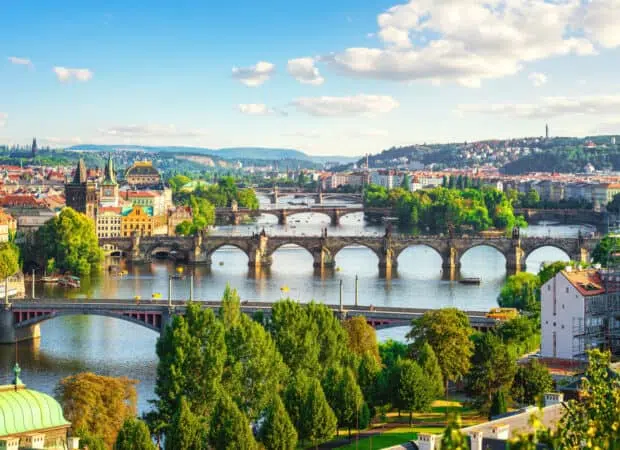 At the end of this post, I have made a section with tips and tricks before or while visiting Prague – I hope this will help you get even more out of your trip.
But let's dive into the different districts of Prague. I've chosen to tell you about the best 5 areas of Prague and I'll also recommend a couple of great hotels in those areas.
Where to stay in Prague? Let's start in the historic city center – The Old Town, Staré Mesto.
1. Staré Mesto, Prague 1 – The best place to stay for sightseeing 🗺
If you are looking for a classic city holiday and want to live in the center, I would like to recommend that you spend the night in Prague's old town, which is also called Staré Mesto.
Here you will find several museums and the Old Town Hall square. It is also in Staré Mesto where you can experience the Jewish quarter, Josefov.
The area is of course characterized by the fact that quite a few tourists stay in this neighborhood, so there is no shortage of restaurants, bars, and cafes. Which is great!
It all adds a certain atmosphere to the experience of the magnificent architecture and the cozy cobbled streets.
Staré Mesto is located on the east bank of the Vltava, the 430 km long river which runs through Prague. So how do you cross from the east to the west?
The famous Charles Bridge, of course.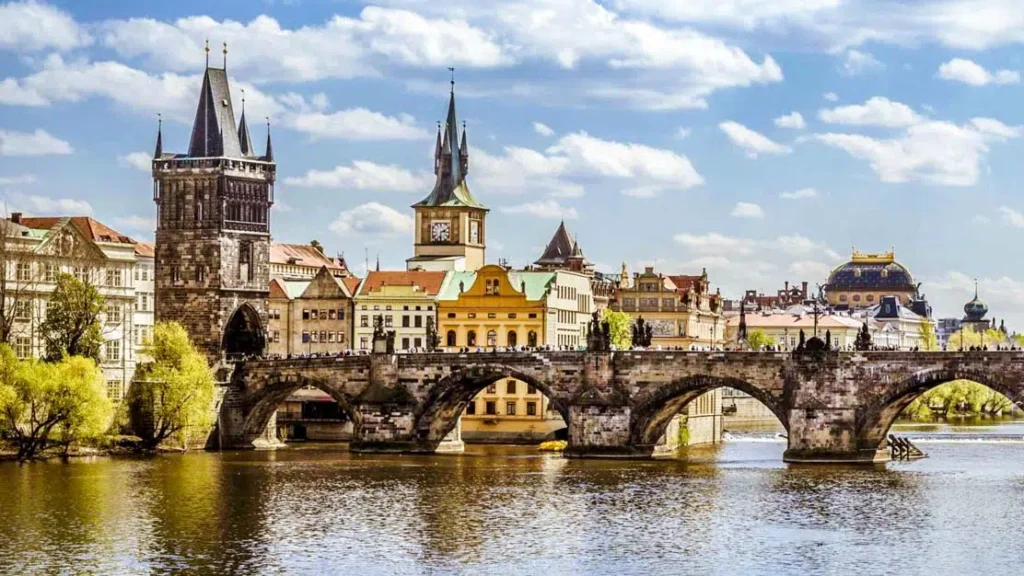 Charles Bridge is a 650-year-old stone bridge that spans 500 meters over the Vltava River.
It is an impressive sight to stand on the bridge and admire the river.
The bridge itself is also a fantastic piece of medieval architecture that must be experienced.
The whole of Prague 1 with its 4 areas is part of the UNESCO World Heritage List, due to the impressive history and buildings dating back to the Middle Ages.
If you would like to delve into the history and find out more about why the city is on the list, you can start here.
You could also check out my guide to the best things to do in Prague after you've found a place to stay.
Best place to stay in Staré Mesto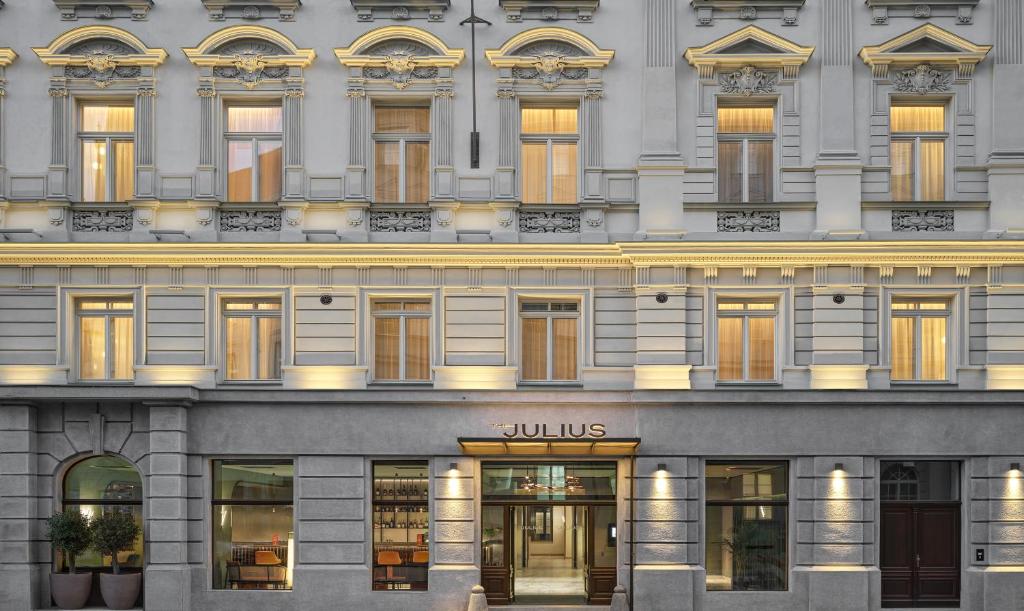 I first visited this hotel in the fall of 2022 and gotta be honest: it blew my mind.
The hotel is called The Julius Prague and it's located a 5 min walk from Old Town Square, so you never have to worry about taxis or public transport (the Prague public transport is great and easy to use though).
See more photos of the hotel here.
2. Malá Strana – family-friendly neighborhood close to the Prague Castle 🏰
If you cross Charles Bridge from Staré Mesto, you come to the picturesque district of Malá Strana, with colorful and beautiful buildings in small streets that almost form a labyrinth.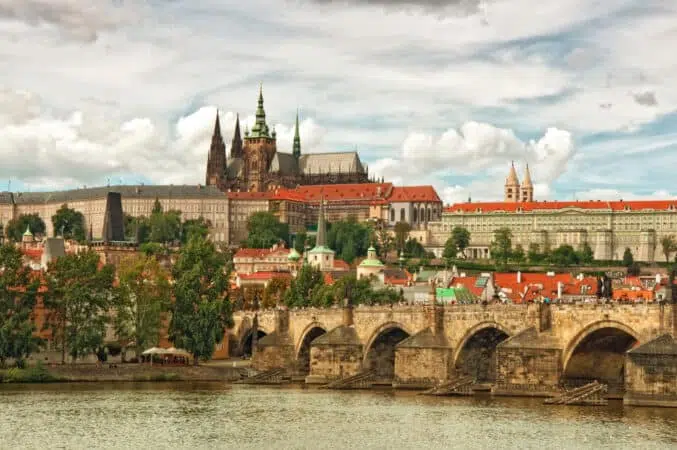 In this district you will find Prague Castle, which for 1000 years has been home to heads of state, ranging from Roman emperors to current presidents. The castle dates back to 870 and has an exciting history.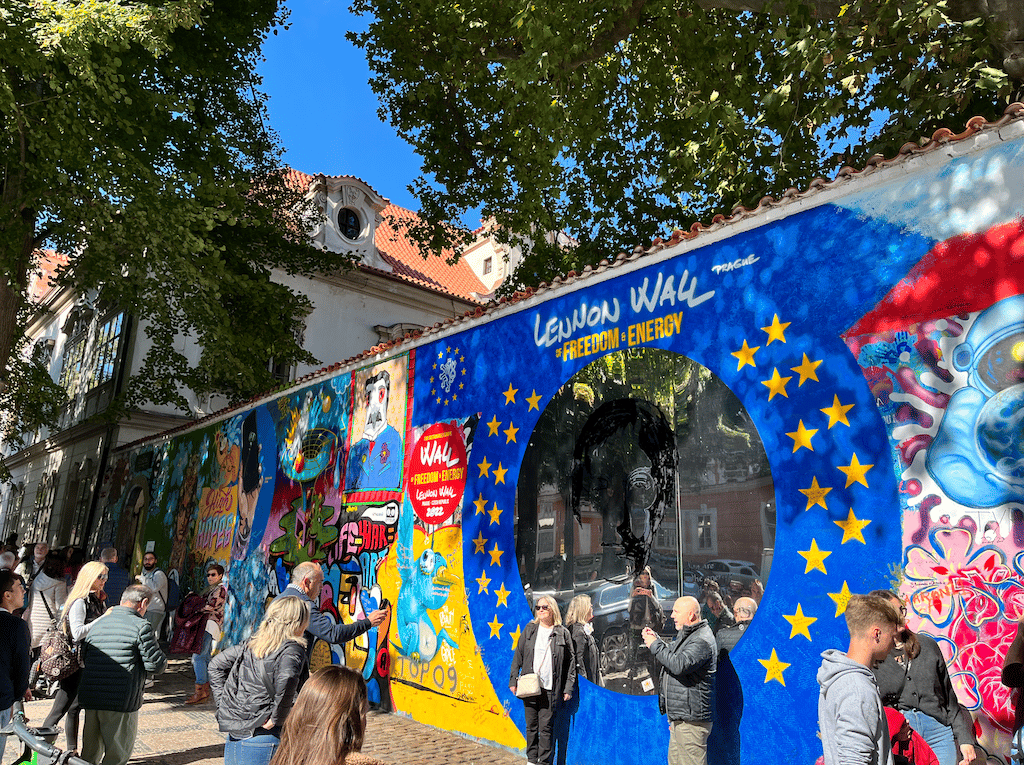 In this district, you can also experience The John Lennon Wall, a lot of churches, and the Petřín Tower, a lookout tower that sits on a 318-meter-high hill and is 64 meters high.
There are 299 steps to the top, but you can also get up there by elevator.
Malá Strana has a multitude of bars, restaurants and cafes – but as the area is not as central as Staré Mesto, the prices are lower.
In Prague, it is generally the case that the further you get from the center, the lower the prices for the same goods.
Therefore, it is also recommended to stay in Malá Strana if you want to live centrally, close to many attractions, but at the same time want to save a little money on accommodation.
There is also not as much going on in the nightlife in this area as on the other side of the river.
Best place to stay in Malá Strana (cheap and cozy)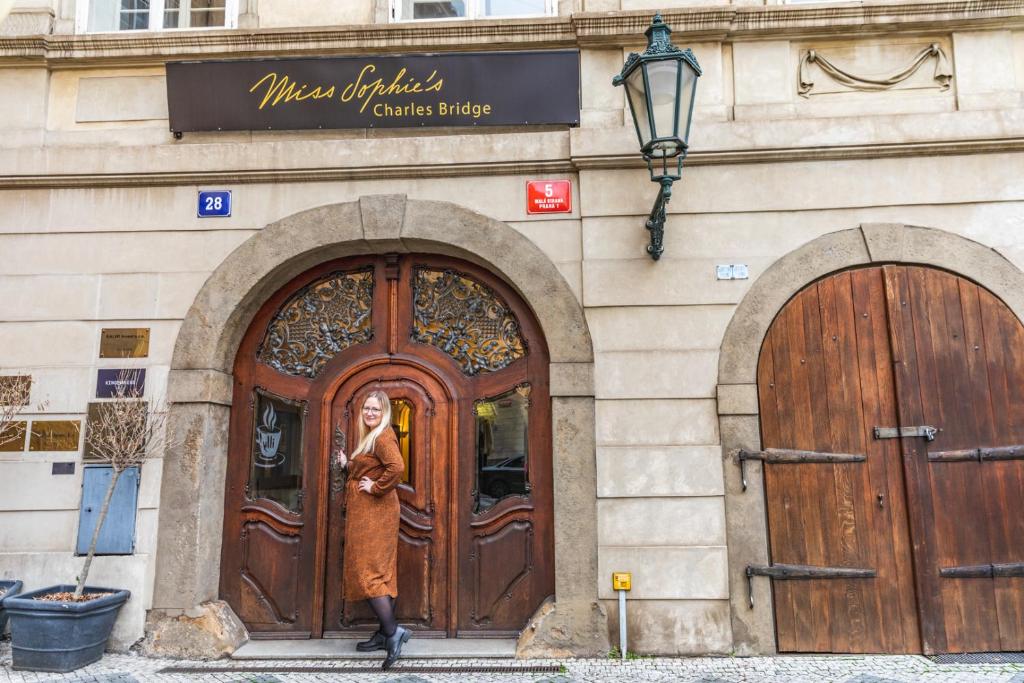 Malá Strana is a cozy neighborhood, with its small streets and colorful houses it has a bias that gives it lots of charm.
Miss Sophie's Charles Bridge is close to Prague Castle and the tram runs right outside the door.
The atmosphere at the hotel is unique, and fits in well with what you expect in this district. You feel well received with a welcome basket and a handwritten letter.
You can see more pictures of the hotel here, as well as see prices and available dates.
3. Prague 2 – A cheaper area without (too many) tourists
If you don't want to live side by side with other tourists, and generally just belong to those who like to move a little outside the center, then it may be that you will find yourself more at home in Prague 2.
In Prague 2, you again move a little further away from the center, but with slightly better offers on the prices at the hotels as a result.
It is still only a short walk to the nearest metro or train station.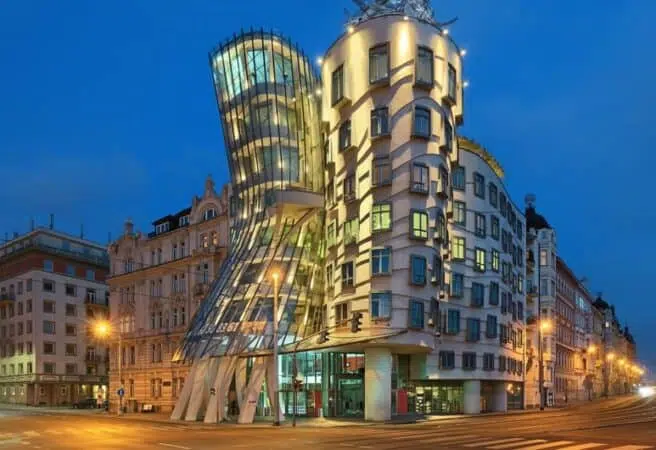 Depending on where you settle in the district, you can also enjoy a fantastic view of the river.
I stayed in this area on my first trip to Prague and was super happy about it, as here you also have the opportunity to go to bars only with locals, shop in regular supermarkets and still be only a 10-minute walk from the old town.
In Prague 2, you get a somewhat more local experience if you go out to eat, as the area here is not so full of tourists, the restaurants are more characterized by what the locals eat and pay.
It is also in this area that many Western foreigners choose to settle permanently if they want to live in Prague.
The area is also not that different from the center, there are plenty of historic buildings, churches, and squares to experience.
Stay in the iconic Dancing House 🕺🏻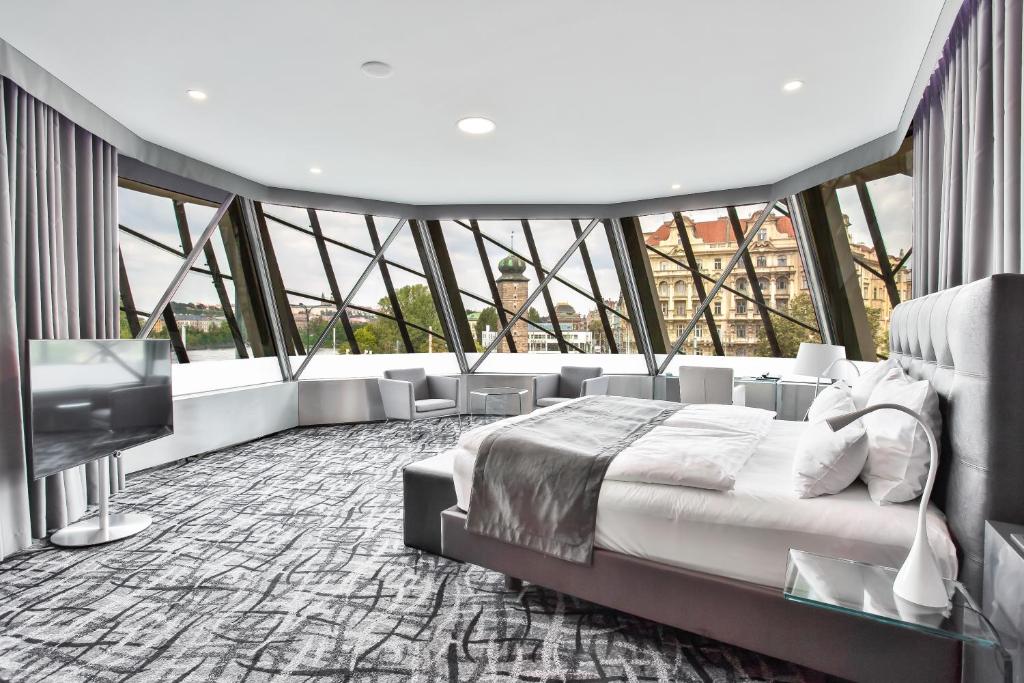 If you want to see some slightly different architecture, you should pass by The Dancing House, which was built in 1997, in a collaboration between the Czech architect Vlado Milunić and the well-known American architect Frank Gehry.
If you want to live a little differently and have a fantastic view, it is actually also possible to stay in The Dancing House, you can see more pictures and book your stay here.
4. Žižkov & Vinohrady, Prague 3 – best place to stay for a hipster atmosphere
This district consists mostly of the area called Žižkov, but the Vinohrady area from Prague 2 also goes a little way into Prague 3.
Žižkov has a reputation for being a slightly "rougher" part of Prague, and it is said that this area has the most bars per capita. inhabitant.
In recent years, however, it is also here that the city's hipsters have made their way in, so there are lots of smart cafes and generally a more trendy atmosphere than in the center of Prague.
If you choose to live near Vinohrady, however, there is nothing to look forward to. The metro does not go that far, but there are quite good tram connections.
There are lots of green areas in Zizkov, and you can enjoy a beer in the beautiful outdoor beer gardens.
A must-see in this area is the TV tower, a 216-meter-high tower from which on a clear day you can see over 100 km.
The tower is located in the middle of Mahlerhaven, but even though it is one of Prague's most obvious landmarks, not everyone has positive things to say about its appearance.
It is possible to visit the restaurant in the tower, which is located 66 meters above the ground.
Only a 7-minute walk from the TV tower, you can stay at this beautiful hotel.
The hotel offers a bus service to and from the airport.
With half the price of accommodation compared to staying in the center of Prague, it is worth considering whether you want to spend a little extra time on transport.
5. Smíchov-Anděl, Prague 5 – stay in a truly underrated area
I understand that most tourists want to live as close to the center as possible. Conveniently, you don't have to spend time on transport and all sights are right outside the door.
If you have been out shopping, you can quickly return to the hotel with your goods, before the trip continues toward restaurants and bars.
But for families or others who perhaps just appreciate that in the evening you can retreat to quieter areas, and also want to experience something other than the city, Smíchov-Anděl in Prague 5 is an underrated area.
There are both Metro and trams in this district, so you are in no way prevented from getting out and experiencing something. You will find one of the city's largest shopping centers here, the Novy Smichov.
If you are a beer enthusiast, you should stop by Staropramen Brewery, where you can enjoy something good for the palate in their courtyard.
Staropramen Brewery is the Czech Republic's second-largest beer producer and produces up to half a million bottles of beer per day, as well as thousands of kegs.
Kinsky Garden is a 22-hectare park consisting of several gardens that were started in 1825 by the patriotic Count Rudolf Kinsky.
Not far from Kinsky Garden is the national museum Musaion. Here, the focus is on old local Czech coal pipes.
If you are more into art, you can visit the international center for modern art MeetFactory.
Tips and tricks when traveling to Prague
I am an advocate of planning your trip as much as possible from home. What you want to see and how to get around, etc.
Prague is a fantastic city, with lots of history, and if you are into churches, museums and medieval buildings, there is an incredible amount to see.
With a Prague Card, you can save a lot on entrance fees to various attractions, and there are also discounts on restaurants and much more.
Read more about the Prague Card here.
It may also be that you are looking for certain experiences, a boat trip or perhaps a guided pub crawl, you can book this and many similar experiences here.
Since Prague is an area with many tourists, there are also several tourist traps to avoid falling into.
It can, for example, be that the waiter himself adds a handwritten amount to the receipt which should constitute a tip, or that the taxi driver offers a "fixed price" which is ultimately more expensive than what the taxi meter says.
This is not ok – you are never forced to pay a tip, and stories about the taxi meter not working, etc., should also never be jumped on.
Prague is not a dangerous place to visit – but there are many pickpockets at play in the busiest areas, so you should not carry valuables in visible bags or pockets.
By the way, I can recommend the Youtube channel "Honest Guide", which tells you everything you need to know before traveling to Prague.
Markets in Prague
A really good, fun and different experience in Prague can be the big markets.
Everything from food to clothes, jewelery and souvenirs is sold here, but you have to be a little careful here, some of the stalls are aimed at tourists, while the locals themselves shop at other markets or just at other stalls in the market.
It may be a good idea to familiarize yourself with the Czech prices before going to the market, so that you are not cheated and buy something that would have cost less in a regular store.
You must also not be tempted to buy copy goods, as the Czech customs officers are quite strict, it can be an expensive pleasure. Having said that, it is fantastic to experience life in the markets, and you can get lots of quality goods at low prices.
You can find good and exciting souvenirs to take home.
I hope my guide to where to stay in Prague has helped you a little on the way to a better experience of Prague. It is not very expensive to travel to Prague, or to stay in the city, perhaps that is why the destination i.a. is so popular.
Have a lovely trip to the Czech Republic.
FAQ:
What is the best part of Prague to stay in?

In my opinion, Staré Mesto (Prague 1) is the best area for most tourists. If you stay in this neighborhood you're going to be within walking distance of all of the major sights and you're never far from a nice restaurant or bar.
Which side of the river is best to stay in Prague?
In this guide, my top picks when it comes to all areas of Prague are Staré Mesto and Malá Strana. Staré Mesto is on the east side of the river and where most main tourist attractions are located. If you're looking for a more relaxed but still very central vibe, then I'd recommend you stay in Malá Strana on the west side of the river.